Friend, I'm about to get very honest with you. There are so many things I cannot do. One of those things is bake a cake – I have tried and tried and it just never turns out (thank goodness bakeries exist!).
Another thing is: I can't keep my house remotely clean and organized for more than a few hours – not with three messy boys and two dogs – nope, not happening. Something else I cannot do is keep a plant alive – heck I could probably kill a fake plant. And those are just a few examples.
But you know what? If I really practiced, learned some tips, had patience, and gave myself grace to make a few mistakes along the way, I'm pretty sure I could manage to do an okay (or even decent) job at some of those tasks.
So when I get emails from people who tell me they can't paint furniture because they lack the confidence, I say YOU CAN DO IT. It takes practice, education, patience, and grace.
Don't let fear or uncertainty scare you from trying something that you really want to do.
(And I bet many of those same people are phenomenal bakers, organizers, or gardeners!) *Friend, you might want to go read this post right now: Why Done is Better Than Perfect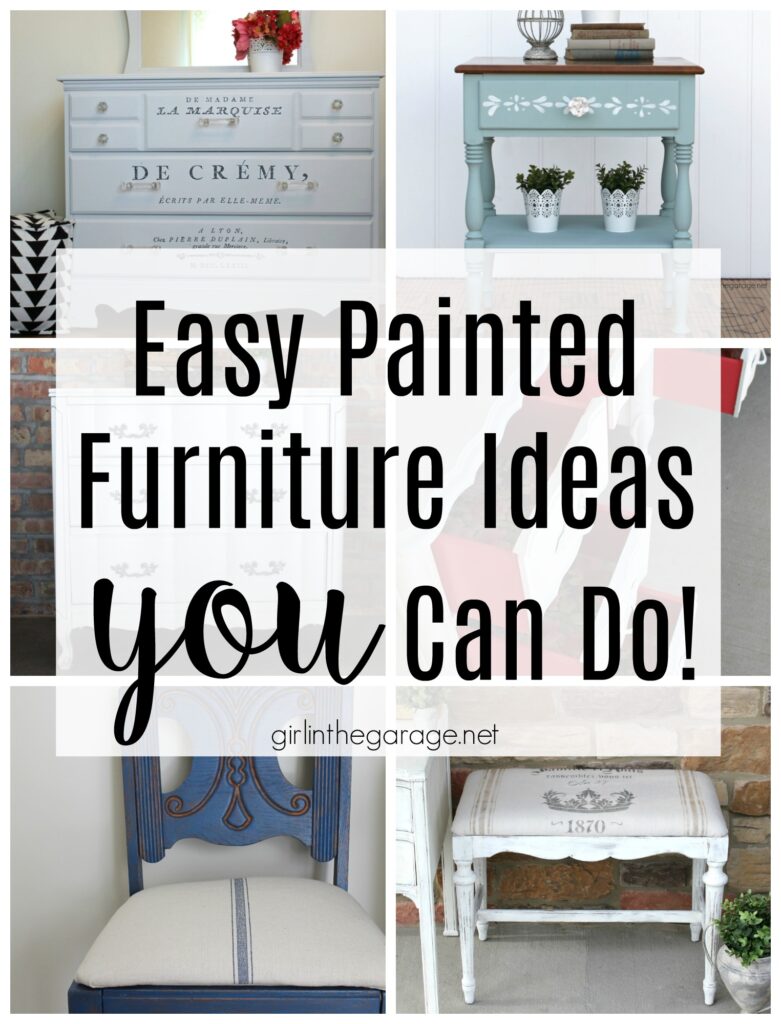 Today's post is all about easy painted furniture ideas that anyone can do. While each piece may have had different types of prep work involved due to wood finishes and repairs needed, I've handpicked these projects based on the simple painting techniques used.
Psssst: What's the first step before painting furniture? –> Click here to read my detailed guide for prepping furniture for painting.
I invite you to look through the easy painted furniture ideas below and visit any of the posts for the full step-by-step tutorial. You'll find furniture makeover ideas for dressers, side tables, chairs, bookcases, desks, and benches. You might be surprised at how easy some of these projects are, and some you could finish in only a few hours!
Easy Painted Dresser Ideas
These painted dresser ideas will inspire you to update your own outdated bedroom furniture.
Easy Painted Side Table Ideas
Side tables are great starter projects because you can always find them for cheap at thrift stores and yard sales. Plus they're small, so they tend to be quick and easy makeovers.
Easy Painted Chair Makeover Ideas
Don't be intimidated by updating a basic chair. As long as it's structurally safe, you can confidently tackle painting the wood and even changing out the seat cushion and fabric.
Easy Painted Bookcase Ideas
Bookcases are great storage pieces not just for books, but for just about anything you want to be displayed. Here are some easy painted bookcase ideas that you can definitely learn to do.
Easy Painted Desk Ideas
Studying won't seem as boring on a custom painted desk. Learn some simple techniques below.
Easy Painted Bench Ideas
Bench makeovers are really just like chairs, but I couldn't leave these sweet & simple ideas off the list. Enjoy!
I know that if you've never painted furniture before (or only a piece or two), some of these ideas may seem a little daunting. But I promise you can do it! Even if you don't think you have natural creative talent.
We all start at the beginning, with no experience whatsoever. You can read my story and learn about my first project here if you'd like – for some reason I thought it would be fun to redo a huge TV armoire, ha.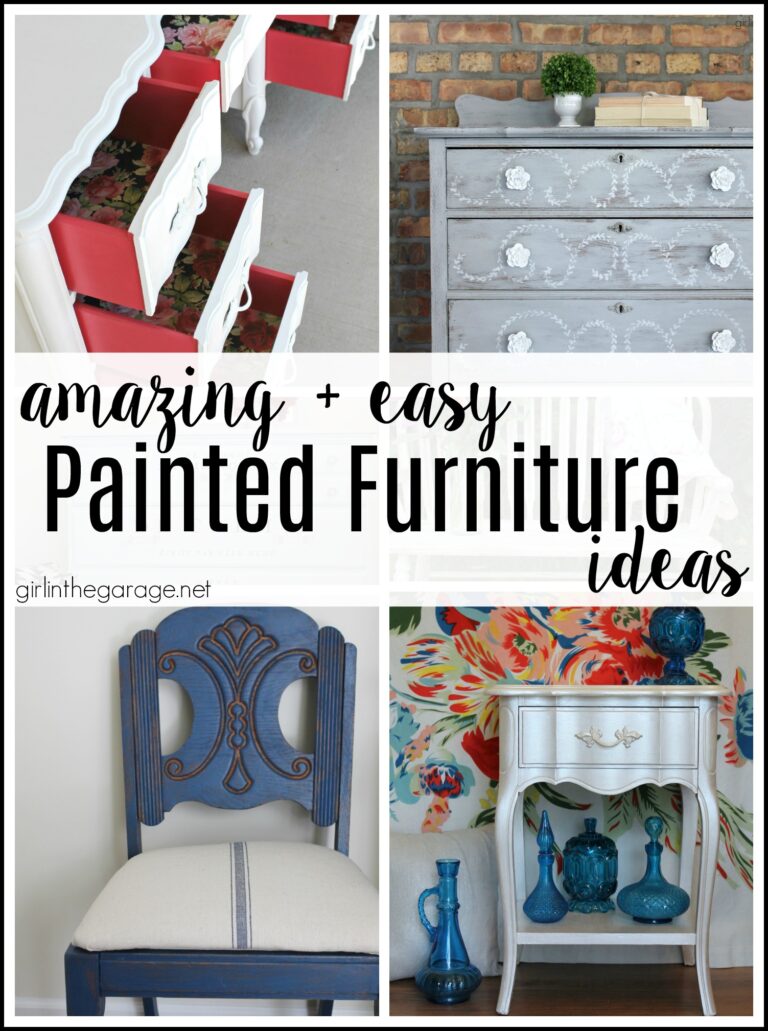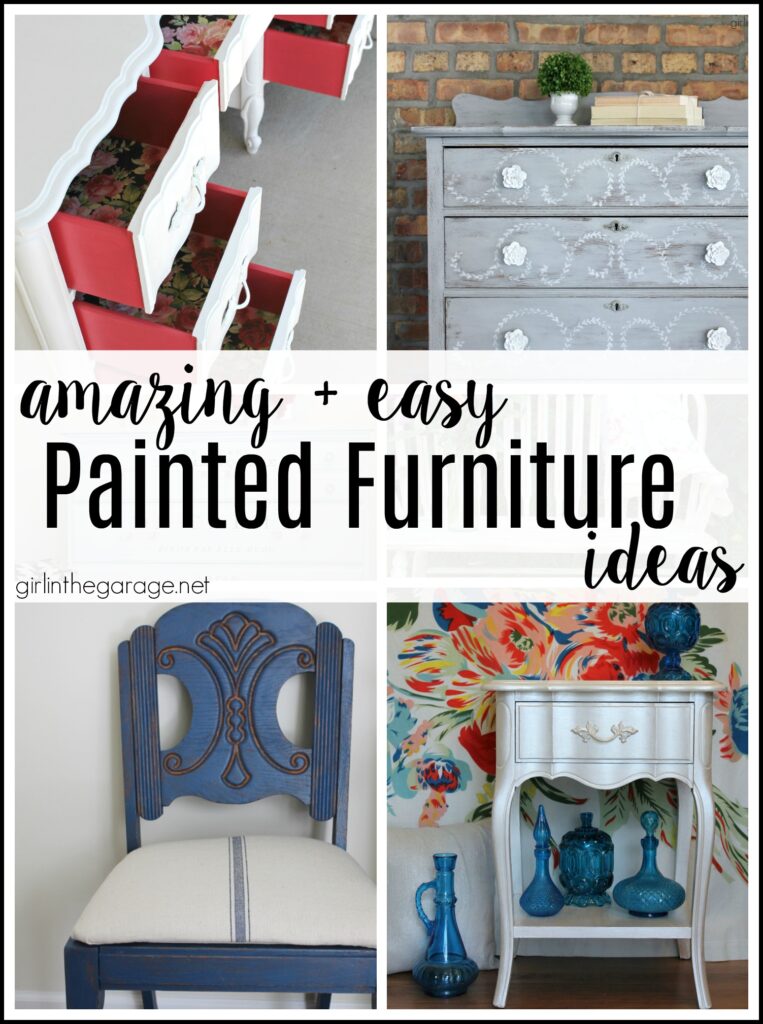 Friend, I hope these easy painted furniture makeover ideas have given you some encouragement to go for it! If any of these techniques sound like something you'd try, would you leave me a comment below? Or if you have any other simple painted furniture or decor ideas, feel free to chime in and share so we can all benefit.
I'm cheering you on! – Jen