Who's ready for spring – or at least a spring-y makeover?
I've been itching to do another bookcase makeover, but good ones are hard to find in my area.  So I was lucky to find a thrifted hutch that could be upcycled into a bookcase.
Here's the Before…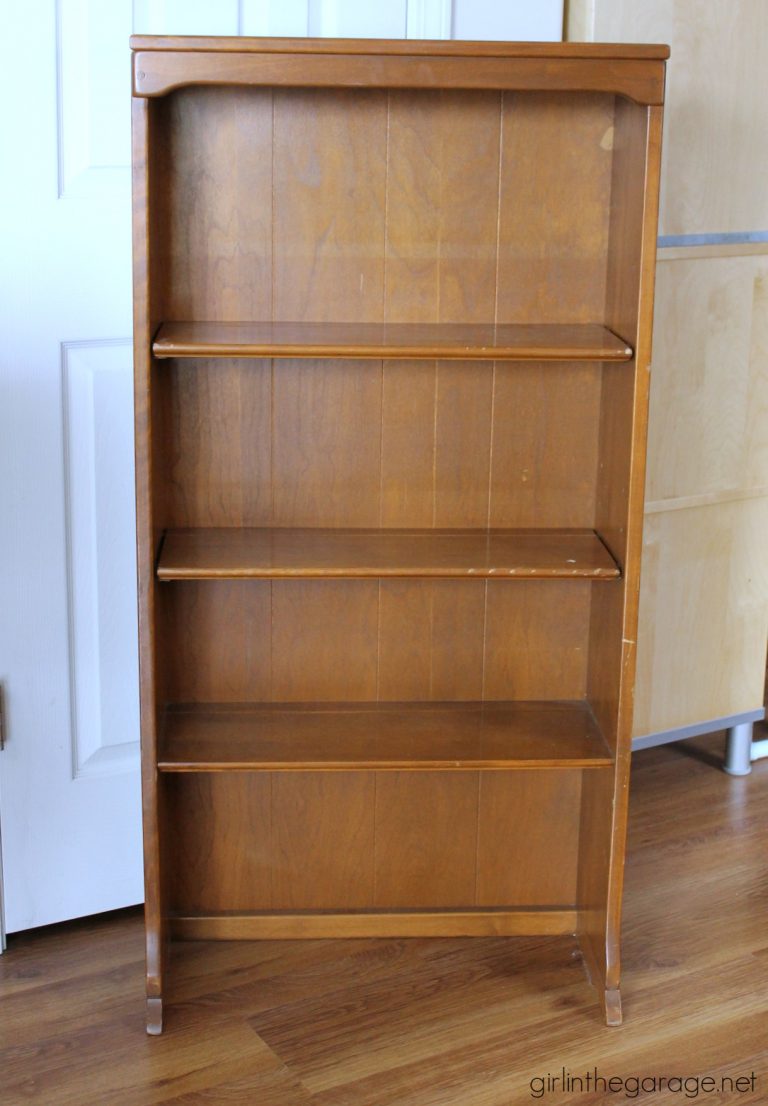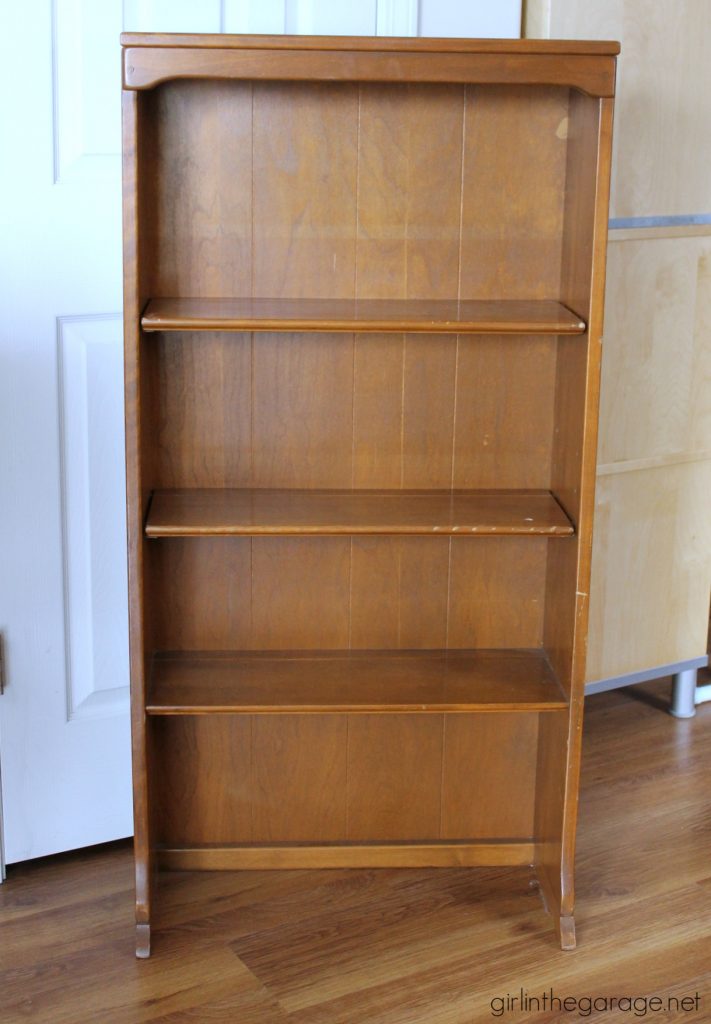 and here's the REAL before photo below (haha)…  see it on the left there?   The seller had priced the top and bottom pieces separately – good thing because all the actual bookcases in the store were just for display and not for sale.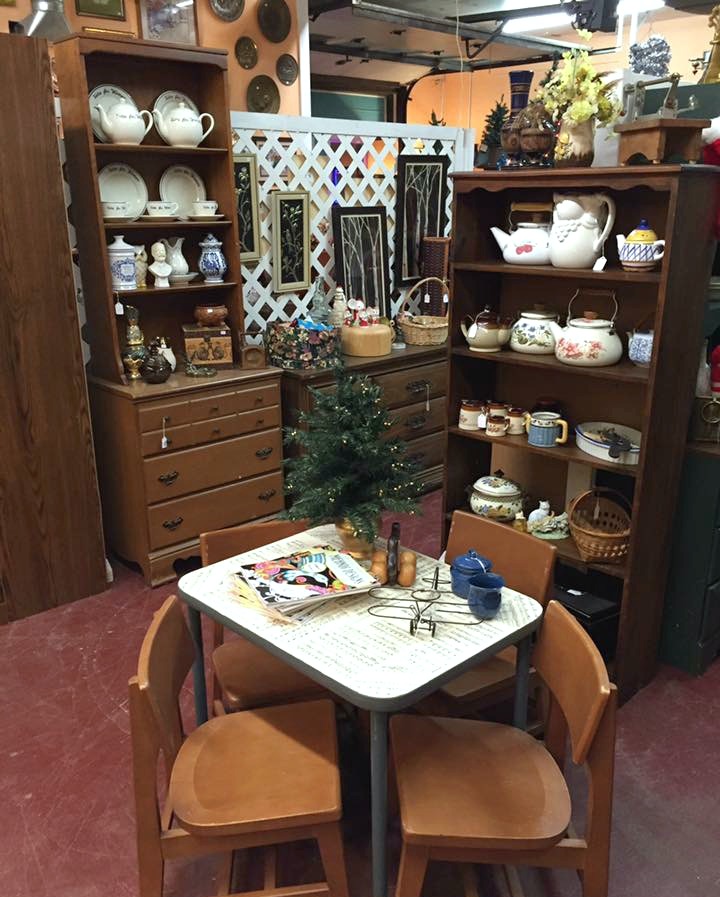 It was made by Ethan Allen – Baumritter.  Our area has tons of these Early American Colonial Ethan Allen pieces available pretty much everywhere.  One good thing about painting them is I never have any bleed-through.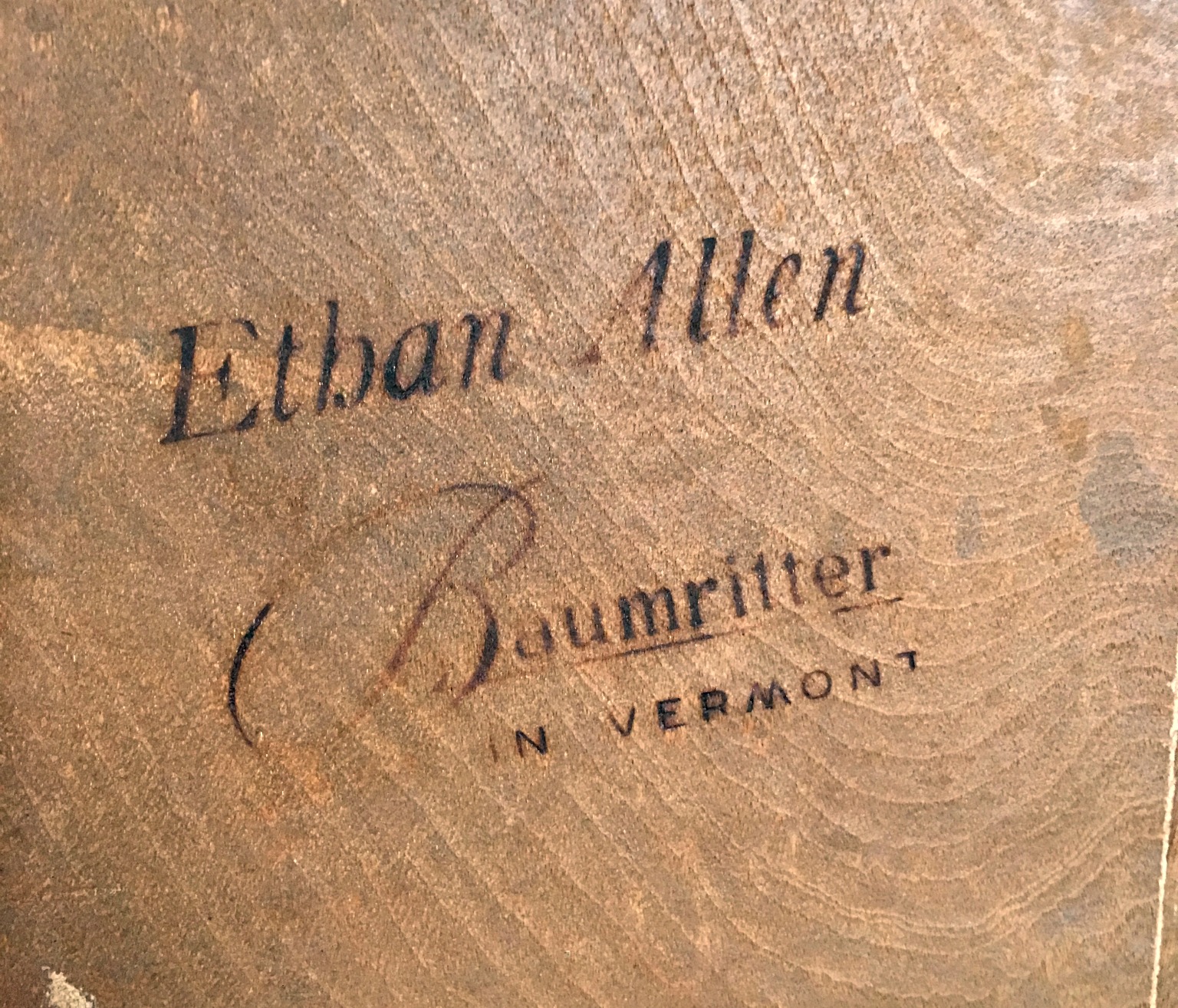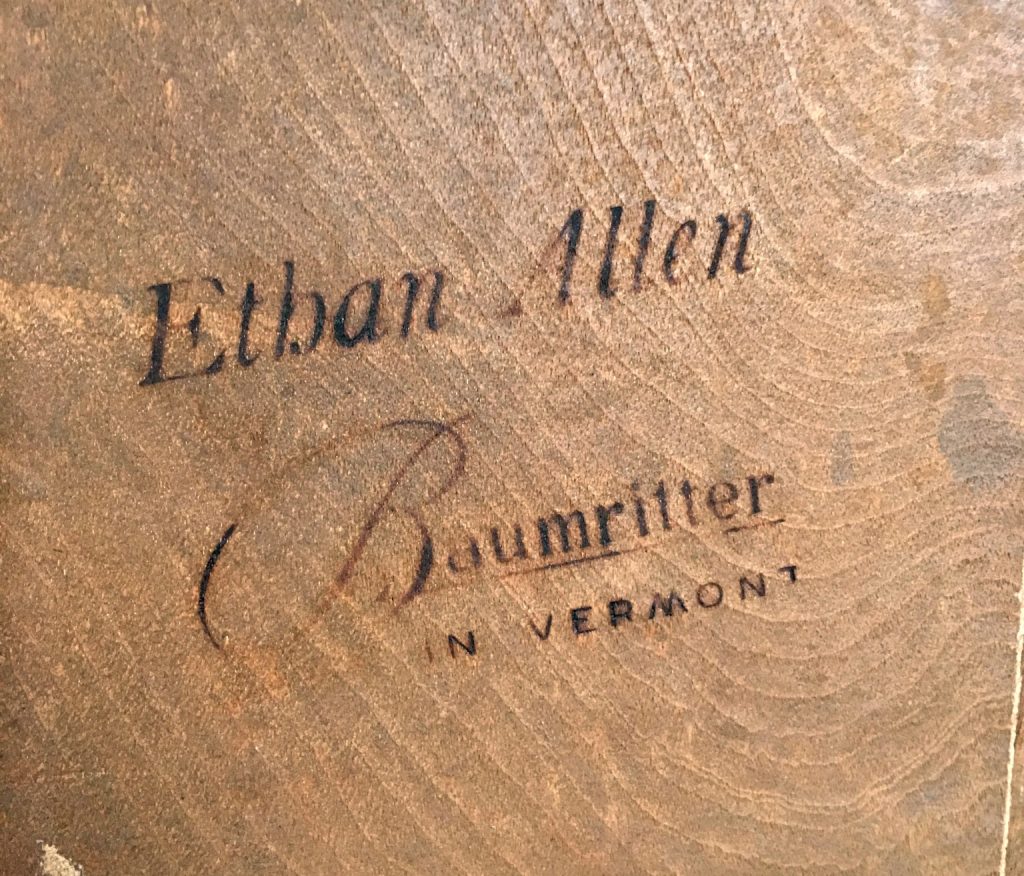 *This post contains some affiliate links for your convenience so you can easily find the products I use and recommend.  You can also learn more about all of my favorite DIY products Here.
Fusion Mineral Paint sponsored this project and sent me Tones for Tots in the color Little Whale.  It's such a soft, pretty blue!  Like a pastel duck egg blue. 
I've used Fusion Mineral products before but never tried their Tones for Tots collection.  They're zero VOC, very little prep, and have a built-in topcoat.  You can learn more about the paint Here.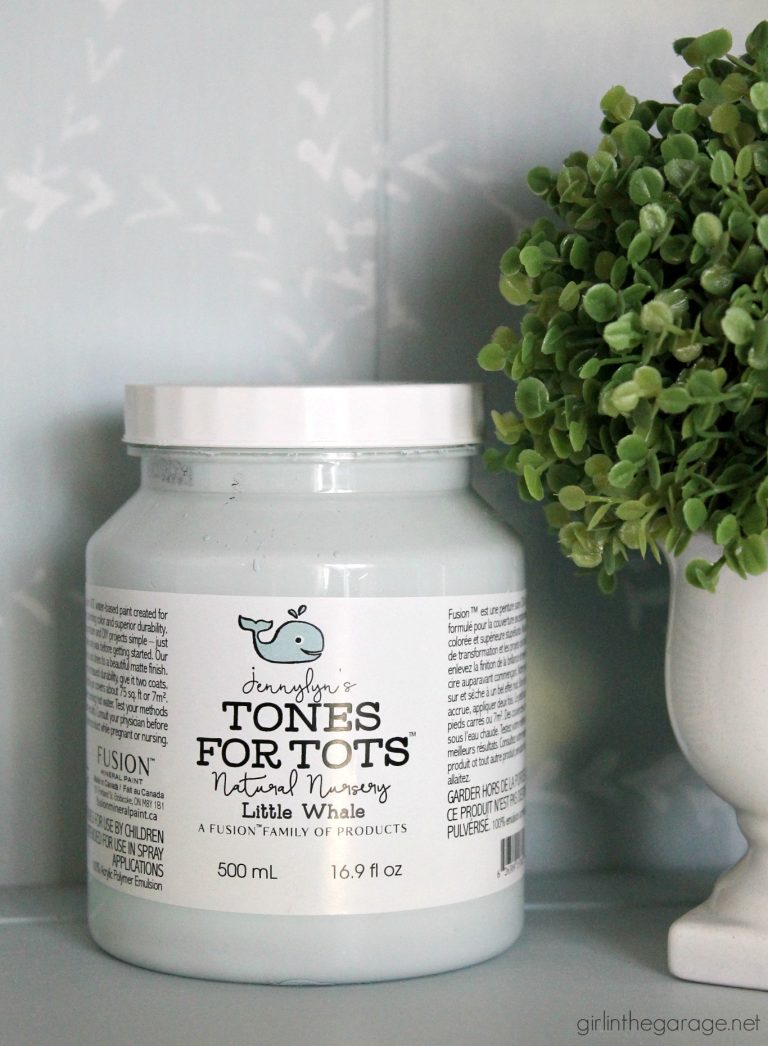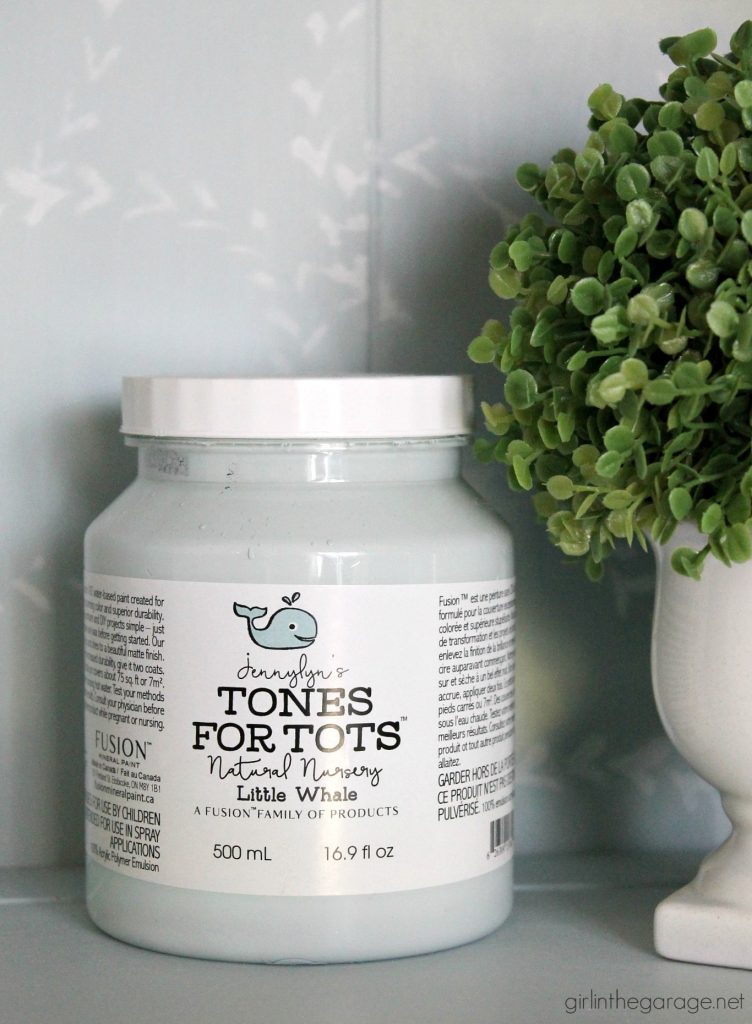 First I removed the shelves and the back of the bookcase.  That makes it easier to paint everything.  Plus I knew I wanted to use Miss Mustard Seed's stencil again that I used on this dresser last summer.   
I didn't do any other prep work before painting, besides just giving it a light wipe-down when it first came in my house.
The stenciled part is the color Picket Fence – also by Fusion Mineral Paint.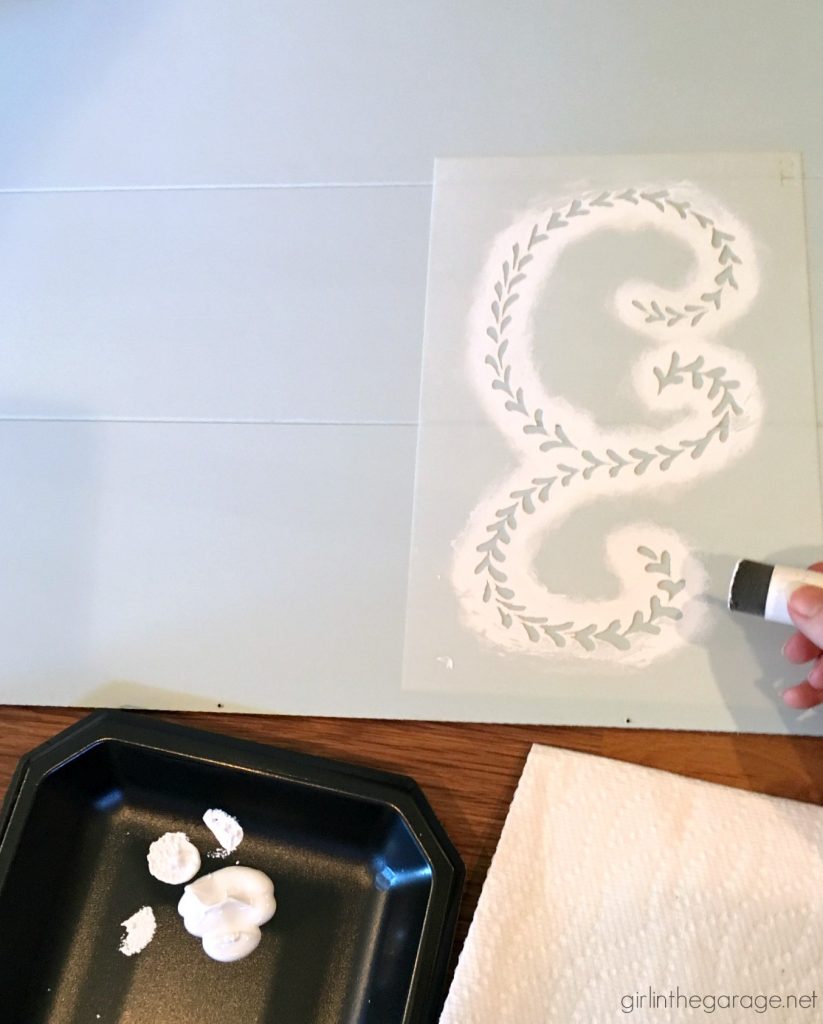 Remember when you're stenciling to use a foam pouncer (find mine Here – it's an inexpensive set of 6), just get a little bit of paint onto the foam, and blot it a couple times onto a paper towel.  Less (paint) is more!
This stencil can be turned in any direction, used for all or only part of the design, and even flipped upside down.  I turned it every which way on this panel, and made the design into a mirror image on either side of the middle line.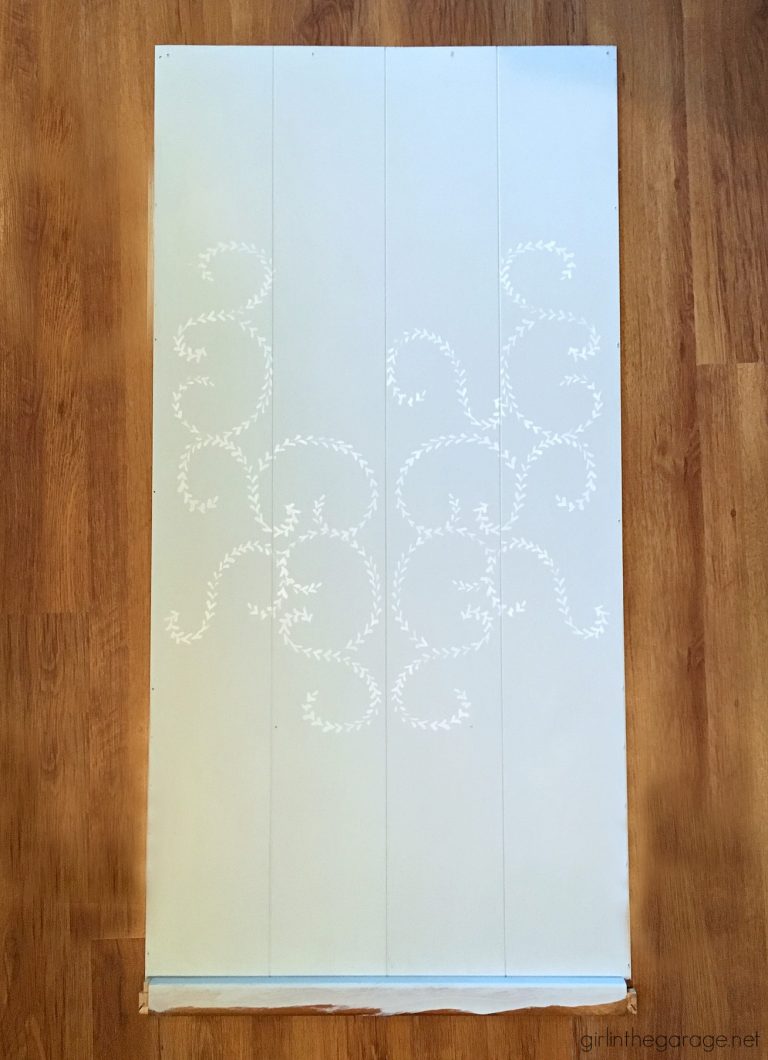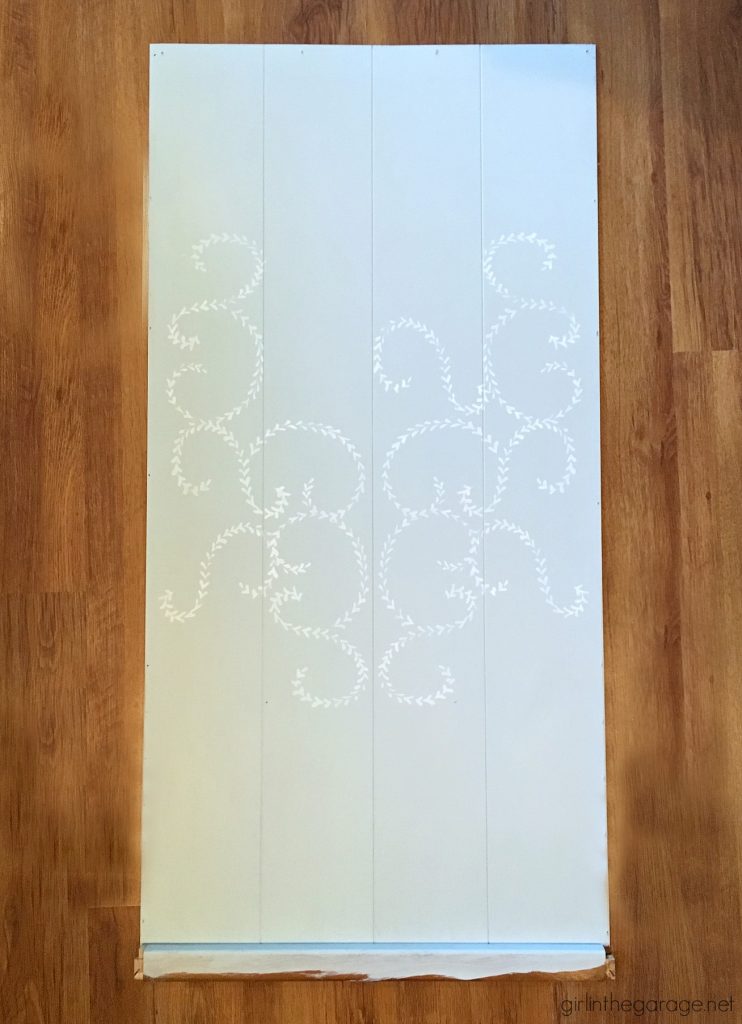 Important tip:  Clean your stencil as soon as you can after you've finished.  If you let the paint dry for too long, it won't be so easy to clean off!
I nailed the panel back into place and Guy in the Garage made a bottom shelf so this piece would look more like a bookcase and less like a hutch.  It was screwed in through the sides.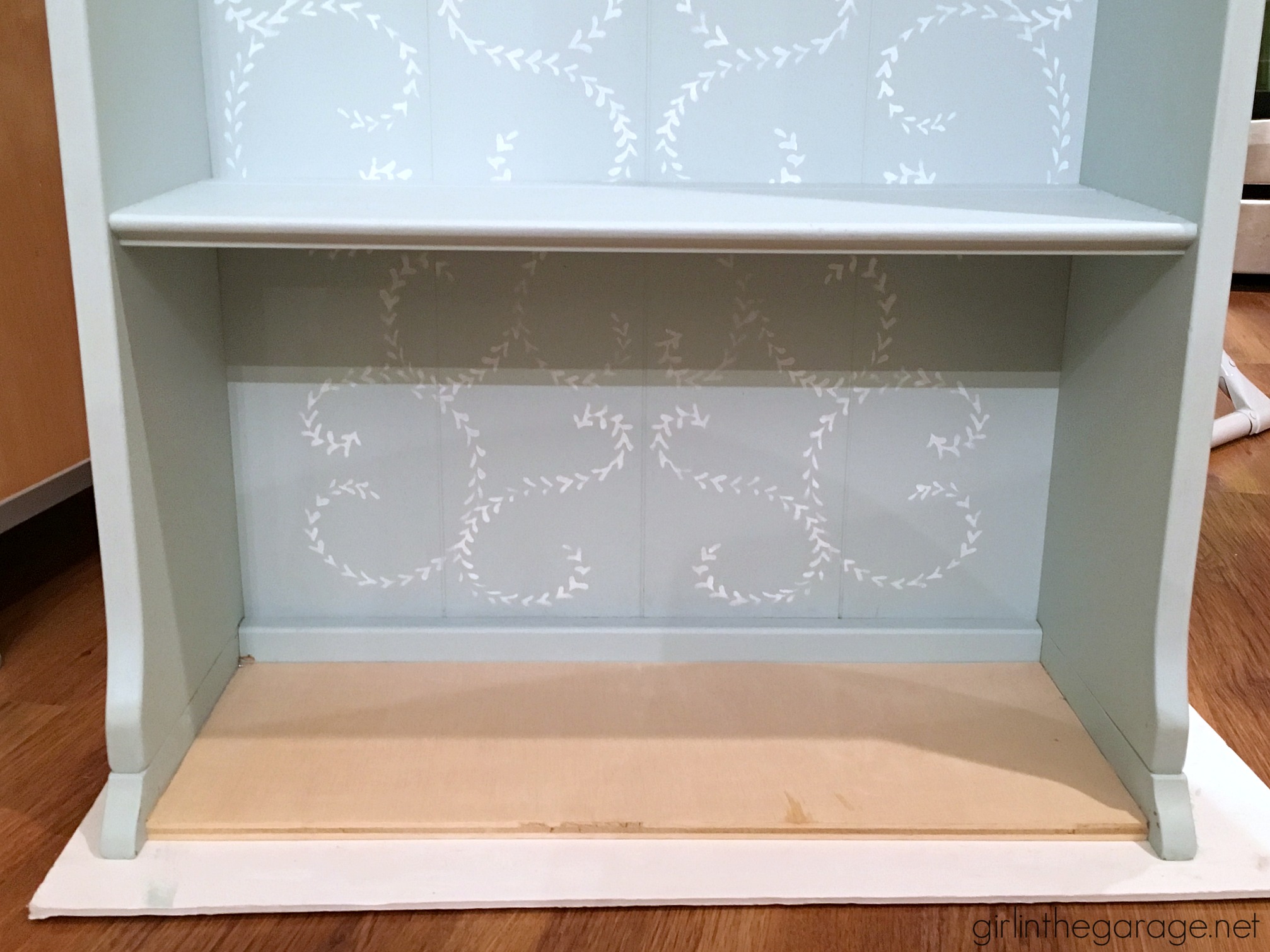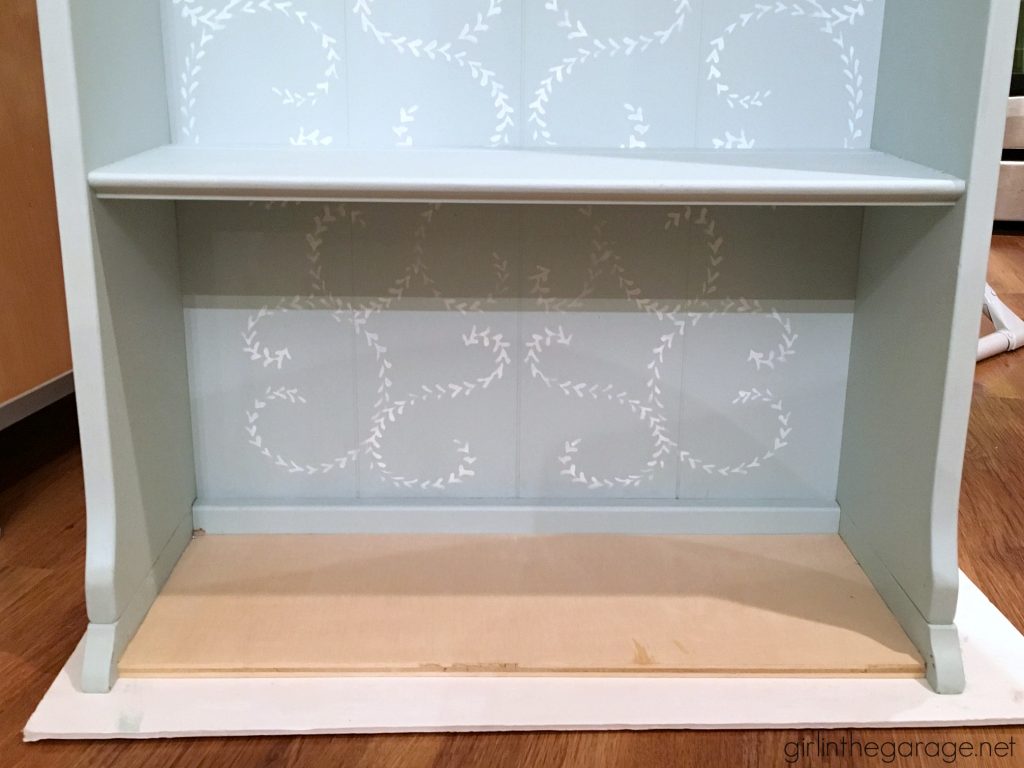 The new shelf was painted and then I swapped out the old rusted shelf supports for shiny new ones.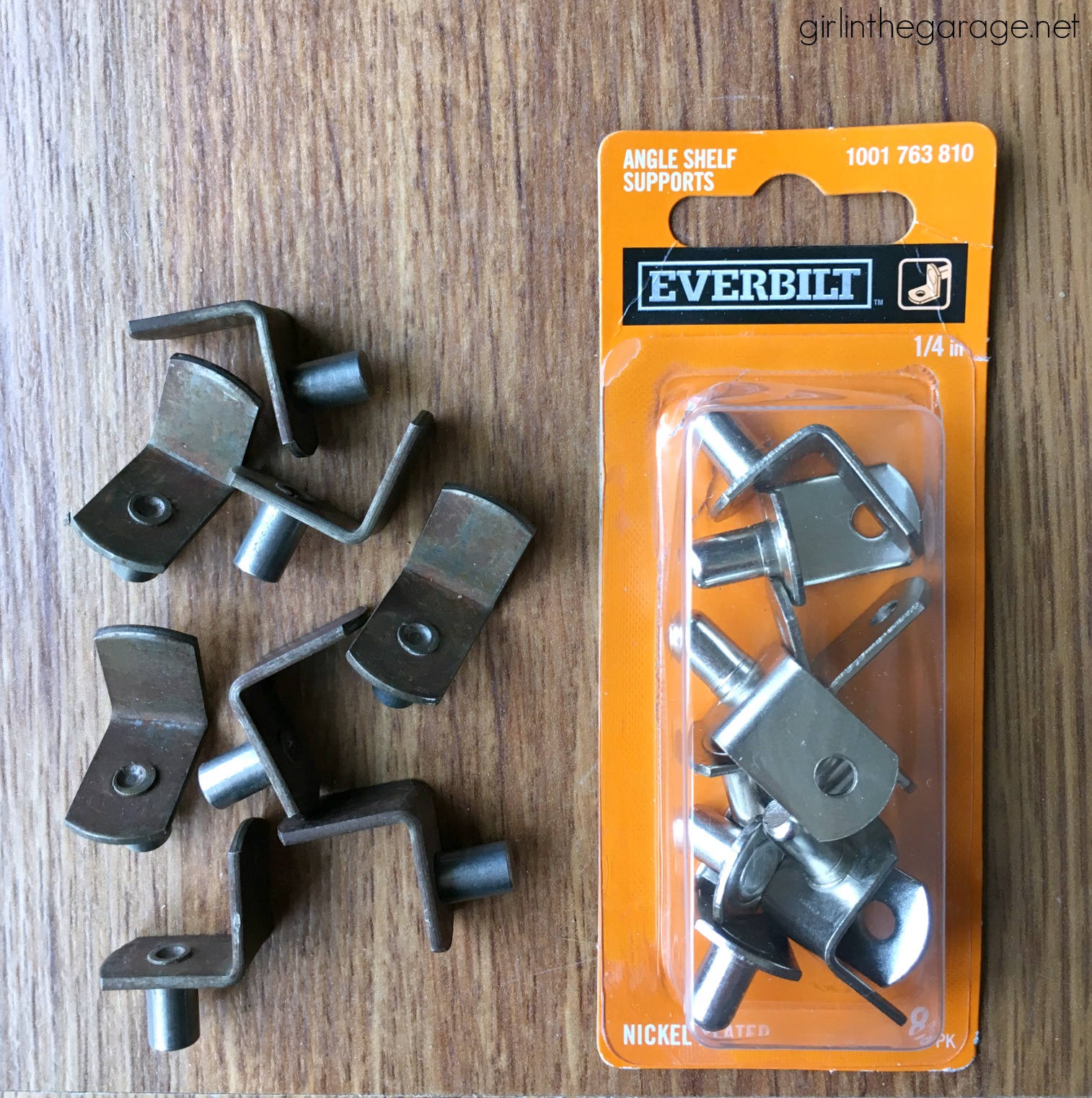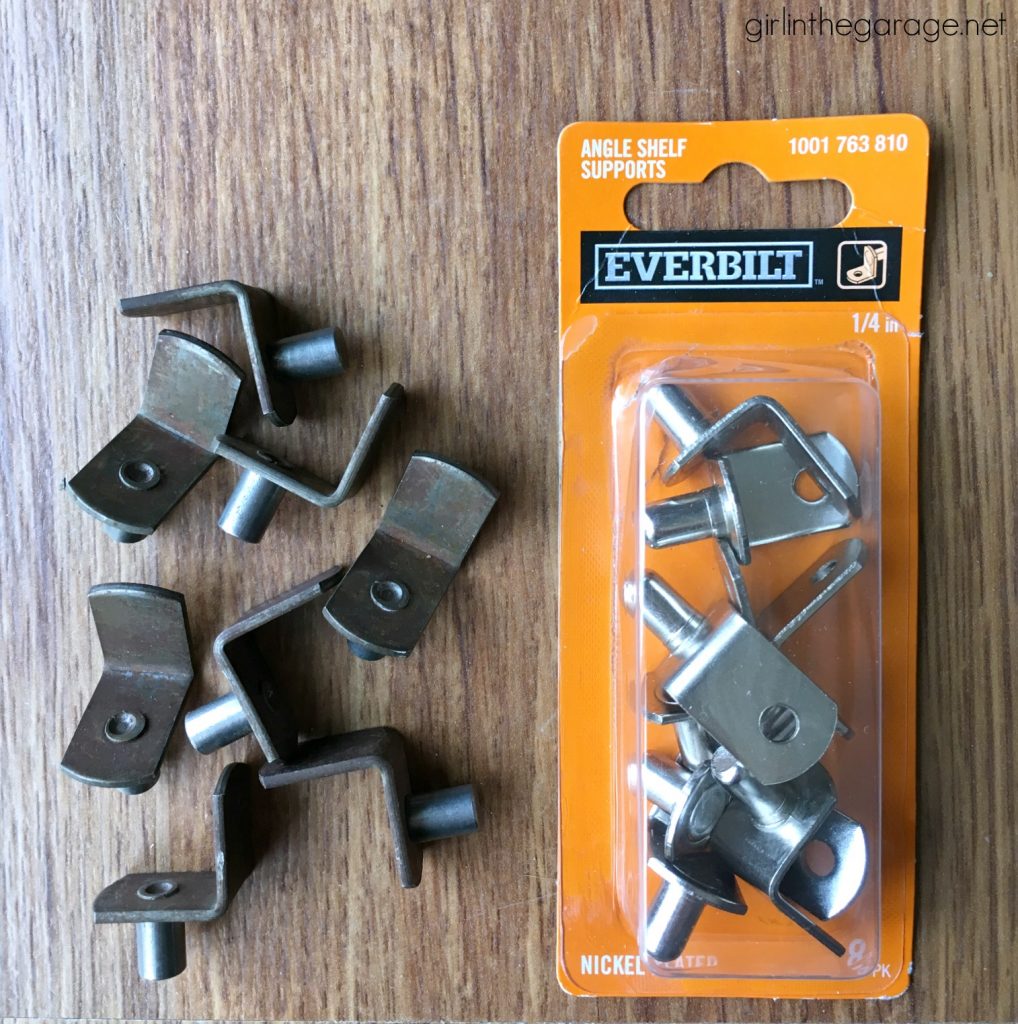 Fusion Mineral Paint is self-curing and doesn't require a topcoat, so I didn't use one.  (Although you can use their Tough Coat product for extra protection on high-usage pieces like tabletops or desks.)
And here she is…
Miss Kitty sure is sitting pretty on this stenciled bookcase makeover.  That's another part of my DIY skills that I've been working on lately.  😉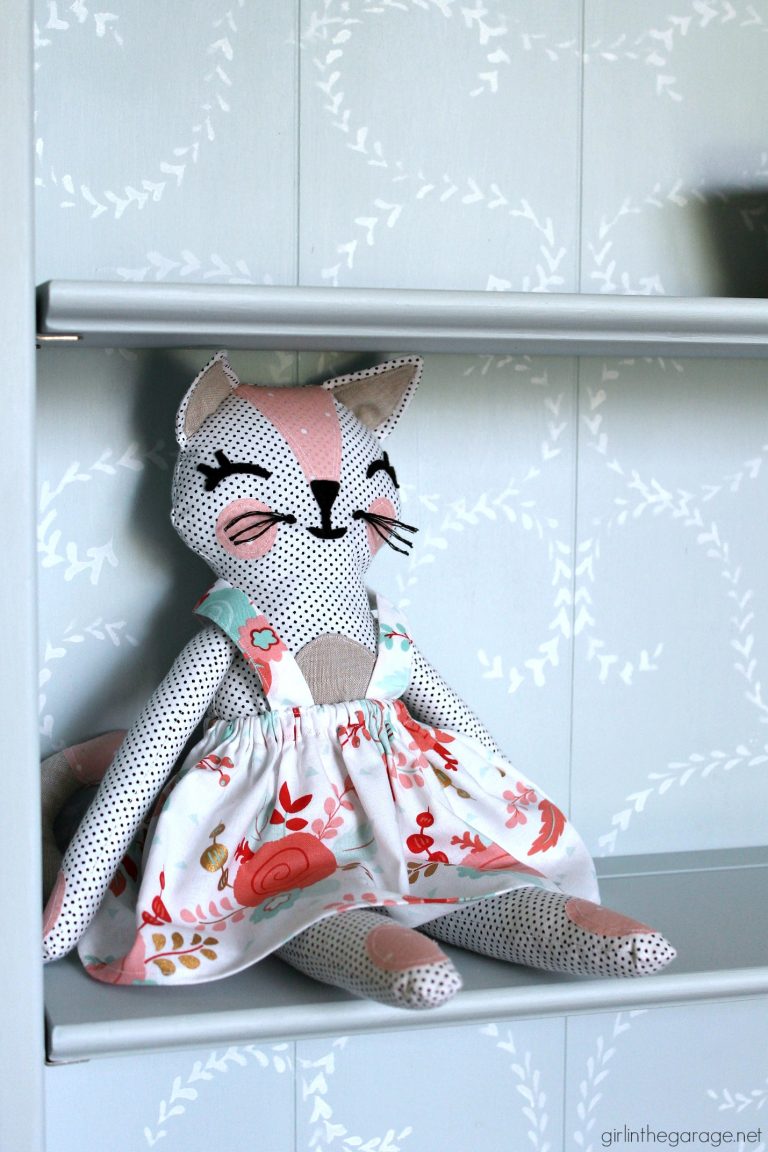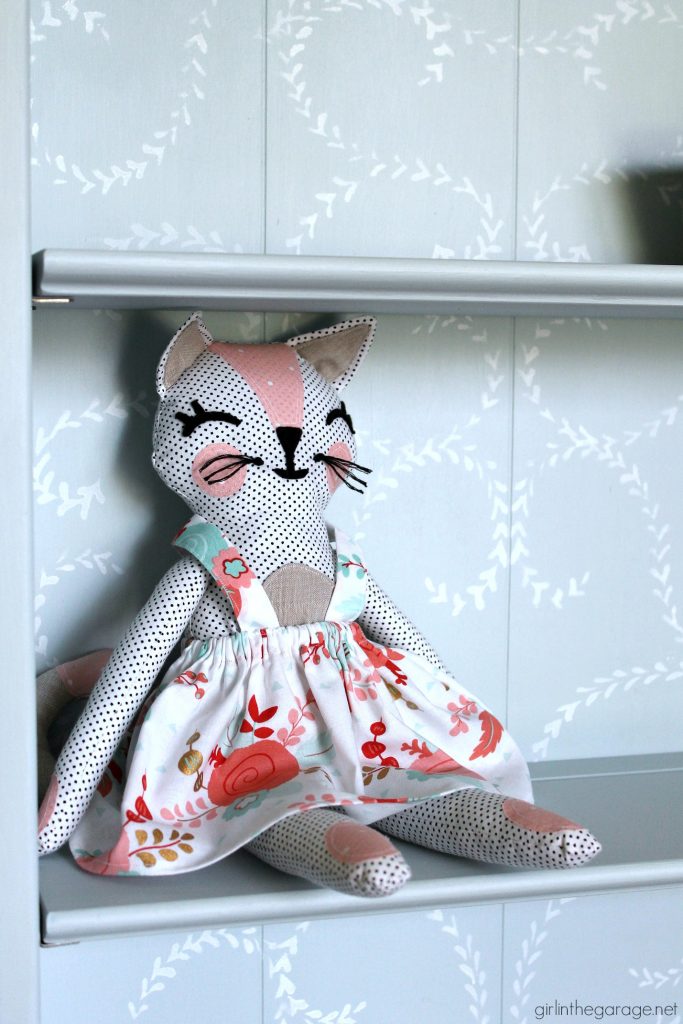 I love the soft blue on this piece and the sweet stenciled background.
Here's a before and after of this stenciled bookcase makeover again: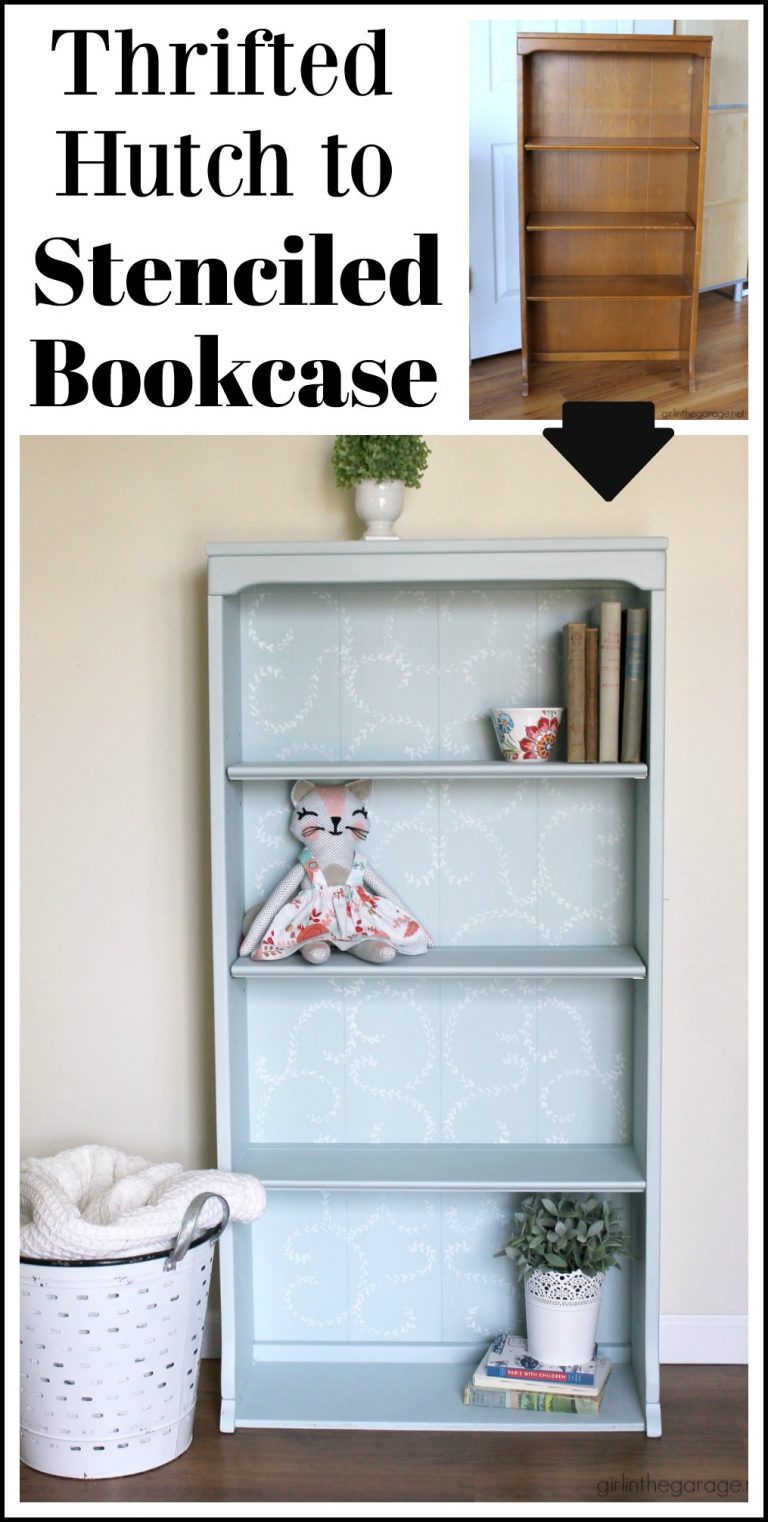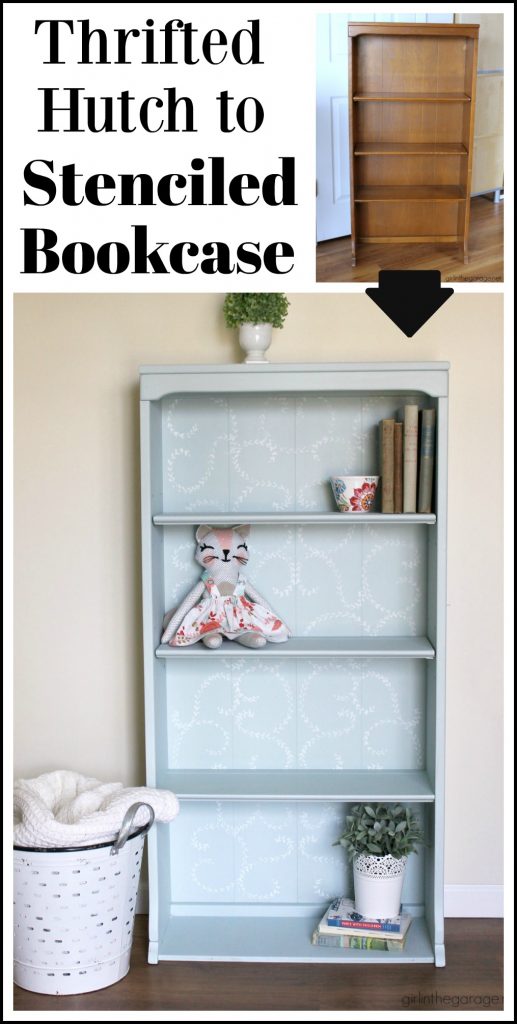 Please let me know what you think.  Have you tried Fusion Mineral Paint before?  Would you have stenciled the back or done it differently?  Have you upcycled a hutch into a freestanding bookcase?
After leaving a comment, please pin this stenciled bookcase makeover or share it with someone else.  I'd appreciate it so much, friend!
Jen
P.S.  You can learn tons more about Fusion Mineral Paint products Here.