Hello, friend! Things have been getting busier around here with my next market just over a month away, which means lots of projects in the works! Also I have been working on something really exciting behind the scenes which you will be hearing about soon. 🙂
But first, a new makeover! A repurposed record cabinet makeover. If I go a week or two without working on any furniture, it really gets me down. Transforming furniture is therapeutic for me; it's definitely a stress reliever. Do you feel the same?
My sweet mom scouted this one out and picked it up for me: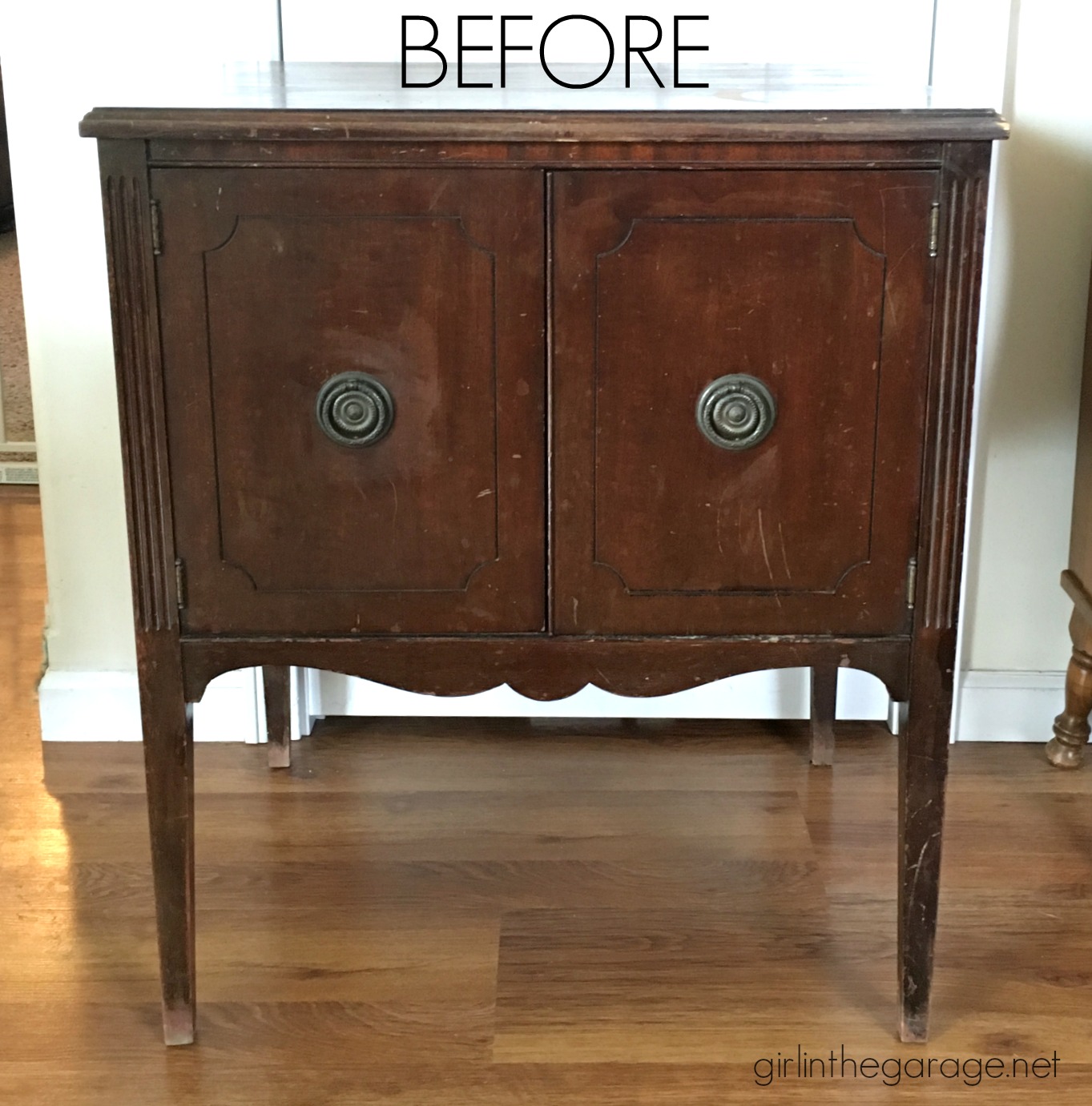 *Friends, today is Trash to Treasure Tuesday with a few of my creative blogging girlfriends. You can see what they've transformed this month at the end of this post – and you can browse our previous T2T makeovers Here. Also, this post contains some affiliate links so you can easily find some of the products I use and recommend. Discover all my favorite tools and brands for doing DIY makeovers here.
Unfortunately it was really scratched and beat up, but that's how I like to do my makeovers – turning someone else's "trash" into a treasure.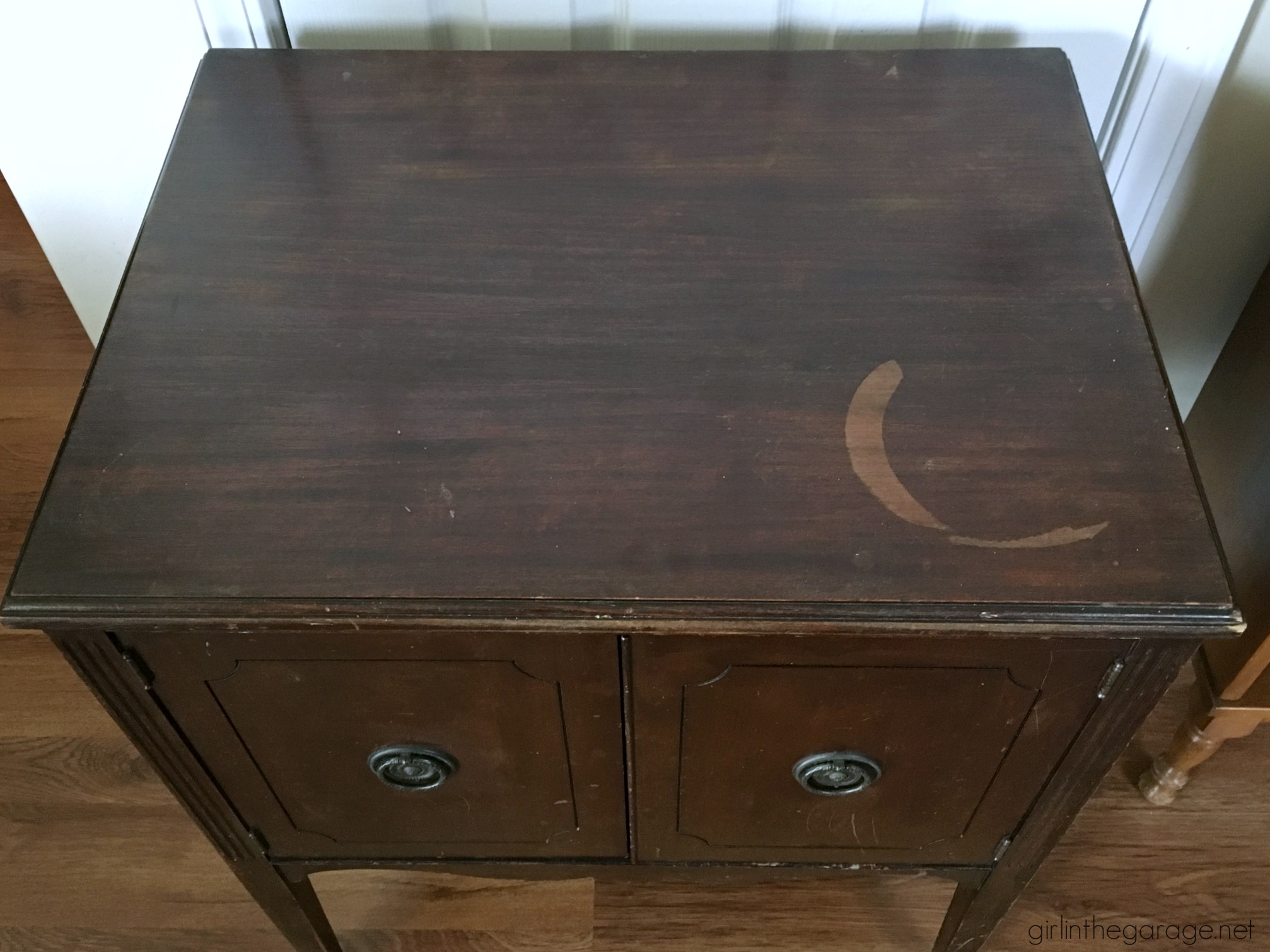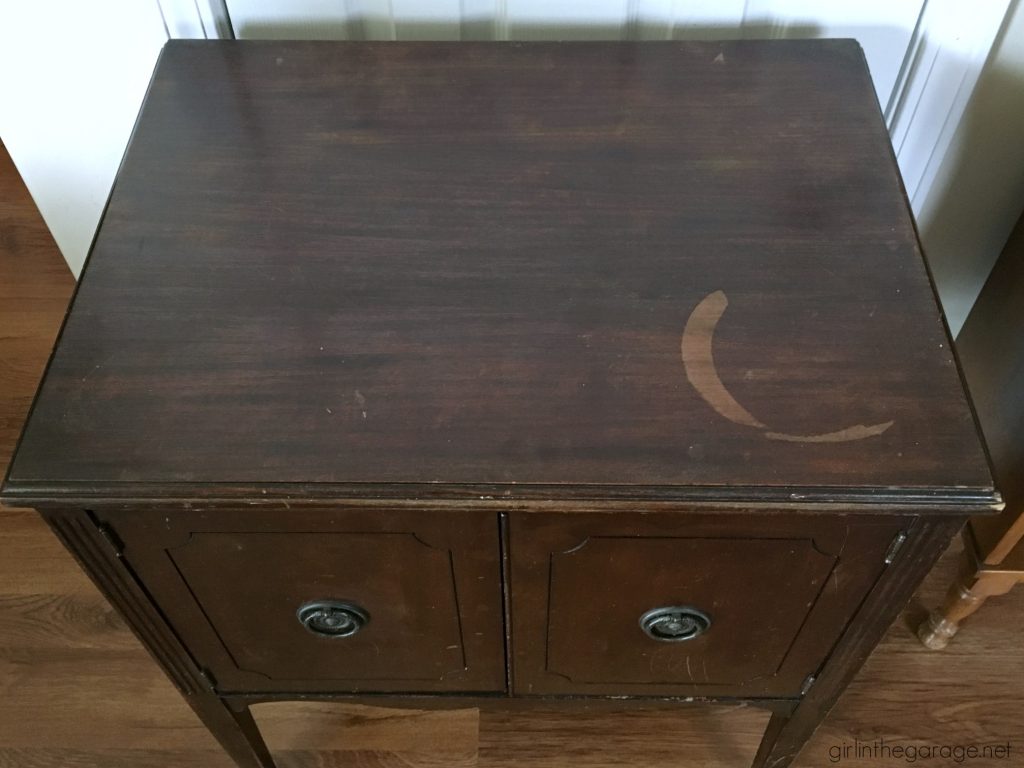 Prep the Record Cabinet for Painting
It's hard to tell from the outside, but this is actually a vintage record cabinet. I was deciding what to do with this piece and got a wild idea – I grabbed the saw from my mitre box and cut all the dividers out.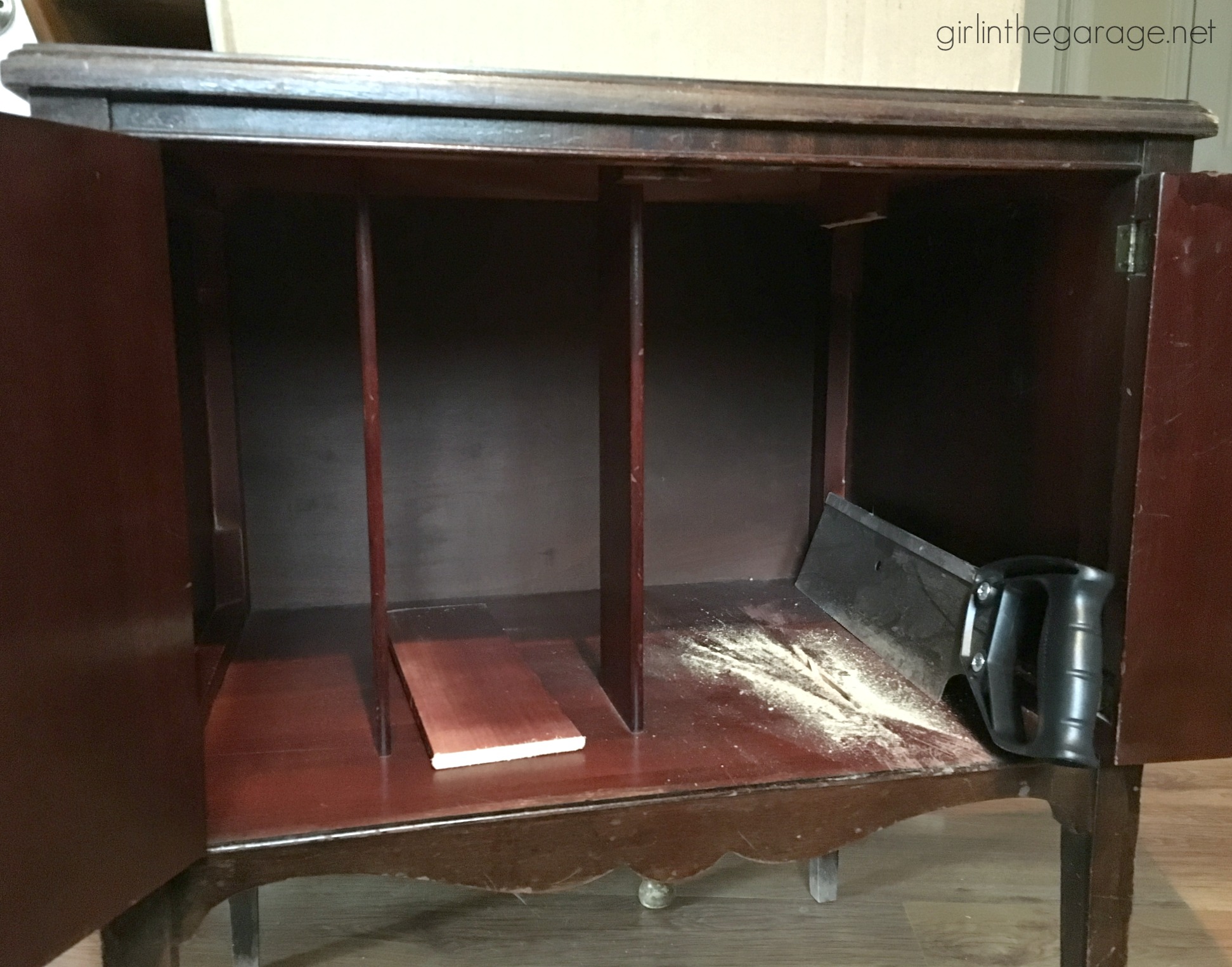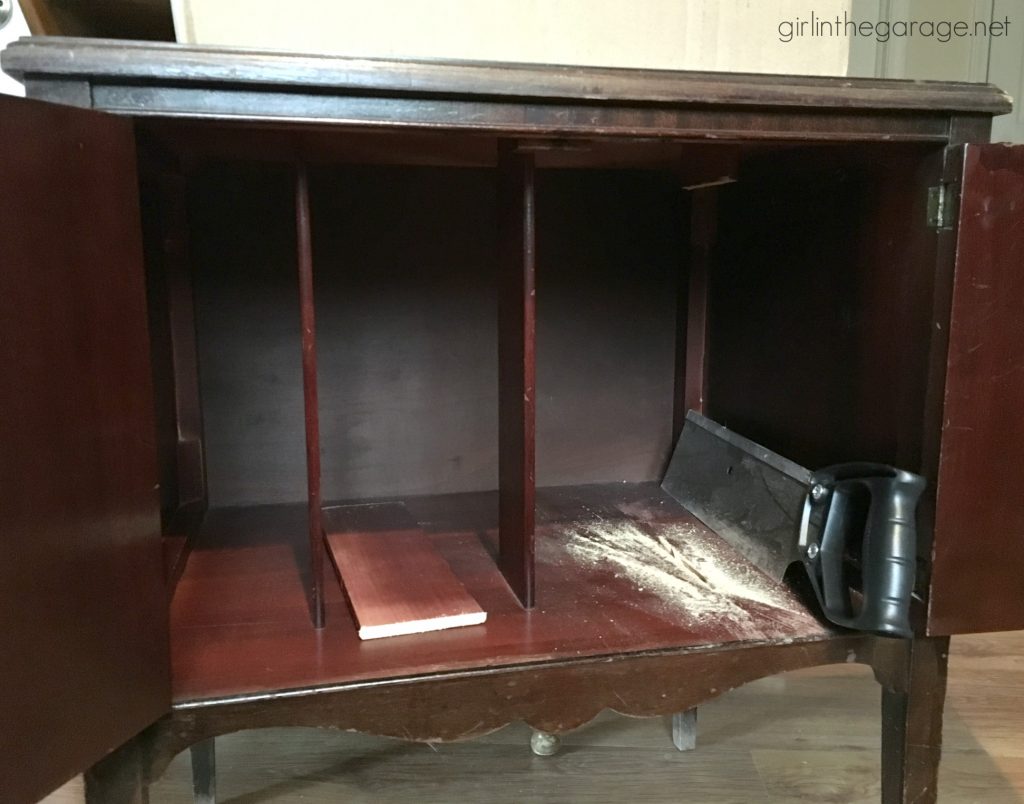 Now there's so much more storage space inside.
I filled the holes with Minwax Wood Filler and then sanded them smooth. Very easy. (Update: Now I use this wood filler instead.)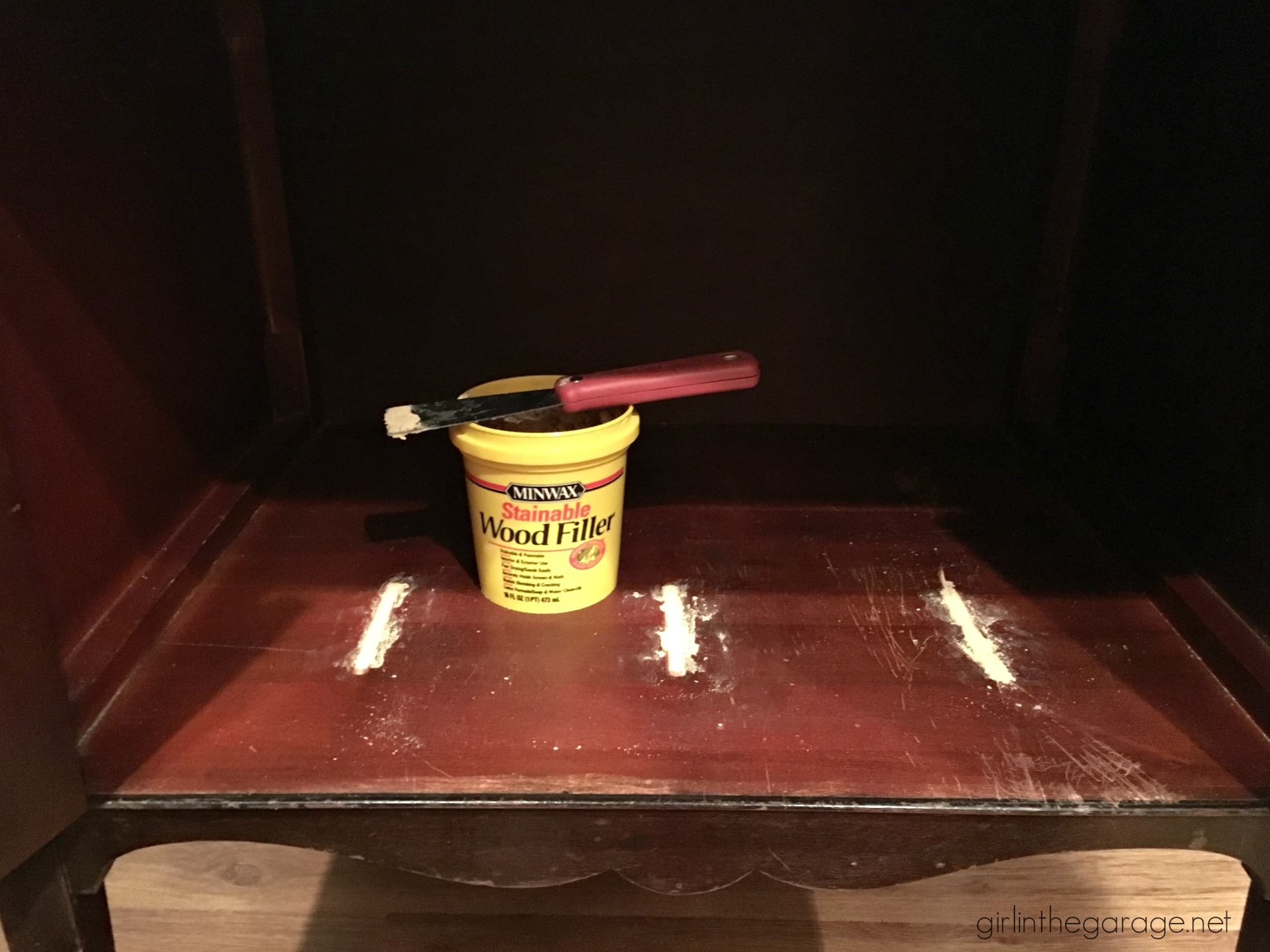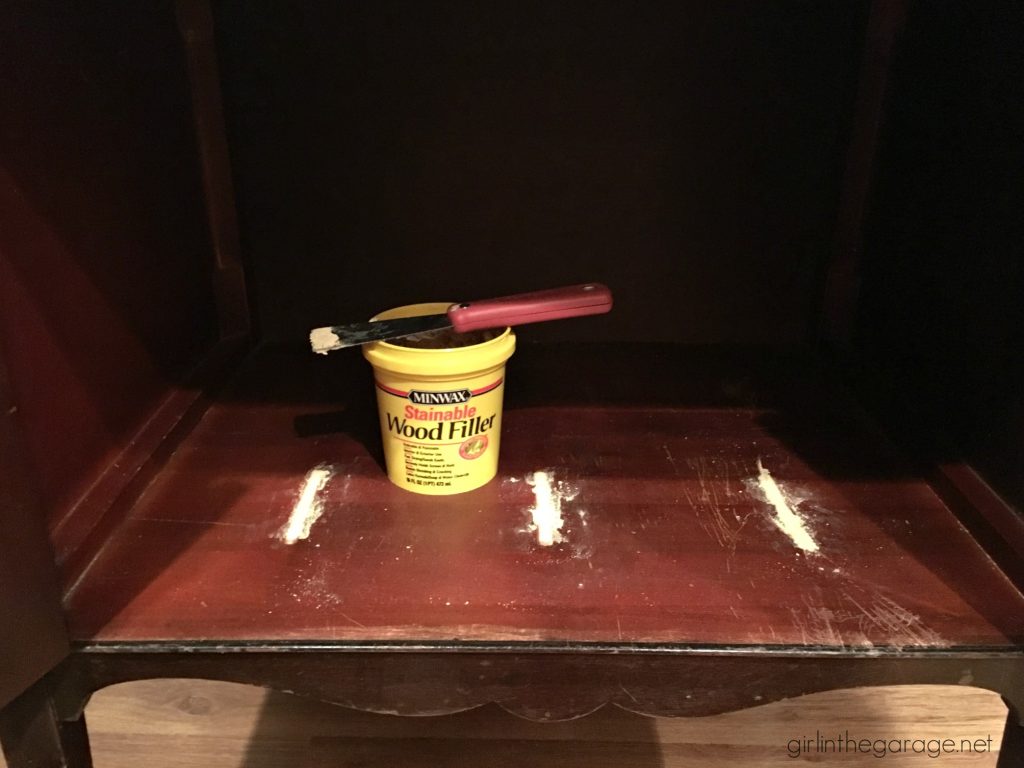 If you've been following me very long, you know I love card catalogs – but they're hard to find and usually expensive, so I like to make faux DIY card catalogs. See more amazing card catalog ideas here. 🙂
Repurpose a Record Cabinet into a DIY Card Catalog
I painted the cabinet in Annie Sloan Chalk Paint in Graphite, measured the doors, and then Guy in the Garage cut rectangles out of thin craft wood from Menards.
Learn all about how to Chalk Paint furniture here – a beginner's guide to Chalk Painting.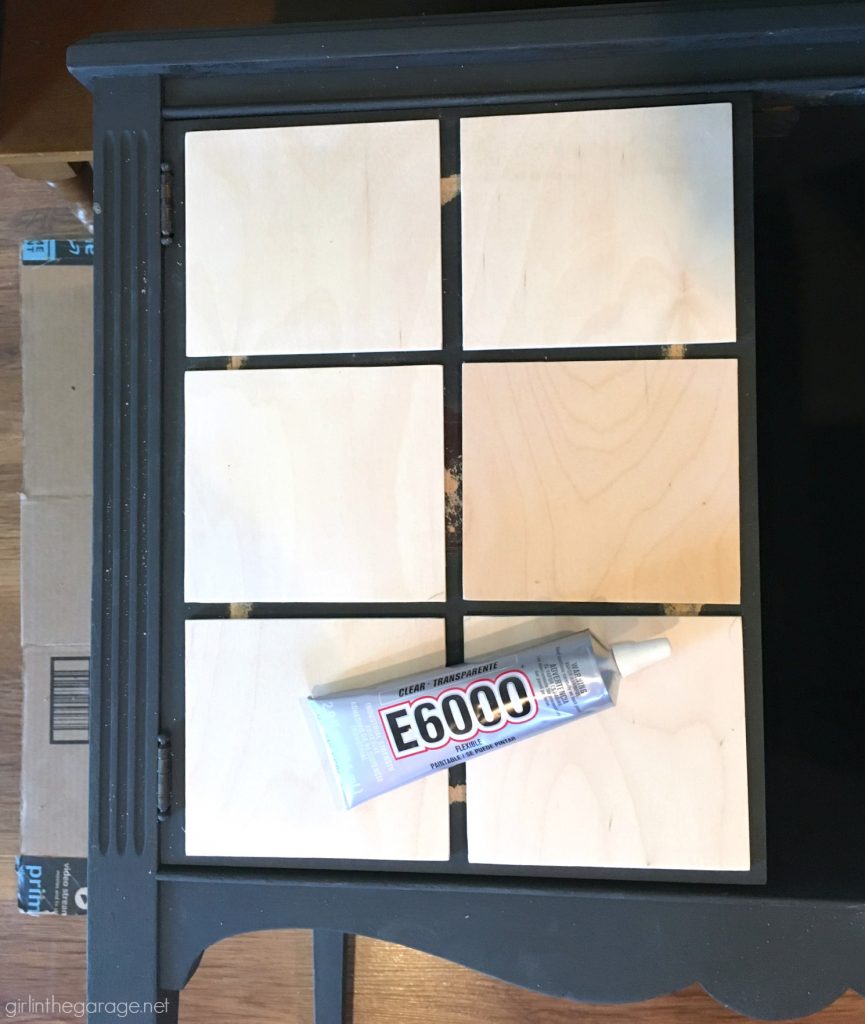 The panels were glued in place with my favorite industrial strength super glue which I use on all my faux DIY card catalog projects.
I always have card catalog drawer pulls on hand – these are from Amazon (find them here). Since the screws that came with them are tiny, I added a bit of glue first for extra adhesion. I don't want anyone pulling a door open and having the drawer pull fall right off!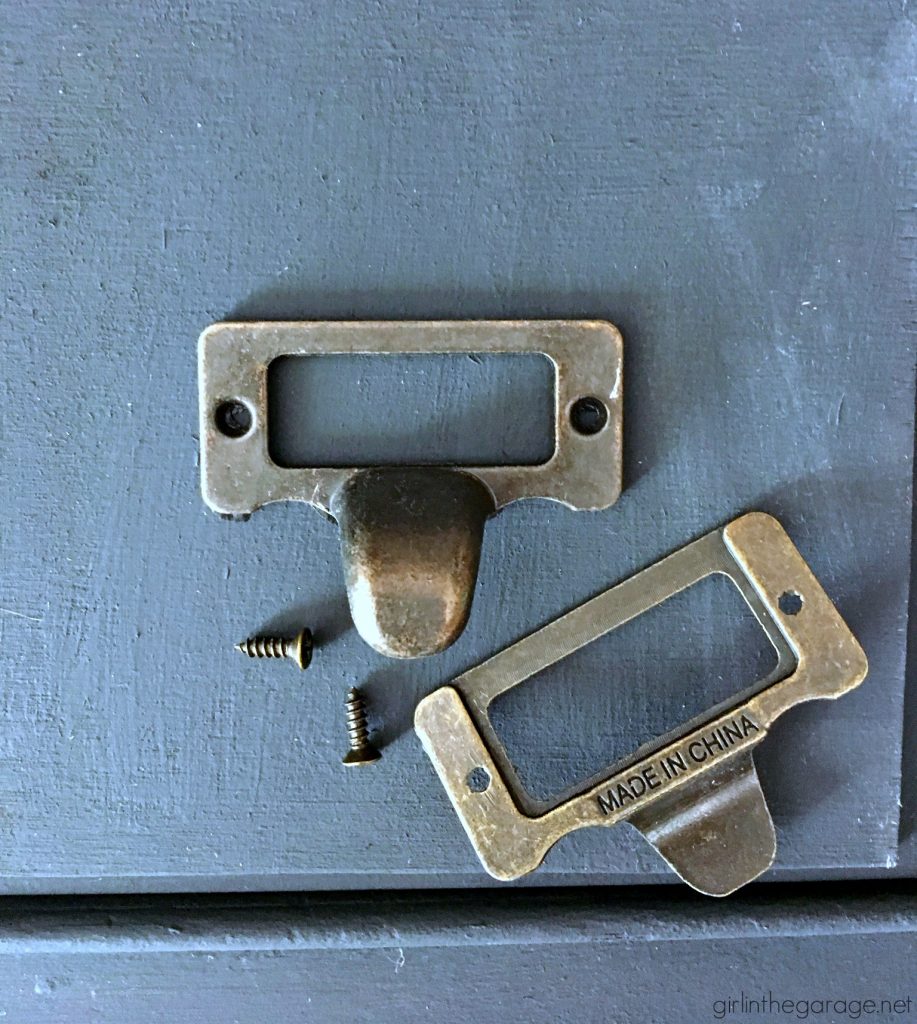 Finally, this repurposed record cabinet makeover to DIY card catalog was protected with Annie Sloan's clear wax applied with a lint free cloth. Black wax would've also been a good choice, and would've slightly darkened the Graphite.
And here's the end result…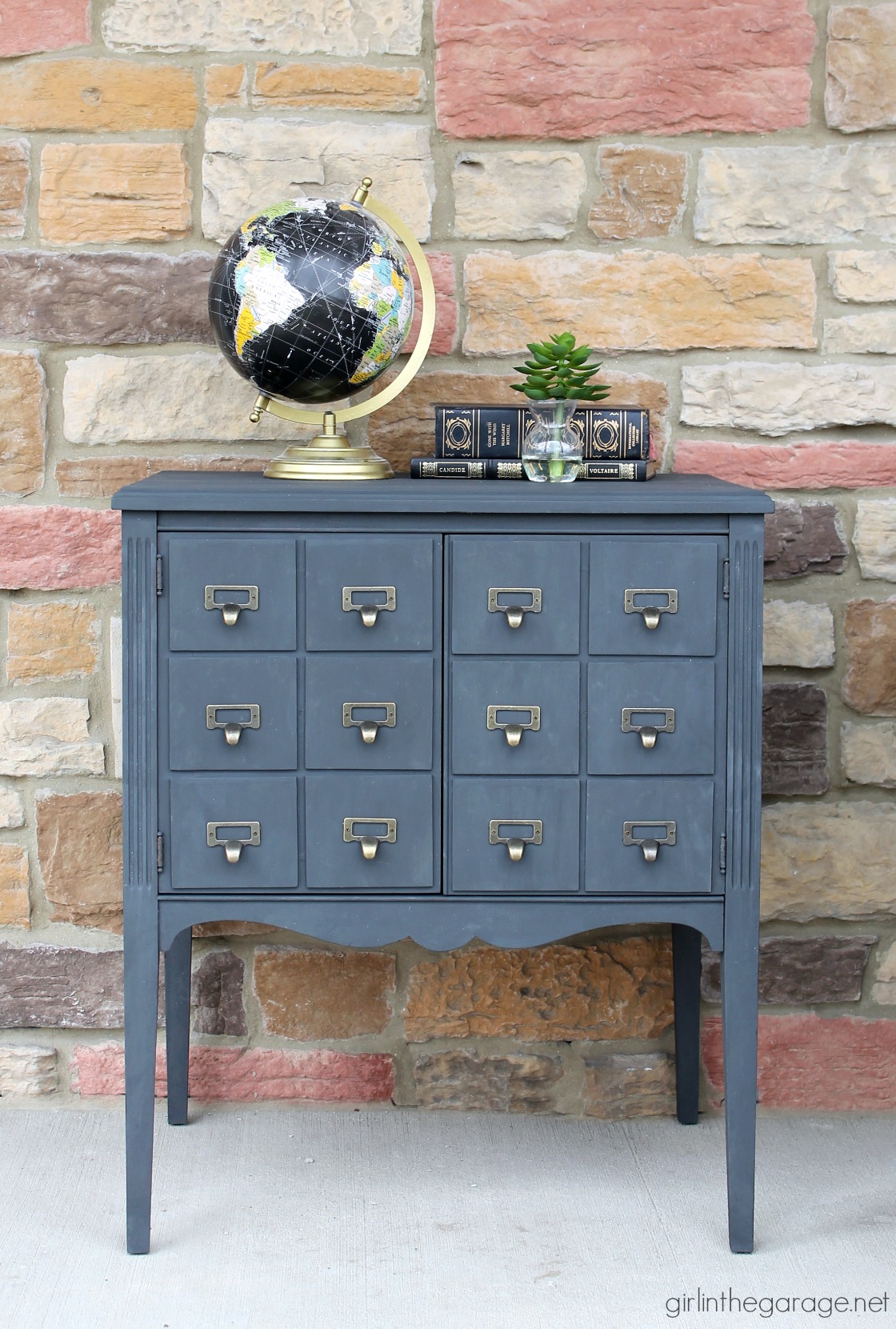 I just adore making faux card catalogs. Even if it doesn't fool someone, it's definitely a unique piece of furniture to have in your home.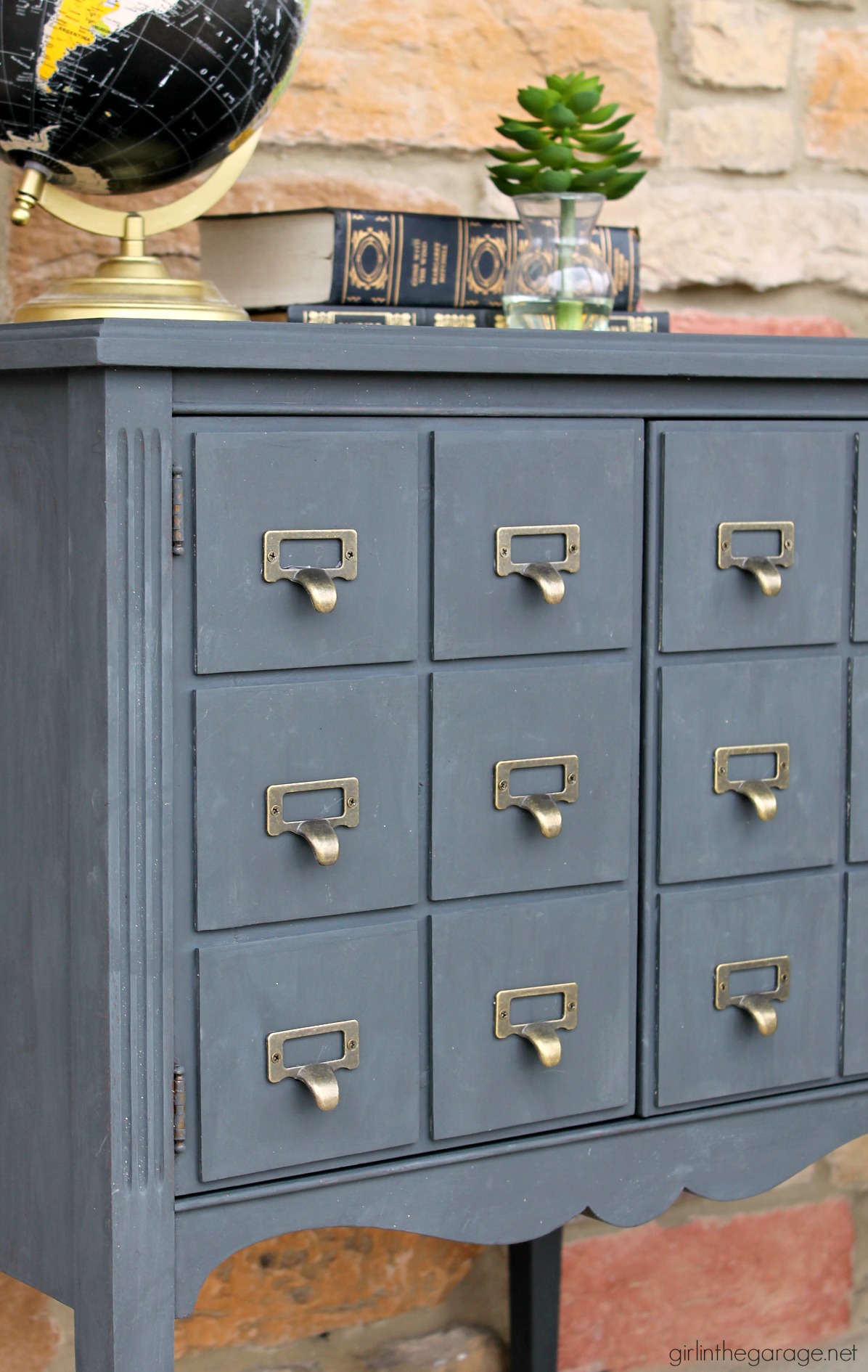 If you're not familiar with the Chalk Paint color Graphite, it's a mix between dark gray and black – like a chalkboard. I've been doing a lot of white makeovers lately so it felt good to pull out this can and use it again, and it's perfect for this piece. (Curious about black paint? Learn all about Athenian Black Chalk Paint and how to paint furniture black in this Ethan Allen nightstand makeover.)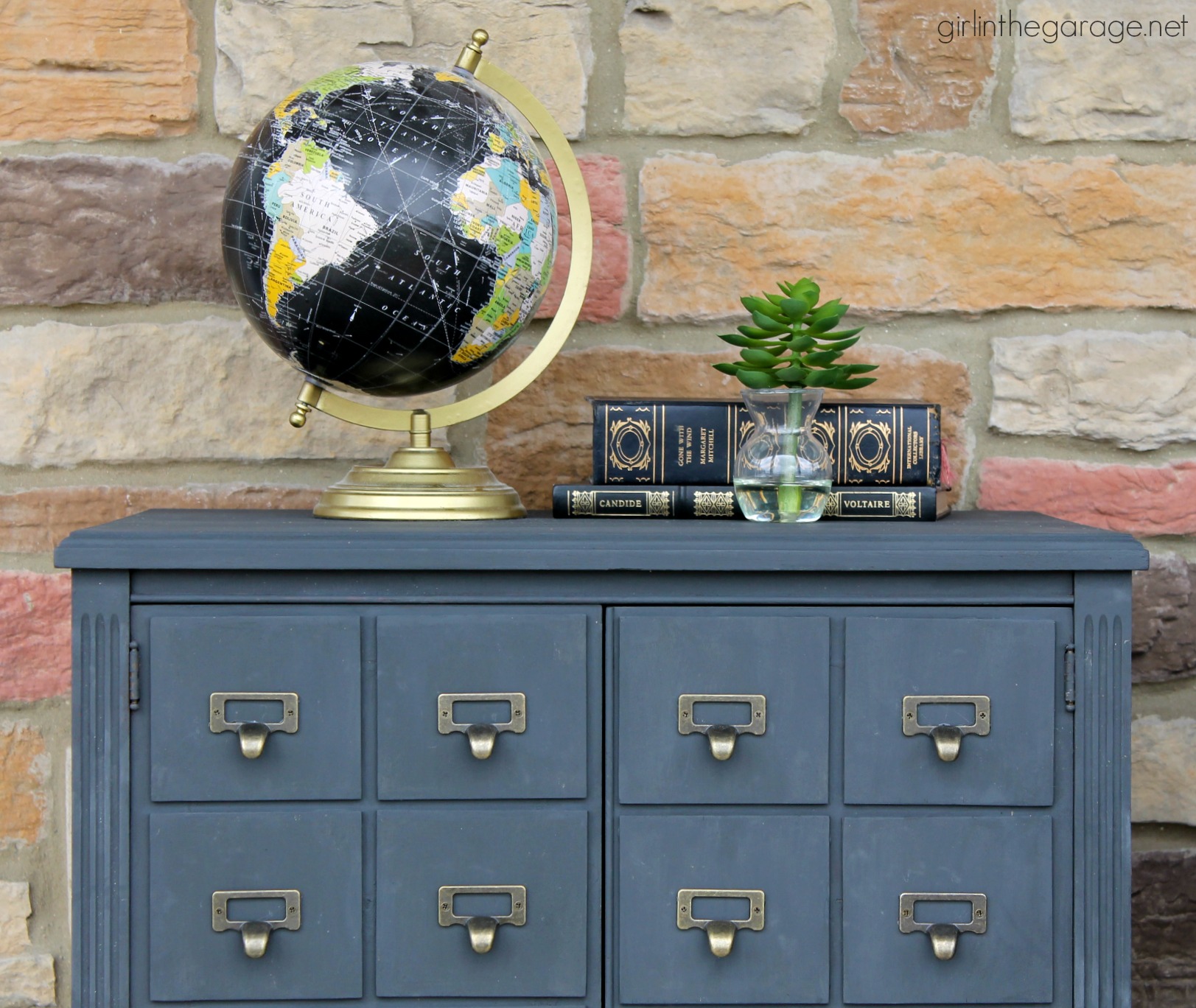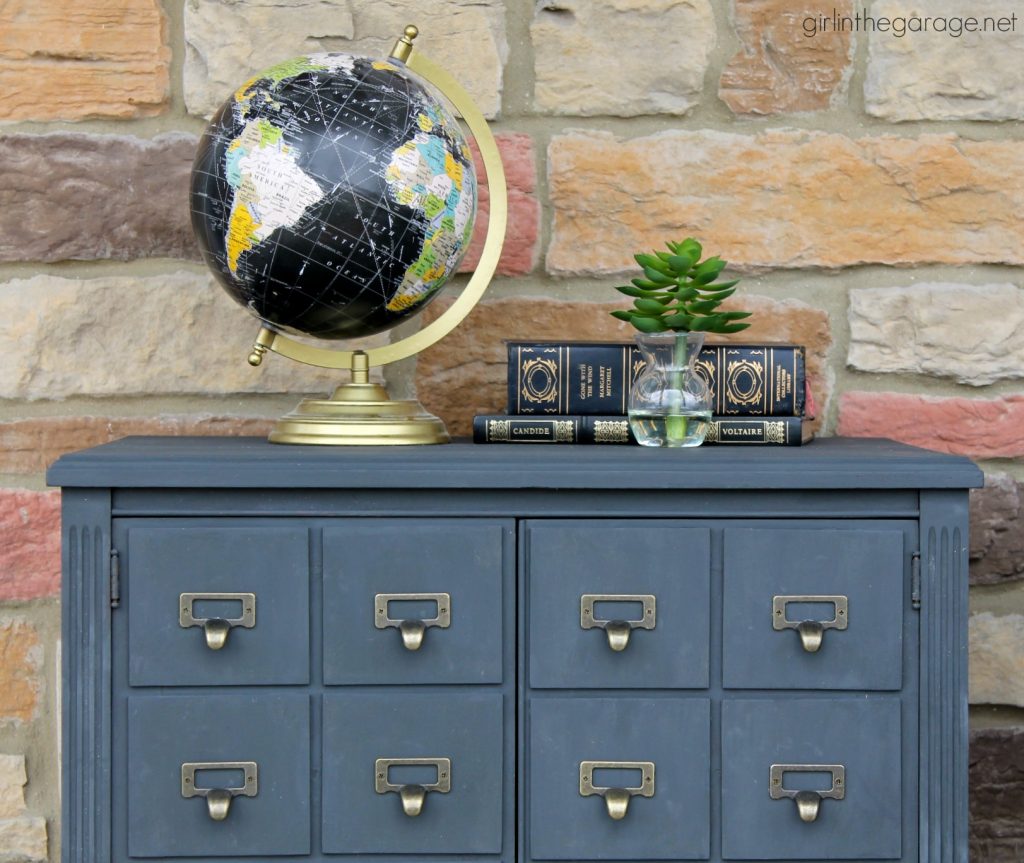 This one was really hard to say goodbye to! But it went to a good home. The new owner even sent me a photo of it in her house.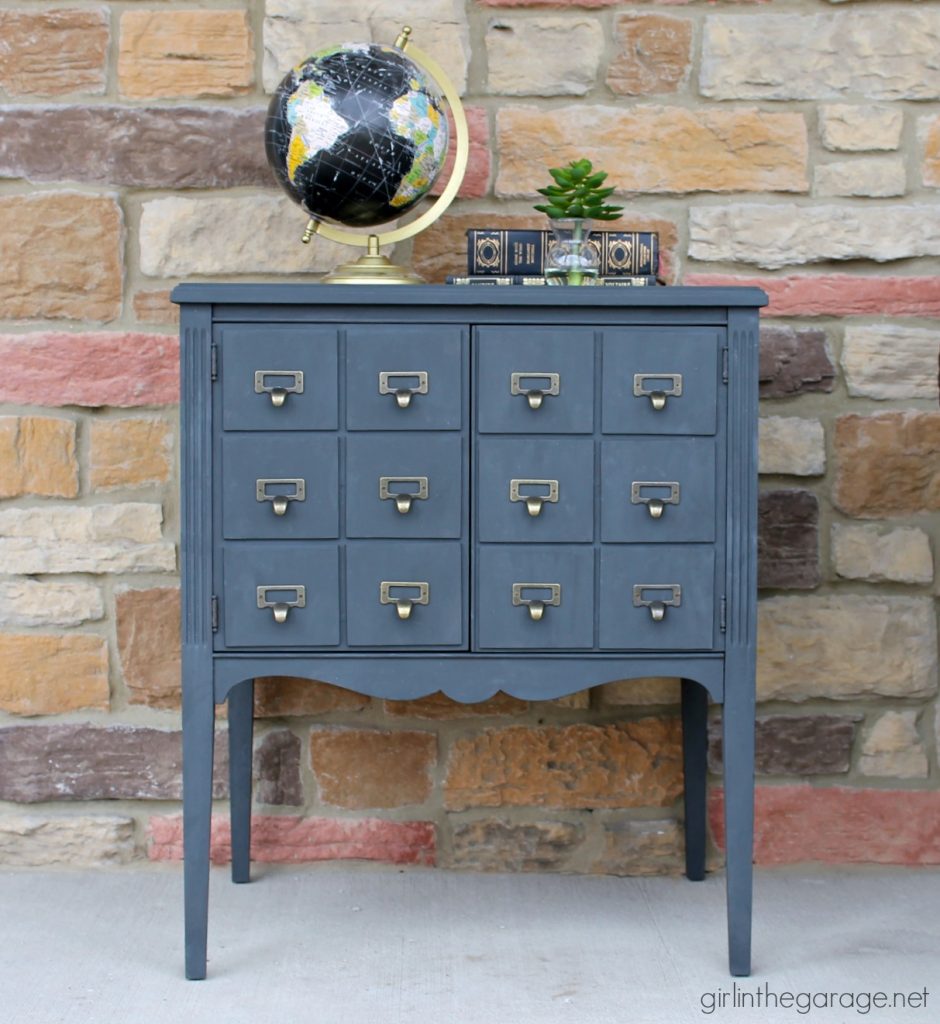 Here's a look at the inside of this upcycled record cabinet to DIY card catalog: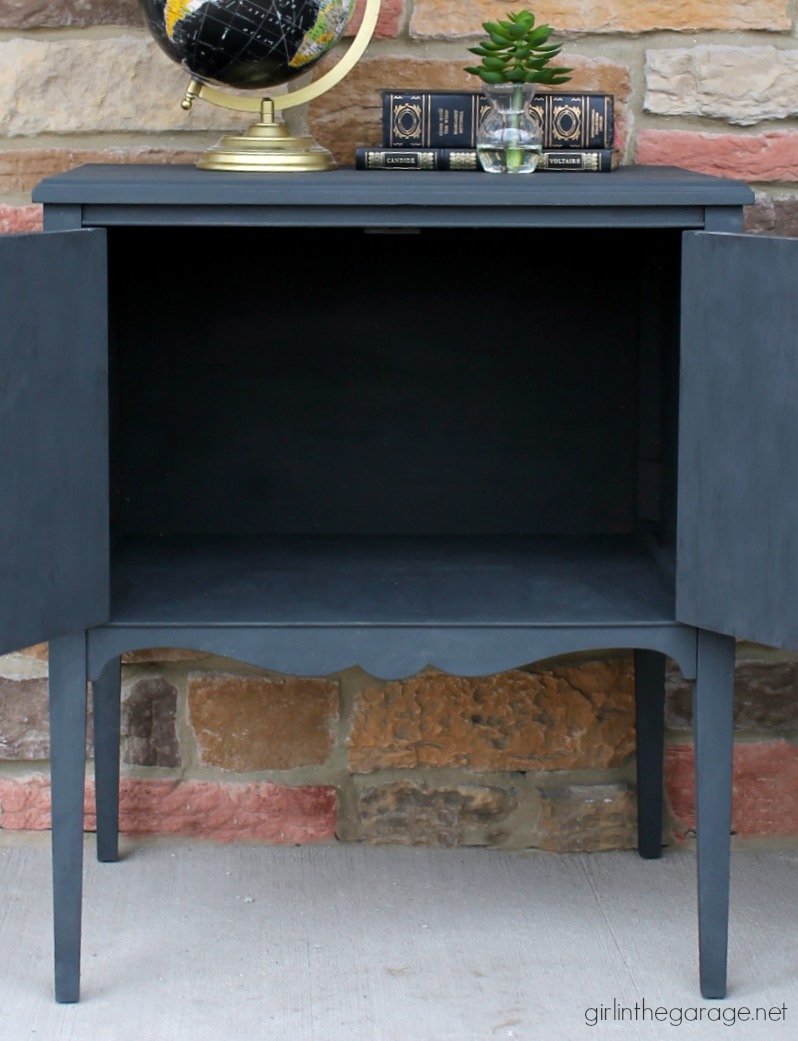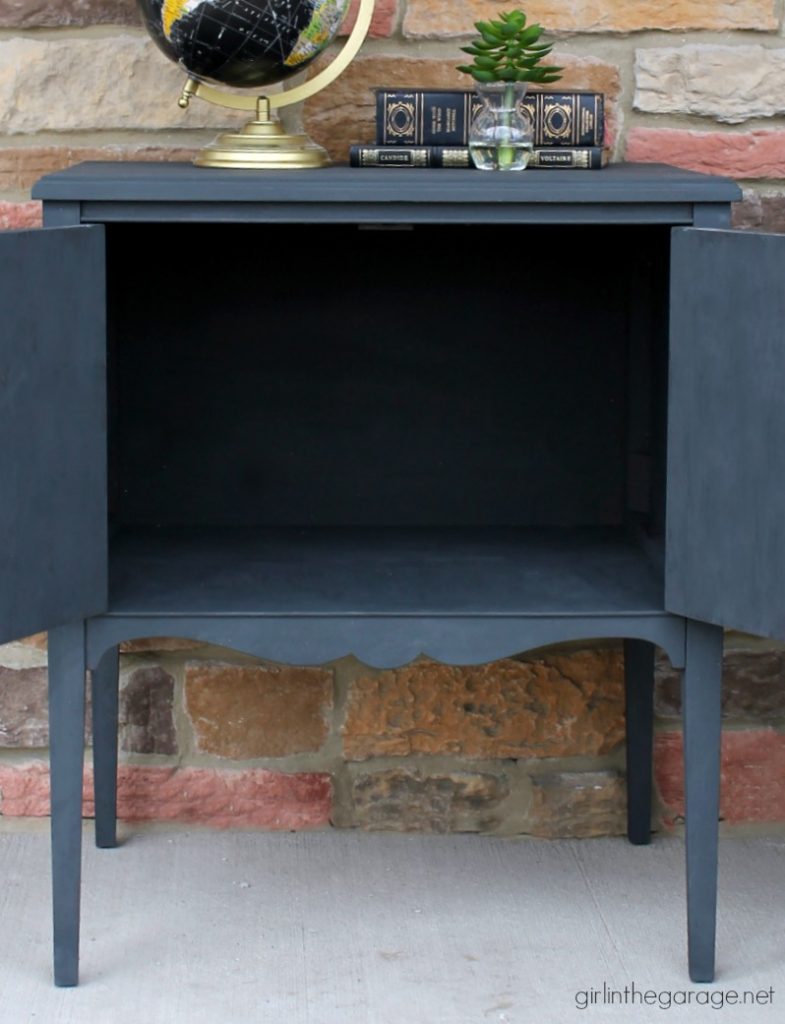 Feel free to share or Pin this project so you can easily find it later: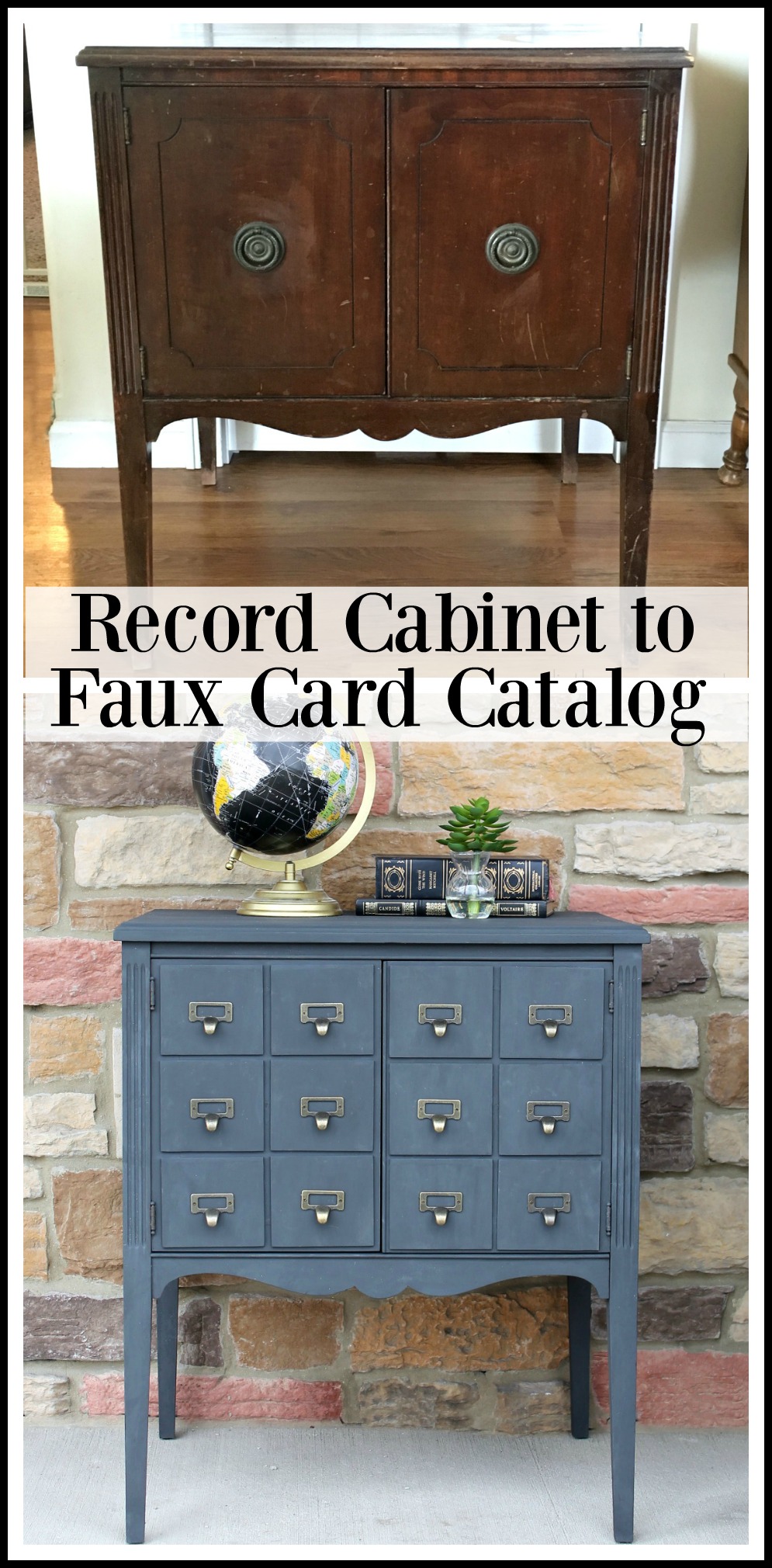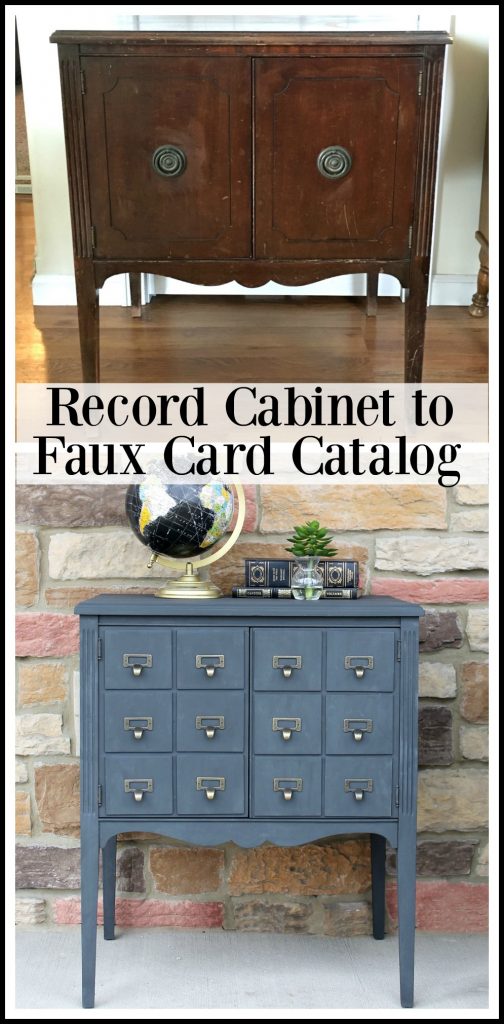 As always, I'd love it if you left me a comment with your thoughts or any other ideas for transforming a record cabinet like this. I'd also appreciate if you'd share this project with a friend – thank you!
– Jen
.
Now it's time to see what my friends are up to for Trash to Treasure Tuesday, our monthly makeover group: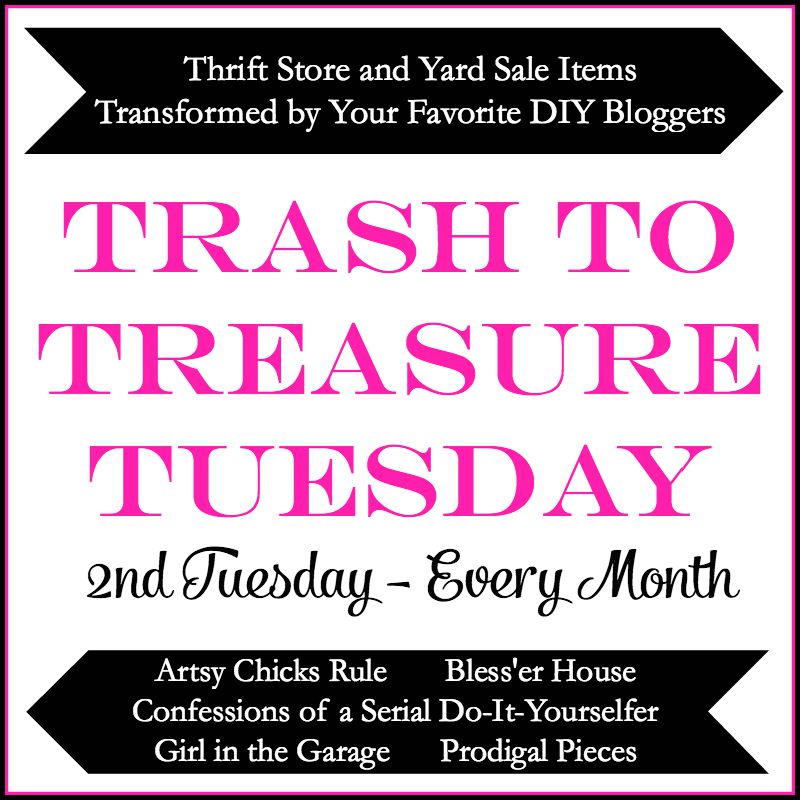 Below are the Before photos – visit the links underneath to see the After and learn how they did it.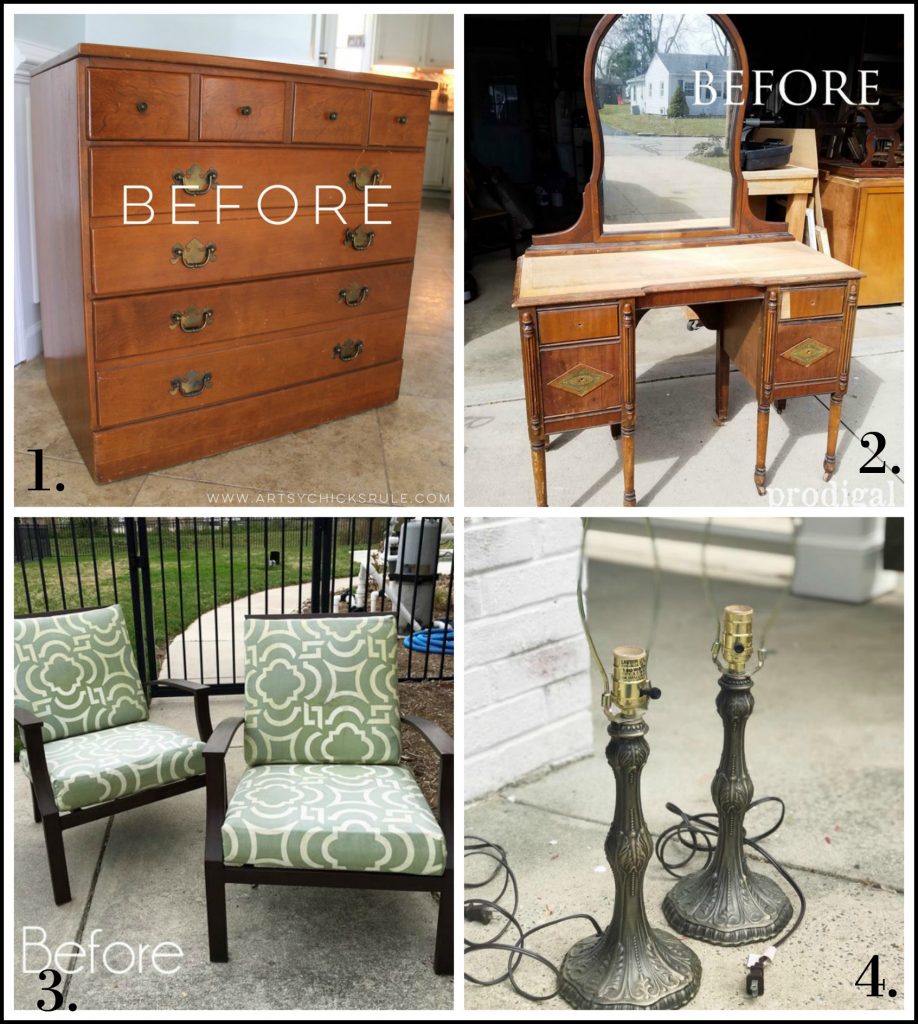 1. Artsy Chicks Rule
2. Prodigal Pieces
3. Confessions of a Serial DIYer
4. Bless'er House
.
Here are a couple other faux card catalog makeovers I've done: