Don't you just love a fantastic curbside score?
This old record storage cabinet was sitting in a pile of "garbage" from people who were moving out of their house, and of course I couldn't just leave it there! Today you'll learn how to transform furniture like this into a DIY apothecary cabinet (and there's a short how-to video too) and how to distress white painted wood furniture.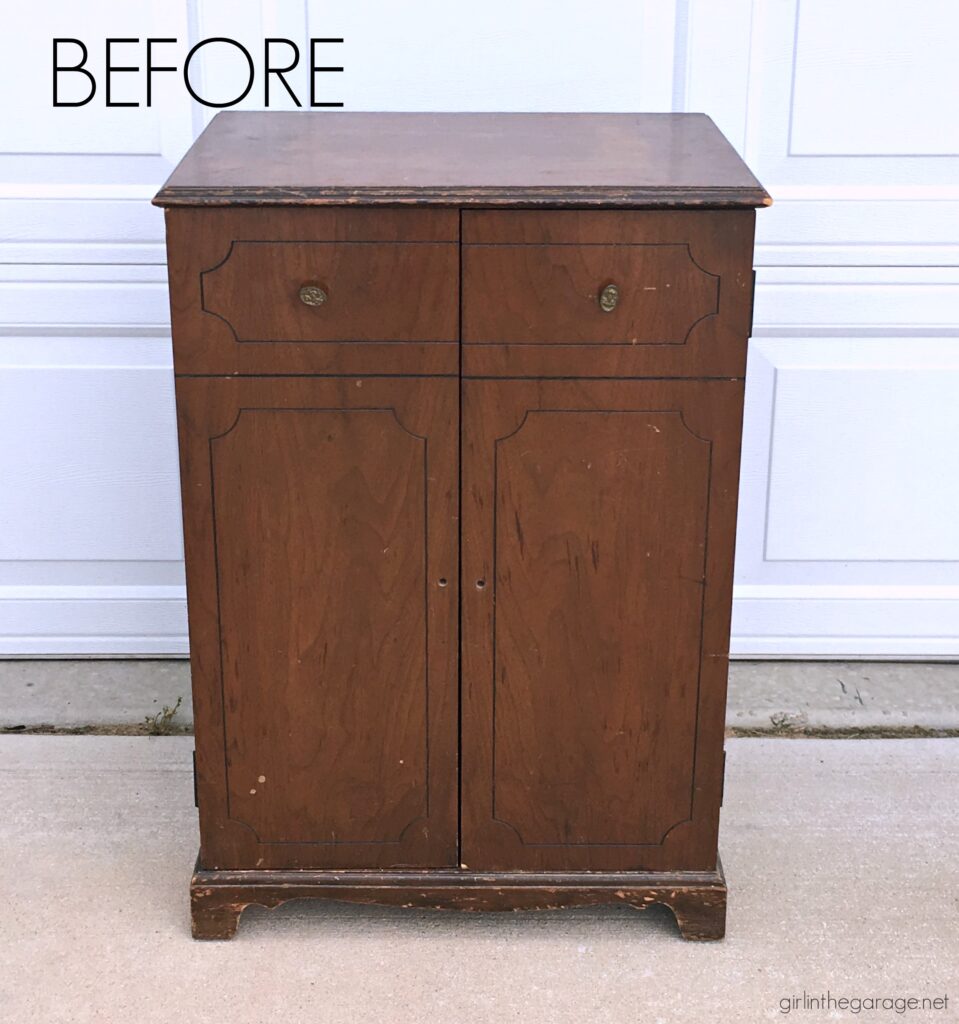 It definitely had been banged up over time, and needed sanding and some wood filler.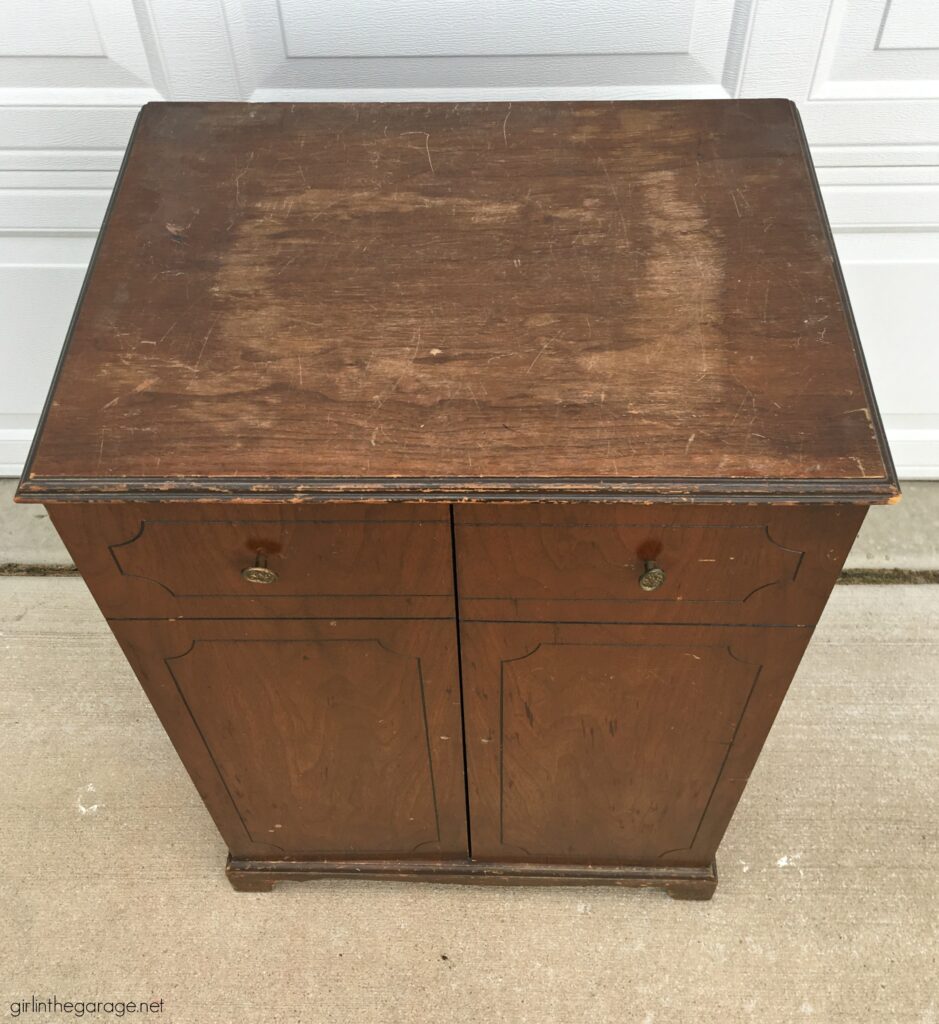 This piece reminds me a lot of a furniture makeover I did several years ago – you can see that cabinet here.
Here's the inside of the old record cabinet – the bottom dividers had already been removed.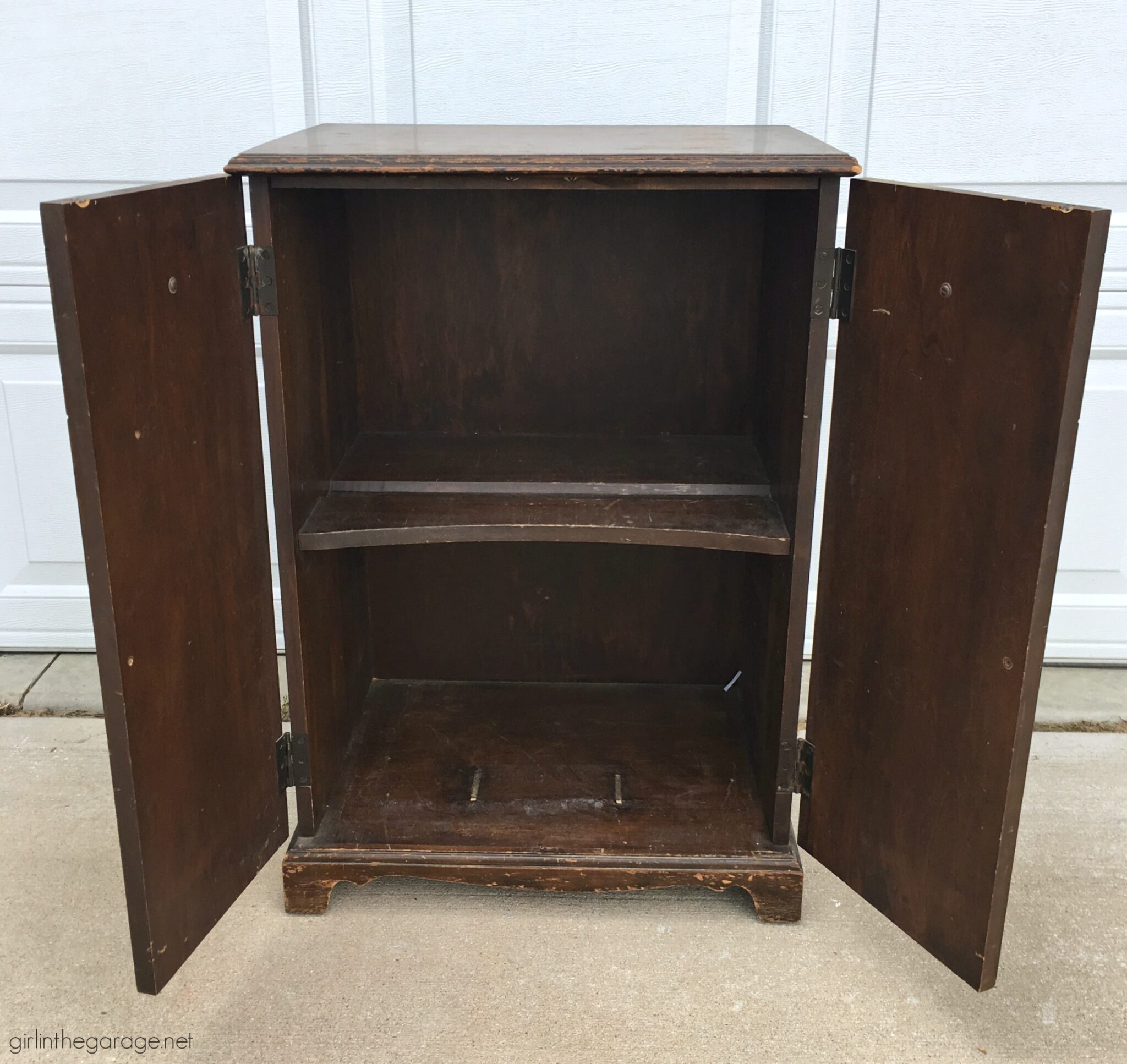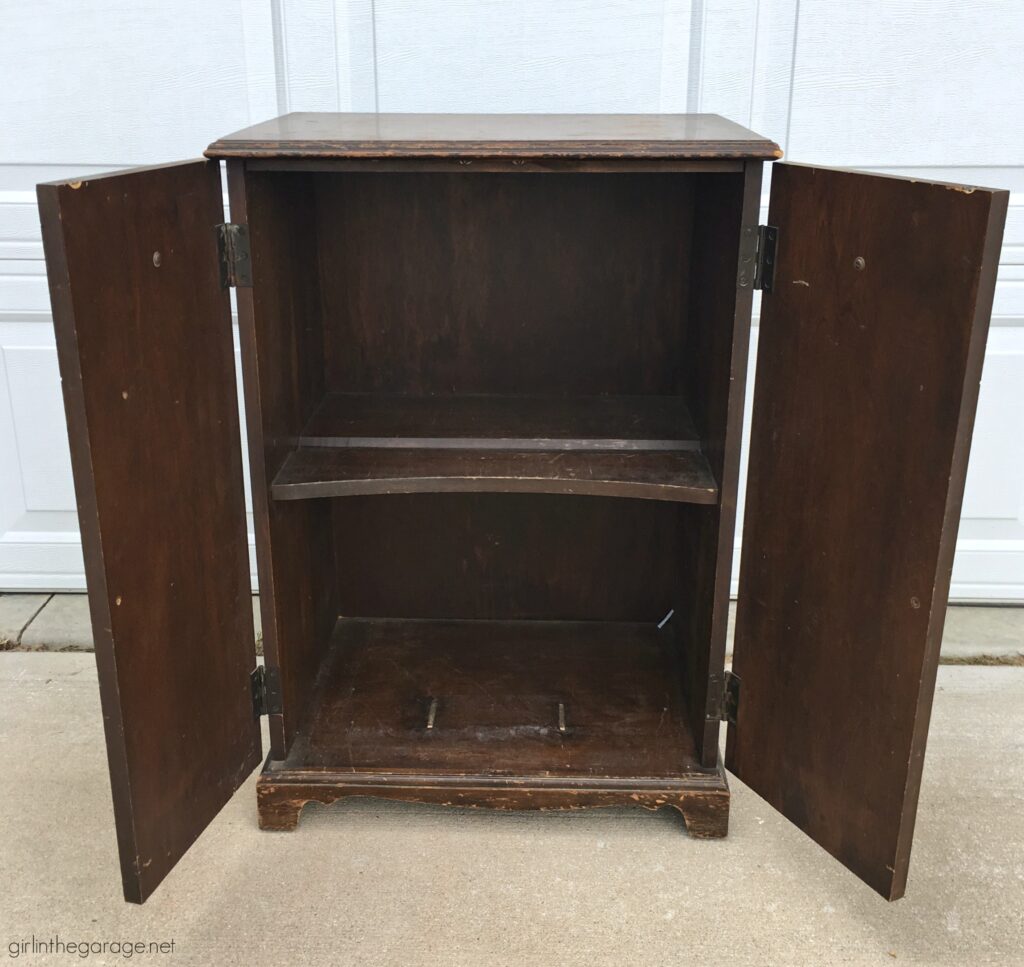 *This post contains some affiliate links so you can easily find the products I use and recommend. Discover all my favorite brands and tools for doing DIY makeovers here.
Fill nicks with wood filler (this is the one I prefer) and also any little grooves that might be visible even after attaching the wood panels for the faux apothecary drawers.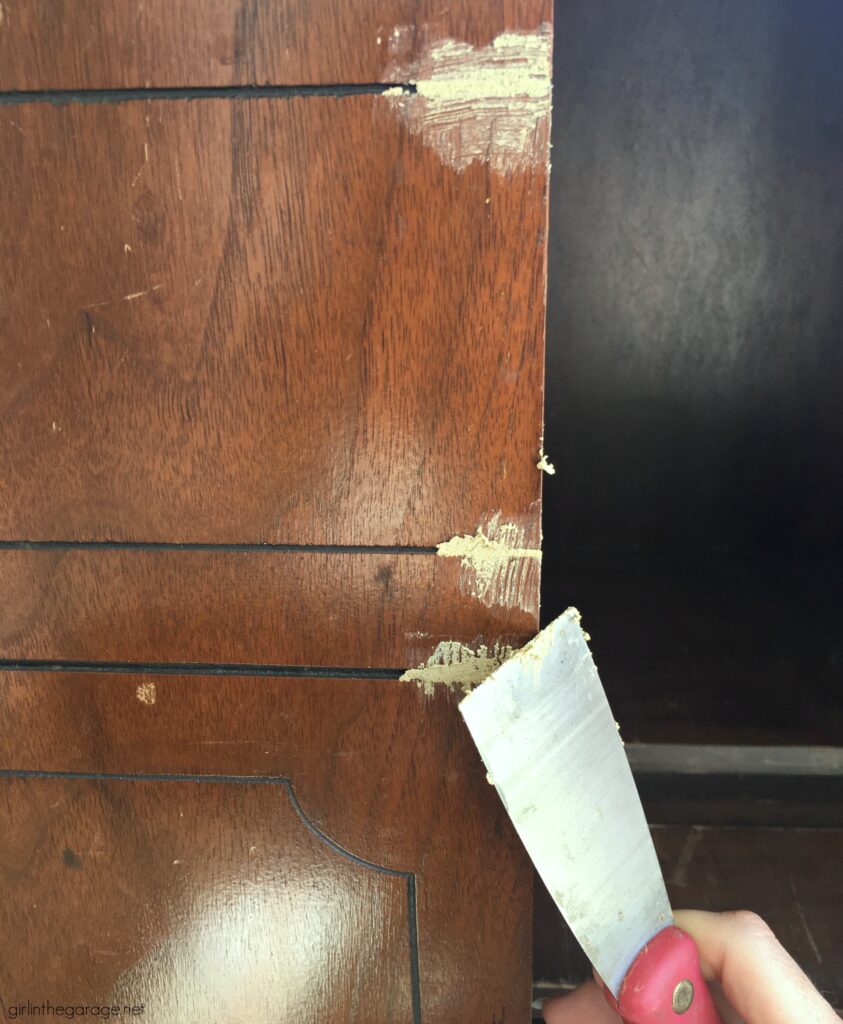 Let the wood filler dry and then sand it smooth.
Click here to read my detailed guide (with free printable) for How to Prep Furniture for Painting.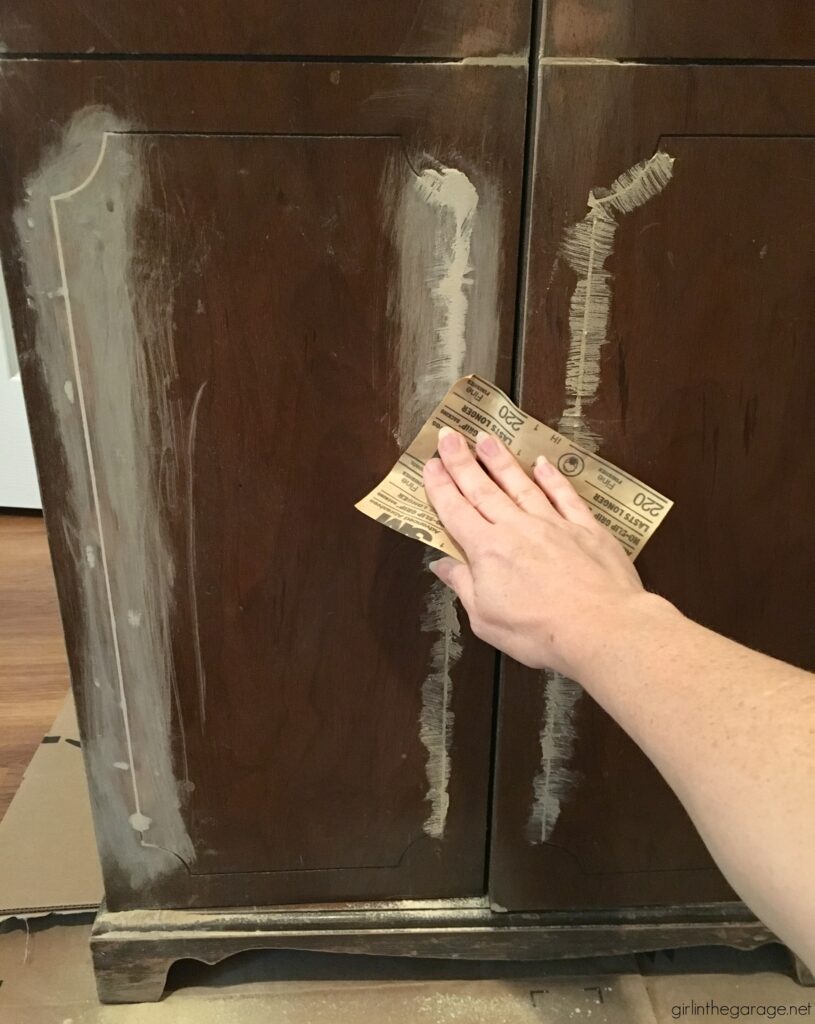 Create Faux Drawer Panels for the DIY Apothecary Cabinet
First measure how many faux drawer fronts you'll want – I decided on 5 for each door (5×10″ each). If you're going for more of a card catalog look, cut smaller rectangles. (Find more inspiration for DIY card catalogs and industrial storage makeovers here.)
Use birch plywood from the home improvement store (I buy pieces that are 3mmx12″x24″ – you can also find a 6-pack on Amazon here).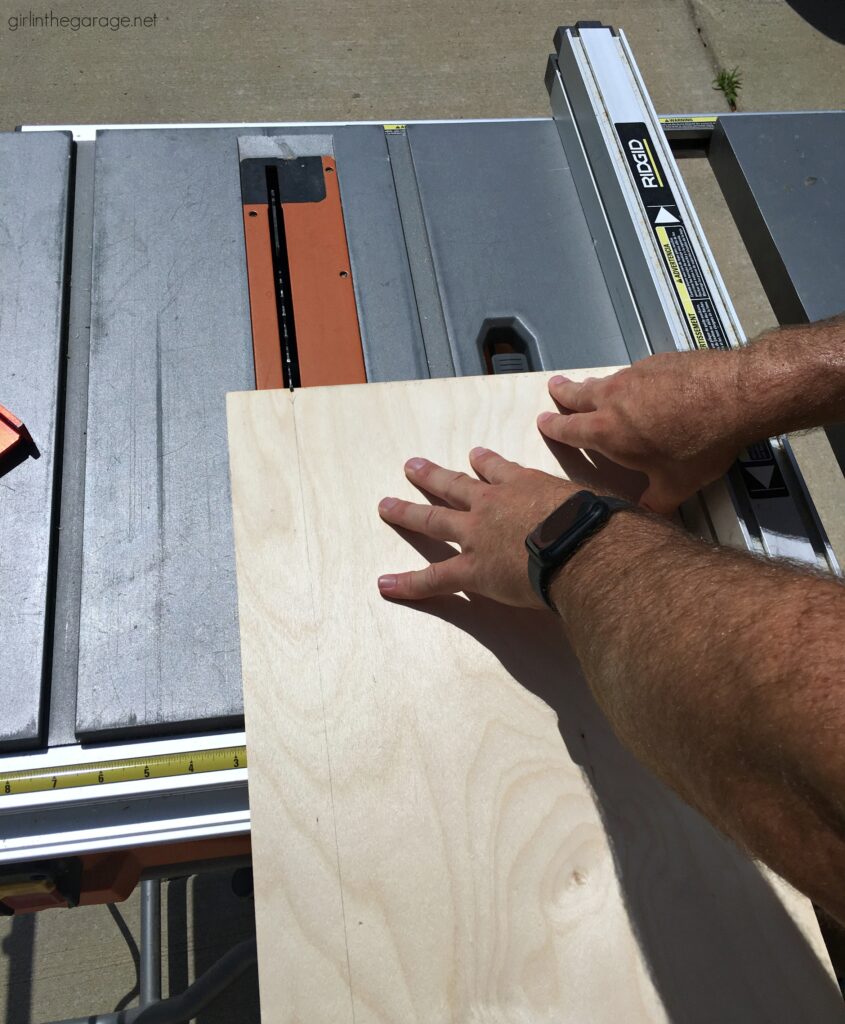 The easiest way to cut these is with a table saw. We have the portable Ridgid table saw on a folding workbench and it's really convenient to fold up and store when we're not using it. (Whenever you're using power tools, please remember to follow the directions and to wear safety accessories!)
Once the pieces are cut, lightly sand the edges to make them smooth and to make them a little bit more rounded/imperfect.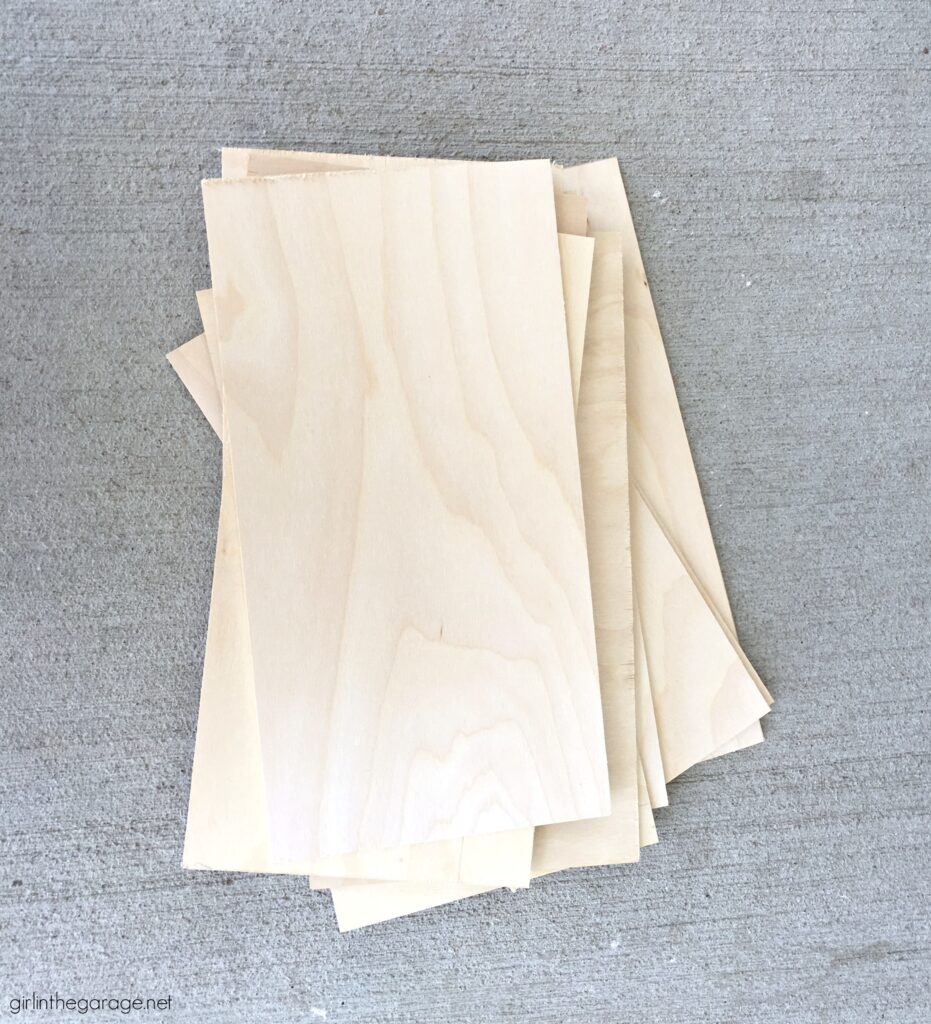 Before gluing the panels on, lay the cabinet on its back. Since there is no hardware currently, put cardboard or something there to prevent the doors from completely closing – or you won't be able to reopen them!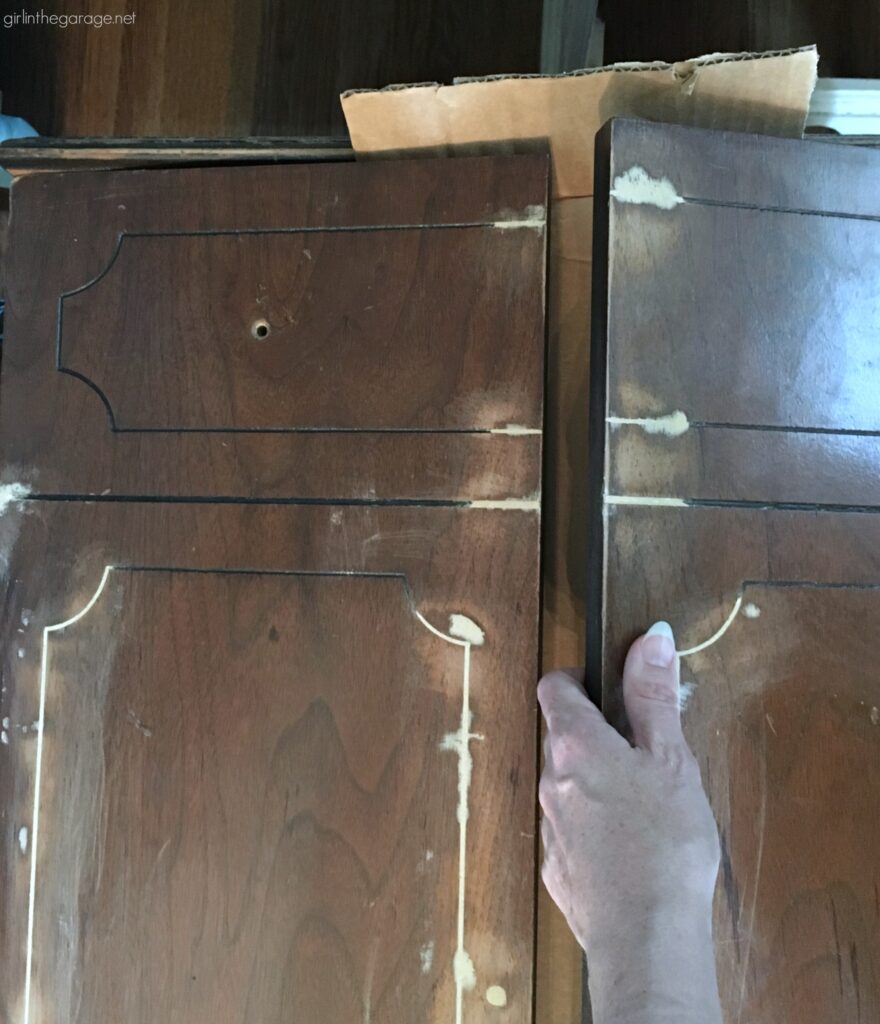 Have the doors as close to flat across as possible without letting them close. Then line up the wood panels to make sure they're in the right position.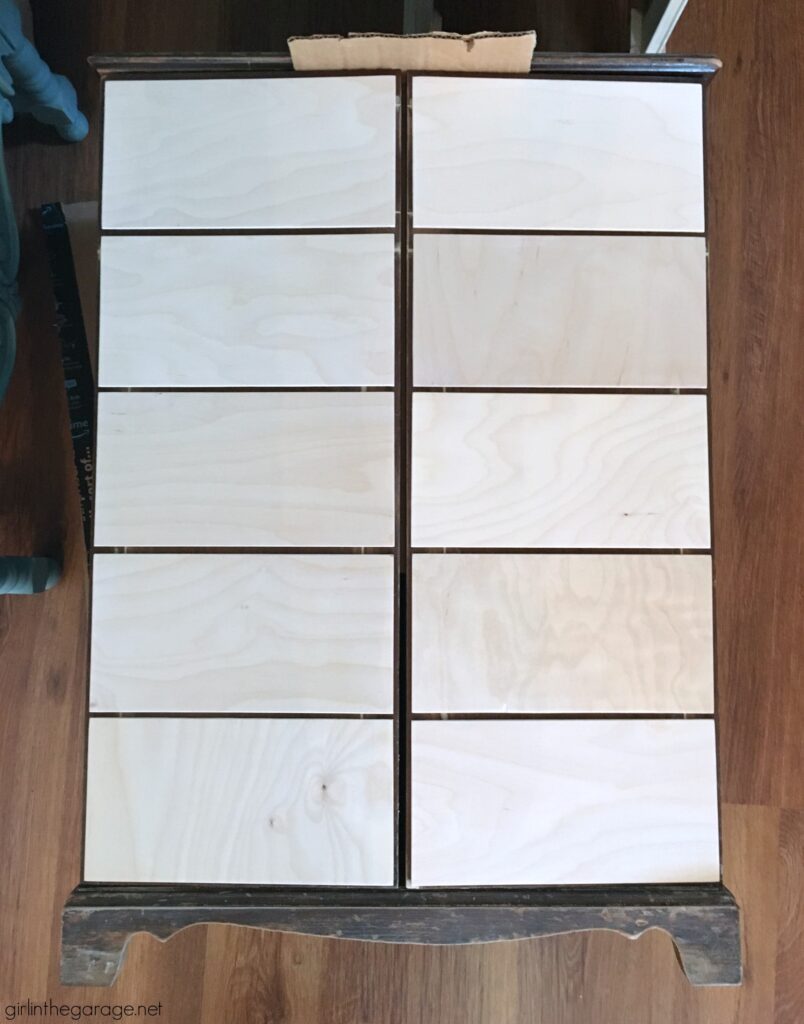 One by one, lift each panel and apply E6000 super glue to the back near the edges and near the center. I prefer this type of glue for bigger projects like this – it takes about 24 hours to fully dry and start to cure, but it's VERY strong forever afterward.
I always have an extra tube on hand for furniture projects or household emergencies.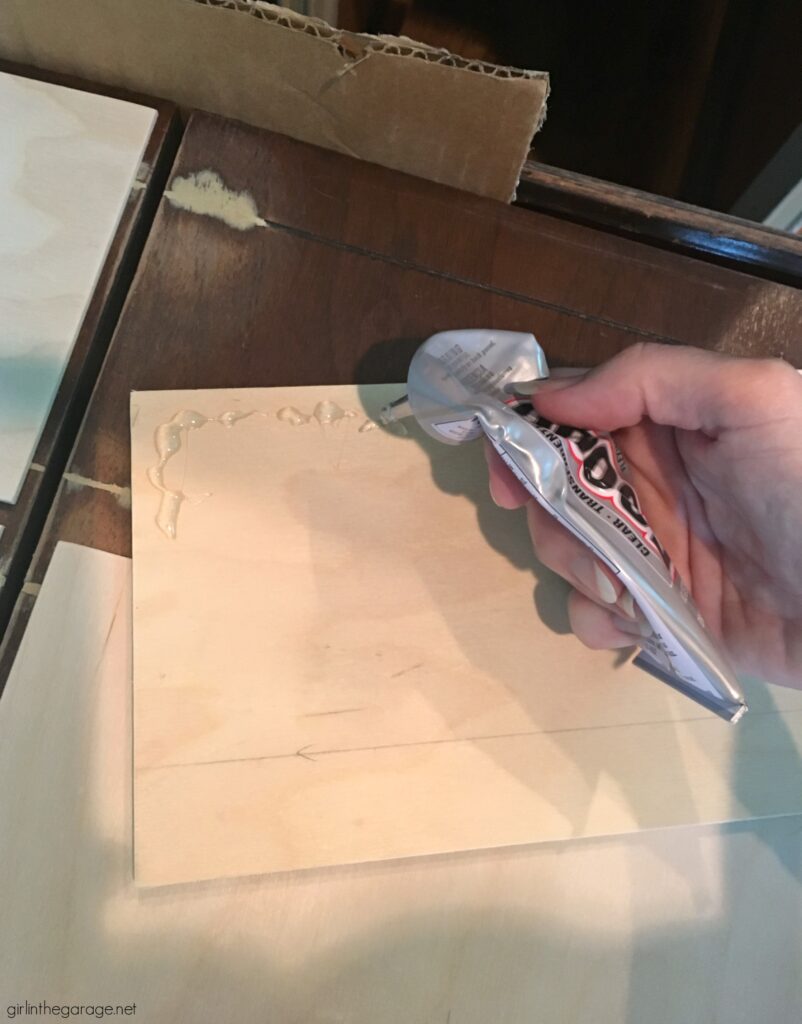 After placing the faux drawer front back in place, put some weight on top while it dries. You could also use clamps to keep it secure. I left the weight on overnight before moving on to the other panels.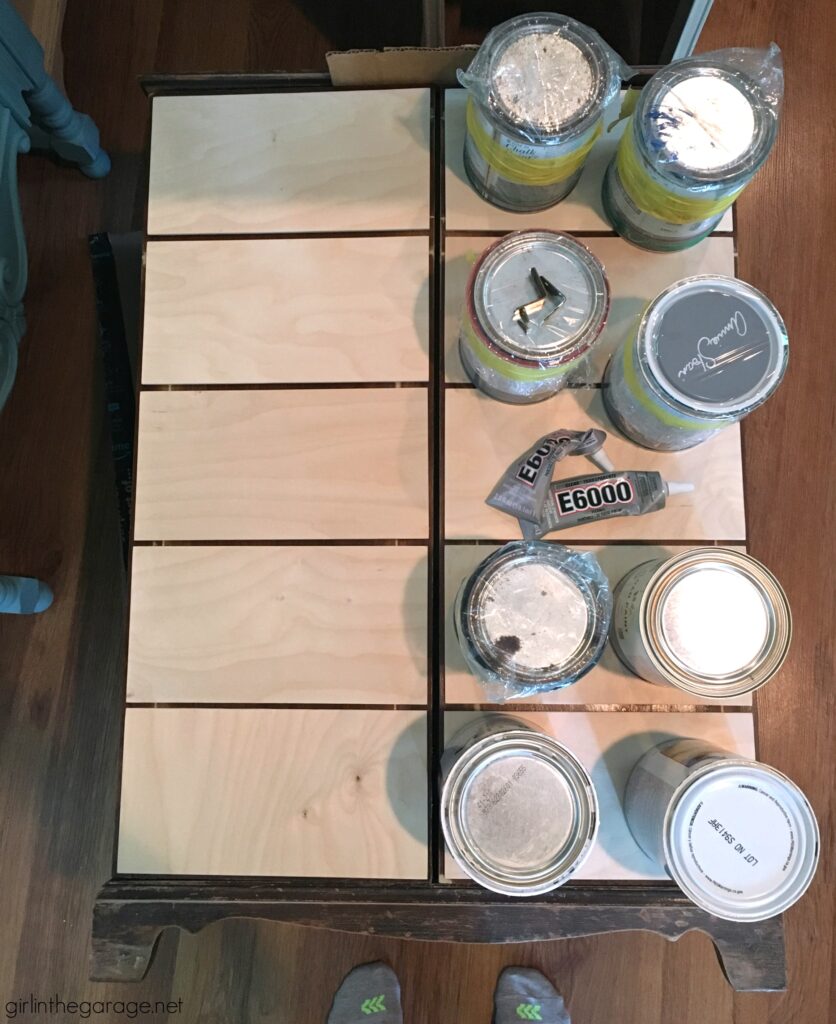 To address the top shelf inside (which had a pretty wide groove and also a curved front), Guy in the Garage cut a piece of 1/4″ wood to nail on top of the existing shelf.
Then he cut a strip to attach to the front to make it prettier. This time I used fast-drying Gorilla super glue gel which doesn't run. I only had to press it for about 30 seconds and could move on to painting.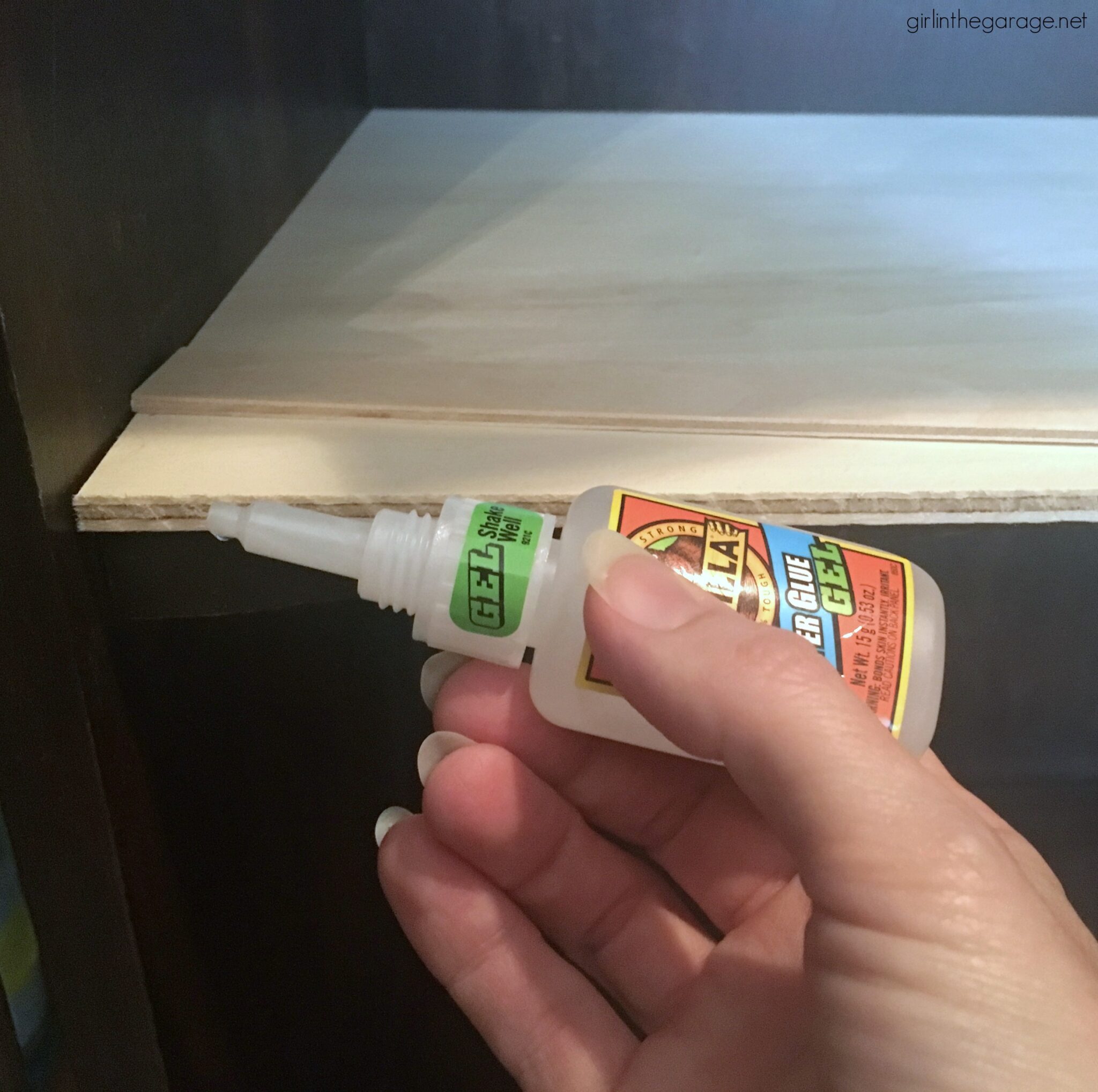 How to Chalk Paint the Wooden Cabinet
First I painted a base coat of Graphite Chalk Paint by Annie Sloan on the outside and went with fuller coverage on the inside (the inside is staying Graphite).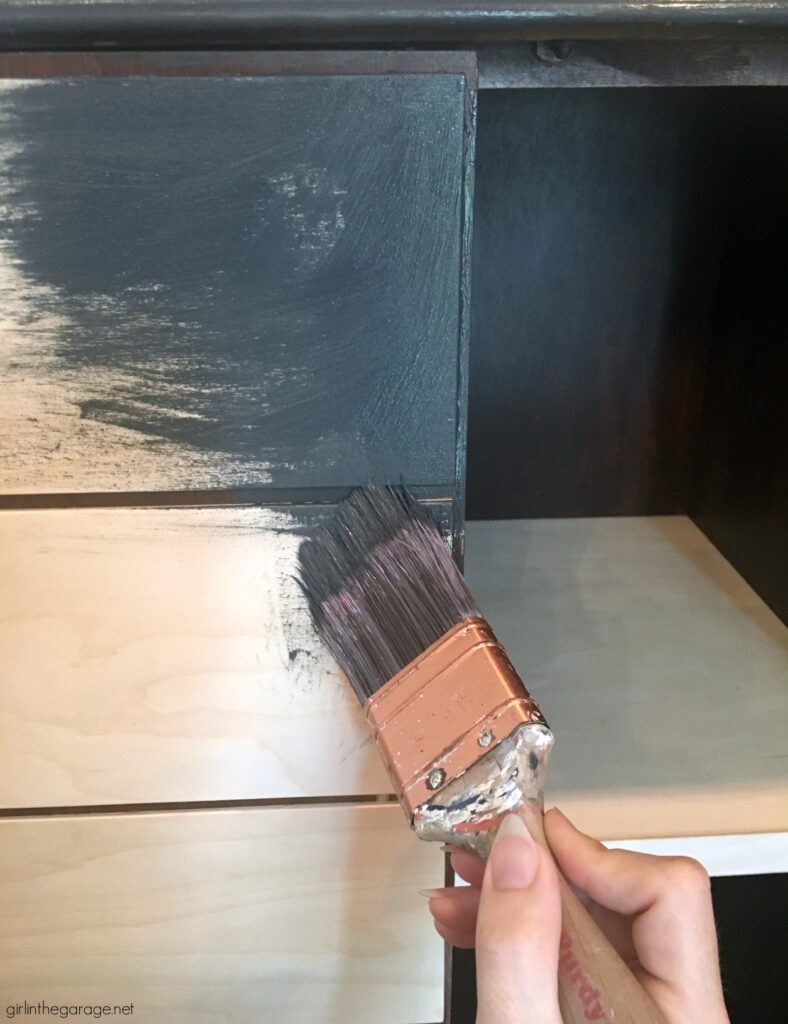 As always, I used my favorite Purdy brushes when painting.
The darker base is so that when I distress it later, the dark gray will show through from under the white paint.
Pssst… Learn all my best tips for using Chalk Paint here: How to Chalk Paint Furniture: Ultimate Beginner's Guide to Chalk Painting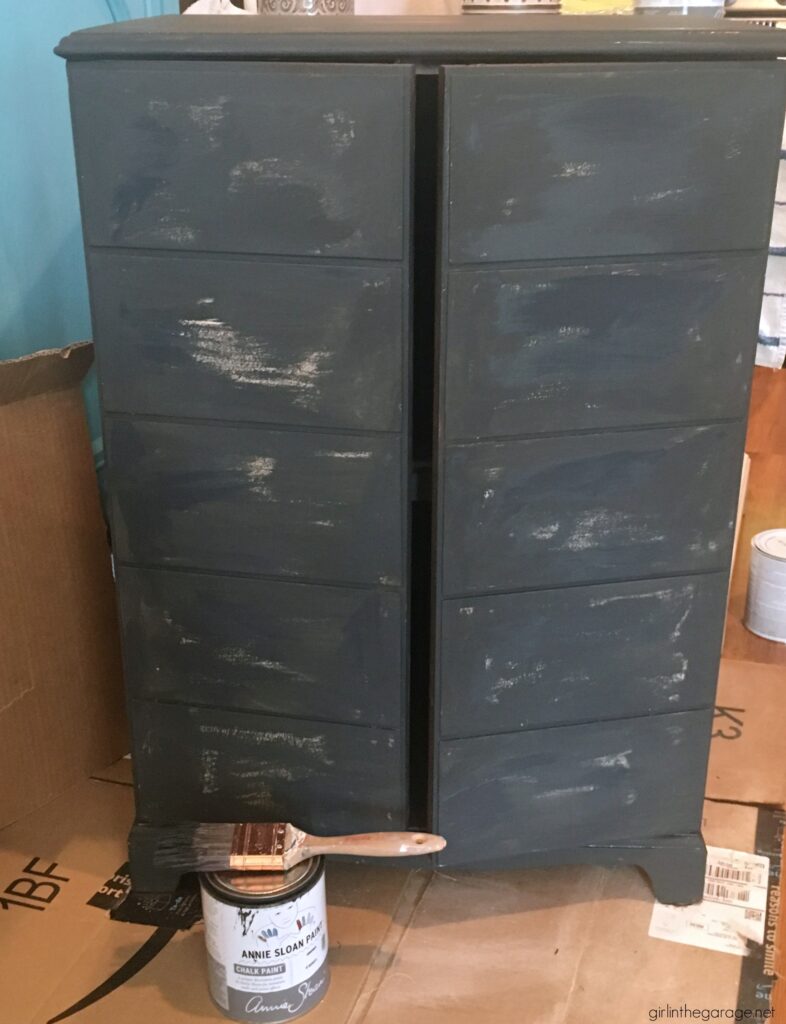 Next I brushed on white shellac primer over the Graphite.
You're probably thinking "why on earth did you put primer over the paint??" Keep reading, my friend…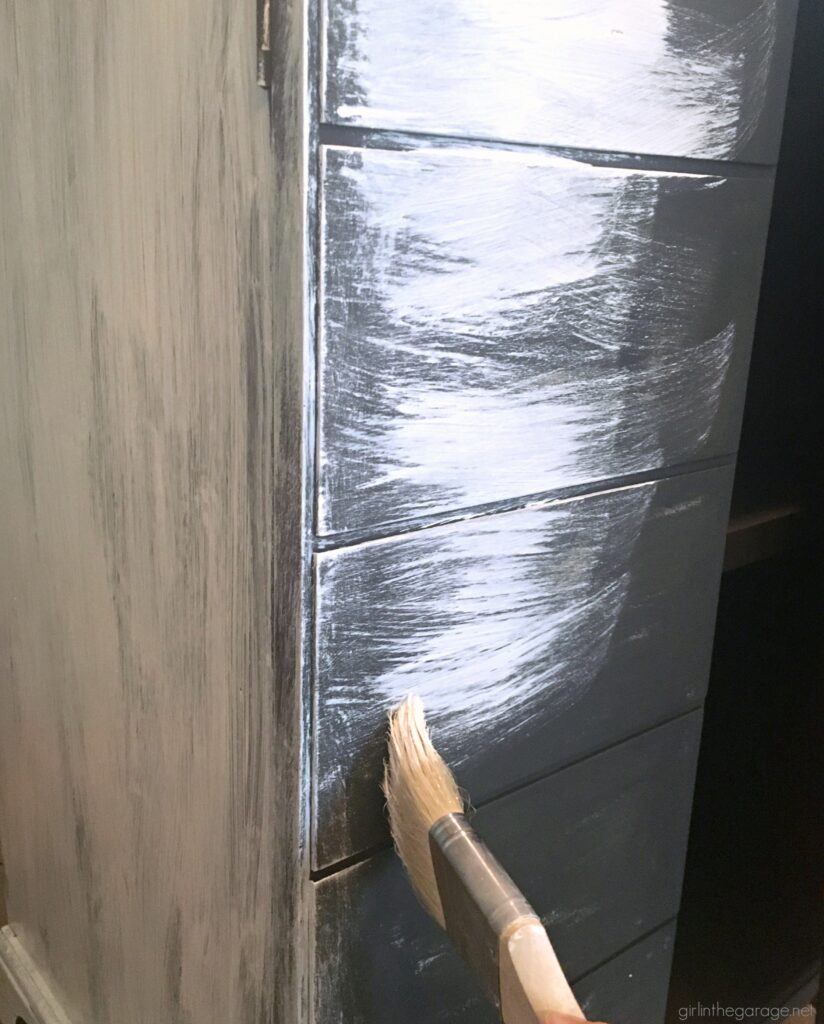 Here is my reasoning for painting Graphite first and then priming:
1. This cabinet would be a bleeder, no doubt. Especially with those heavily worn areas on top and all the sanding I had to do. Therefore primer is necessary.
2. My final top layer will be white paint – I'd rather have white primer directly under the white paint for a bright, clean look than end up wasting a bunch of white paint later to hide the dinginess of the gray coming through. Make sense?
Below you can see the left door which has one coat of Pure White Chalk Paint by Annie Sloan on it, and the right door which has no white paint yet (only white primer).

Next it's time to distress this white wood painted cabinet. Carefully sand the edges of the cabinet and around the faux drawer panels with 220-grit sandpaper to let the Graphite peek through. Distressing painted wood really helps define all the lines better and gives the piece a more naturally aged look. It's up to you how light or heavy you want to distress over the white paint, but if you do too much, you can always brush on a little more paint again.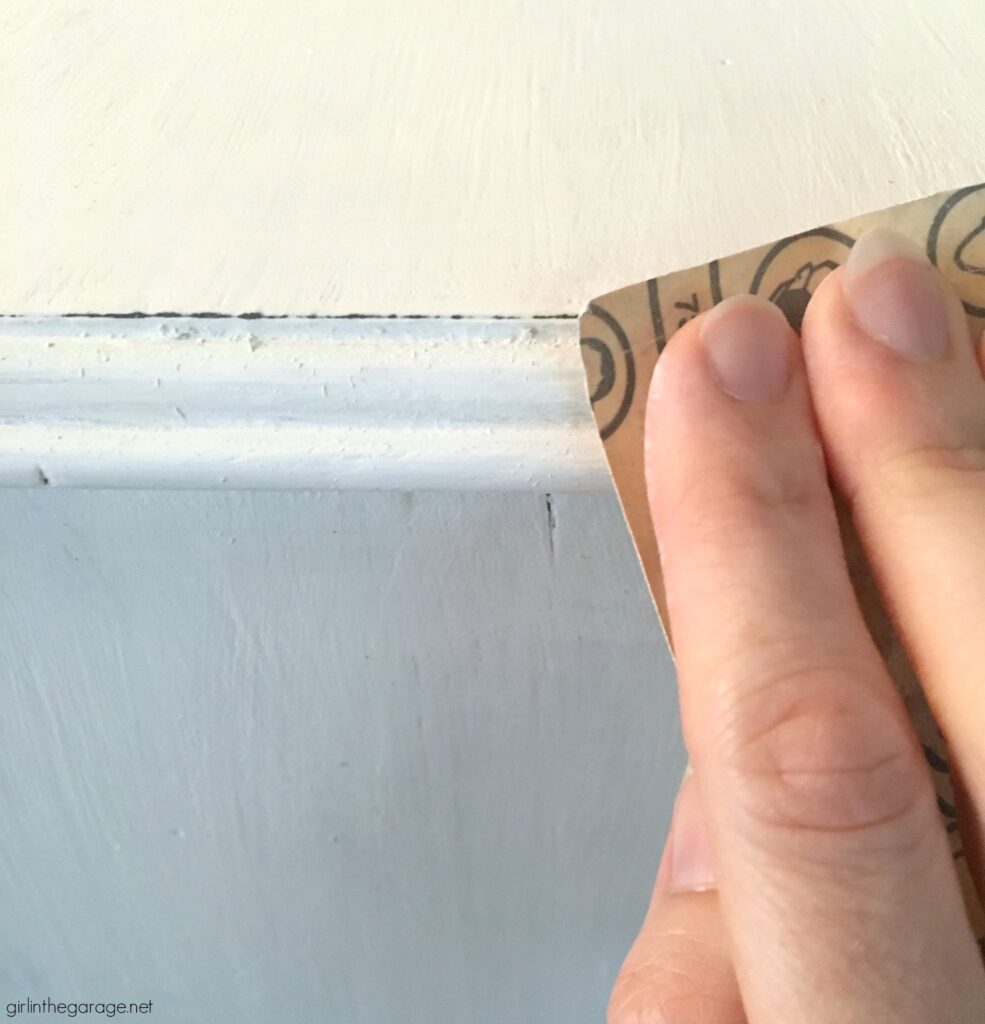 How to Add Label Cup Pulls to the DIY Apothecary Cabinet
Amazon has some amazing industrial and card catalog-type pulls that are wonderful for projects like this. You can see several of my favorites here in this post.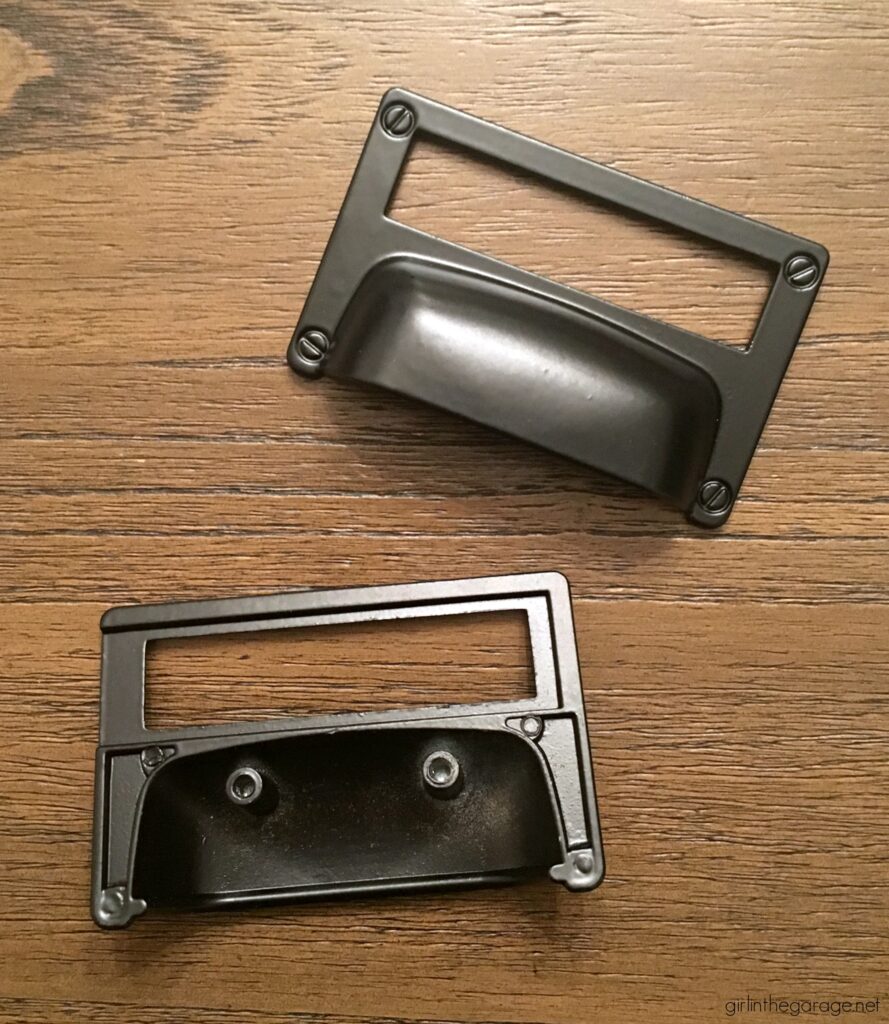 I ordered two 6-packs of these black label cup pulls for this cabinet. They look gorgeous, but I'm going to be completely honest and warn you that they are a pain to install. You'd think that only having 2 screw holes would be easier, but since they're on the backside, it's pretty hard to do it without muttering angry words inside your head.
How to make a template for new drawer pulls: To make things a little easier, I made a template on card stock (see below). I cut out a rectangle and then poked an ink pen through the holes from the back, and then traced the shape of the pull on the front. This really helped for getting the hole spacing correct, because it's not a normal distance like most pulls.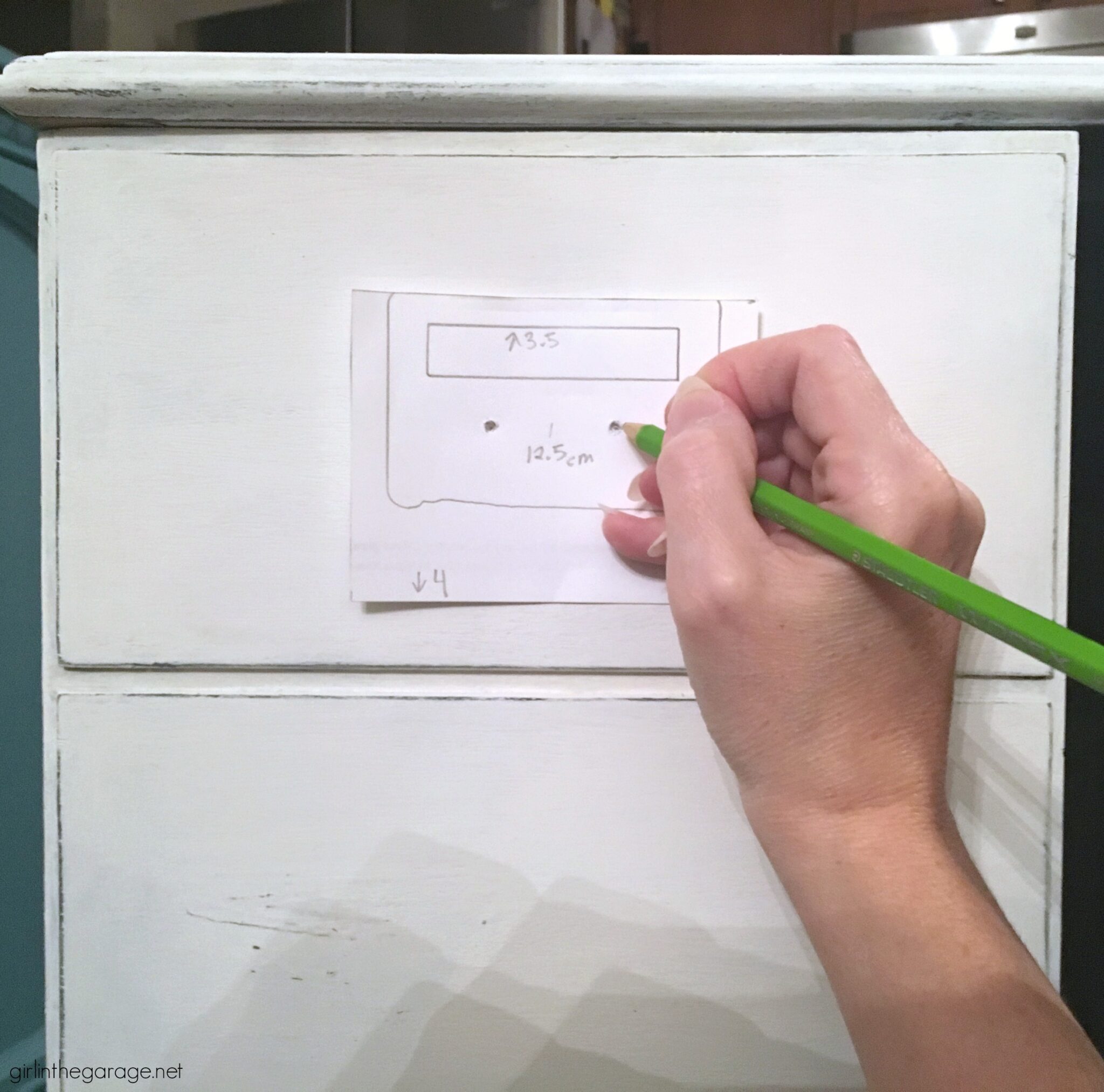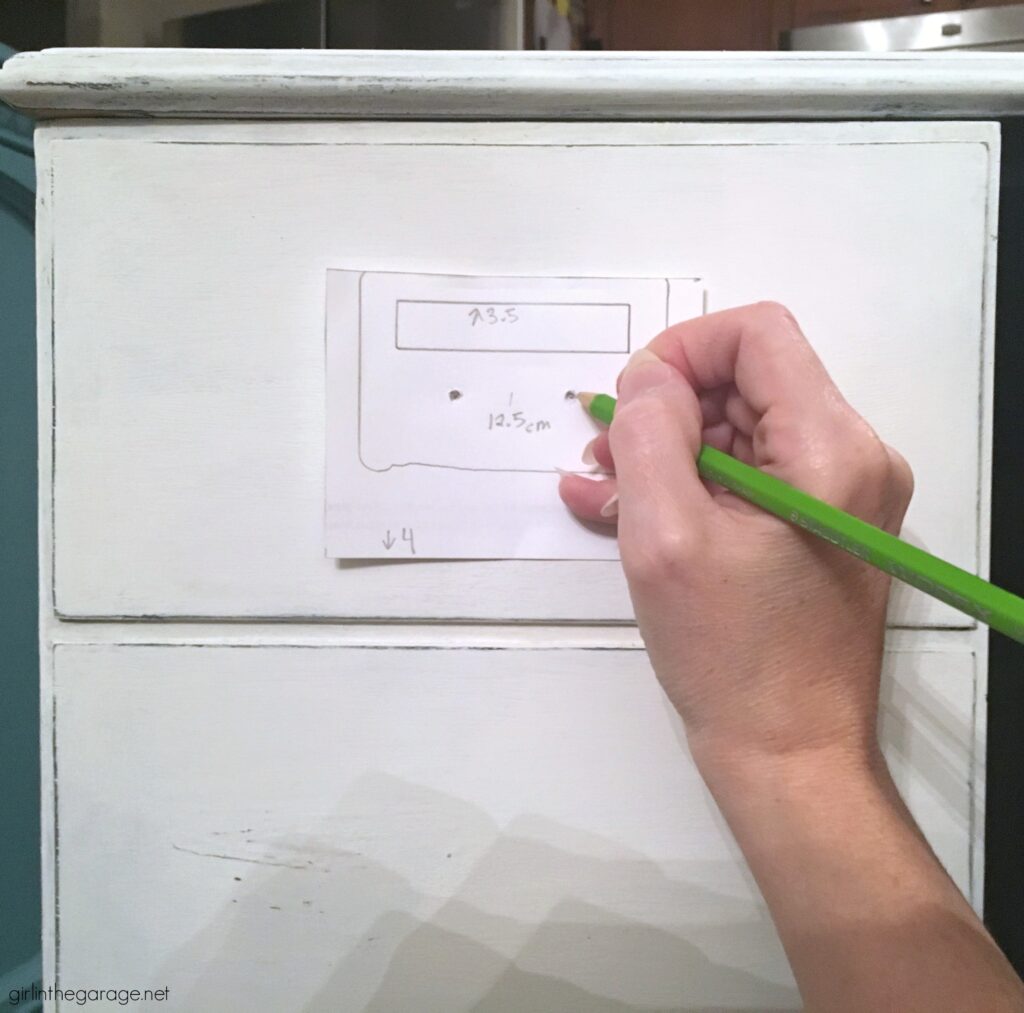 I used a yardstick and the template to mark where the holes should go on every panel. Then I drilled the holes with my hardworking drill/driver combo tool (this one is a highly-rated newer model of mine).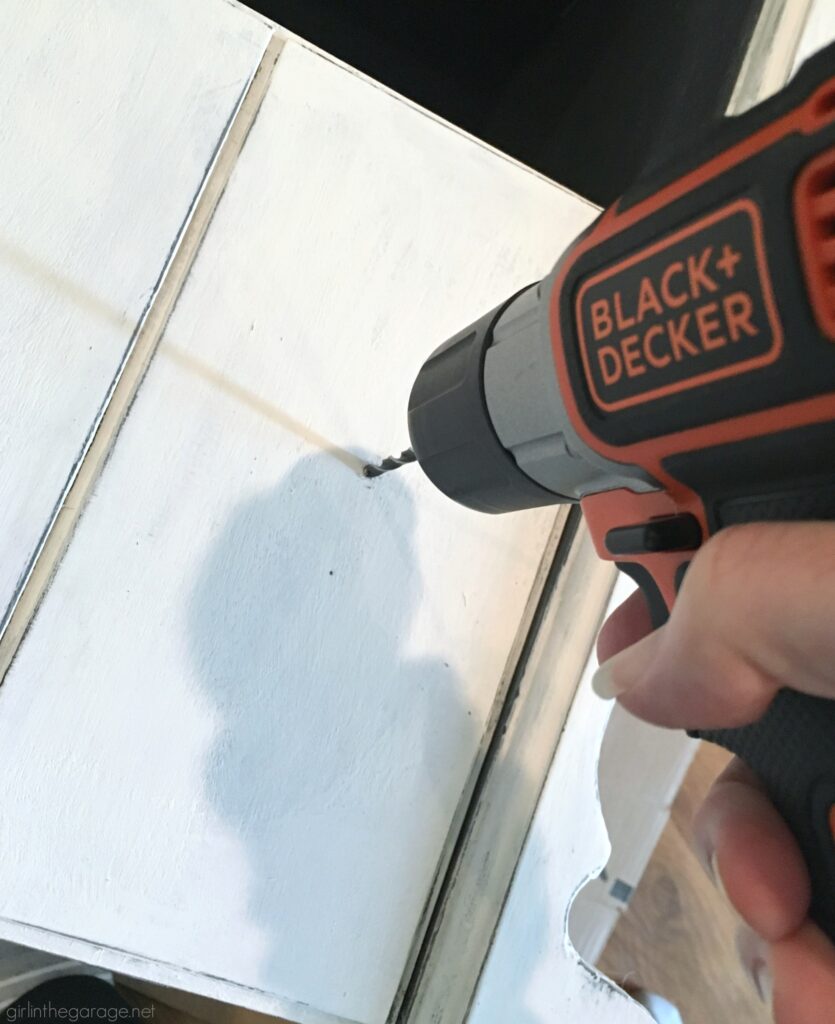 After the holes are drilled, add your topcoat for protection. I prefer Annie Sloan's wax.
At this point, it's time to install the pulls onto the cabinet. Since you added panels on the front, the extra depth may render the screws that came with the pulls too short. Then you can run to the hardware store for the third time in three days while thinking a few more angry thoughts in your head. (Oh sorry, that's probably just me!)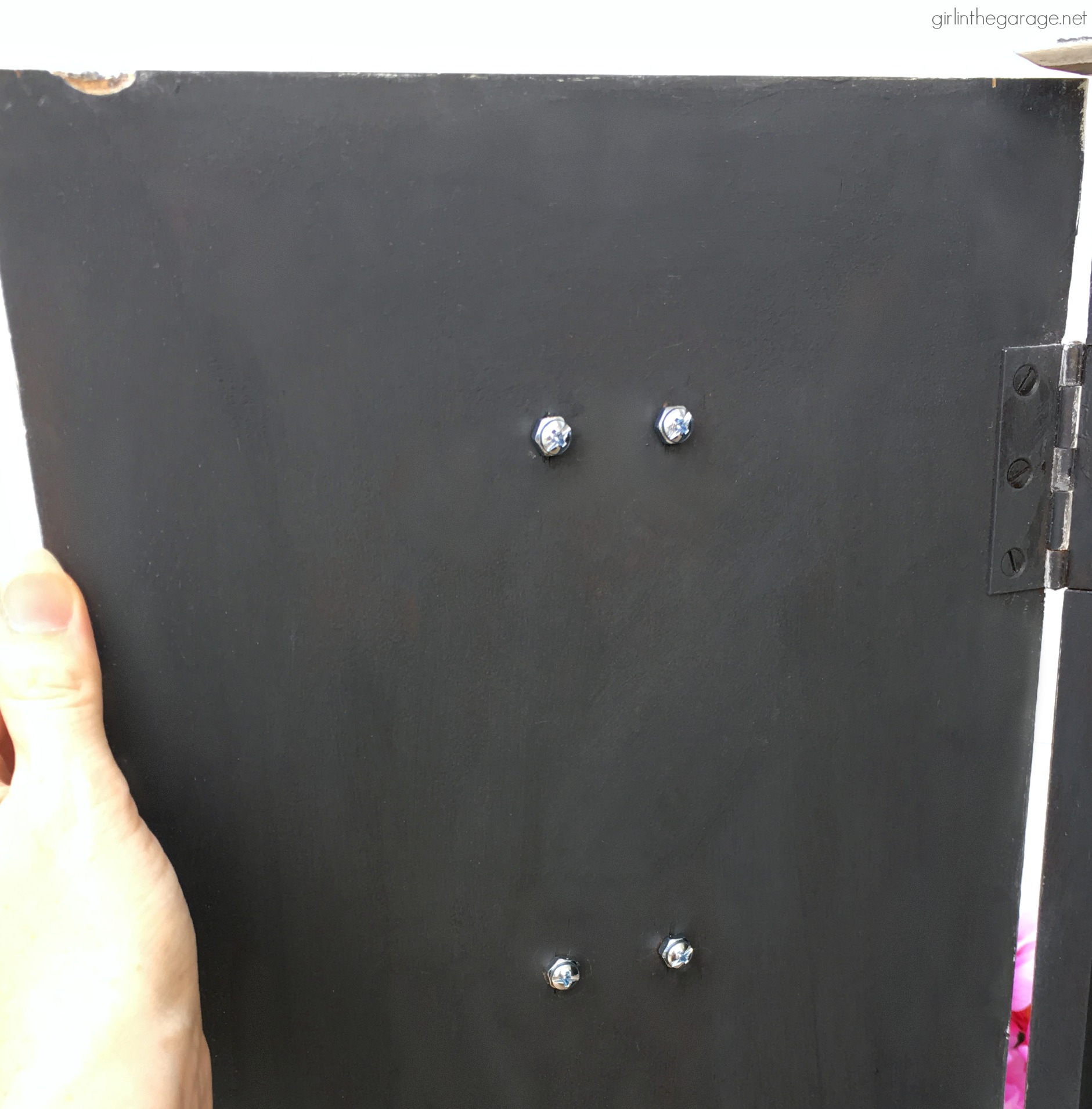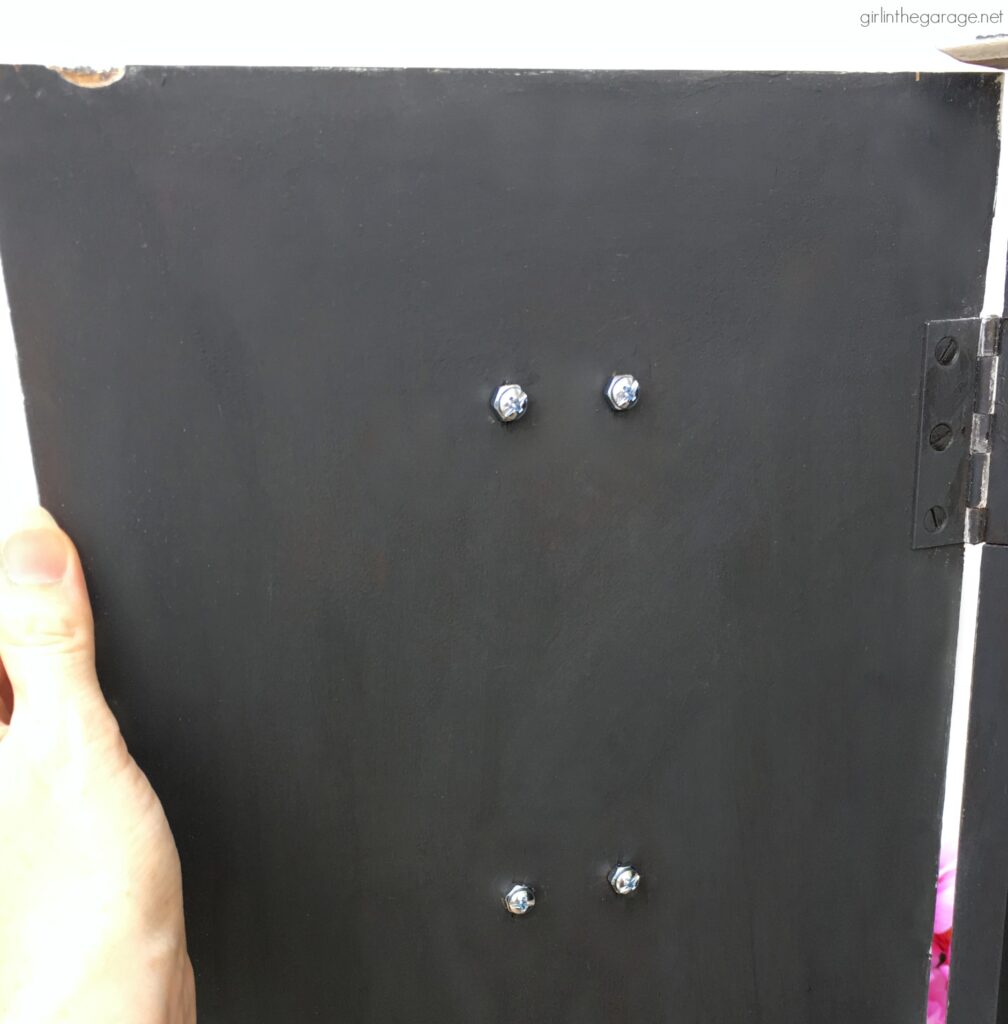 The new screws came with nuts, which worked fine like washers, since the new required screw length was somewhere between 1″ and 1 1/4″.
Of course, most beautiful projects don't happen without a few headaches along the way! I'm happy to share my "learning moments" here at GITG so you can skip some of those headaches yourself.
Here's the DIY apothecary cabinet now: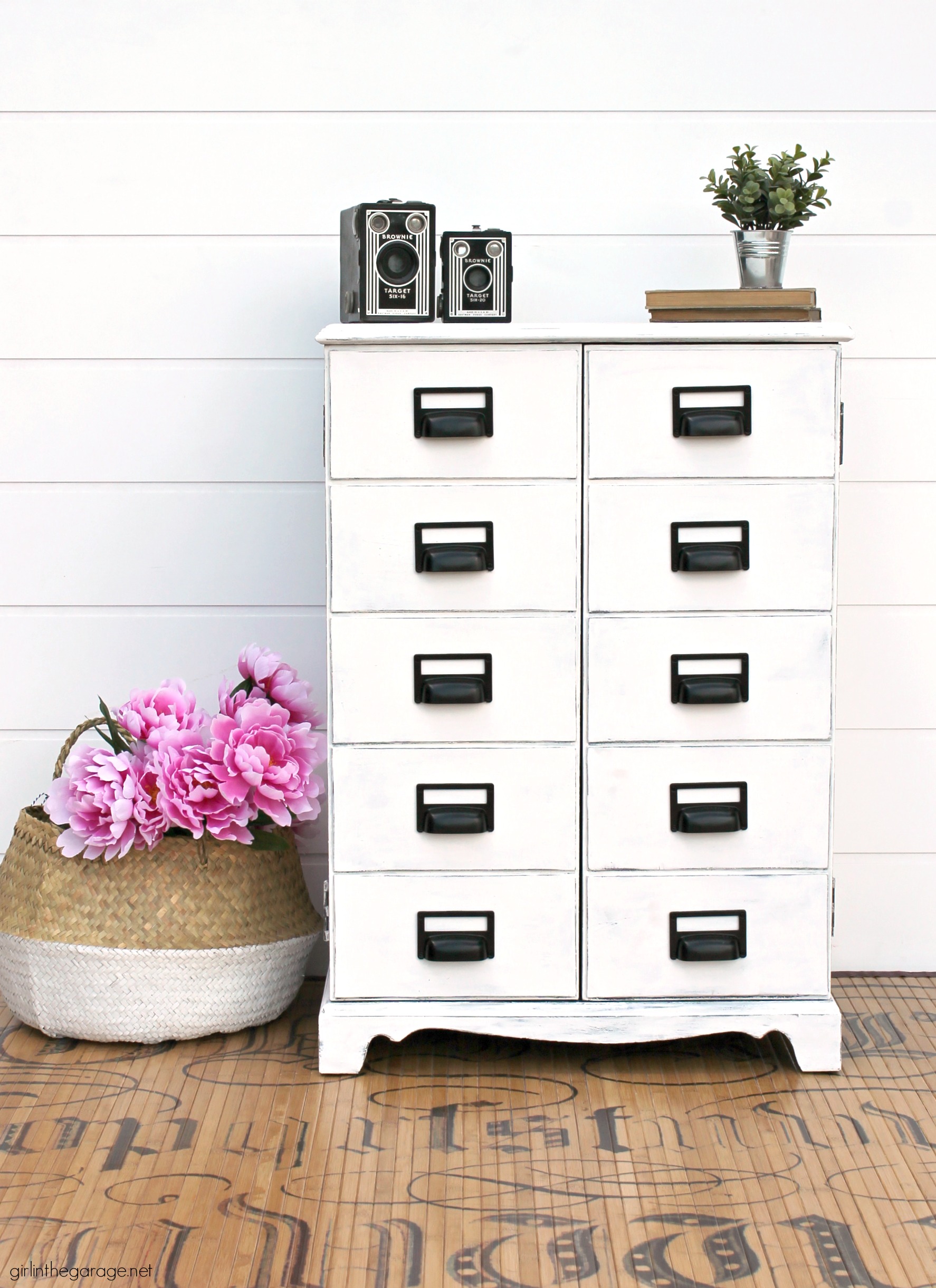 See what I mean about the Graphite showing around the edges? Otherwise the panels would have all blended together and it wouldn't have been near as striking. Knowing where and how much to distress white painted wood comes with practice – just try to keep it natural looking.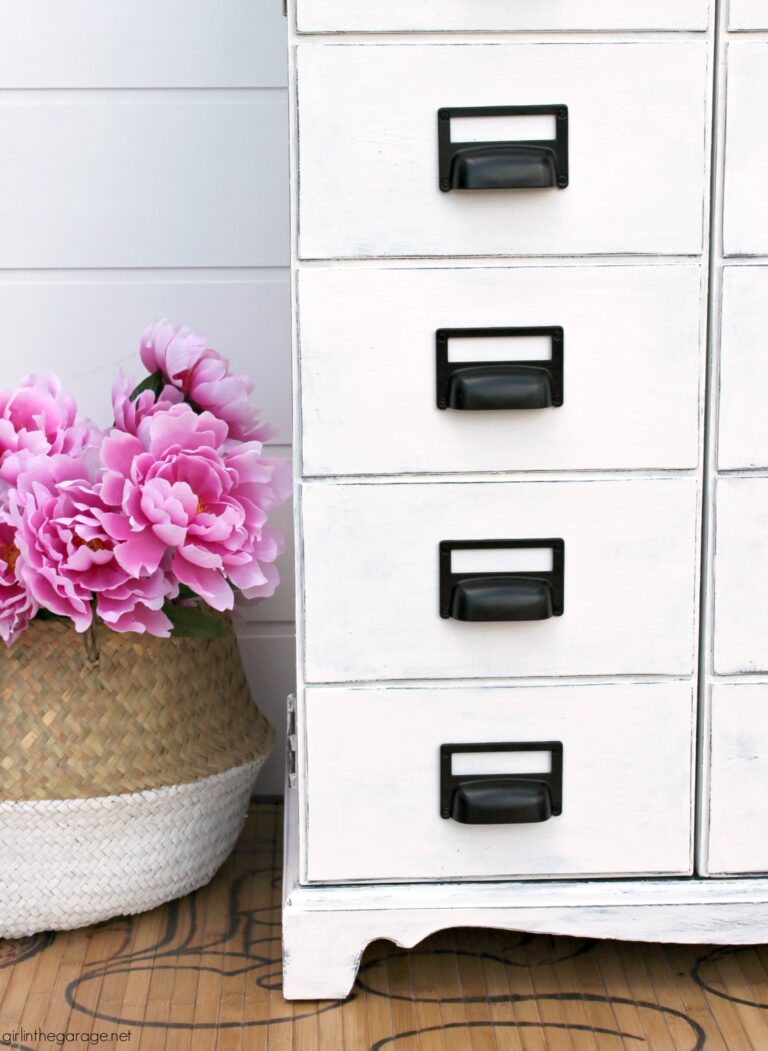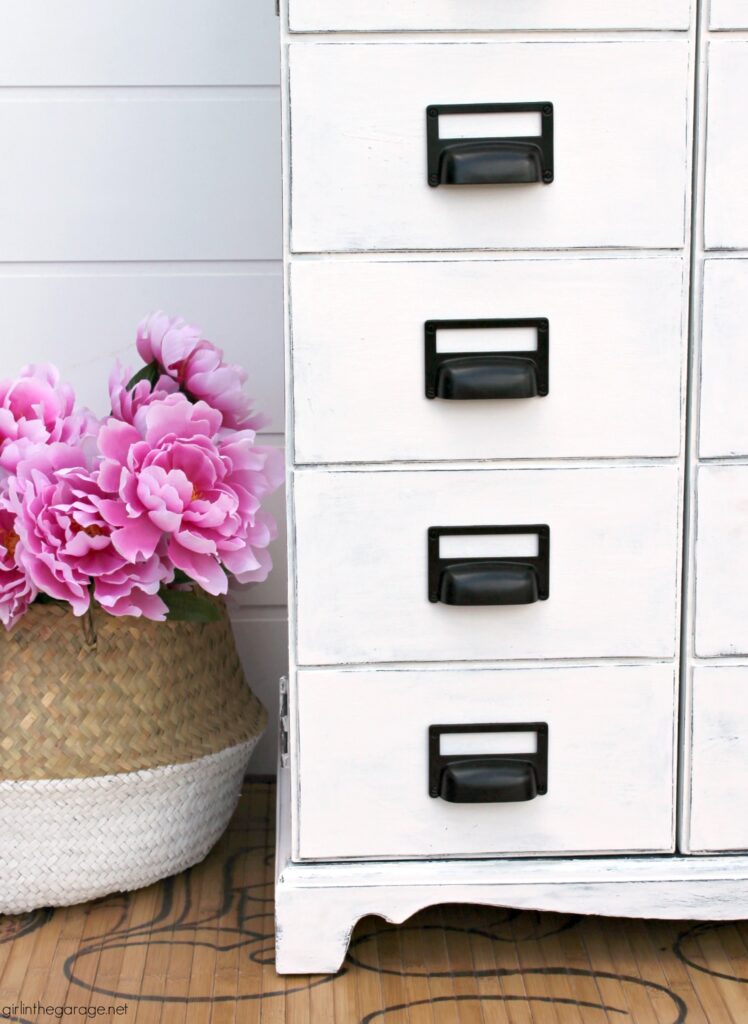 I'm still deciding what to do with this… Guys I may need an intervention! Somebody please tell me I don't need to keep this, I don't have any room for it…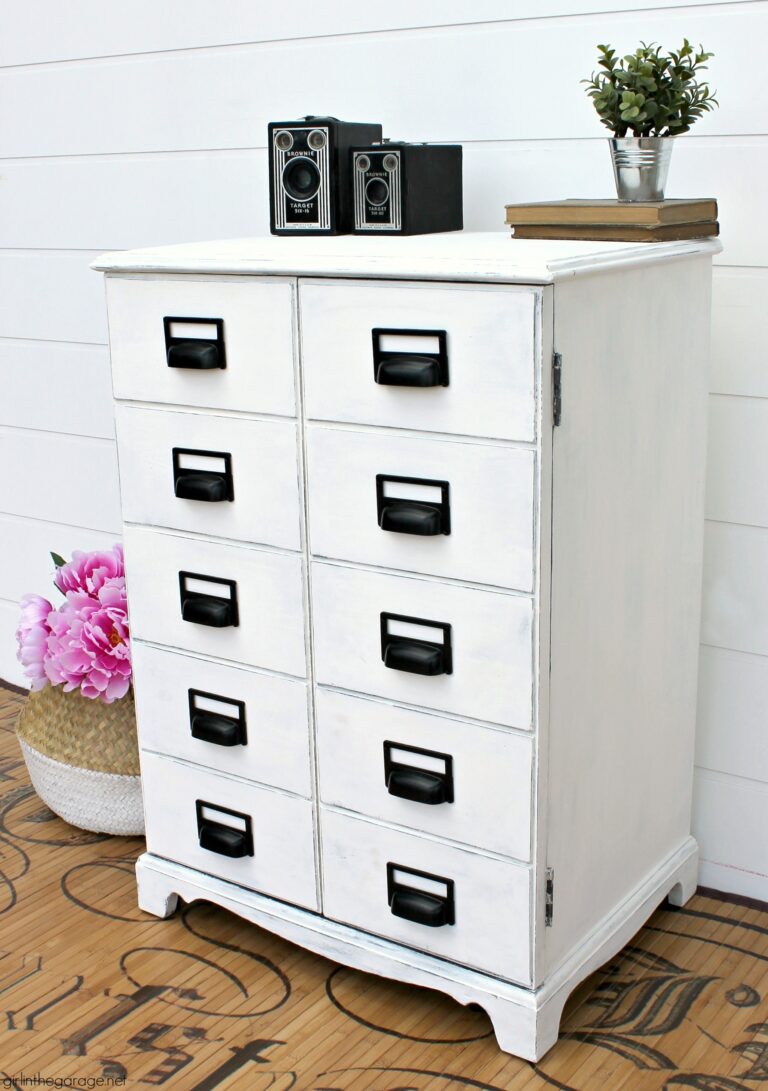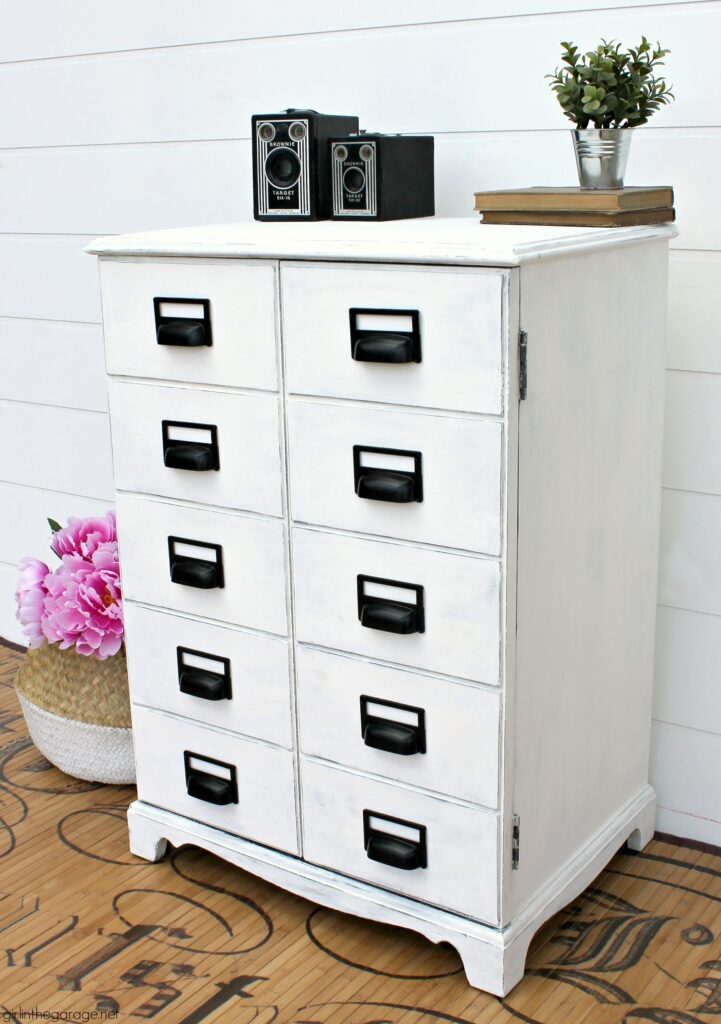 It has some good storage space inside – and I'm digging the contrast of the Graphite and Pure White Chalk Paint.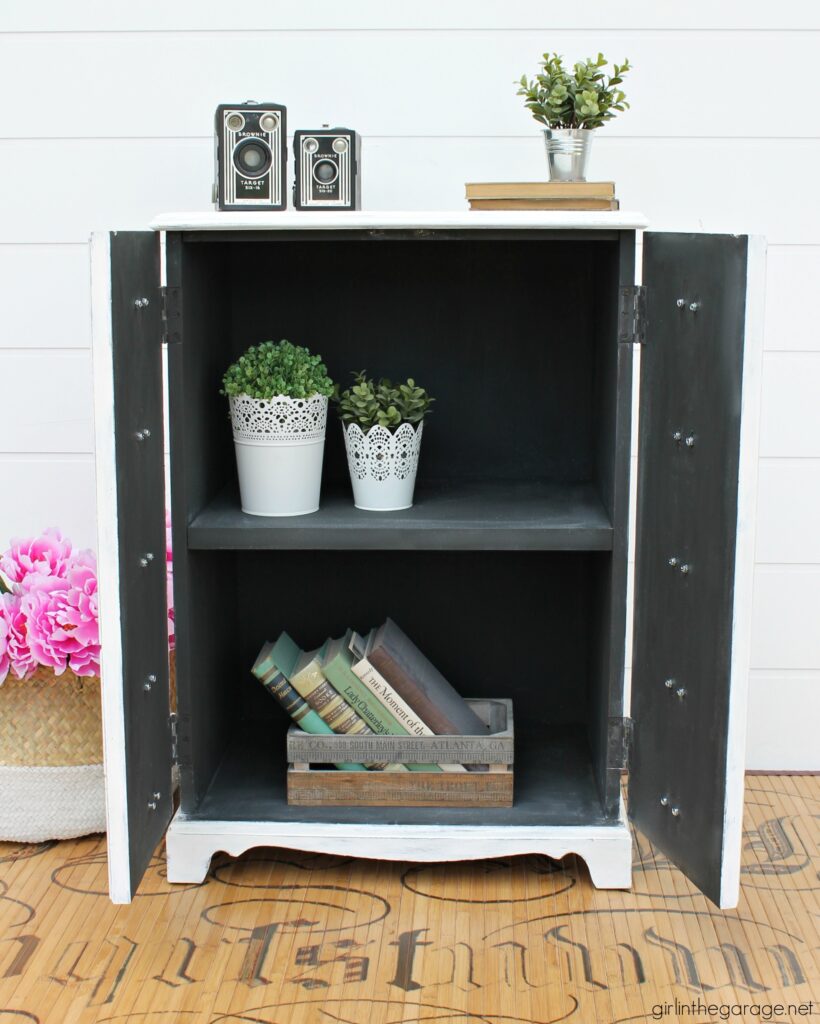 Friend, you may follow other blogs online or painters on Instagram and have seen them pose with their finished furniture makeovers. They look pretty, with their makeup and hair done and a cute outfit on (a la Vanna White, whom I adore), perhaps matching the style of the furniture.
I've wanted to try that, but every time I get to the time of taking photos, I'm usually exhausted and look like a hot mess, haha! It has stopped me before – but this time I didn't care. I was home alone so all I could do was take a selfie. 🙂
I plan on taking more photos with my work – I think it's important that you guys get to see me a little more around here. Maybe someday I'll actually look more put-together LOL.
Friend, if you enjoyed this DIY apothecary cabinet makeover, please share or Pin it! I created a couple graphics below for you.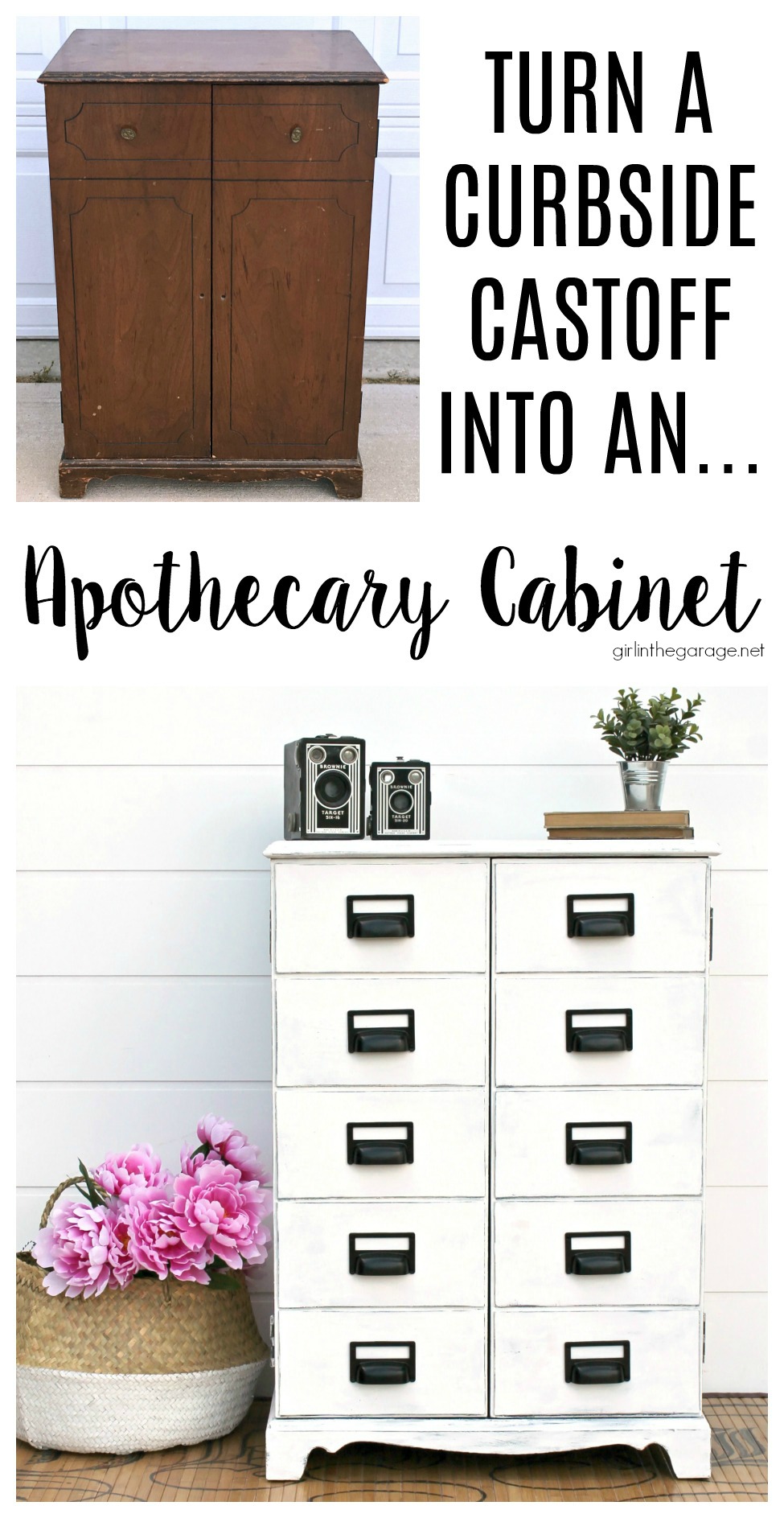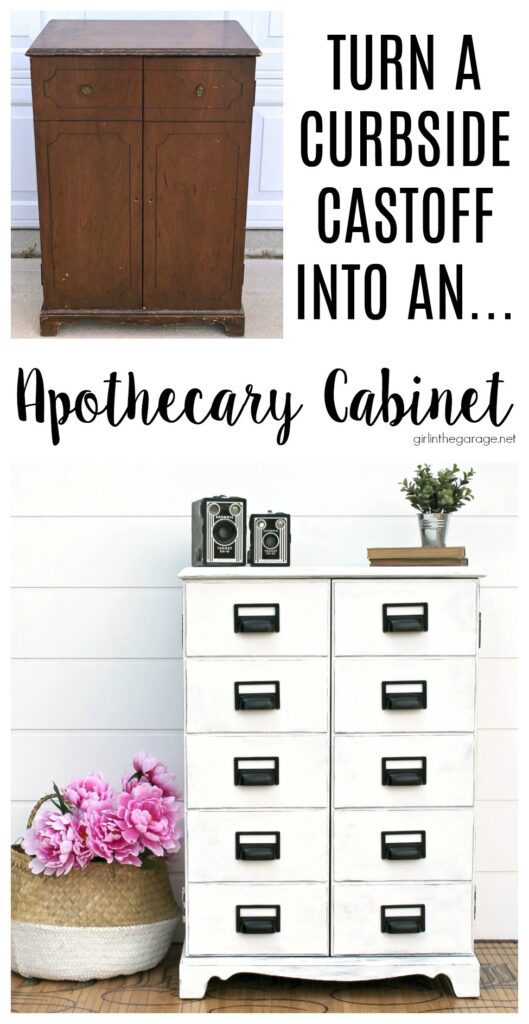 And this one…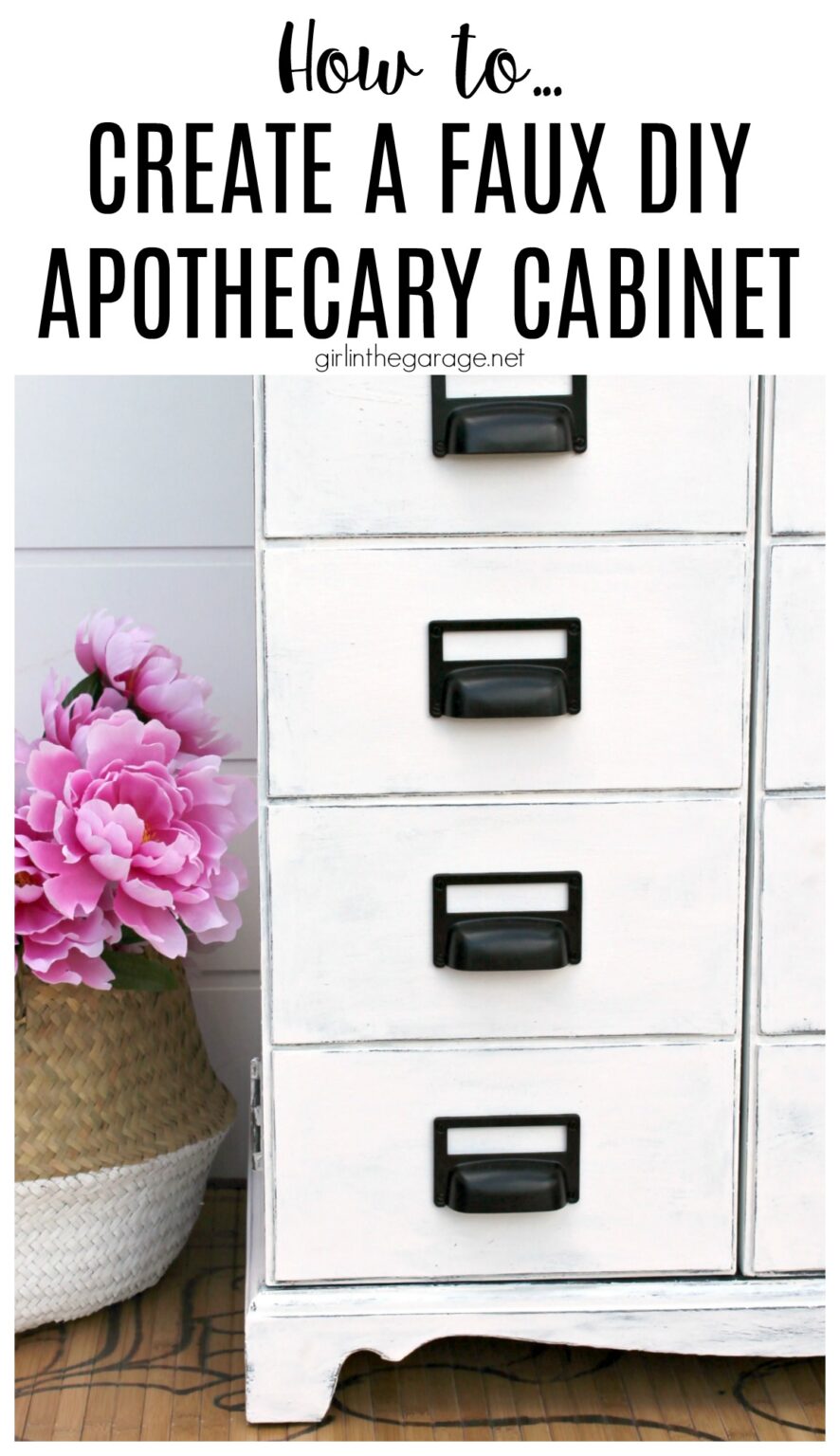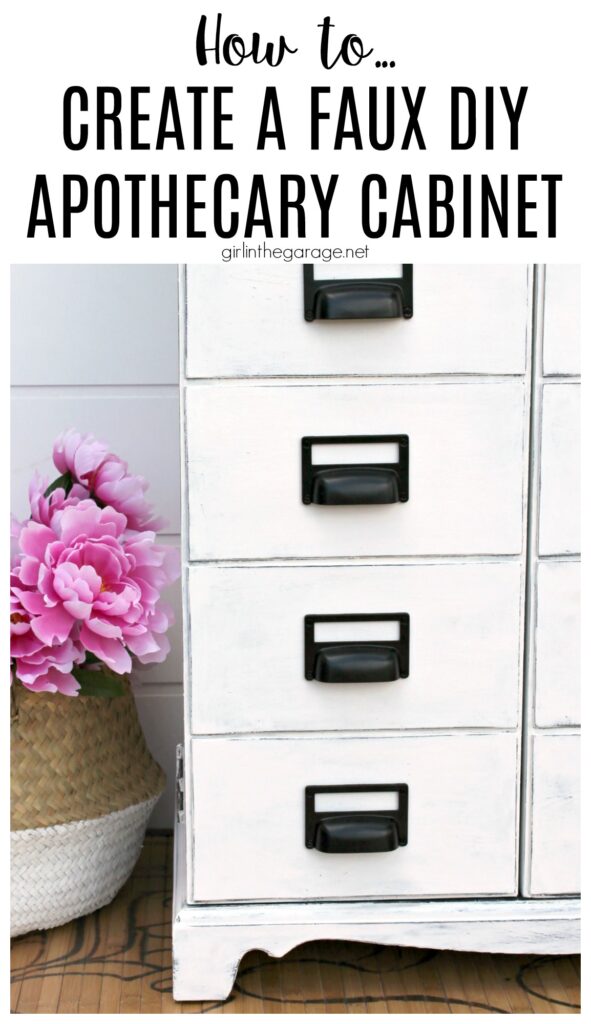 Now it's time for Furniture Fixer Uppers with my talented blogging friends – I can't wait to see what they've been up to! Below are the Before photos – visit the links underneath to see the amazing Afters and to learn how they did it: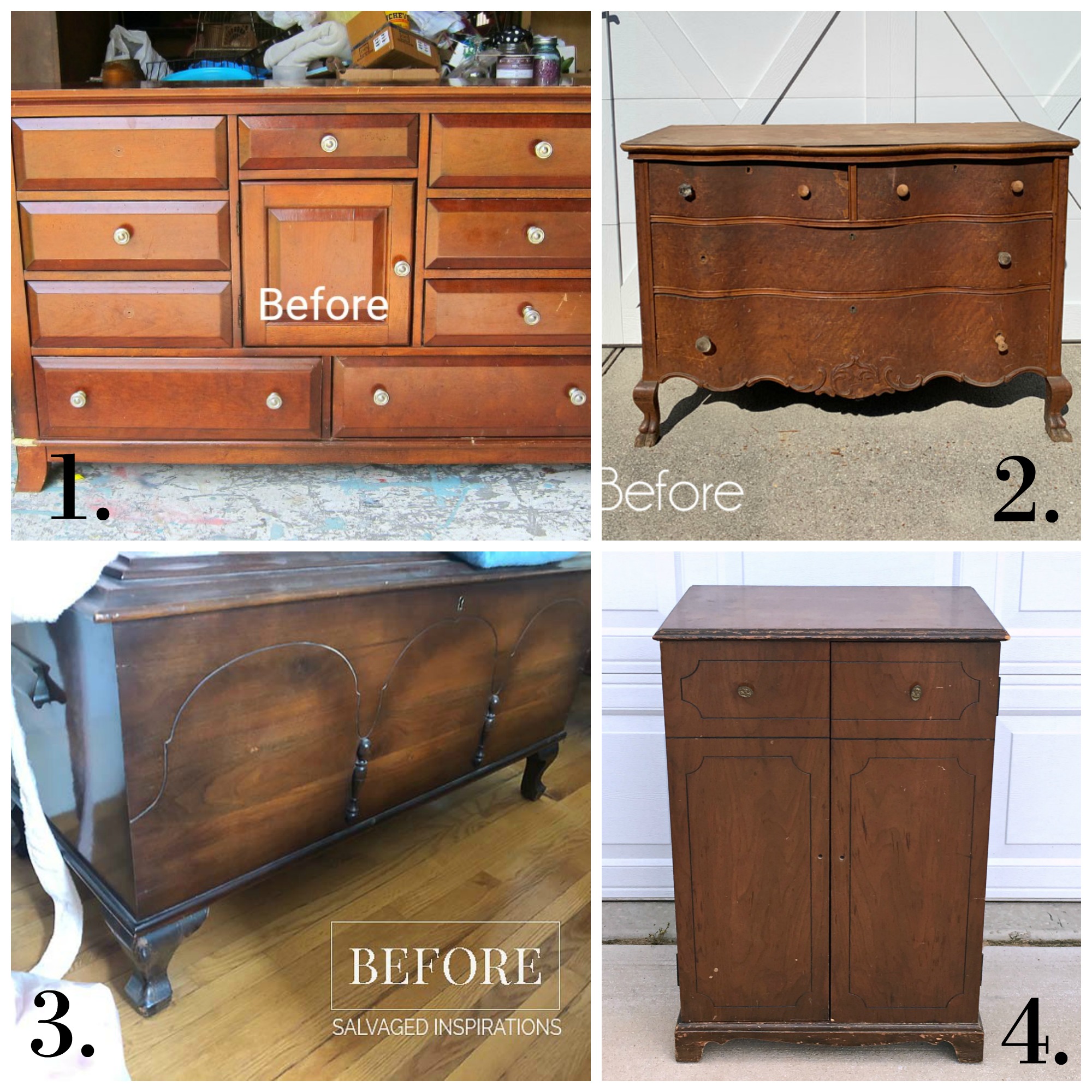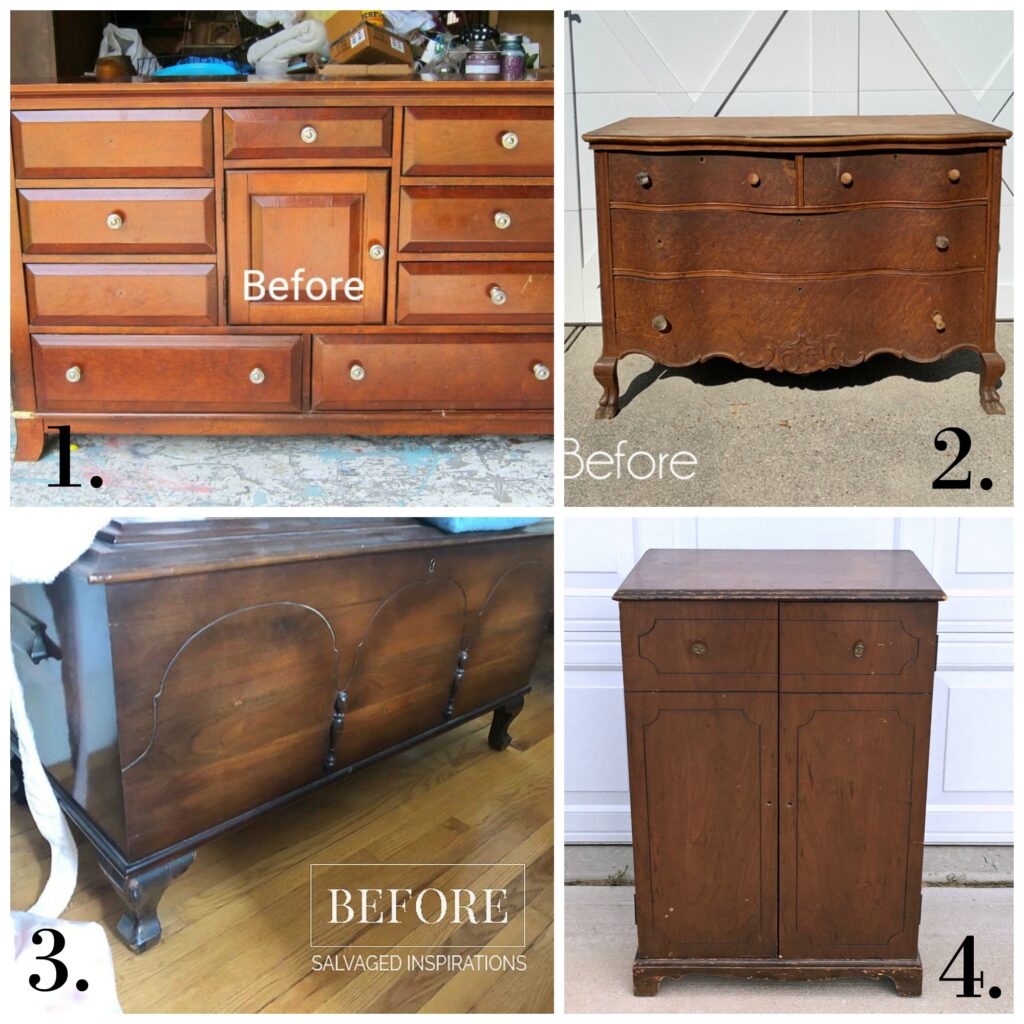 1. Petticoat Junktion
2. Confessions of a Serial DIYer
3. Salvaged Inspirations
4. Girl in the Garage (you're already here)

Click the image below for more DIY industrial storage inspiration: