This past weekend we went to visit my husband's family in the Indianapolis area. While there, I was excited to stop by the new Two Chicks District Co. store which just opened in the Bates-Hendricks neighborhood.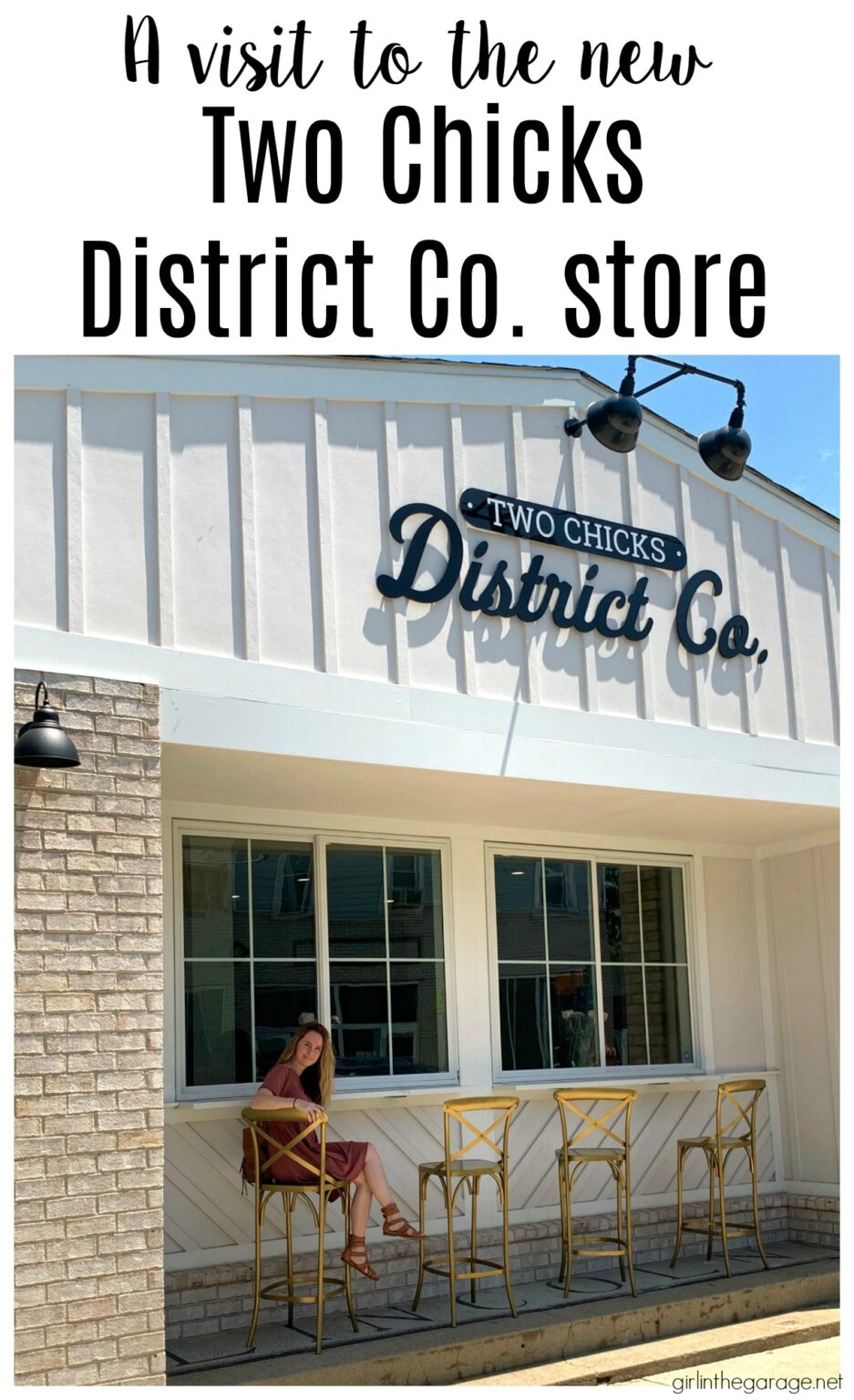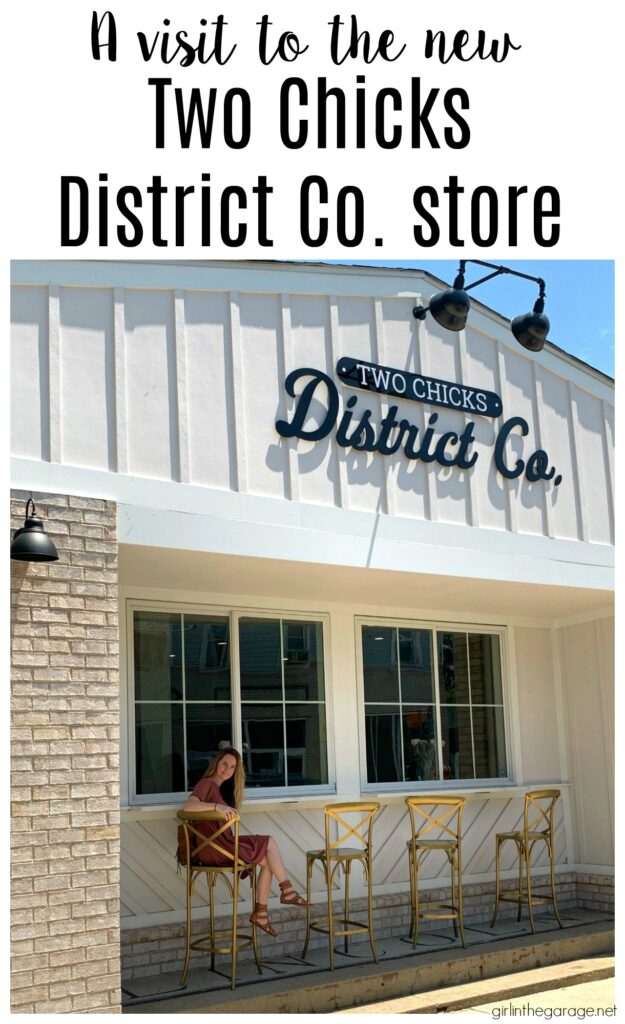 It's owned by Mina Starsiak Hawk of the home renovation company Two Chicks and a Hammer and star of one of my favorite HGTV shows Good Bones.
If you've ever watched Good Bones, you know Mina works alongside her mom Karen, who I accidentally bumped into at IKEA while on another family trip to Indy back in March 2019. We took a quick pic together (she is SO sweet) and ended up with this blurry photo – and me looking like a hot mess that day. 🙃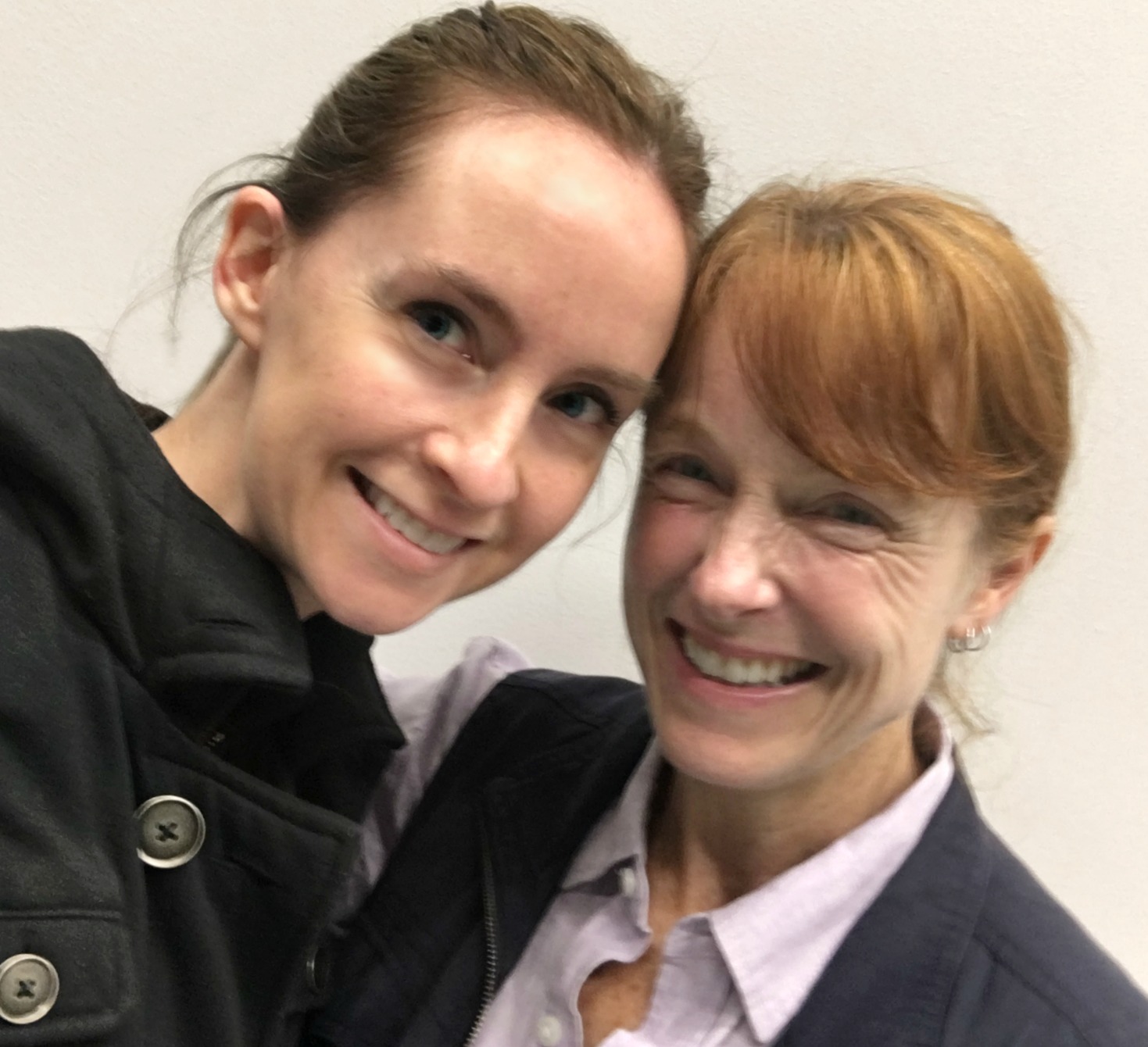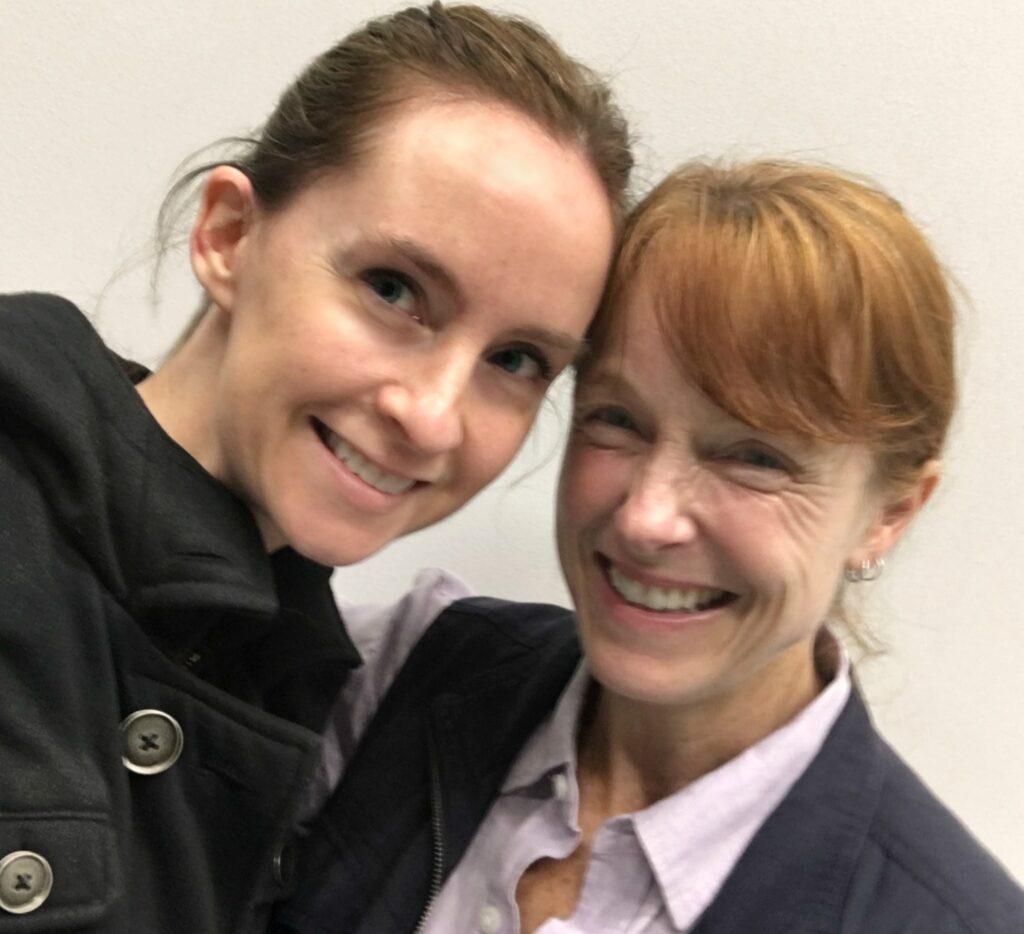 It was such a great experience though. I never told that story here on the blog, but I did share it here on Instagram afterward.
Now back to the store...
The outside of the building is very attractive. There are lovely photo-worthy spots on the front and side of the building. There's also a quaint-looking coffee shop next door which we didn't have time to visit.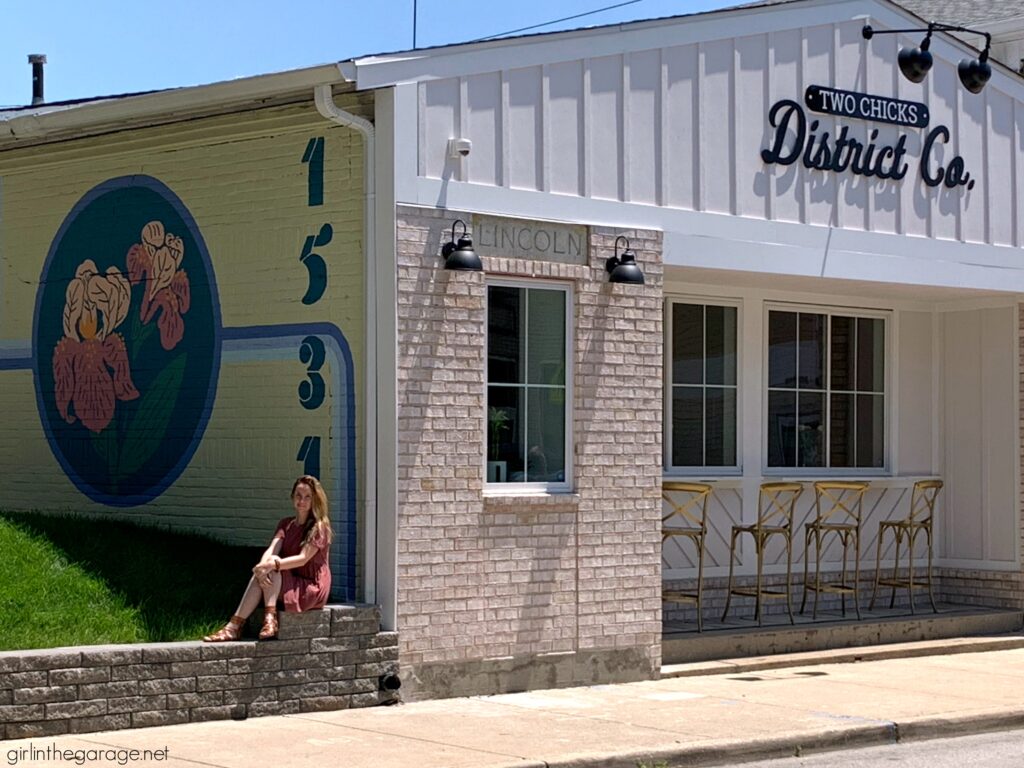 I couldn't resist posing in one of those gold bar stools out front.
Do you see the word LINCOLN spelled in the tiles under the chairs? This building originally opened as a silent movie house, Lincoln Theatre, in 1912. I love that they kept part of the history and charm.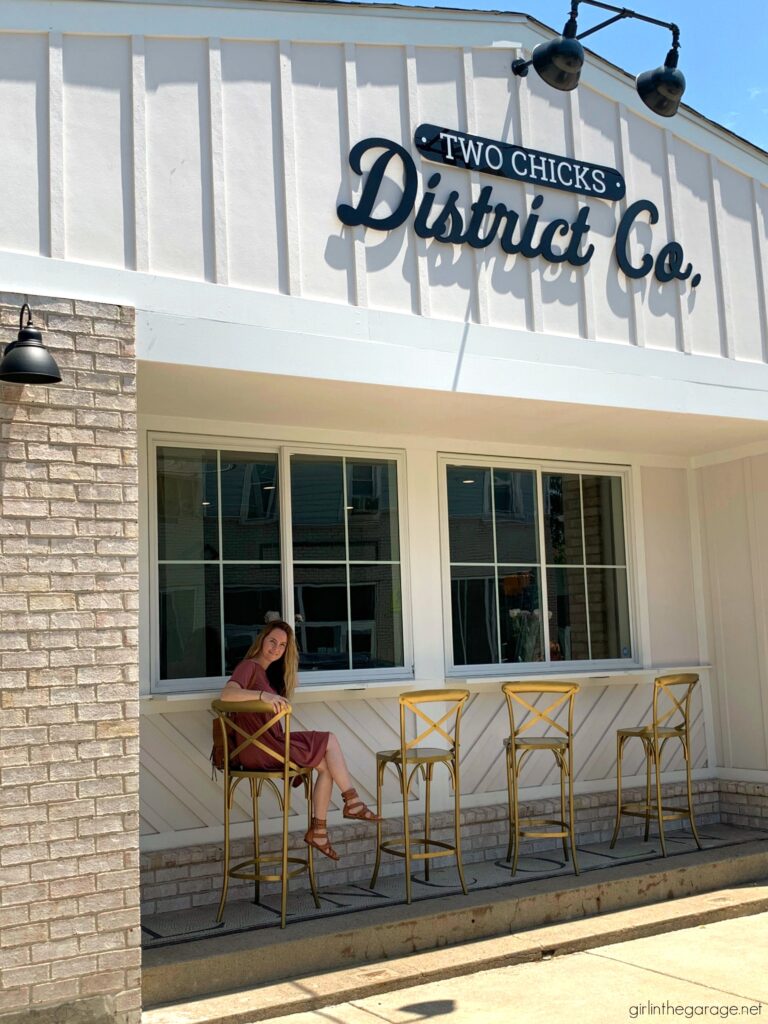 When you enter, the front of the store is a bistro with several tables and chairs where you can grab a snack and hang out. You can also order a beverage from the bar area behind the floor-to-ceiling rope divider.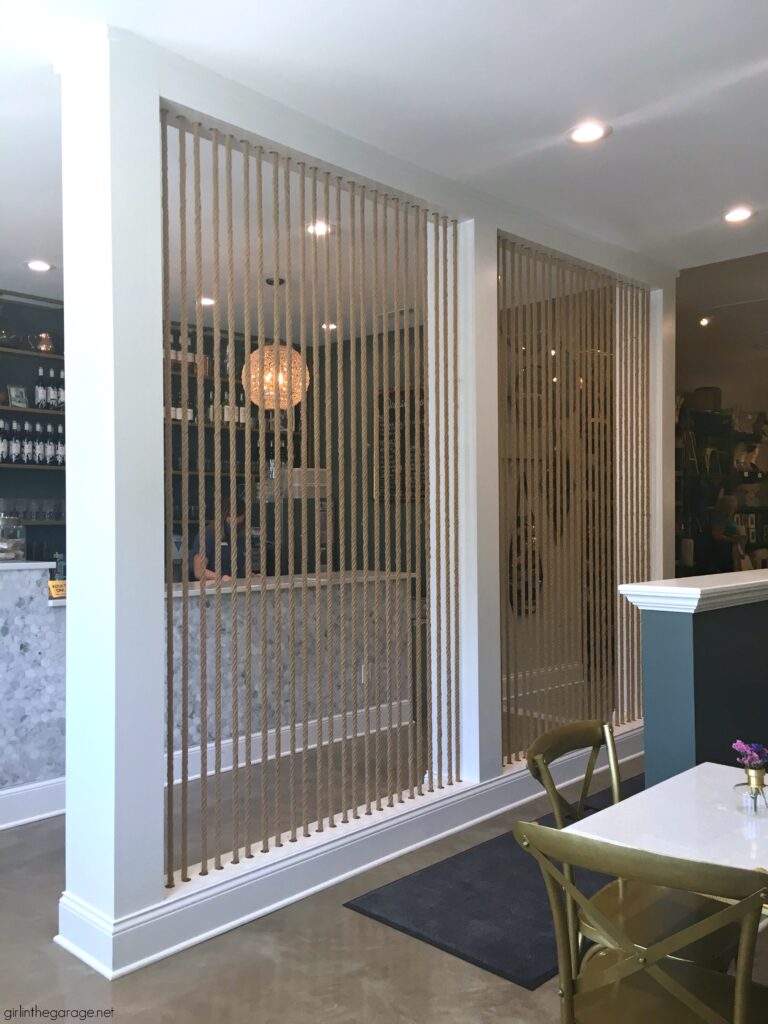 The other 2/3 of the 1800 sq ft space is the store.
Over to the right you'll find the checkout area with this amazing plant feature wall and chandelier.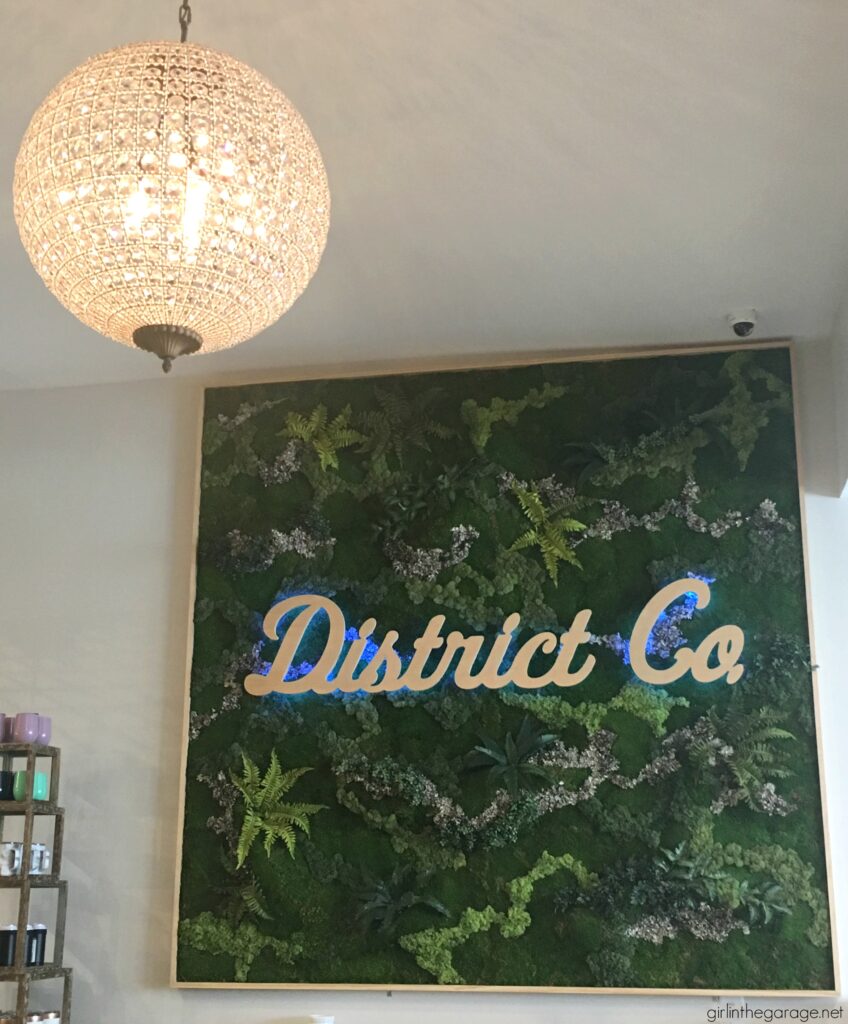 To the left is a large primitive shelving unit filled with pottery, plants, and vases. Hanging off the right side you can glimpse cutting boards made by Karen herself available for purchase. (I wish I had taken more photos so you can see them better!)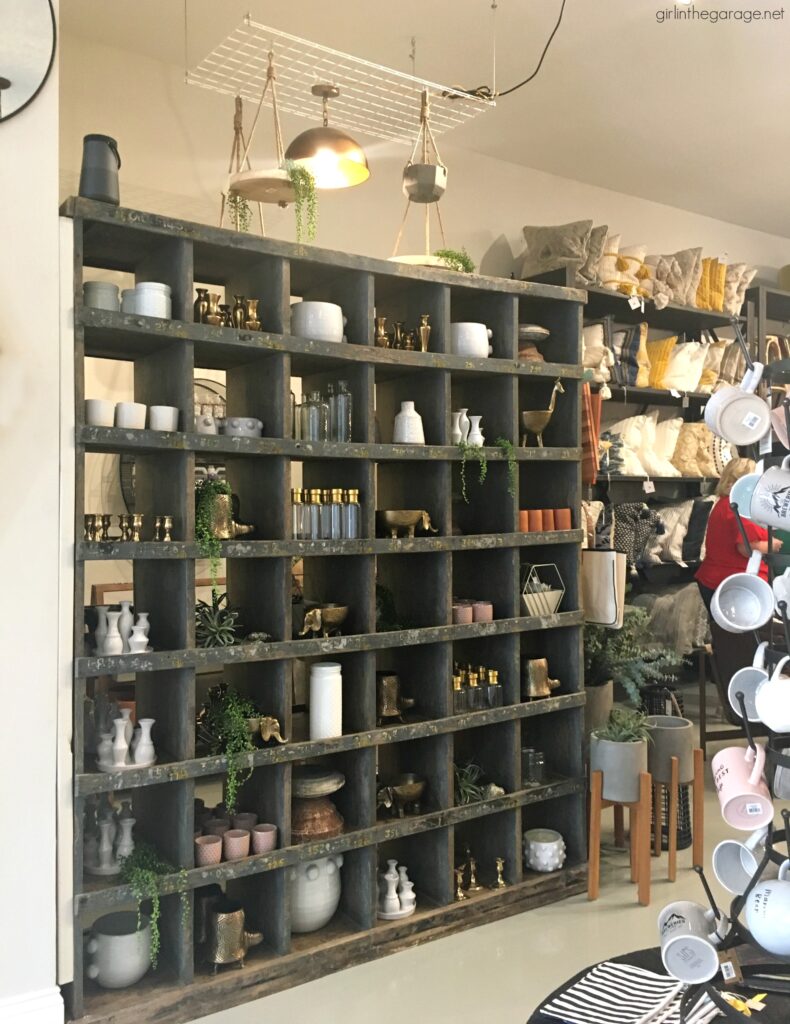 Behind the shelves is "Karen's Corner" with decor, plants, cards, and body products she's curated for the store.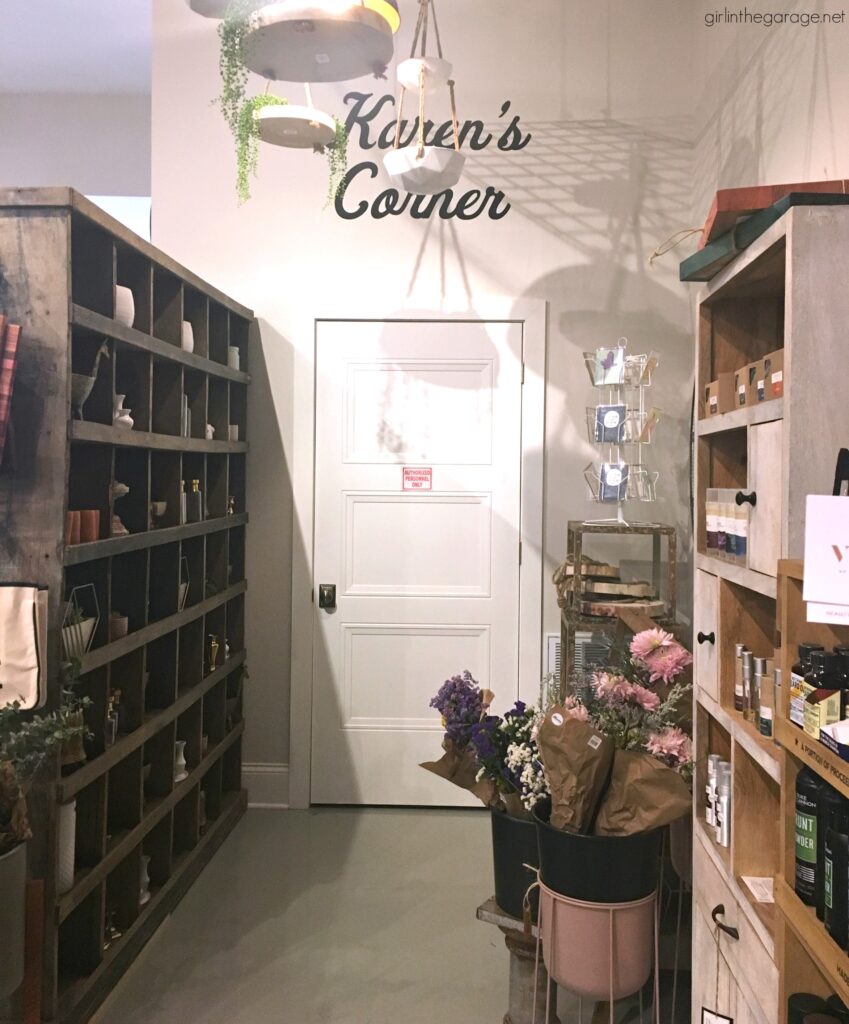 Two Chicks District Co. is mostly filled with eclectic/modern/boho furniture and home decor items, some of which can be seen in the home reveals from Good Bones.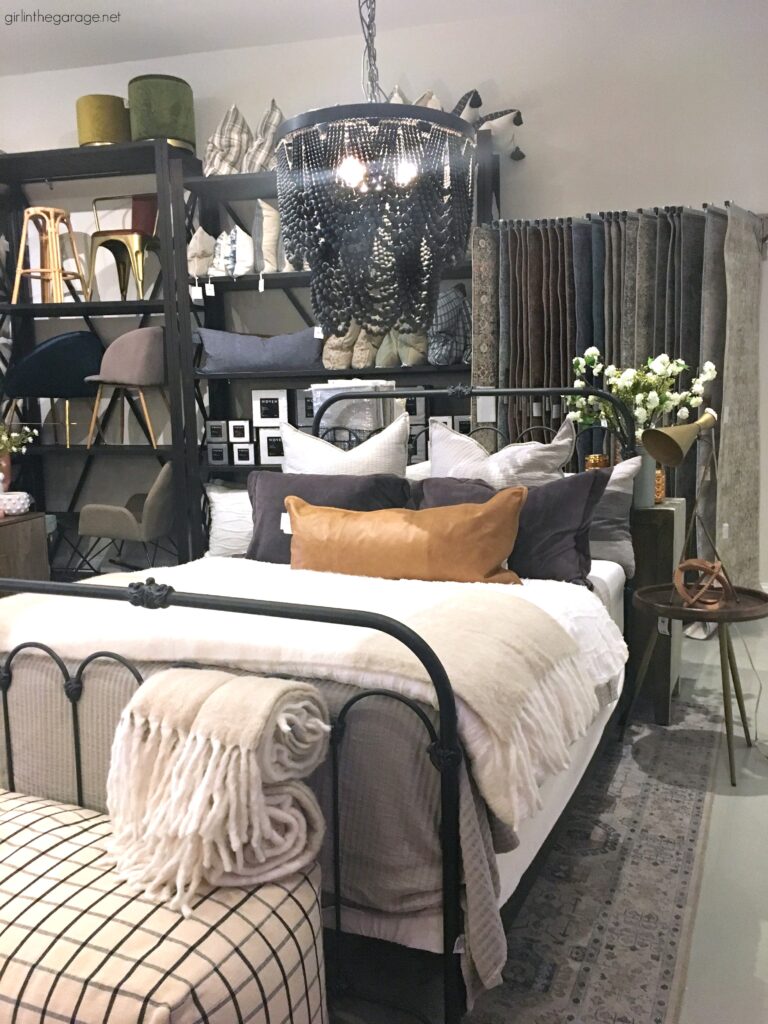 The black beaded chandelier above was featured in the Good Bones episode below, along with the gray velvet love seat which I'm sitting on further below.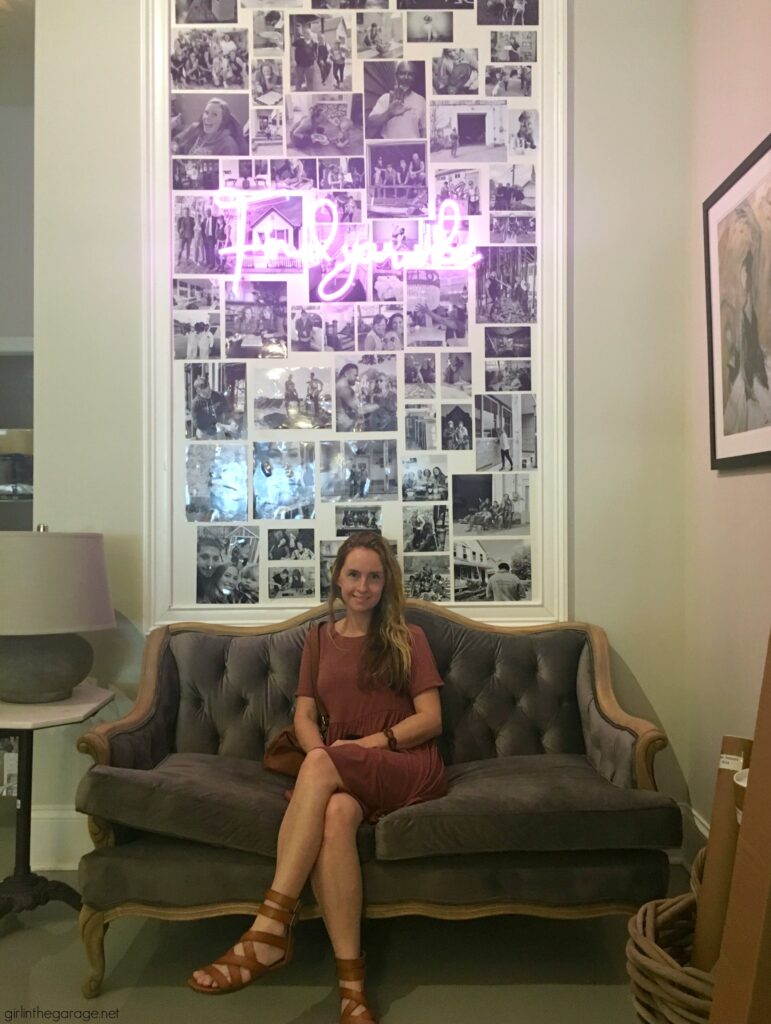 (Yes I was wearing a mask, as recommended by Marion County – I just took it off 2 seconds for the photo.)
One of their favorite mottos is "Find your vibe." The wall is filled with black and white photos from the show and their lives.
I didn't take as many photos as I would've liked because there were other people shopping and I didn't want to disturb them.
There were a few furniture pieces that I would've loved to bring home (like the velvet love seat above and a chic wooden cabinet with glass doors), but they wouldn't have fit in the car with my three boys. The things we sacrifice for our kids. 😉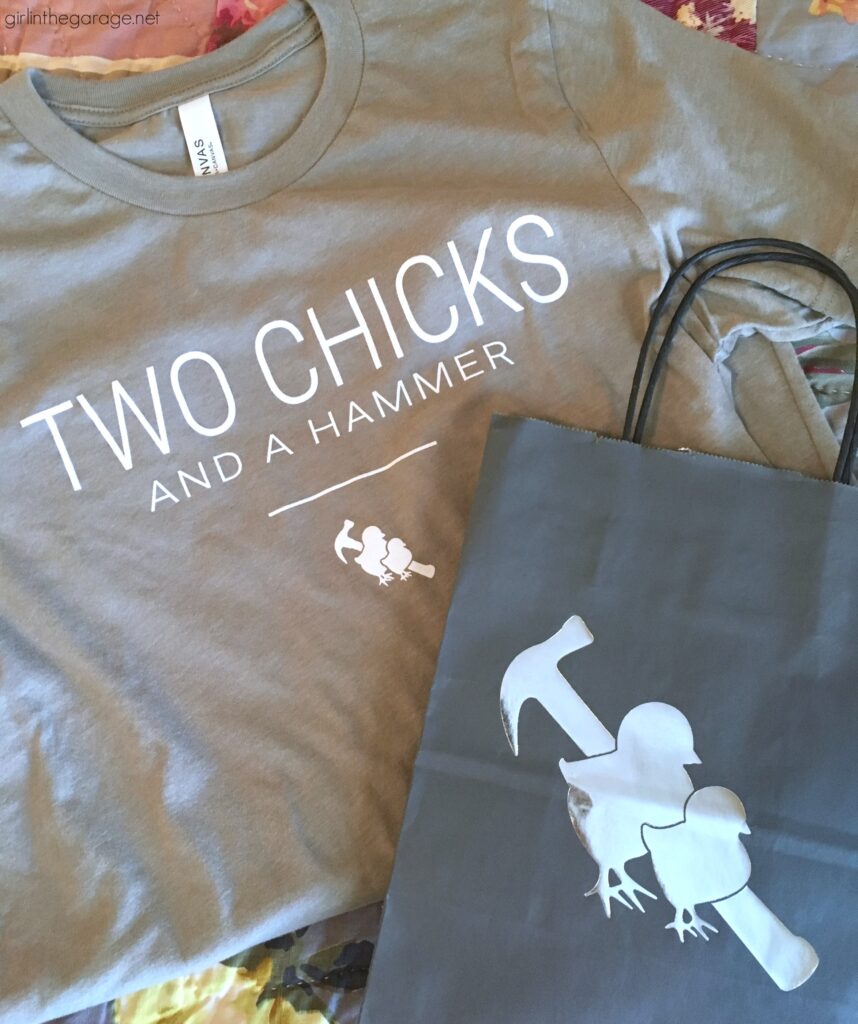 I did bring home this Two Chicks and a Hammer t-shirt, which I've already worn and it's sooo soft. Even the shopping bag with the metallic chicks is adorable!
Two Chicks District Co. is located at 1531 S. East St. in Indianapolis, IN (on the south side of downtown).
They have some items available on their website. Follow them here on Instagram for all the latest updates about the store!
I feel a connection to these women, the show, and the store – not only because I met Karen before and I also have a passion for renovating (albeit furniture). But also because Guy in the Garage grew up in Indy, I went to college and lived there for 10 years, and our first date was nearby in the Fountain Square neighborhood (duck pin bowling!). Also, when you watch Good Bones you can't help but feel like you've been friends with Mina and Karen for years.
Have you been to the store yet – or is it on your list of places to visit? Have a beautiful day, friend. I appreciate you! – Jen
P.S. Looking for creative + free DIY makeover ideas? Go here for painted furniture ideas or here for easy DIY home decor projects.