Howdy friends! Last week you guys really got a kick out of my post 13 Budget-Friendly Repurposing Ideas for Home Decor, and today I'm back with 3 brand new thrifted home decor makeovers.
My blogging friends are also sharing some new Trash to Treasure makeovers at the bottom of this post – I just know you'll love their projects too.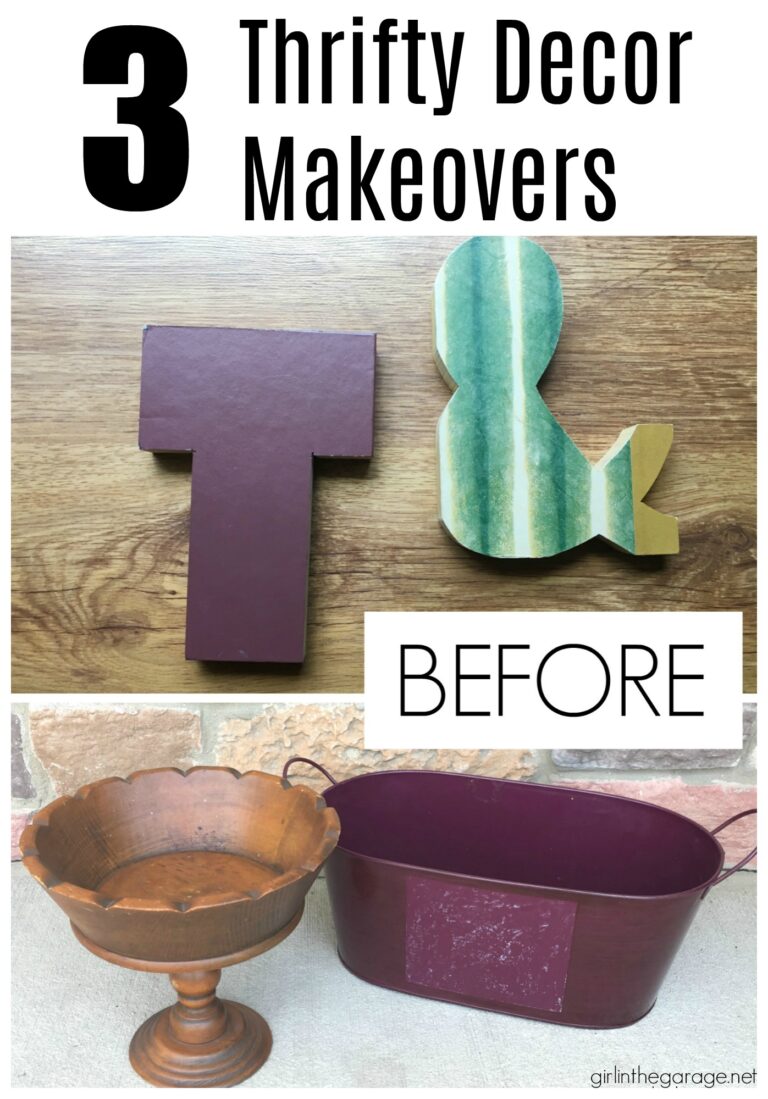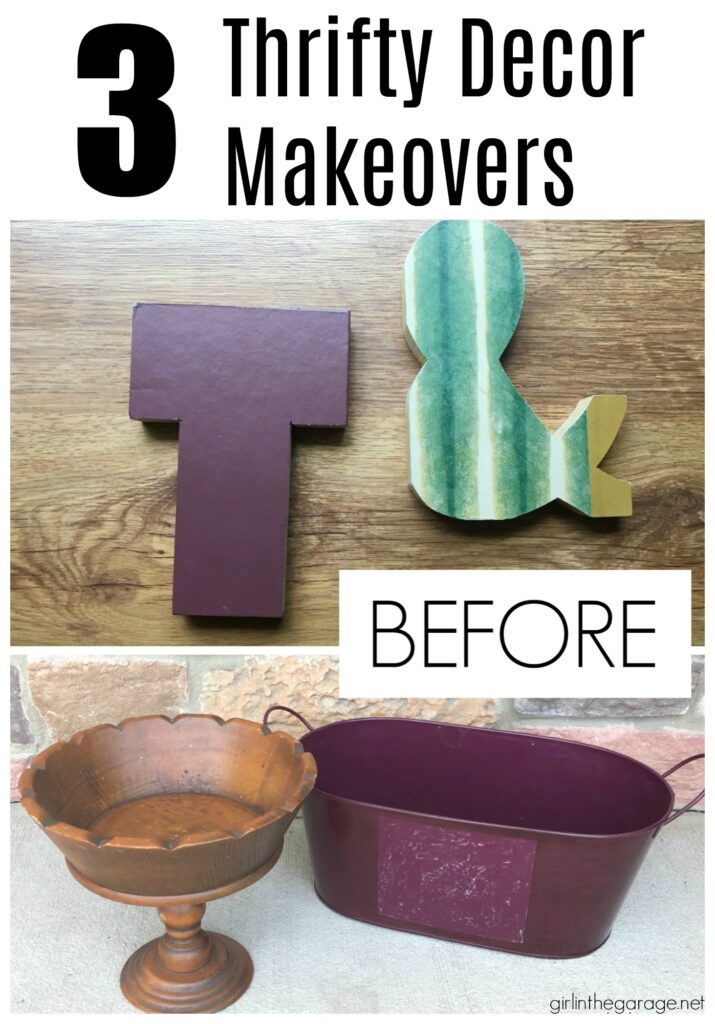 How to Paint a Metal Caddy
First up is this metal caddy which had a picture of an apple decoupaged on the front… not exactly my style.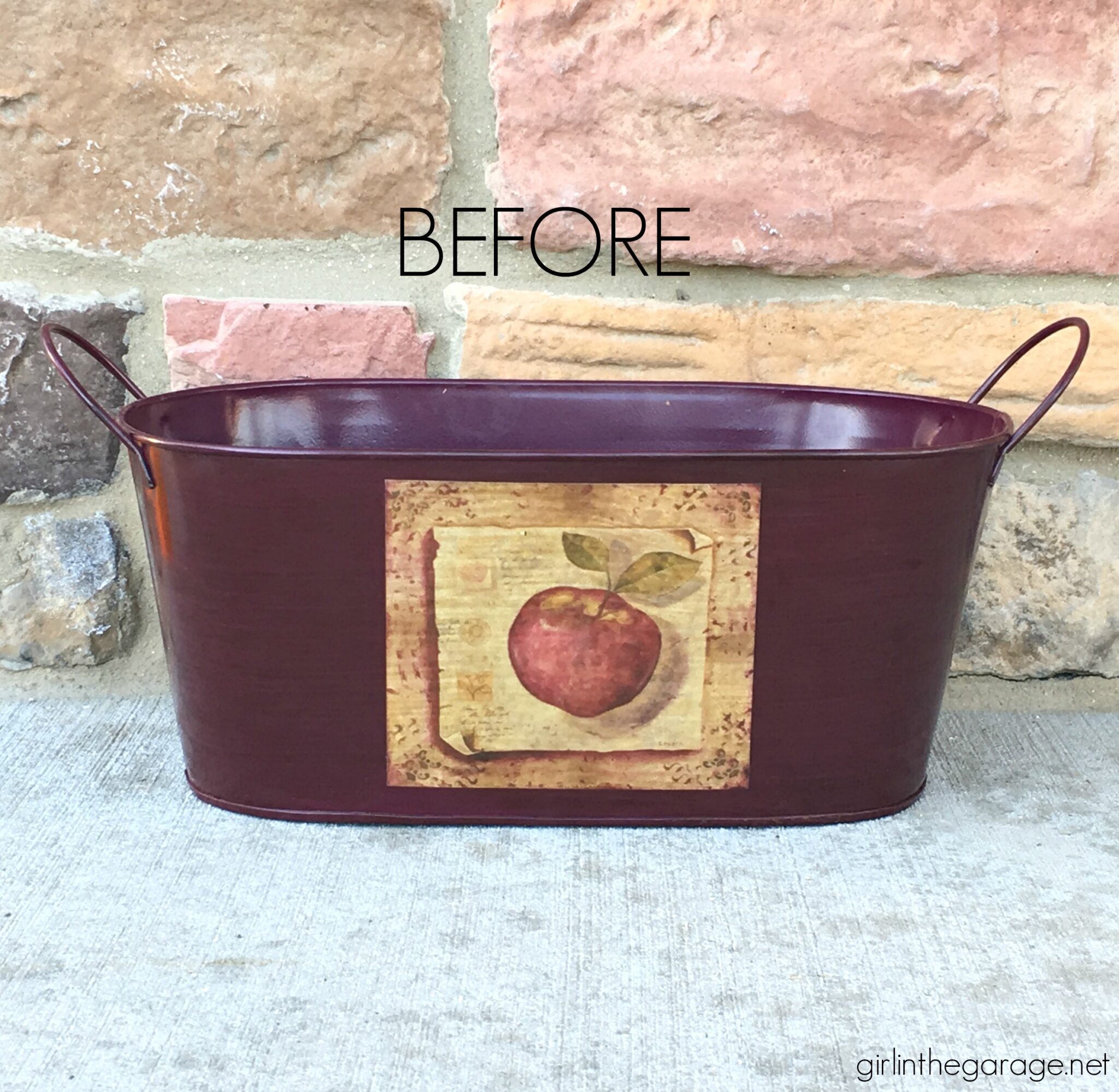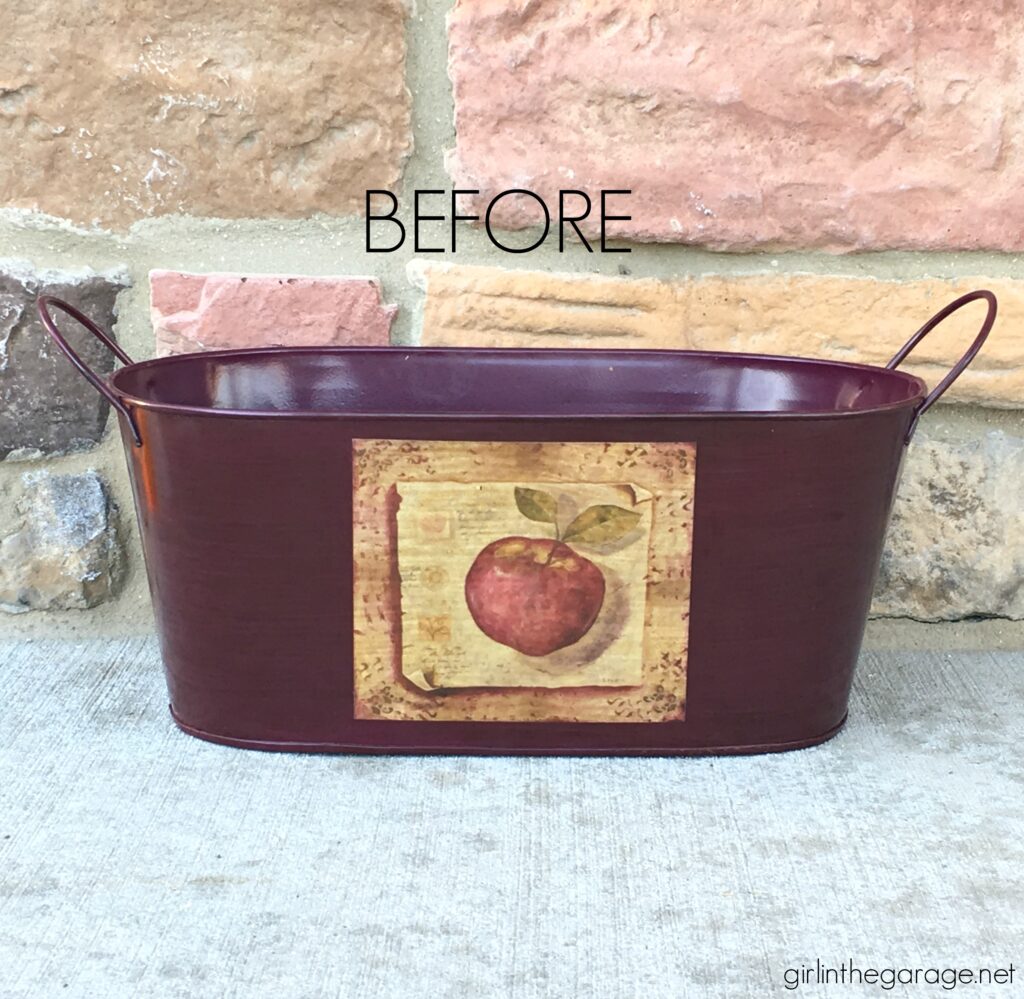 *This post contains some affiliate links so you can easily find the products I use and recommend. Discover all my favorite tools and brands for doing DIY makeovers here.
To remove the paper and soften the glue, I left a wet paper towel over it for several hours. It worked pretty well and just needed some Goo Gone to get off the last few sticky bits.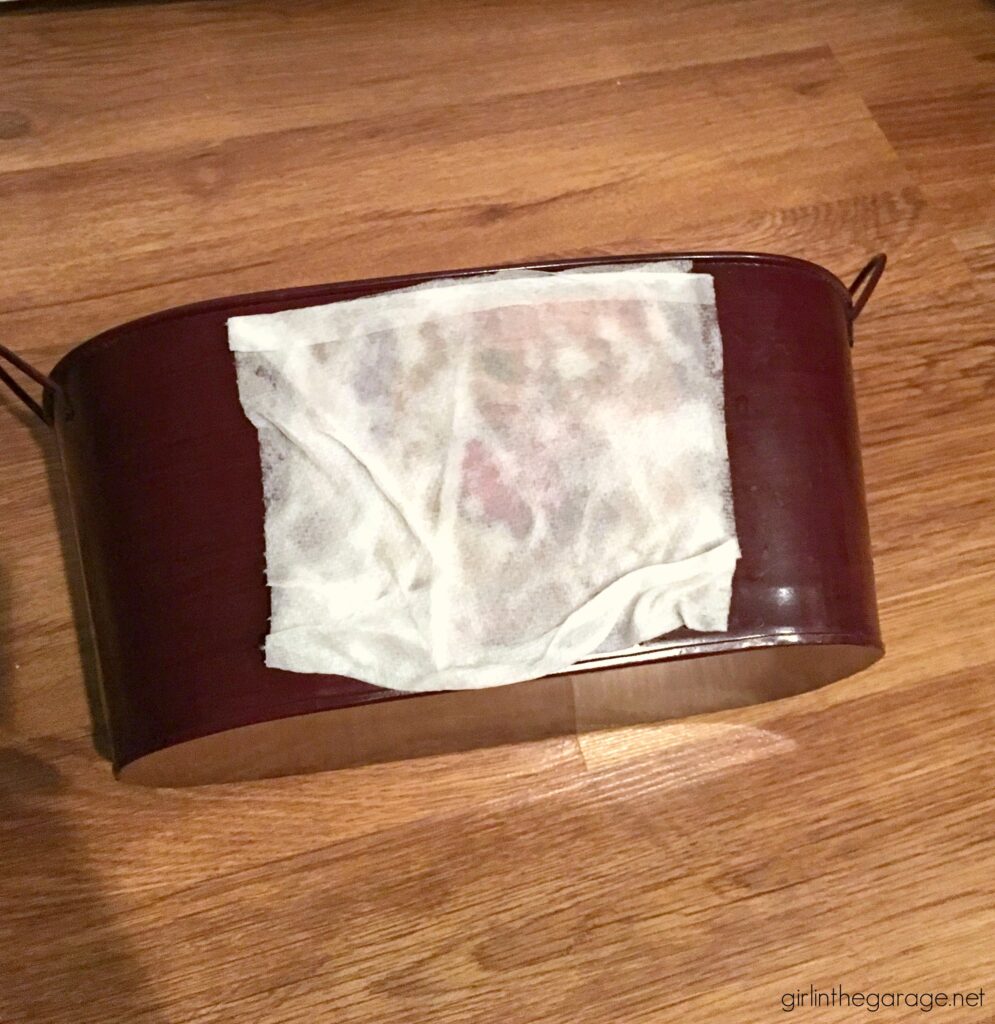 Next I painted two coats of Annie Sloan Chalk Paint in French Linen as a base color with one of my favorite Purdy brushes.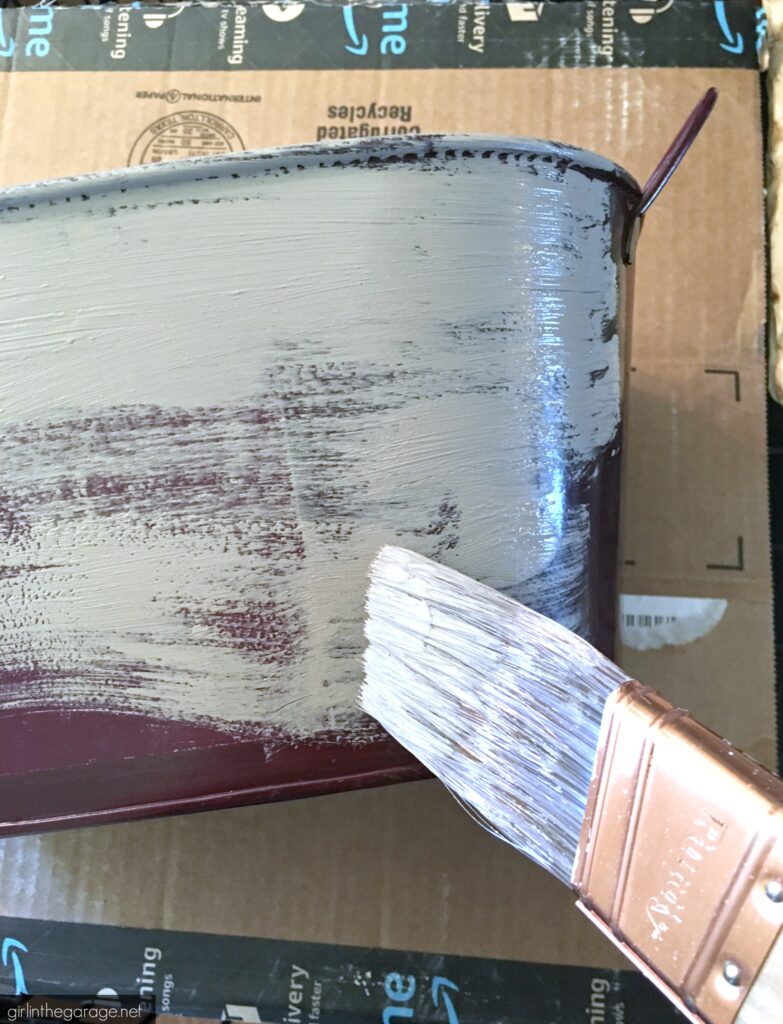 Then I grabbed some Scallop Shape Tape from my stash and added it around the bottom of the caddy. I've used it on a few projects – I love how easy it is to add sweet little extra details.
You can also find Shape Tape in Wave and Chevron styles.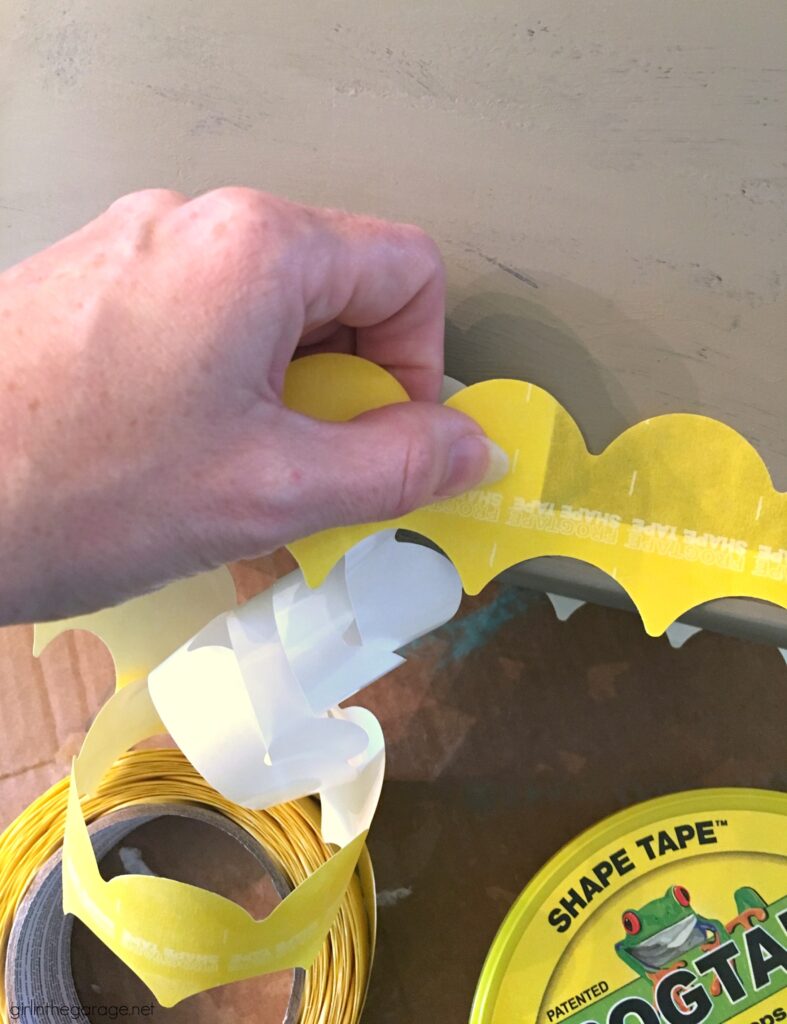 My next color was Pure White Chalk Paint, brushed everywhere except where the Shape Tape was.
**Psst… Want to learn more about Chalk Paint? Read this: The Ultimate Beginner's Guide to Chalk Painting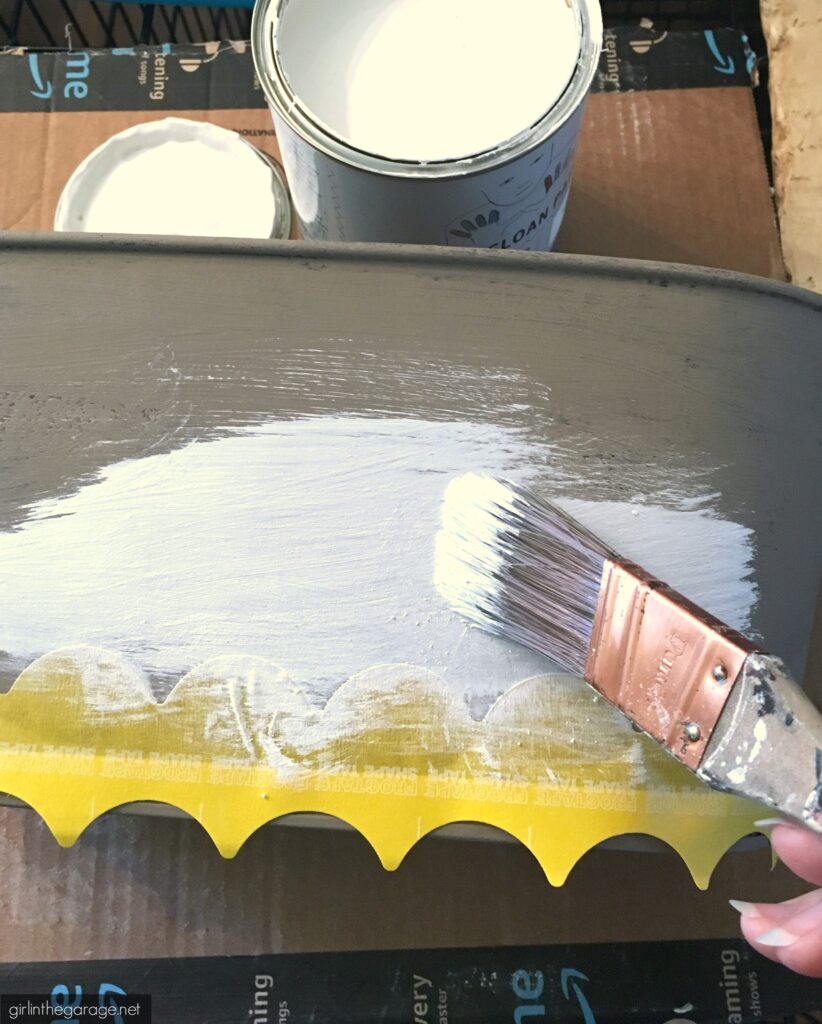 I applied about 3 coats of the Pure White and then carefully removed the tape. (It's best to remove while the last coat is still drying.)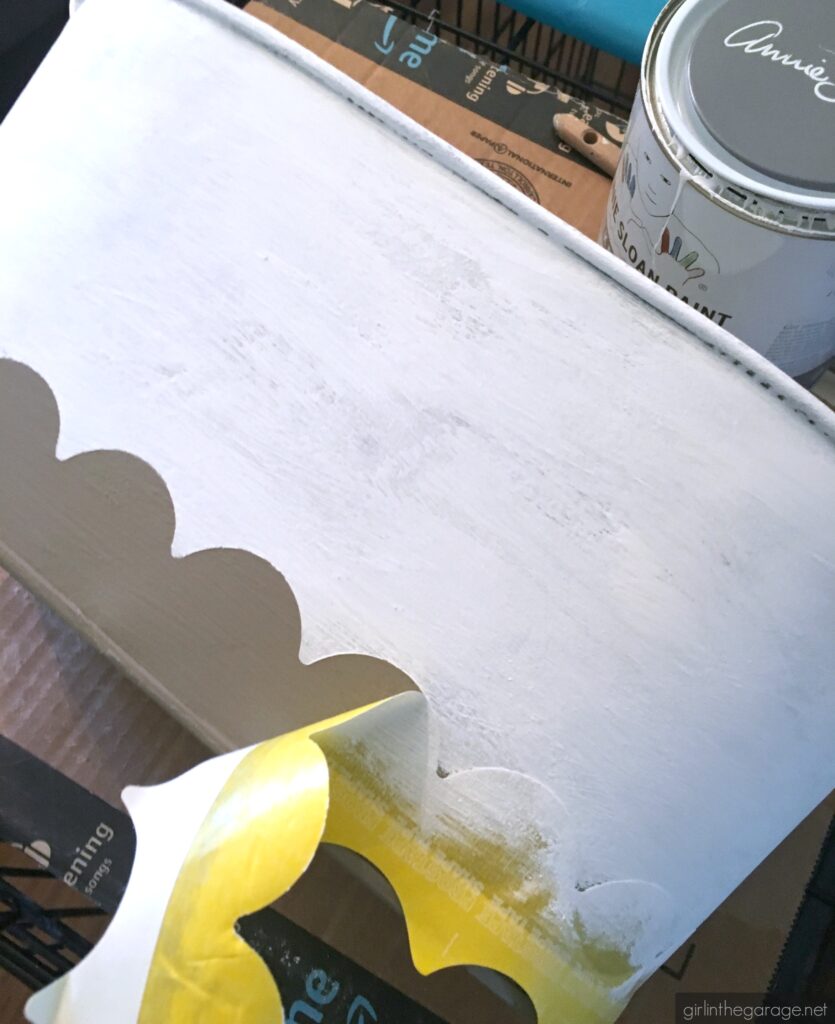 For fun, I added part of a stencil – the year 1921. It gives it a little extra vintage style. (I can't remember where I got this stencil from anymore but here are some similar French stencils on Amazon.)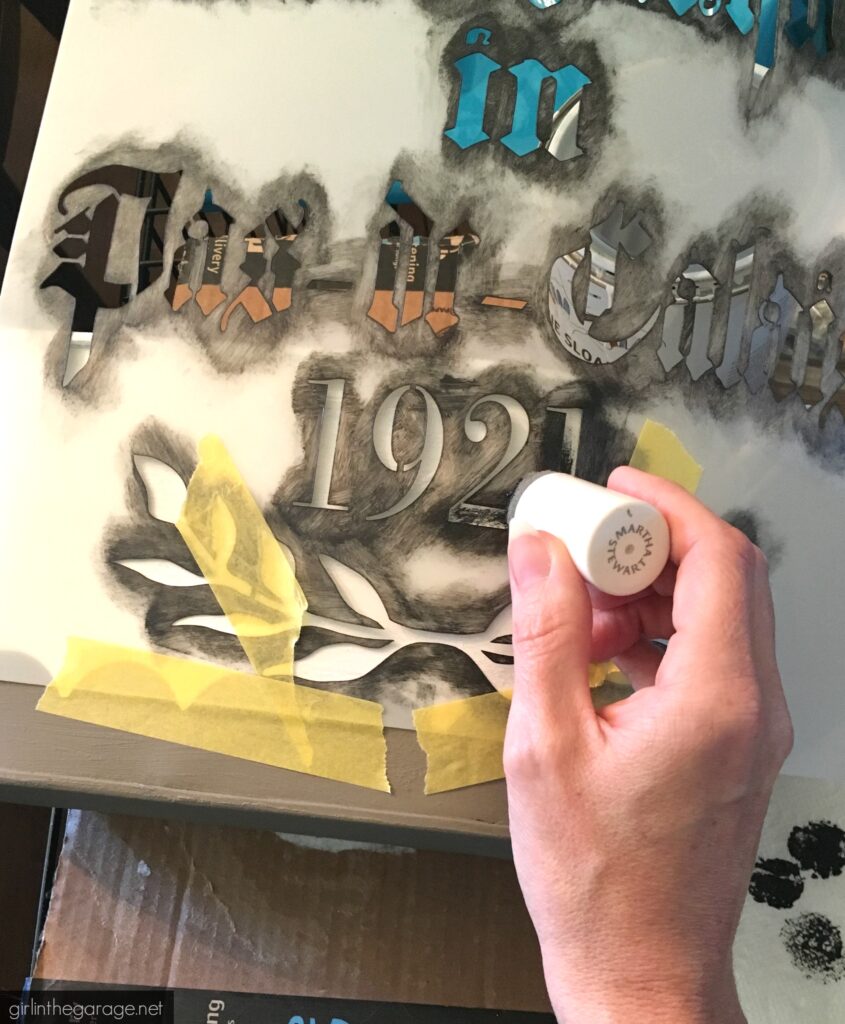 Remember to blot the foam pouncer and use very little paint so you don't have seepage under the stencil. (These are my favorite inexpensive foam pouncers.)
Lightly sand over the metal caddy with 320-grit sandpaper just for smoothness and wipe clean.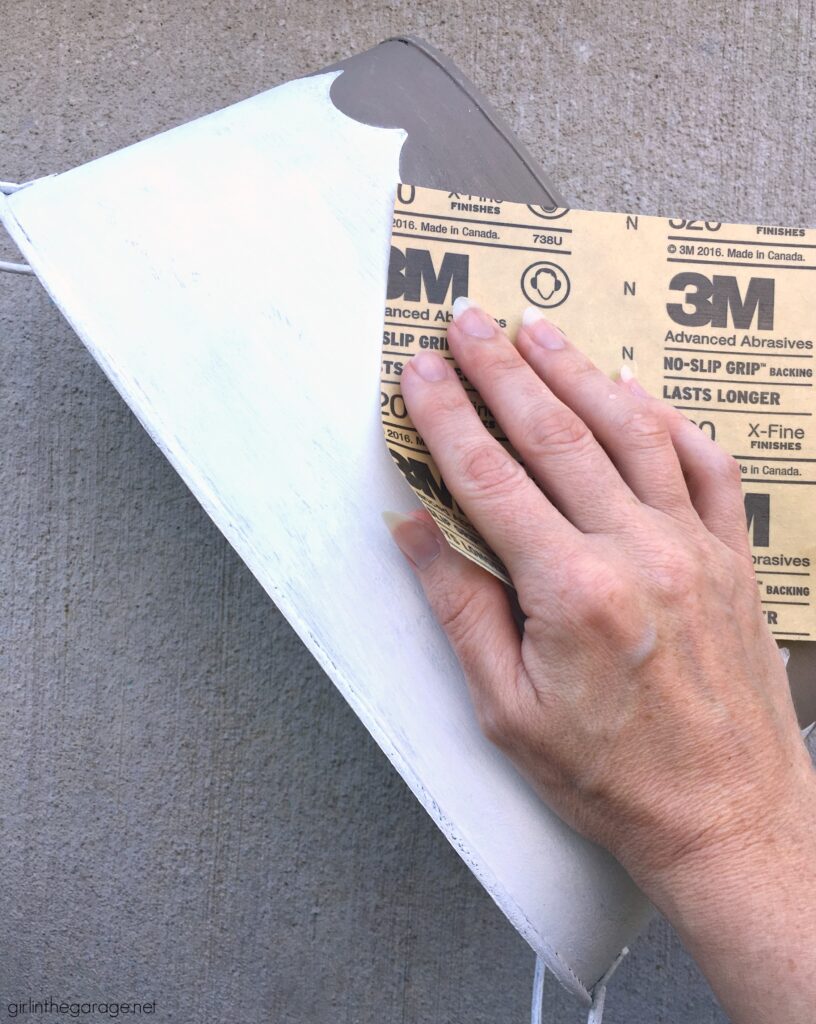 Finally, apply some clear wax with a lint-free cloth for protection.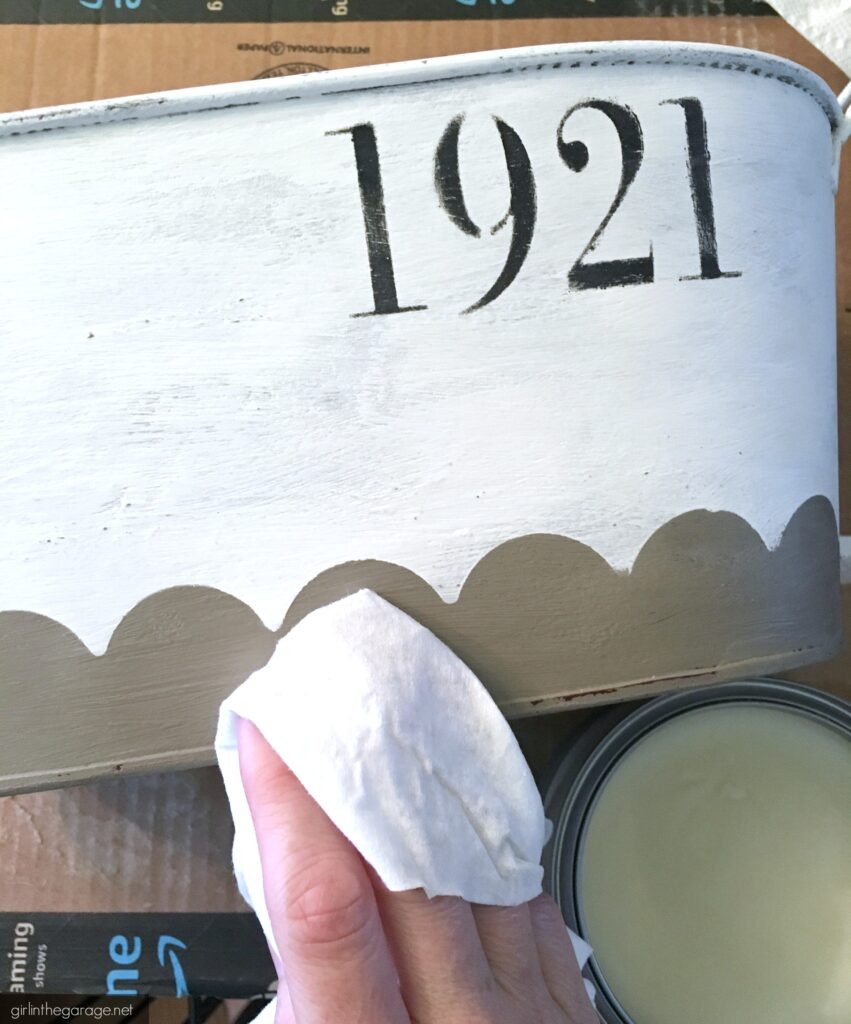 And here's thrifted home decor makeover #1 today…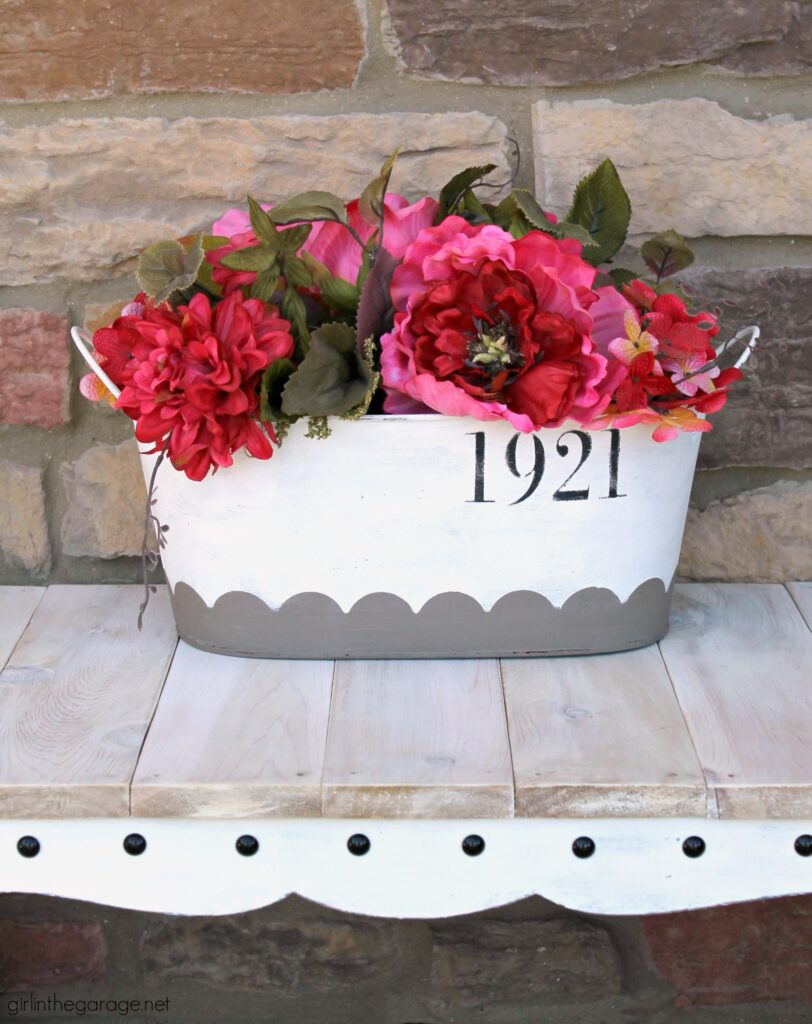 This makeover took longer than the other ones below, and I think it's my favorite.
Of course, any type of DIY budget-friendly home decor is a winner to me!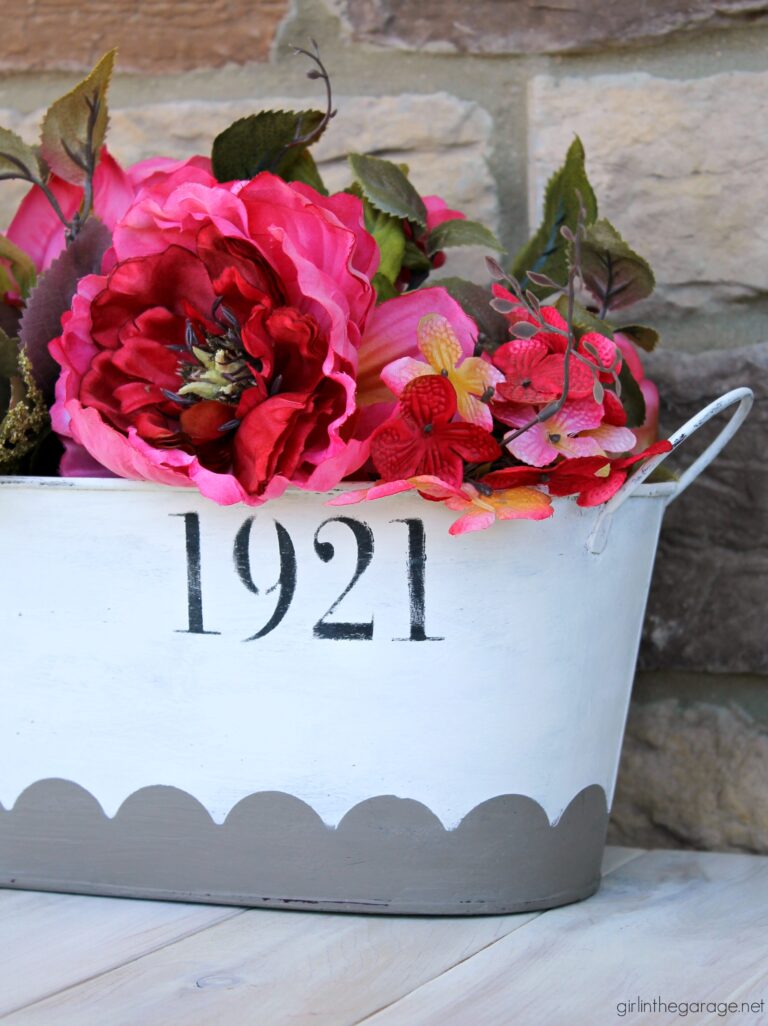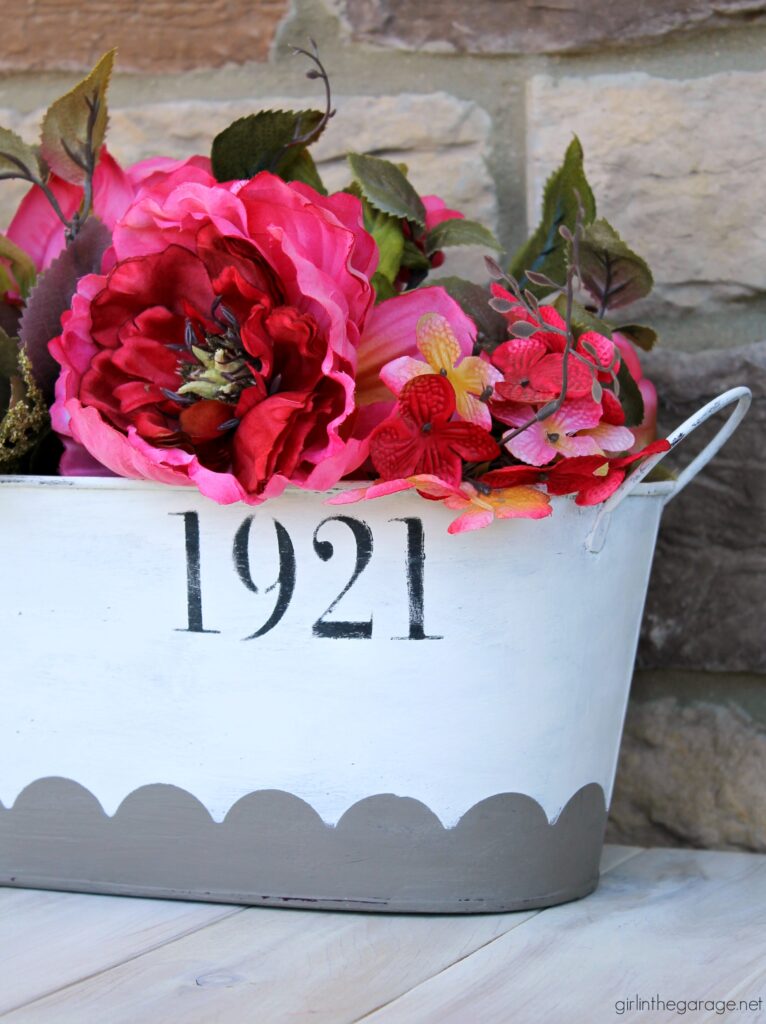 Feel free to Pin this painted metal caddy or any of the other projects below.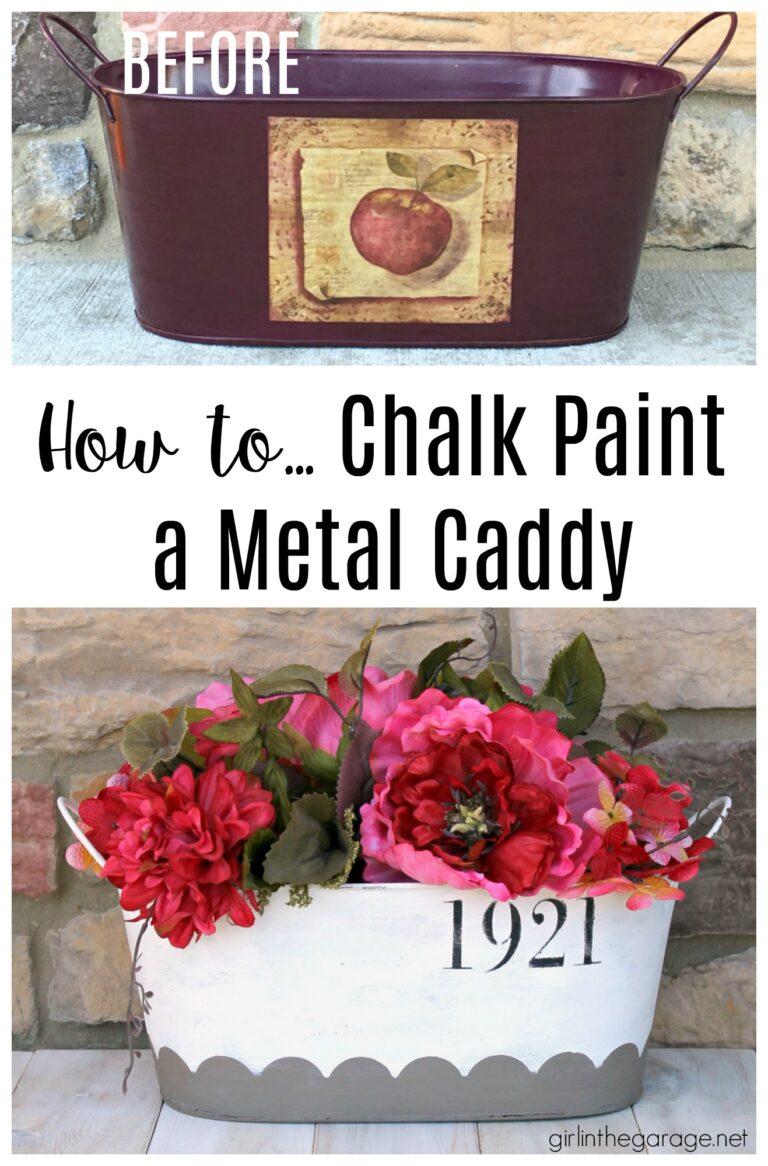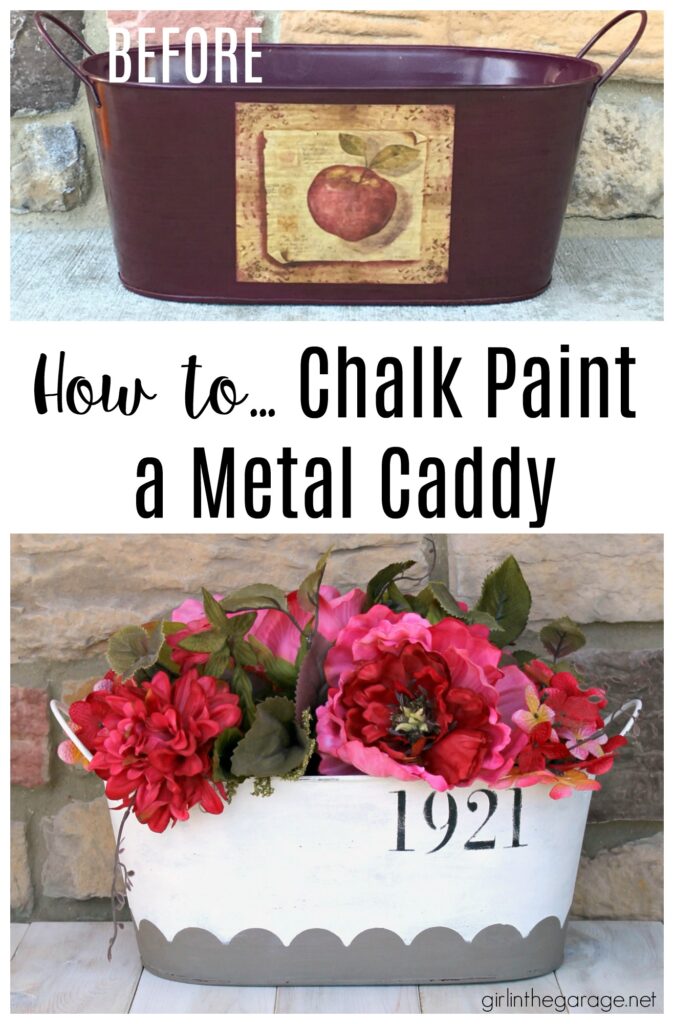 Next is thrifty home decor makeover #2, simply called…
How to Chalk Paint a Wooden Bowl
Alright I know this isn't really a typical bowl but I forgot what it's called – is "bowl" acceptable?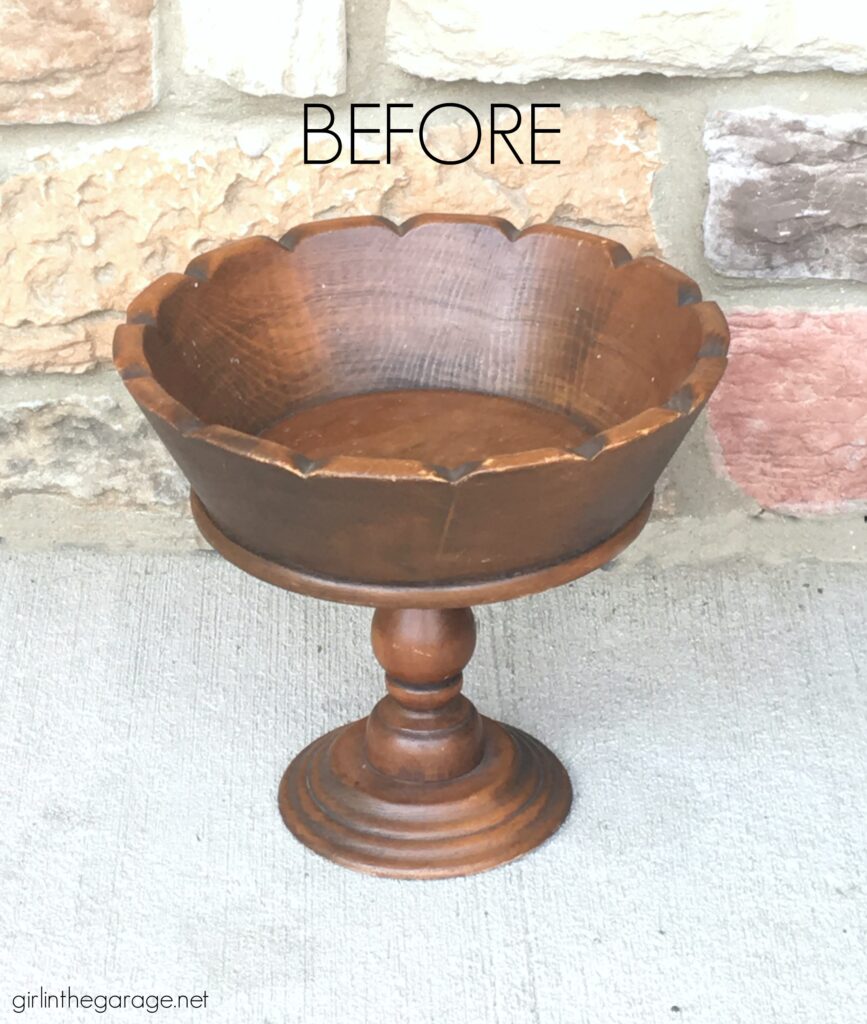 This cute piece was painted in Provence Chalk Paint by Annie Sloan for a fun turquoise look.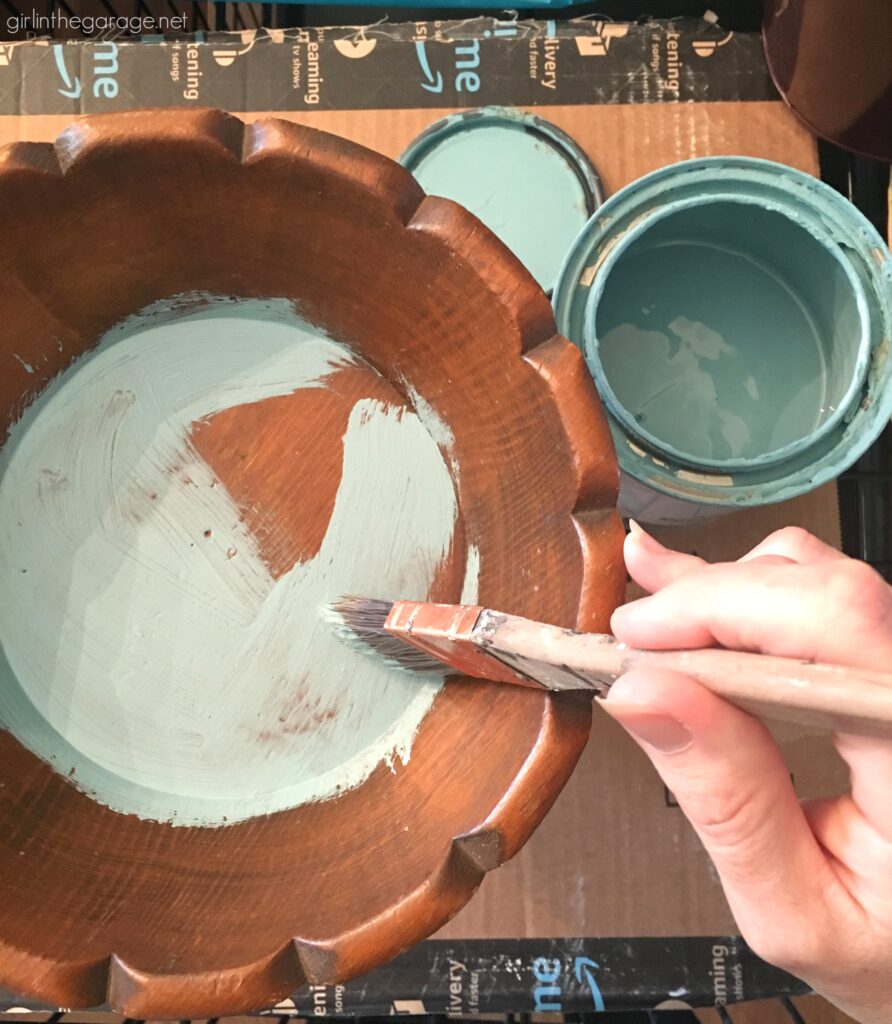 I lightly distressed it with 220-grit sandpaper, wiped it clean, and then applied clear wax with a lint-free cloth for protection.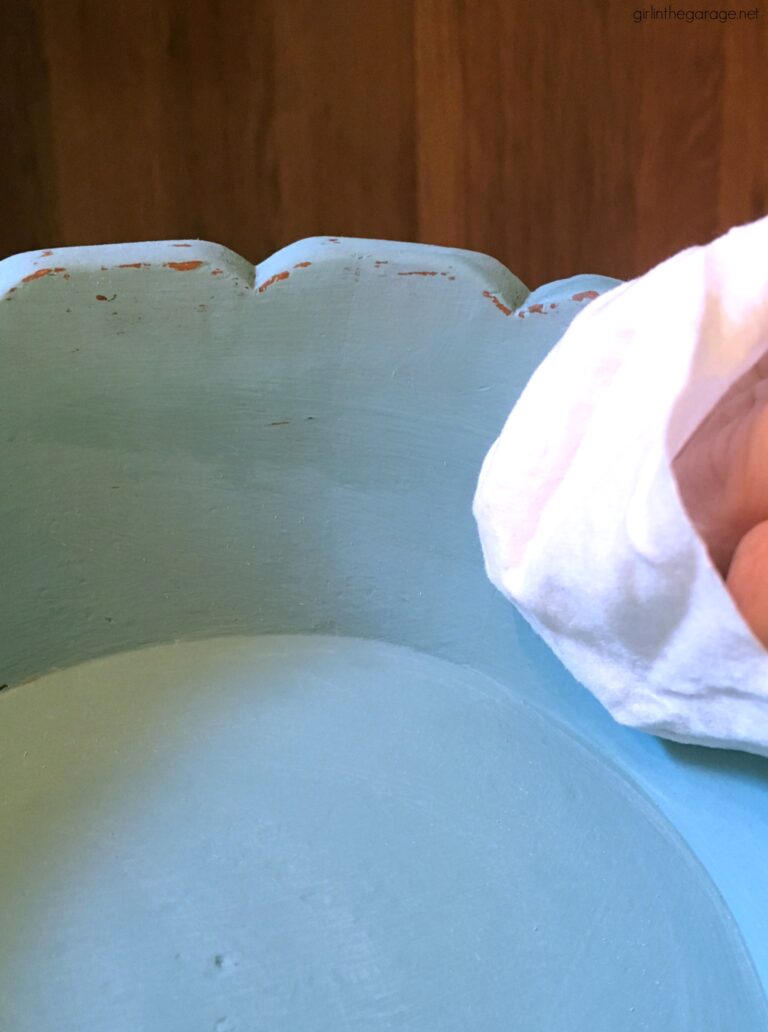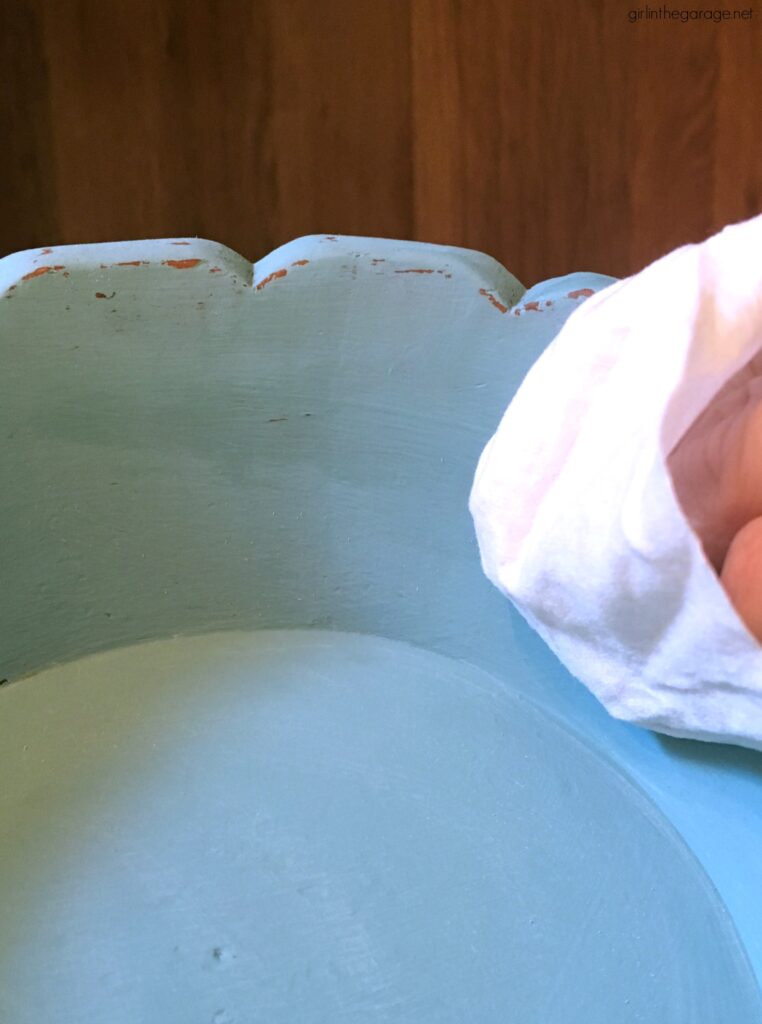 And here's how this Chalk Painted wooden bowl looks now: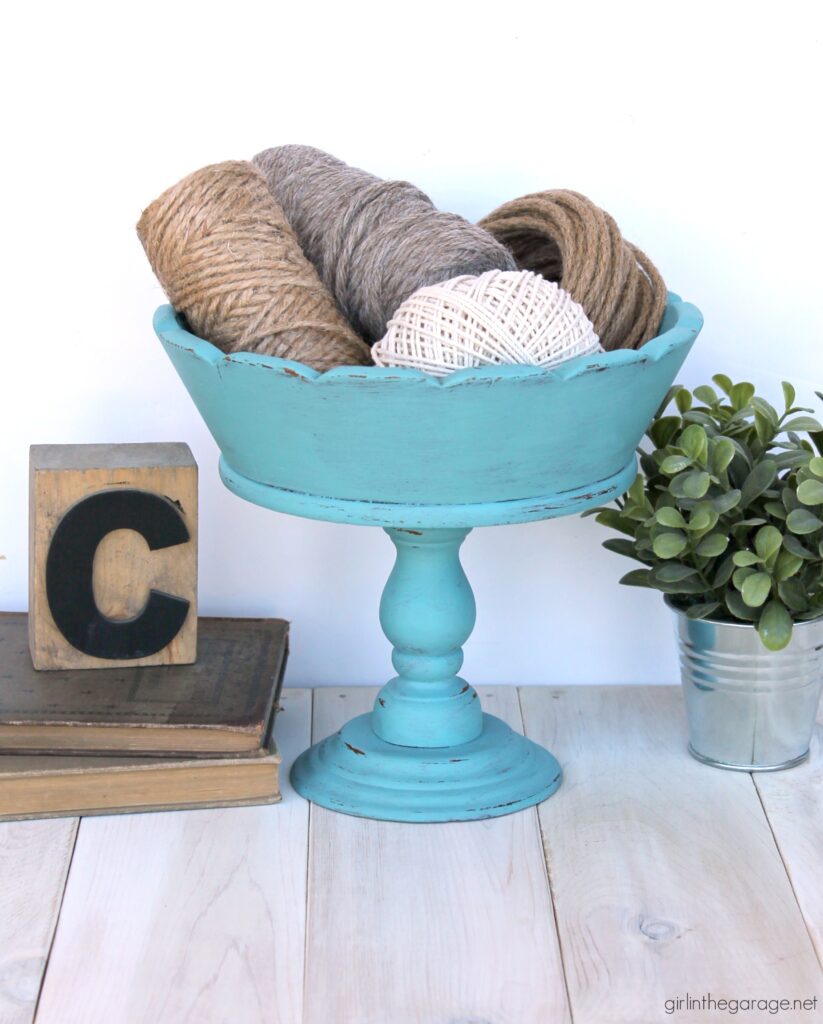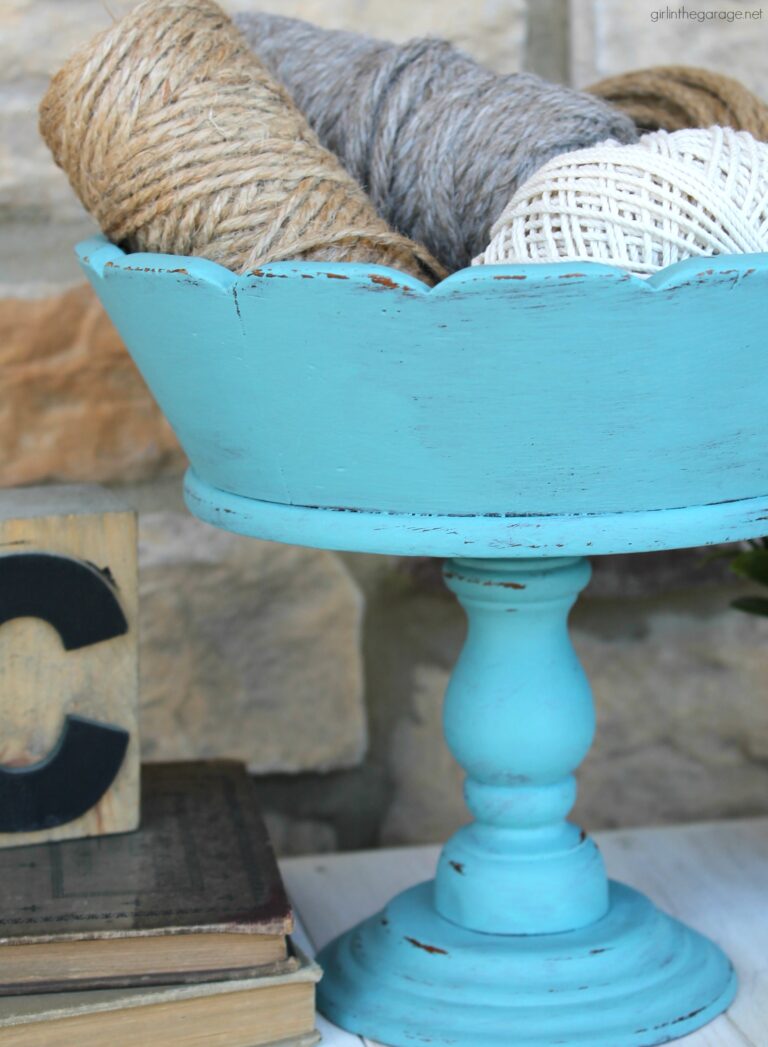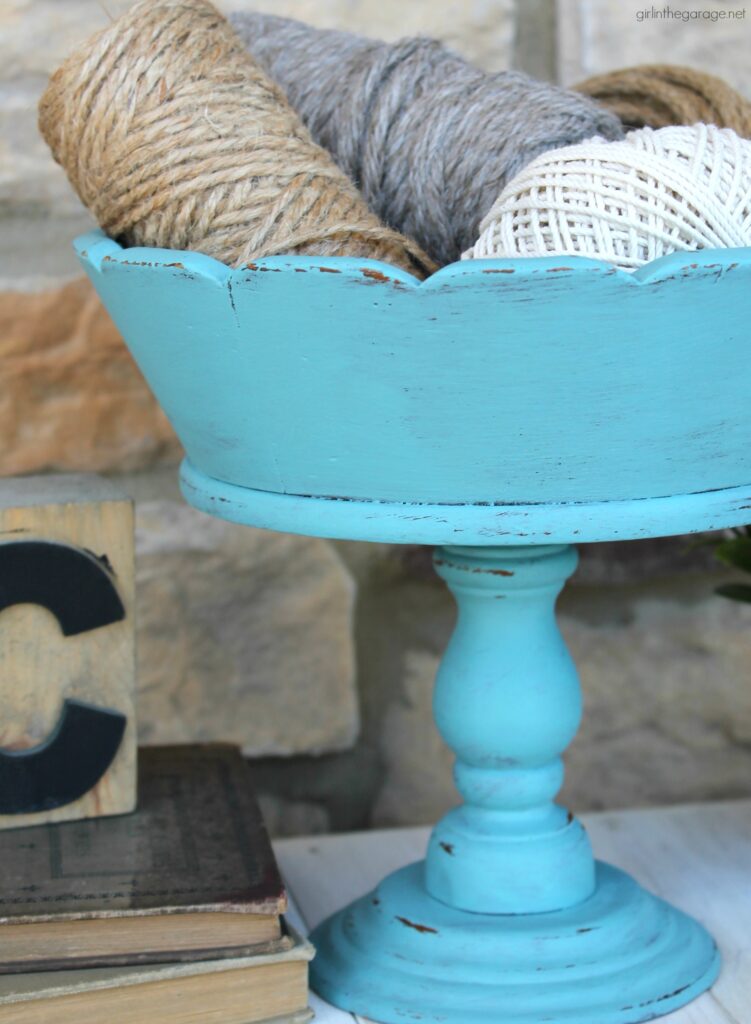 I love the fun pop of color in this thrift store decor makeover. And it was super easy!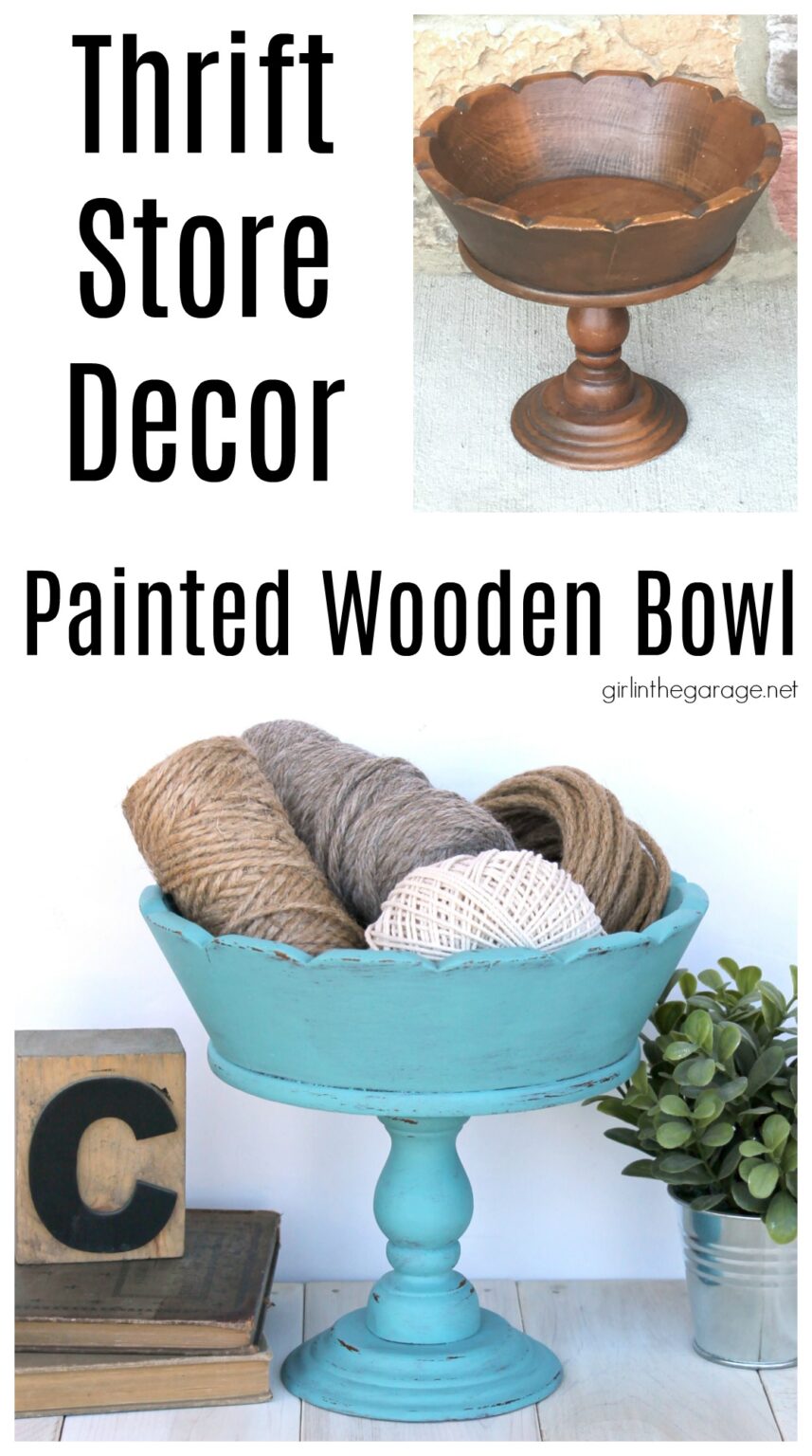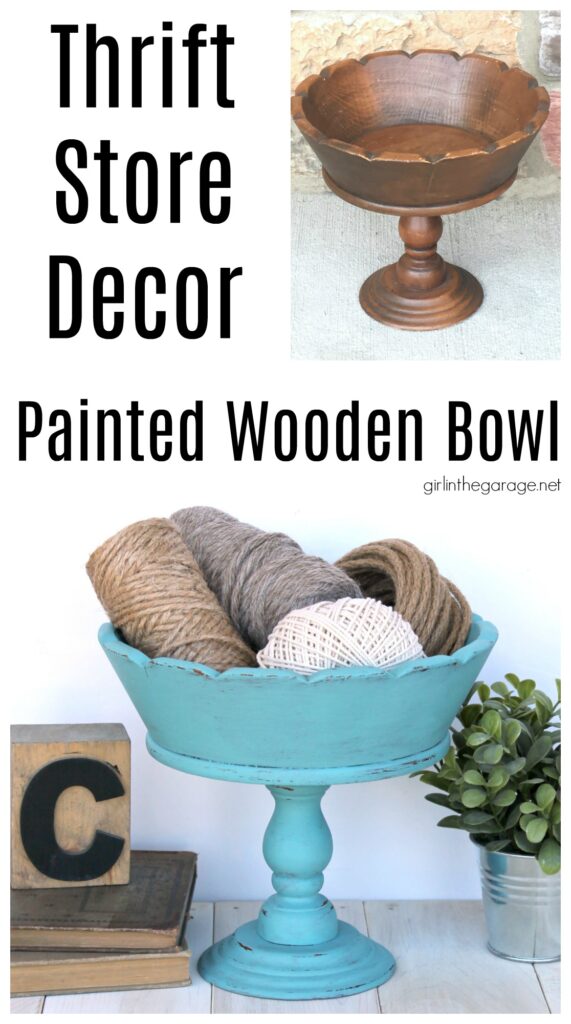 Finally we've come to the third and final thrifty home decor makeover…
How to Decoupage Wooden Letters
To be honest, these are wooden letters that have hard book covers glued onto the front – found on clearance somewhere a long time ago. But I wasn't digging the chosen book covers. (An "&" isn't really a letter… but you know what I mean)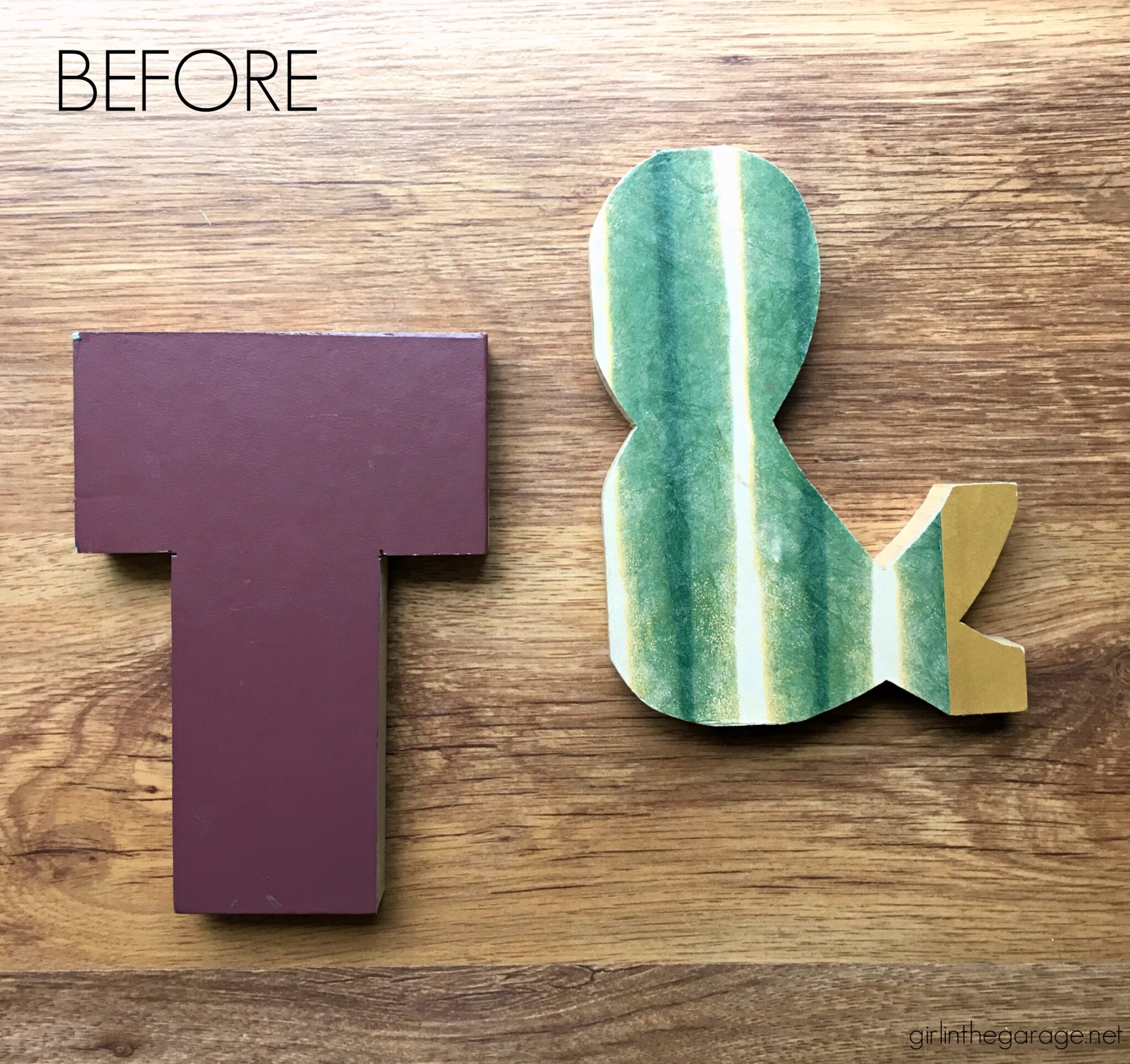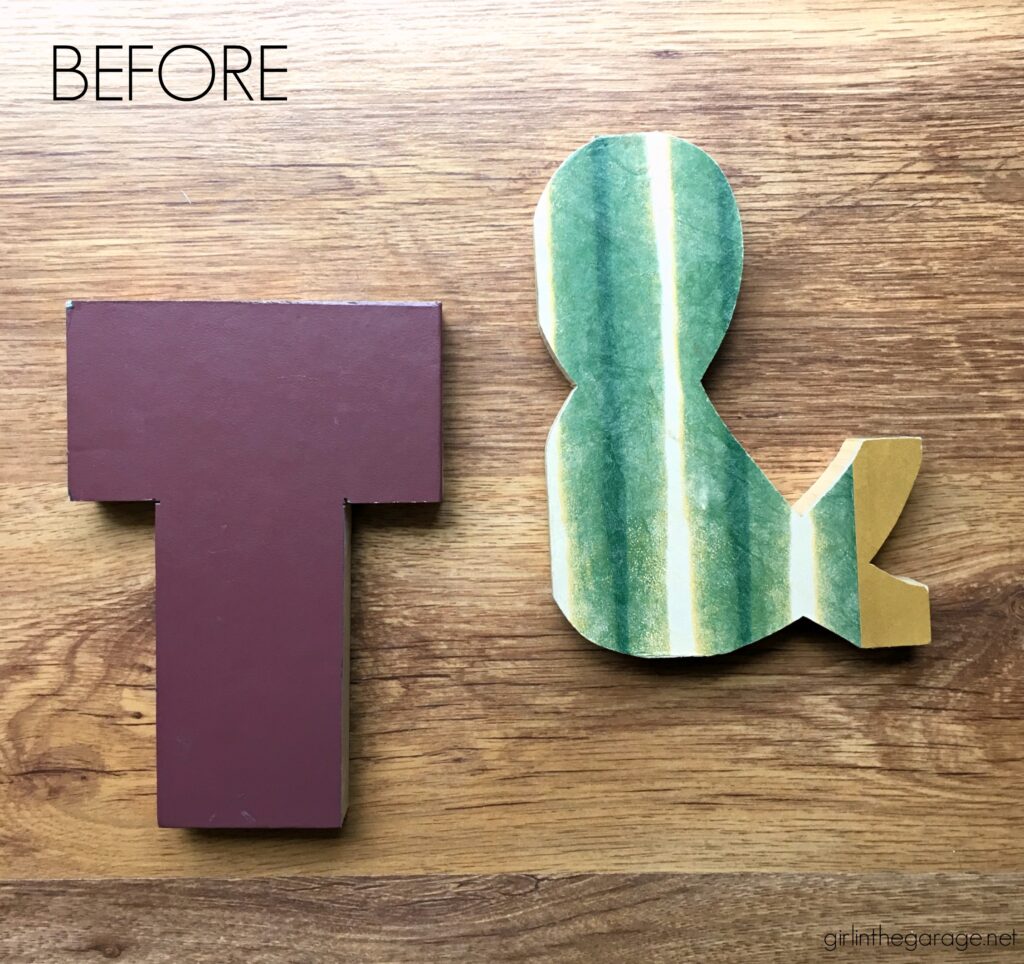 I grabbed the leftover map poster from the Old World Cabinet Makeover in my book Amazing Furniture Makeovers and traced the "T" and "&" on it.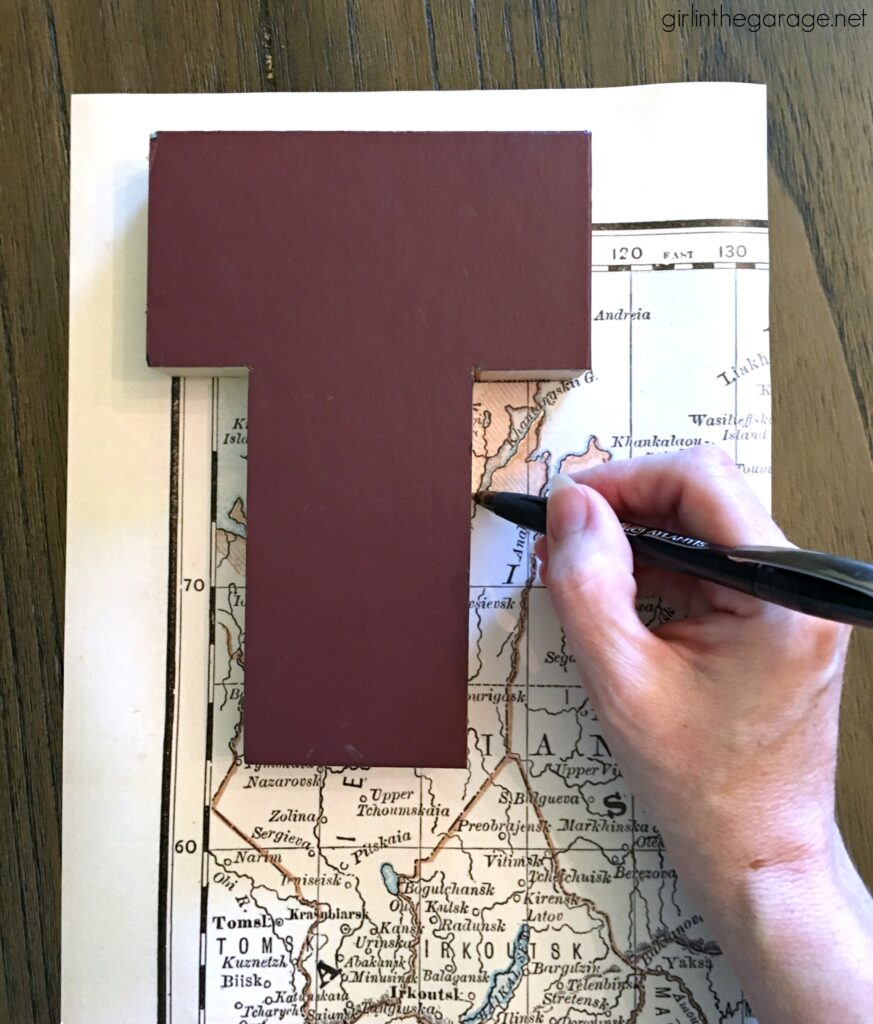 Then you'll cut the paper letters out – slightly big, then keep trimming until it fits perfectly over the wood letters.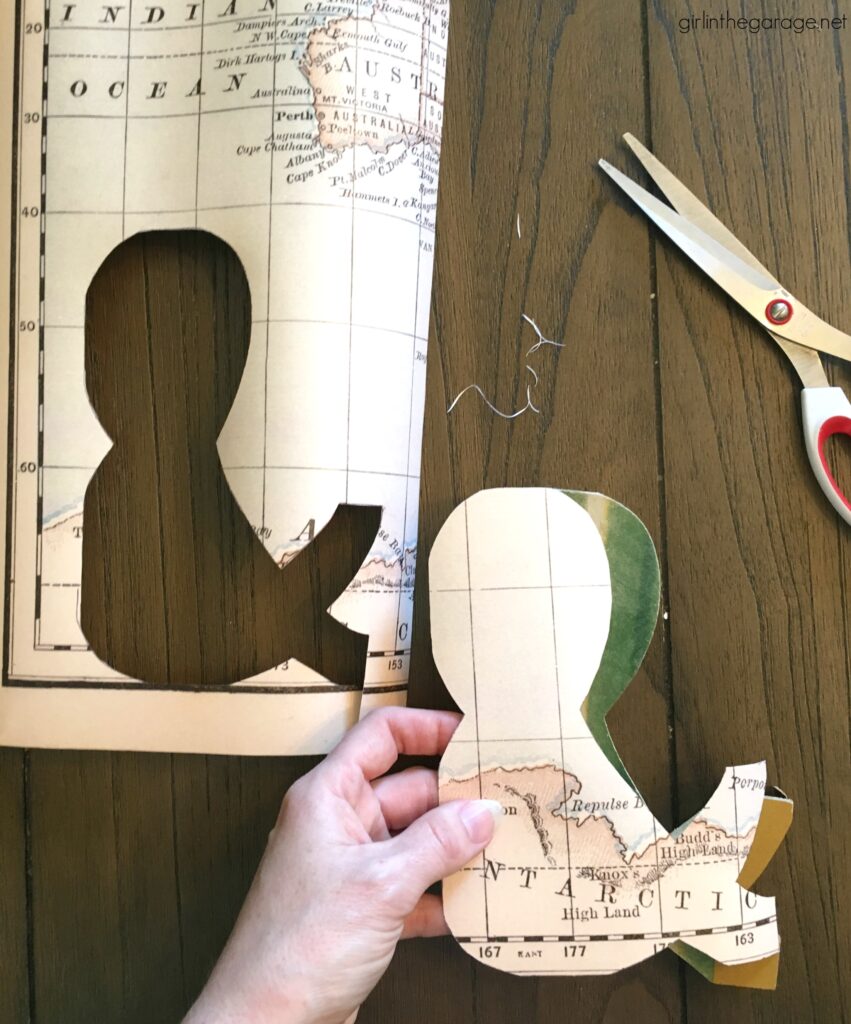 Next brush Mod Podge directly over the book covers with a foam brush and set the map cutout directly on top.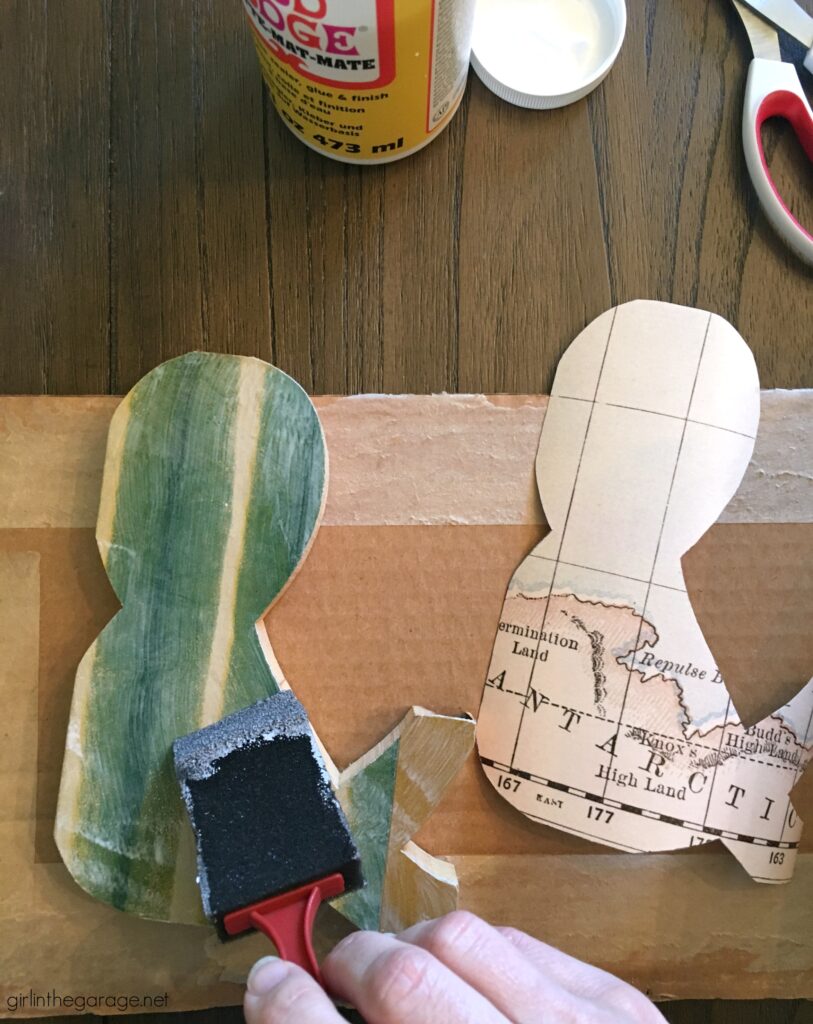 Finally, set something heavy on top (like my drink of choice below) and let the letters dry for about 24 hours.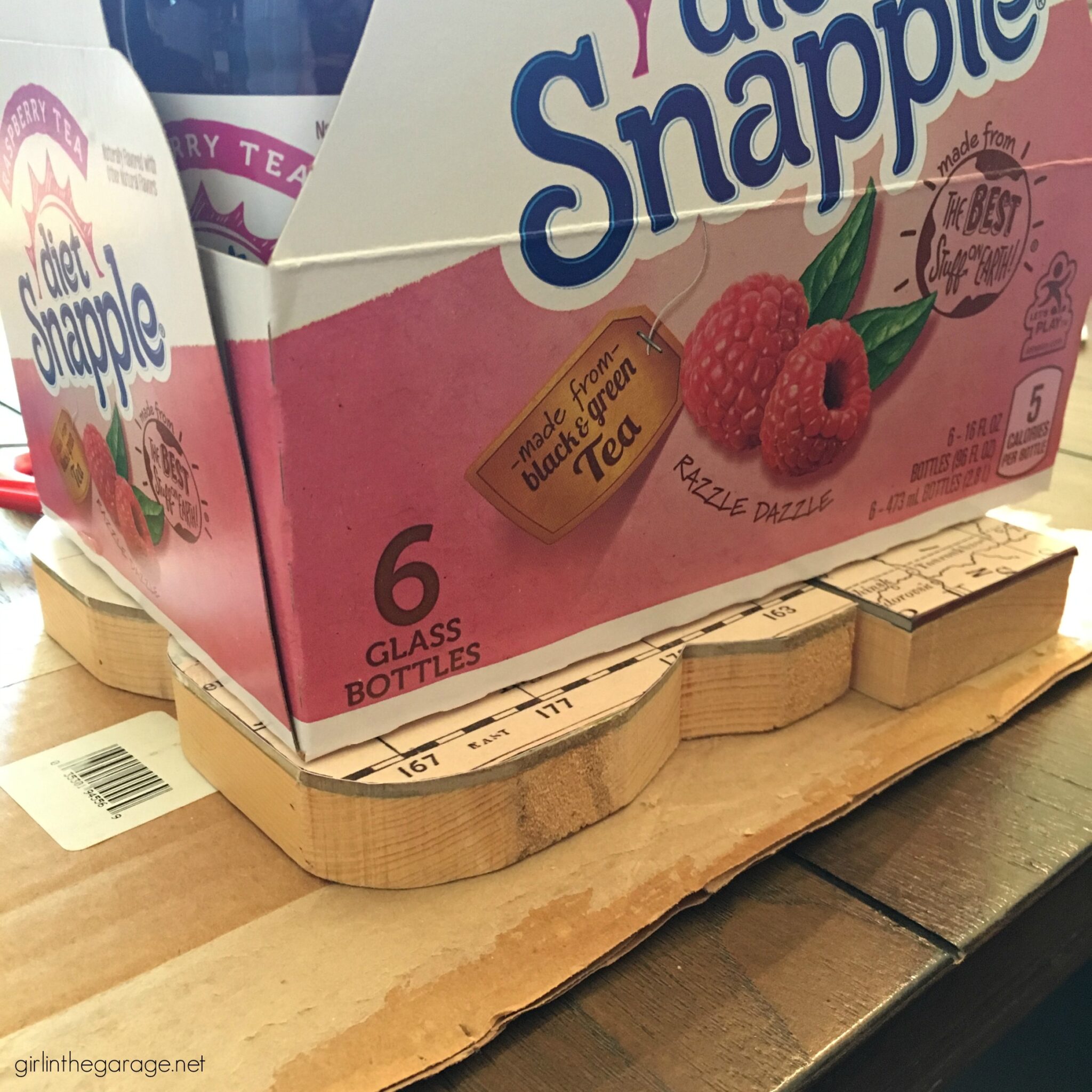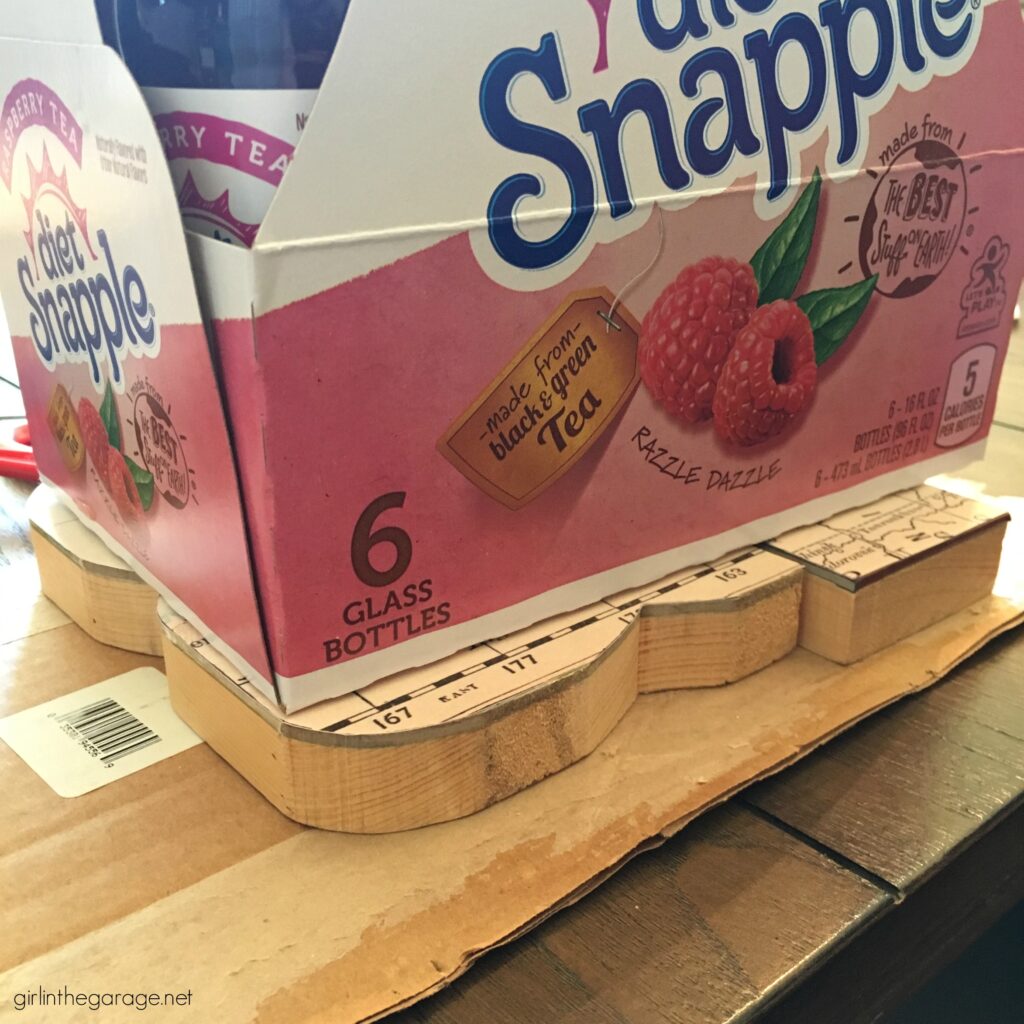 Now thrifty home decor makeover #3 is complete – what do you think?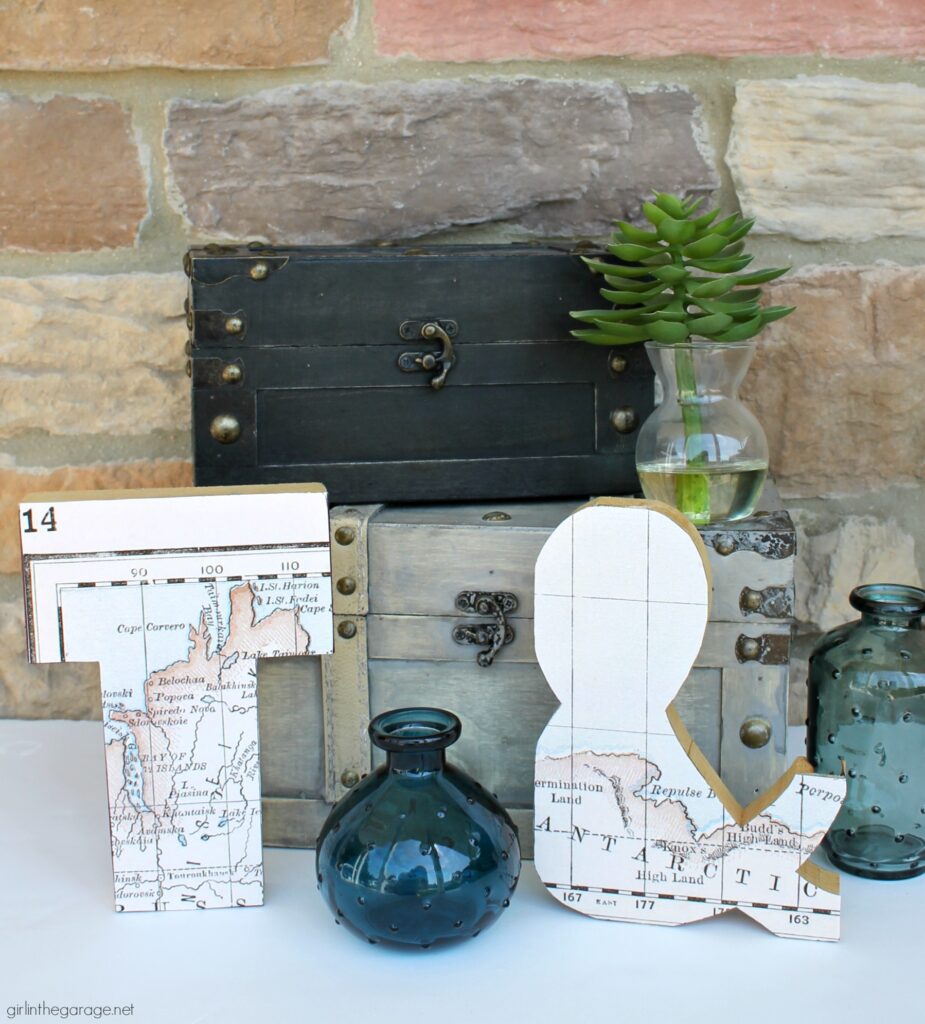 Please share or Pin any of the projects in this post if you're feeling inspired.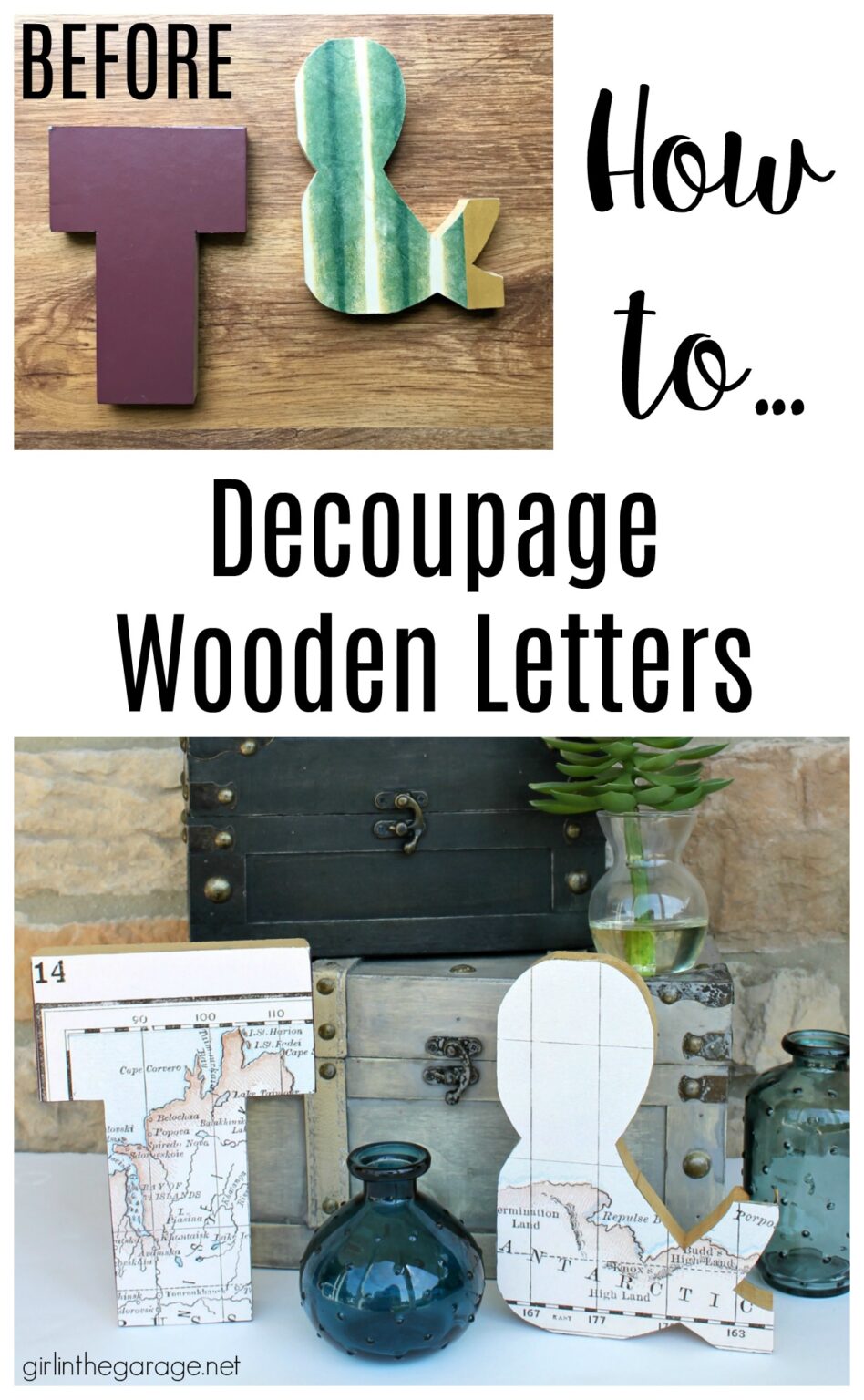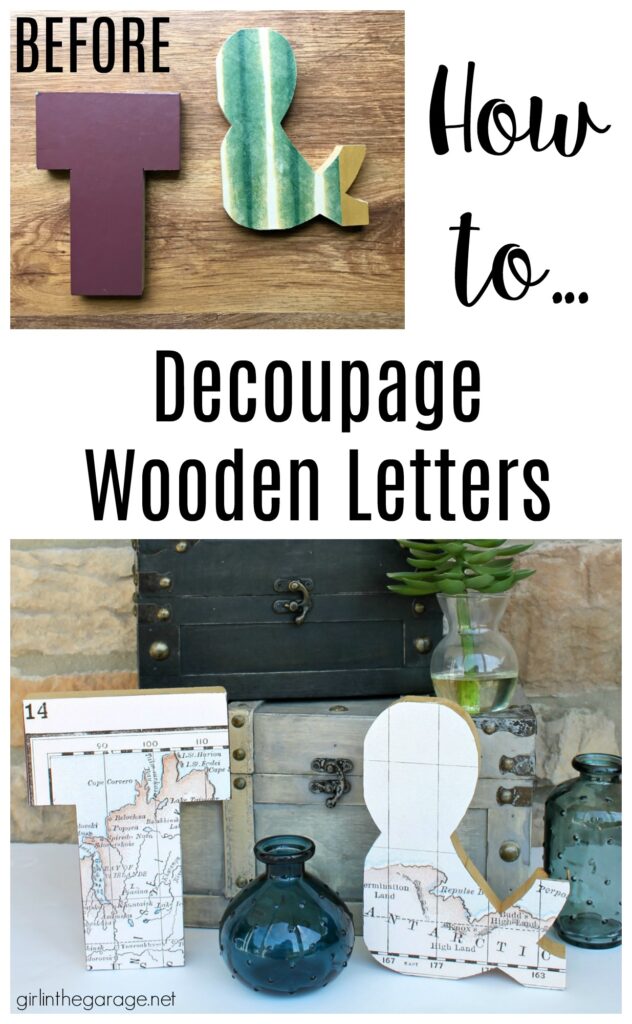 You can also buy plain letters at the craft store and decoupage them the same way. I did this several years ago for this DIY fall art I made, before gluing them onto a burlap canvas: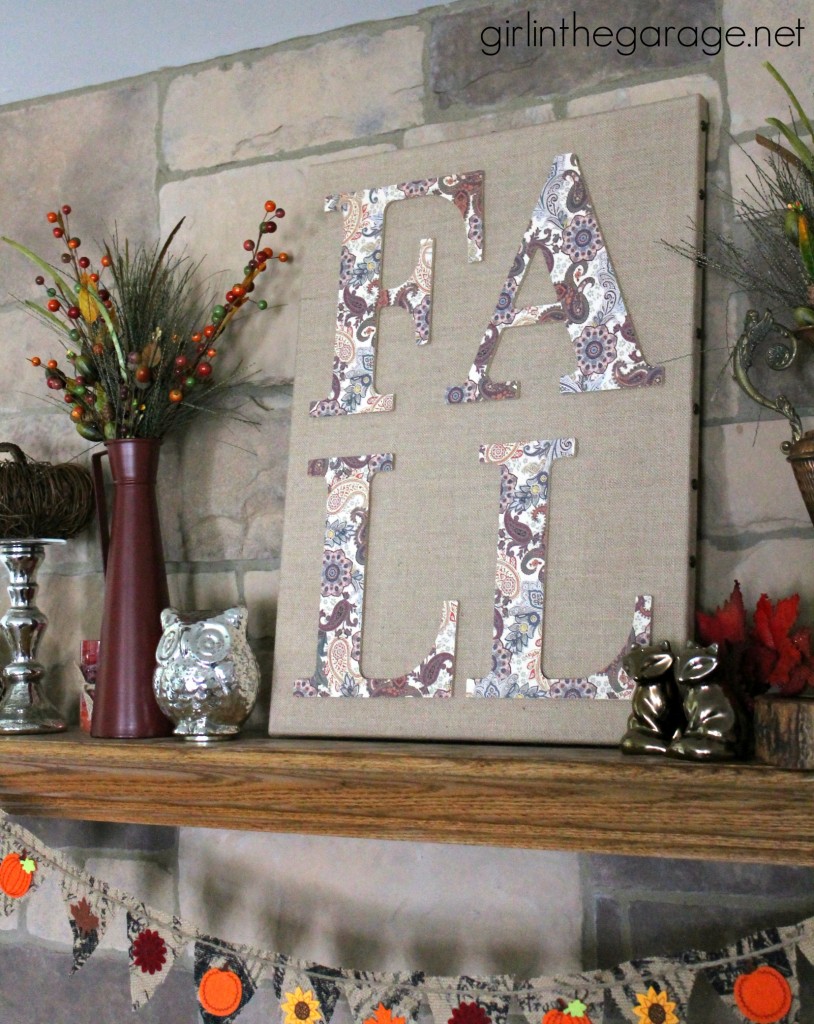 I'd love to know which of the thrift store decor makeovers above is your favorite – and which could you see yourself trying? 1: Painted Metal Caddy, 2: Painted Wooden Bowl, 3: Decoupage Wooden Letters
Now it's time for more Trash to Treasure Makeovers with my friends!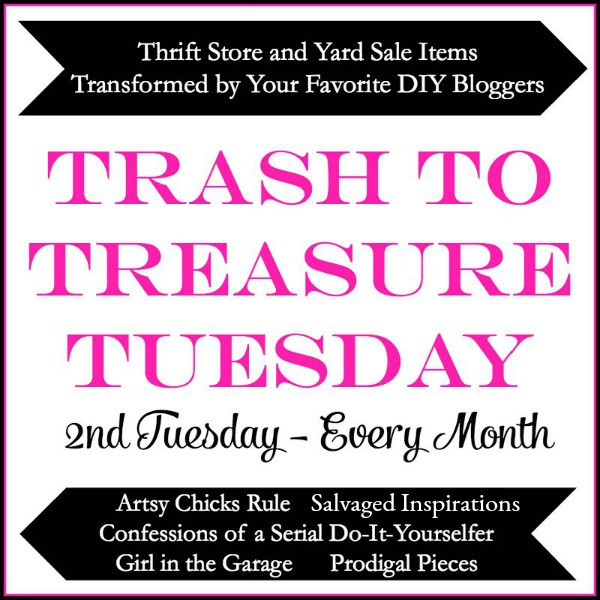 Below are the Before photos – visit the links underneath to see the amazing Afters and to learn how they did it: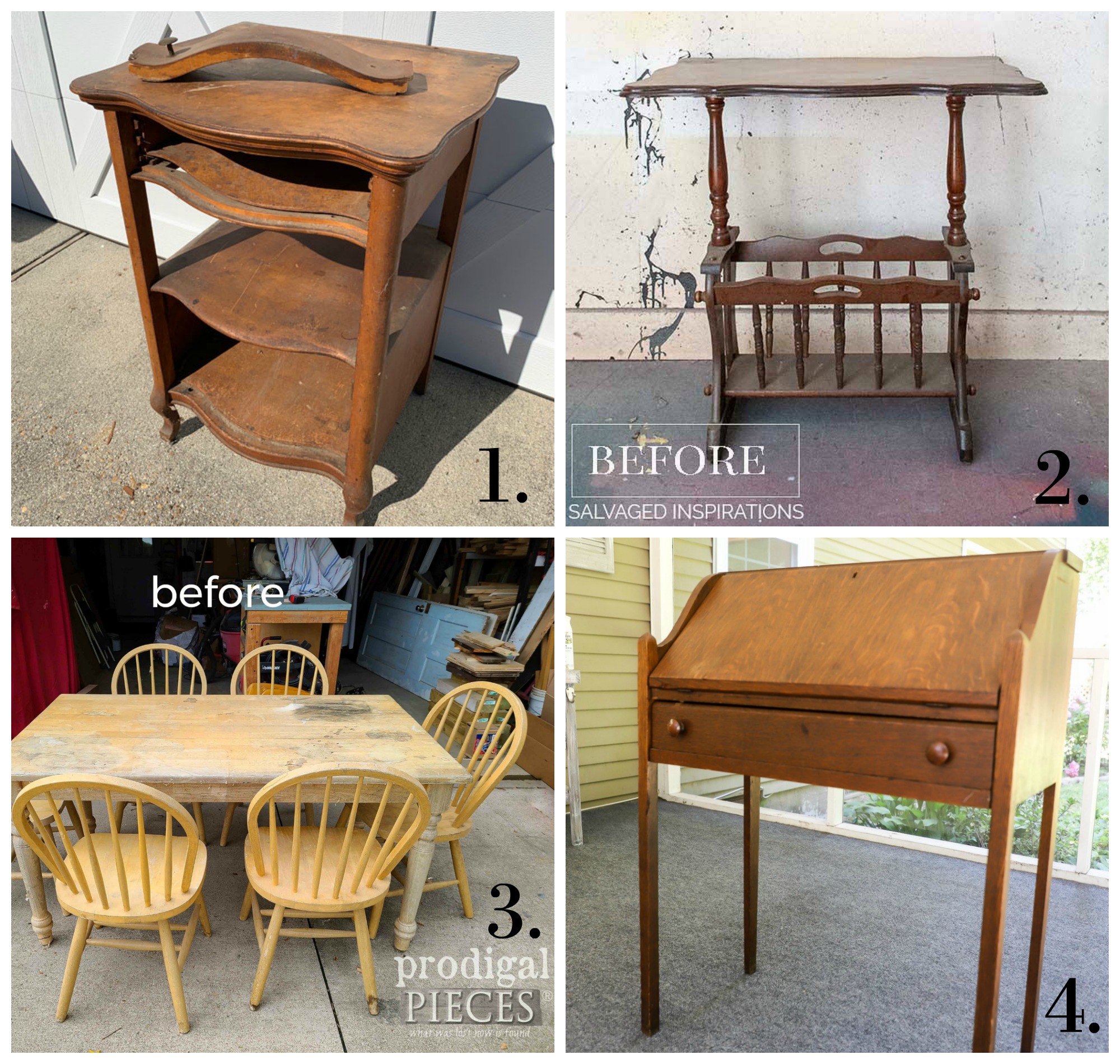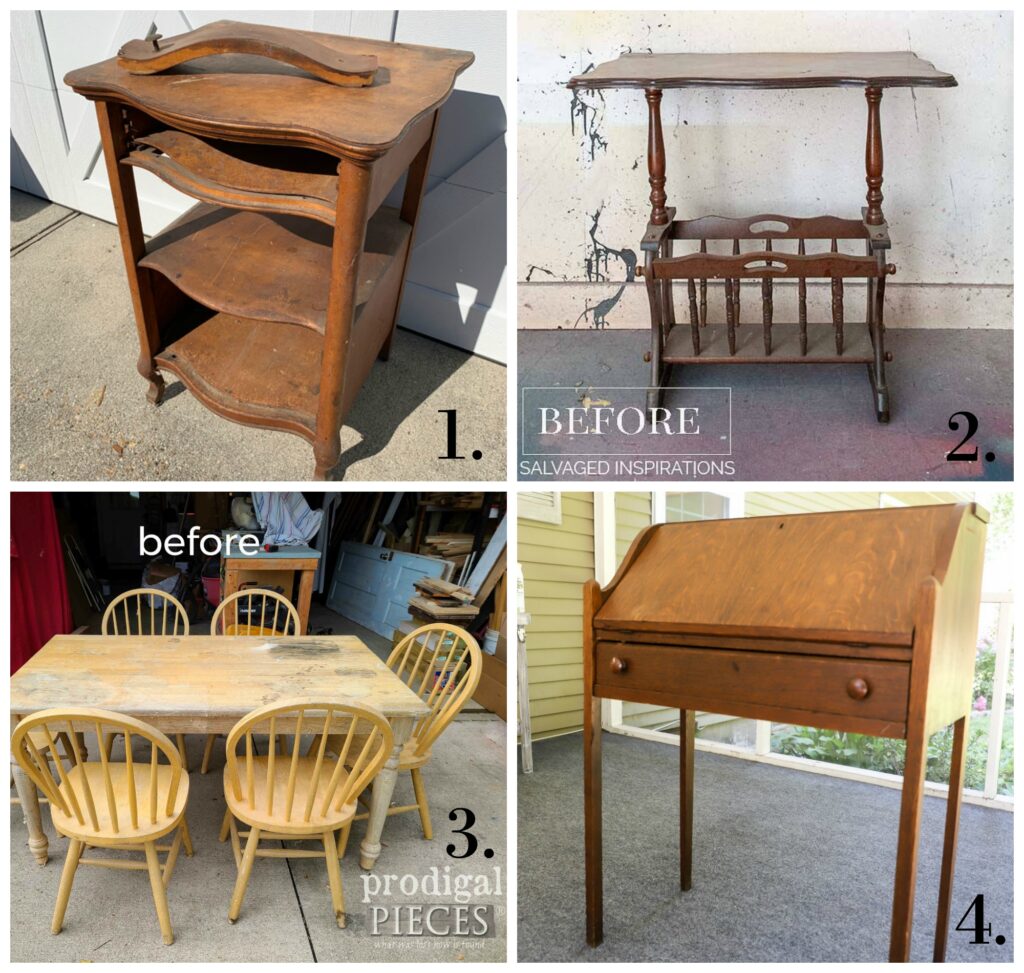 1. Confessions of a Serial DIYer
2. Salvaged Inspirations
3. Prodigal Pieces
4. Artsy Chicks Rule
You'll also like this popular blog post: 13 Repurposing Ideas for Home Decor