Friends, I have a fun DIY project for you today that I've been planning for awhile now… it involves three crates like the ones below that you can find at the hardware store – and a bold blue wood stain.
This is a 2-project tutorial where you'll learn how to give your entryway some extra storage and pizzazz with a DIY wooden crate bookshelf and a hanging coat rack made with decorative trim pieces. (Plus there's a helpful how-to video and a great giveaway! *giveaway now closed)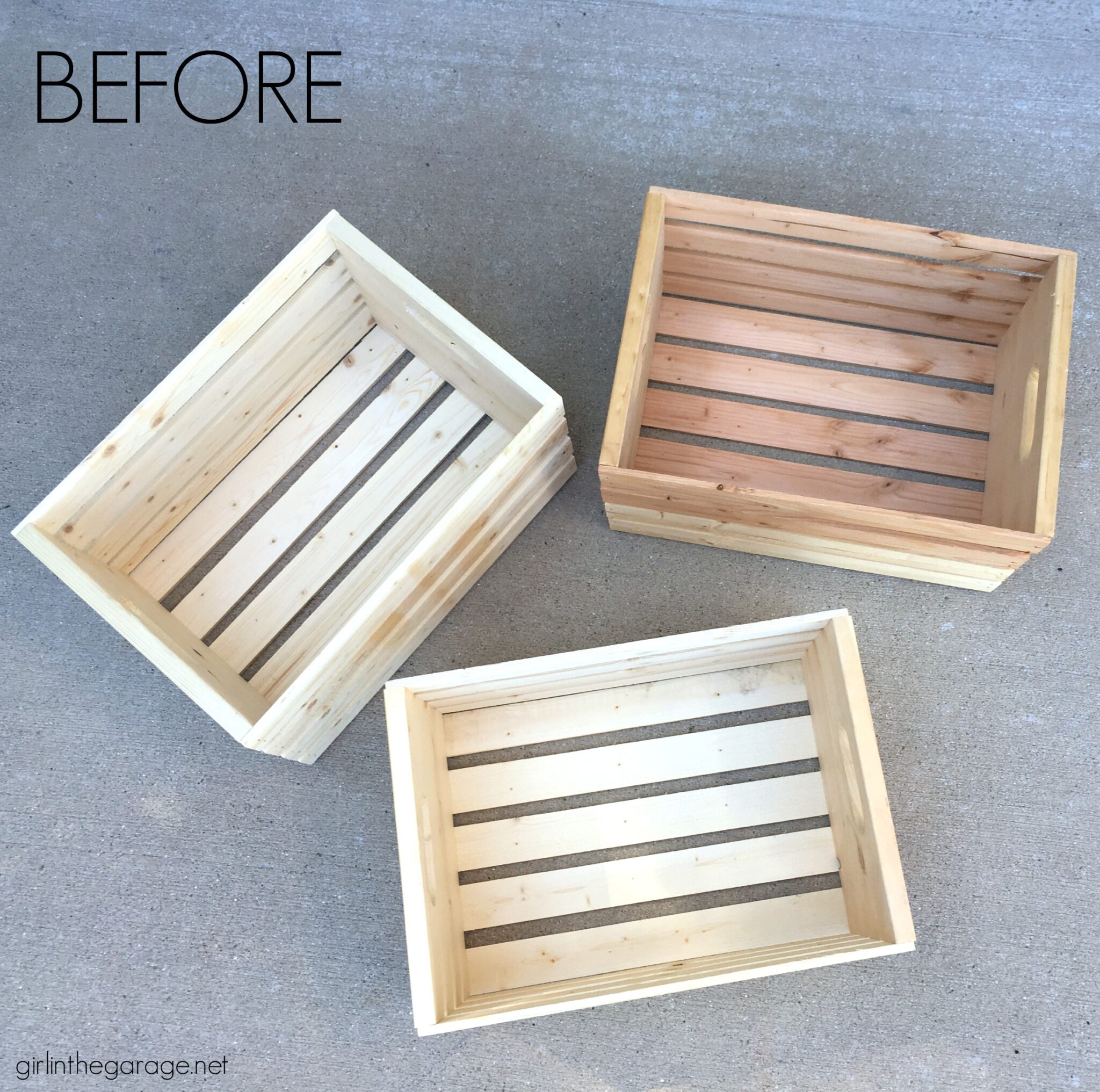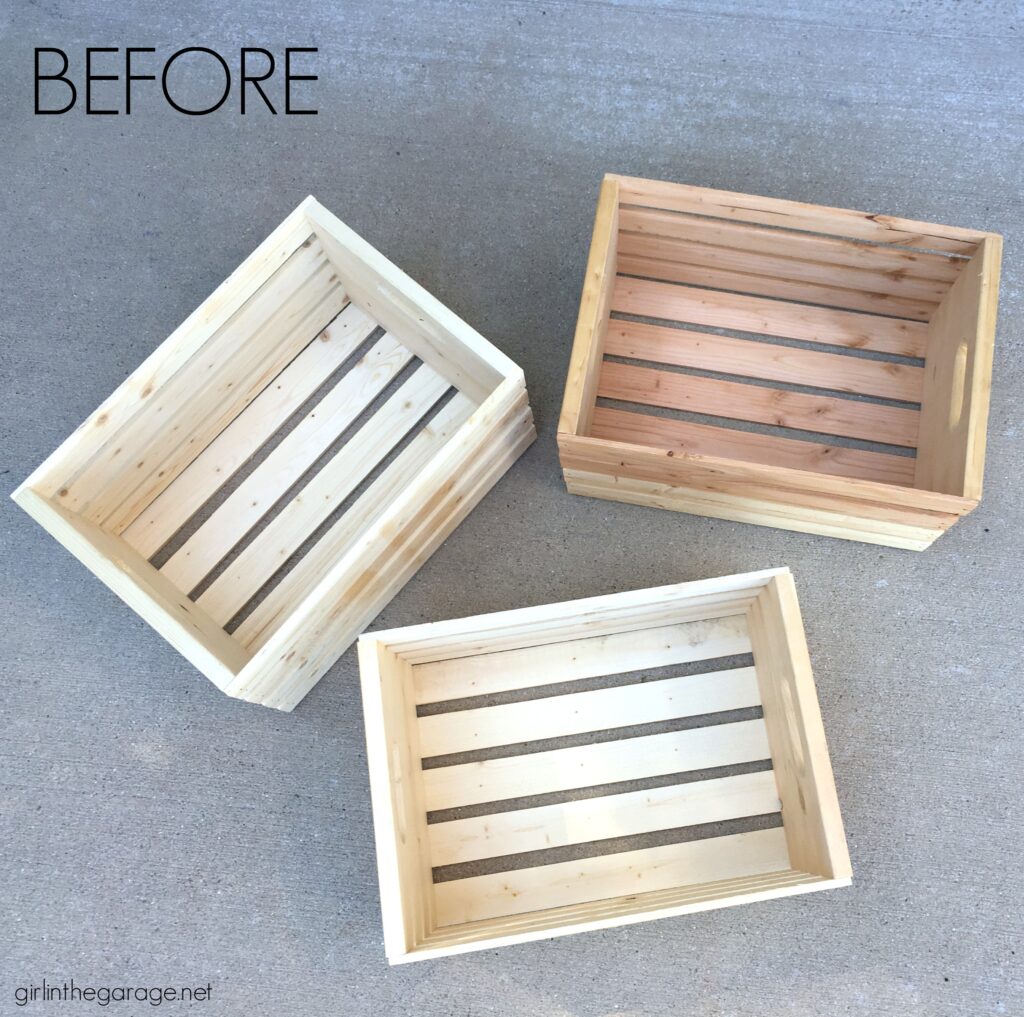 Before we jump into the projects, I want to let you know that this post is sponsored by the fine folks at Minwax. I'll be using their products to show you how to properly prepare wood for staining, how to use the new Minwax Color Stain, and how to properly protect your stained pieces with a topcoat. Even though this post is sponsored, my opinions are 100% my own.
Planning and Cutting Pieces for the Wooden Crate Bookshelf
While planning for this project, I decided that the top and bottom of the bookcase needed some extra thickness – especially because there will be casters on the bottom.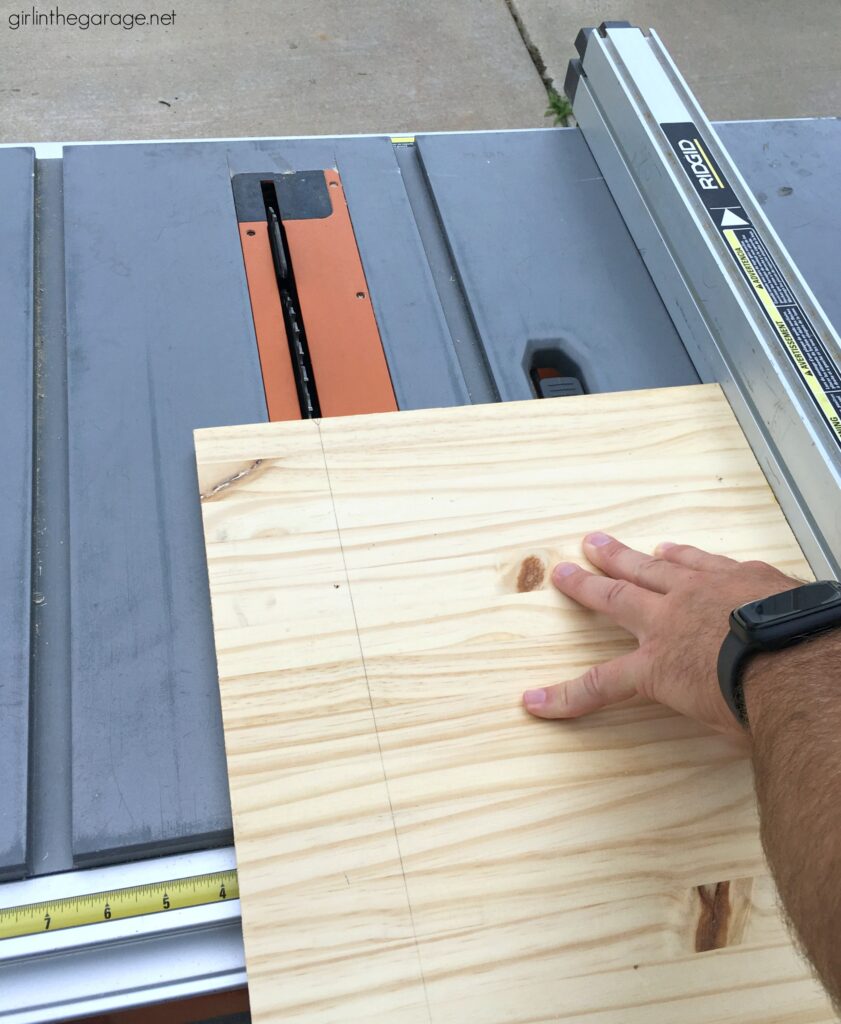 We always try to use up our scrap wood first, and there was one big piece that worked great for the top of the bookcase but then we'd have to attach two other pieces for the bottom (which wouldn't be noticeable).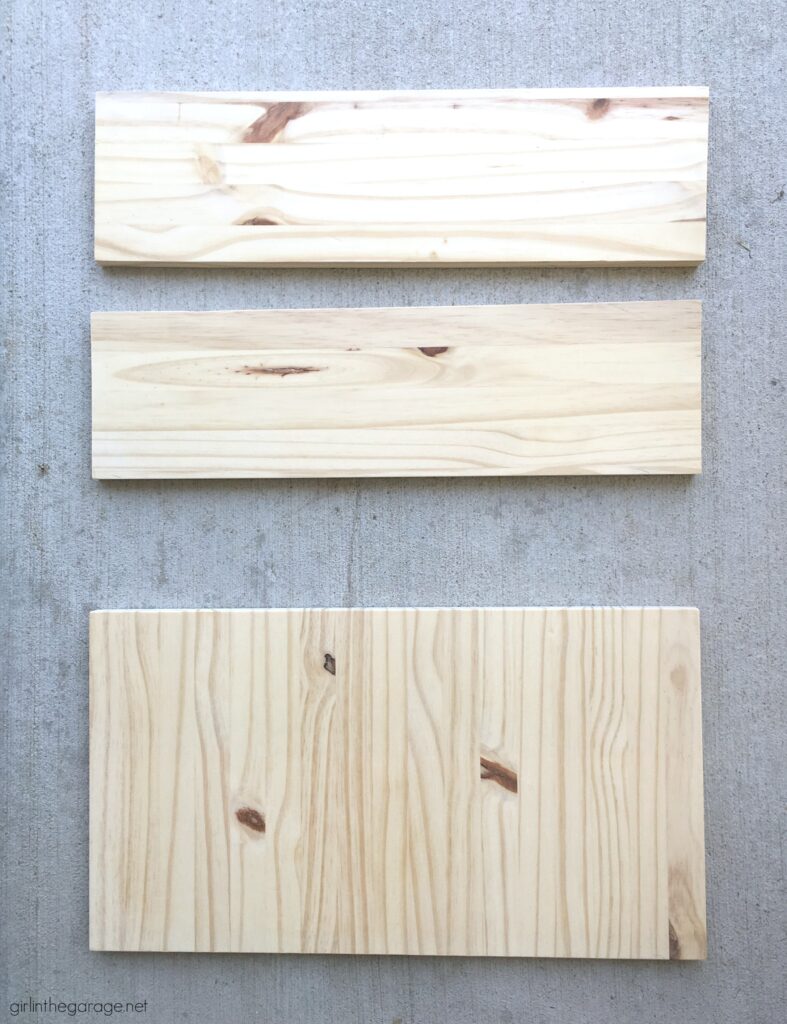 Since the crates are becoming bookshelves/a drop zone area for our entryway, we also cut three wood panels to sit inside the crates to avoid things falling through the slats.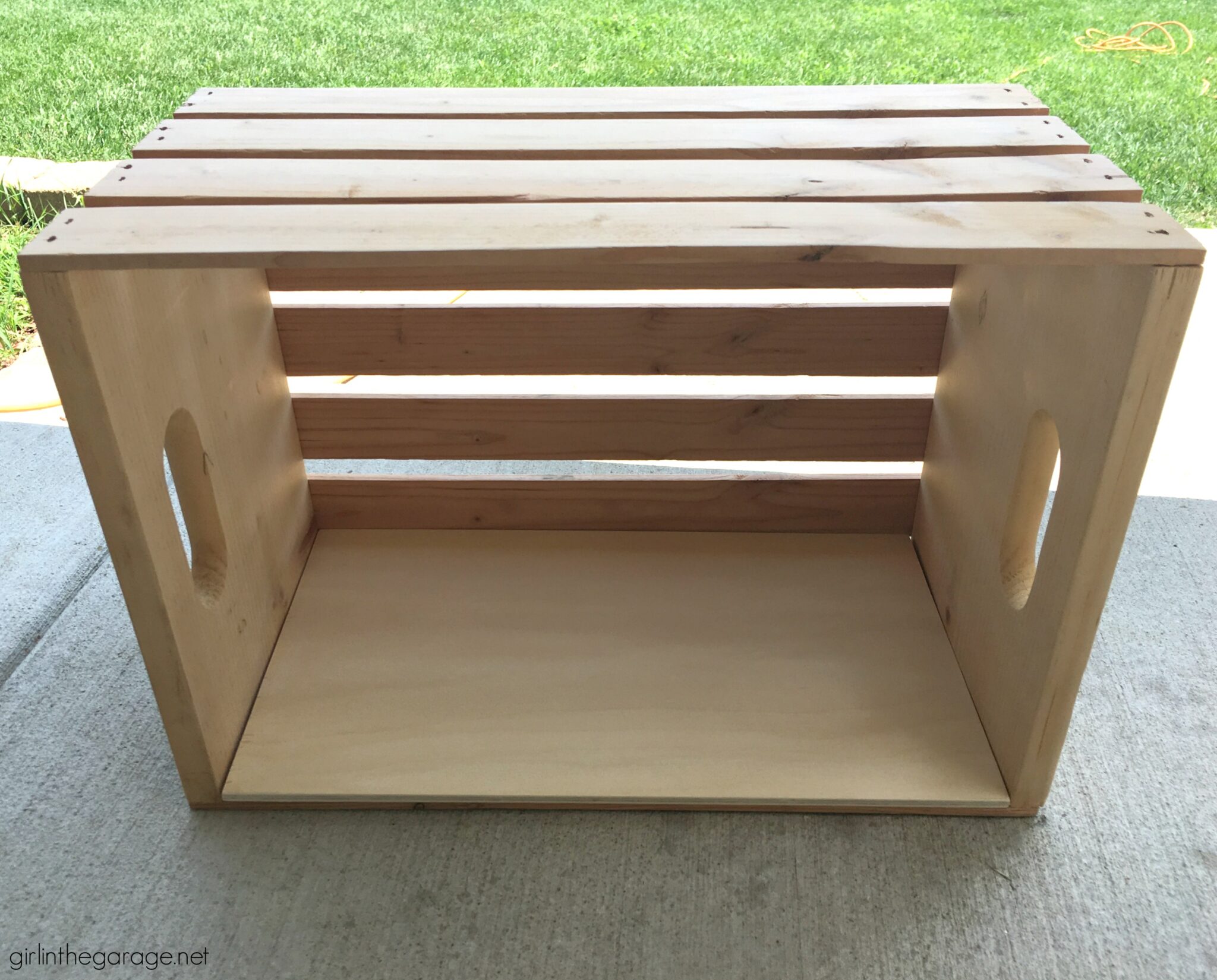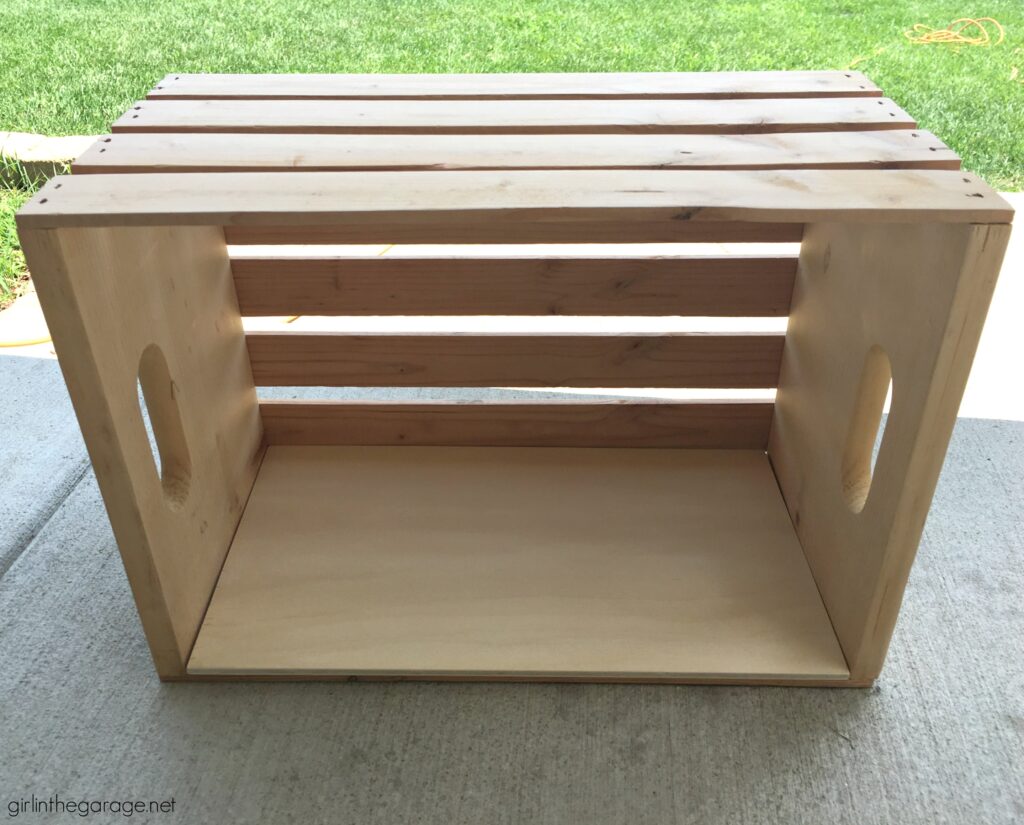 These are products used in today's projects (purchased at Menards):
1. Minwax® Water Based Pre-Stain Wood Conditioner
2. Minwax® Wood Finish in Espresso (not pictured)
3. Minwax® Wood Finish Water Based Semi-Transparent Color Stain in Indigo
4. Minwax® Polycrylic Protective Finish in Clear Ultra Flat
*Click here to discover even more project inspiration from Minwax*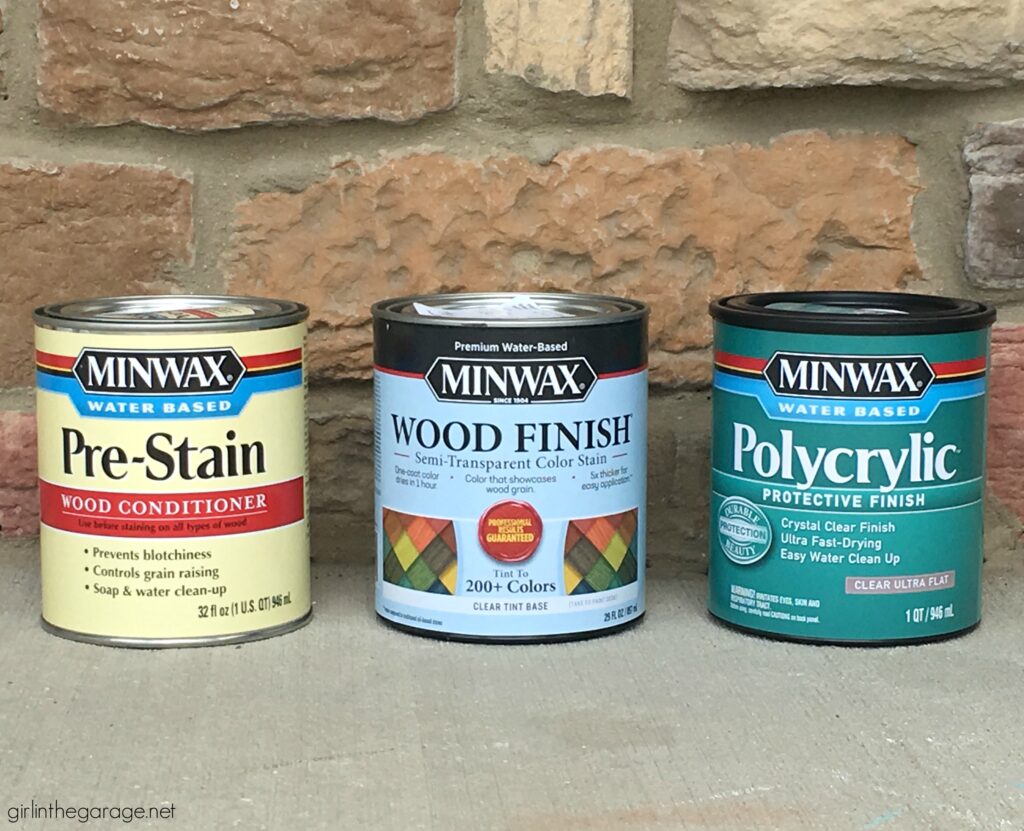 How to Properly Prepare Wood for Staining
First I should tell you that stain may look different on different types of wood. Nice quality wood with a beautiful woodgrain pattern will yield prettier results than cheaper wood without much woodgrain. But following the steps below will help ensure that you have the best possible outcome for your stained wood.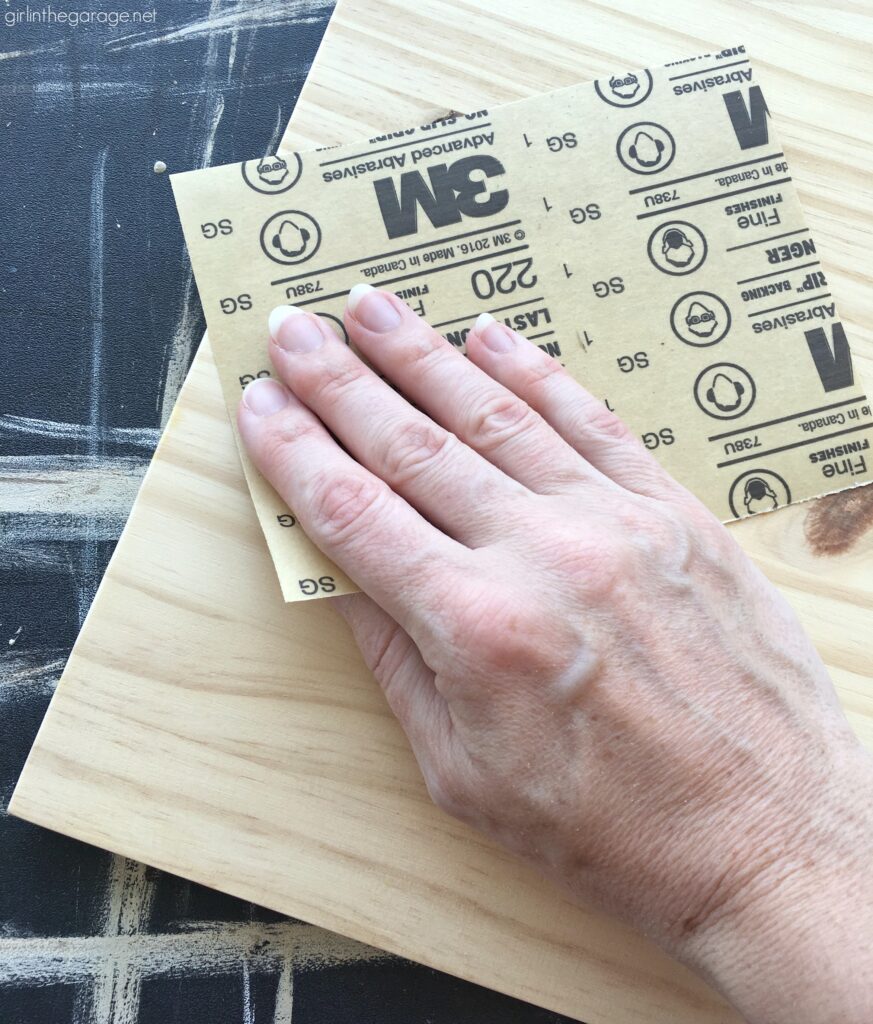 Minwax's Pre-Stain Wood Conditioner helps ensure a smoother, more even stain color without splotchiness. It's kind of like using primer before paint – you might regret it later if you don't use it!
First, make sure the wood is clean, dry, and sanded as smooth as possible. Sand it in the direction of the woodgrain with 220-grit sandpaper. Then wipe away any dust with a lint-free cloth.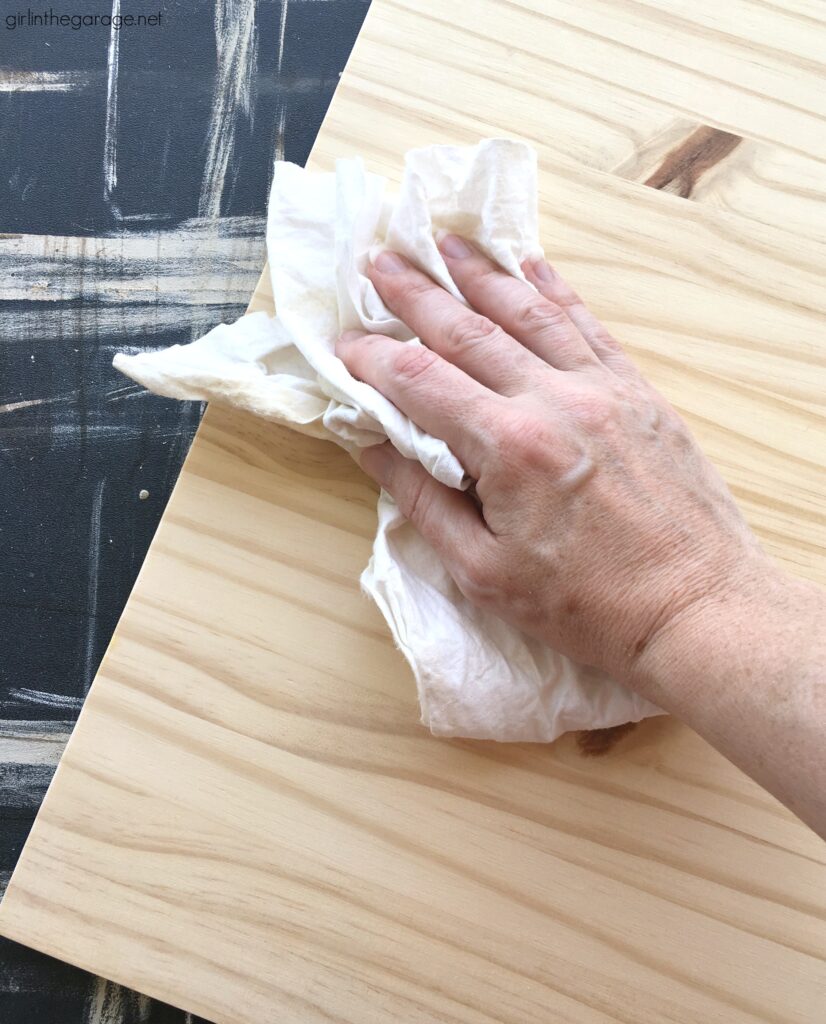 Stir the Minwax Pre-Stain Conditioner before and occasionally during use. It has a watery-milky color in the can but goes on clear. I applied mine with a Purdy synthetic bristle brush.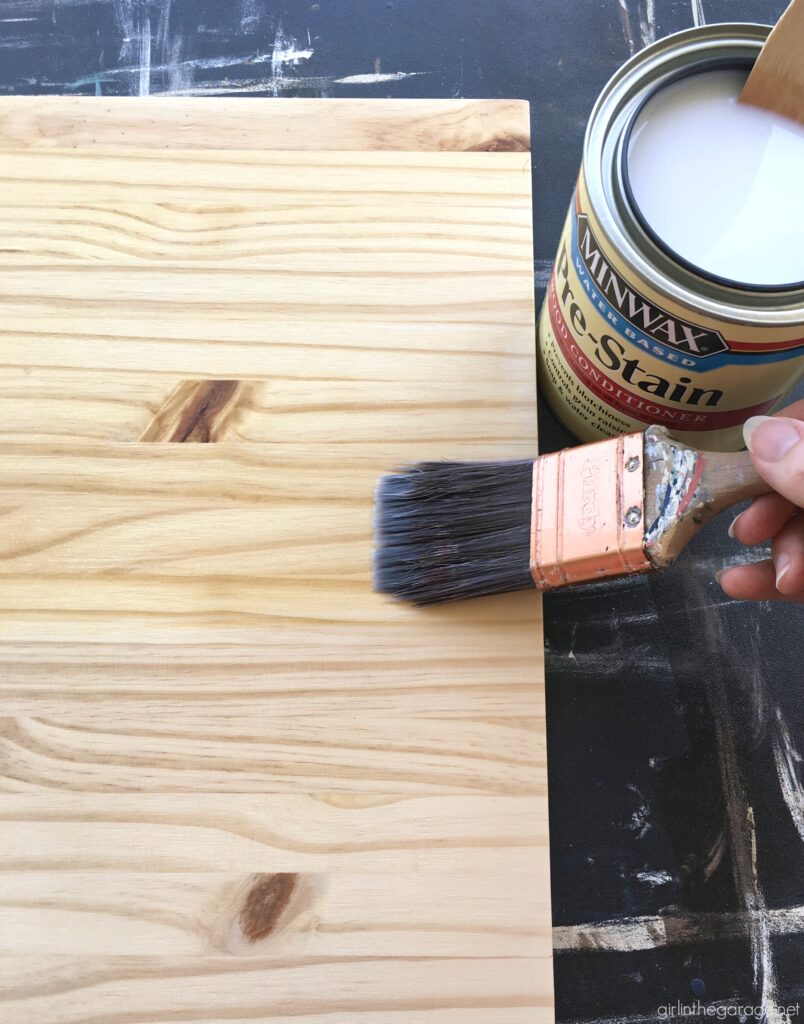 Let the conditioner soak into the wood for about 1-5 minutes, then wipe away any excess with a lint-free cloth.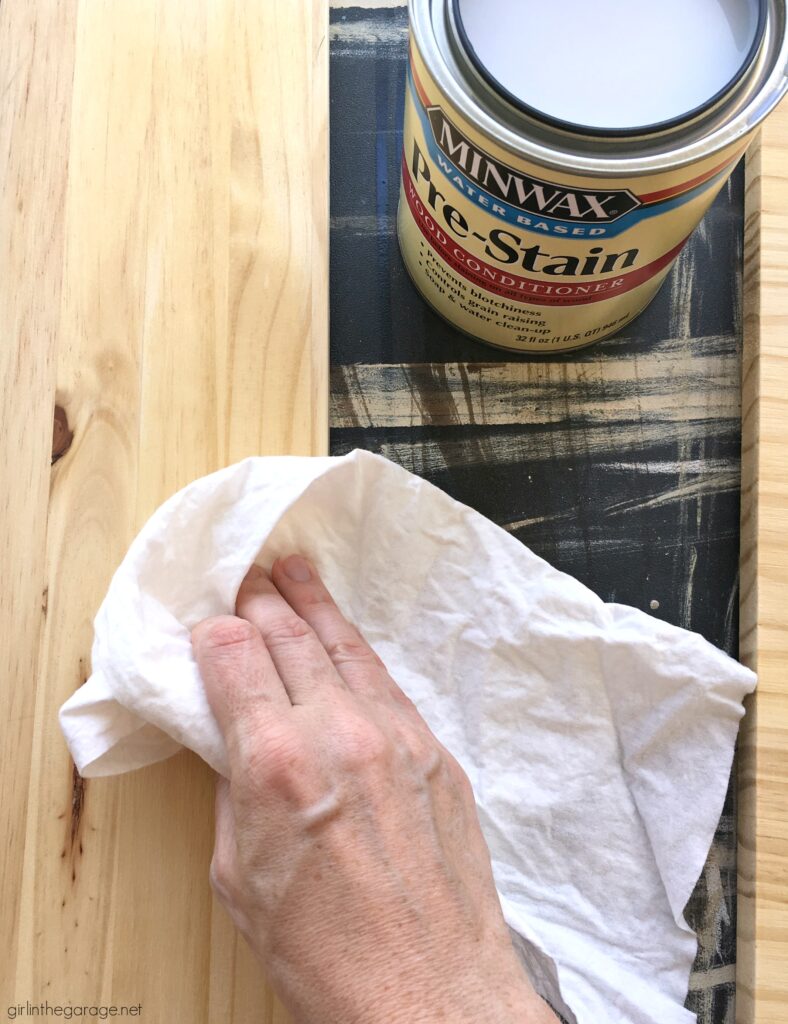 Sometimes conditioning can actually raise some of the woodgrain – so after 15-30 minutes, lightly sand the wood again with 220-grit sandpaper and then wipe away the dust. I applied one coat of conditioner before moving onto the next step.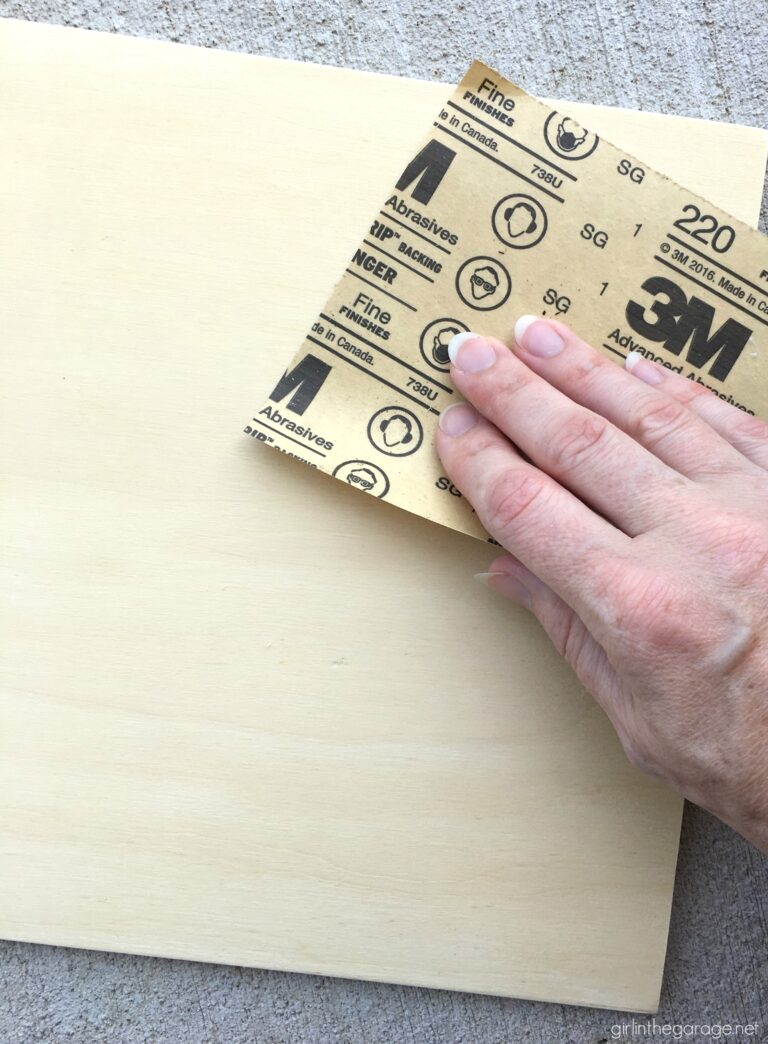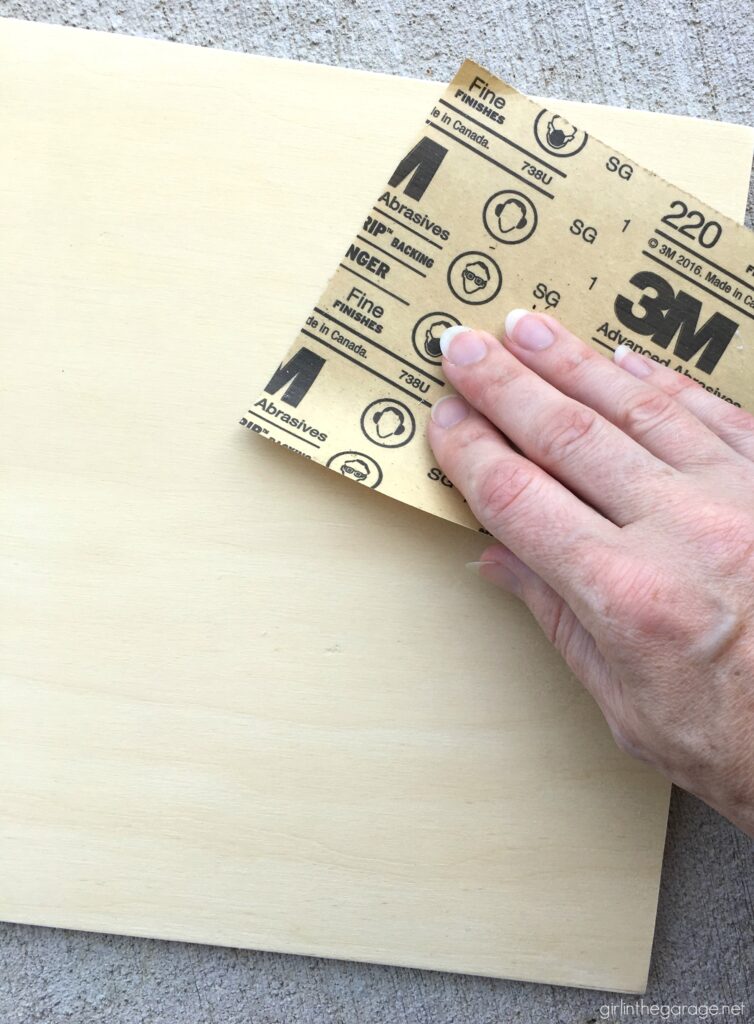 Minwax has an awesome new type of water-based stain that's tintable with more than 200 color options. It's available in semi-transparent (which I used) and also solid. The solid formula goes on like paint with rich color, but still lets the beautiful wood texture come through.
Minwax is America's #1 selling interior wood stain, and now with the largest available color palette in the interior stain industry.
How to Stain Wood Blue Using Minwax Wood Finish Semi-Transparent Color Stain
After preparing and conditioning the wood, next comes the fun part of adding bold color! I chose Indigo which is a bright blue wood stain.

Stir the stain before and occasionally during staining. Once again I used a Purdy synthetic brush and applied in the direction of the grain.
This new formula dries extremely fast, so it's recommended for smaller projects instead of large surfaces. Wipe away the excess stain within 1-2 minutes with a clean cloth.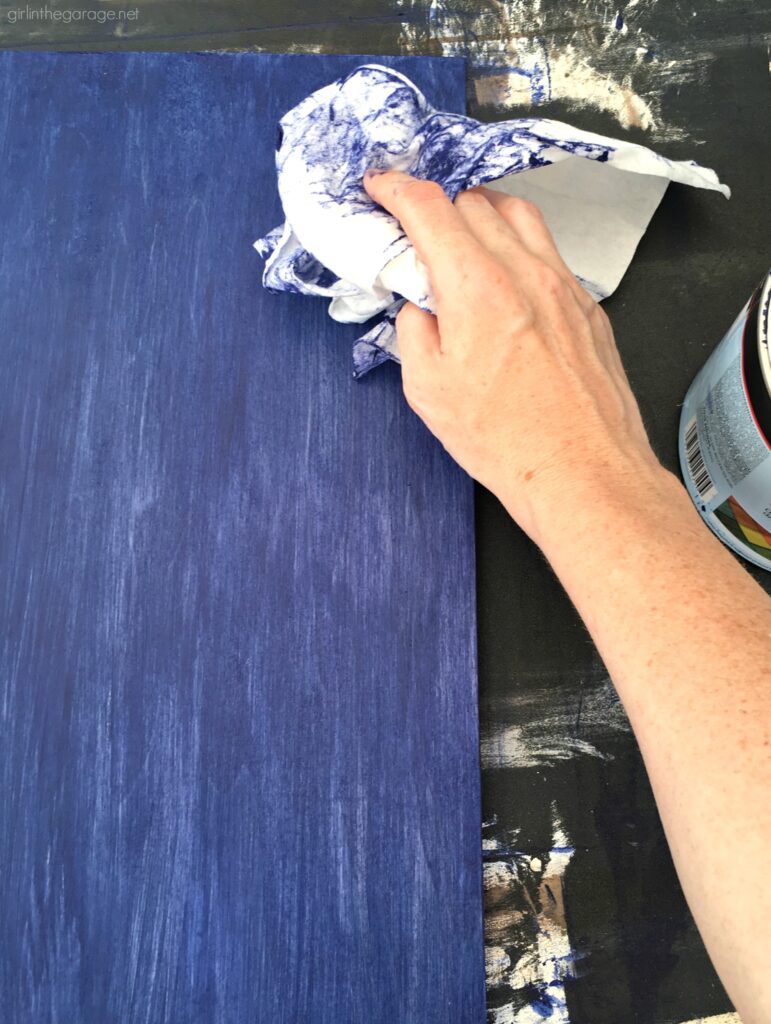 Let it dry and then apply a second coat of wood stain if desired (don't sand between coats). I applied two coats of the Color Stain. Wait at least 2-3 hours before applying a protective topcoat.
(One great thing about the Color Stain being water-based is that it washes off your skin and brush really easily!)
Before I added a topcoat, Guy in the Garage and I decided to assemble the wooden crate bookshelf. We stacked the crates and placed the cut shelves inside, then nailed the three layers together in multiple areas from the top and bottom sides.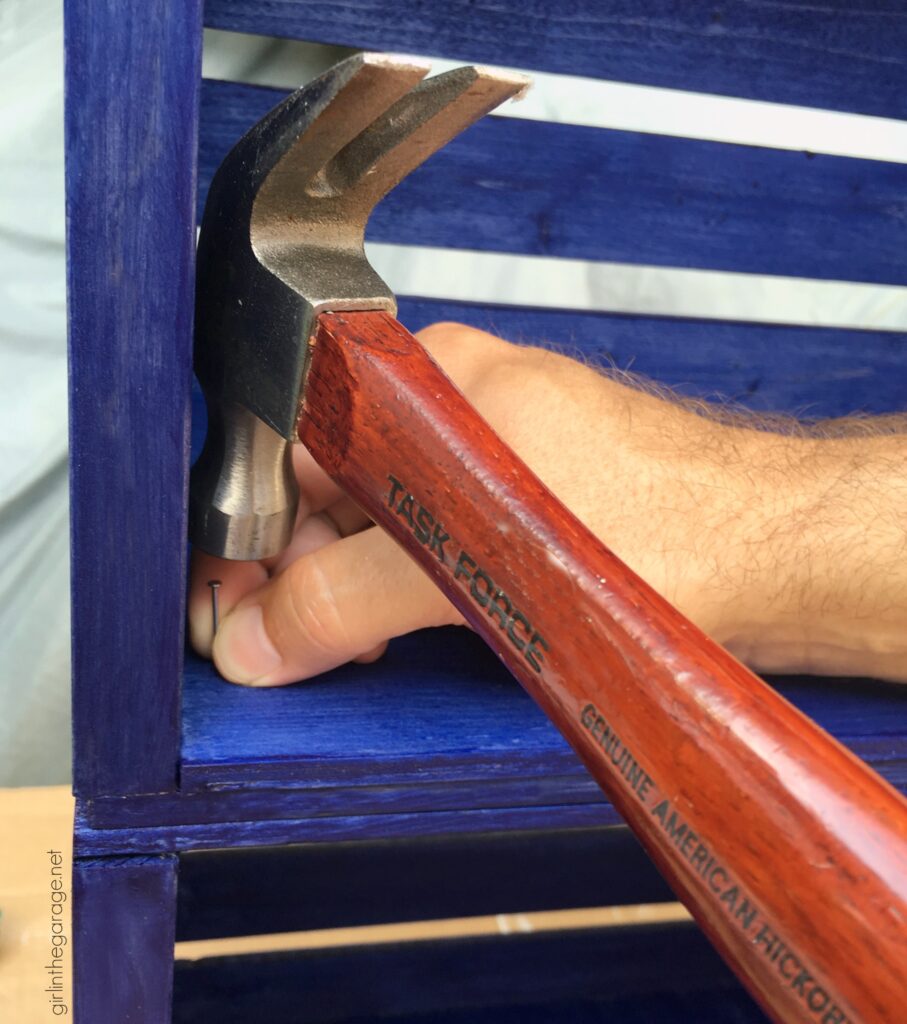 This wooden crate bookshelf for our entryway is looking good, but we're not done yet!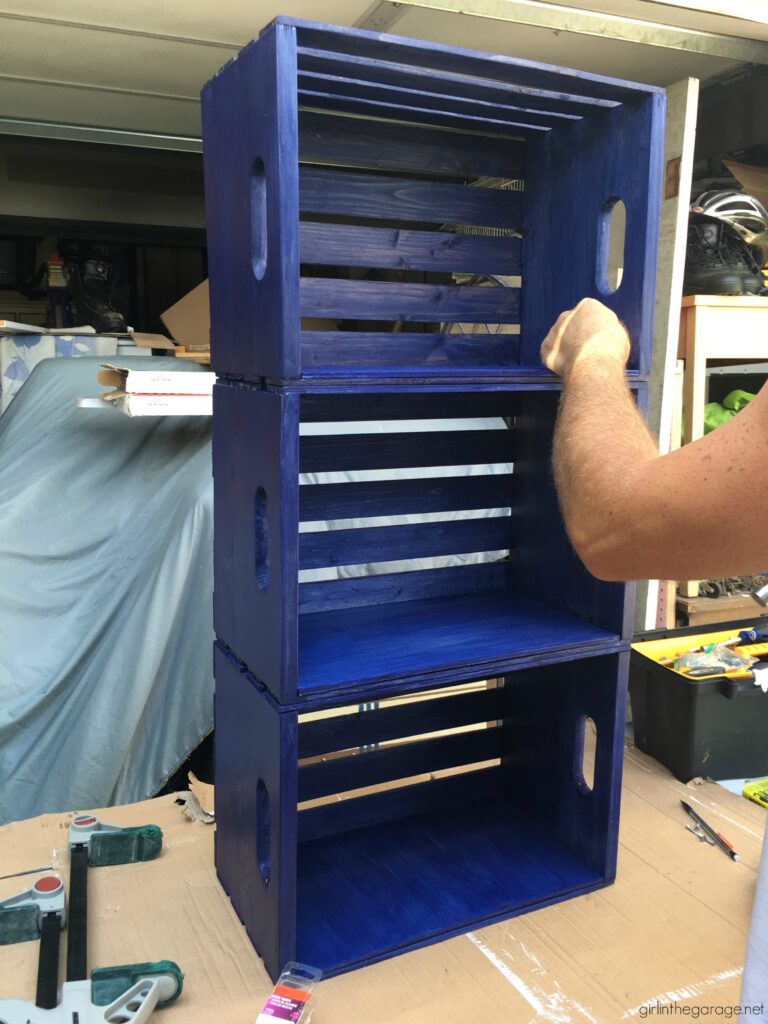 Next I conditioned and stained the top and bottom pieces with Minwax Wood Finish in Espresso. We've used this color many times over the years and it always looks beautiful.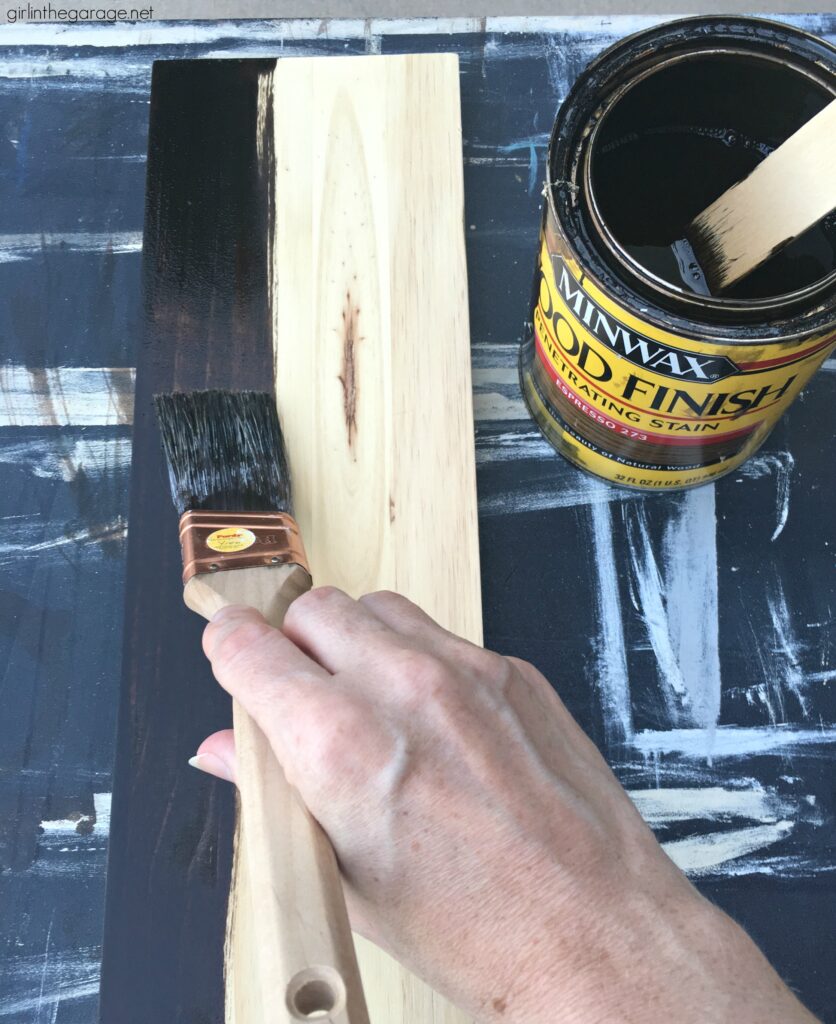 This stain doesn't dry near as fast, but you'll still want to wipe any excess away with a clean cloth after a few minutes.
Another difference with this stain is that it's oil-based, which means that cleanup won't be quite as easy. You'll want to wash your brush with mineral spirits to clean it afterward.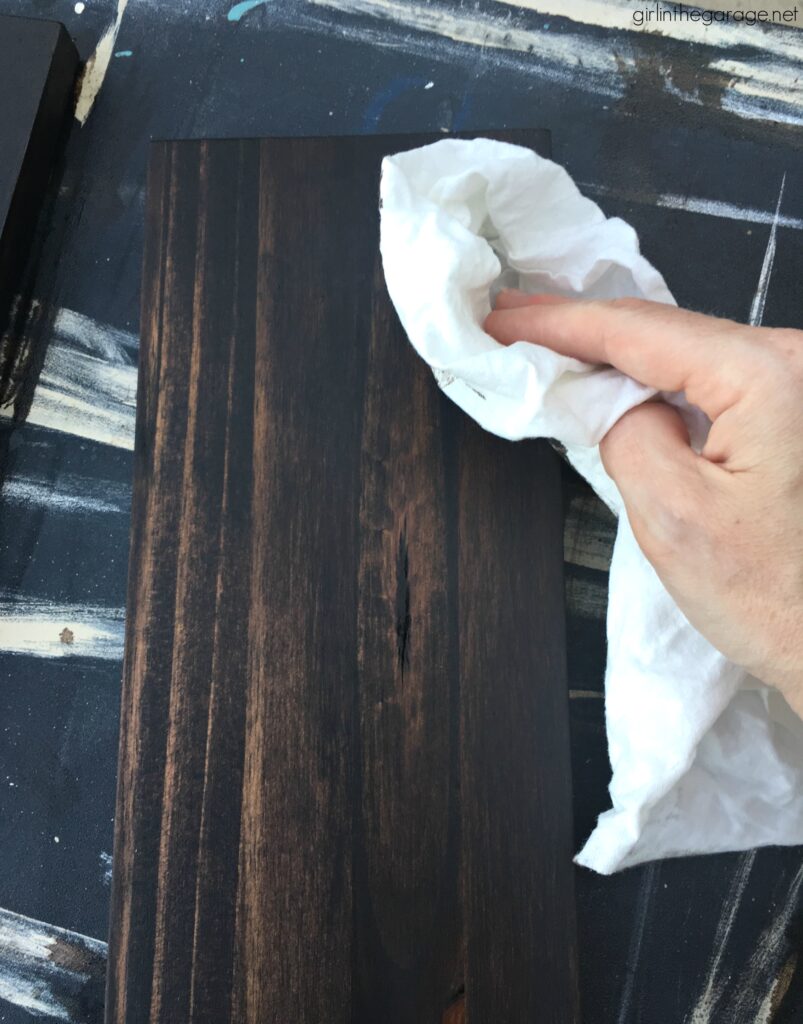 Below you can see how we assembled the base of the bookcase. I used a small scrap piece of wood to attach the two bigger pieces together, and then the casters are going in the corners.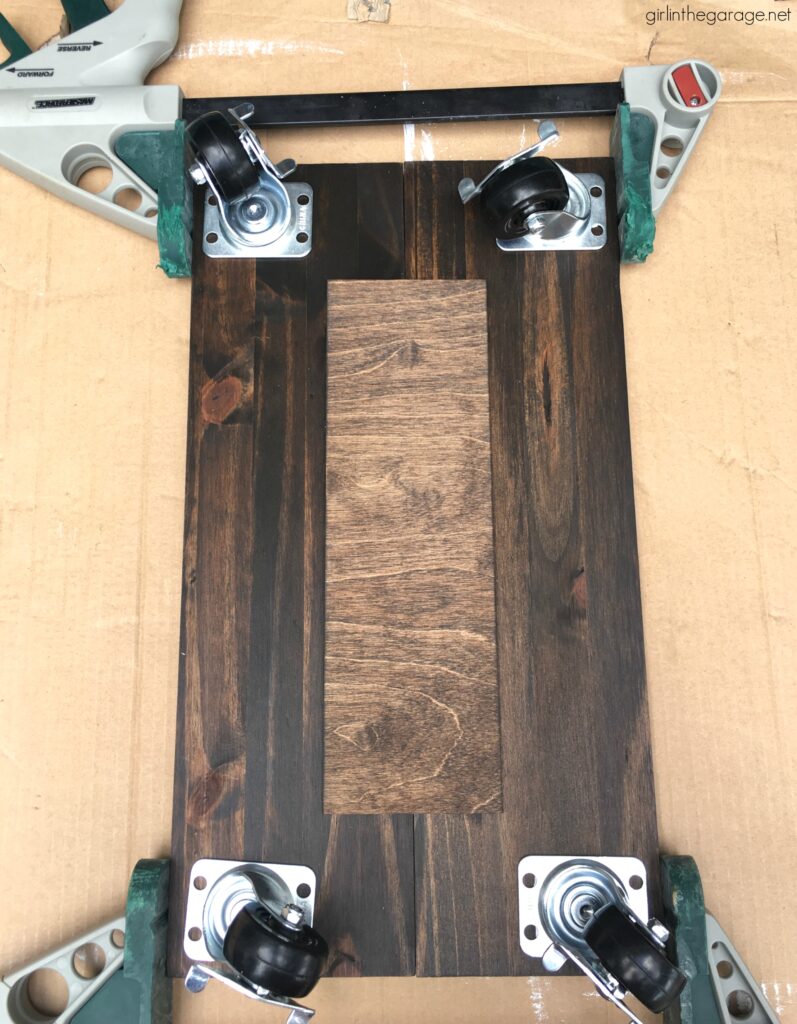 I wanted casters to give it a little more height and because I love the way they look, while still being functional. These casters have locks so the bookcase won't be rolling around whenever someone walks past.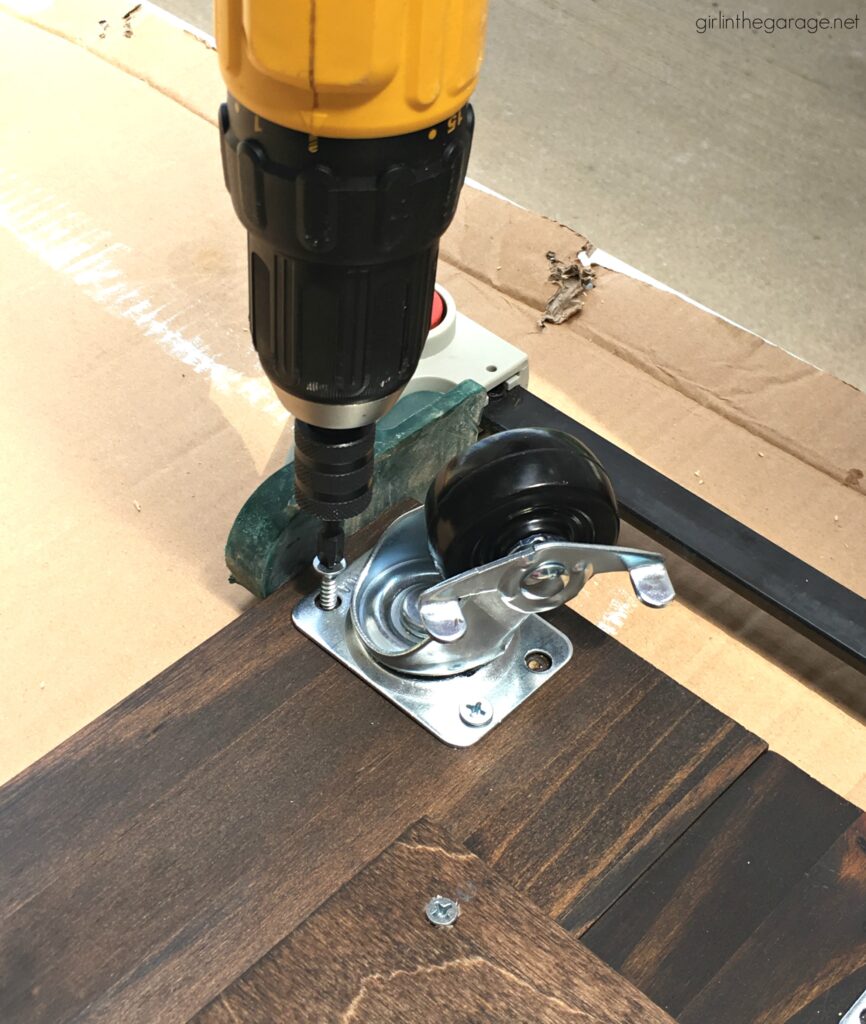 Then I nailed the top and bottom Espresso-stained boards to the bookcase (flipping it upside-down made this easier).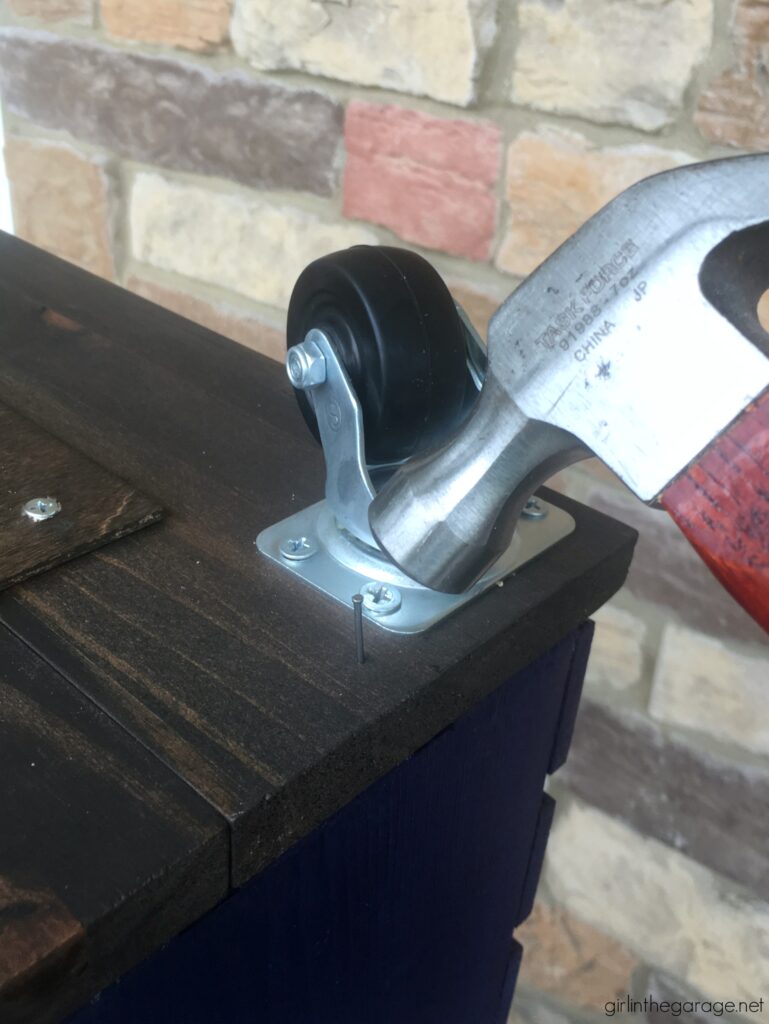 Finally, it's time for the protective topcoat. Stir the Minwax Polycrylic well and apply a thin coat with a high-quality synthetic brush (like the Purdy ones I use) in the direction of the wood grain.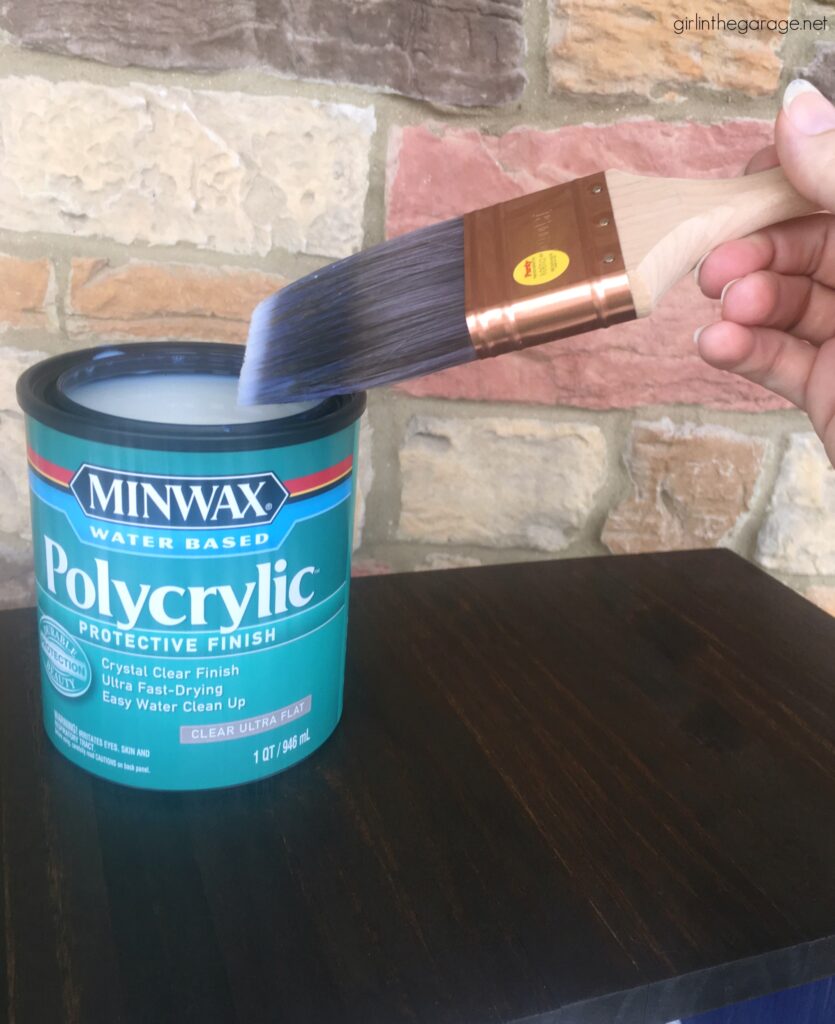 Let it dry for at least 2 hours, then gently sand with 220-grit sandpaper and wipe with a clean cloth. Apply another coat, repeating the steps. I did three coats for extra durability. Be sure to let it dry for 3+ hours before light use.
And for the second part of this bold and fun entryway project…
How to Build a Coat Rack using Decorative Trim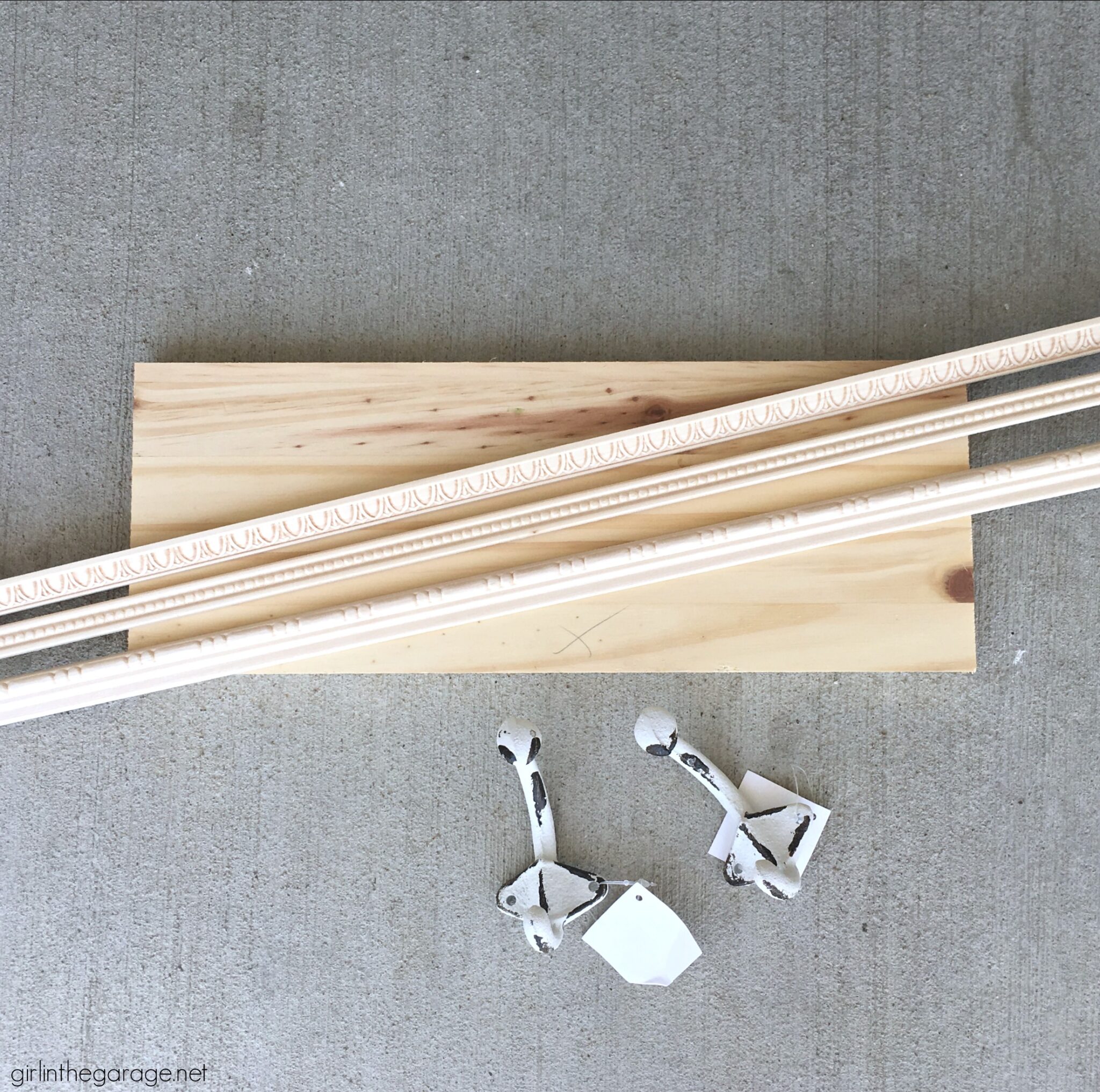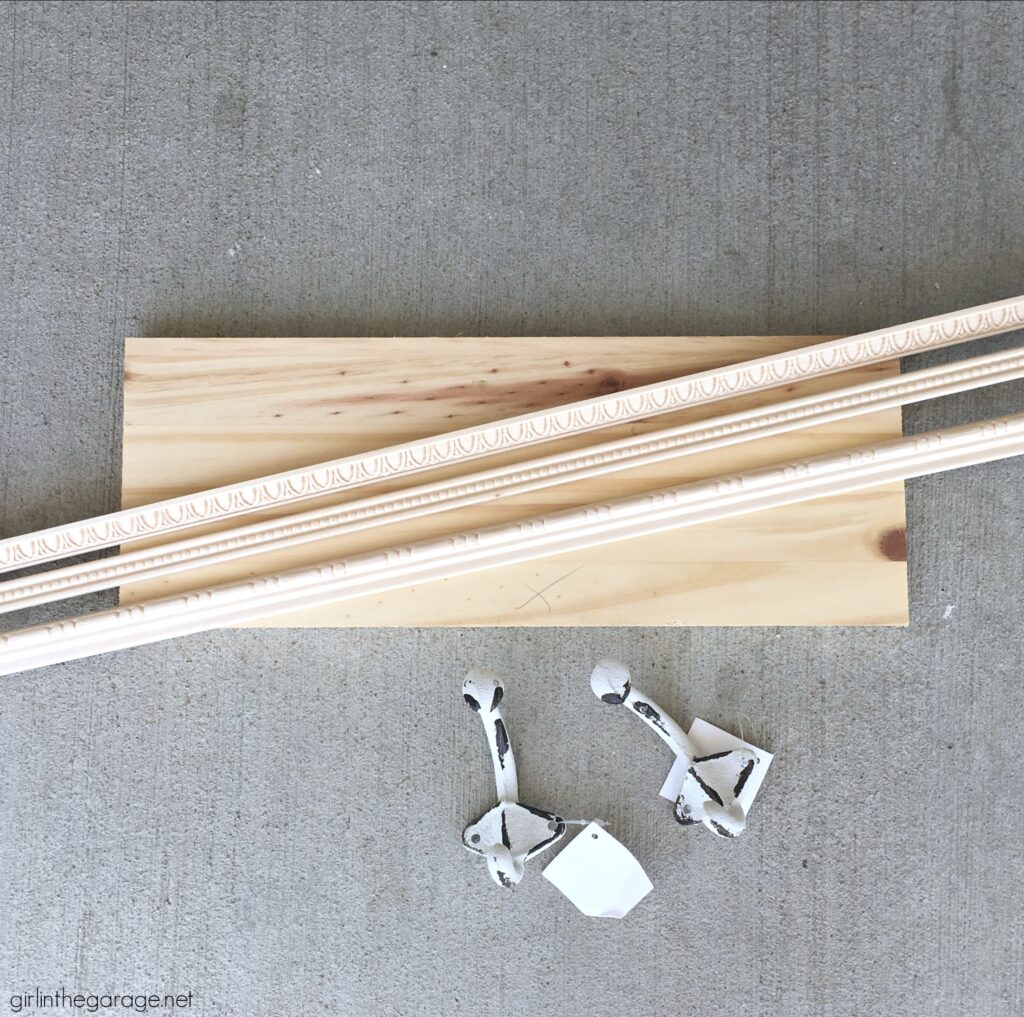 I used another piece of scrap wood for this DIY coat rack – the same type of wood that I stained Espresso for the bookcase. I also found some decorative trim at Menards and cut pieces to glue onto the scrap wood.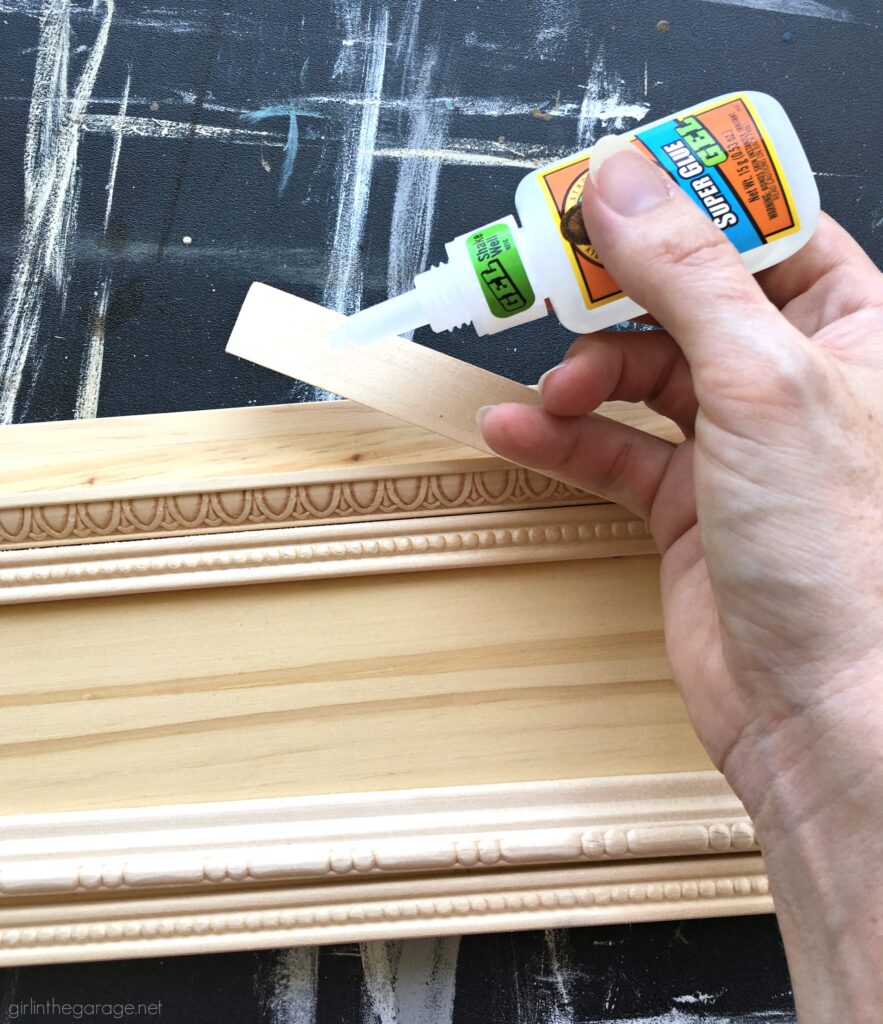 This super glue gel dries really fast, so you only need to hold it for 10-20 seconds.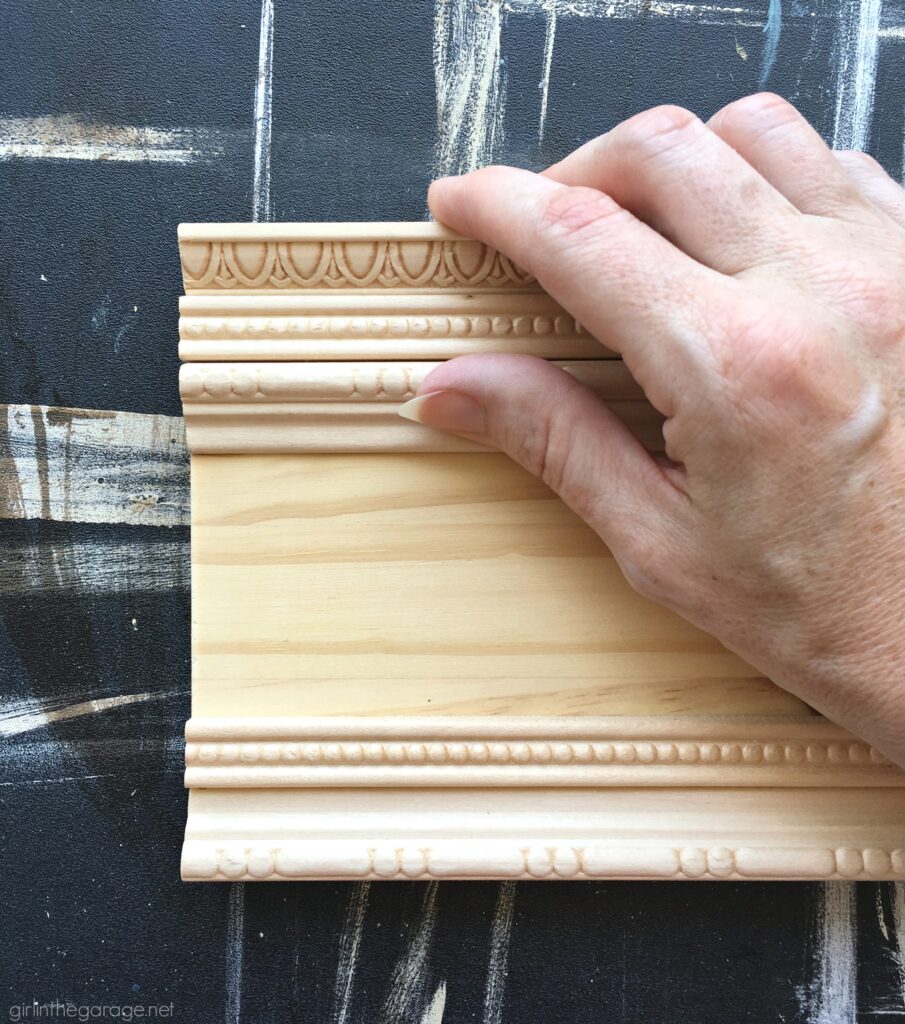 This piece was conditioned, Color Stain applied, and protected the same as before.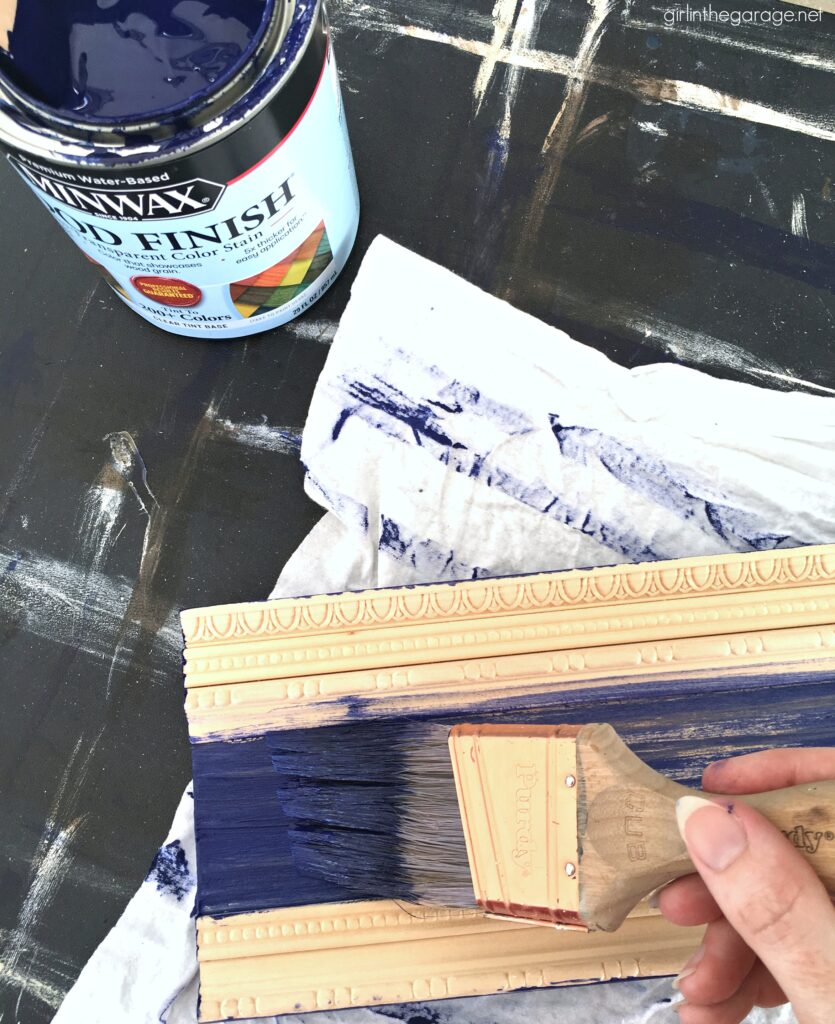 I couldn't find any sawtooth hangers at home, so I attached two of these D-ring hangers and wire on the back side.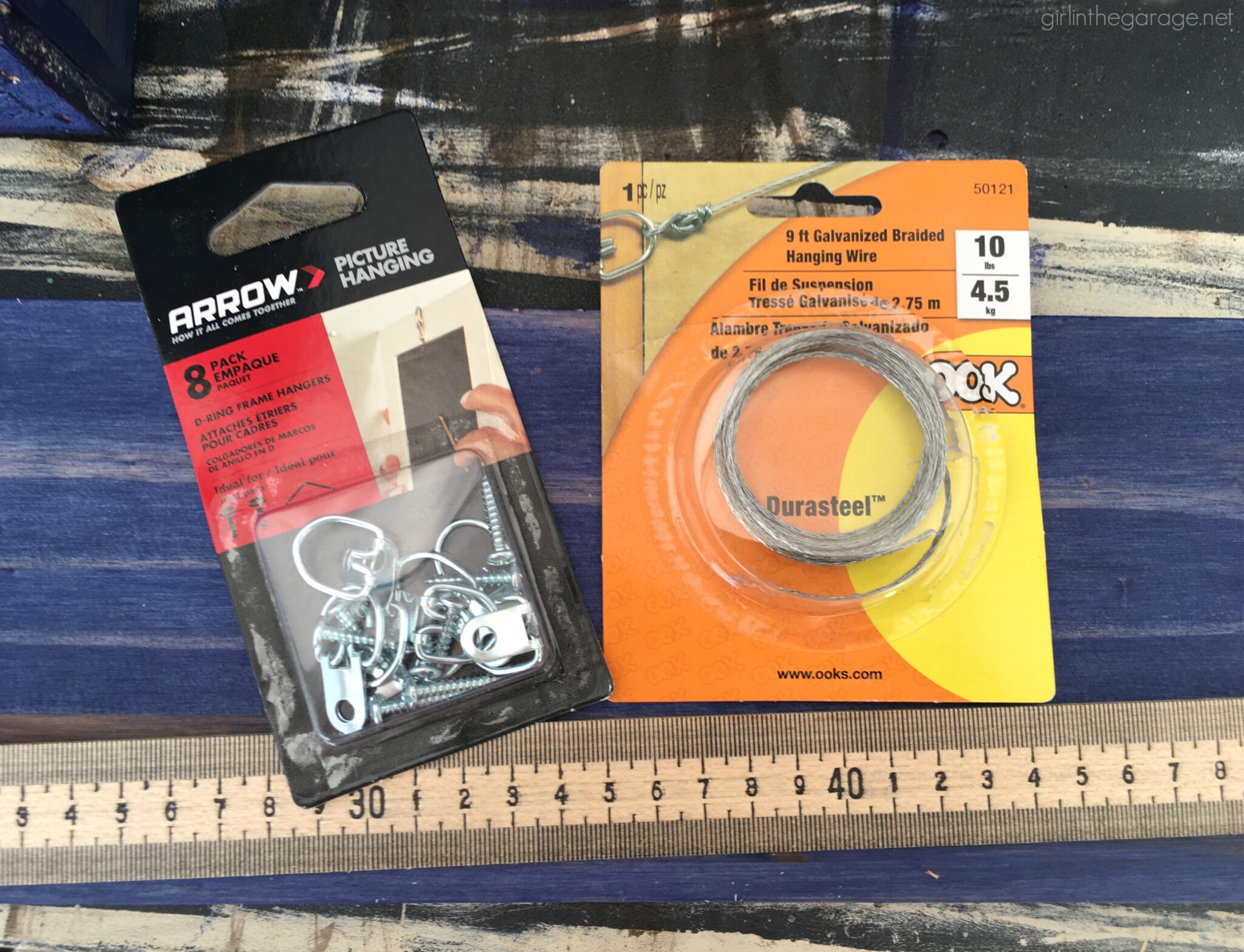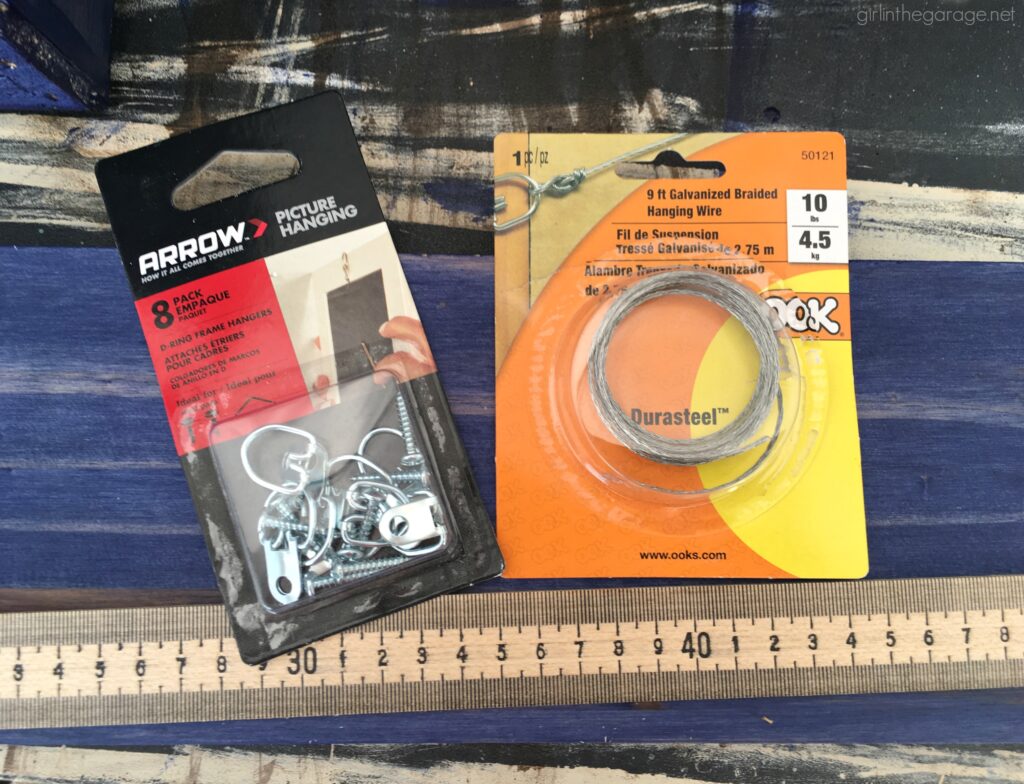 Here's what the finished back looks like: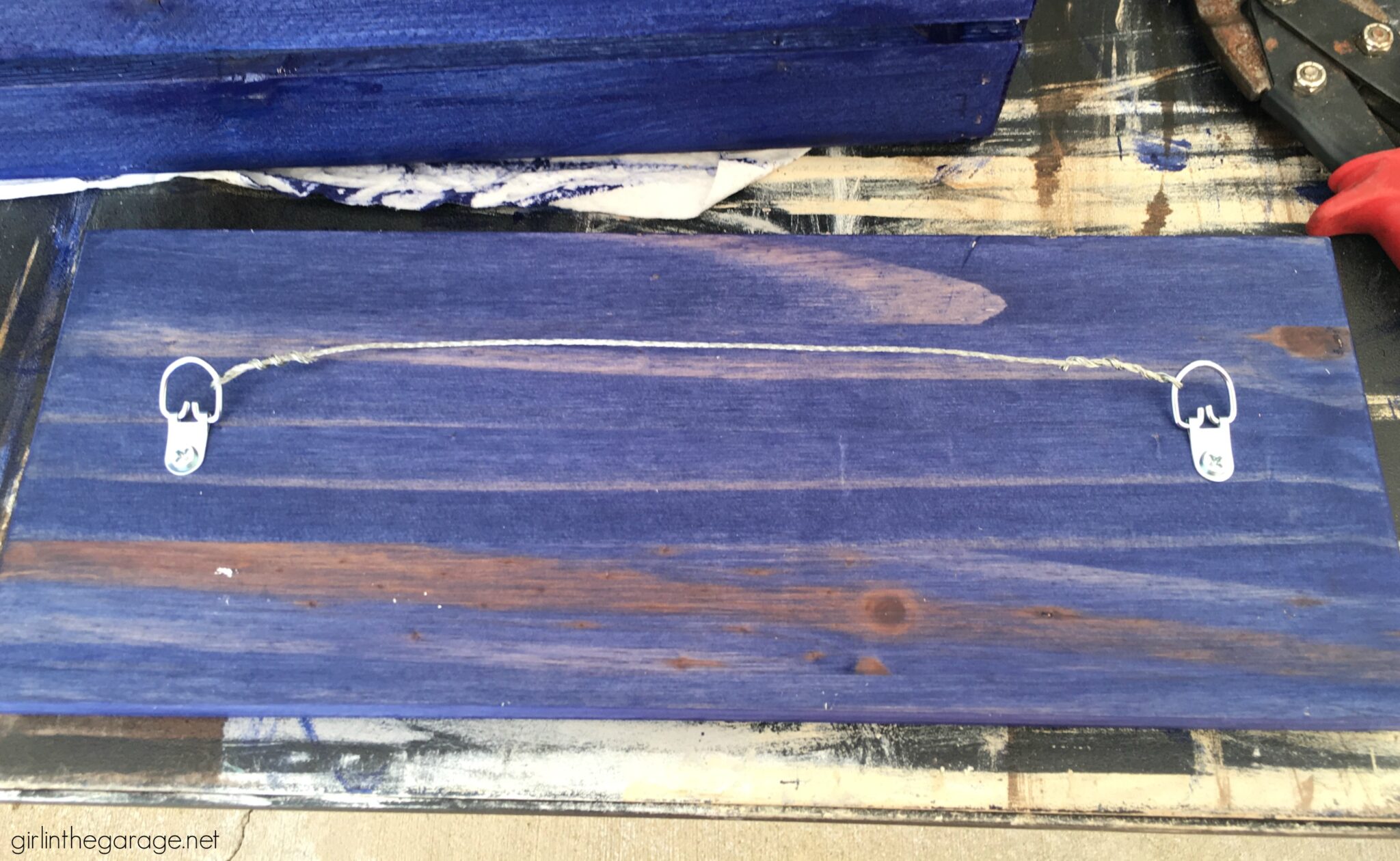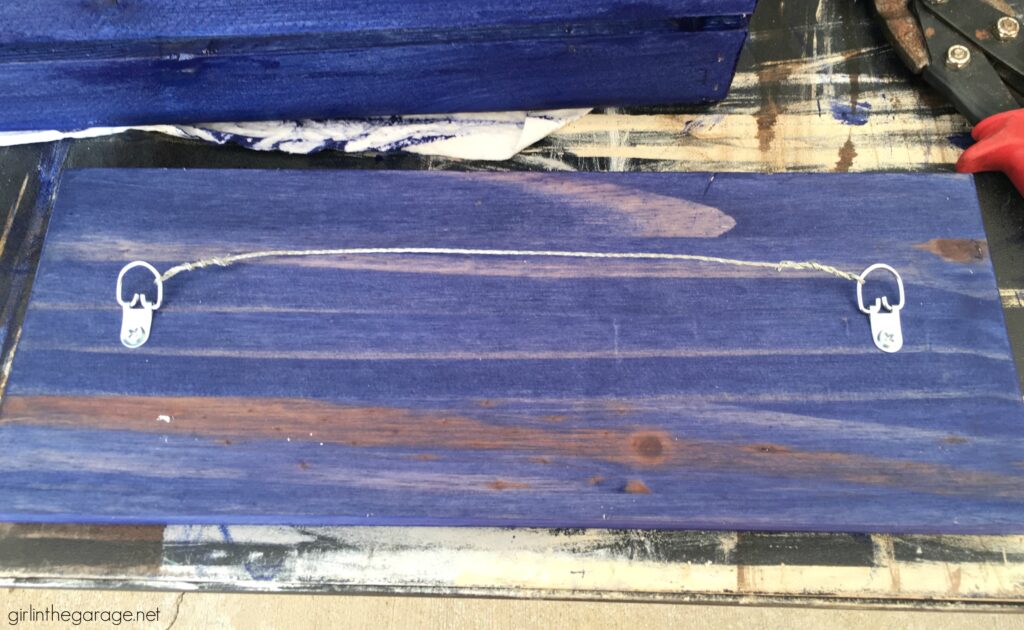 On the front, I screwed in a couple of hooks and painted over the screws with white paint to blend in.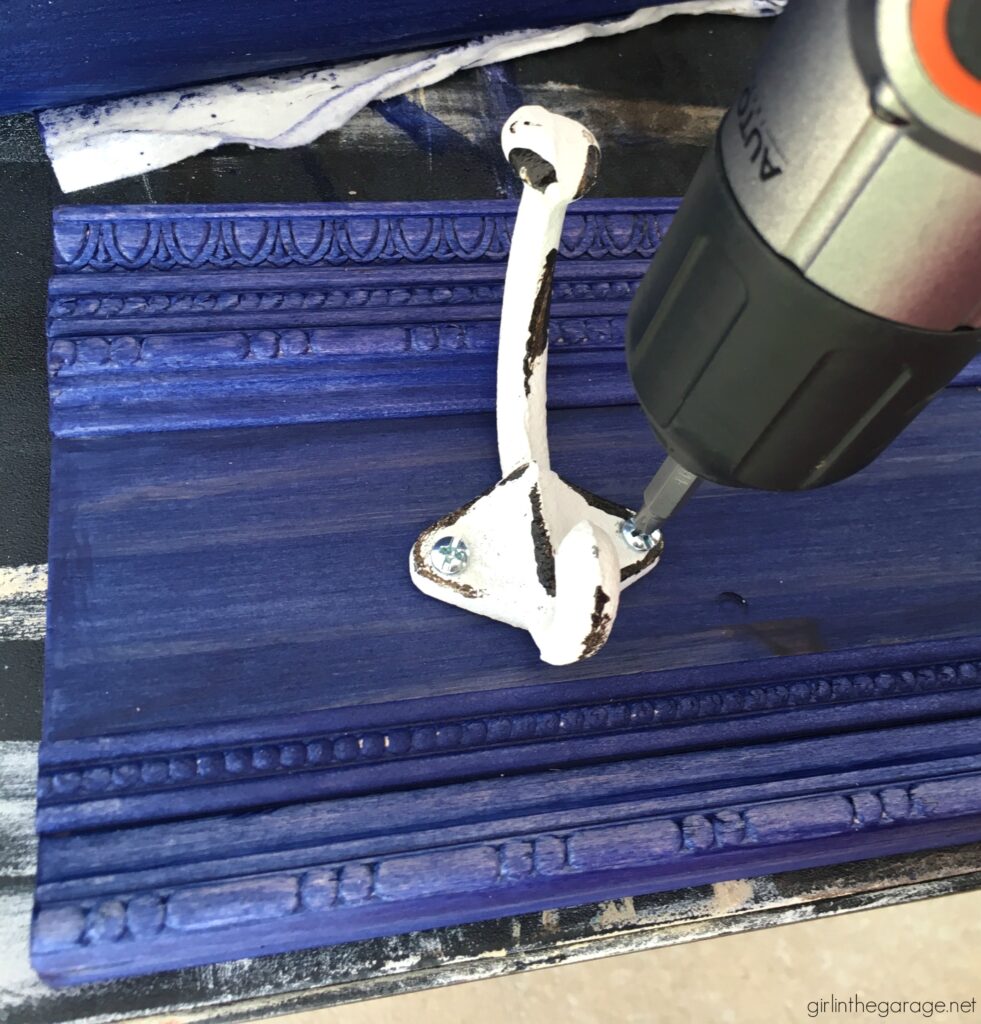 These projects took us a few days altogether but you might get it done sooner if you don't have three little humans to feed and keep entertained. 🙂
Here's the bright pop of blue I wanted in my space: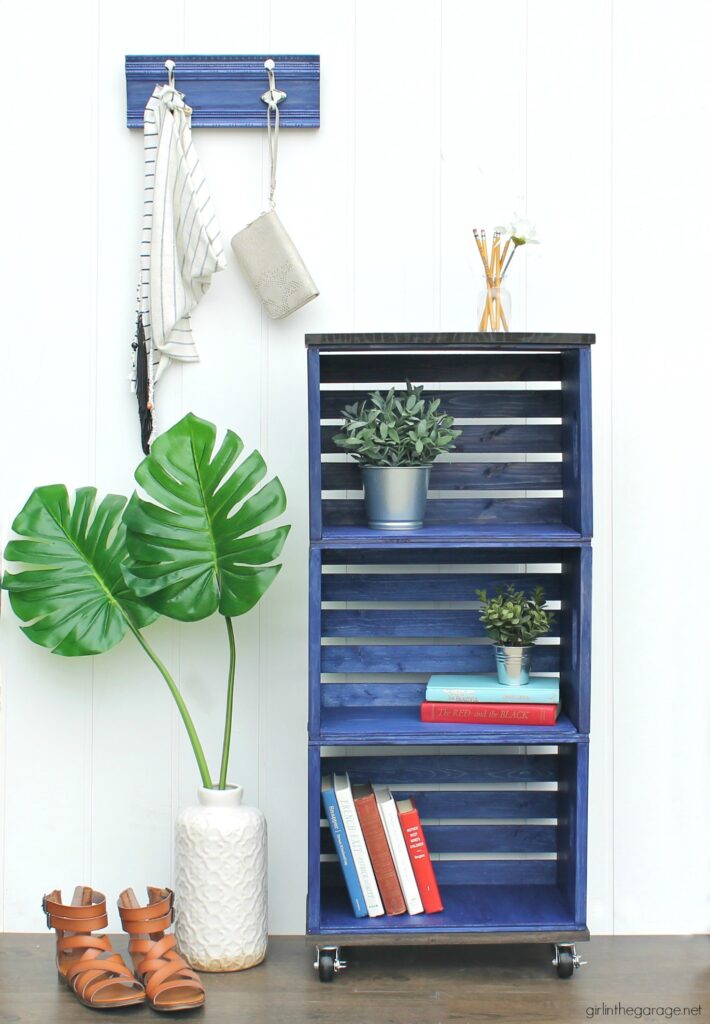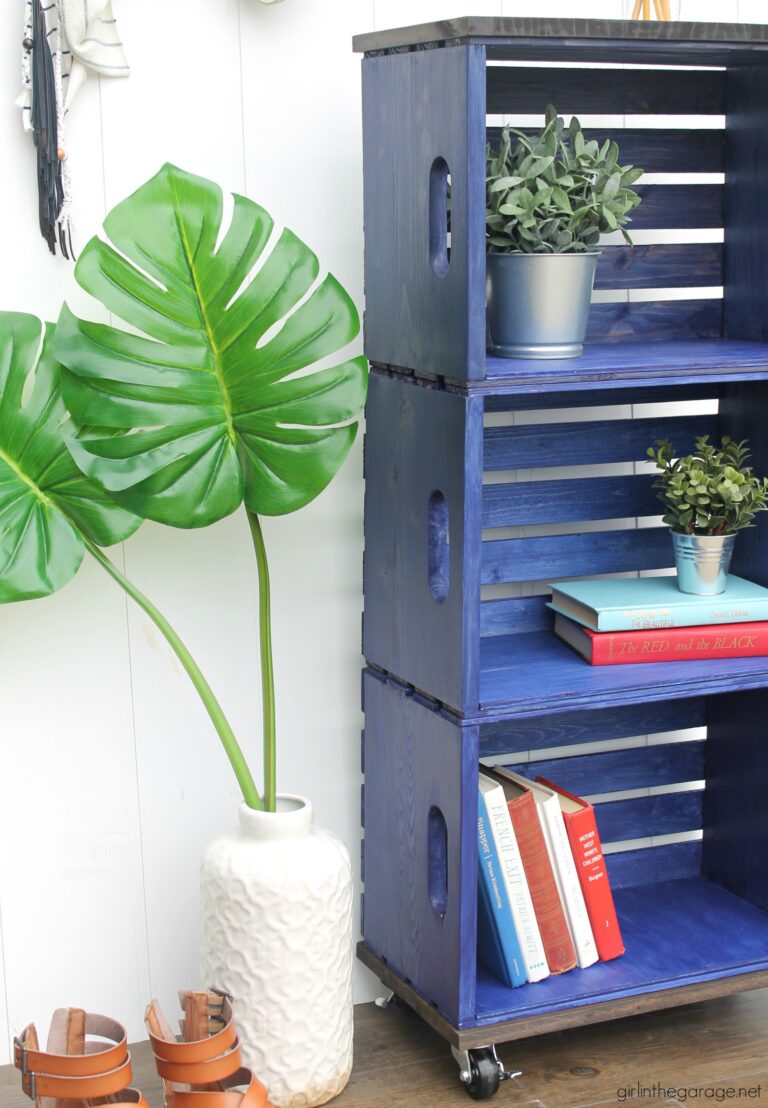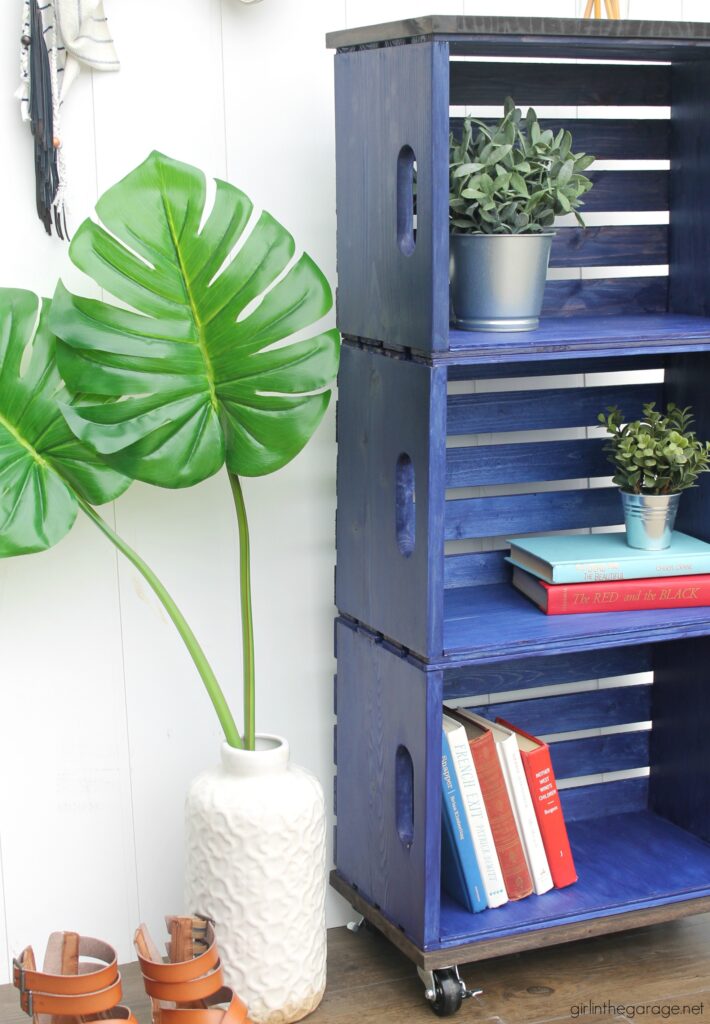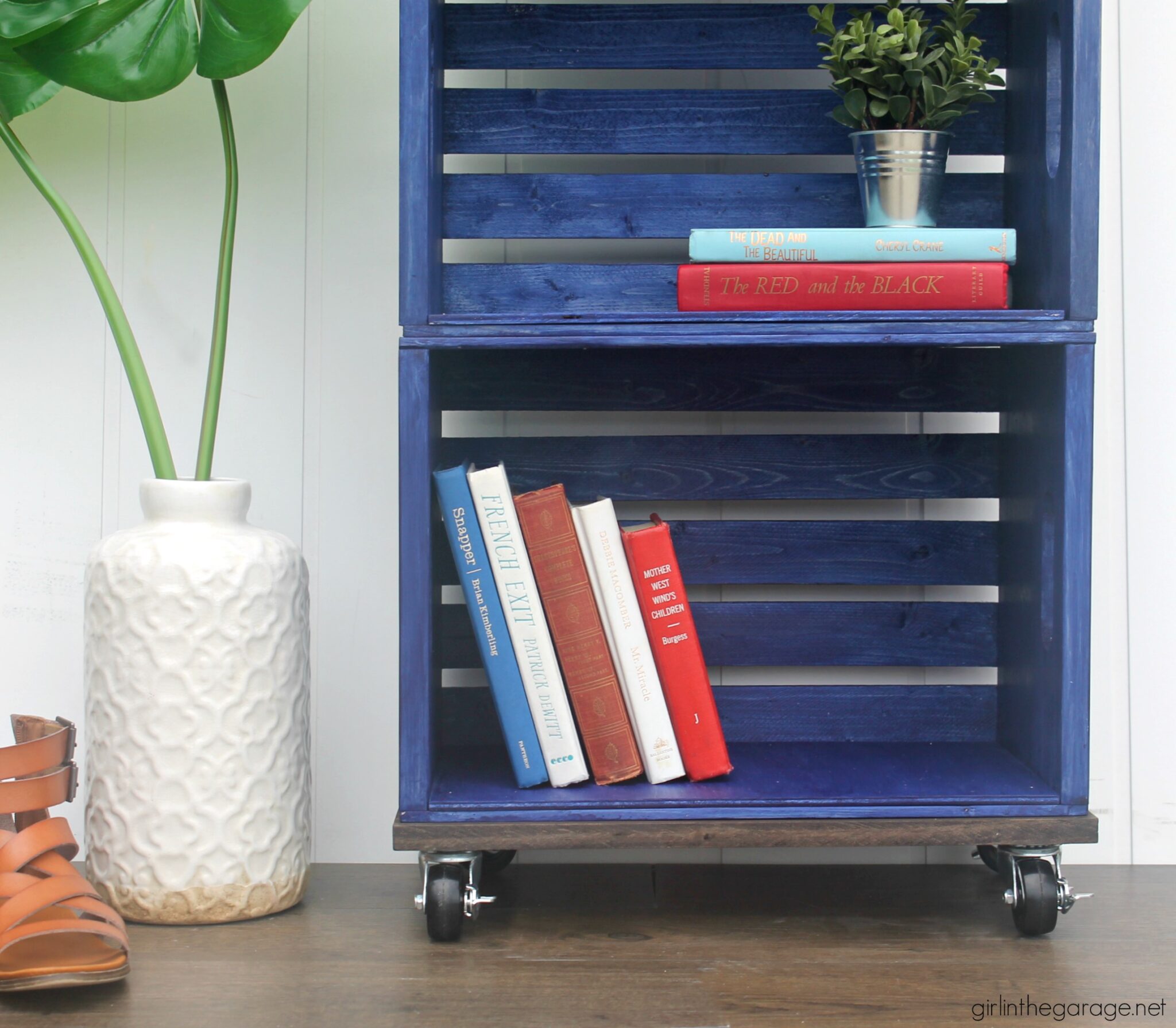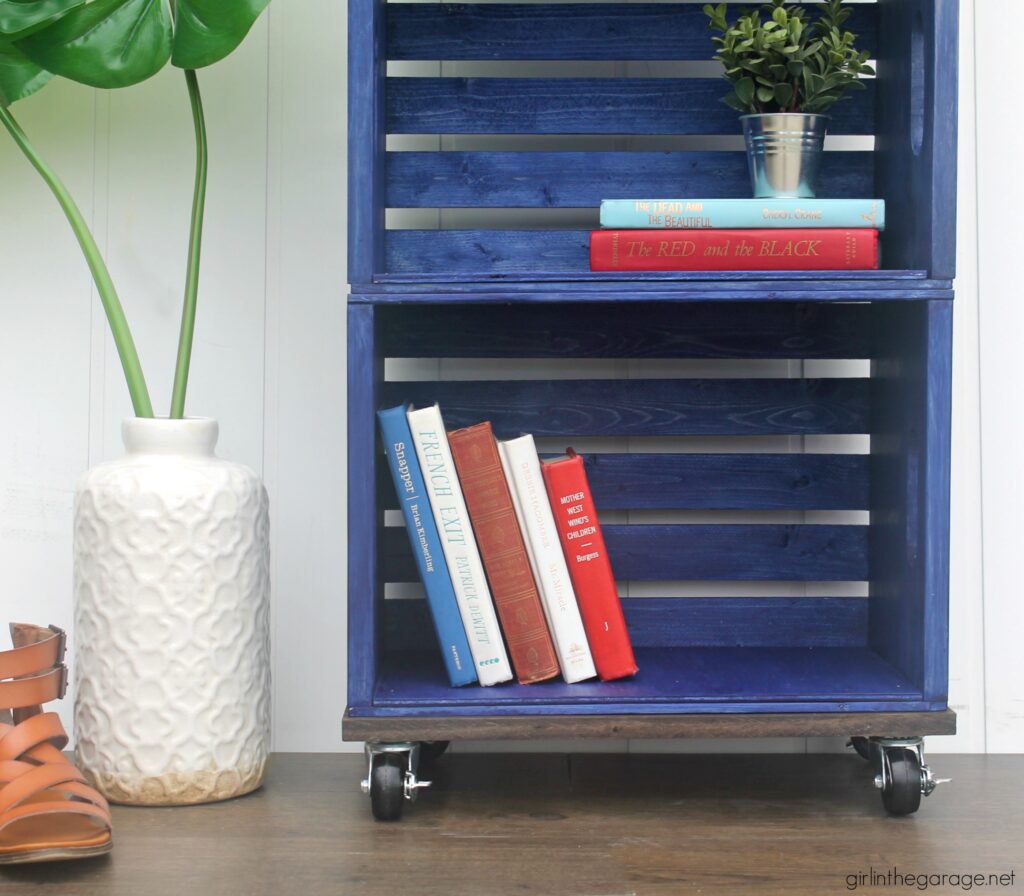 And here's the finished DIY coat rack with decorative trim – I love the rustic vintage look it has: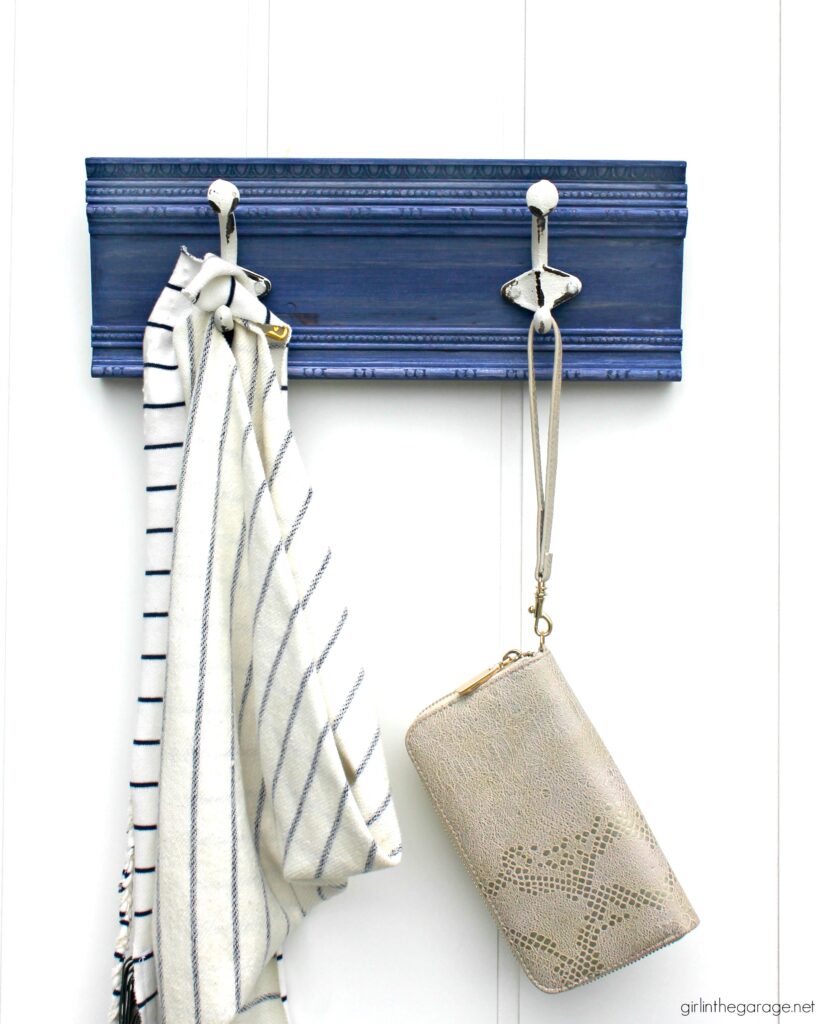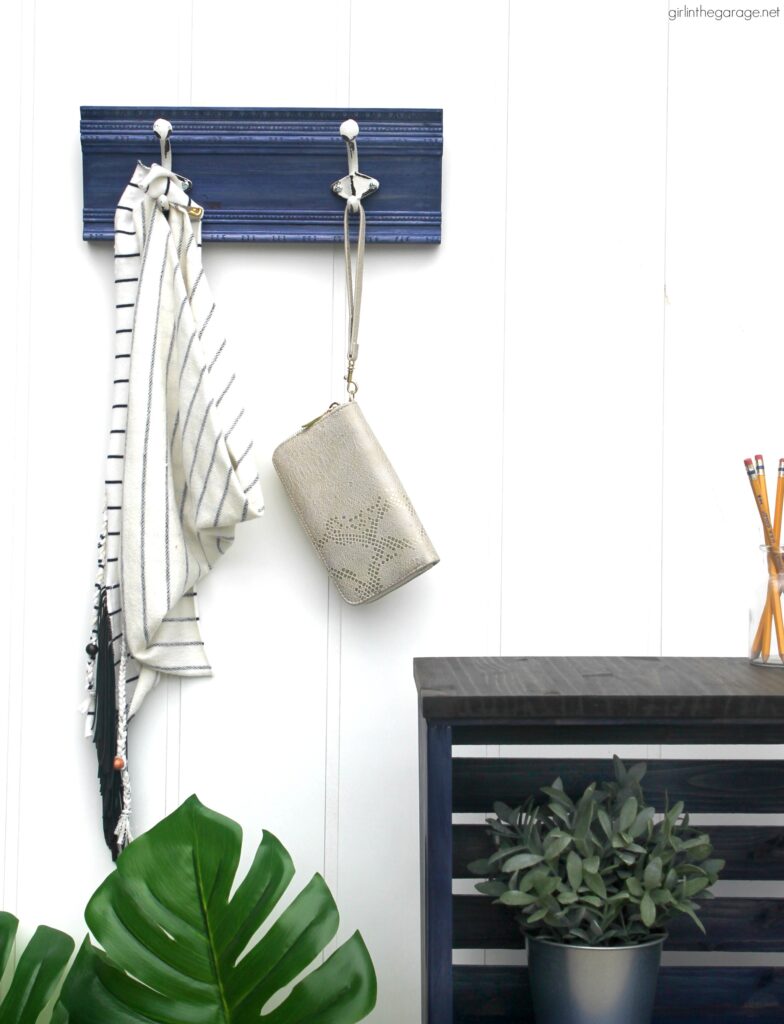 I'm so pleased with the way these turned out!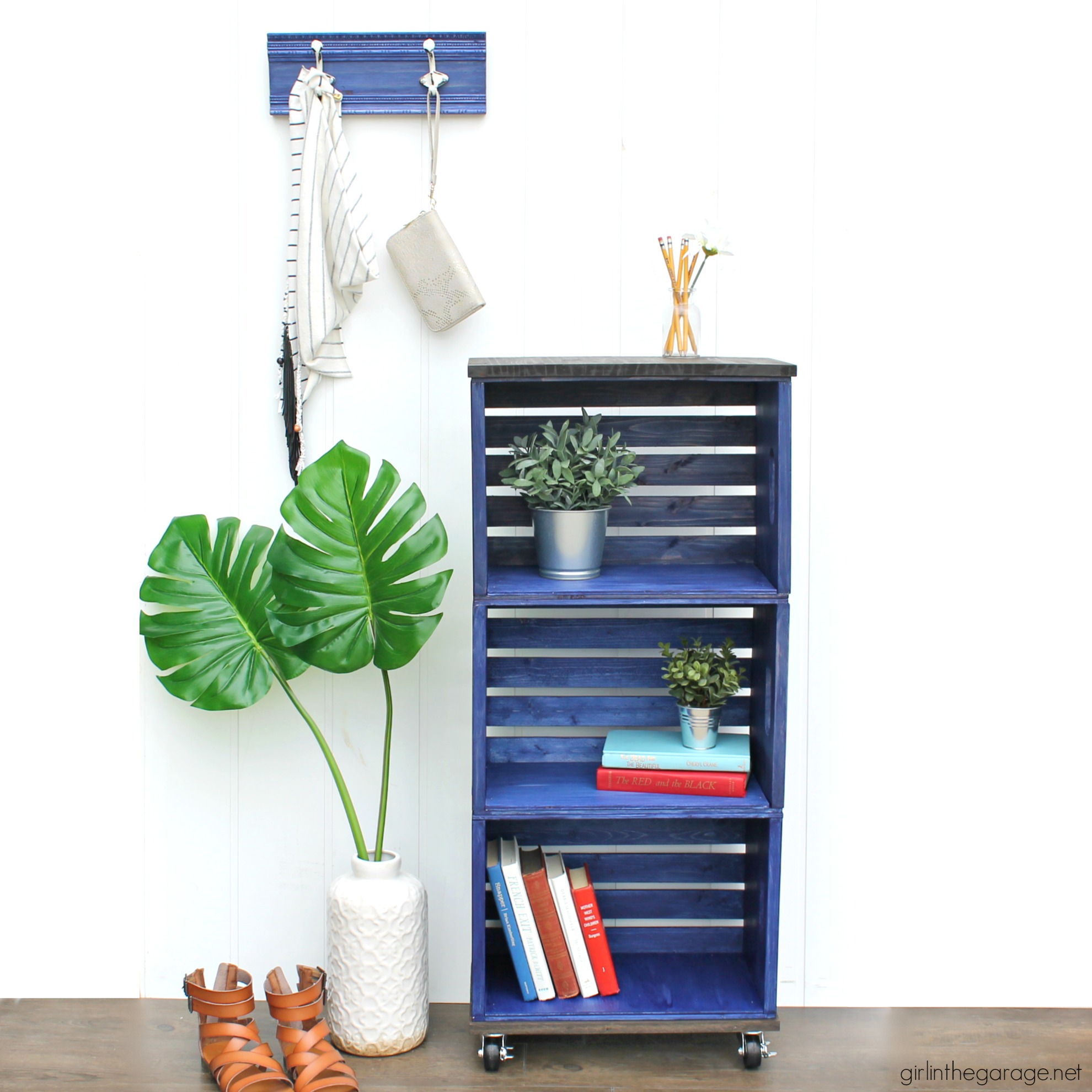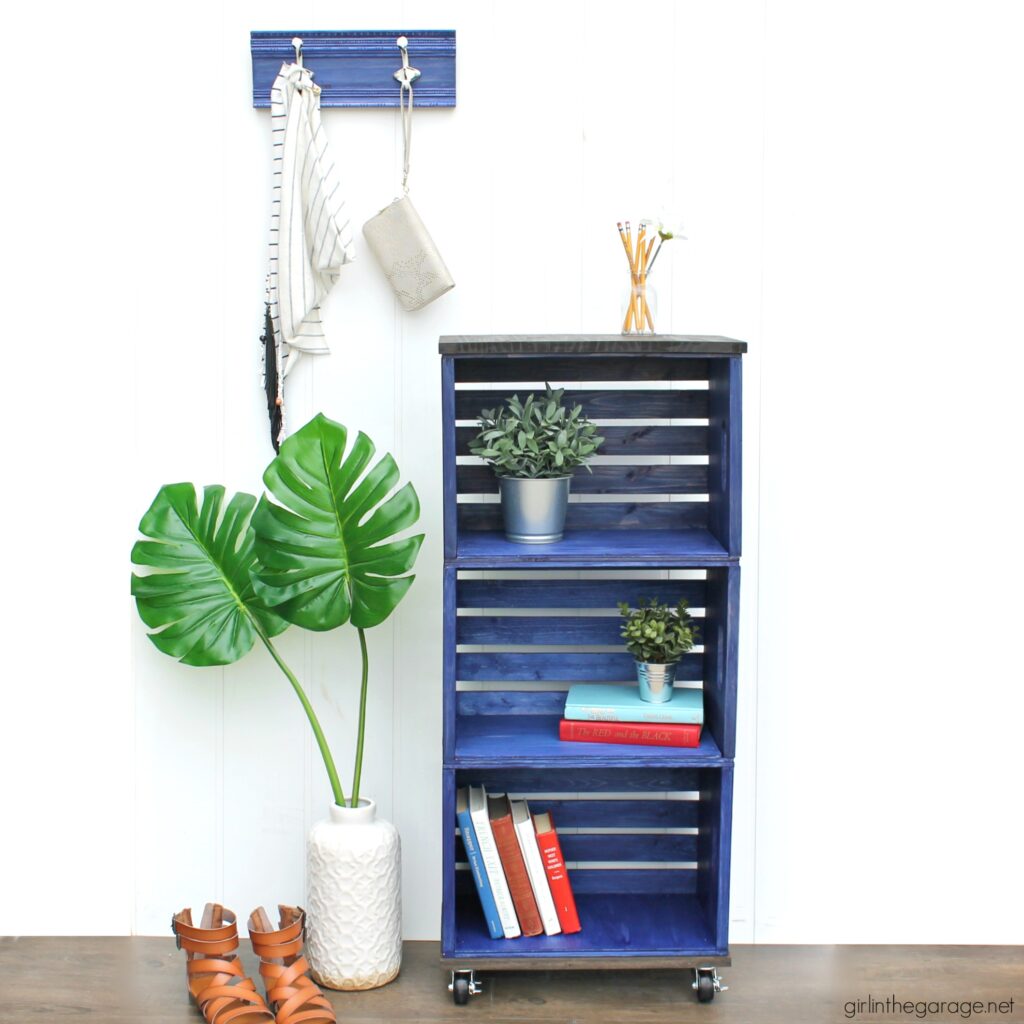 I hope you learned something new today about how to prep, stain, and protect stained wood – remember you'll save yourself trouble by properly following the steps from start to finish.
Friend, I'd love to know what fun color stain you'd be interested in using for your wood makeover projects – leave me a comment below.
*Click here for more amazing inspiration from Minwax*
And now let's have a giveaway: the winner will receive a Minwax prize pack of great products + giftcard! GOOD LUCK!
a Rafflecopter giveaway