Welcome back, friend! Today brings several new thrifty makeovers with my blogging friends (see theirs at the end of this post) – and I'll show you how painting a mirror frame can make a huge impact in a budget-friendly way.
I have a few different ideas to update and Chalk Paint a mirror frame like the thrifted ones below, so read through the steps and then let me know in the comments which one suits your style better.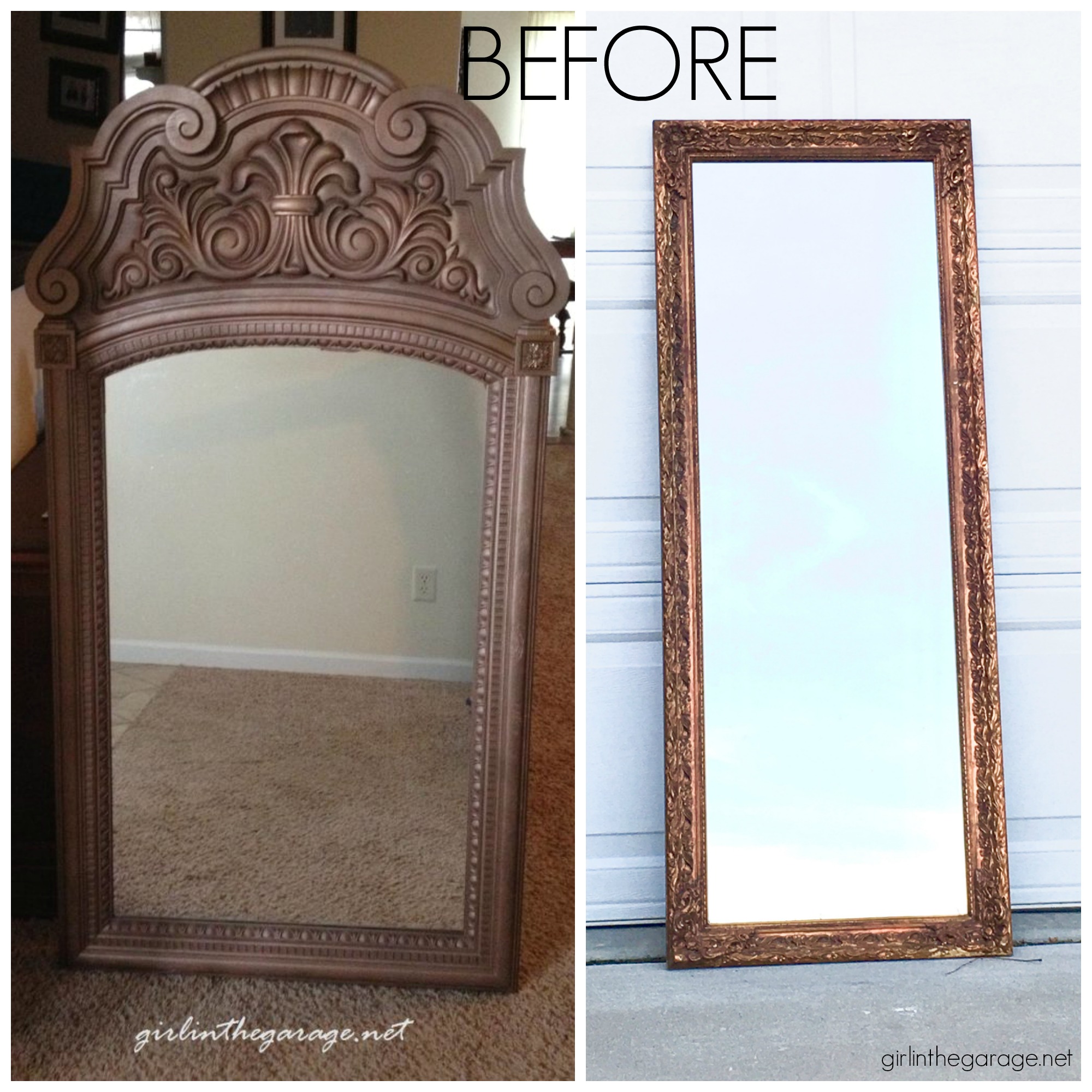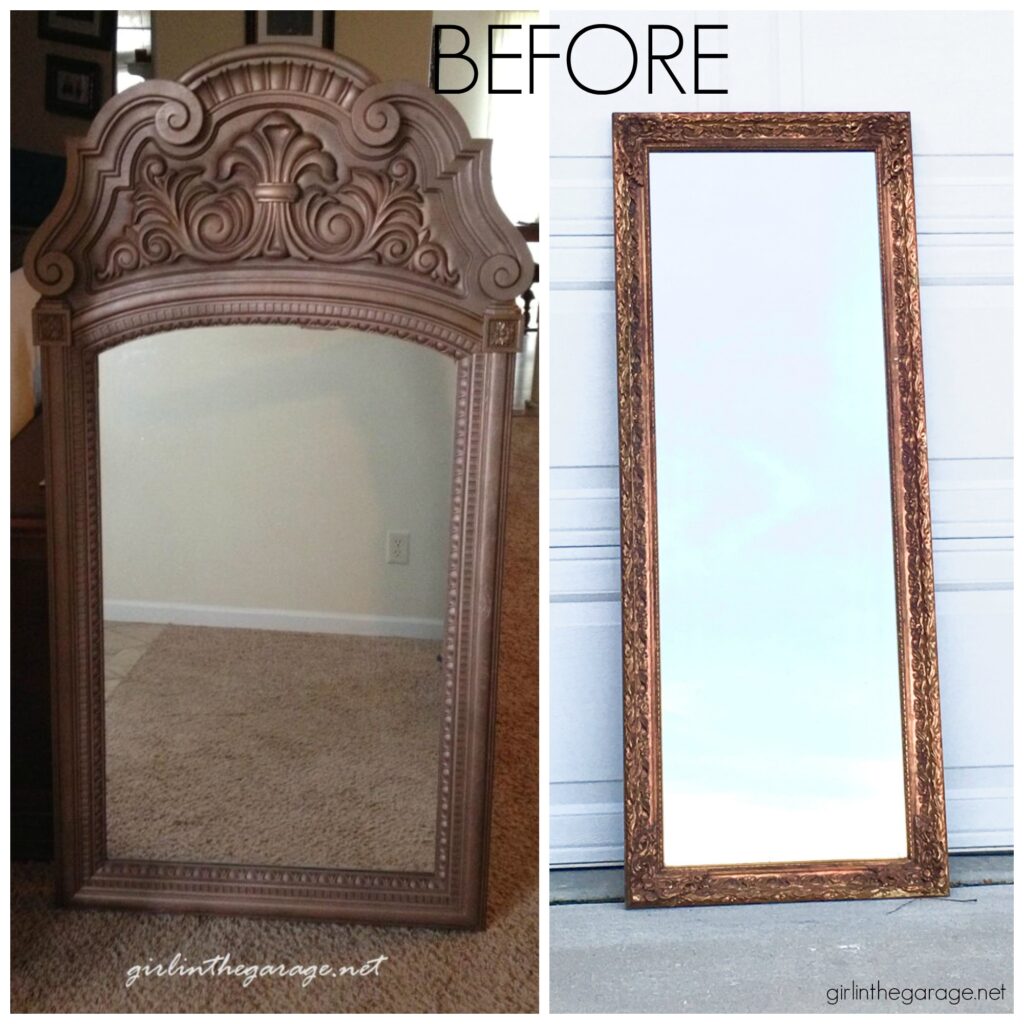 This post contains some affiliate links so you can easily find the products I use and recommend. Discover all my favorite brands and tools for doing DIY makeovers here.
There's also a brief helpful video included so you can watch some of the action. 🙂
First let's start with this gold vintage mirror I scored for $20 last fall. It looks like a fancy antique, but it's just a replica.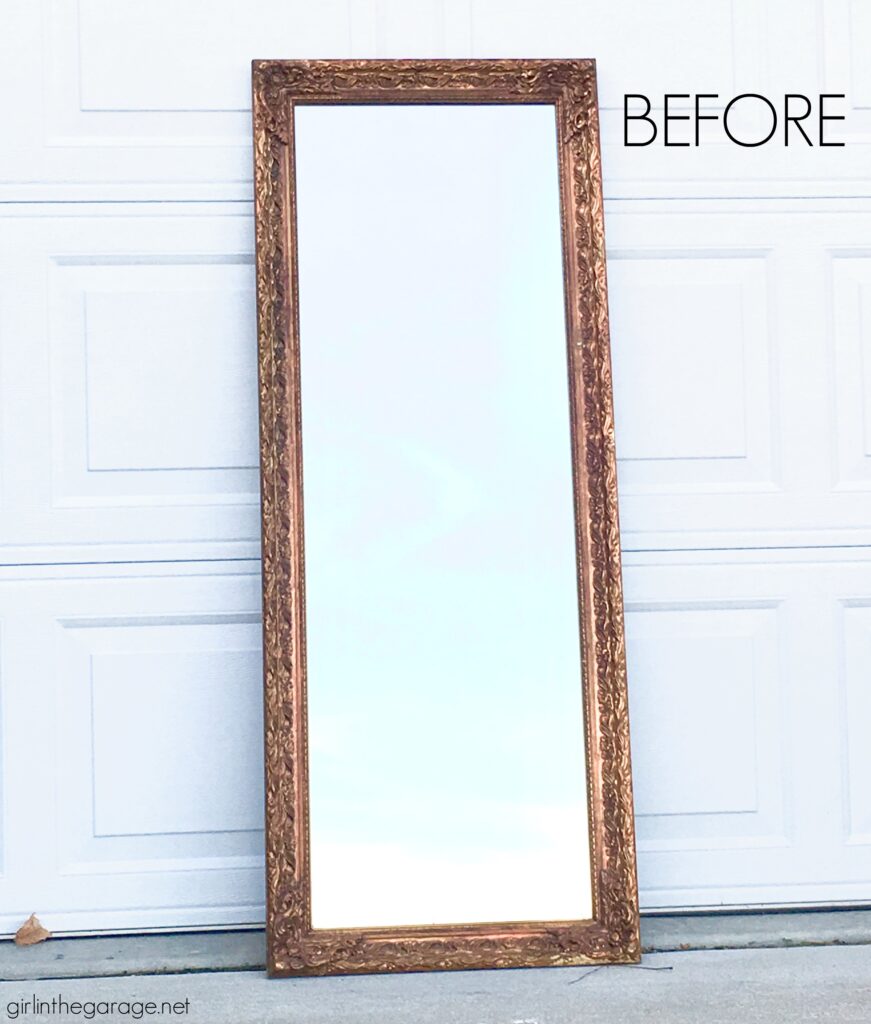 It has great features, but the gold paint (which was starting to peel in some places) was making it outdated.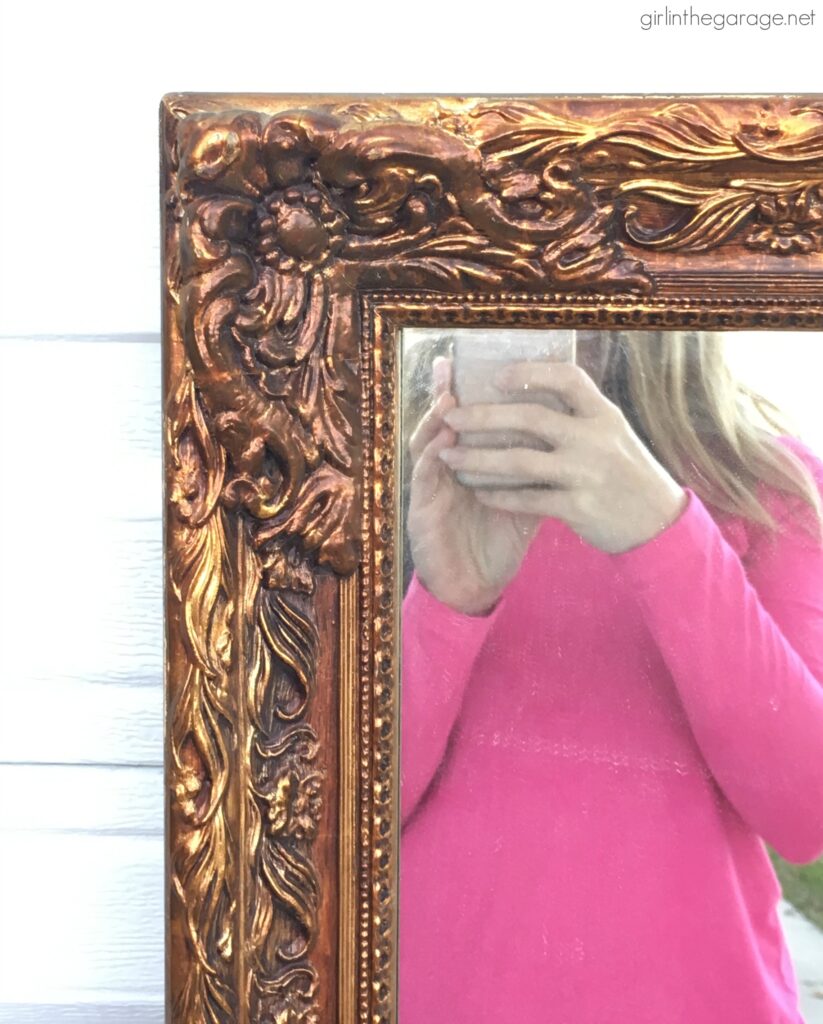 How to Paint a Mirror Frame with Layered Chalk Paint
Layering a few paint colors would definitely help bring out the pretty details in this mirror, starting with Graphite (dark gray) Chalk Paint by Annie Sloan. Since this is a base coat, I didn't try to get perfect coverage.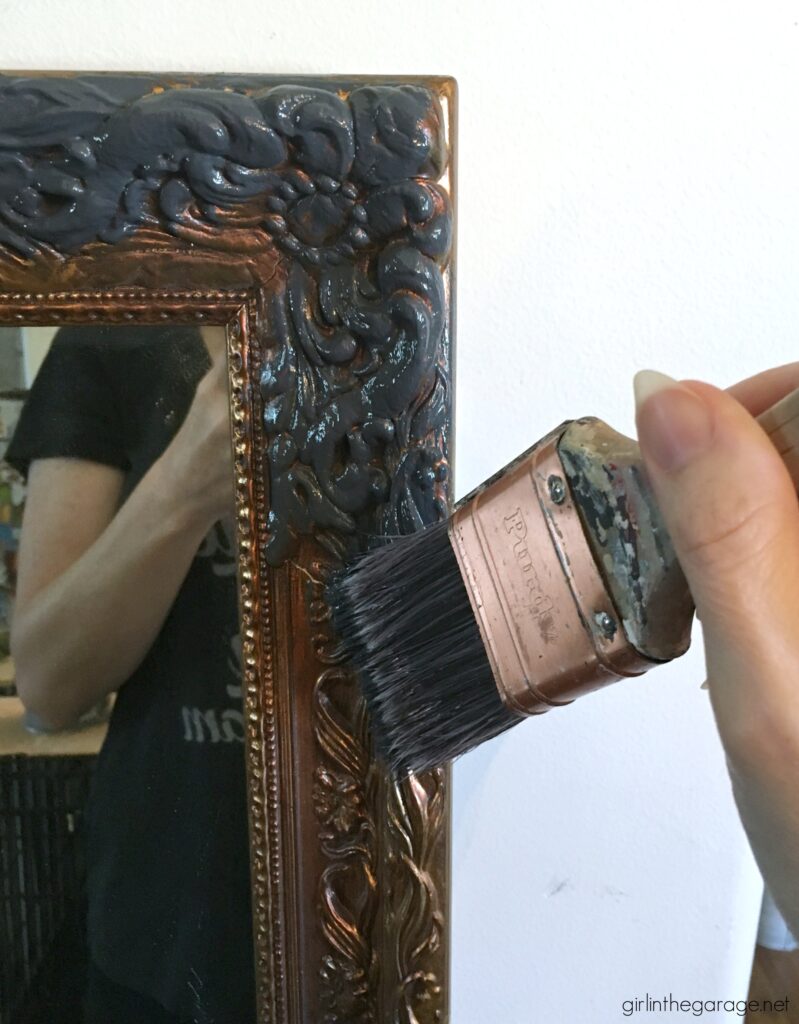 As usual I used my favorite Purdy brushes for painting both of these mirrors.
For the next layer, I chose Chalk Paint in French Linen (gray) – again not worrying about even coverage.
P.S. Learn all my best tips for How to Chalk Paint Furniture here!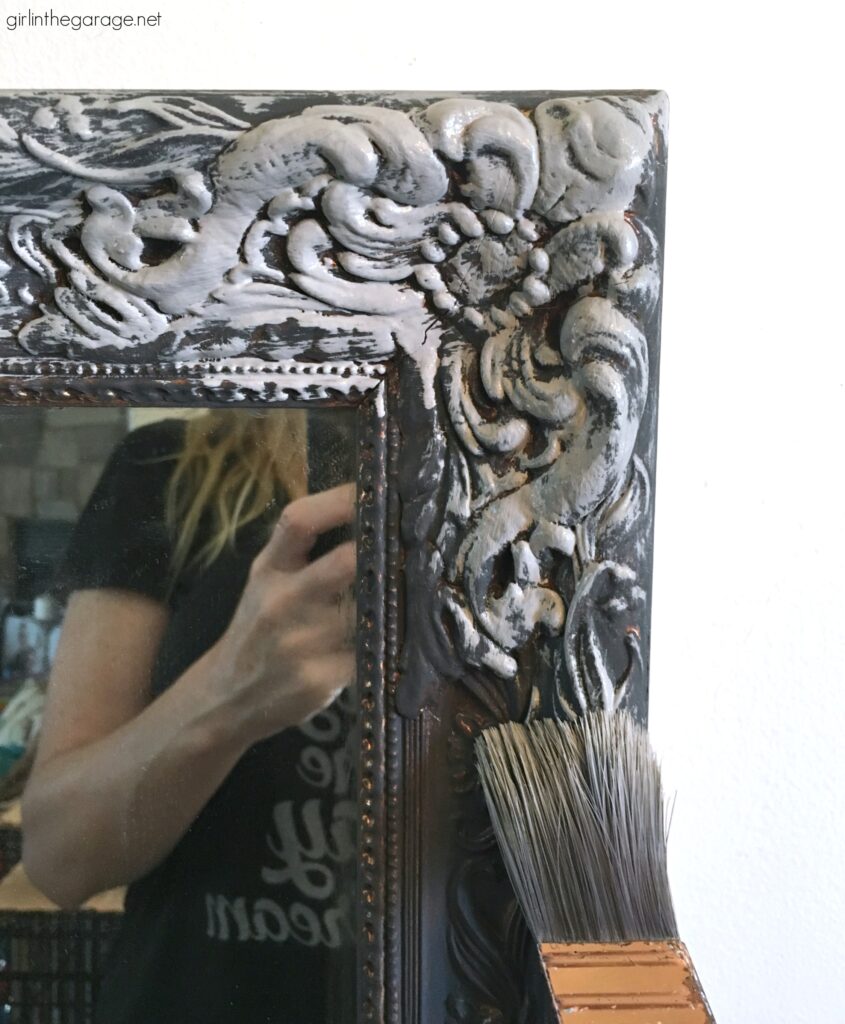 Finally, for the top layer I lightly dry brushed on Pure White Chalk Paint. You can see below how all three colors give the vintage painted mirror frame more dimension, while making it more updated than the original shades of gold.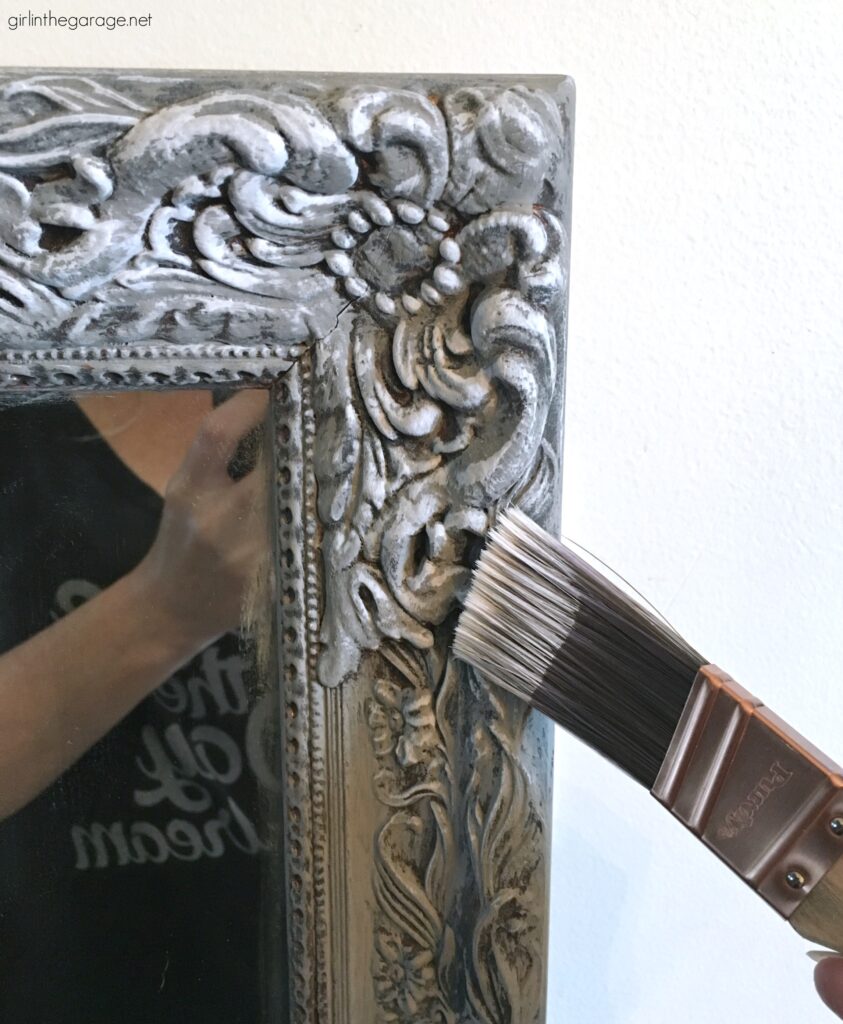 Don't worry too much about getting paint on the mirror itself – Chalk Paint cleans up easily when you've finished painting.
Use a damp cloth and the paint rubs right off.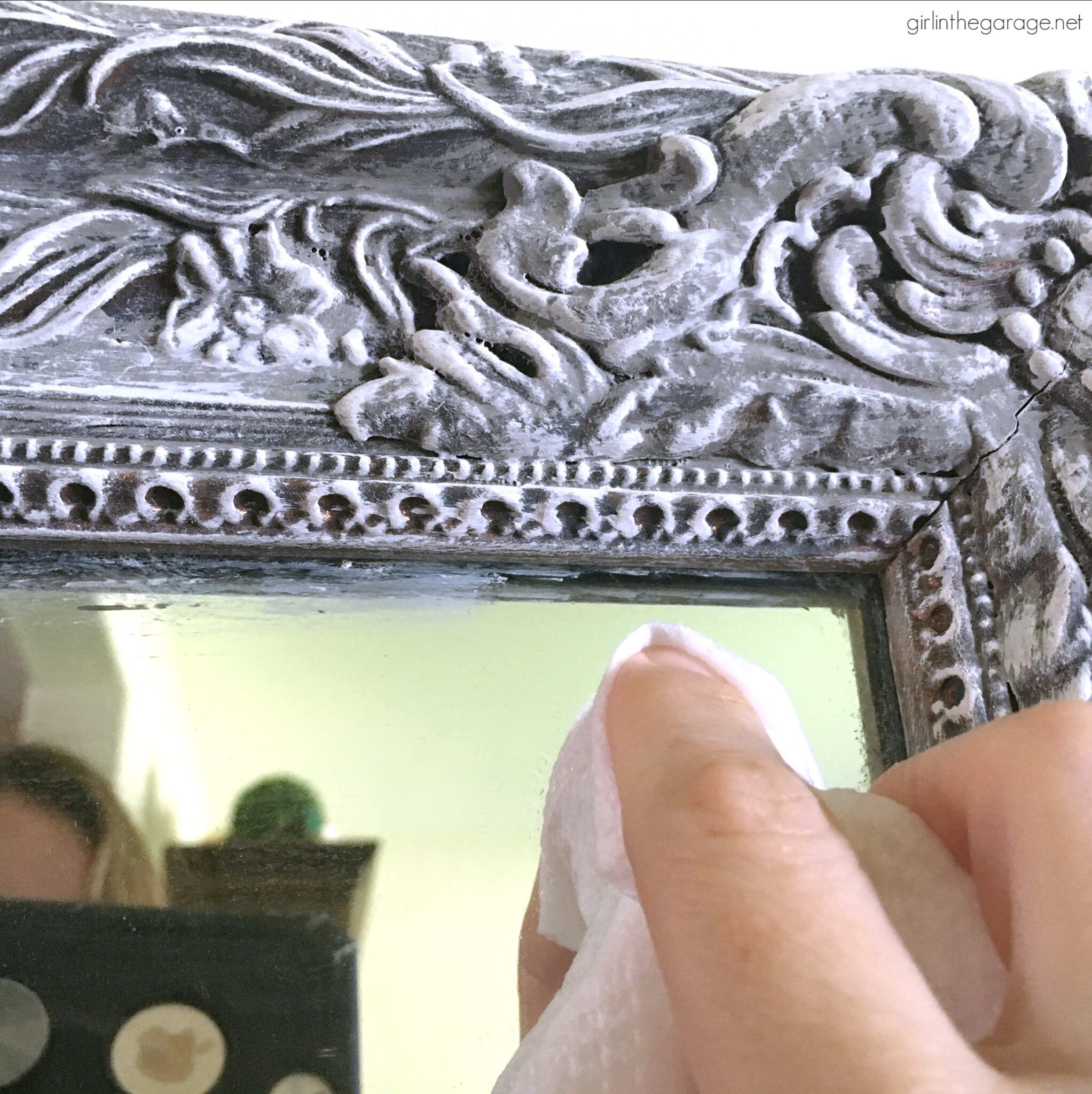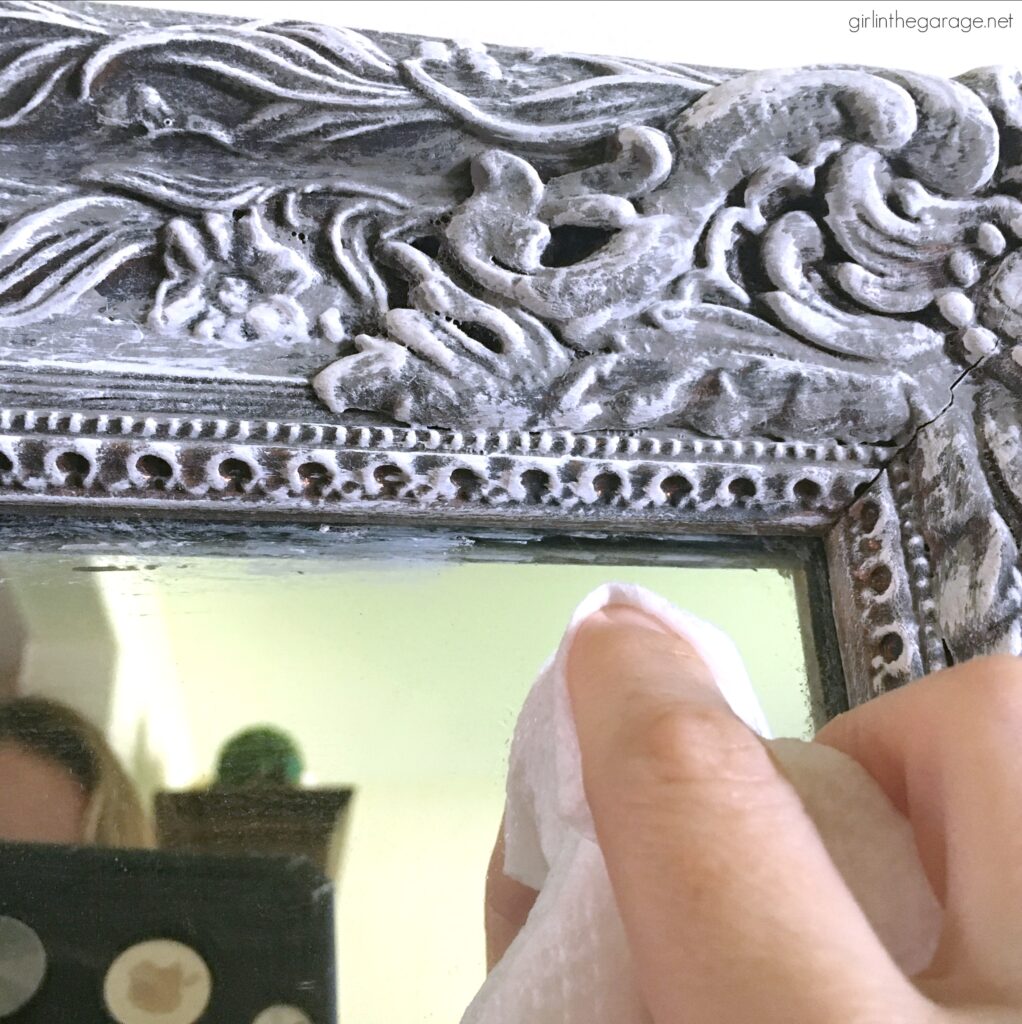 Now let's see how the first painted mirror frame turned out…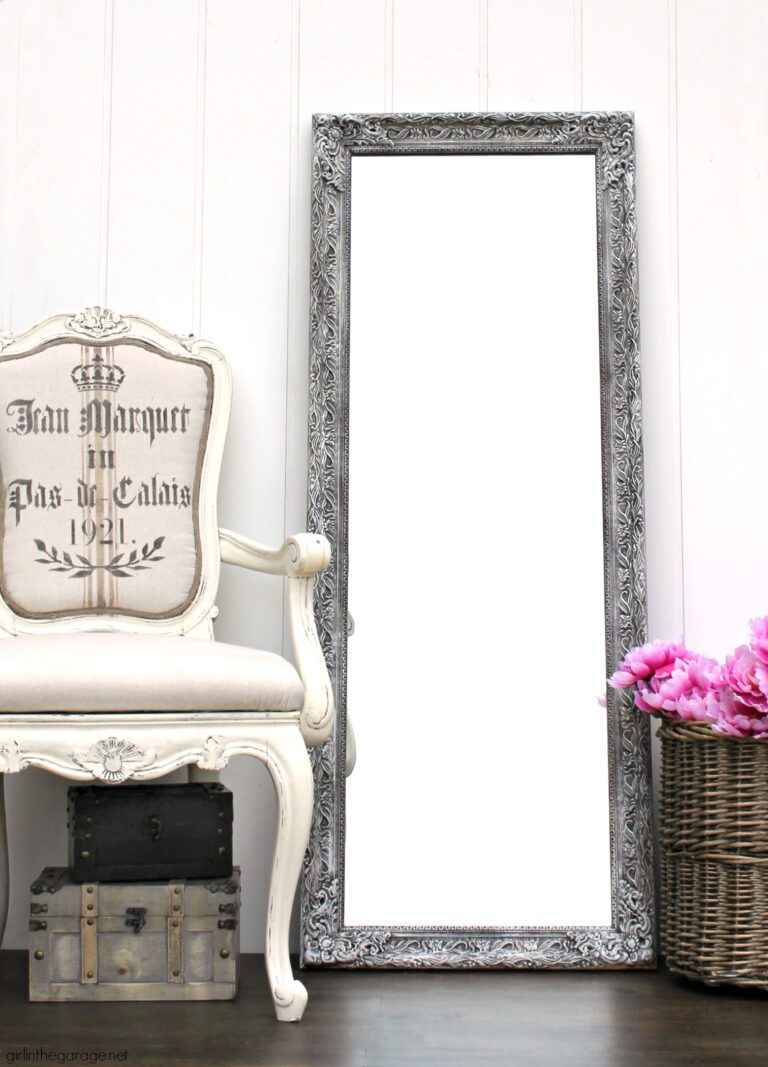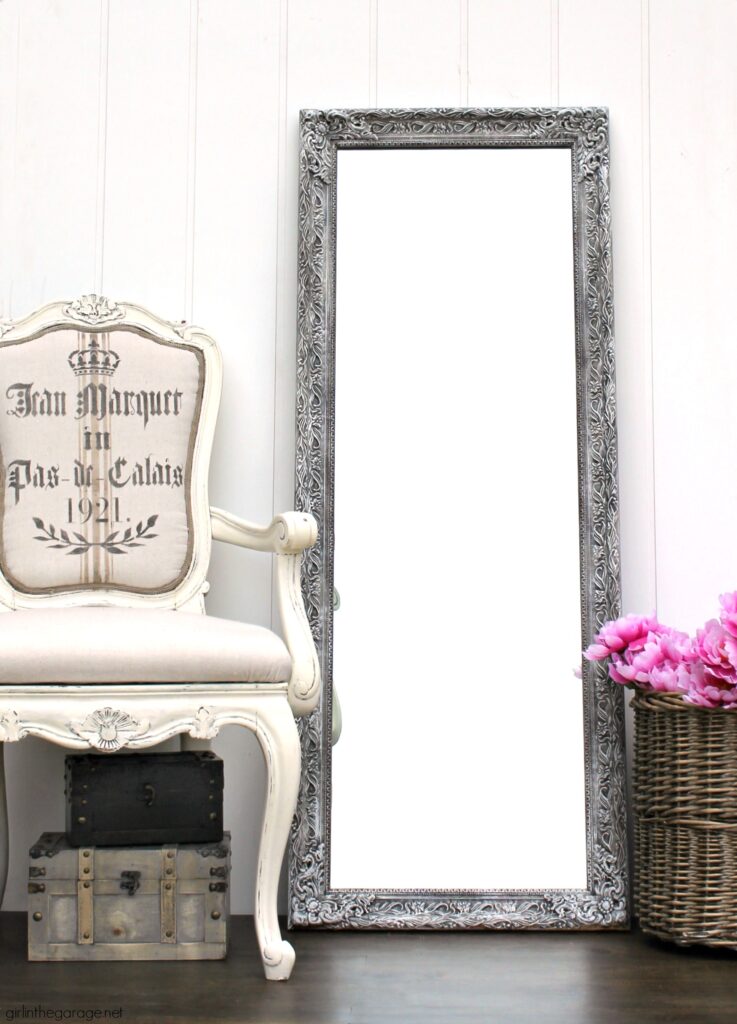 (That gorgeous chair is one of my favorite keepsakes from my book Amazing Furniture Makeovers: Easy DIY Projects to Transform Thrifted Finds into Beautiful Custom Pieces.)
The details on this vintage mirror are so pretty, and using layers of Chalk Paint really helps those details stand out.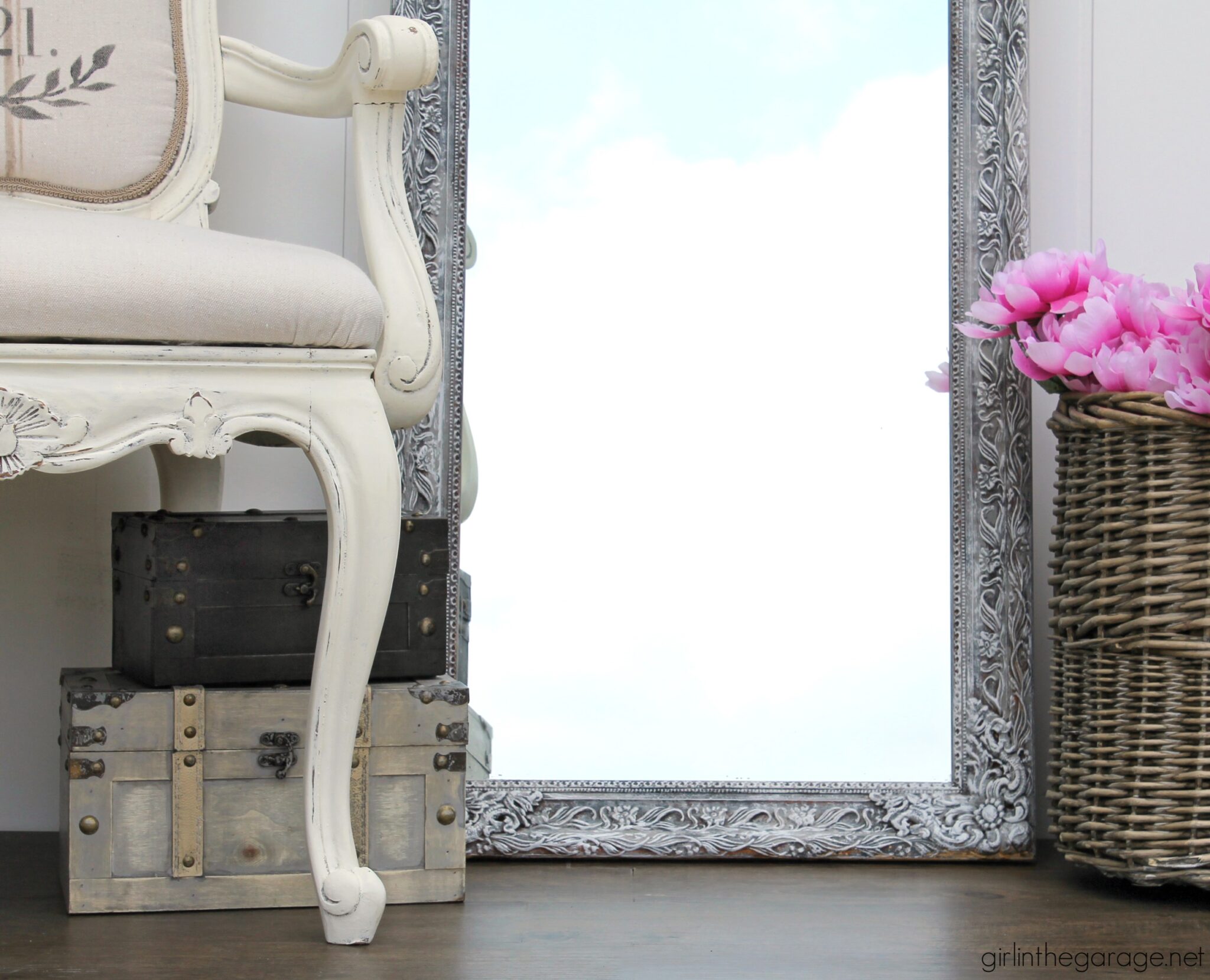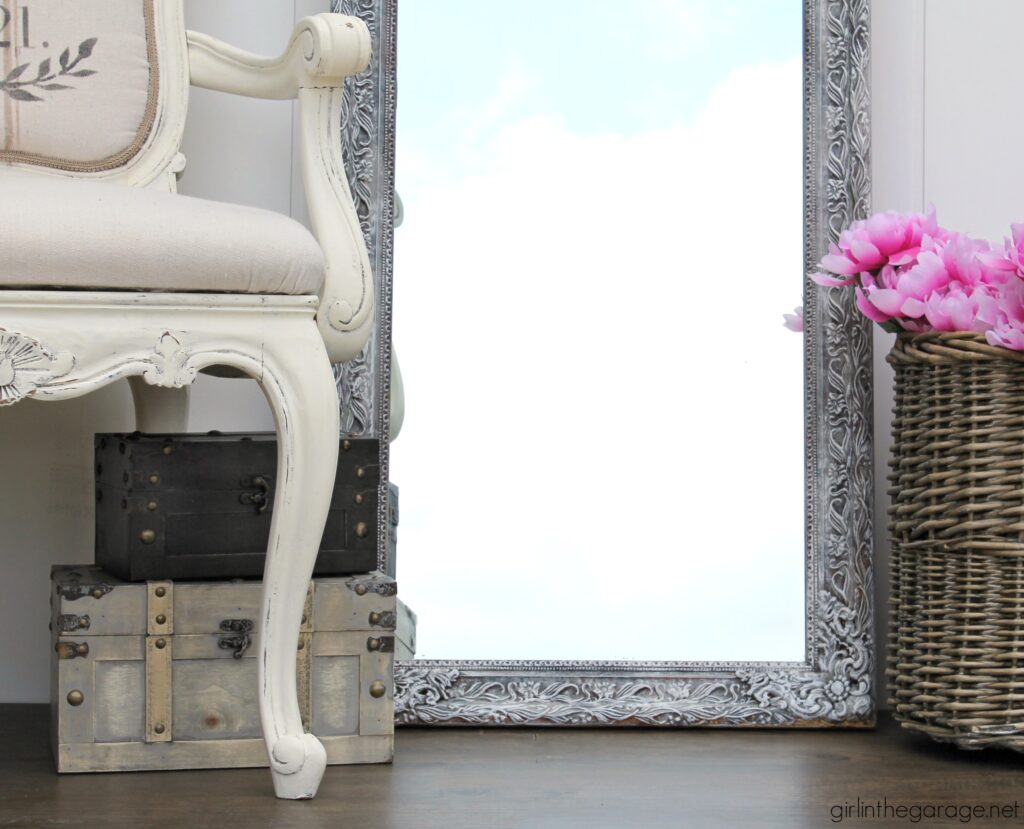 And yes there is still some of the original gold peeking through!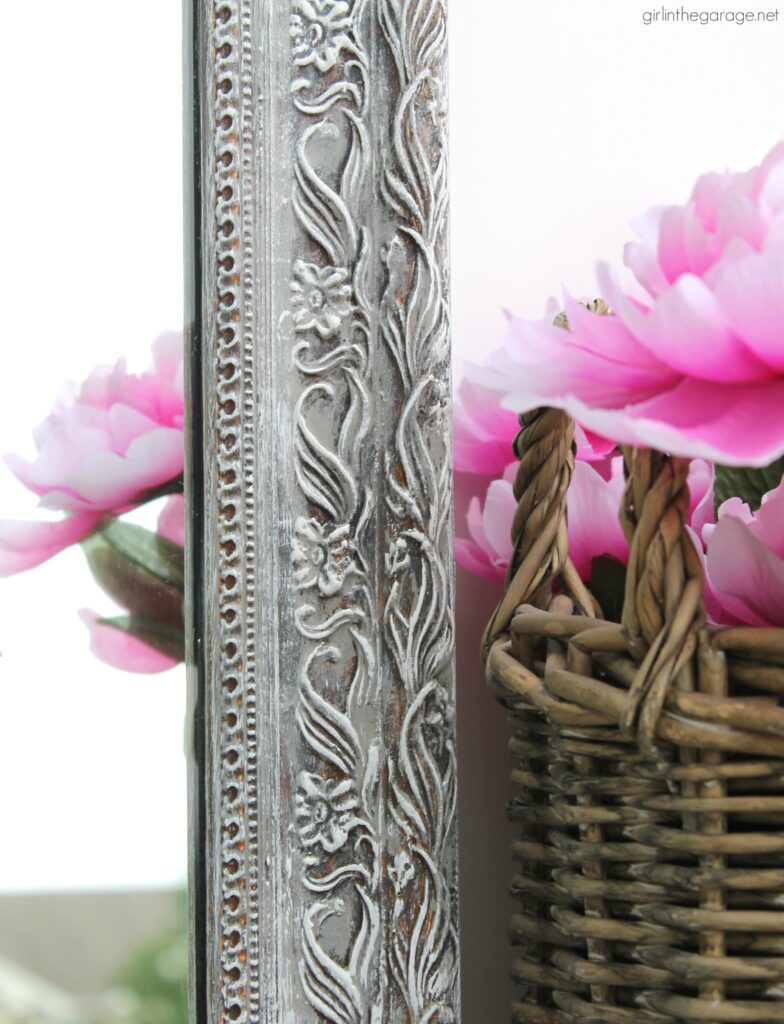 I think it looks so French chic, don't you? You can find more DIY vintage French decor ideas here.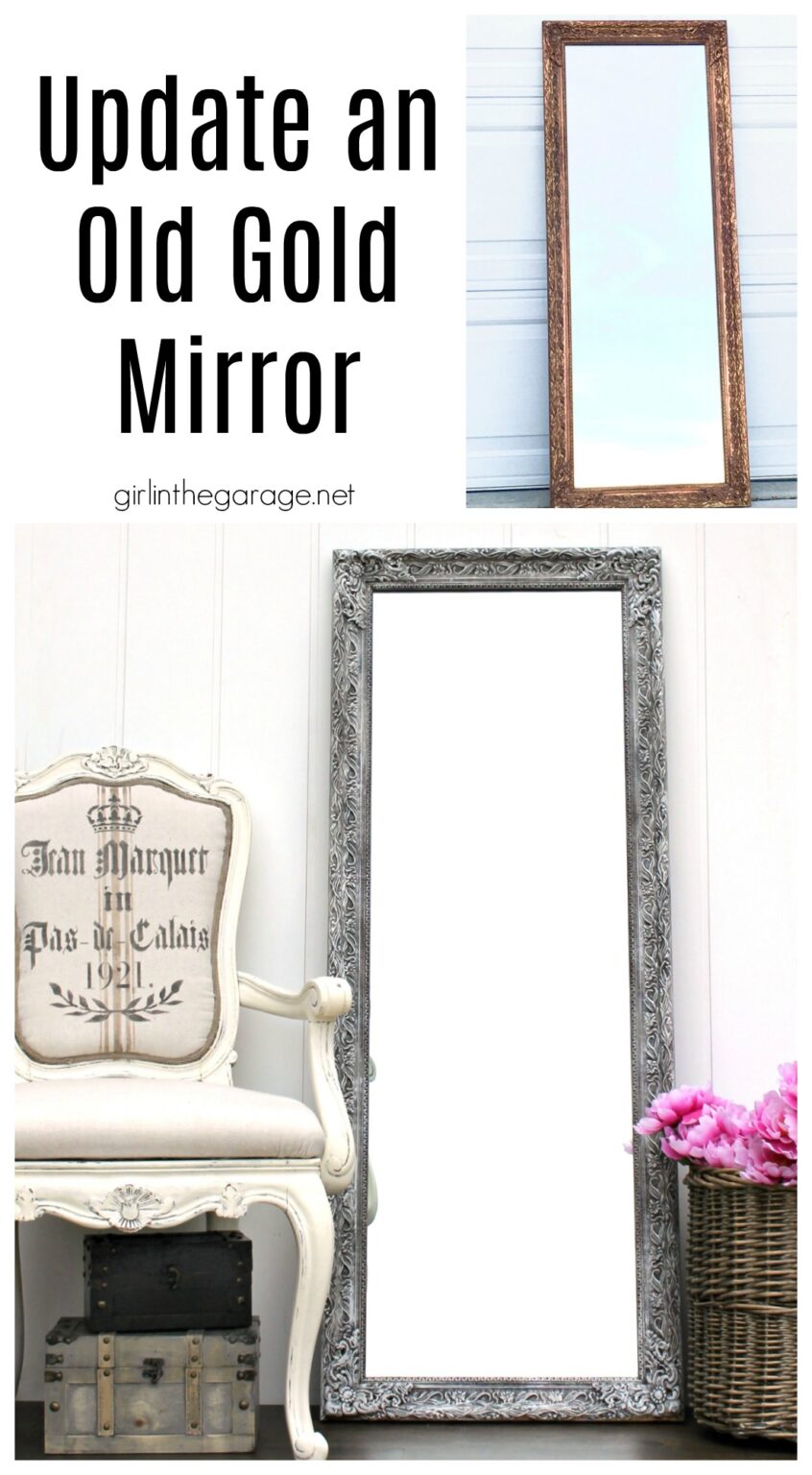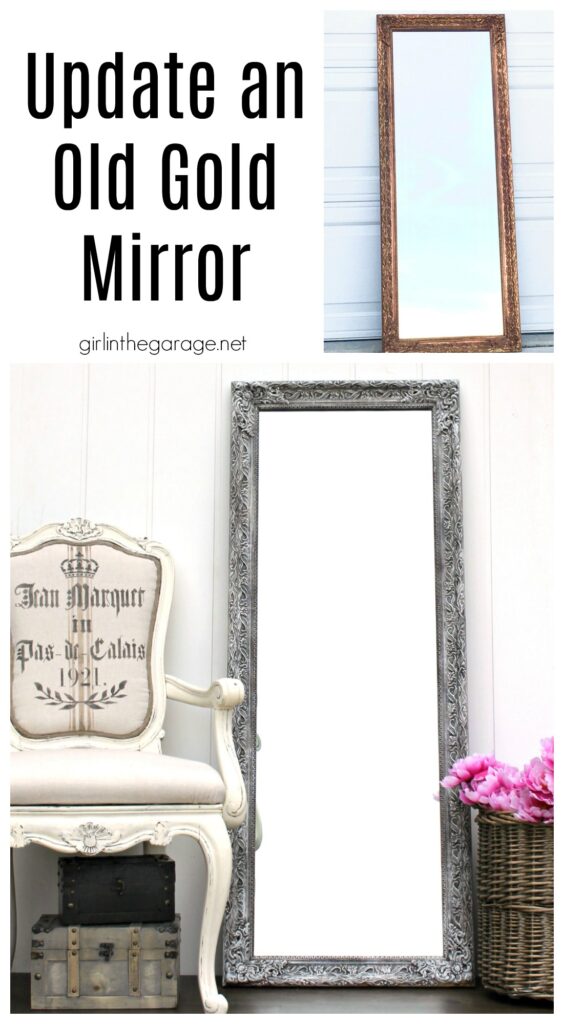 Next let's move to this lovely vintage plastic framed mirror that was so popular back in the 70s-80s.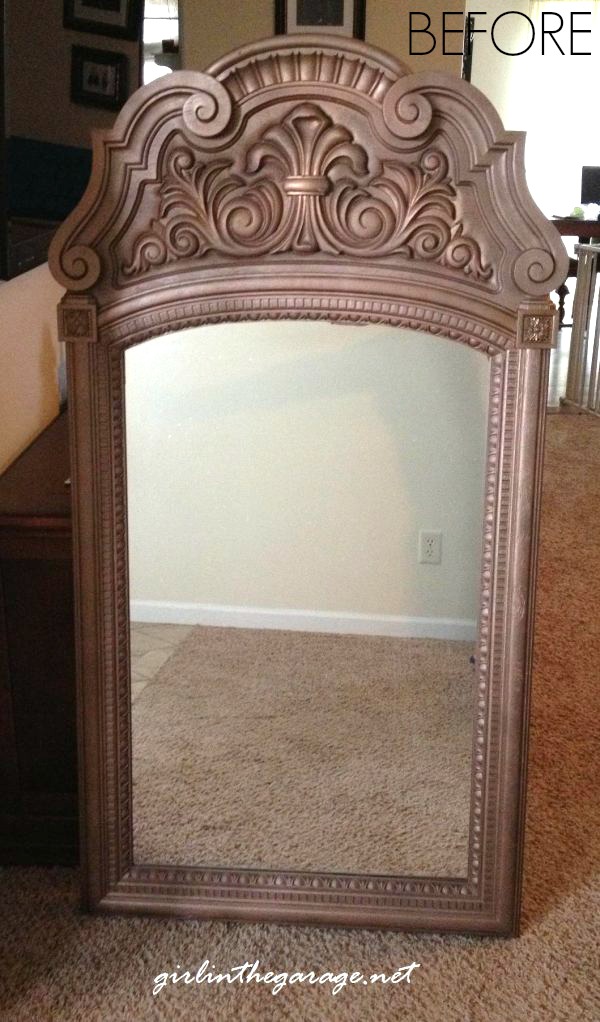 I actually painted this mirror back in 2013 when I first started blogging.
I used some turquoise paint and hung it in the cute little area below. It stayed that way for a few years before I changed that space and the mirror went to the basement.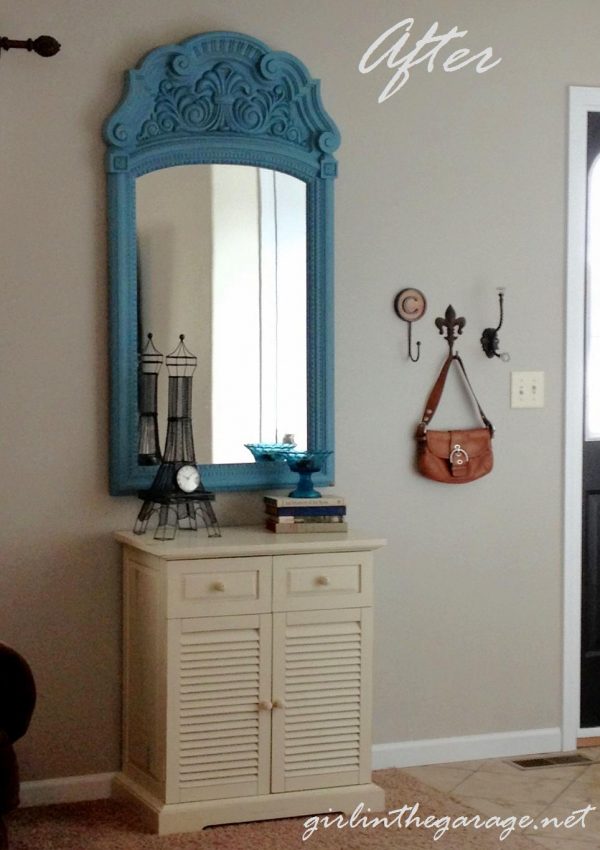 This weekend it was finally time for an update. I still kind of liked the blue although it needed a refresh after all these years.
How to Paint a Plastic Vintage Mirror Frame
For this mirror frame I went with a lighter blue – Annie Sloan Chalk Paint in Duck Egg. It was pretty convenient that there was already a layer of blue paint on there.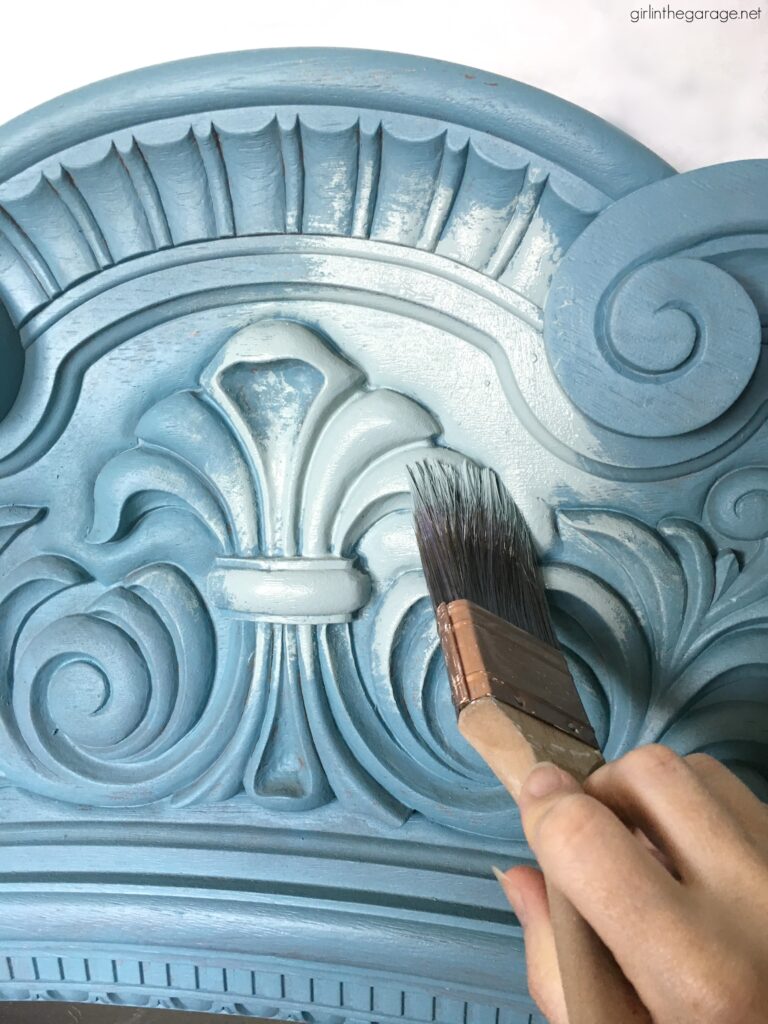 Once the Chalk Paint was dry, I wiped on Annie Sloan's white wax with a lint-free cloth. Pushing it into the curves and grooves gives it more of a softer, coastal look.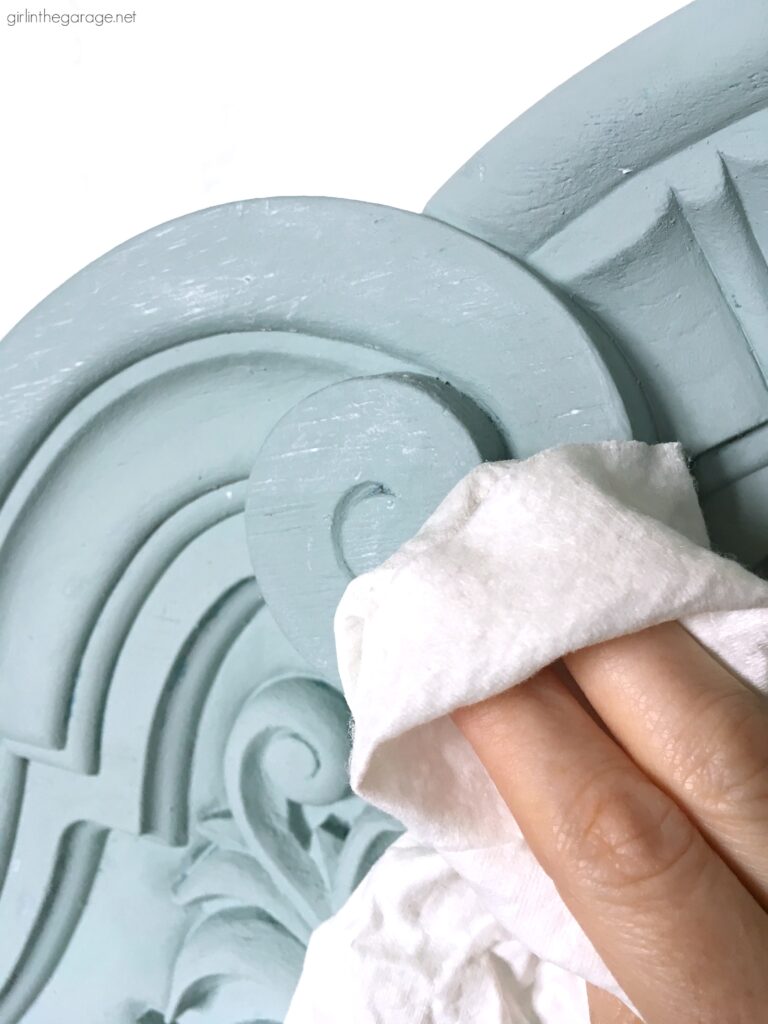 FYI – wax isn't as easy to remove from the mirror itself as Chalk Paint is. I used Windex and had to do a little scrubbing to clean up my mess.
And here's the updated vintage plastic painted mirror…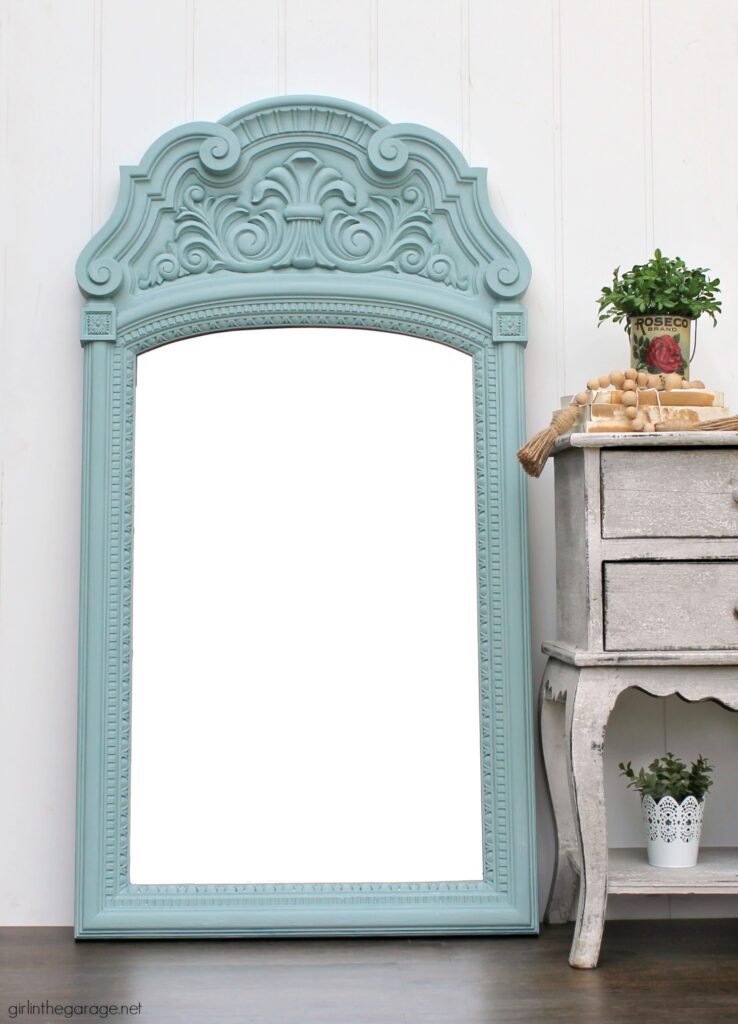 You can't see the white wax well unless you're up close, but I think it gave it the little something extra that it needed.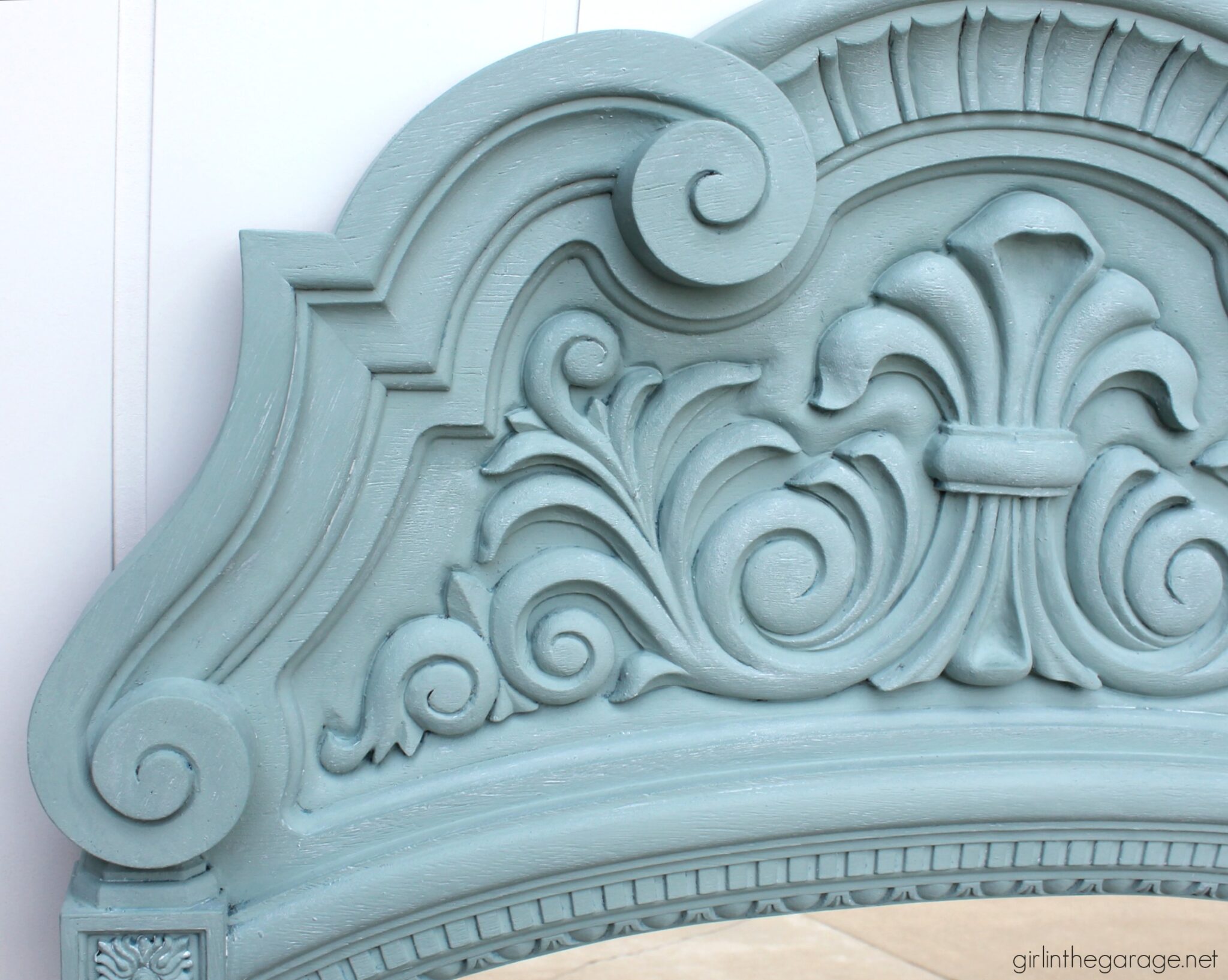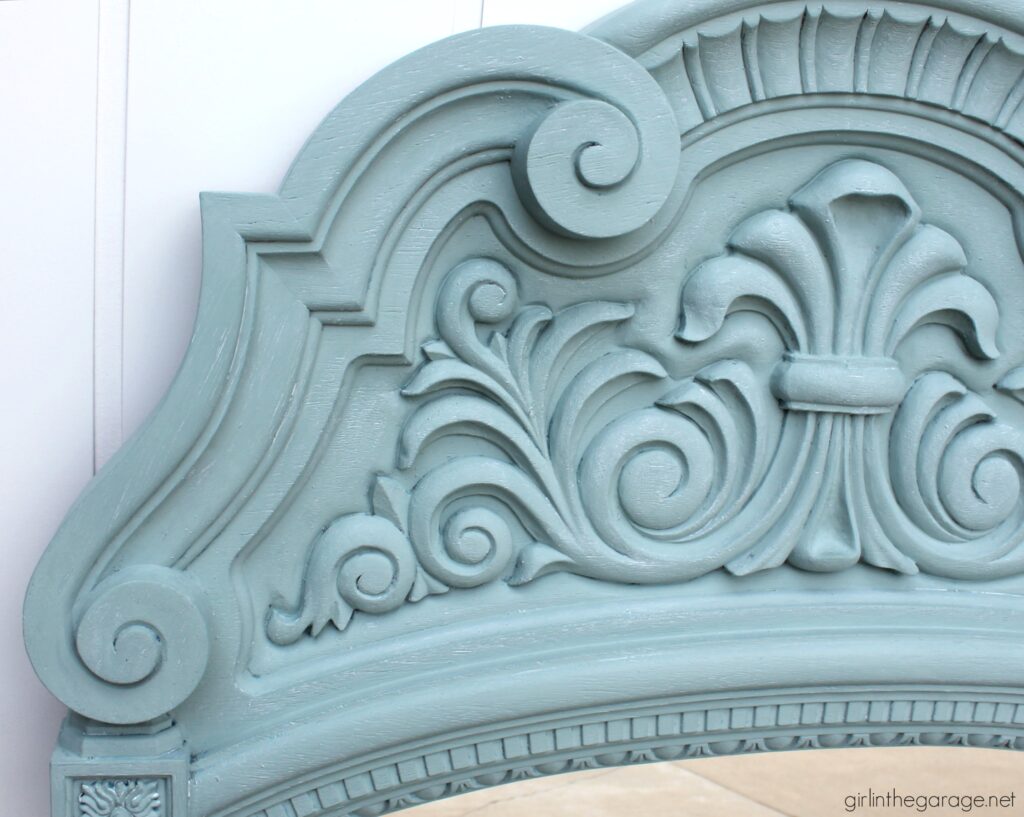 I really liked the turquoise paint, but this Duck Egg Blue is so lovely too!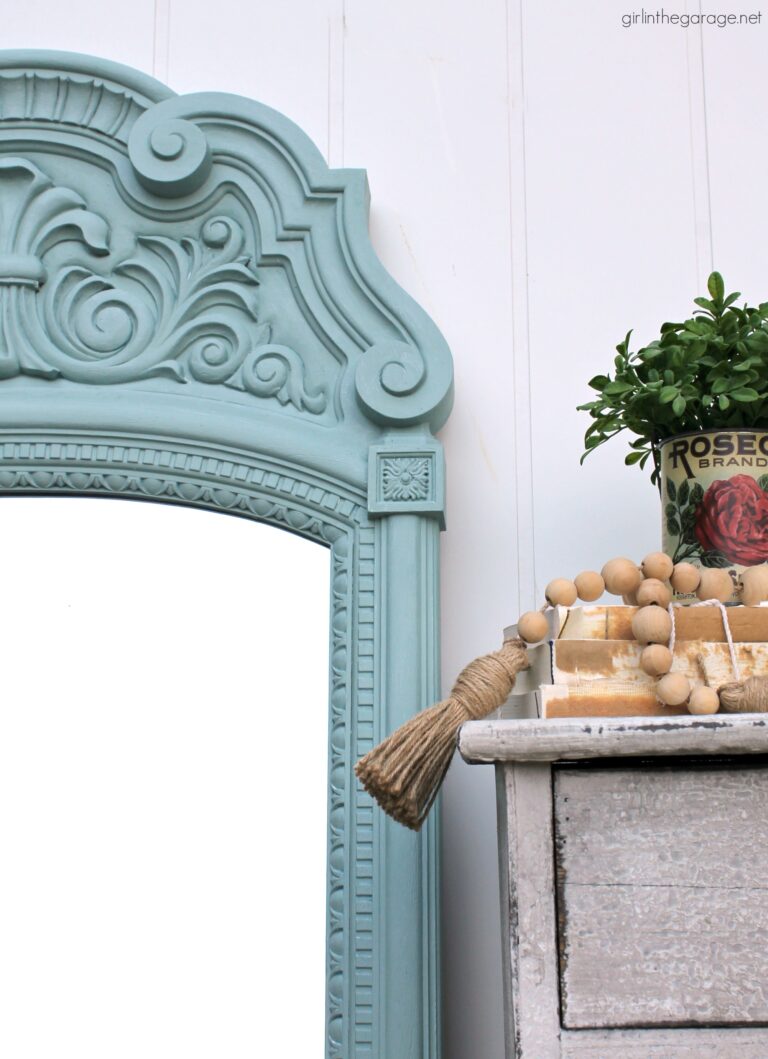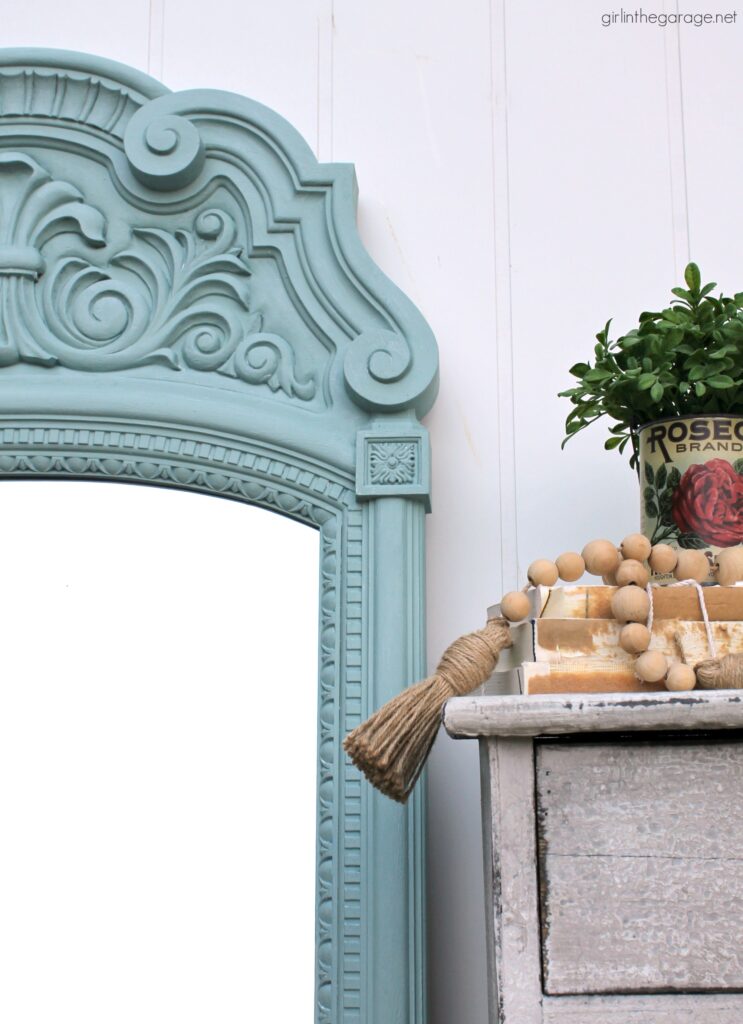 Feel free to pin or share the image below (or any images in this blog tutorial) to easily find these painted mirror ideas again later.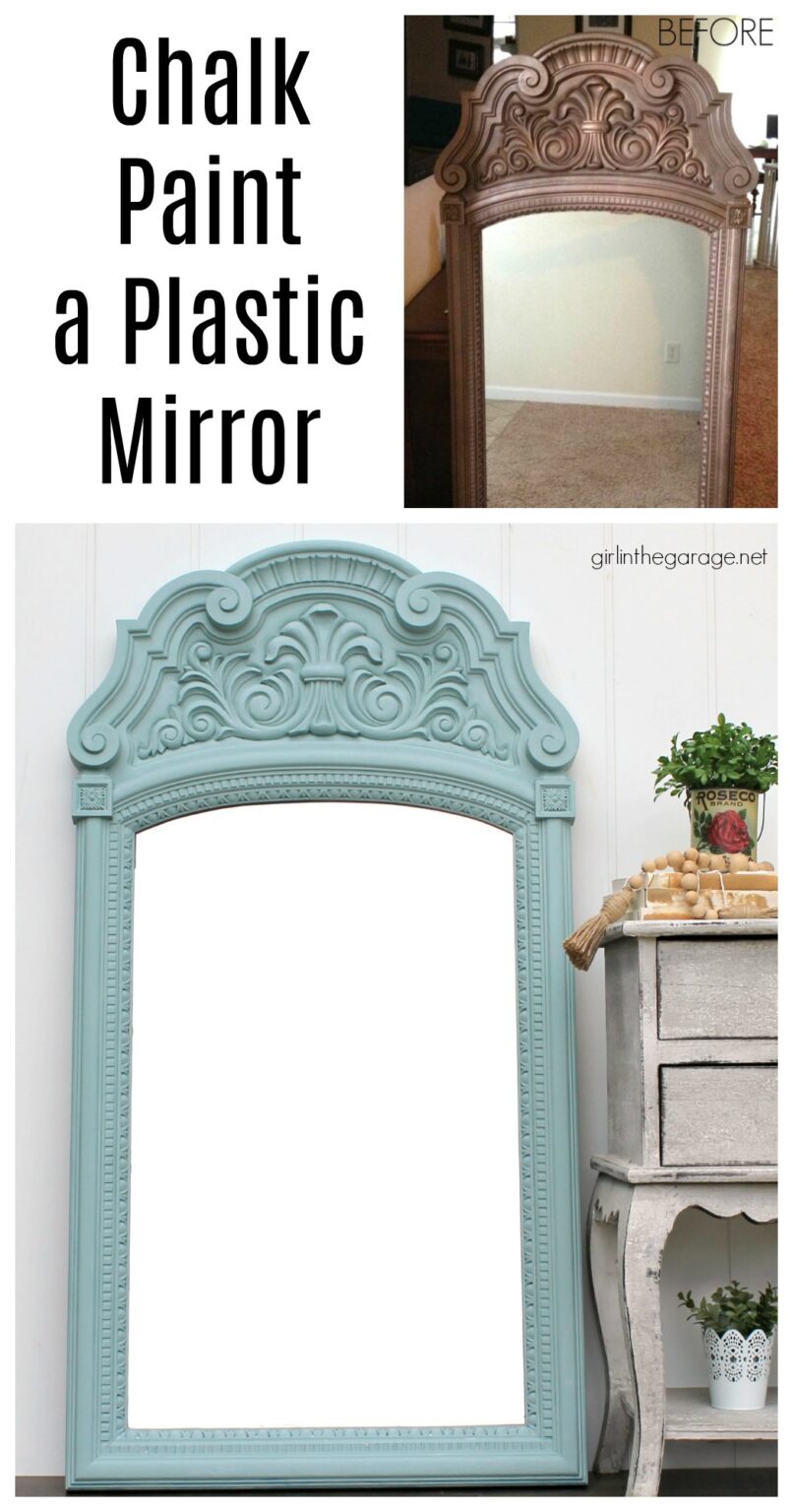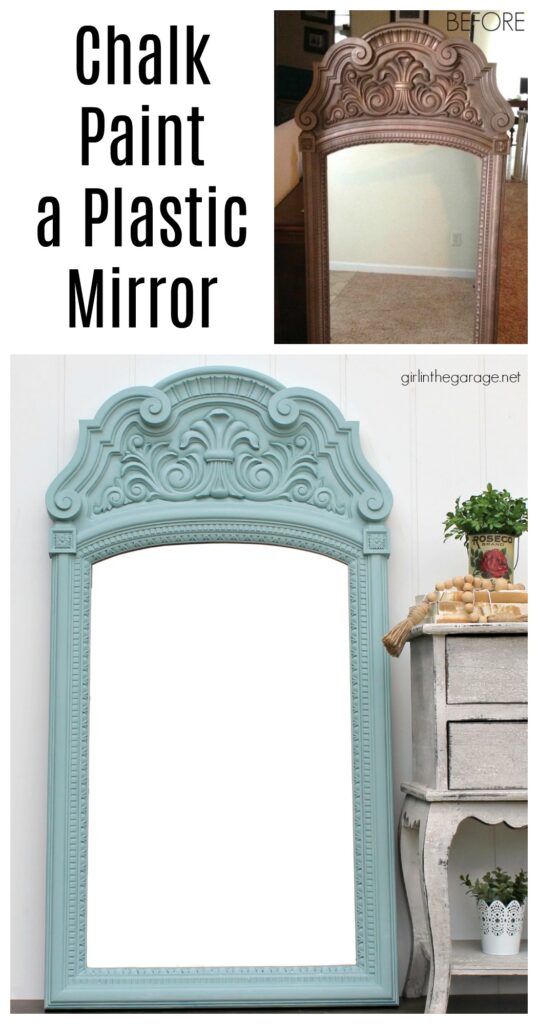 Friend, I hope you've gained a couple new ideas for painting a mirror frame. It's a simple yet stunning way to update your home's decor!
Below are a few more painted mirror makeovers that I've done in the past. Click the numbered links to see how these turned out: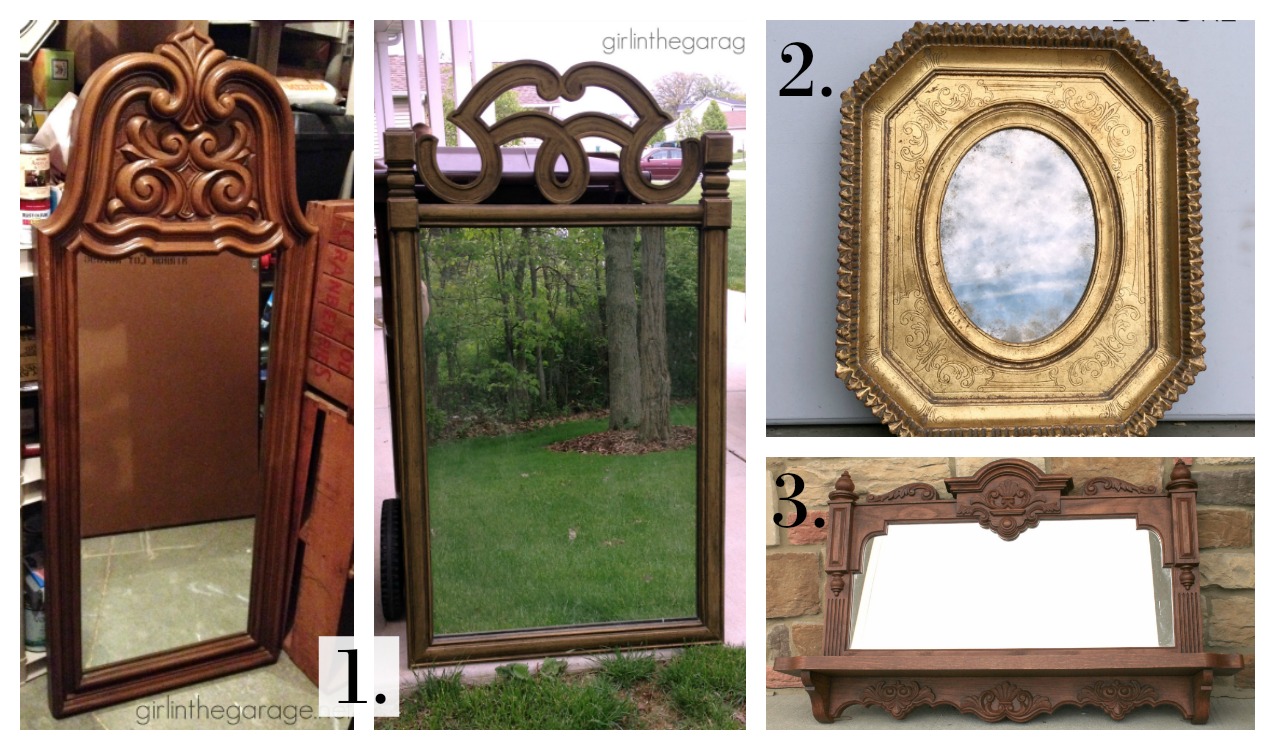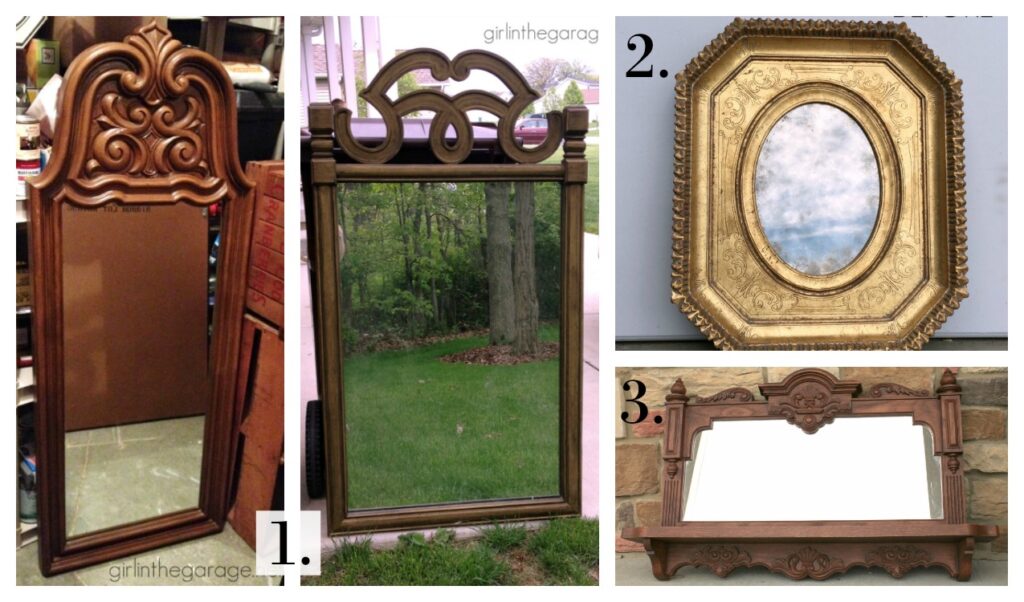 1. Two painted mirrors 2. Mirror with image transfer 3. Simple painted mirror
Now it's time for Trash to Treasure projects with some blogging friends! I just know you'll love their budget friendly makeovers.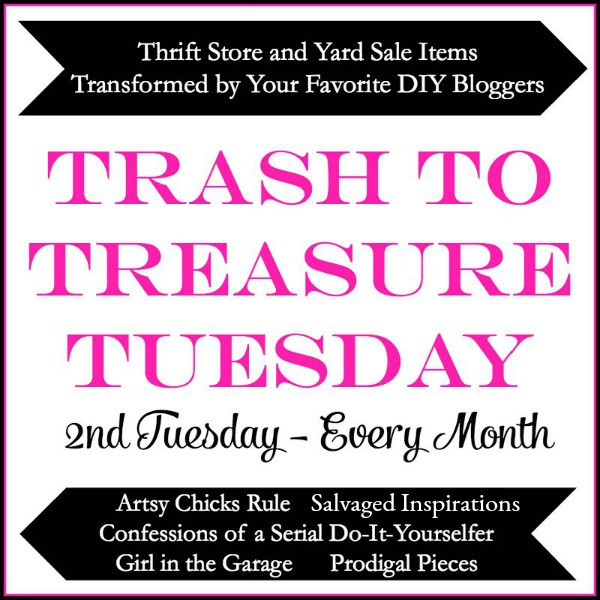 Below are the Before photos – visit the links underneath to see the amazing Afters and to learn how they did it: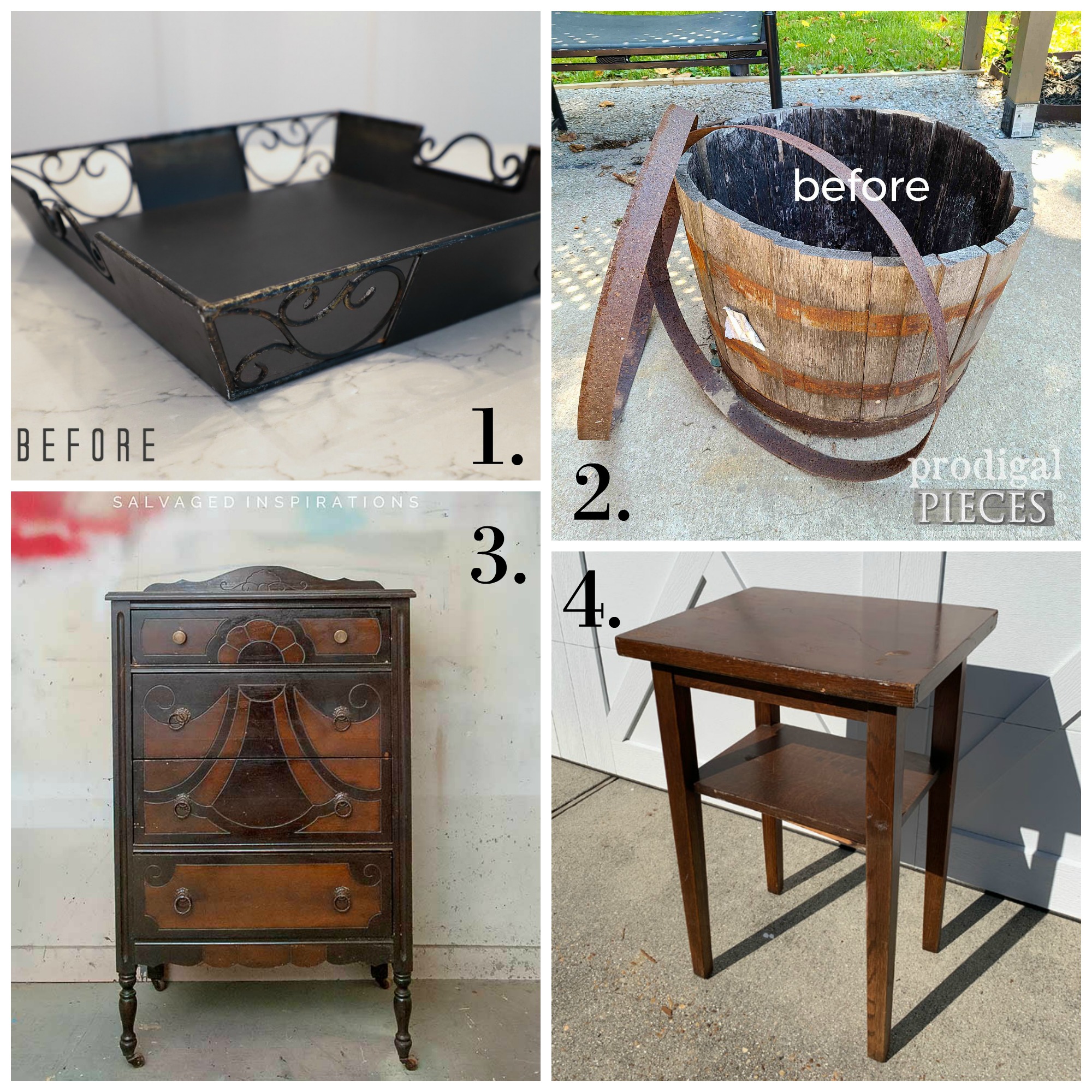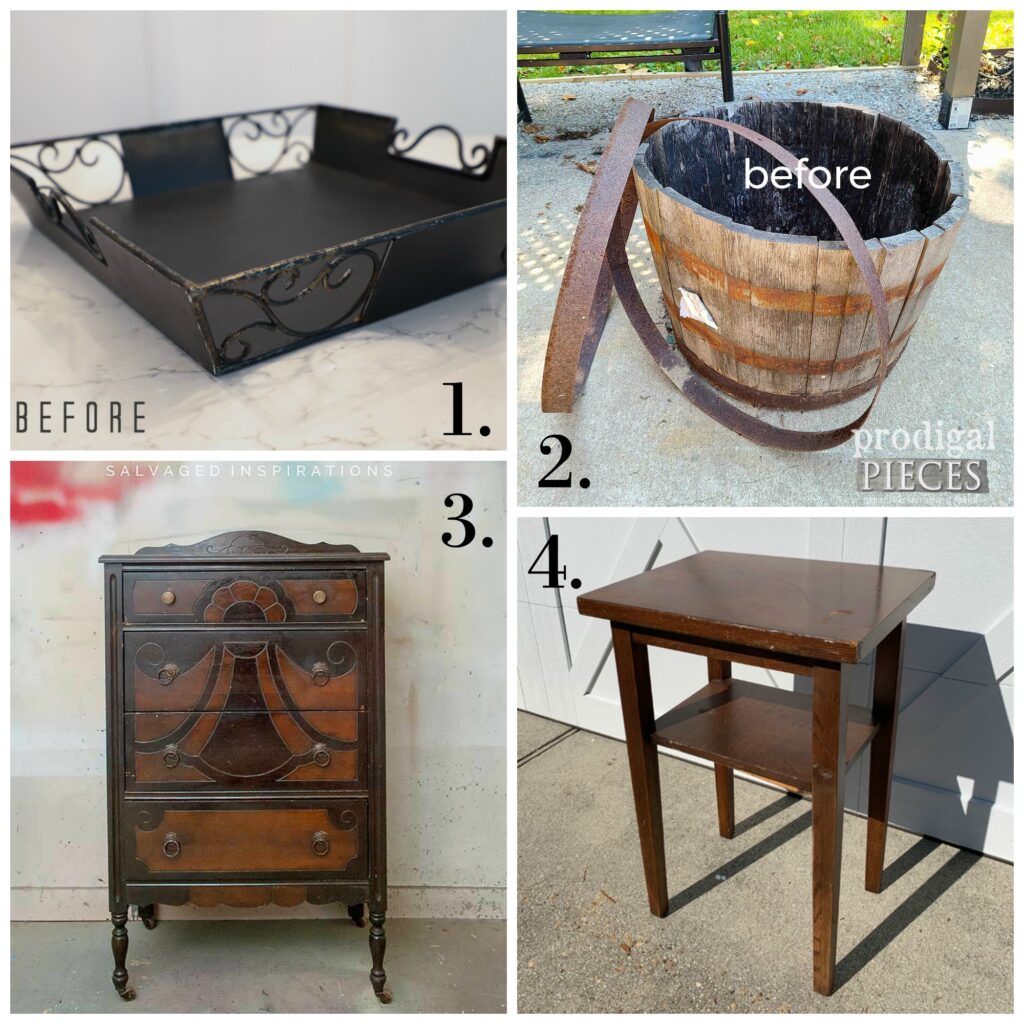 1. Artsy Chicks Rule
2. Prodigal Pieces
3. Salvaged Inspirations
4. Confessions of a Serial DIYer