Welcome back, friend! One of my weaknesses is collecting antique and vintage mirrors. I keep telling myself that someday in our next home I'll have a beautiful gallery wall of antique mirrors.
Today's project is a thrifted painted mirror makeover from a piece I've had for years. It has pretty details but it's a replica of an antique, so I didn't feel bad painting over it to update the style. (Bonus: There is a video tutorial too!)
One thing I love about this piece is that the actual mirror has already started to age and has a vintage cloudy patina (it's a bit dirty in the photo below though). Some people faux-antique new mirrors with DIY products, but I got lucky with this one because it's natural.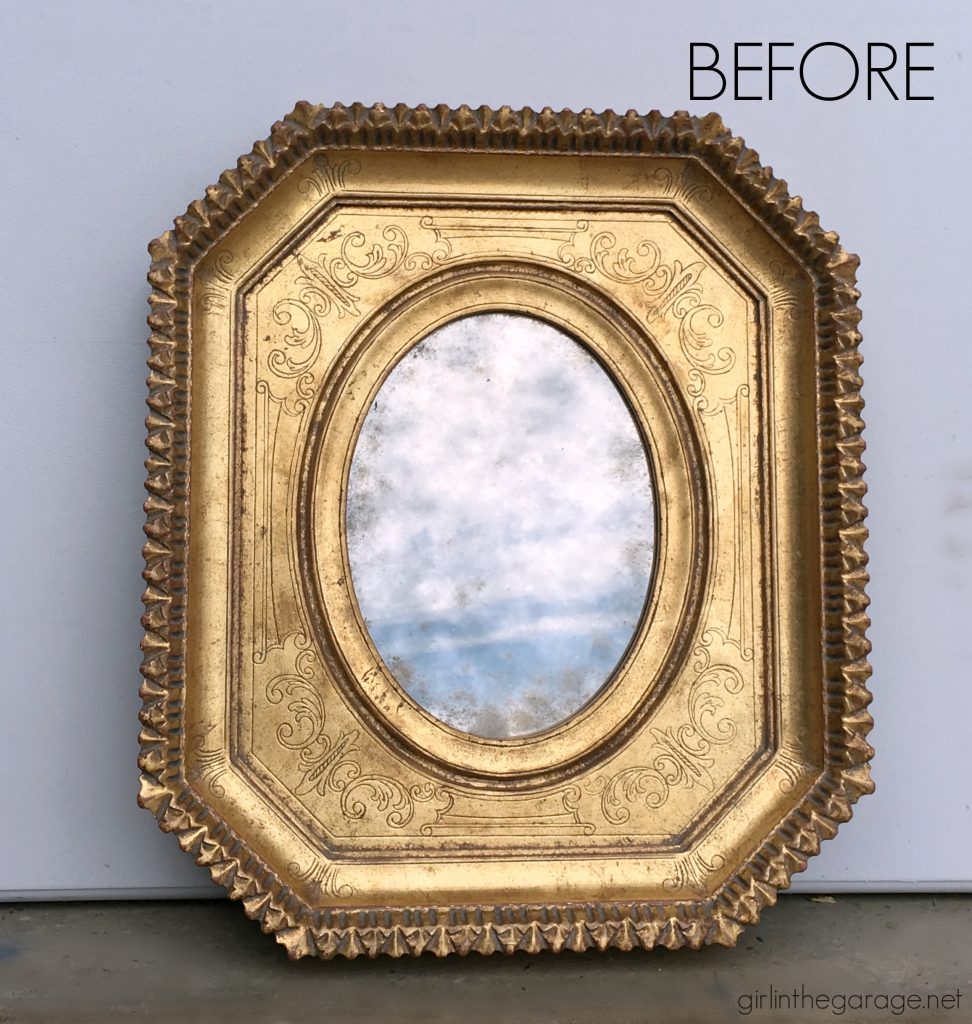 **This post contains some affiliate links so you can easily find the products I use and recommend. Discover all my favorite DIY products and tools for doing makeovers Here.
Updating an Old Gold Mirror: Painting the Frame
My plan was to layer paint colors and do an aged, kind of French look. First I used Annie Sloan Chalk Paint in French Linen (a medium-gray color) with one of my favorite Purdy brushes.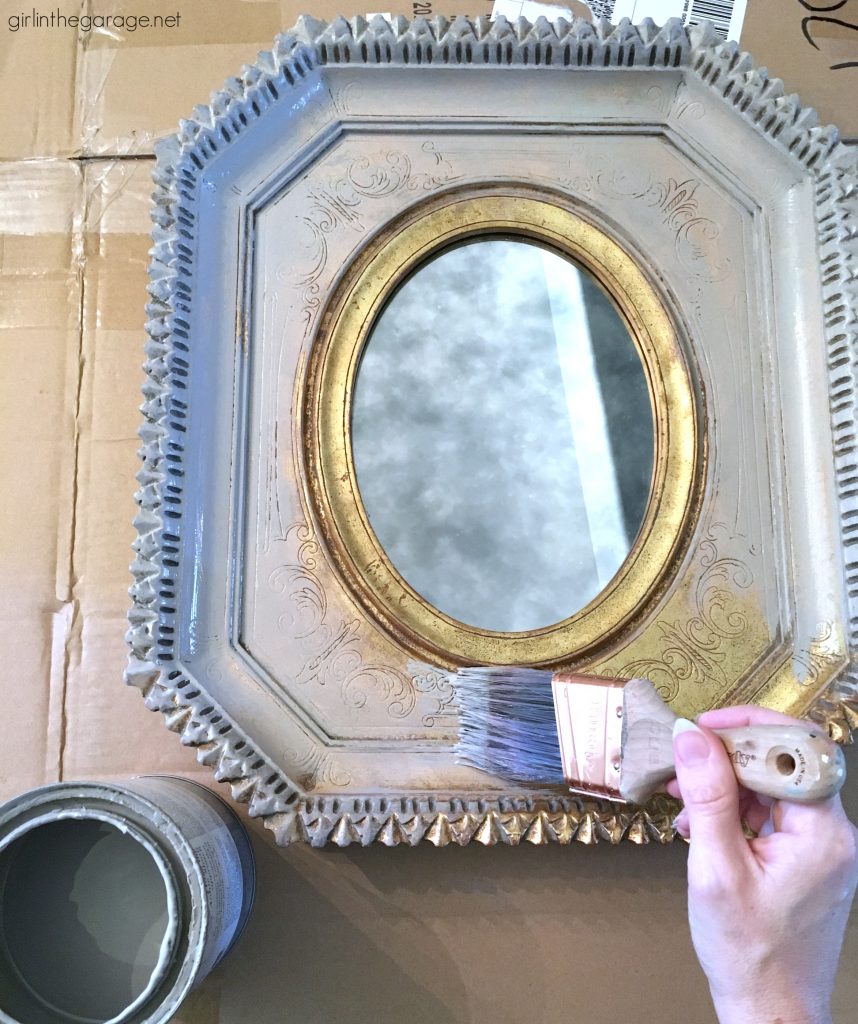 Next I brushed on some Annie Sloan Chalk Paint in Graphite for a darker layer.
You don't have to worry about getting Chalk Paint on the mirror itself because it cleans up so easily. I'll show you what I mean further down this post.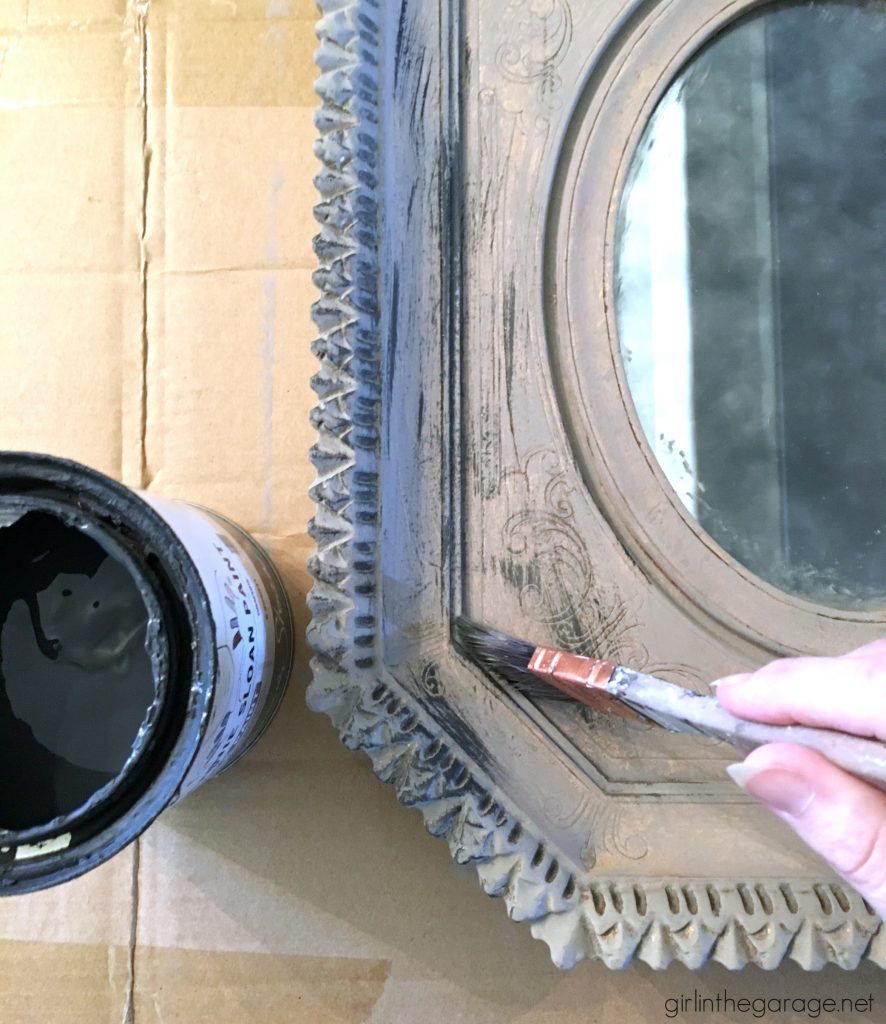 Here's the mirror below with the Graphite all brushed on… not so pretty yet. Next we'll lighten it up a lot more.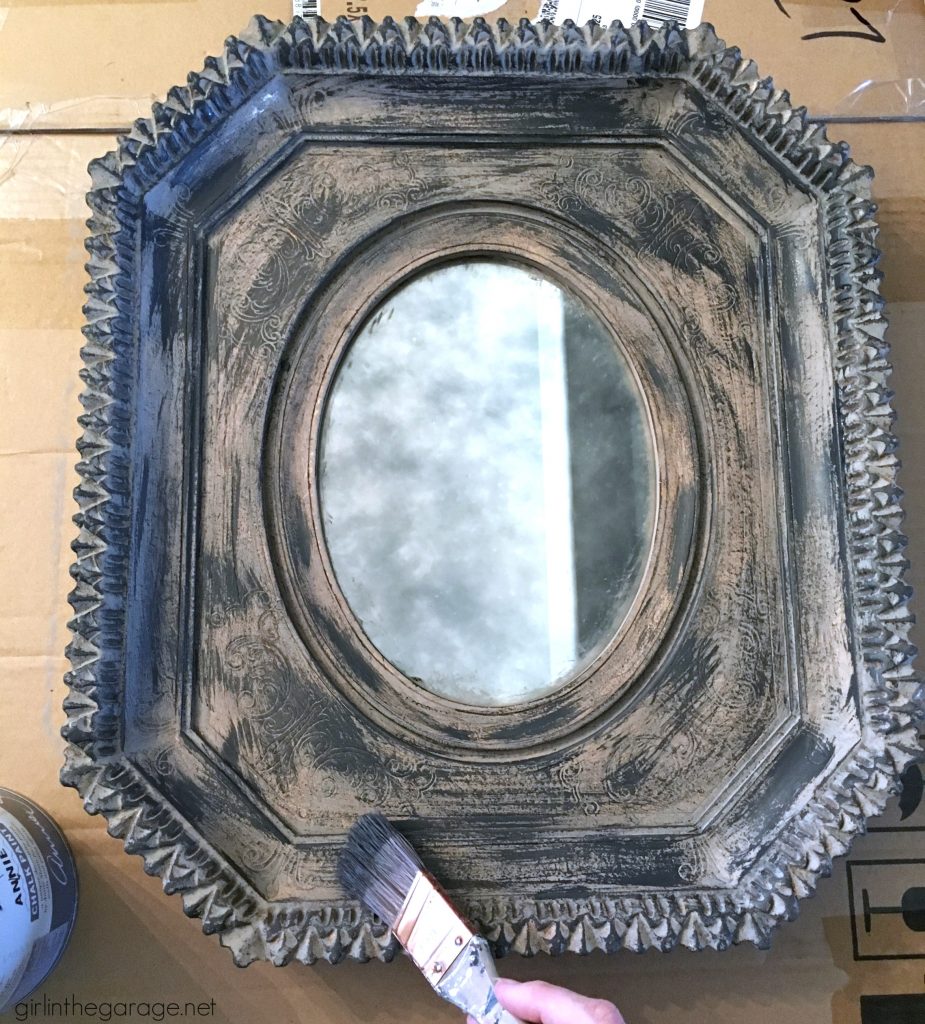 For the third color in this painted mirror makeover I used Annie Sloan Chalk Paint in Pure White. I love the neutral Chalk Paint colors because they're great for layering and distressing to get a French or farmhouse style finish that so many people (including me) love.
Here I'm using another one of my favorite Purdy brushes – I have several different sizes in my collection.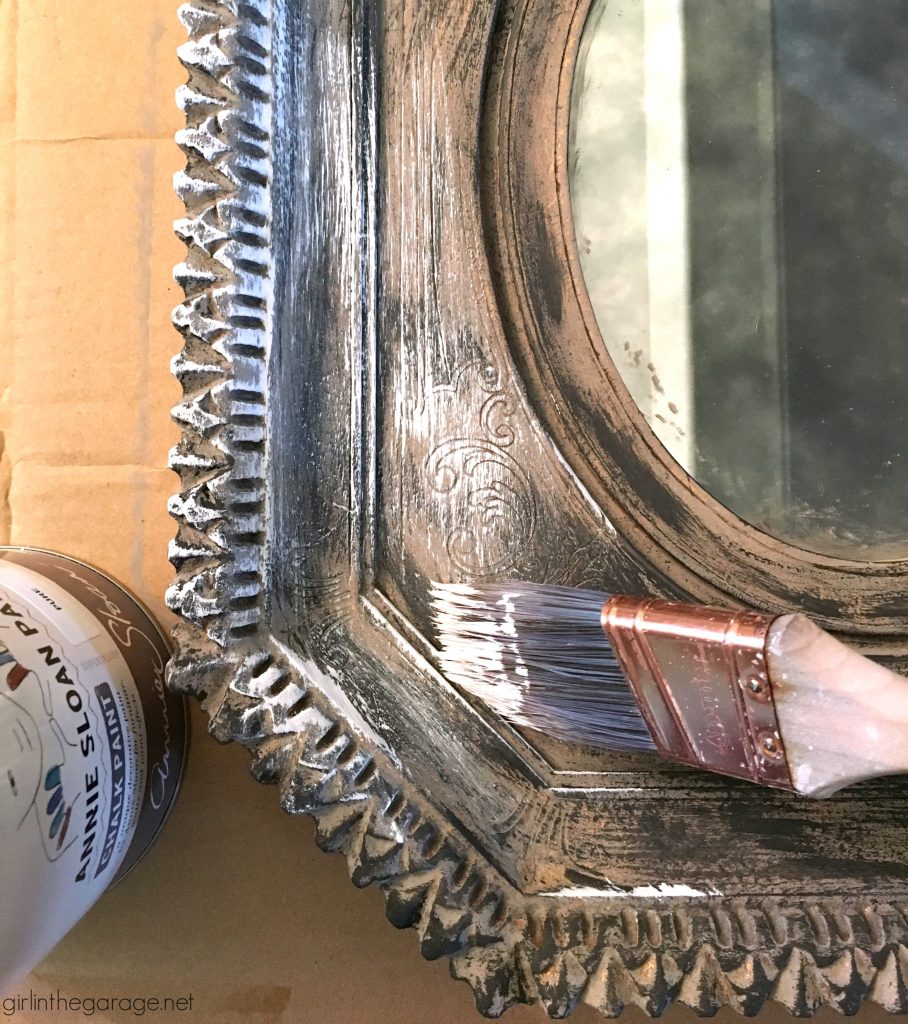 Curious about how to use Chalk Paint? All your questions are answered in this post: How to Chalk Paint Furniture: Beginner's Guide to Chalk Painting
Once the white was dry, I lightly sanded over the frame for smoothness. I used 320-grit 3M sandpaper (I always cut the big sheets into 4 smaller ones so they last longer).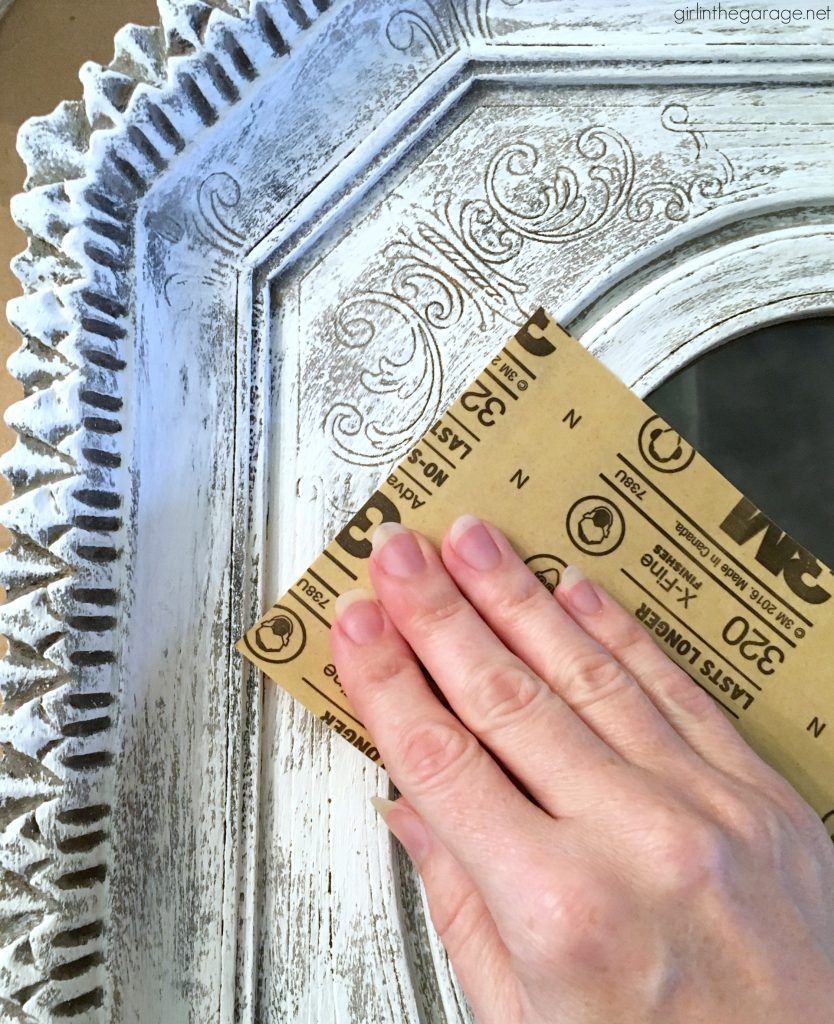 Now it's time to clean up the glass. All I did was use a damp paper towel and gently rub away the paint. Below you can see where the paint is gone on the left side of the mirror and it's still there on the right side.
It only took 1-2 minutes to clean up the dried Chalk Paint. With some other paint brands you'll definitely have more trouble getting the paint off the glass.
**BONUS: INSIDE THIS POST IS A VIDEO TUTORIAL OF THIS PAINTED MIRROR MAKEOVER
Adding an Image Transfer to Glass
I've used image transfers many times on wood furniture and decor, but never on mirror glass before. This is an inexpensive set of three small transfers by Iron Orchid Designs that are intended for flower pots, but they're the perfect size for jewelry boxes and wooden totes too.
Learn more about adding rub-on image transfers to furniture Here and to smaller storage boxes Here.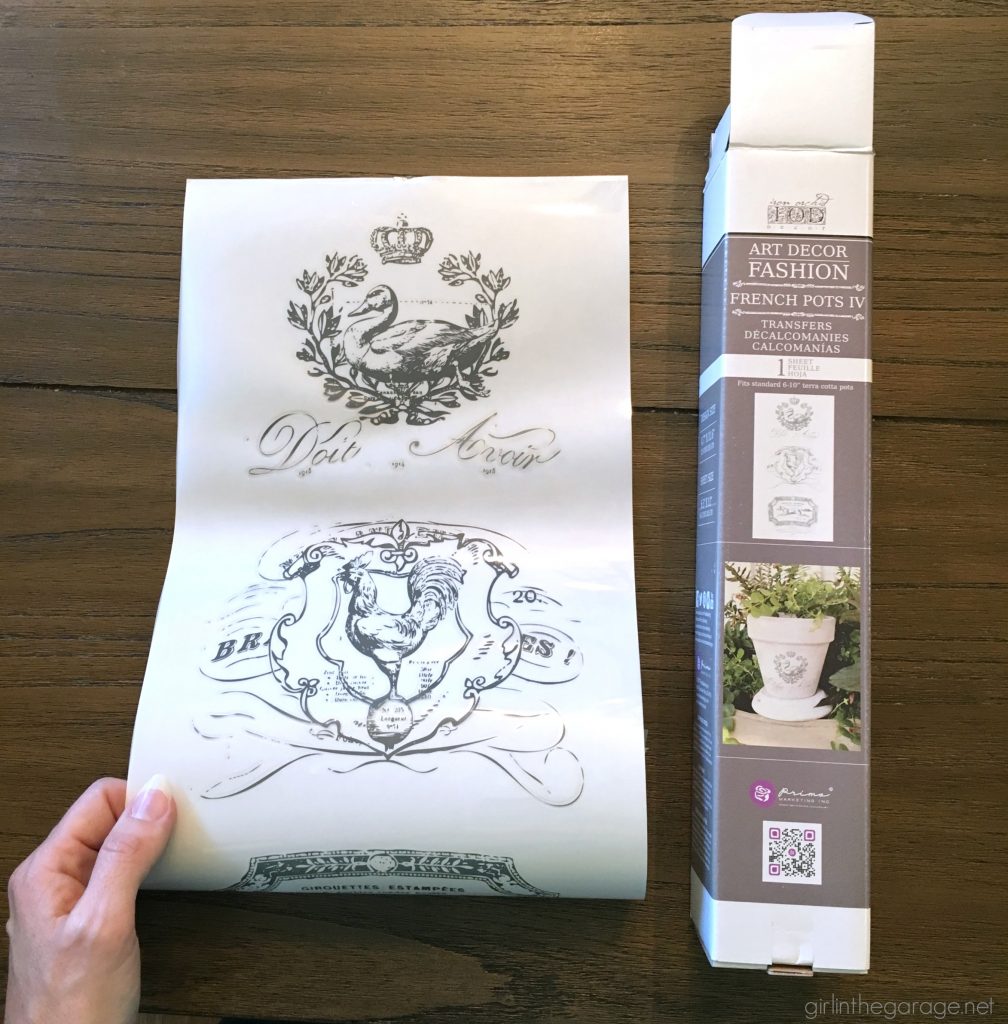 I cut out the top image from the set and made sure it would fit onto the center part of the mirror.
Once you've decided where you want the transfer to go, remove the paper backing and very very carefully lay the transfer onto the mirror.
(Honesty moment: I screwed this up on my first attempt. The transfer accidentally stuck to the mirror before I had it centered, and ended up all crooked. I had to scrape it off and start all over. GRRRR! So please heed my warning when I say be very careful when laying the transfer down.)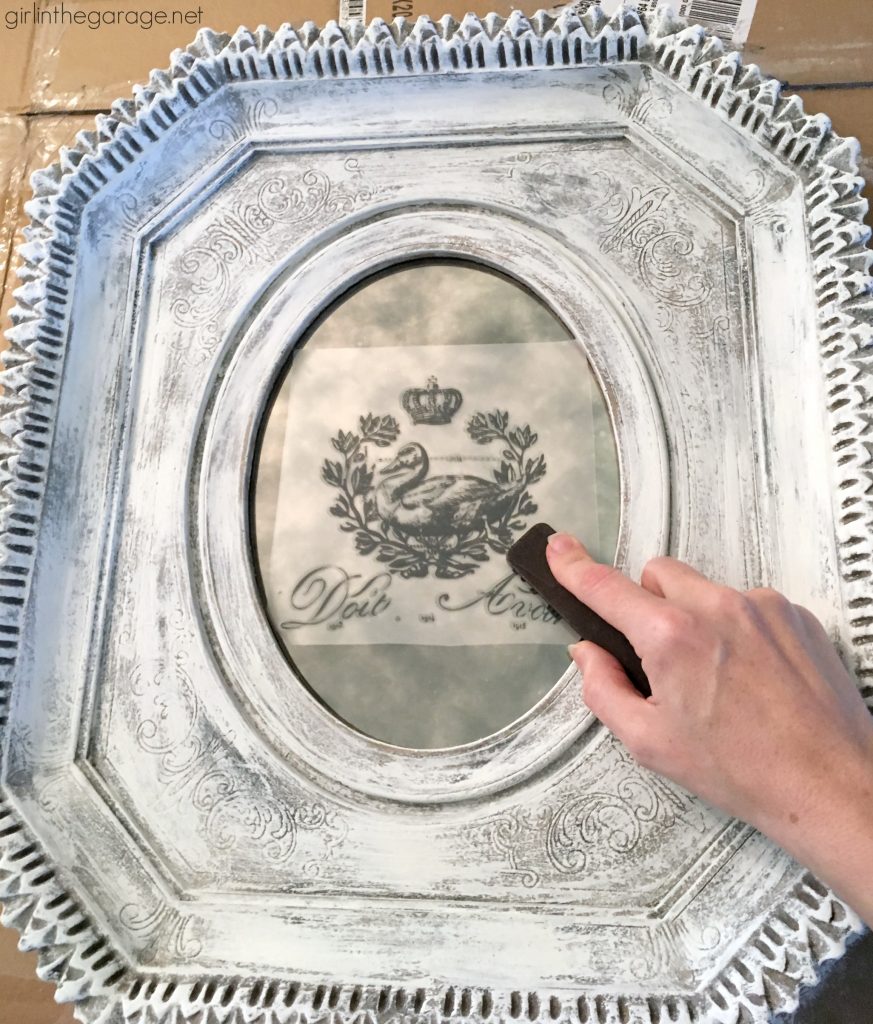 For bigger transfers, you may need to use painter's tape to hold the transfer in place. But it's not necessary when adding a small rub-on transfer to a mirror because it will start to stick fairly quickly.
Use the included wooden popsicle stick thing to rub, rub, rub over the image to transfer it onto the glass.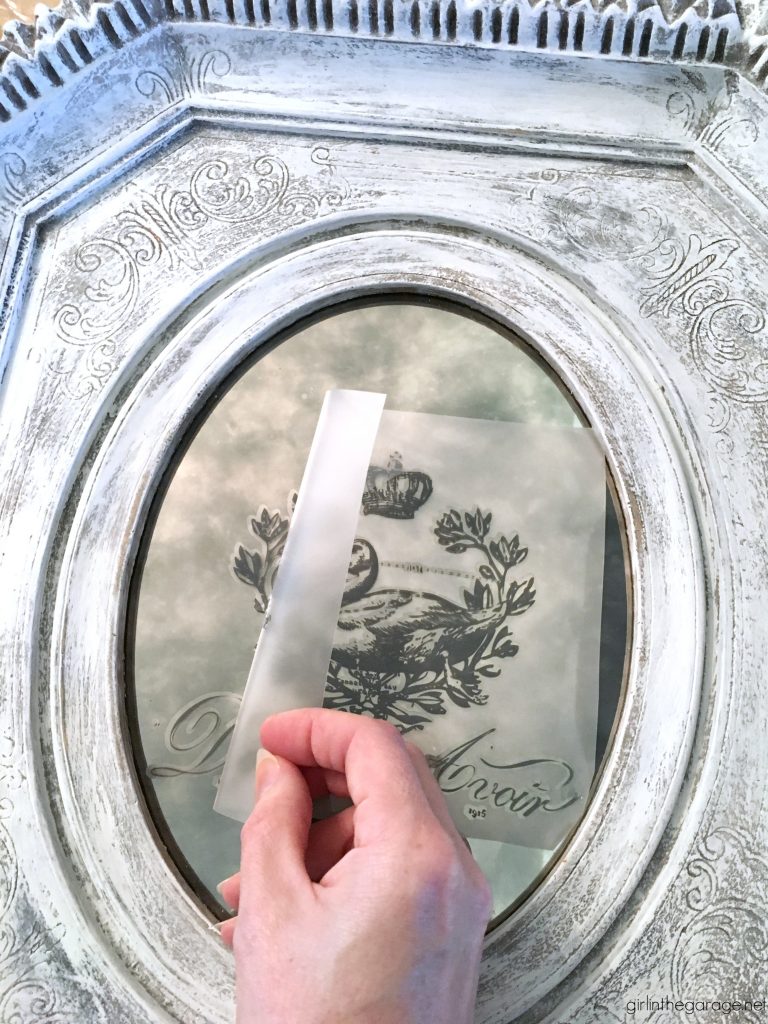 Slowly start to lift the plastic to check if the image has transferred yet. Some parts may not have stuck yet, so lay the plastic back down and continue rubbing until every part of the image is now on the mirror instead of the plastic.
Lastly I pat the image with my fingers to make sure all the edges are laying down properly.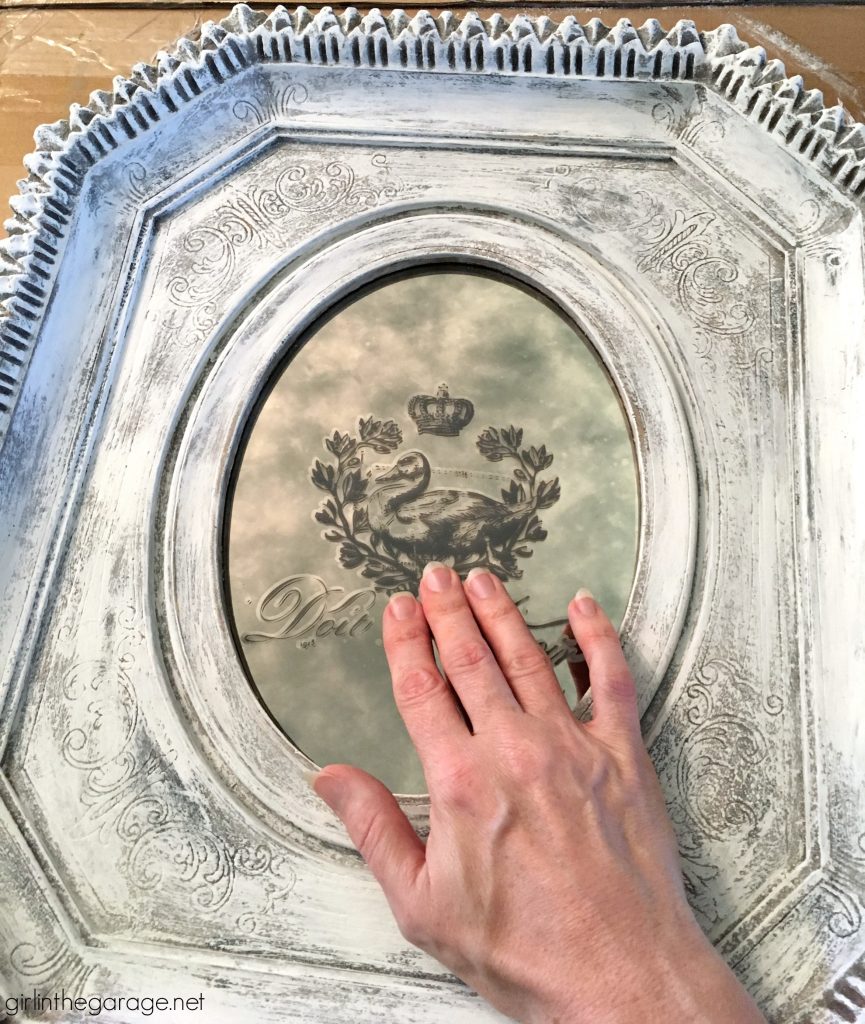 Normally on furniture you would need to seal the transfer but on a mirror you don't have to! Just be gentle when cleaning or dusting.
Painted Mirror Makeover with Image Transfer: Results
Finally you are ready to show off your one of a kind vintage painted mirror makeover: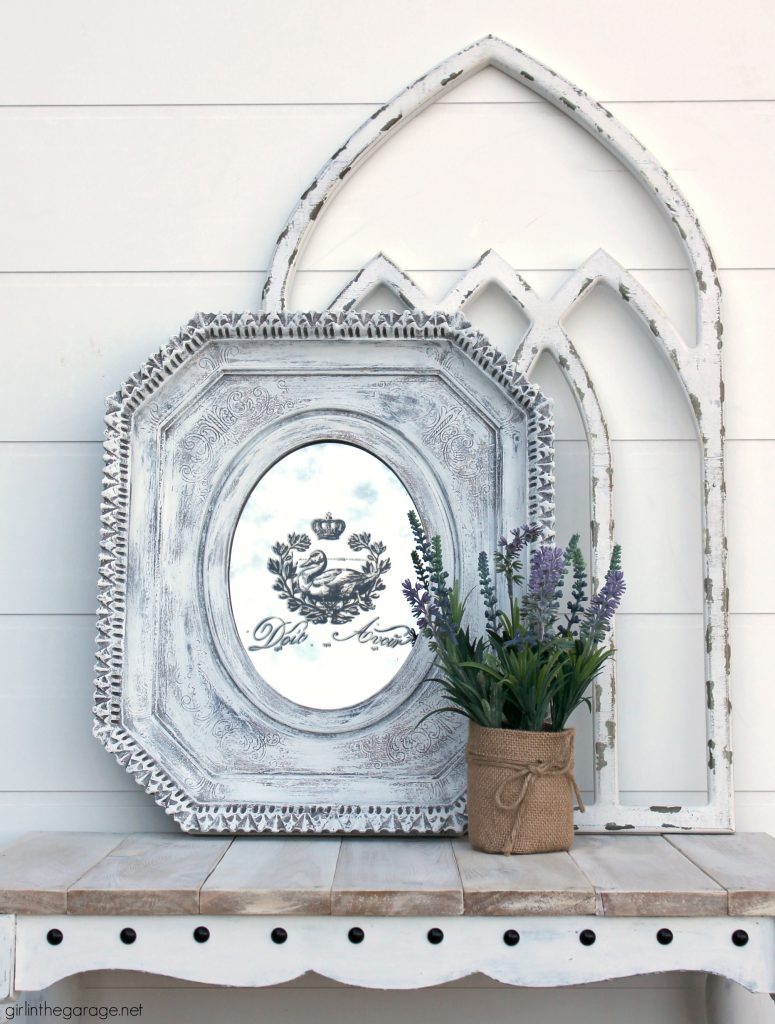 What can I say – I love how sweet this project turned out.
The details on the mirror frame look so pretty in layers of Chalk Paint instead of the gaudy outdated gold.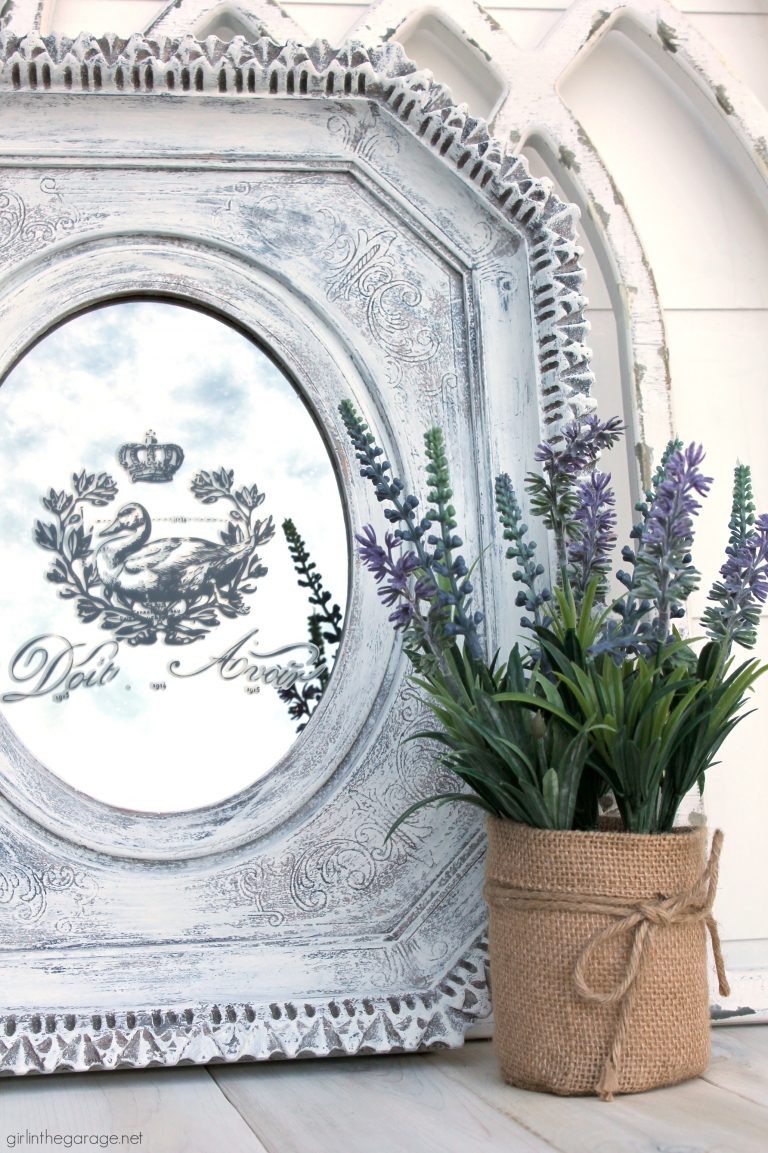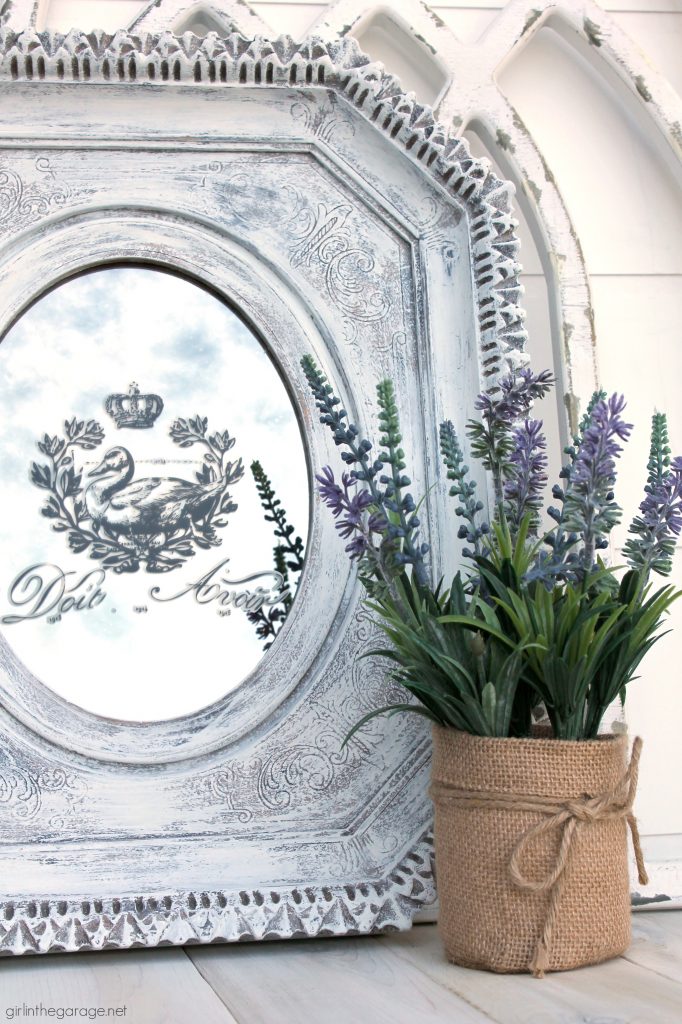 Also I love what an impact an easy rub-on image transfer like this one can make. I may be adding more of these to mirrors in the future…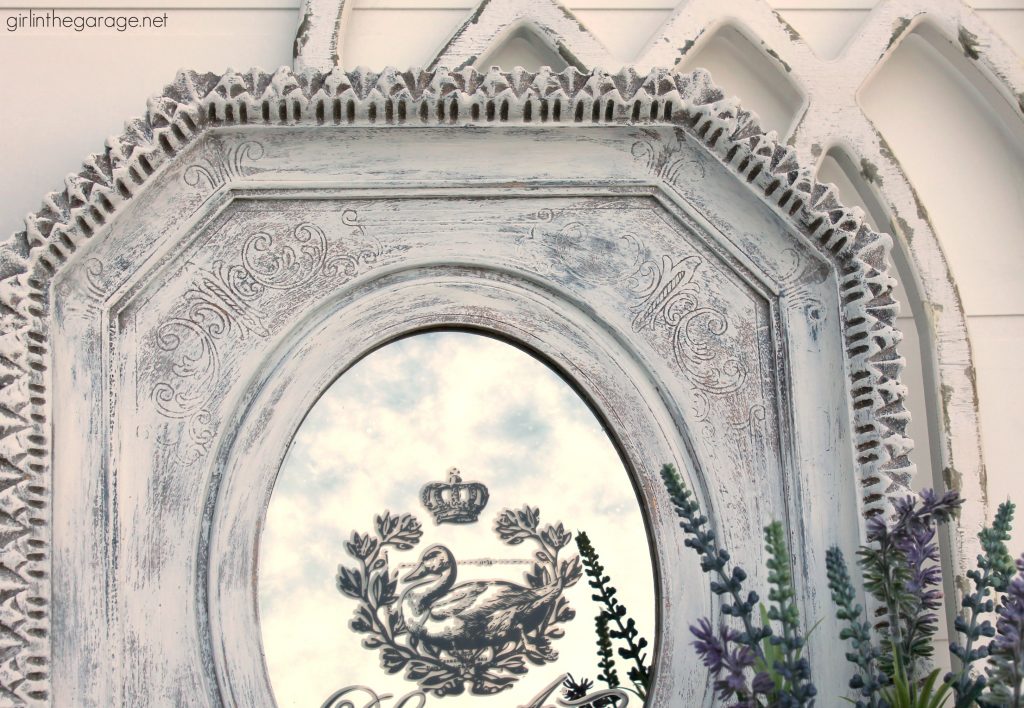 *Want more mirror makeover ideas? Click here for 12 more ways to update an old mirror.
Here's a reminder of the before and after of this easy thrifted painted mirror makeover with Chalk Paint and image transfer. Please share or Pin this project for quick access later: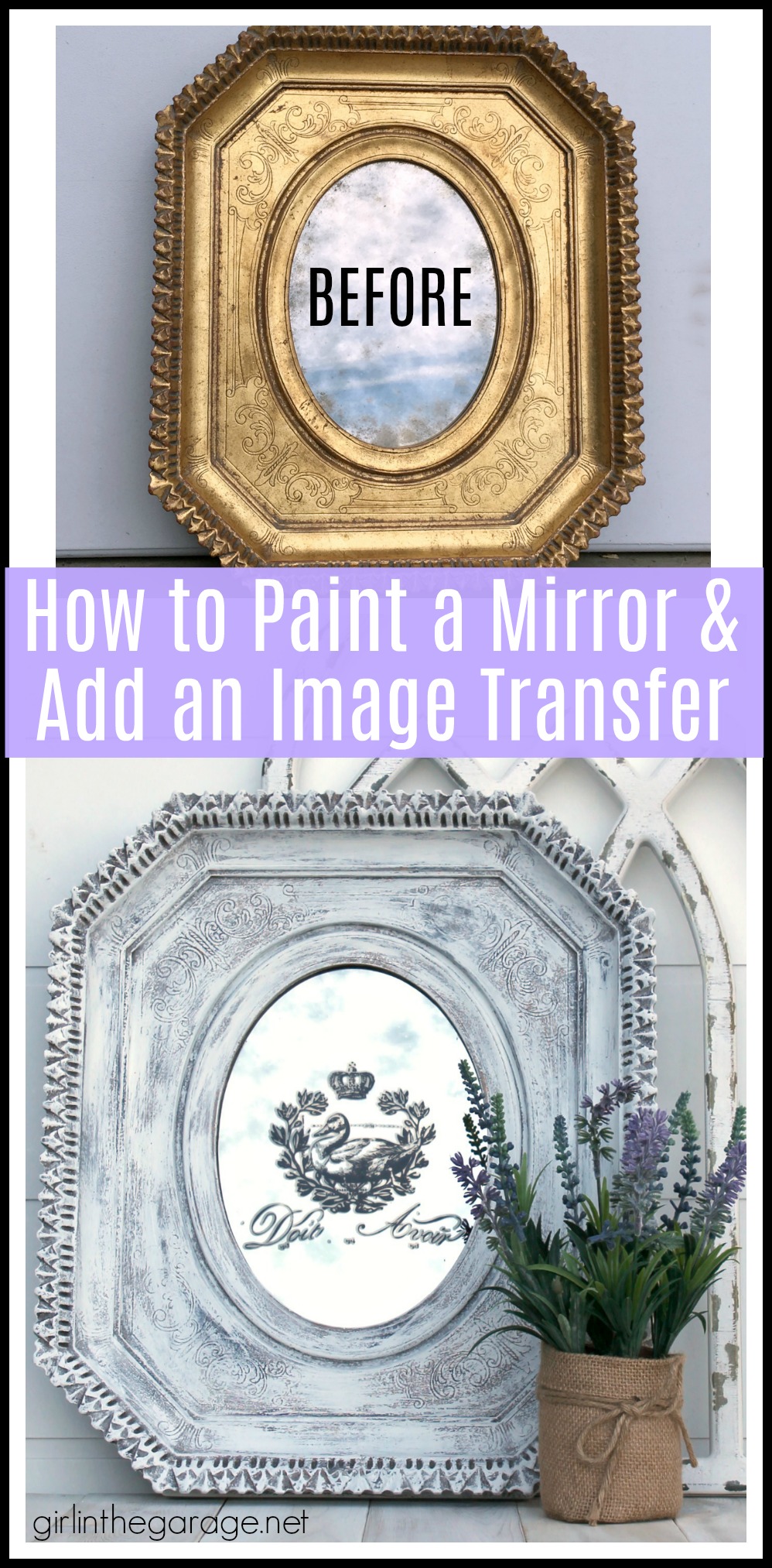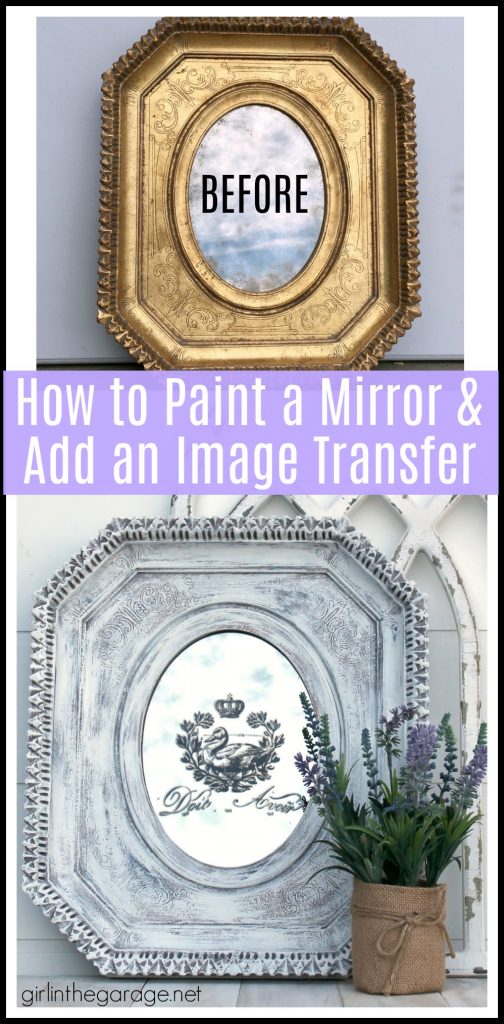 I'd love to know your thoughts and whether you've tried a mirror makeover like this before. It really is quite easy! I can't wait to make more of these projects.
Before you go – here are some more thrifty makeovers from my friends. Below are their Before photos – visit the links underneath to see the creative Afters and to learn how they did it: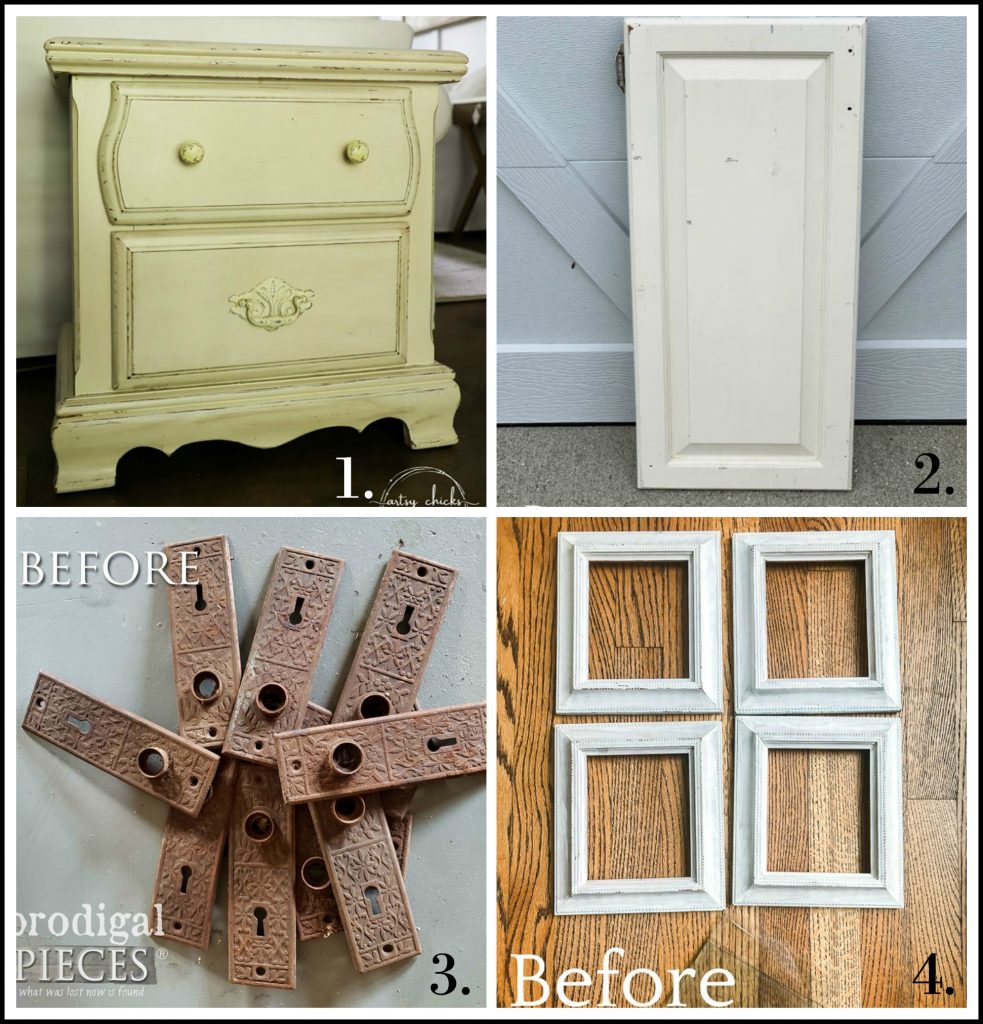 1. Artsy Chicks Rule
2. Confessions of a Serial DIYer
3. Prodigal Pieces
4. Bless'er House
You may also like these posts:
How to Add Rub-On Transfers to Furniture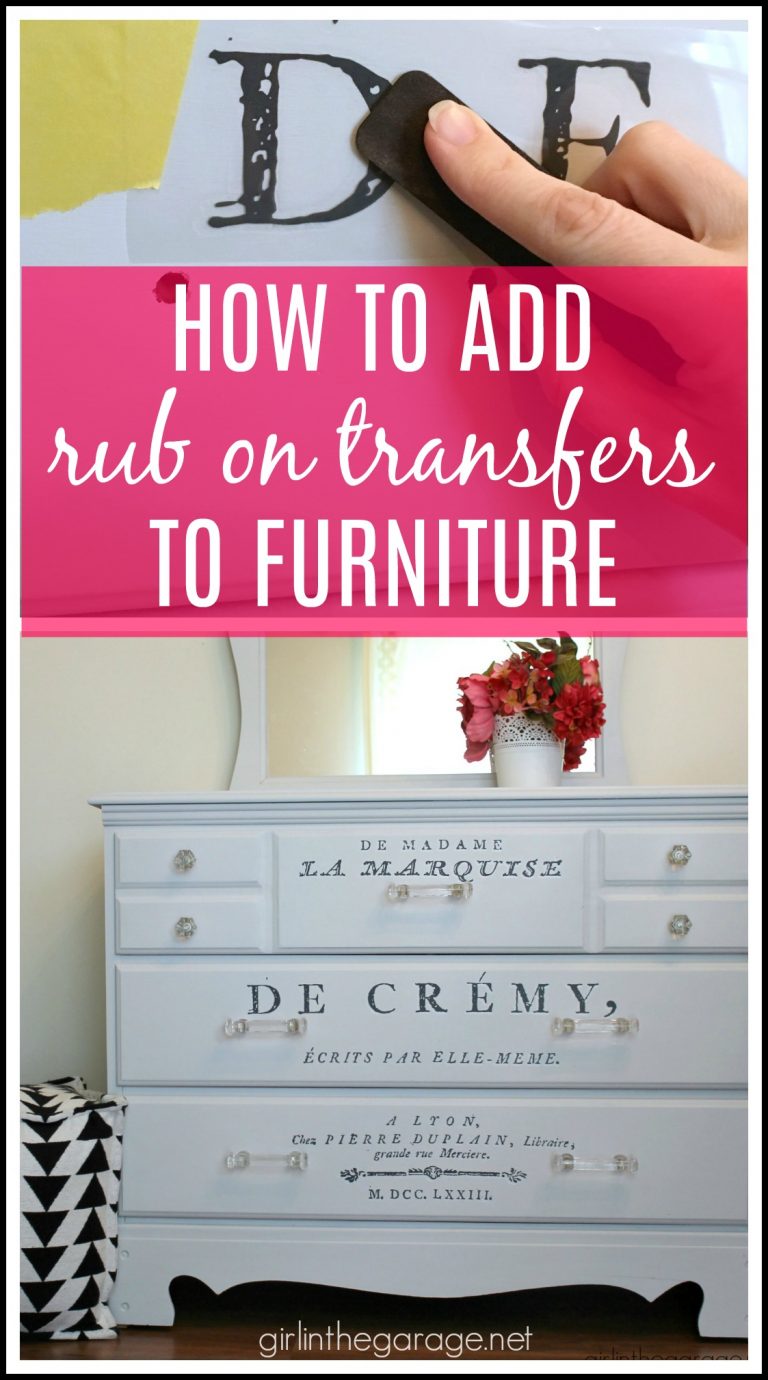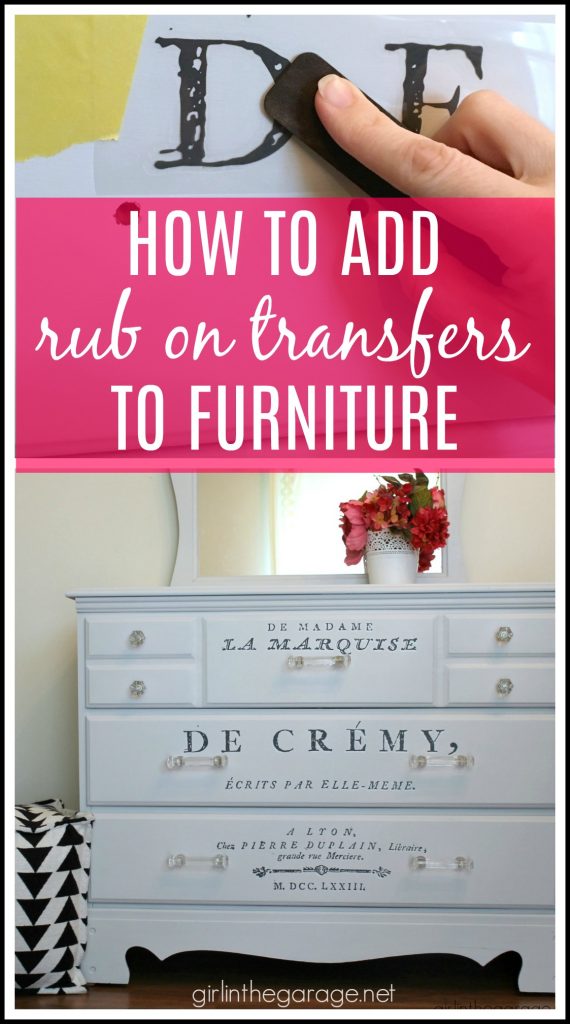 Easy Yet Stunning Ideas to Paint Mirror Frames (below)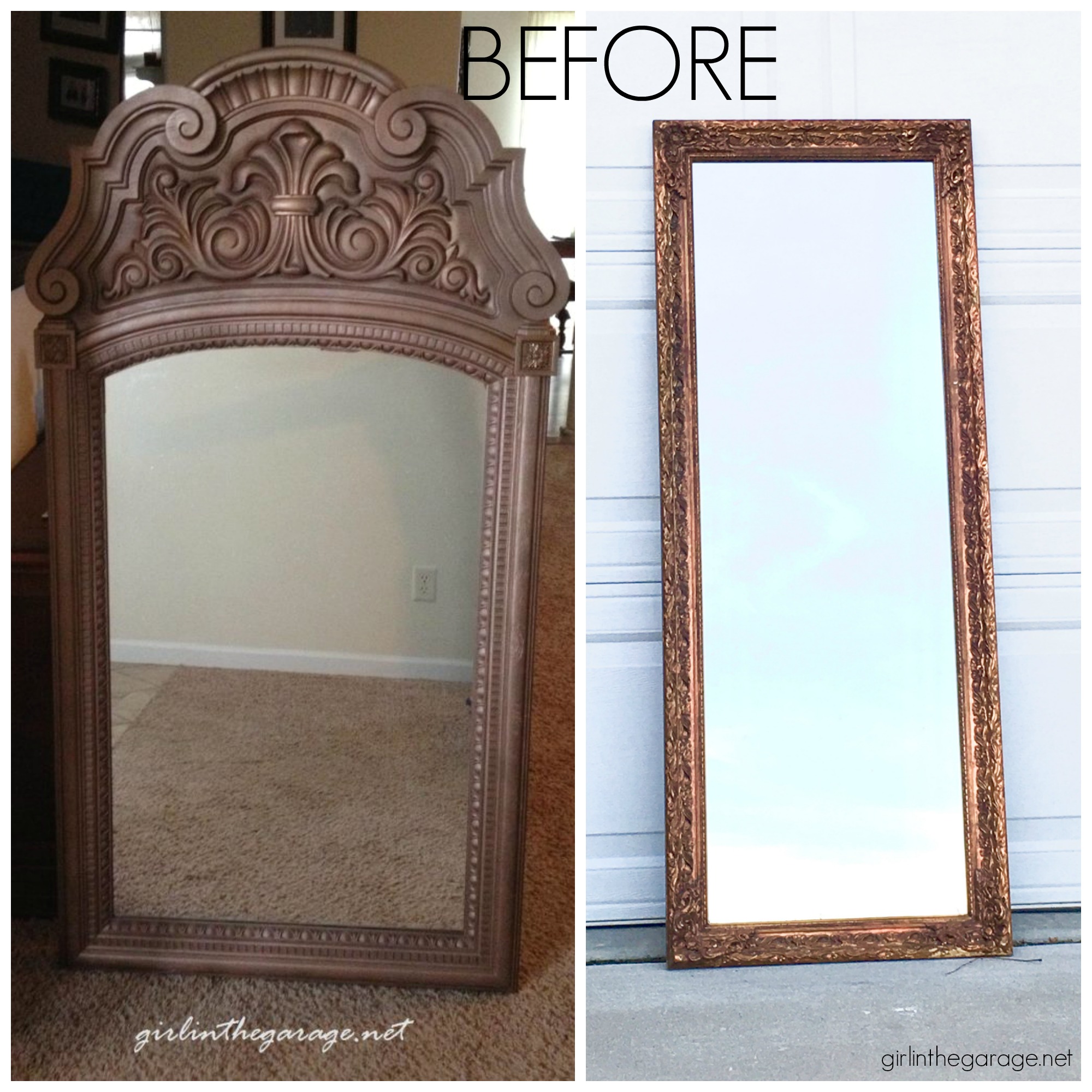 Did you know?? My book Amazing Furniture Makeovers: Easy DIY Projects to Transform Thrifted Finds into Beautiful Custom Pieces is now available worldwide. Learn step-by-step tutorials for 25 furniture makeovers that are exclusive to this book. Read hundreds of reviews Here on Amazon.