You guys, last week was such an amazing whirlwind. Thank you again for bring so incredibly supportive and amazing for the release of my book Amazing Furniture Makeovers: Easy DIY Projects to Transform Thrifted Finds into Beautiful Custom Pieces. I'm very proud of how it turned out and hope you are all inspired to go create something beautiful!
Today I have a brand new striped floral dresser makeover for Trash to Treasure Tuesday with my blogging friends. Check out this solid-wood score (that I brought home along with the Ethan Allen nightstand I recently updated):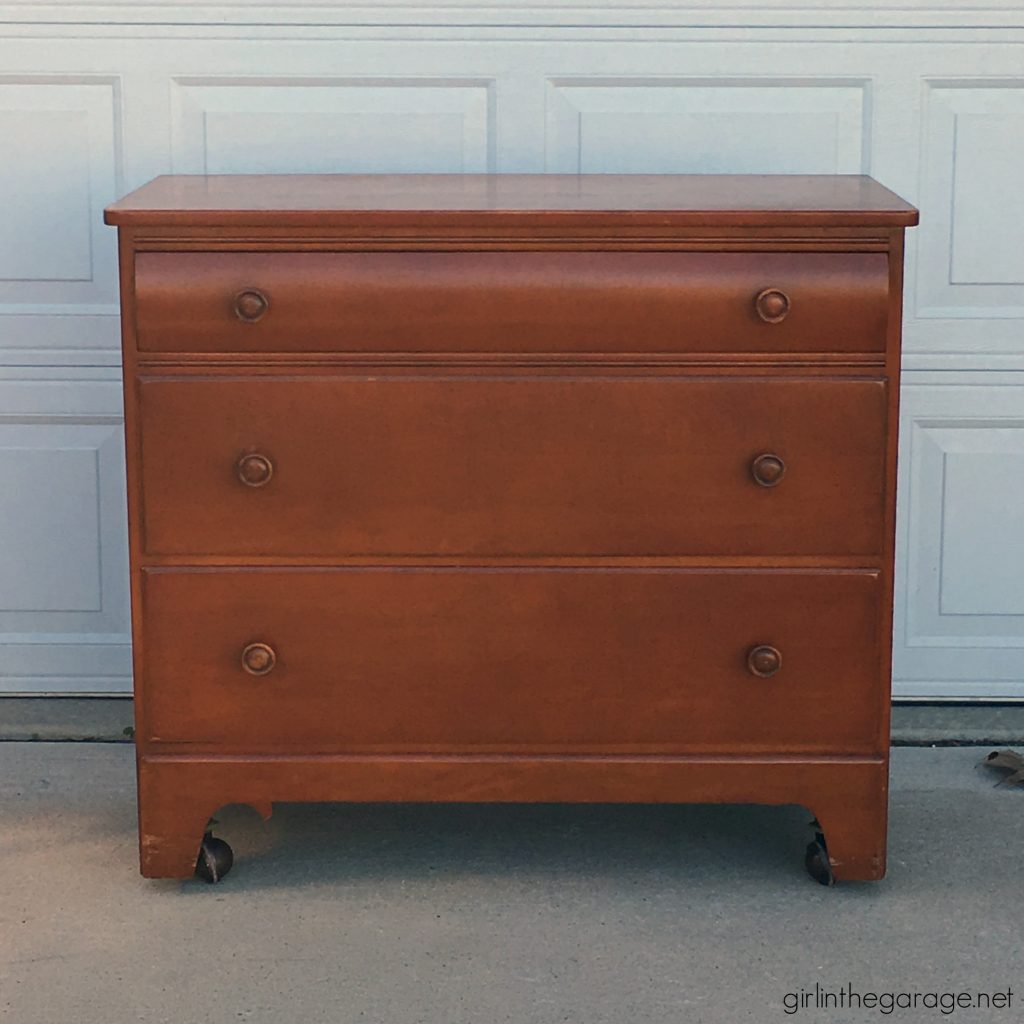 It's stamped Whitney inside the top drawer. And maybe the coolest part is that its built on these awesome casters that make moving it around so easy peasy. (Except when lifting it up over doggy gates.)
It did have a little bit of damage (see below), but nothing too serious.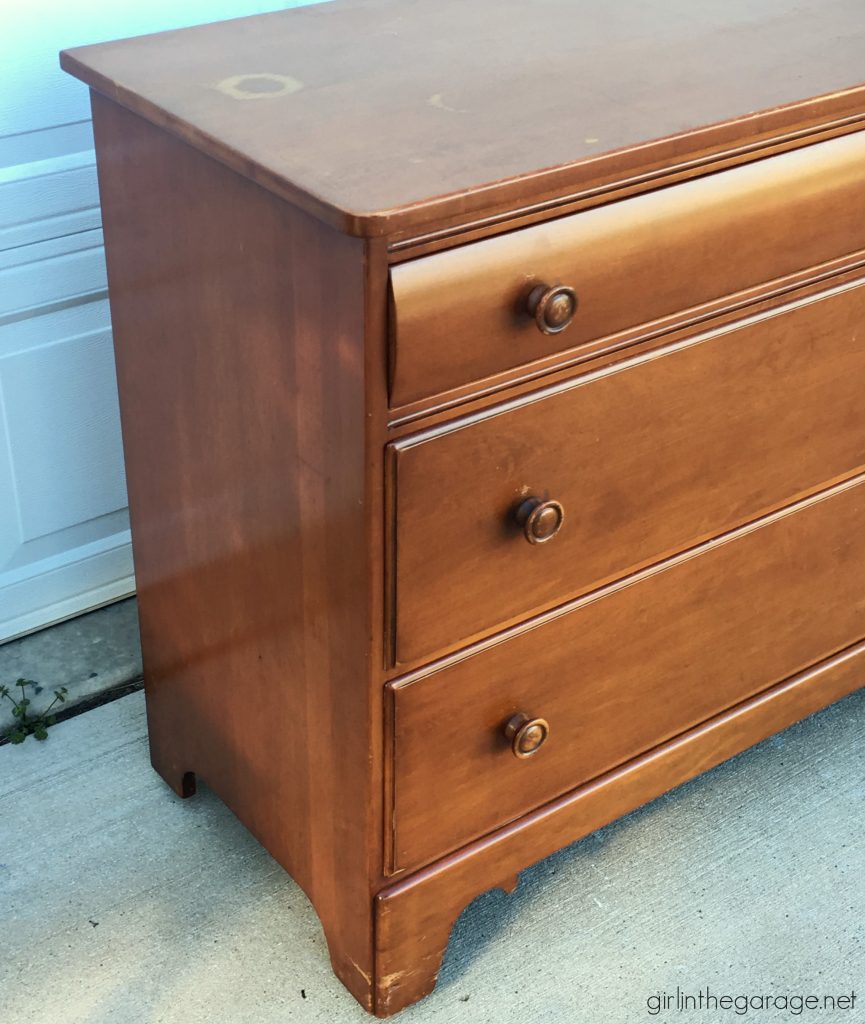 *This post contains some affiliate links so you can easily find the products I use and recommend. Learn about all of my favorite tools and brands for DIY furniture makeovers Here. Also, this post is sponsored by Country Chic Paint but all my opinions are 100% honest.
One part that needed fixed right away was that the little curved detail on the bottom was missing from the right side of the dresser.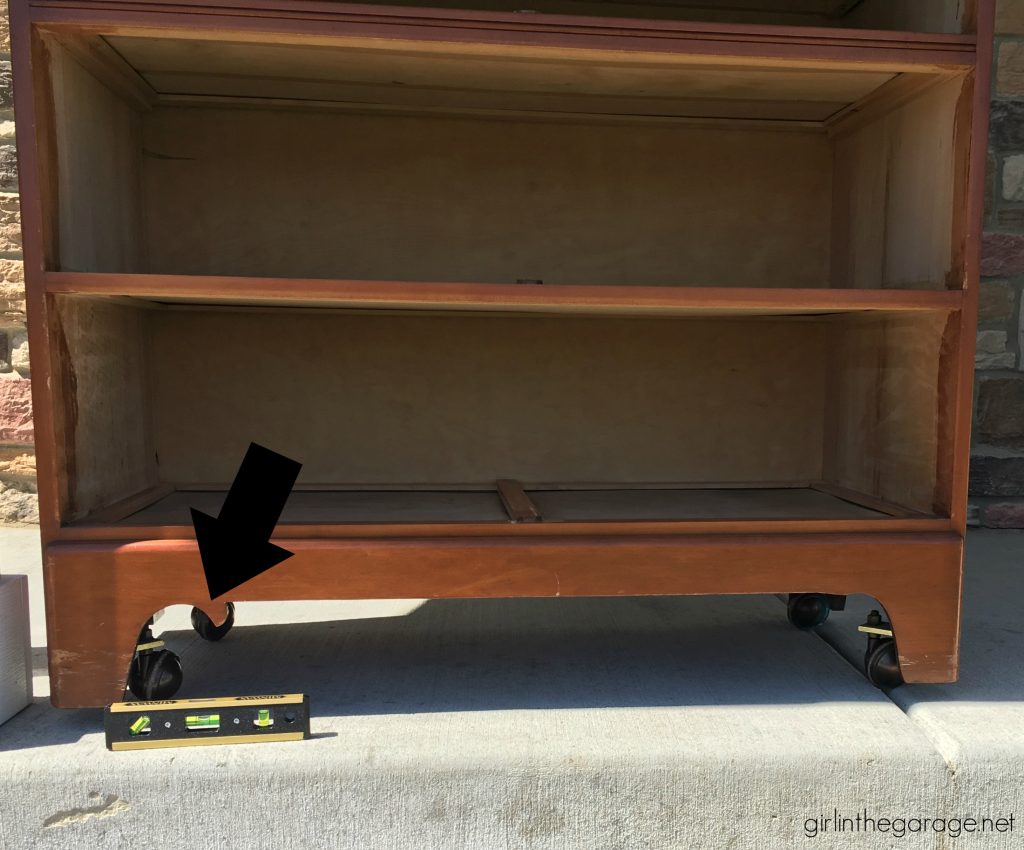 Guy in the Garage helped with this part – scoring it first with a box cutter knife and then cutting it straight across with a jig saw. (Always wear safety protection when using power tools and follow the directions for proper usage.)
Both sides were smoothed out with our random orbit sander and now they look identical.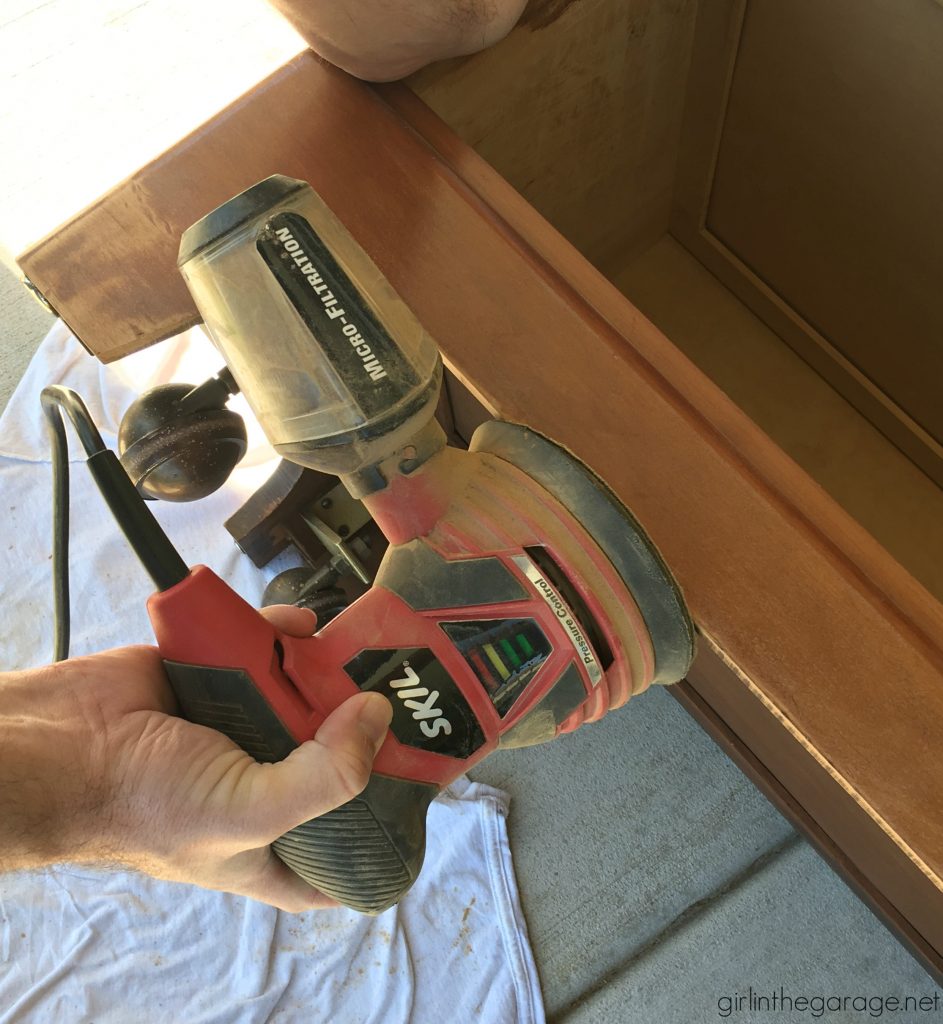 Some areas also needed touched up with my favorite wood filler.
Finally, it was time to prime.
I used a shellac-based primer because I was worried about bleed through on this piece.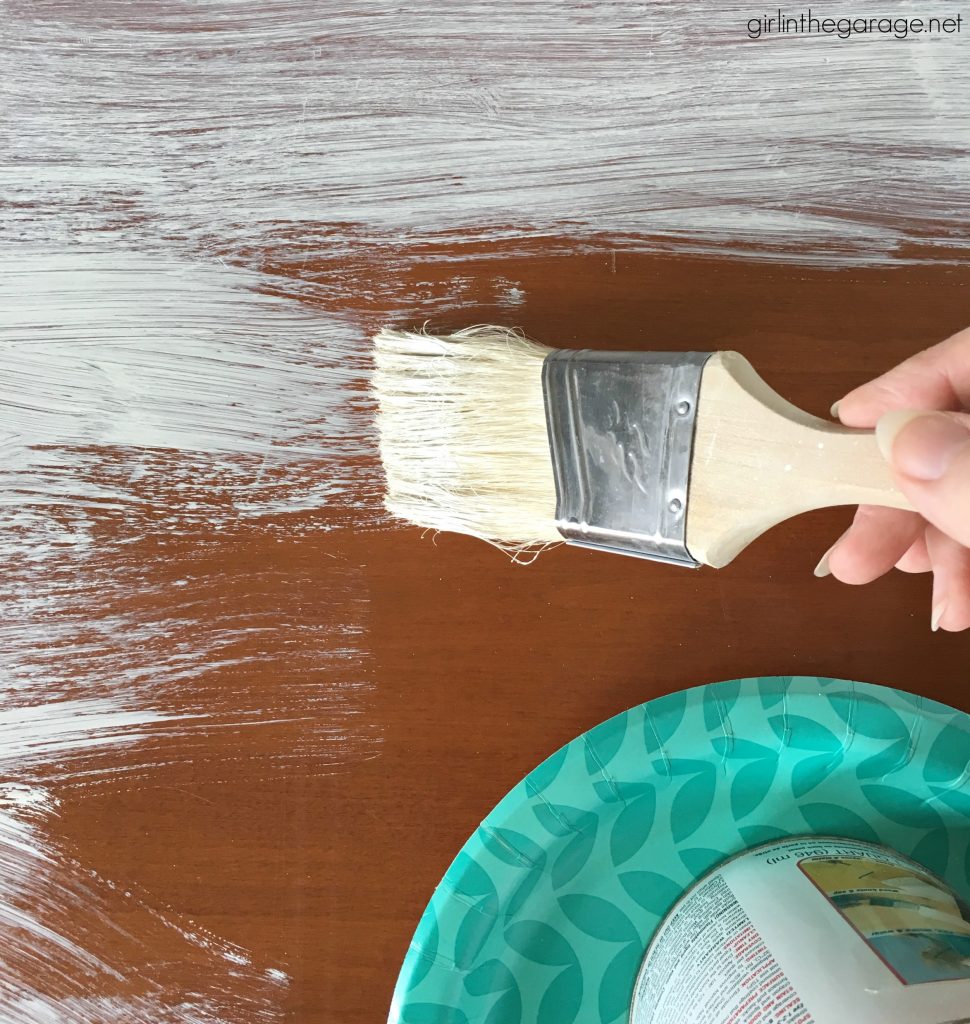 Then I got to try a new-to-me paint brand!
Country Chic Paint was kind enough to send me some of their clay-based furniture paint – I used Simplicity (white) and limited-edition Purrrfect (like cranberry) for this vintage dresser makeover. Purrrfect is part of the Furry Friends Collection, with some proceeds going to help pet owners with free veterinary care, emergency shelter, education, and more.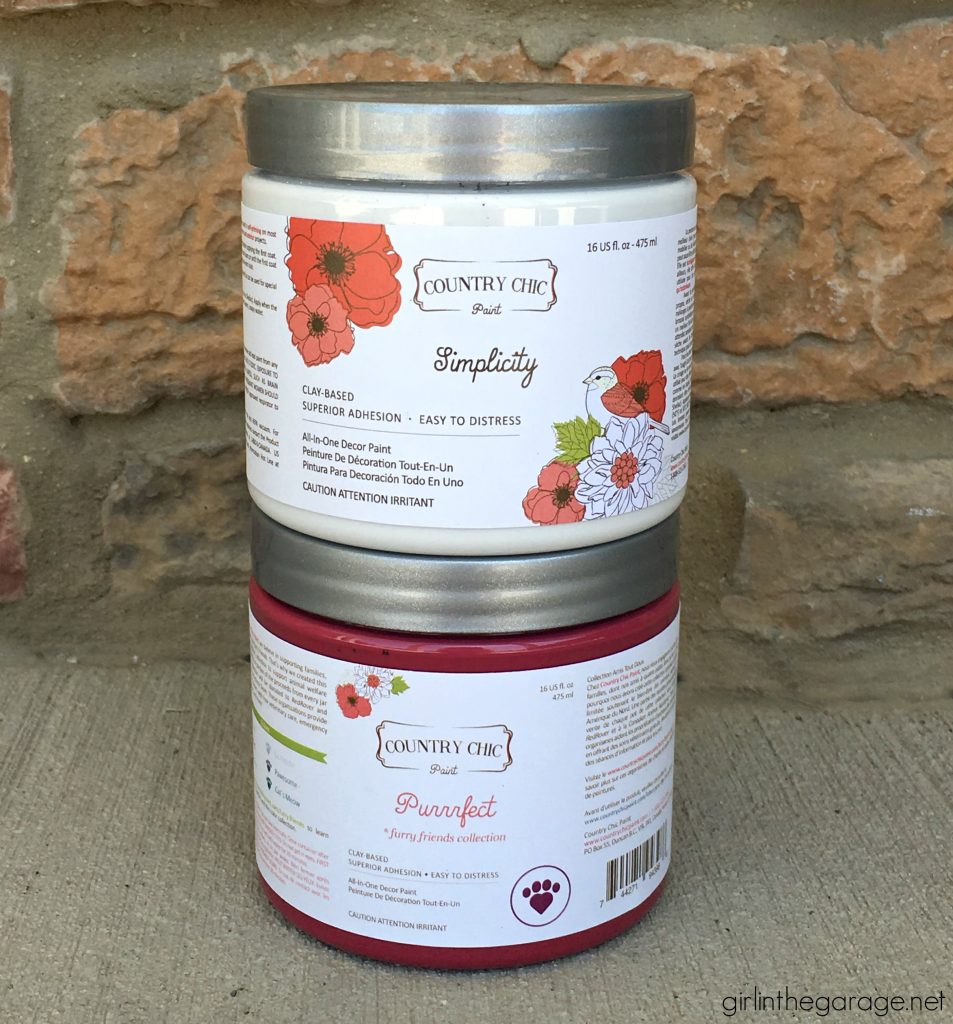 Country Chic Paint is manufactured in North America, VOC-free, and doesn't have any harsh chemical additives. (I didn't notice any bad smells, and clean up was easy!)
While painting the dresser in Simplicity, I took breaks while the coats were drying and wrapped the brush in a sandwich bag. This way I don't have to wash the brush between every single coat, and it won't dry hard. I do still wash it if I'm letting the paint dry overnight though.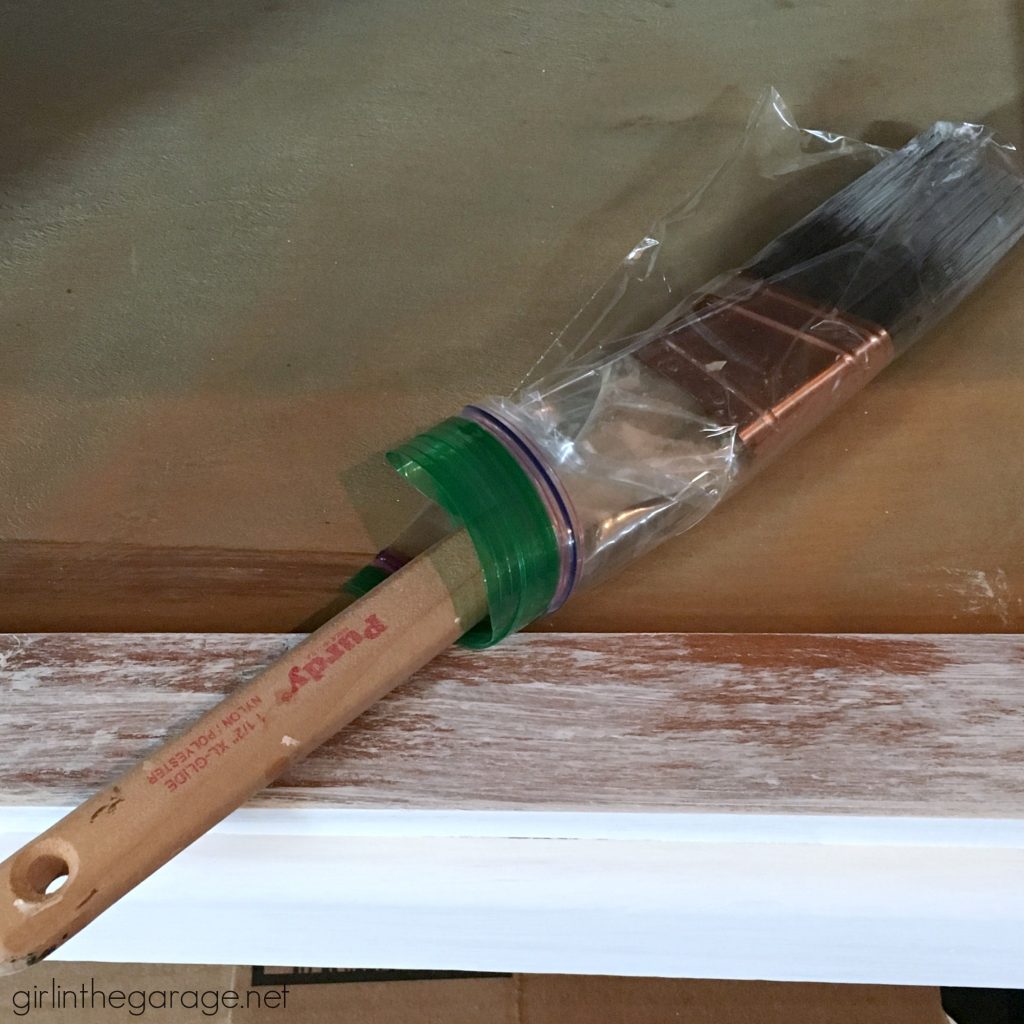 The top drawer, which is curved, got some special attention with help from Frog Tape. I centered the tape over the drawer pull holes and then eyeballed the distance between the stripes. You can measure if you want, but that takes more time. 🙂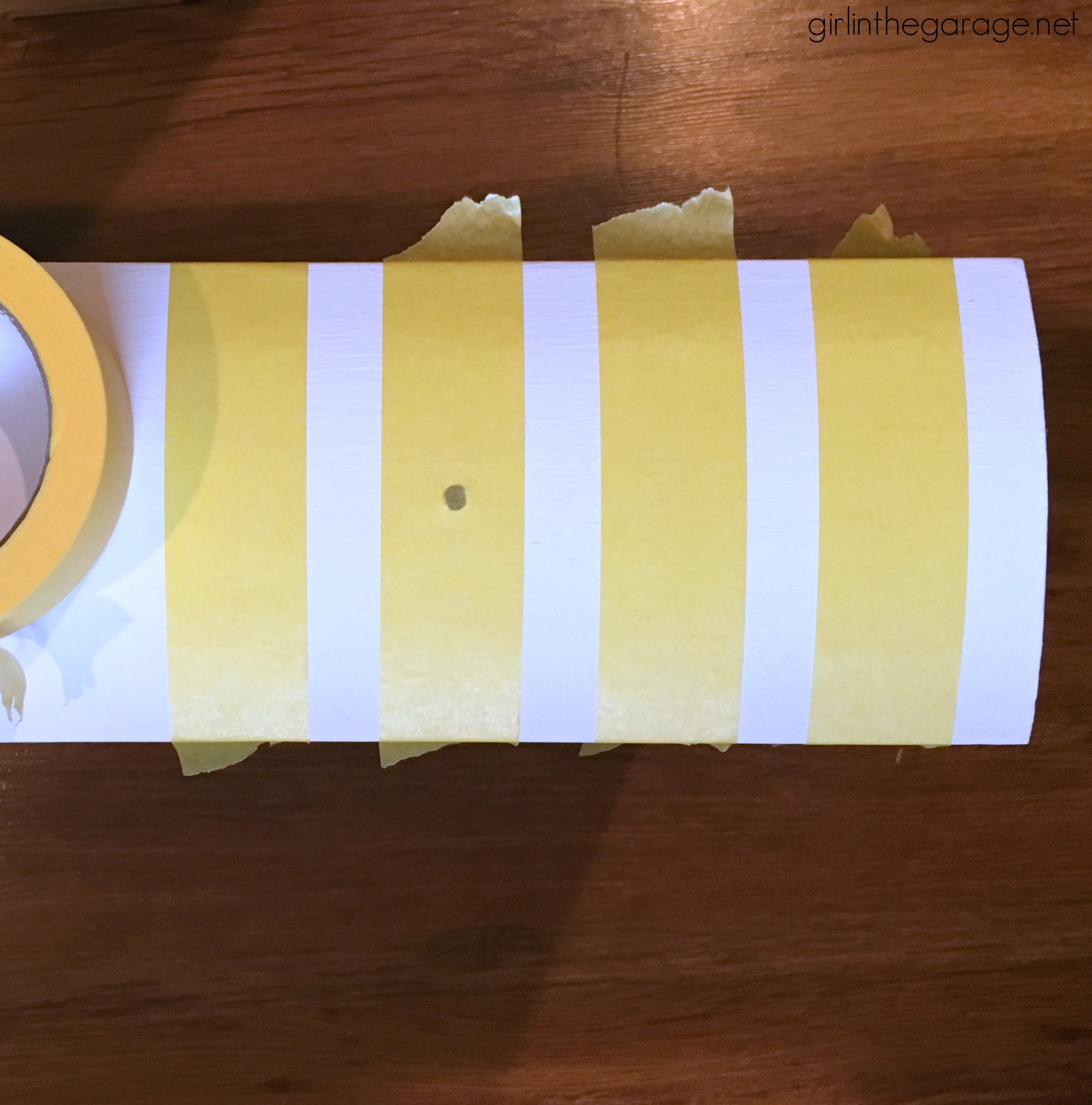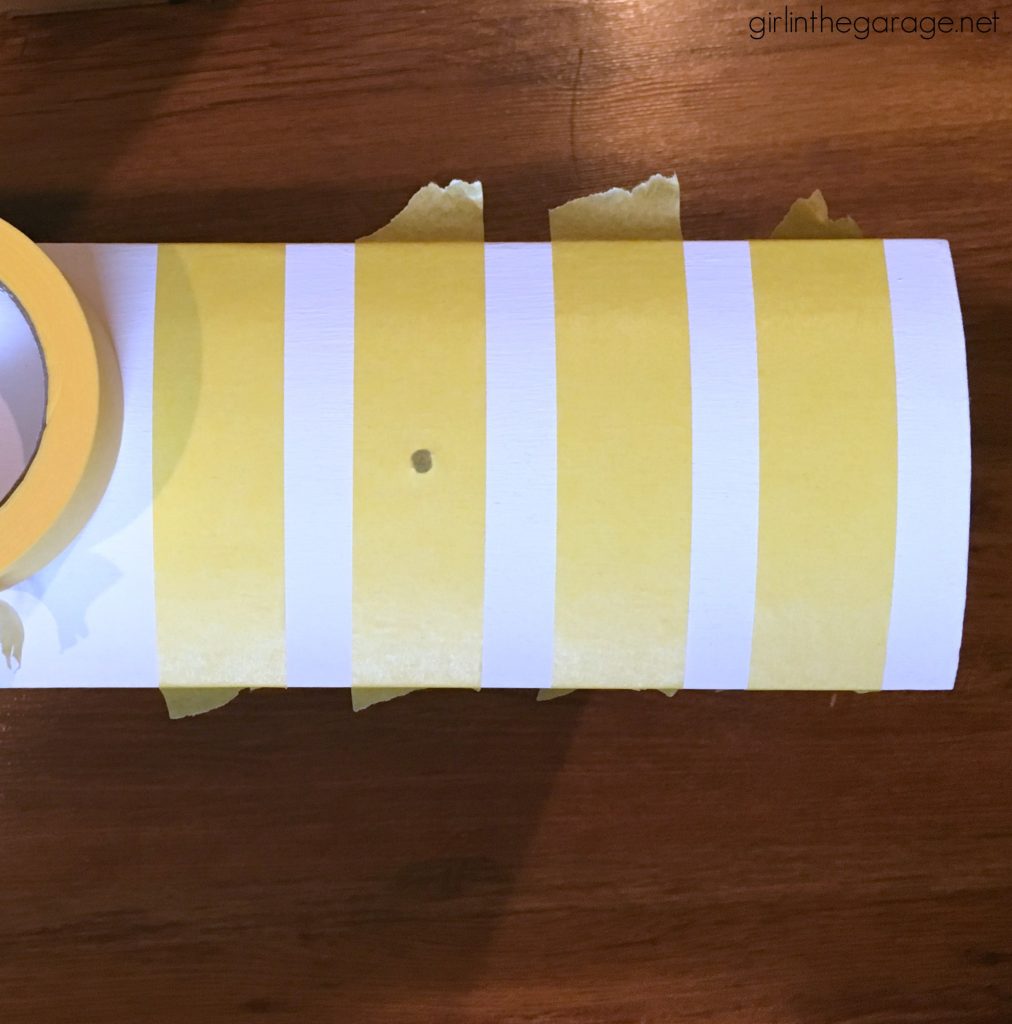 When using a paint color like cranberry or red (especially on top of white), be prepared to do several coats to get the deep rich color you want.
After the final coat, lift the Frog Tape while the paint is still slightly wet for crisp lines. If you do have little smudges, use a thin artist's brush to fix them.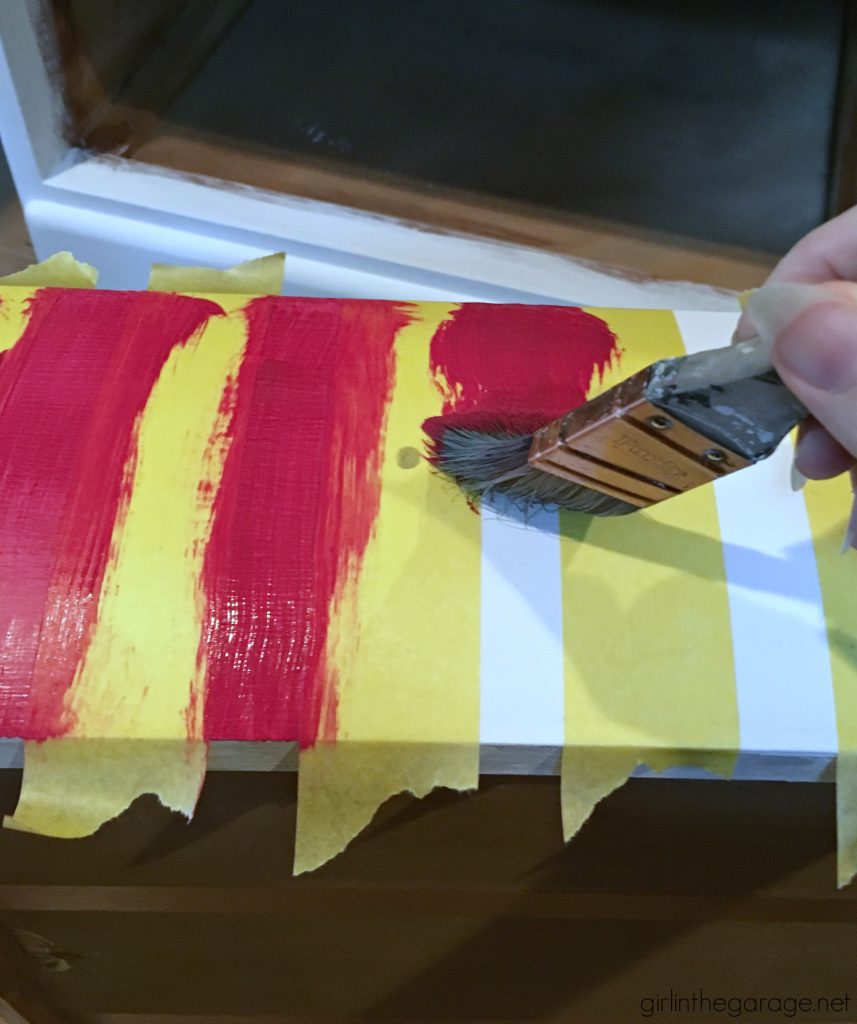 For the bottom two drawers, I used a Redesign with Prima transfer called Rose and Rouge (ordered from the wonderful Canterbury Creative on Etsy). I cut it into sections and only used a little of the entire big transfer.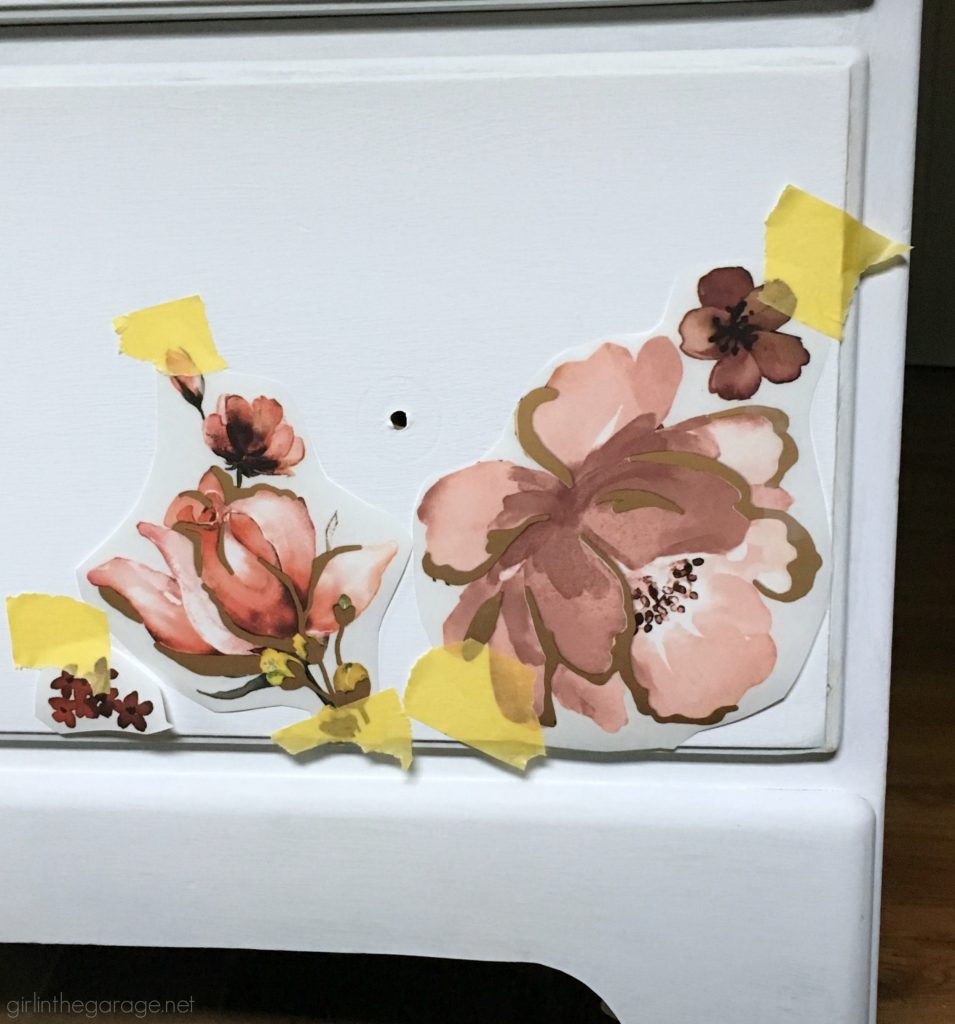 When using rub-on transfers, cut out the parts you want and tape them in place with painter's tape. Then carefully remove the white paper underneath and press the transfer down firmly. Use the included brown stick to rub repeatedly and transfer the image onto the furniture.
Be careful, removing the clear plastic slowly until everything has transferred. (Here's another dresser I used a rub-on transfer on, and there's also another project in my book.)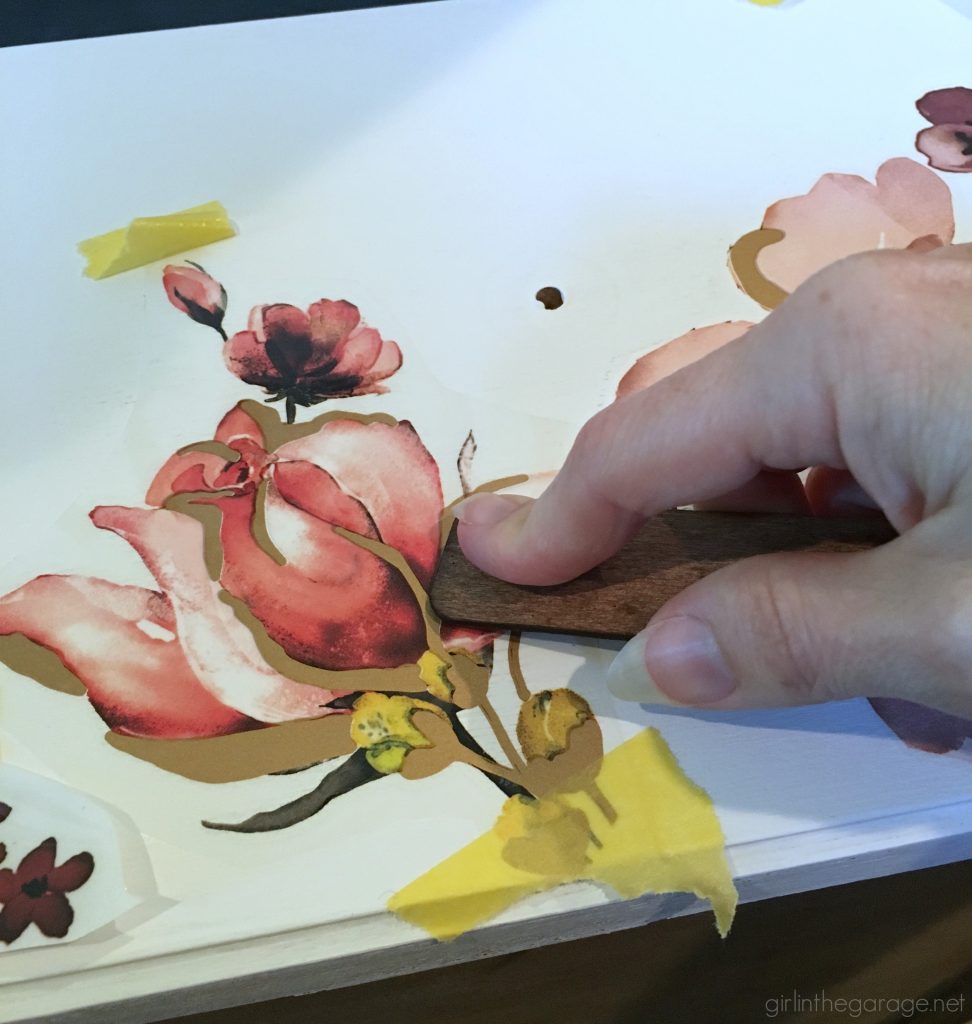 Another great thing about Country Chic Paint is that you don't have to have a topcoat!
Finally I added some beautiful glass knobs from Hobby Lobby and this striped floral dresser went from plain to chic and magnifique.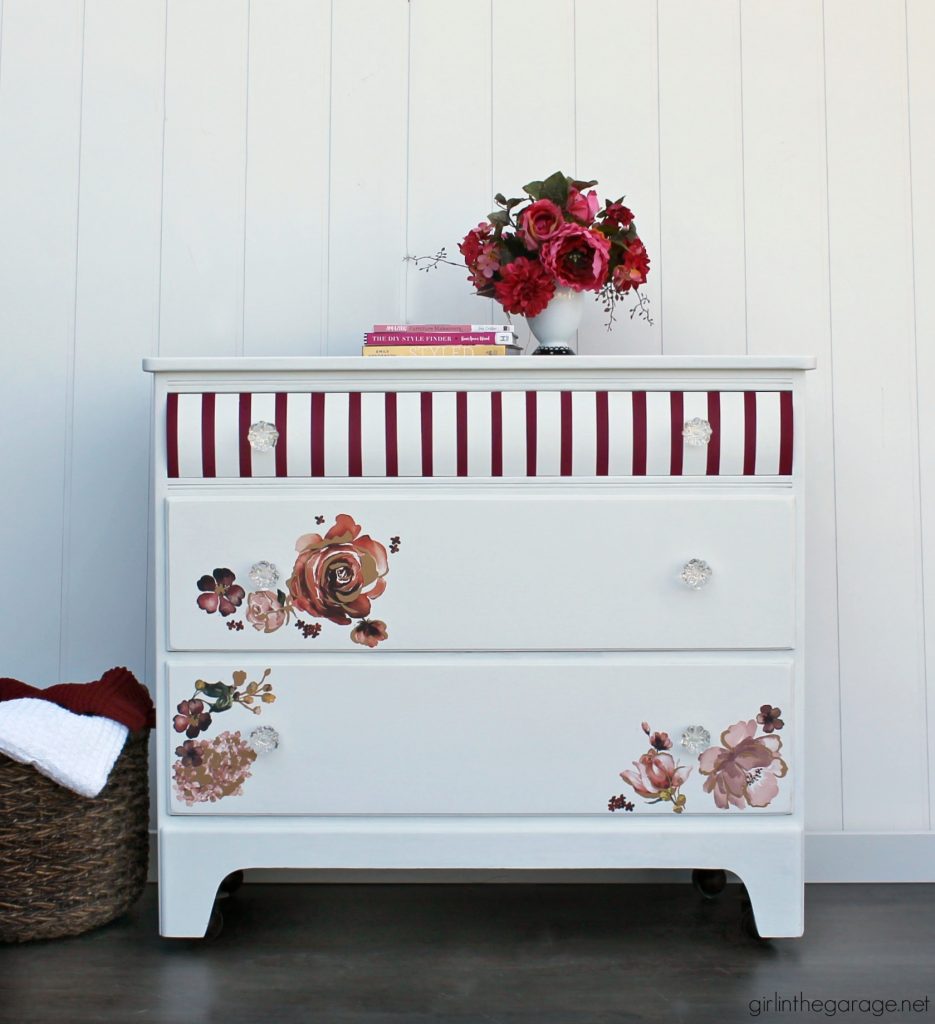 The knobs are kind of a floral design but they're flat on the front. Tres chic. 😉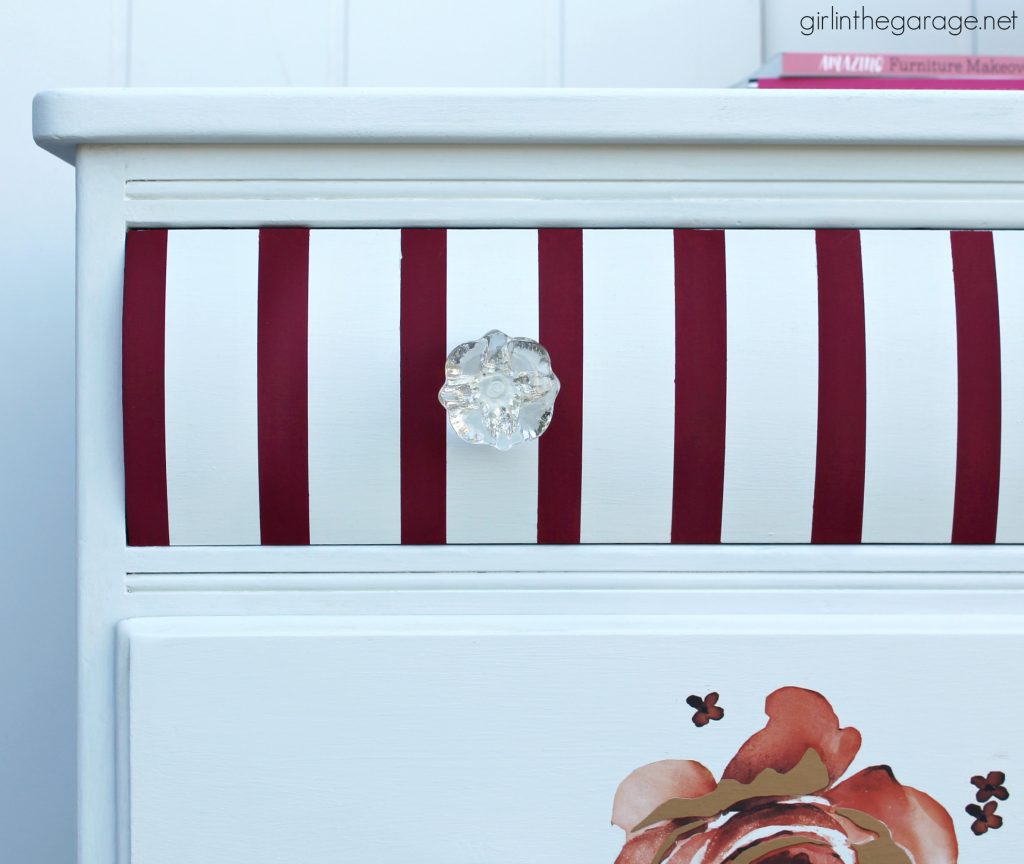 I was debating adding some stripes on the sides too – what do you think?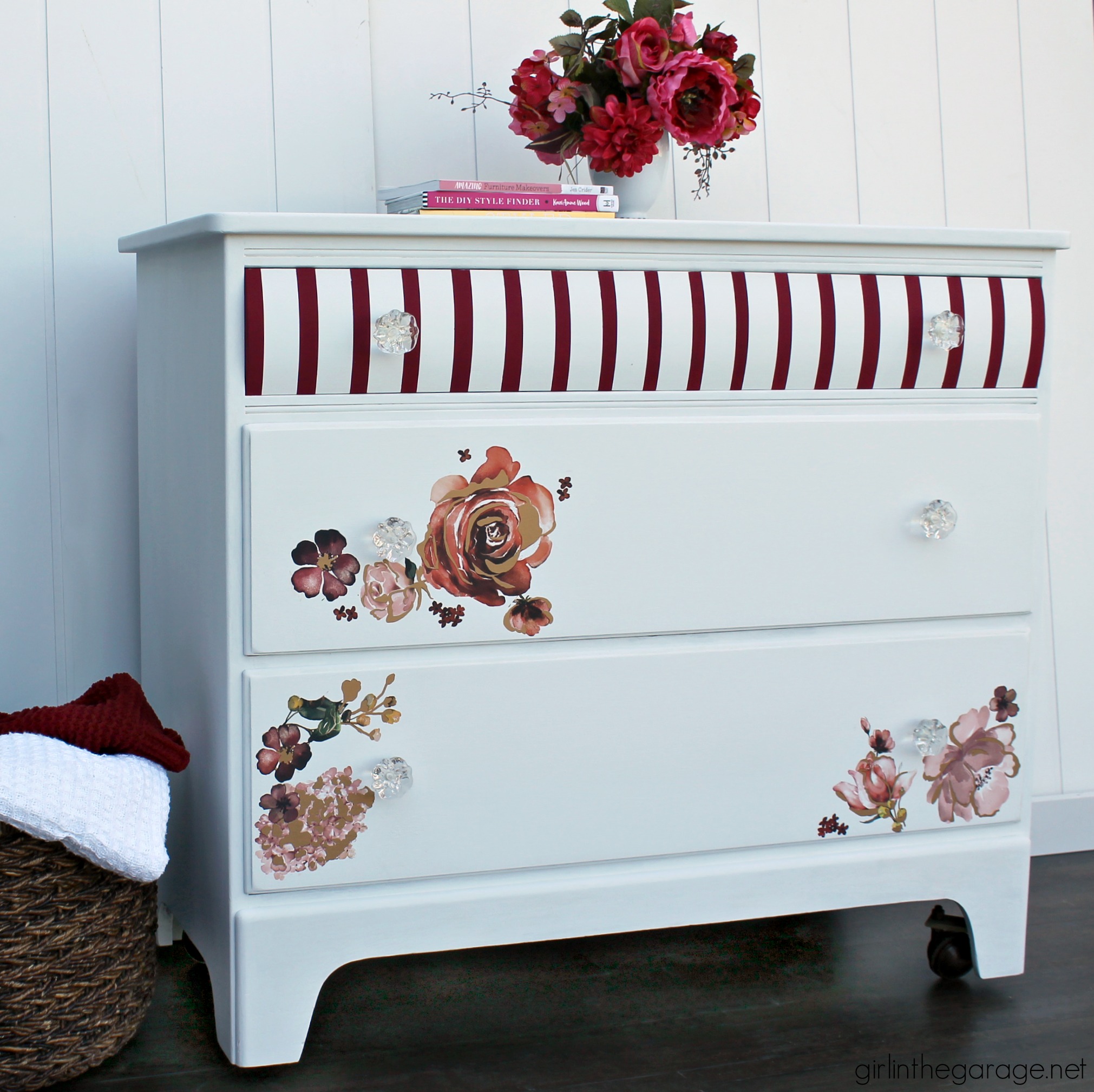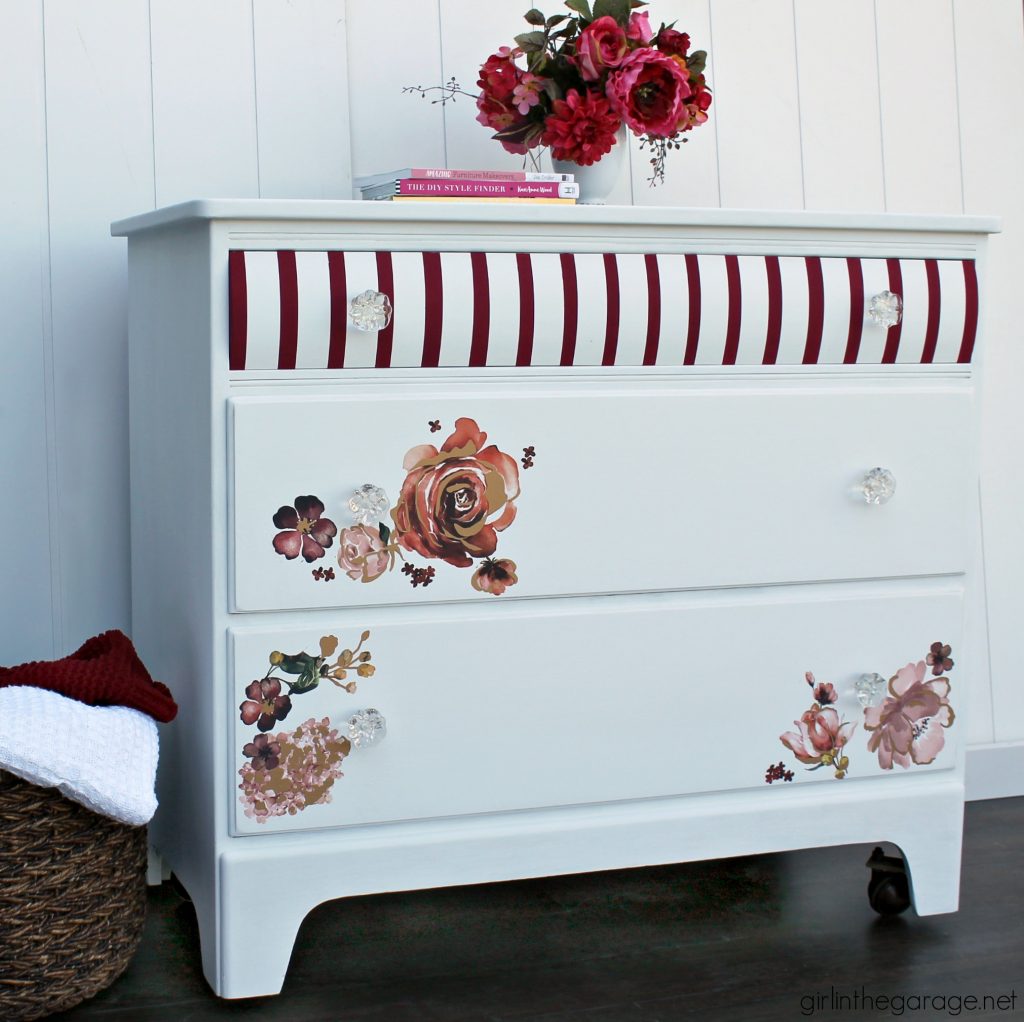 The Rose and Rouge transfer is so pretty because it looks like watercolor – with unexpected metallic gold accents.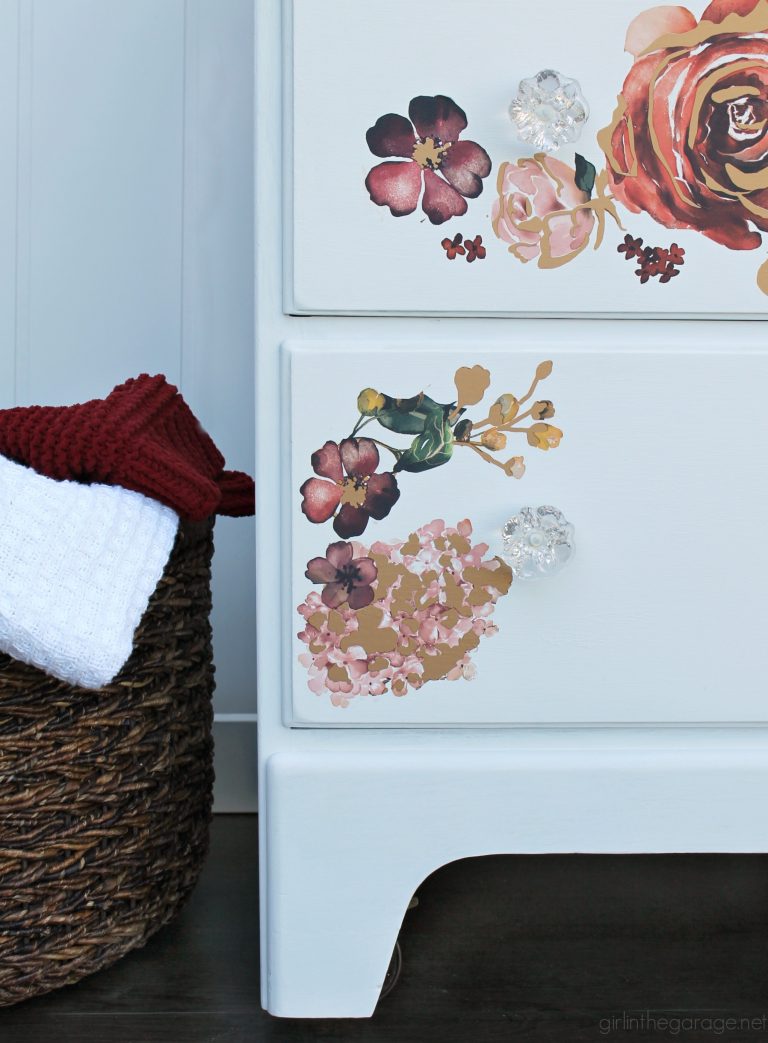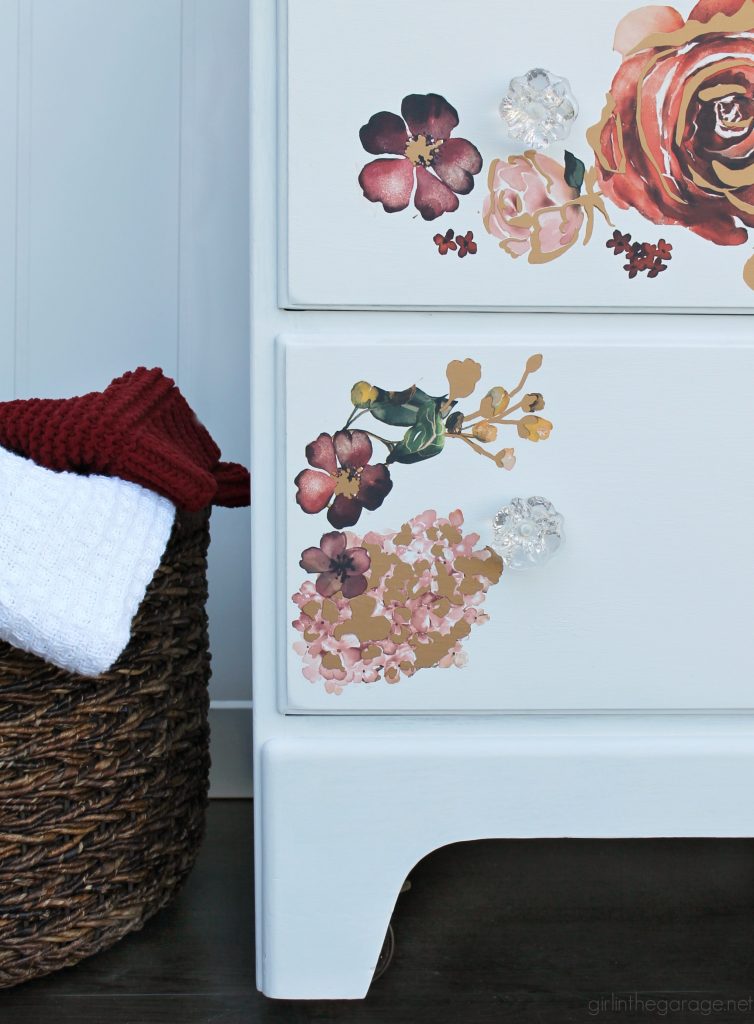 I spy with my little eye… some pretty amazing (pretty AND amazing) books!
Amazing Furniture Makeovers (by me!), The DIY Style Finder by KariAnne Wood, and Styled by Emily Henderson.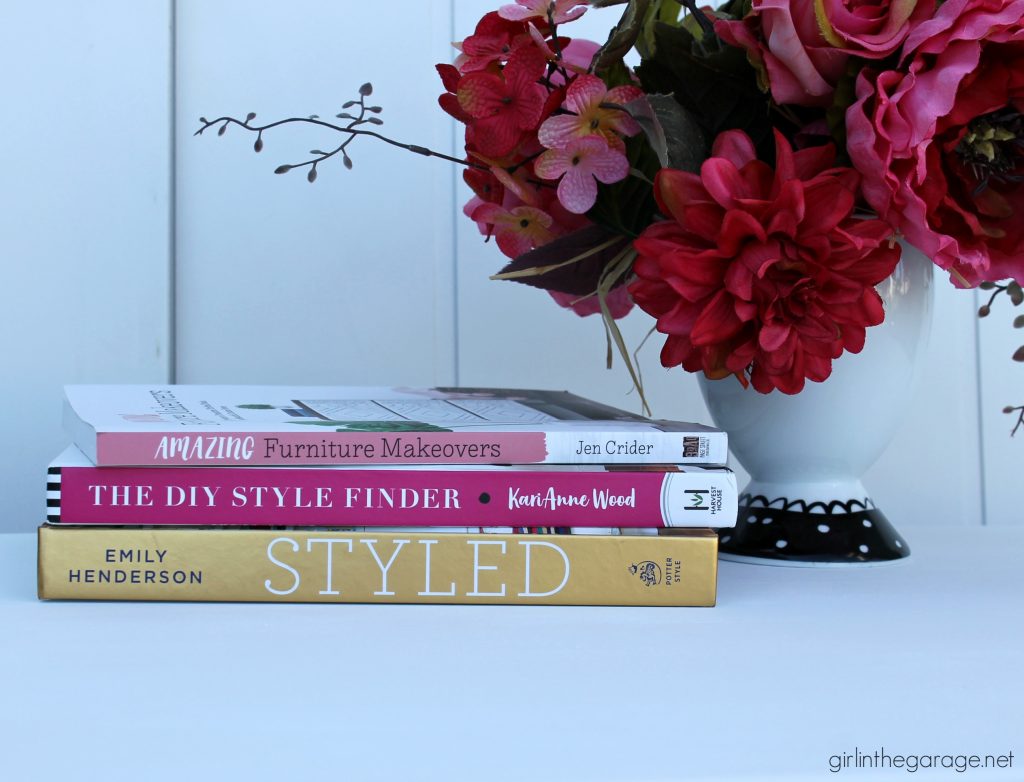 One last time, here's a look at the before and after of this striped floral dresser makeover: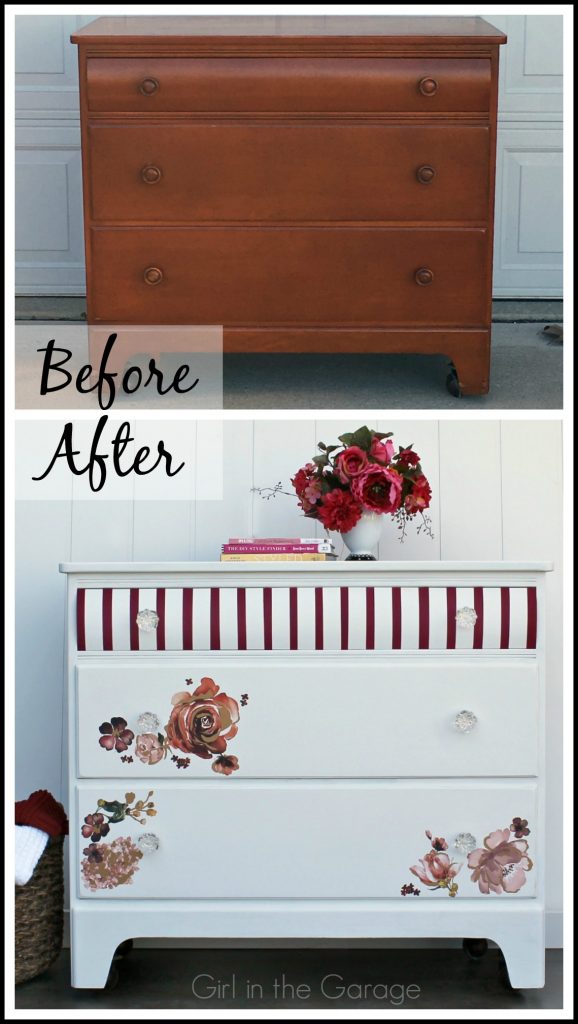 Now it's time for one of my favorite days of the month: Trash to Treasure Tuesday with some of my talented blogging friends.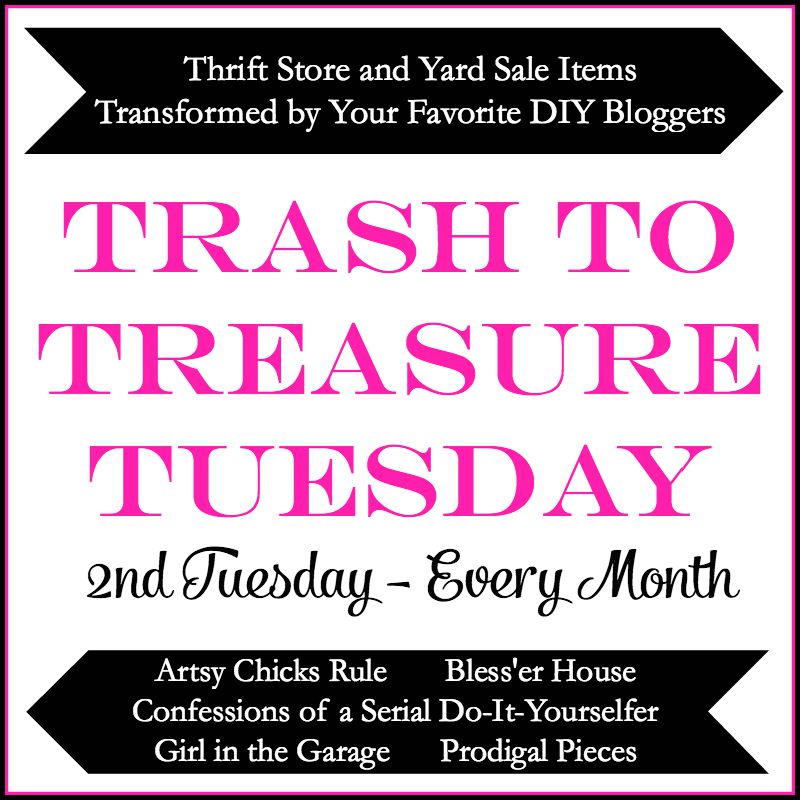 Below are the Before photos – visit the links underneath to see the After and to learn how they did it: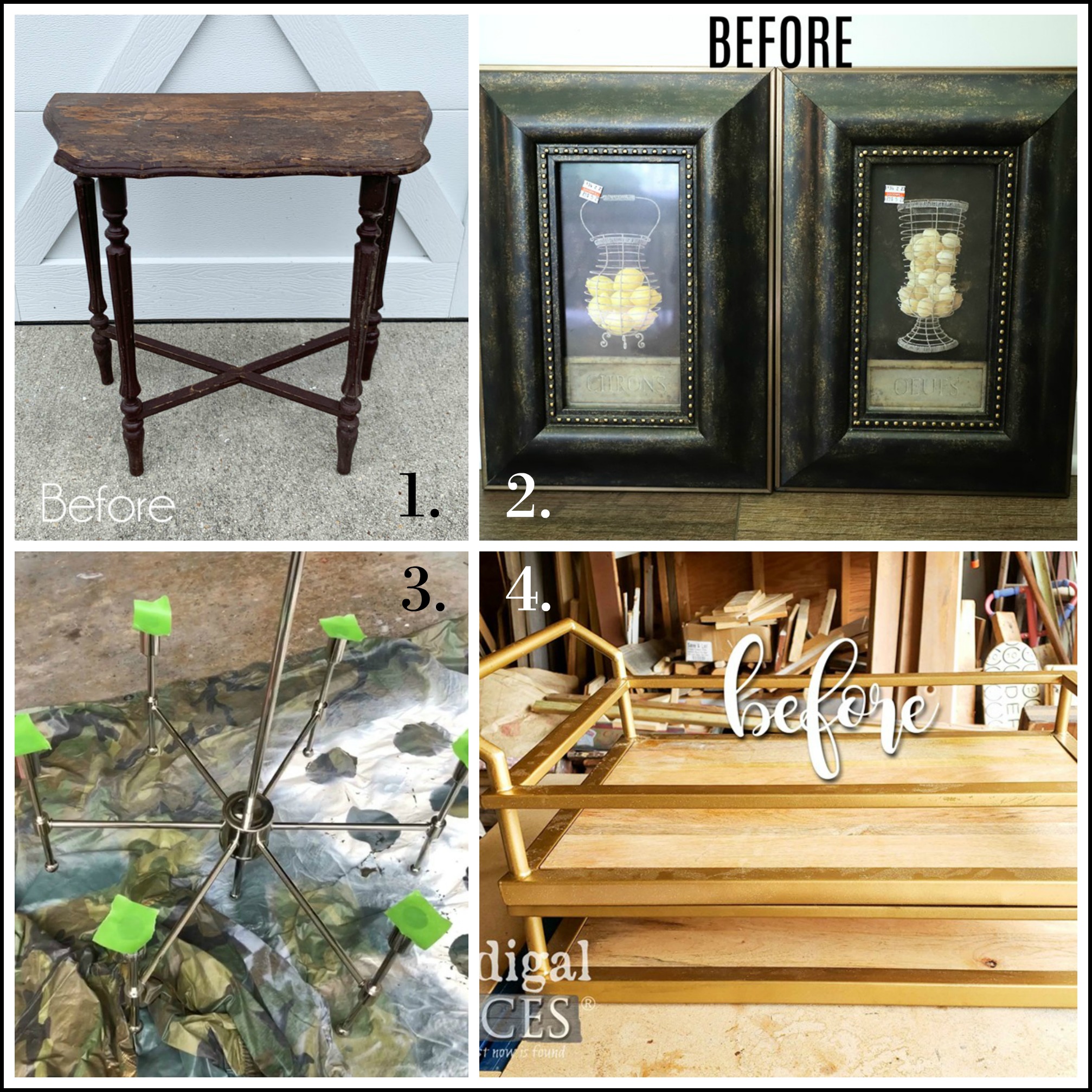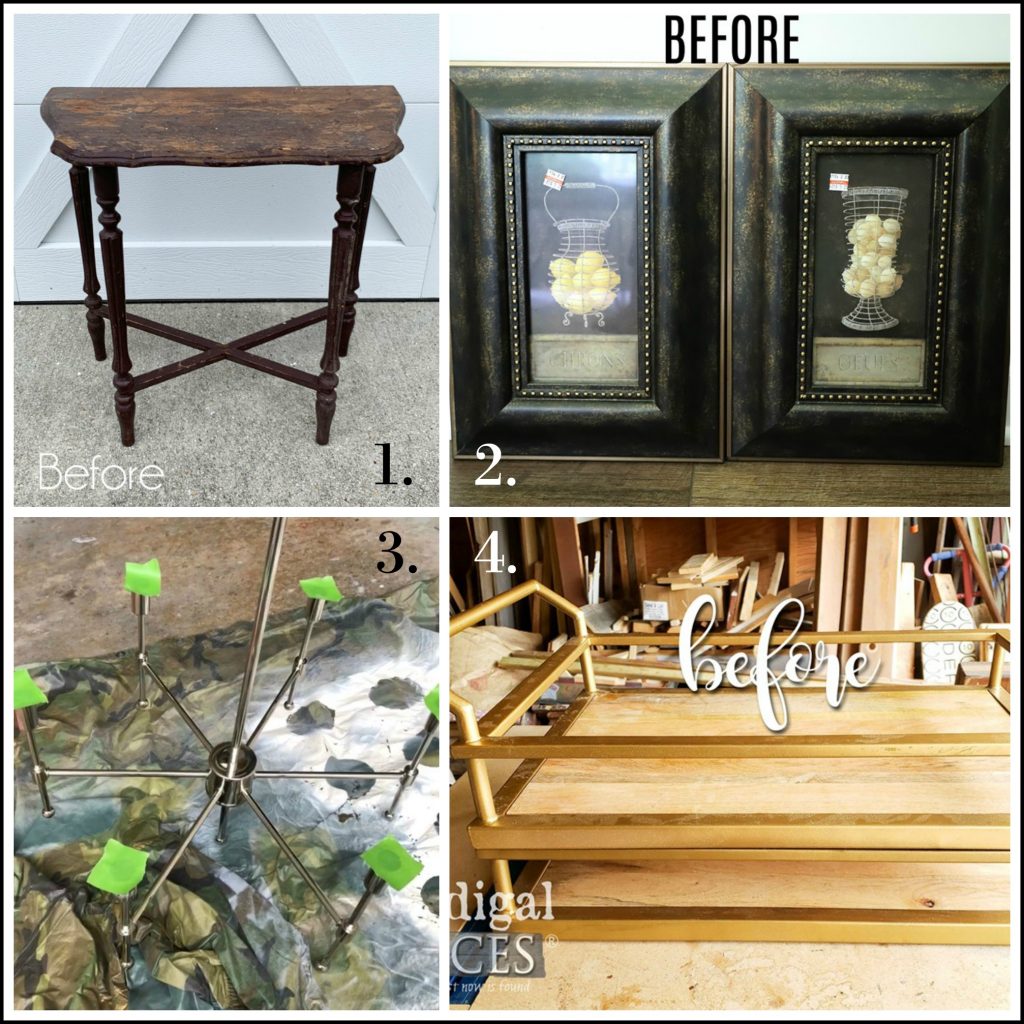 1. Confessions of a Serial DIYer
2. Artsy Chicks Rule
3. Bless'er House
4. Prodigal Pieces
Talk soon, friend!
– Jen