Hello again, friend! Today I'm sharing a brand new makeover, thanks to my sweet mom who picked up this sad little dresser/nightstand for me while yard sale-ing. This is an awesome project if you're looking for ideas of painted furniture for kids!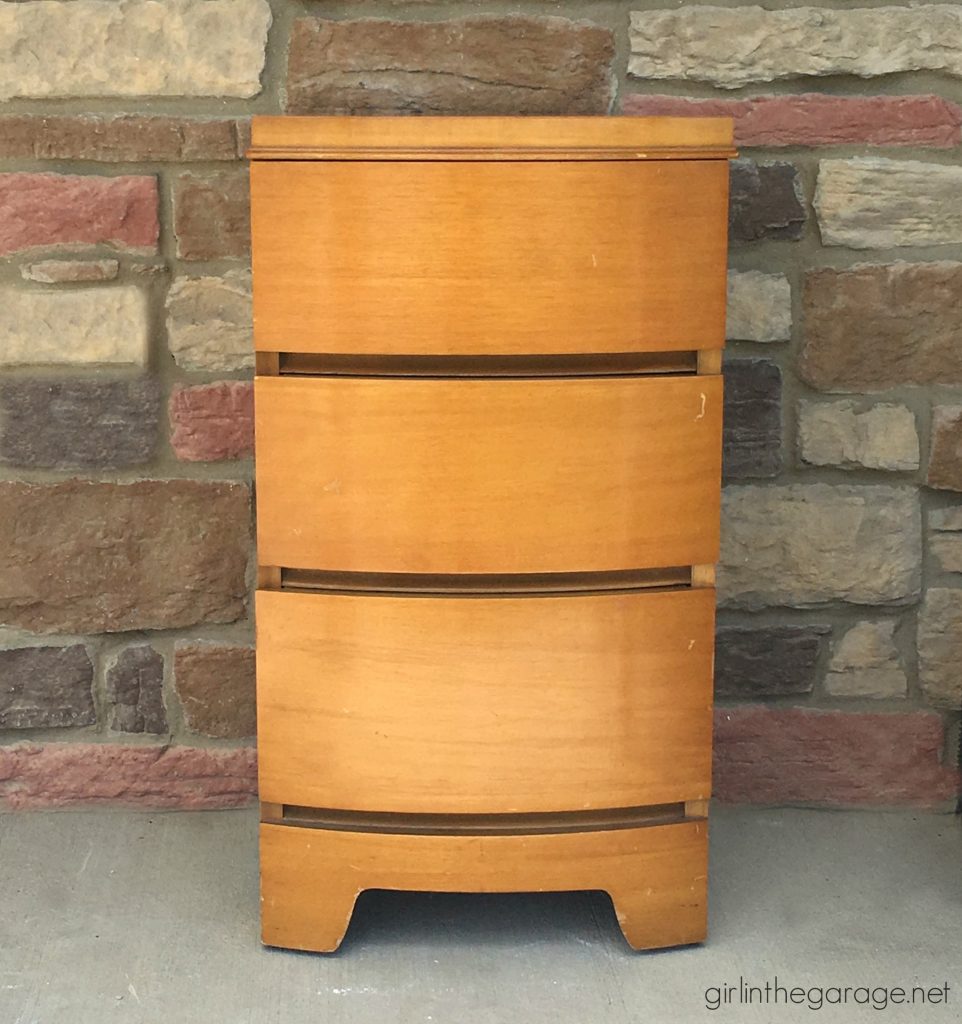 *This post contains some affiliate links so you can easily find the products I use and recommend. Learn more about all of my favorite products and tools for DIY projects Here.
Follow along to see how this was transformed into an adorable painted fire truck dresser.
The top drawer had some contact paper inside (which I removed) and all the drawers were in great shape.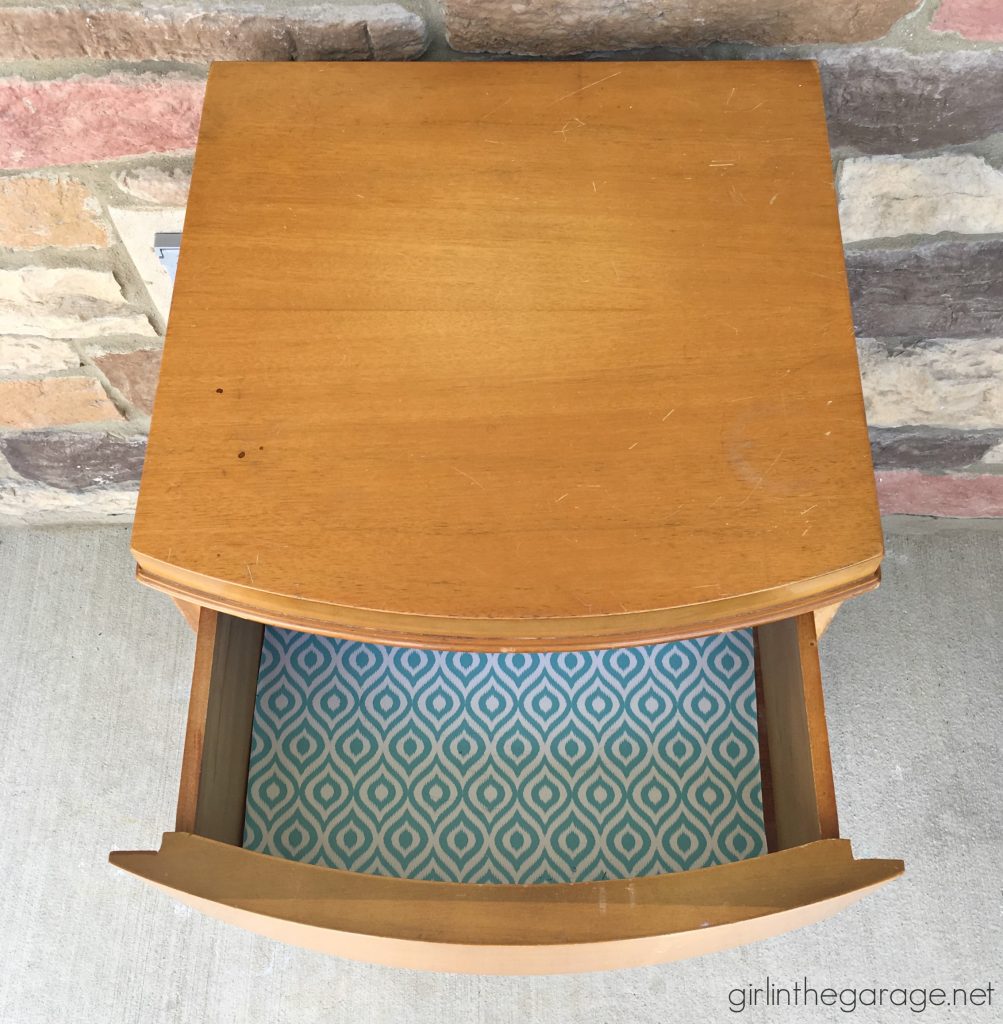 I sanded the scuff marks and scratches with 220 grit sandpaper and lightly sanded all over since the dresser was quite glossy.
I studied the shape and style of this piece for a while, deciding which direction to go. When a piece is very plain and doesn't seem to have much value, that's when I feel more freedom to have some fun with the makeover.
The plan: A DIY Fire Truck Dresser Makeover
Paints and colors used:
*Annie Sloan Chalk Paint in Emperor's Silk (perfect red paint for a fire truck)
*Annie Sloan Chalk Paint in Pure White
*Modern Masters Metallic Paint in Silver
*Annie Sloan Chalk Paint in English Yellow
*Fusion Mineral Paint in Coal Black
*Annie Sloan Chalk Paint in French Linen
*Black Sharpie
First I painted the dresser in Emperor's Silk (red). Red paint can be very tricky, even trickier than white paint. I ended up doing about four coats to get even coverage.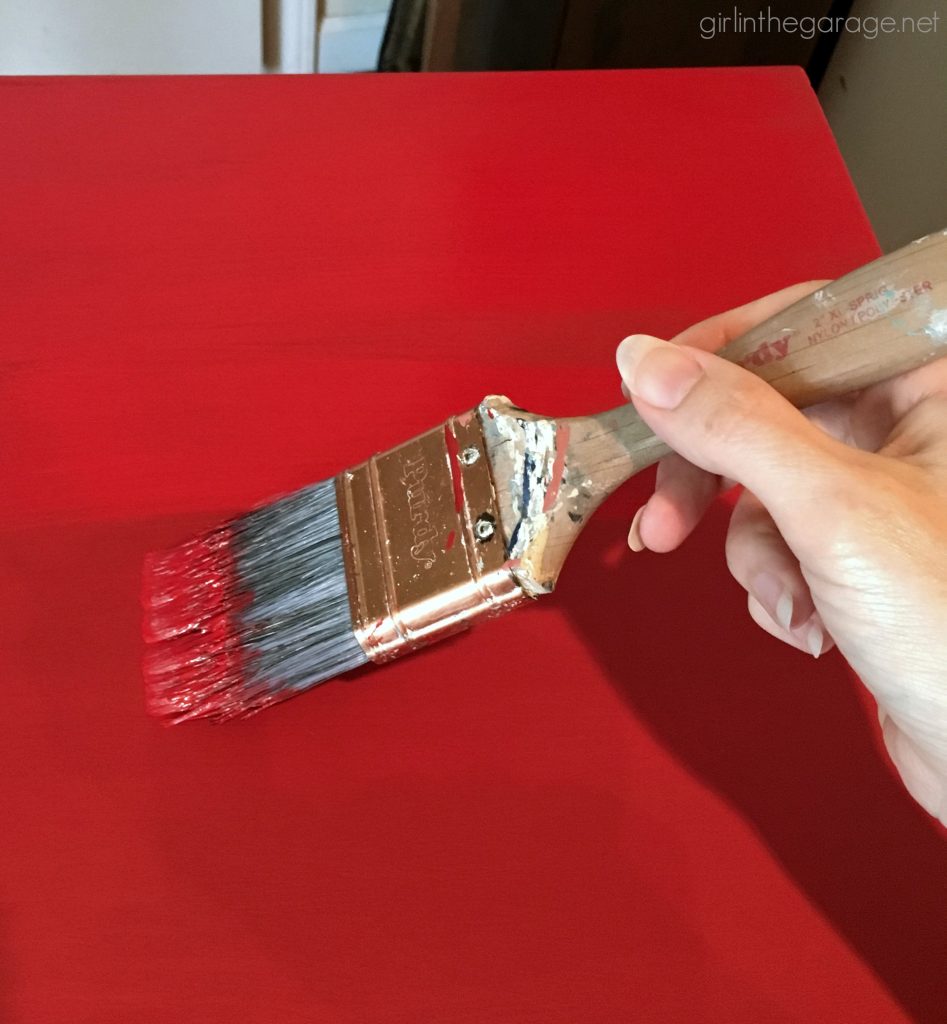 I always prefer Purdy paint brushes except for smaller areas when I use artist's brushes.
For the top drawer, I found a junk postcard and traced two rectangles for the fire truck windows. I didn't use painter's tape yet because the red paint hadn't been dry for very long yet, and I didn't want to risk messing it up.
I didn't take a picture, but I painted the two rectangles in Pure White.
Skipping to the bottom drawer – I found a Joann's flyer and traced it in the center of the drawer where the fire truck grille would be, leaving some room on both sides for headlights.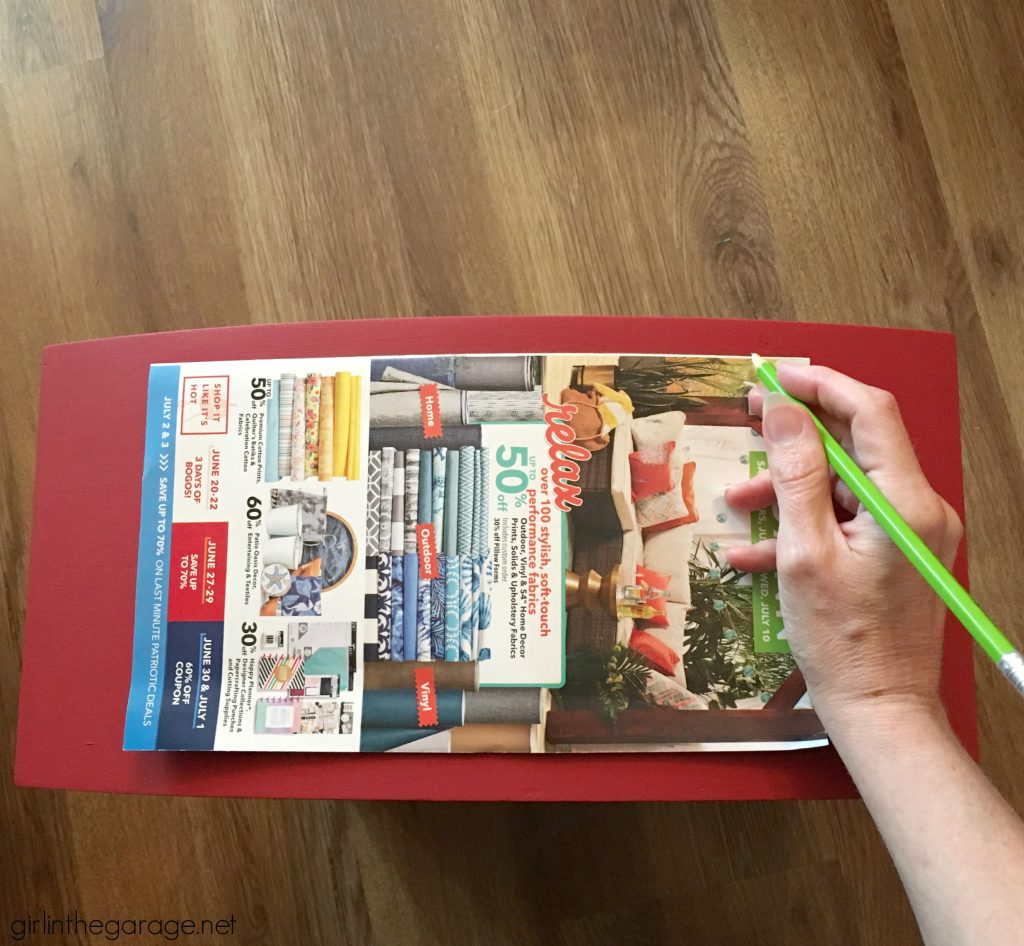 The large rectangle was painted in silver metallic paint.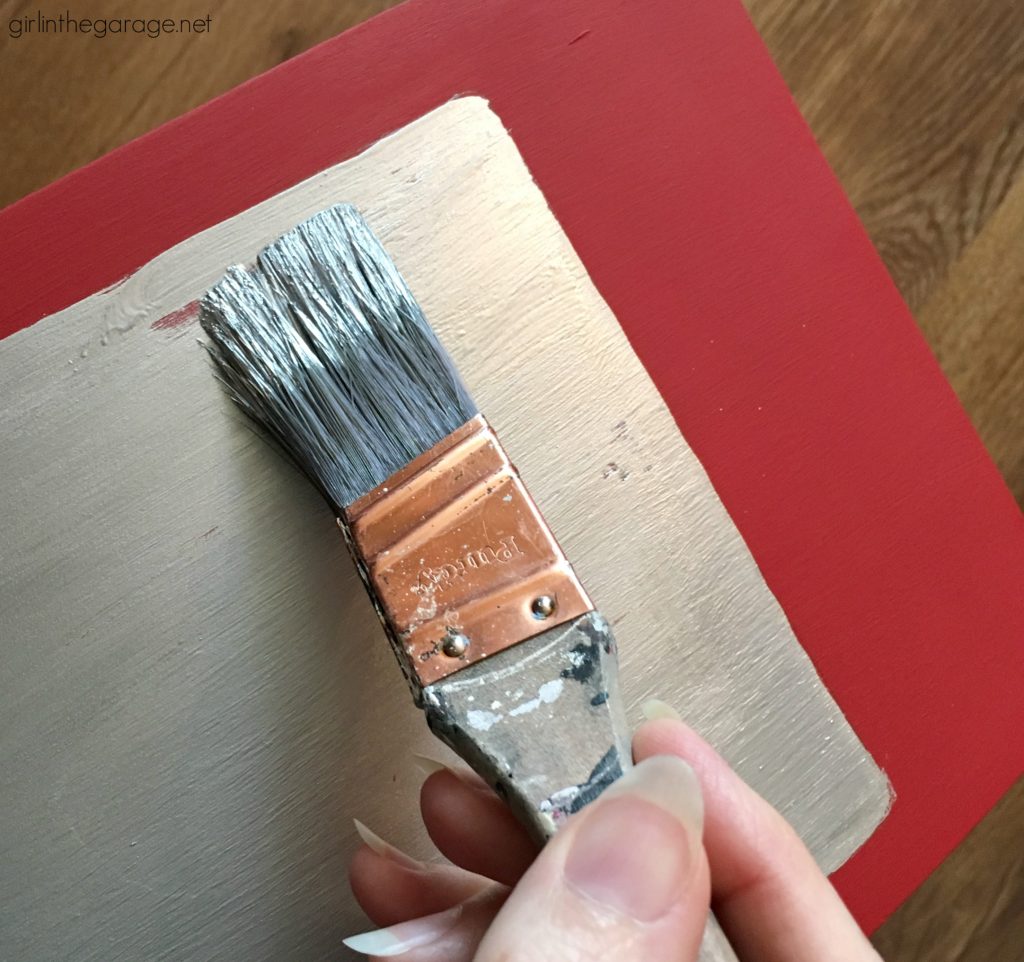 Next I dug through my stash of plastic circle lids, and eventually found the perfect size circle with my Girl in the Garage tape measure. 🙂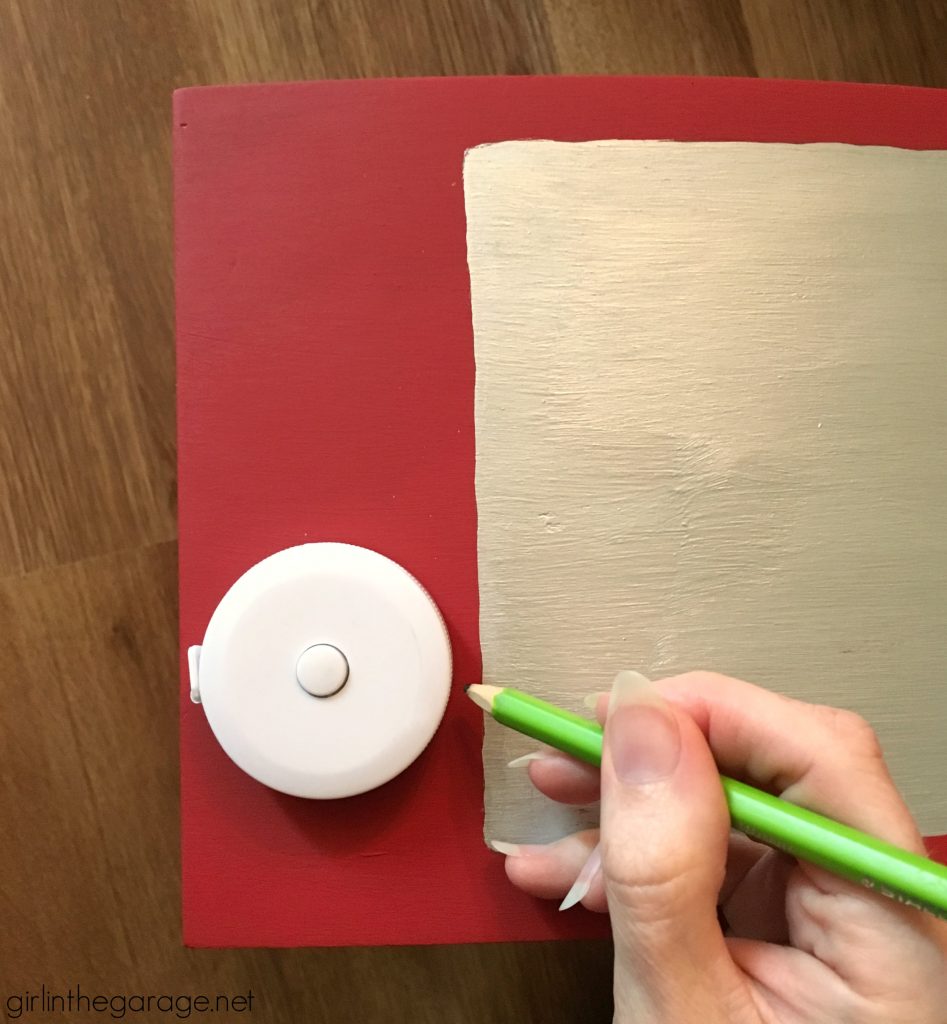 I eyeballed where they should go and traced two circles on each side of the grille for headlights, then painted them English Yellow.
A larger plastic lid was perfect for tracing two wheels on the front and one on each side near the back. The wheels were painted Coal Black. (Here's a pack of artist's brushes that I recommend.)
The center drawer received some stenciling with this DecoArt stencil and a foam pouncer from this inexpensive 6-pack which I use for all my stenciling projects. Be sure to blot the paint onto a paper towel first so that your pouncer has very little paint on it to reduce smudges.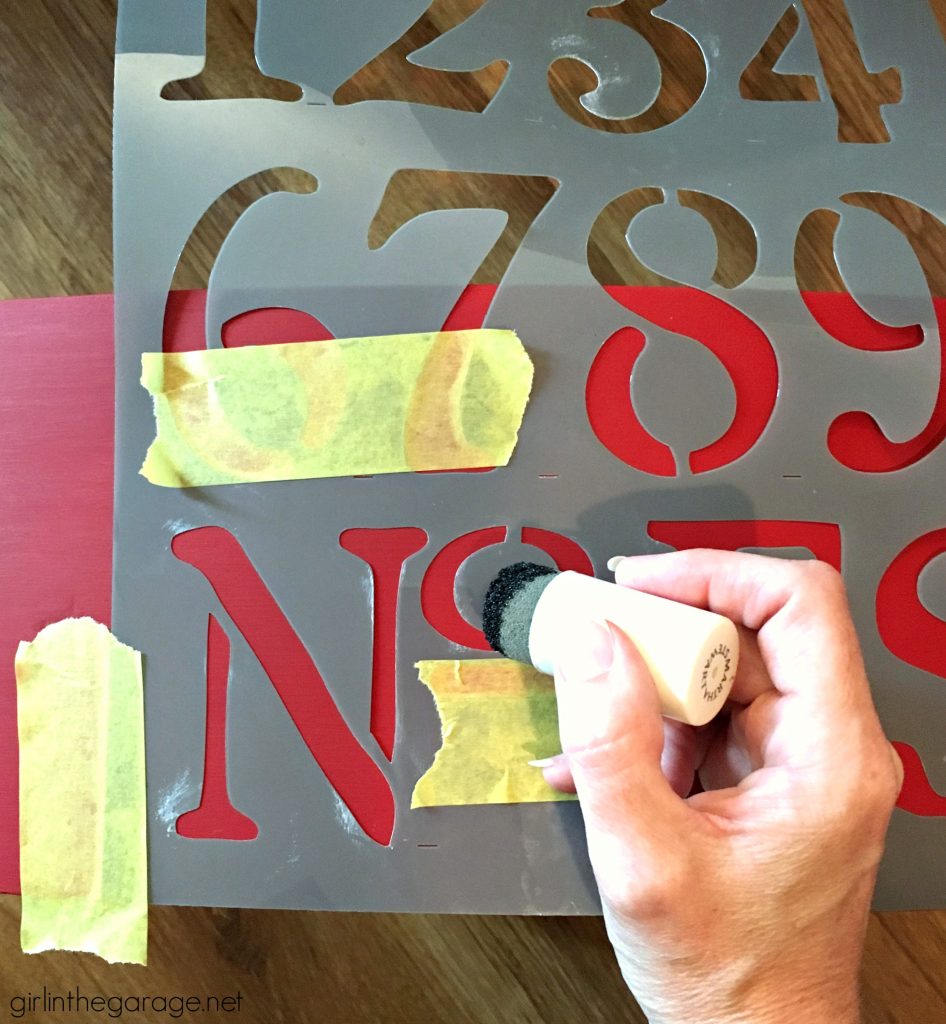 Next, I had some fun while painting the grille. Yes it was a little easier because I used FrogTape Delicate Surface, but it's just really cool seeing what was once a plain old dresser drawer become the grille of a painted fire truck dresser makeover.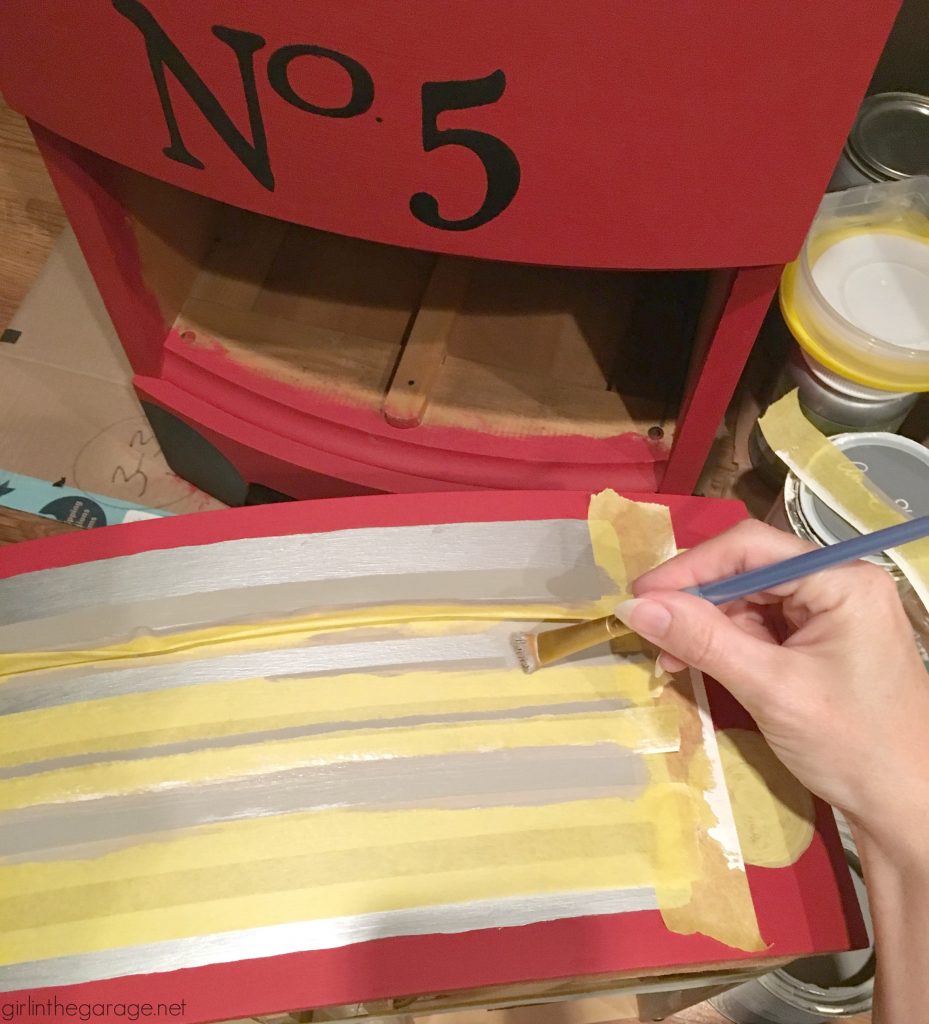 I measured and painted five stripes with Chalk Paint in Country Grey.
I was going to stop there with the second drawer, but it seemed to be missing something. Hmmmm…. So I went to PicMonkey and made a document with the word ENGINE in different fonts and sizes, and printed it onto transparency paper.
Then I used my overhead projector and chose the ENGINE that I thought looked best.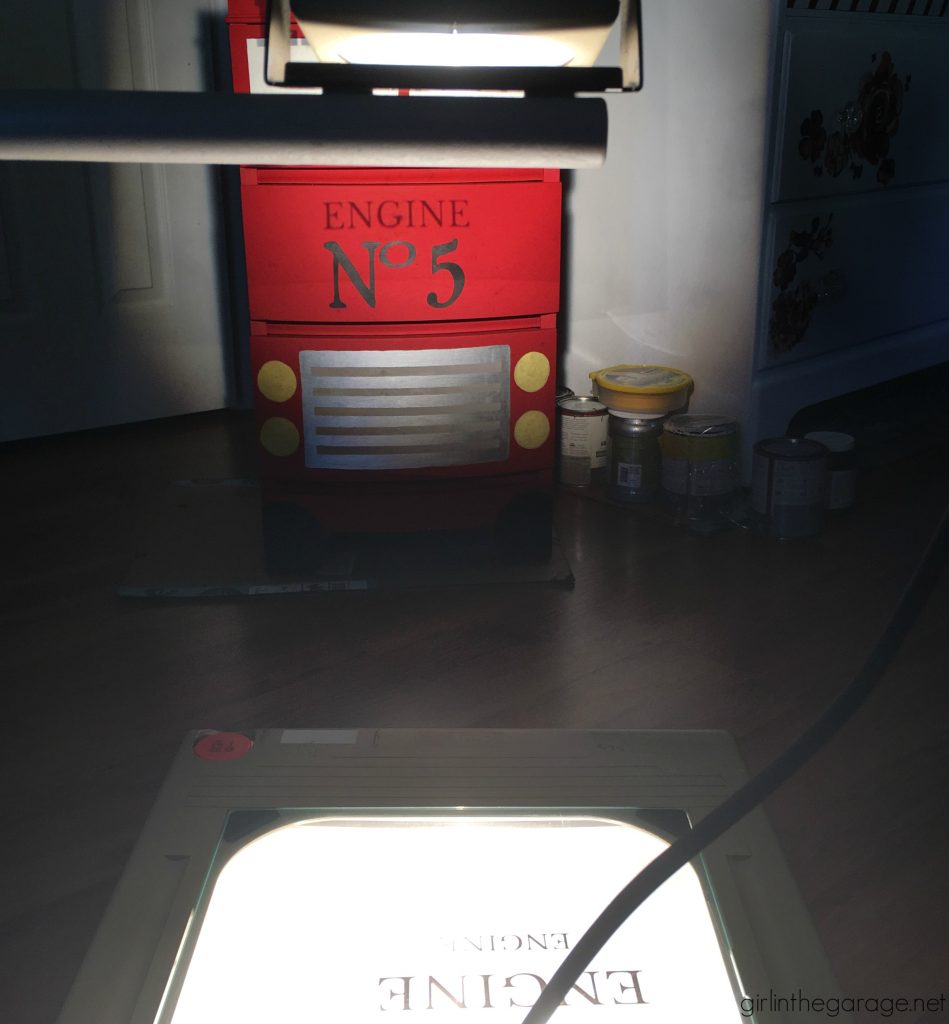 I traced the words carefully with a pencil.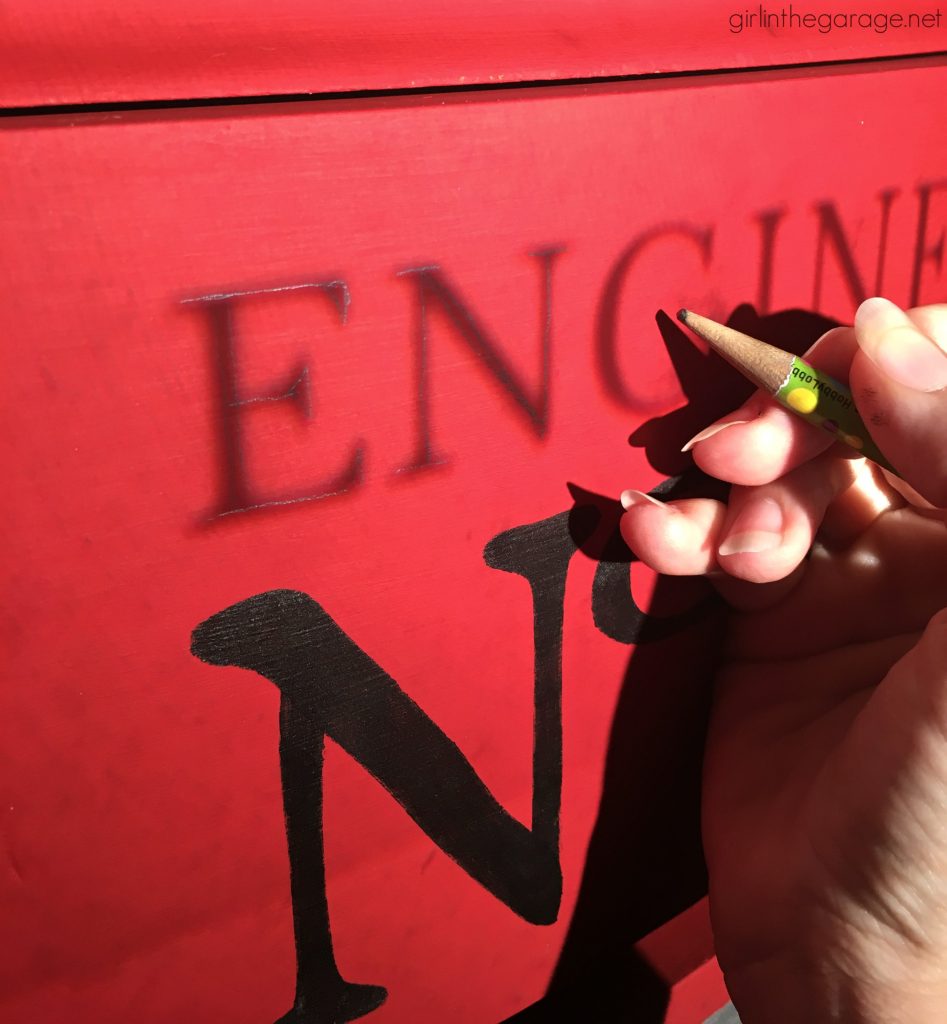 Since the font had thin letters, I just used a black Sharpie (like I've done on many other projects) to trace over the pencil lines.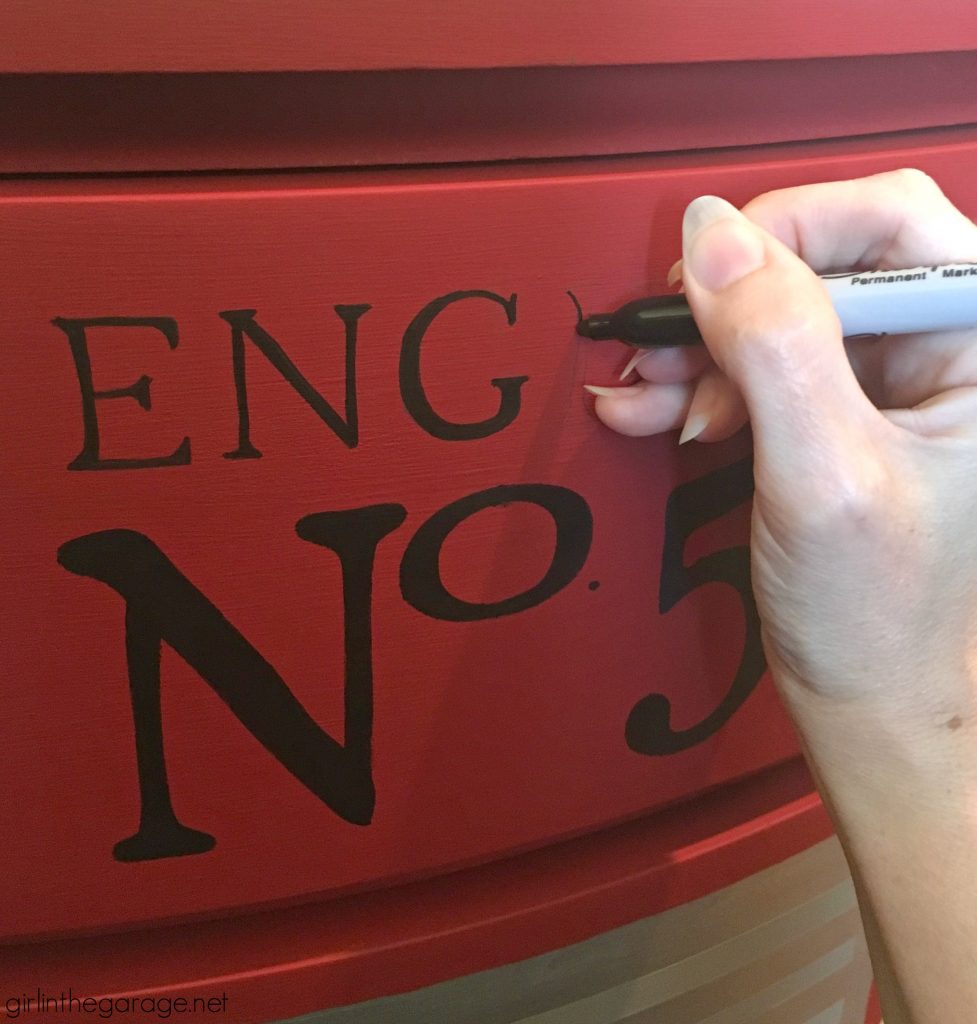 Whew, almost done!
This painted fire truck dresser wouldn't be complete without ladders on the sides – for rescuing kittens stuck in trees, of course. 😉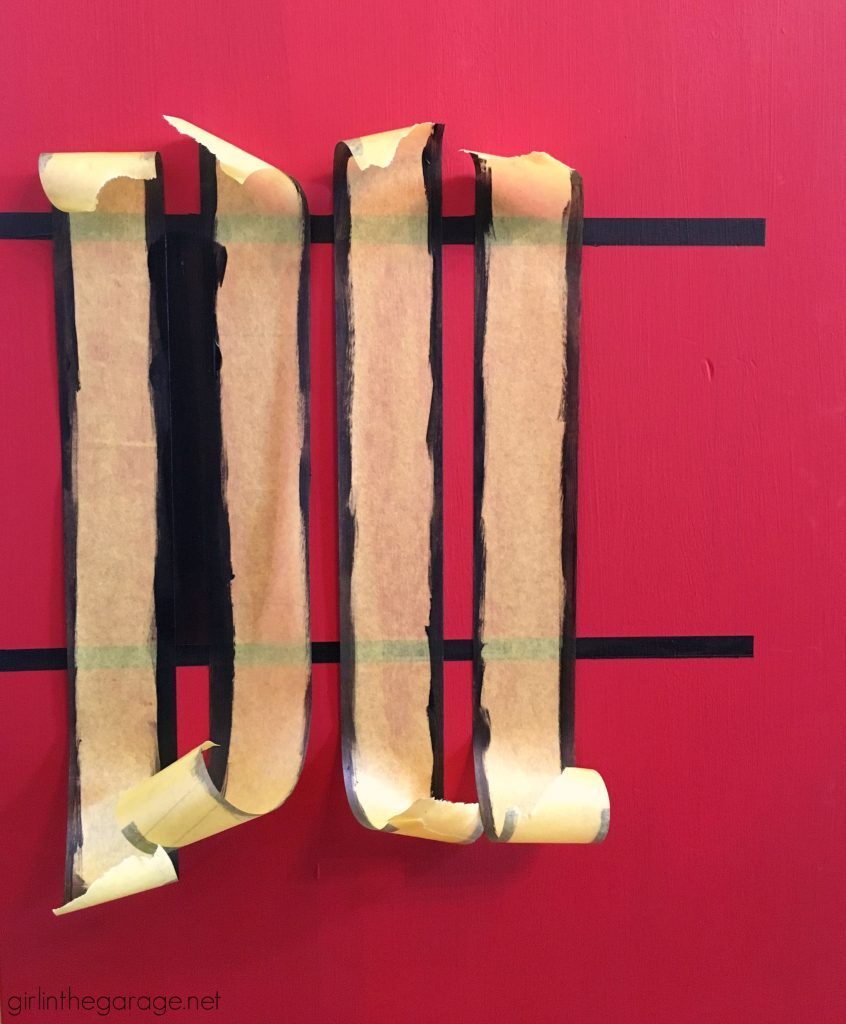 Remember to protect your hard work with a topcoat like Annie Sloan's clear wax.
And finally…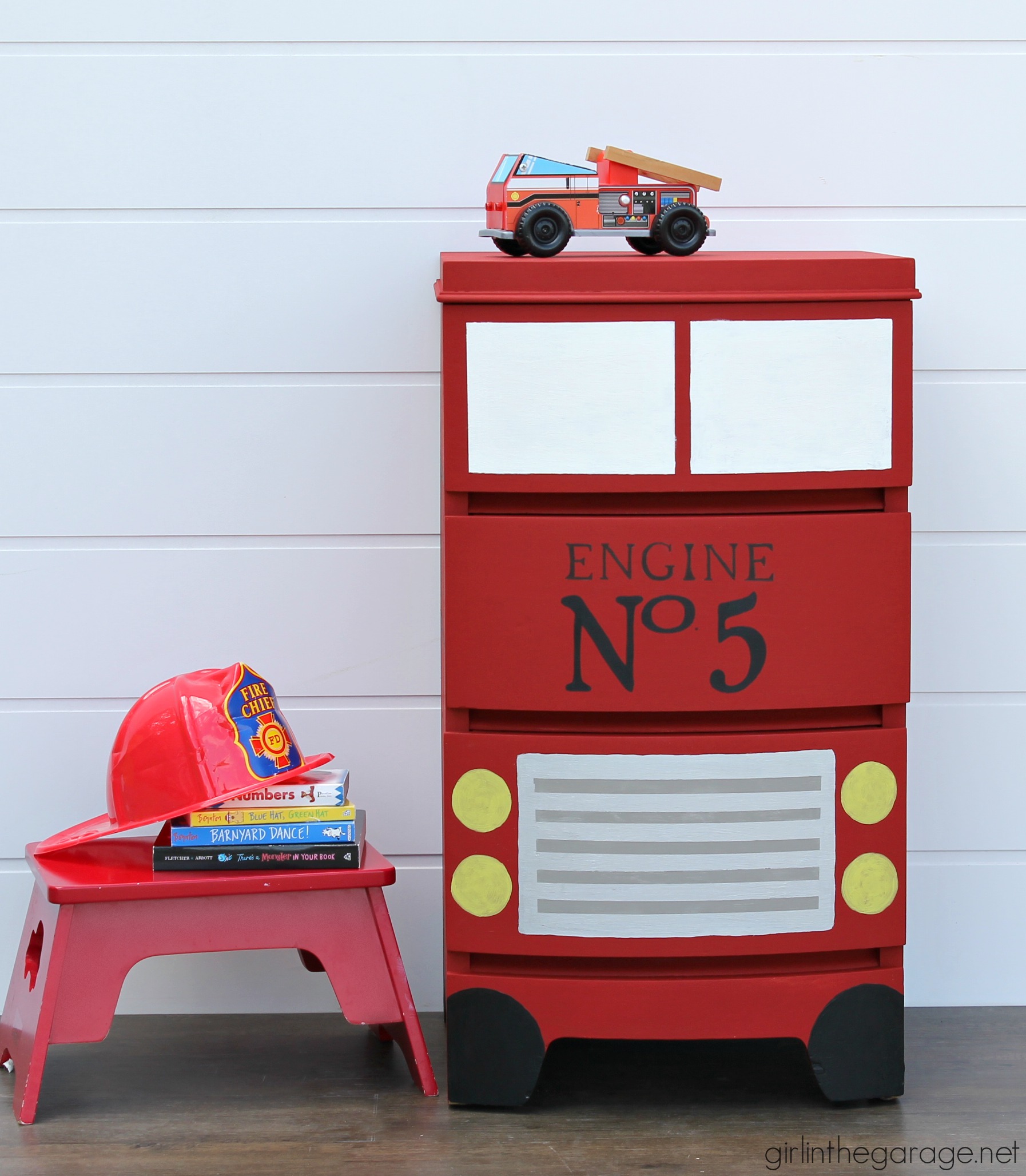 AHHHH – I think it's so stinking cute!
I mostly do painted furniture makeovers for adults, but I have three little boys and I know how hard it can be to find fun themed kids' furniture, especially for boys. Painted furniture for kids is a blast!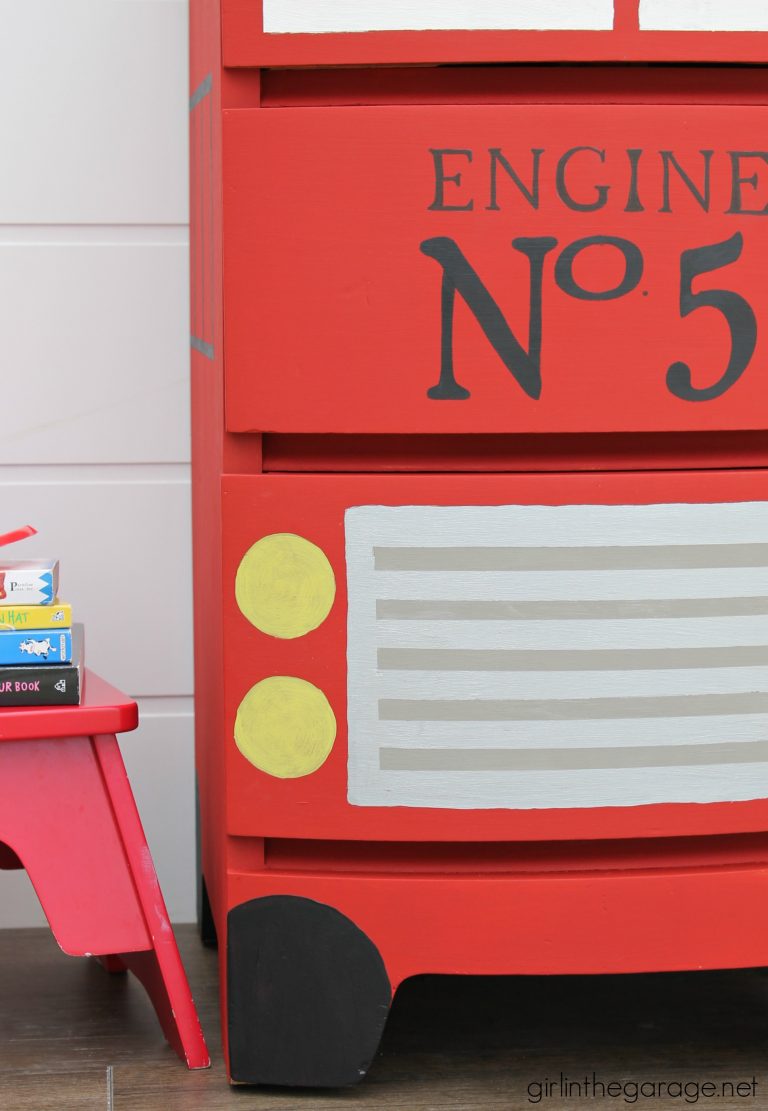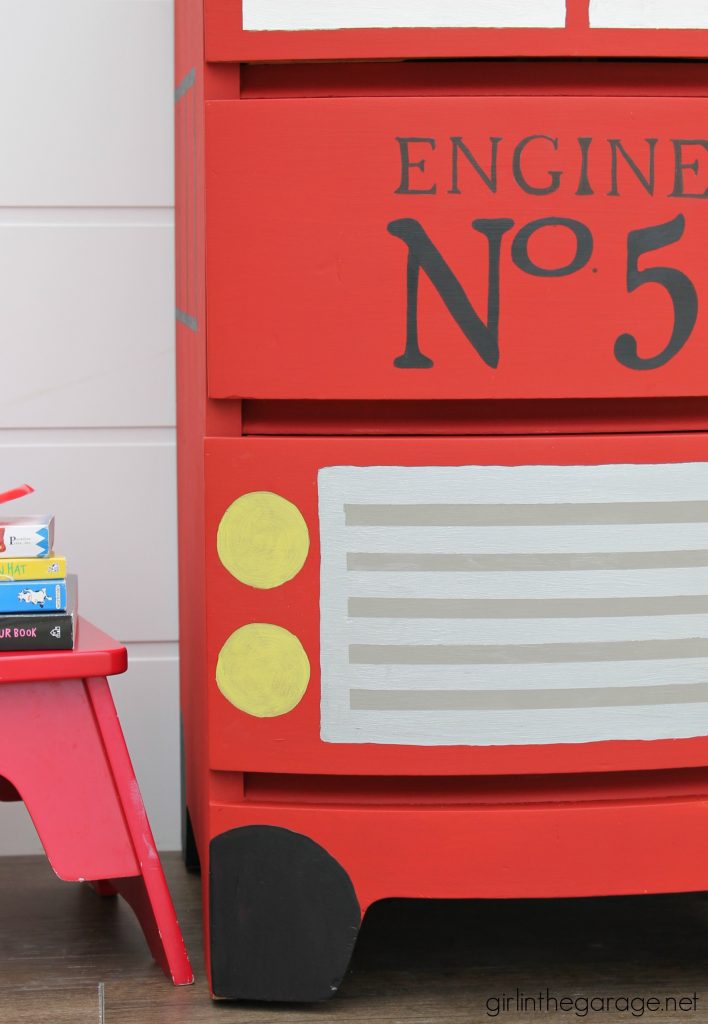 Of course I had to borrow some of my three-year-old's toys and books for the photos. His favorite right now is the bottom one – There's a Monster in Your Book. It's super cute and he wants me to read it all the time. We also love any book by Sandra Boynton.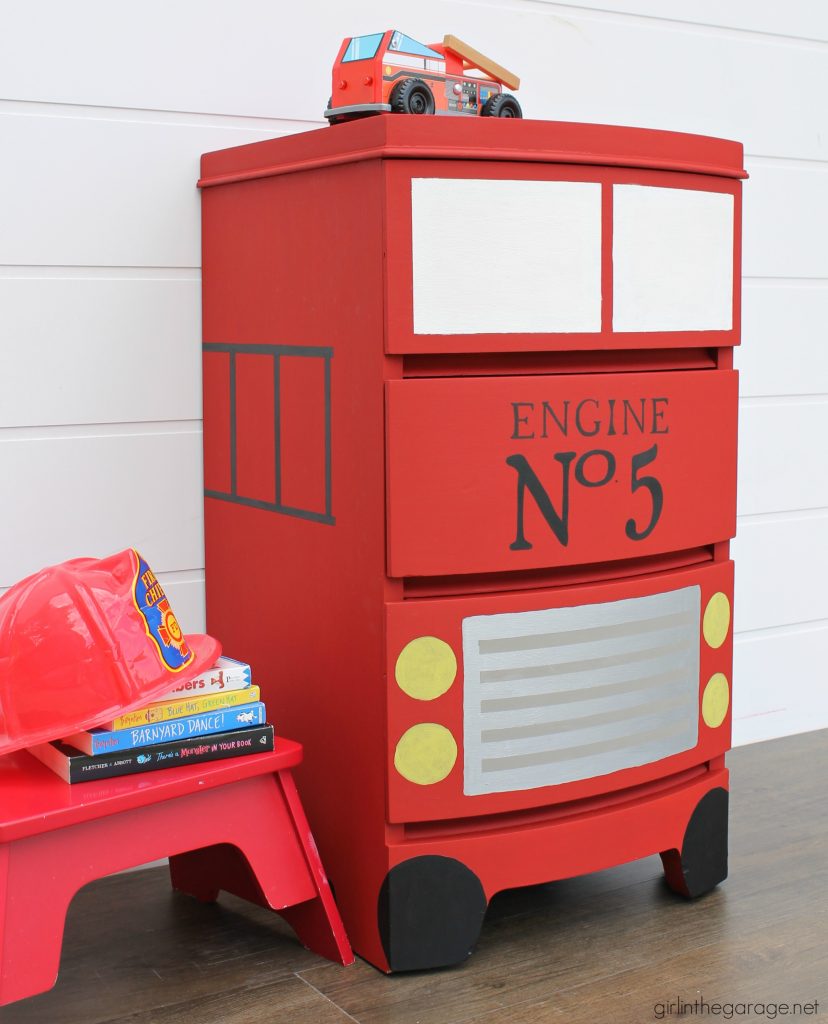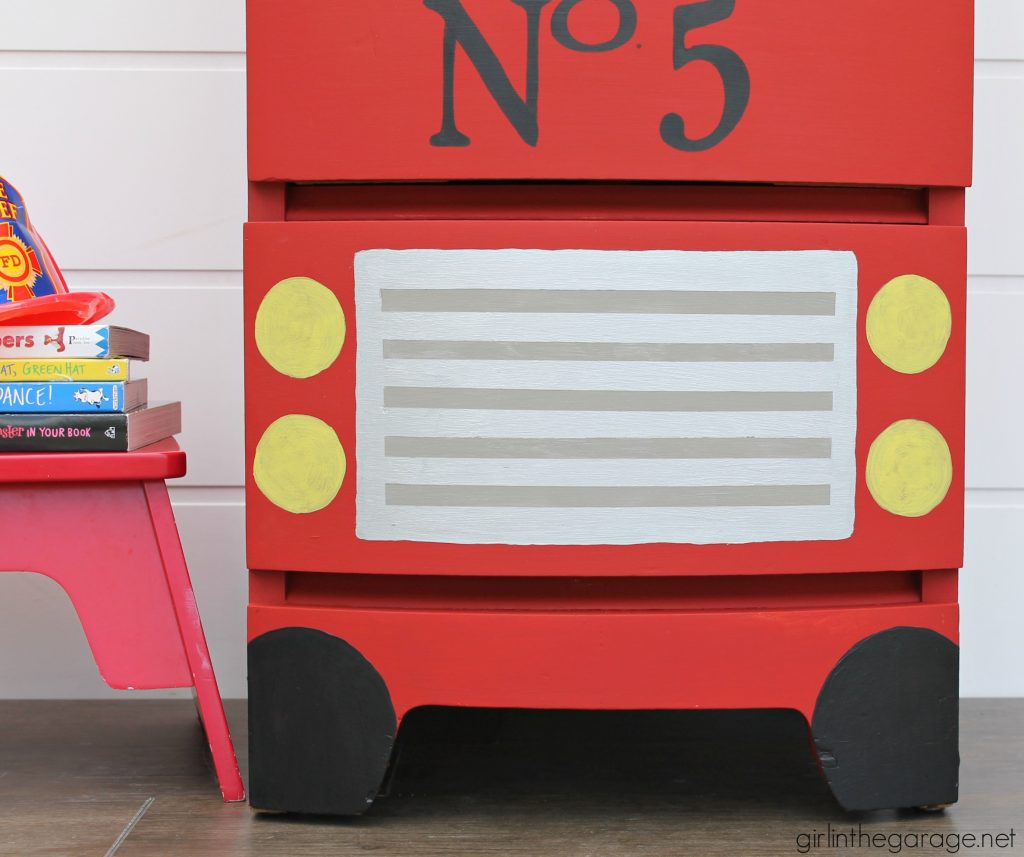 WOO WOO WOO! Engine Number 5 To The Rescue!
I hope you love this DIY painted fire truck dresser as much as I loved painting it.
Here's another reminder of the before/after that you can Pin to easily find later: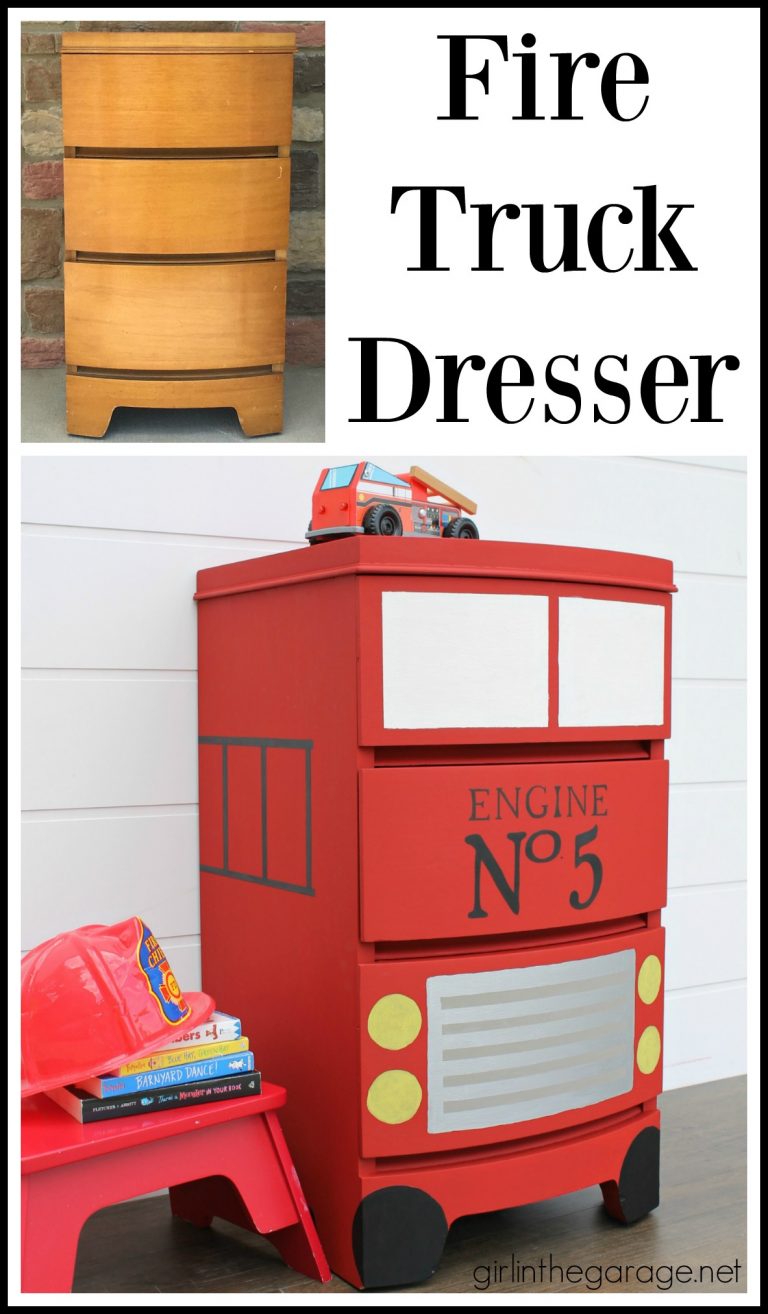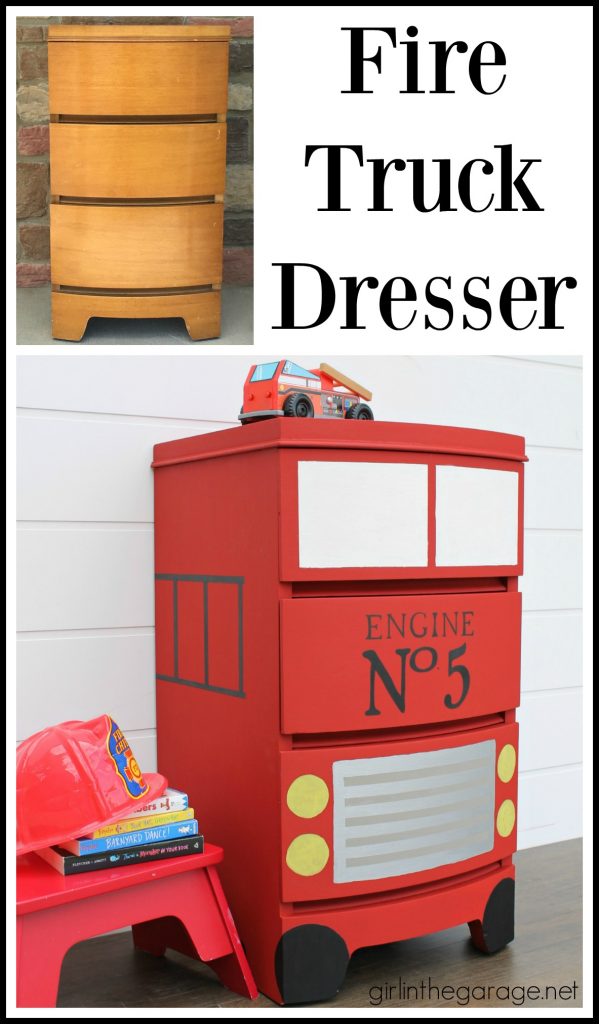 Now it's time again for Furniture Fixer Uppers with my furniture makeover friends! Every month we share tips and tutorials to teach and inspire you with your own projects.
Below are the Before photos – visit the links underneath to see the creative Afters and to learn how they did it: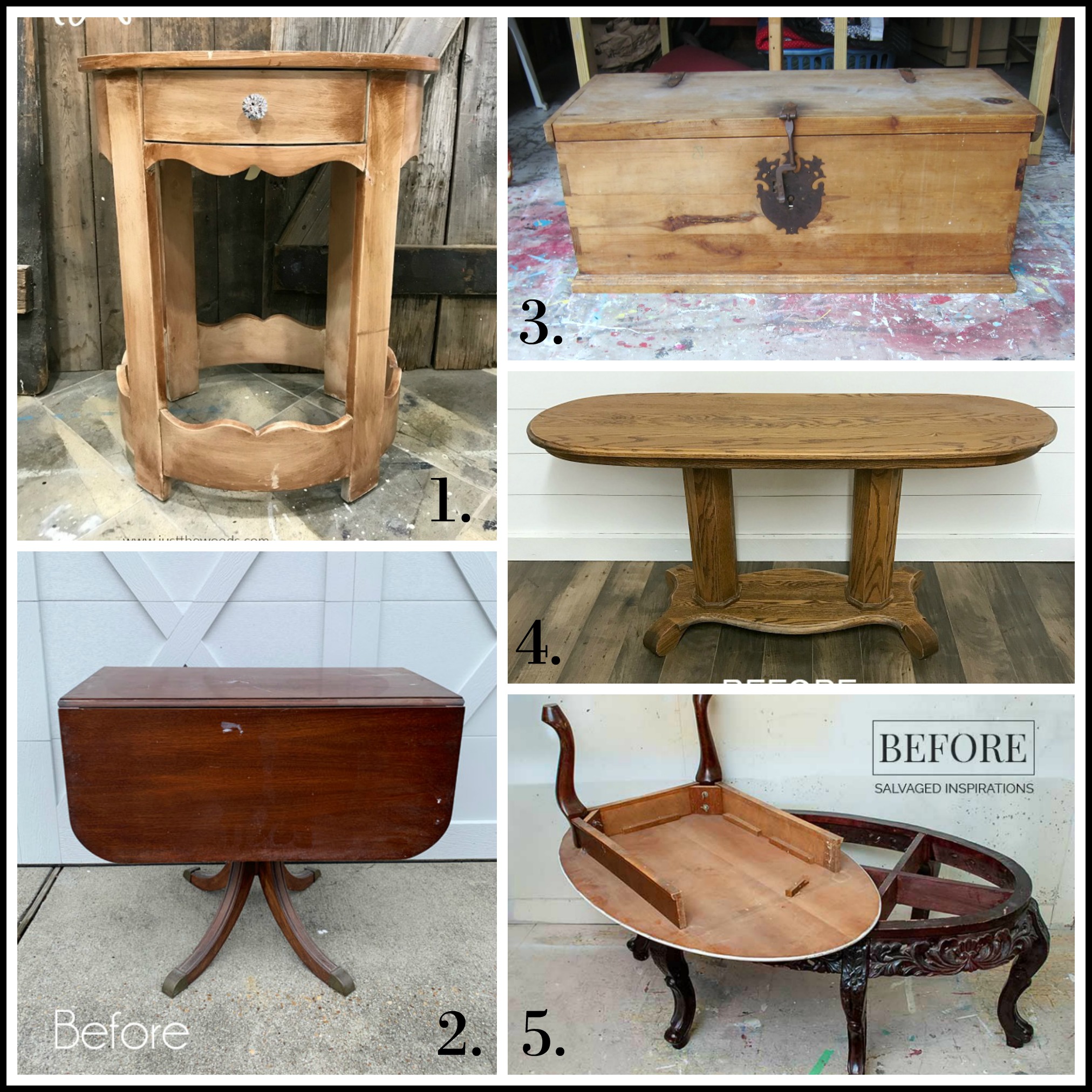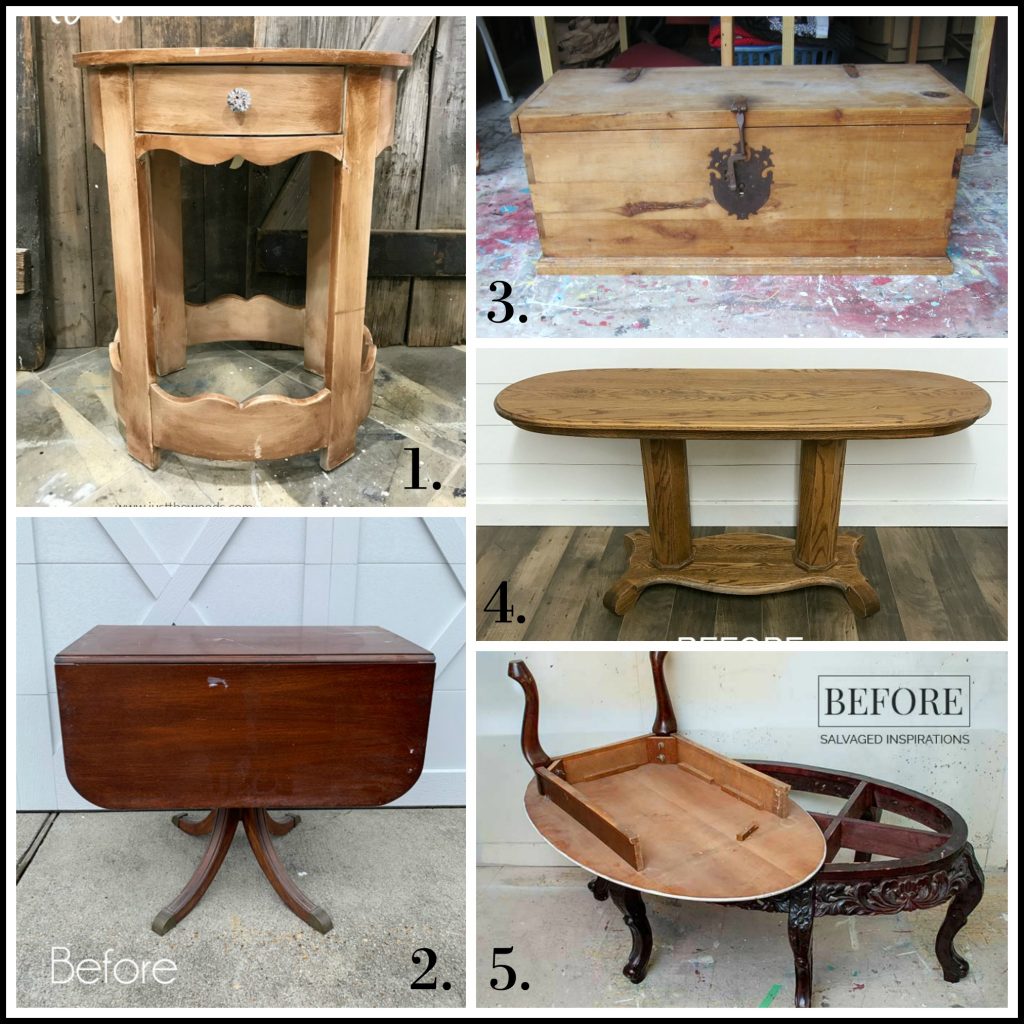 1. Just the Woods
2. Confessions of a Serial DIYer
3. Petticoat Junktion
4. The Interior Frugalista
5. Salvaged Inspirations
Here are a few similar painted furniture makeovers I've done: