Rub-on image transfers are easier than you might think! For today's project I'll show you how to add an easy image transfer to furniture. Two of the most popular rub-on image transfer companies are Iron Orchid Designs (which I used in this project, but this transfer is no longer available) and ReDesign with Prima. They both offer quotes, patterns, and even colorful floral transfers.
I found this vintage beauty at an estate sale, marked $50 and then 25% off. Now that's a pretty good deal! There was quite a lot of furniture there but I restrained myself and only brought this one home.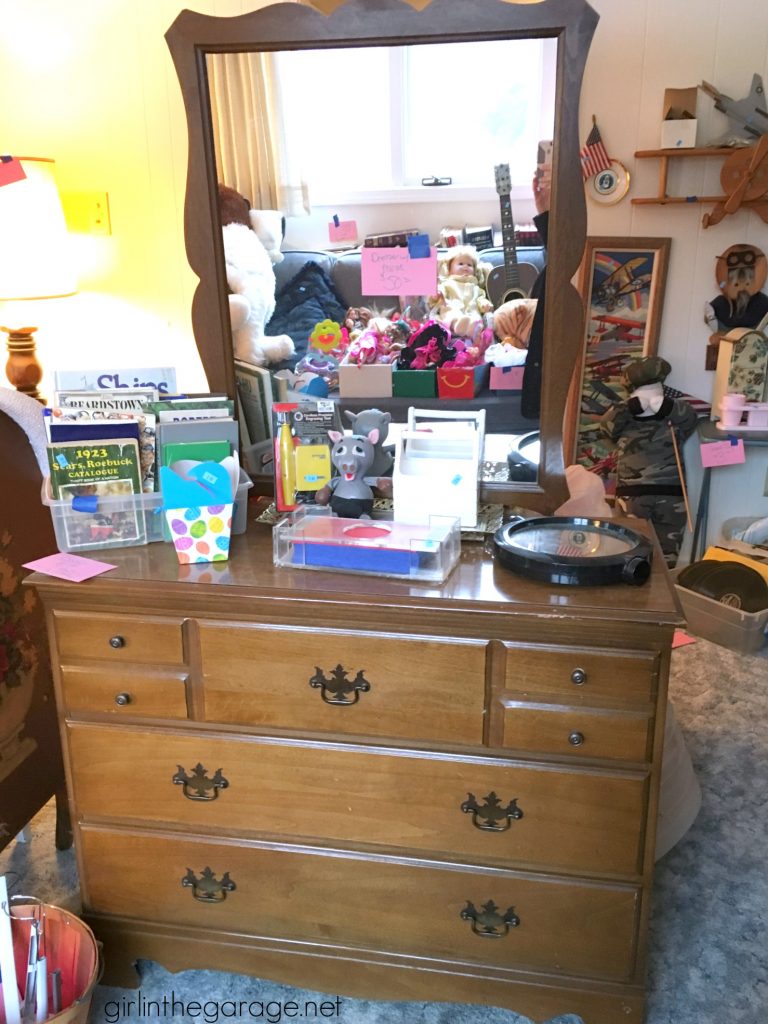 *This post contains some affiliate links (at no extra cost to you) so you can easily find the products that I use and recommend. Discover all my favorite brands and tools for doing DIY projects Here.
Funny story… I was actually supposed to see a different more expensive dresser elsewhere at that time, but the seller was slacking on sending his address and then I saw a sign for this estate sale – so thankfully it all worked out in my favor anyway.
The vintage vanity was lightly sanded to remove some of the shine and then painted in Fusion Mineral Paint in Lamp White – a very pretty pale gray/white mix.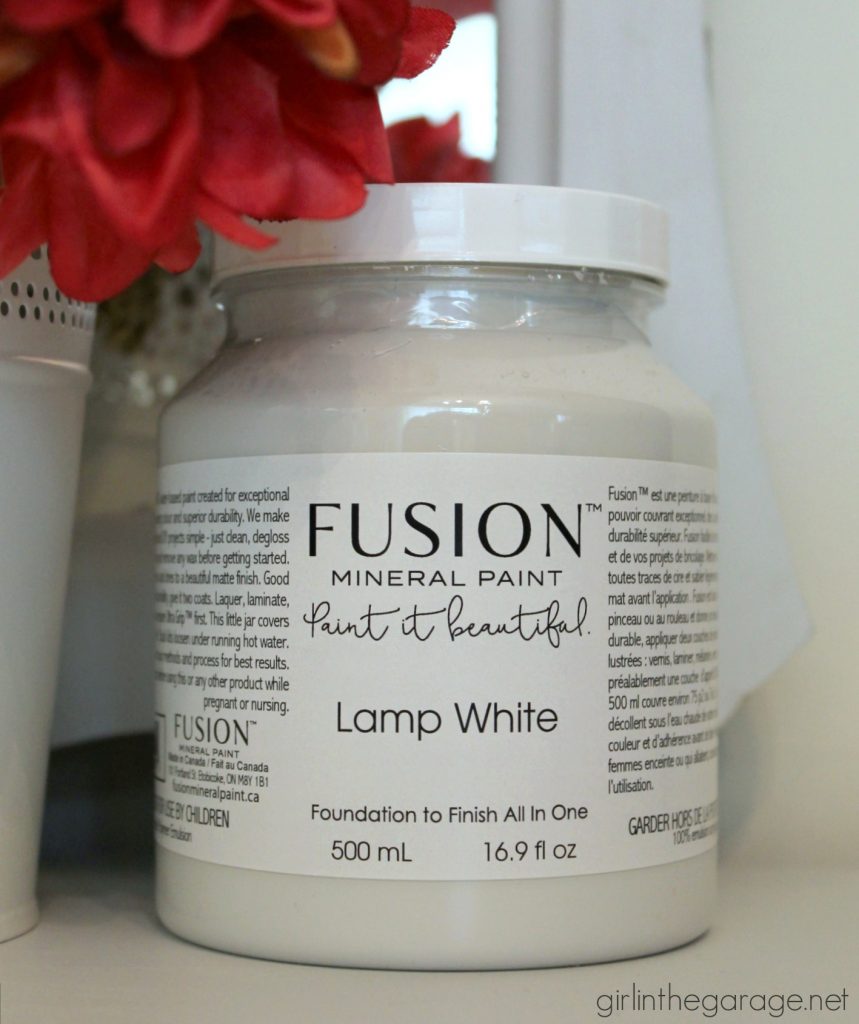 I had heard about this rub-on easy image transfer method and wanted to try it out for myself:
You can order from many different designs – and you're sent a plastic sheet with inked words/designs. You can cut the plastic to your desired size (I cut a huuuge one into smaller pieces, so I can use the rest on other projects aka save money), then measure and tape it on with Delicate Surface FrogTape so you don't damage the paint.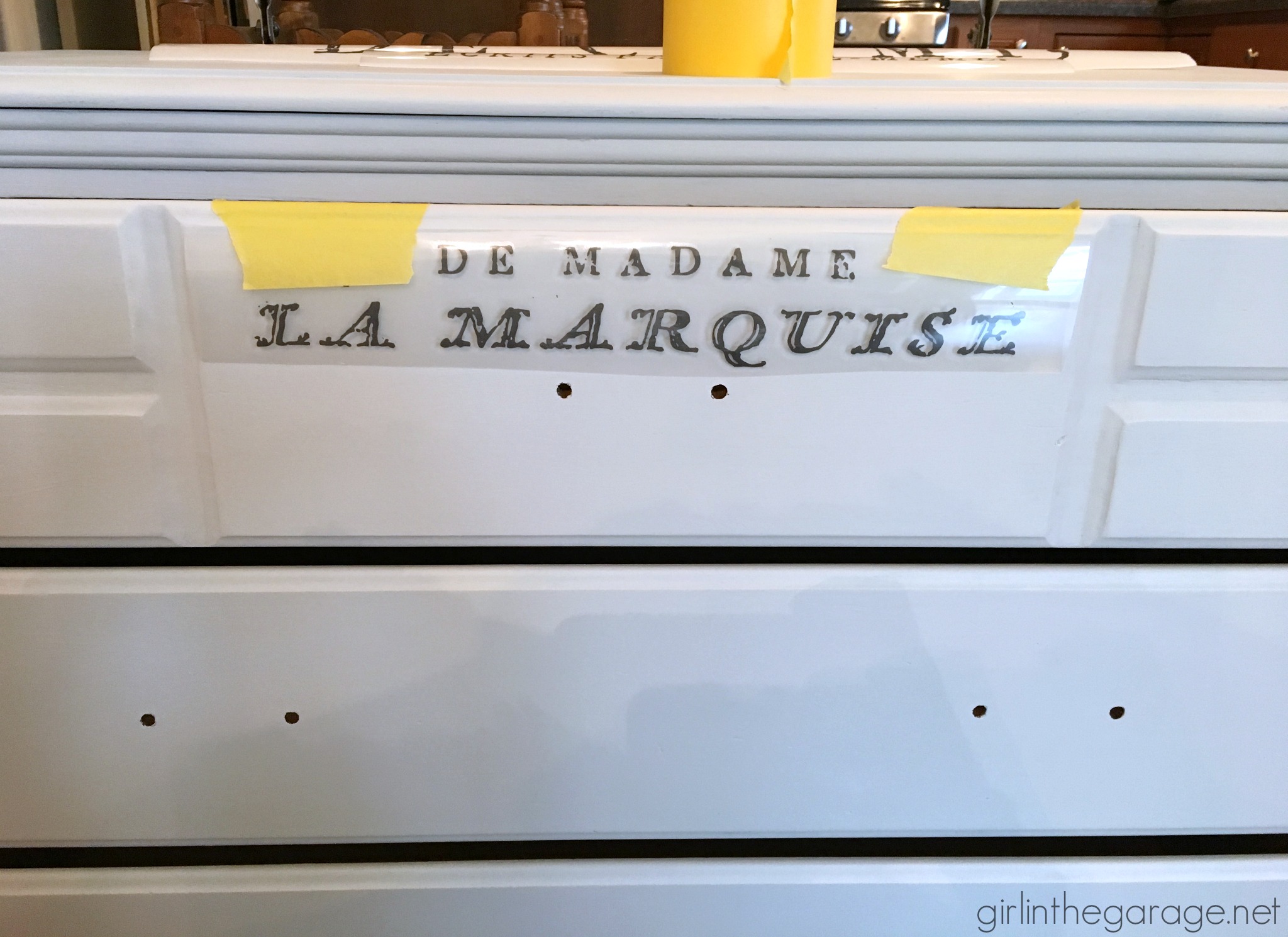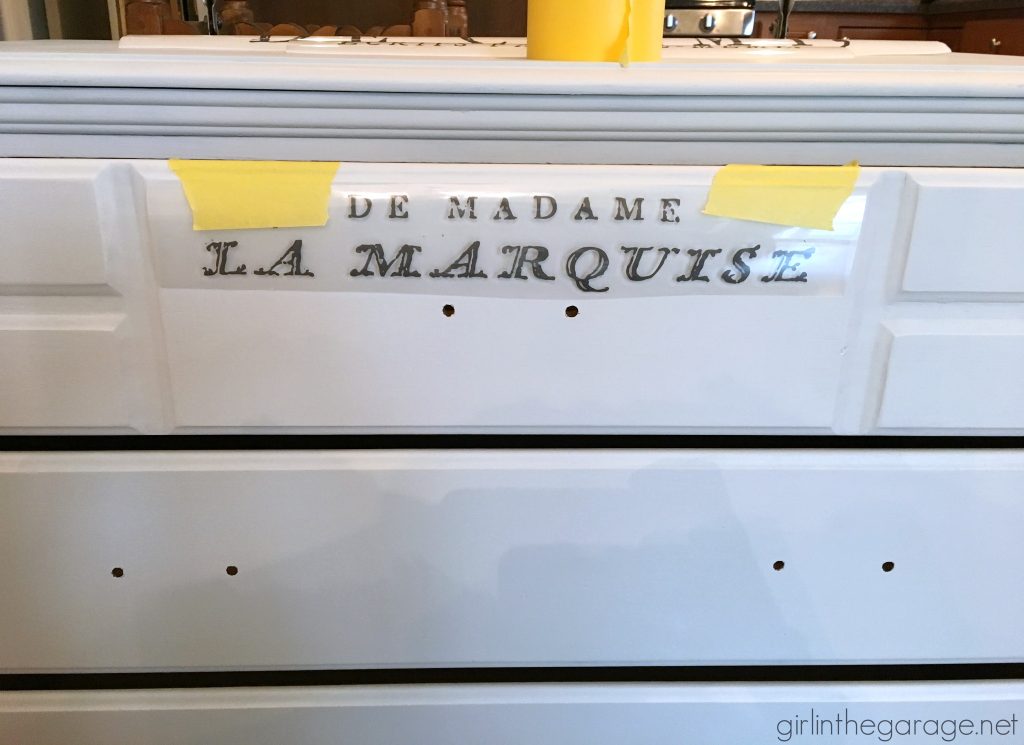 The plastic graphic comes with a wooden stick and you rub over the ink repeatedly to transfer the image. After rubbing all over for 5-10 minutes (or longer depending on the size of your graphic), carefully peel away the plastic. If any of the letters stick to the plastic, lay it back down and go over it again with the stick.
I used the FrogTape again to paint some thin stripes on the drawer sides. Be sure to remove the tape while the paint is still wet.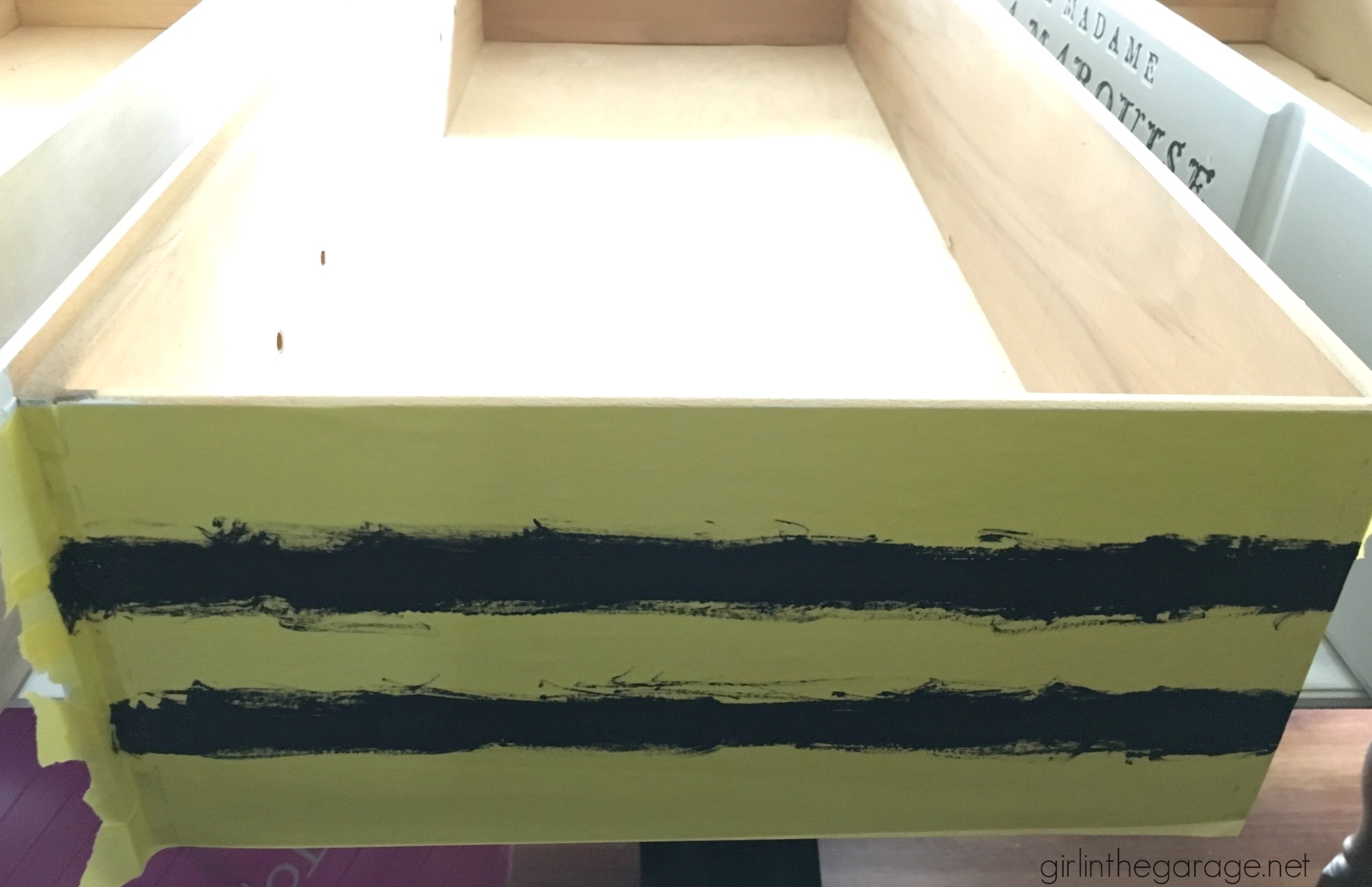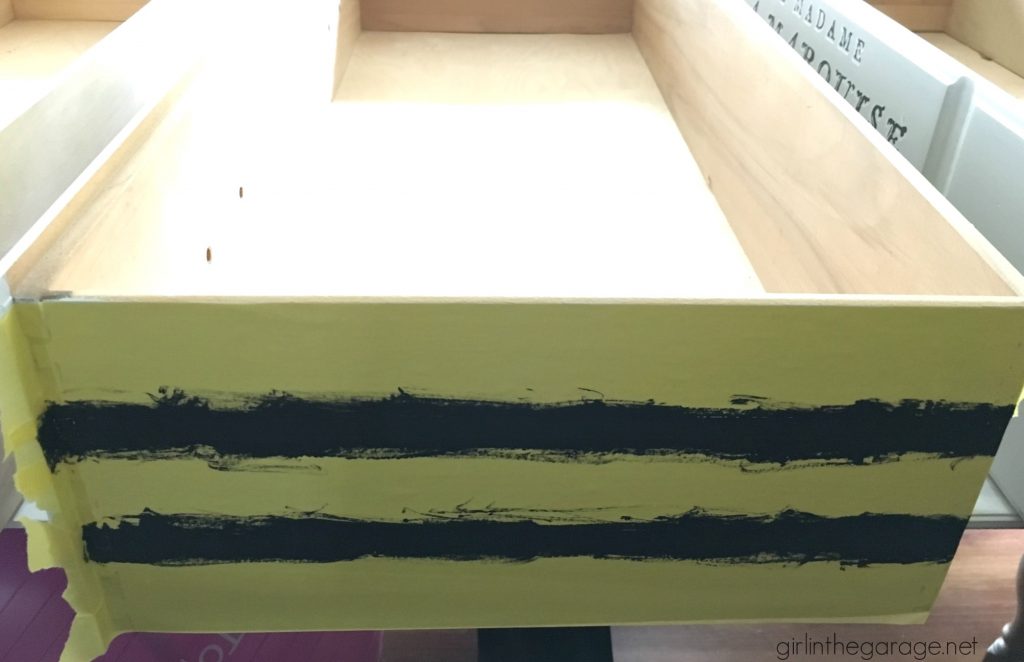 And I replaced the original hardware with new glass pulls (find similar ones online Here) for a more glamorous look overall.
And here she is all finished…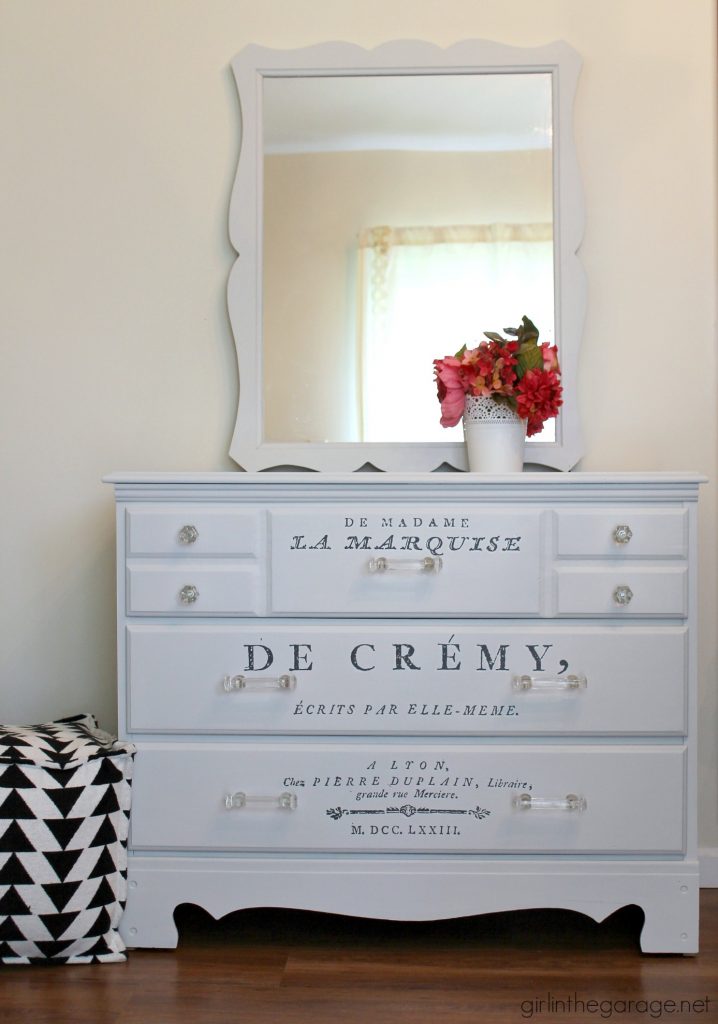 I like Fusion Mineral Paint when I want a sleek, uniform look – it's not as easy to distress as some other paints. It's self-leveling and doesn't require a topcoat, which is awesome.
To help the transfers adhere better though, a topcoat is recommended. I typically use Annie Sloan's soft wax.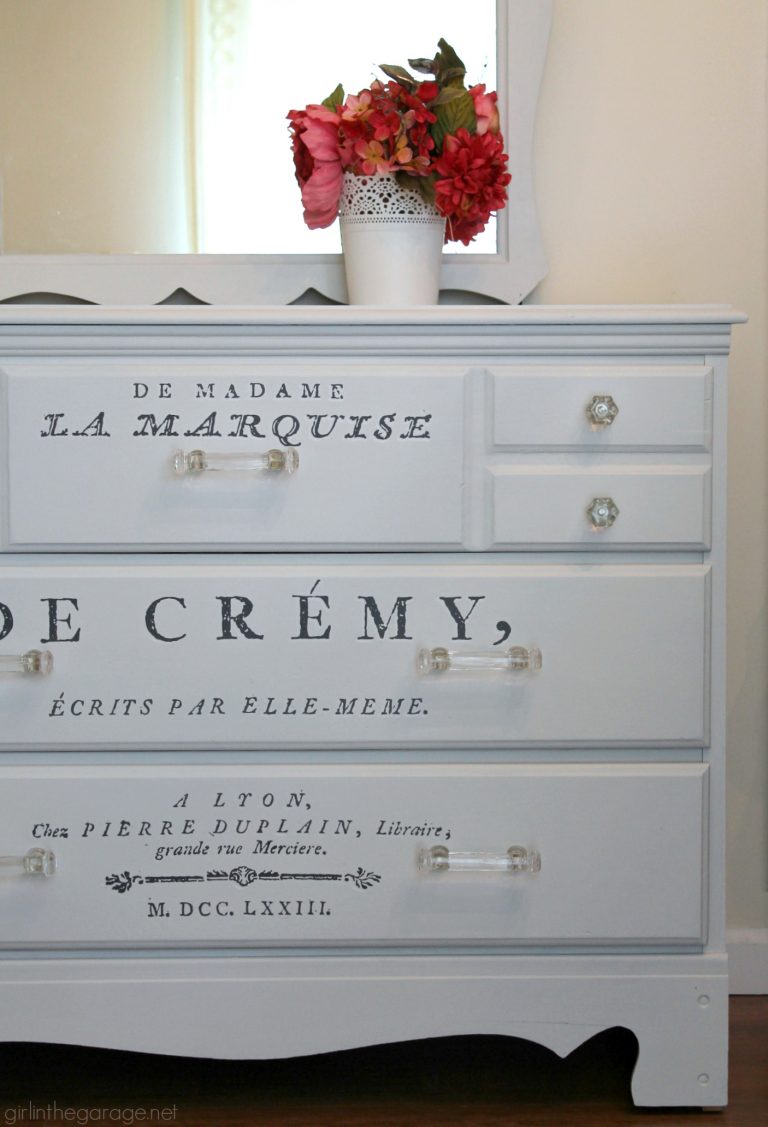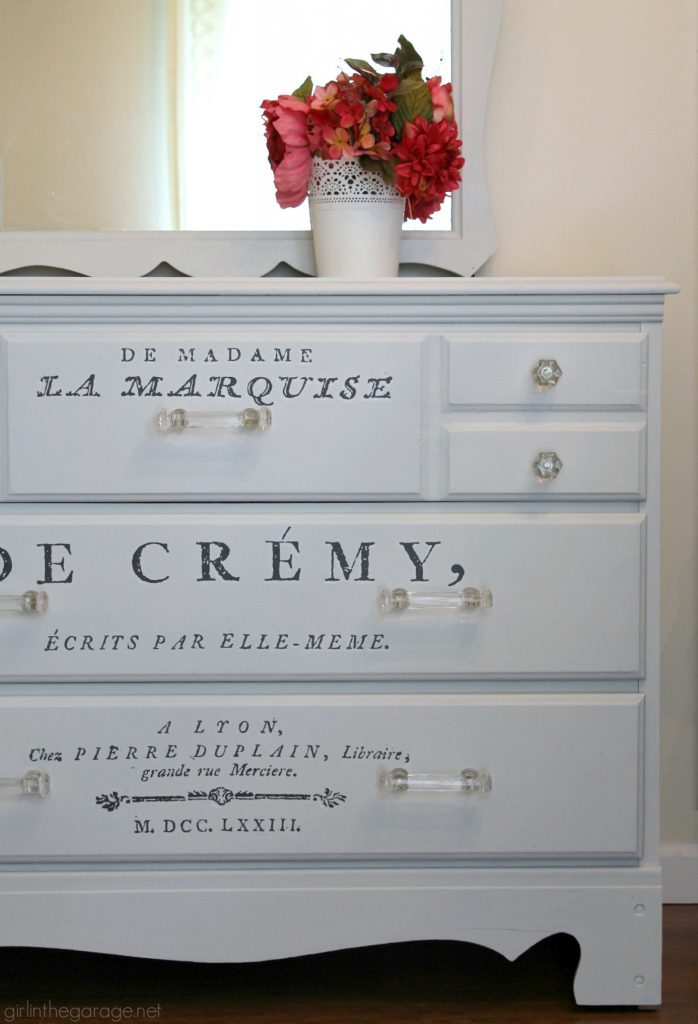 The drawer stripes add that extra surprise touch while still keeping it classy.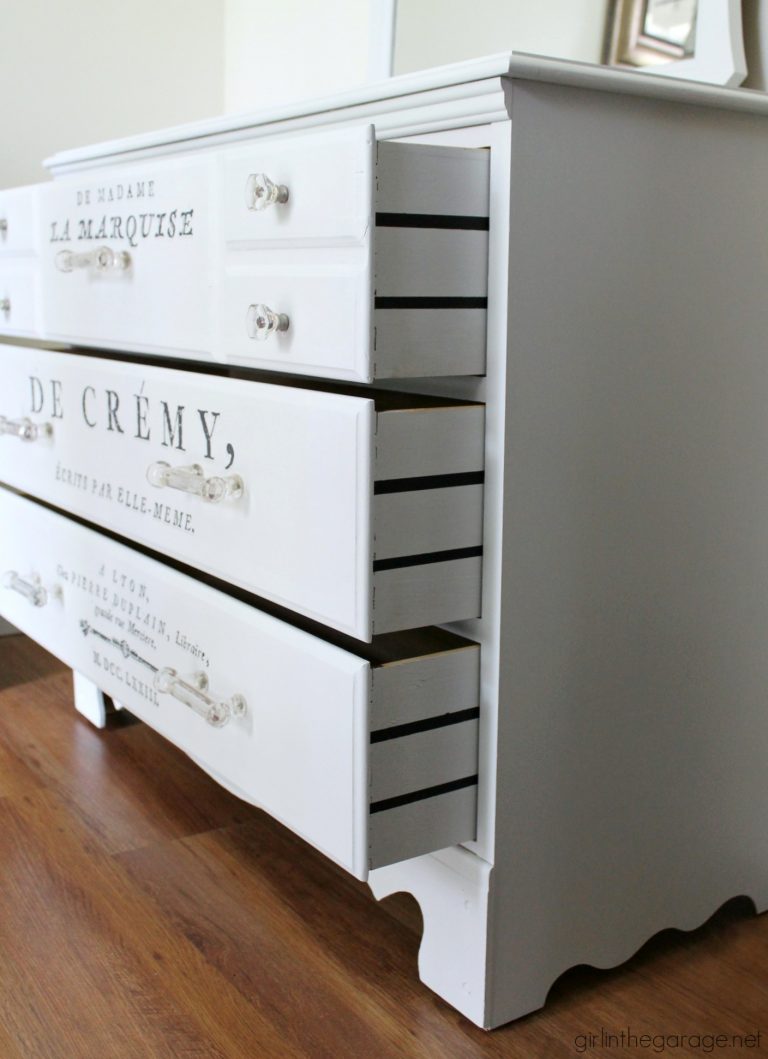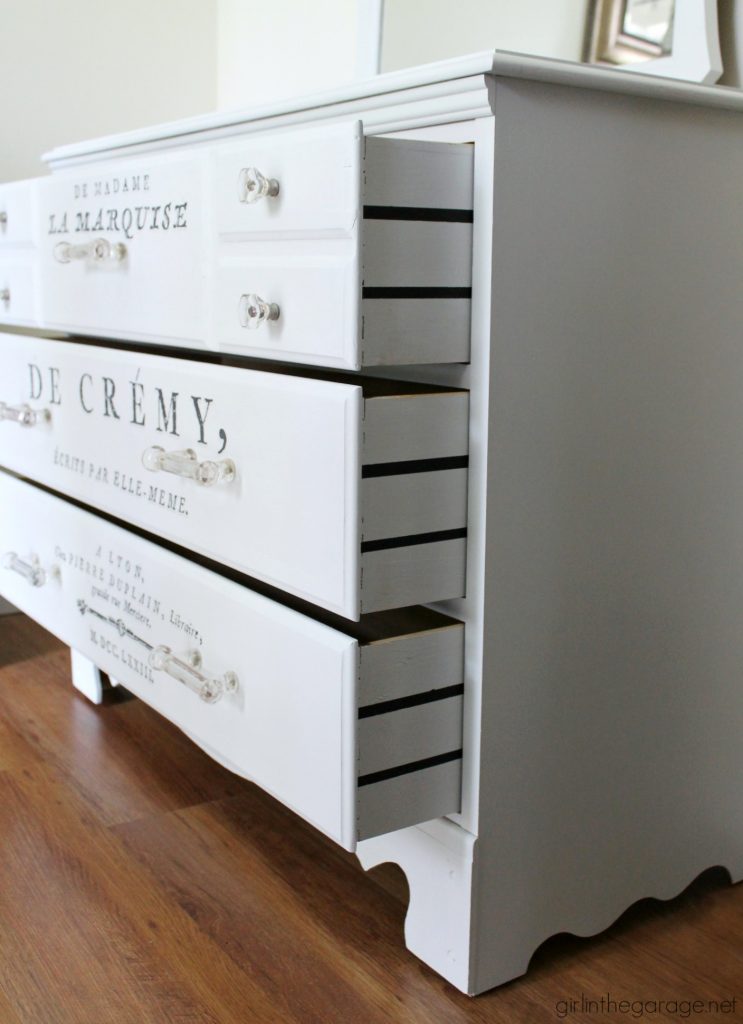 Sigh. So pretty.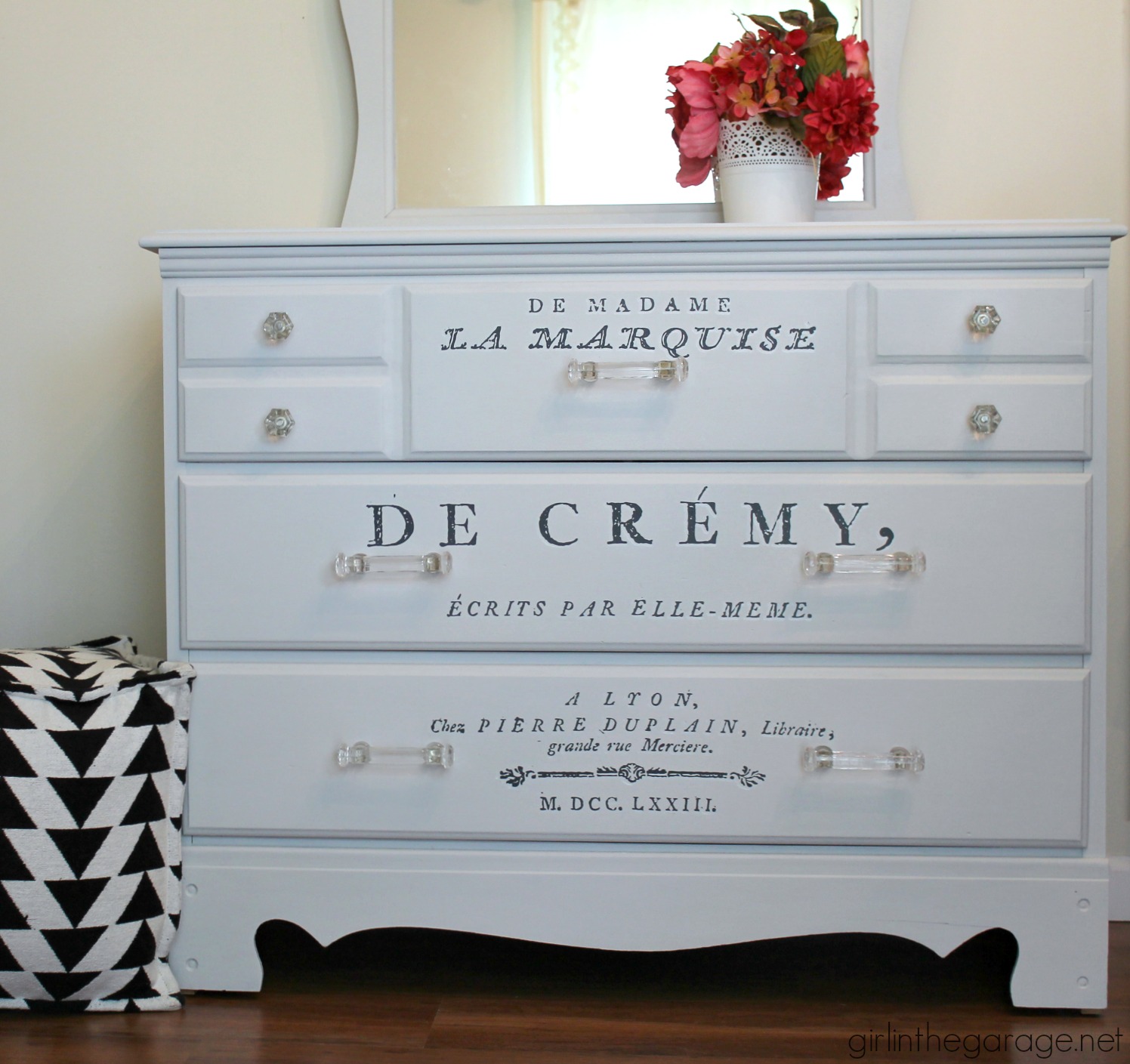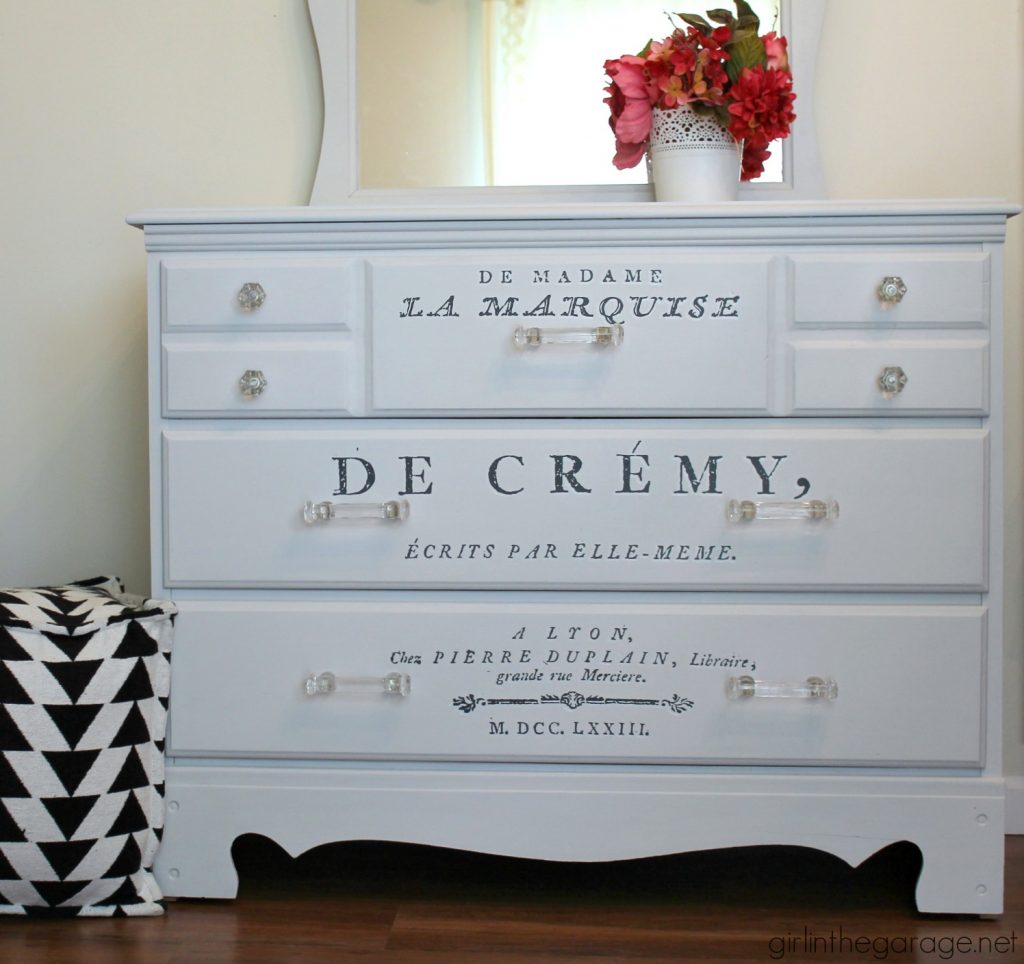 This vanity makeover is a night and day difference, right?
We brought this to the market but it's still available, so we'll be taking it to my new booth at Antiques on Main sometime this week. (Update: It sold quickly from my booth!)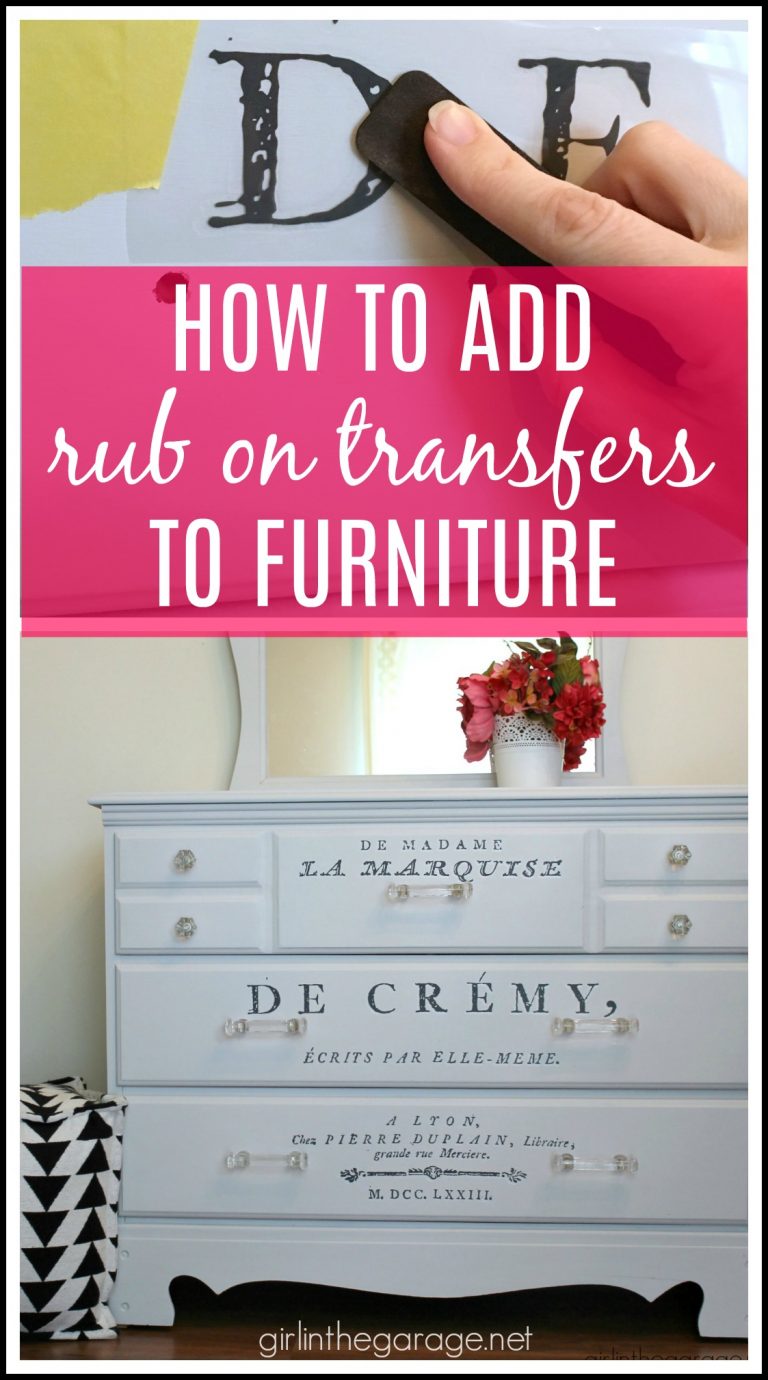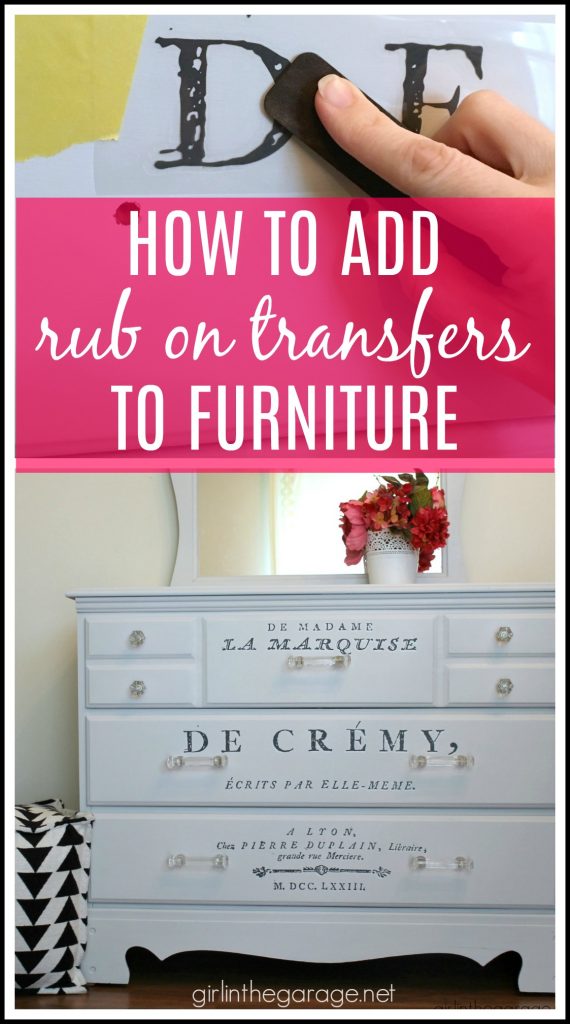 Have you tried this easy image transfer technique yet? Let me know if you do, and what you think of it. (You can see all the different designs HERE.) I have another project using a different one of these graphics that I'll share with you guys soon!
Jen
Update: Here are a few other projects where I've used rub-on easy image transfers (find links underneath to see the complete tutorial):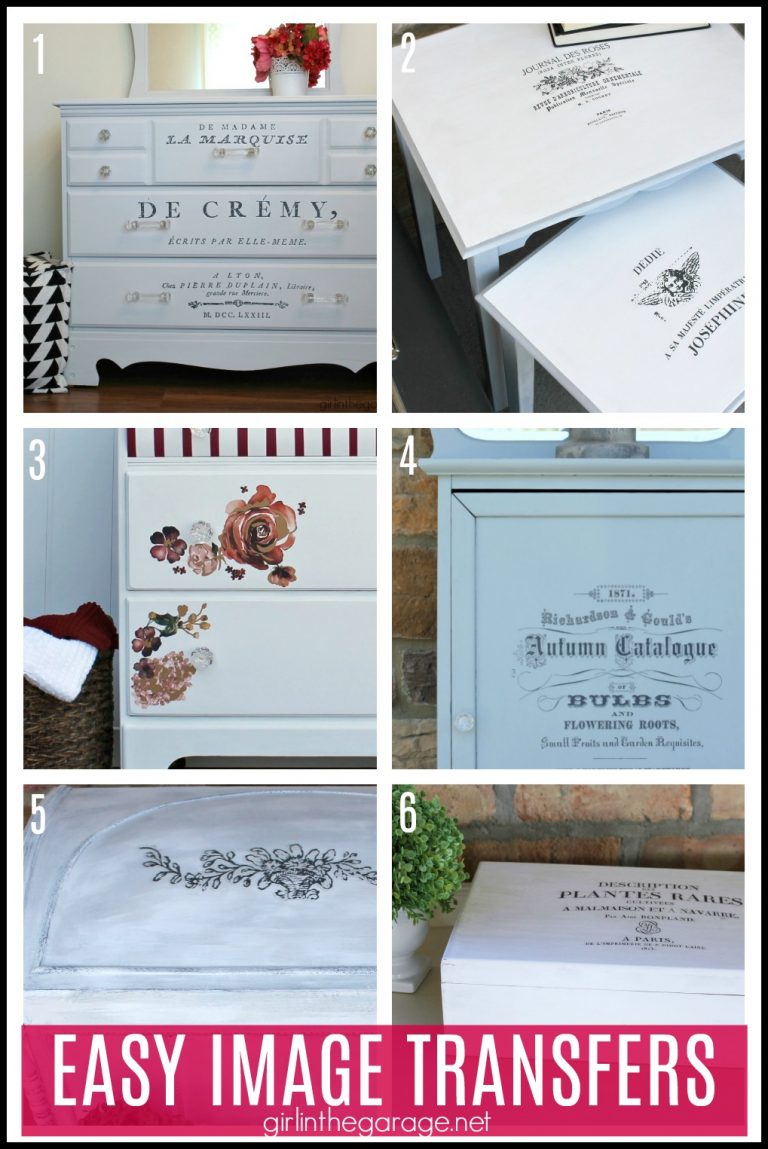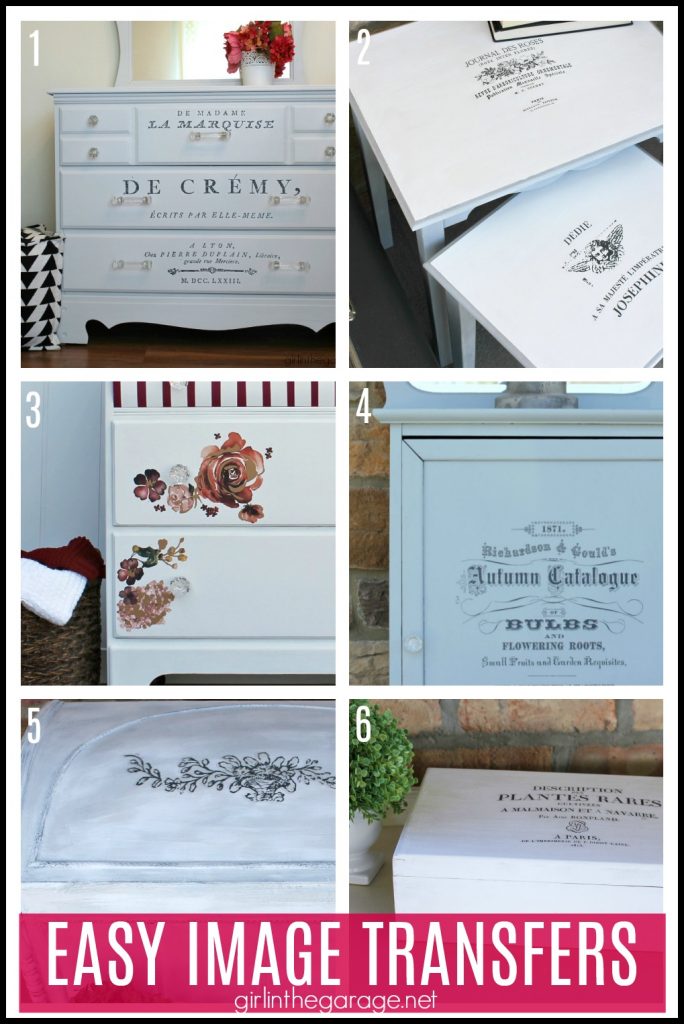 1. This project (you're already here)
2. Nesting tables
3. Stripes and flowers dresser
4. Music cabinet
5. Trunk with layered paint
6. Tea box makeover