Do you wander around Goodwill too, spying any kind of potential-treasure and dreaming of how you can make it prettier or more useful again? Then you're my kind of shopping buddy. 🙂
Little wooden storage boxes like these are pretty easy to find at thrift stores and yard sales. You can easily upcycle them with paint and even add decorative touches like image transfers, decoupage, or stenciling. You can also sell them in your booth or market space without taking up much room at all. Here's how I decided to update these two boxes…
1. Bamboo Tea Box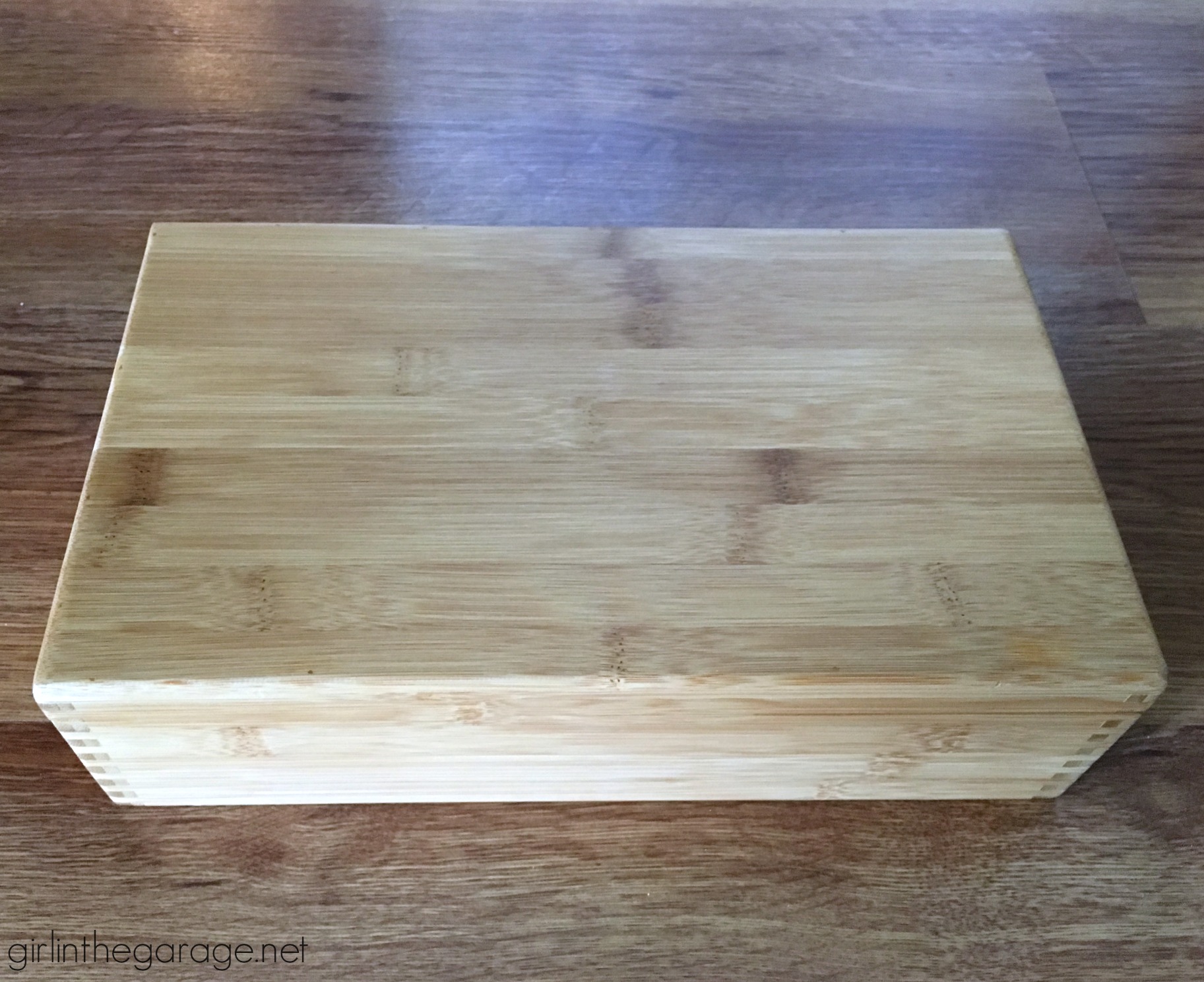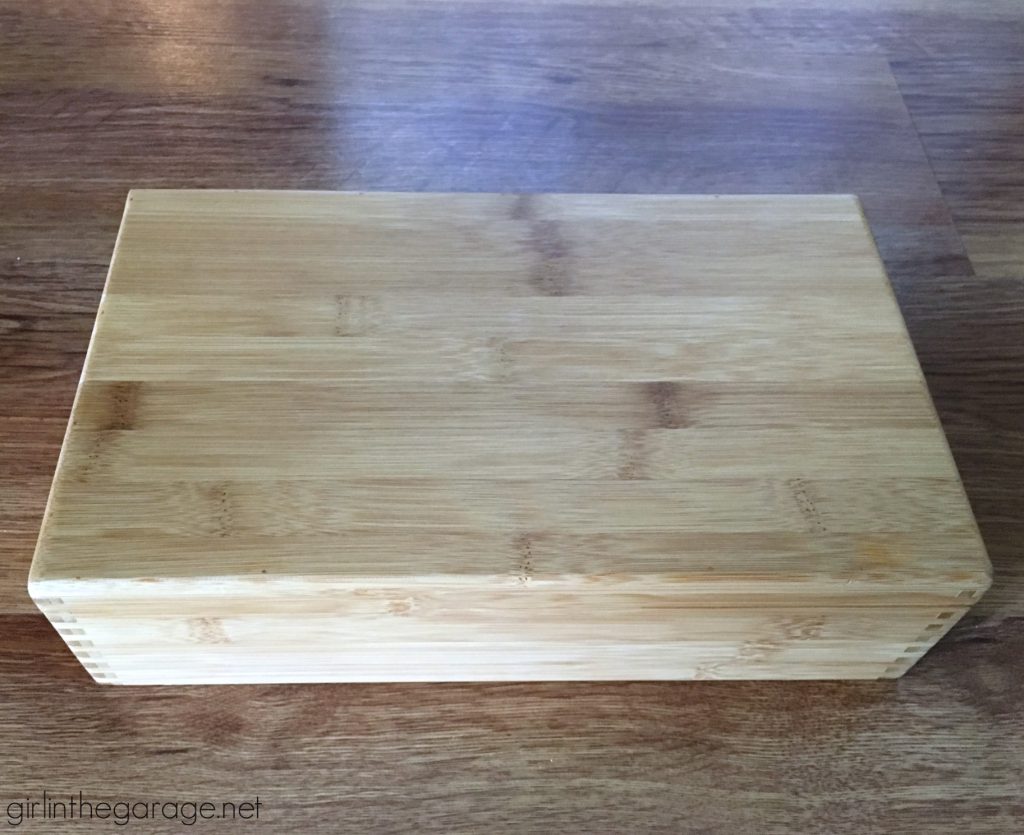 This little bamboo box was very plain outside. Open it up and there's a removable grid inside for holding tea bags, or take it out and you could hide remotes, keys, anything else in there you want to keep out of sight. (By the way, it smells ah-mazing inside like delicious tea!)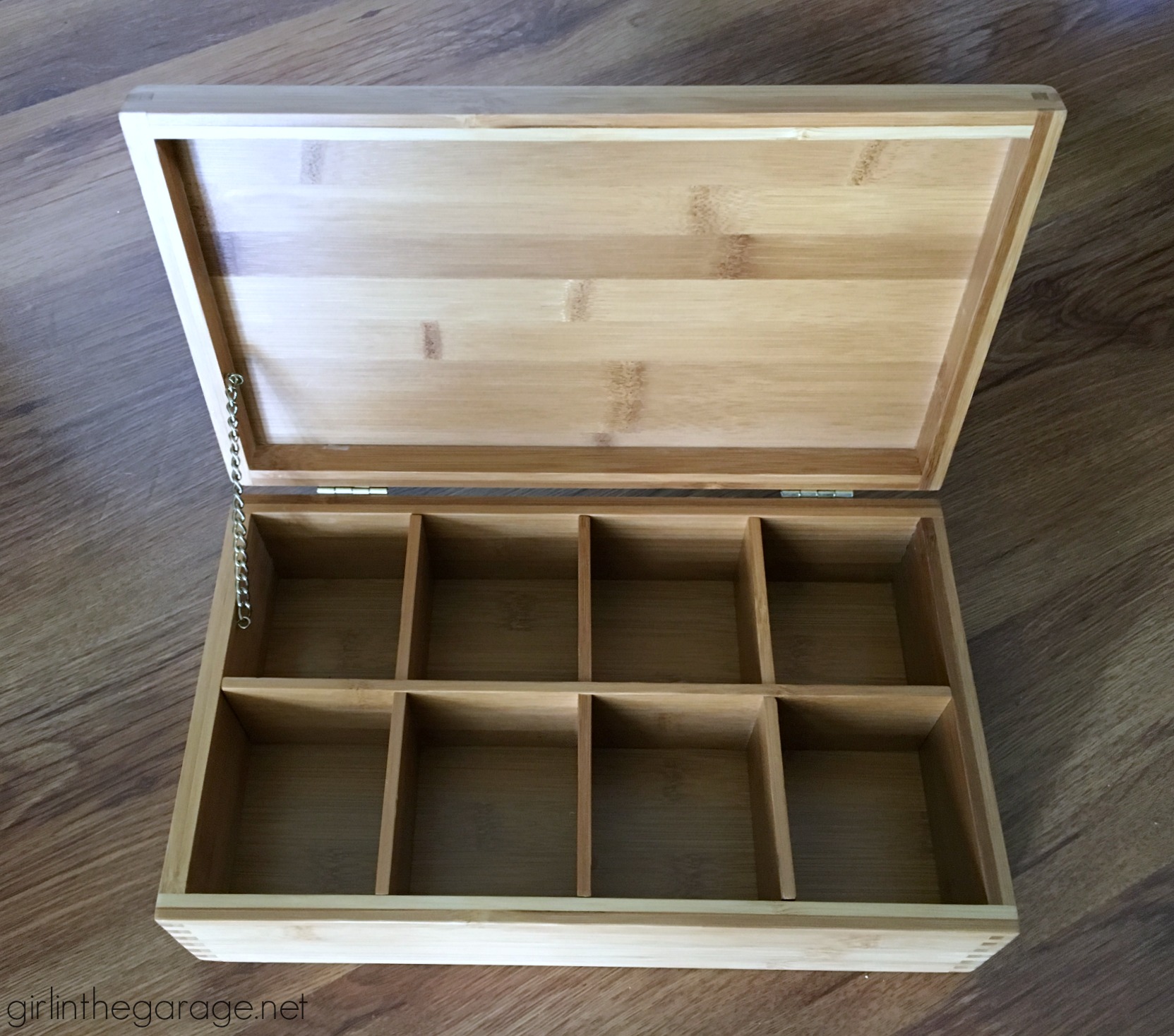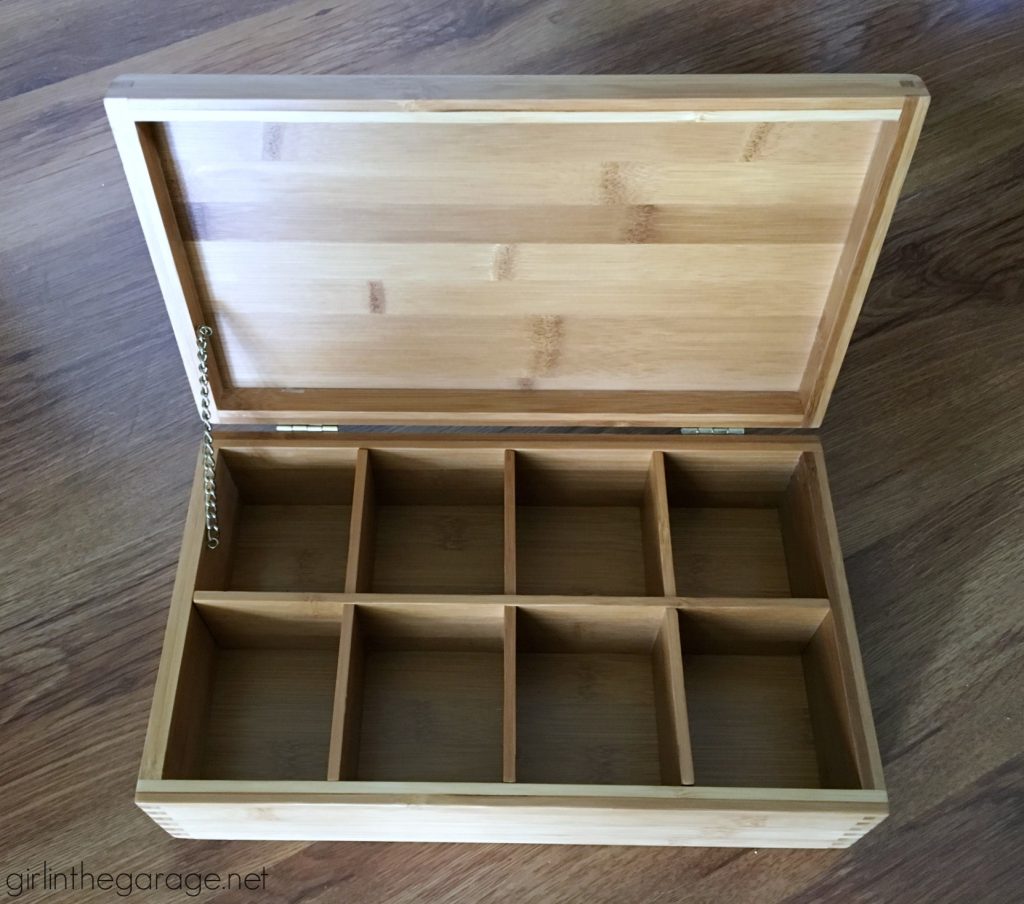 This tutorial contains some affiliate links, at no extra cost to you, so you can easily find the products I use and recommend. Discover all my favorite brands and tools for doing DIY makeovers here.
First I painted it in Annie Sloan Chalk Paint in Pure White. It was still too plain so I added part of a pot-sized French image transfer (available Here) which was super easy. Then I brushed some Fusion Mineral Tough Coat (available Here) over it for protection.
*Read this post for how simple it is to add this kind of graphic transfer to furniture or decor.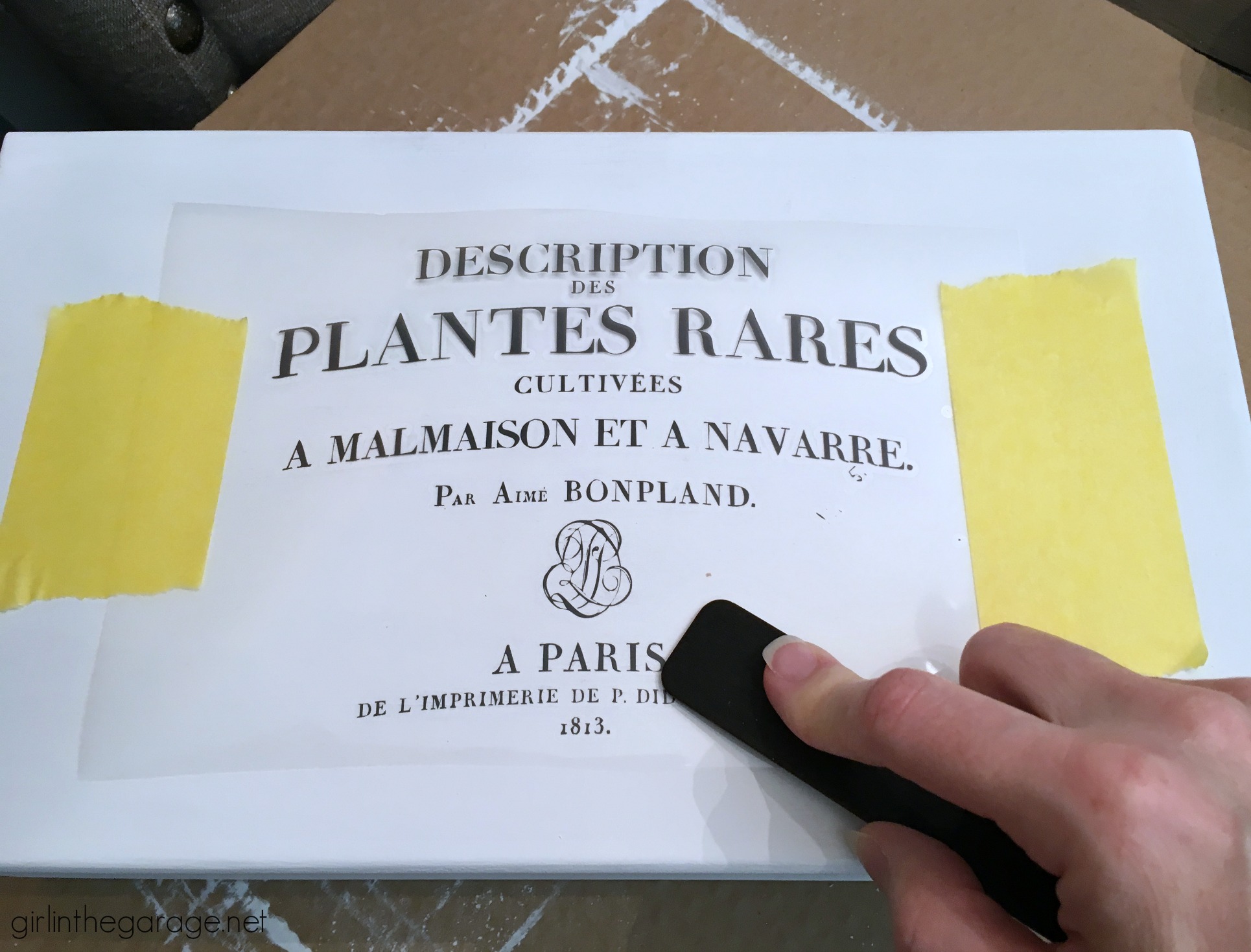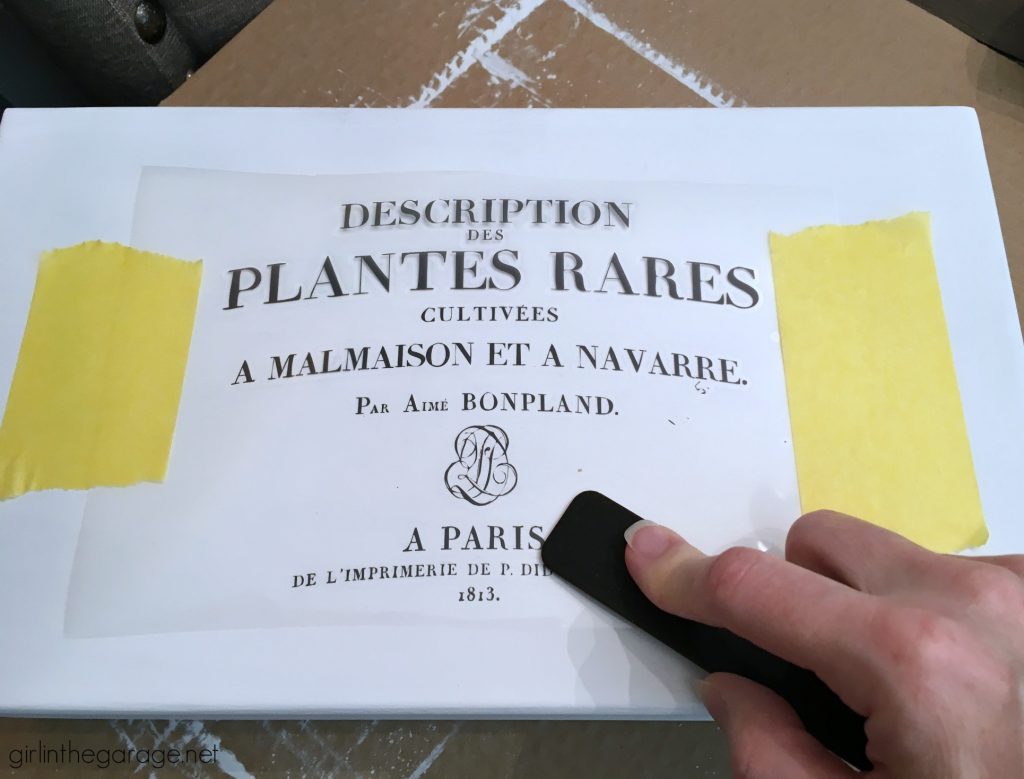 So much prettier than the light wood finish from before.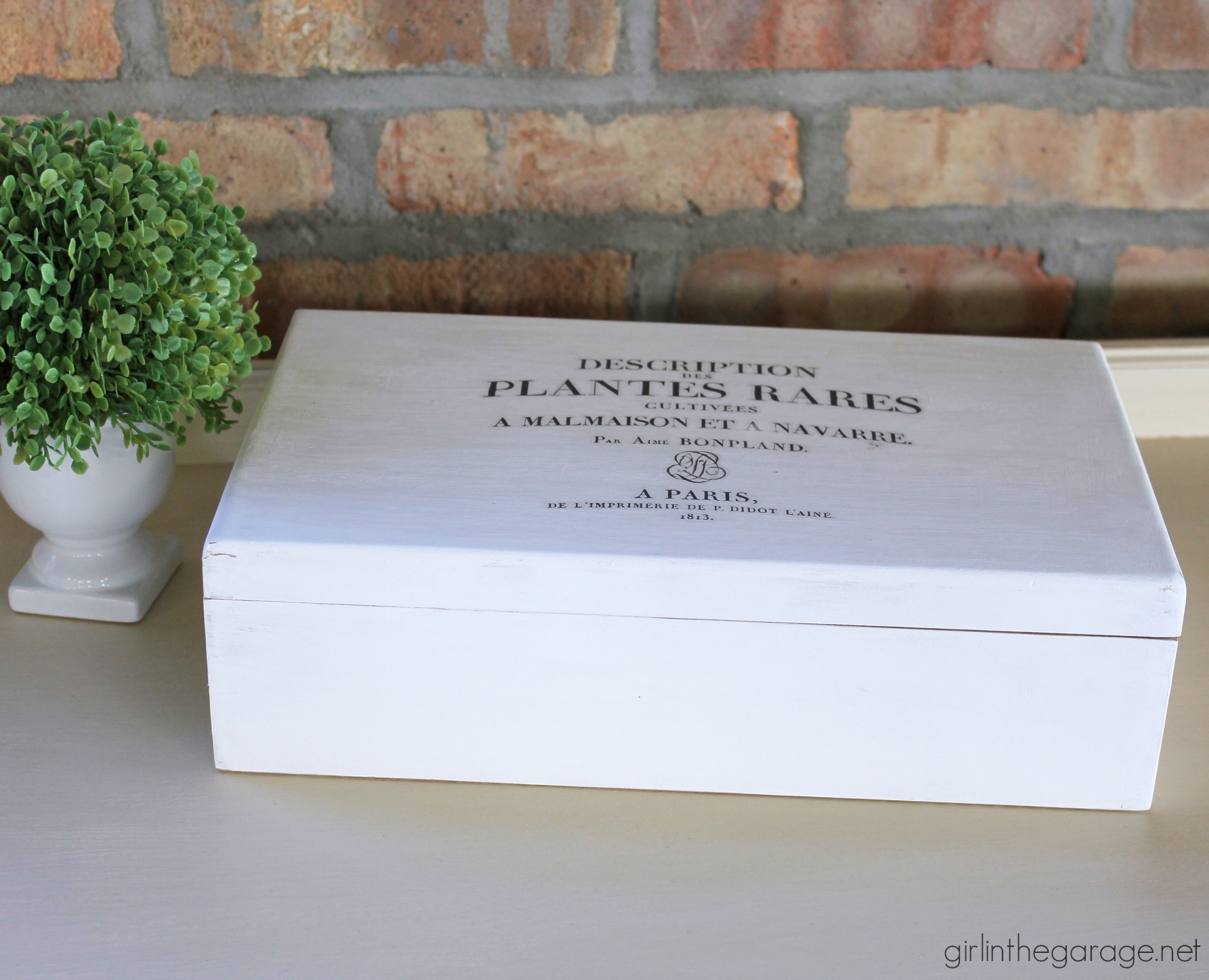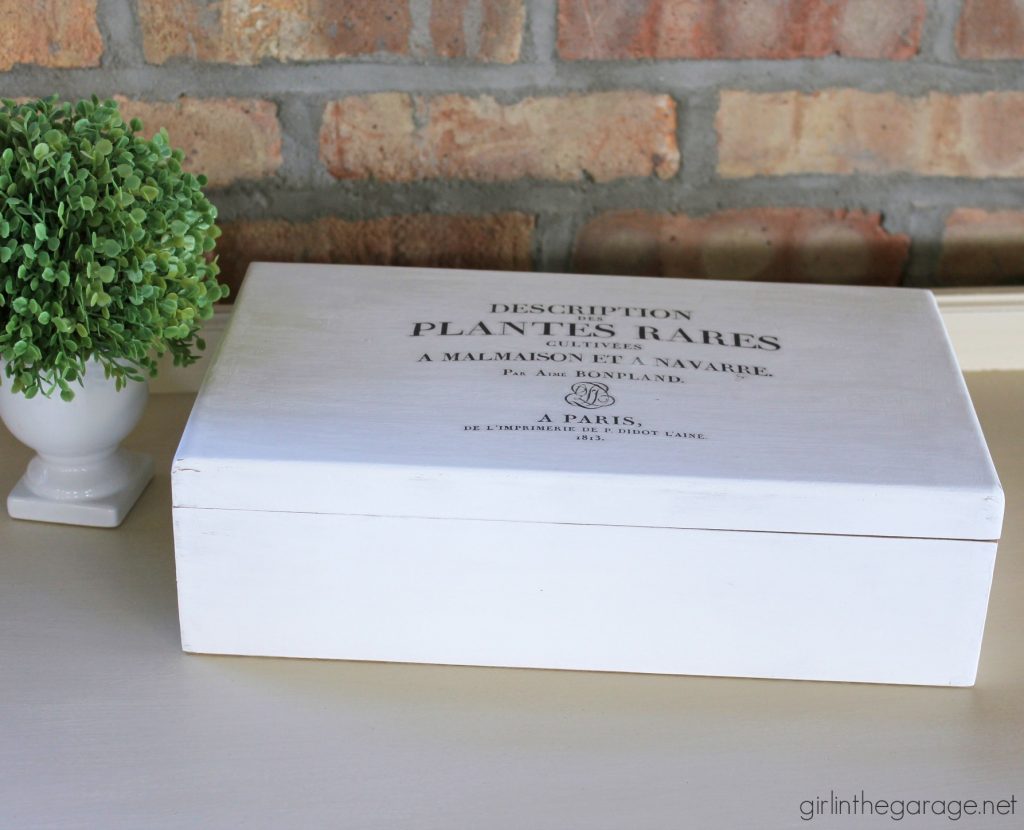 I did leave the inside unpainted but you could choose to paint yours or even decoupage paper inside for a sweet surprise.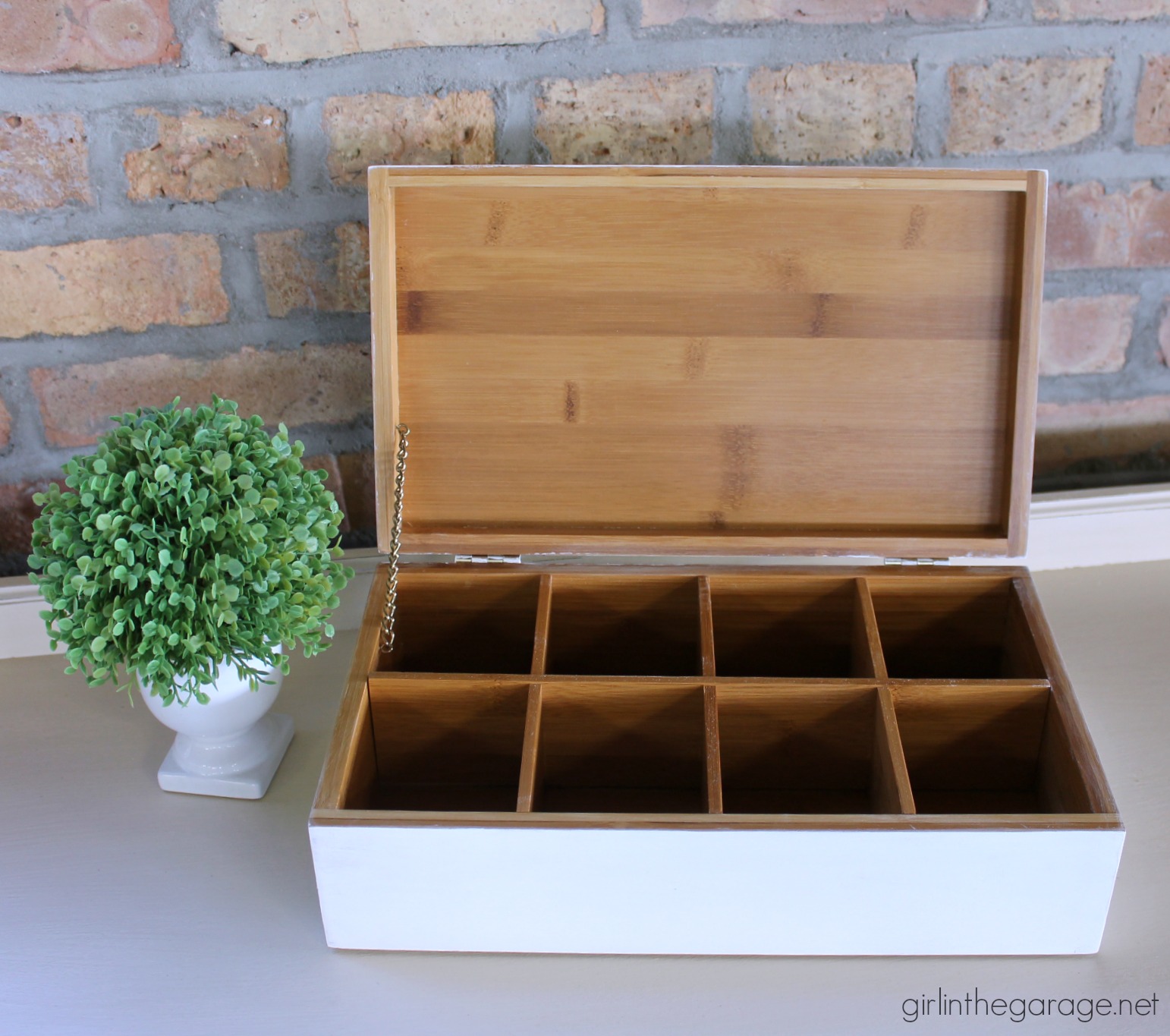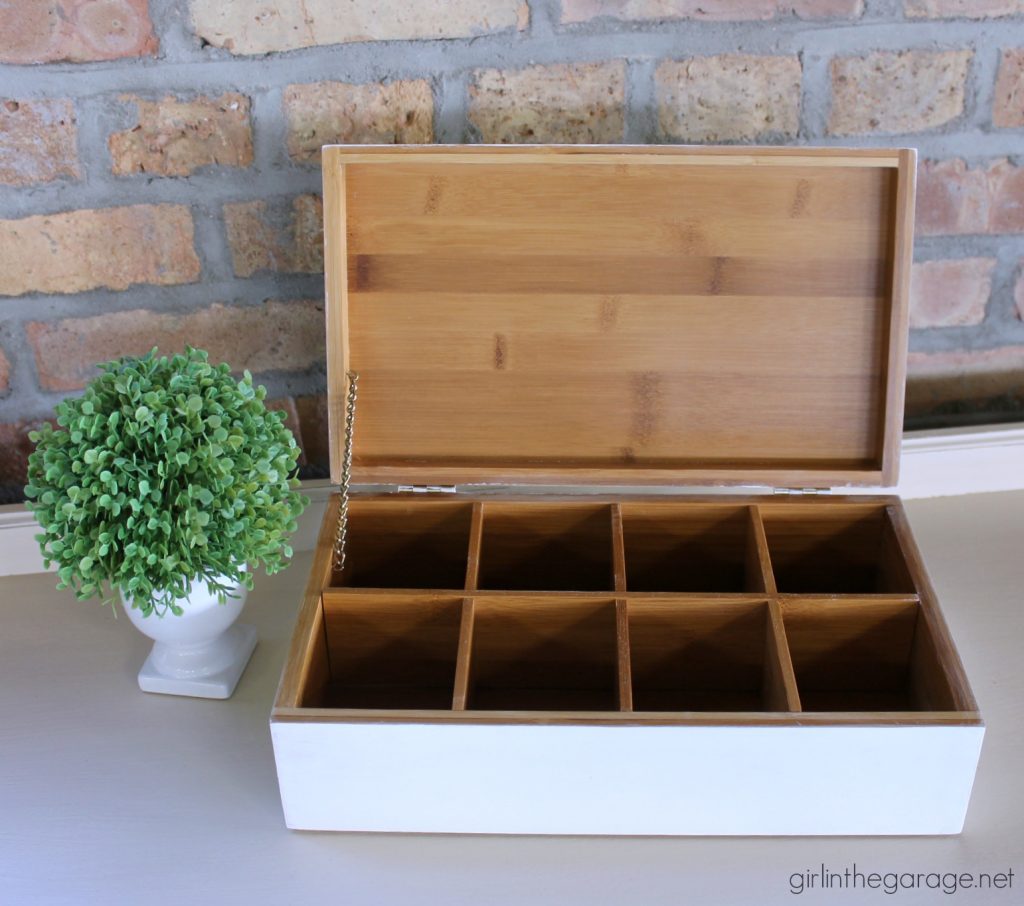 .
2. Little Storage Box with Drawers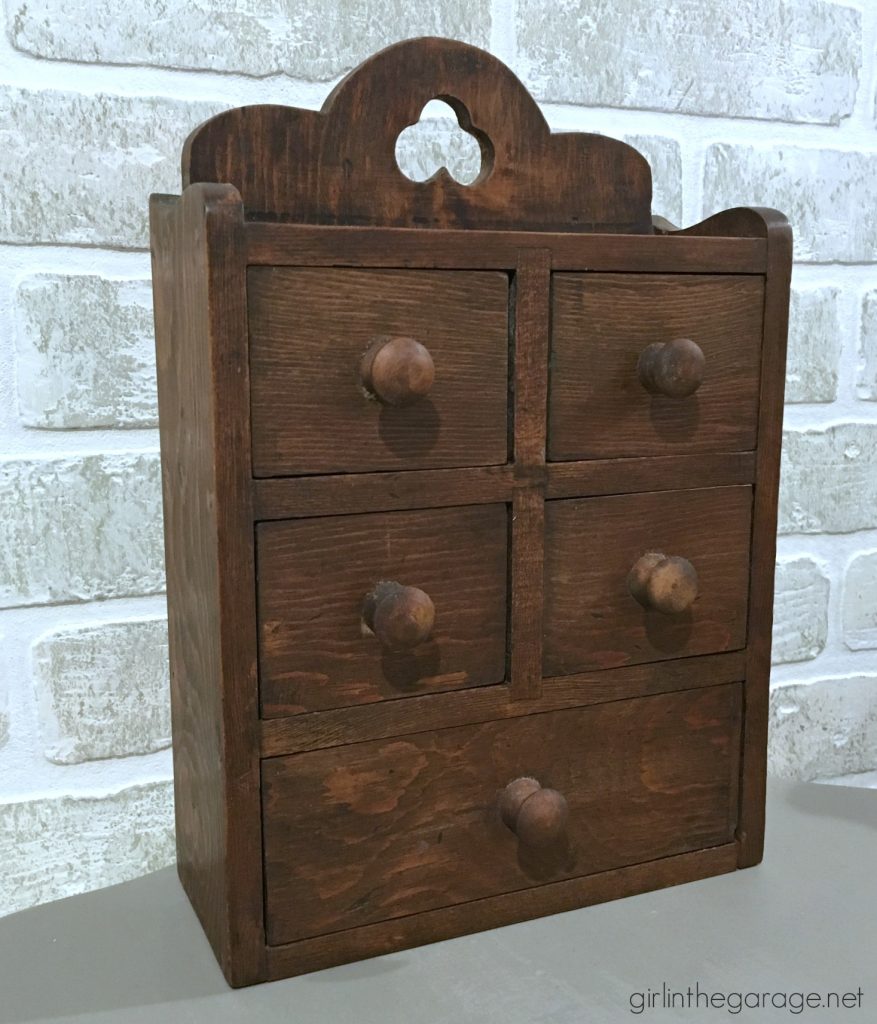 I just love the look of this little storage box with drawers. I have two of them and have only painted one so far, but I forgot to take a photo of it before – so the photo above is very slightly different from the one I painted below.
This one is painted in Annie Sloan Chalk Paint in Old Ochre, then I sanded it all over for a worn, distressed look.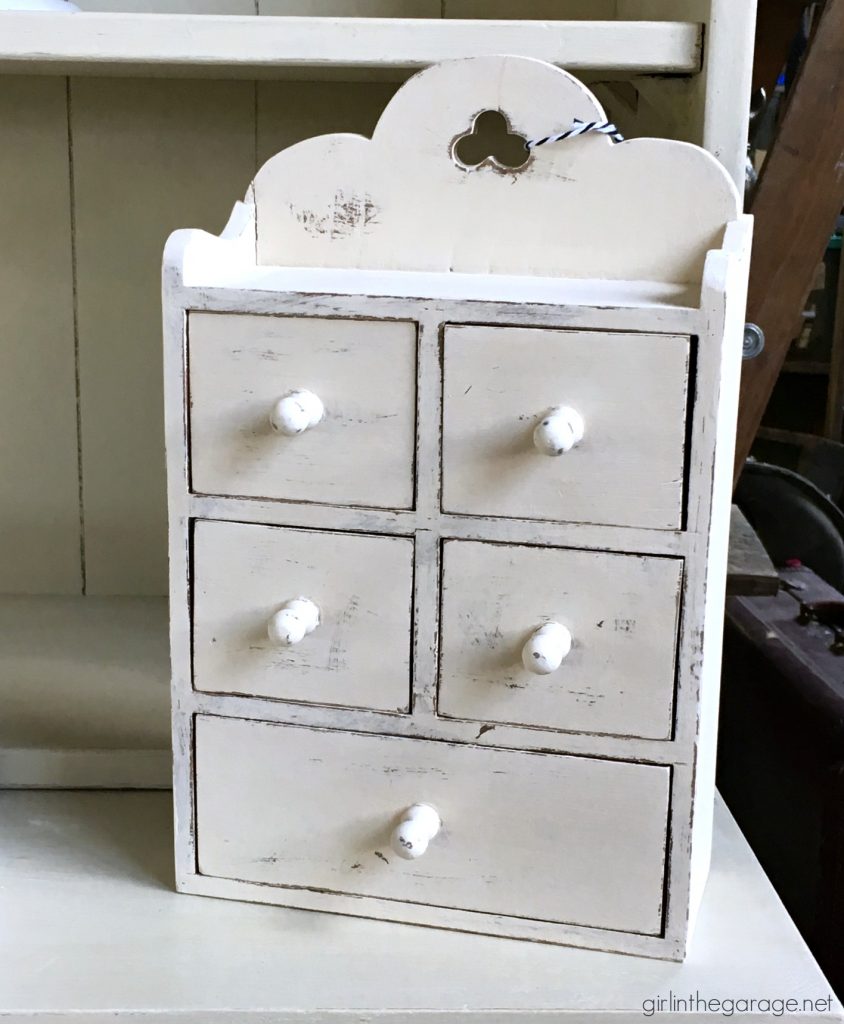 I just love how it looks now.
This is also a good way to add littles to your antique booth or vintage market space without it costing much money or taking up too much of your time.
Here's a handy dandy before/after comparison of these painted wooden storage boxes: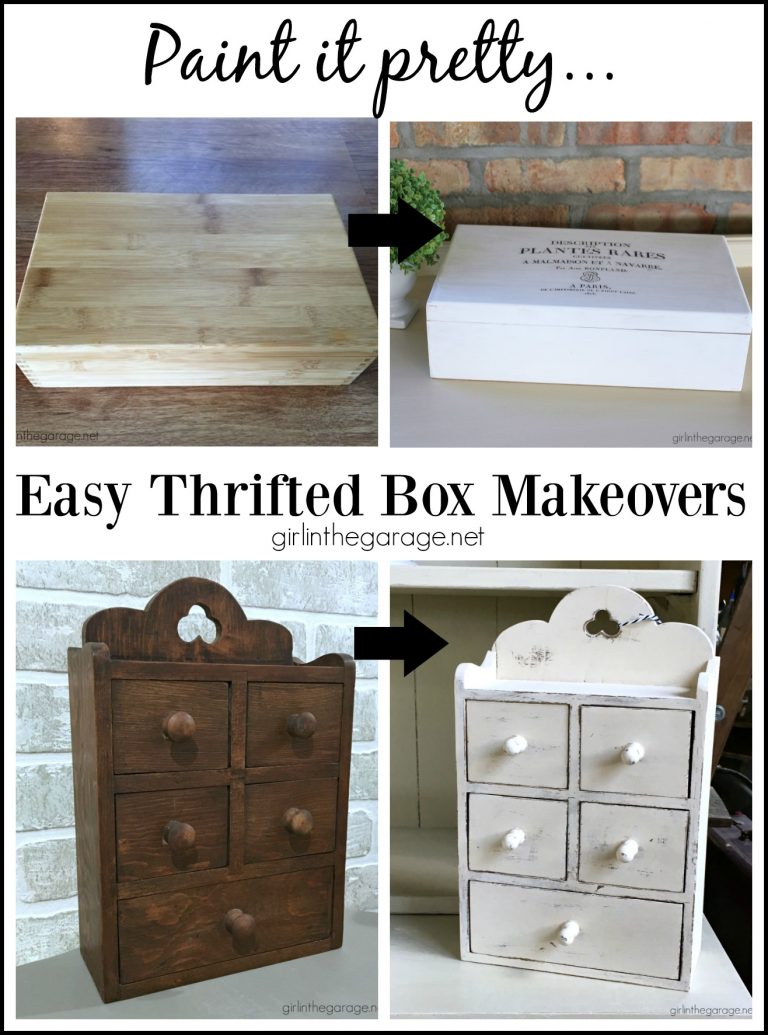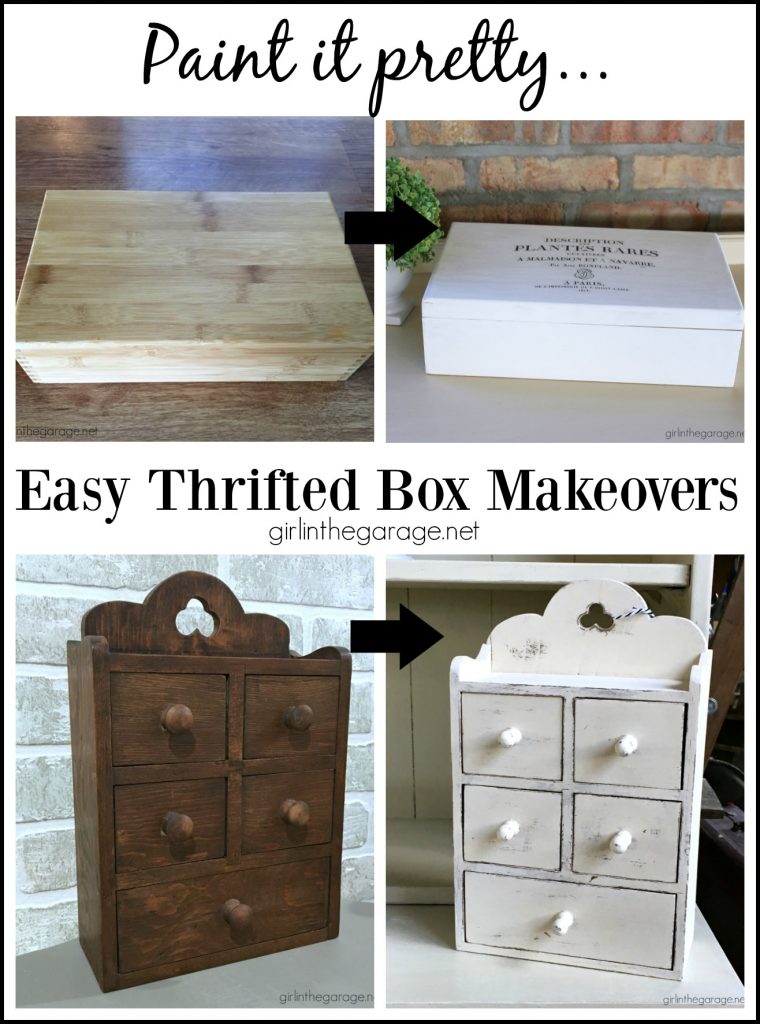 I have a couple more wooden boxes I need to update… I'll let you know what I decide to do with them! Friend, what are your favorite ideas for updating boxes like these? I'd love for you to leave a comment below and let me know. 🙂
– Jen, Girl in the Garage