The market was fast approaching, and even though I had some really neat pieces ready to bring – a vanity, sideboard, desk, bookcase, chairs – I didn't have a regular dresser (not that I'd hardly call this piece "regular"). So I searched for several days and finally found this pretty oak highboy – so. much. potential.
It had a few cracks and imperfections, and several of the drawers needed repairs so that they could slide well again. But I envisioned a rustic, feminine beauty. This blurry photo is from the online ad, but you get the idea.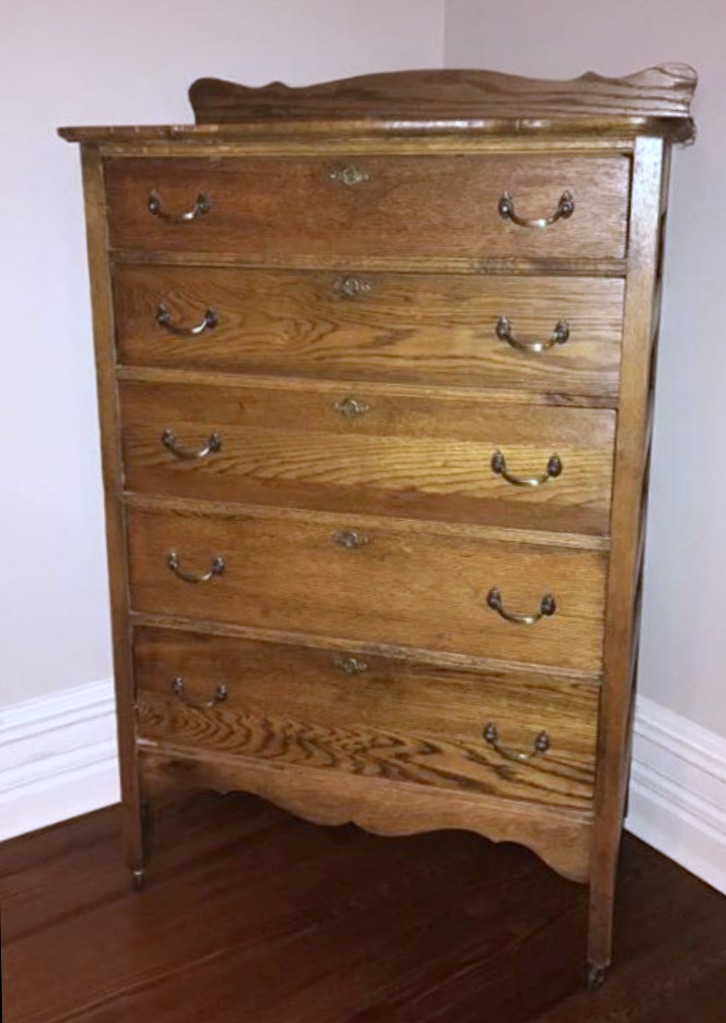 *This post contains some affiliate links, at no extra cost to you, so you can easily find the products I use and recommend. Discover all my favorite tools and brands for doing DIY makeovers here.
A couple of the drawers were stained inside… I want to know, who spills ink in a drawer? This is not the first piece I've encountered that has had a big ink stain inside.
I did try to cover it with primer, but decided instead to paint the drawers and then line the bottoms with paper.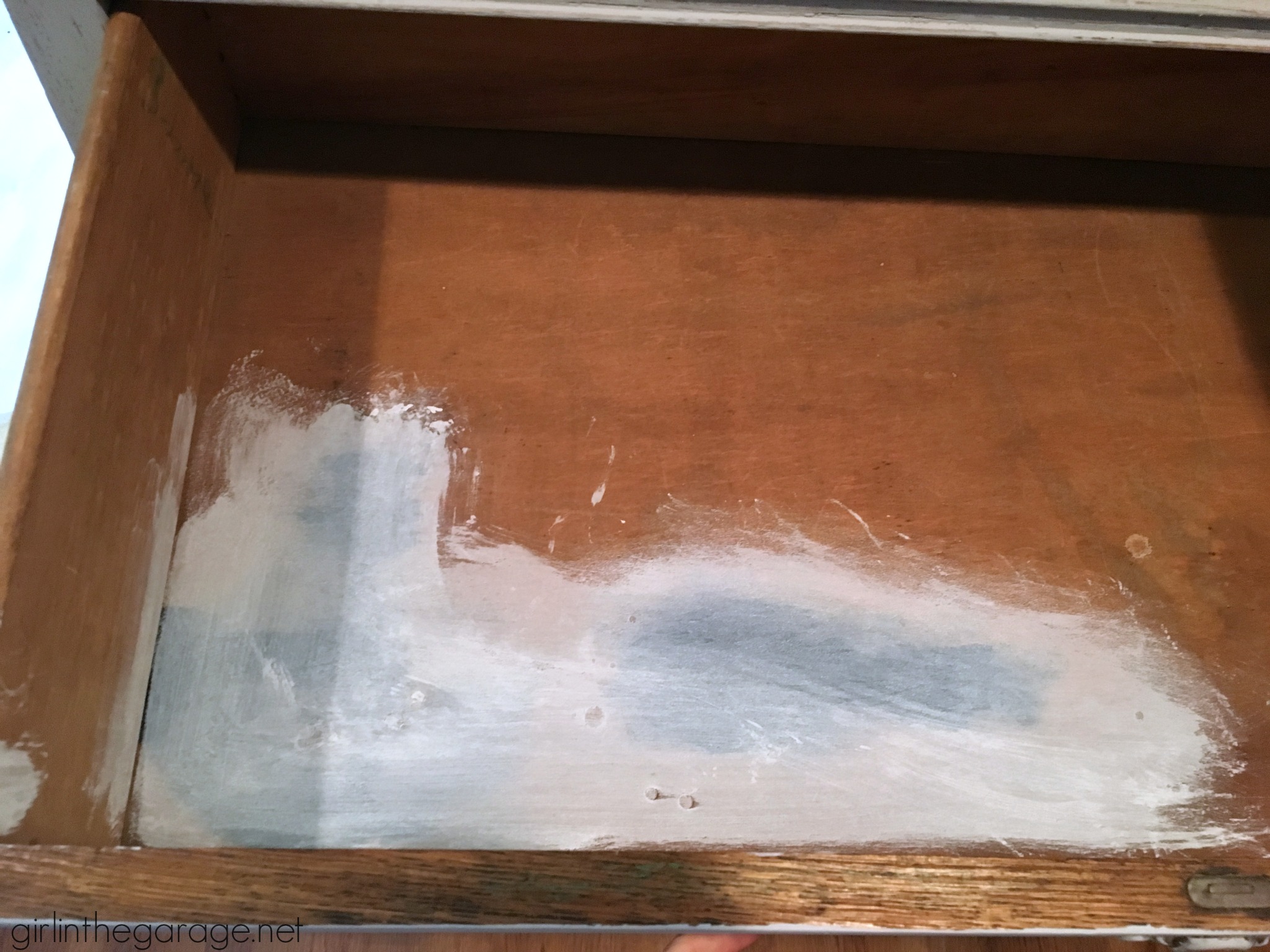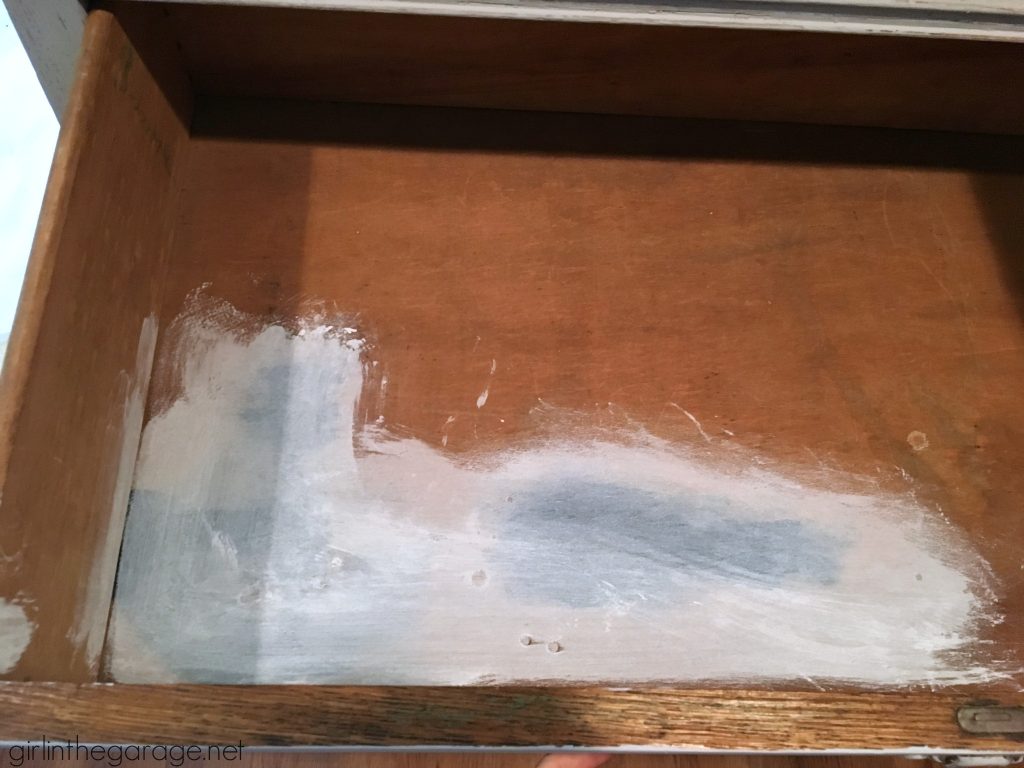 The whole piece was painted in Annie Sloan Chalk Paint in Paris Grey and then sanded down (a little more distressed than I usually do, but this piece called for it) for a worn look.
Ever since Miss Mustard Seed came out with her line of stencils, I was dying to try one. Not all of the Milk Paint retailers carry them, and I didn't want to pay shipping, so I waited until we were visiting the in-laws and I bought two from a small boutique there. 🙂 This one (the Elizabeth stencil) was the perfect candidate for the look I was going for.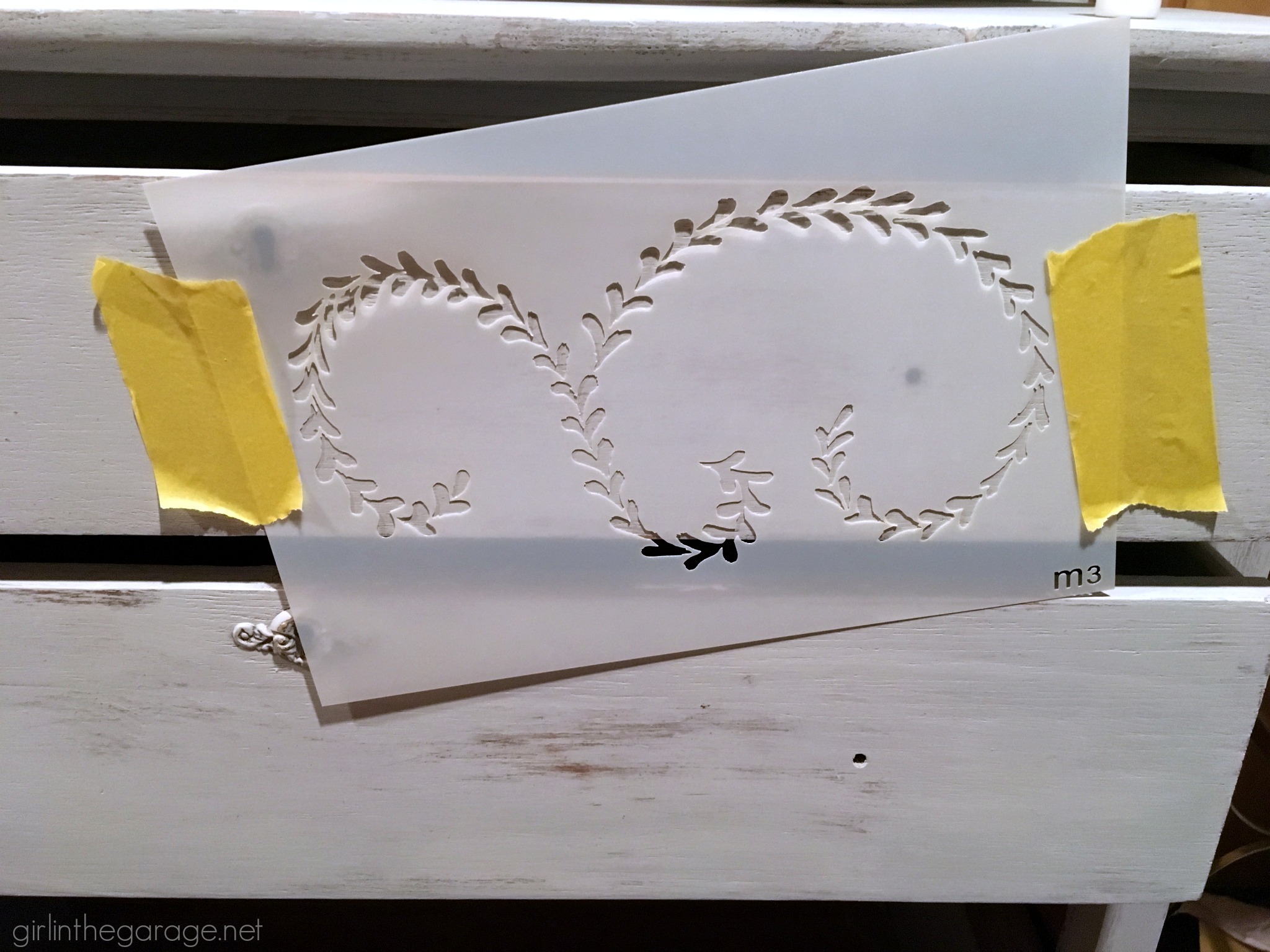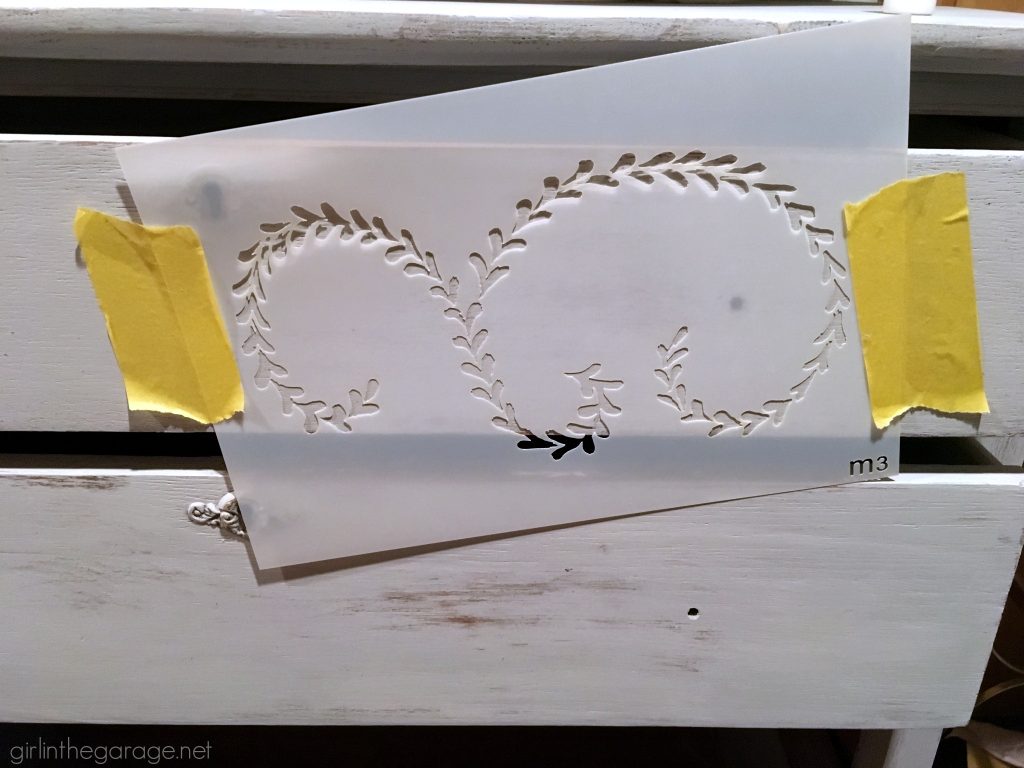 Since this is a fairly small stencil, you have to be creative when using it. I started at the middle-right and then flipped it over for a mirror image on the middle-left. (I used Annie Sloan Chalk Paint in Pure White and a sponge pouncer with very little paint on it – I actually dab it onto a paper towel before painting with it.)
You can learn all my best tips for how to Chalk Paint furniture here.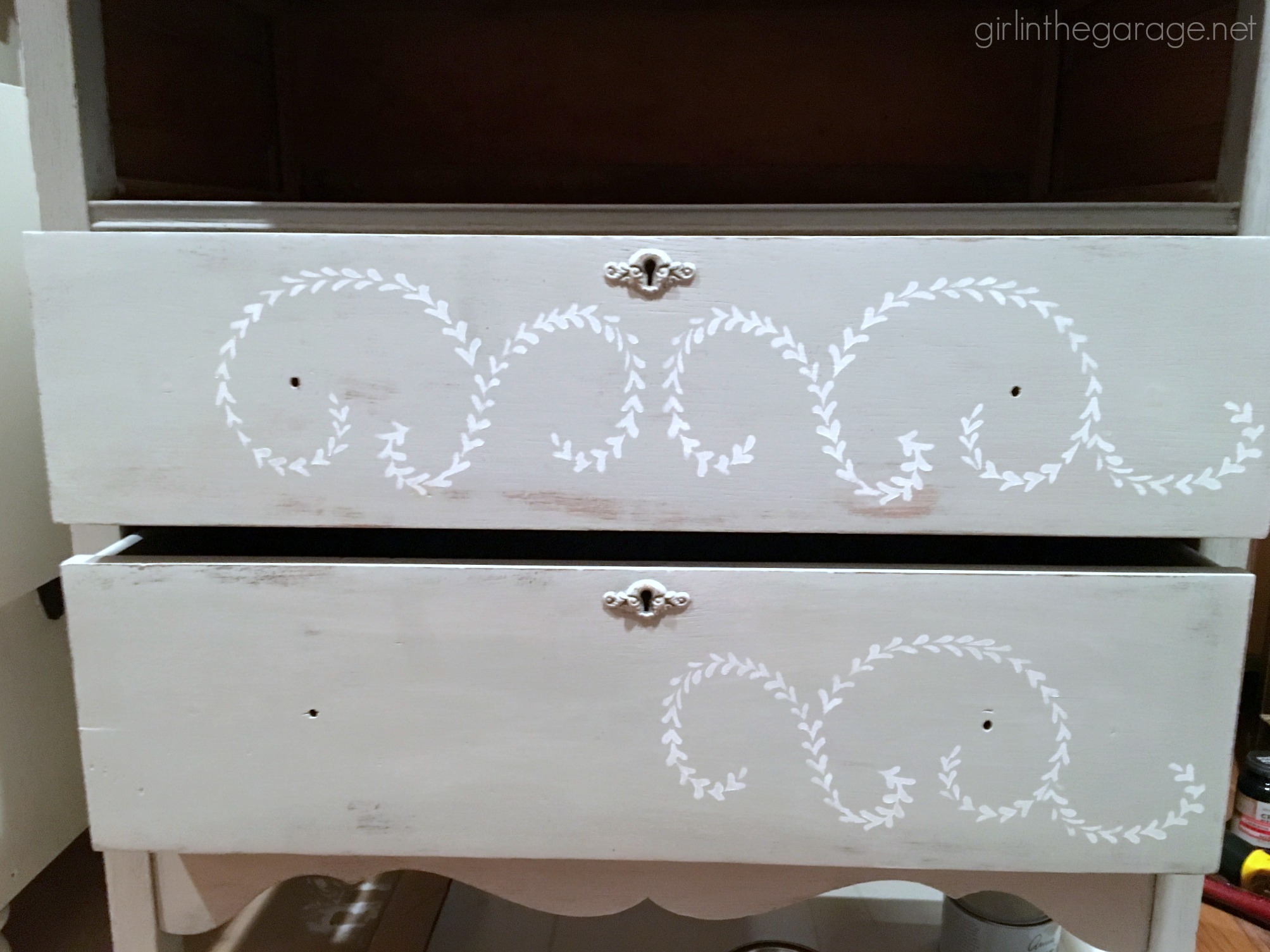 Then I flipped it again to add the little extra swirl on each side, using FrogTape to hold it in place each time. No this is not a sponsored post, I just think this stencil is awesome!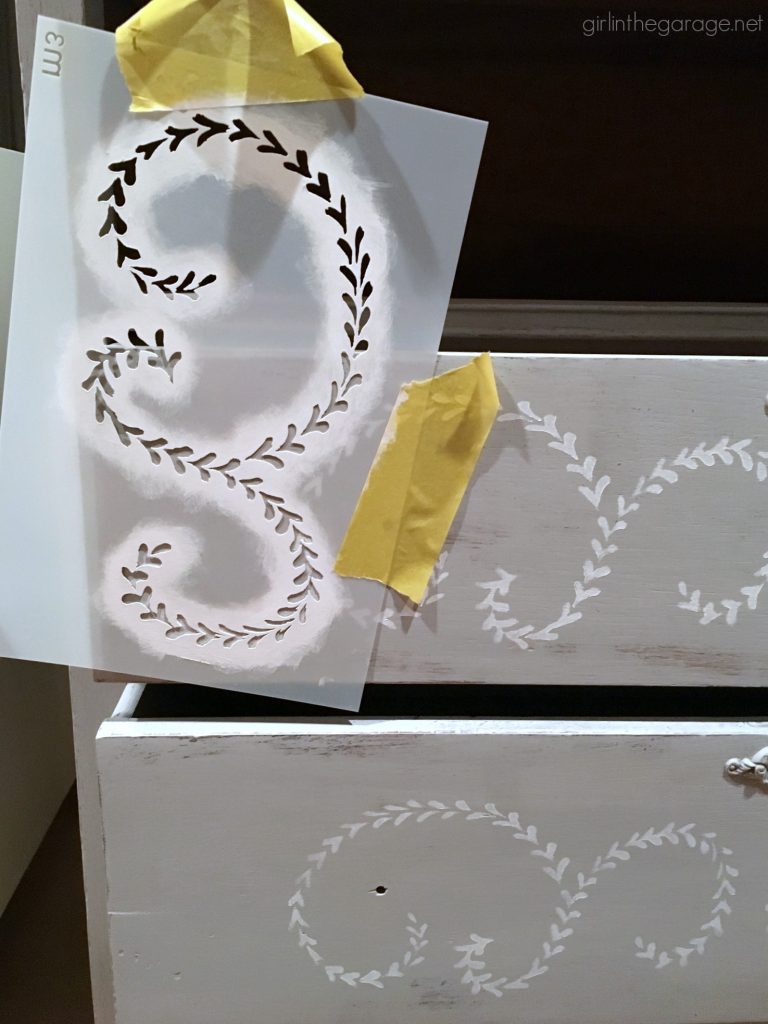 After the white paint was dry, I lightly sanded over those areas as well. Then I applied Fusion Tough Coat as a protective topcoat. (Update: Now I only use Annie Sloan's soft wax over Chalk Painted furniture.)
I bought patterned poster board from Hobby Lobby and cut it to fit in the drawers. Then I used Mod Podge and a foam brush to decoupage it into place.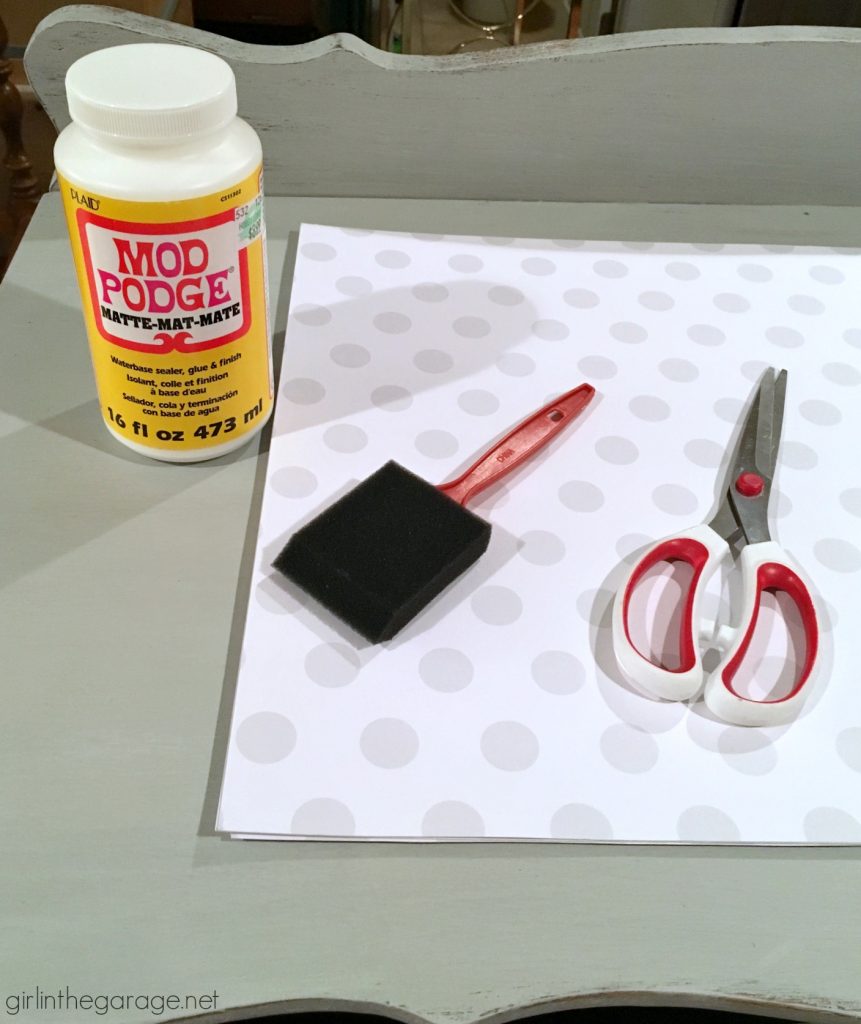 When it was finished, we loaded it up to take to the Hunt and Gather market and this is one of several pieces that I had to photograph in the building right before we set up. I love the old brick wall as a backdrop!
Here she is…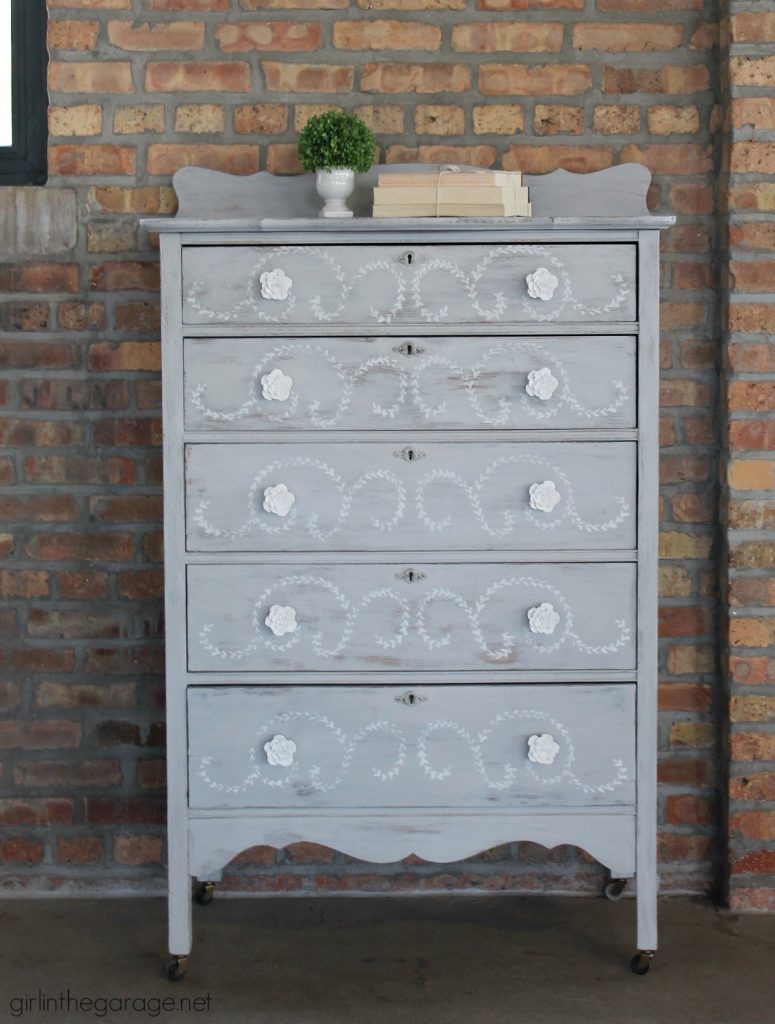 The new white rose pulls are from Hobby Lobby and I think they add just the right feminine touch (find similar knobs Here online).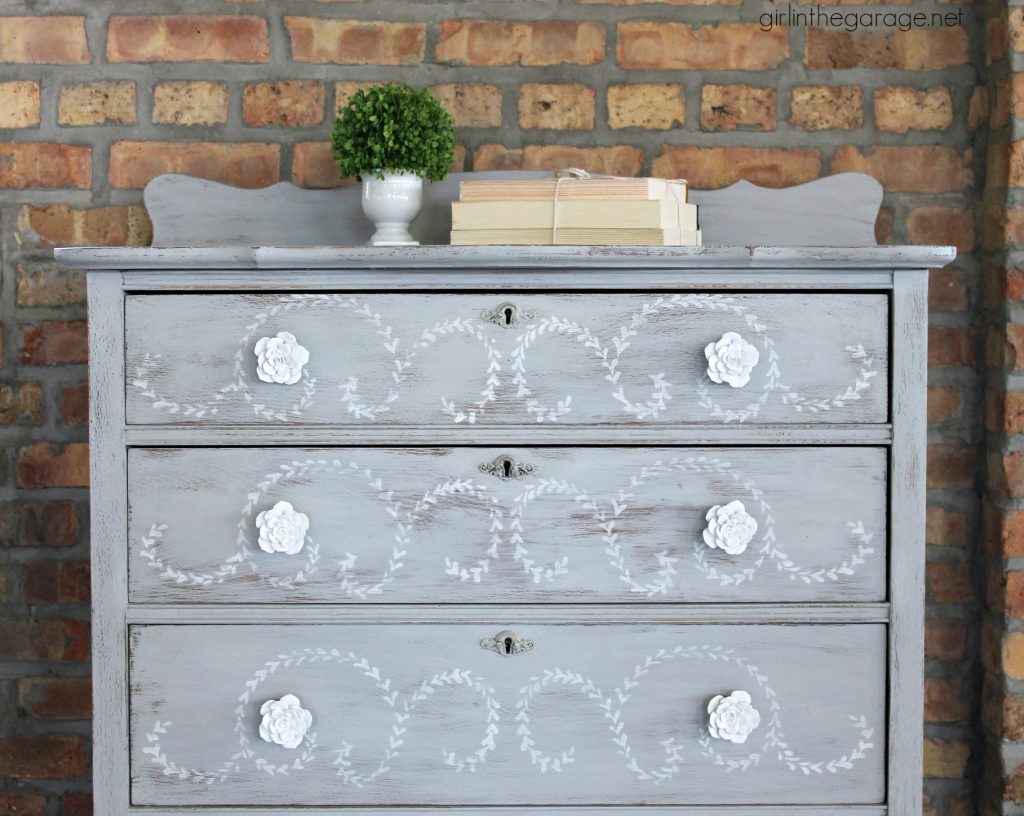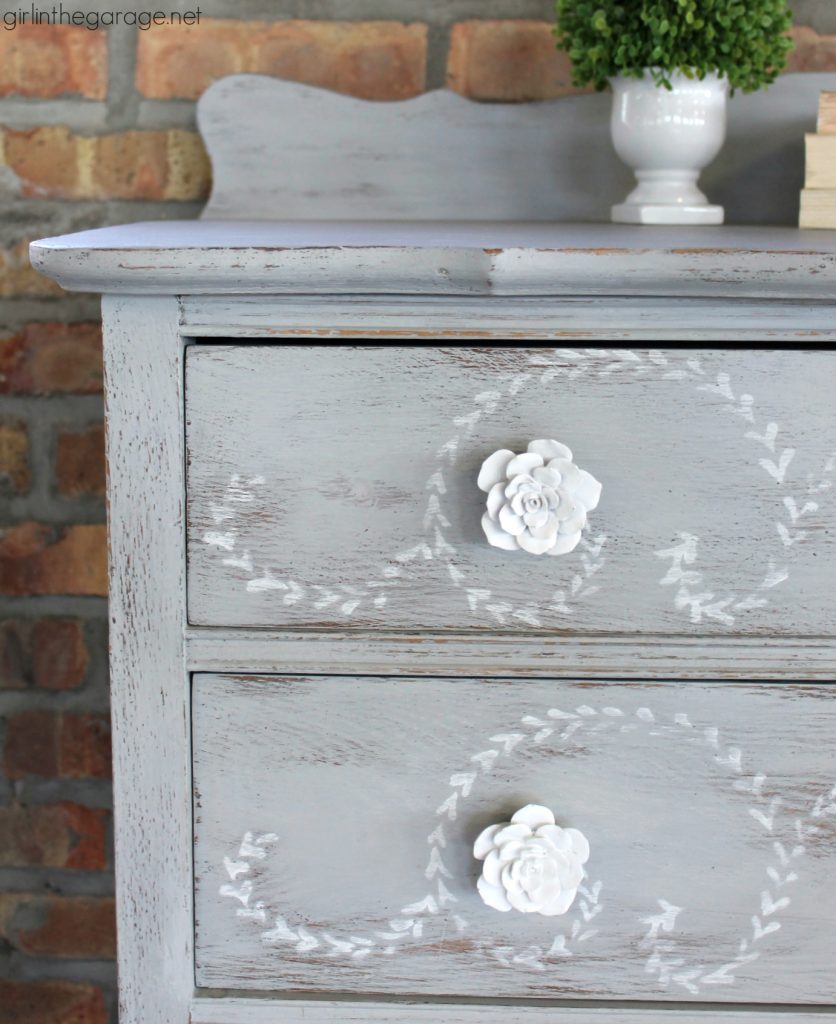 Here's a peek inside the drawers…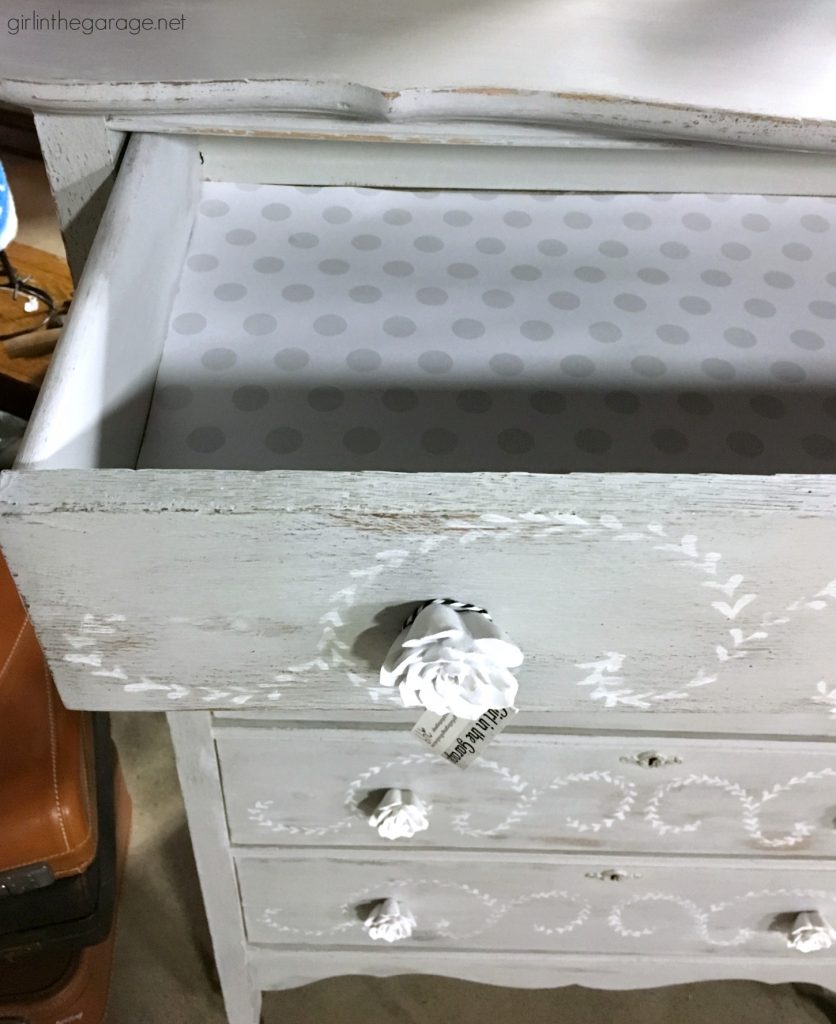 I just love the rustic femininity of this highboy makeover.
Another vendor walked over when we were setting up and said it was the most beautiful dresser she had seen in her life. I'll take that compliment, thankyouverymuch <3
Here's a before/after for you: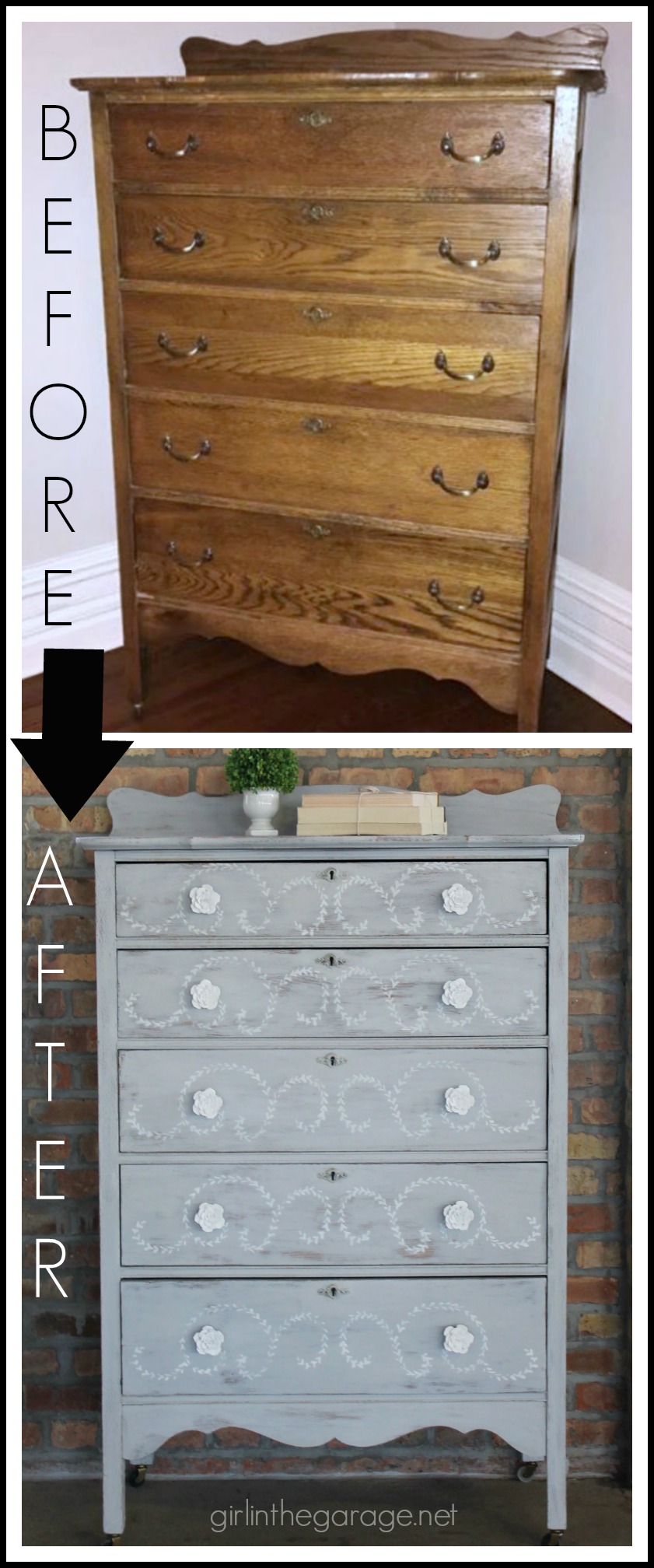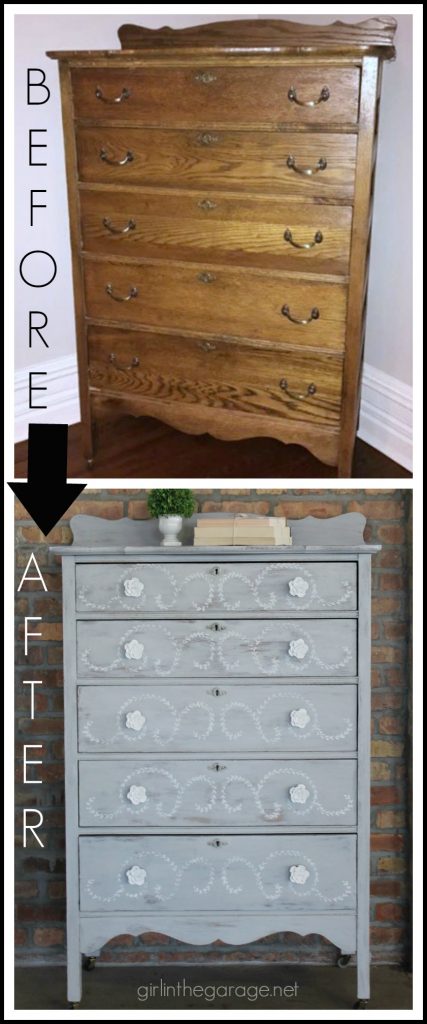 Quite the difference, right? And this is one reason why I love doing furniture makeovers. I'd love if you'd pin or share this post with a friend! – Jen
Here's another piece where I used a Miss Mustard Seed stencil:
Next, visit my blogging buddies' projects below to see how their Furniture Fixer Upper makeovers turned out.
Below are the Before photos – click the links underneath the photo to see the After photos and learn how they transformed it.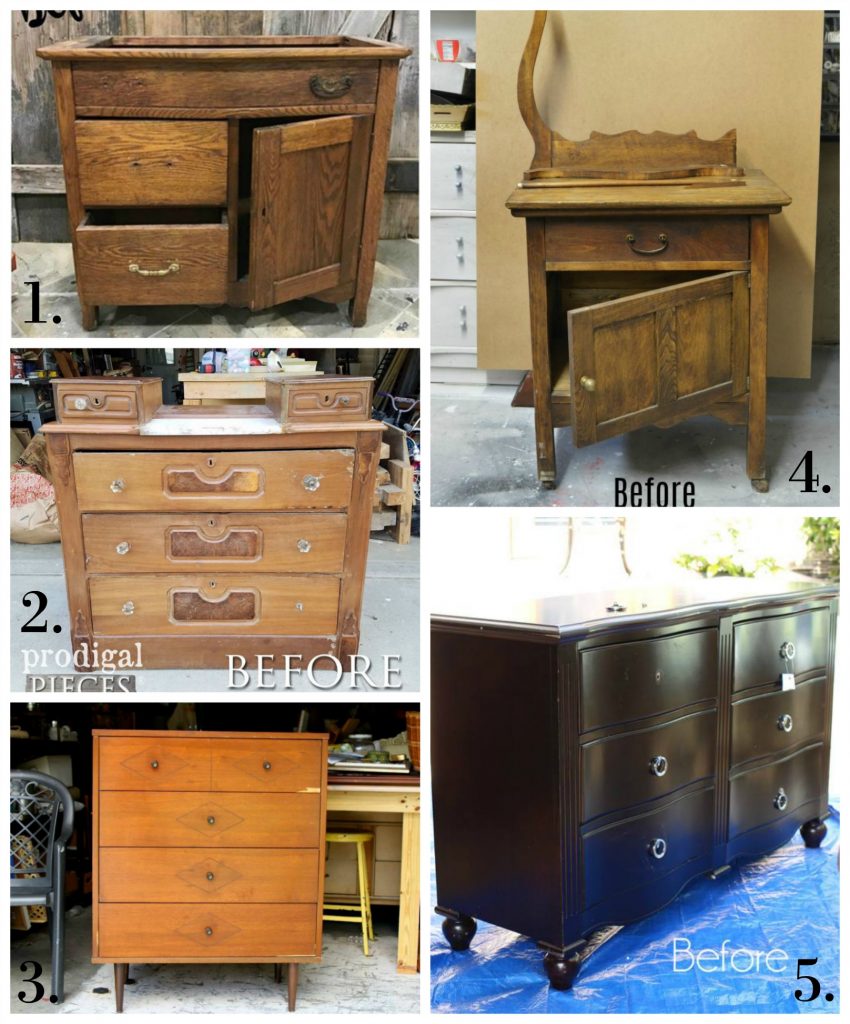 1. Just the Woods
2. Prodigal Pieces
3. Petticoat Junktion
4. The Interior Frugalista
5. Confessions of a Serial DIYer