It was a Friday afternoon, and I popped into Goodwill as a last-minute decision when I was driving through the neighborhood.  As usual, I headed straight through to the back where all the furniture was kept.  My expectations were low.
I leaned over the back of a big cabinet and something low to the ground (and pretty well hidden) caught my eye.  It was a vintage chest and the wood carvings really got me excited – even though it had a strange finish on top and on the sides where it looked like someone tried to re-stain it.  The price tag totally bummed me out though.  I mean, I know Goodwill has gotten more expensive across the country, but I really really wanted this chest.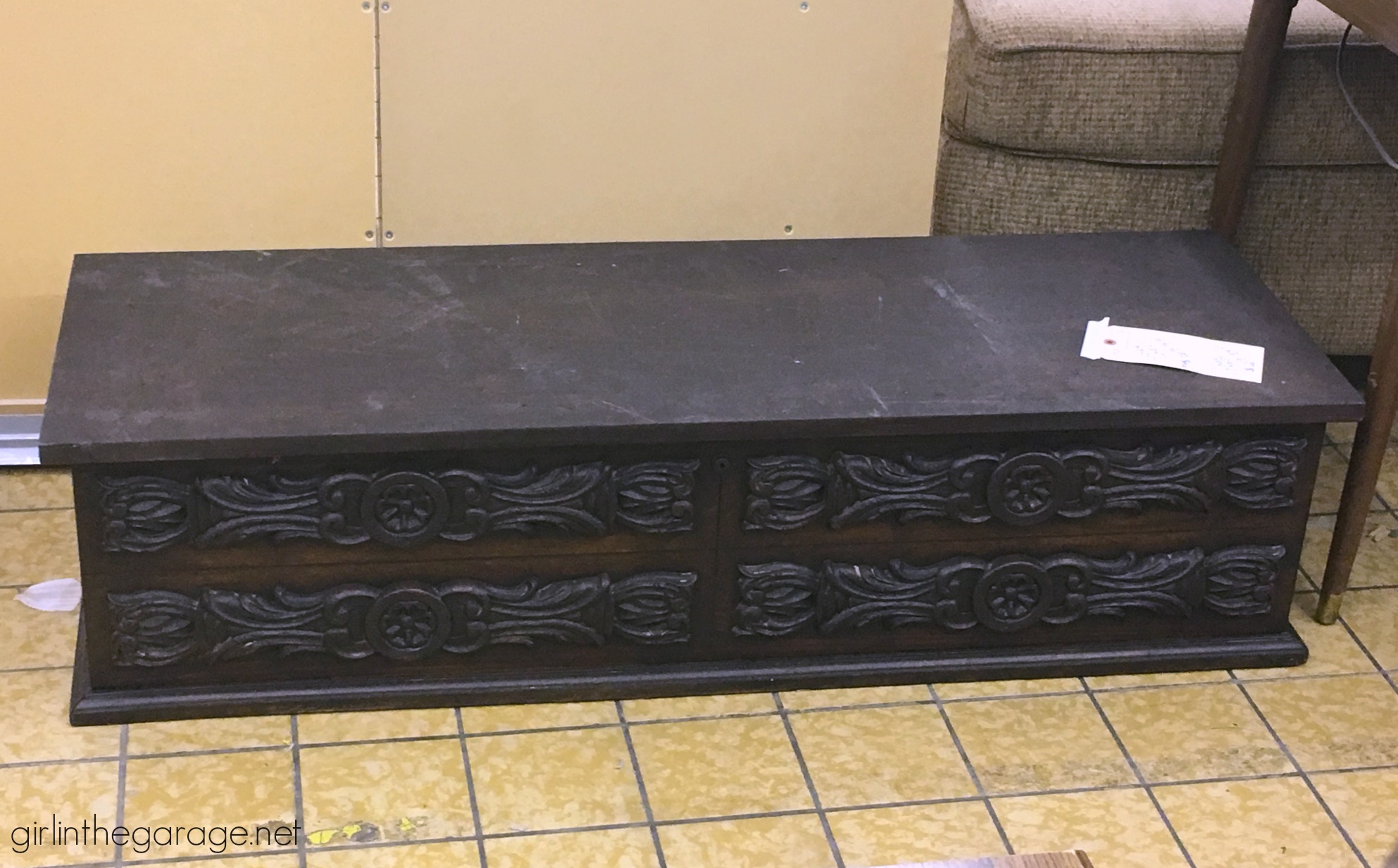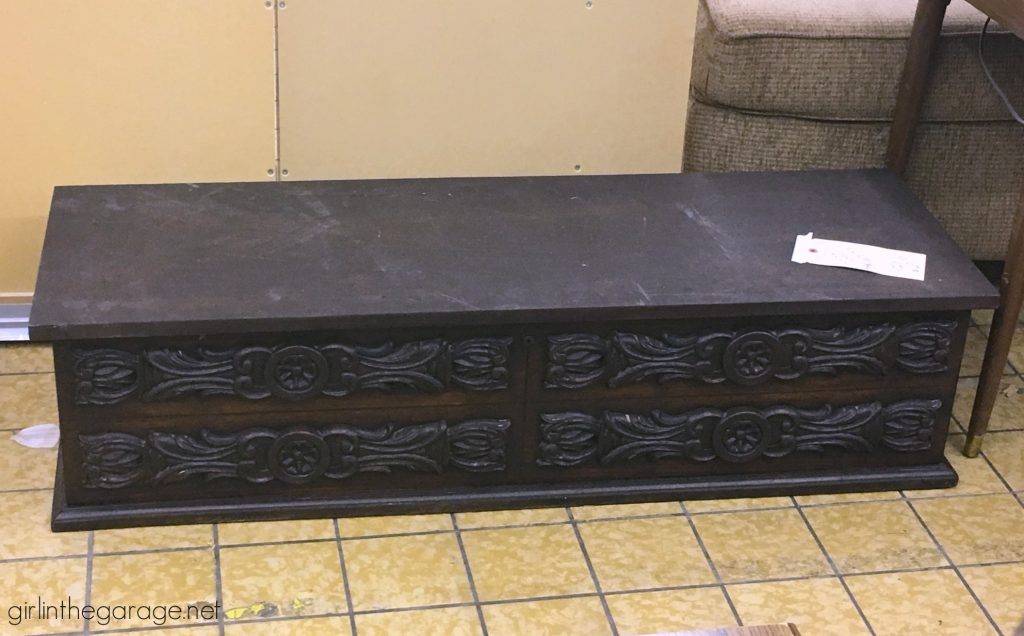 I found an employee nearby and shyly asked if there were any special discounts going on.  She said no, but the next day everything would be 50% off!  Wahoo!
I was so afraid someone would scoop it up before I got the chance.  First thing in the morning, my mom and I got there ten minutes early but there were already six people ahead of us in line.  Oh great, I thought.  I kept psyching myself out thinking several of them were there just for that chest – MY chest.
Finally the door was unlocked and people slowly filed in.  When it was my turn I calmly walked (yeah right – I RAN) through the store and I was the first one to the chest!  I ripped that tag off and claimed my treasure.  (No one else was even near me… LOL.  Apparently they weren't there for the chest after all.)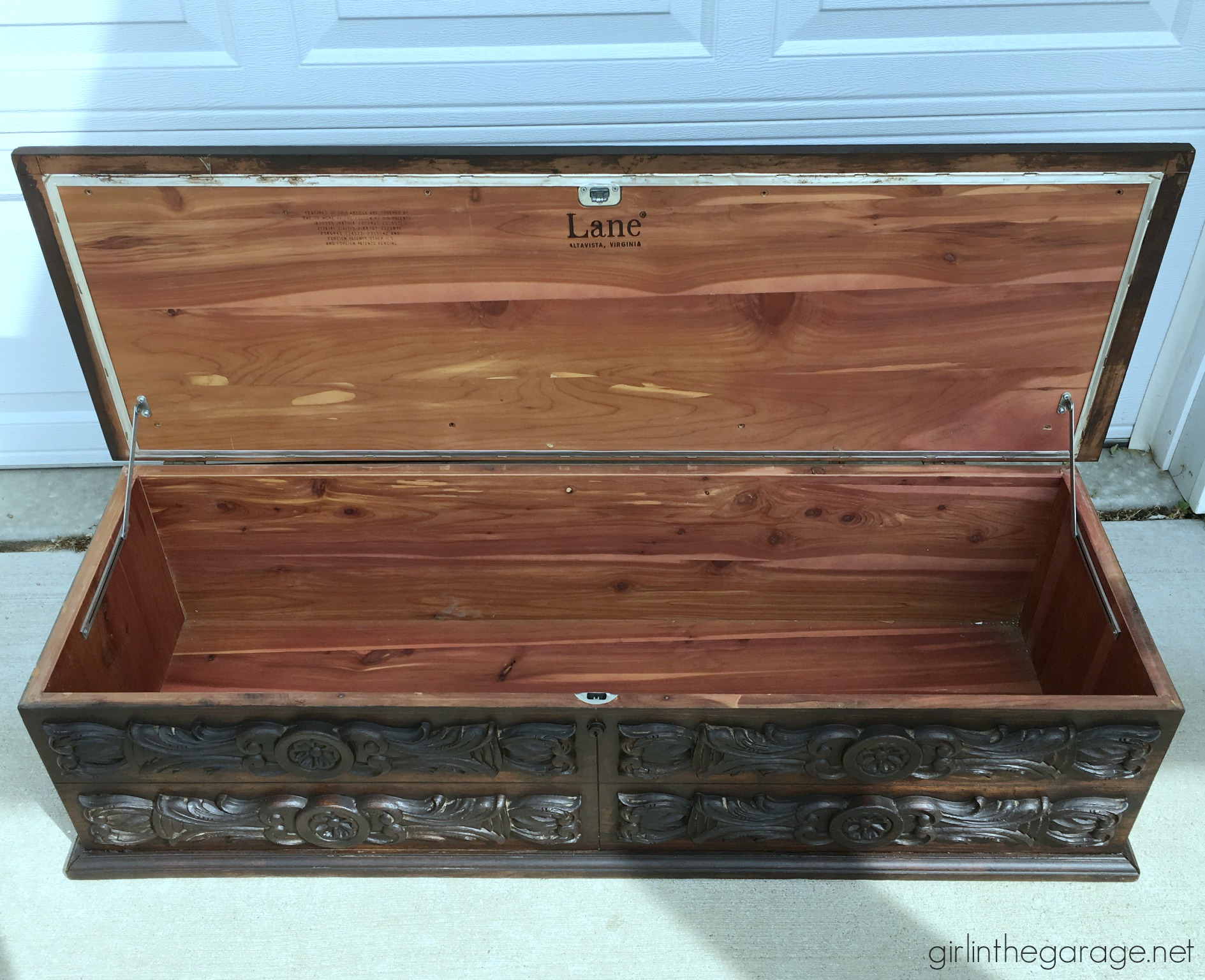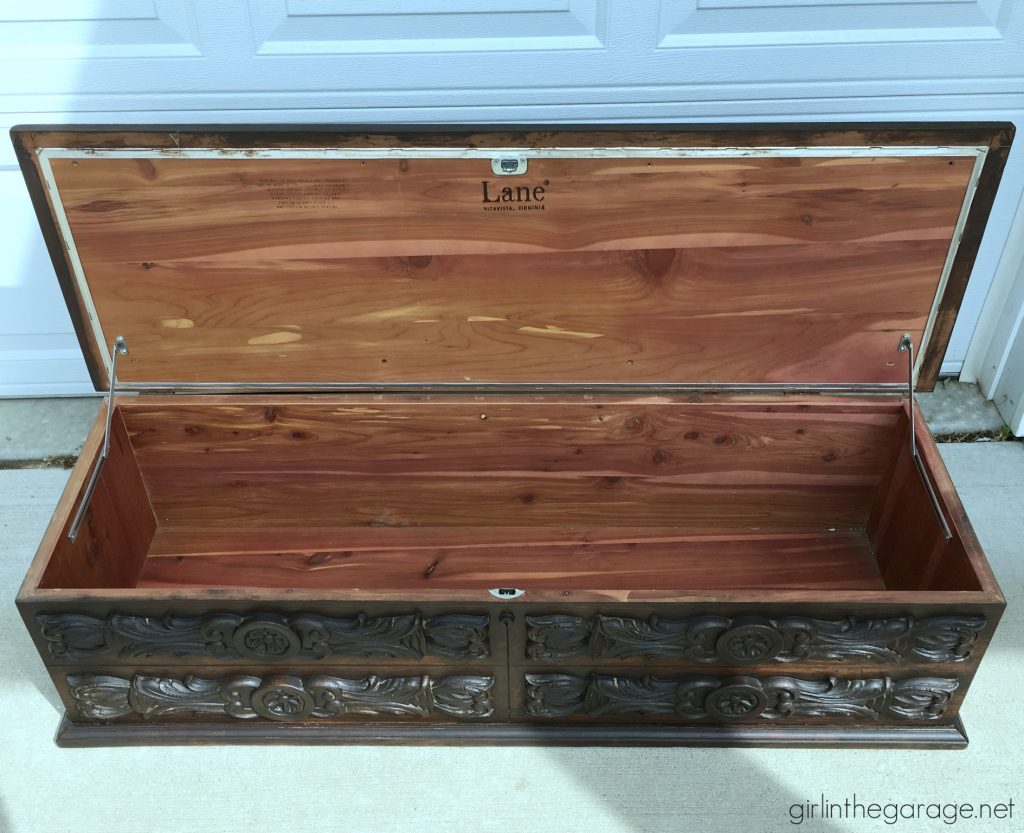 I paid (half price!), the guys loaded it up in the back of the car, and I felt like I had gotten away with something sneaky.   I was so excited that I hadn't even looked it over very well.
We got home and unloaded it, and it wasn't until I started taking the Before photos that I realized it was a Lane Chest.  Duh.  No wonder it was so well made (all cedar inside) and Goodwill had it priced high.  I loved it even more – but it needed some updating for sure.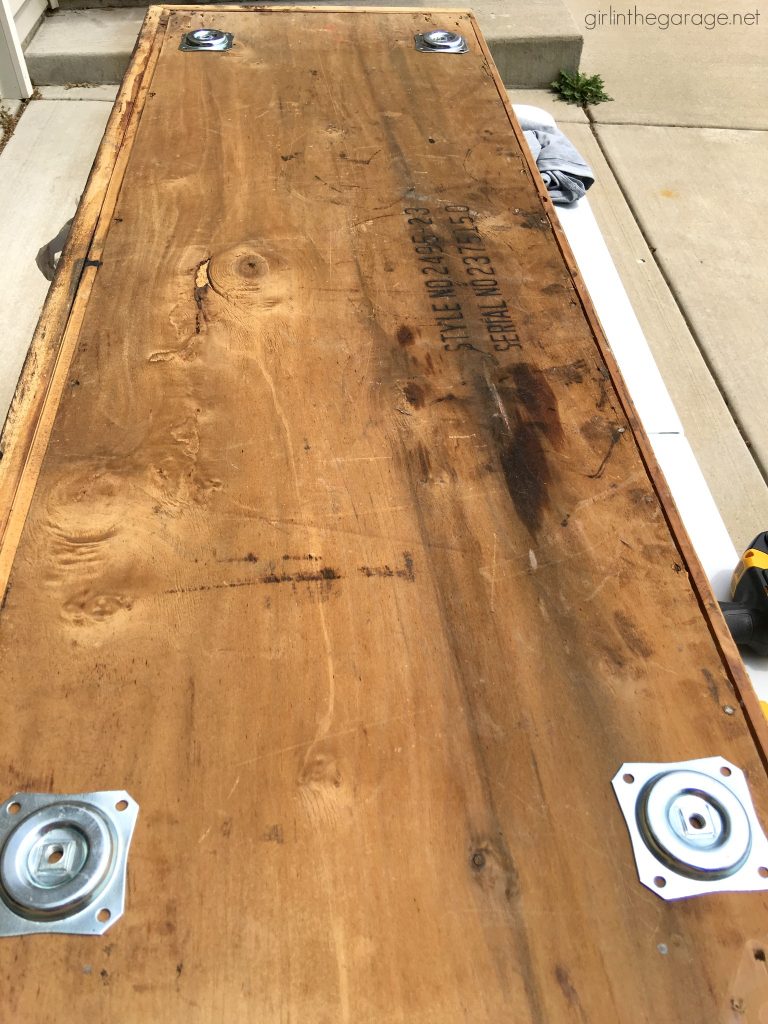 It was so low that it was kind of awkward to bend over and open.  I know now that it probably had casters originally.  For this Lane chest makeover, we opted to add curvy bun feet to the bottom for more height, with a simple kit from Lowe's.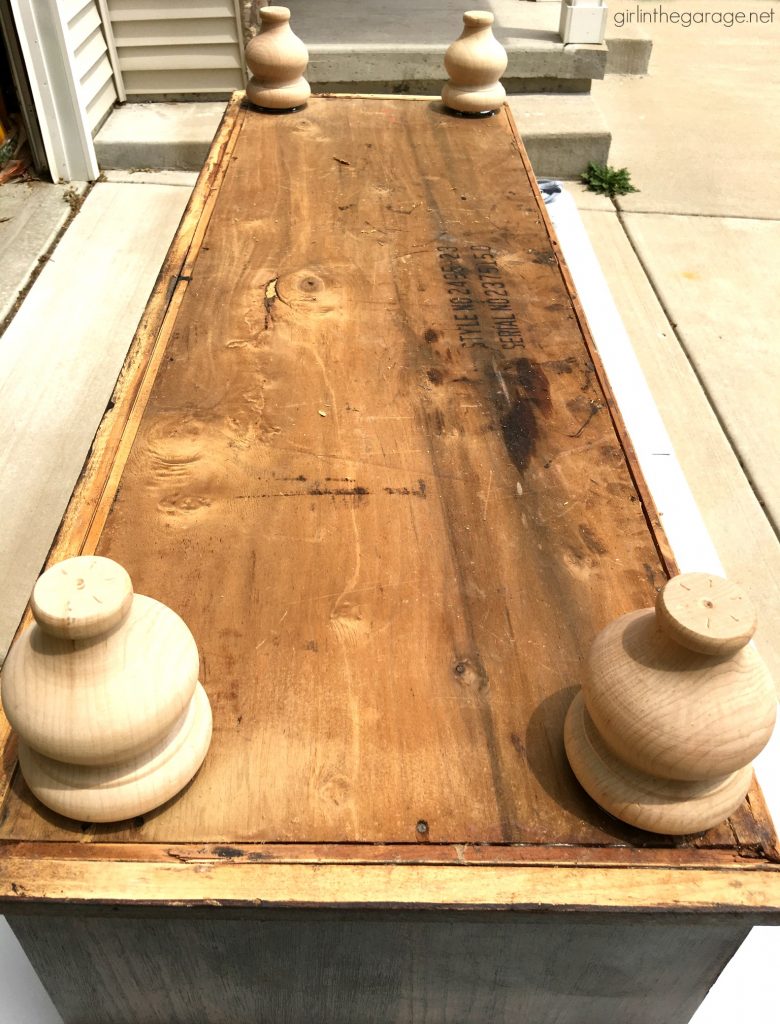 Then I painted the outside with (affiliate link) Fusion Mineral Paint in Raw Silk.  This color is gorgeous – and one reason I chose FMP is because it doesn't require a topcoat and starts curing by itself quickly (we were under a short timeline to finish pieces for the market a couple weeks ago).
Here she is…
I believe it had a big cushion on it a long time ago, so it could also be used as a bench seat.
This vintage Lane chest looks decades newer now, still with the same original good bones it always had.  I'm happy to say it found a forever home.  🙂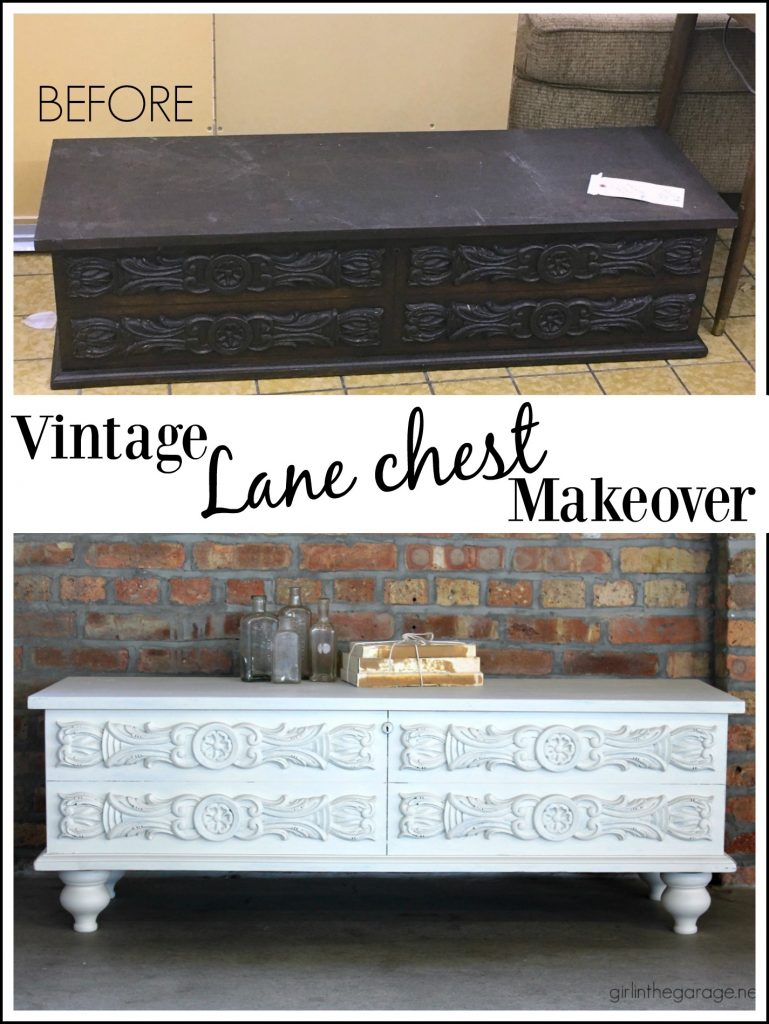 Tell me your thoughts about this Lane chest makeover in a comment below – would you have updated this differently?  Then, I'd love if you'd Pin or share this with a friend.  Thank you!
Jen
.
You may also like these chest makeovers: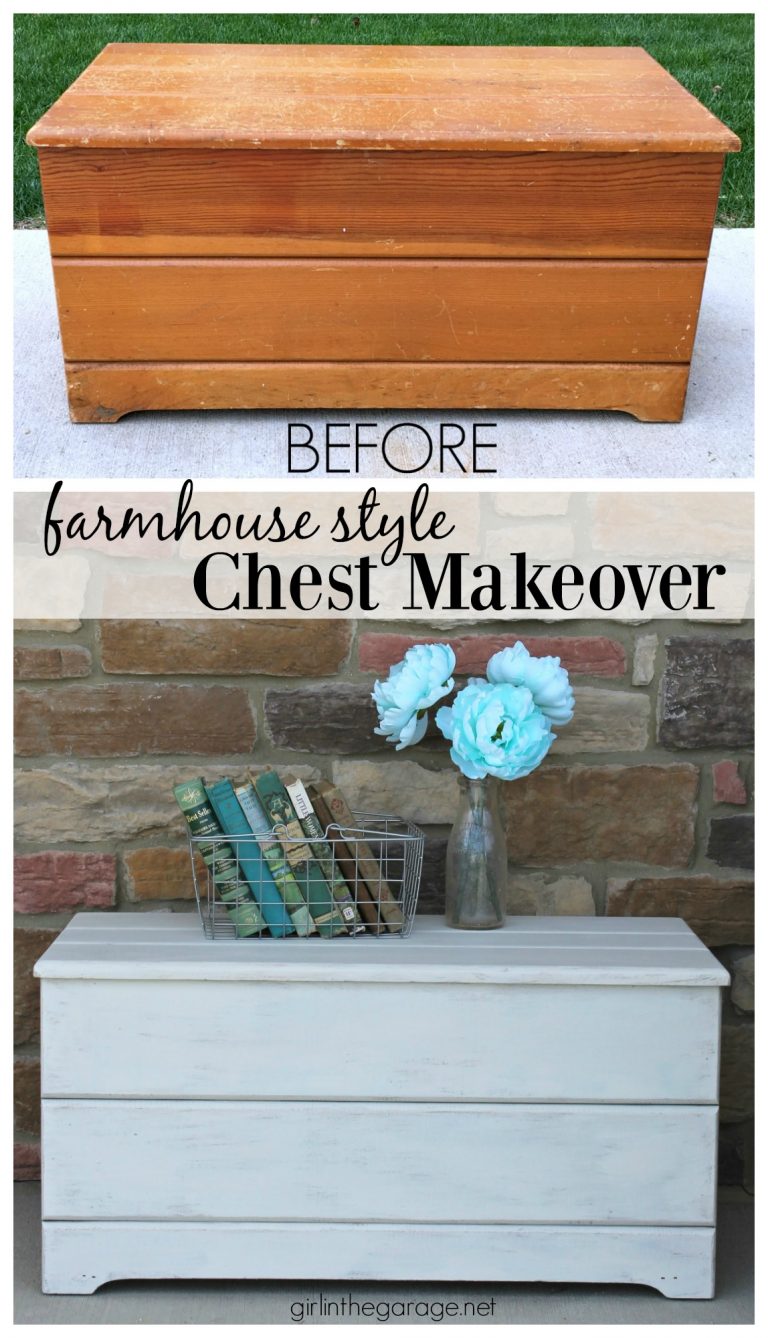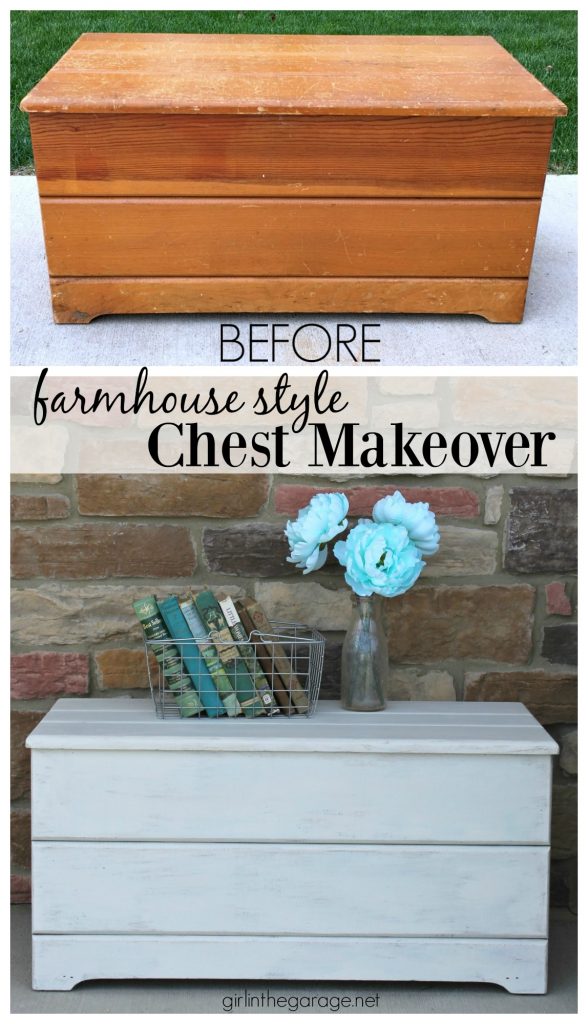 Chest Makeover with Layered Paint Technique