A few months ago I was browsing at a local volunteer-run resale shop, and the price tag for this antique dresser about gave me a heart attack. $850?! WOW. That makes the original price of last week's Goodwill Lane chest seem like a bargain. I was so shocked that I had to see what my Facebook followers thought about it…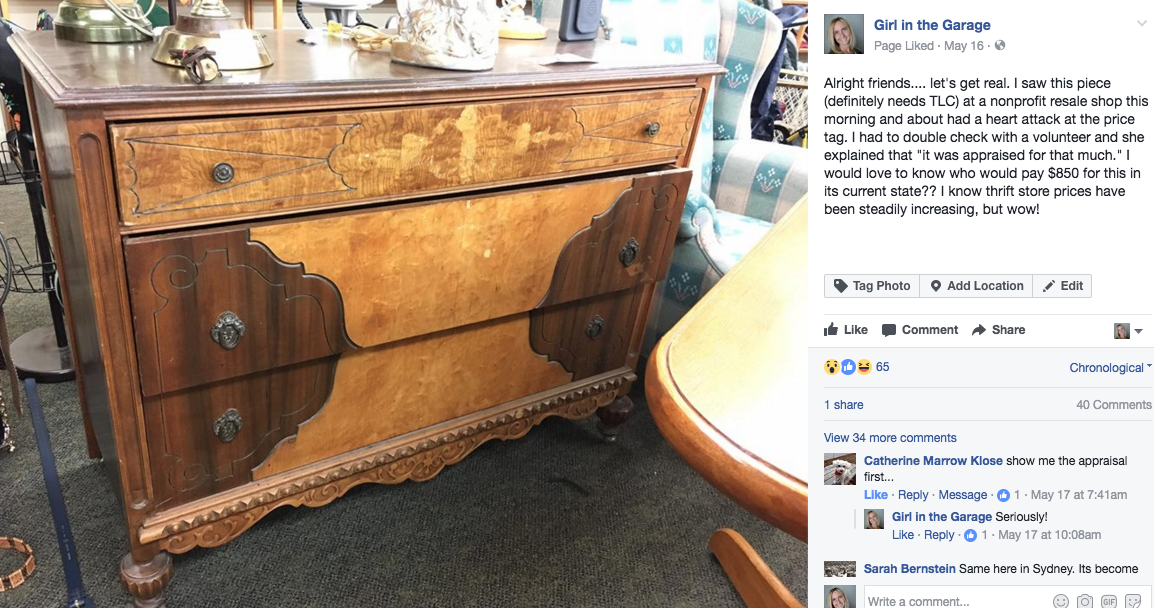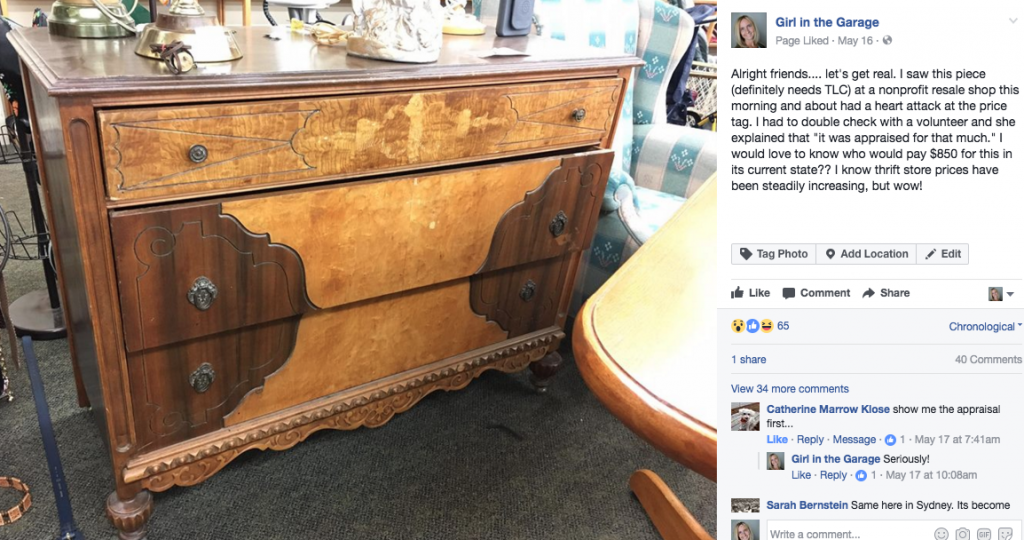 An acquaintance of mine saw that post and then subsequently offered me this vanity (which also needed some TLC) at a much more reasonable price. 🙂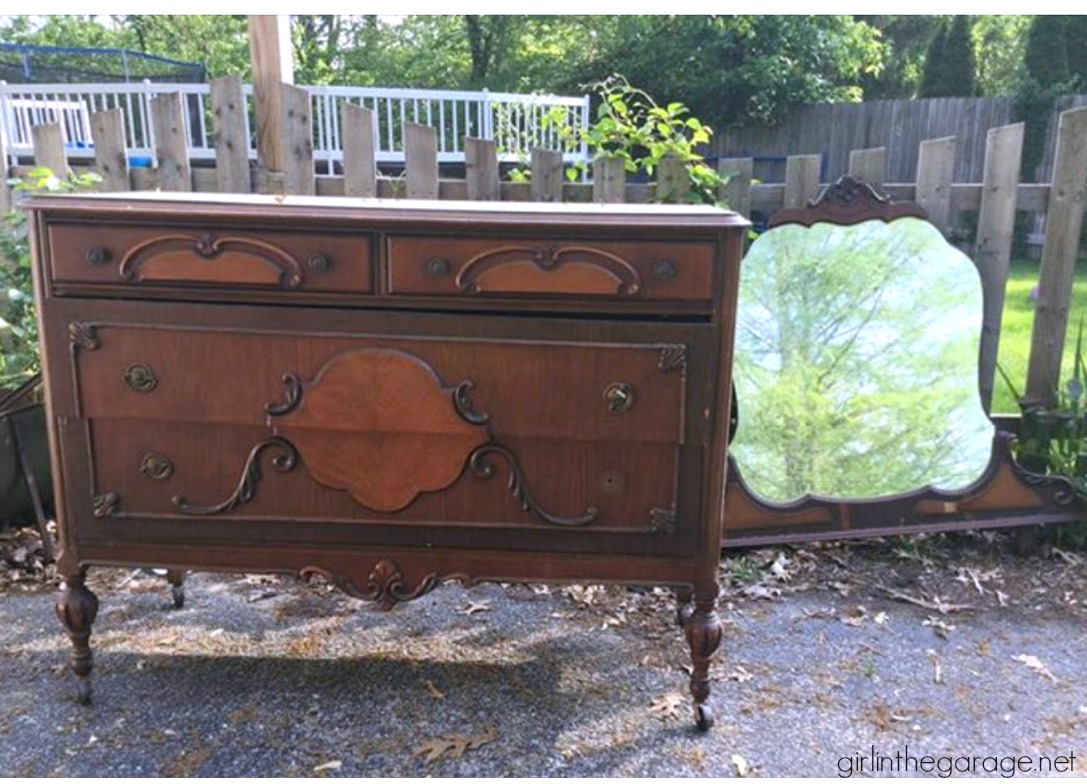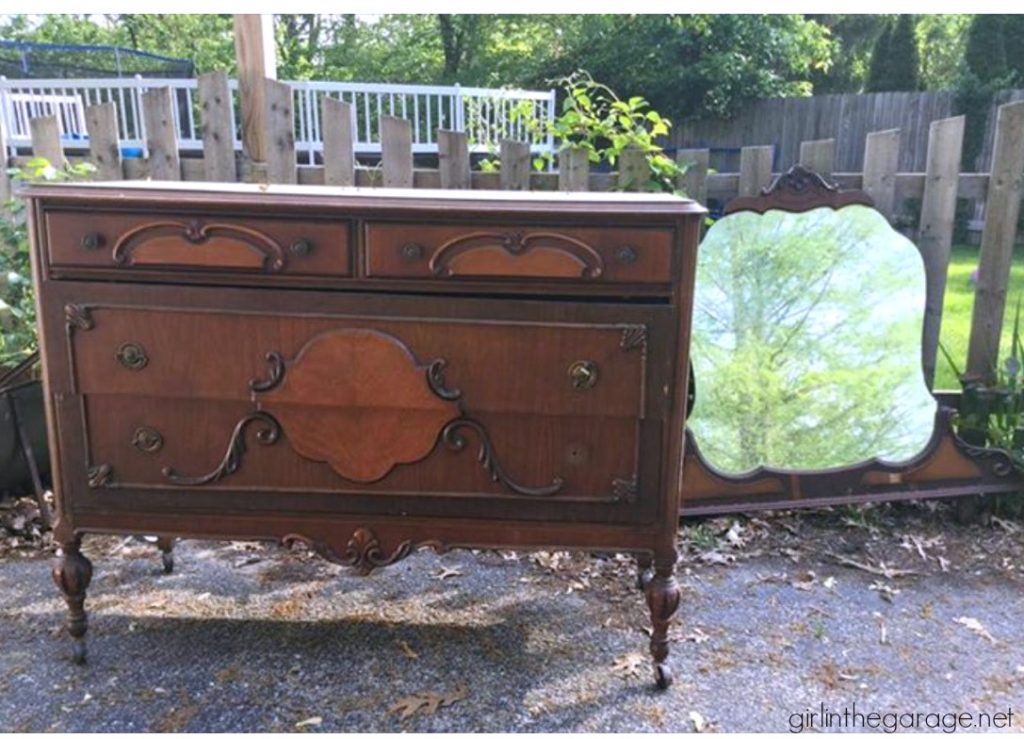 *Friends, today is Trash to Treasure Tuesday which means you can see 4 more bonus makeovers from my blogging buddies at the end of this post. Also, this post contains some affiliate links so you can easily find some of the products I use and recommend. Discover all my favorite brands and tools for doing DIY projects here.
The top two small drawers were in decent condition, but neither of the big drawers slid well, especially the middle one. You can see in the photo above that it's not even pushed in all the way because it kept getting stuck. Also, the top of the vanity needed refinished and some of the fancy veneer under the mirror was broken.
Guy in the Garage worked on the top, sanding it all the way down and then staining it with beautiful dark Espresso Minwax stain (available Here).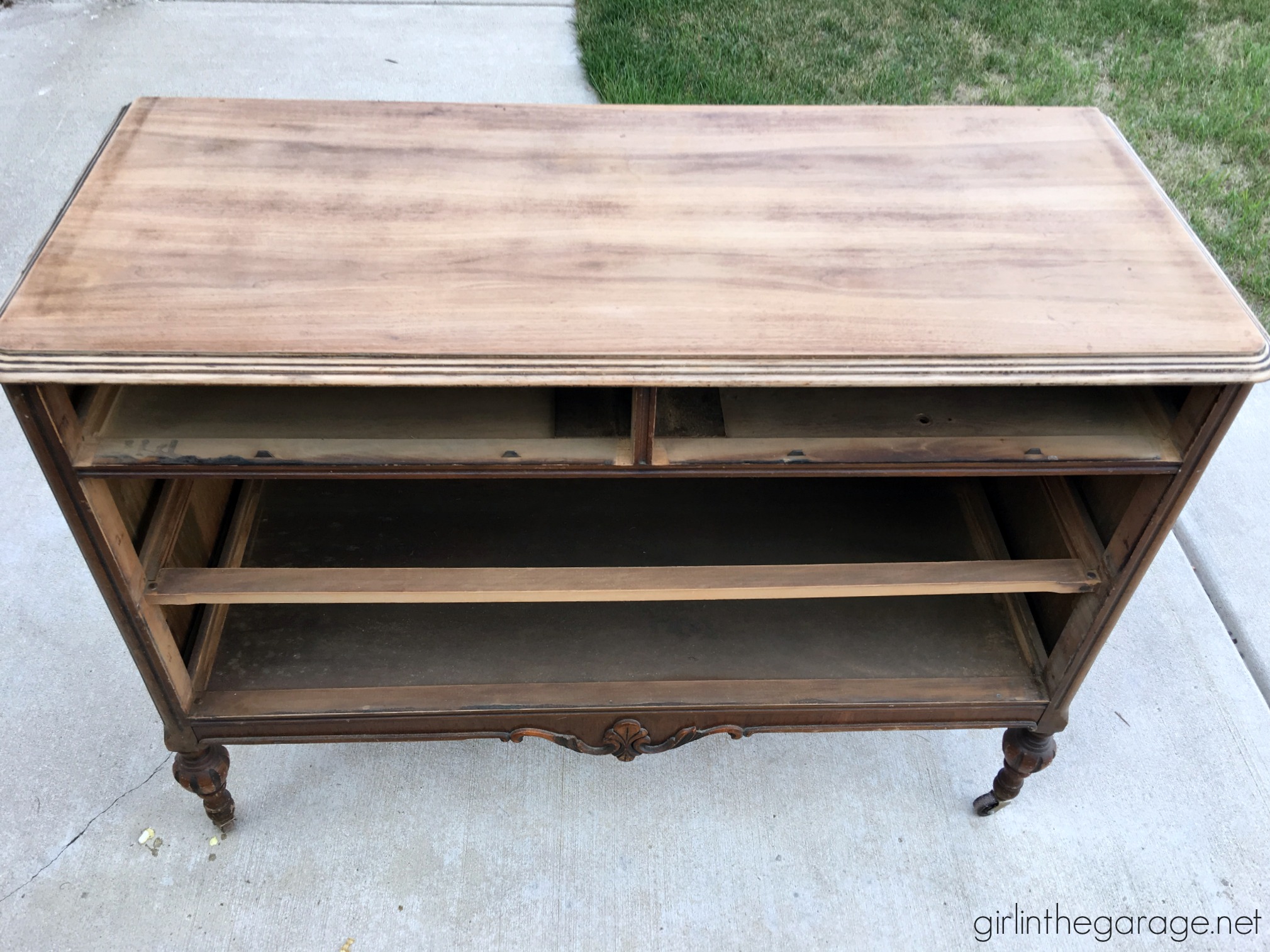 I worked on the drawers, using my random orbit sander (available Here) to sand down the top edges to make them slide more easily. Next I removed the veneer that was broken from the mirror and then painted everything in Annie Sloan Chalk Paint in Pure White.
After painting, I sanded (by hand this time) all of the details and scrolls to create more definition on this antique vanity makeover.
And here she is…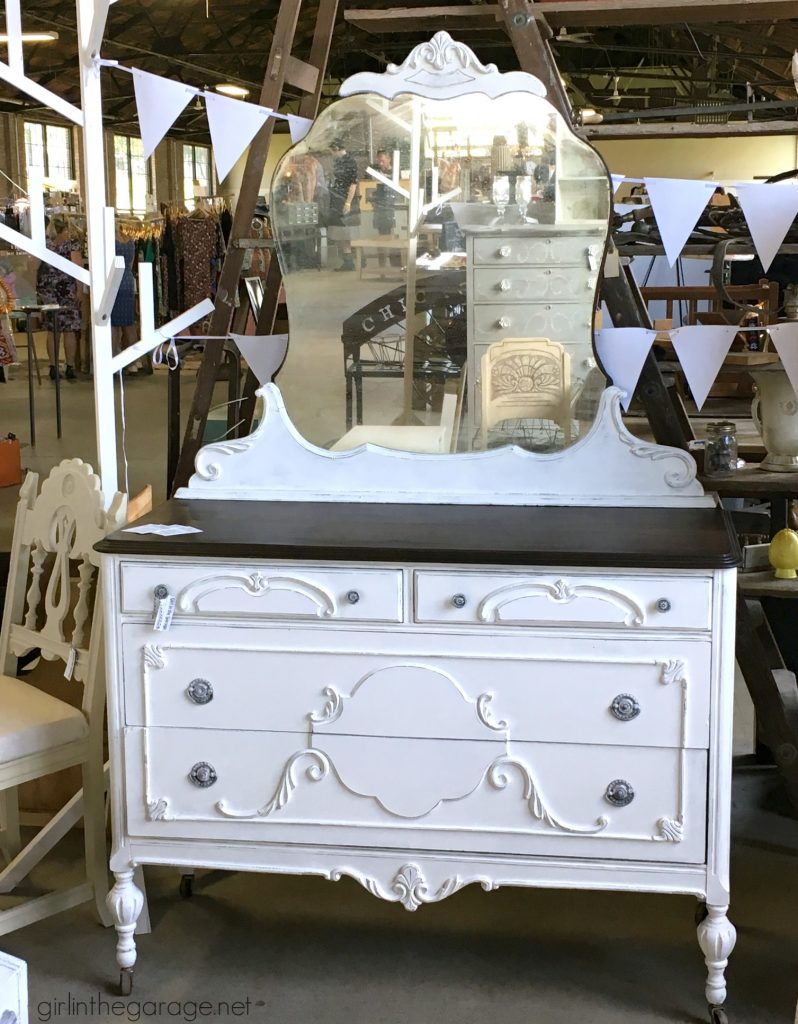 The stained top was sealed with polyurethane and the painted areas were protected with Fusion Mineral Tough Coat (available Here). Lastly, I rubbed an old candle on the bottom edges of the drawers to help them glide even more smoothly.
The hardware wasn't in perfect shape and we were running short on time before the market, so I lightly dry brushed them with the white paint as well – this worked great to hide the little imperfections and former paint stains that were already there when I got it.
Here's a closeup of some of the details where I distressed: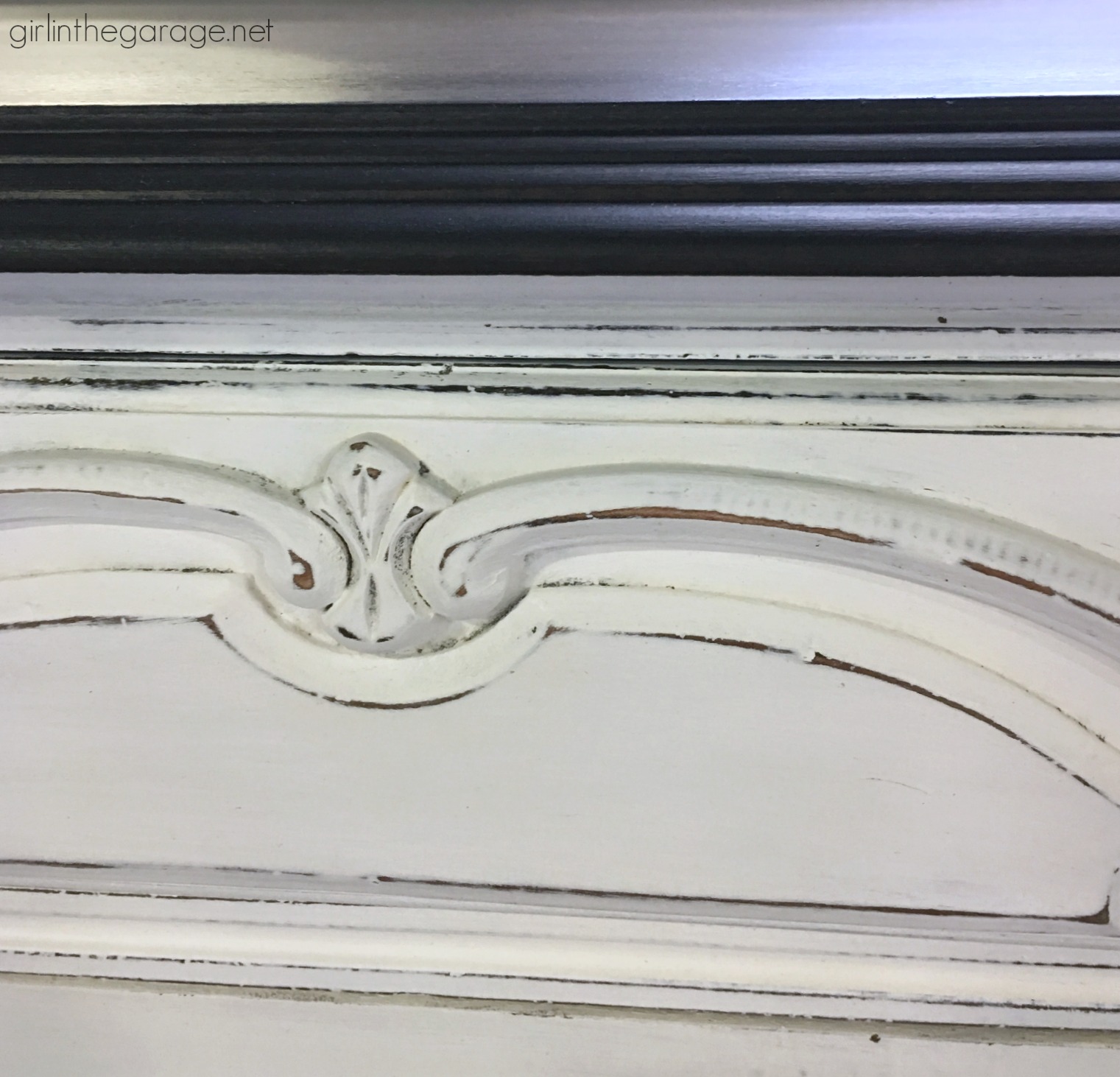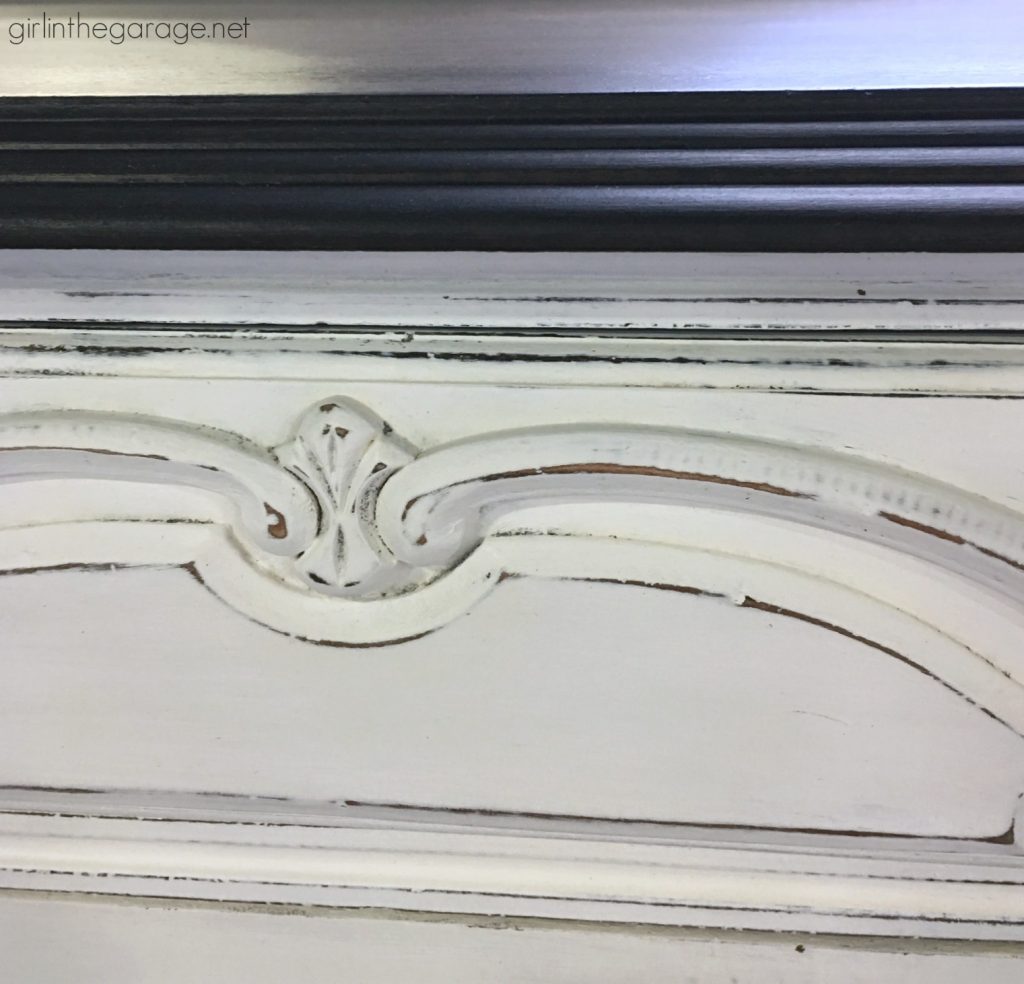 Finally, the drawers were dingy inside so I decoupaged some paper I had from Hobby Lobby with Mod Podge. It's just a little something extra and unexpected.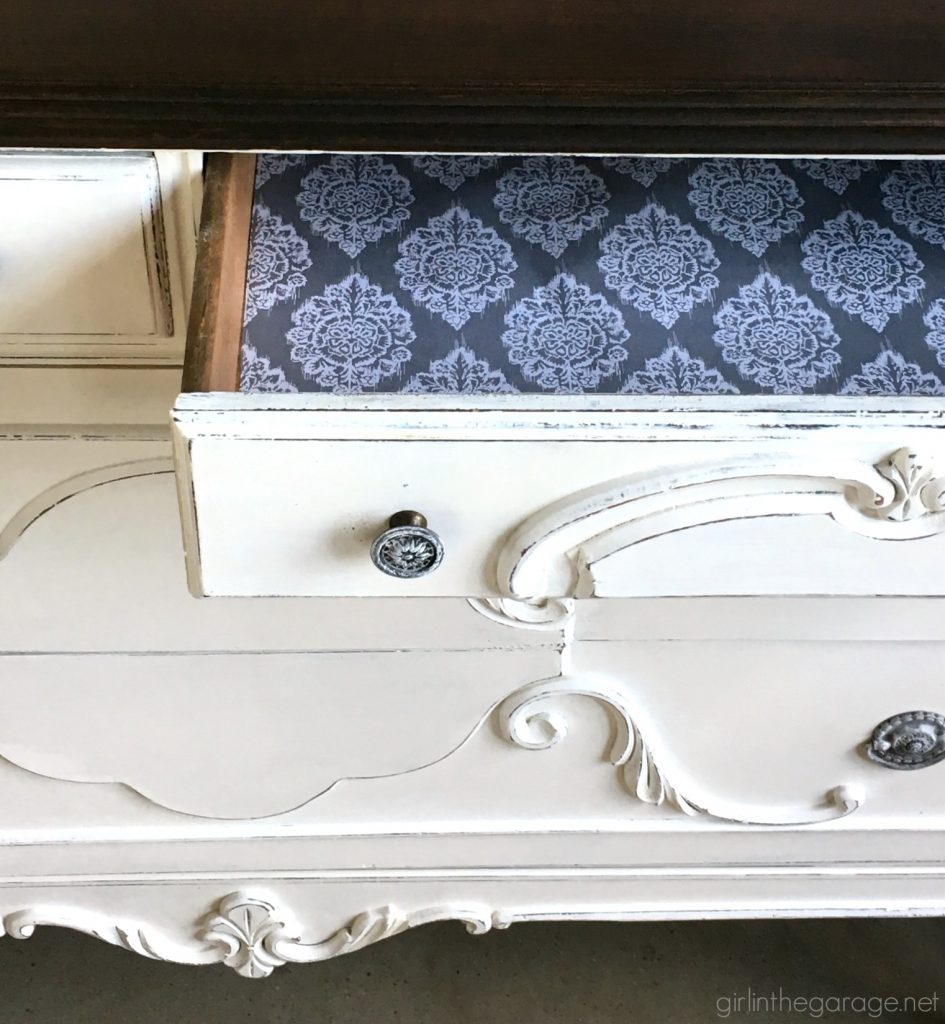 We finished this antique vanity makeover on the day of the market, so obviously I didn't get to stage it and take proper photos like I would have preferred.
And actually, I almost didn't get any "after" photos at all – we were still putting the finishing touches on our booth and pricing items when the crowds rushed in Friday evening, and the very first lady to step into our space purchased this vanity within a few minutes of opening. Thankfully she decided to come back on Saturday to pick it up, and that's how I snuck in time later to take some photos with my cell phone! Haha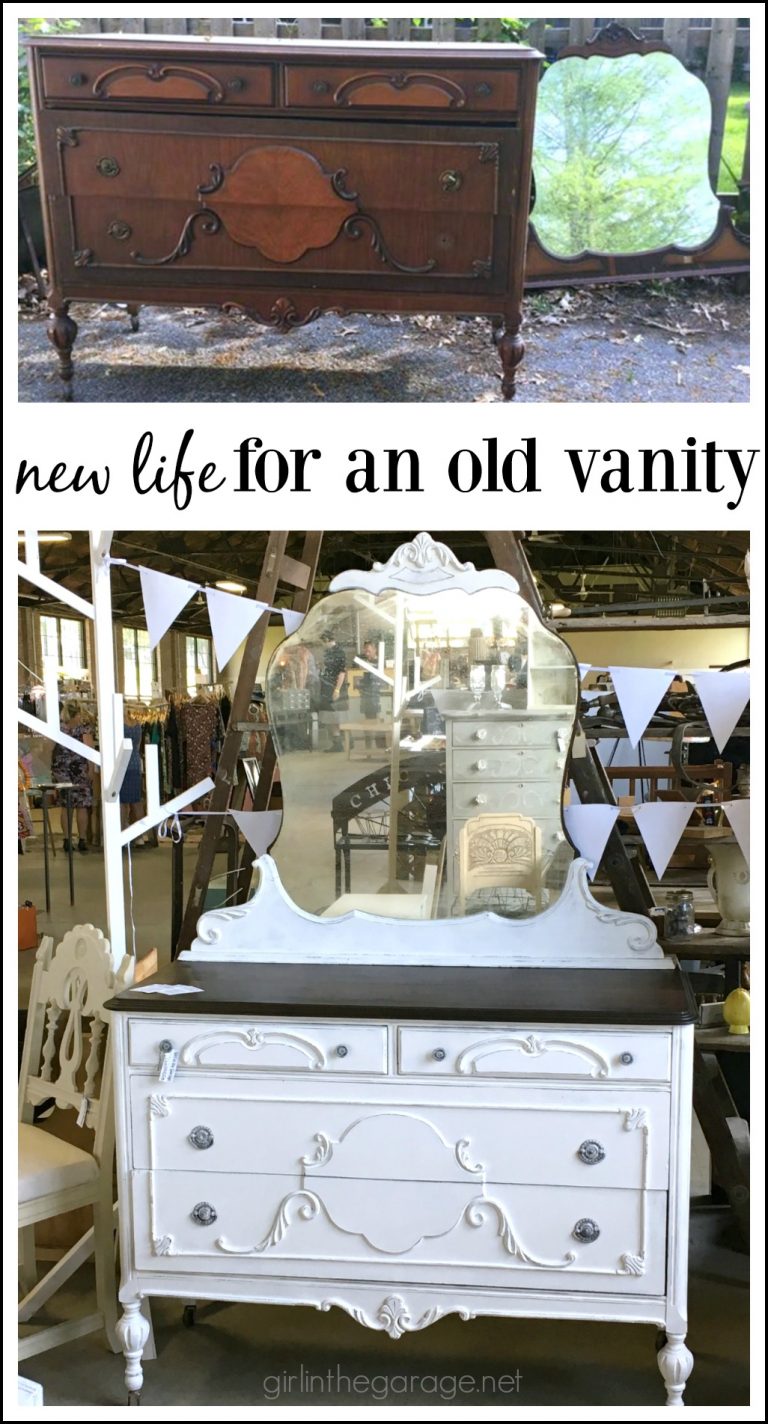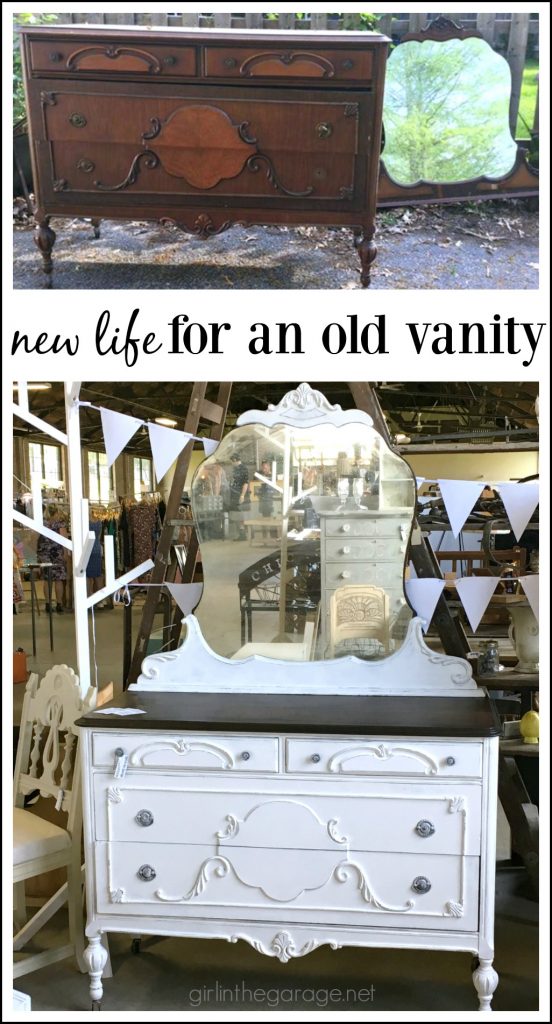 The new owner planned to use this under her TV (without the mirror).
I have so many more details of the market to share with you soon! This vanity being purchased was just the beginning of a very busy (but fun) first day of the Hunt and Gather market.
Jen
Now let's see what my friends have been up to for Trash to Treasure Tuesday…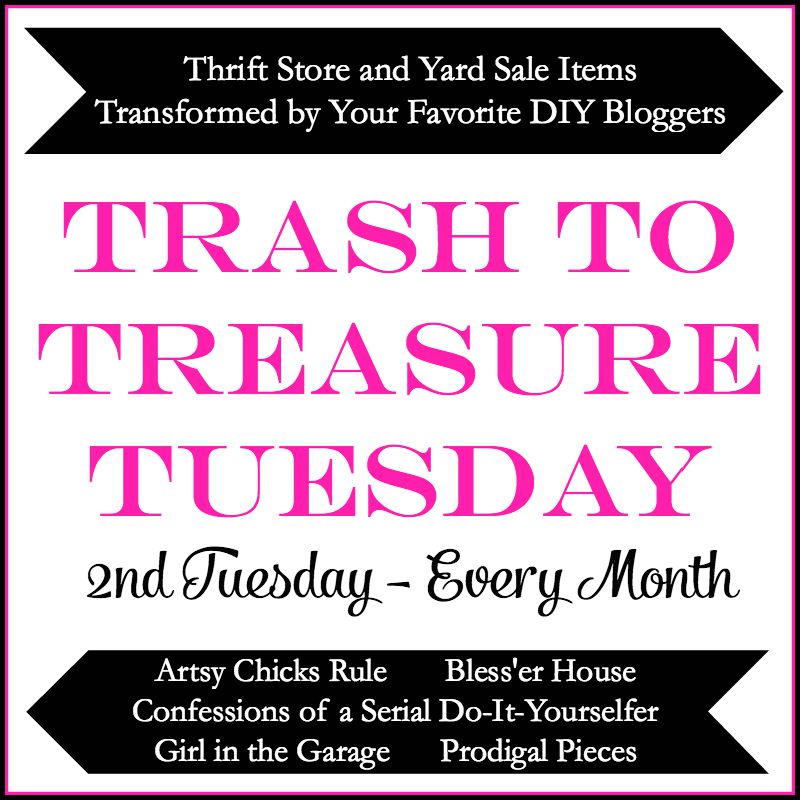 Below are the Before photos – click the links underneath to see the After photos and learn how they transformed it.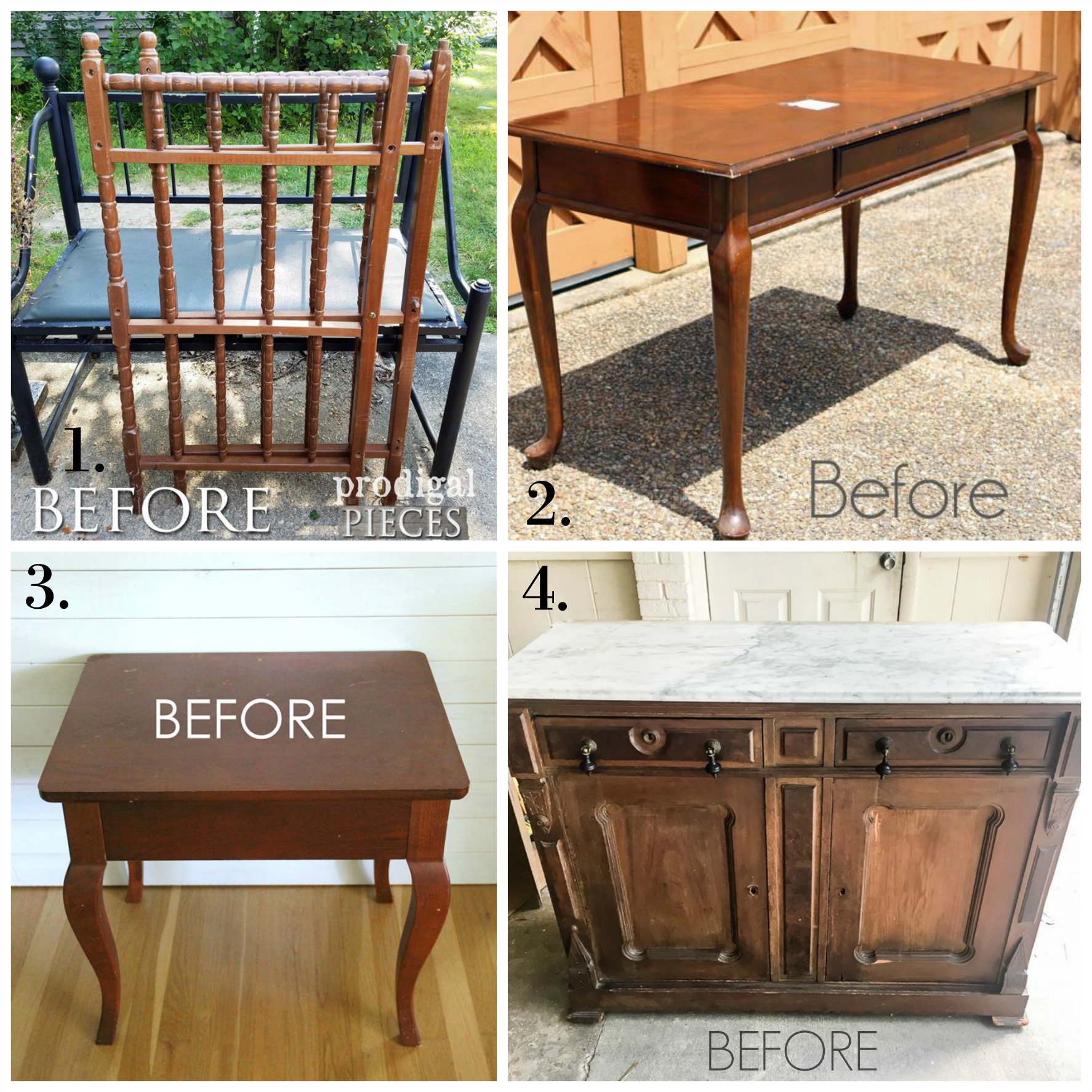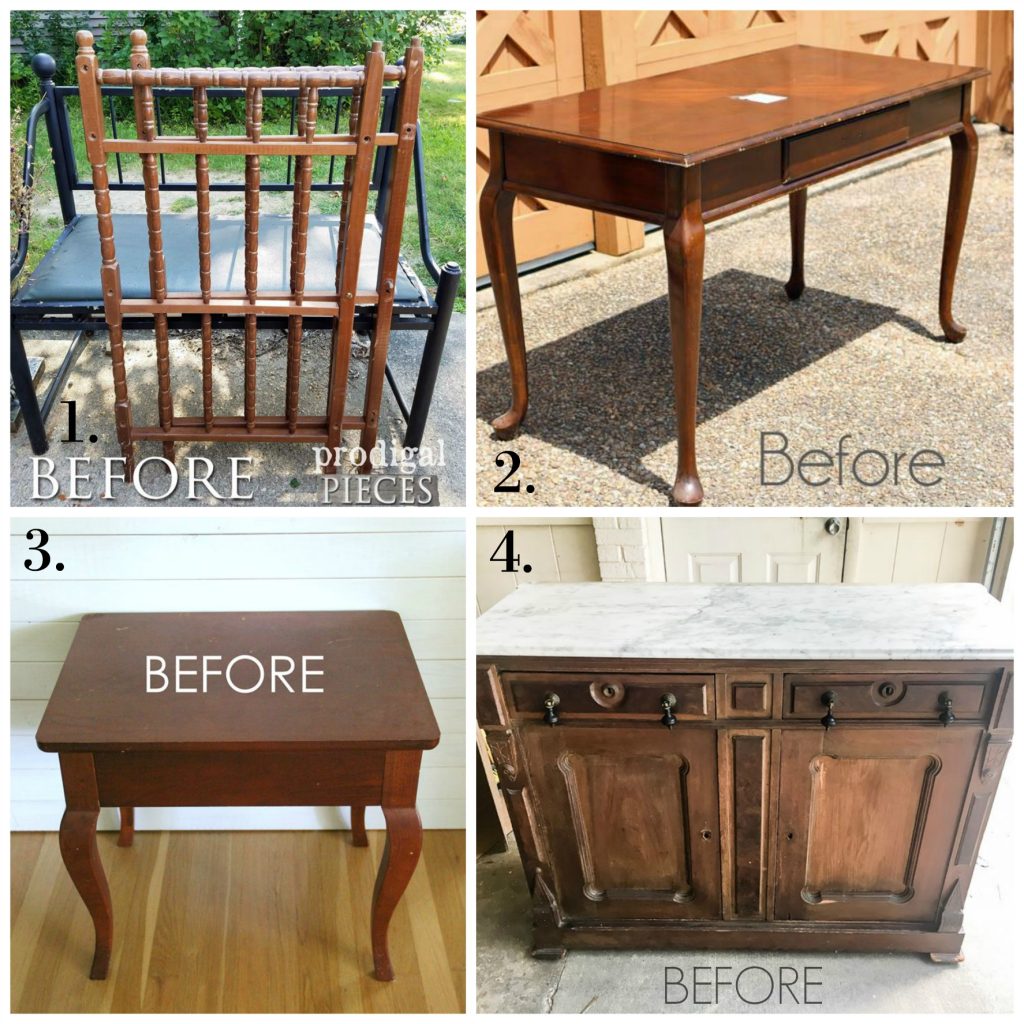 1. Prodigal Pieces
2. Confessions of a Serial DIYer
3. Artsy Chicks Rule
4. Bless'er House
Join the GITG Community
When you join this thriving online community of 90,000 creative souls, you'll be inspired to discover hidden artistic talents and learn skills to boldly face DIY projects with confidence.
You'll also receive my free guide "Just Paint It: 7 Tips for Transforming Furniture with Confidence."