Last month was the Hunt and Gather summer market, and it was my second time as a vendor there. (You can also find me at the next H&G which is coming up on Sept. 15-16.)
For the entire month before the market, every single one of our weekends was booked (a few because of family emergencies), so I didn't have quite as much time to prepare as I would've liked, and I actually got sick the week of the market, so the fact that I was still standing and chatting with shoppers felt kind of miraculous in itself. But the show must go on. 🙂
The market was Friday evening and Saturday, and we got to set up on Thursday which I really like. This was what we had when we unloaded the SUV and trailer…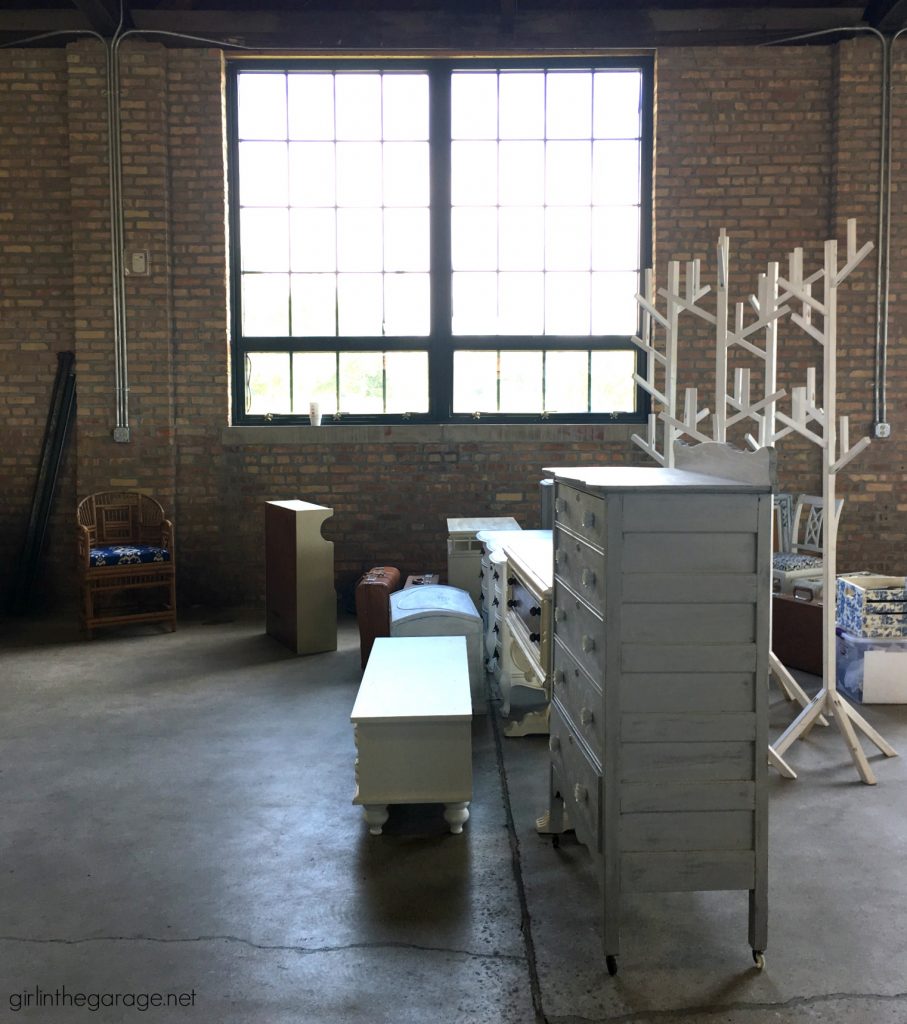 Uhhhhhh…
All that furniture made the trailer packed but it looked so empty in that big market space! We set up as best as we could and went home and worked the rest of Thursday and also Friday morning finishing up more projects. (Did I mention that I barely see my kids during market week? Thankfully my sweet mom is a big help with them since I'm usually running around like a crazy person.)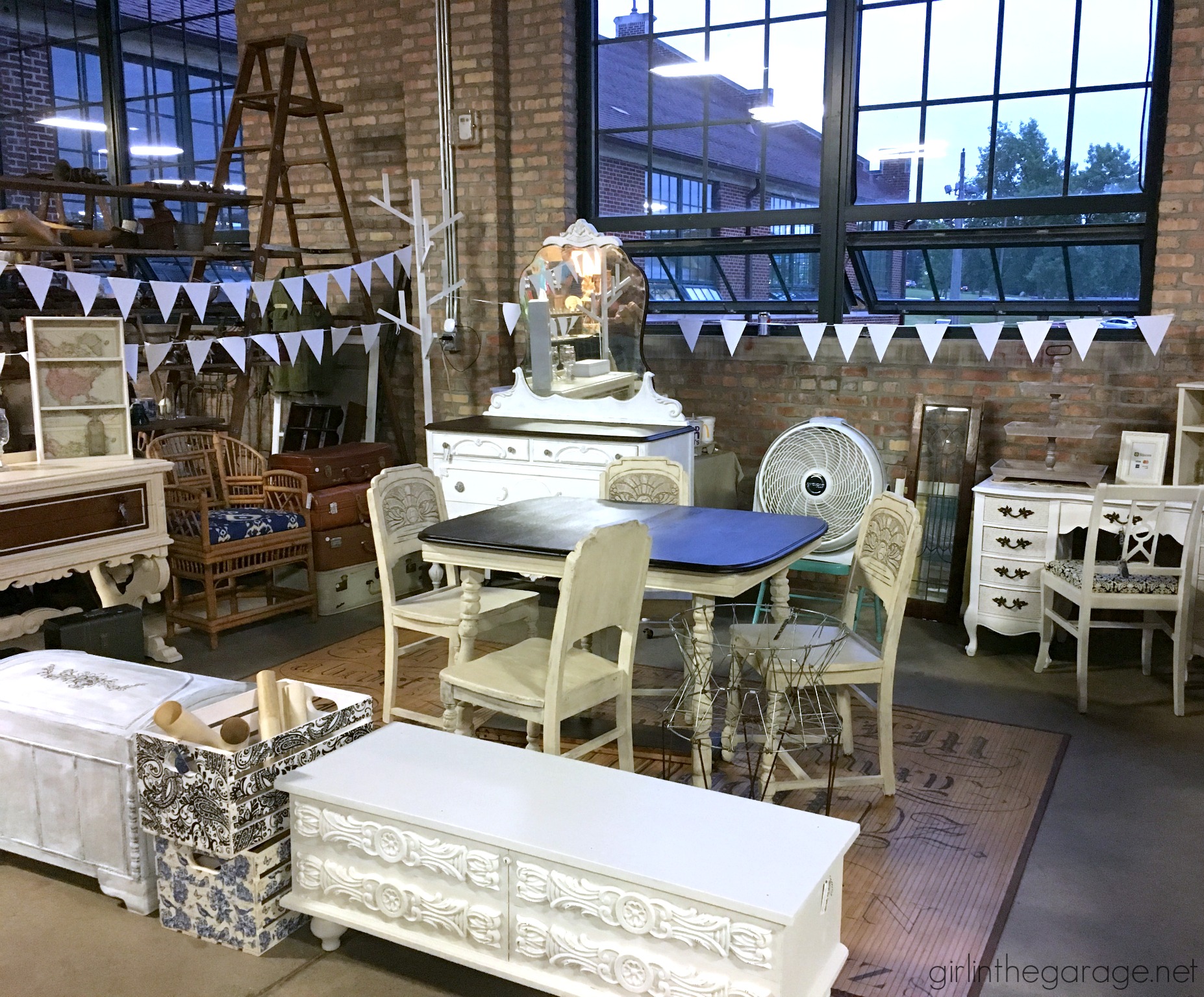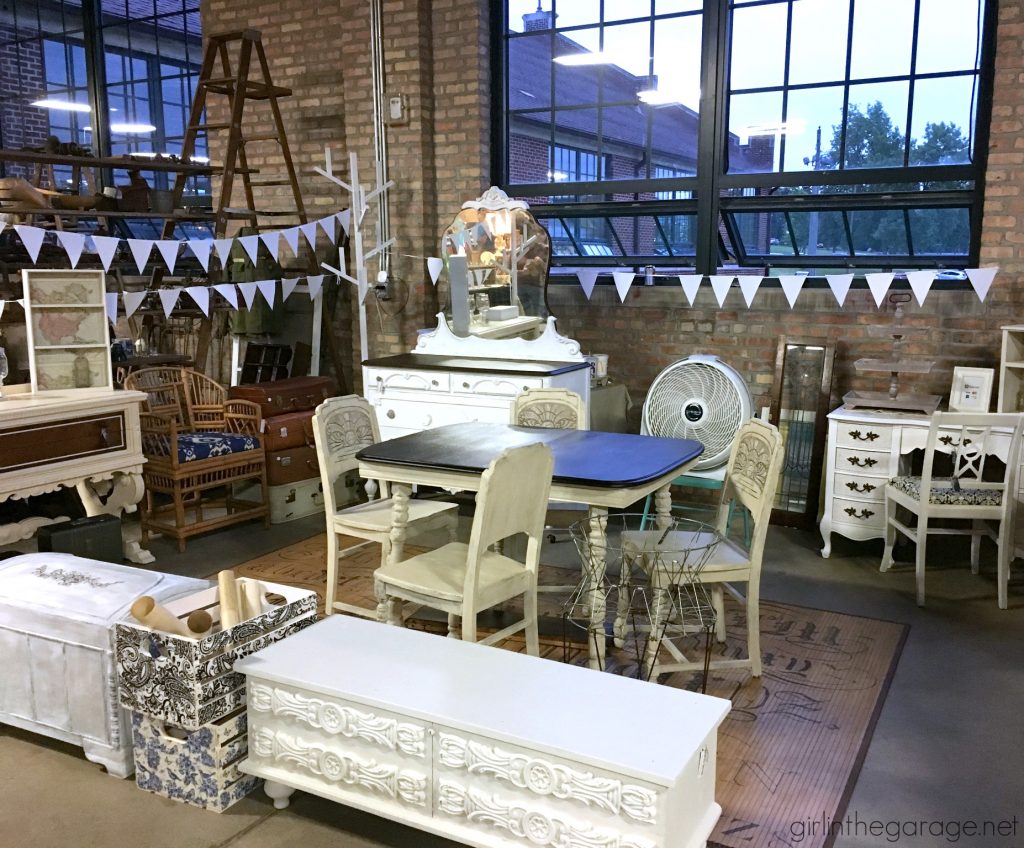 Friday evening we were barely finished setting up (I didn't even get to hang my GITG sign yet, as you can see it's missing from in front of the windows) and shoppers started pouring in. It was so super busy (but in a good way)…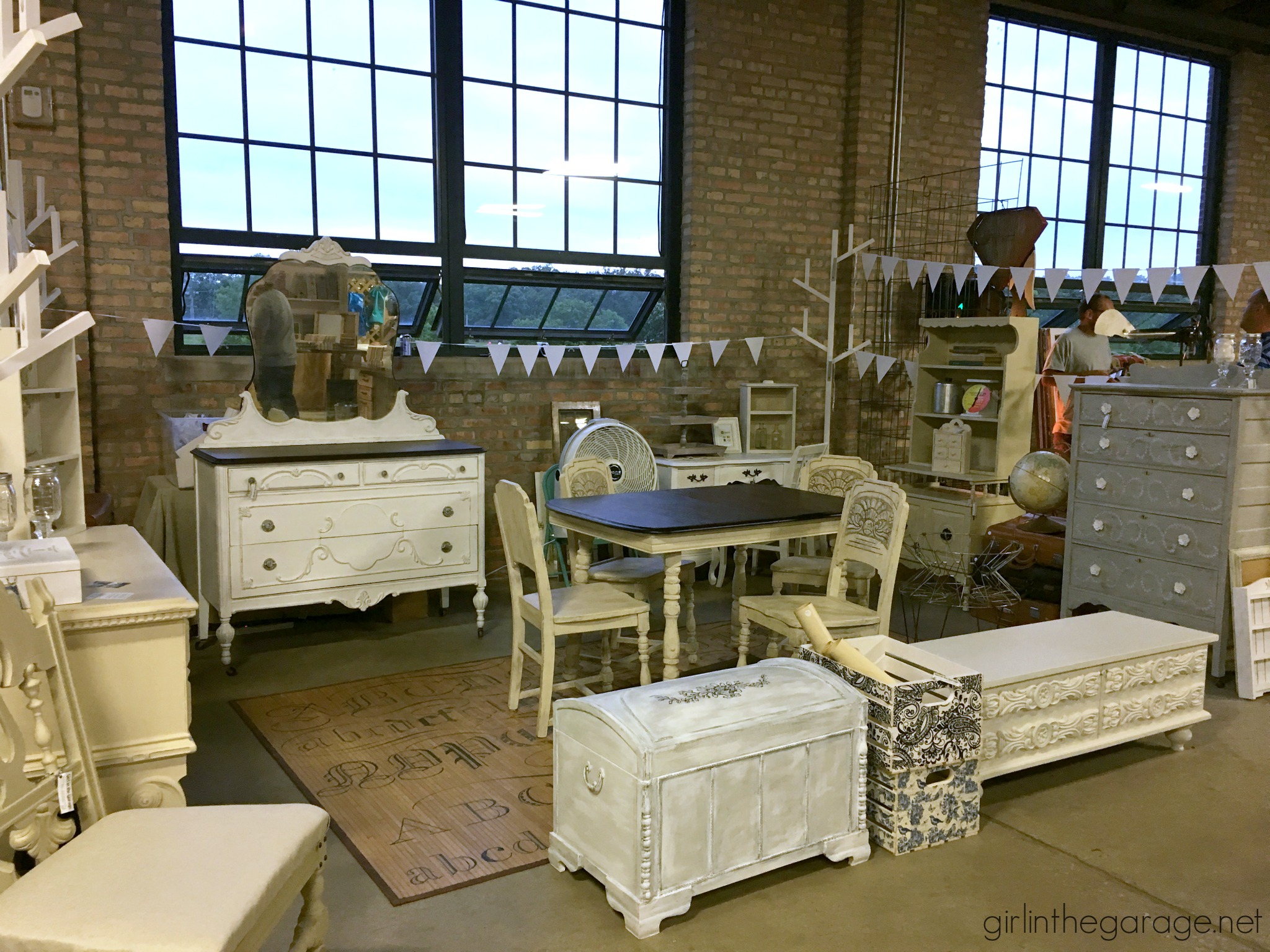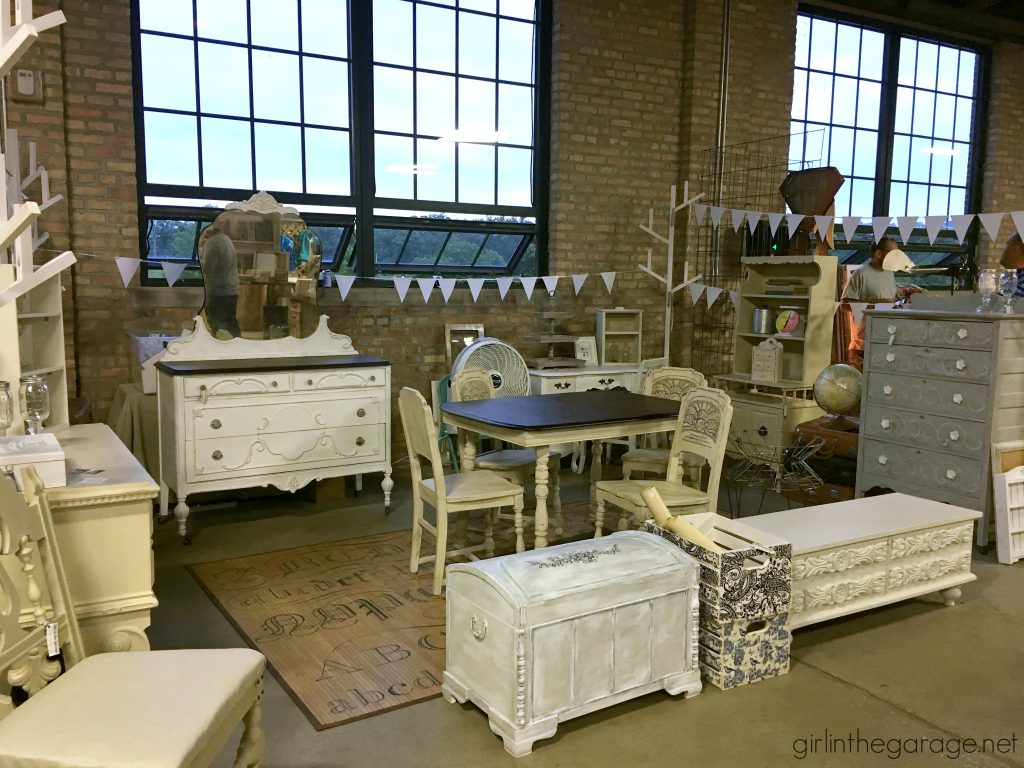 and this antique vanity was our first sale, within minutes. (You can read the rest of the story of this vanity makeover HERE.)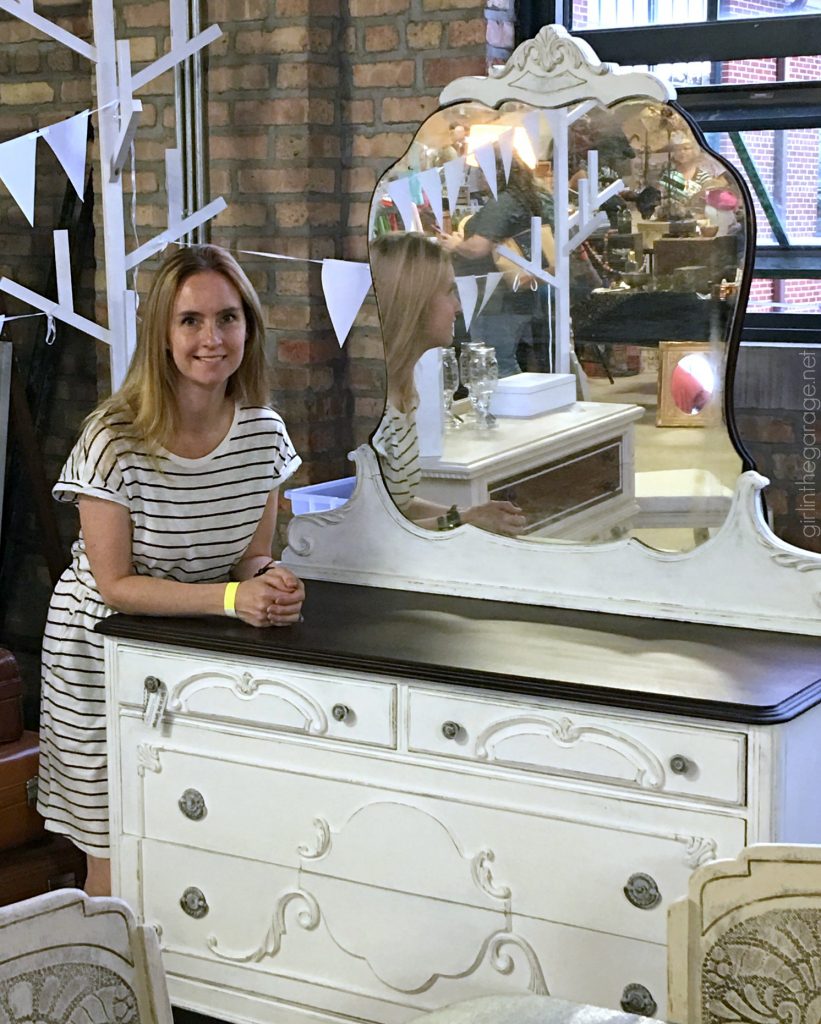 On one side of my space was this vintage bookcase and the distressed stenciled highboy dresser.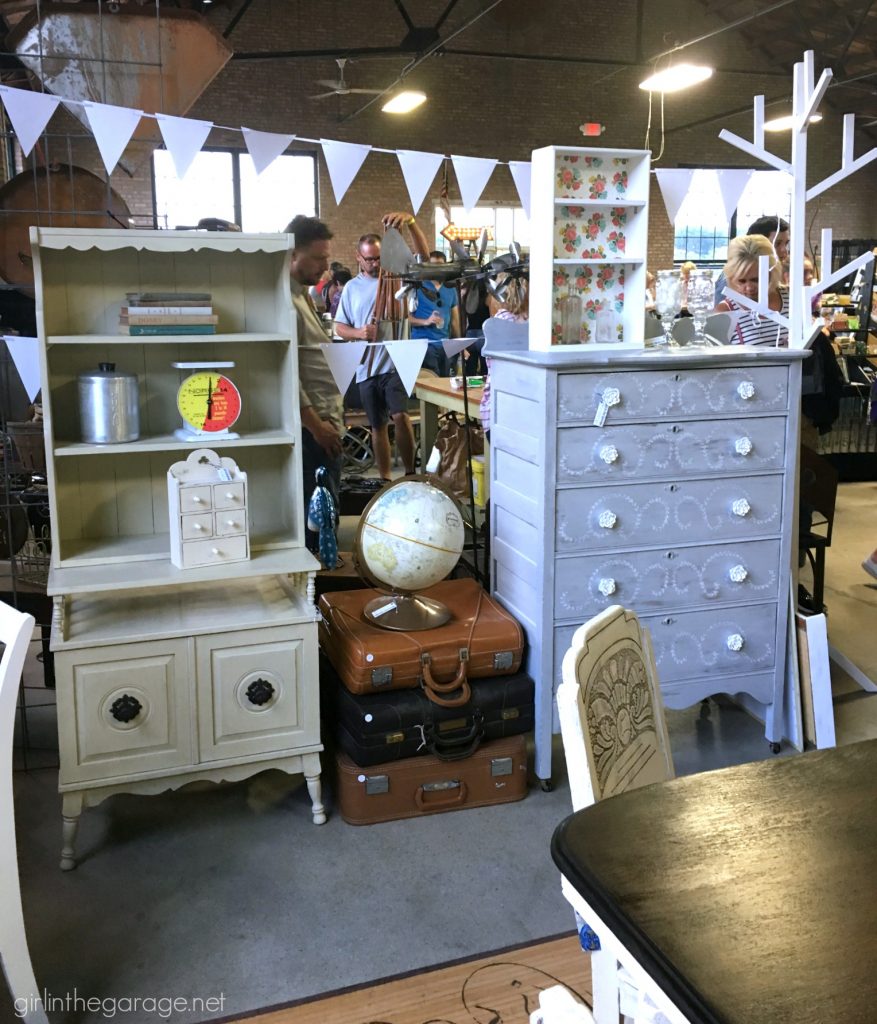 A few big pieces sold before I got photos of them in my space, like this radio cabinet turned bookcase and a sideboard which I haven't shared here on the blog yet.
Here's the space rearranged a bit and set up for Saturday (and my sign is hanging now!)…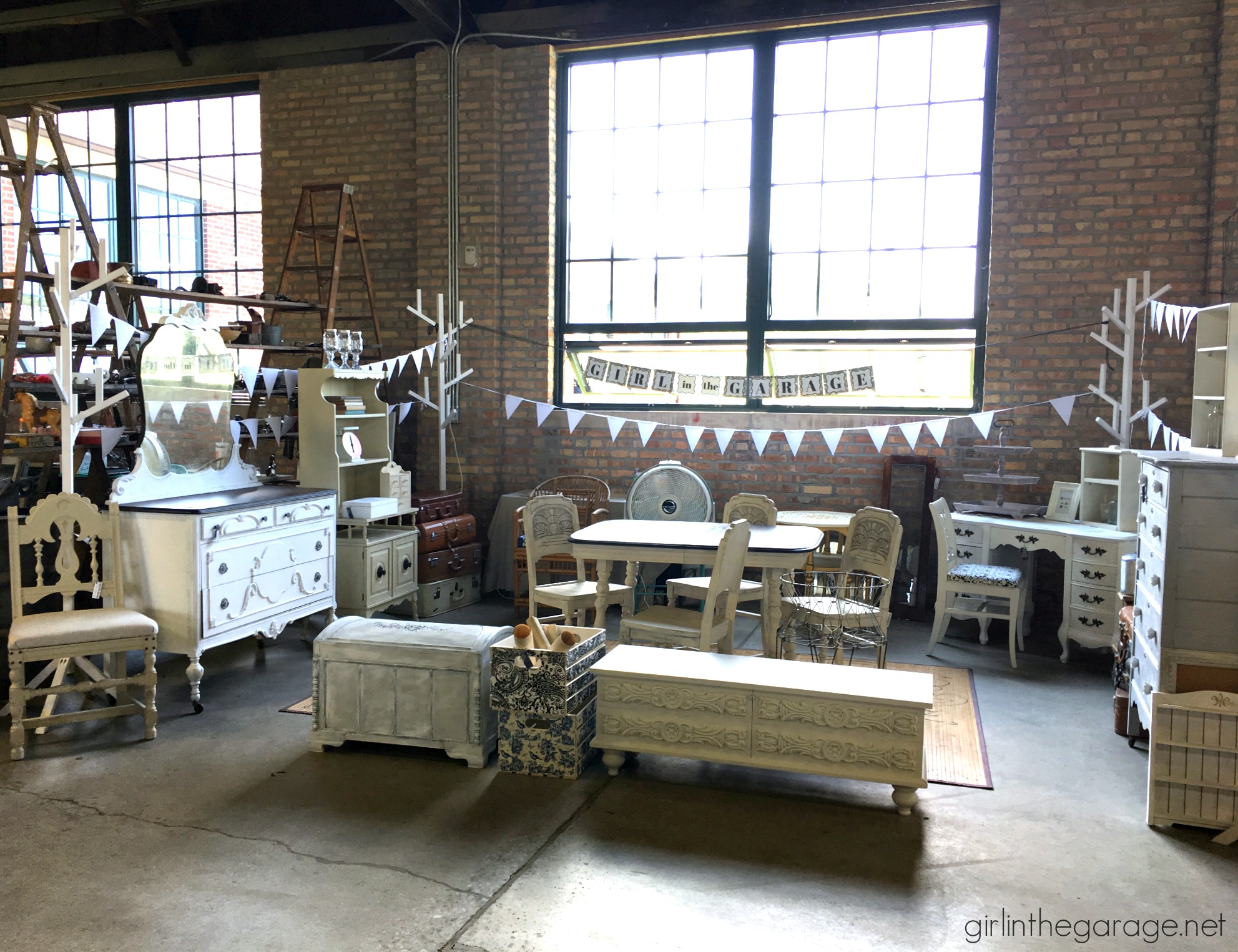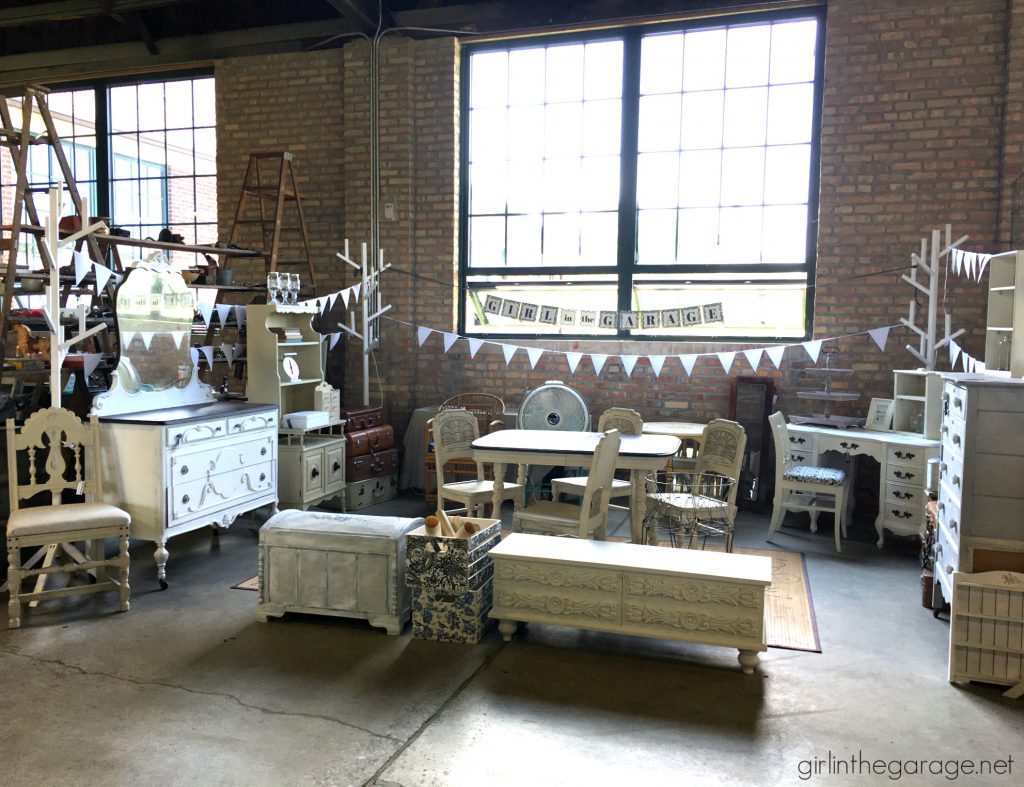 The refinished dining set takes up most of the middle, with the layered-paint chest and the Lane chest at the front. Shoppers could enter on either side and walk through in a U shape behind the dining set.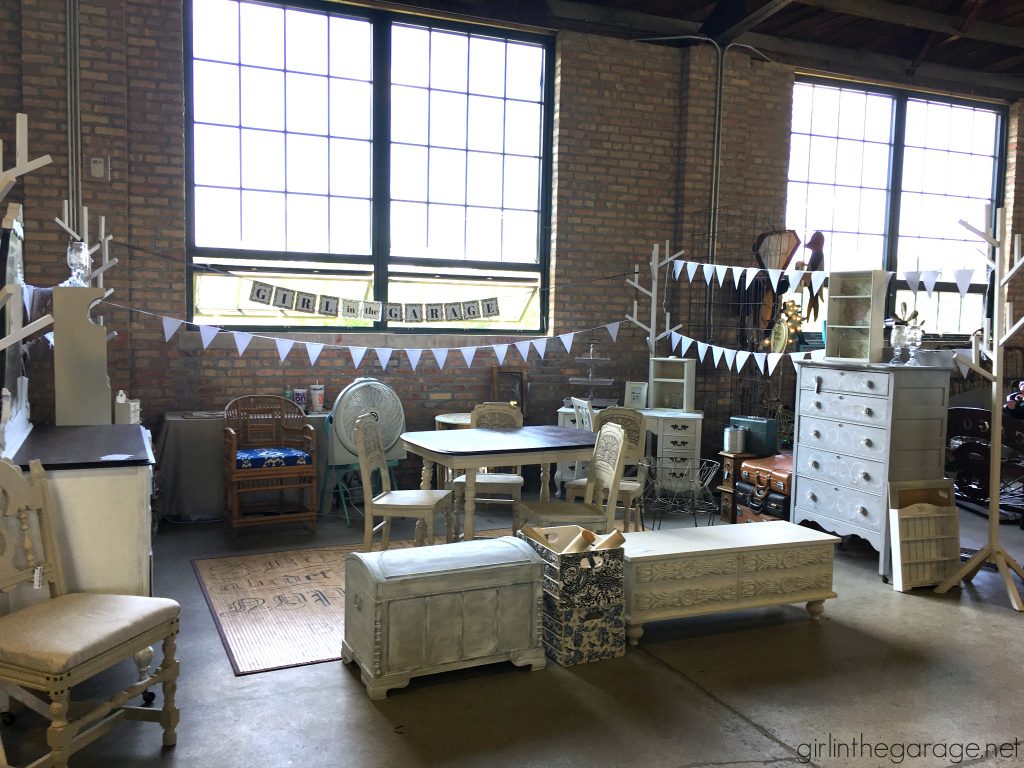 The bamboo rug wasn't for sale, but I like to bring it to make the space feel more homey – plus it draws people's attention and it helps save my feet so I don't have to stand directly on concrete for hours at a time.
There was a corner nook for the French Provincial decoupage desk and vintage chair.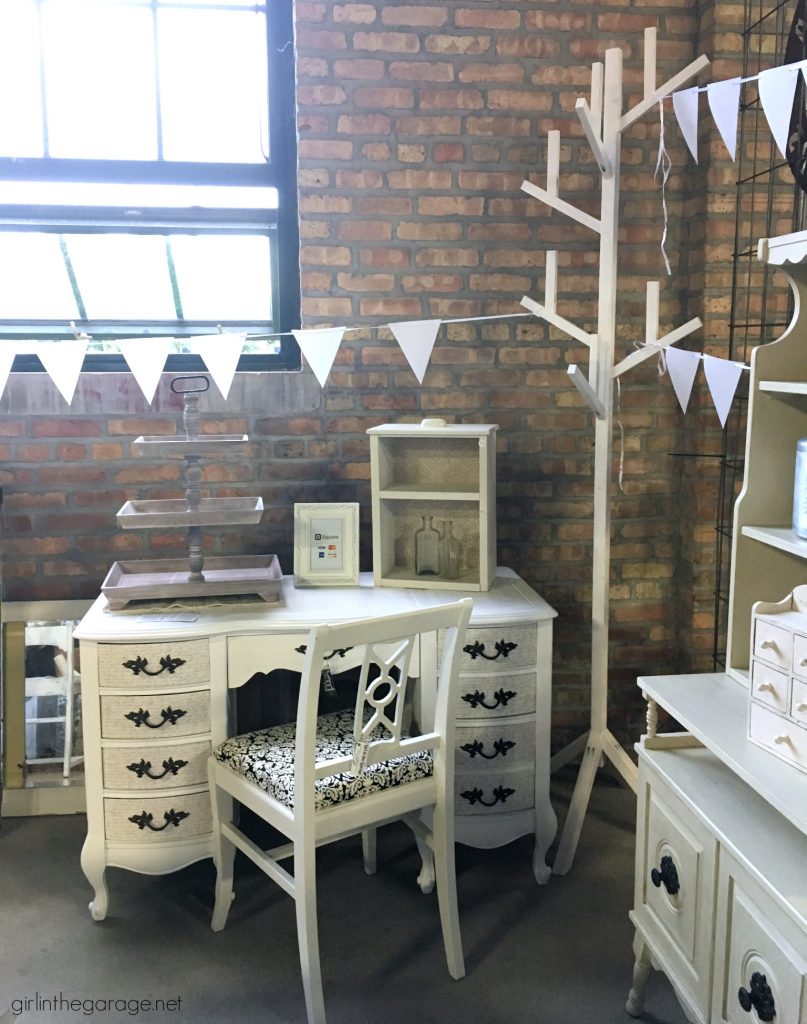 I also bring some vintage and antique "smalls" to markets to help stage the furniture and make extra sales. Even inexpensive items can add up quickly to more cash in your pocket.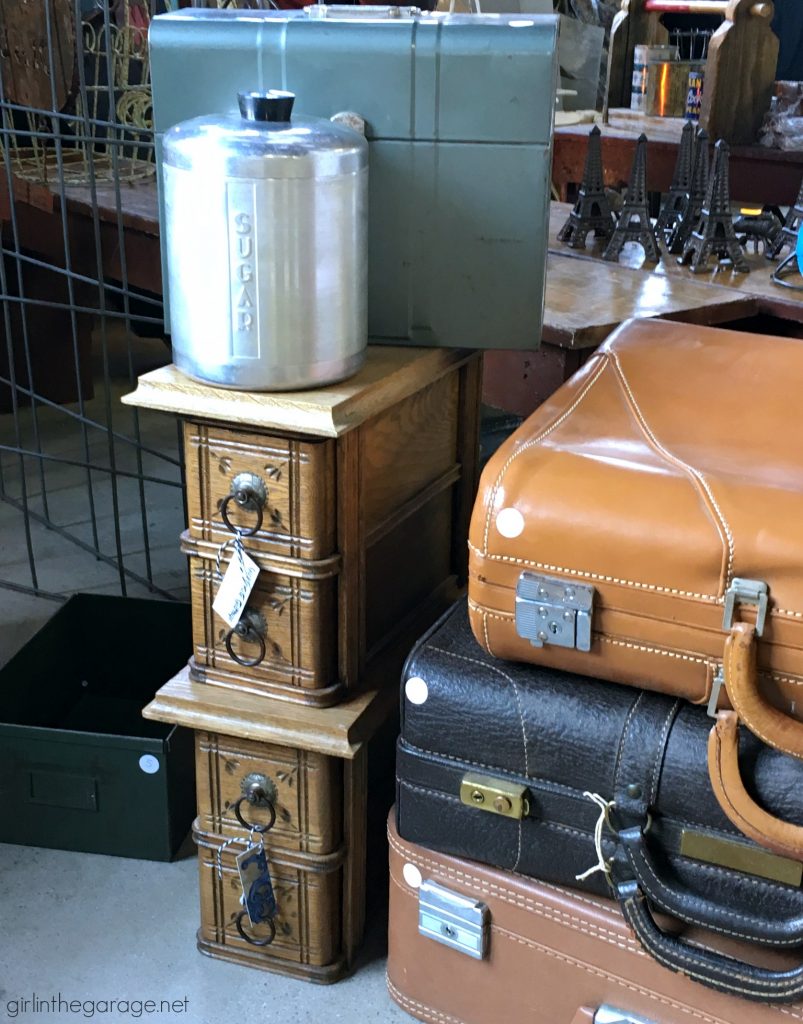 Of course I had to get a photo with my favorite dresser. It got a lot of attention at the market, but it didn't sell there so we took it to my booth at Antiques on Main afterward where it sold quickly.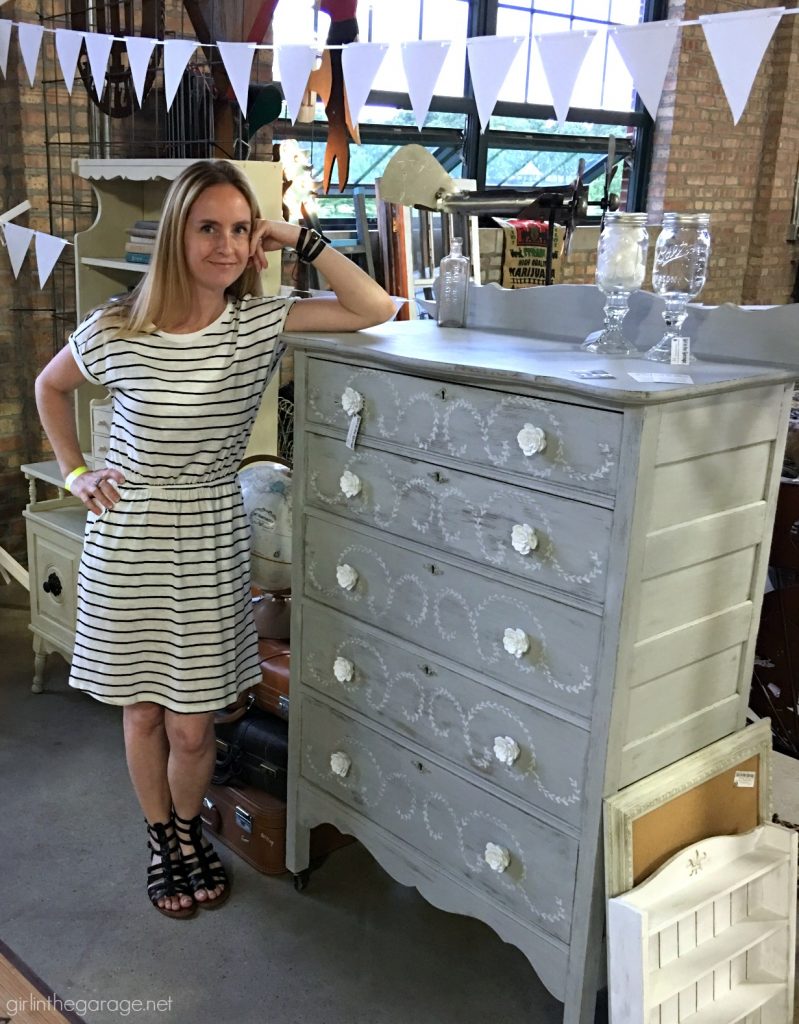 Forgive me for looking tired and sweaty. 🙂
The market was very busy but also lots of fun – I'm currently in the trenches working on pieces for the September market, I have a lot of good ones planned! And of course I'll share them all here with you.
If you're near northwest Indiana, stop by and see me next month! You can follow Hunt and Gather on Facebook here for updates.