Sometimes, the most satisfying makeovers begin with a really ugly piece – one that has years of neglect and sadness lingering in every crevice, with little hope until someone with fierce determination and impressive skills comes along.
Other times, we need to catch a break.
This is a lesson I've learned – a garage full of "deals" that need tons of work and have been piling up over the years is not better than a few key pieces here and there that need minimal work. It's good to have a (small) stash of furniture, but you're only wasting money and precious garage space if you groan every time you glance in their direction and just. keep. putting. them. off. forever.
So give yourself a break. Pay a little more for a piece that won't make you want to scream and pull your hair out. This leather top desk was a little more than I would normally pay, but thankfully it didn't have many challenges.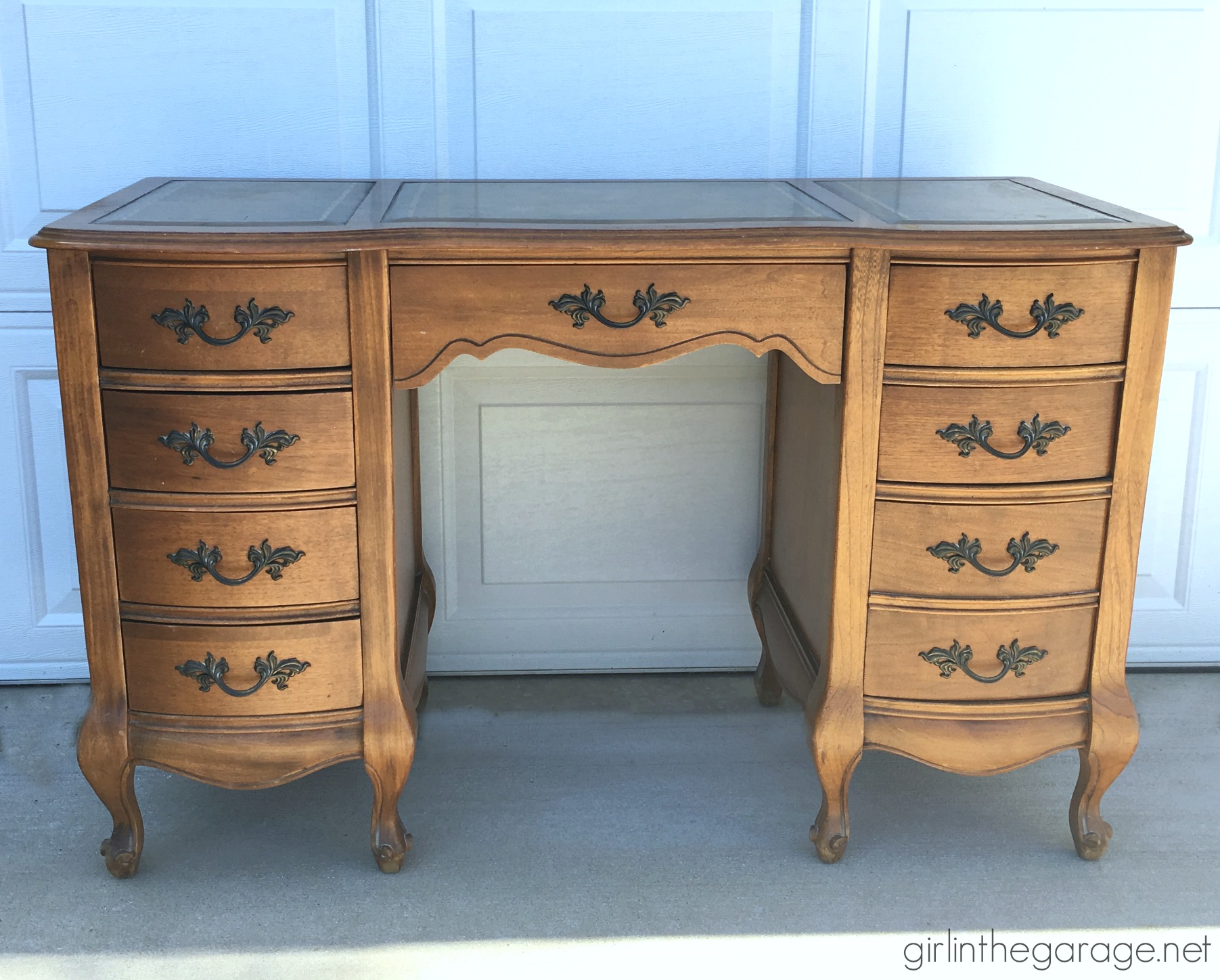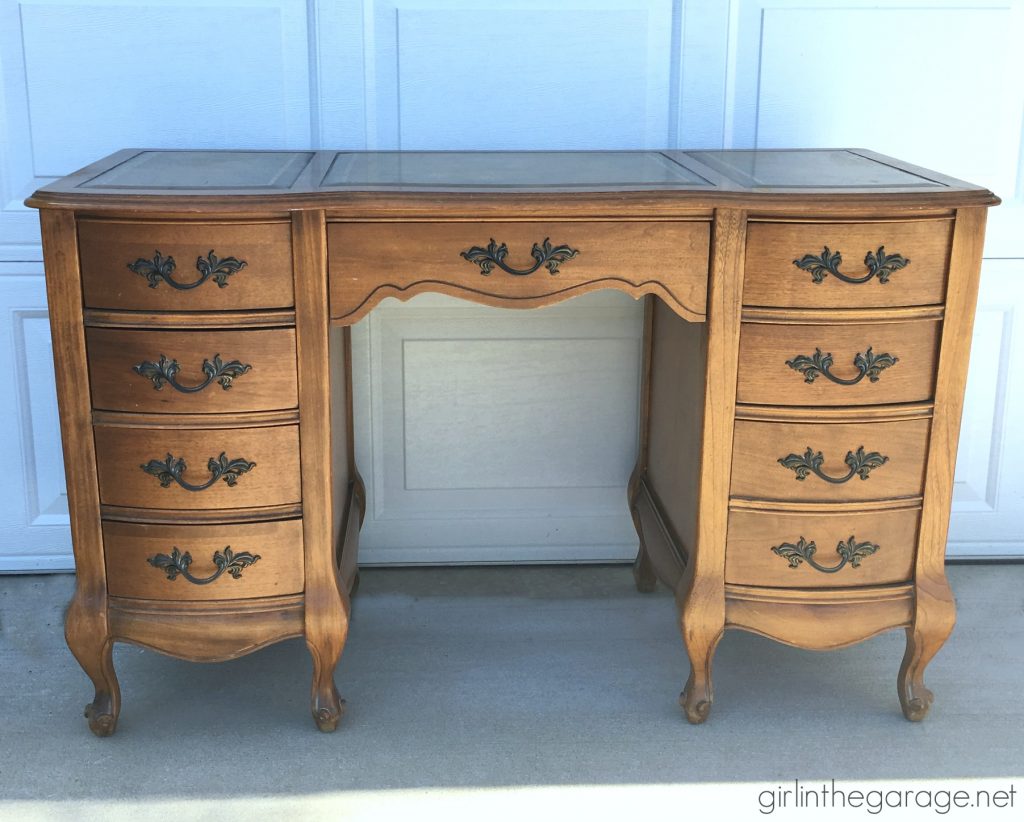 The biggest issues were some deep scratches and gouges in the wood top and some fading and scratches on the leather.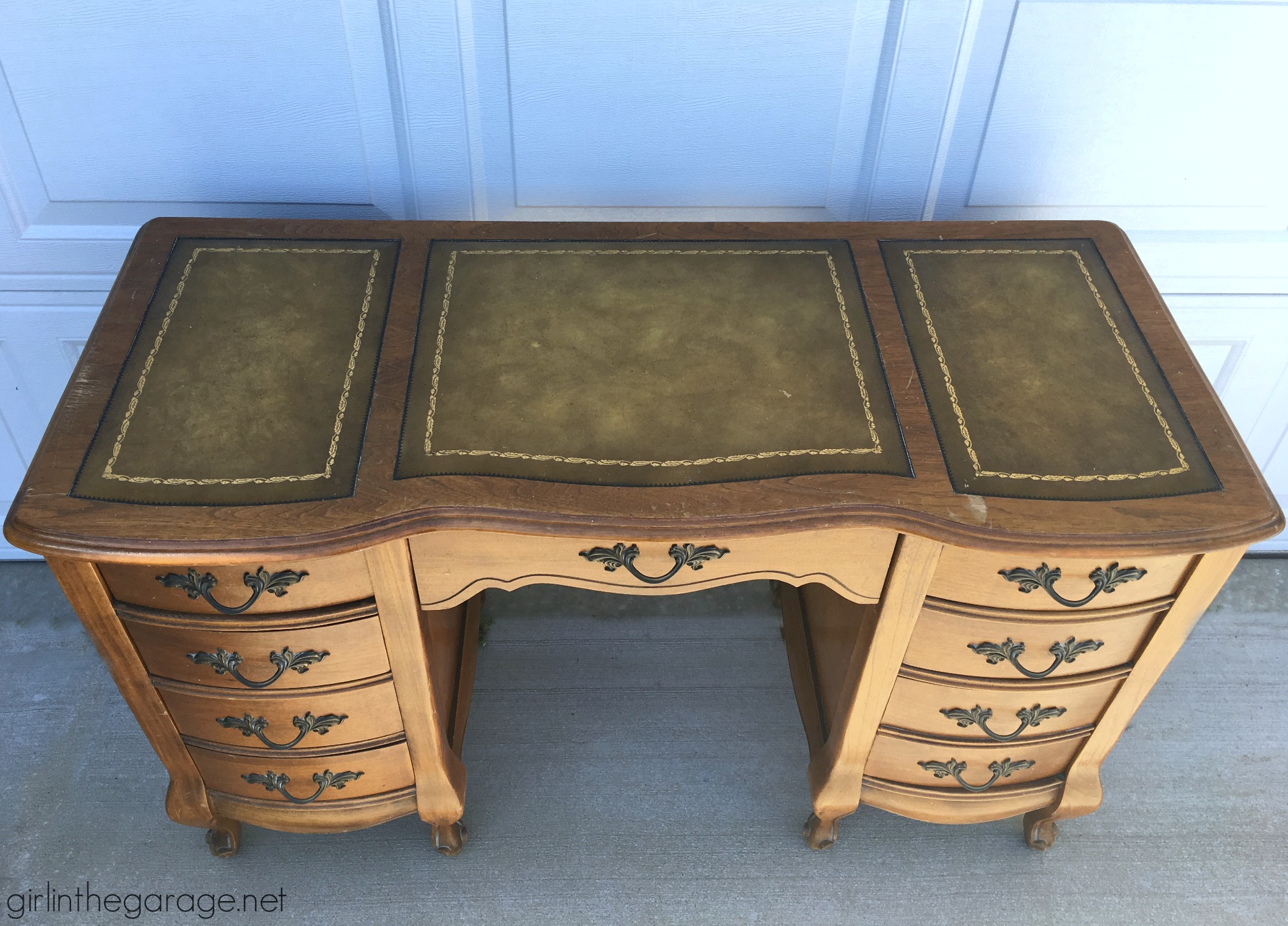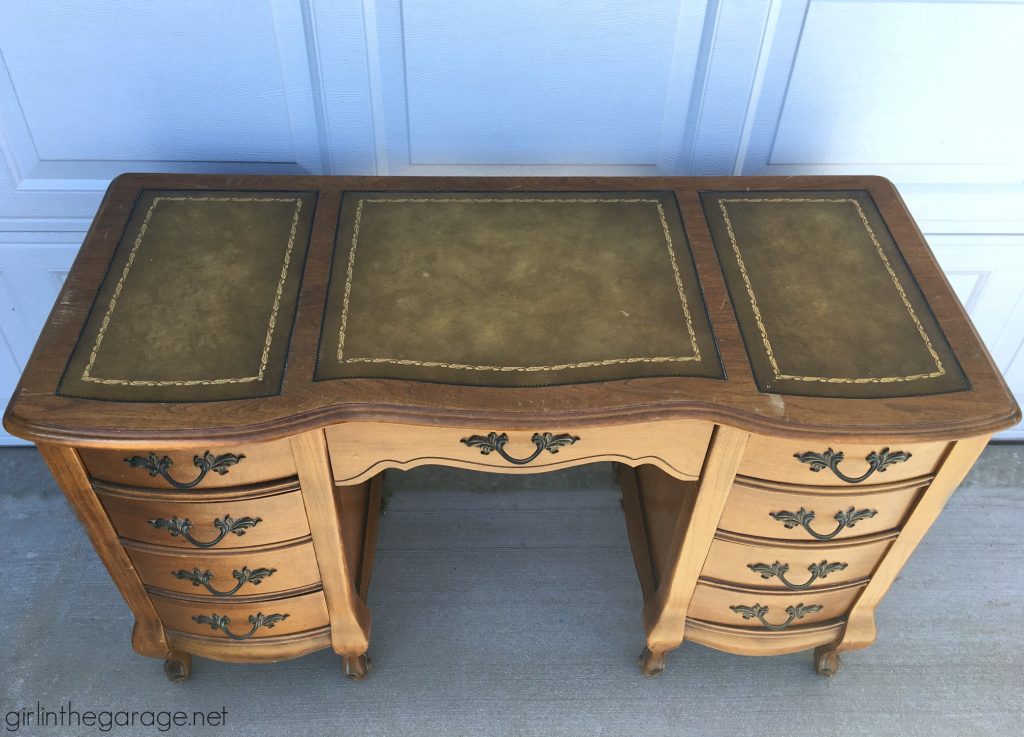 Someone did a good job of protecting the drawers with paper inside.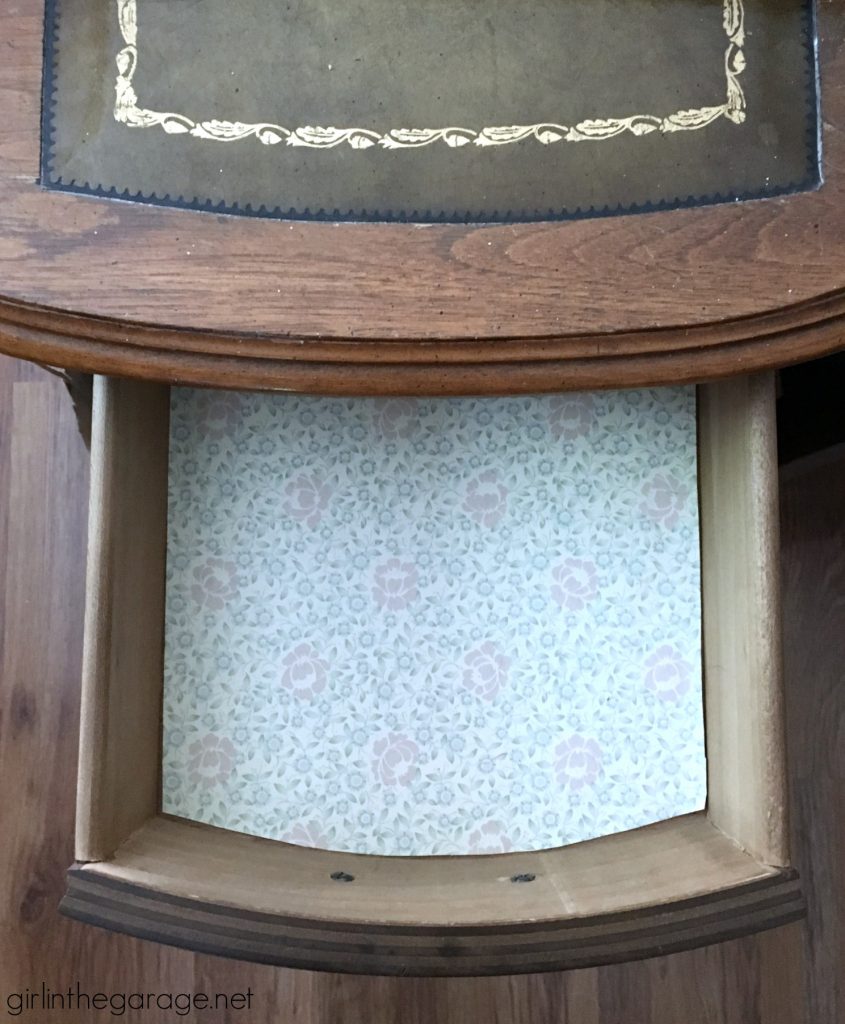 *This post contains some affiliate links, at no extra cost to you, so you can easily find the products I use and recommend. Discover all my favorite brands and tools for doing DIY projects here.
Repair and Prep the Leather Top Desk for Painting
First I sanded out the scratches and filled the gouges with wood filler.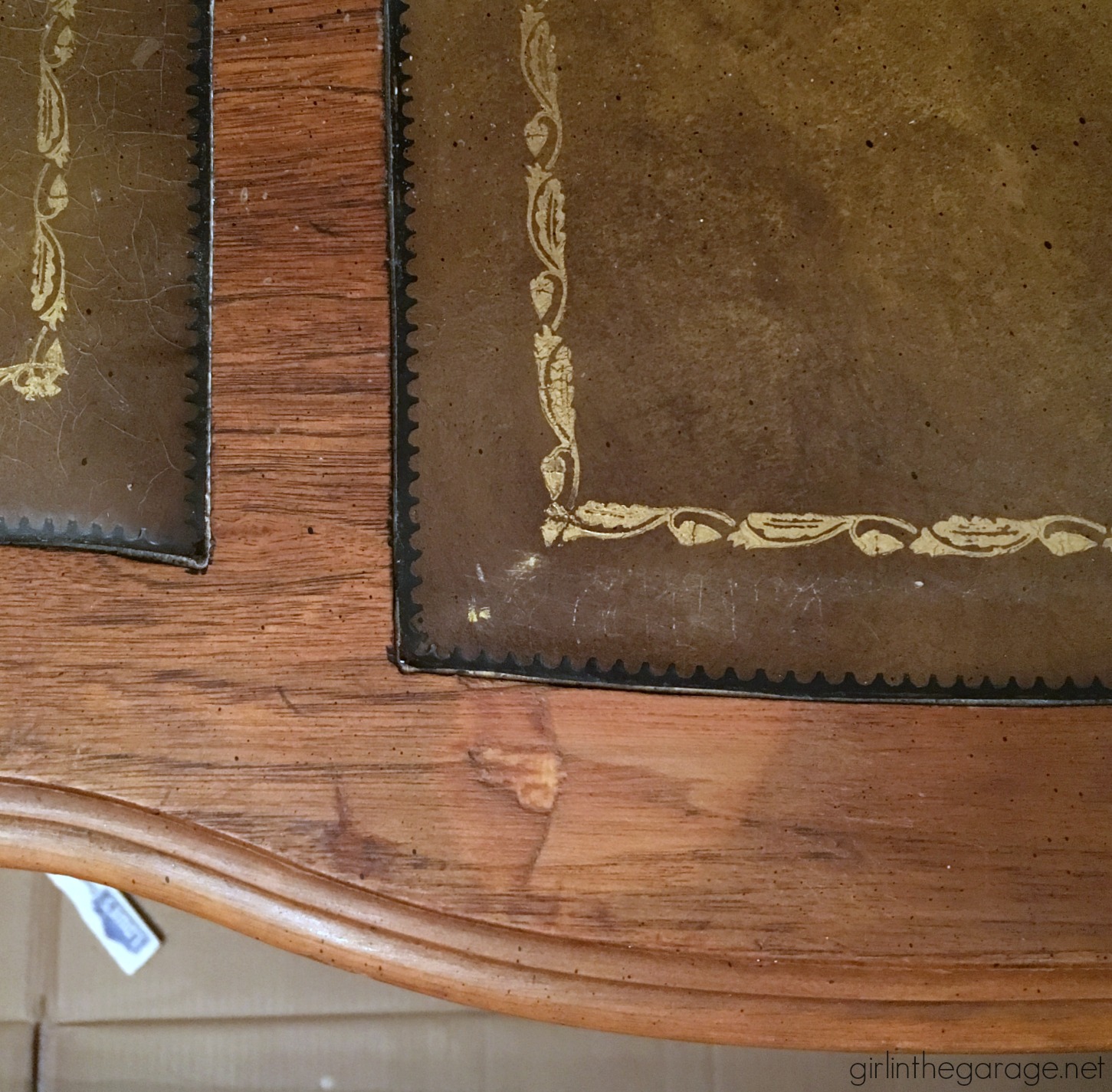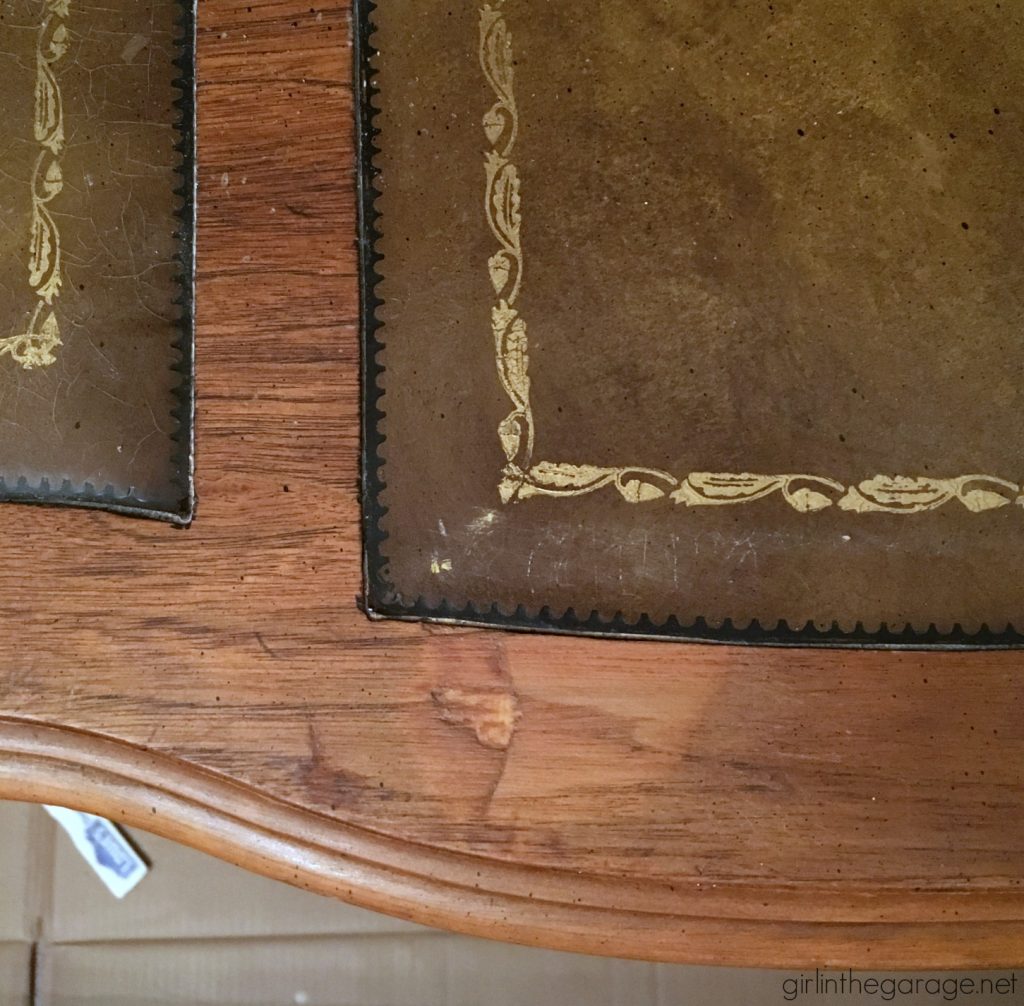 I was concerned about bleed-through so I primed it (everything: wood and leather) with two coats of Zinsser BIN shellac primer. This was my first time using it, and I was really impressed. It's also supposed to block odors (although it is pretty stinky while you're using it).
Because it's shellac, you need to use the right type of paint brush and you'll need to clean the brush properly afterward. I used diluted ammonia – just a little of it mixed in a cup of warm water, swish the brush around for a few minutes, and then rinse it well and let dry.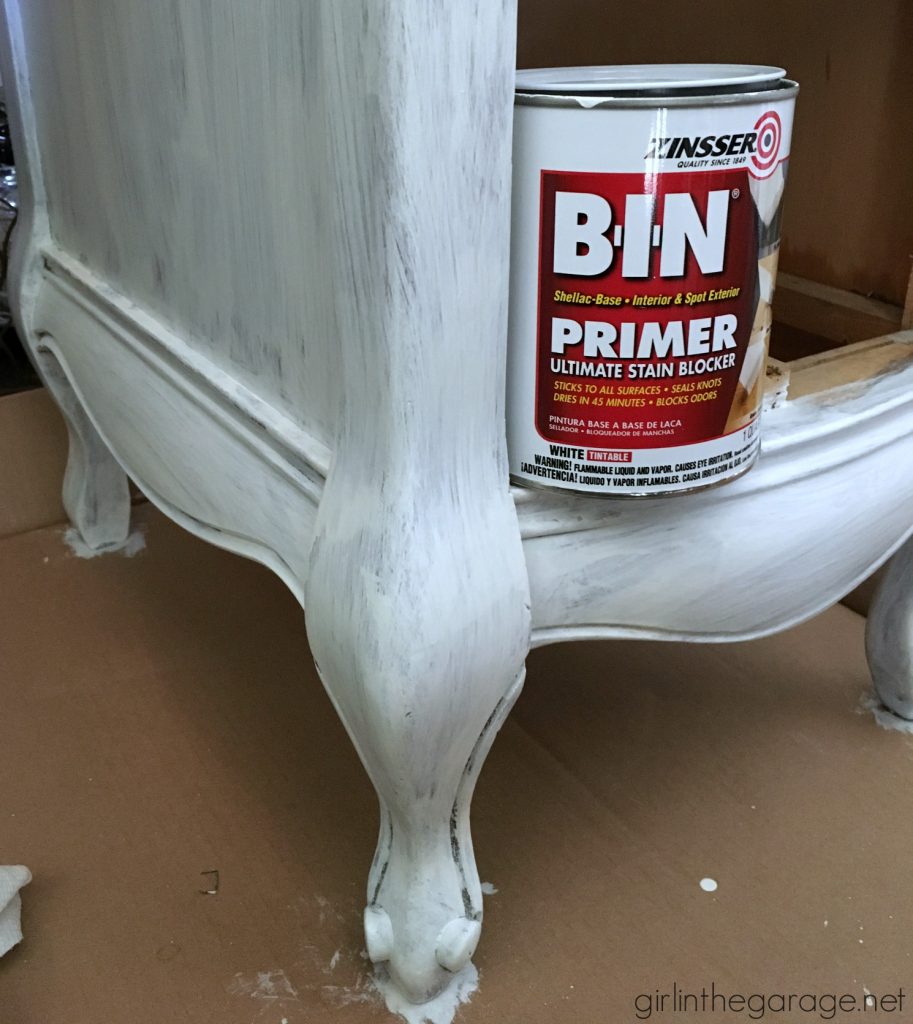 Tip: I like to keep big cardboard boxes to break them down and put under my projects, especially if I'm painting in the house. Gotta protect the floors!
Paint the French Provincial Leather Top Desk
Next the desk was painted in about 2.5 coats of Annie Sloan Chalk Paint in Pure White. The primer really helped keep the white paint nice and bright. Learn all my best tips for How to Chalk Paint Furniture here.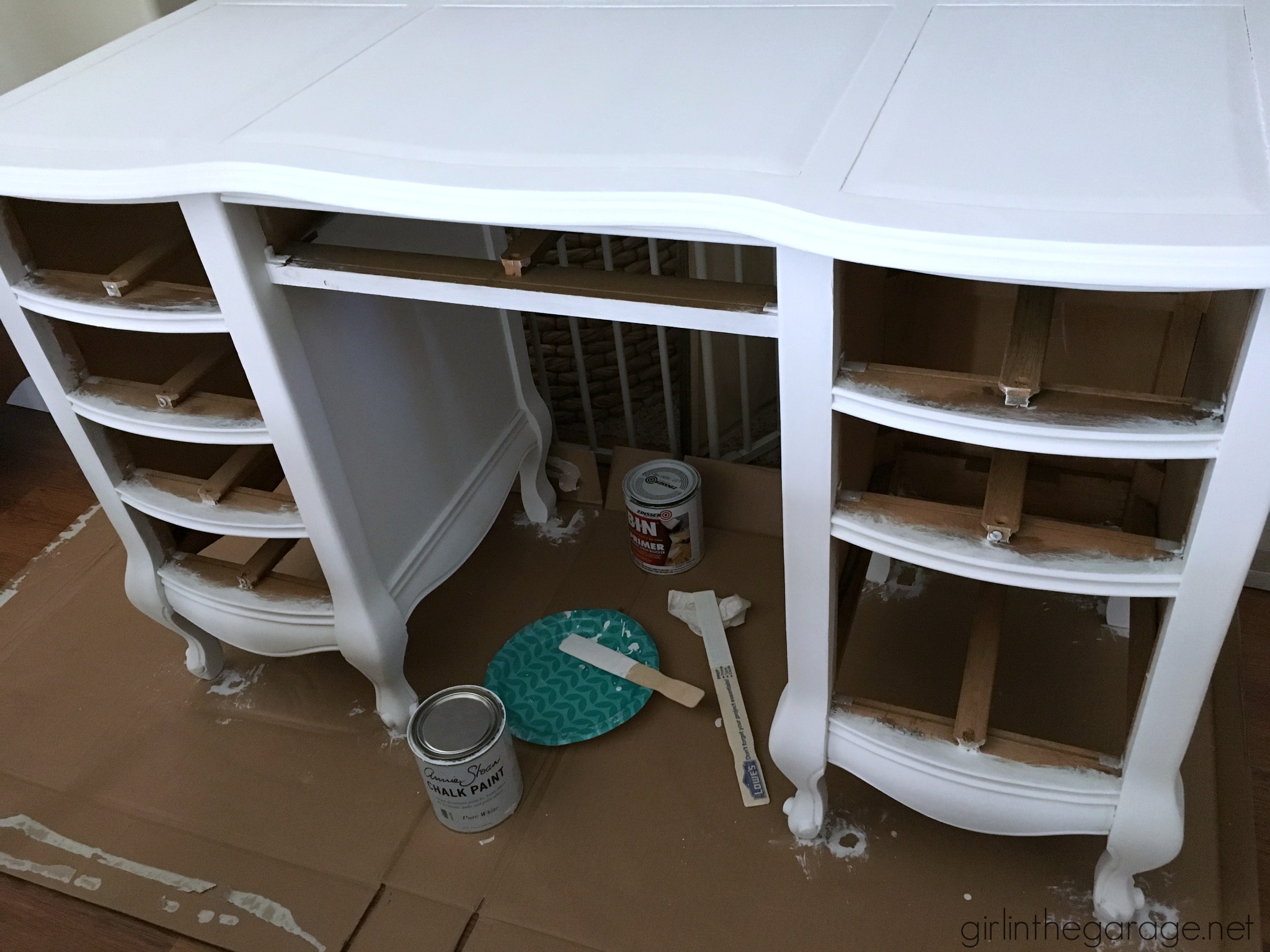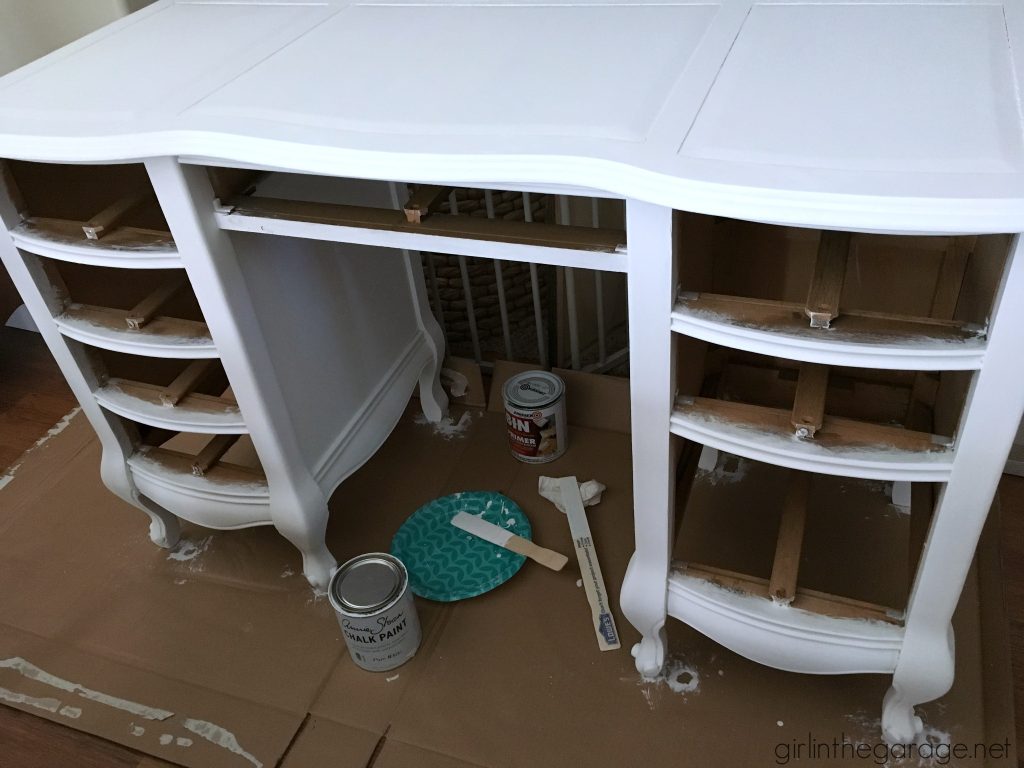 Over the next couple days I applied two coats of Fusion Mineral Paint's Tough Coat matte poly topcoat. I have used it on a few pieces now – it's a liquid that you can apply with a cloth or brush. Update: Now I only use Annie Sloan's soft wax as a topcoat over paint – it's the only topcoat I've found that is truly non-yellowing.
Here are the drawers out of the way, all piled up under the kitchen table. 😉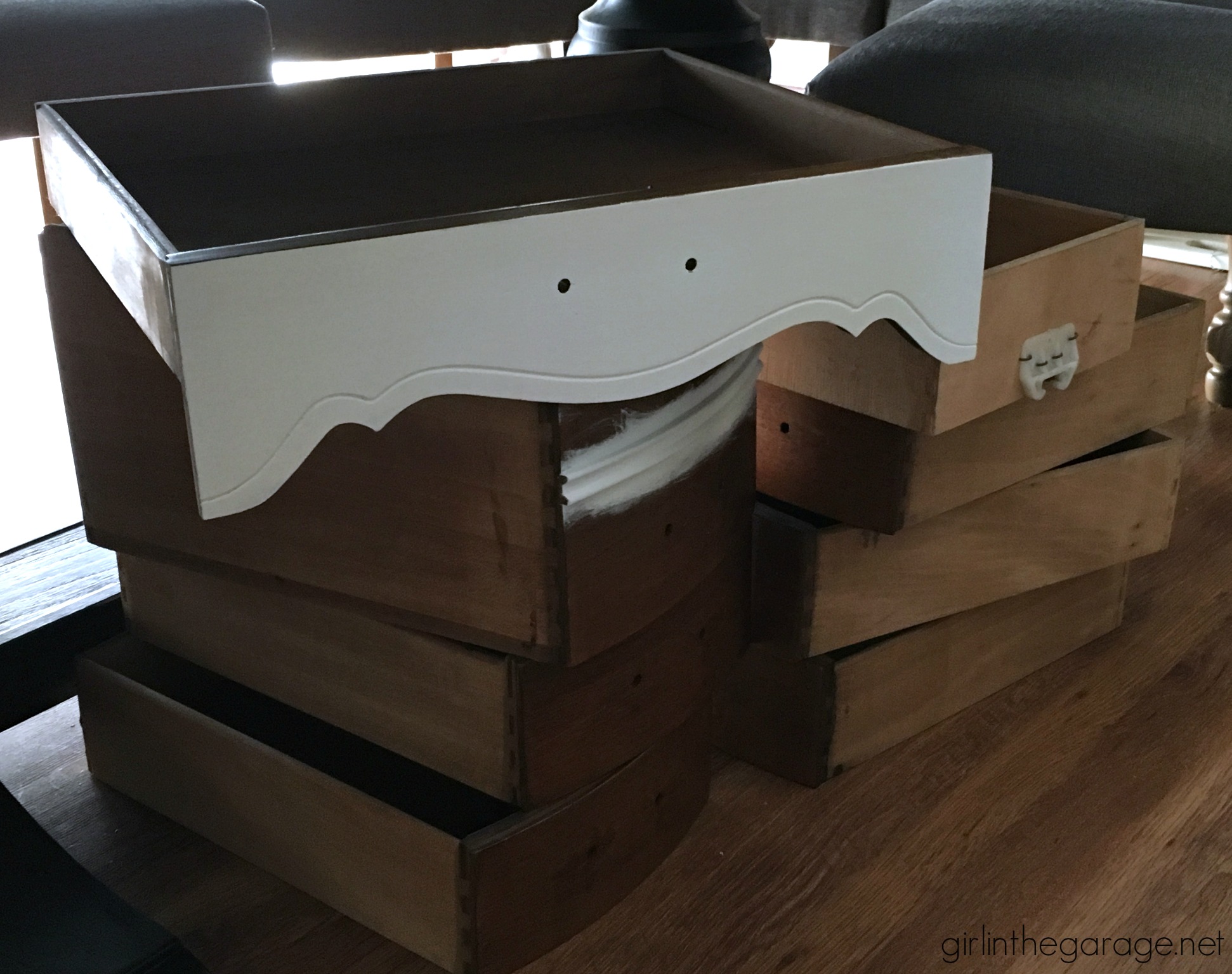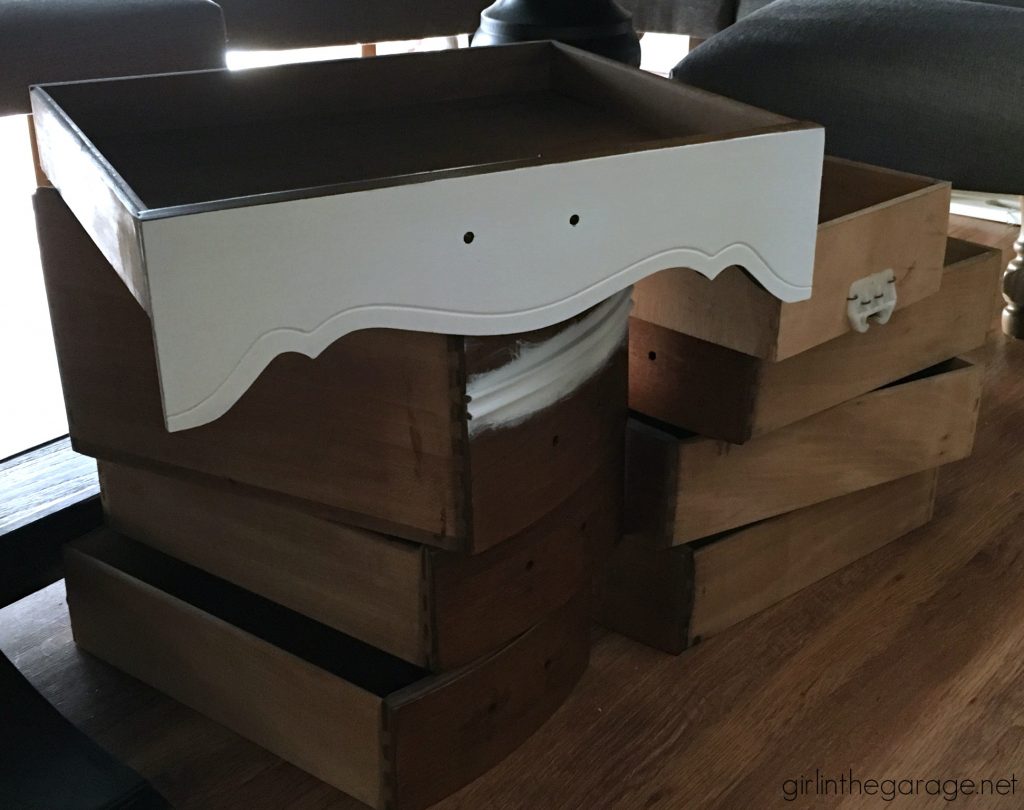 Next was the fun part: Getting everything ready for decoupage.
How to Decoupage Paper onto Desk Drawers
I got several sheets of my favorite scrapbook paper from Hobby Lobby (see it in this project HERE and also HERE), measured, and cut it to size with my paper cutter. This cutter makes projects like this a breeze because you have to have perfectly straight lines, and you can cut paper for all the drawers really quickly. Here's a link to where you can learn more and buy this paper cutter online (it's a #1 best seller on Amazon!).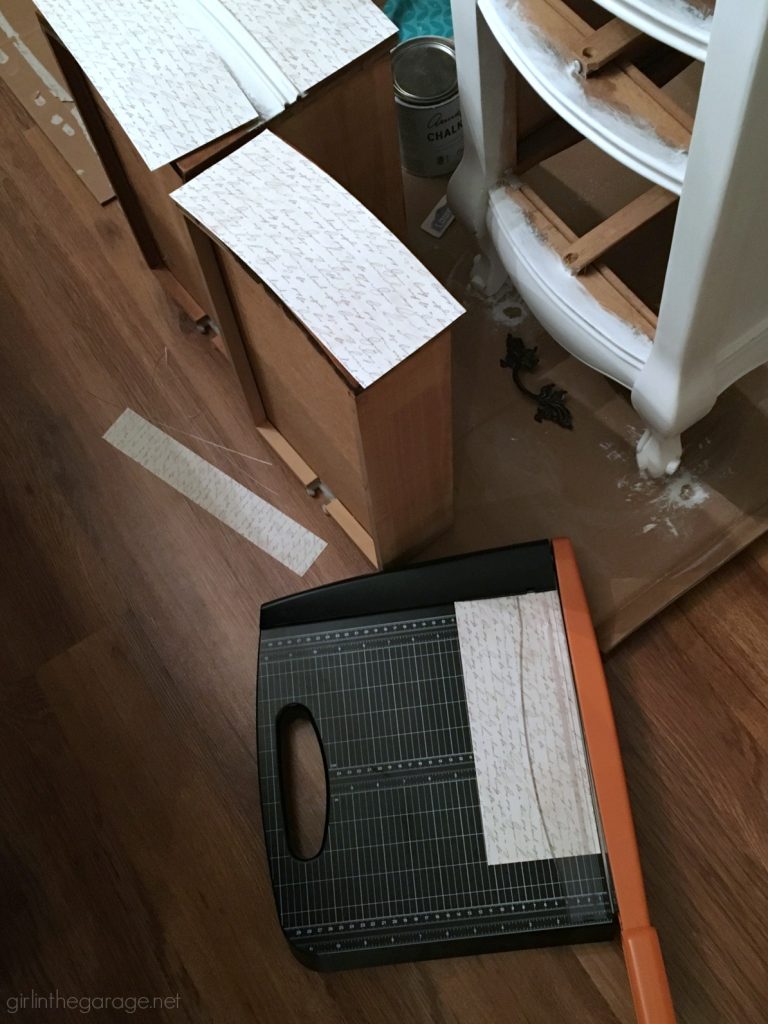 I glued the paper over the drawer fronts with matte Mod Podge and a foam brush. Mod Podge dries really fast so work quickly – and you only have 1-2 chances to reposition the paper if you mess up the first time.
And here's how she looks now…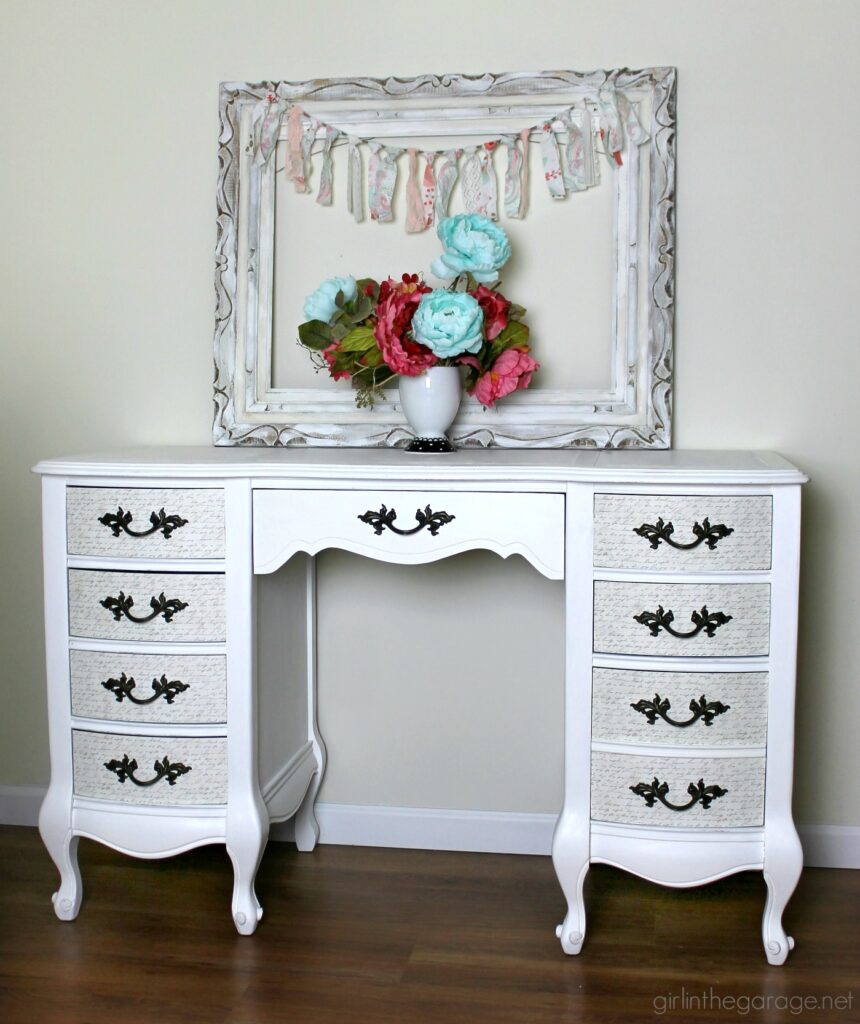 Advice please! I was really debating whether to paint the pulls or leave them as-is. They're dark bronze and they kind of match the script on the paper. But are they too dark?
Let me know if you think I should dry brush them with white paint – I'd leave some of the dark showing through.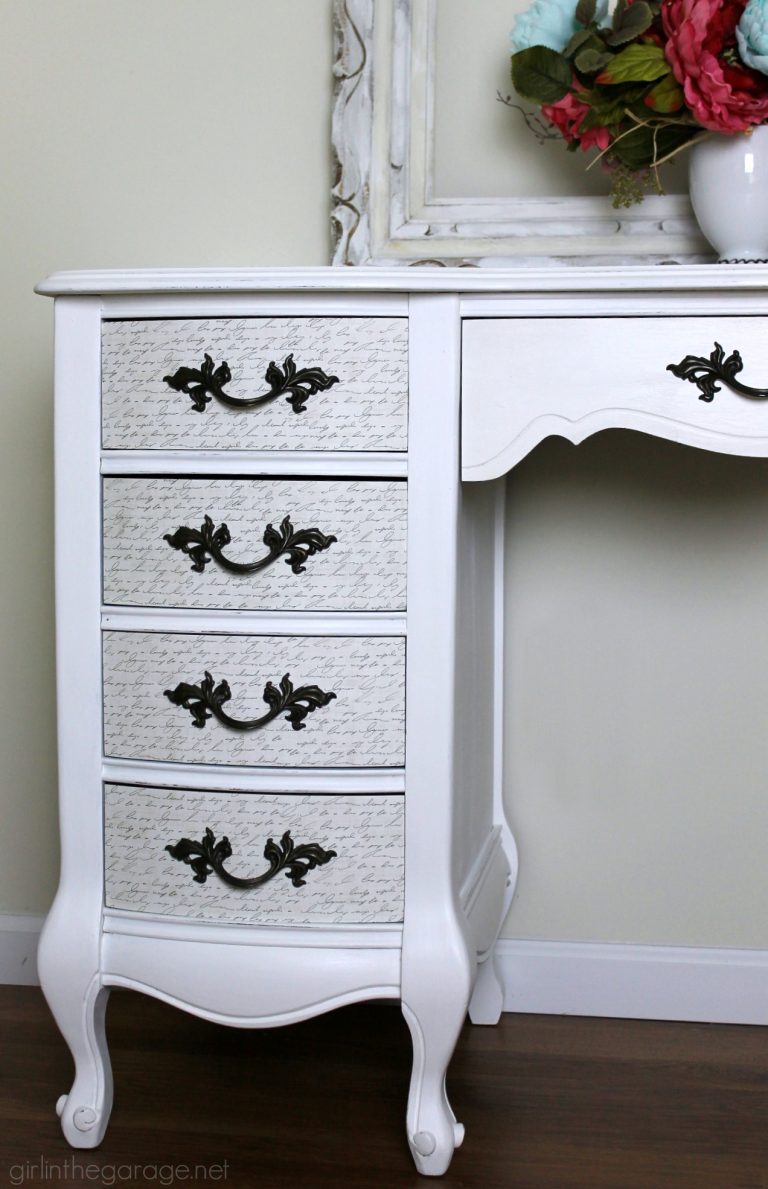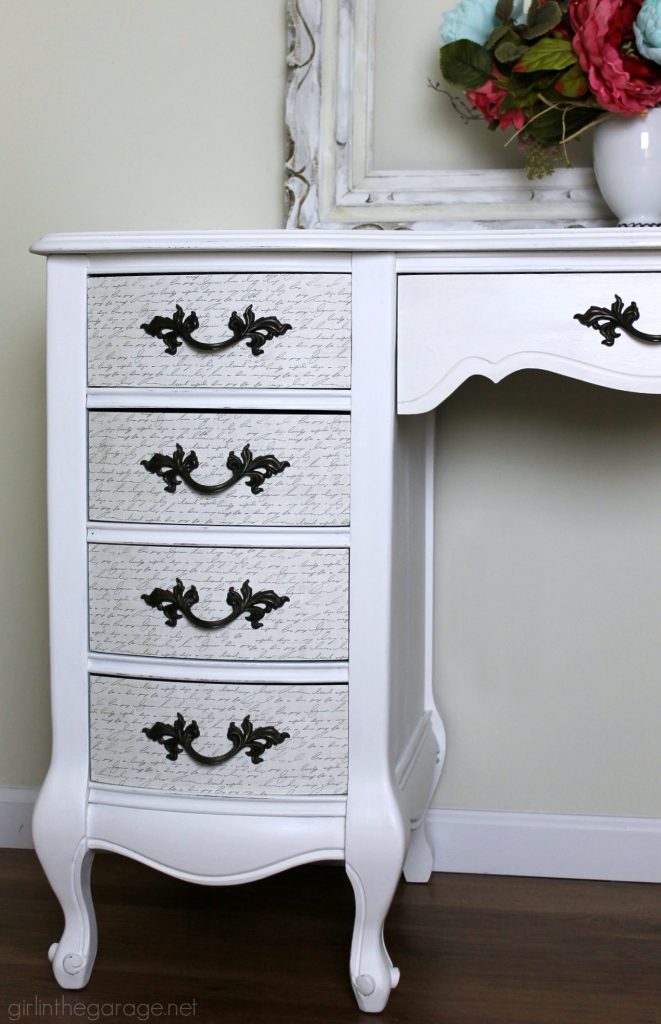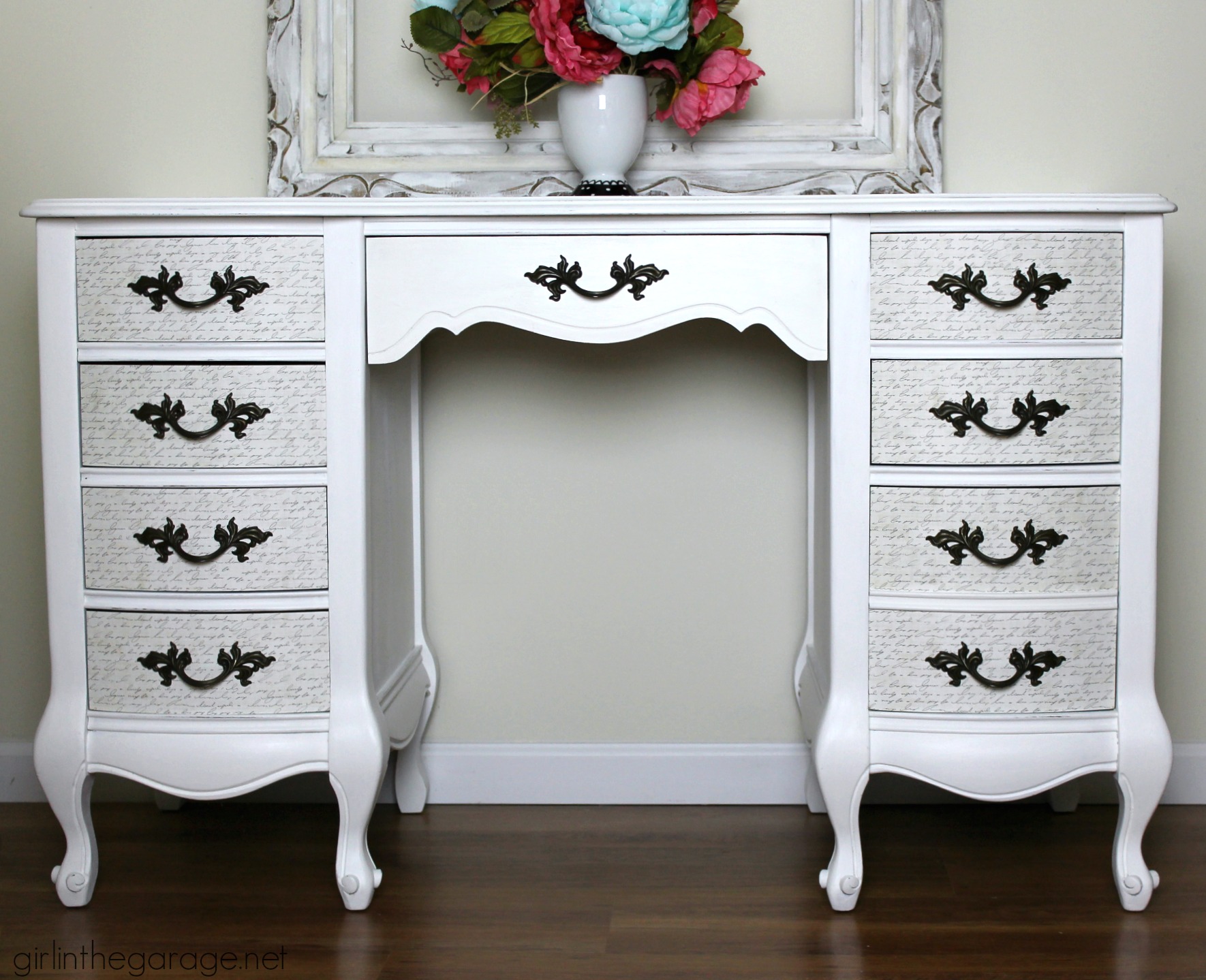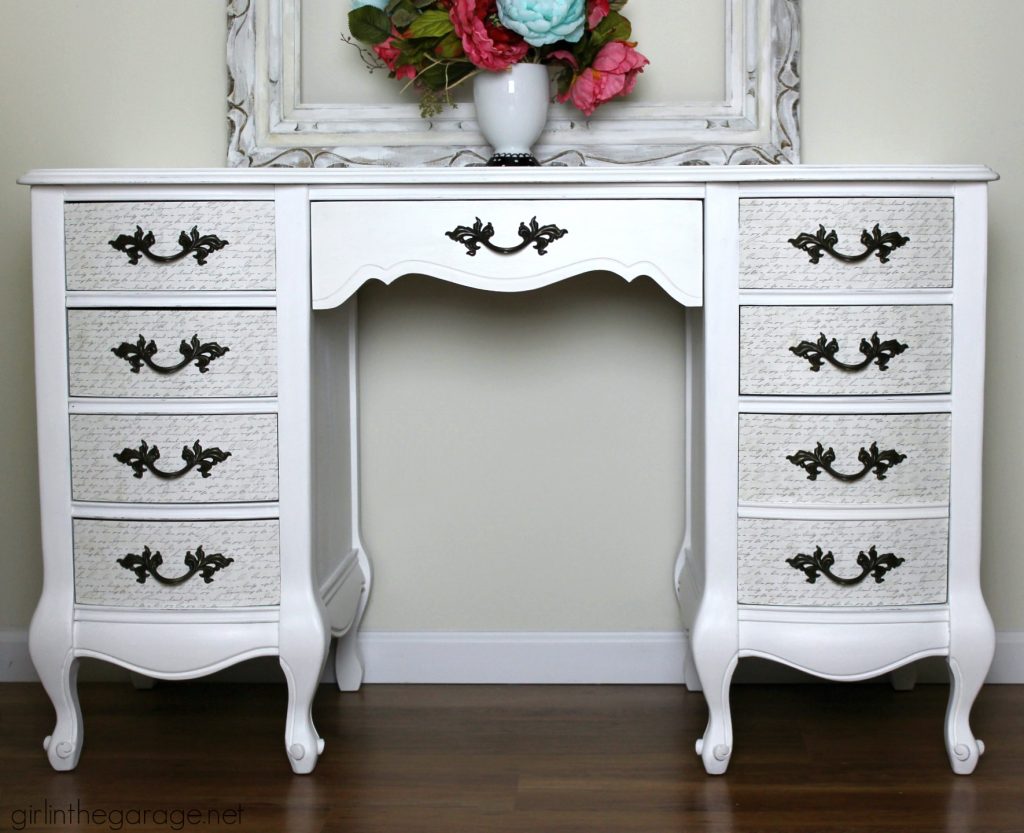 This decoupage desk makeover is similar to one I did several years ago (see it Here or at the bottom of this post).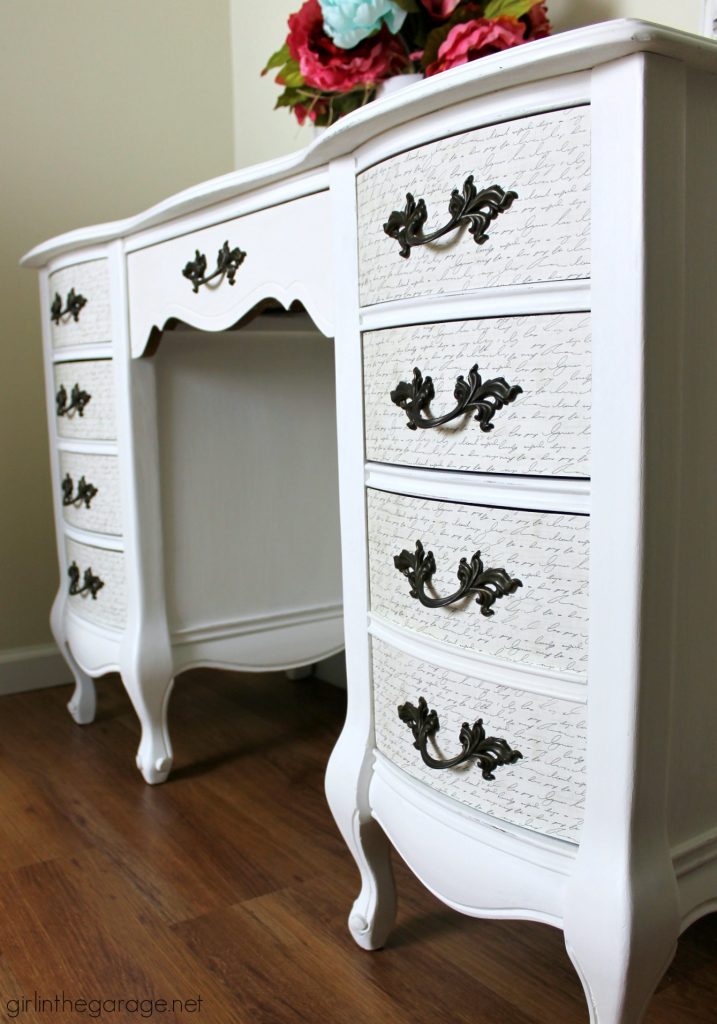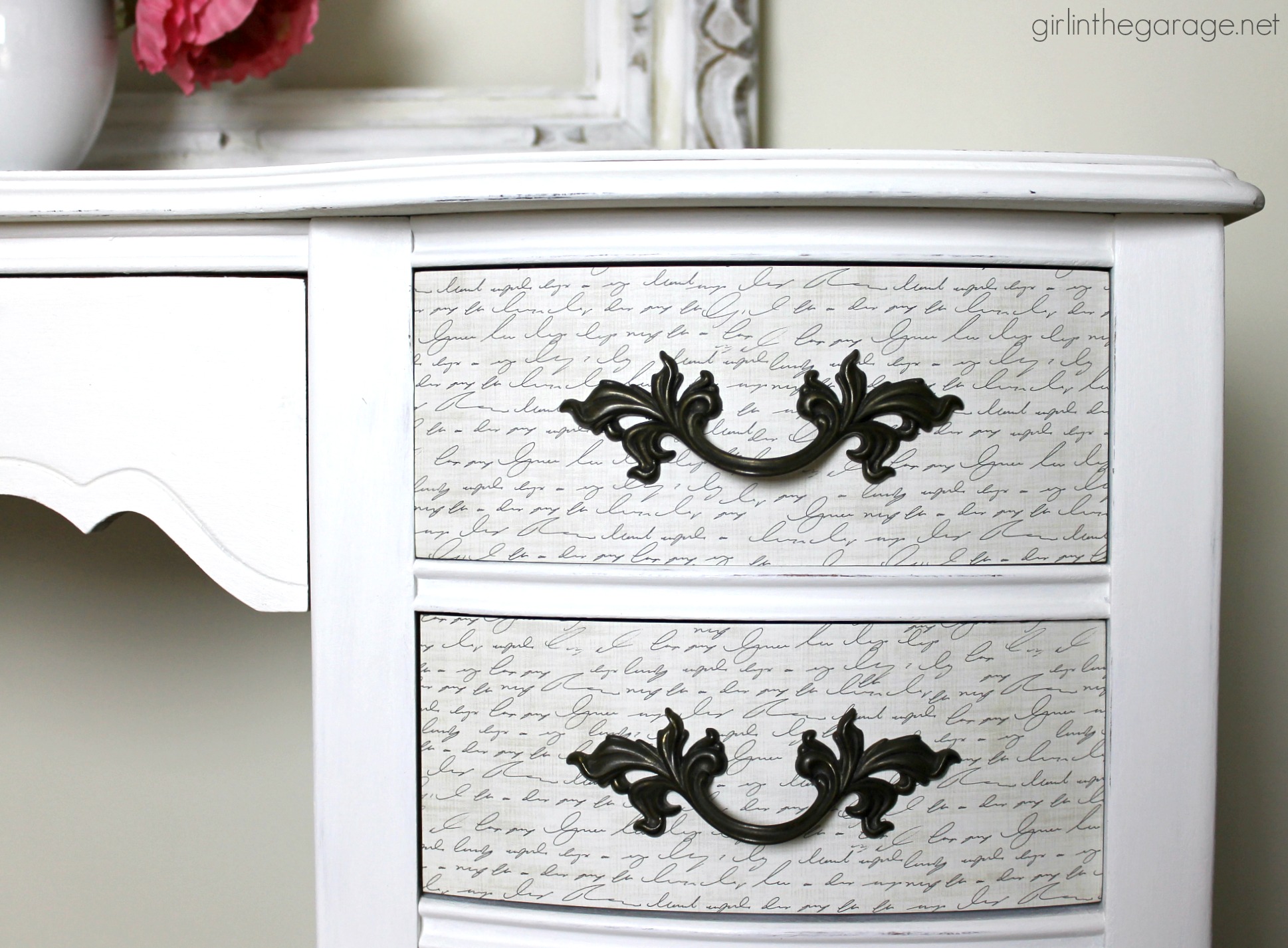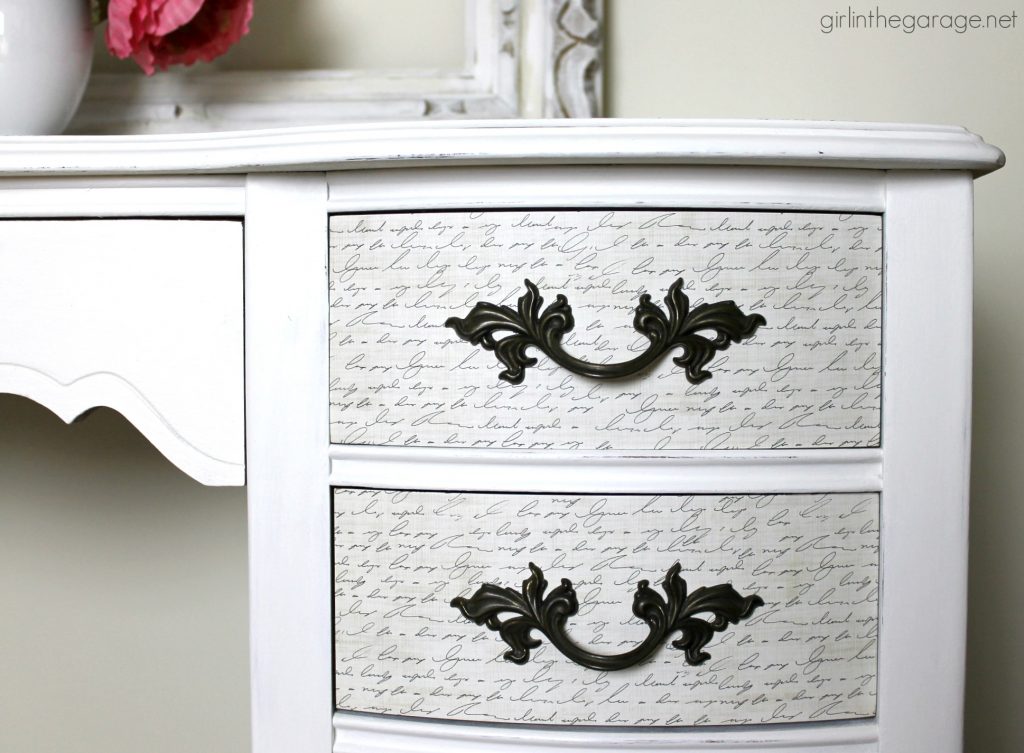 The primer and paint covered the leather top inserts really well.
The entire desk has a modern vintage look now. (So fresh and so clean)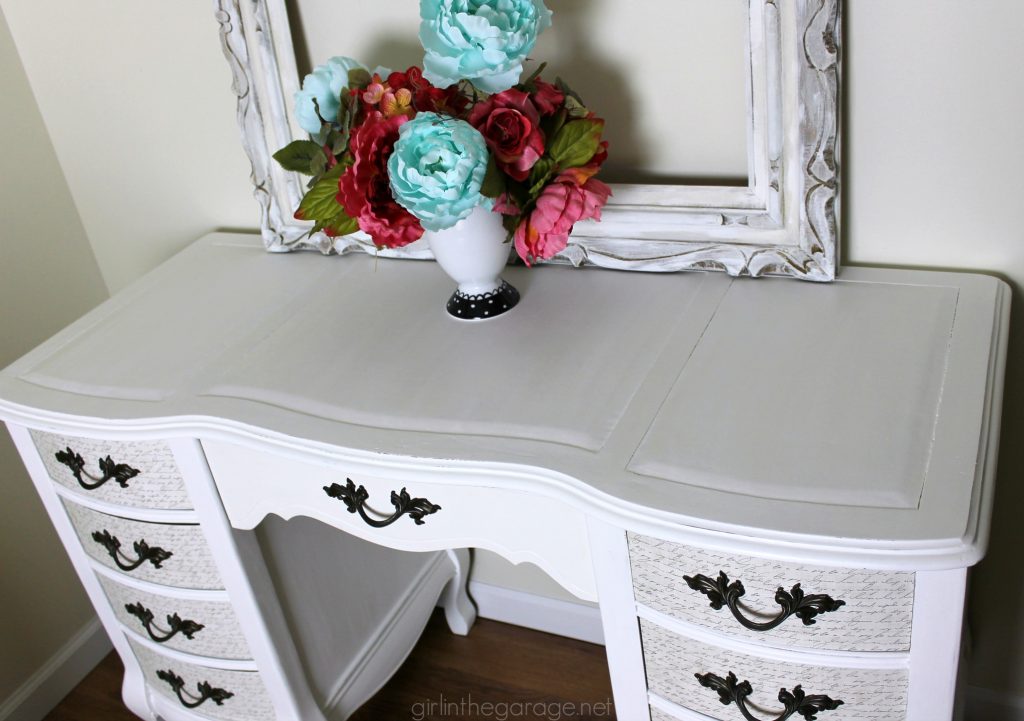 This decoupage desk will be available at the Hunt and Gather Market next month in Crown Point, Indiana. Come visit me if you're in the area!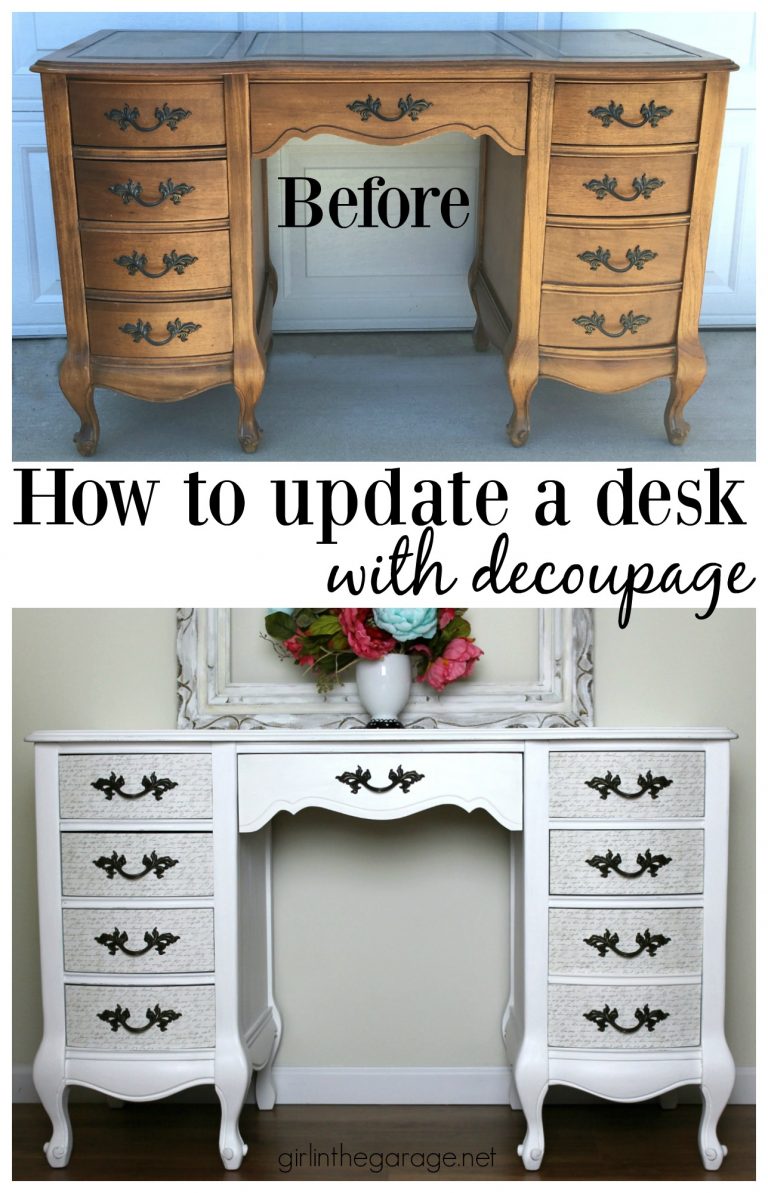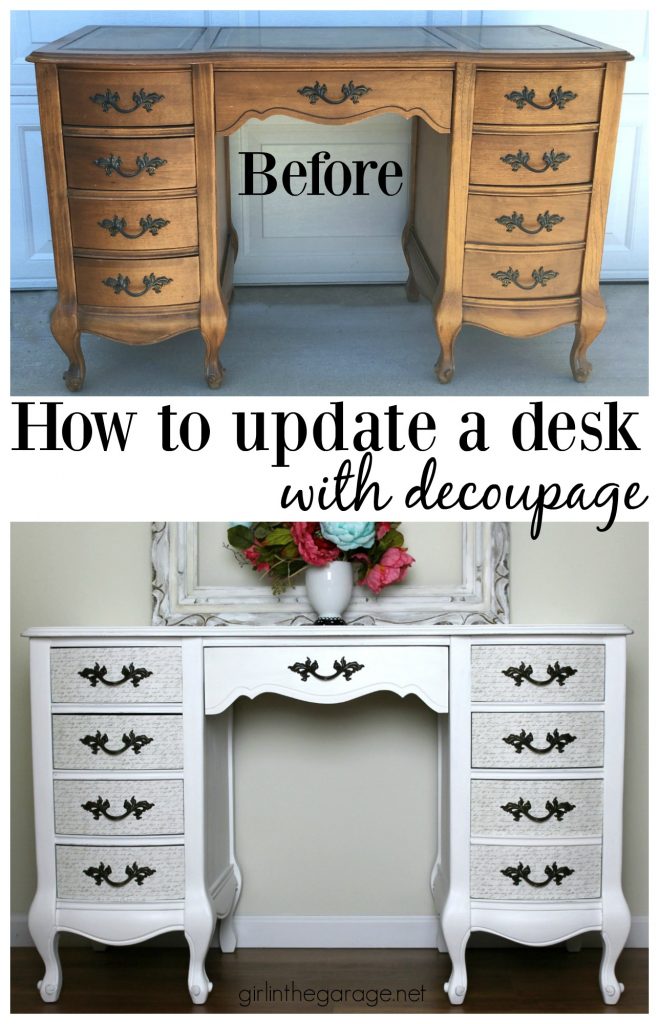 Today is Furniture Fixer Uppers day with my friends!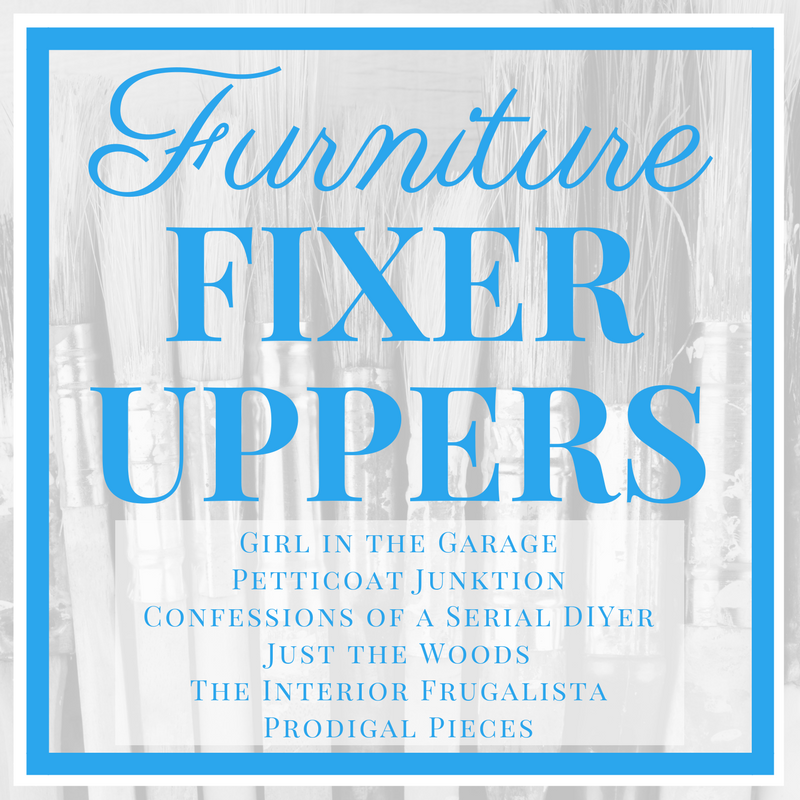 Below are the Before photos – click the links underneath to see the Afters and learn how they did the makeover.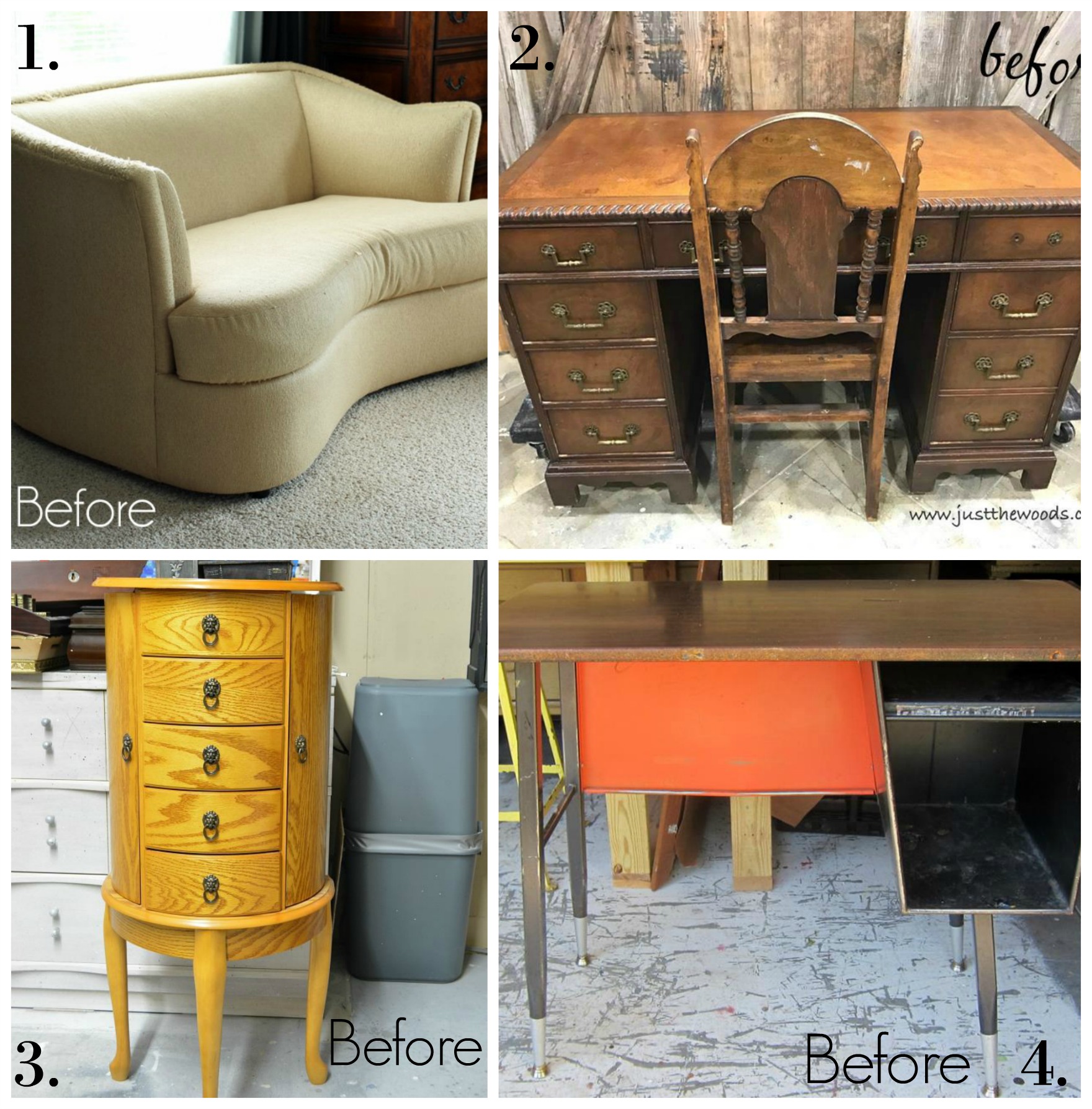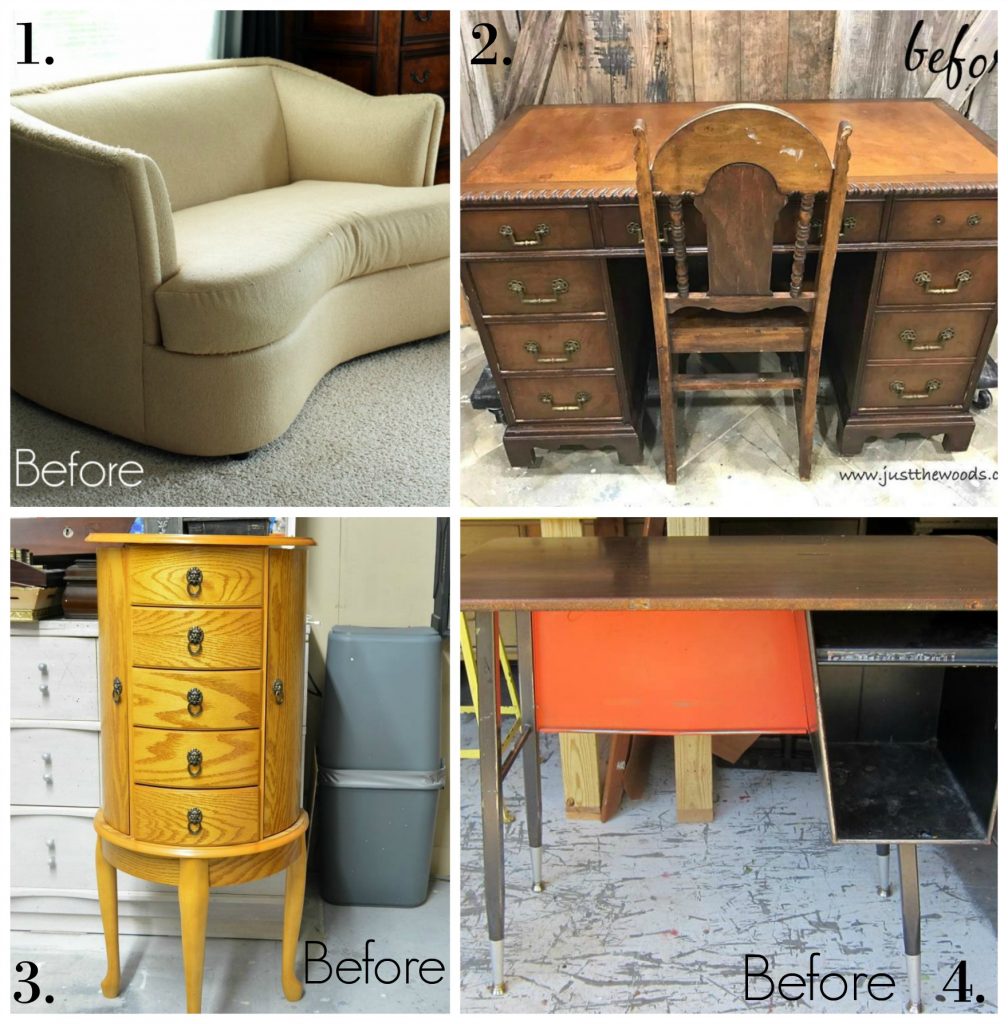 1. Confessions of a Serial DIYer
2. Just the Woods
3. The Interior Frugalista
4. Petticoat Junktion
* You might also like this similar project: French Decoupage Desk Makeover *