Last month I was a vendor at the Three Little Birds Vintage Market on a gorgeous spring day in Indiana. The market was outdoors, and I had a 10×10 space under a big pavilion. I also did the 3LB market once last year – you can read about it Here.
Every market is a little bit different, and you can really learn so much and apply that knowledge for future events. I was quite proud of our setup and feel very comfortable with the overall aesthetic of the space and how we've evolved since that first market we did.
(Guy in the Garage made the trees for the display and came to keep me company – he also had worked on several of the pieces we had for sale. I'm so thankful to have him supporting me in this journey – a good partner makes a world of difference!)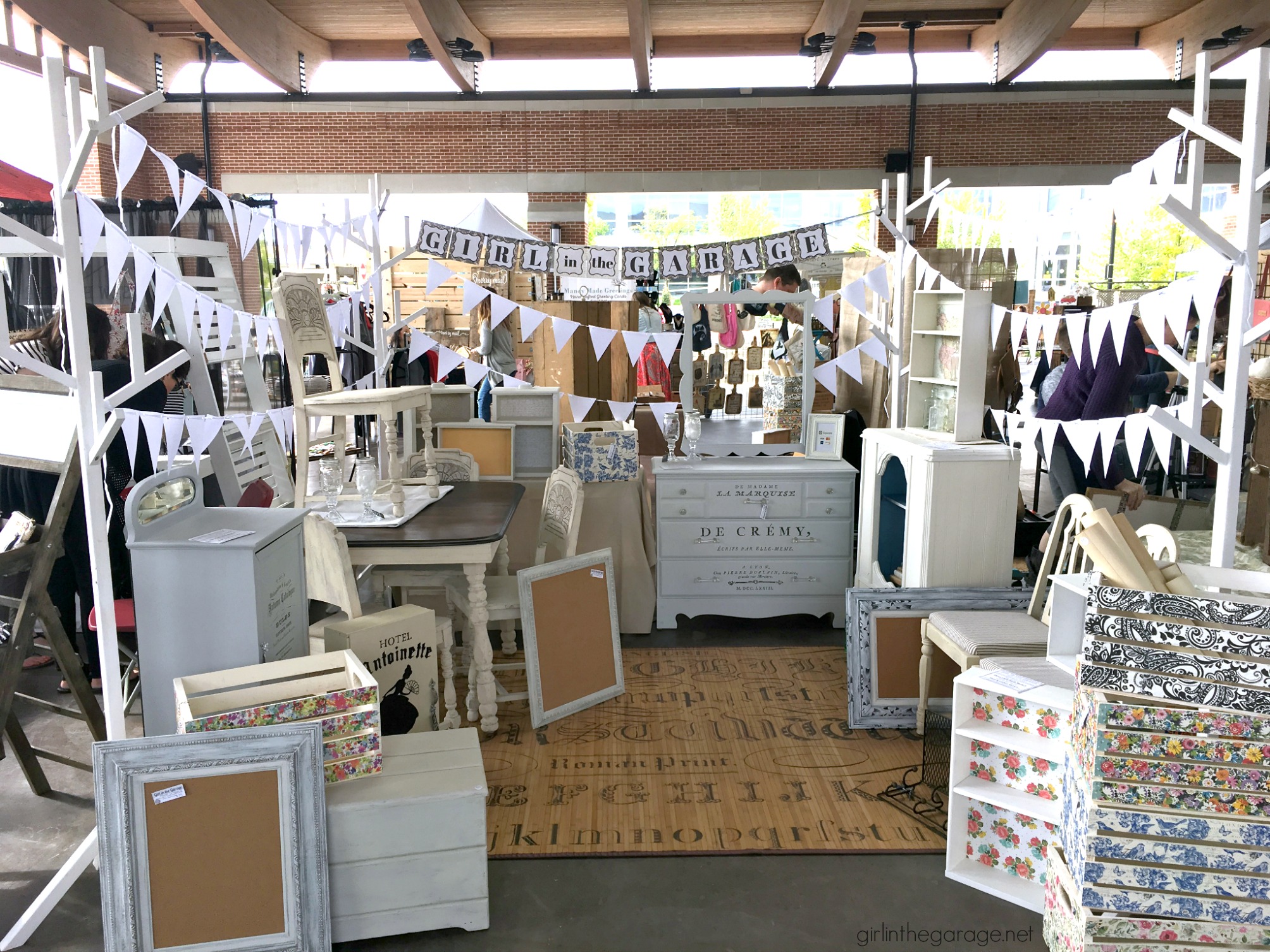 First impressions are so important at a market. When people glance at your space, what do you want them to immediately think or feel? One girl excitedly came into my booth and said "Everything is so fresh and clean!" It made me giggle at the time, but that's actually a pretty good description of most of my work – fresh, clean style. It's also part of my brand and how I want to be remembered when people think of my work.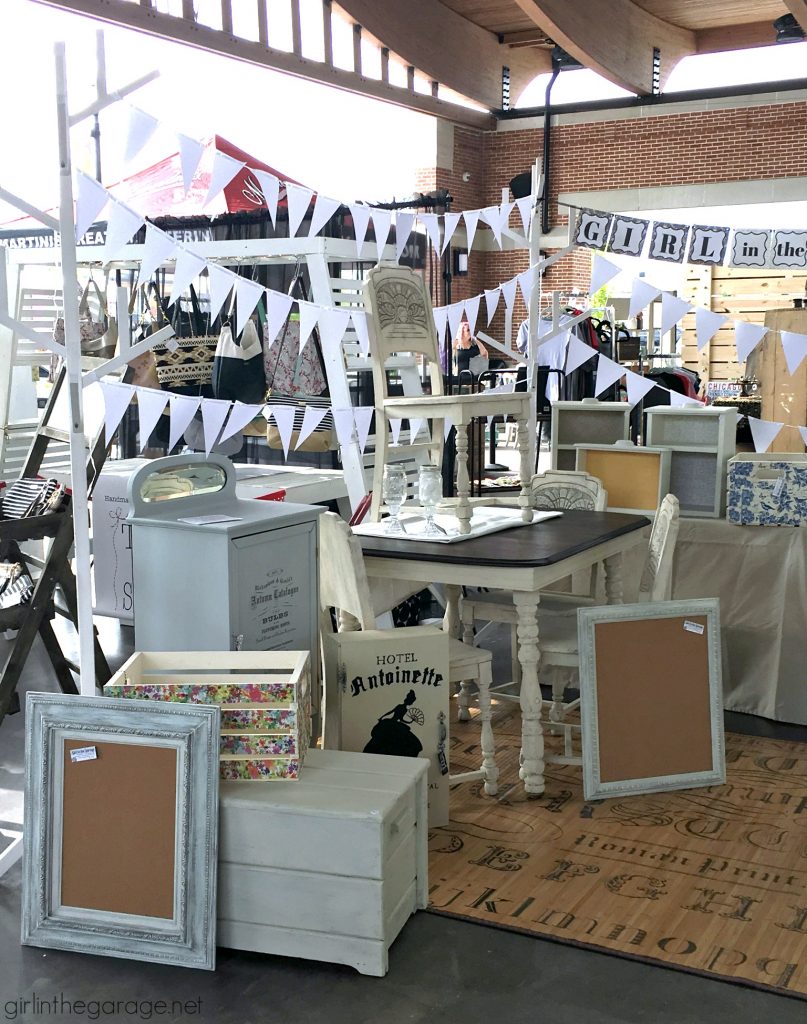 We used the trees and pennant banners to define our "walls" and I also hung my DIY Girl in the Garage banner across the top branches of the back trees.
* Vanity Makeover with Easy Image Transfer Tutorial
* Repurposed Antique Radio Cabinet Tutorial
I use a Square card reader so I can take credit cards, and I always display this basic sign that they give you in a pretty frame. It's almost mandatory that vendors accept credit cards nowadays, or you could miss out on a lot of sales.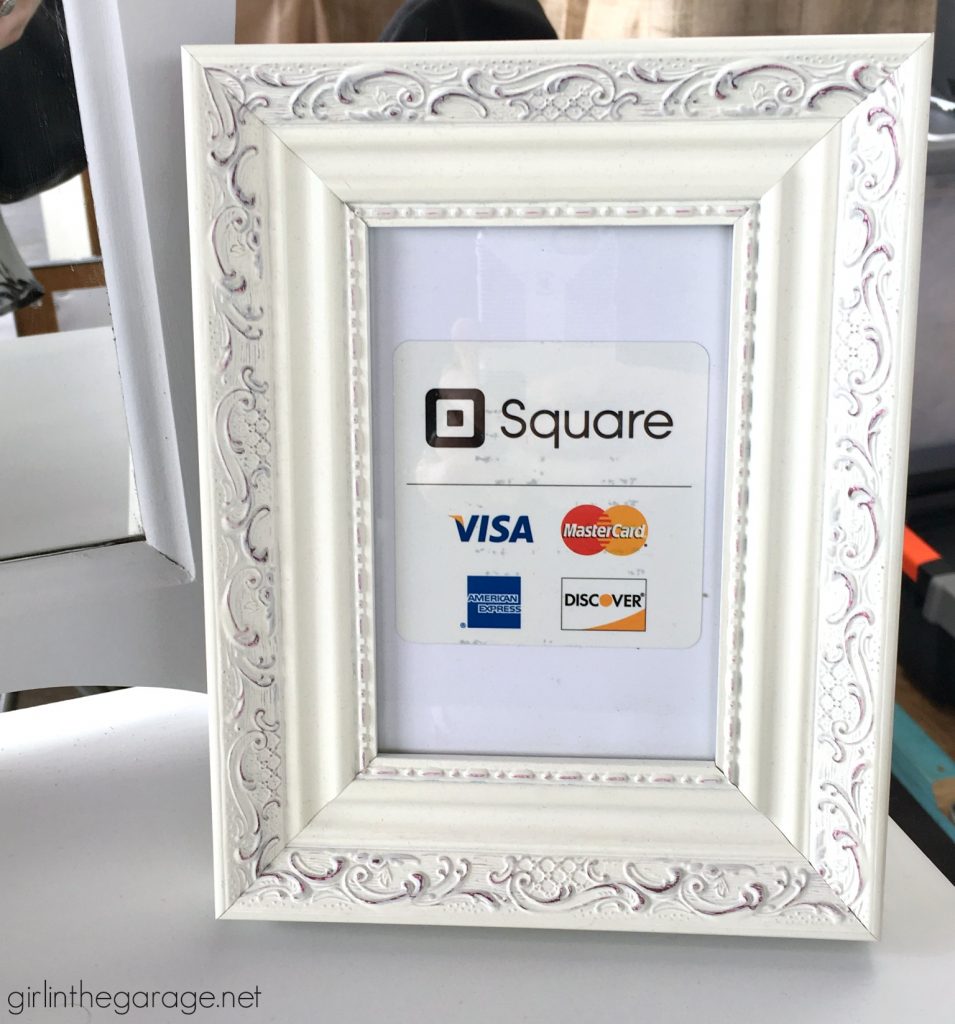 The space was full but not overly crowded. Visitors need to be able to walk around and see everything without feeling like they're messing up your displays.
* Decoupage Napkin Crate Tutorial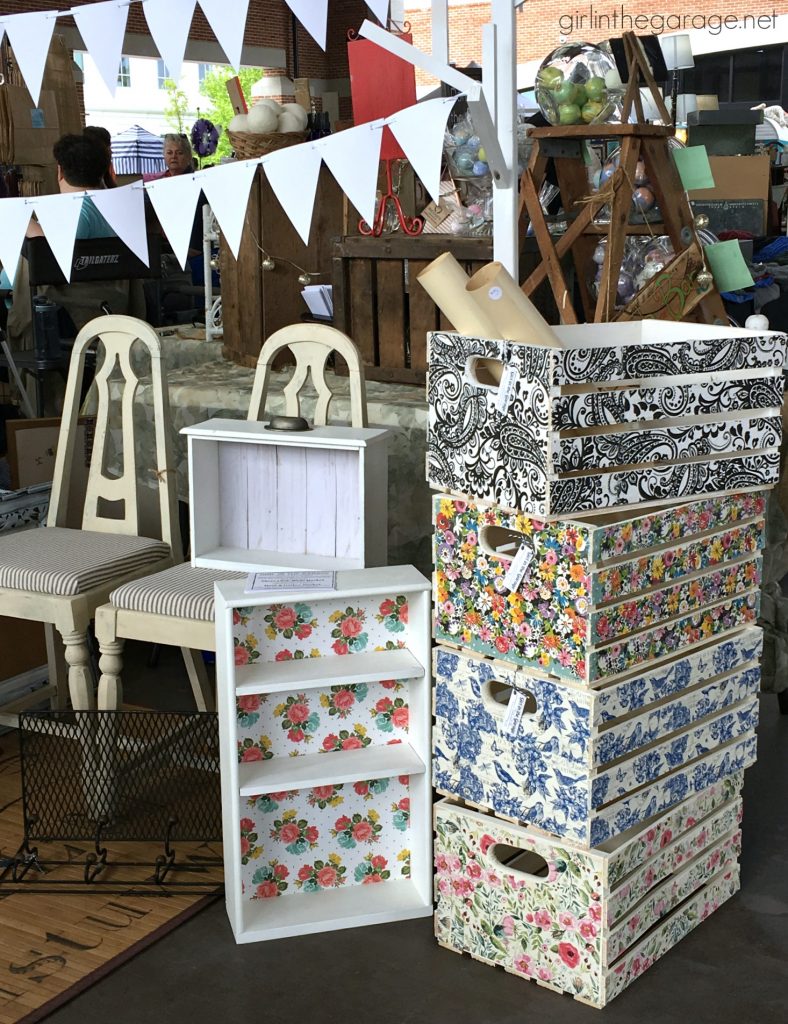 One thing that's changed from last year is that I now bring a large tattoo bamboo mat for the floor. It makes the space feel more homey, is better on your feet than standing on concrete all day, and really just ties the whole space together. It also rolls up fast and is easy to transport and store. It's 10×6 and I got it from Decor Steals when they had it as a deal of the day last year. (You can sign up for their emails to see when they're going to offer it again, or if you don't want to wait and don't mind paying more, it's available Here also.)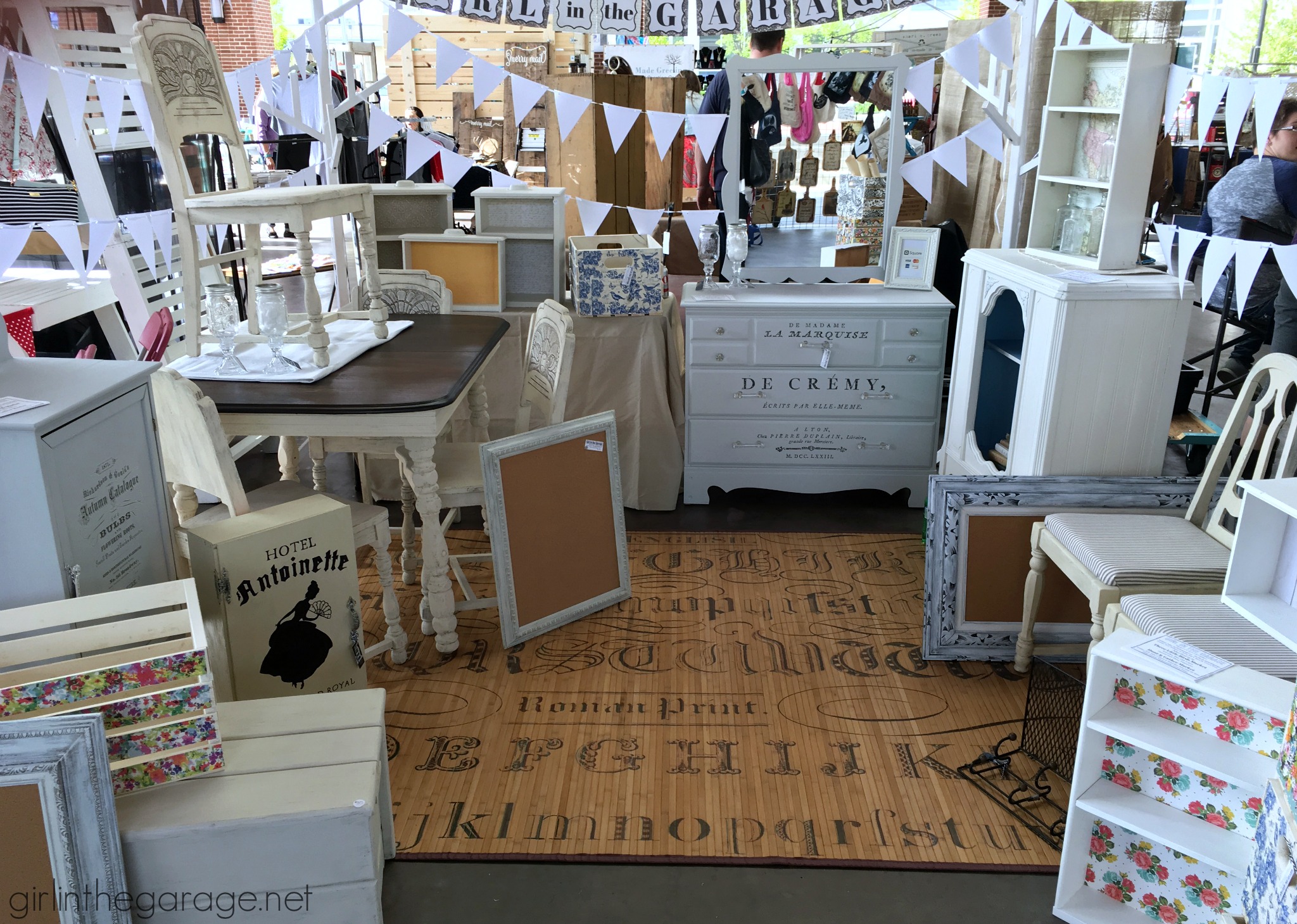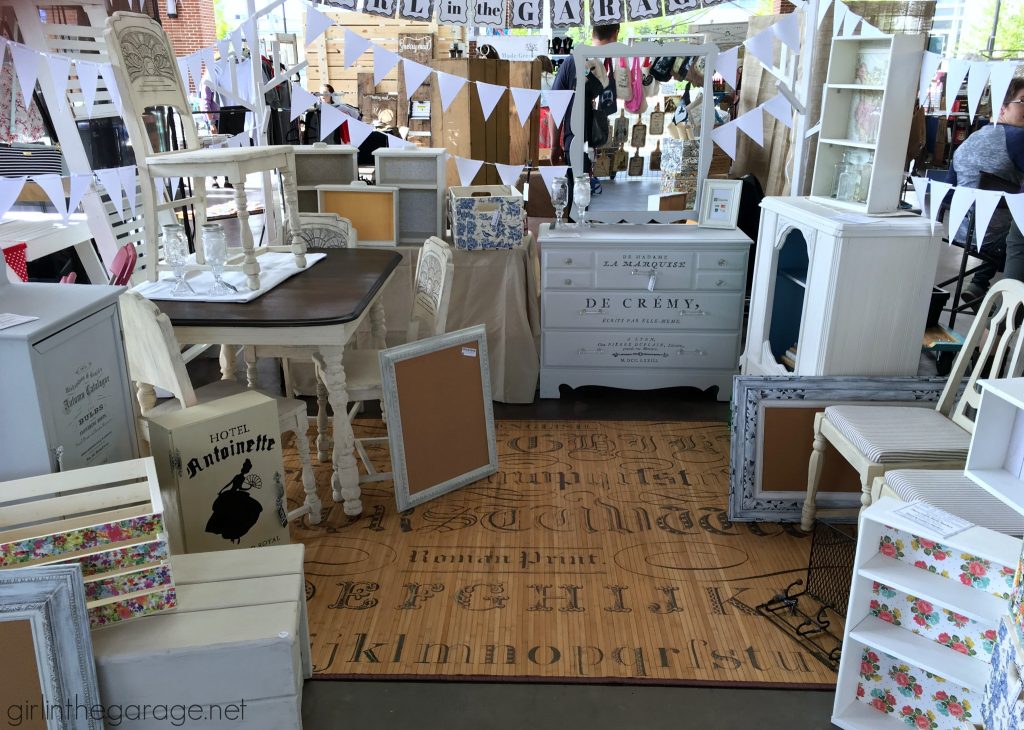 I had a variety of price points so that my items would appeal to more buyers.
* Antique Music Cabinet Makeover Tutorial
* Repurposed Drawer to Storage Cabinet Tutorial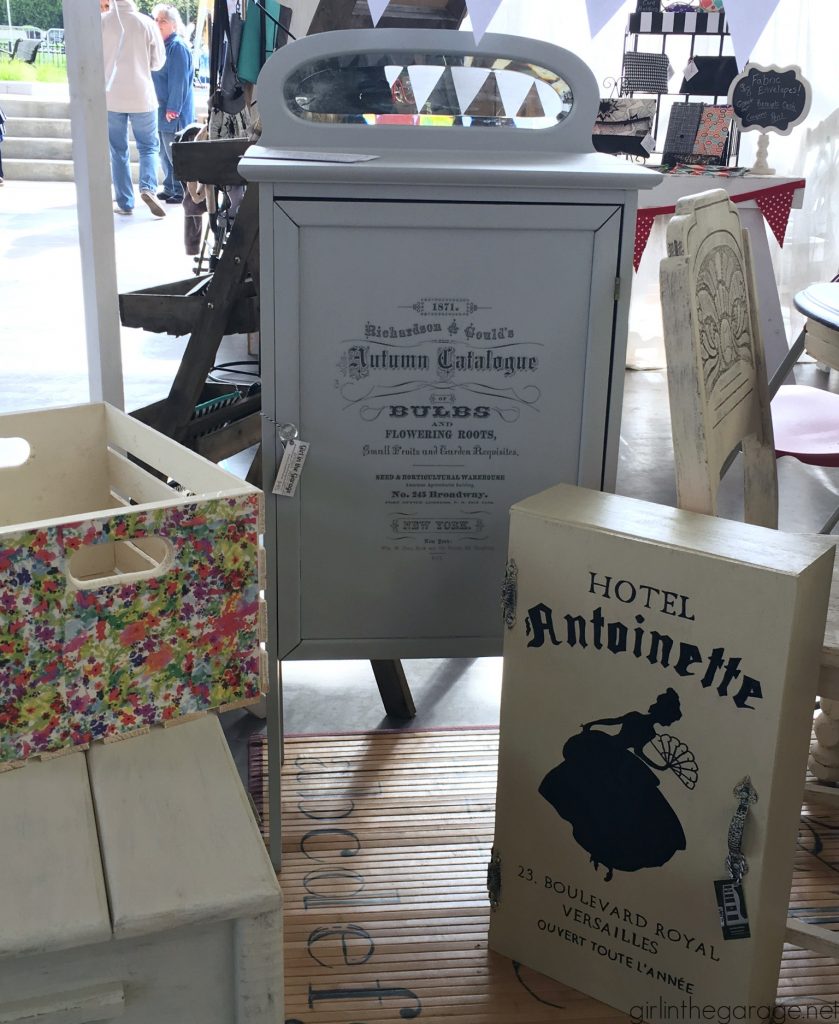 Take advantage of your space by stacking. Have some items at eye-level to grab people's attention, not everything on the ground.
* Antique Dining Set Makeover Tutorial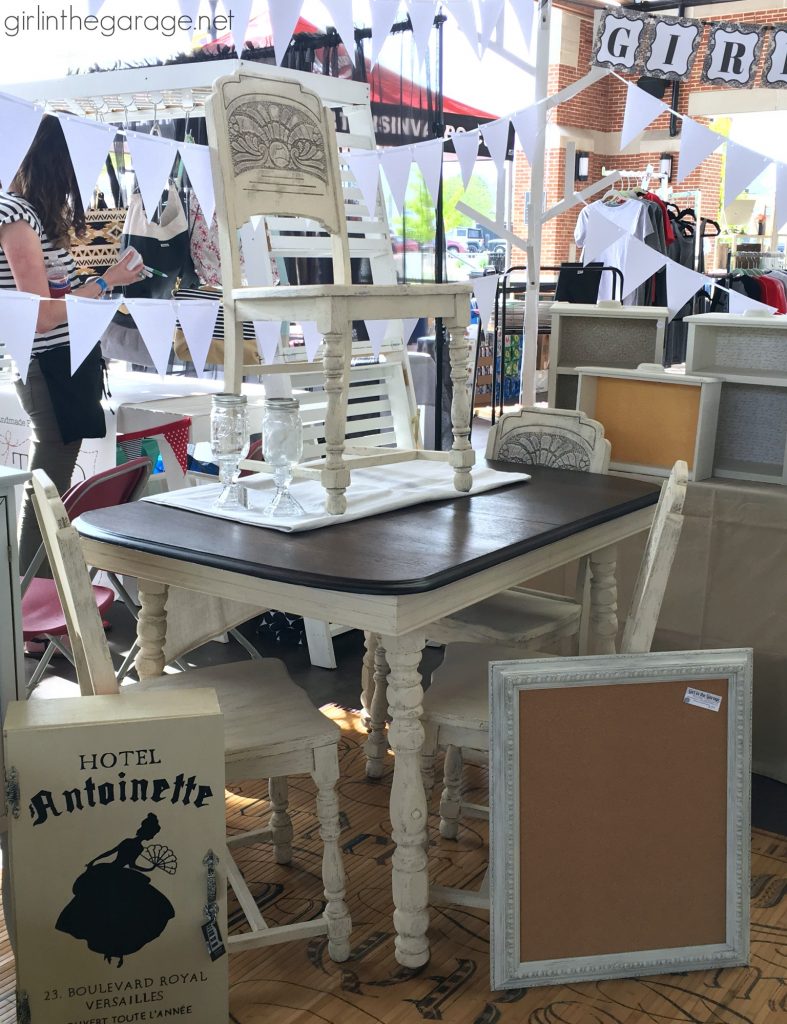 Rearrange your items every so often to keep your display fresh for those visitors who walk through more than once. You never know what may catch their eye that they missed the first time! Also, you obviously need to rearrange whenever pieces sell. Keep your space looking full and styled.
Creating some vignettes can help with sales too. Show people how they can use items in their own home. I primarily just sell furniture and home decor that I've upcycled myself, but I also brought some smaller items like vintage bottles and books to help with staging – so my pieces didn't look so empty.
* Repurposed Drawer with Shelves Tutorial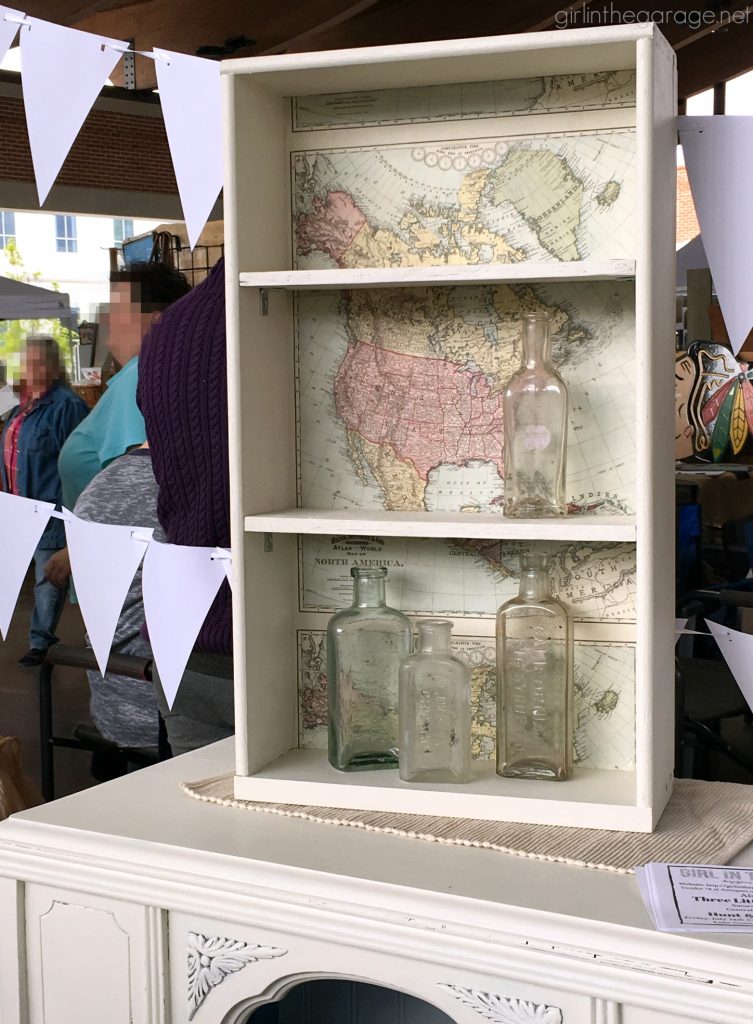 The morning of a one-day market is always kind of hectic during set-up, but soon the adrenaline kicks in and you're on this high that keeps you going even if you didn't sleep last night or hardly get to eat lunch between customers.
The energy of all the vendors and shoppers who share a common love for vintage/handmade/artsy items is electric and there's almost nothing like it!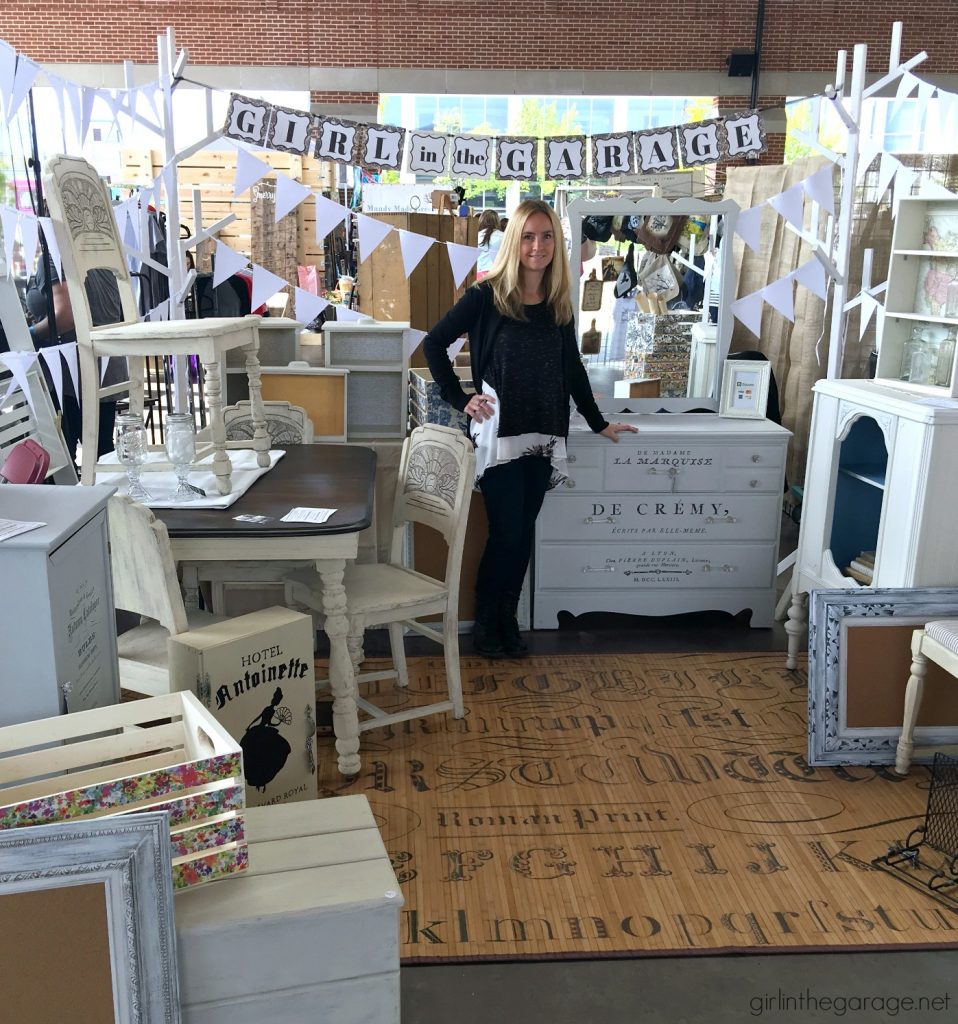 In my booth at Antiques on Main I had printed some of these fliers (designed on canva.com) to let people know about my upcoming markets. I brought a bunch with so that people would know about my next market Hunt and Gather which is only a few weeks away in Crown Point, Indiana. It's a 2-day event which means more work, more exhaustion, and more excited adrenaline. 🙂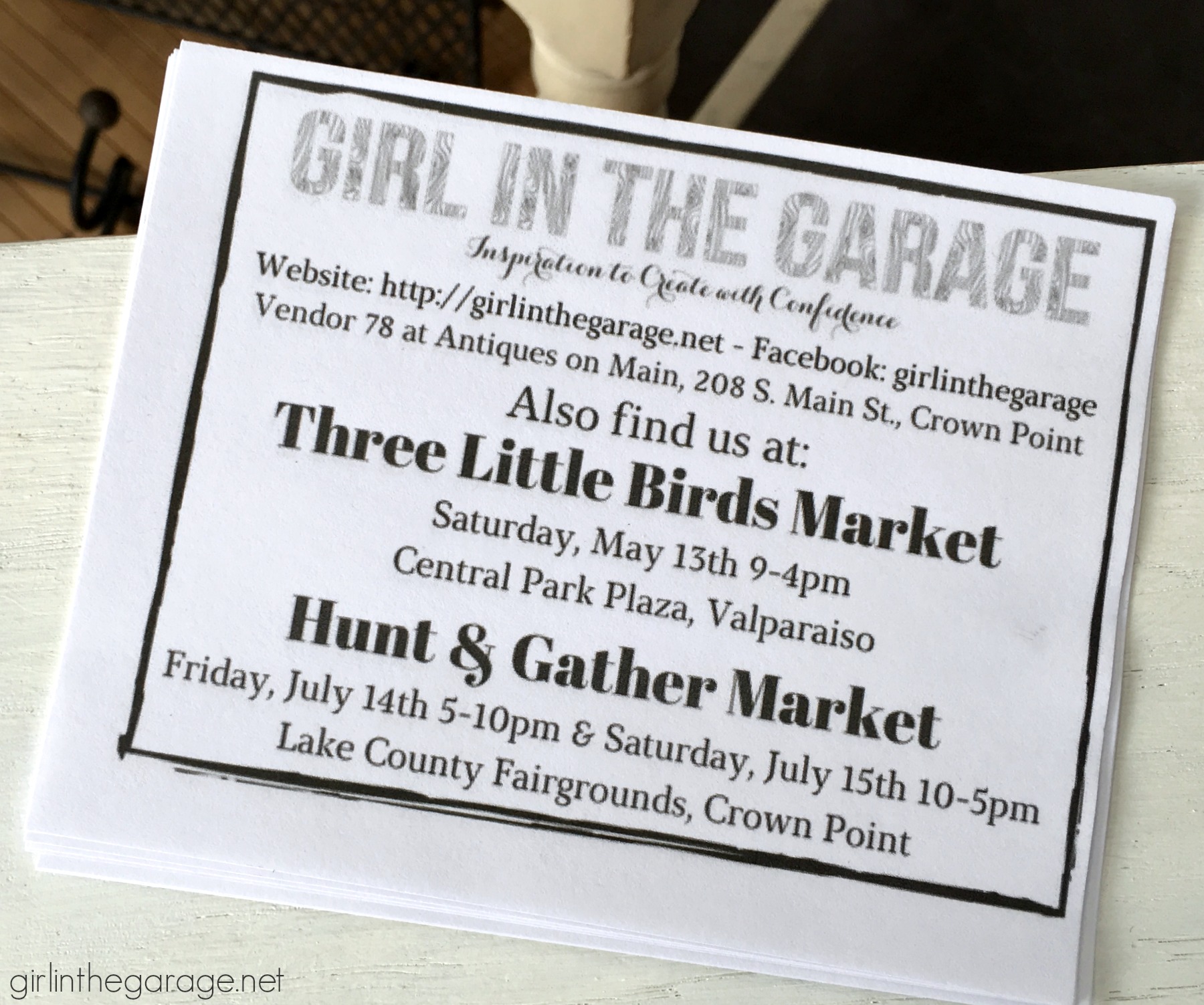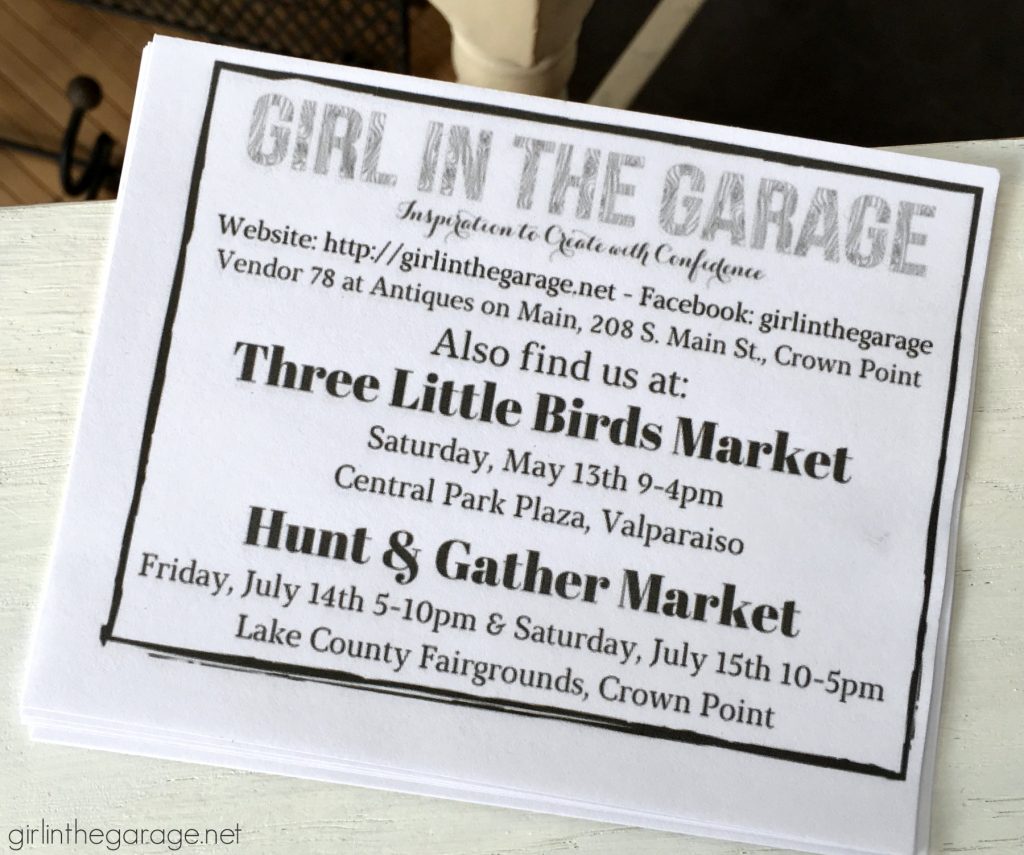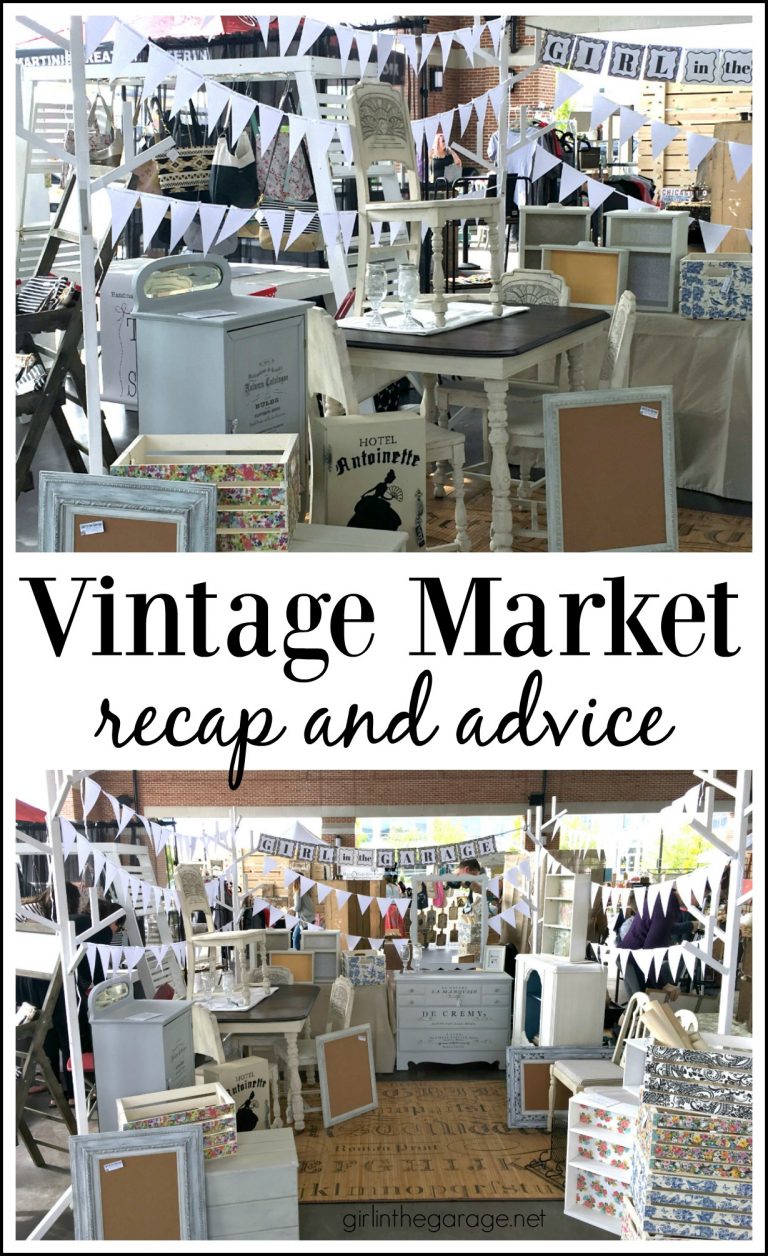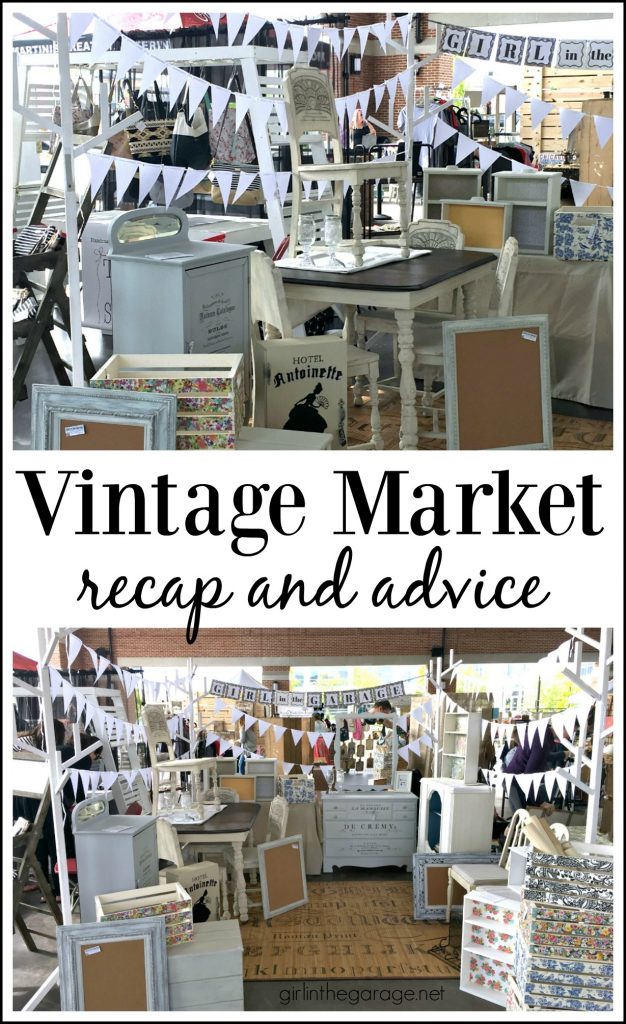 What else would you like to know about being a vendor at a vintage market?
Leave me a comment below with your question or visit the related posts below.
Jen
.
Everything I Learned While Selling at my First Vintage Market
More Advice for a Successful Vintage Market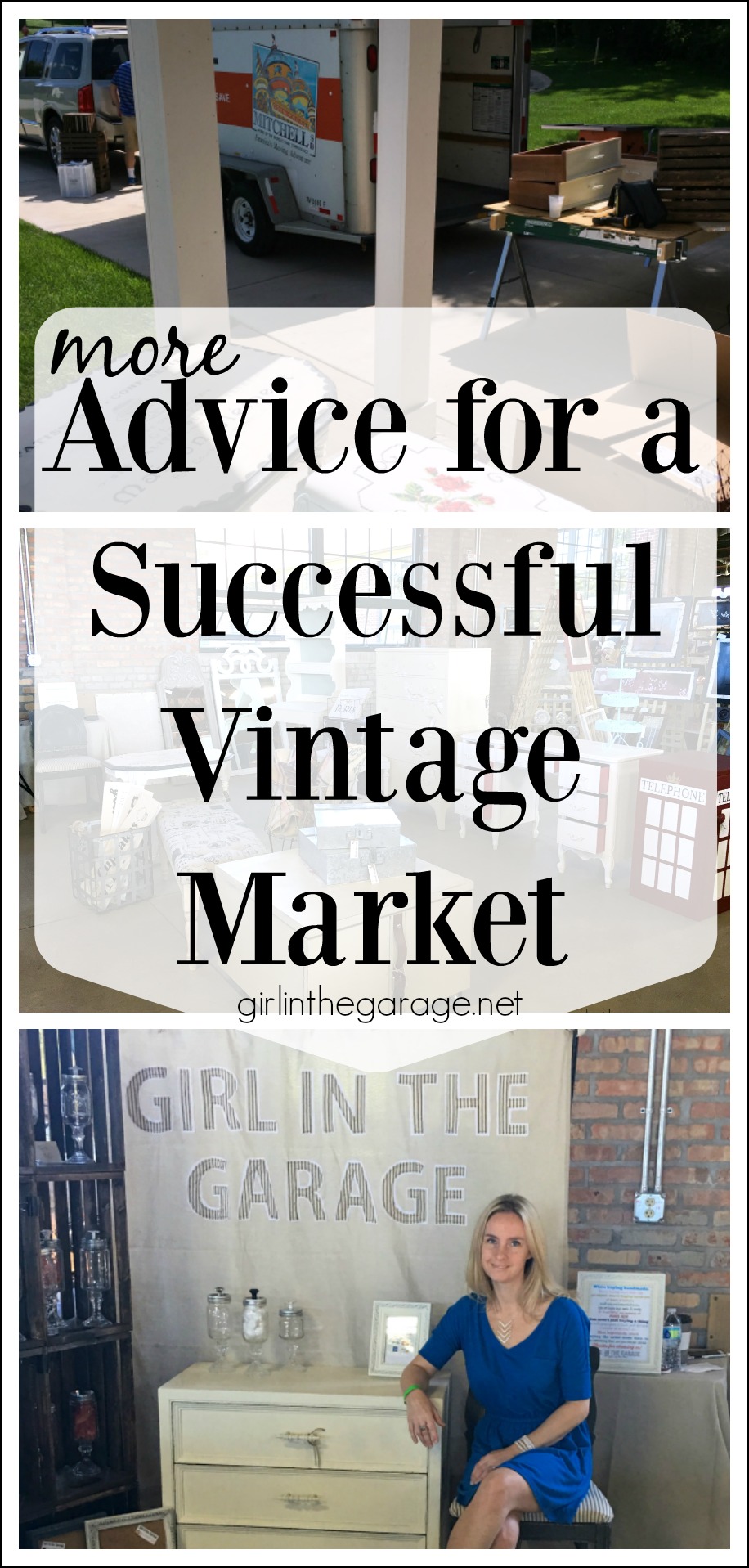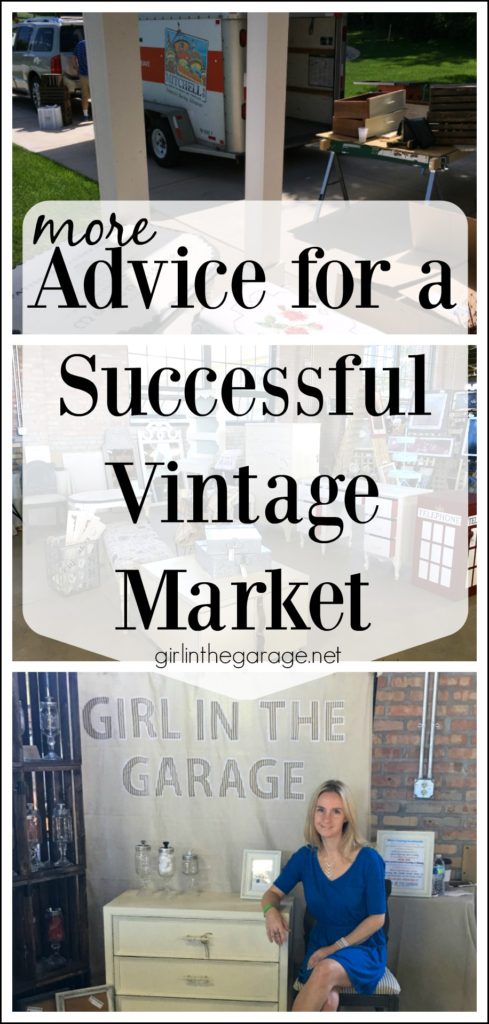 Doing Your First Vintage Market or Craft Fair? {Vendor Tips and Resources}