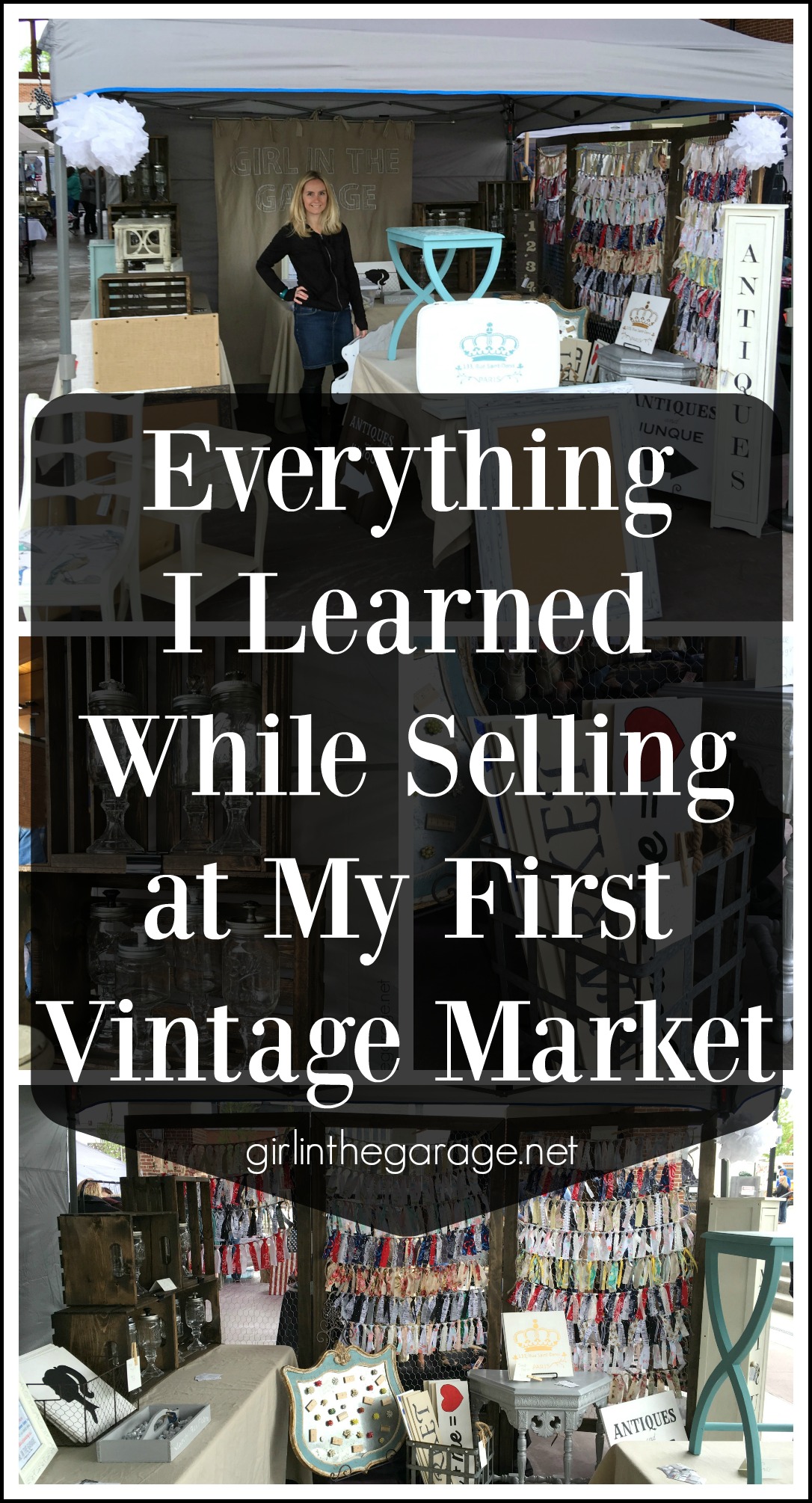 A little over month ago, on one unseasonably cold day in May, I participated in my first vintage market in a nearby covered park plaza – the Three Little Birds Market. In this post I'll share all the details of my space, everything I learned while preparing for and selling at the market, and all my thoughts including what I'll do differently next time.
Here's my space all set up: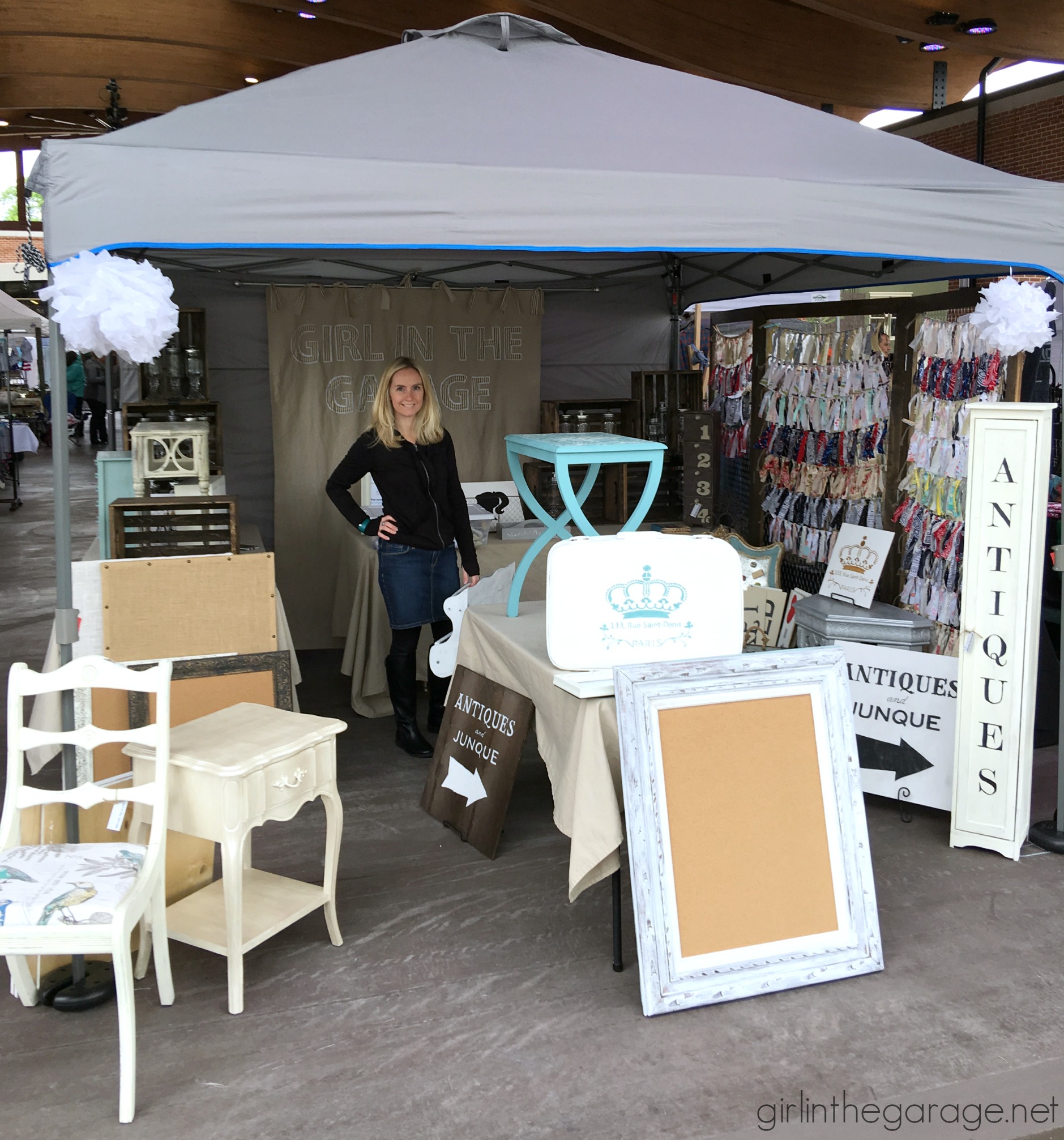 I was lucky enough to get an end spot, which means people had two ways to enter my space, and I was one of the first spots people saw when they entered the pavilion. I found this out a couple days before the event, and set up everything in our driveway to plan the design and flow.
If you've never done a market before, knowing the size of your space and having a setup plan will make a huge difference when it's market day and you need to be efficient with your time. As you can see, the basic layout is the same, we just flipped it from left to right.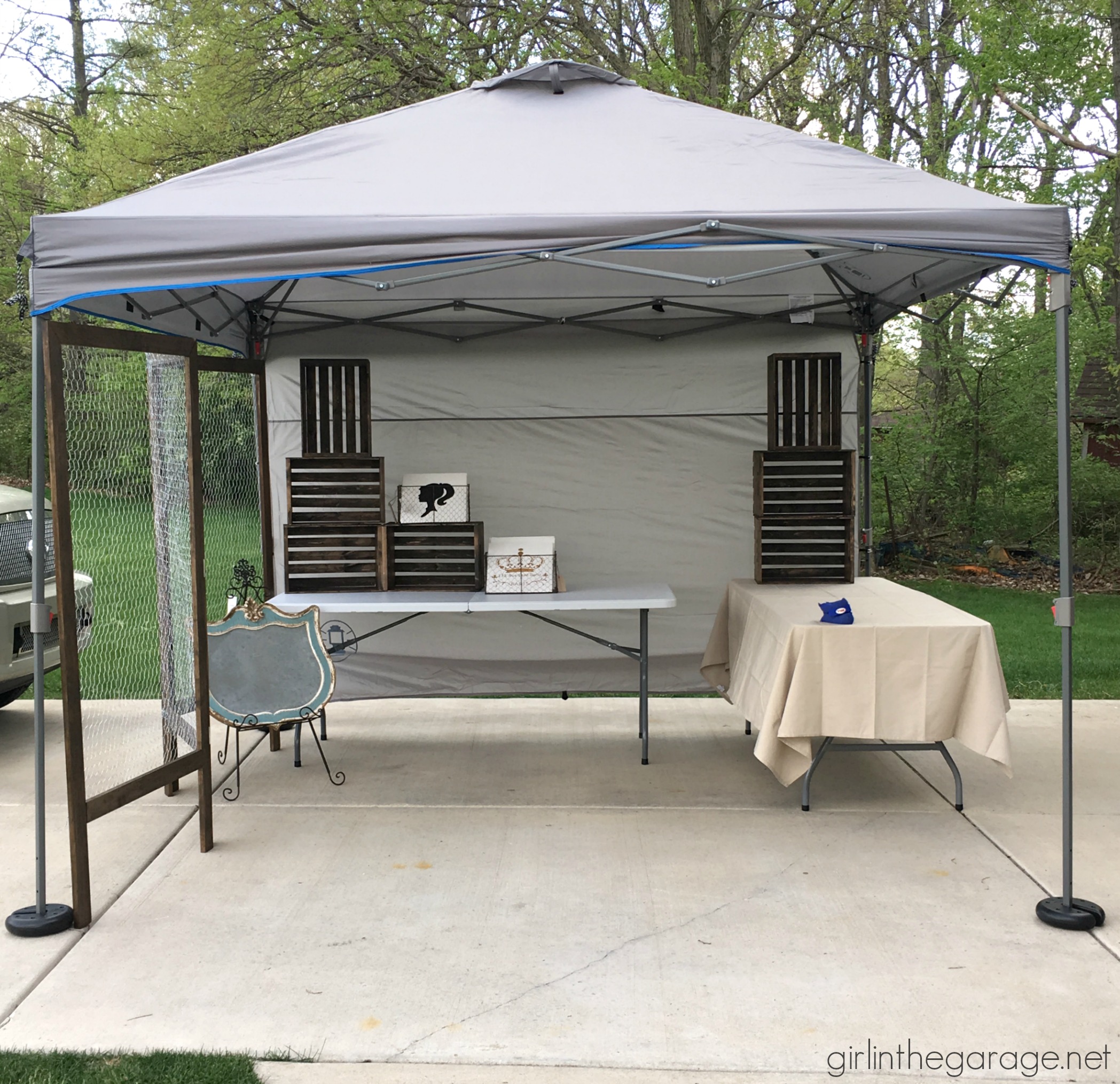 Tips: Find out ahead of time if your market will allow you to set up a tent. Not all markets will let you use them if you're under a pavilion or in a building. Also, if you will need electricity, let the organizers know in advance because that may help determine where they place you. This information should be included either when you apply or when you're accepted to be a vendor.
You should have a sign for your space – especially if you've been promoting the event to people who follow your business on Facebook so they can easily find you. I made my DIY fabric sign myself and hung it from a curtain rod from the canopy. Others hang a sign from their main table/tablecloth, but that won't be easily visible if there are other people standing in front of it. Other ideas are an easel, a chalkboard, sign hung from pvc pipe stand, etc.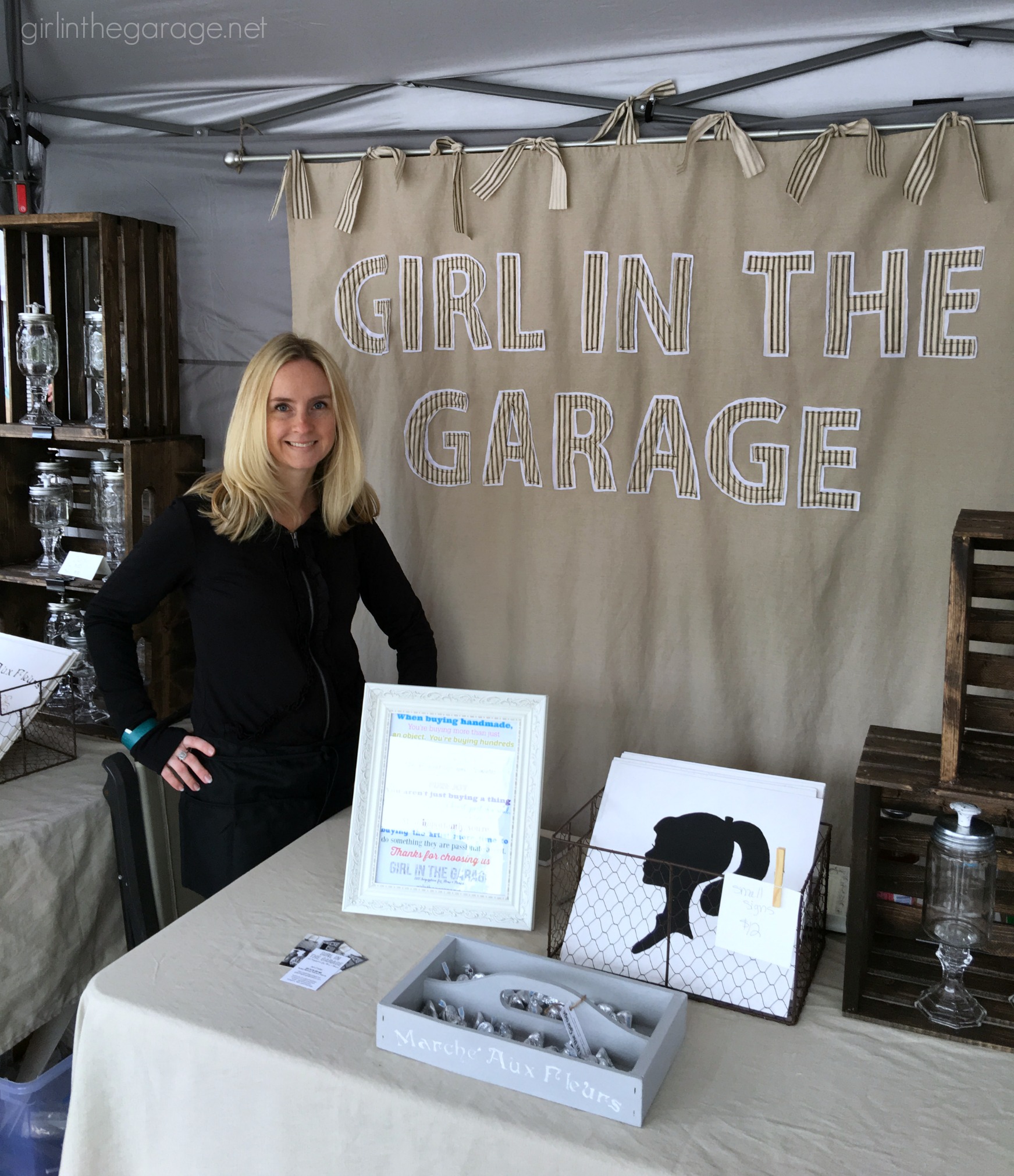 My tent came with one "wall," and I used the DIY folding display with chicken wire that Mr. GITG made for me as another wall. I also had fabric garland clipped to it for sale, so that was a dual-duty piece. (It's also quite easy to move and transport since it folds up – and you could clip any number of things to it for selling at a market.)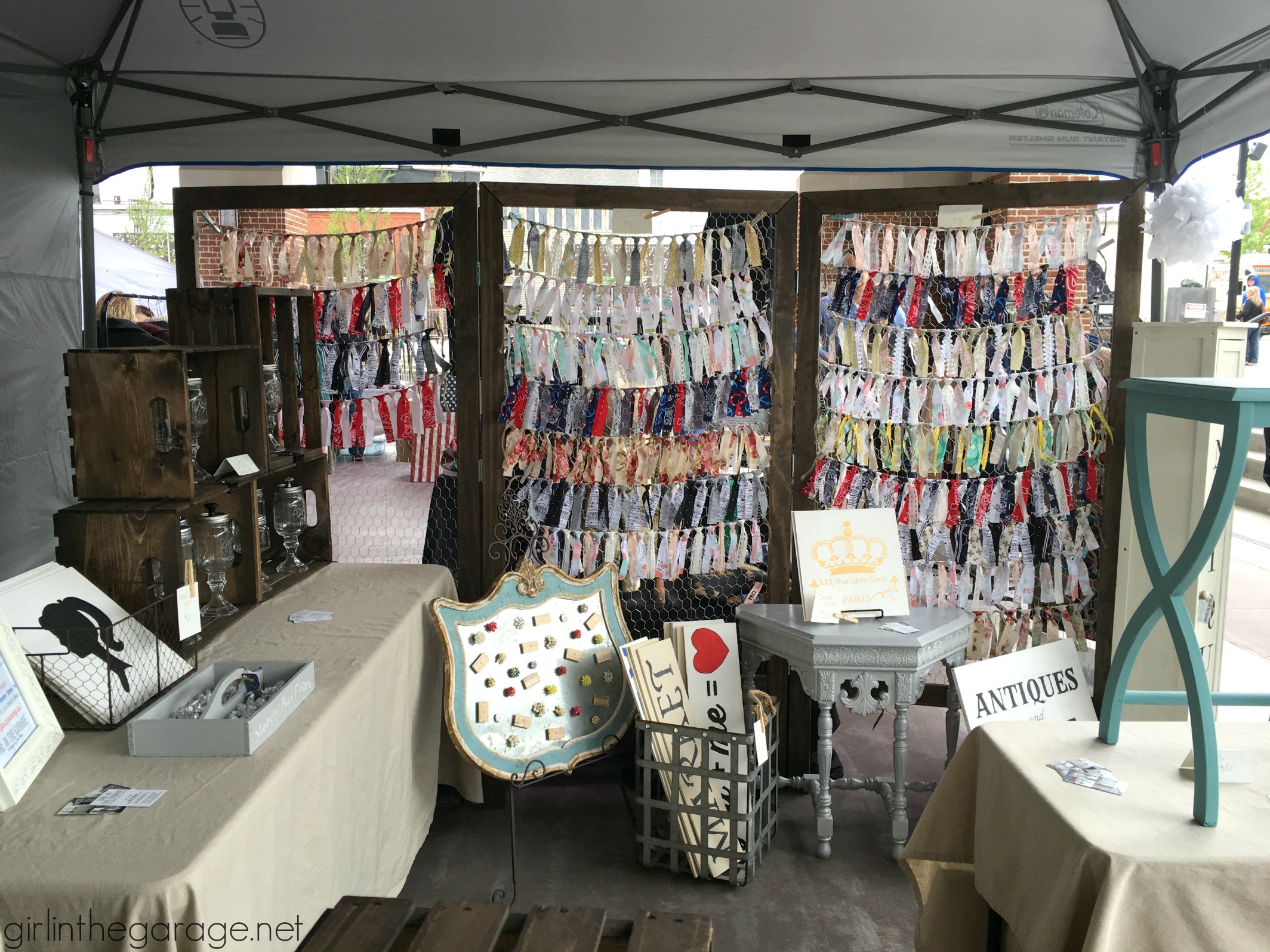 Mr. GITG also stained unfinished wood crates for me to use as shelves for the DIY apothecary jars, held together with large binder clips. The stain was also used on the folding display, and all the tablecloths matched (and was the same fabric I used for my GITG sign), so everything had a nice, clean, uniform look to it.
I actually had several comments from customers about how nice my space looked, and I think that was all due to setting it up in advance and planning ahead.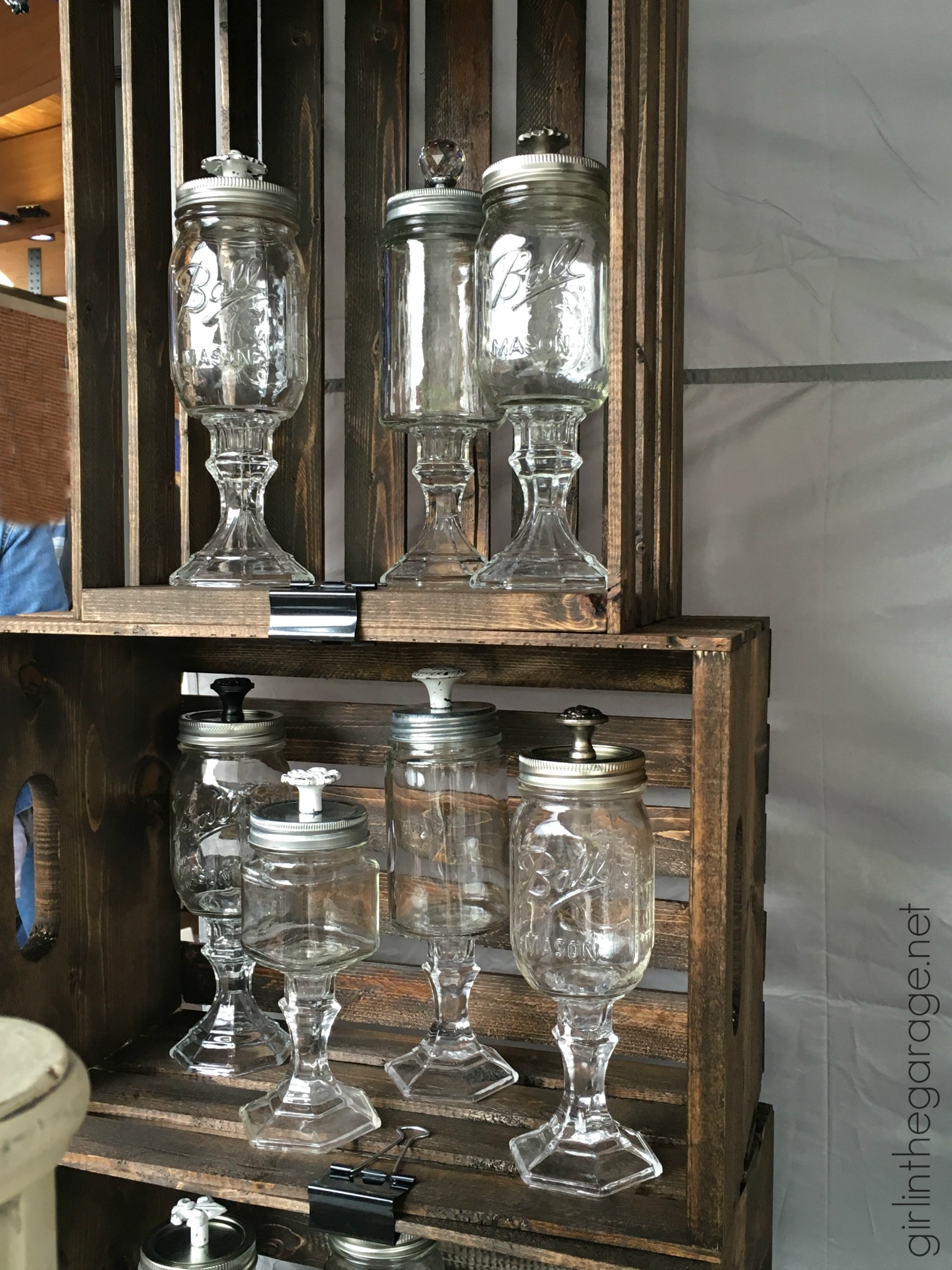 I designed and printed this sign out for display. I love this quote so much and it reminds customers just how much work (and love) goes into each handcrafted product that's for sale.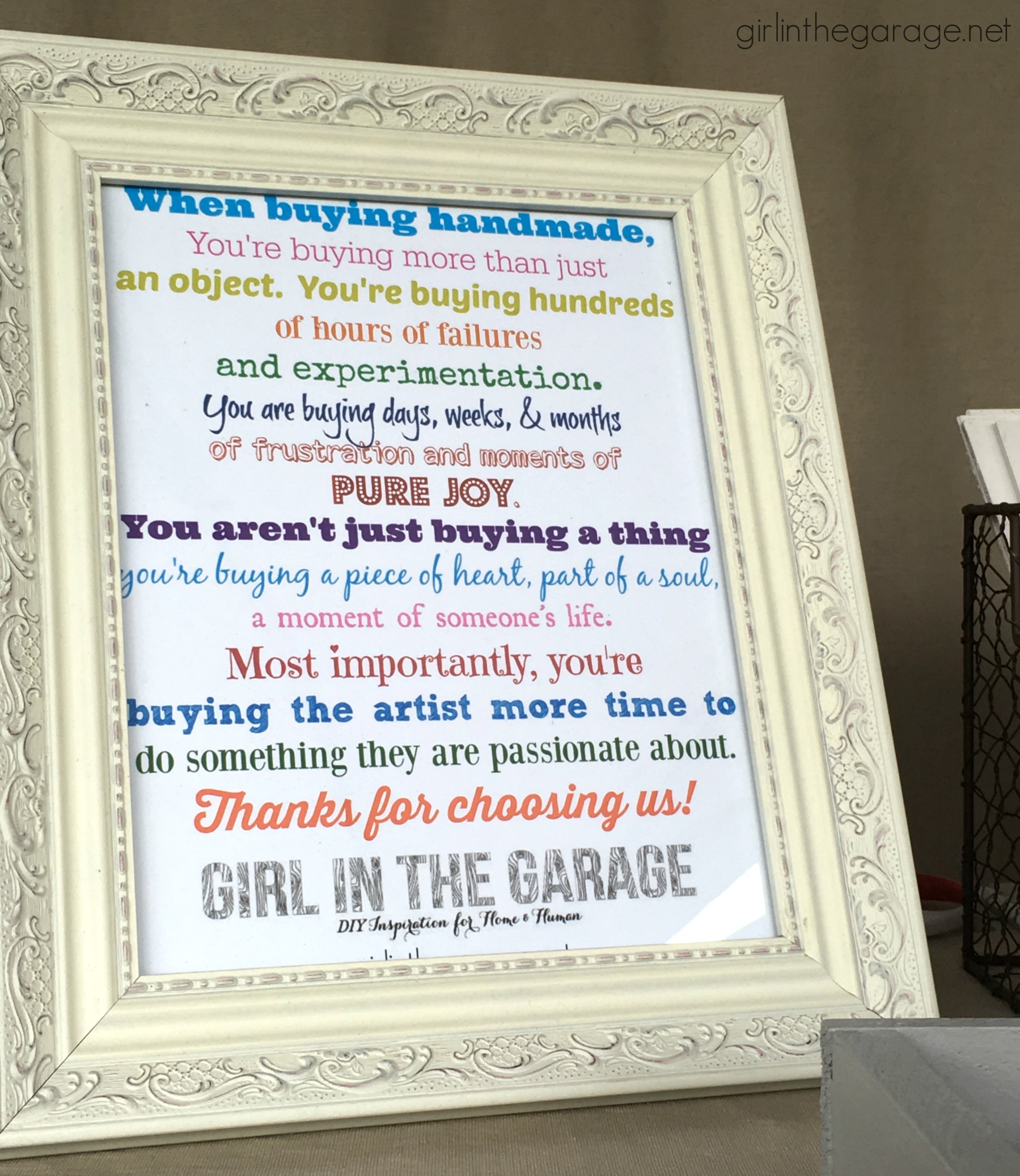 For a lower pricepoint, I made these magnets out of vintage earrings and yardsticks. It's important to have things at a variety of price points so you can appeal to more customers.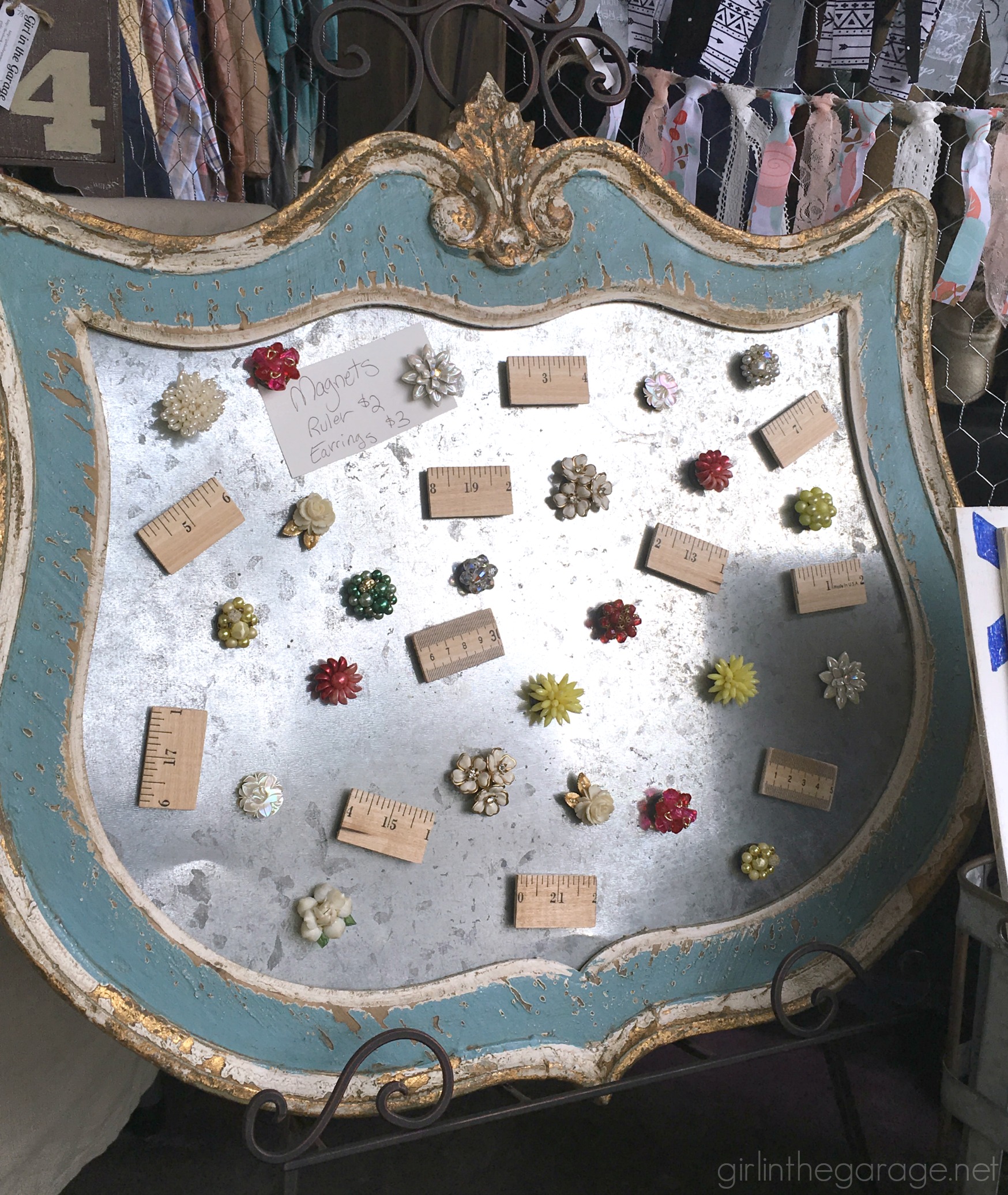 I also brought a vintage painted suitcase, four DIY memo boards with painted frames that Mr. GITG helped me with, and two burlap-covered memo boards (Ballard Designs easy knockoff project).
I had free Hershey's Kisses for market-goers, which adults and kids both enjoyed, in a thrifted wooden tray that I painted and stenciled (you might need a different type of candy if it's a hot day!).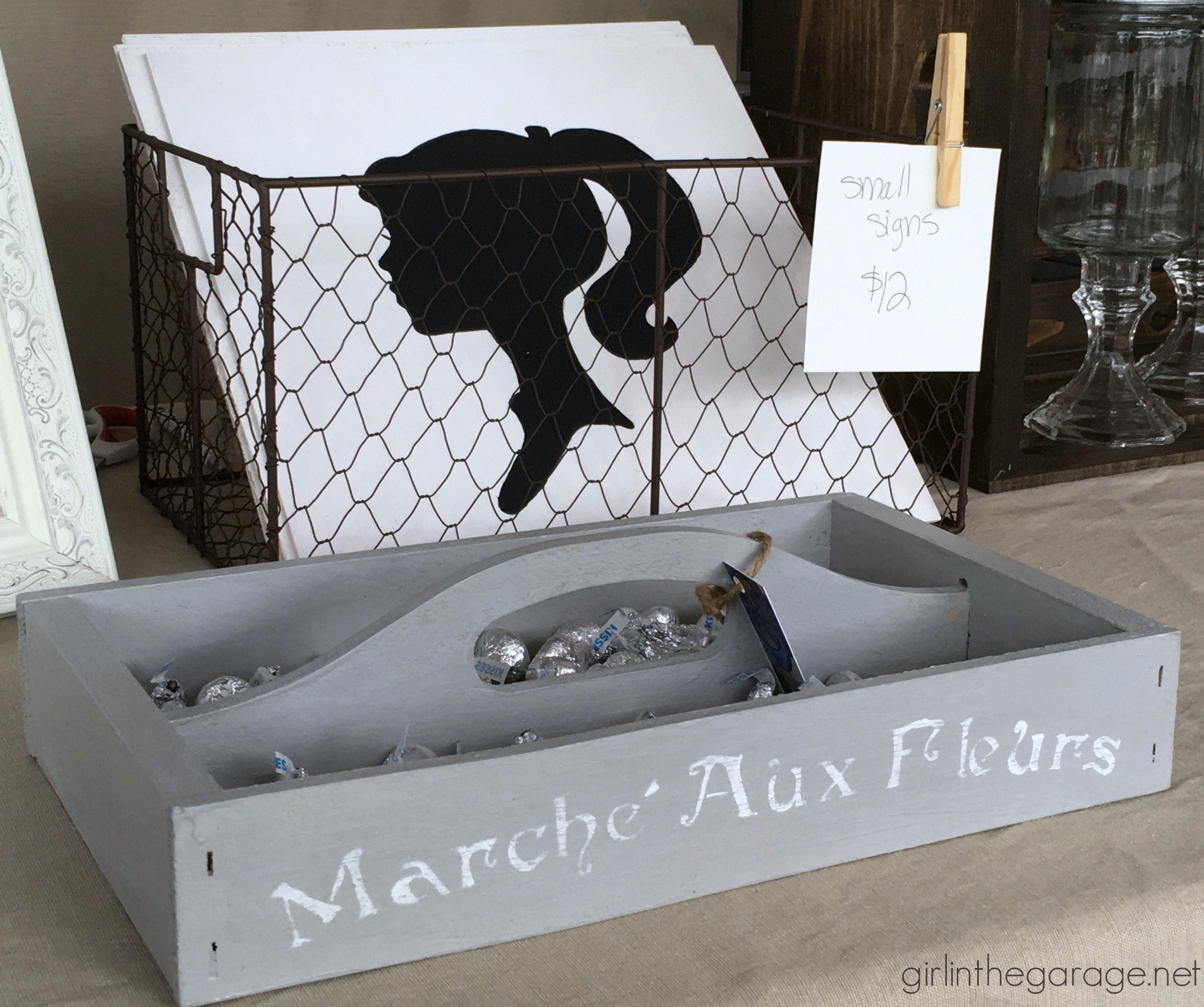 And I made lots of wooden signs in three different sizes, a few which were stenciled but most of the designs were created online on a website called PicMonkey and then transferred by tracing or using an image projector.
Here are a few more tips and things I learned:
1. It's very important to smile, greet customers, and have a positive attitude. Even if you're tired, had a long day, sales aren't great, etc. The first impression you give people will affect how potential customers will react to you and your items. If someone is browsing in your space, make small talk, compliment something they're wearing, comment on your products if they're interested. But always be friendly and do not act like a pushy used car salesman.
2. It's in your best interest to get an inexpensive card reader like Square so you can accept credit cards on your smartphone with wifi. It is so simple to use for both the seller and the buyer! You can order one online or get it from a number of approved retailers (my closest Target and Best Buy both have them) and then just download a free app and add your information.
3. I cannot stress how helpful it is to have a helper there with you. Not just for setup and teardown, but for staying most of the day. My husband ended up staying with me and it was such a huge help! There were a couple times when I needed to leave the booth for a few minutes and both times he sold items while I was gone. If I had left my space completely unattended I probably would have had less sales for the day.
4. And continued from #3, it is important to get away for a few minutes at a time and visit the other vendors. Sure you can go shopping, but make sure you talk to the other vendors, especially ones who sell similar items or have a style you really like – trade business cards, Like them on FB, stay in touch. It's great to have local contacts and several of them told me about other markets they were planning to sell at and shops that they rented space inside. It's like a little community of creative vendors and it's a neat feeling to be part of that.
5. Try to keep the feel of a cohesive brand – with your display, business cards, price tags, shopping bags, a lookbook of other products you've created, what you're wearing, etc. It will make you seem more experienced and professional, and can bring you future business also.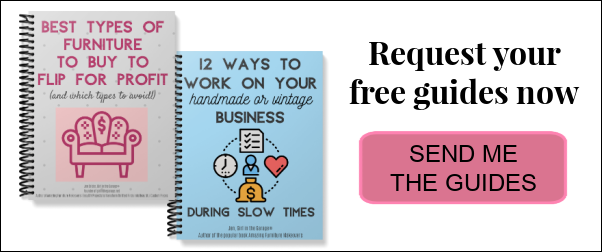 All in all it was a really fun day and I learned SO much. I learned that I need to start preparing much more in advance next time (LOL). And I'll probably focus more on bigger furniture than smaller decor next time. I did apply for another market and I'm still waiting to hear if I've been accepted – fingers crossed!
Jen
And here's even more ideas and advice for doing your first vintage market or craft fair: