For the Three Little Birds vintage market we did a few weeks ago, our space was under a huge pavilion and we weren't allowed to use tents.  However I still wanted some kind of "walls" to help define our 10×10 space – something temporary, easy to transport, cost effective, and a bonus would be if it could also work for when we have a larger space at future markets.
I spent hours scrolling Pinterest and brainstorming – nothing really fit what I had in mind, until it hit me – I needed something like a pole for each corner.  Then I could hang banners (or other lightweight pretties) between the poles.  But how would it stand up?  I realized I didn't need a pole; I needed a tree.
I found plans for a DIY coat tree from Ana White (read the full plans on her site HERE):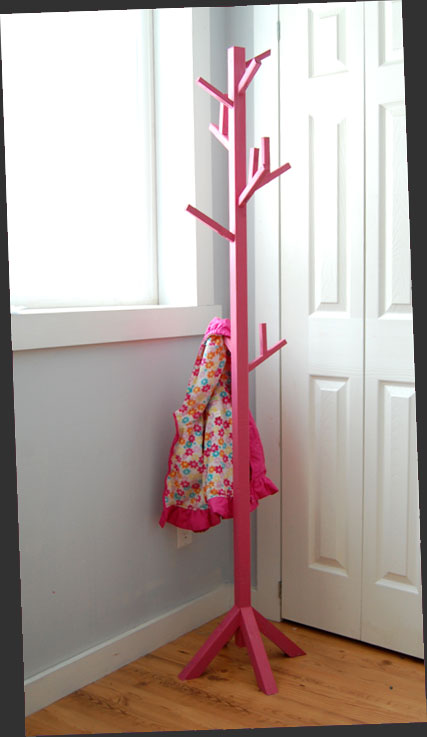 With a few modifications this could really work!
Guy in the Garage searched through the cheap wood piles at Home Depot to find the least-wonky pieces to make four trees.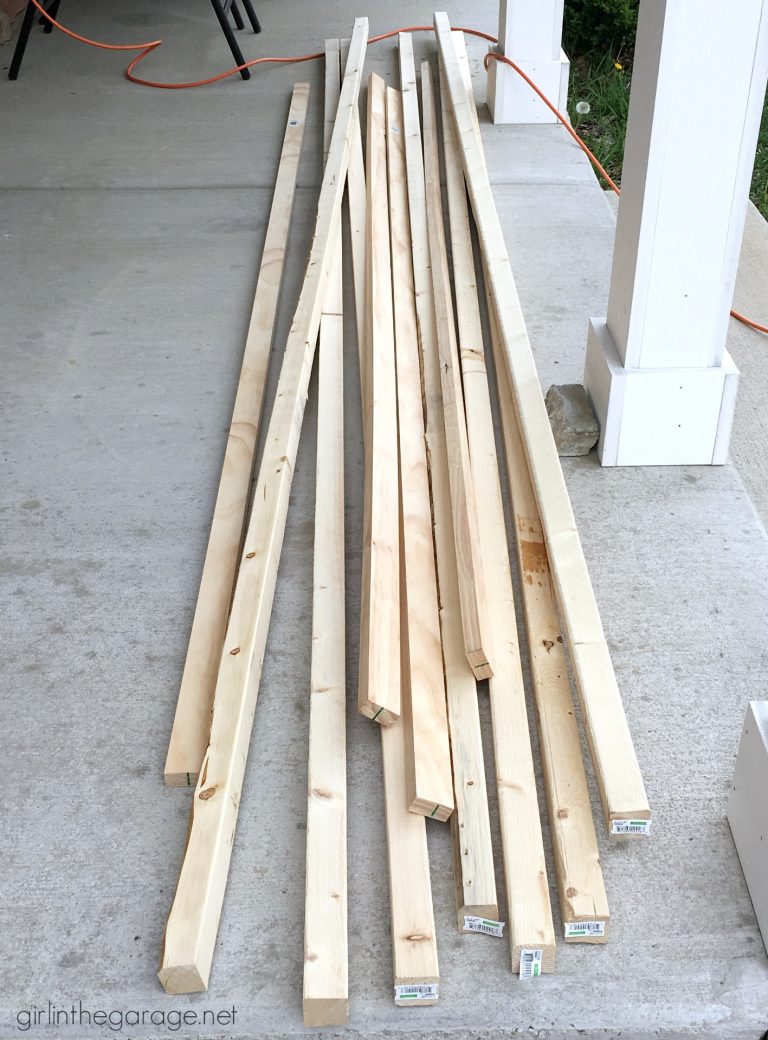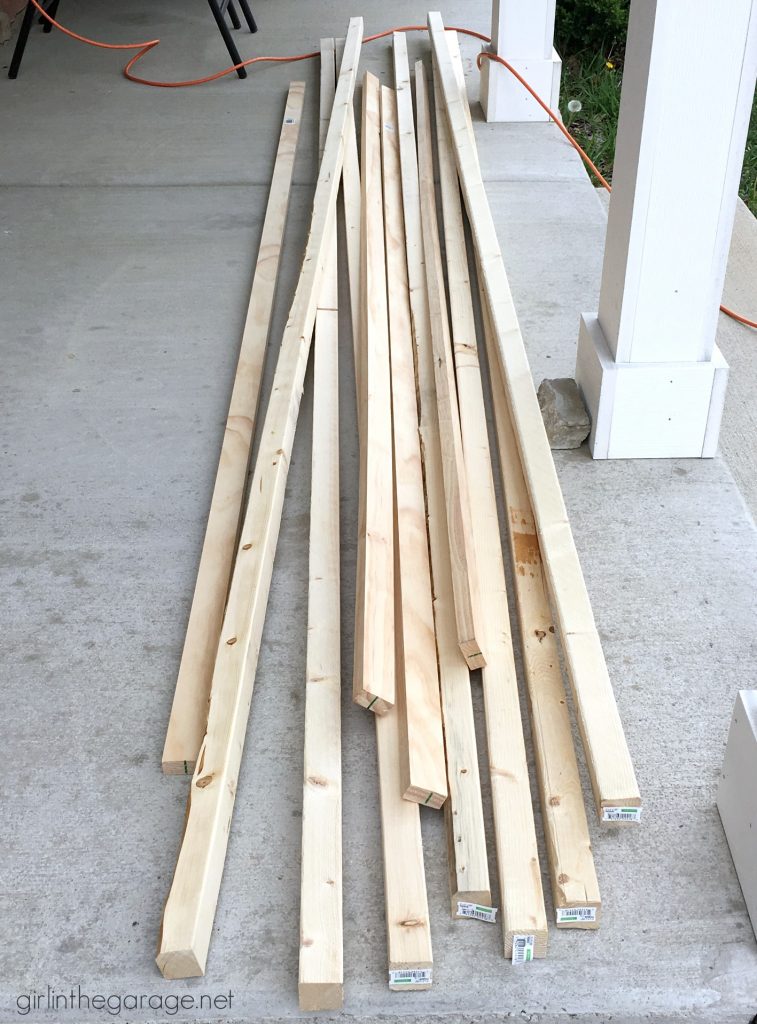 *This post contains some affiliate links, at no extra cost to you, so you can easily find the products I mention and recommend.
We wanted the finished trees to be approx. 6.5 feet tall, which had to be considered when cutting the legs/roots.  (We actually made the trees taller at first and later cut them down to the size we wanted after the roots were attached.)
He used a miter saw to make all the cuts.  He cut long and short branches – the long ones were a couple inches longer than Ana's and were for attaching to the tree.  The short branches were for attaching one to each long branch.  One end of each branch needed a 30-degree angle for the pocket holes.
This project would not be possible without the use of a Kreg Jig system for pocket holes, and lots of clamps.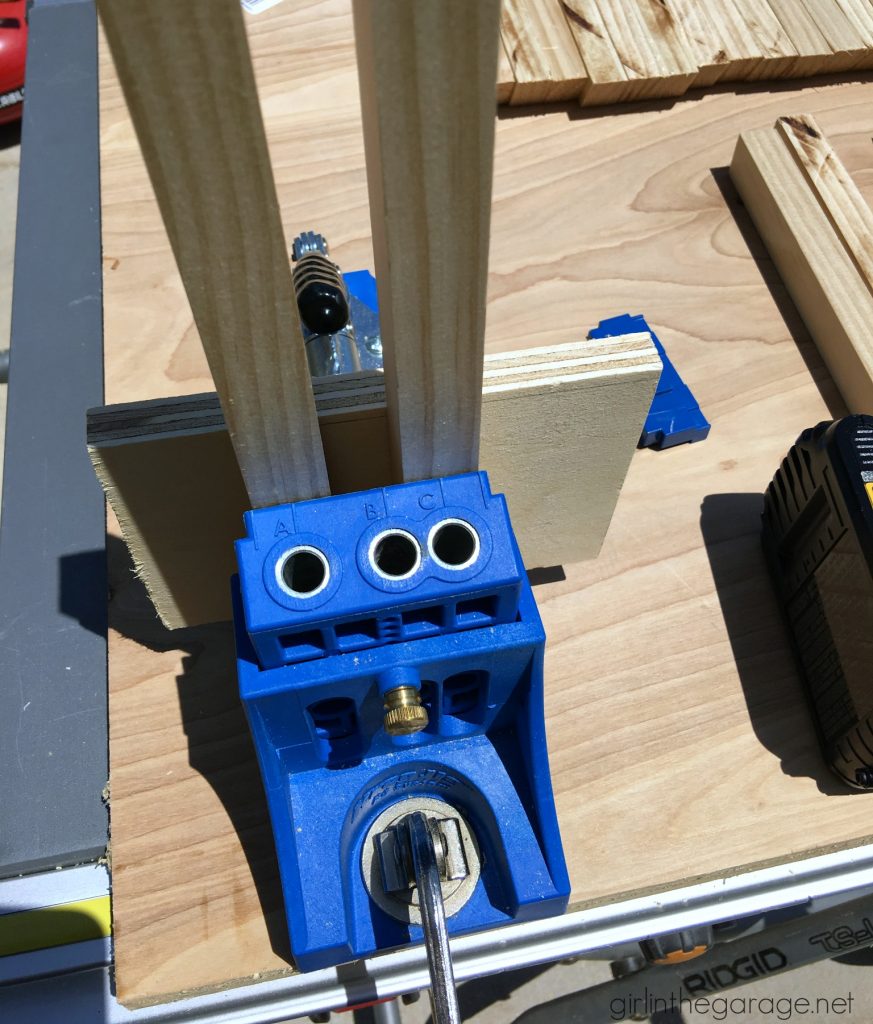 Since our tree was going to be taller than Ana's, we also made the roots longer for more stability.  Both ends were cut at a 45-degree angle.  Probably the trickiest part was the placement and screwing the roots on so that they're all level and there's no wobbling.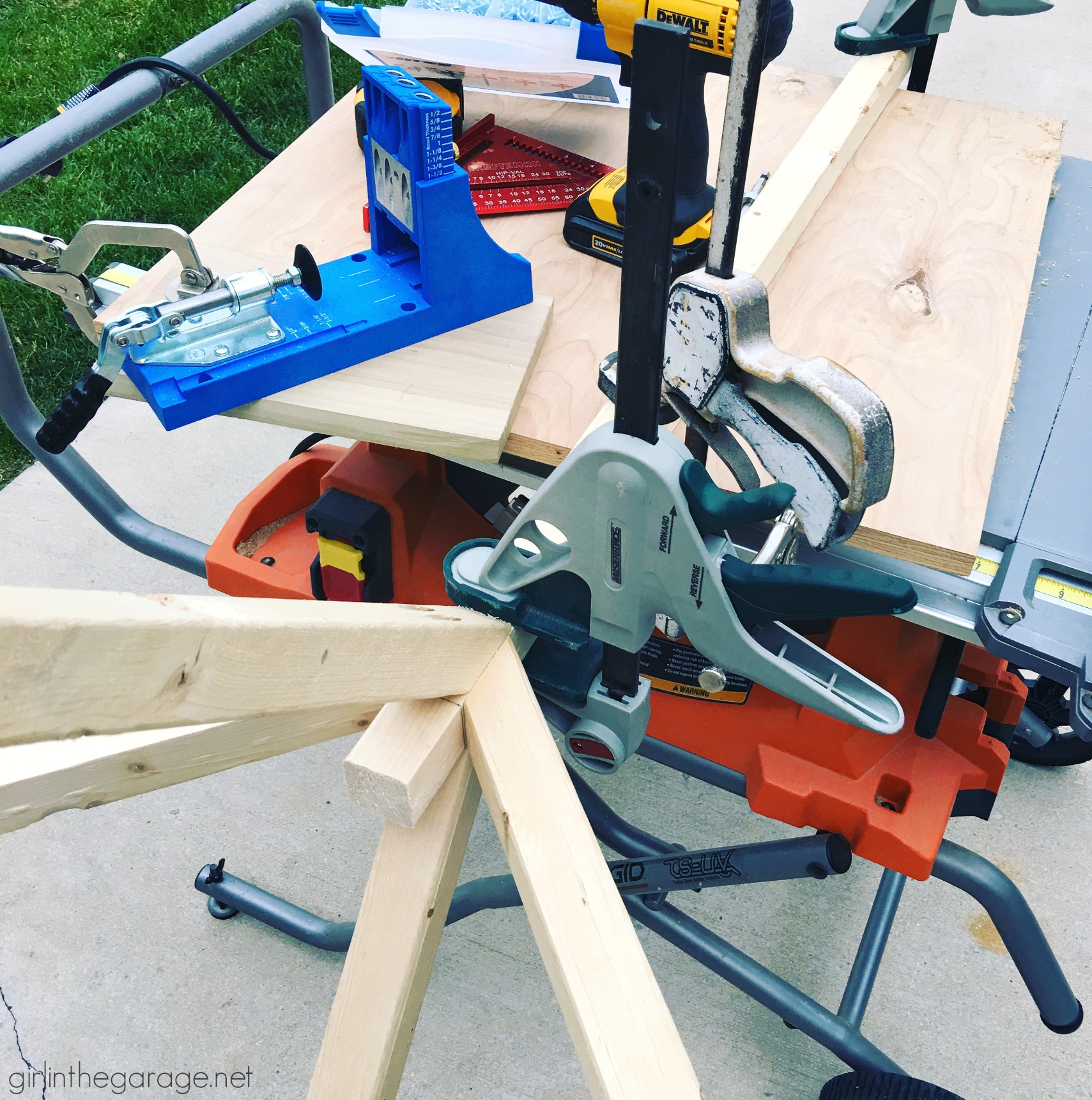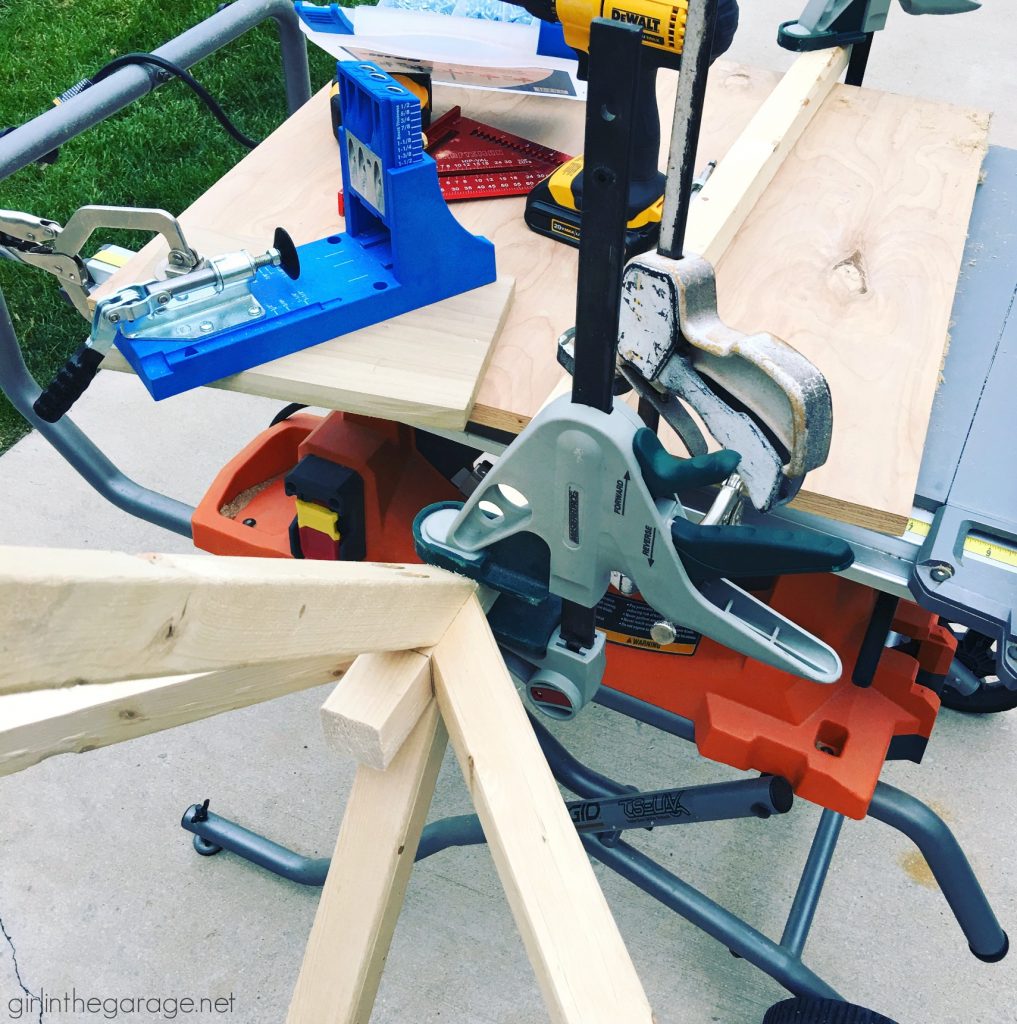 Once all the pocket holes were finished, we set the Kreg Jig pocket screws in place for faster screwing.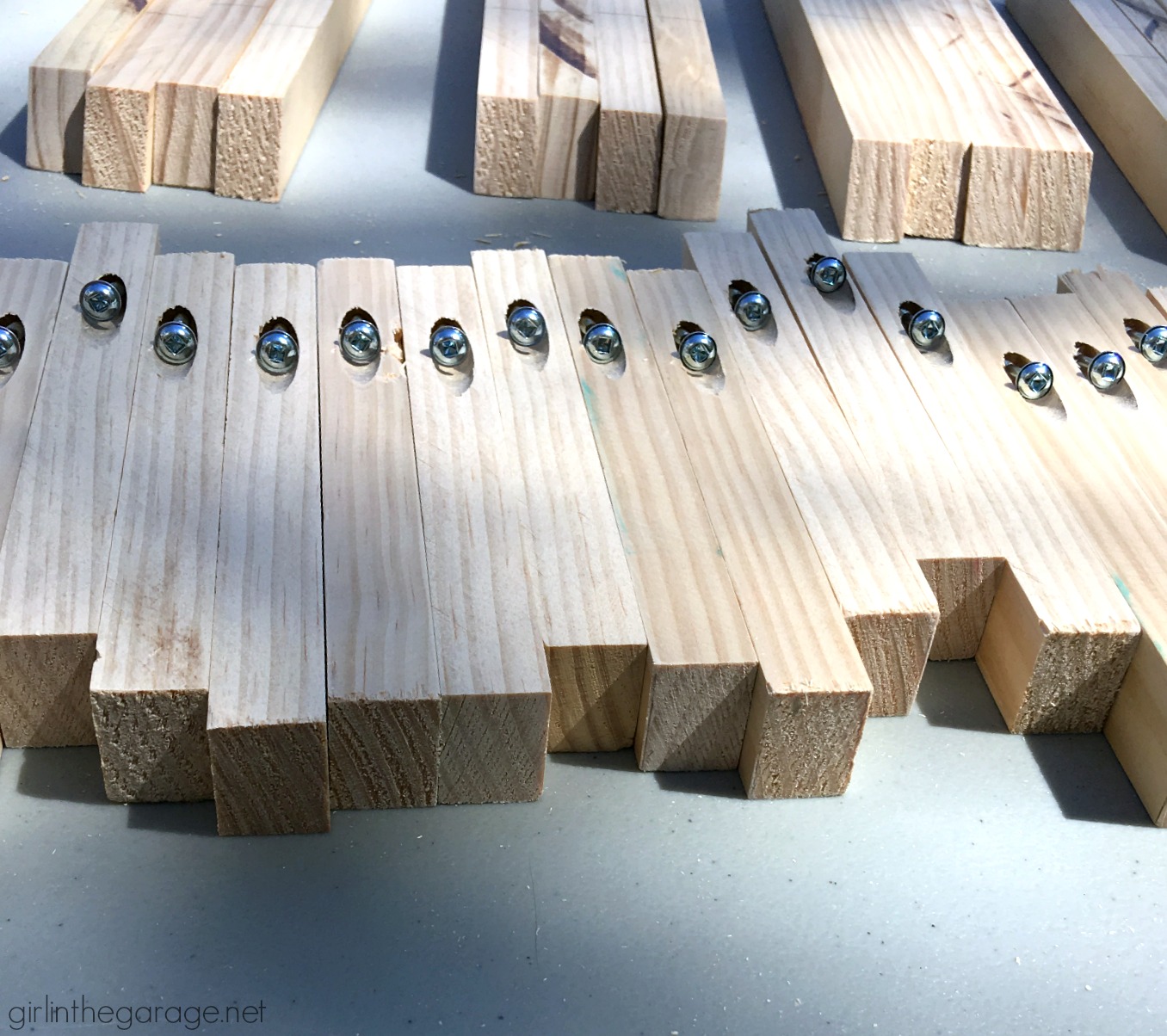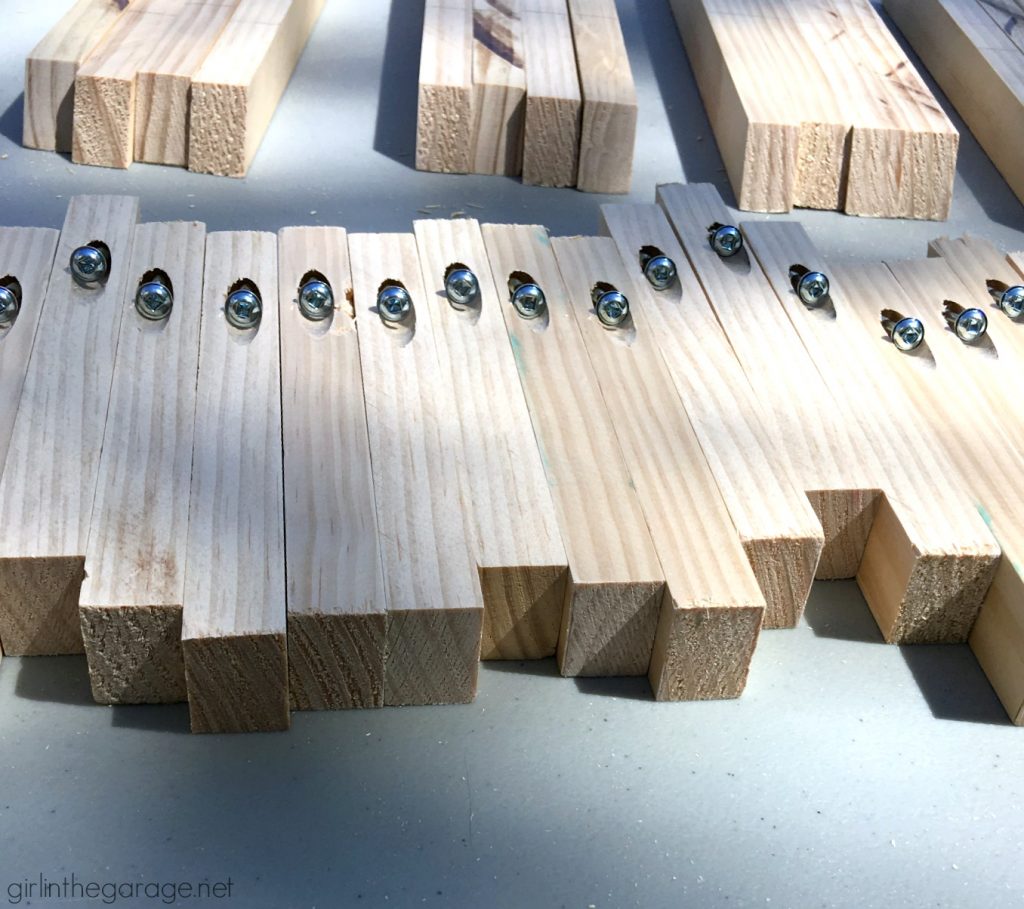 Here the branches are finished and ready to be screwed onto the tree trunk.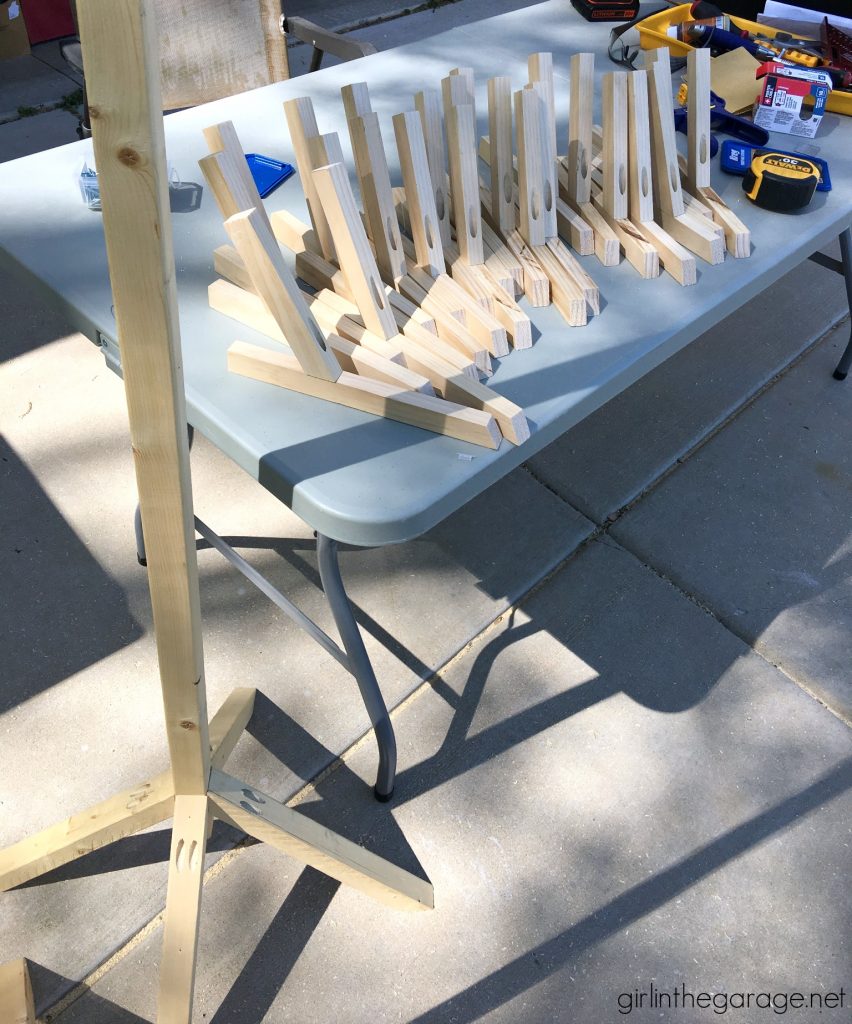 The easiest way to attach the branches was to lay the tree down and secure it with clamps.  We staggered the placement of the branches, and only put them on three sides of each tree.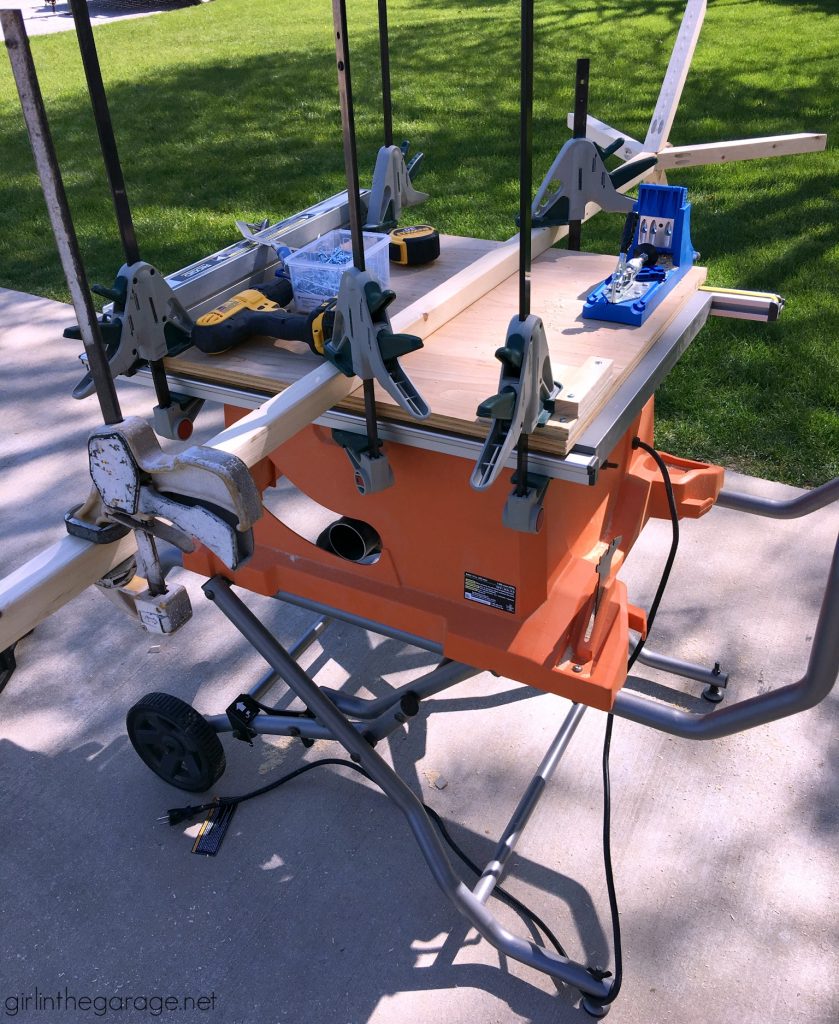 Here's one of the finished trees: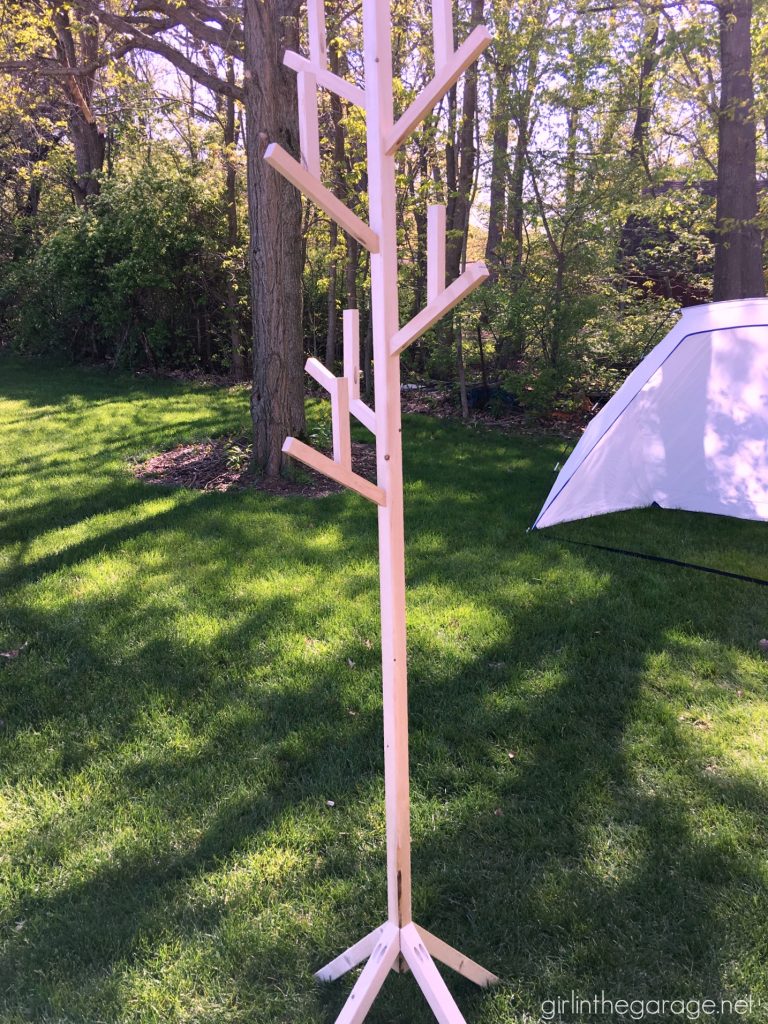 The original plan was to spray paint them, but I attempted one and hated the spray paint I chose (Rustoleum Chalked) so I made a last minute decision (as the sun was going down, the night before the market) to bring the trees inside and paint them all by hand.  I used Fusion Mineral Paint in Picket Fence.
My husband estimates we spent about $80 on supplies to make all 4 trees (the wood and the Kreg Jig pocket hole screws).  We already had the necessary tools and the paint.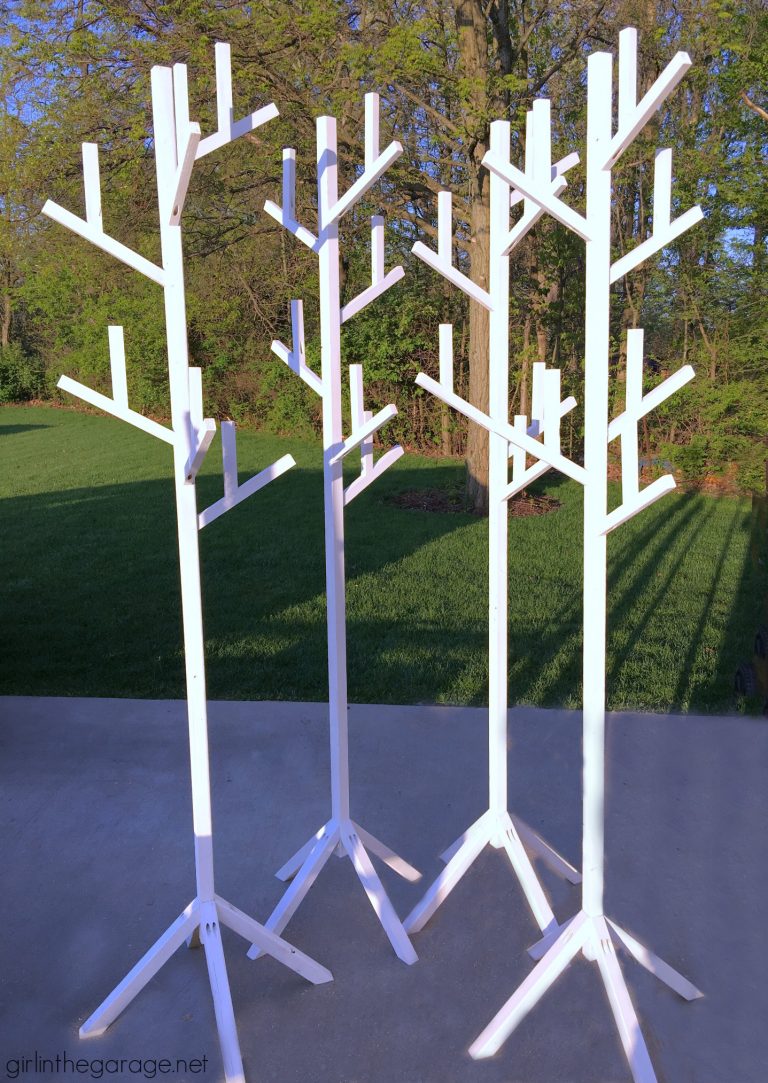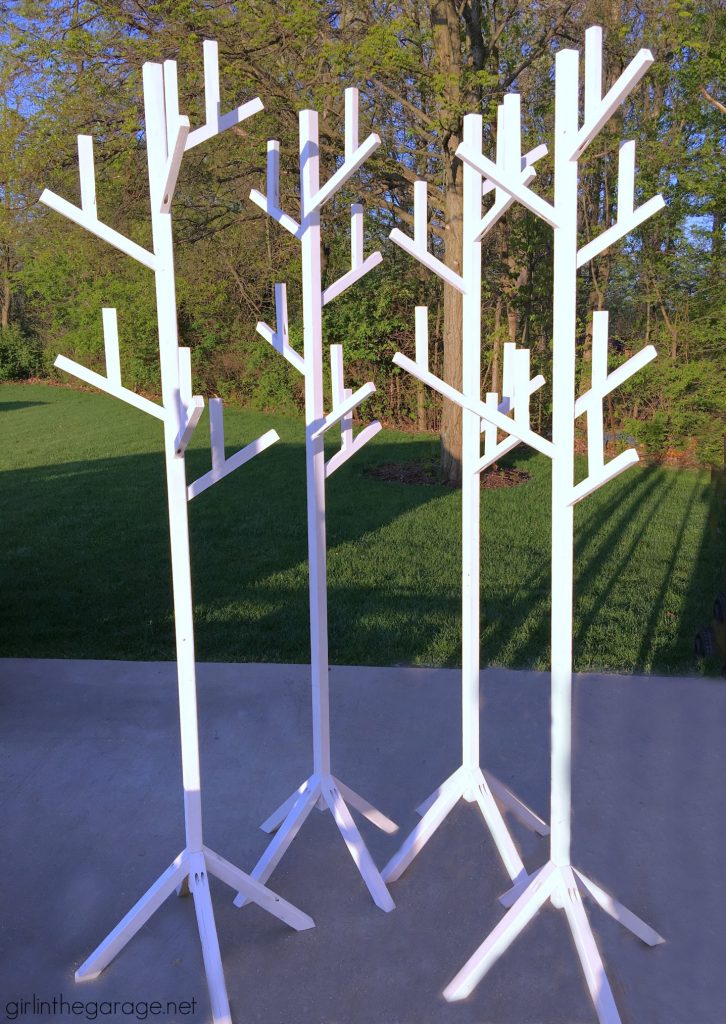 Again, you can find Ana White's DIY coat tree plans HERE.
I bought white pennant banners from the party supply store and we hung them between the branches, along with my Girl in the Garage banner sign I borrowed from my booth at Antiques on Main: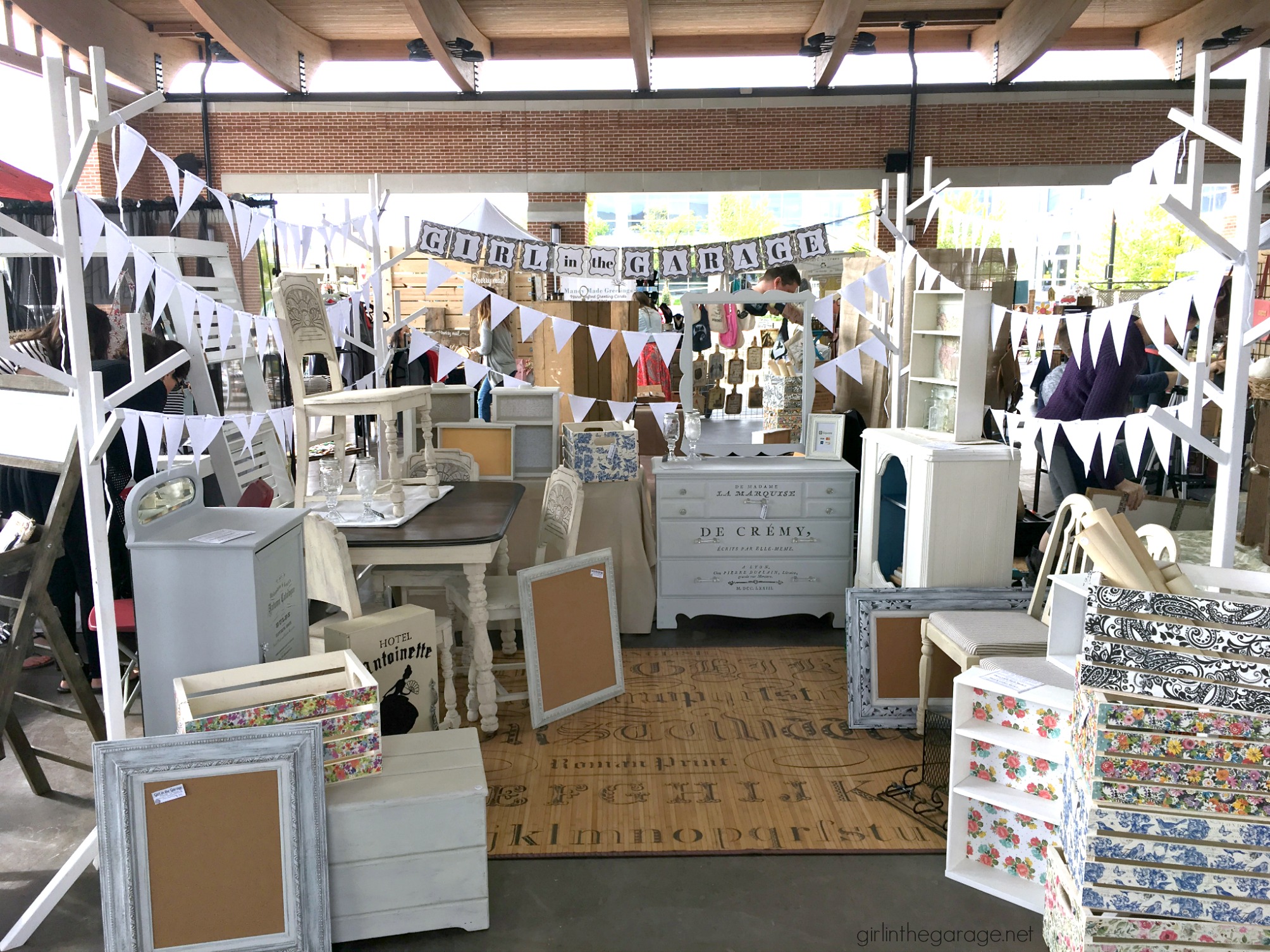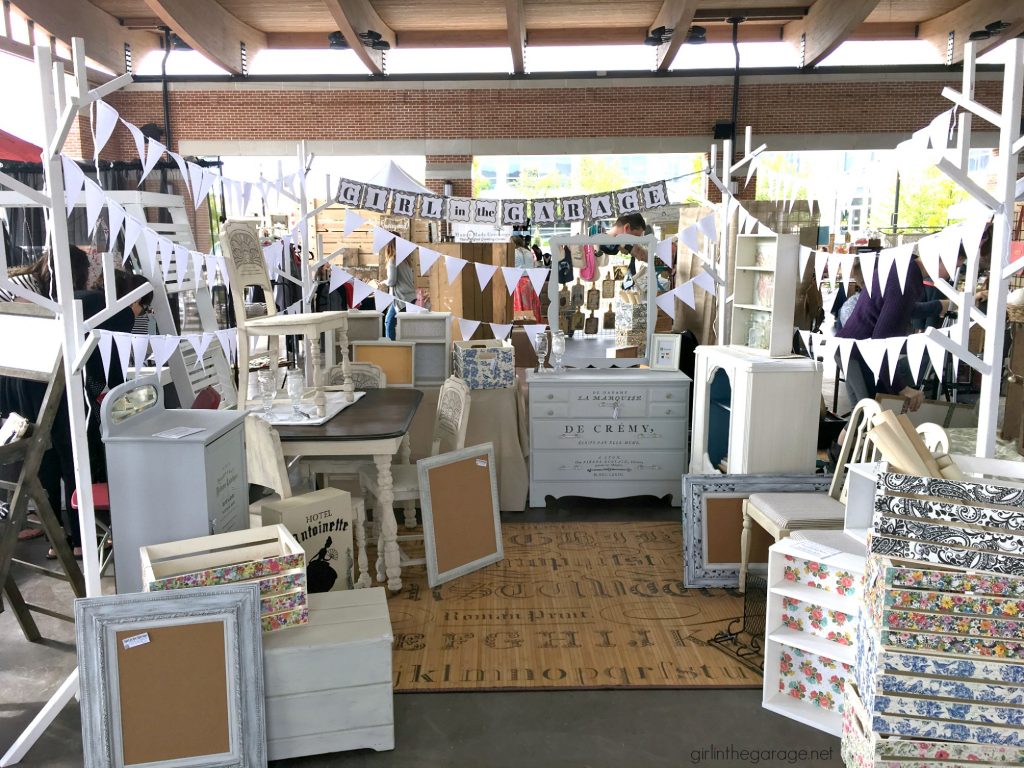 The trees and banners help bring shoppers' eyes up so that not everything is waist-level and below.  Also it helps keep their attention in my space and the tall trees are easily visible from other aisles.
We did have a few strong gusts of wind which blew the banners some, but the trees didn't wobble at all!  I'm very impressed with how sturdy they are, yet also lightweight.  I carried two of these myself at one time across the pavilion and over to the parking lot where our trailer was.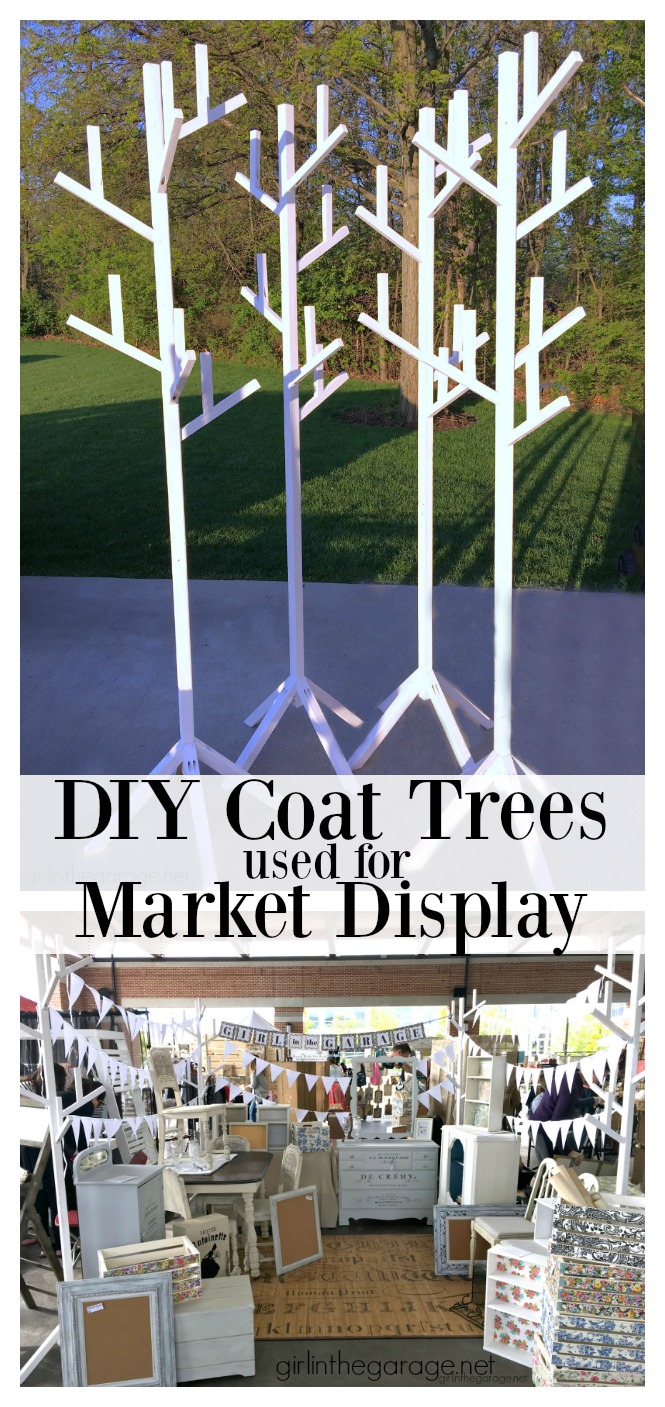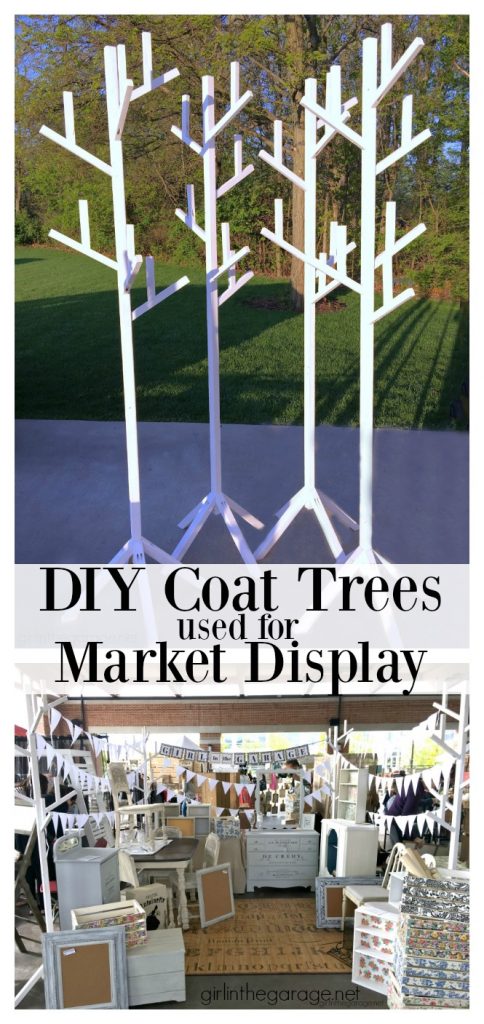 My mind has been brainstorming other things to hang between the trees – I think Christmas lights would be so pretty for an evening event.
I will be sharing a full recap of the Three Little Birds Market soon!  Sign up for GITG emails below this post to stay in the loop.  🙂
Jen
Doing your first vintage market or craft fair soon?  Click the image below for lots of tips and advice!