There used to be a vintage warehouse store in town that was only open one weekend each month, and I'd visit whenever I could to go treasure hunting through the booths.  Sadly, the store closed last year, but I still have a few lingering treasures remaining to upcycle – and I used to chat with the owner so much that thankfully we've kept in touch.  (Erica, I finally got around to updating this very cool chair!)
This vintage bamboo chair was dried out and missing one very important piece…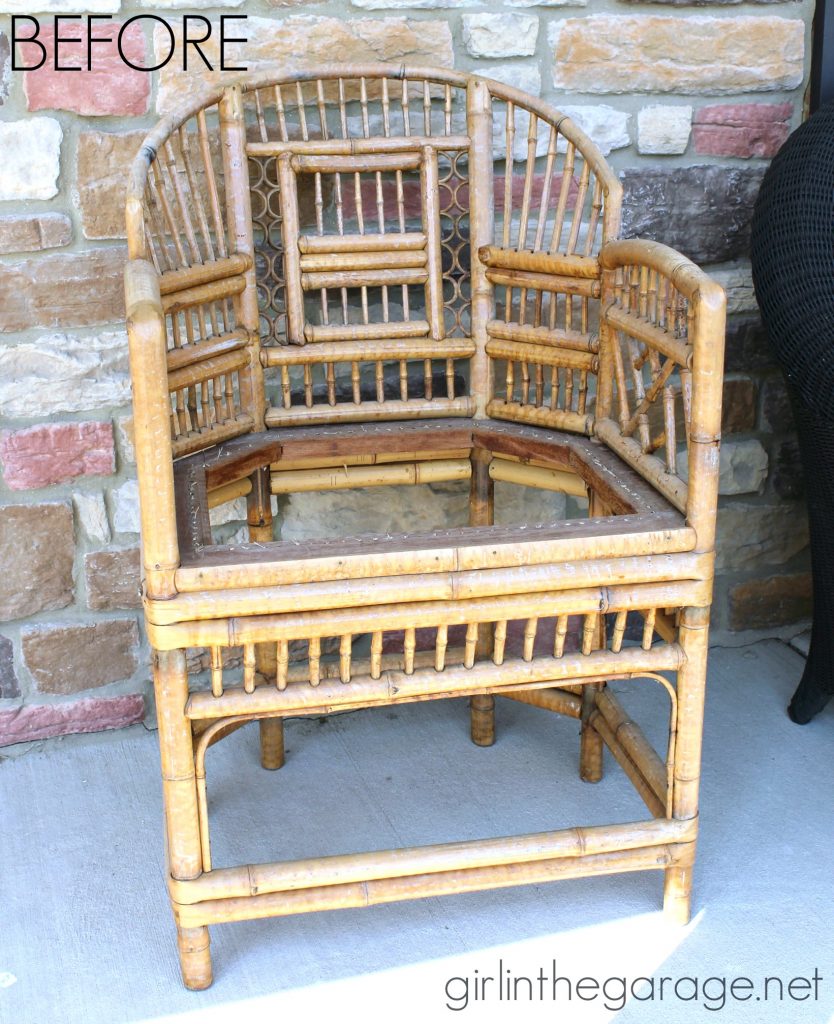 HA.  Nothing that was too difficult to handle though.  I did a Google search and discovered my chair once had a caned seat like this: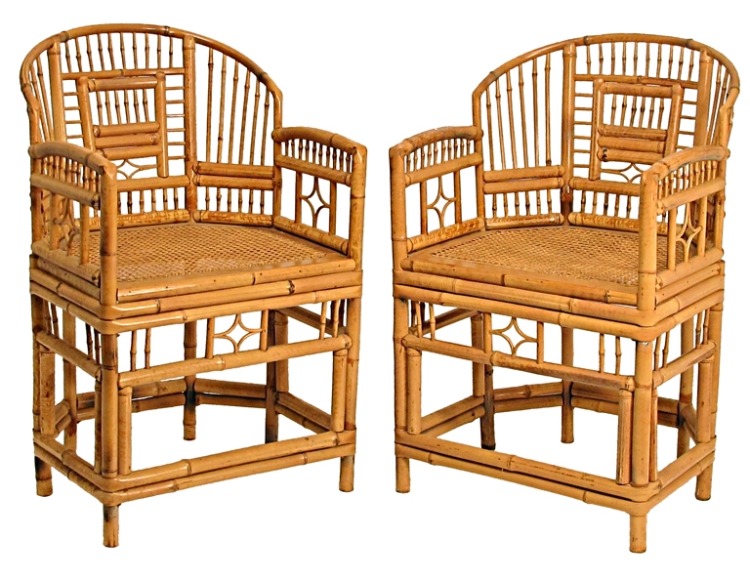 After more research, this style may also be known as a Brighton Rattan Chair and is likely from the 50s-60s.
Wait a minute, did you think I was going to paint this chair?  Heck no.  I love the look of natural bamboo!
This chair was so dry though.  You can revive bamboo with Formby's Lemon Oil Treatment and a soft cloth.  It makes such a difference as you can see in the photos below.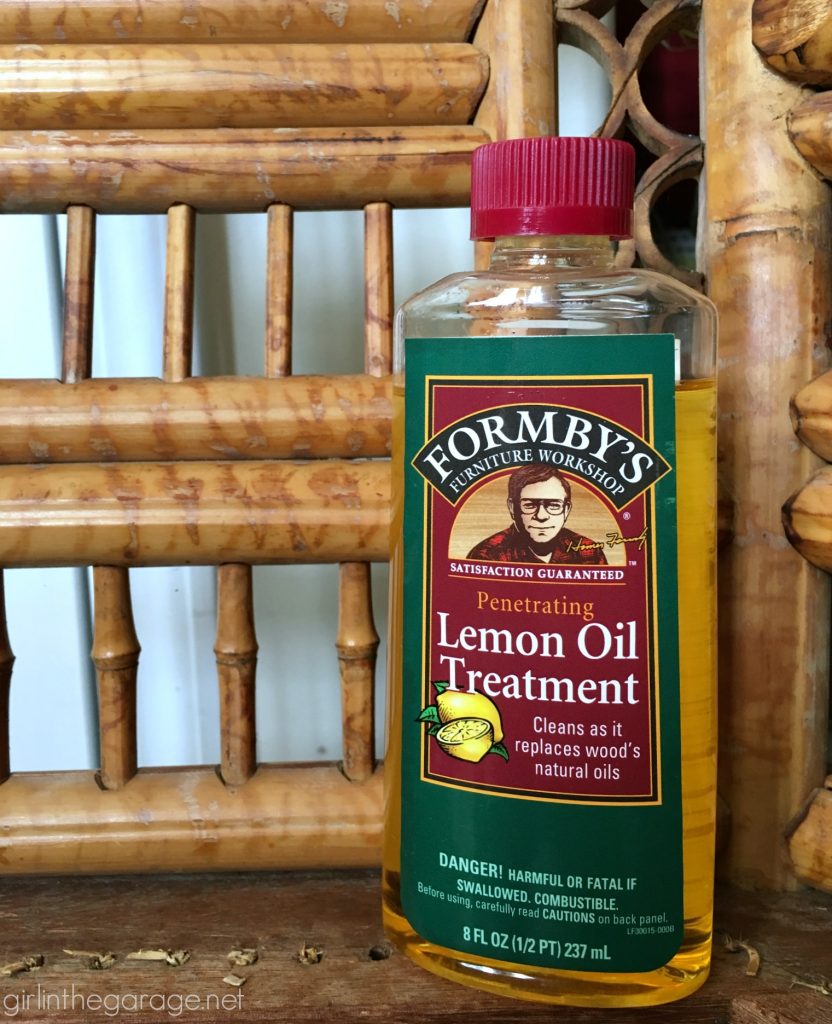 *Friends, it's Trash to Treasure Tuesday with some of my favorite blogging girls so be sure to hang around and see their makeovers at the bottom of this post.
Here's how to make a new seat for a chair:
First, you'll need to measure and cut the wood for a new seat.  This is half-inch thick plywood.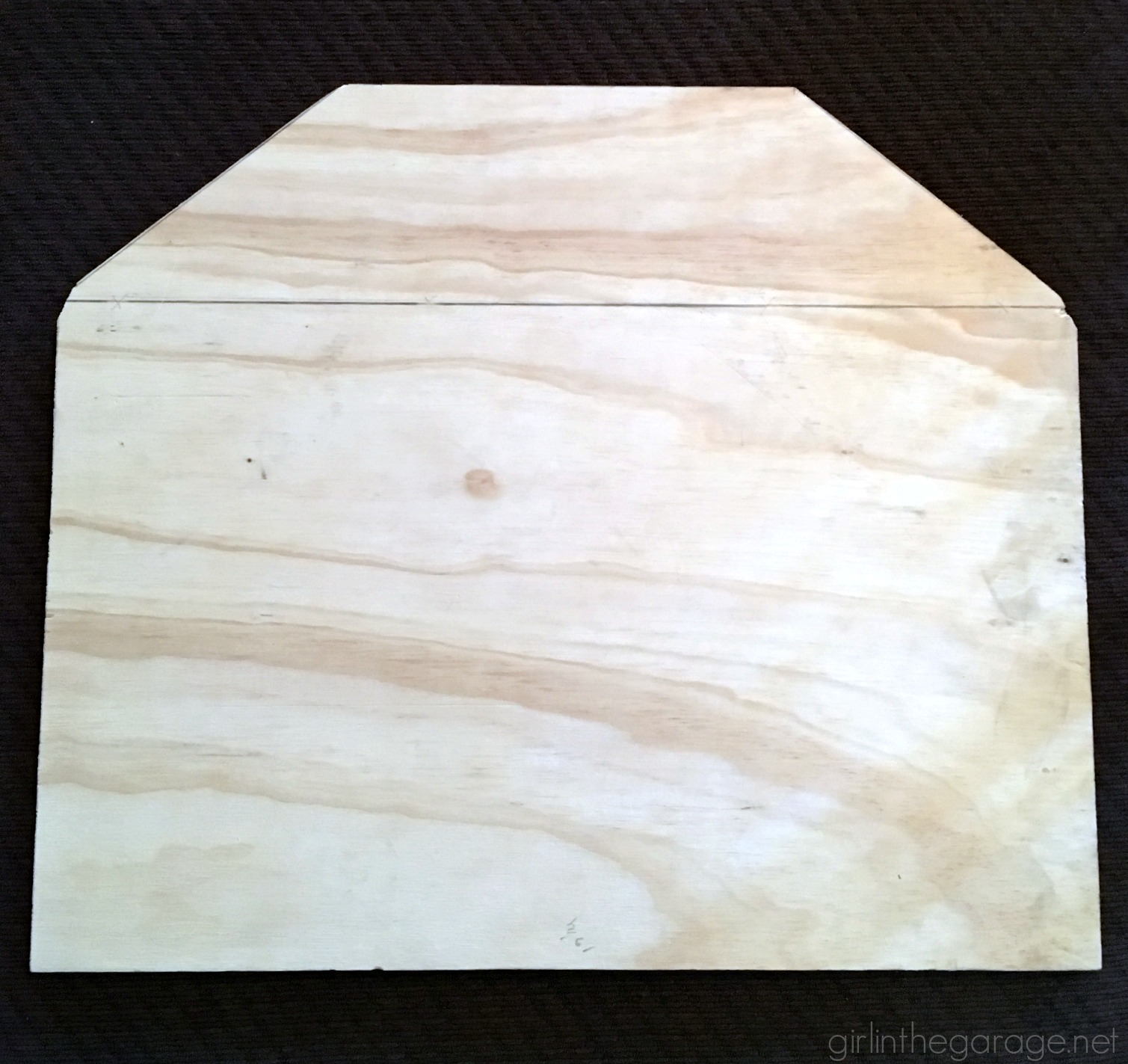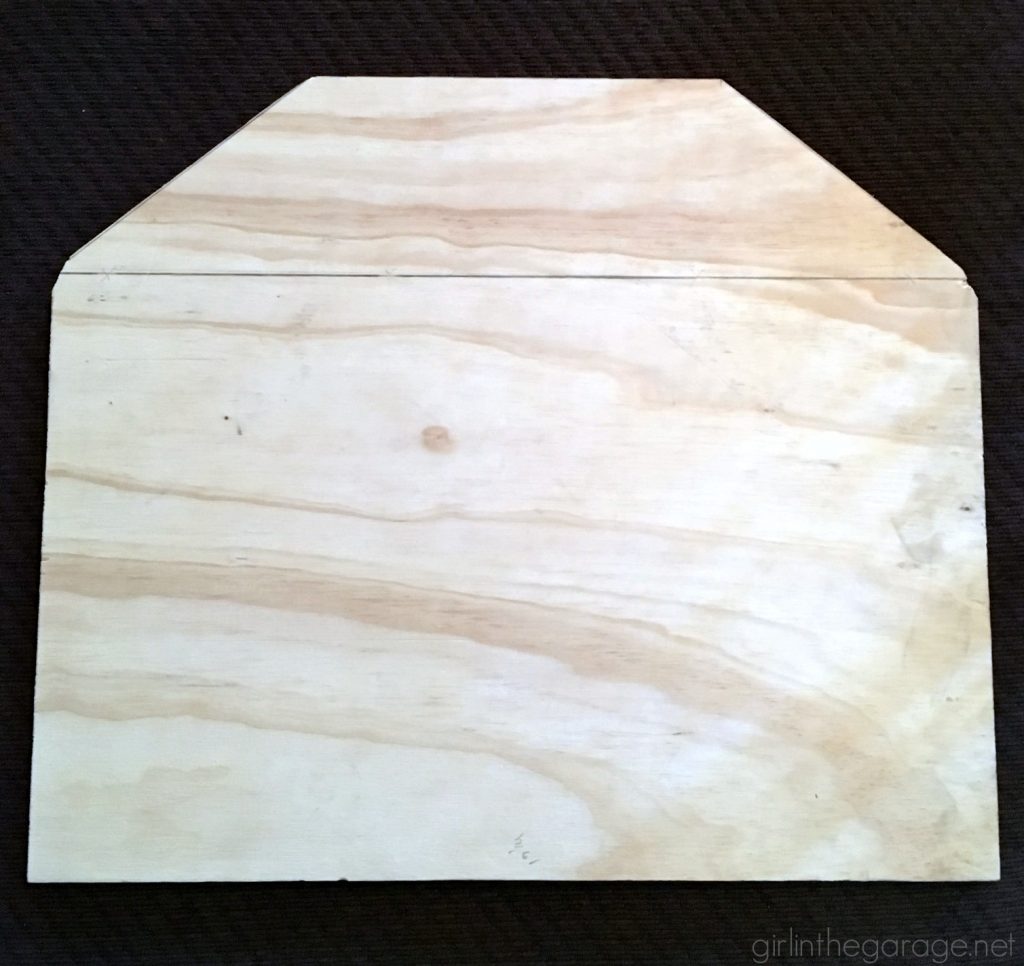 Next, cut two-inch foam padding for a soft spot for your bum.  Get the lines as straight as you can but it doesn't have to be perfect – thick padding can be difficult to cut.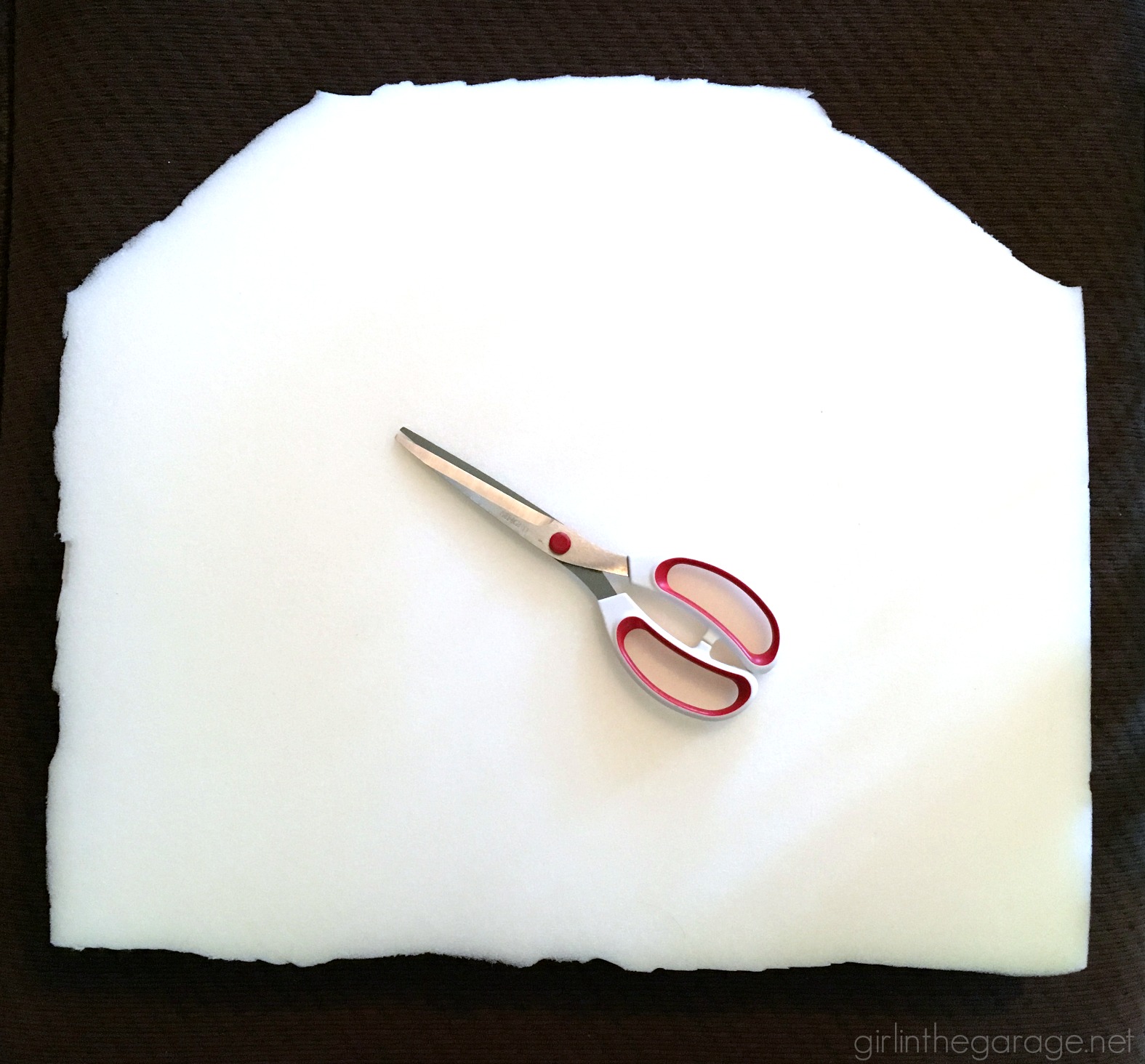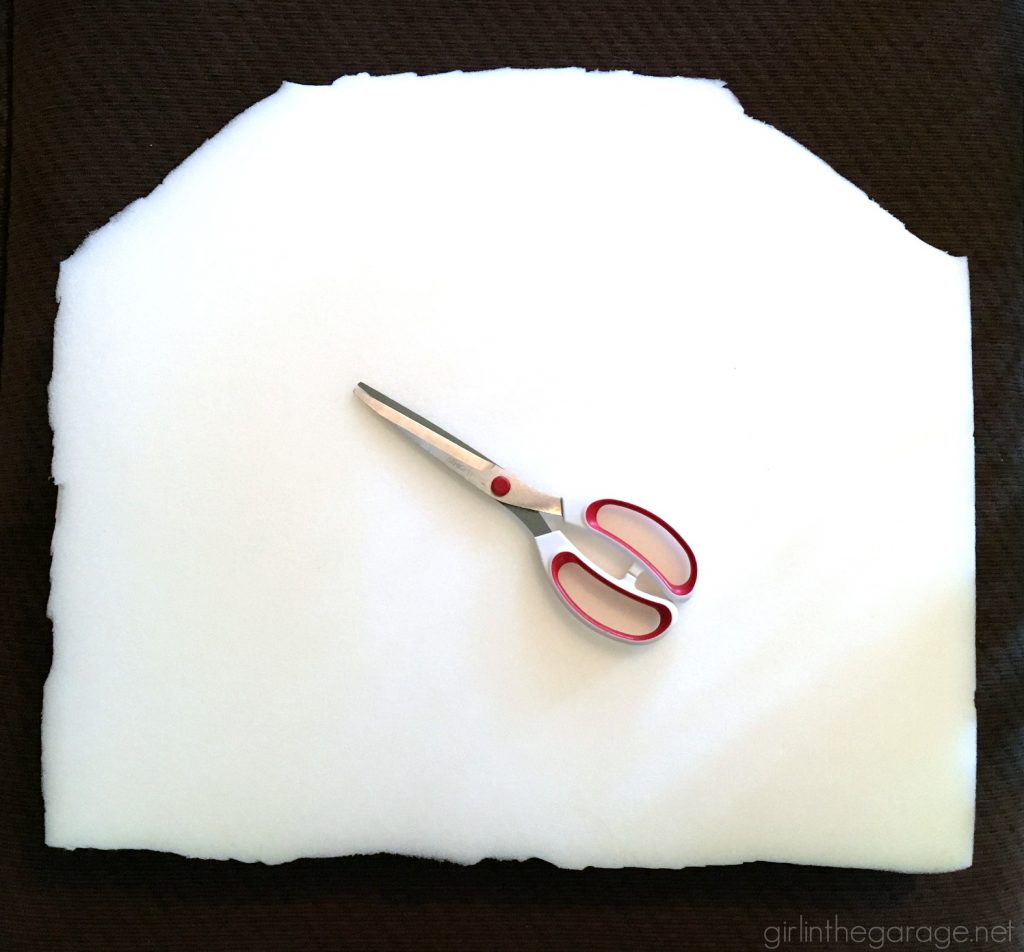 Third, cut cotton batting and leave about a two-inch overhang on each side.  I was a little short on one back corner since this is leftover batting from another project, but it ended up being fine.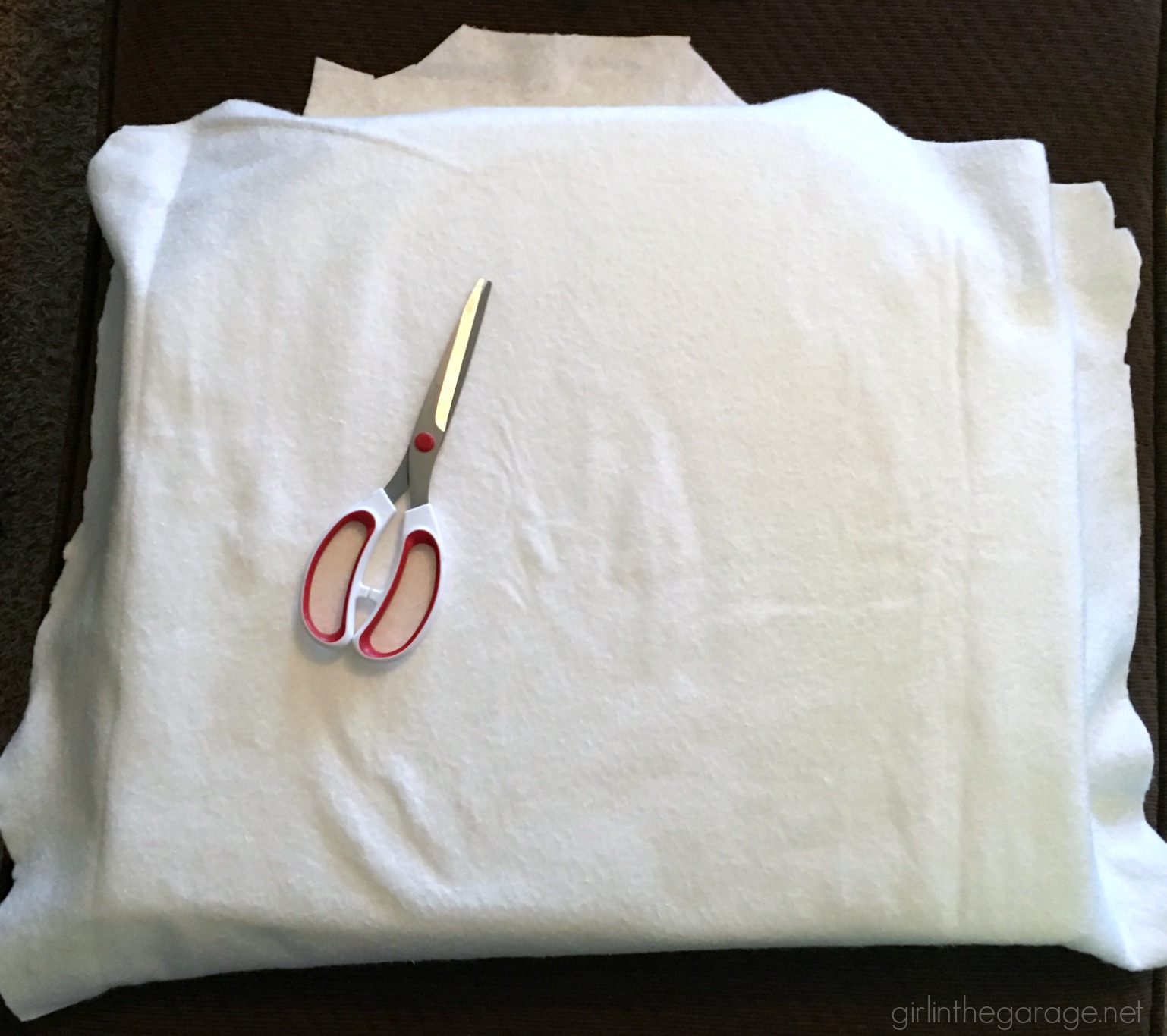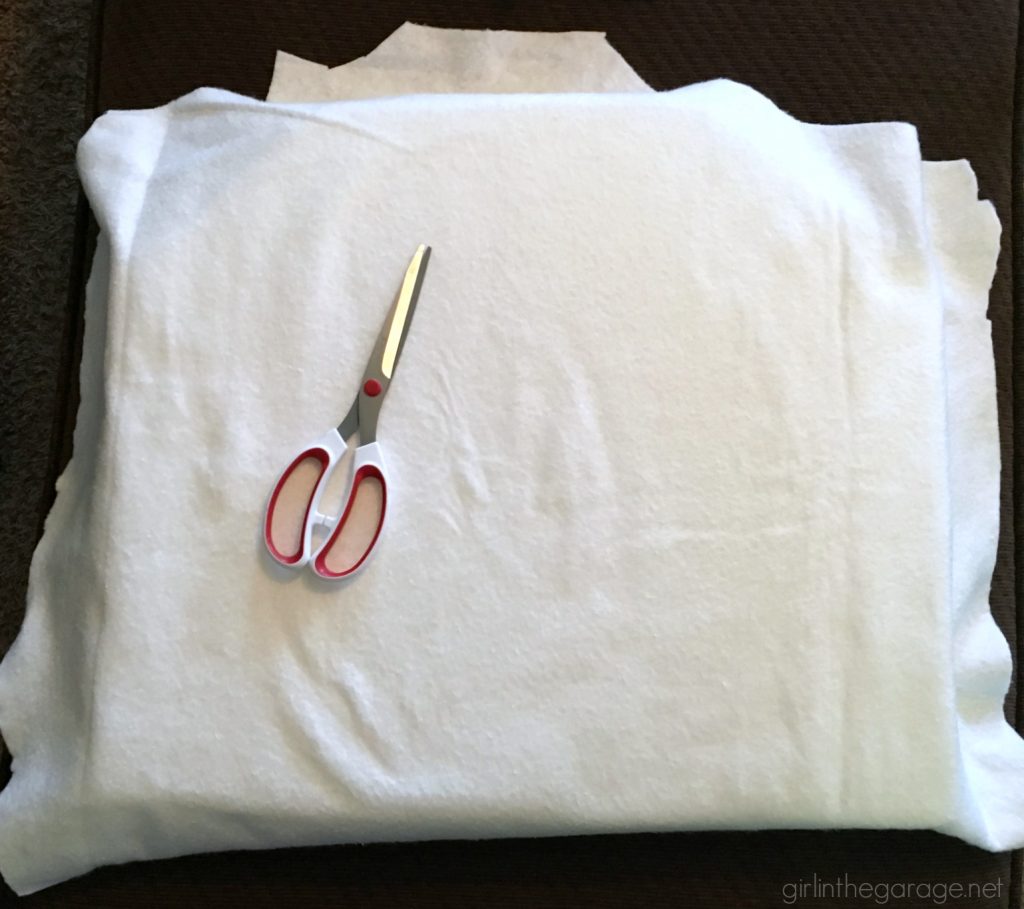 Turn the seat over and staple the batting on while folding the edge underneath.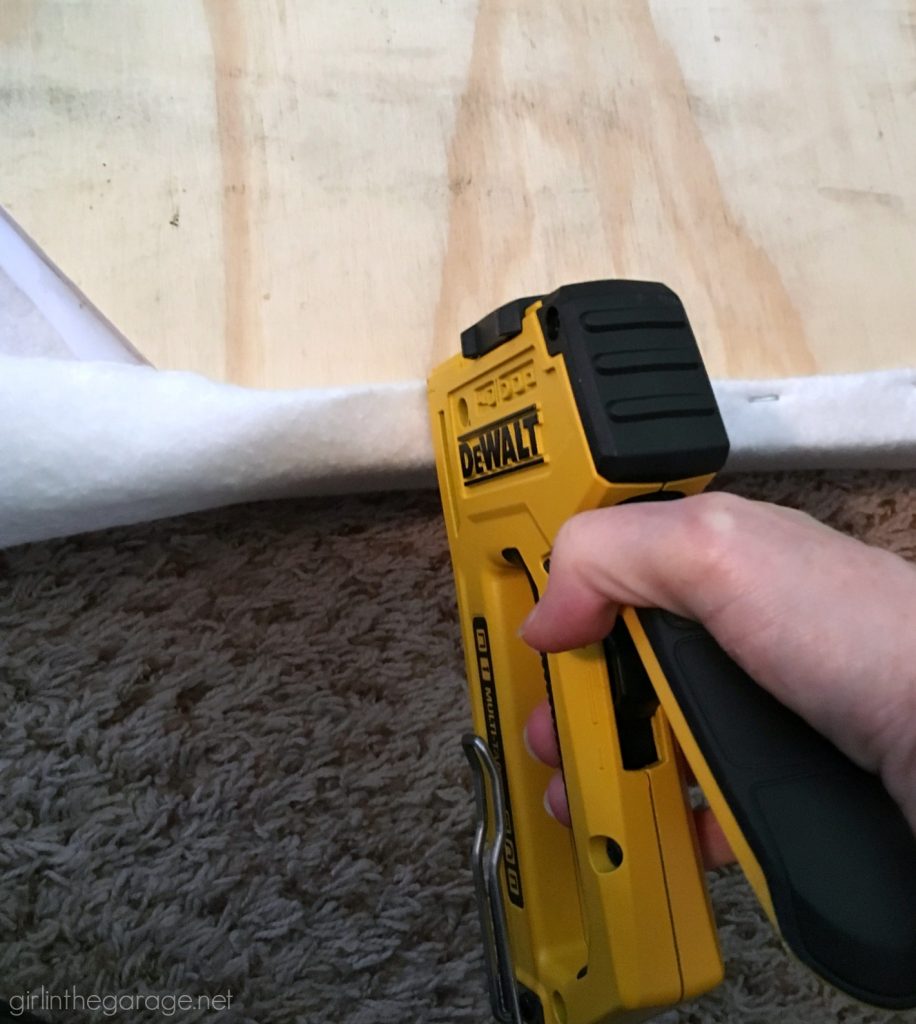 The bottom will look similar to this (you can see the corner where I was a little short from my leftover batting).  Corners can be tricky – don't make them too bulky or the seat may be uneven later when you go to sit on it.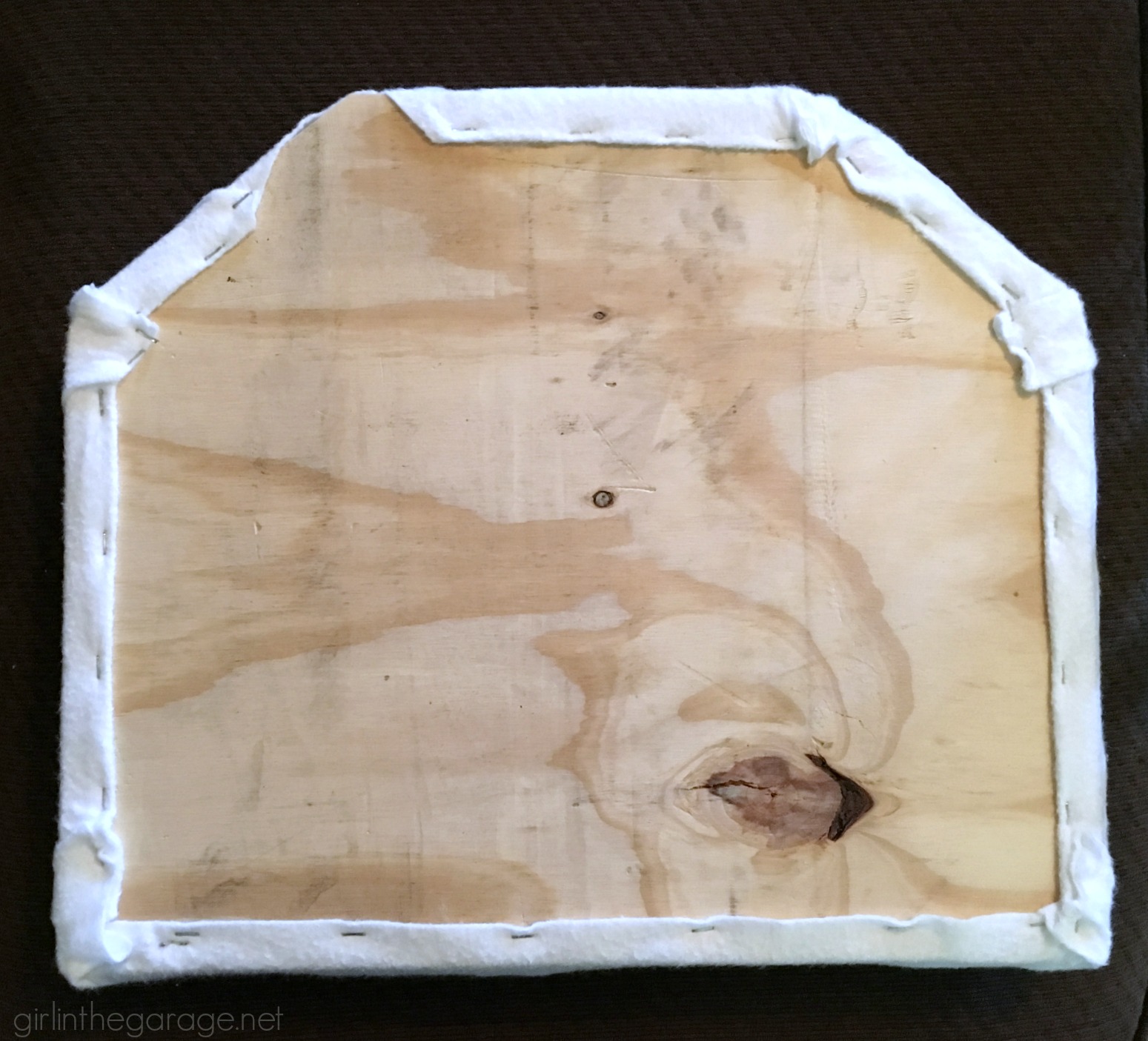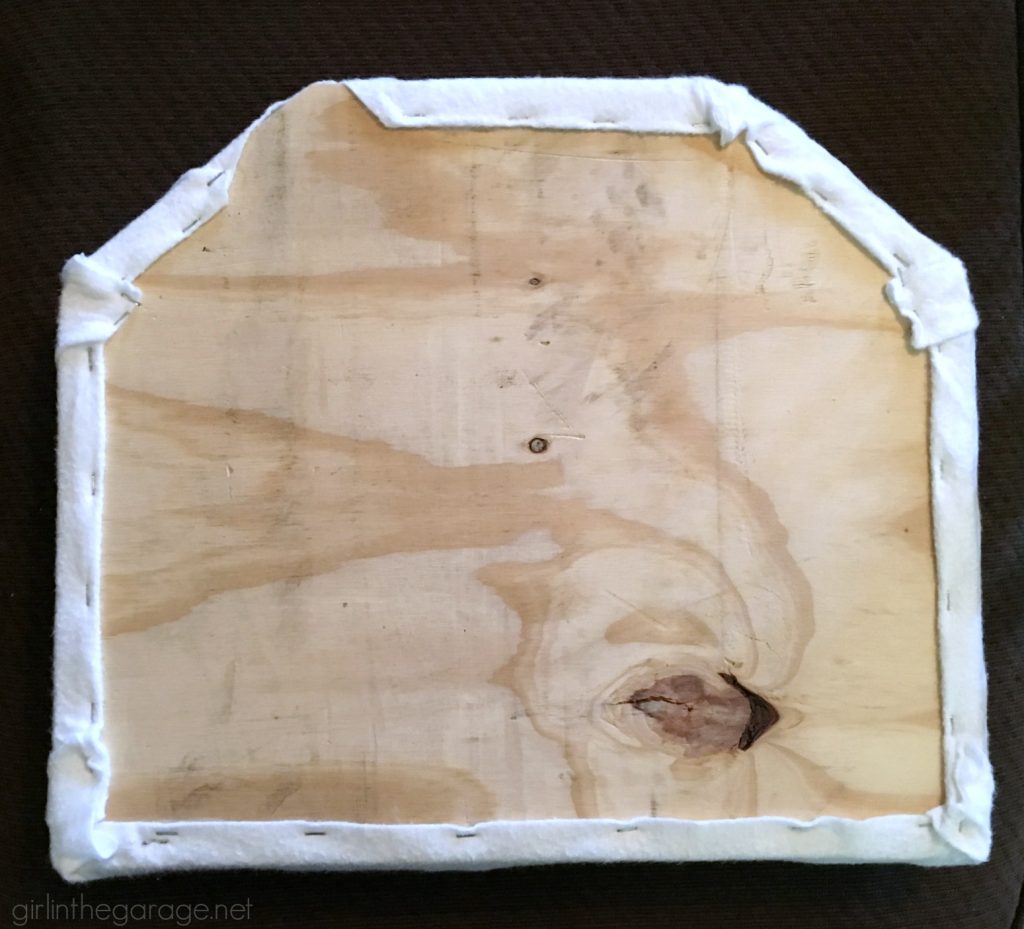 Next, choose your fabric and cut it, leaving about 2+ inches gap on each side.  Iron it smooth.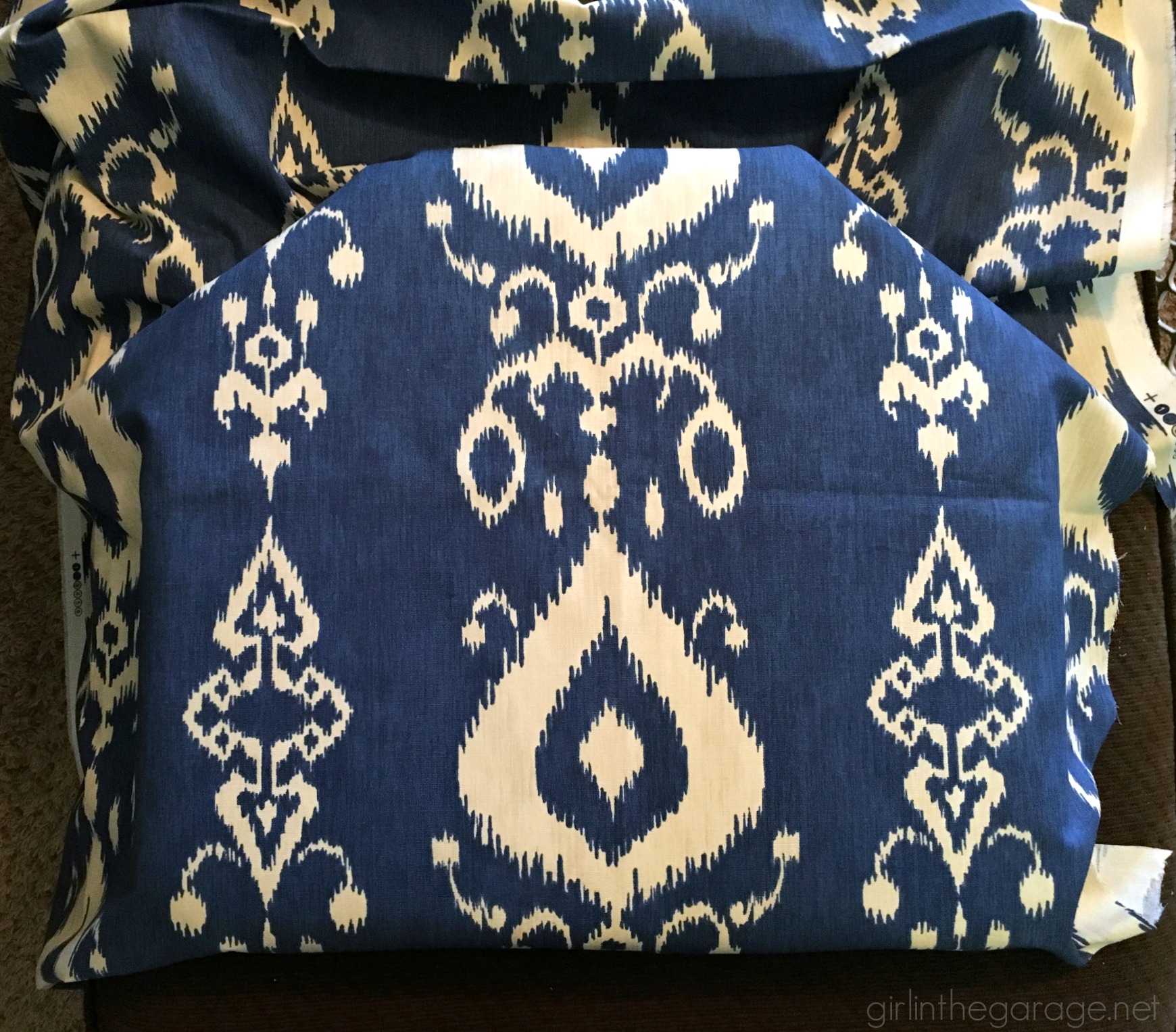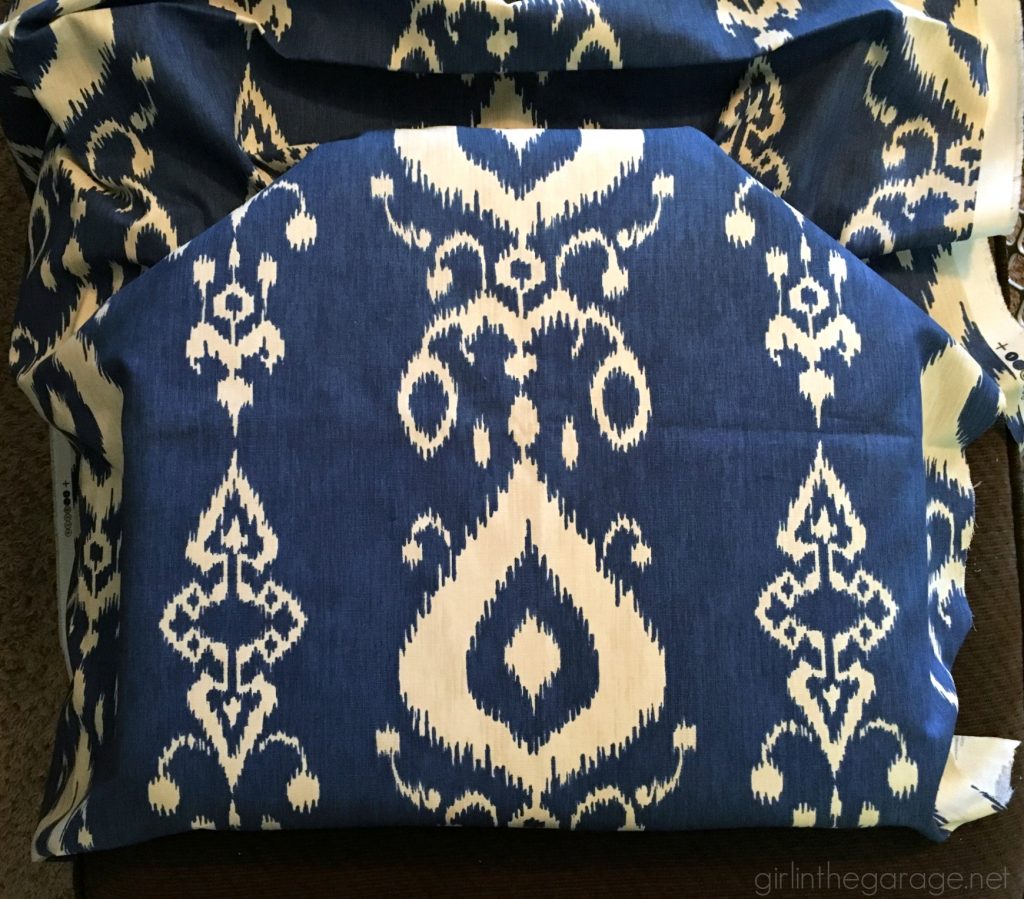 Flip the seat over and staple the fabric on, folding the edges over to hide any frays.  Again be careful folding the corners.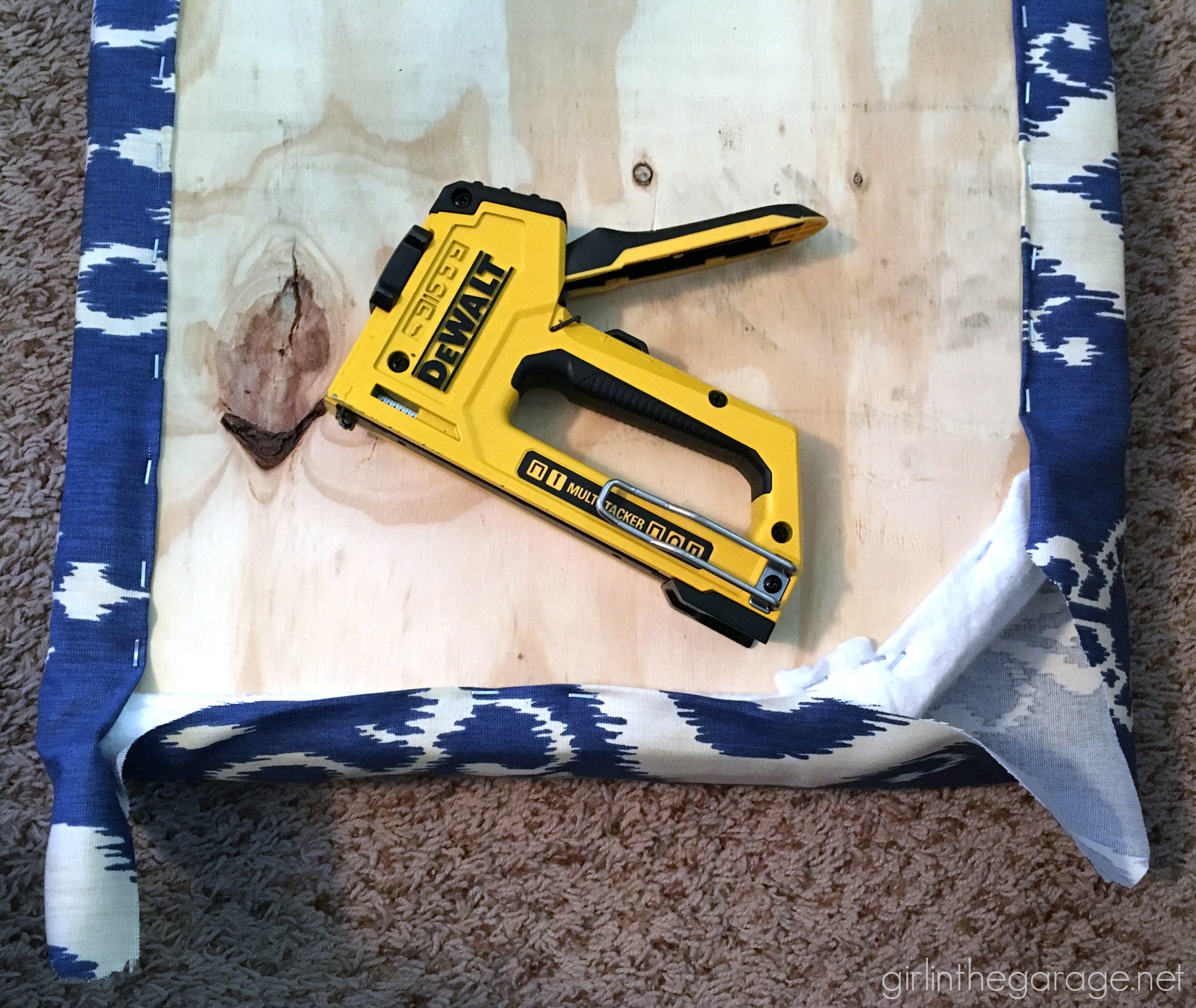 Here's a closeup of how I do corners: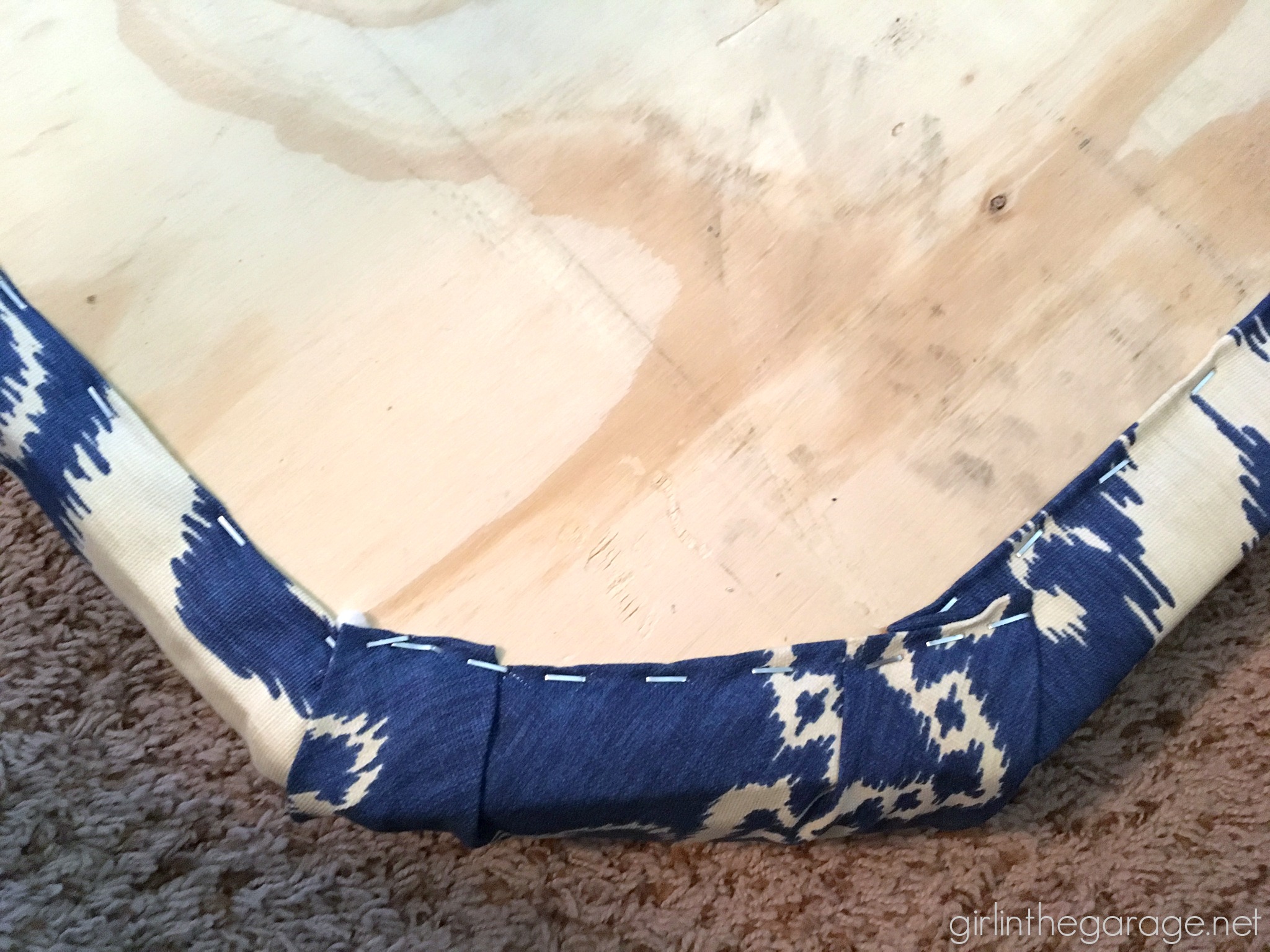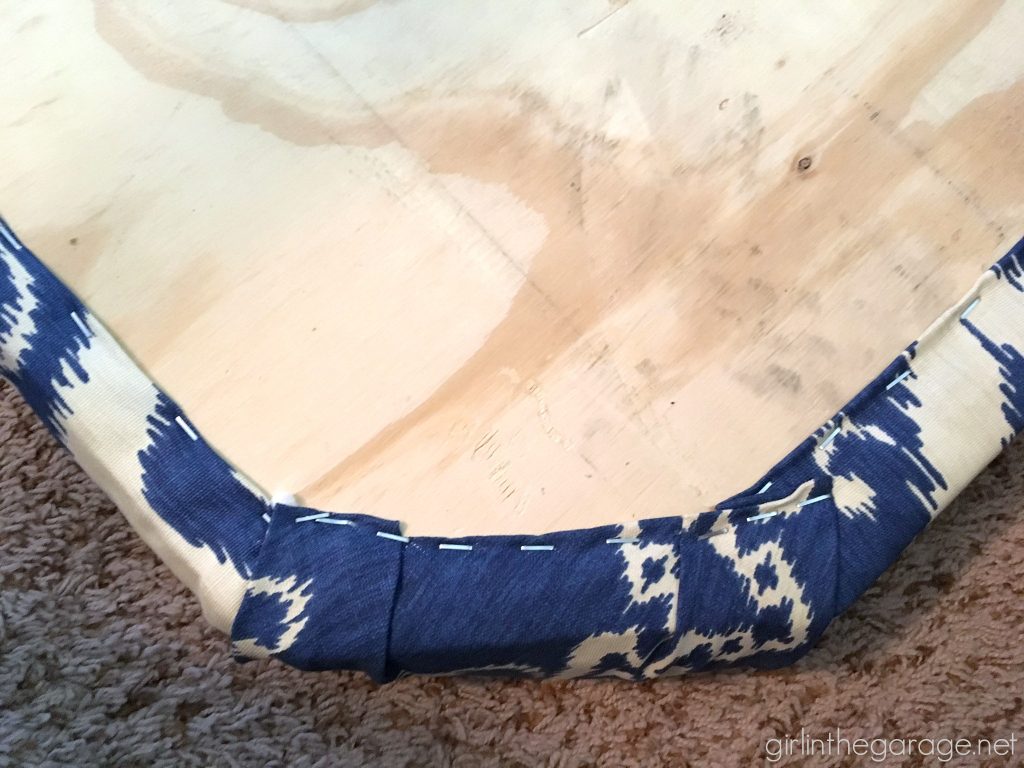 I did not secure the seat with screws because it fits very snugly in place as-is.  The arms curve inward slightly and the seat doesn't slide at all.  However, it can be lifted straight up fairly easily.
Here's the new and improved bohemian bamboo chair: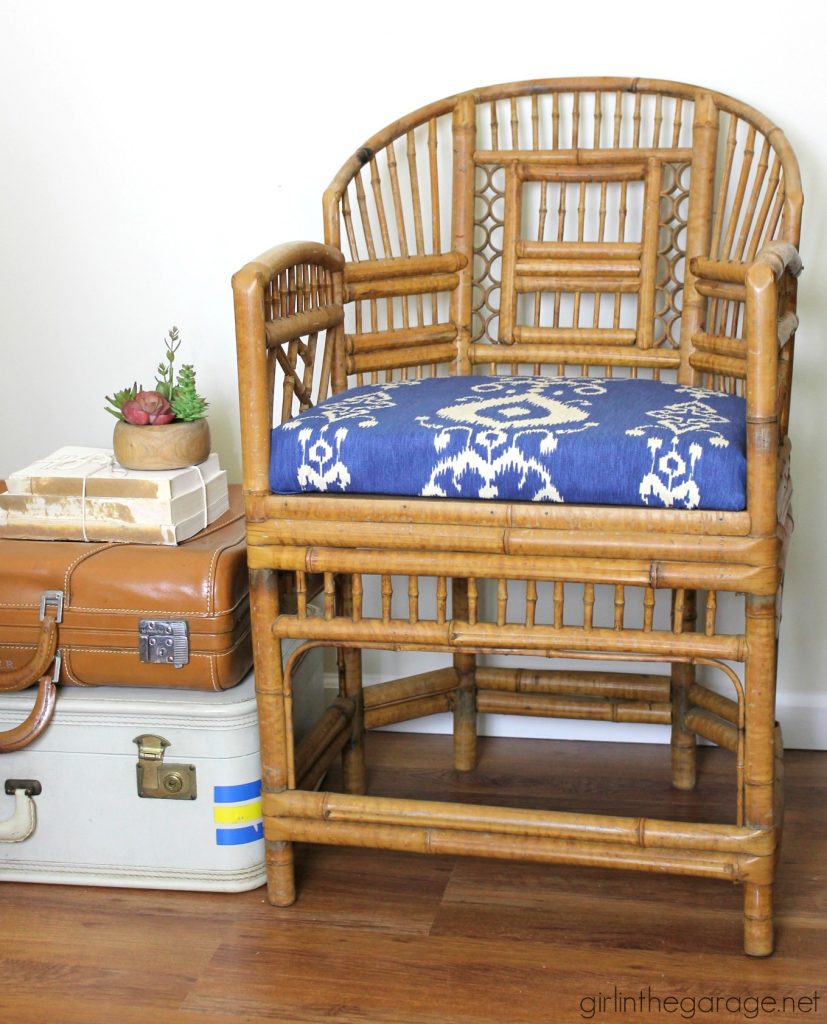 I've been holding onto this Ikat fabric for a few years waiting for the right project and this was it!  The bamboo chair has been in my stash for a couple years too…  they were so close all this time, and now they're finally a match made in heaven.  😉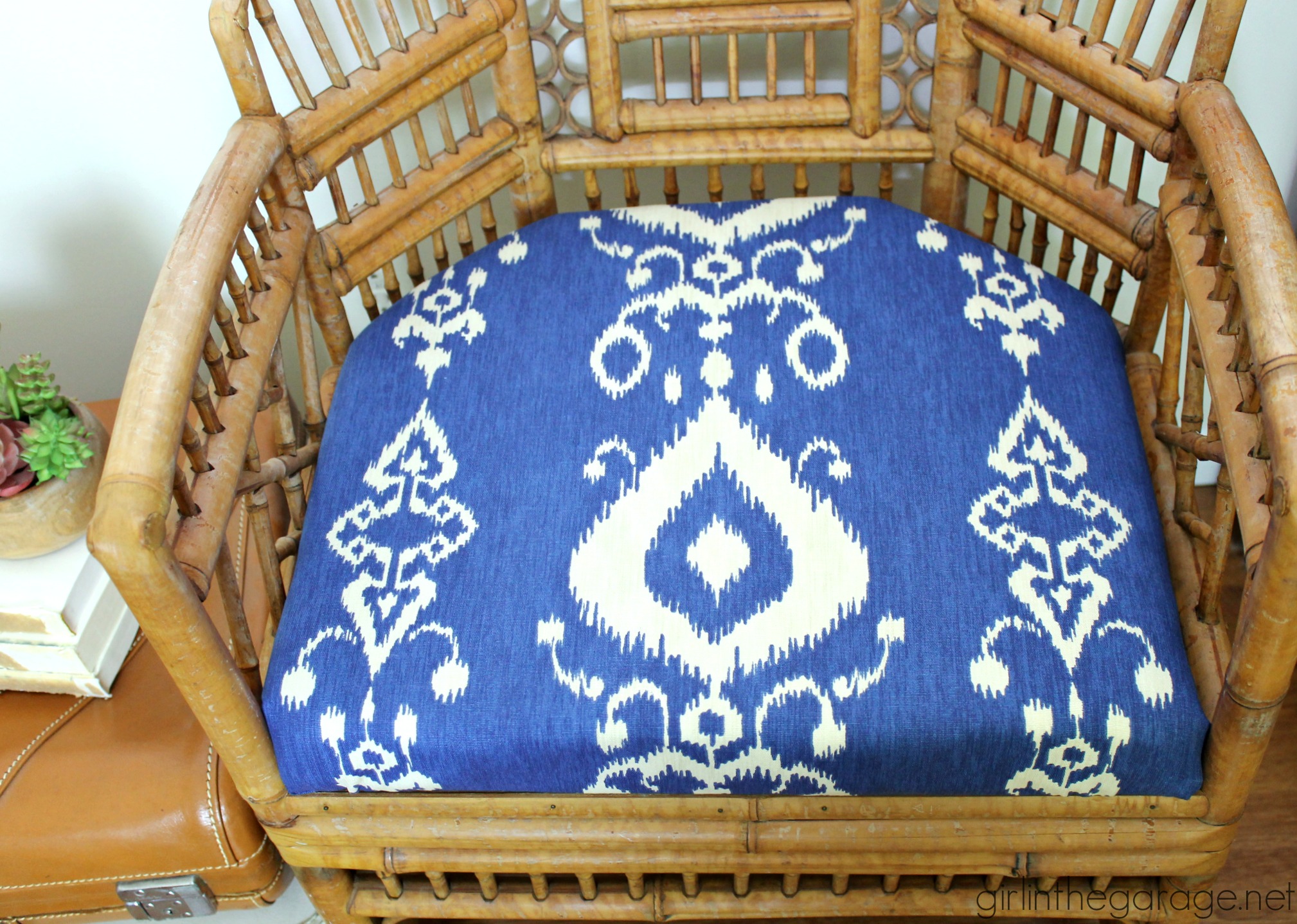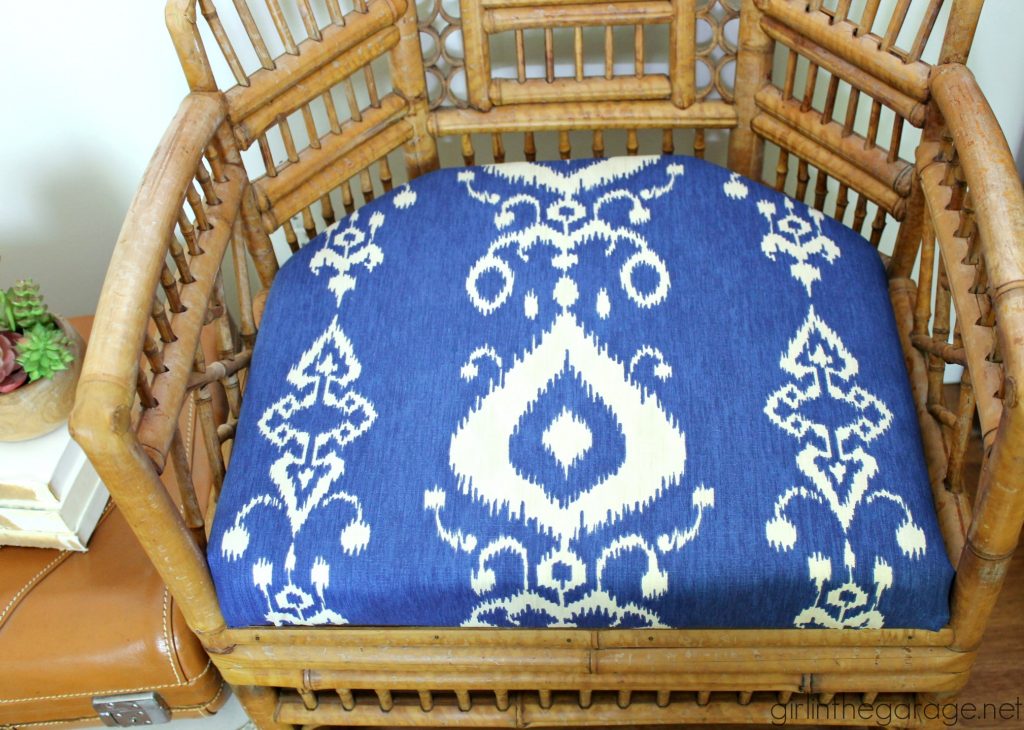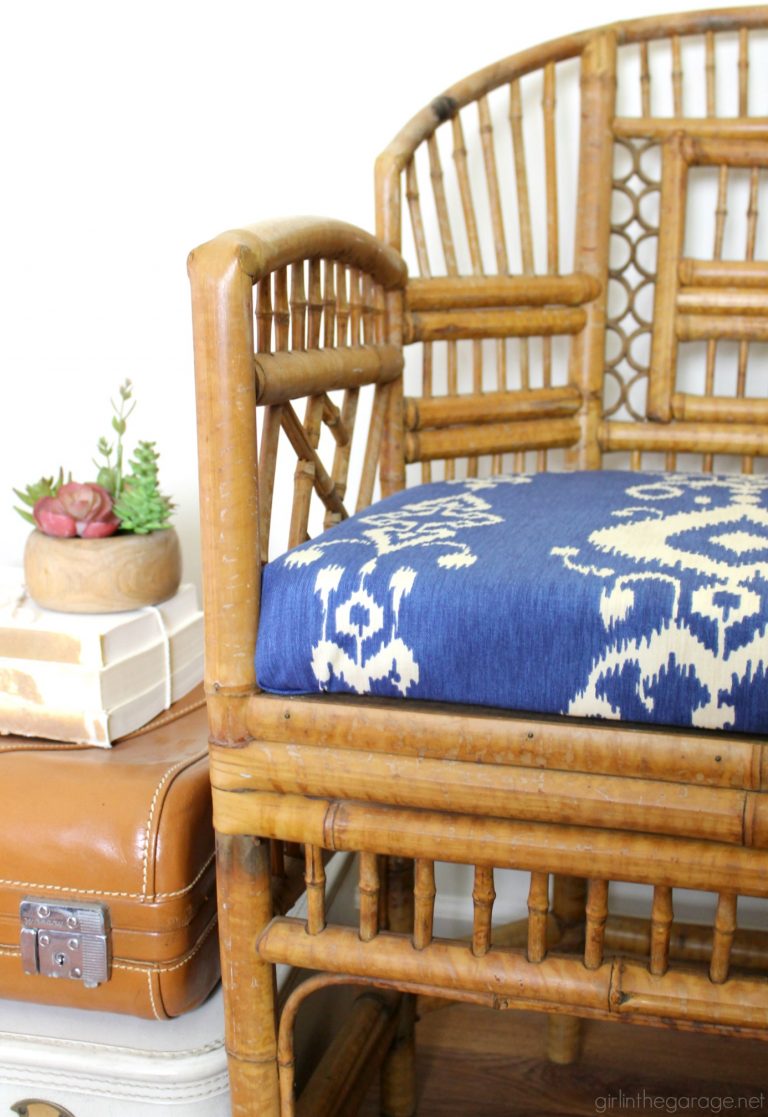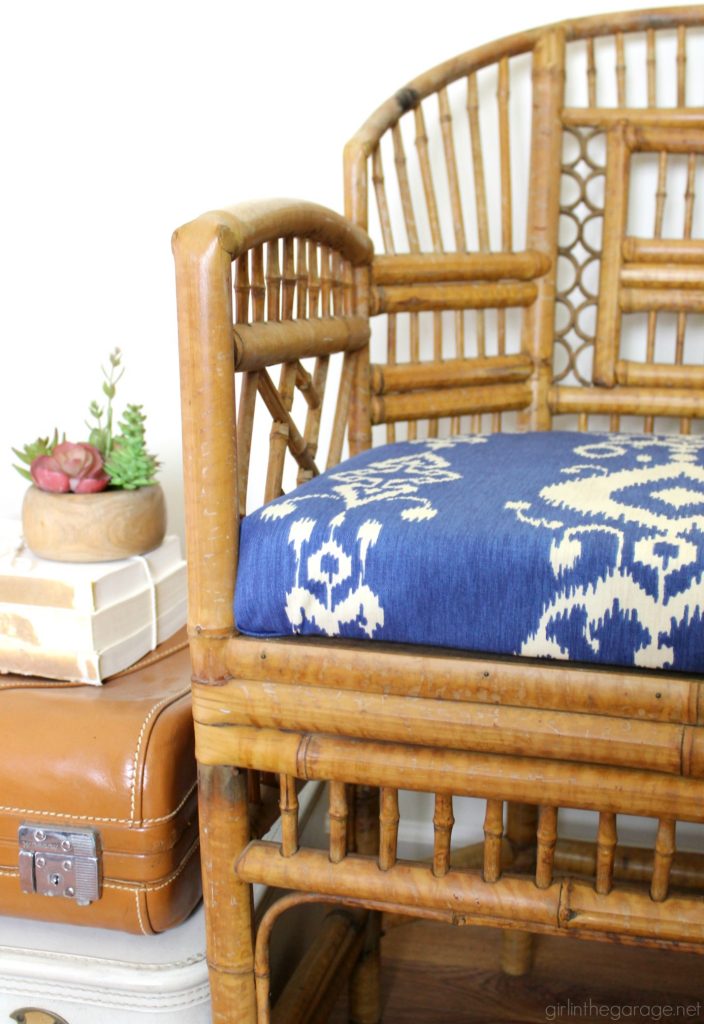 This makeover is a little outside my usual style, but I love this look!  My bedroom is a little bohemian and I want to incorporate more of the style into my decor.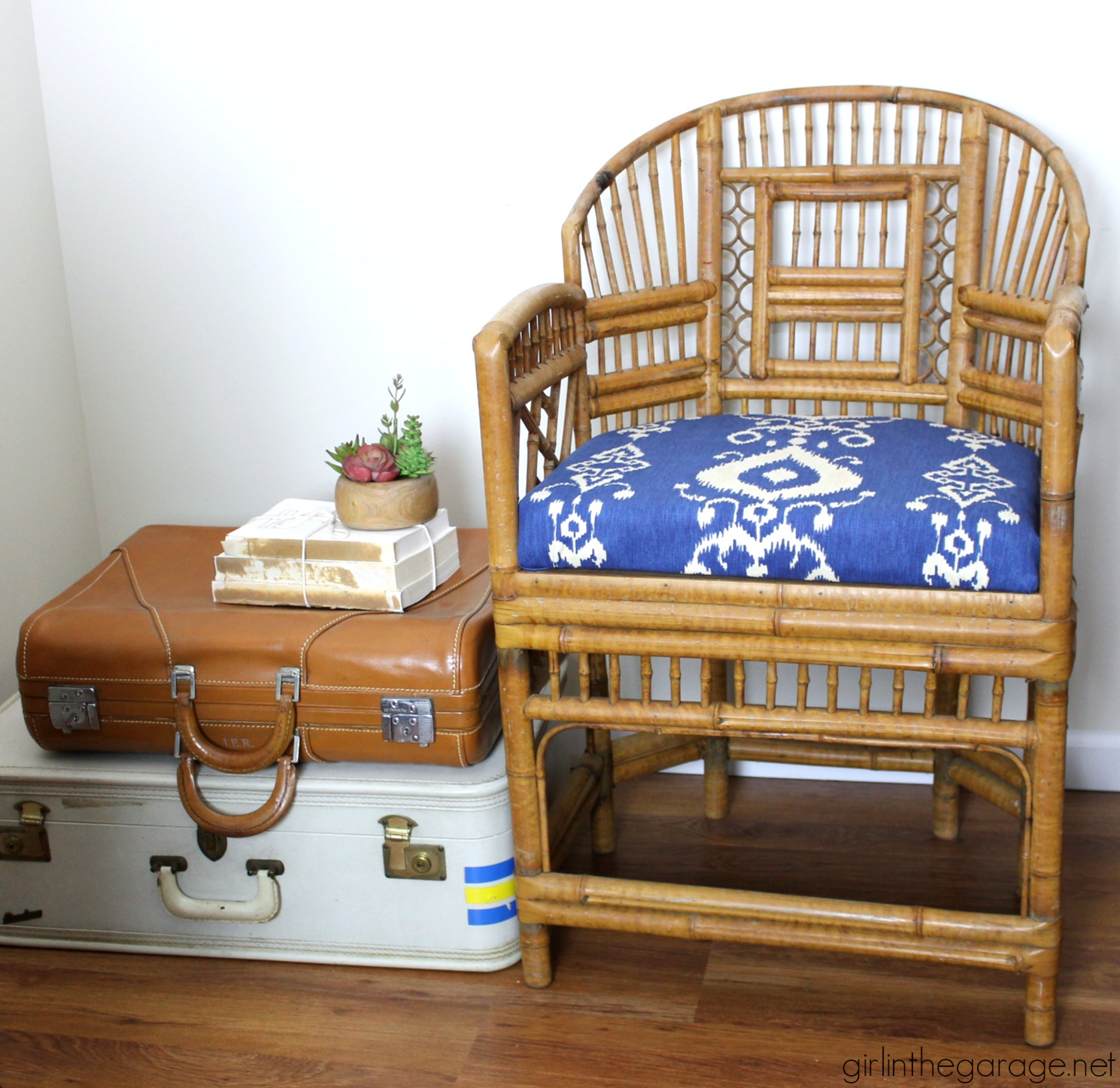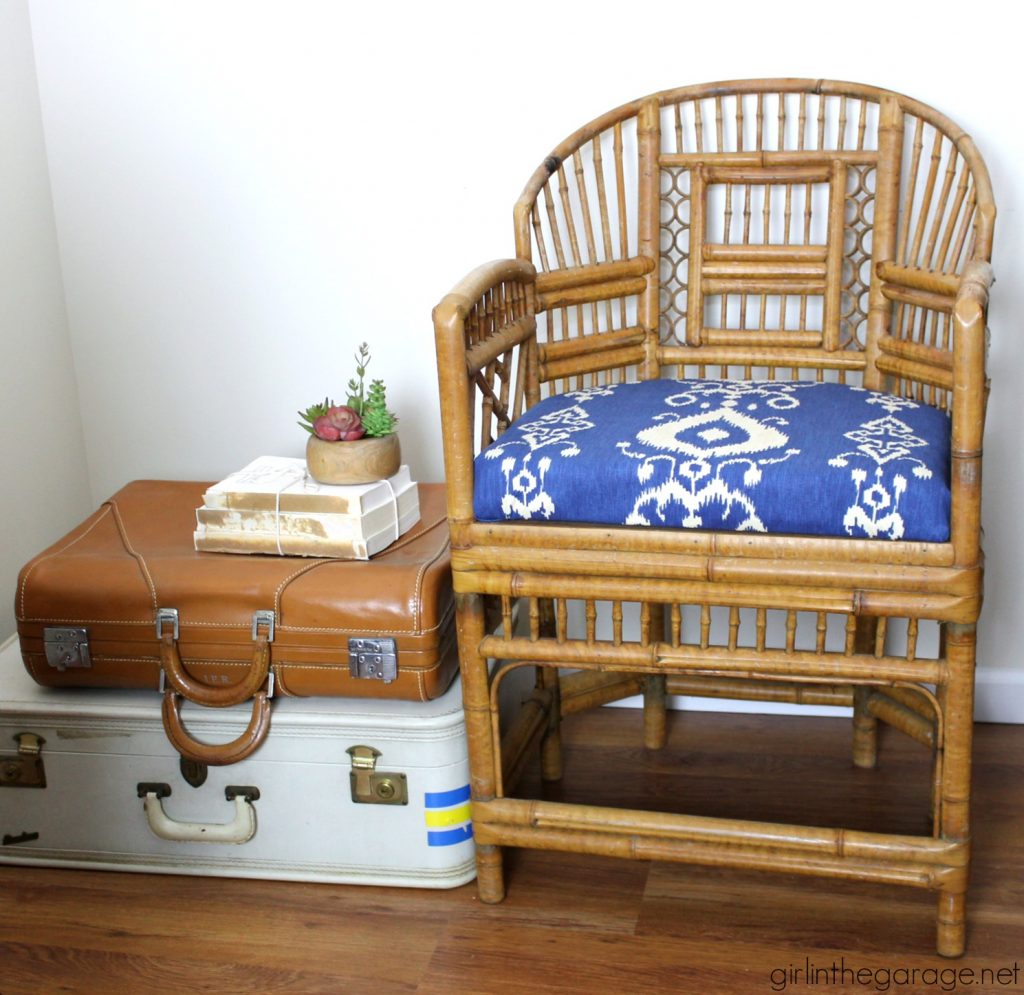 Even though I love this makeover, we're getting ready for another big market soon and this chair will be available there.  Find this and more upcycled furniture and decor at the Hunt & Gather Market in Crown Point, Indiana, on July 14-15.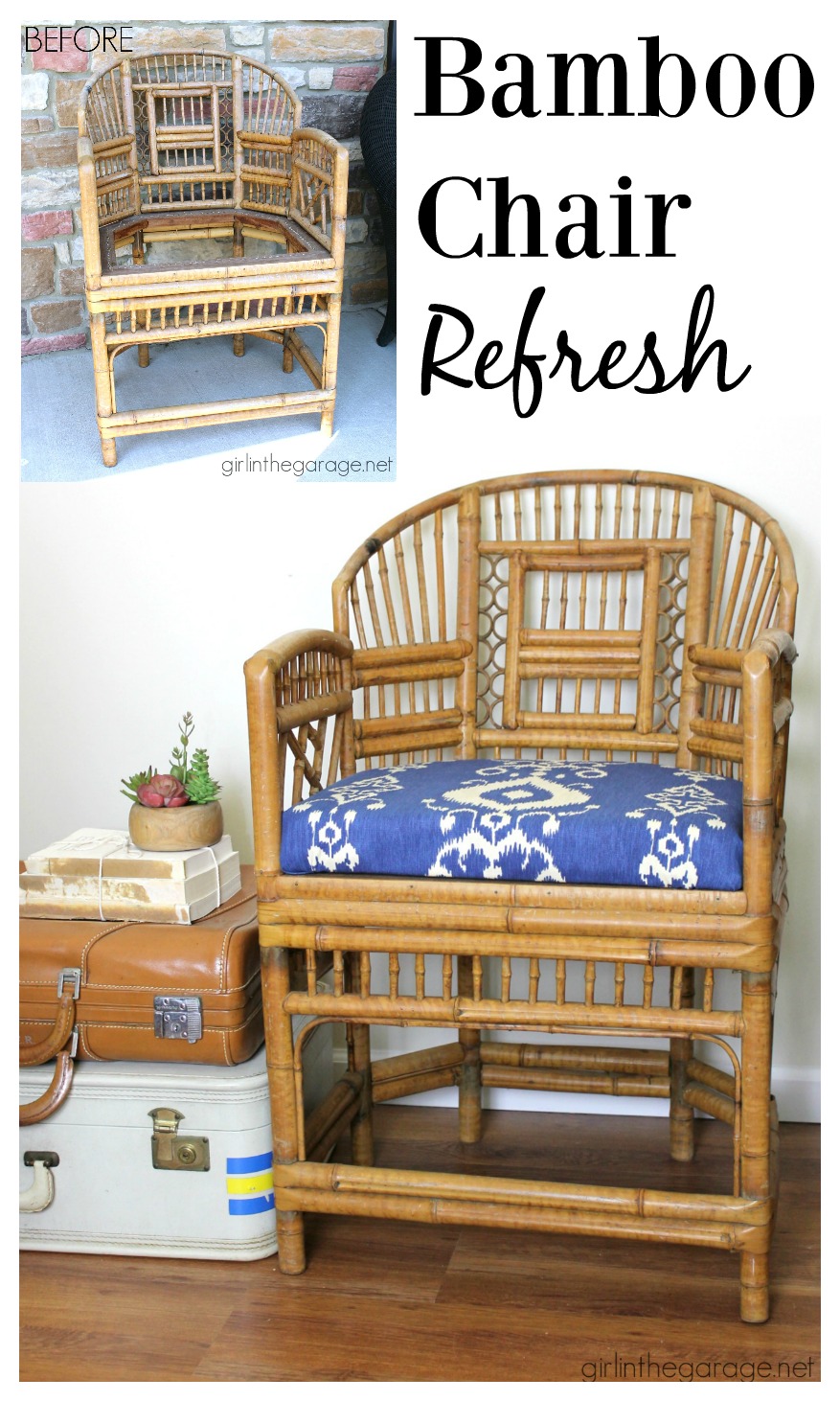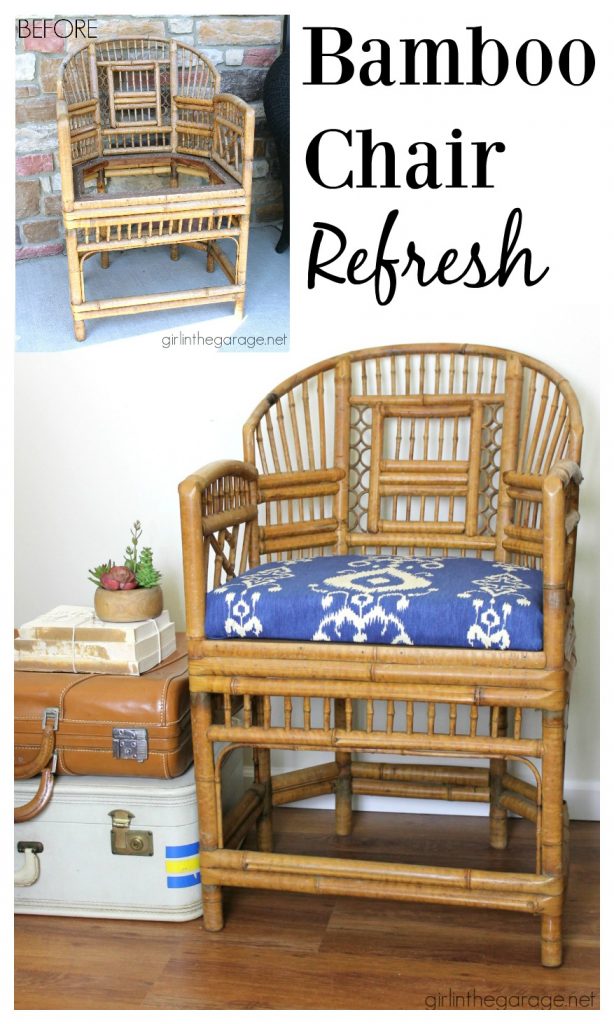 It's Trash to Treasure Tuesday with my friends – visit their creative projects below to be inspired!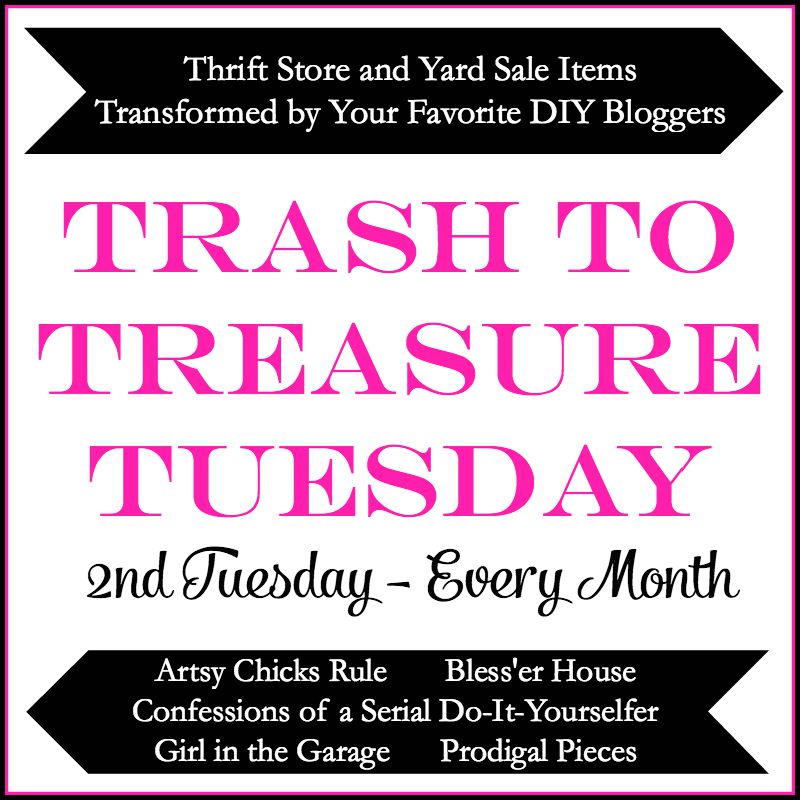 Below are the Before photos – click the blog links underneath to see the After photos and learn how they did it.
1. Prodigal Pieces
2. Confessions of a Serial DIYer
3. Artsy Chicks Rule
4. Bless'er House
.
Talk soon, friend!
Jen