This antique music cabinet came to me in okay condition; the top was cracked from someone probably carrying it the wrong way, the back was splitting and needed replaced, and the caned door was too dated for my taste.
But it had one of my favorite P words: Puppies Pizza Potential.
The front legs are curved and the mirror has some natural patina that I think is charming.  Inside there are four removable shelves that were probably once used to store sheet music.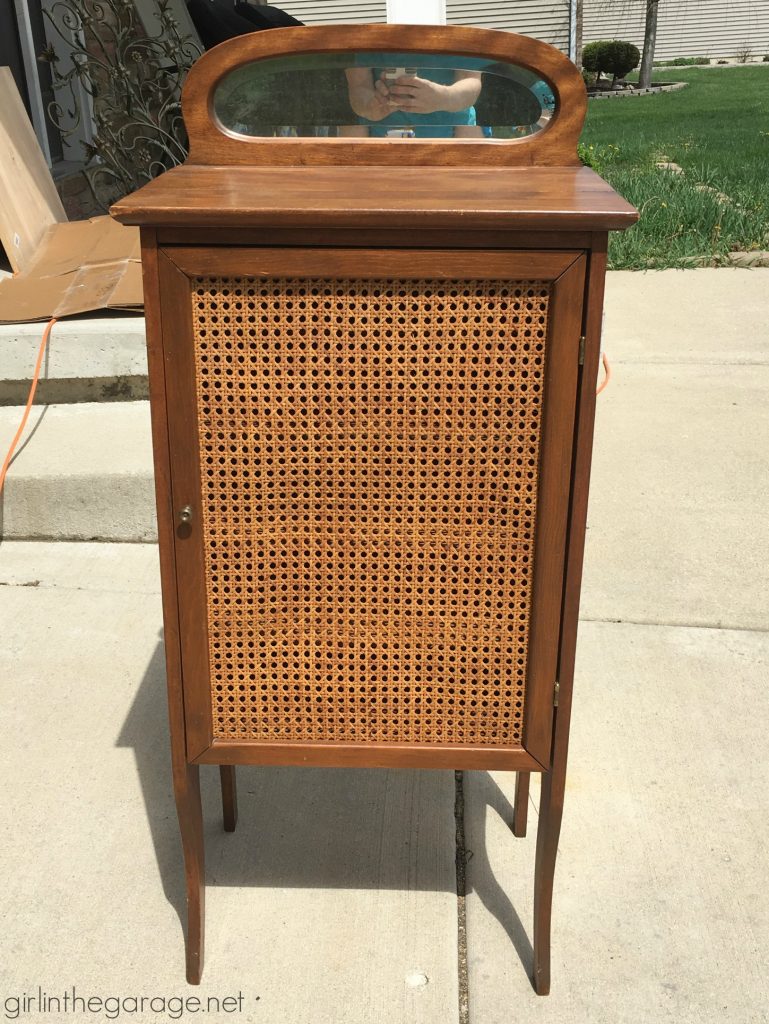 *This post contains some affiliate links for your convenience so that you can easily find the products that I use and recommend.
First, Mr. GITG cut two panels to fit inside the door frame (one for each side) and I glued them over the cane with E6000 and a bunch of clamps overnight.
Personally I prefer solid doors to hide whatever mess someone might want to keep behind them.  🙂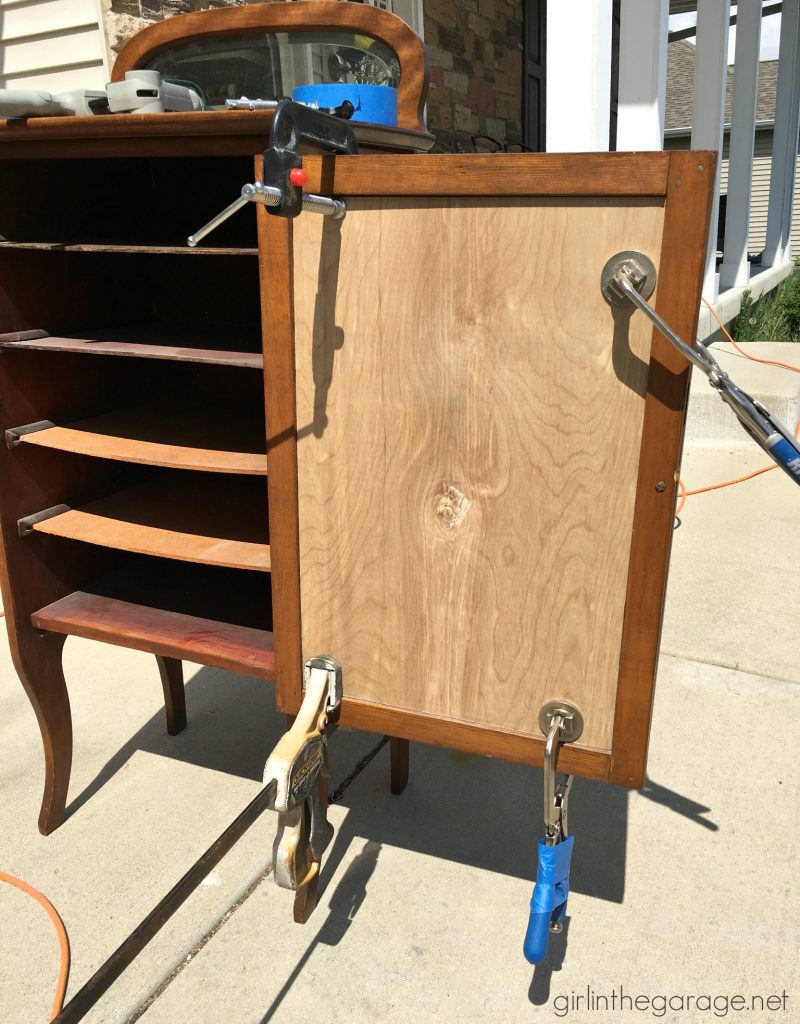 He also cut and stained a new back panel.
I secured the loose top with a couple of small L-brackets from underneath and then used wood filler to fill the crack.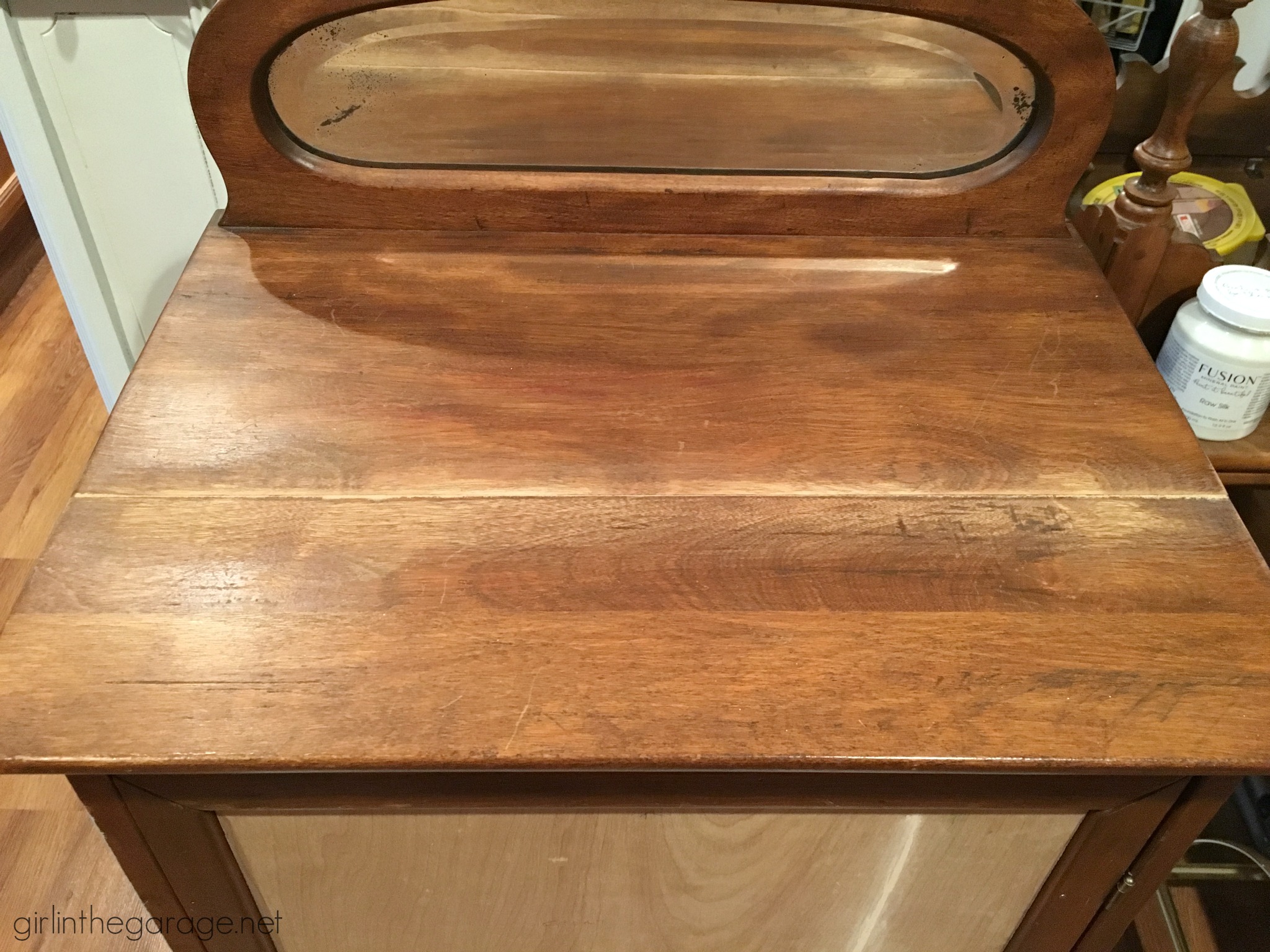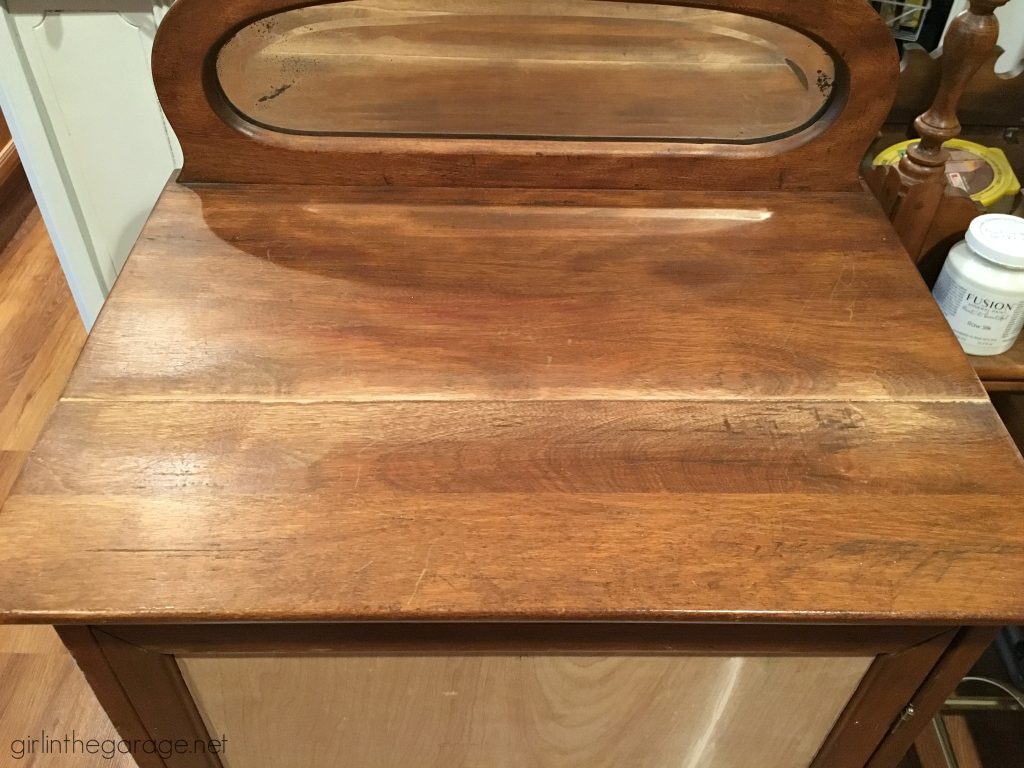 It was painted in Fusion Mineral Paint's Pebble (the same color I used on THIS big French Provincial dresser) and I left the inside unpainted.
I opted for another image transfer graphic – the super easy kind that I talked about in the French vanity makeover HERE.  This time I chose a smaller vintage graphic (you can see it and all the other available graphics for sale HERE) and it was so easy to apply to the cabinet door!  You basically just rub it on with a flat stick that's included with the transfer.  (I may have also just bought some of the "pot size" transfers for a few small upcoming projects.)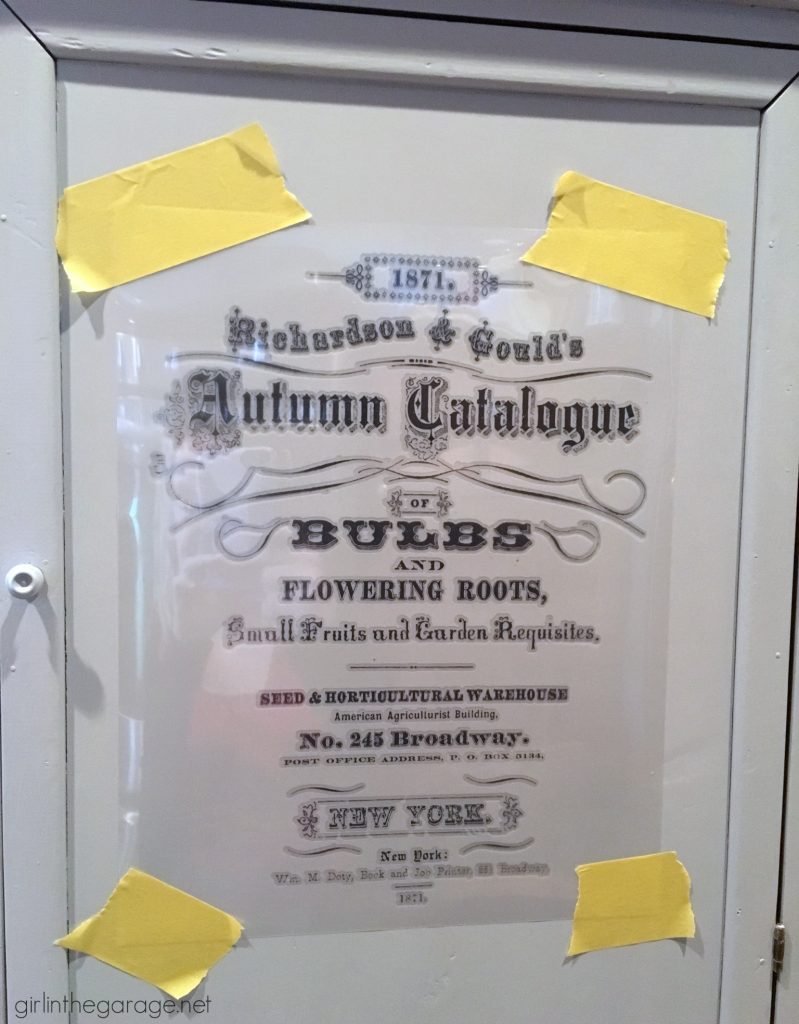 Fusion Mineral Paint is self-curing so you don't need to apply a topcoat unless it's a piece that will get lots of use (like a dining table), or if you just want to be extra cautious.  However it is suggested to use some kind of topcoat over the graphic for extra protection.  Since this image went on so smoothly (no wrinkles or loose edges), and I knew the door shouldn't be getting a ton of contact from hands or otherwise, I opted not to seal it this time.
Here's the finished music cabinet makeover: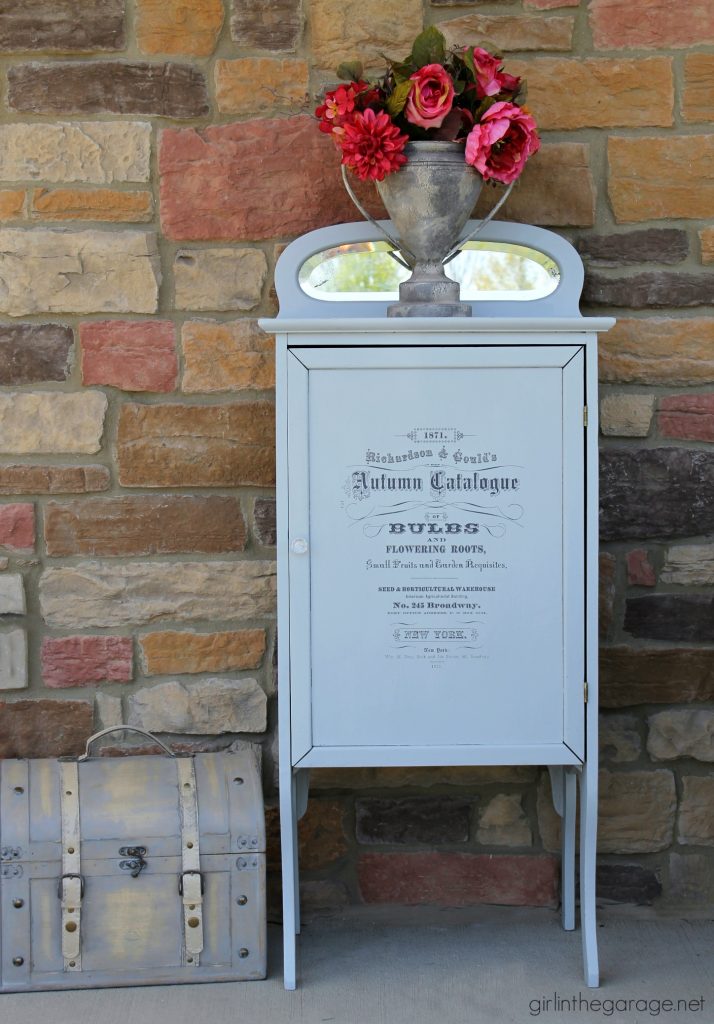 Originally I had painted the small door pull but I ended up finding the perfect small glass pull from Hobby Lobby to use instead.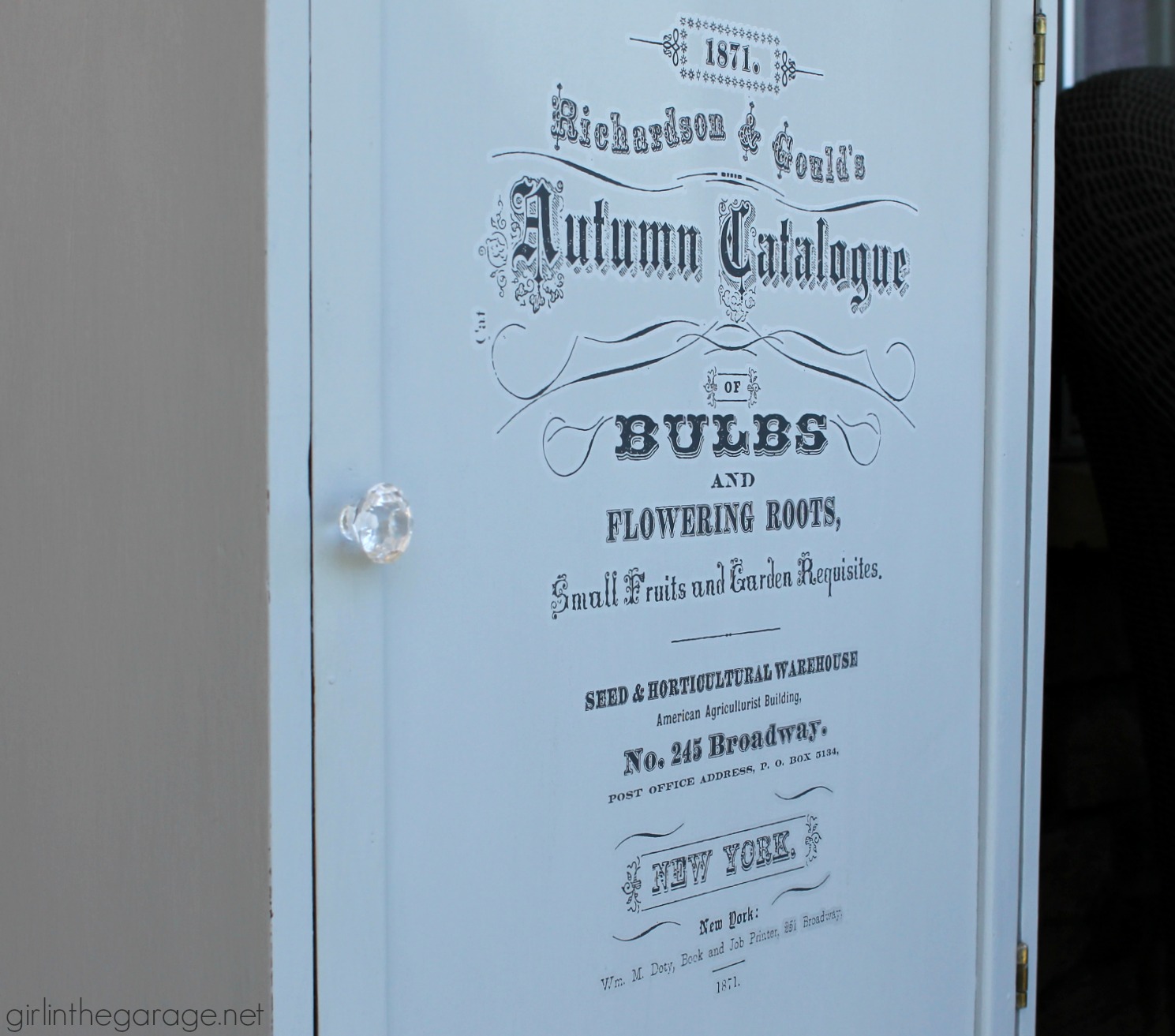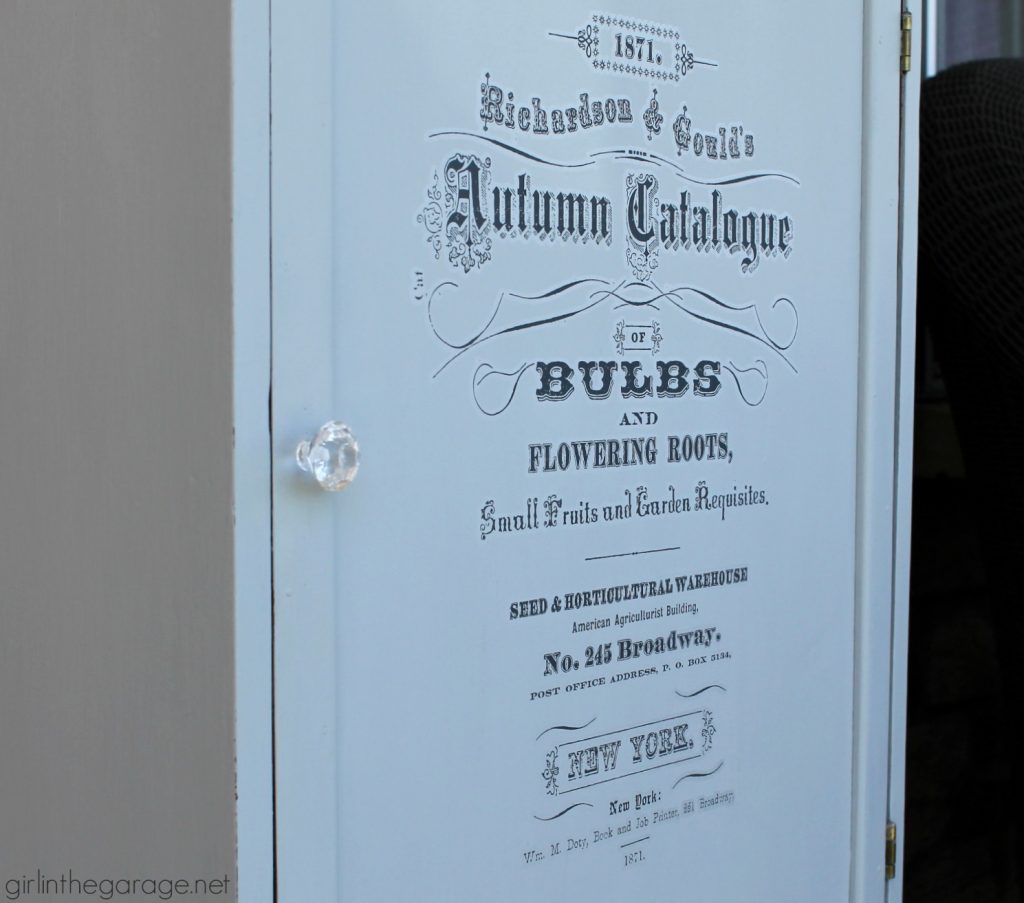 I'm very happy with how it turned out.  The graphic is so pretty – and you really can't do an image transfer any easier than this!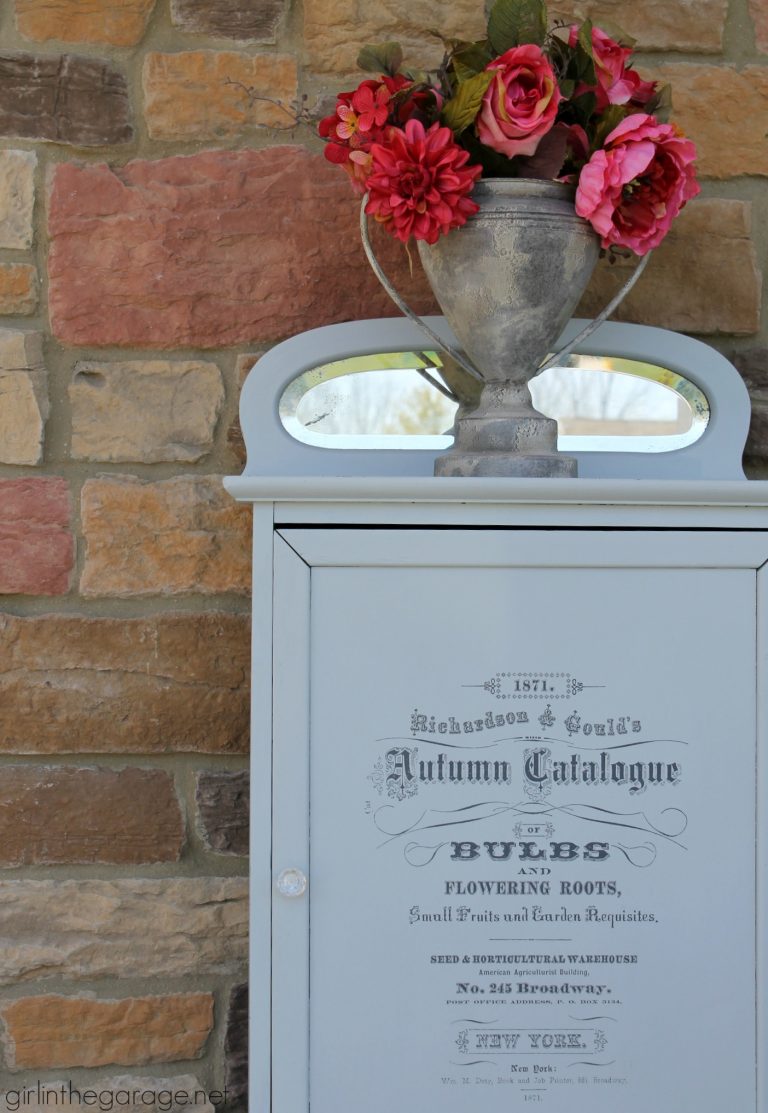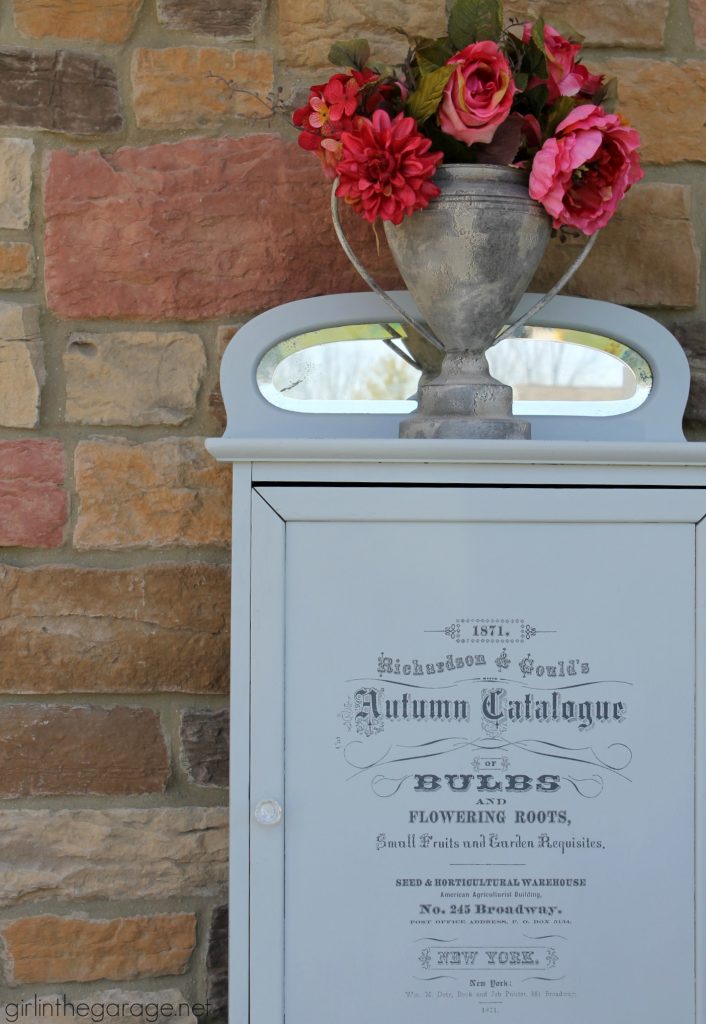 Those legs!  <3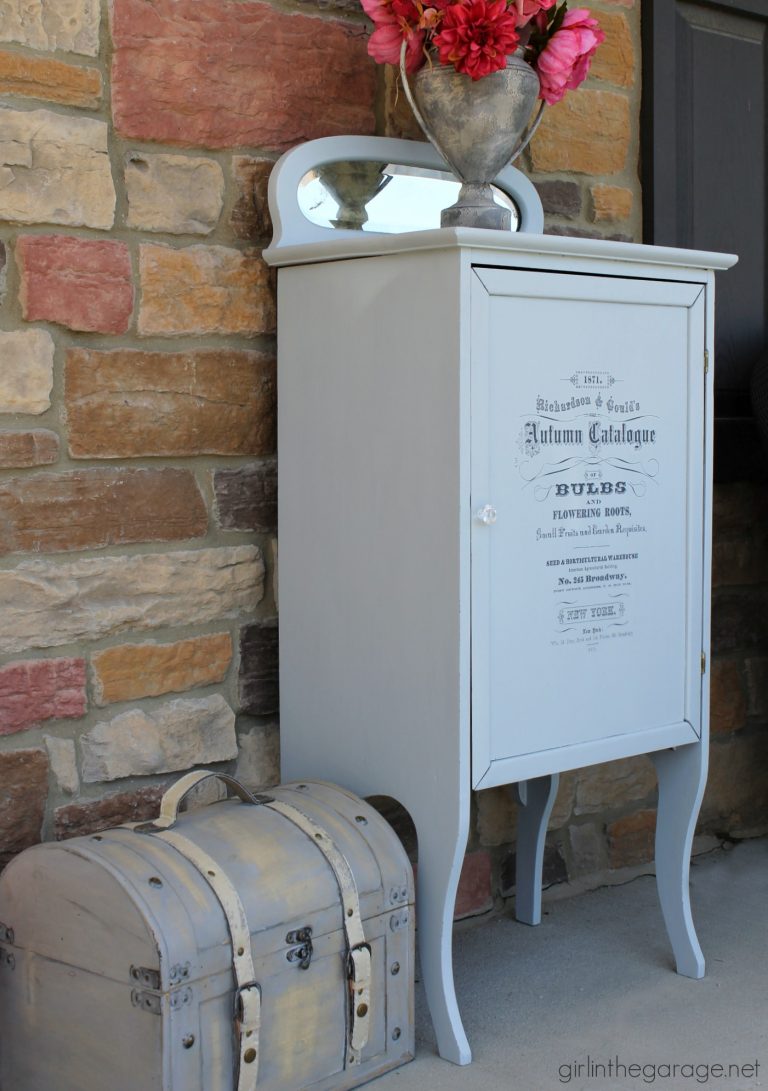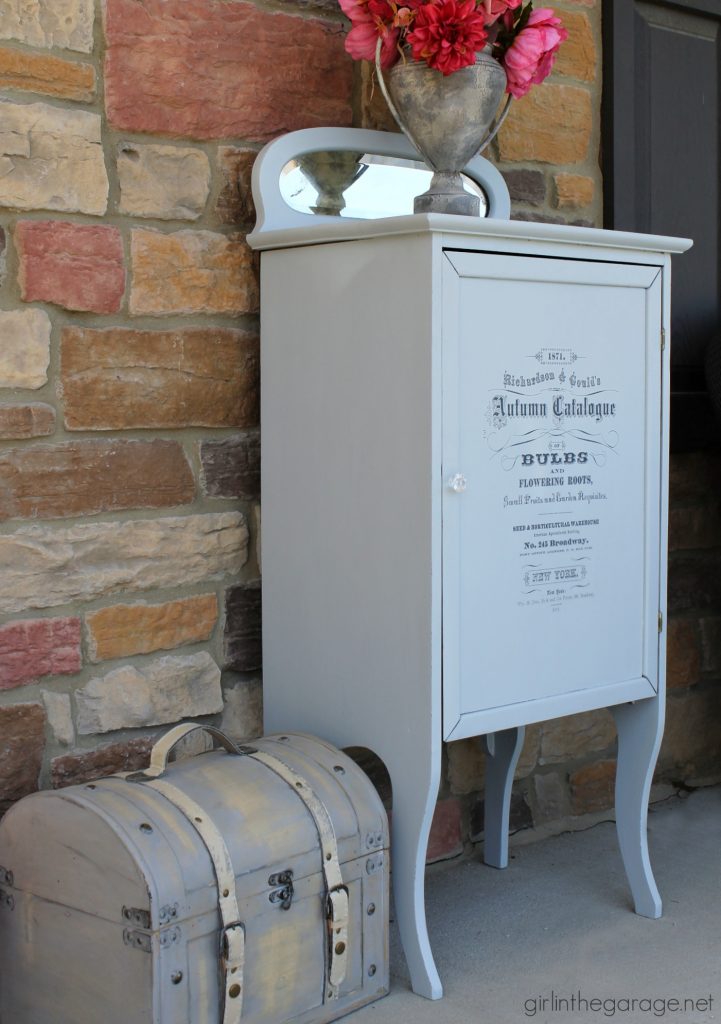 Here's a before/after again: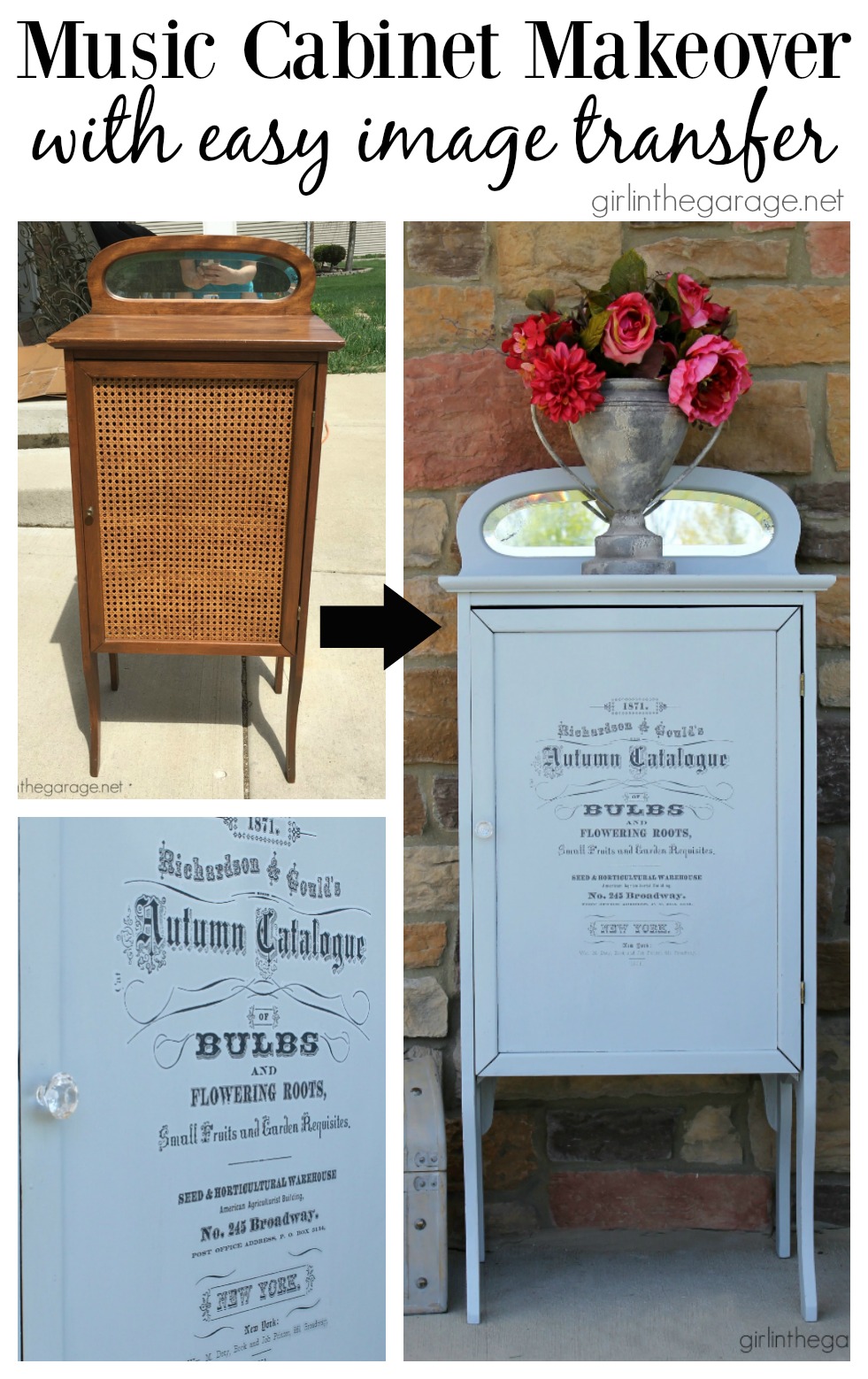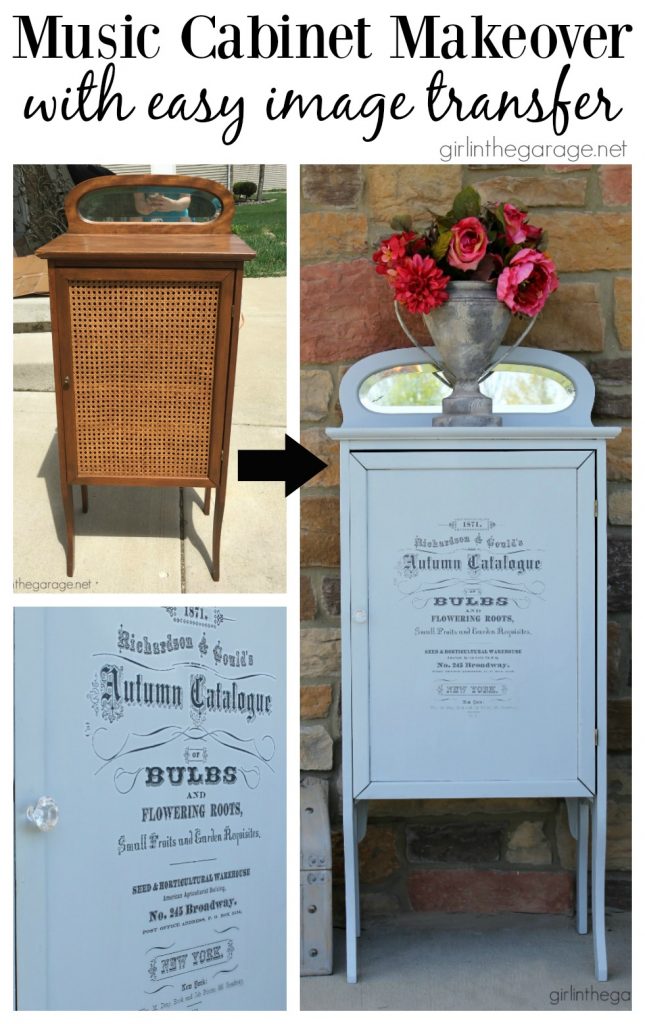 We dropped this off at my booth at Antiques on Main last week.
So are you a fan of the image transfer look?   Have you tried one of these for yourself yet?  I'd love to know your thoughts in a comment below.   Also, please pin or share this post so that others may be inspired too!
Jen
Here's the vanity makeover I did with a different graphic (same transfer method):