Furniture is already overflowing from my garage and storage unit, but I couldn't resist buying just one more piece when I saw this yellow French Provincial dresser aka "Beast" on Facebook a few weeks ago… but I finished it quickly, so that's good, right? 😉
It's almost as tall as me.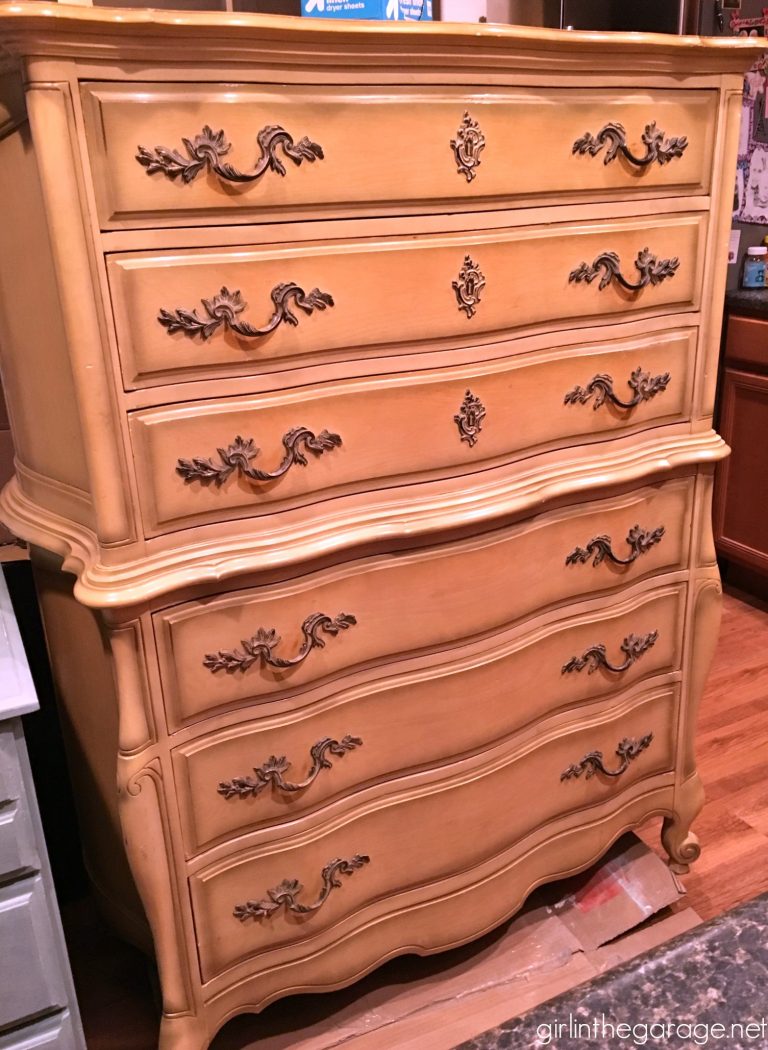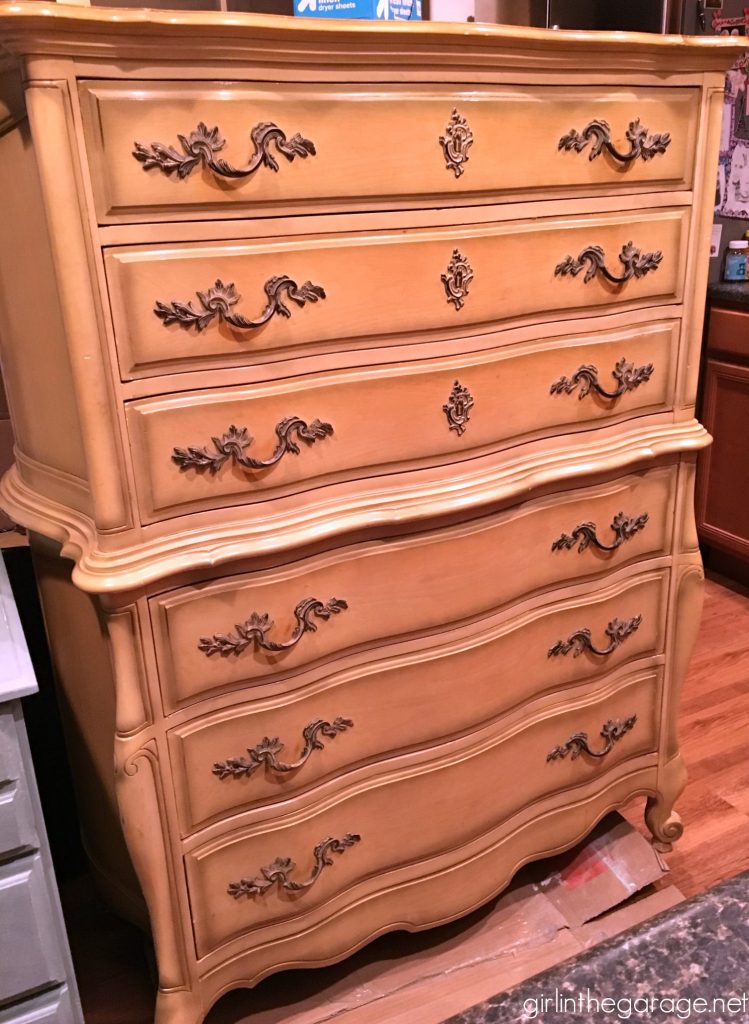 There was a big chunk missing out of the back of the very top (so random!) but I filled it with a couple layers of wood filler and sanded it, and now you'd never know.
The dresser also had a smoky odor especially inside the drawers, and since there are six big drawers that are otherwise in absolutely perfect condition, I had no intention of painting the insides of all of them.
Like the thrifted drawers I recently repurposed into shelves, I chose Fusion Mineral Paint again. I wanted a light gray that was almost like silver but without the metallic – and Pebble was exactly what I hoped for. I also used Picket Fence for accents.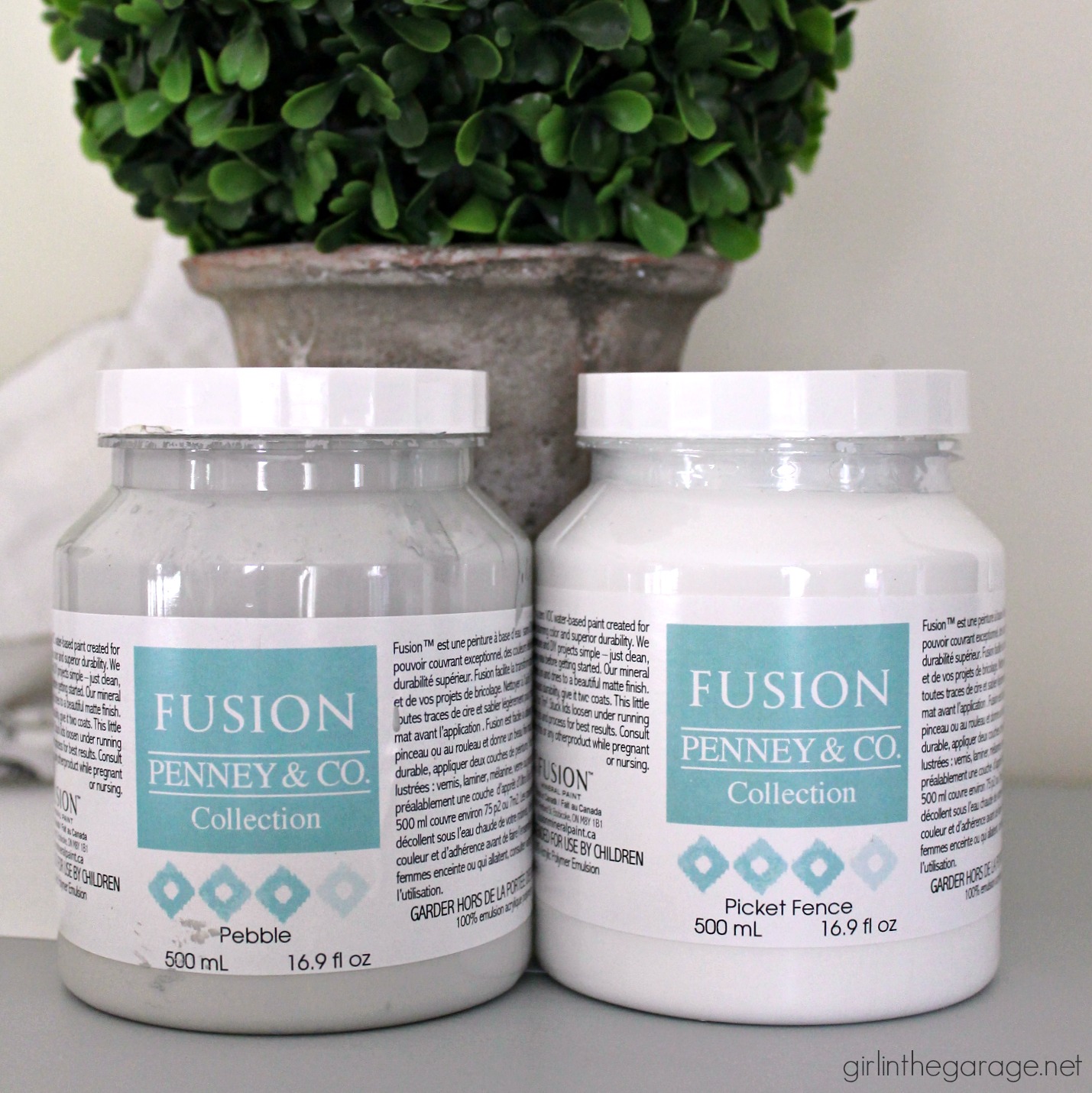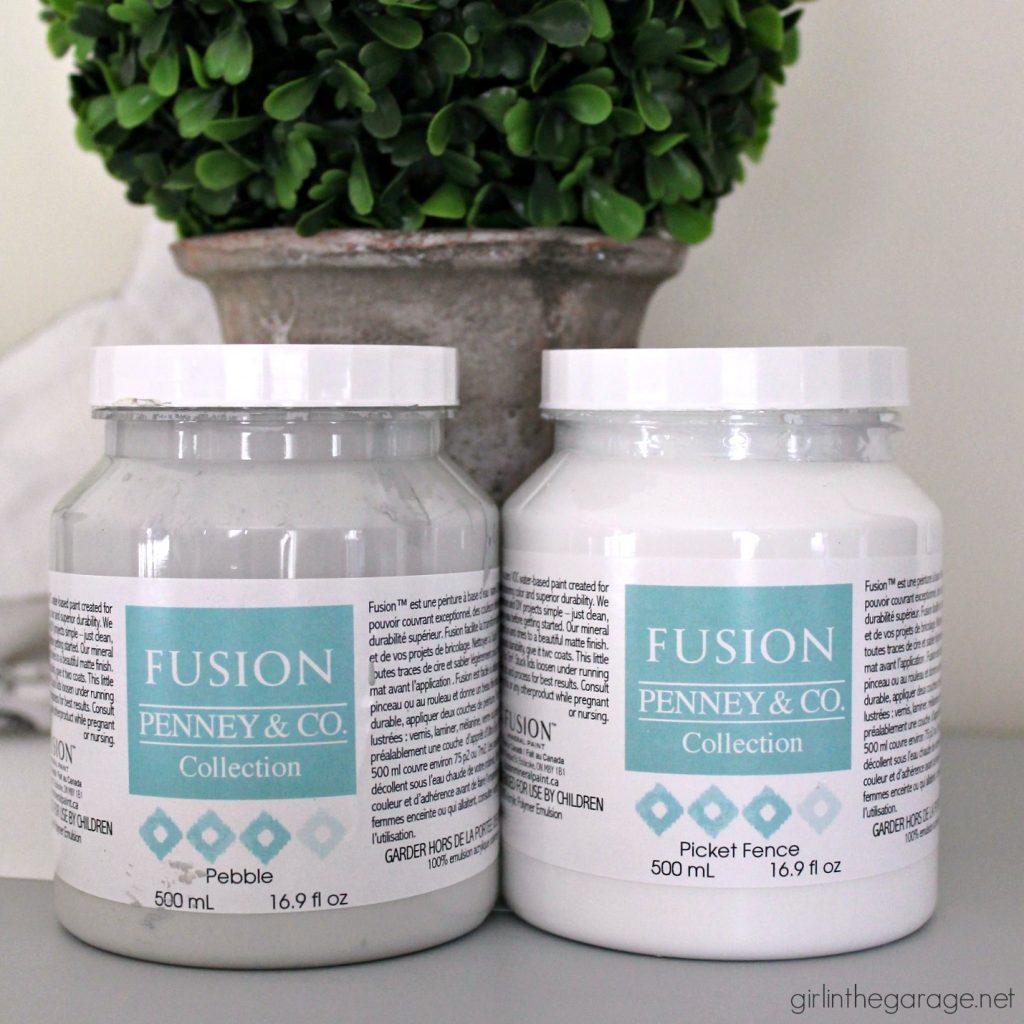 How to Get Rid of Smells in Furniture
To get rid of the odor, I tried multiple things. Normally painting would solve the problem but I really wanted to avoid painting them. First I cleaned the drawers really well and even wiped them down with 409 (ha, my own crazy idea). I sprayed Lysol in them several times over a few days.
I tried baking soda on paper plates, and I tried white vinegar in little bowls. (I've heard that TSP Tri-Sodium Phosphate works but I haven't tried it yet and I was concerned it might change the look of the wood, since it's already so pretty.)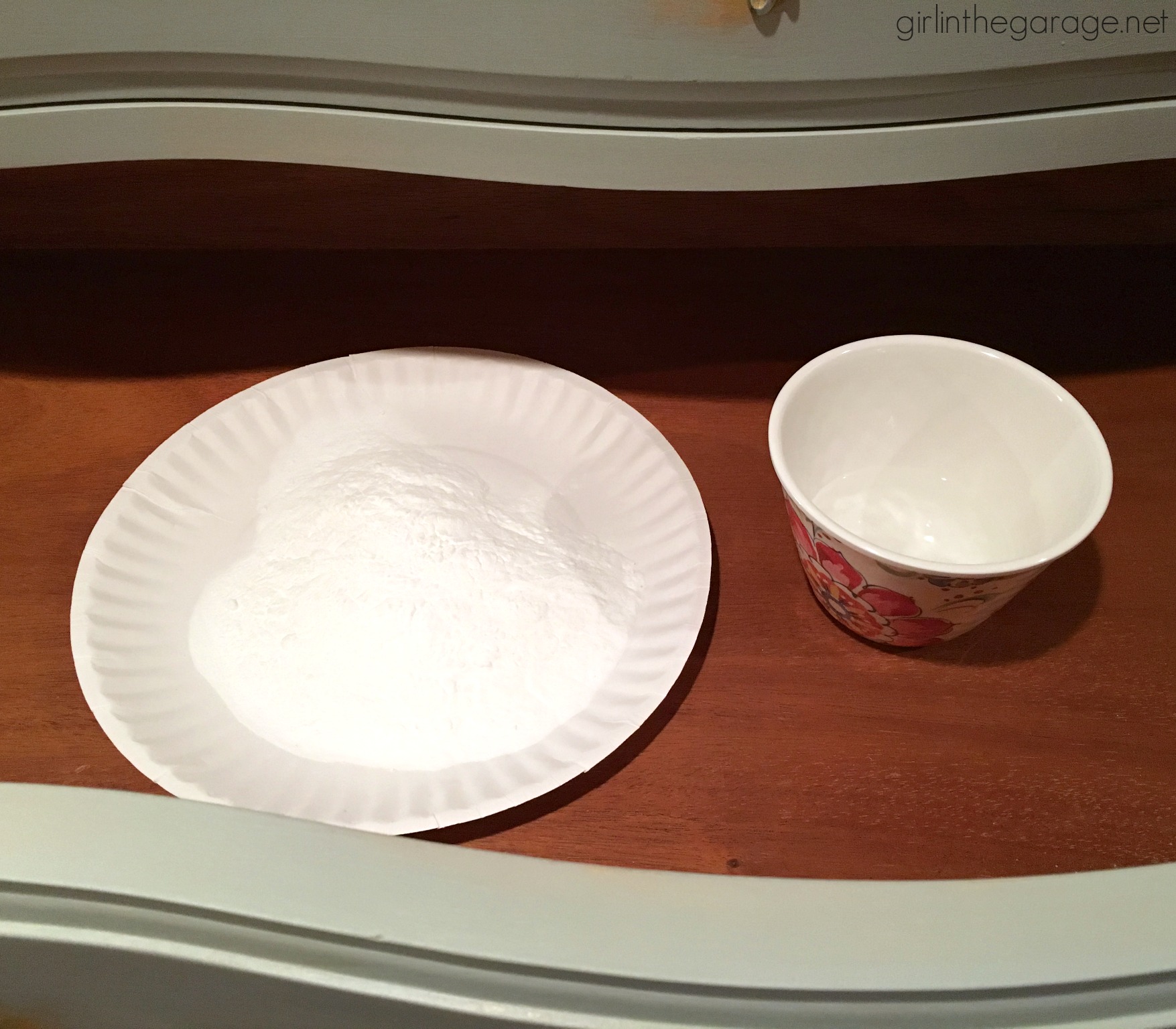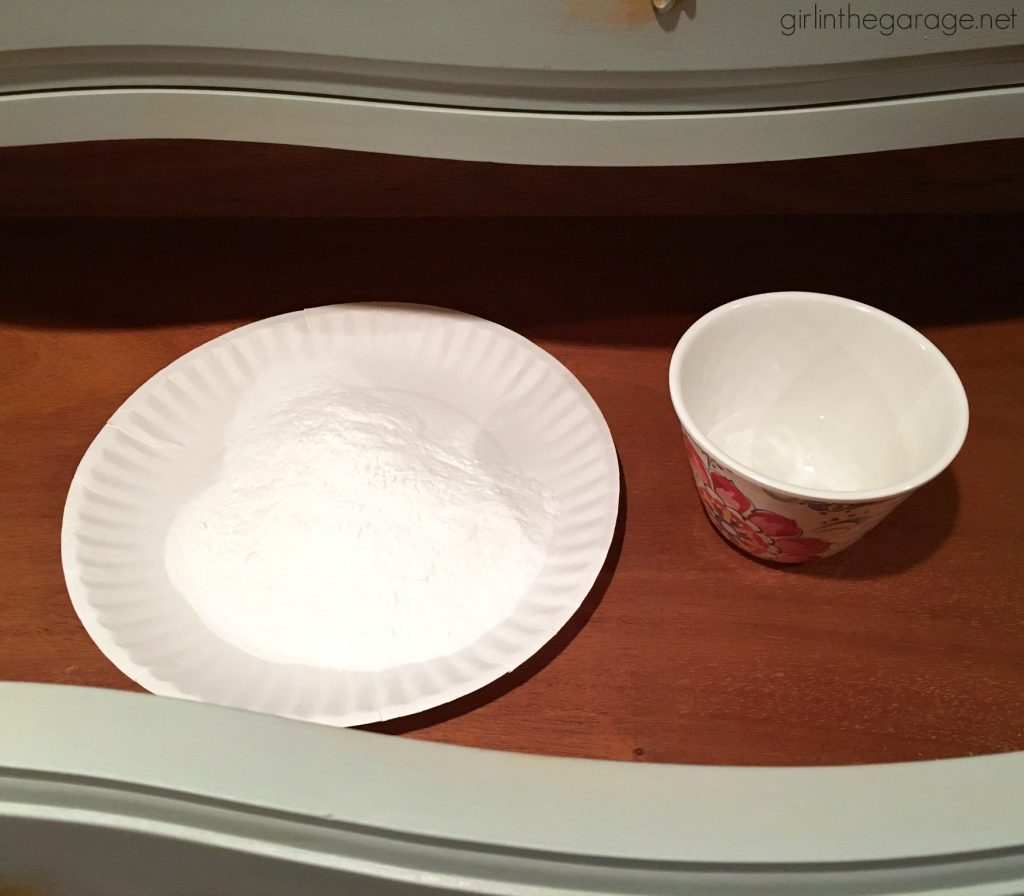 I believe the white vinegar helped the most, even though I only left it in for two days. The vinegar smell was very strong at first but it doesn't linger long after the bowl is removed. There is still a little stinky smell now but it's much better – I'm going to use the vinegar again and leave it in for a few more days. Update: The white vinegar worked awesome!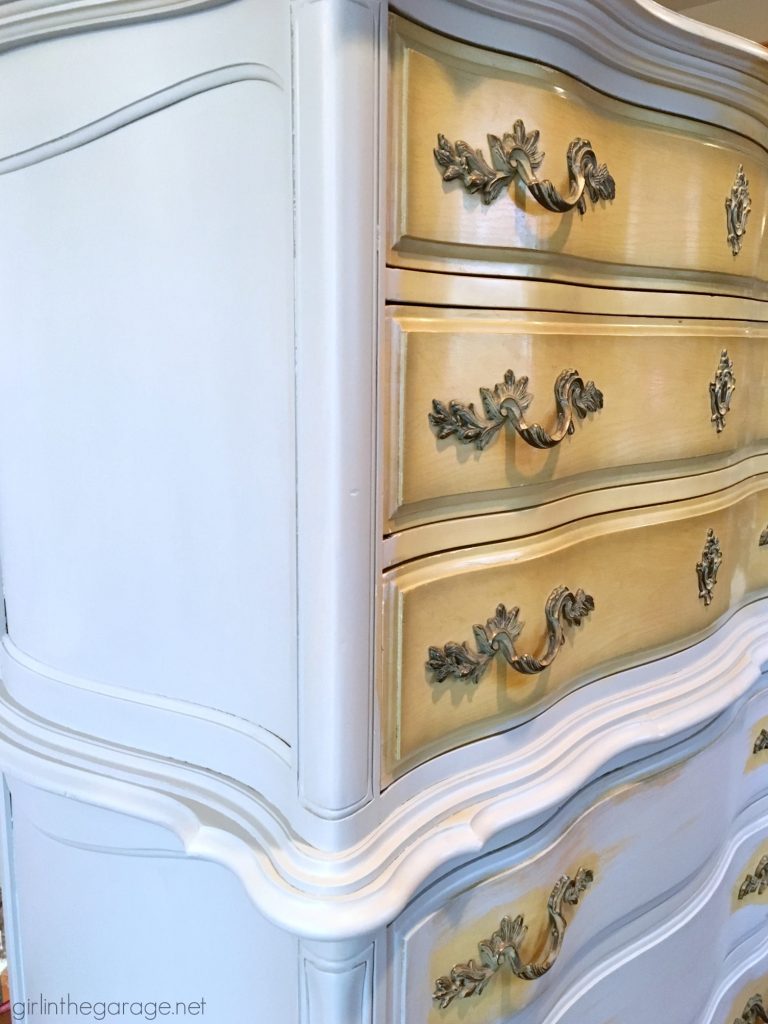 Fusion Mineral Paint just glides right on so easily – like butter! And I was really impressed with the coverage too.
The handles are original and absolutely freaking gorgeous, but they had yellow in the crevices and it didn't look great with the gray. I ended up lightly dry brushing them with the white paint – you can see them in the closer-up pics below.
Here she is – from beast to beauty:
Here's a closer look at the lightly dry brushed handles and keyhole hardware: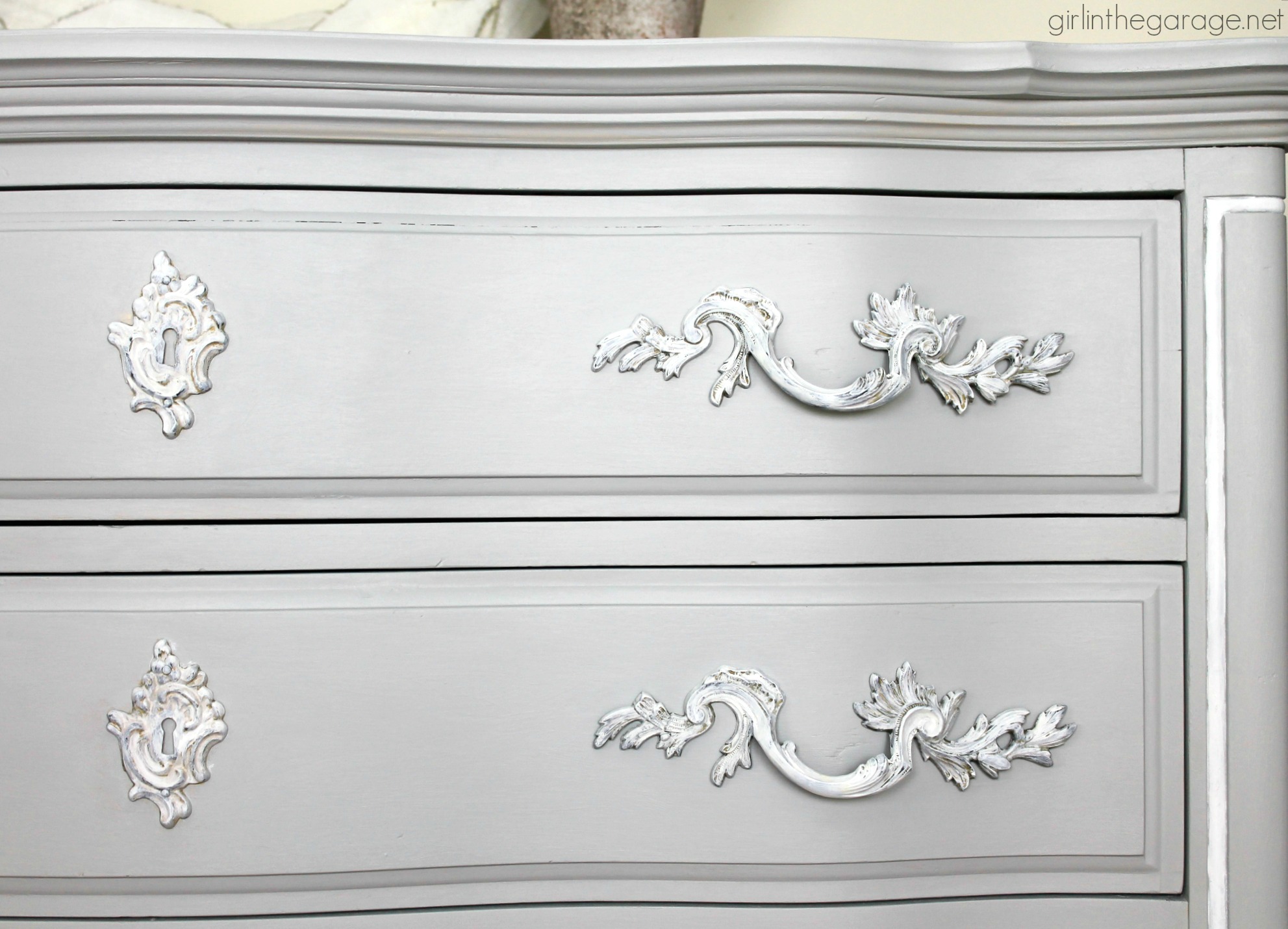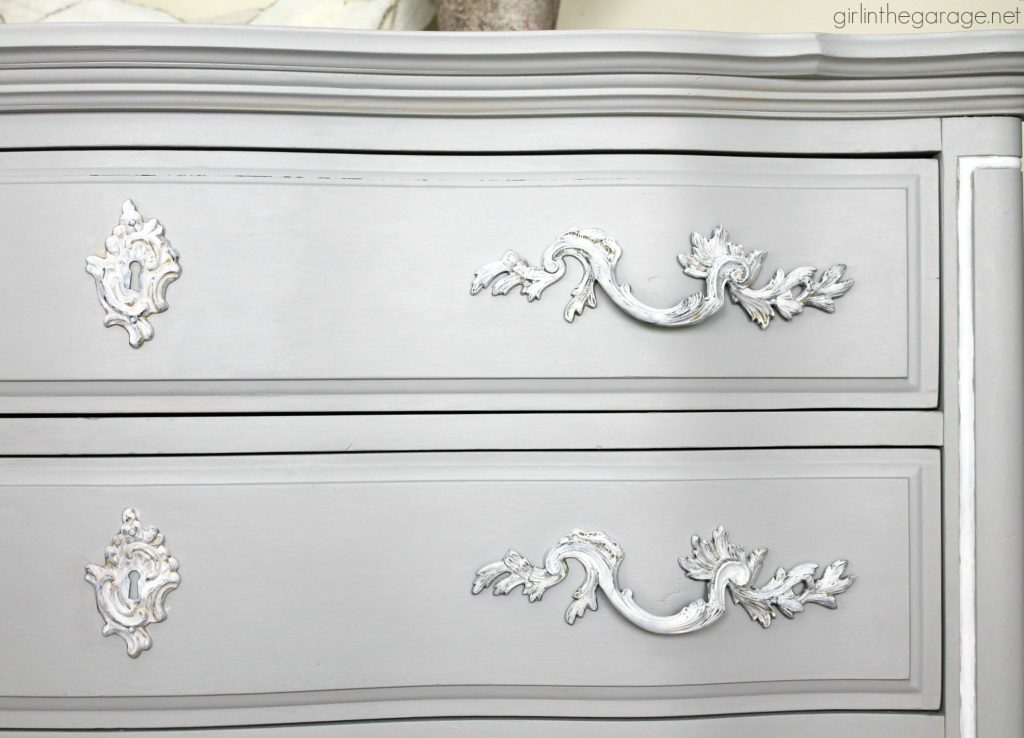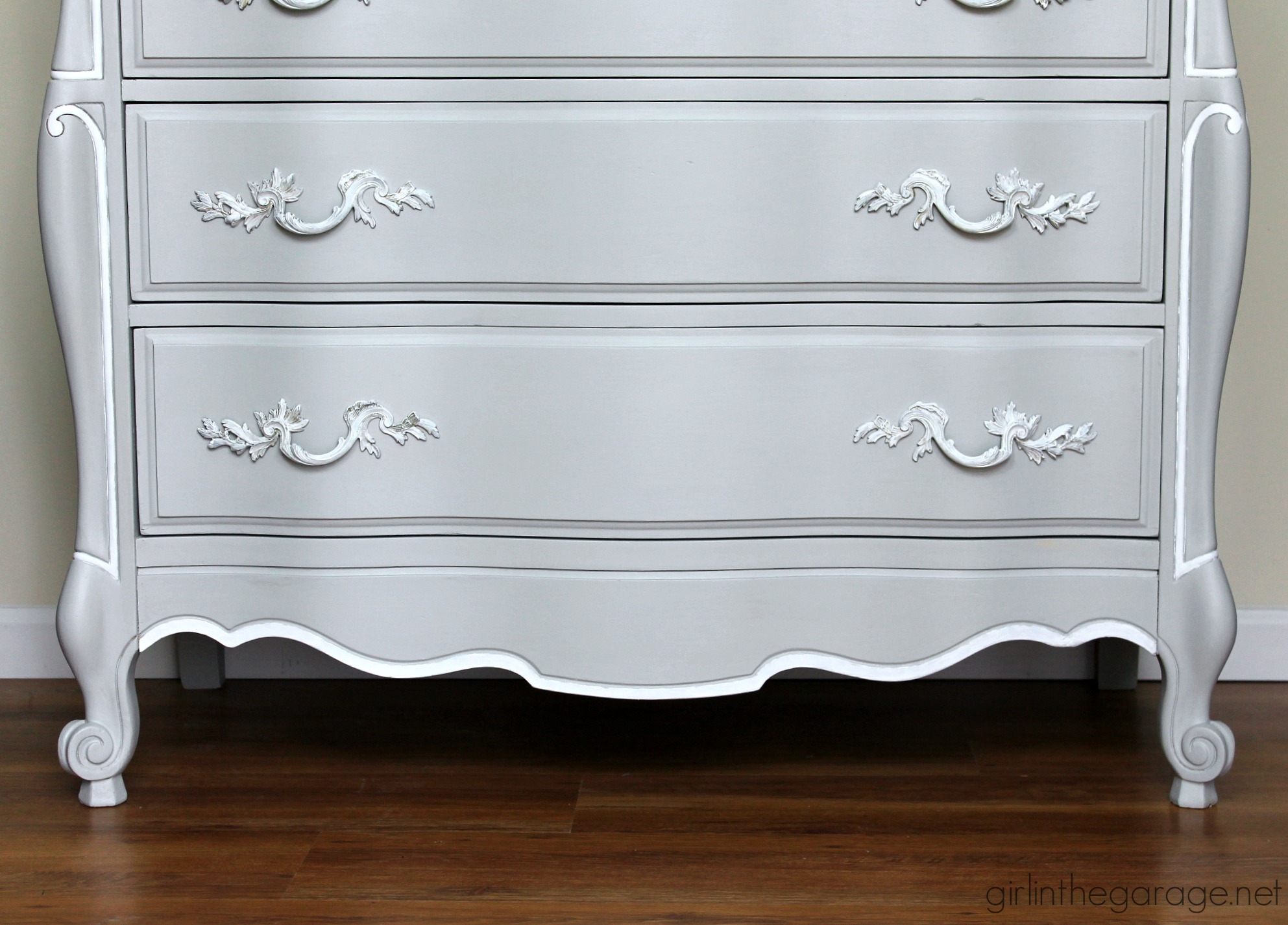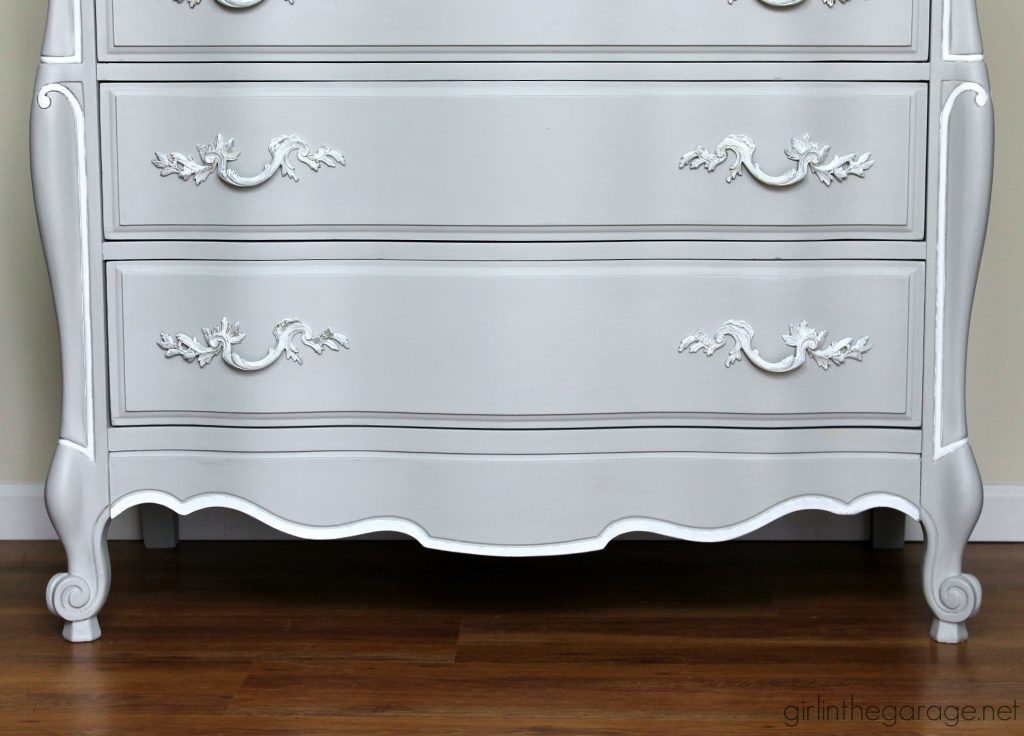 The Pebble gray itself is beautiful but this piece is so special and it needed just a bit more, so I painted some of the fancy parts in Picket Fence with a tiny artist's brush.
It's definitely more glamorous now!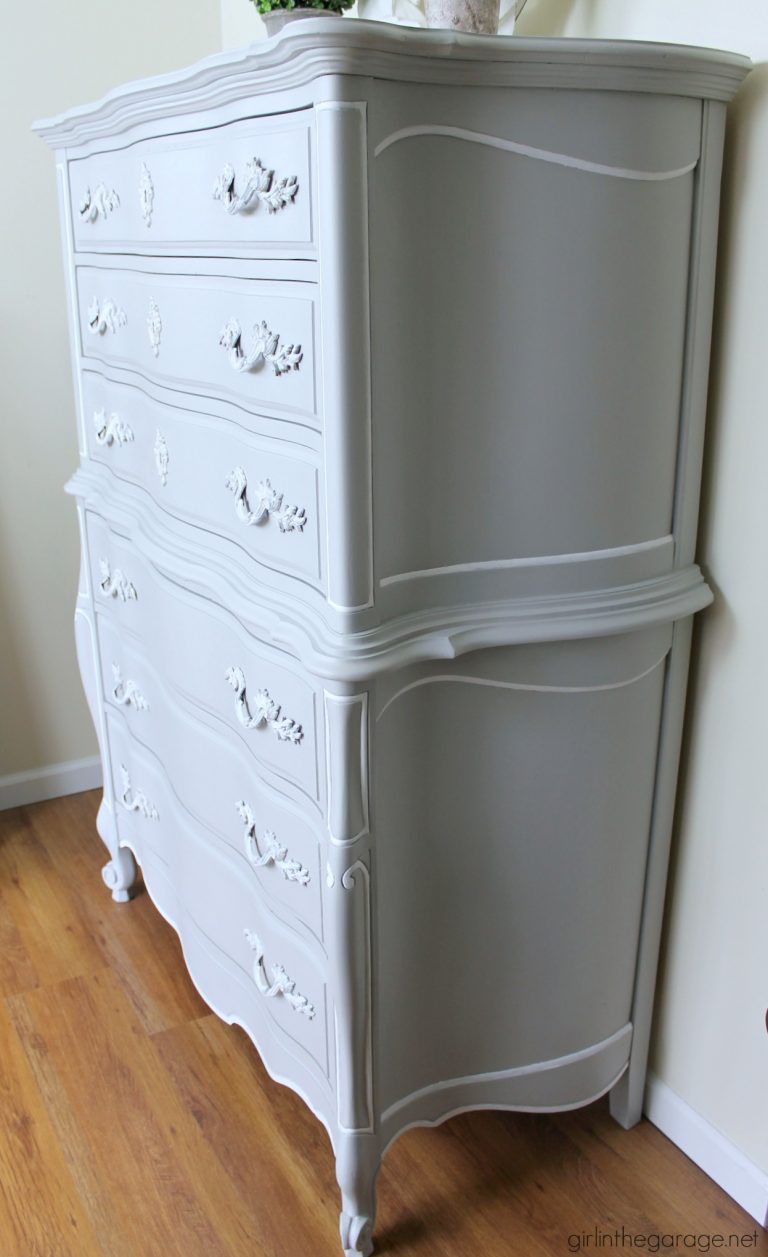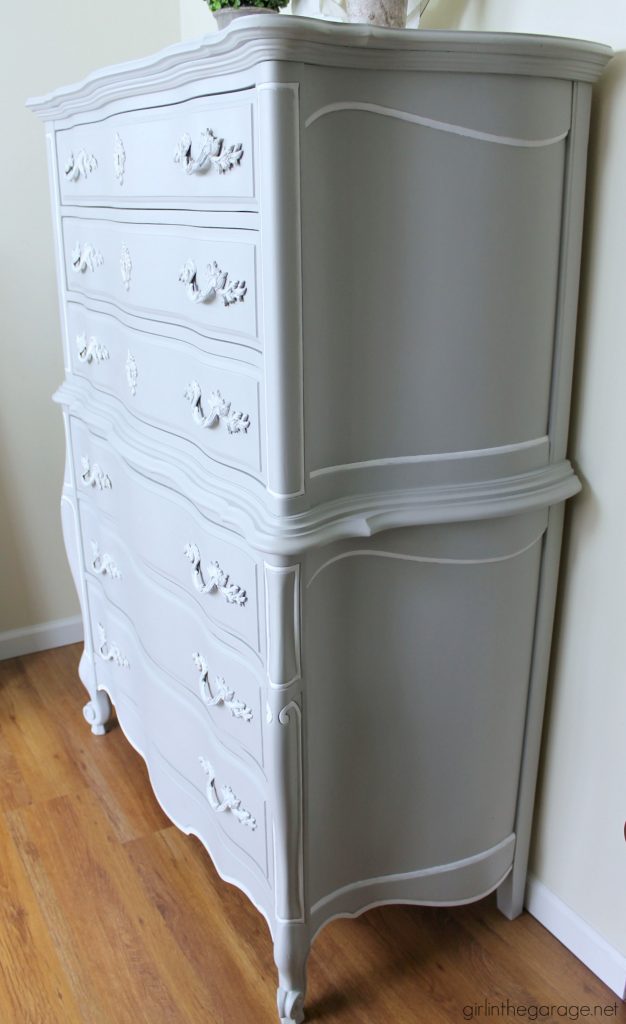 I wish I had room for this French Provincial dresser in my house, but it will be available at my booth in a couple more weeks. I'm going to put white vinegar in the drawers again and the paint needs more time to cure (30 days total for Fusion Mineral Paint – no topcoat required).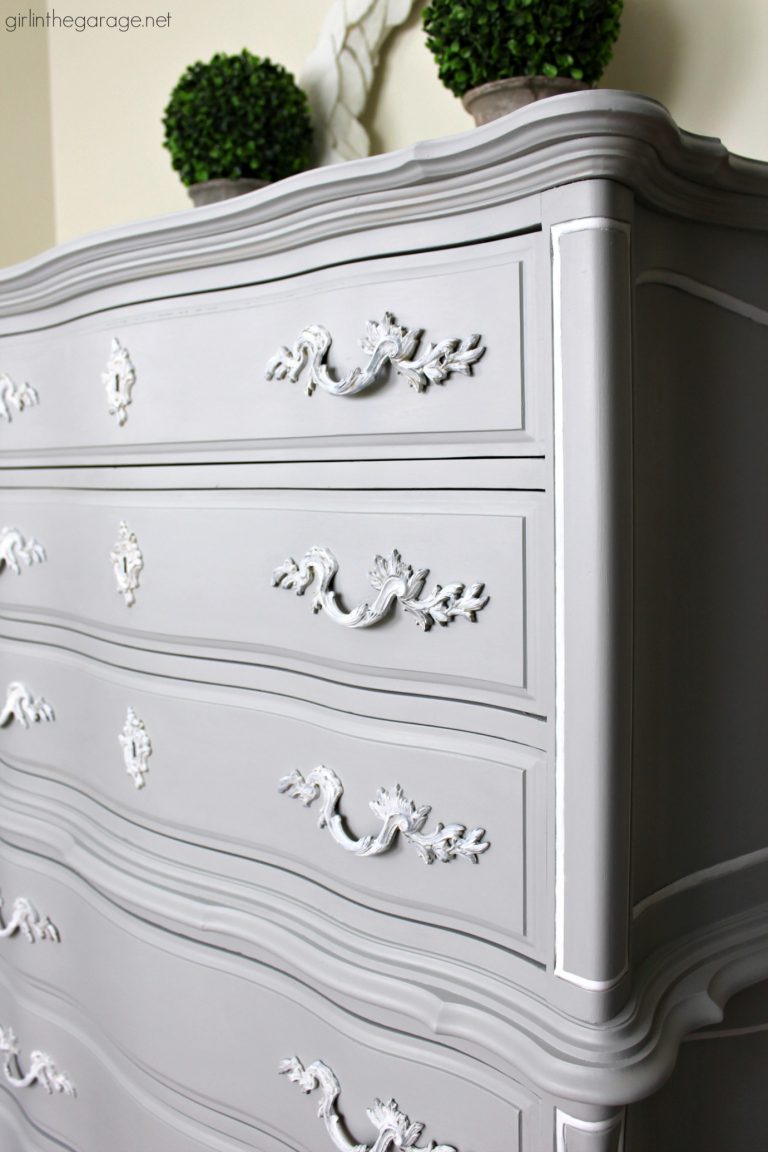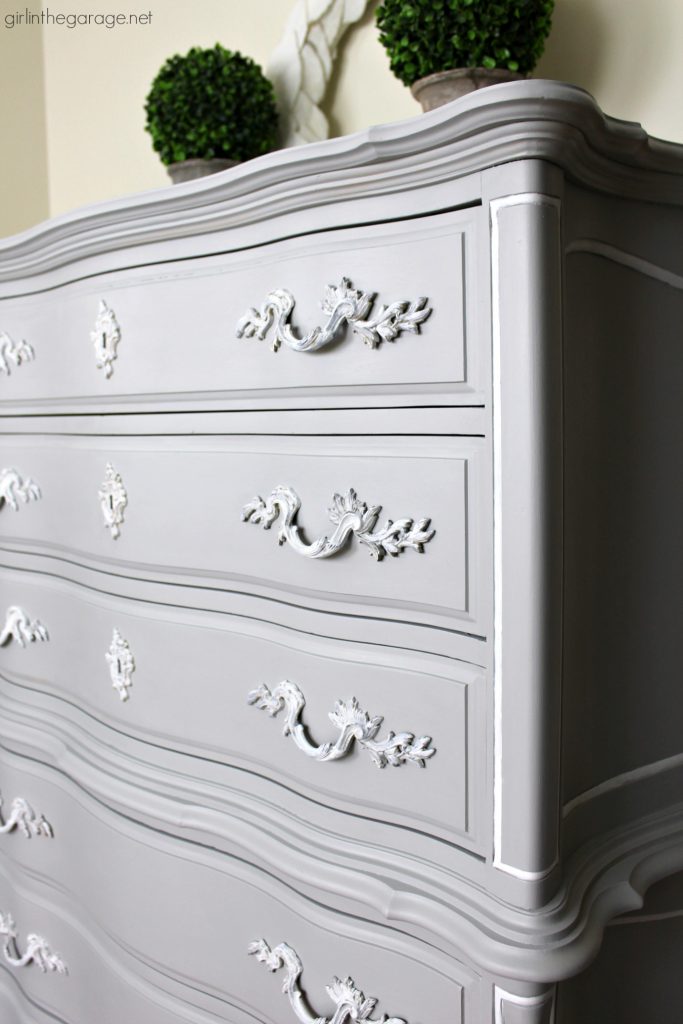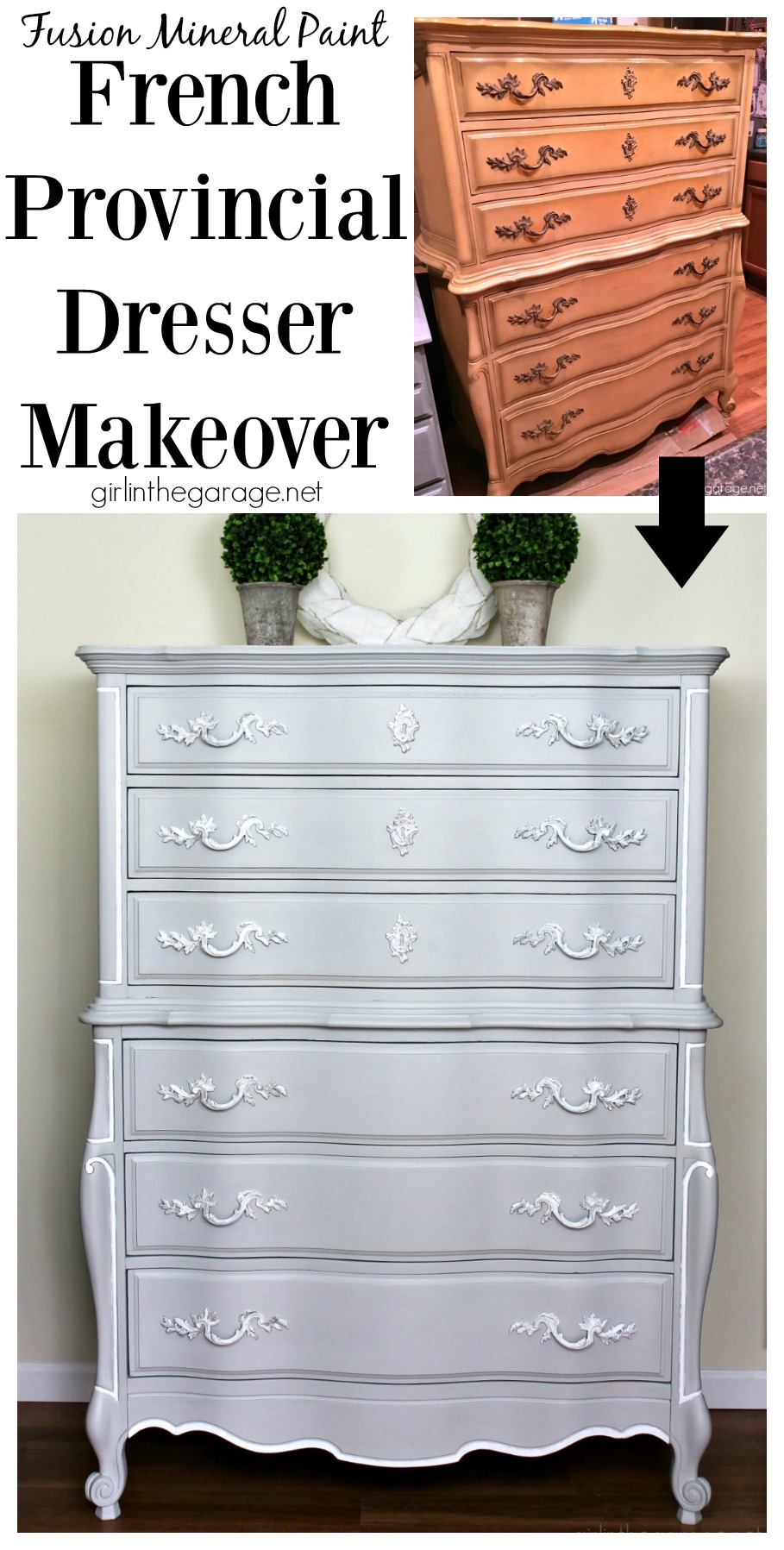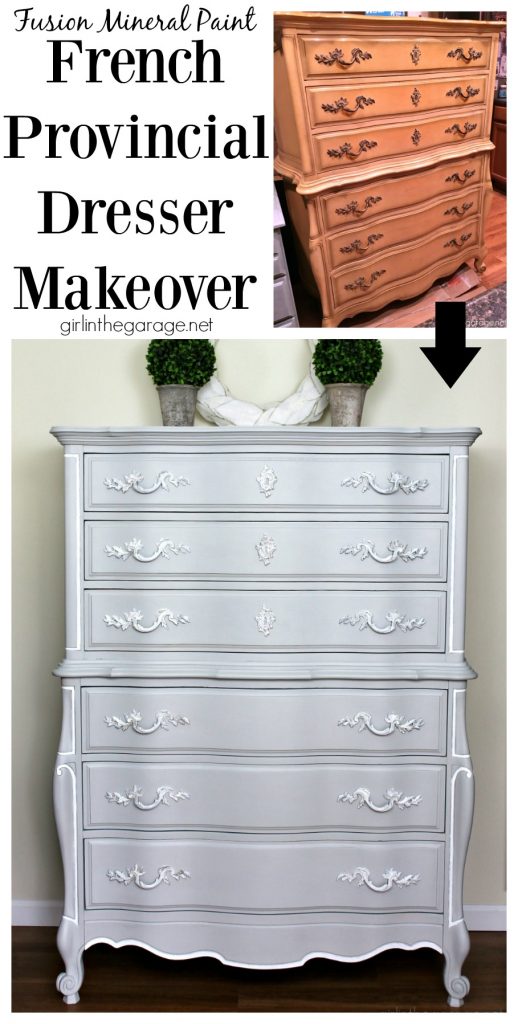 I'm curious – what's your favorite way to get stinky smells out of furniture? Leave a comment below so we can all learn and benefit.
I will be working on a lot more upcoming projects soon for the market next month – AND the new store I'm selling at called me and said they'll have a bigger booth available for me soon! I'm so thankful and excited! I'll share that with you once it's all set up. 🙂
Talk soon, friend!
Jen