Two and a half years.
That's how long it's been since I loaded up my car with this antique dining set from a yard sale, with the wonky table legs that had been removed and then reattached the wrong way, and then it went to live in my dark storage unit (aka Furniture Purgatory).
The months and years passed but I couldn't get over the nerves of doing an entire dining set makeover. And to be honest, staining still intimidates me.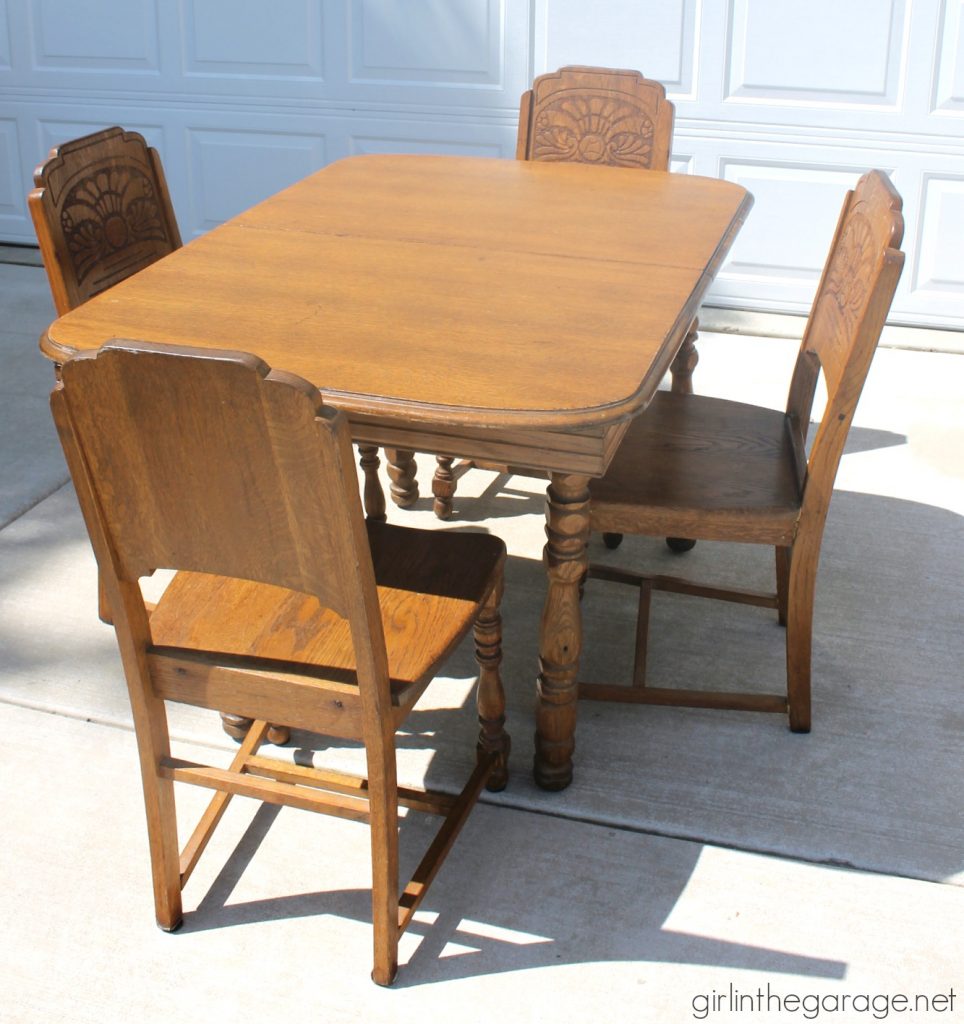 We gave up the storage unit about a month ago which meant a LOT of furniture was coming to our house and we had to get moving on makeovers!
*Guys it's Furniture Fixer Uppers day, so stick around to the end to see 5 more bonus furniture makeovers from my blogging friends. Also, I've included a few affiliate links in this post to help you find products I use and recommend. Discover all my favorite brands and tools for doing DIY projects here.
Sand and Stain the Dining Table
Thankfully, my hero Guy in the Garage volunteered to tackle sanding and restaining the table top. (Here's a link to some inexpensive random orbit sanders which make this job much easier)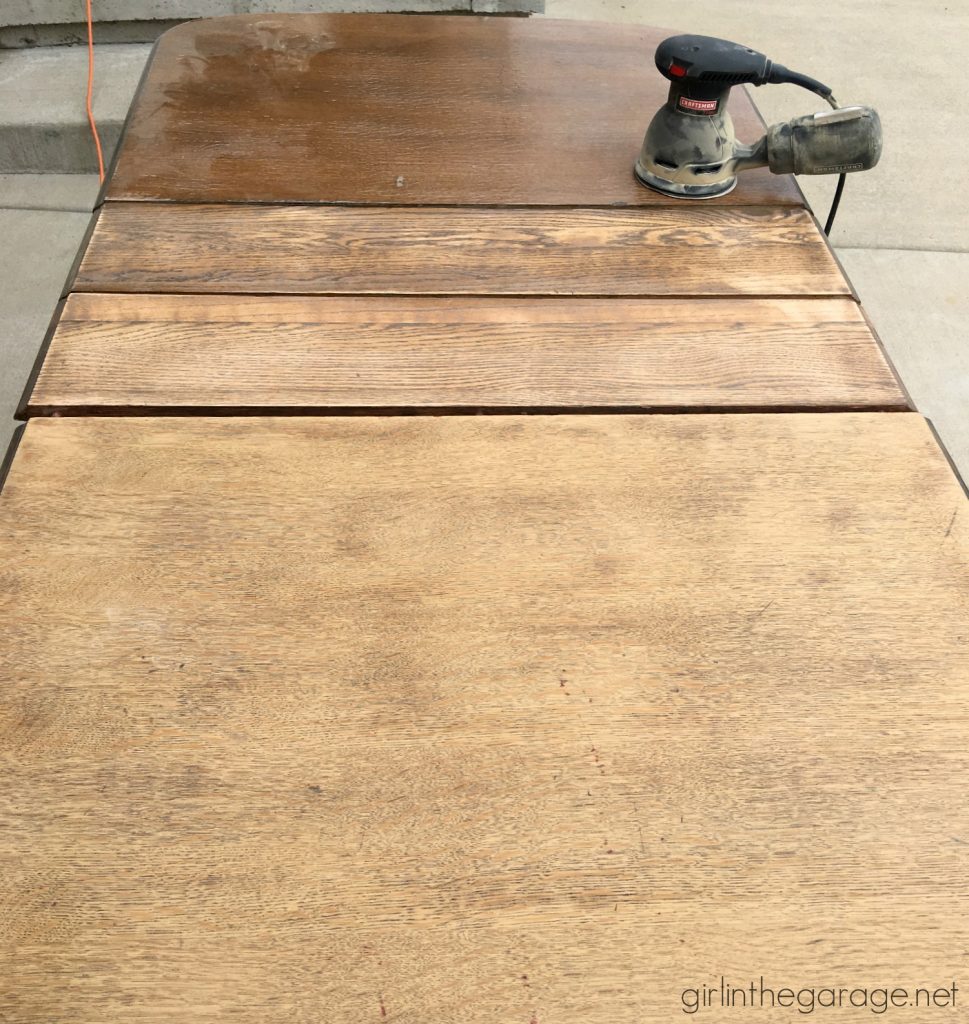 It has such a beautiful wood grain, and the old orangey stain had to go.
He applied two coats of Minwax's Wood Finish stain in Espresso for a rich brown top.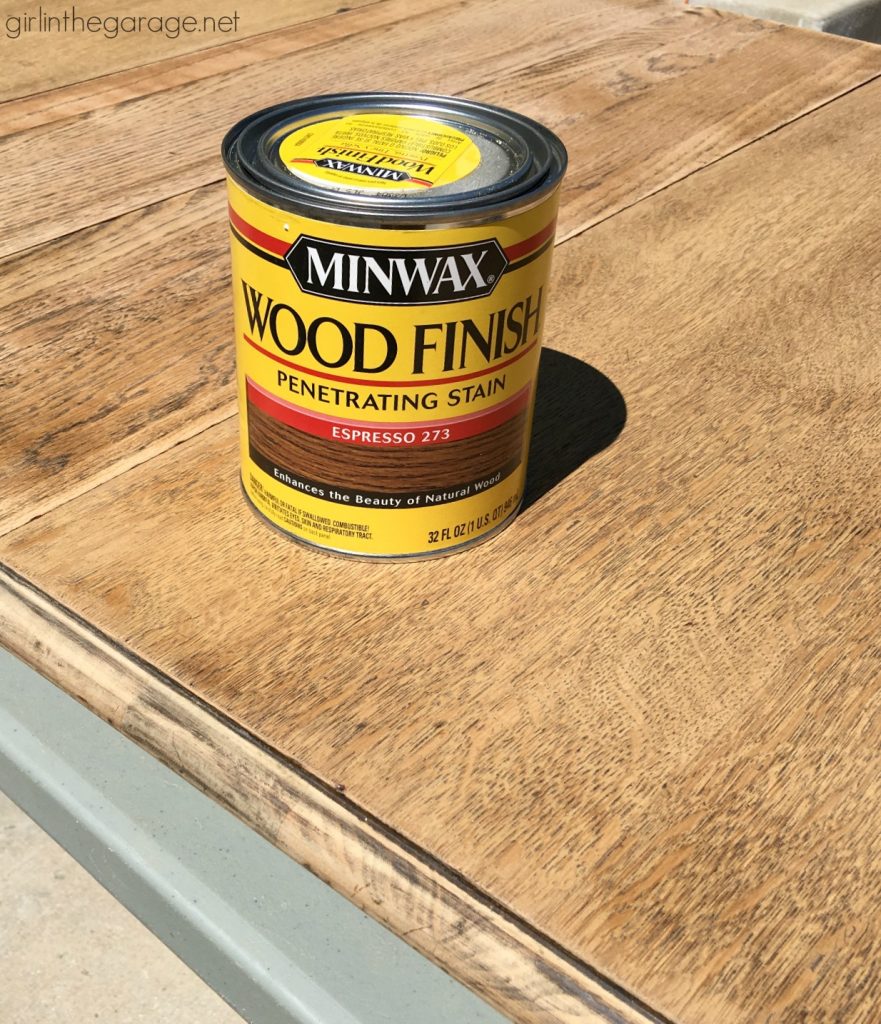 And then he protected it with three coats of Rustoleum's Matte Varathane Polyurethane. (I tried it over white Chalk Paint once and didn't like it, but it gives a really nice finish over the stain.)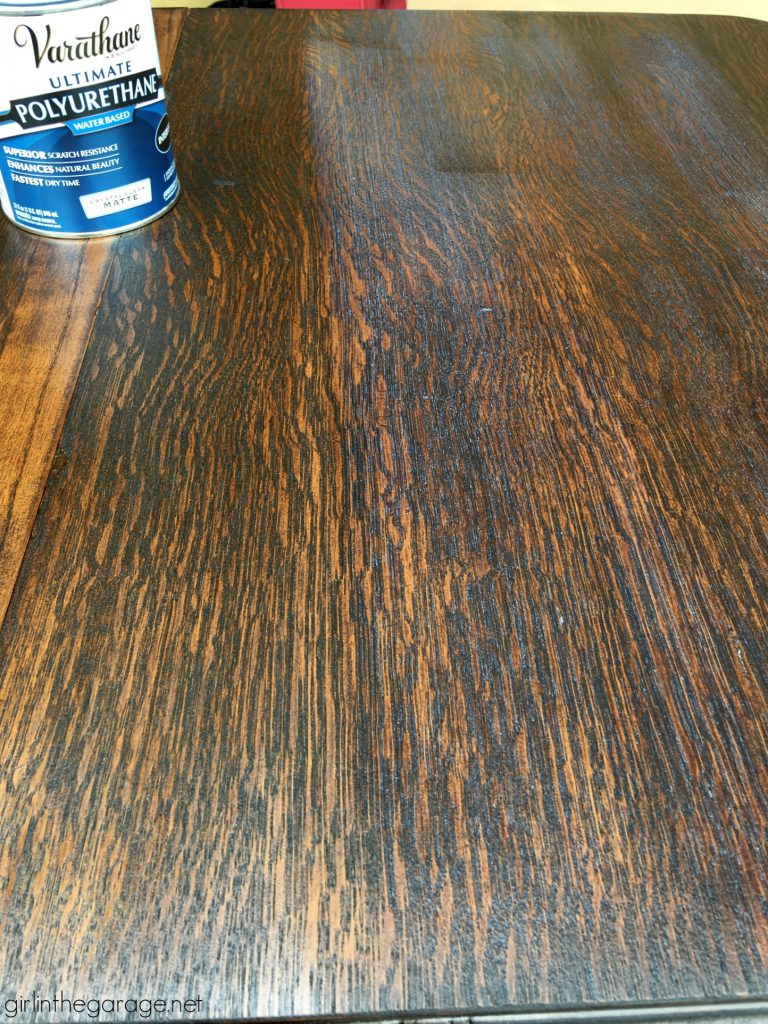 I call it the Tiger Table – just look at those stripes. Rawr.
Paint the Dining Table and Chairs
The chairs and bottom of the table were painted in Annie Sloan's Chalk Paint in Old Ochre. I had about half a can to use and the paint was fairly thick, so it came off the brush in an already-distressed sort of way. I did 2-3 coats as needed and then sanded a little for a smooth finish.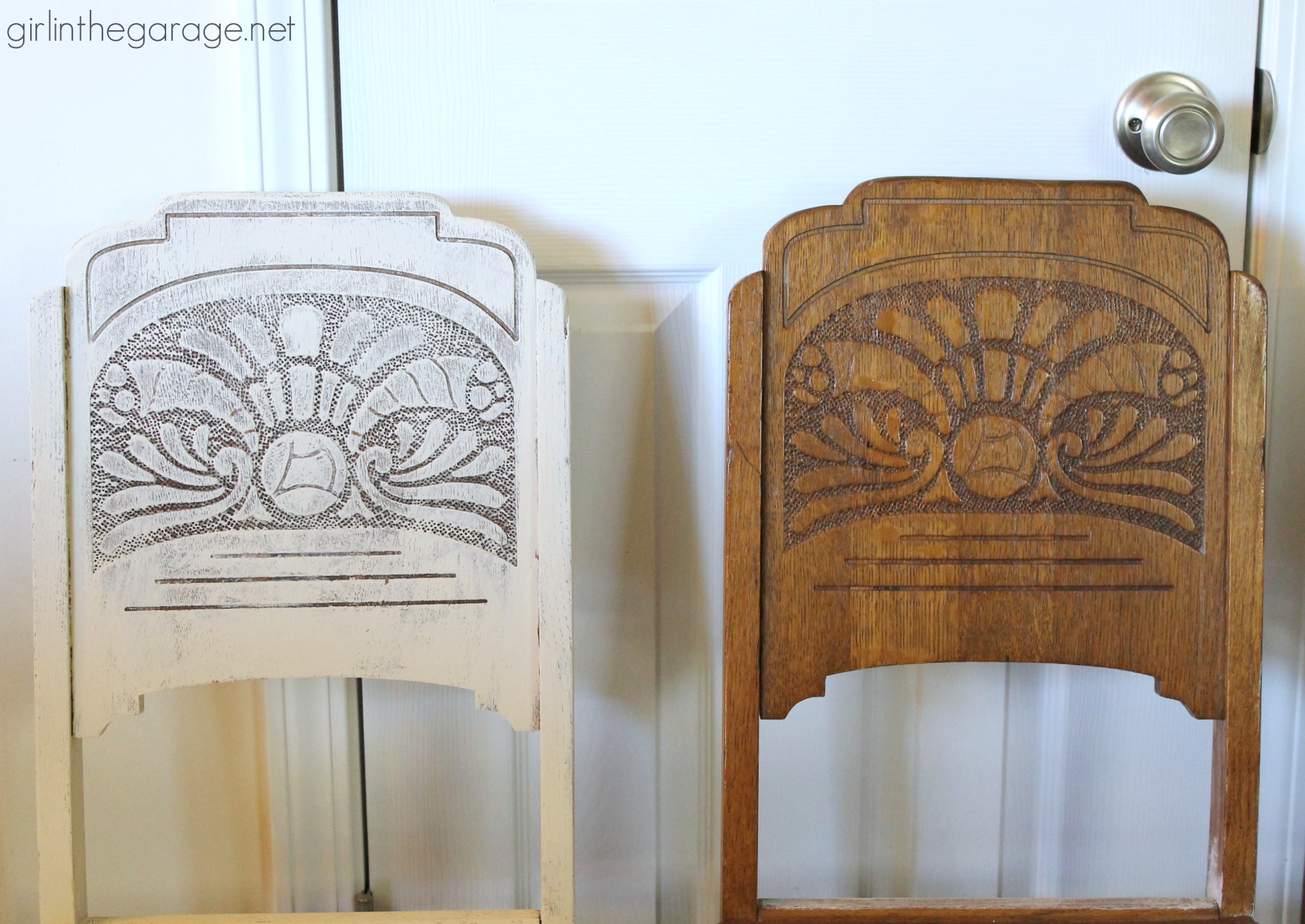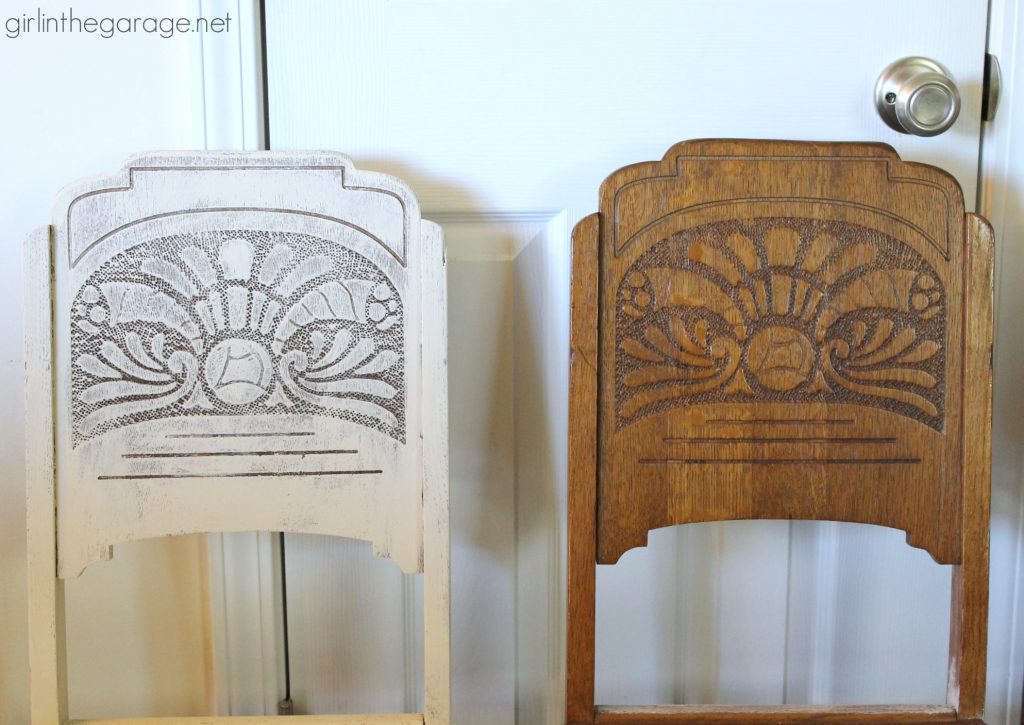 Here's the finished set (not including two table leaves which you can see in the sanding photo above):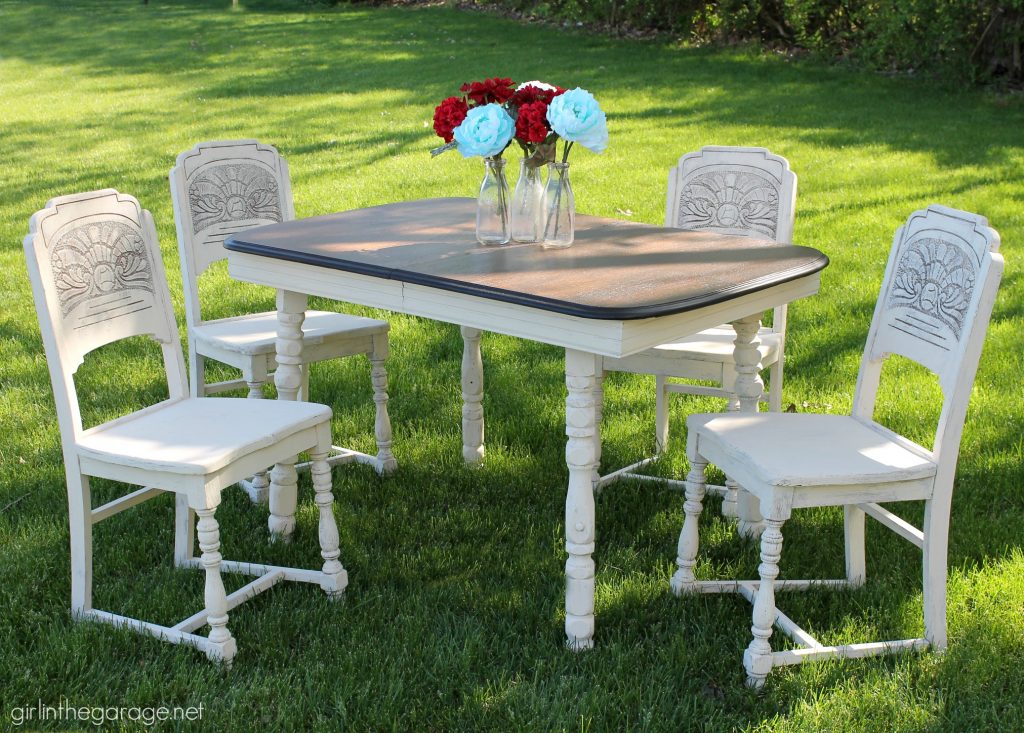 It has a farmhouse style vibe, don't you think? I absolutely adore the carvings on the chairs and haven't seen anything like them before. The Old Ochre does a great job of highlighting them.
It was our goal to finish this for the market and it kind of ending up being the focal piece. This set got lots of attention and compliments but it's still available for now. We will be taking it to my booth soon.
I think it would look gorgeous in a breakfast nook or on an enclosed porch.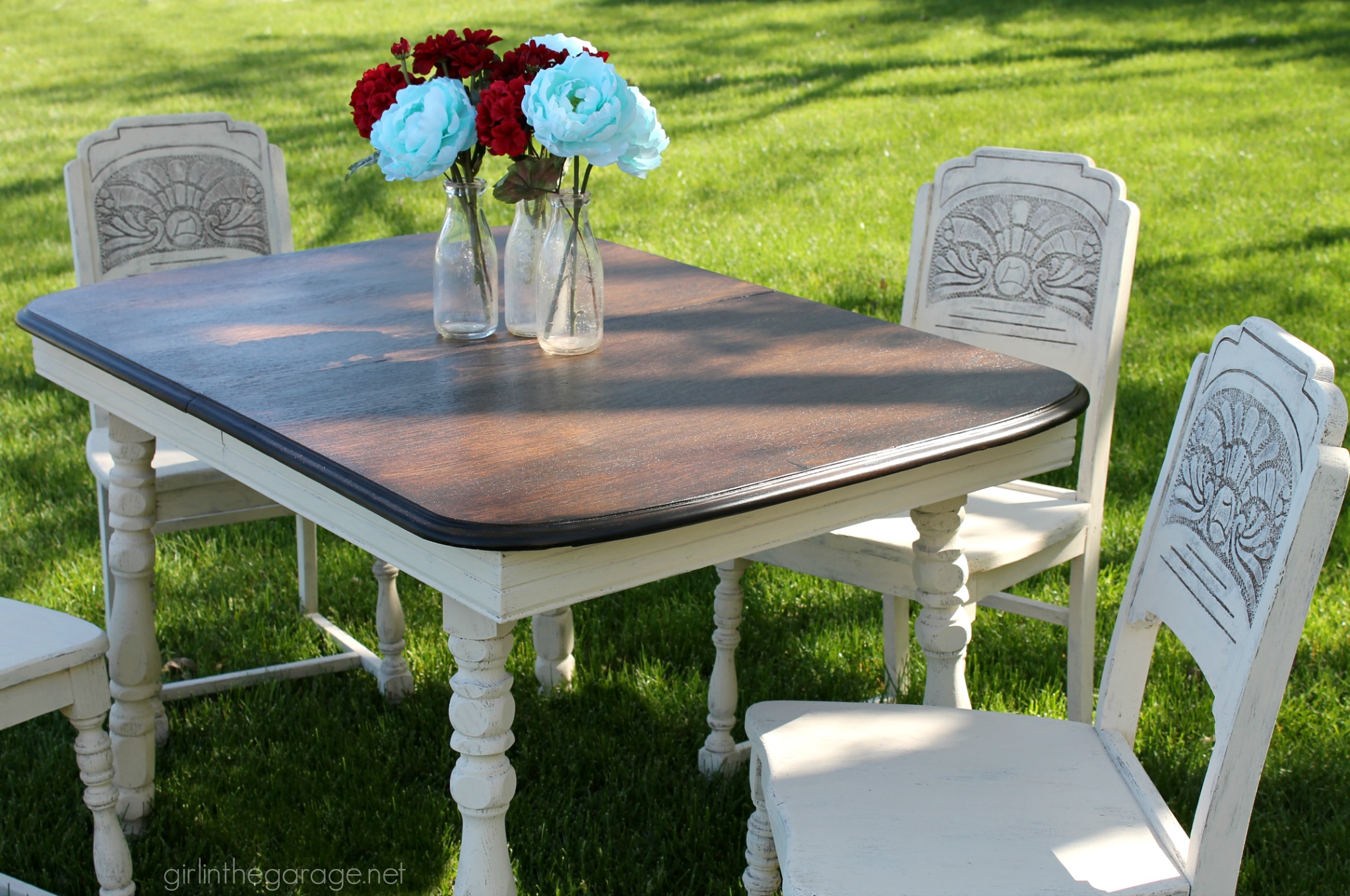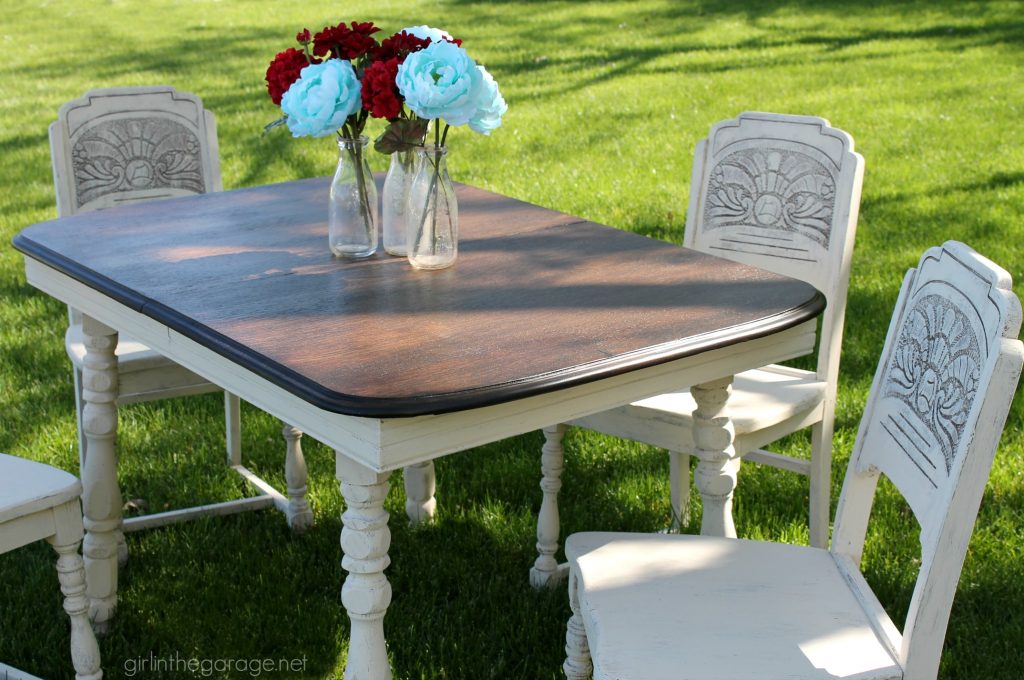 I have a few other dining sets I've been hoarding holding onto for far too long, so now that I have a good helper we may be able to clear a few more out of the garage this summer. 🙂
Have you refinished a dining set before- if so what did you think of it? They're a lot of work but worth it in the end! What type of project have you been putting off for ages? I'd love to hear about it – just leave a comment below.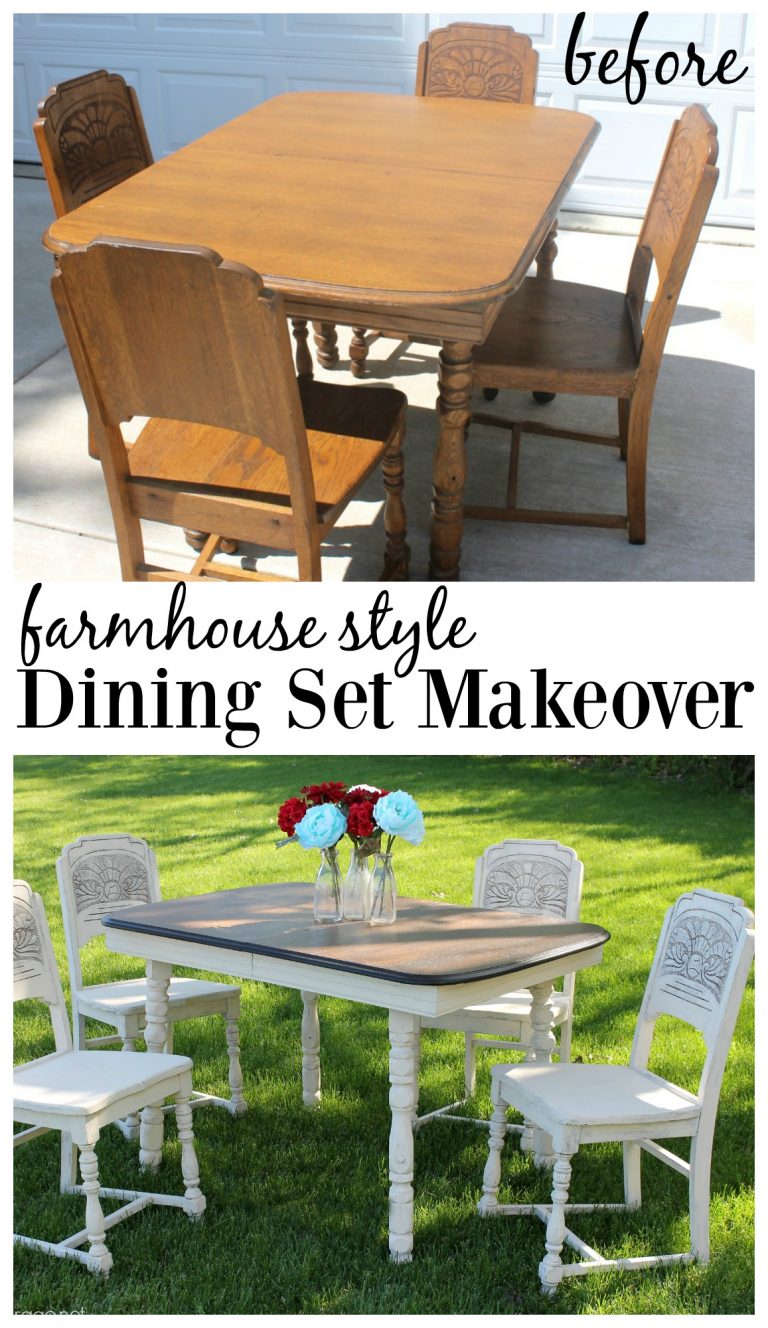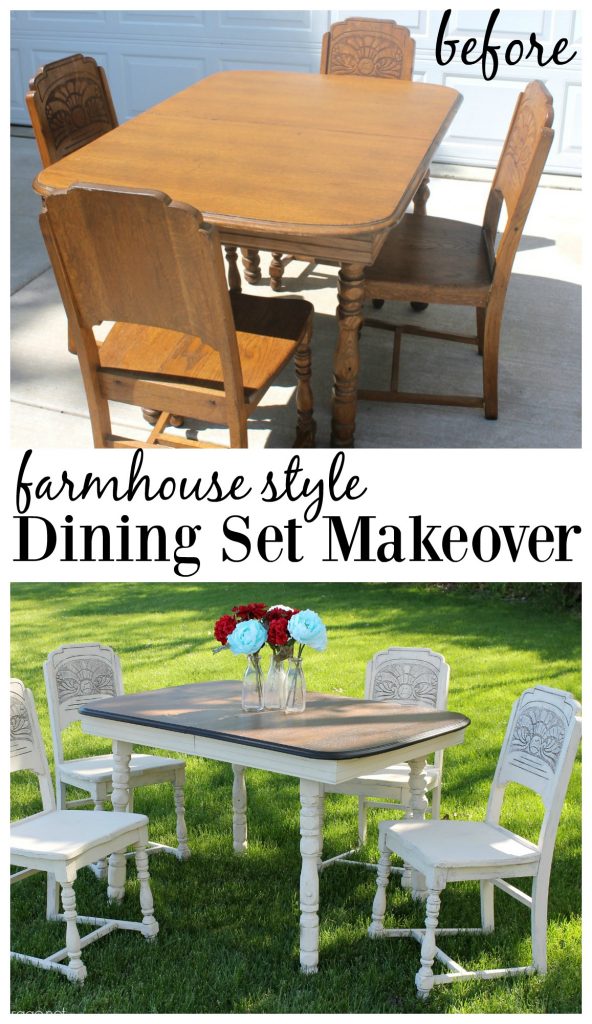 Now it's time to see five more creative furniture makeovers from my blogging friends!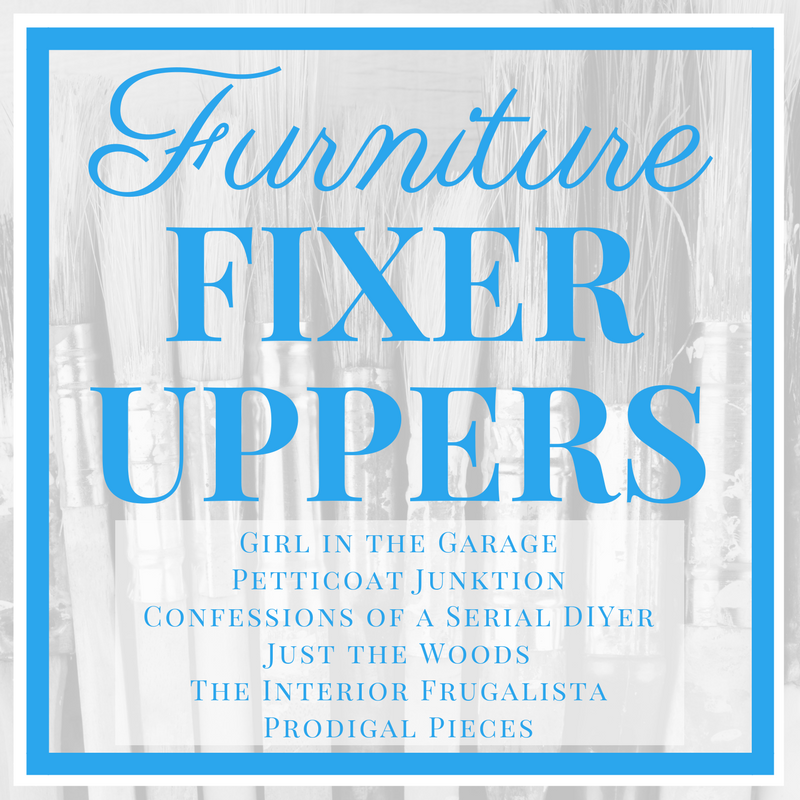 Below are the Before photos – click the links underneath to see the Afters and learn how they did it.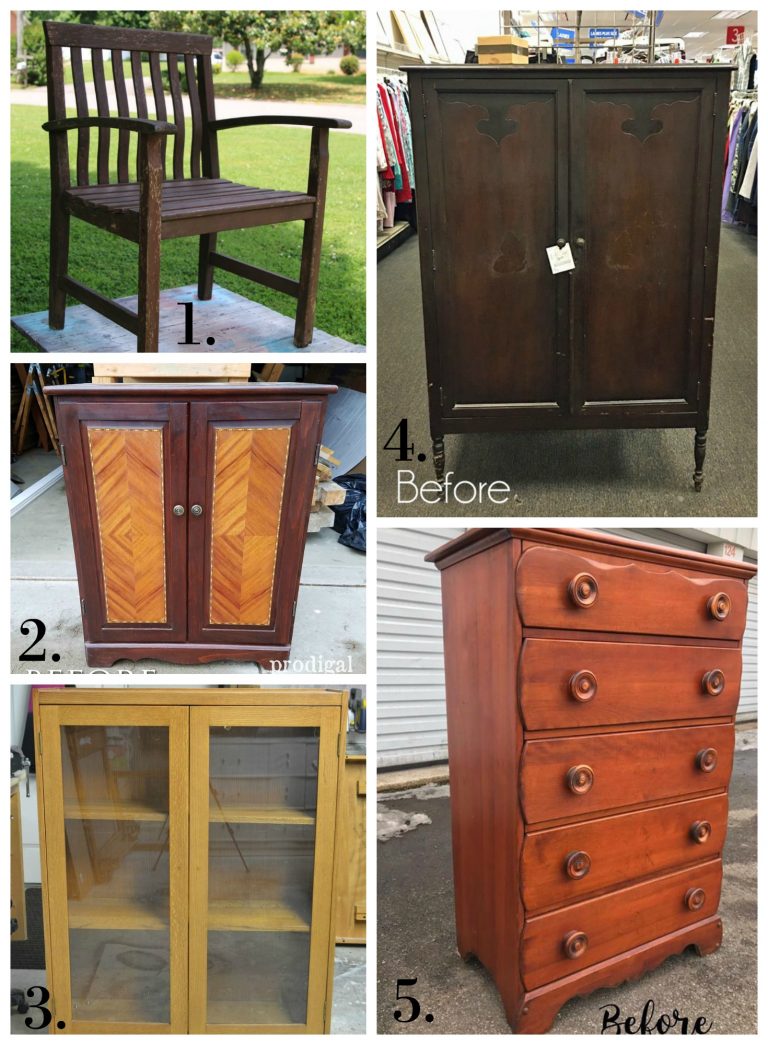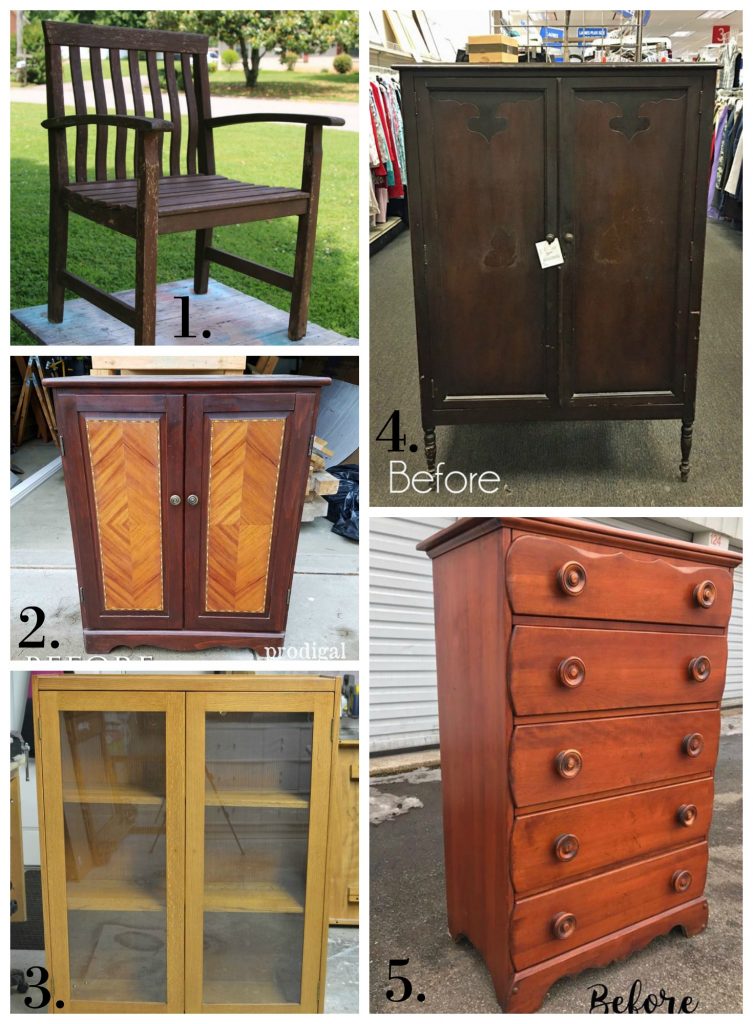 1. Petticoat Junktion
2. Prodigal Pieces
3. The Interior Frugalista
4. Confessions of a Serial DIYer
5. Just the Woods