On Sept. 2nd and 3rd, I participated in the Hunt & Gather Vintage Market a few towns over from me.  The market has been around for 4 or 5 years and it's held quarterly, indoors at the fairgrounds.  It was 5-10pm on Friday night and 10am-6pm Saturday.  The woman who organizes it owns a local vintage/industrial store with really cool and unique items.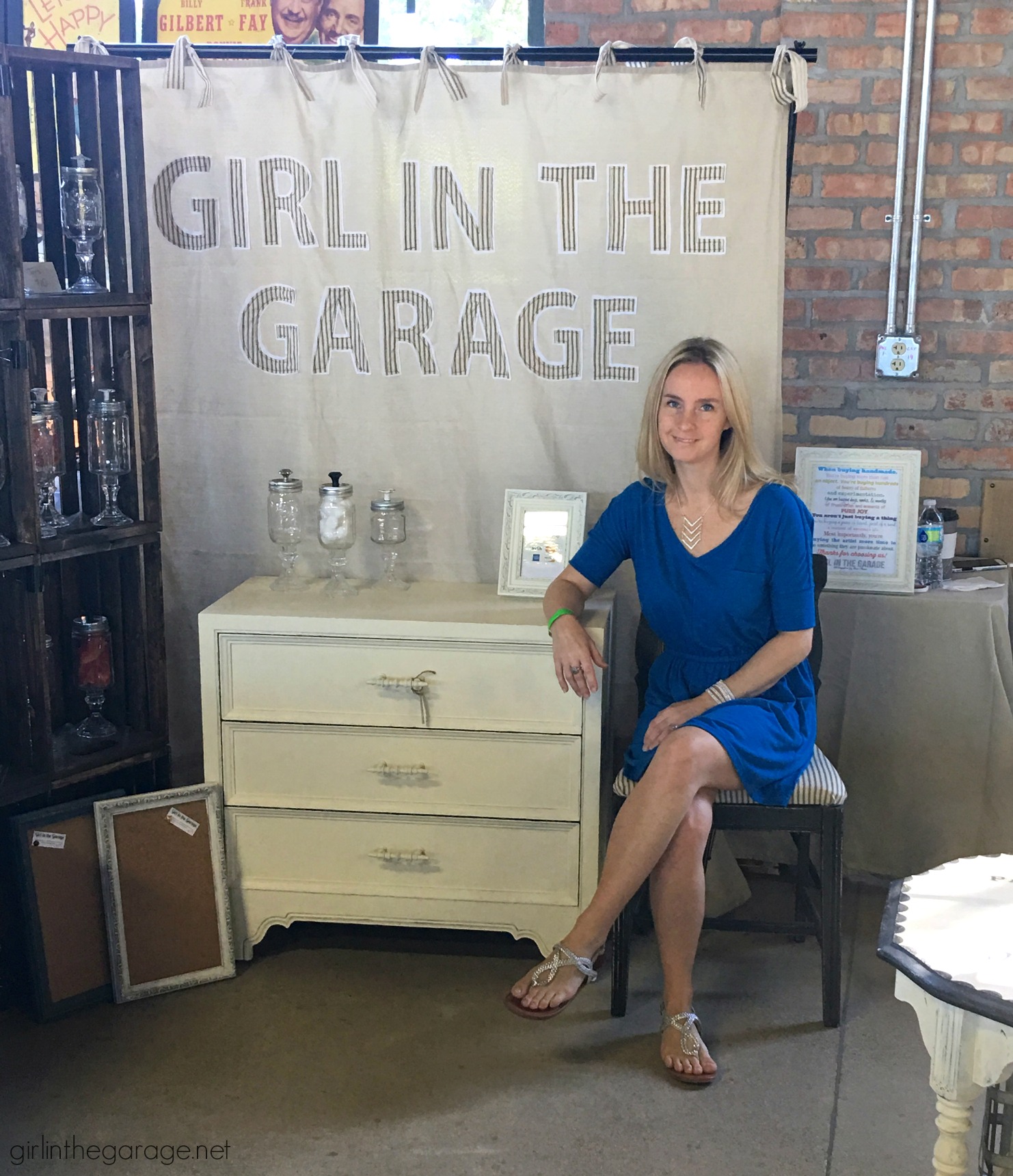 Since there were over 100 vendors, she had many of us set up on Thursday and we were able to actually drive the trailer into the building which was Awesome.  She also had a couple of porters available to help with unloading and carrying heavy items, which was also Awesome.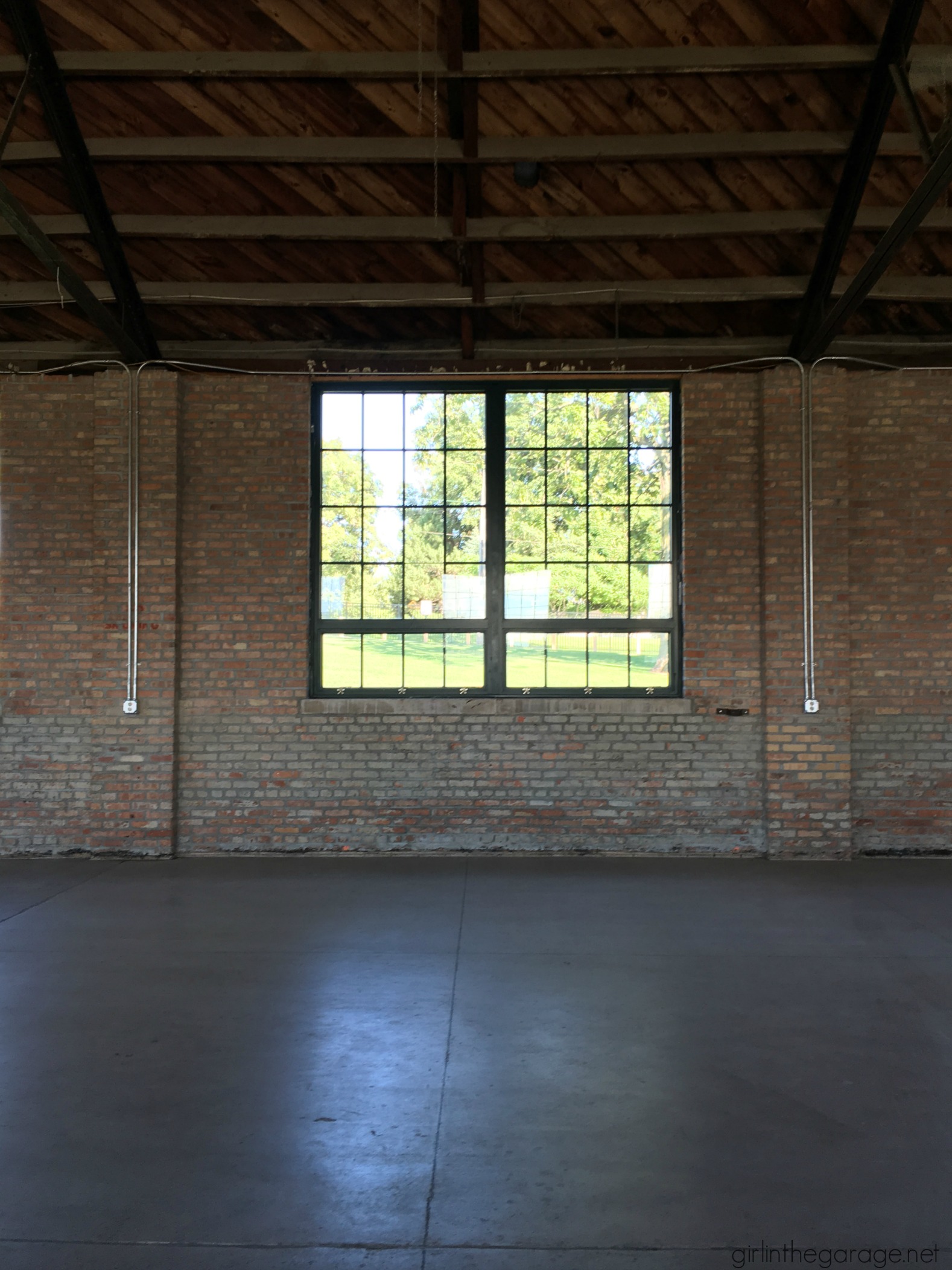 Here we are loading up the trailer (you may recognize a couple of those pieces.. yes I took a few items out of my booth at the antique mall that had been there awhile and hadn't sold yet):  #noshame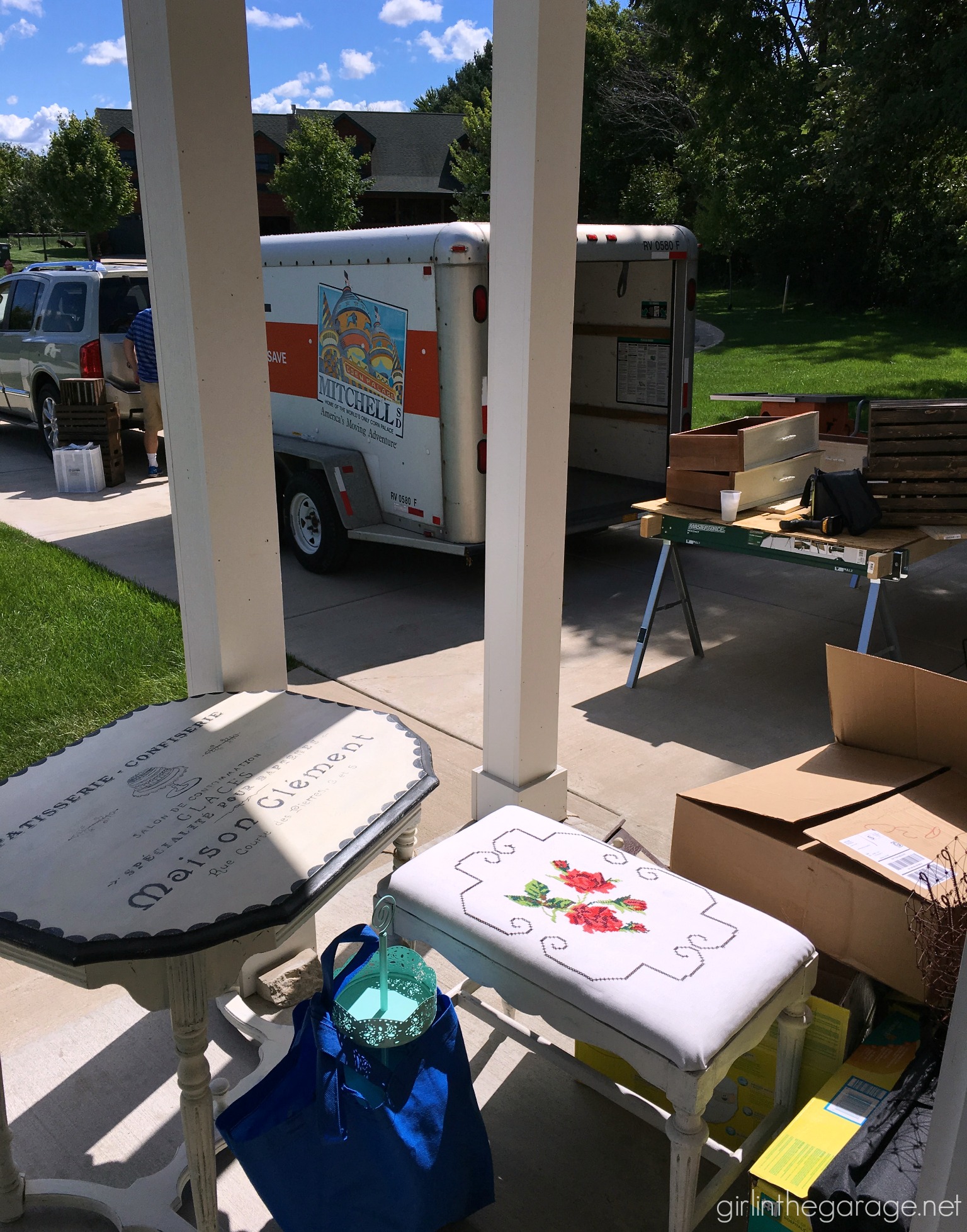 For the last market I did, I brought a few furniture pieces but mostly decor and small items.  I did alright but I didn't feel like I was really representing my brand.  This time, I focused on what I do best, and I was much more comfortable about talking to people and trying to sell my creations.
When we arrived Friday afternoon, I was informed that a vendor next to me had cancelled at the last minute.  It wasn't a big deal, but several of us had to shift our spaces to fill the void.  Which means my space was a LOT larger than I had planned for.  The furniture was arranged around the three sides, with the corners angled in, and then a little island in the middle, so people could walk through in a U shape.  Here's the left side of my space (with the fabric GITG sign that I made for my last market):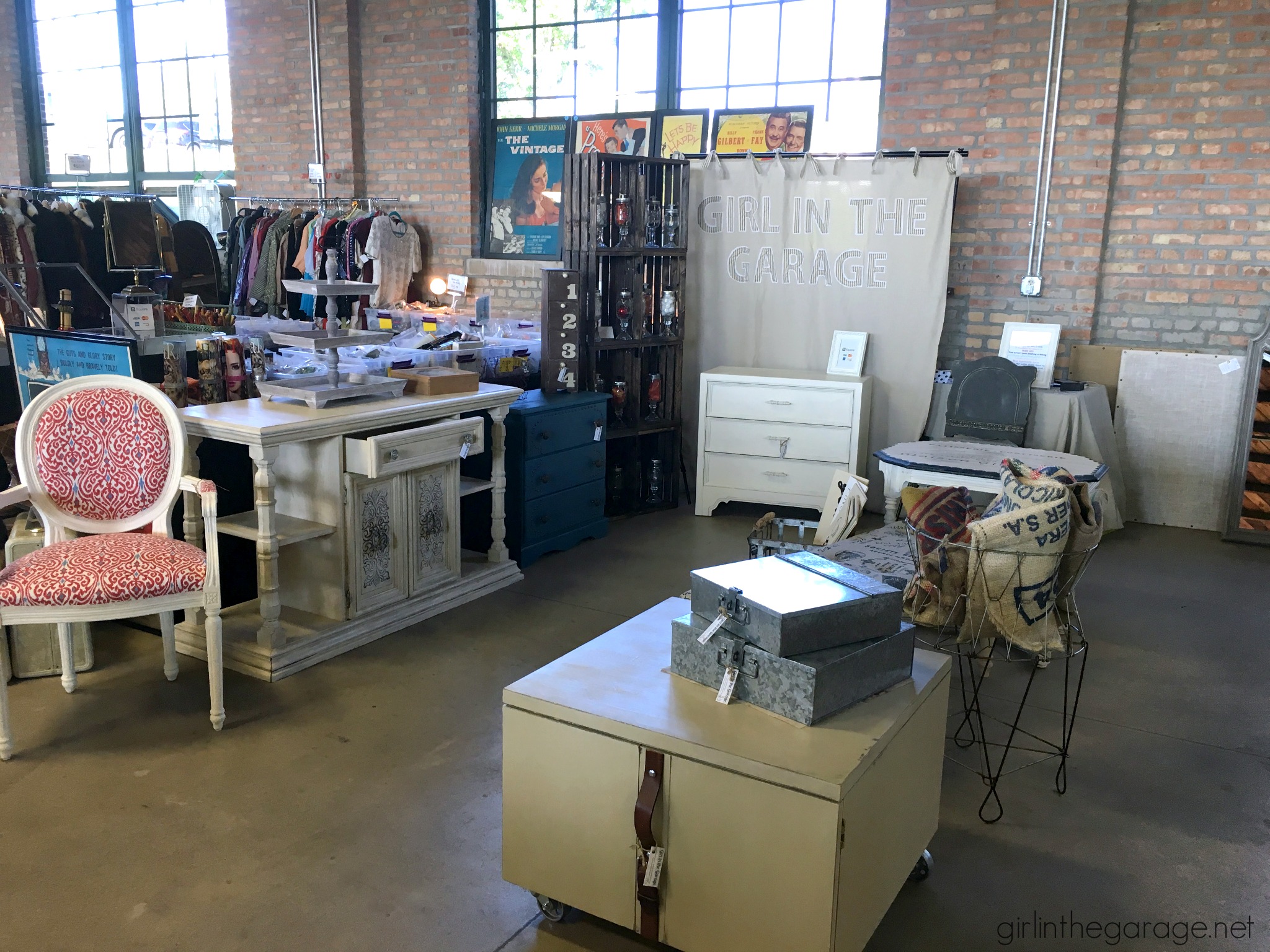 And here's the right side of my space: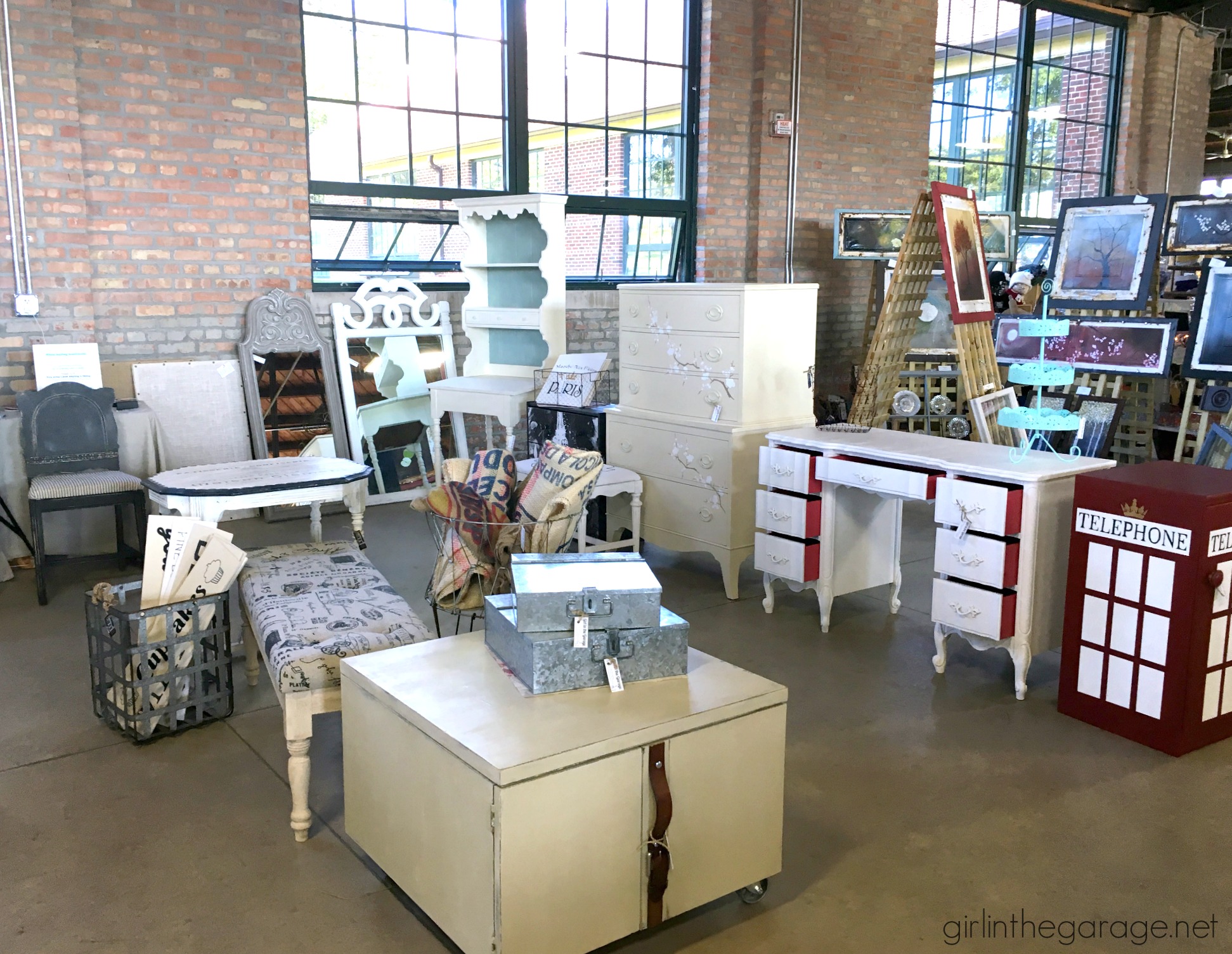 I put the most attention-grabbing pieces on the end to draw people's eyes in: the red and white reupholstered chair and the London phone booth cabinet, which worked because people were constantly coming over to check them out!  The French Provincial desk that I posted yesterday, the cherry blossom dresser, a buffet that I haven't posted here yet, and the tufted reupholstered bench all got a lot of attention.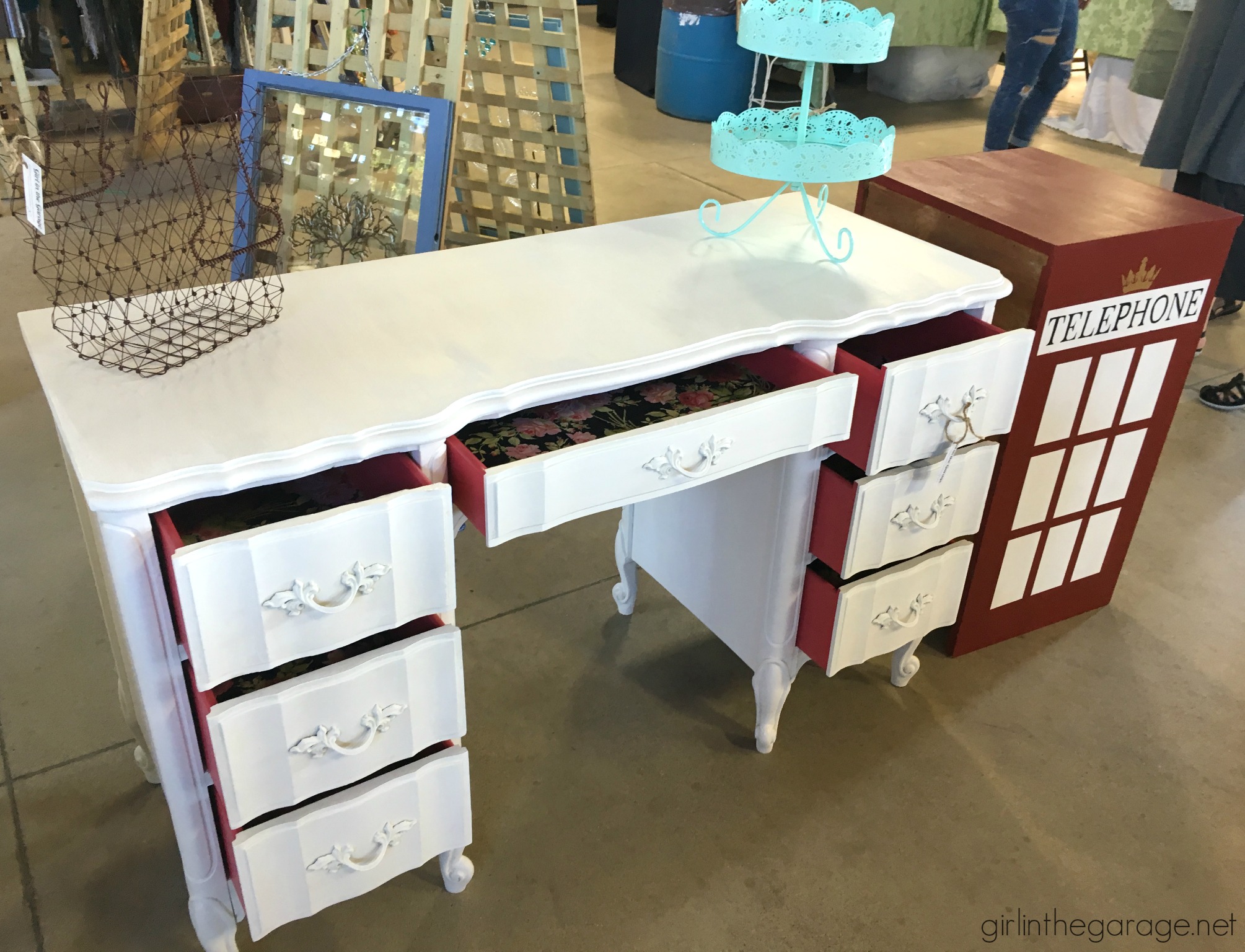 Friday pulled in big crowds – people came to shop but also for the live music and the drinks at the bar.  It was a fun social event, and since this market is well established (and very well marketed) there are tons of repeat and new customers.  On Saturday the crowd was more diverse but there were still lots of people, and it was cool to see the lines at the door.  I'm not even sure it mattered that it was a holiday weekend.
By the end of the market, I had sold 5 pieces of furniture and lots of "littles" (apothecary jars, signs, farmhouse-style decor).  My goal was to sell at least 6 pieces but I'm still really happy with the outcome.  I also gave away all of my business cards and met some awesome people who were already familiar with my work, and met many amazing new people and potential clients too!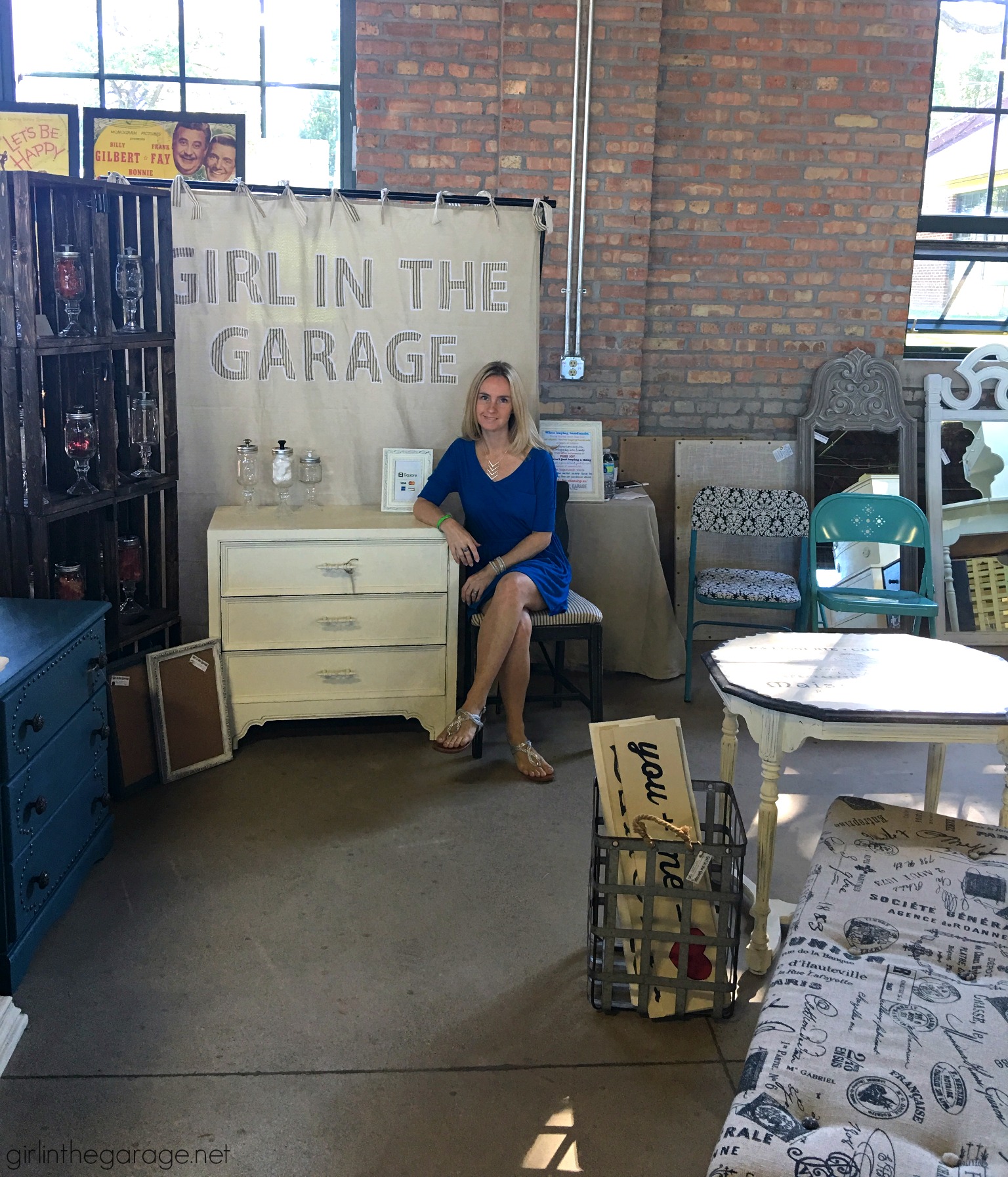 When you're visiting a market, you may find that some of the vendors won't share their techniques with you or even let you photograph their pieces.  I can respect that.  But for me personally, I love to explain to people what I did to a piece and even if they're not interested in buying, I hope to inspire them to try it also.  Heck, that's what this blog is all about!  🙂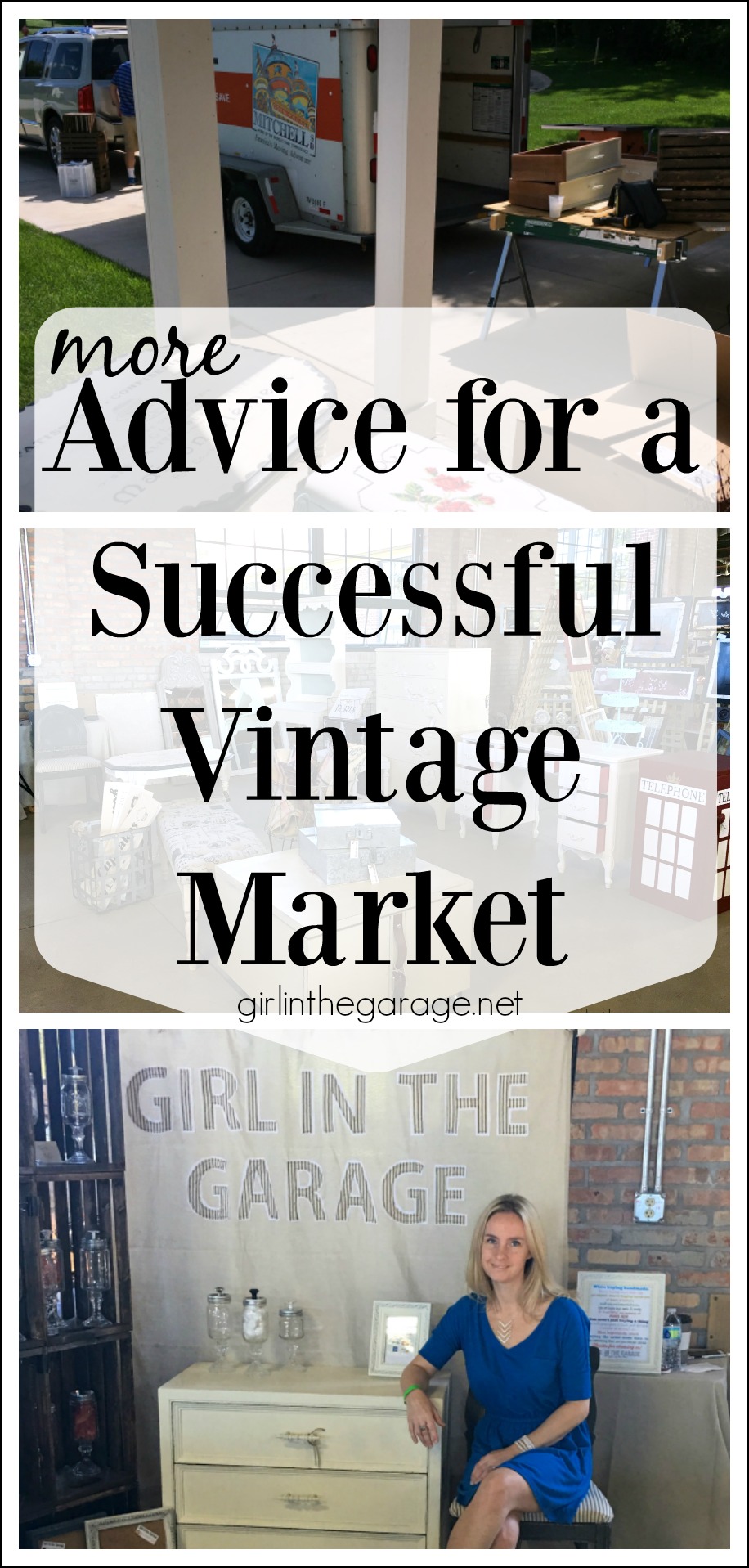 Here are a few more tips from my market experience, in addition to the advice I shared after my last market:
 Indoor vs. outdoor matters.  If you have big pieces like furniture, you may not want to risk it by signing up for an outdoor market and then getting rained out and having your hard work ruined.
Wear comfortable (but still presentable) clothes and shoes.
Bring a chair to sit in, even if you don't think you'll need it.
Find out in advance if you'll have access to power.  If you're using a Square card reader and you'll be relying on your cell phone a lot, you do NOT want to risk running out of battery.  So bring your phone charger and an extension cord.
Bring a fan.  We were indoors on a gorgeous day and there was a beautiful breeze coming in through the windows, but with no A/C and so many people in the building at once, it got really hot.  Thankfully we had a fan in the car "just in case" and it saved us!  People also loved that our space had a rather pleasant temperature compared to other parts of the building.
Plan ahead for meals.  This is important to me because I'm a picky eater, and at this market there was only one food truck (and nowhere else to get food within walking distance).  So I bought my dinner there Friday night, but I packed a lunch and snacks for Saturday because I didn't want to eat the exact same meal again.
Have a helper.  This is wonderful for when you want to eat, or visit other booths, or go to the bathroom.  Especially if you're selling furniture, your buyers will probably want help getting it out to their car.  Mr. GITG was there with me and he carried every piece out that sold.
Rearrange your space often as things begin to sell.  Take full advantage of your space and keep it looking full.
Have a variety of price-points and sizes.  Not everyone will be looking for a big dresser or table, but they may be interested in smaller, less expensive home decor.  Also, be willing to negotiate.  It's expected that customers will make offers – and you may even consider offering a discount during the last hour or two if you don't want to load up and transport everything back home again.
One of the most important things to remember is this:  It is OK if people come through, ooh and ahh at your creations, and don't buy anything.  It's true, you can't make money off of compliments alone, but just because they're not in the market for whatever you're selling right now doesn't mean that they won't contact you later for a custom piece.  Markets are just as much about making connections with people as they are about selling your goods.
And here's a bonus tip, from my unfortunate experience:  If you rent a trailer and then return it after business hours, call first thing the next morning to make sure the business has logged it in as being returned.  If you don't, you may be dealing with a careless/dishonest company who claims you didn't return it on time and then charges your credit card more than you were quoted.  And that is no fun.
What's your experience selling at or shopping at a vintage market?  I'd love to hear more advice!  We can all benefit when we learn from each other.  🙂
Jen
You may also like these other posts (click the photos below to read):