Today is Themed Furniture Makeover Day again, where my friends and I each share a monthly furniture makeover with the same theme – this time it's Knockoffs.  I love "Inspired by" or "Knockoff" projects because while it's easy to fall in love with a beautiful, expensive piece of furniture, it's not always in the budget, amiright?
I bought this bench last summer during a thrift store's 50% off sale, so I only paid $10.  Awesome deal, right?  Well it was pretty ugly…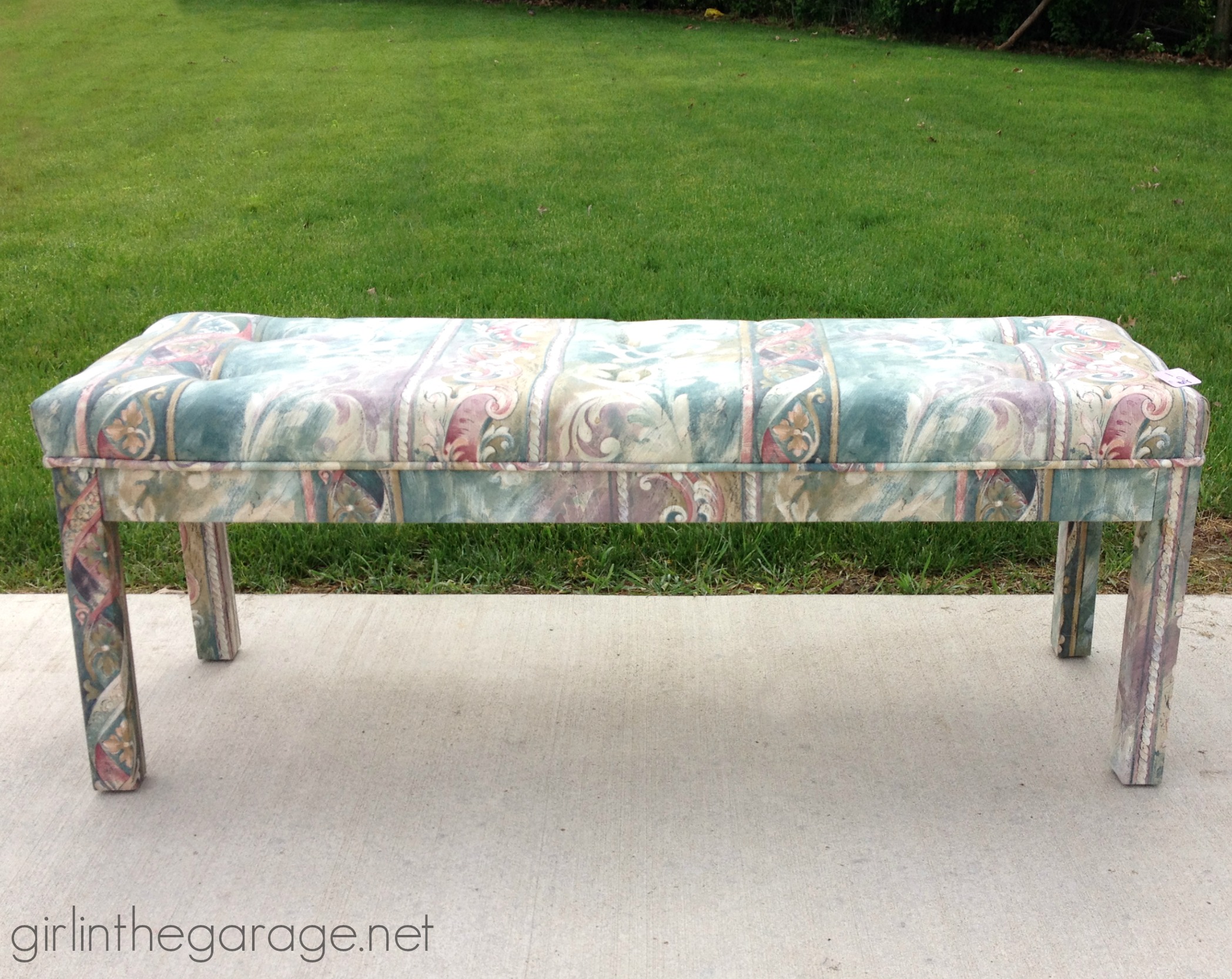 I had a lofty goal of transforming it into something like the Simone bench from Ballard Designs (available in a variety of fabrics and finishes):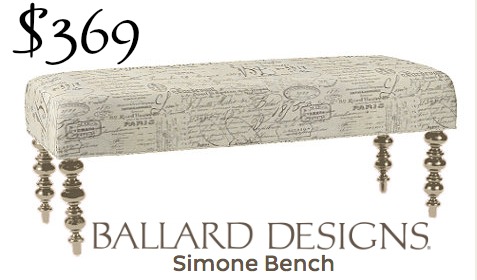 My bench couldn't be much more different than the one from Ballard Designs!
The first step of this DIY reupholstered bench makeover was to remove the old legs, wood frame, and all that awful fabric.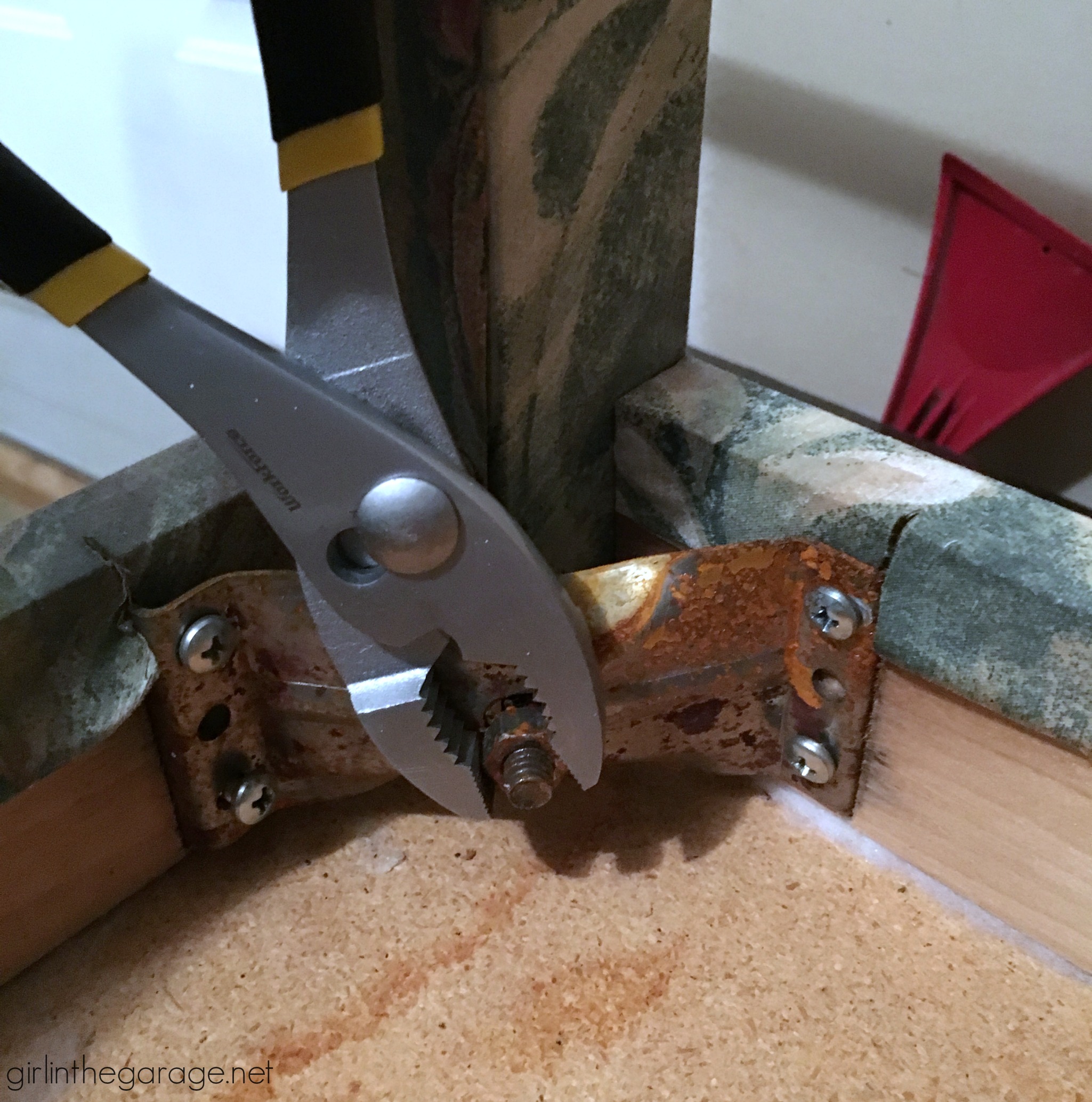 Honestly, the staples were a pain to get out.  Removing staples from upholstery is possibly the most tedious job ever.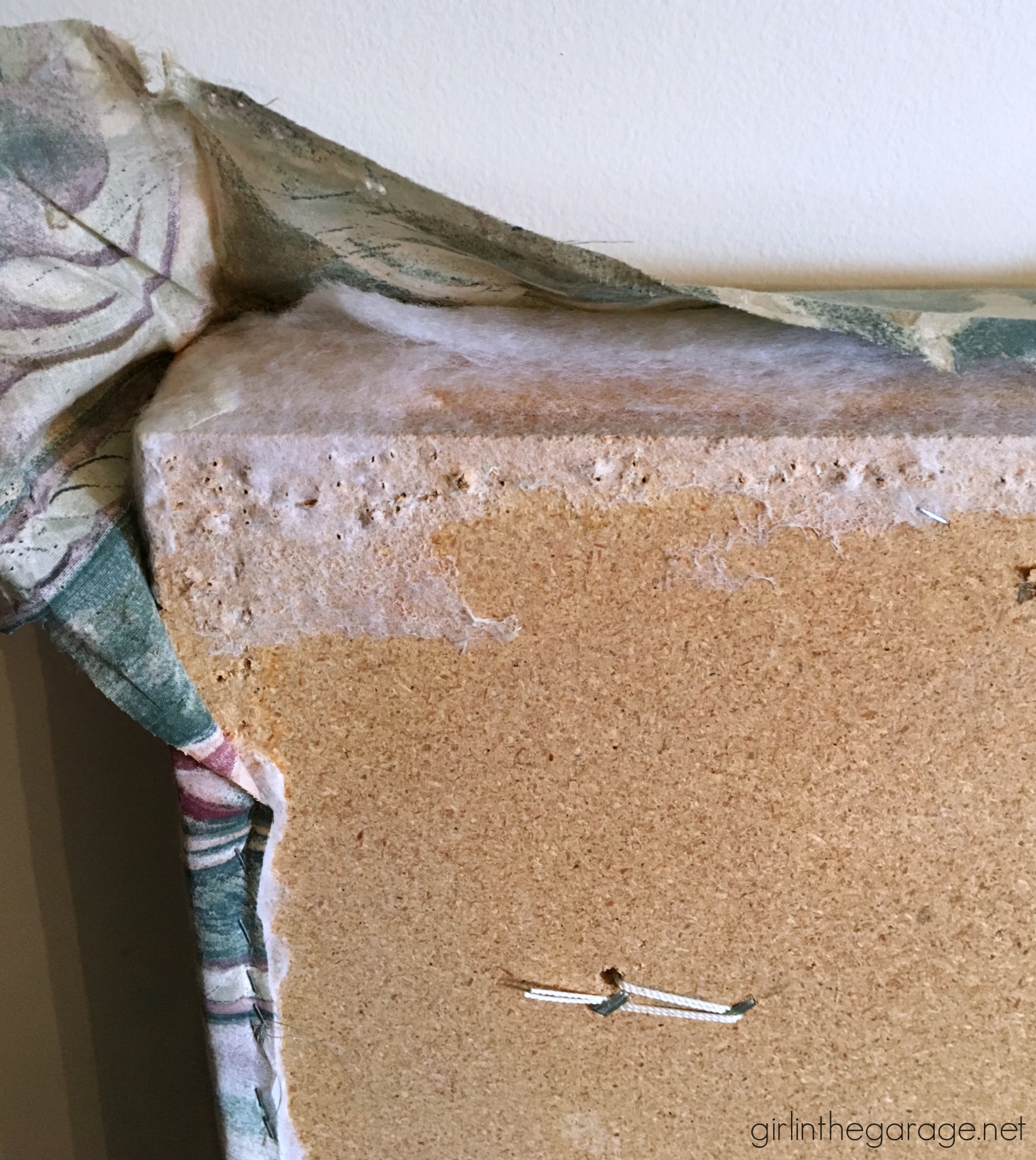 But when all the fabric was off and the buttons were removed, thankfully the padding was in perfect condition.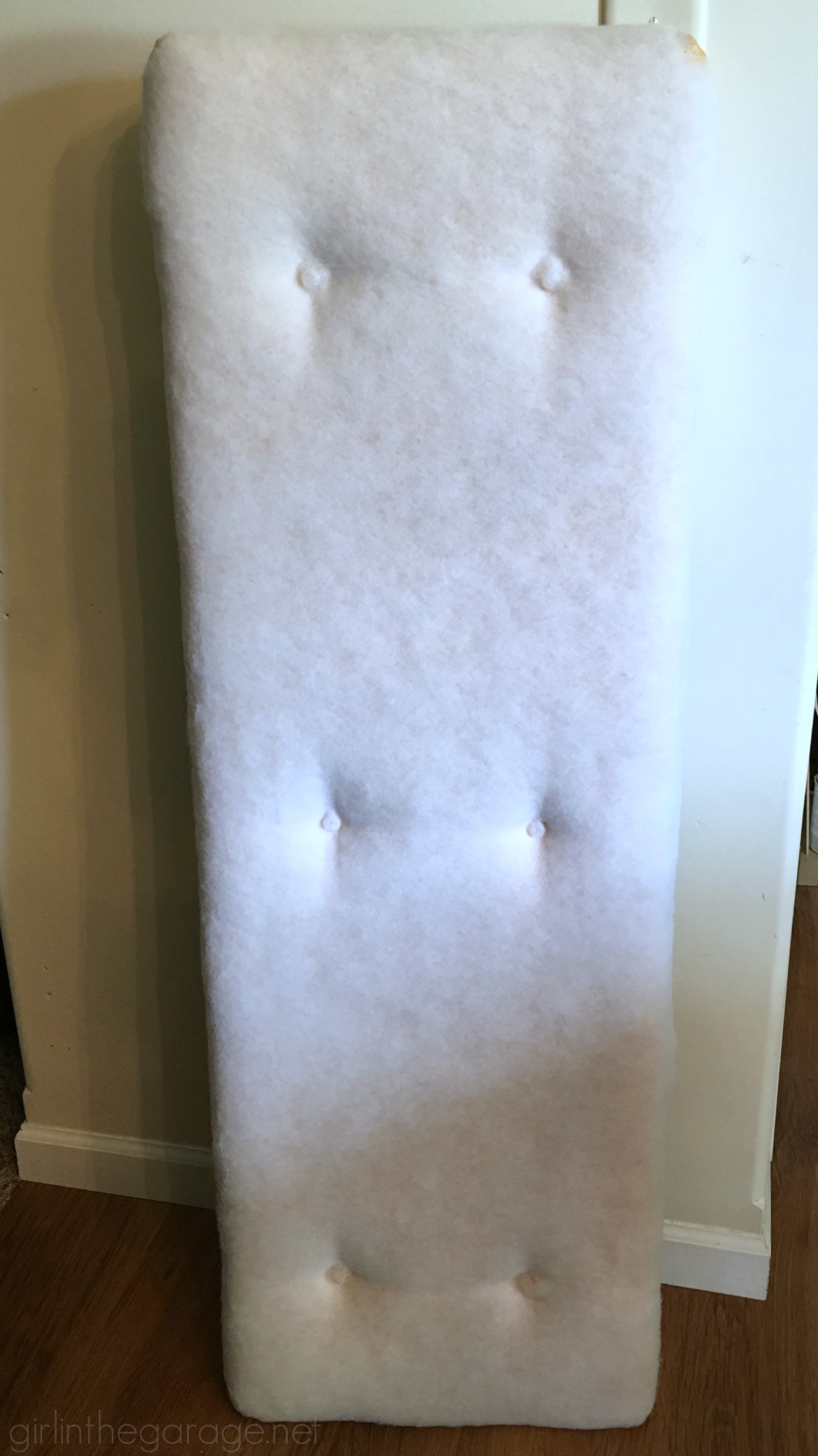 I laid out the old fabric as a pattern to cut the gorgeous new French script fabric.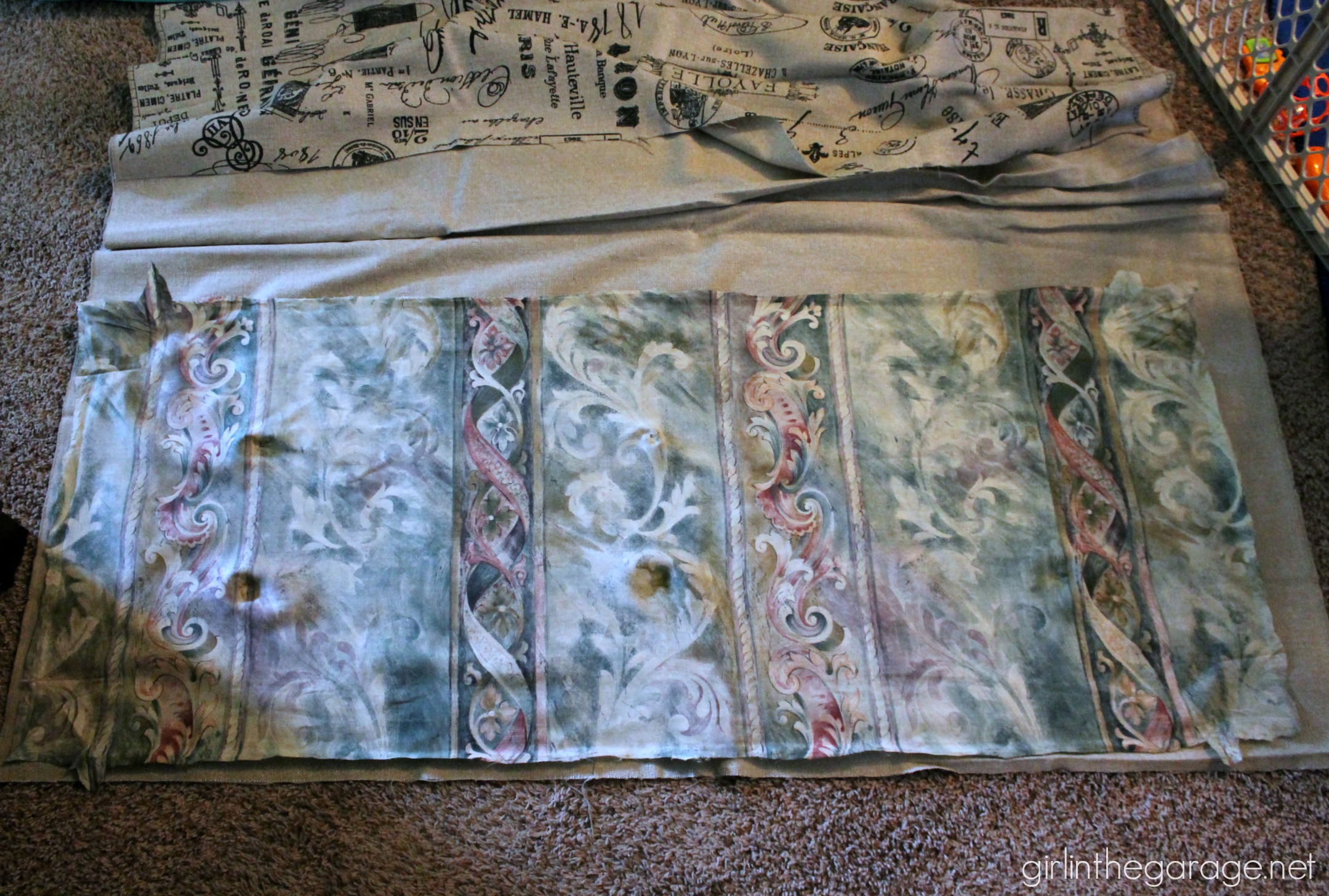 The seat was reupholstered with a "heavy duty" stapler from Hobby Lobby – I've used it on a few projects and let's just say I'm in the market for a heavier duty reupholstery stapler (maybe one with a compressor!).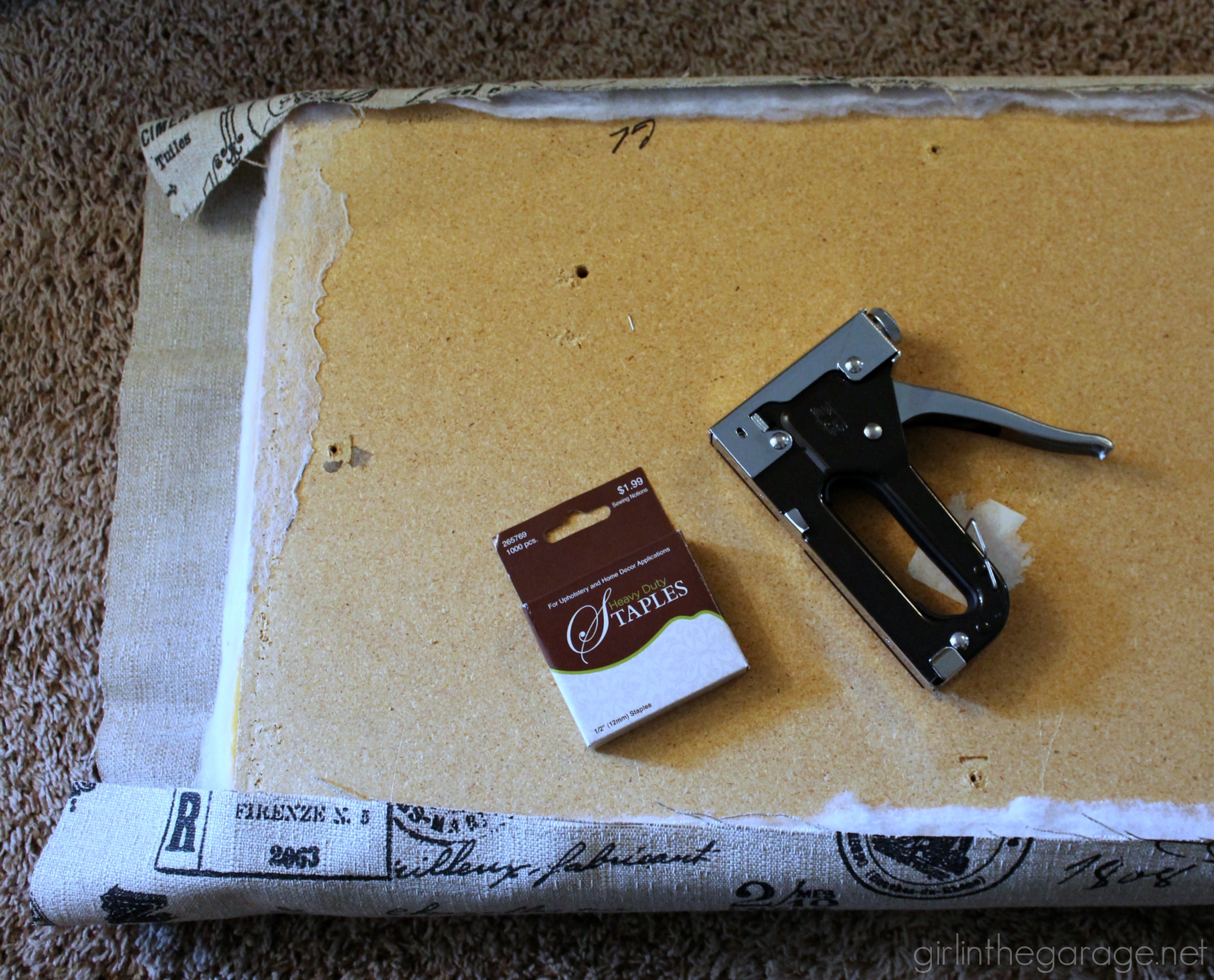 When you're stapling new fabric, always fold the edge under a bit to keep it from fraying.  Plus it just looks nicer if anyone were to take a peek down there.  I fold and hold with my left hand while my right hand staples.  With this staple gun I did have issues with some of my staples not going in all the way, so I had to hammer them in.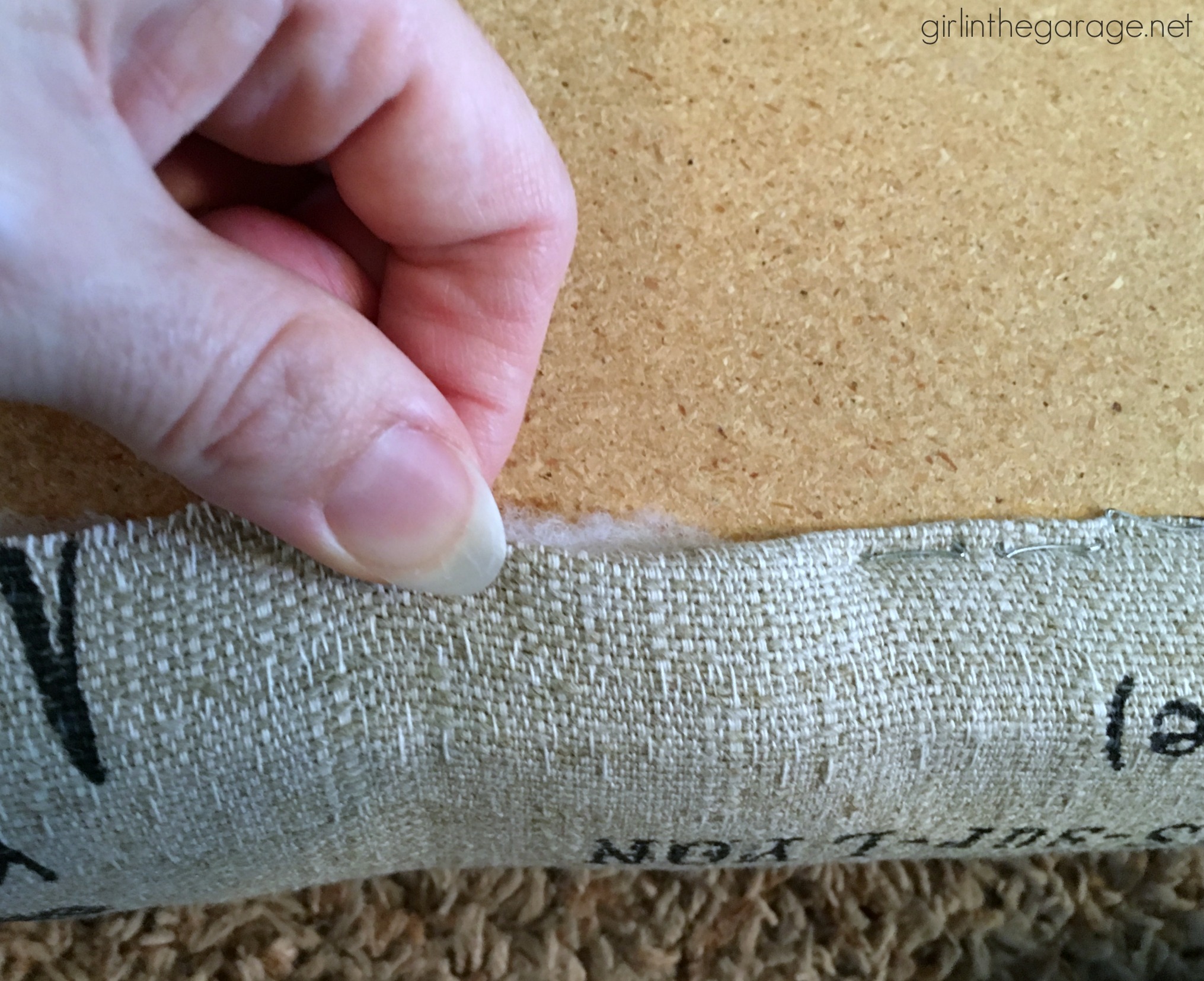 I also recovered the fabric buttons, retufted (is that a word?) the bench, and painted the new legs and frame that Mr. GITG built for me.  To keep this post from being way too long though, I'll share the details of those tutorials in another blog post soon.
Here is my finished pretty bench: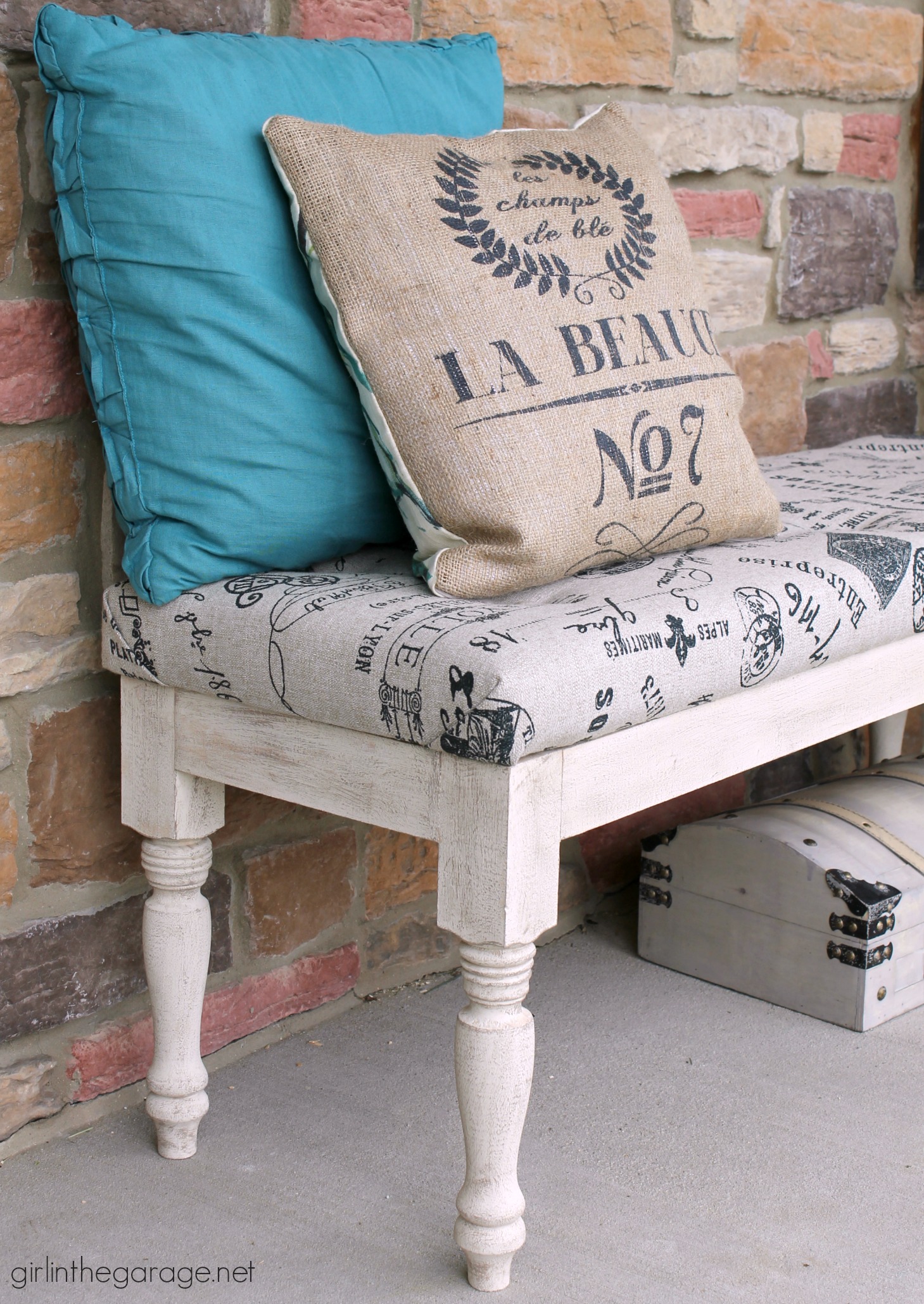 Oh my gosh you guys, this fabric is SO gorgeous.  It is textured and has such a luxurious feel and look to it.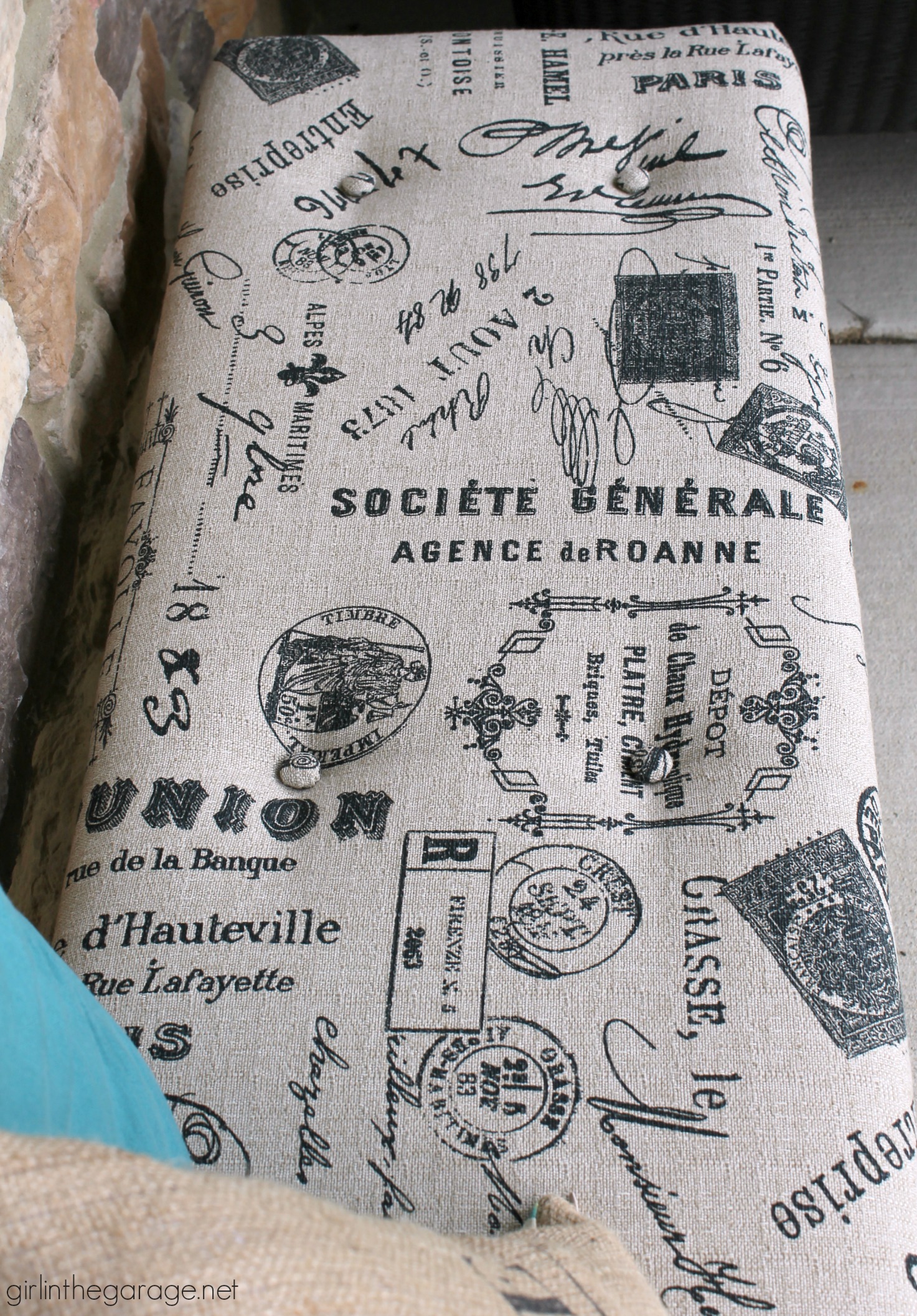 Here's a closer look at the fabric and paint (Old Ochre Chalk Paint dry-brushed with Coco):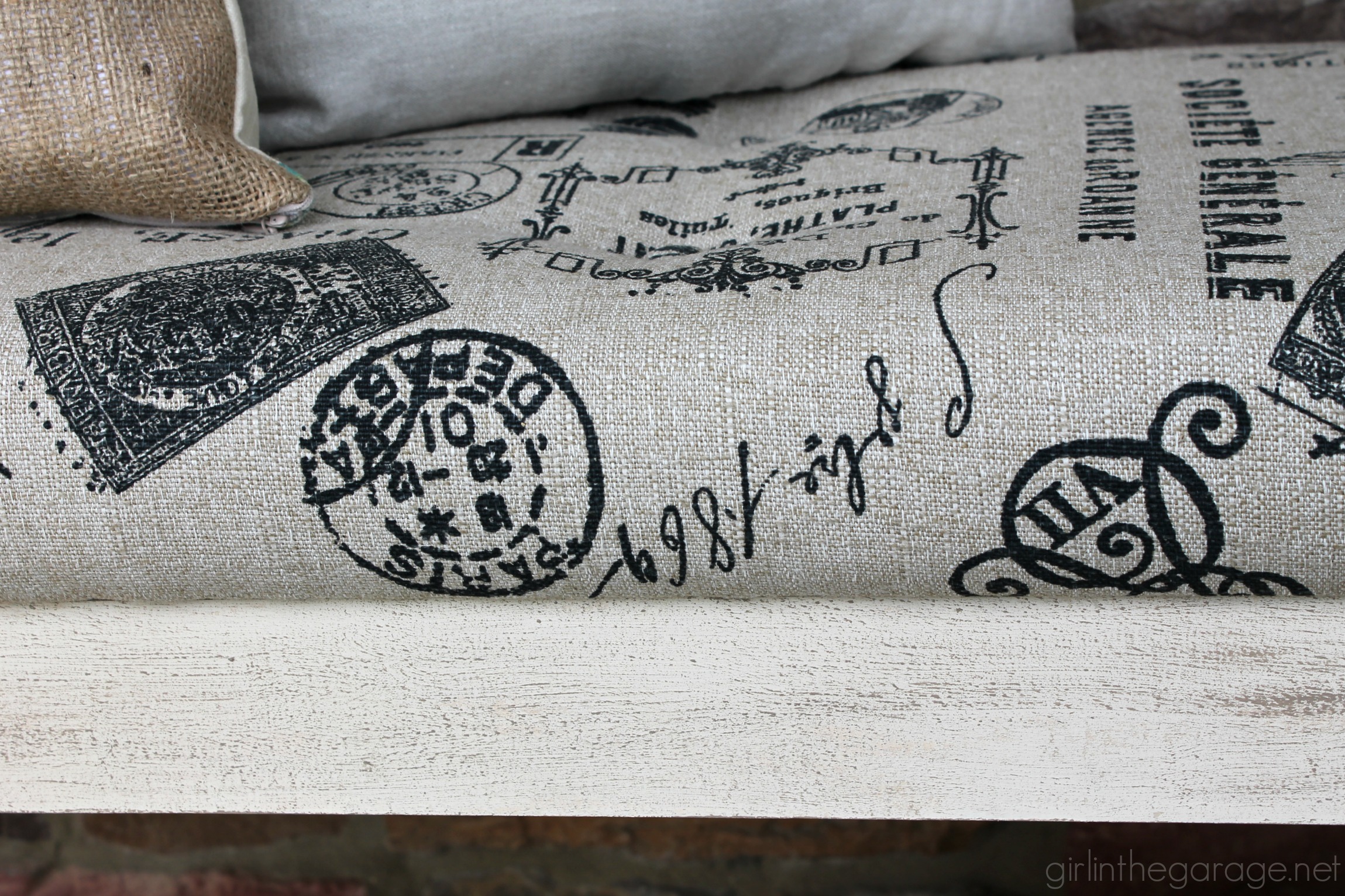 What really gets me here is the Before and After.  Do they really look like the same bench?  That's the power of paint – and fabric – and a little DIY help from my hubs.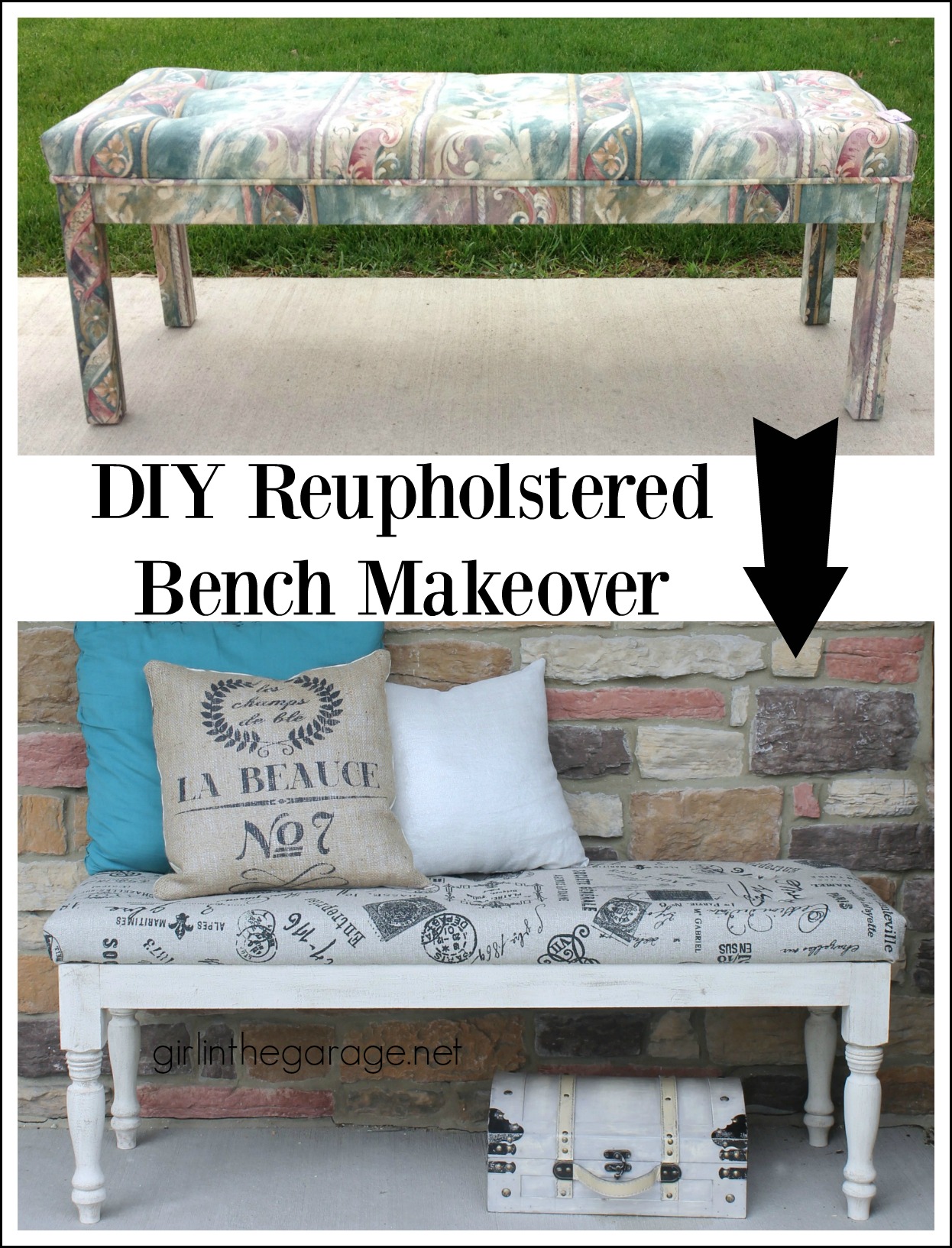 This bench will be for sale at the Hunt & Gather vintage market next week!
But wait – it's Themed Furniture Makeover Day, remember?  Click any of the pics below to see my friends' budget-friendly knockoff makeovers!