Happy (almost) 4th of July holiday to all my U.S. friends!  The summer heat has kicked in and we've been busy enjoying activities with the kids while also getting everything ready for our next big vintage market next weekend (July 14-15).  This bookcase will be there, along with a bunch of other new projects that I'll be sharing here soon.
I spotted this 2-piece vintage bookcase in a Facebook ad for an estate sale.  I forgot to take my own Before photo before I started working on it, and this photo makes it look deceivingly taller than it really is.  It's only about 5 feet tall, and I'm barely taller than it.  haha
It's a simple piece, but has some charming details.  The perfect candidate for a farmhouse style bookcase makeover.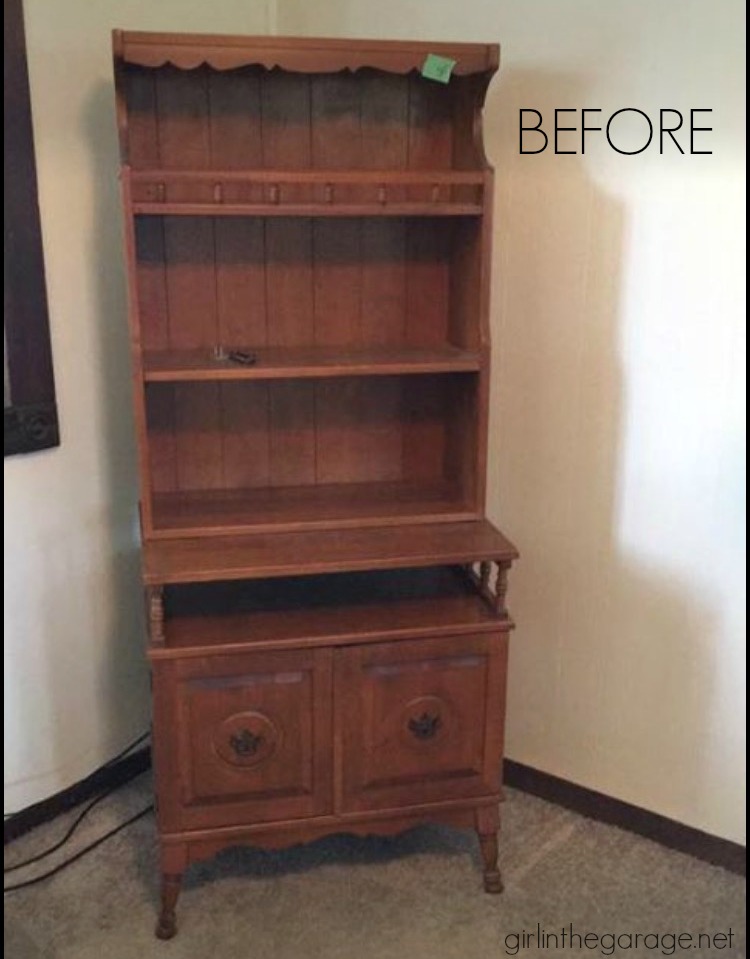 This post contains some affiliate links, at no extra cost to you, so you can easily find the products that I use and like.
First, I removed the rail on the top shelf and filled the holes with wood filler.  Those rails usually make a piece look more dated, and they're pretty easy to remove.
I painted most of it one coat of gray but it didn't seem like the right color choice.  So the gray ended up being a base, and I went over it all in Country Grey Chalk Paint by Annie Sloan.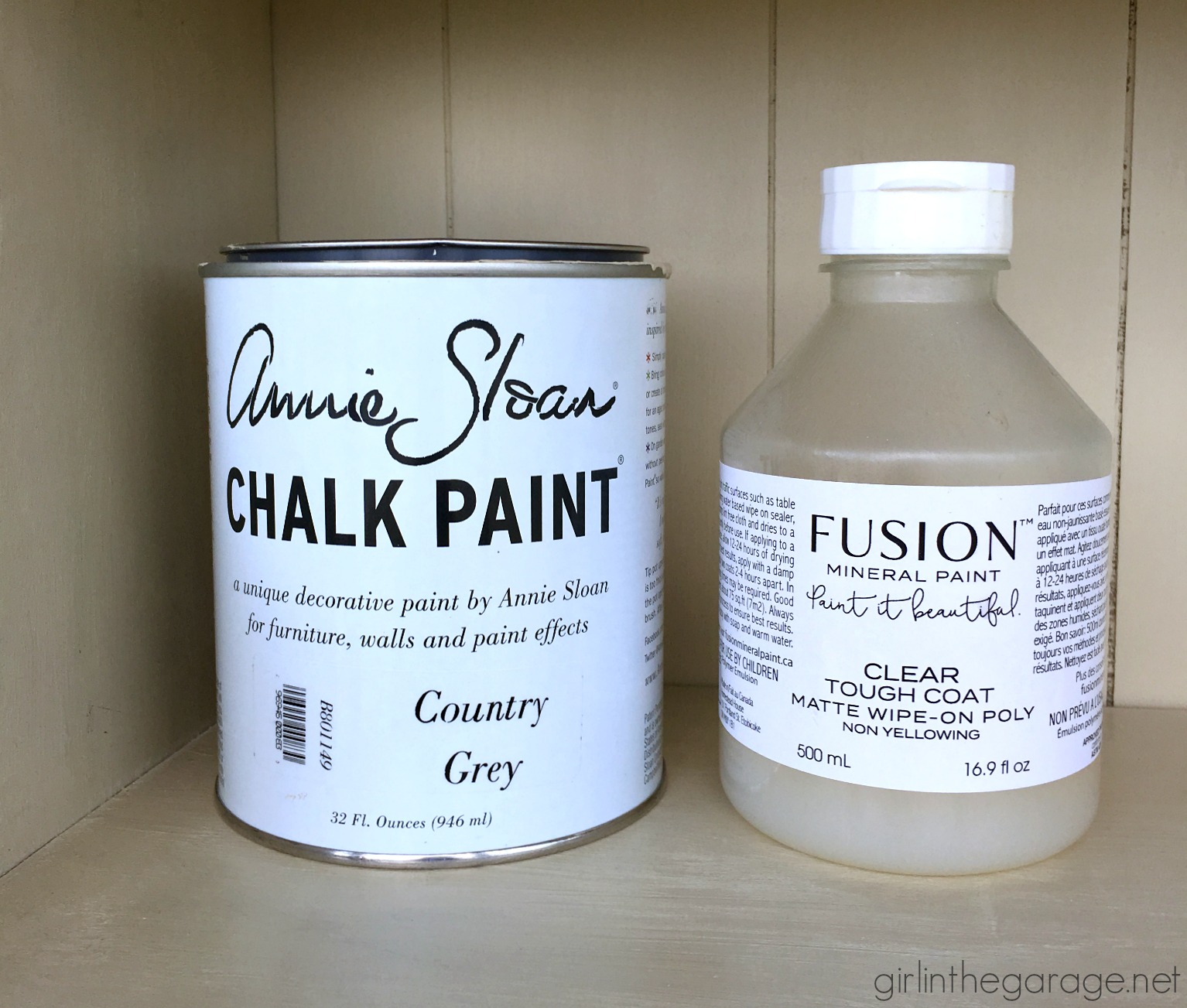 I took the back of the bookcase off for easier painting, and nearly sliced my wrist open on one of the nails that was sticking out.   (Learn from my mistake – be extra careful when using sandpaper on a board that has sharp nails!)
I also removed the doors so paint wouldn't get all over the hinges.  Then I filled the old hardware holes and drilled a new one right in the middle for new pulls from Hobby Lobby.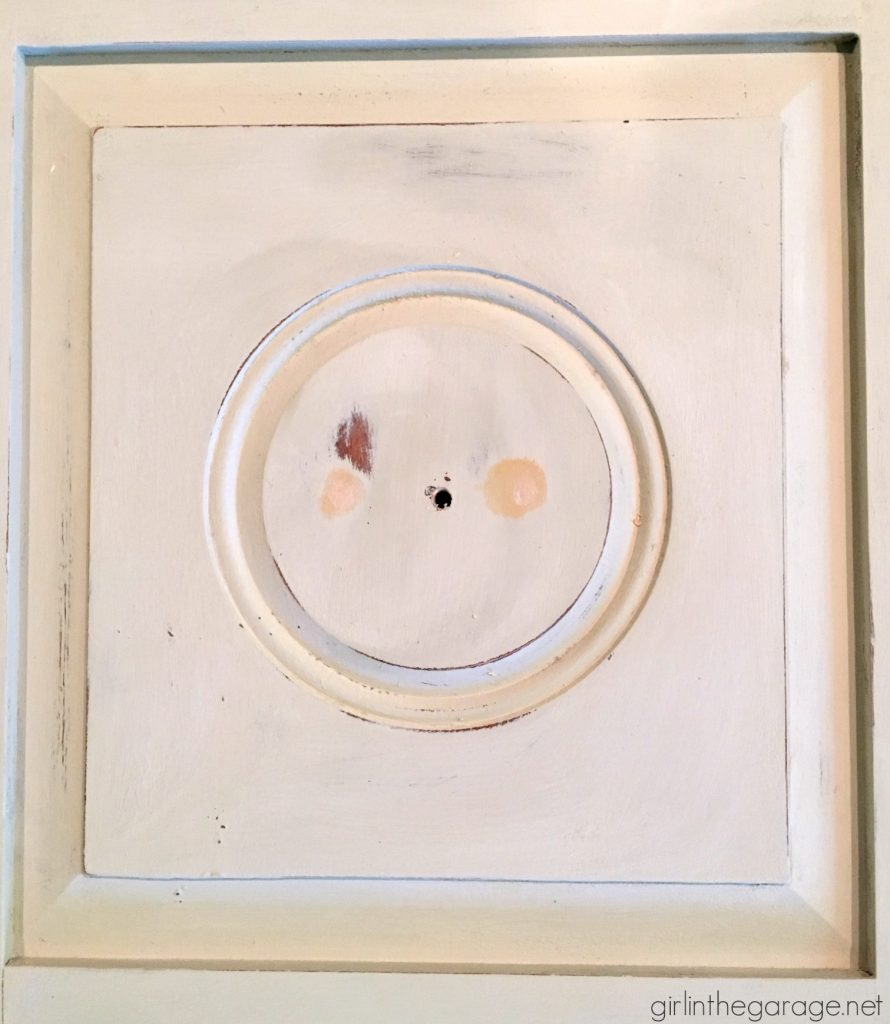 I lightly sanded it around the edges for a naturally distressed look, and finally protected it with Fusion Mineral Paint's Tough Coat.
And here she is…
It ended up being more work than it should've been because the paint was extra thick (bottom of the can) and was a little difficult to work with.  But in the end it turned out just fine.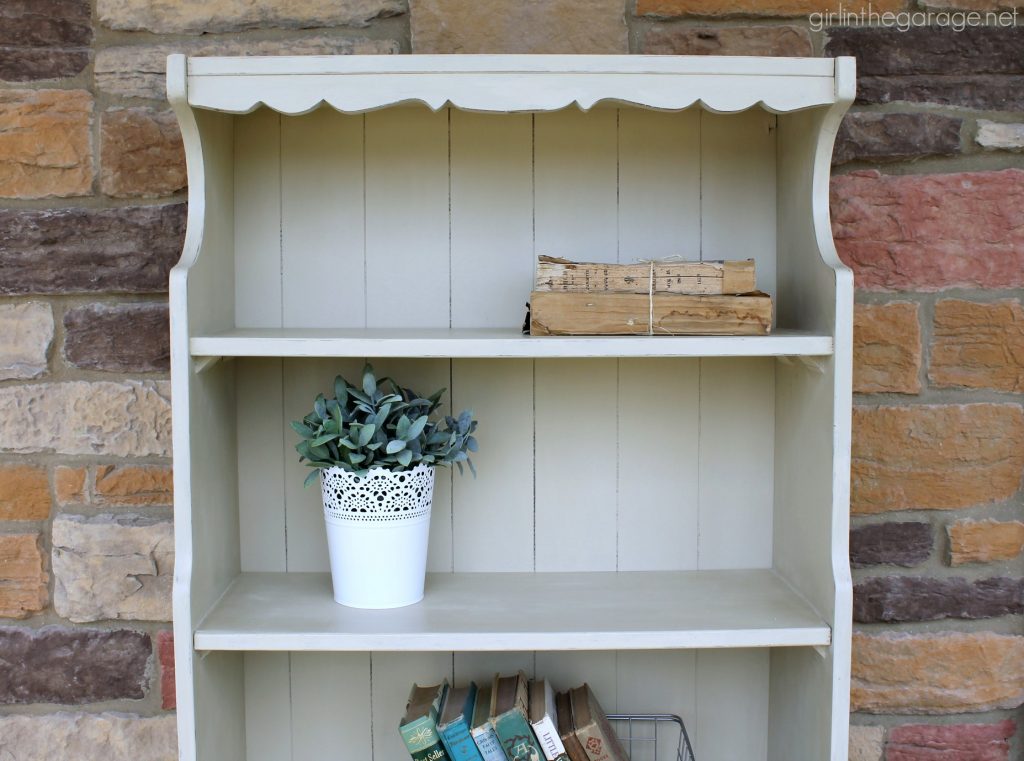 The little shelf right above the doors was a bit of a pain.  I had to use a small roller brush to get in there where the paint brush couldn't reach.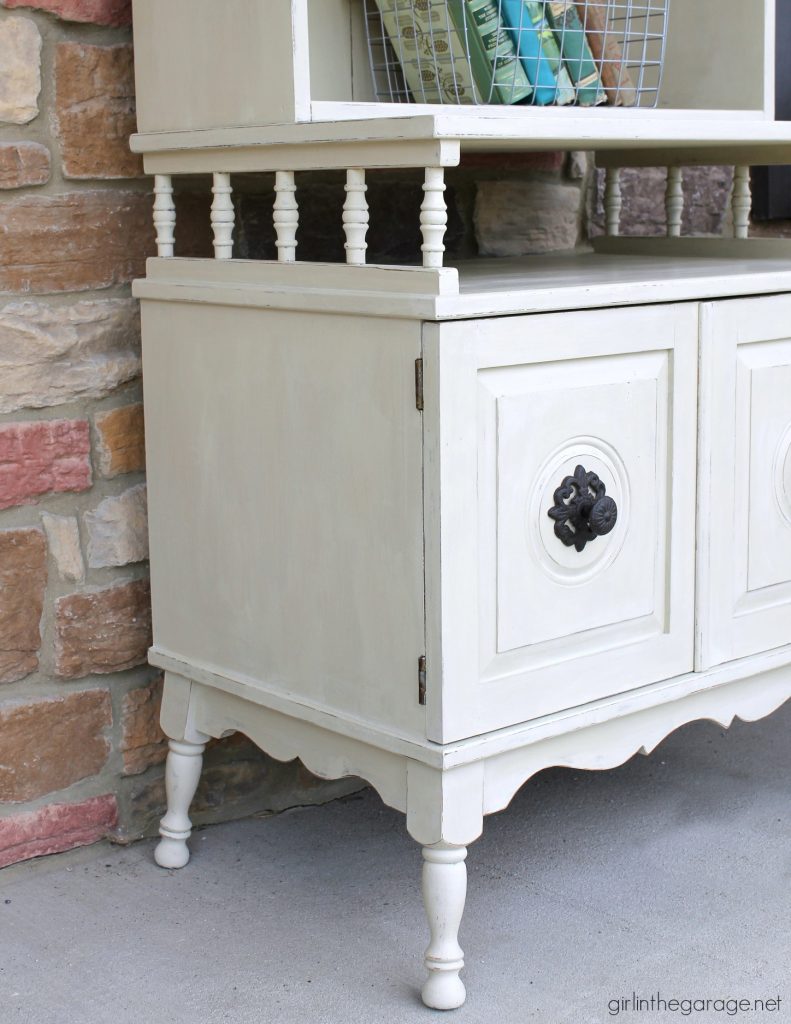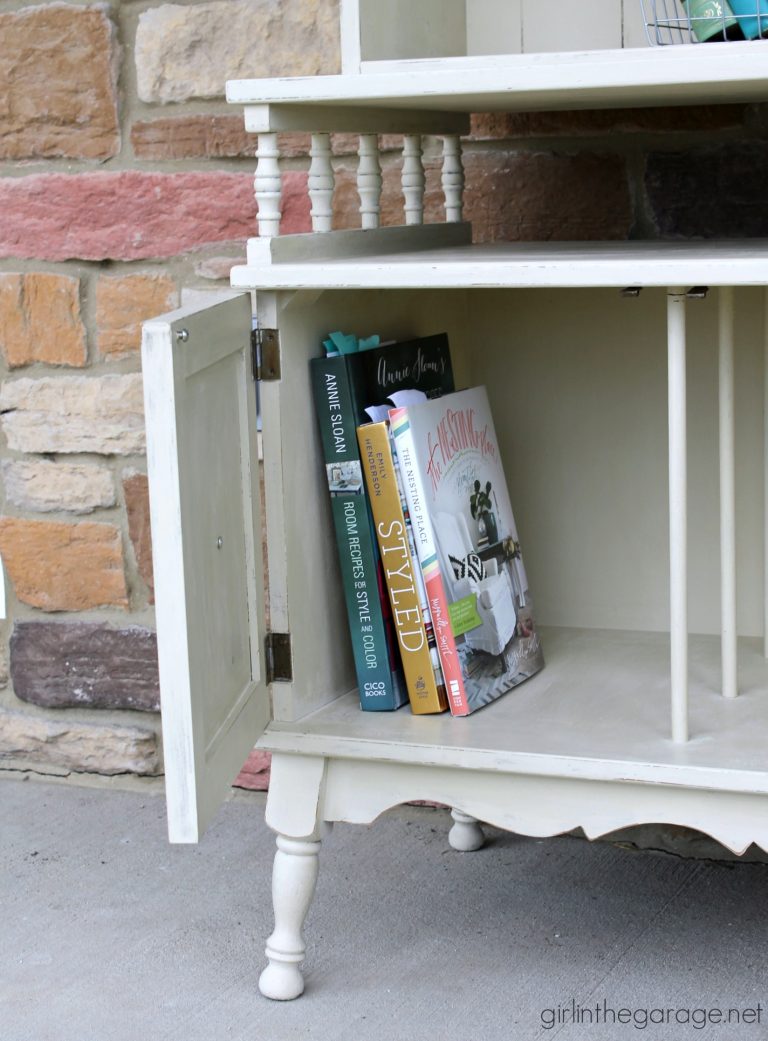 It's a cute little bookcase for extra storage, with a charming farmhouse style.  And it's very easy to move around since it's two separate pieces.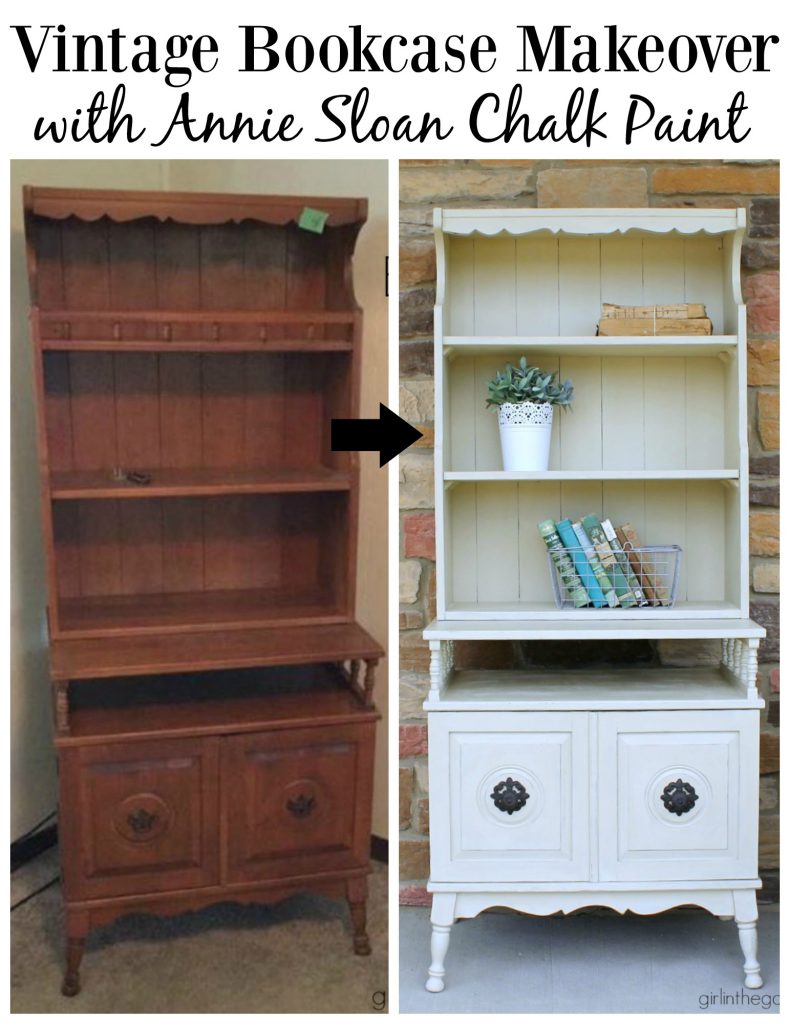 This bookcase makeover will be available in my space at the Hunt and Gather vintage market on July 14-15 in Crown Point, Indiana.  I hope to see you there, friend!
And have a safe and fun 4th of July!
Jen

Click here for my free printable resource list: 11 Items to Always Buy While Thrifting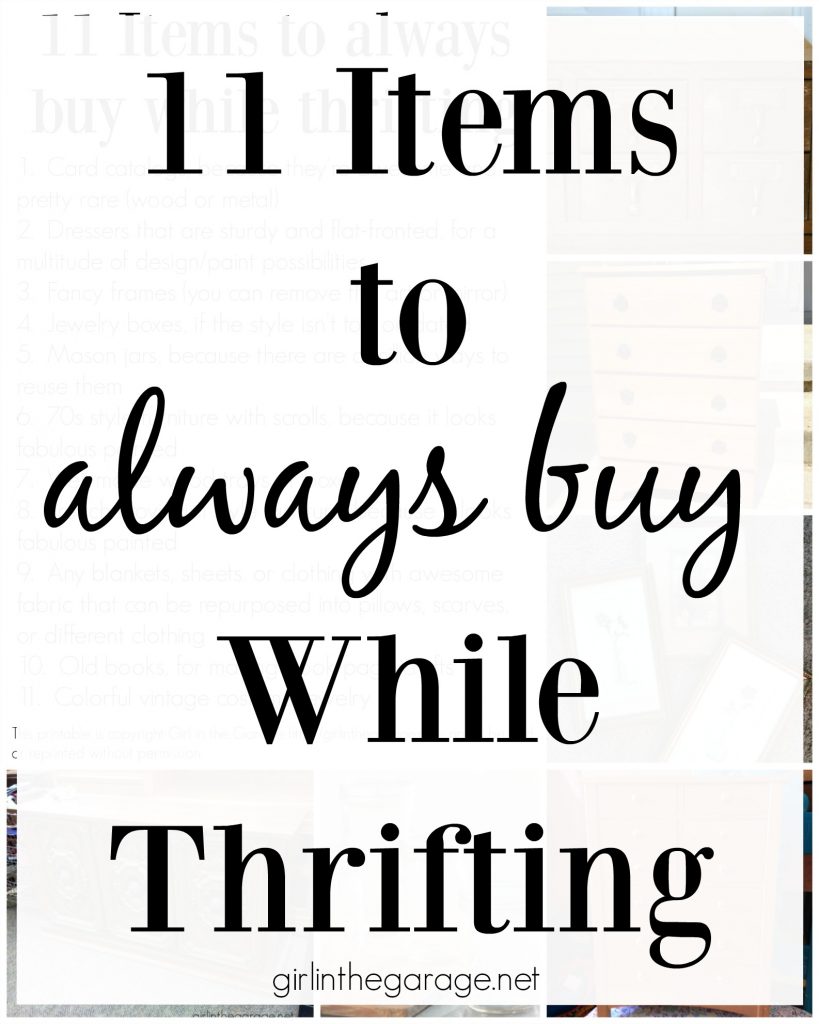 Join the GITG Community
When you join this thriving online community of 90,000 creative souls, you'll be inspired to discover hidden artistic talents and learn skills to boldly face DIY projects with confidence.
You'll also receive my free guide "Just Paint It: 7 Tips for Transforming Furniture with Confidence."