This type of vintage chair makeover is pretty easy, and I used to do them all the time.  I figured since I'm bringing a pretty desk to the Hunt and Gather market next week that I better have a pretty chair to set next to it, in case someone needs both.  😉
Here's a simple tutorial if you're unsure how to do this type of chair makeover.
This is the Before…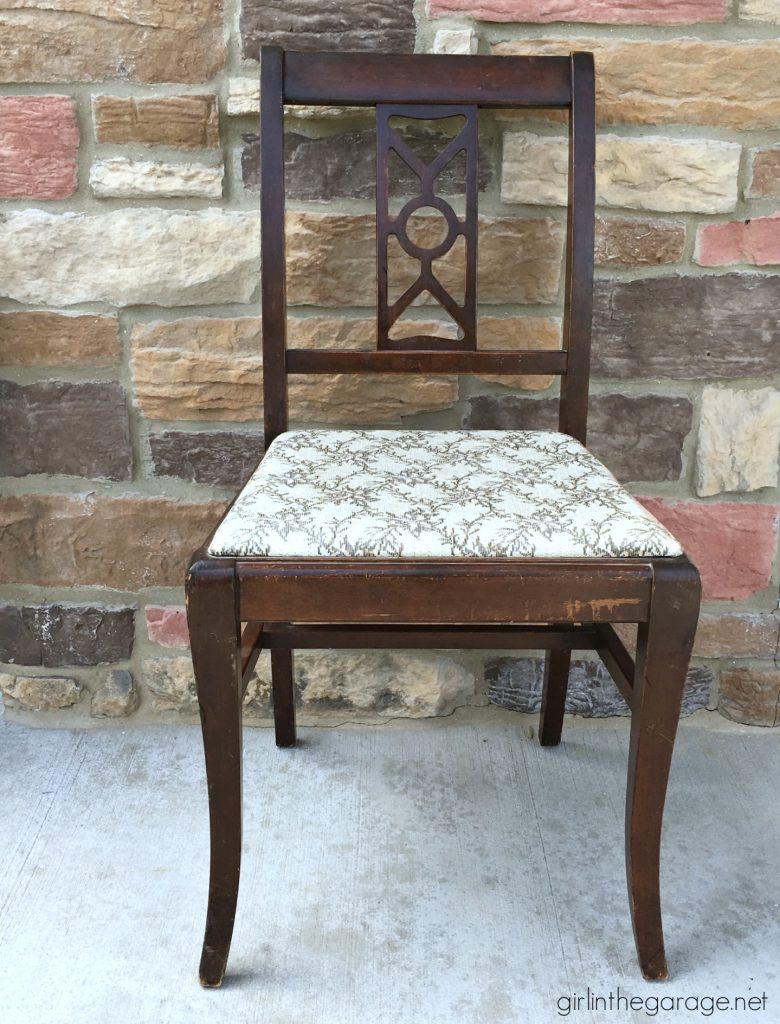 1.  First, wipe the chair down with a lightly damp rag or paper towels.
2.  Lay the chair on its back and unscrew the seat – there is one screw in each corner.  Put the screws in a sandwich bag to keep them safe.  Then wipe down the rest of the chair where the seat was.
Sometimes chairs will have details underneath about where they were manufactured.  Pretty cool!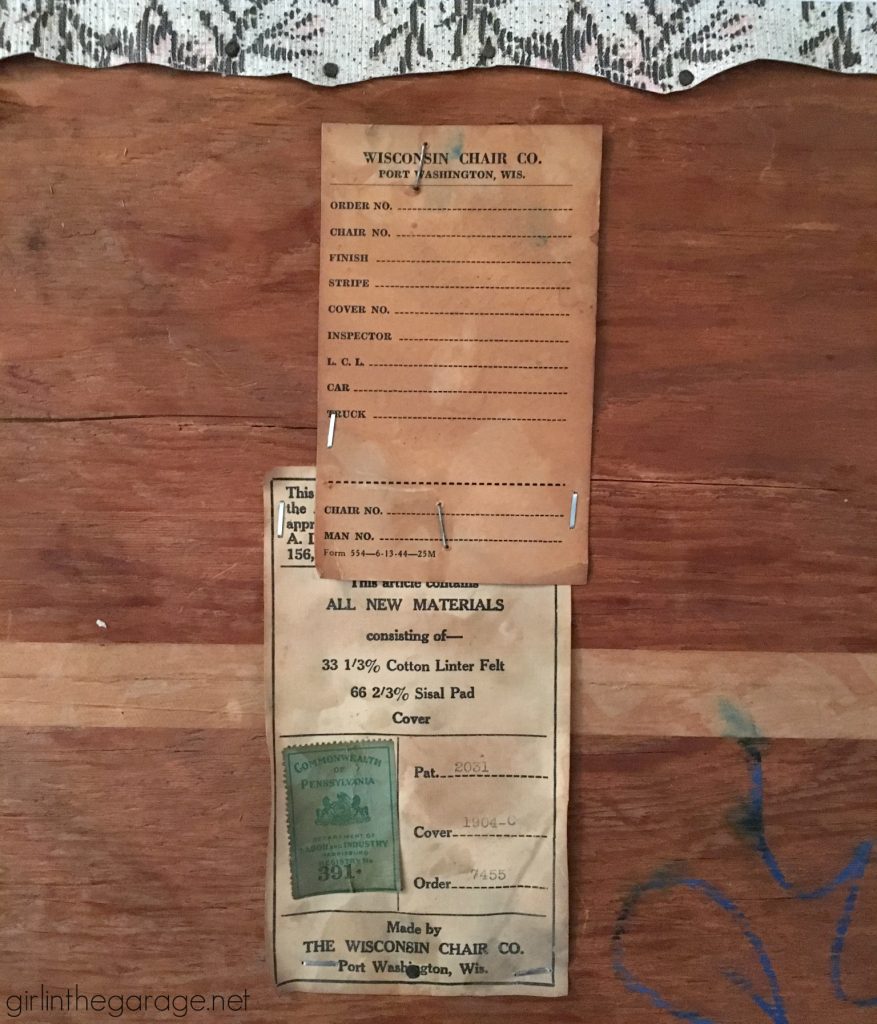 This post contains some affiliate links, at no extra cost to you, so you can easily find some of the products I use and recommend.
3.  If your seat is in good shape, you can decide to just recover it instead of replacing it.  This seat had a vinyl cover that was intact, but it was uncomfortable and outdated.
Cut foam the size of your seat (mine is 1 inch thick).  Then cut cotton batting, enough to cover the foam and also wrap around the edge of the seat with a couple inches extra.  Staple it into place underneath with a basic upholstery stapler.  Be careful not to cover the holes where the screws are supposed to go.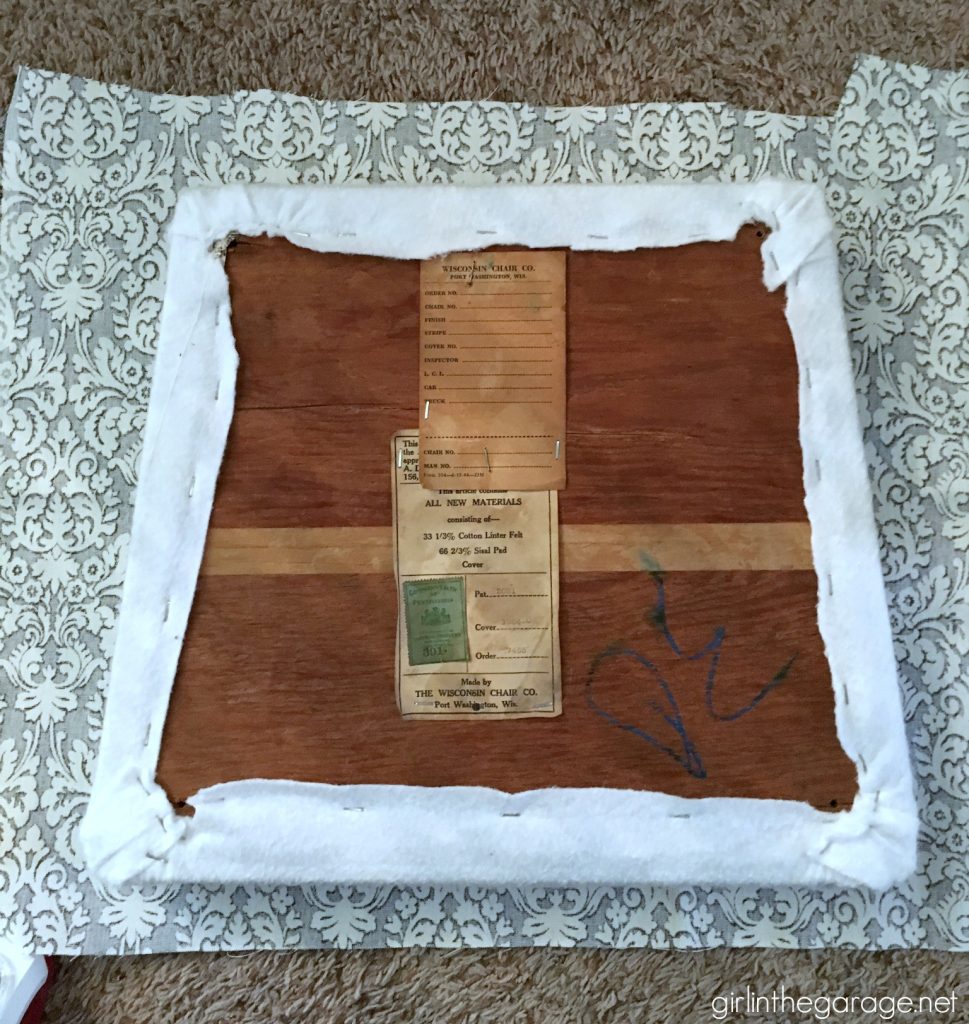 Cut your fabric the same way and then staple it into place over the batting.  If your fabric has a pattern, make sure it lines up however you want it to.
4. Lightly sand any bumps or scratches in the chair frame and use primer if needed.  When I first started painting this chair, some pink came through the white paint right away and I knew I needed to prime it first.  I used Zinsser BIN primer (make sure your work area has good ventilation) and then painted it in Fusion Mineral Paint – Raw Silk.  You don't have to worry about a topcoat with Fusion Mineral Paint unless you want to be extra cautious (then you can apply their Tough Coat topcoat) – I did not use it on this chair though.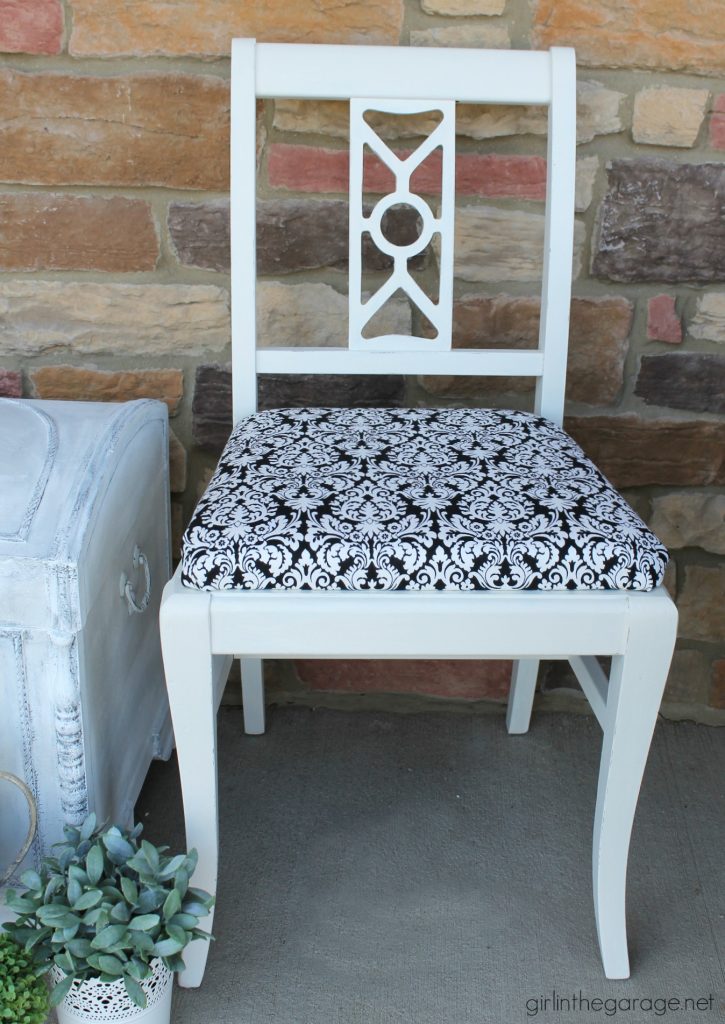 5. After the paint has dried, lightly sand near the edges to highlight details and give it a subtle distressed look, if desired.
6. Screw the seat back on and you're all finished!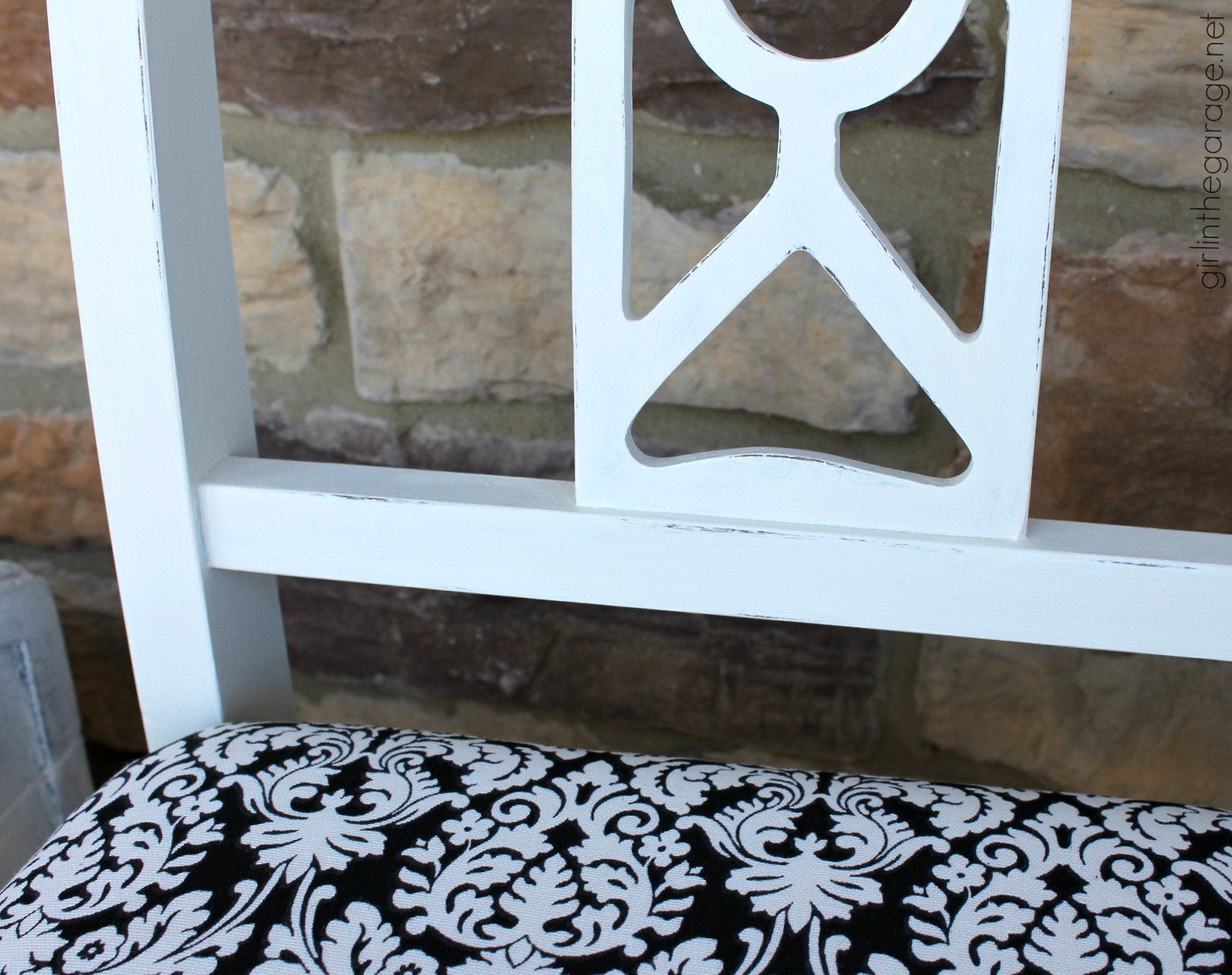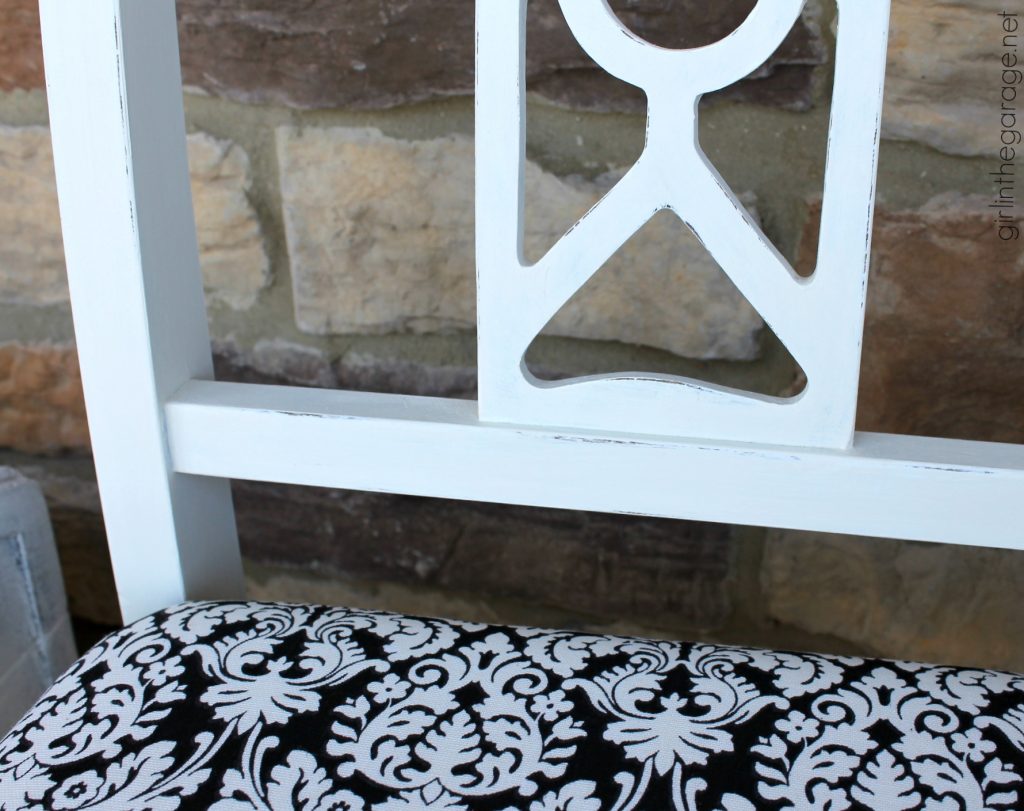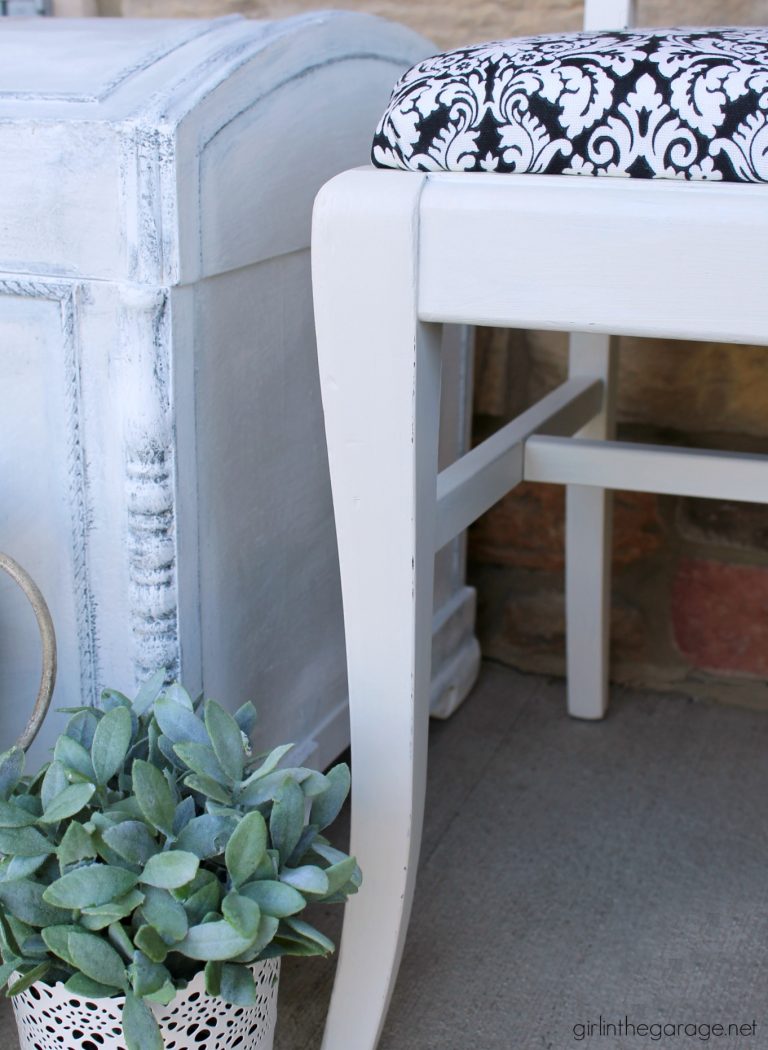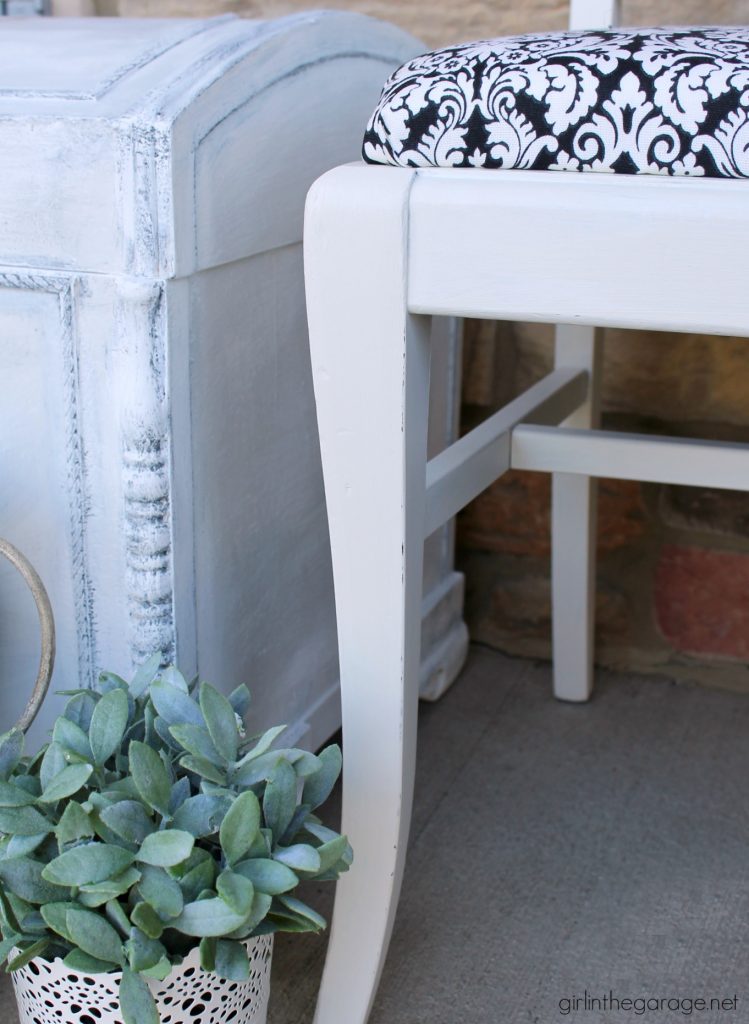 It's amazing what a little paint and fabric can do – and this is really an easy peasy vintage chair makeover.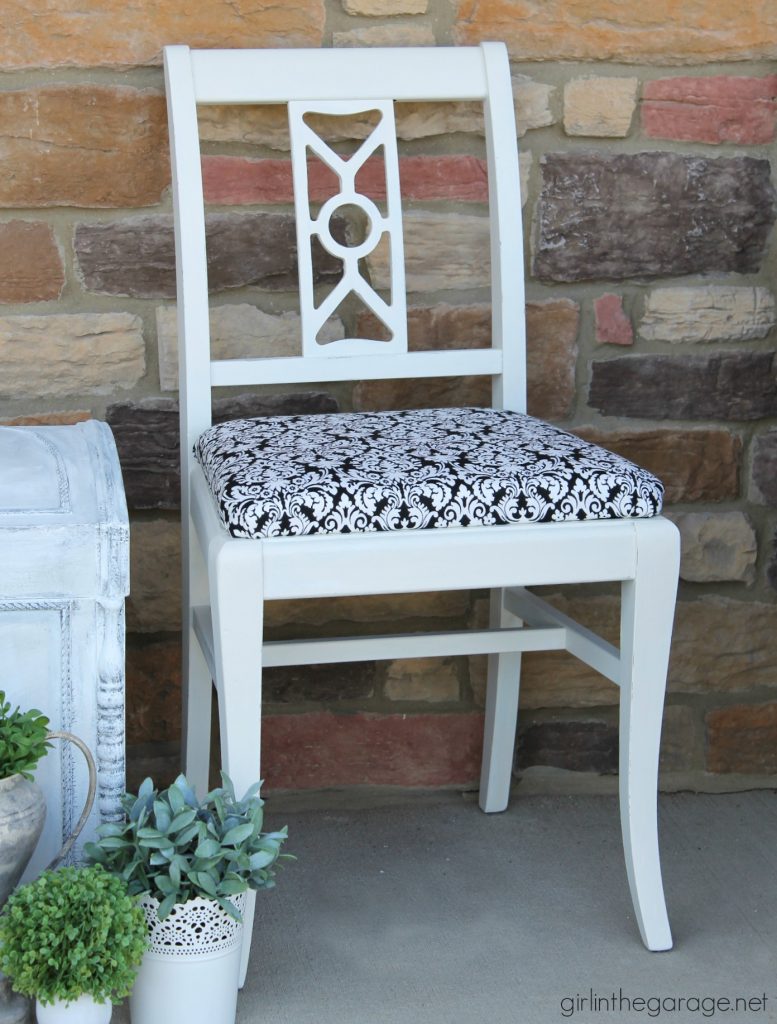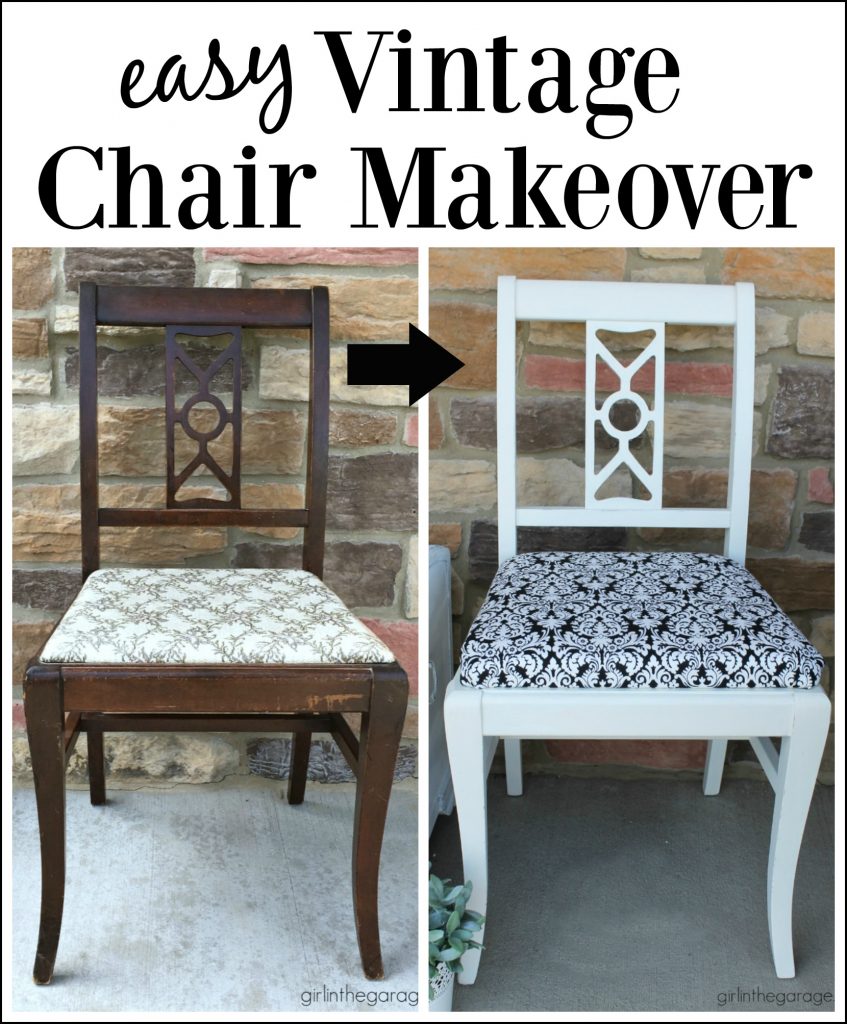 Do you prefer the complicated reupholstered chair makeovers or the simple ones like this?  I like a good challenge, but sometimes quick and easy chair makeovers win.  🙂
Jen
Here are other chair makeovers you may like…
* The Throne Chair – DIY Reupholstered Chair Makeover *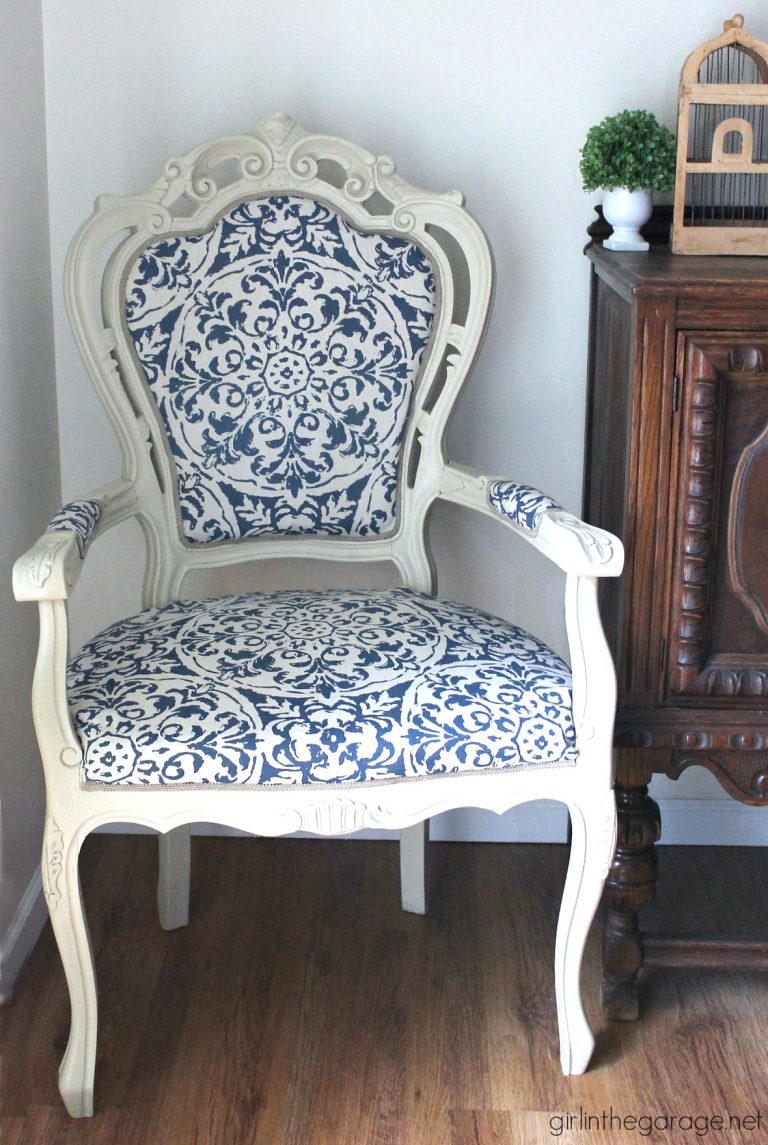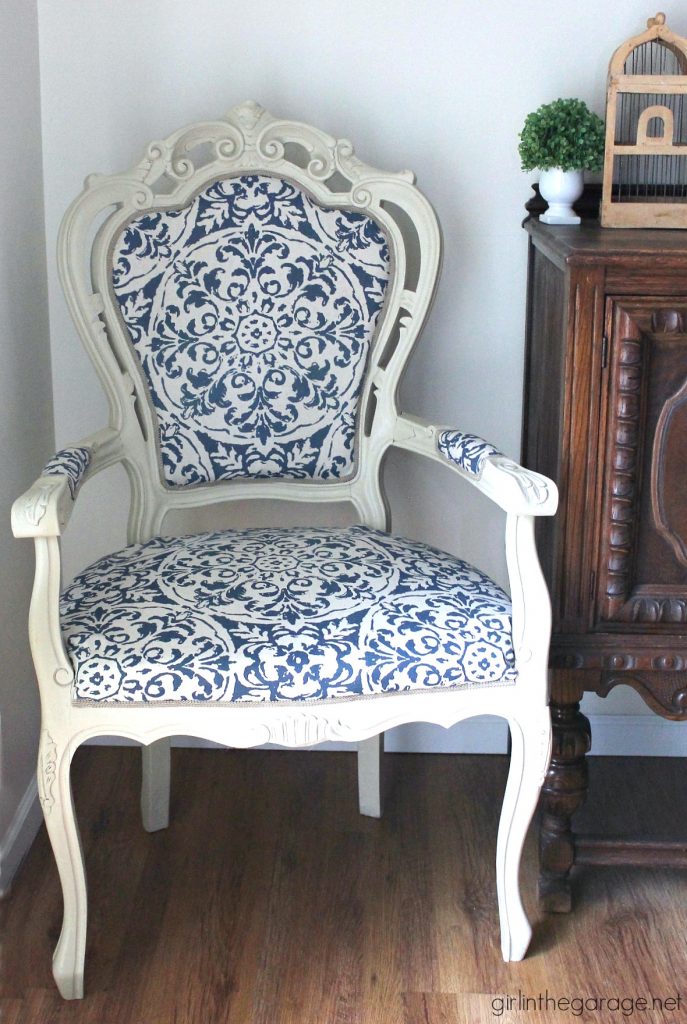 * Reupholstered Parsons Dining Chair Makeover *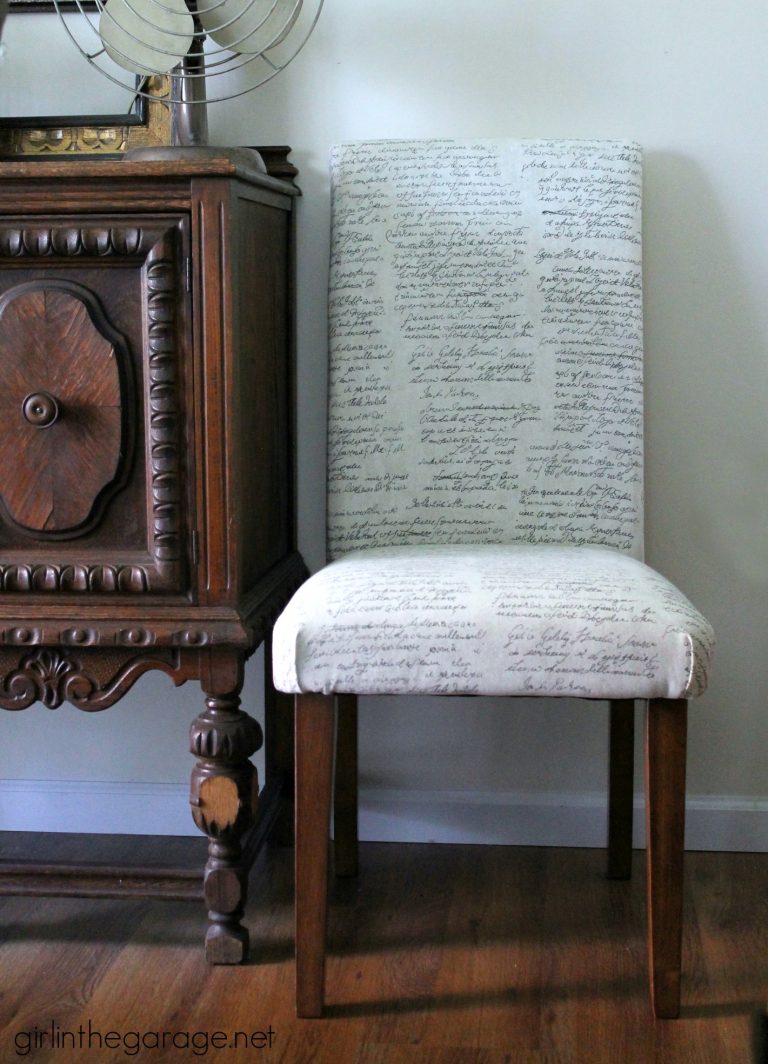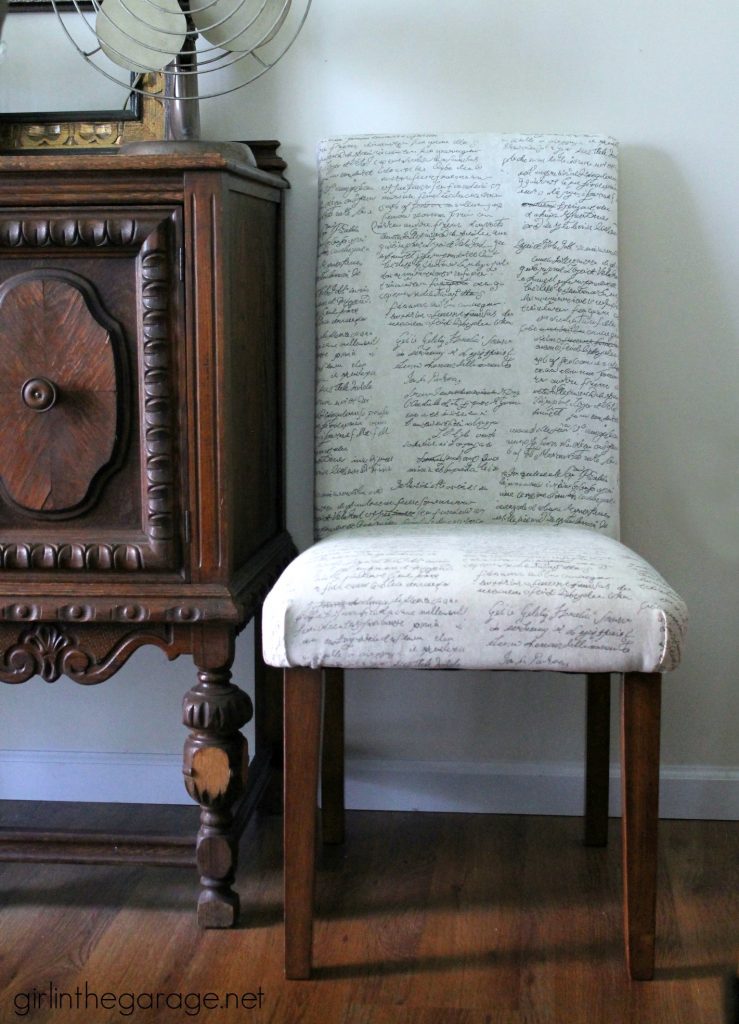 * Farmhouse Chair Makeover with Ticking Fabric *