My favorite pieces to paint are vintage and antique furniture. The details, scrolls, and craftsmanship are almost unmatched in modern day pieces. There's just something so satisfying about taking a neglected dresser, table, or chair that was loved decades ago and transforming it into a beautiful, usable piece again.
Can I get an amen?
But sometimes, you come across a challenge that is different than your "usual" type of project.
Like these Parsons chairs. If you had an opportunity to do something with these, what would you do?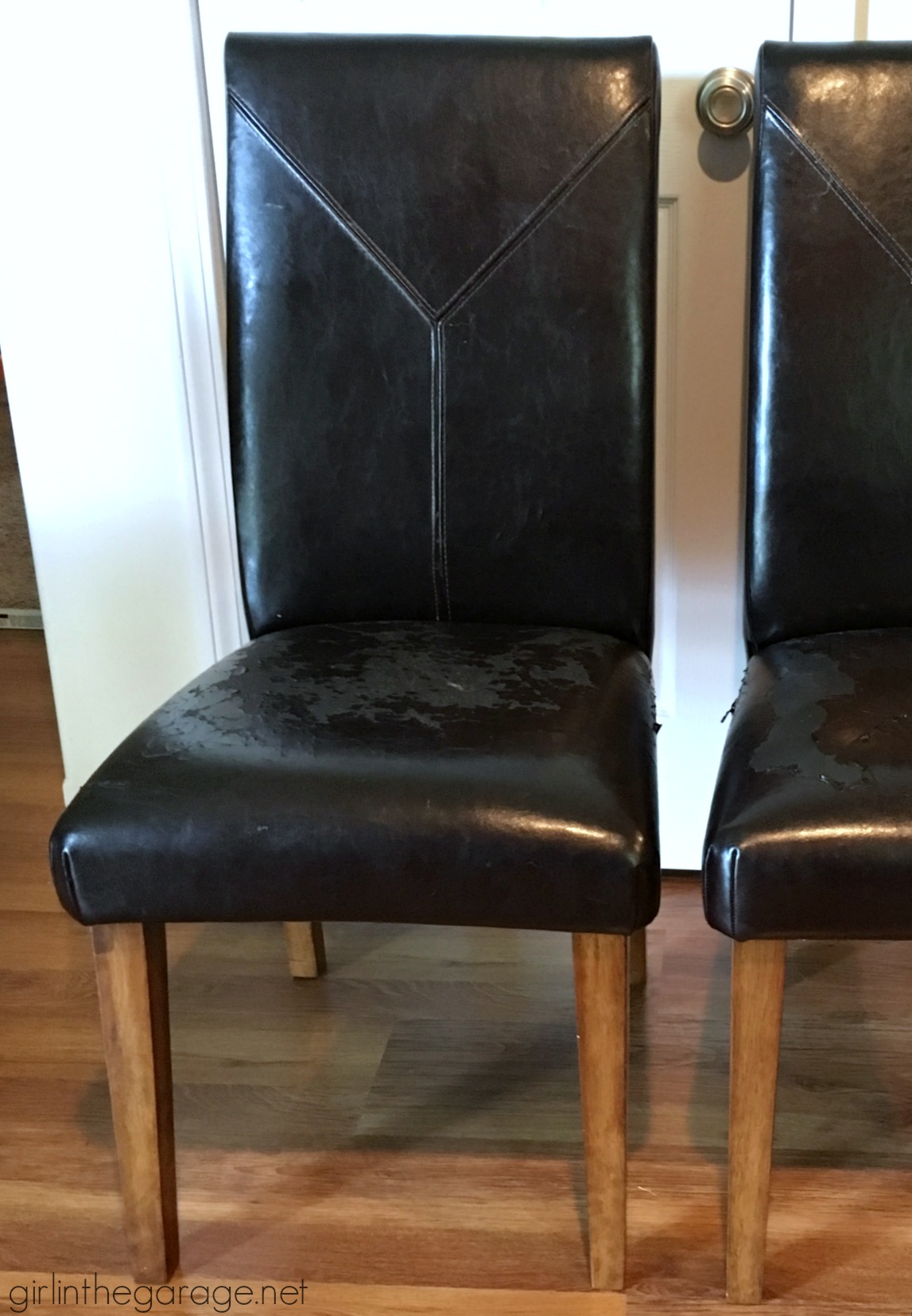 These are the dining chairs my family used for ten years – ever since my husband and I got married and bought our first house – until we finally got a brand new set. They're very well used and I honestly considered just donating them to Goodwill because I didn't want to mess with them.
They're basic leathery Parsons chairs, with nothing special about them – quite different than the pieces I usually decide to redo. However I'm not one to turn down a challenge, so off to Hobby Lobby I went and found some gorgeous new script fabric to reupholster these babies.
First things first, everything has to come apart… (Warning: There are tons of photos because I wanted to be thorough for you guys!)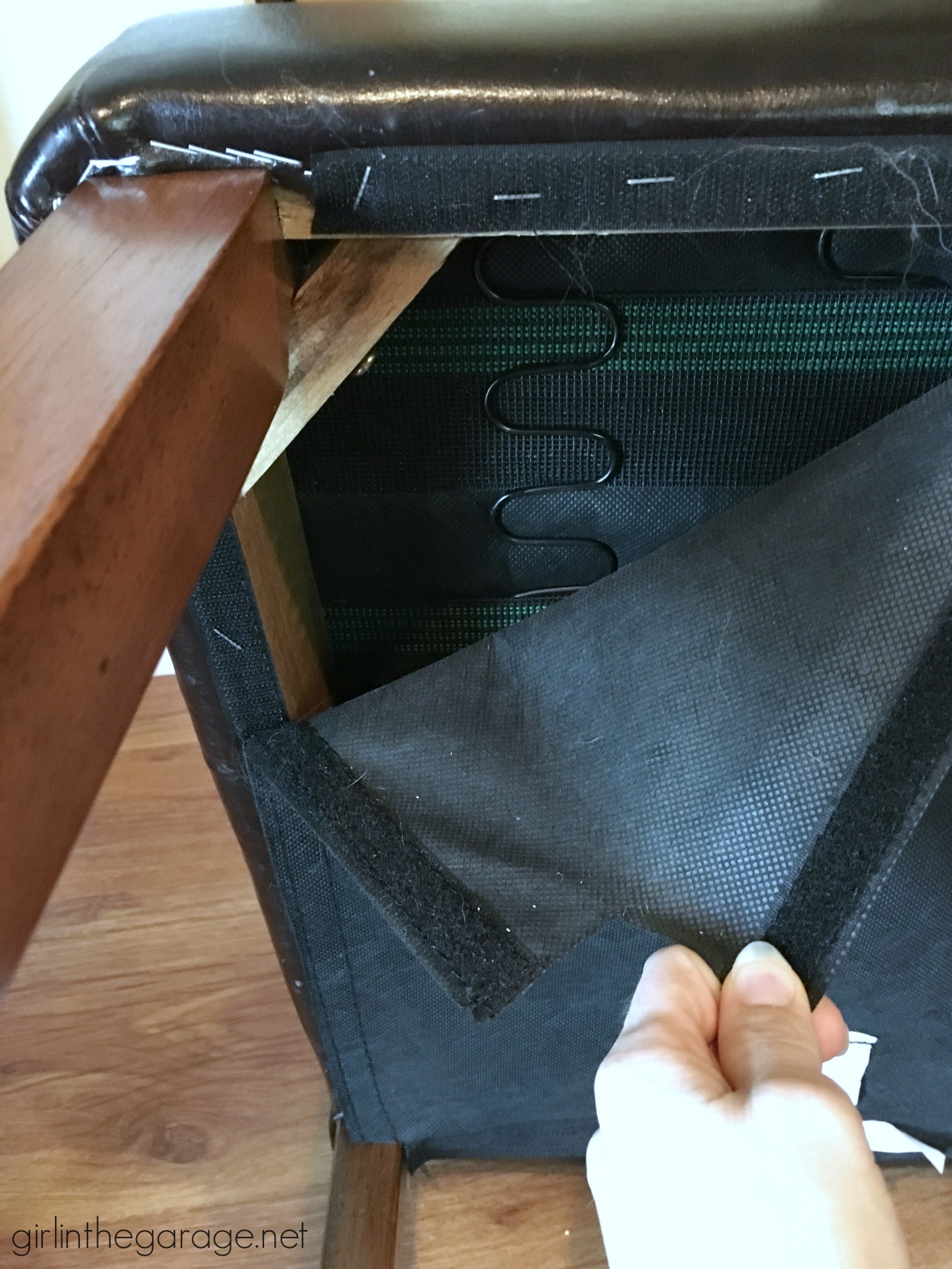 *This post contains some affiliate links so you can easily find the products I use and recommend. Discover all my favorite brands and tools for doing DIY makeovers here.
When you're attempting this kind of project – one that you'll have to put back together in a very specific way – take photos along the way so you can refer back later.
Also, put all the screws, bolts, and washers in a sandwich bag so they don't get lost (you might want to label them if there are different sizes and you tend to be forgetful).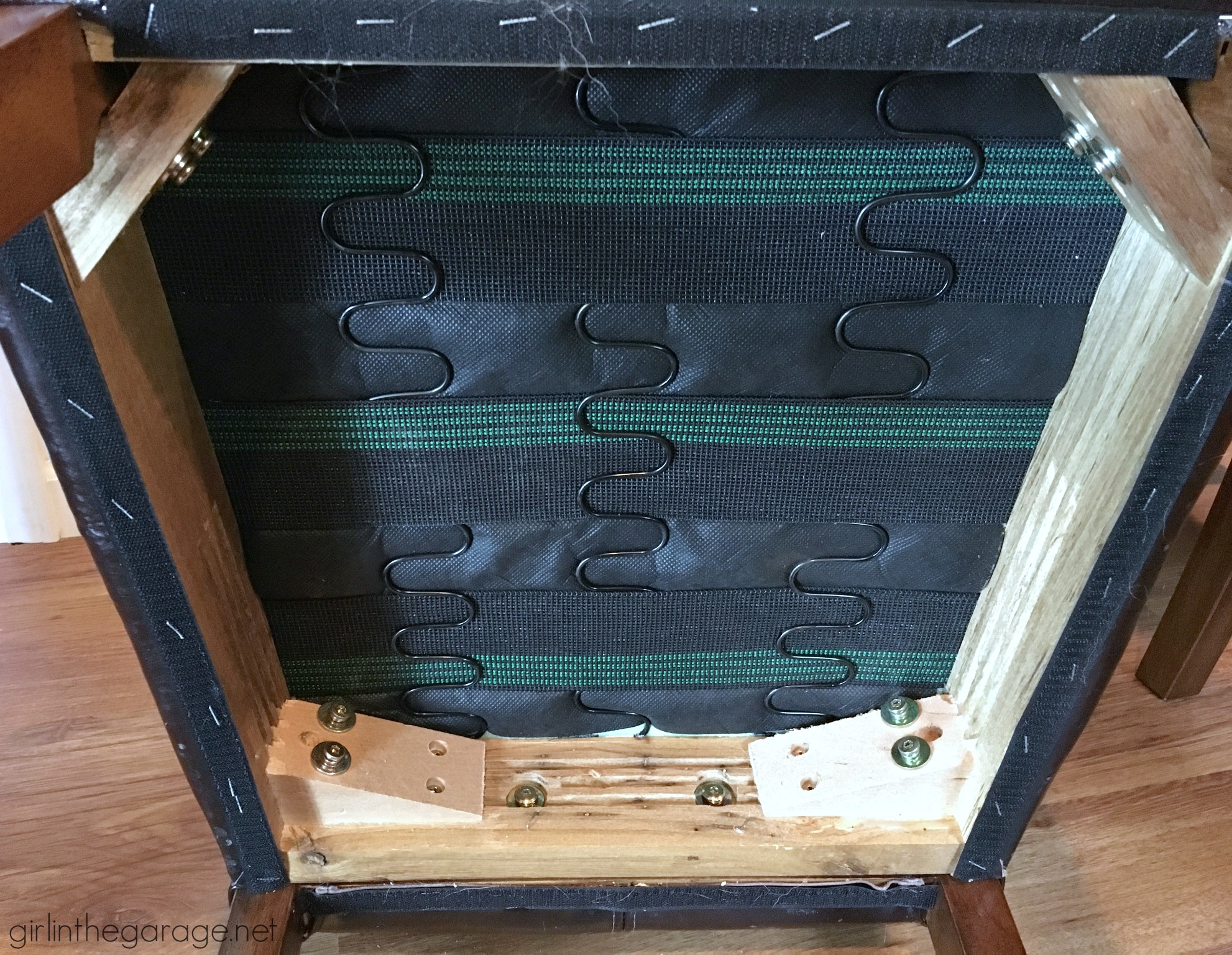 Next, remove all of the staples from the upholstery. You can use a staple remover, but I used a thin flathead screwdriver and needle nose pliers. Update: Now I own this inexpensive staple remover which speeds things up and doesn't hurt my hands.
If you're working on a Parsons chair like this one, when you take it all apart the back will look like this: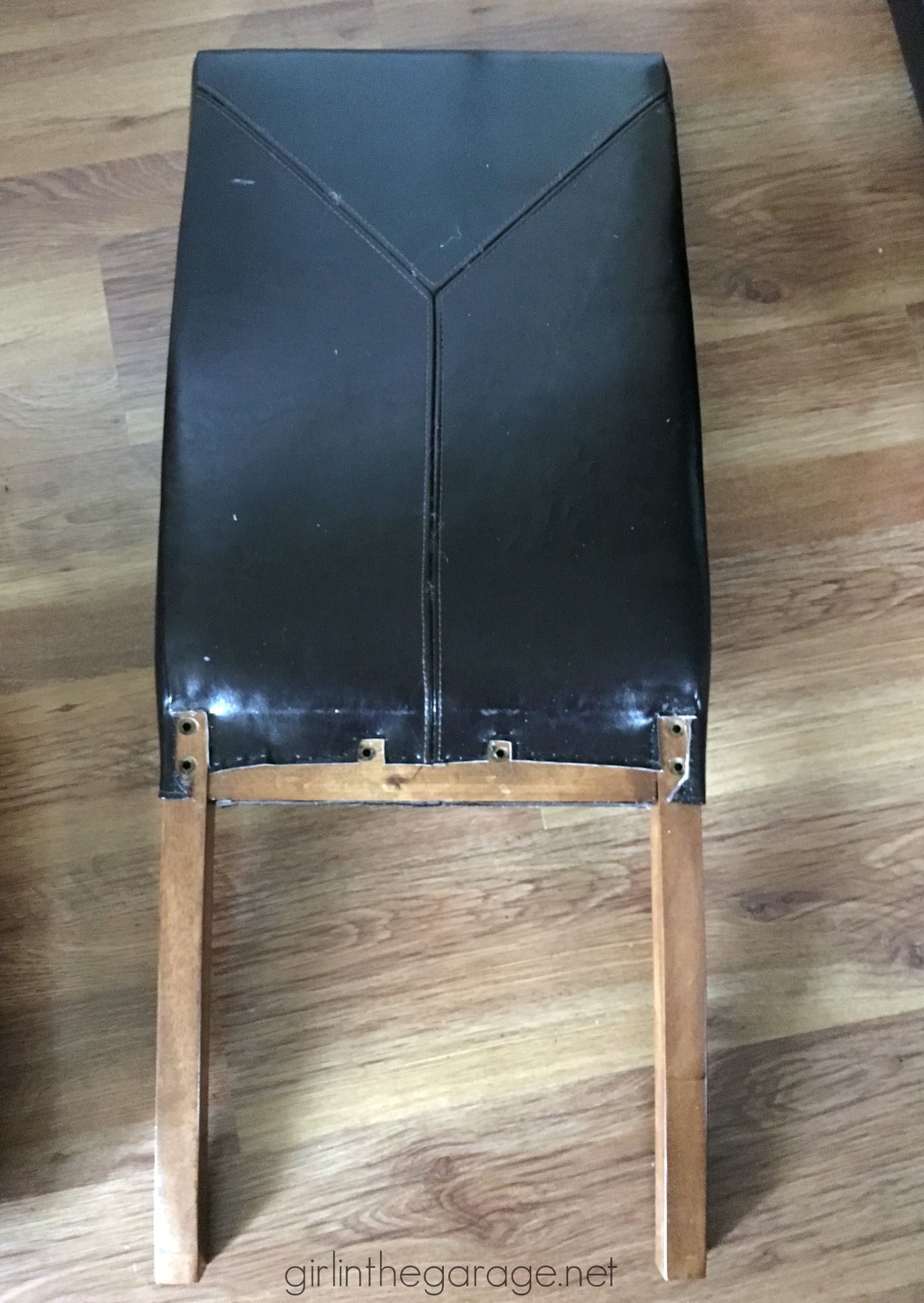 Gently remove the leather – you may need to use it as a pattern for the new fabric.
Thankfully all the padding was still in excellent condition.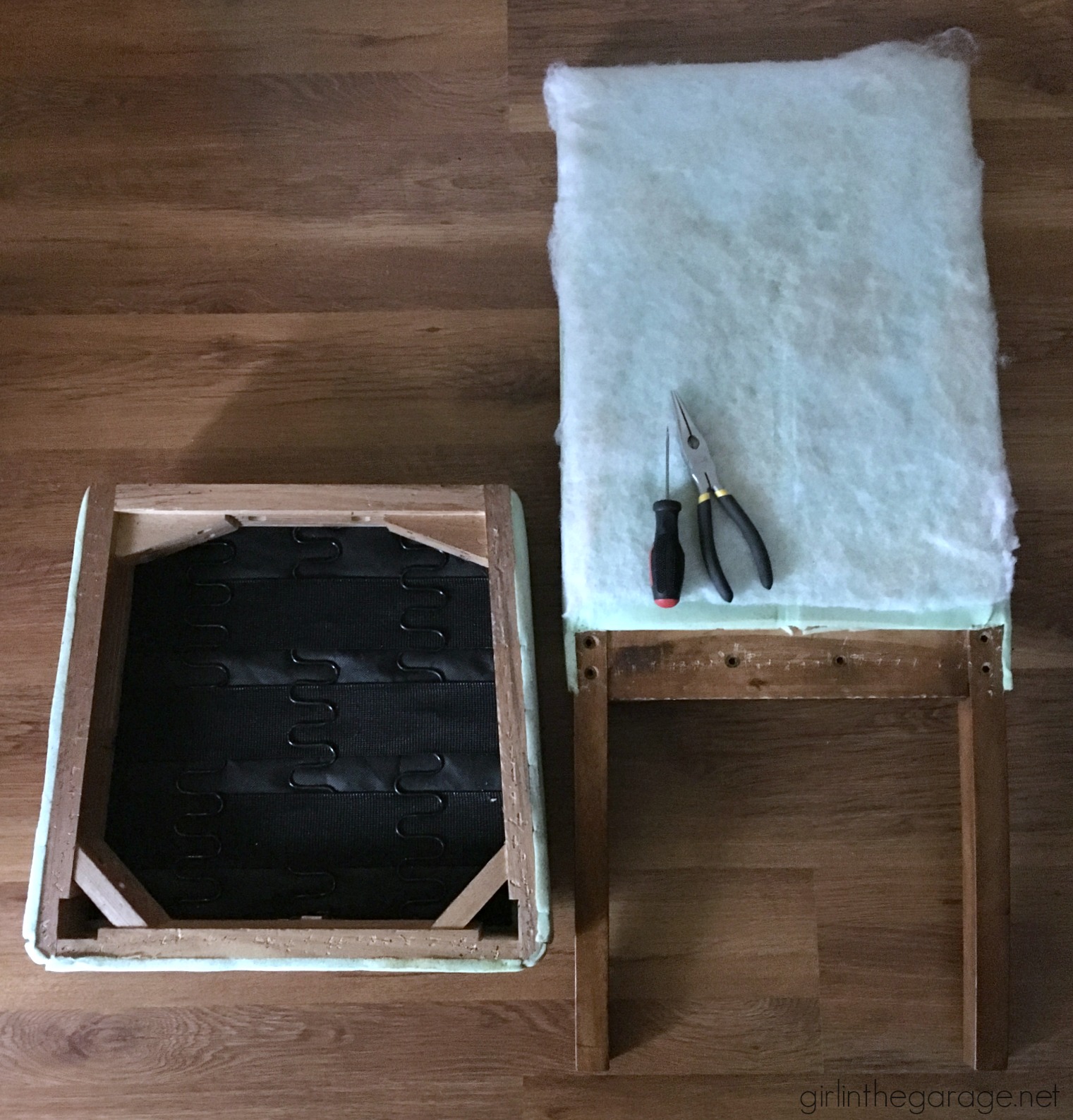 Lay the new fabric over the back and cut off the excess – leave extra though "just in case." You can always cut more off later.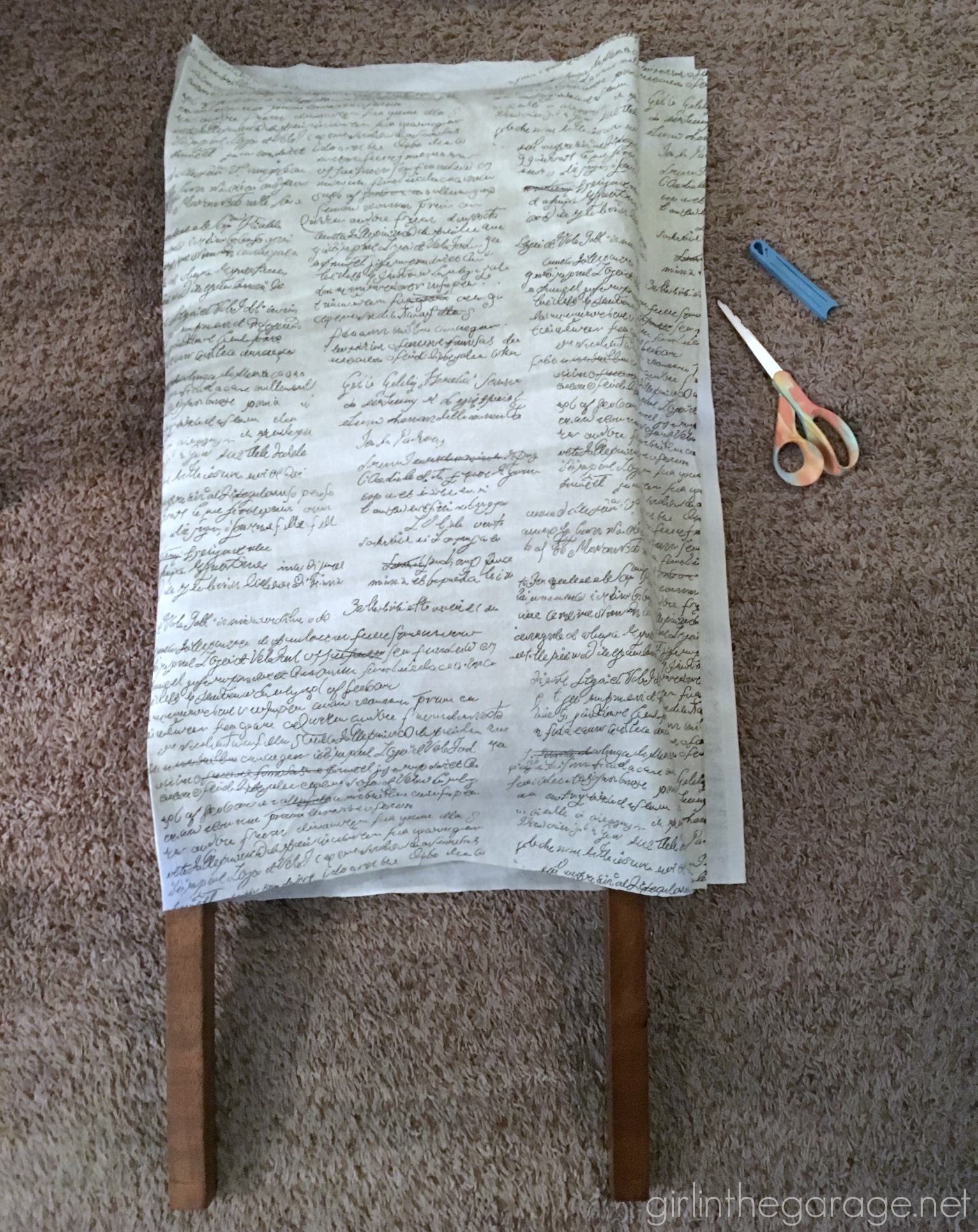 Then flip the fabric with the printed side facing inward and wrap it around the chair back.
Make sure the pattern is straight and pin around the edges.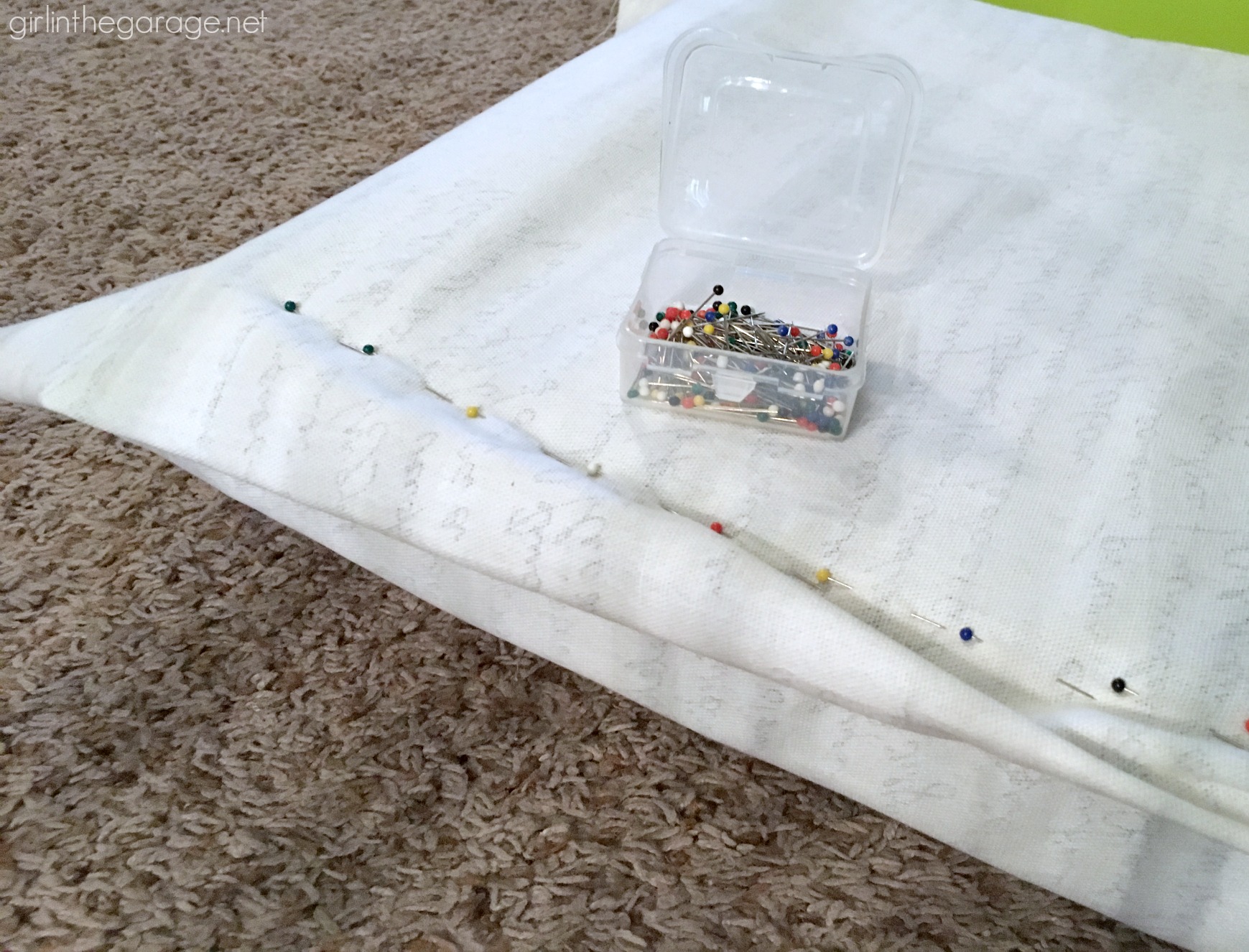 If your pattern looks the same from any angle, you can choose to use it lengthwise over the chair instead so you wouldn't have a seam at the top. However, since I chose a script design, I had to do it this way or the script would be upside down on the back.
Think of it almost like you're making a pillowcase.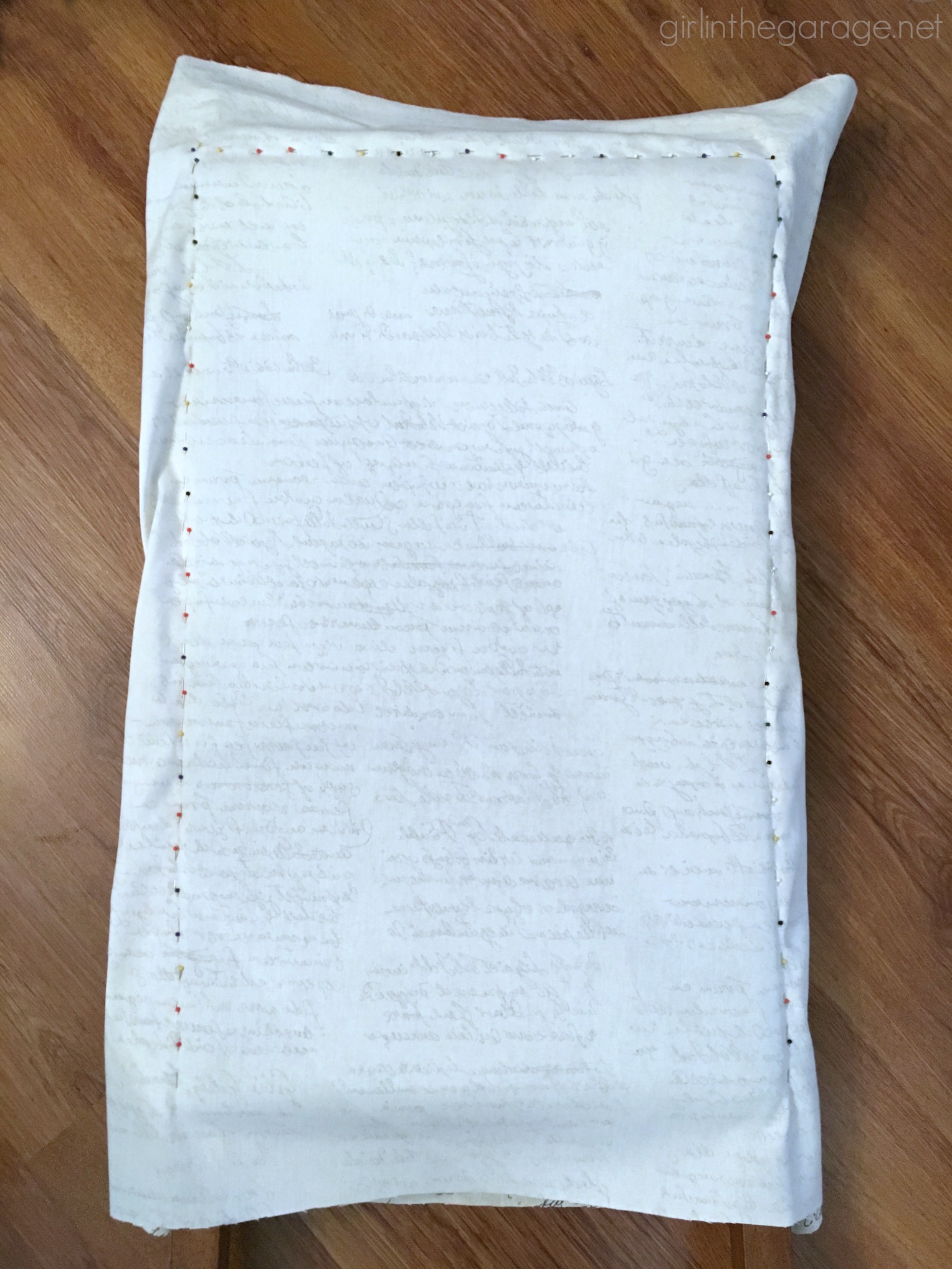 Slide your fabric off over the top and then sew along the pinned lines.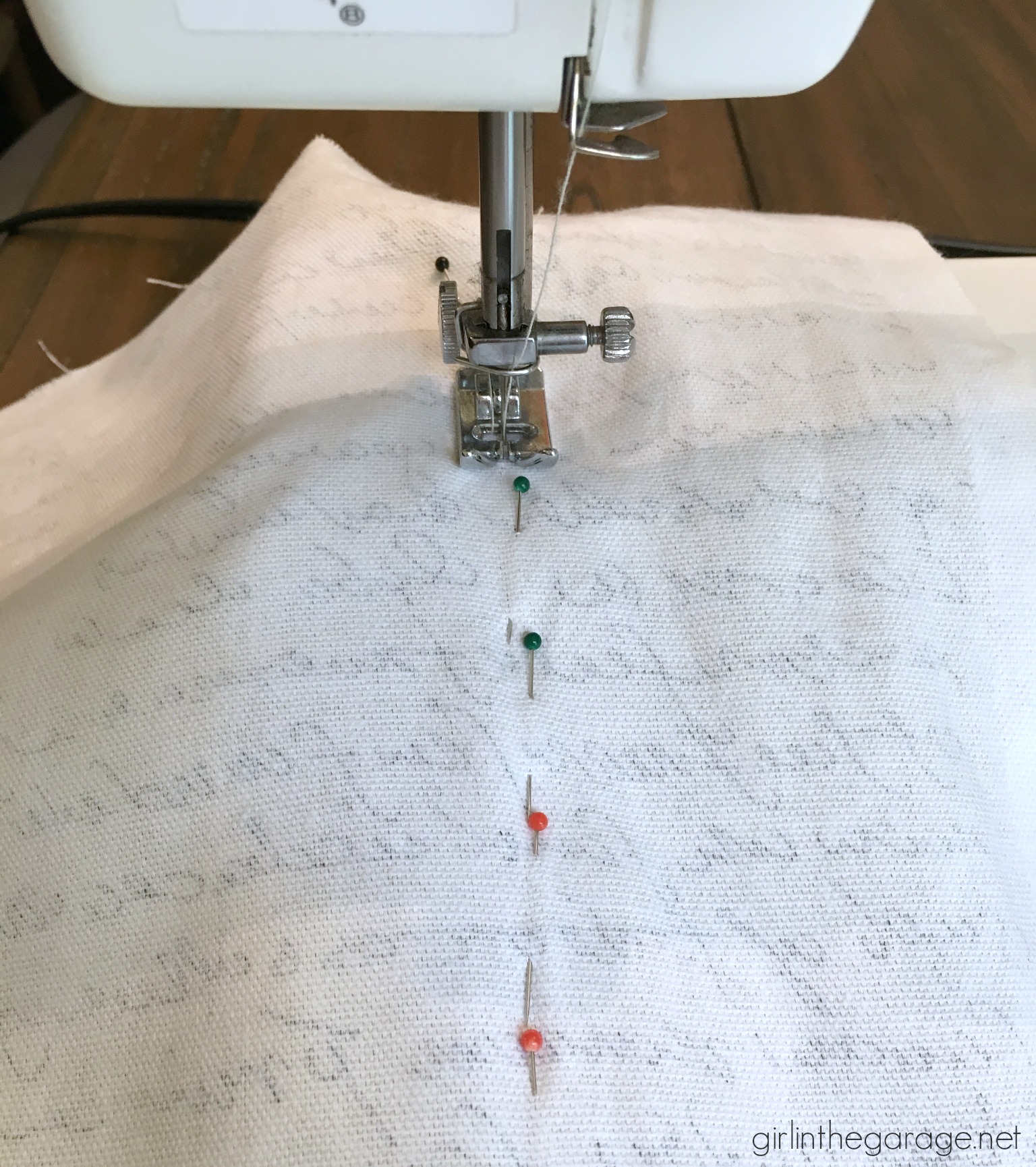 Try it on for size and then make adjustments as necessary.
When I knew the size was right, I went back and stitched along the lines again and then cut off the excess fabric. I also ironed it again since this time it would be going on the chair permanently.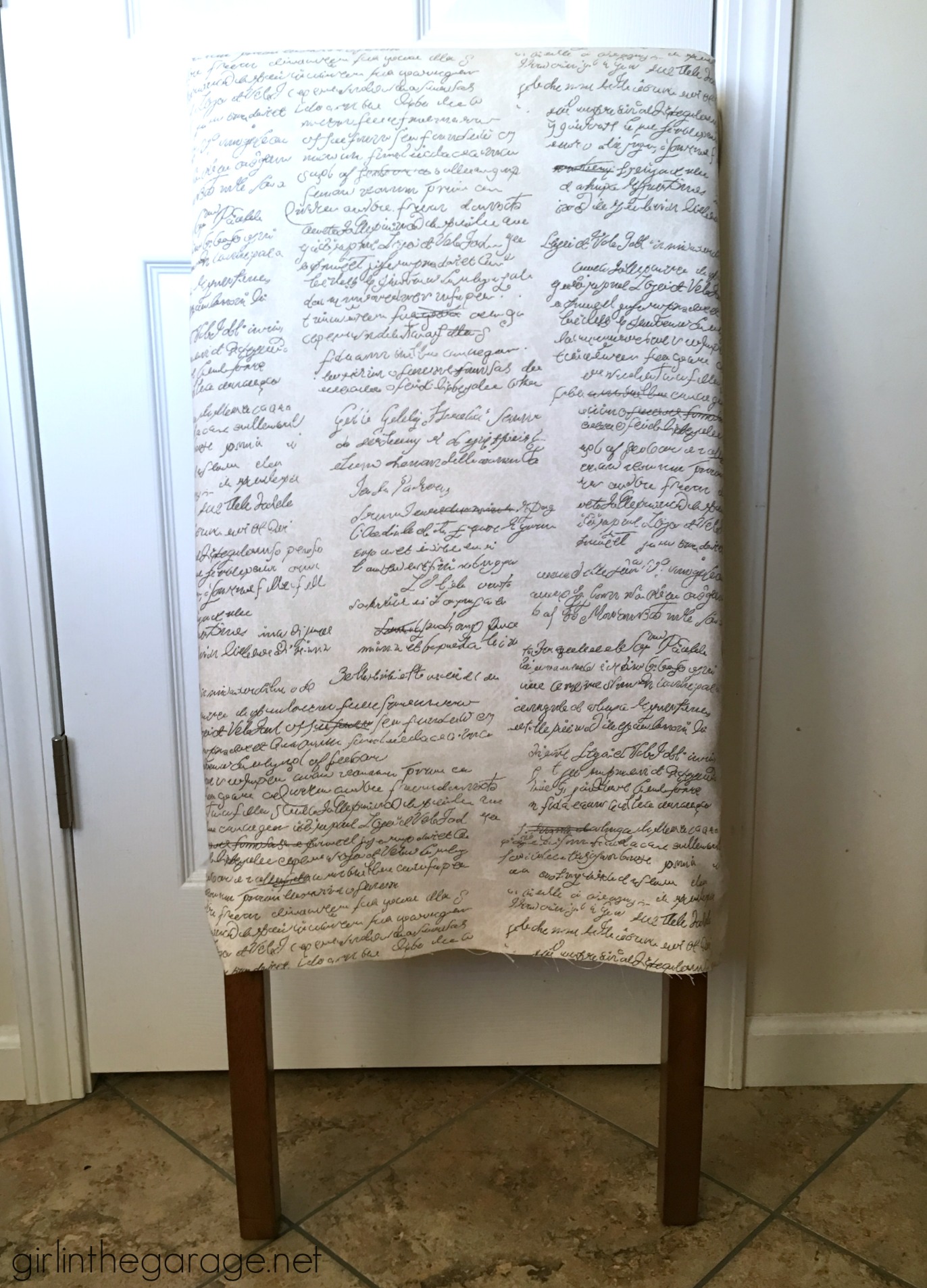 Cut, fold, and staple using the original fabric as an example.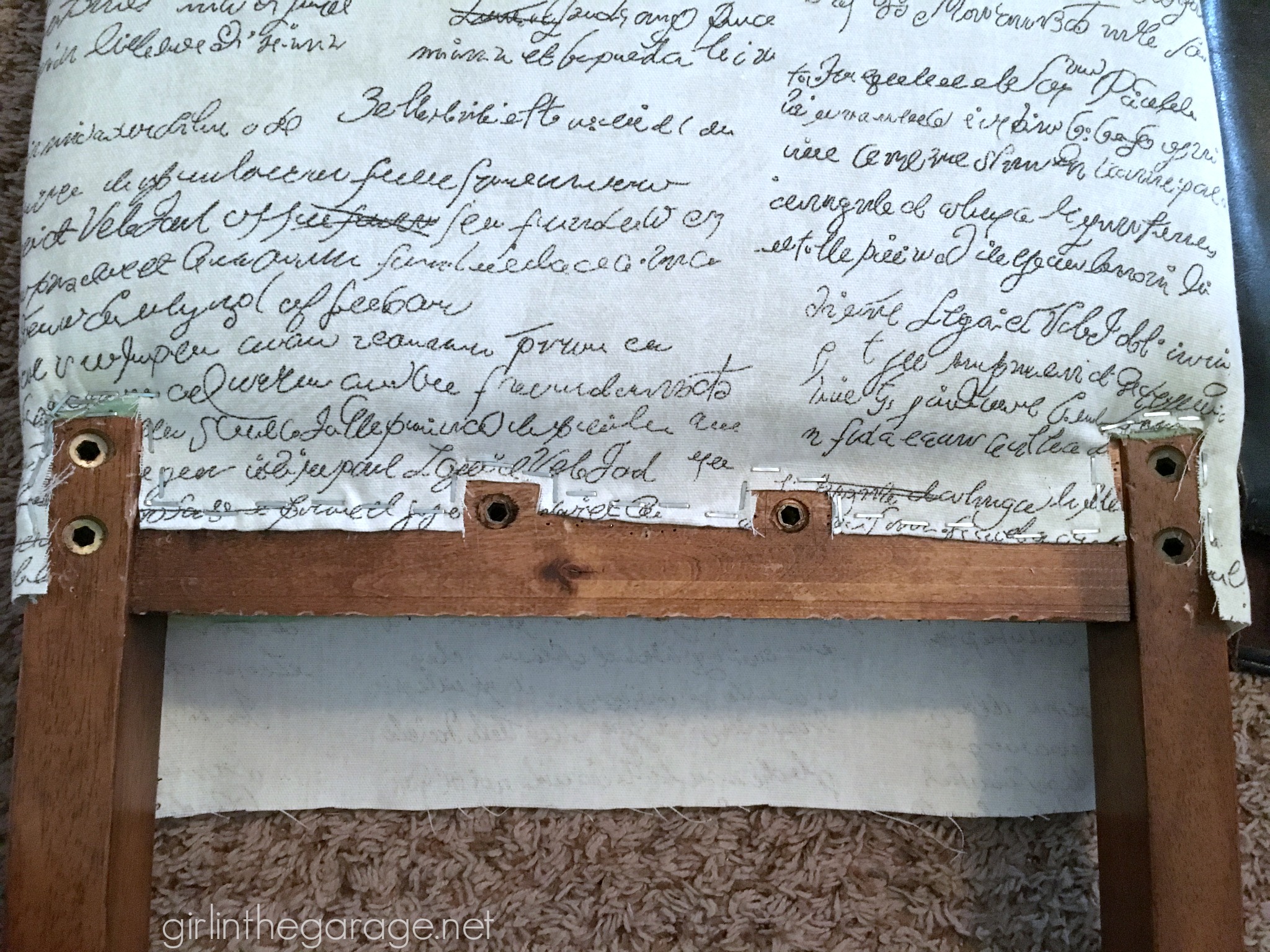 For the seat, lay out and cut the fabric – leaving enough to fold it underneath when stapling.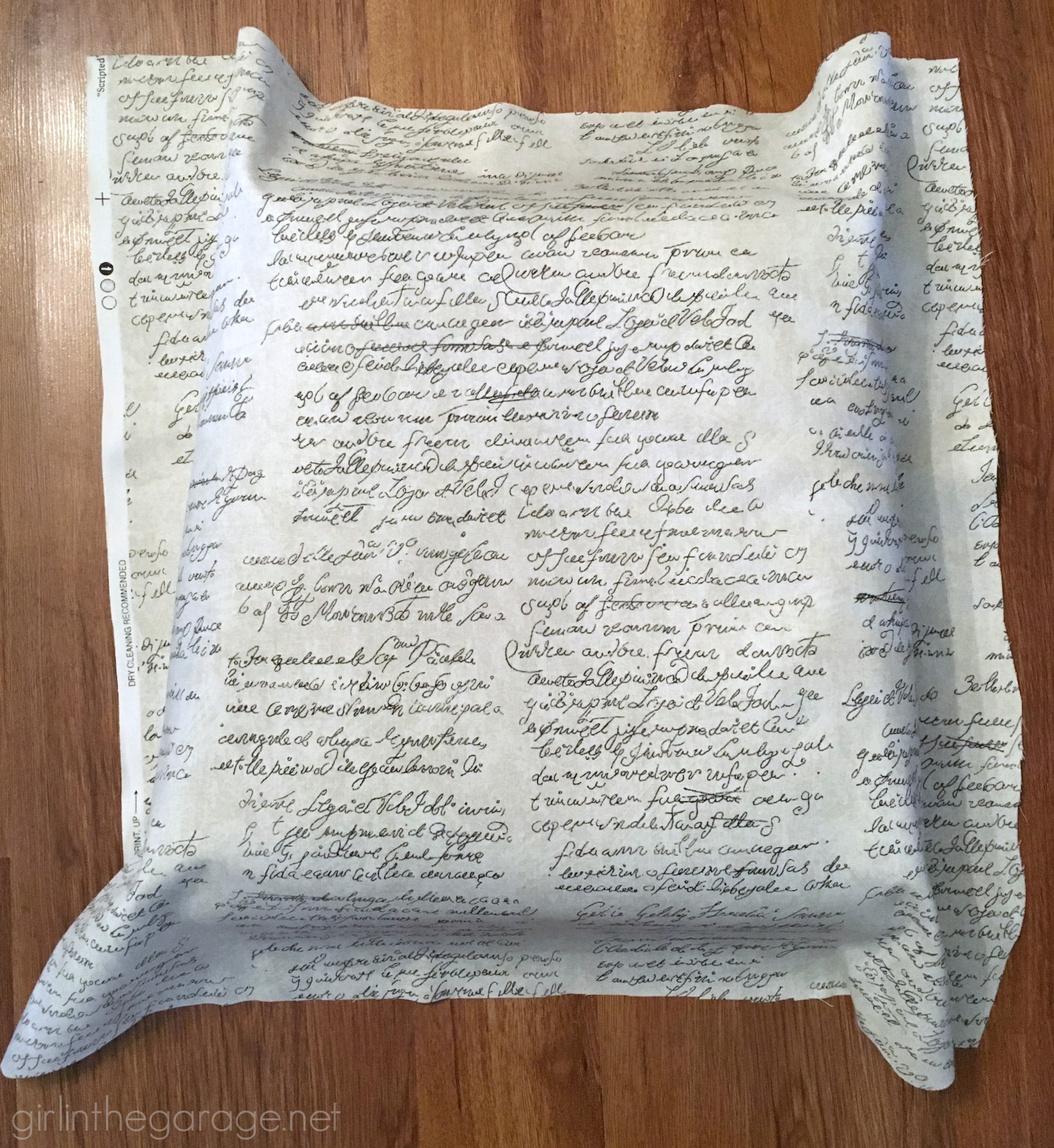 Every time I remove old upholstery and staples I get an injury. 🙁
Also, I started stapling the seat and then my stapler got jammed and apparently I broke it while trying to fix it. (I don't believe there's any such thing as a completely drama-free project!)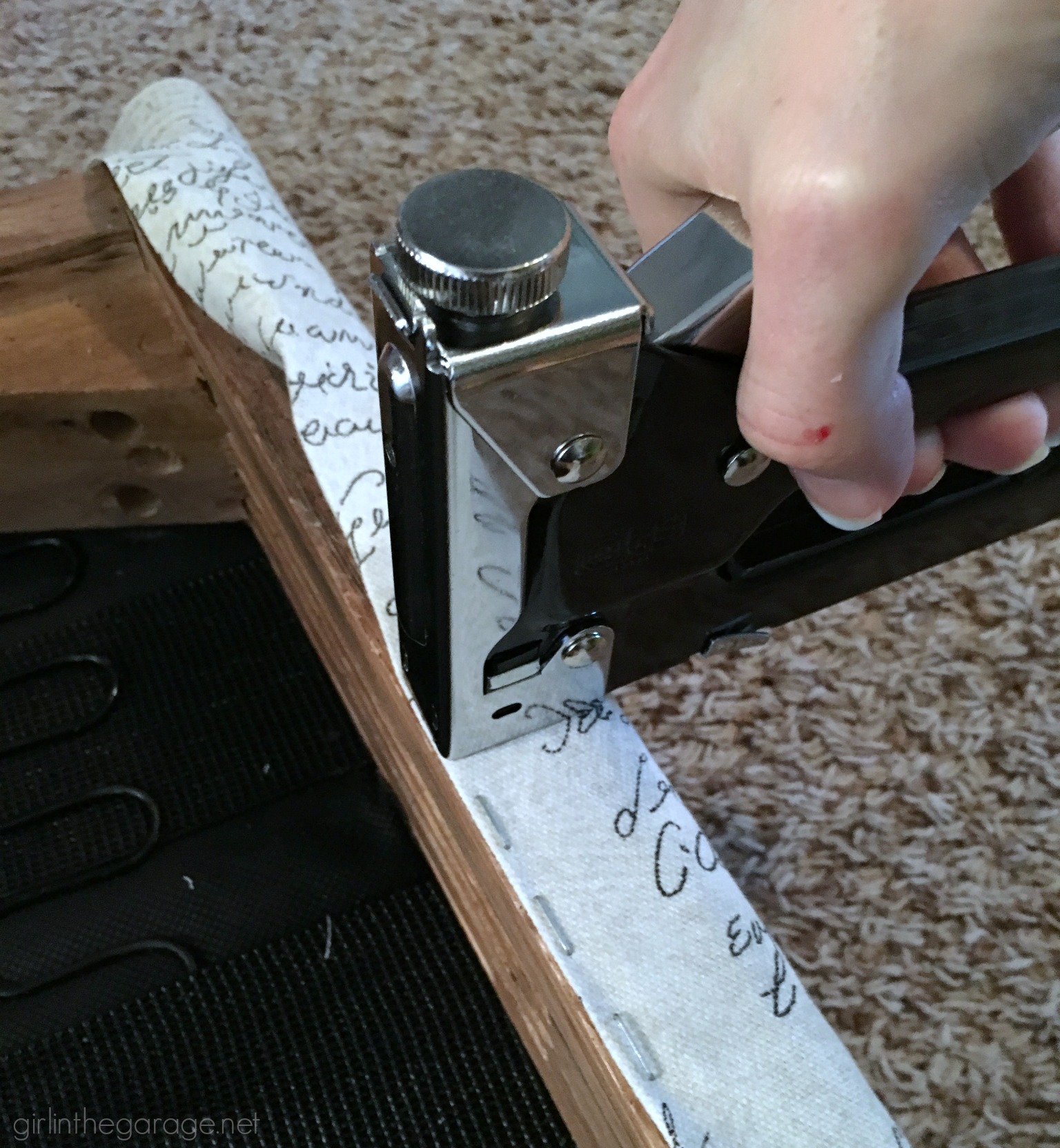 Here's a look at the underside of one of the corners. Those always seem to be a little tricky…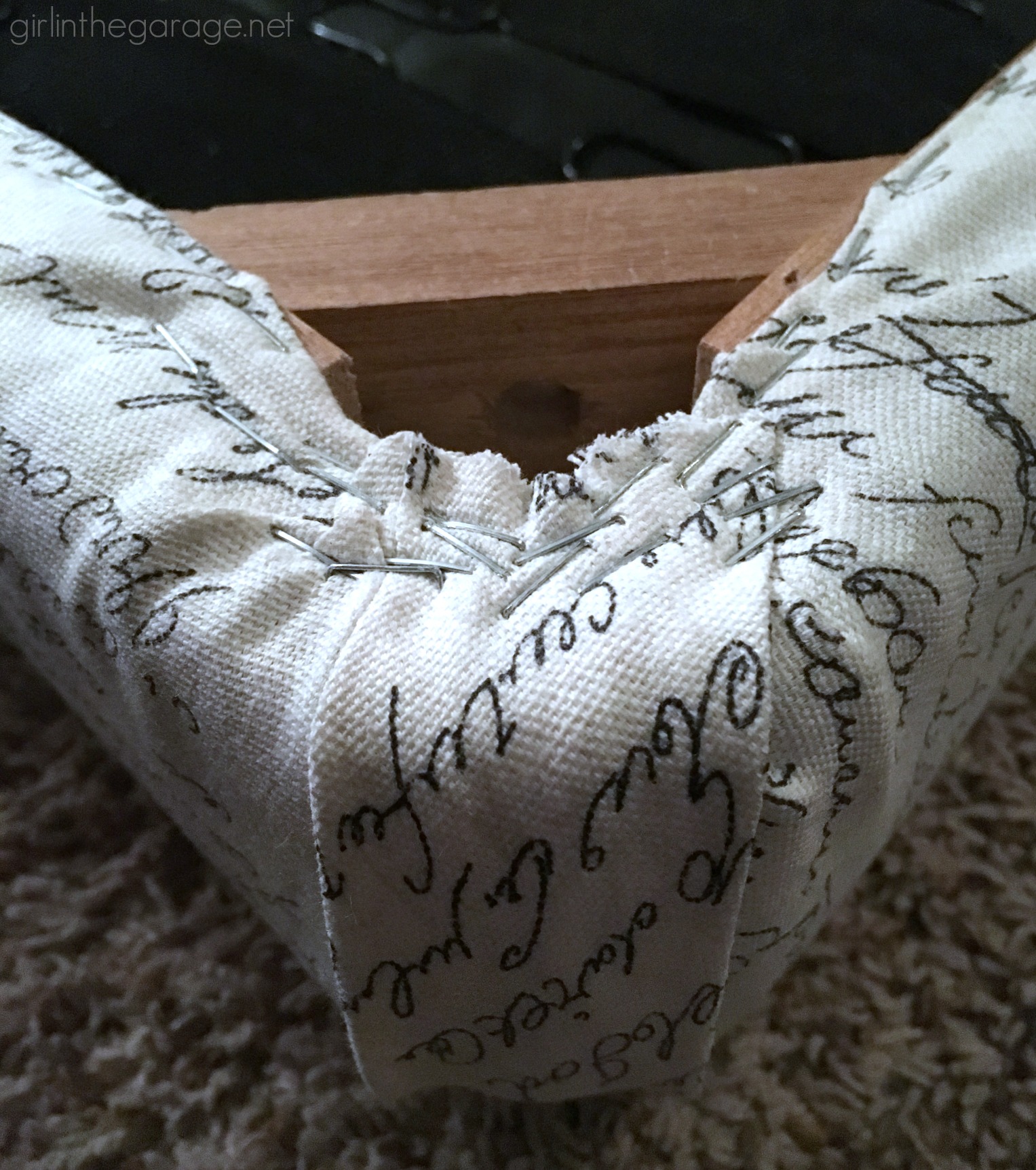 And this is Mr. GITG's heavy duty Dewalt staple gun (below) that I had to use after my cheapo one from Hobby Lobby broke.
After adjusting the settings it worked just fine, but definitely made my hands sore afterward! He also has a pneumatic stapler that I need to try…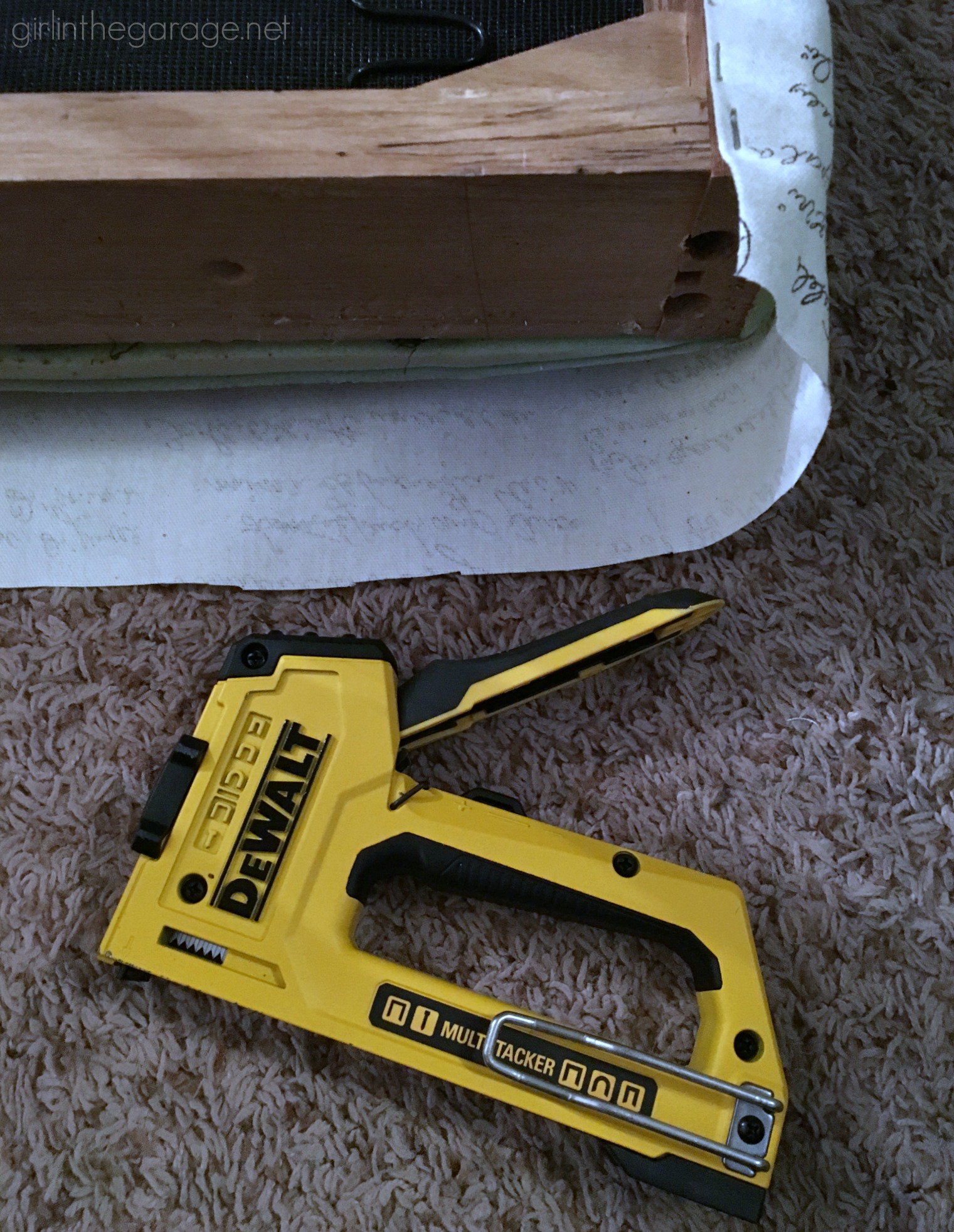 When the seat's all finished, the bottom should look something like this: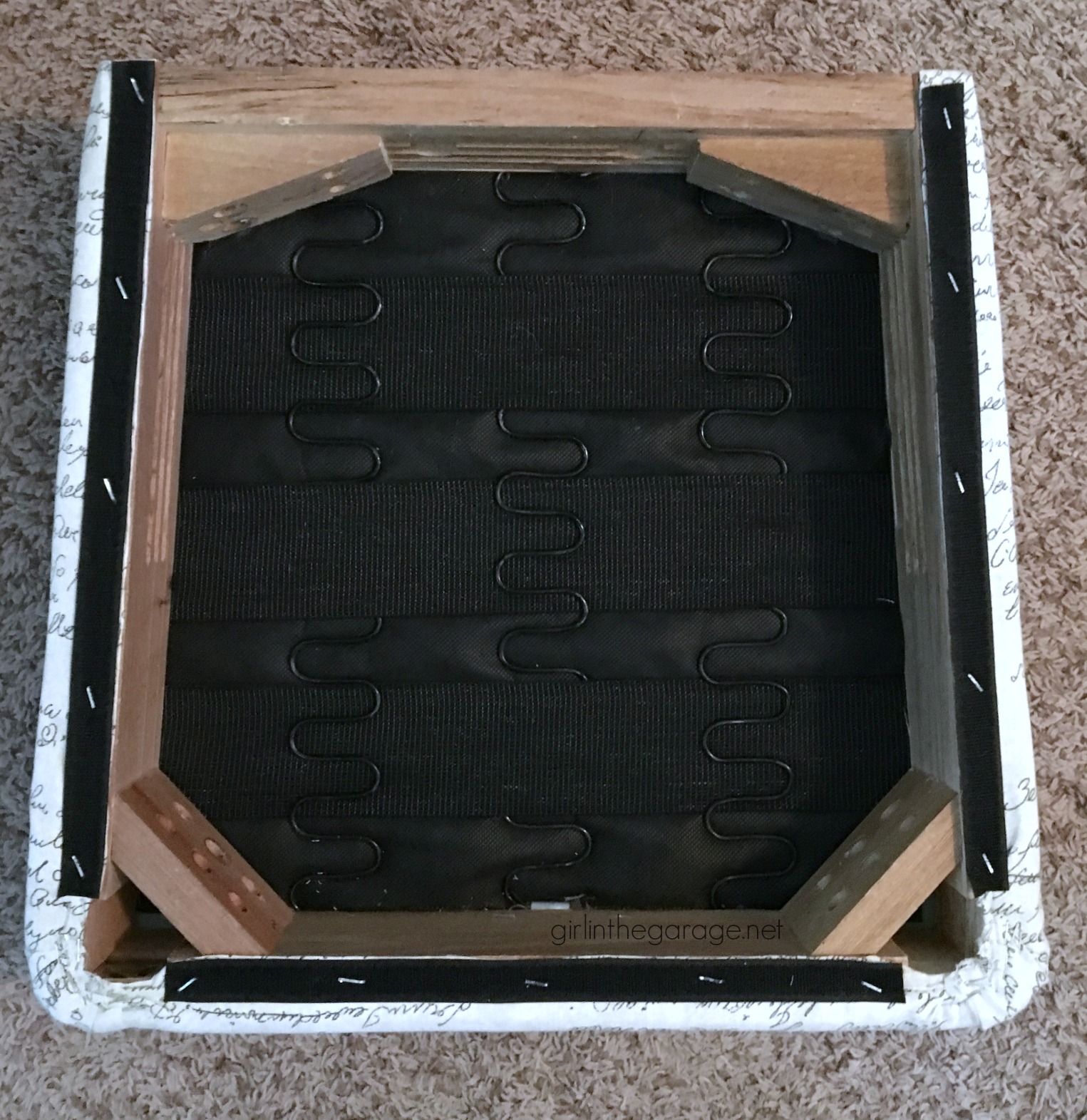 Use your hardware to put it all back together and then you'll have a perfectly (maybe imperfect, if it's like mine) pretty reupholstered dining chair.
Keep going until you have a full set of these lovelies and then it's time for a dinner party!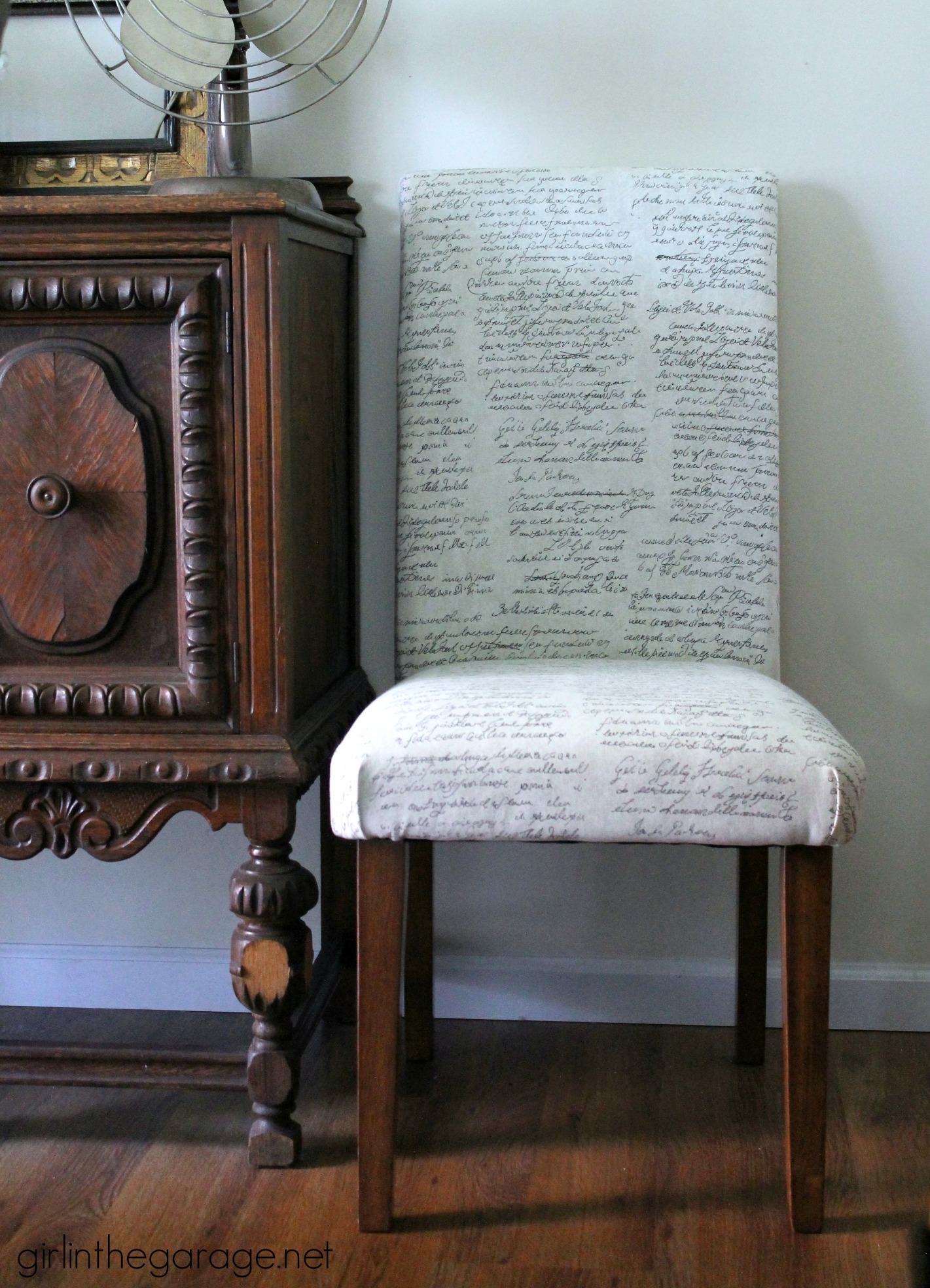 Here's a closeup of the front corner: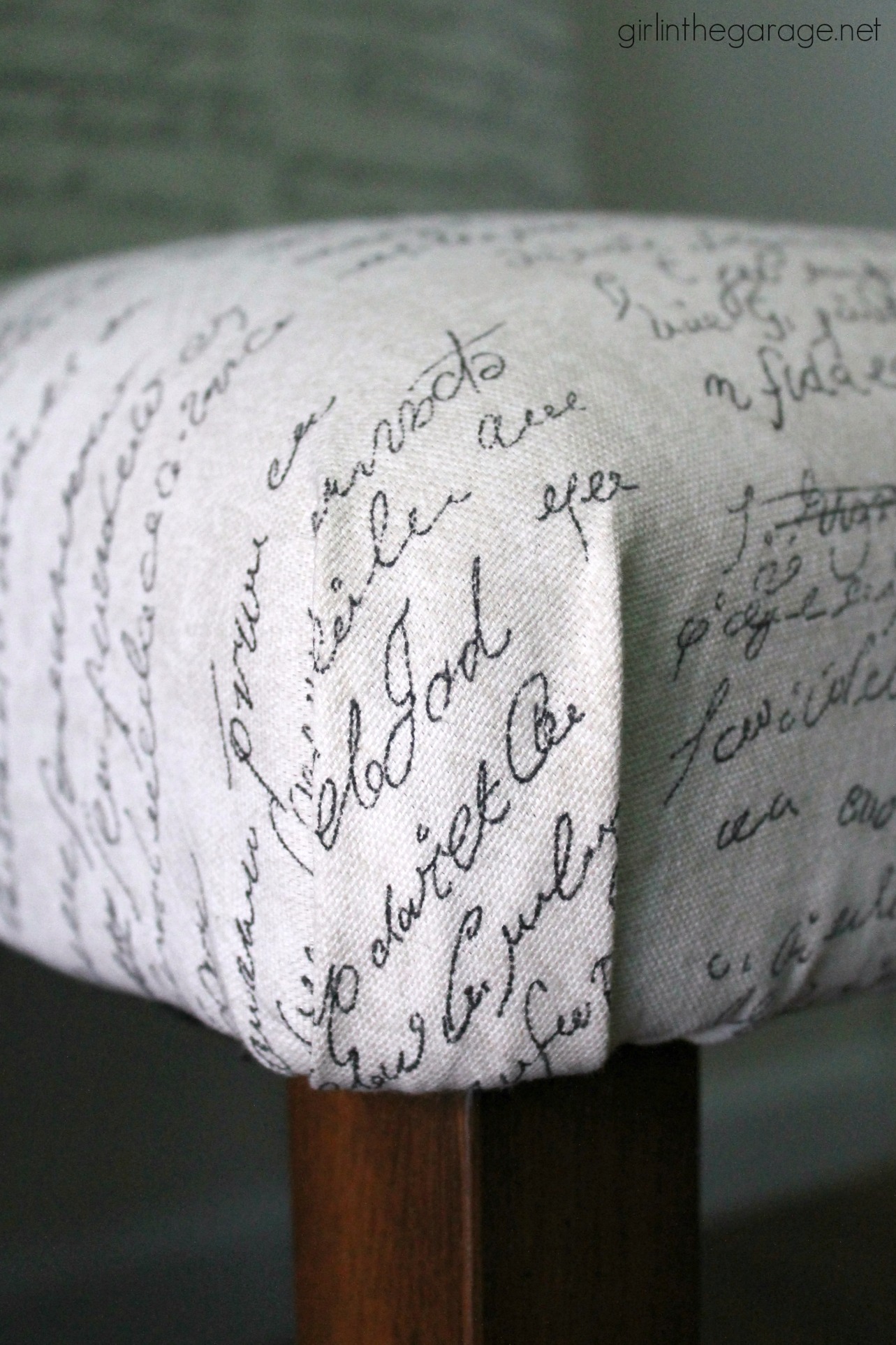 Here's a side view: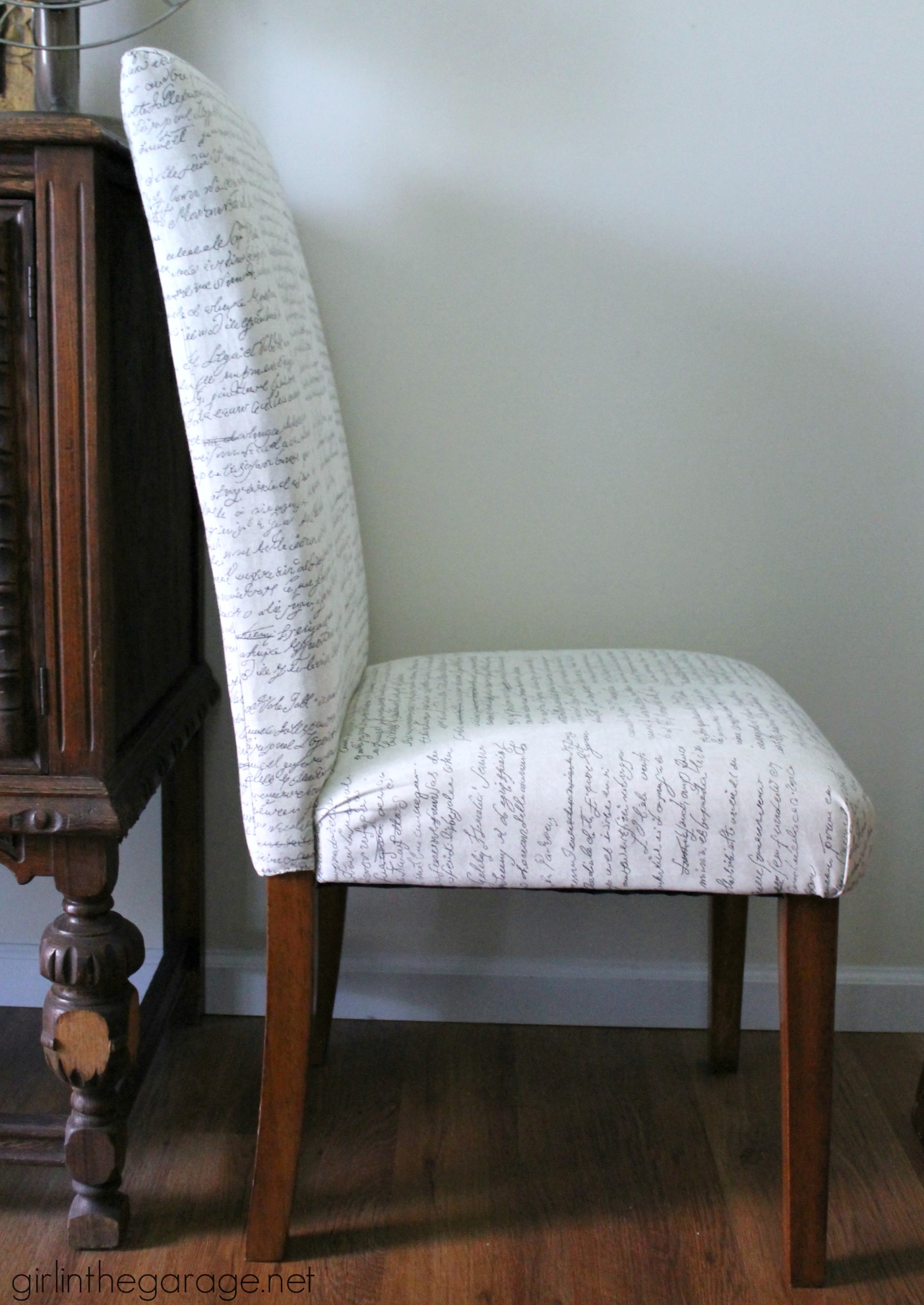 View of the top corner and seams: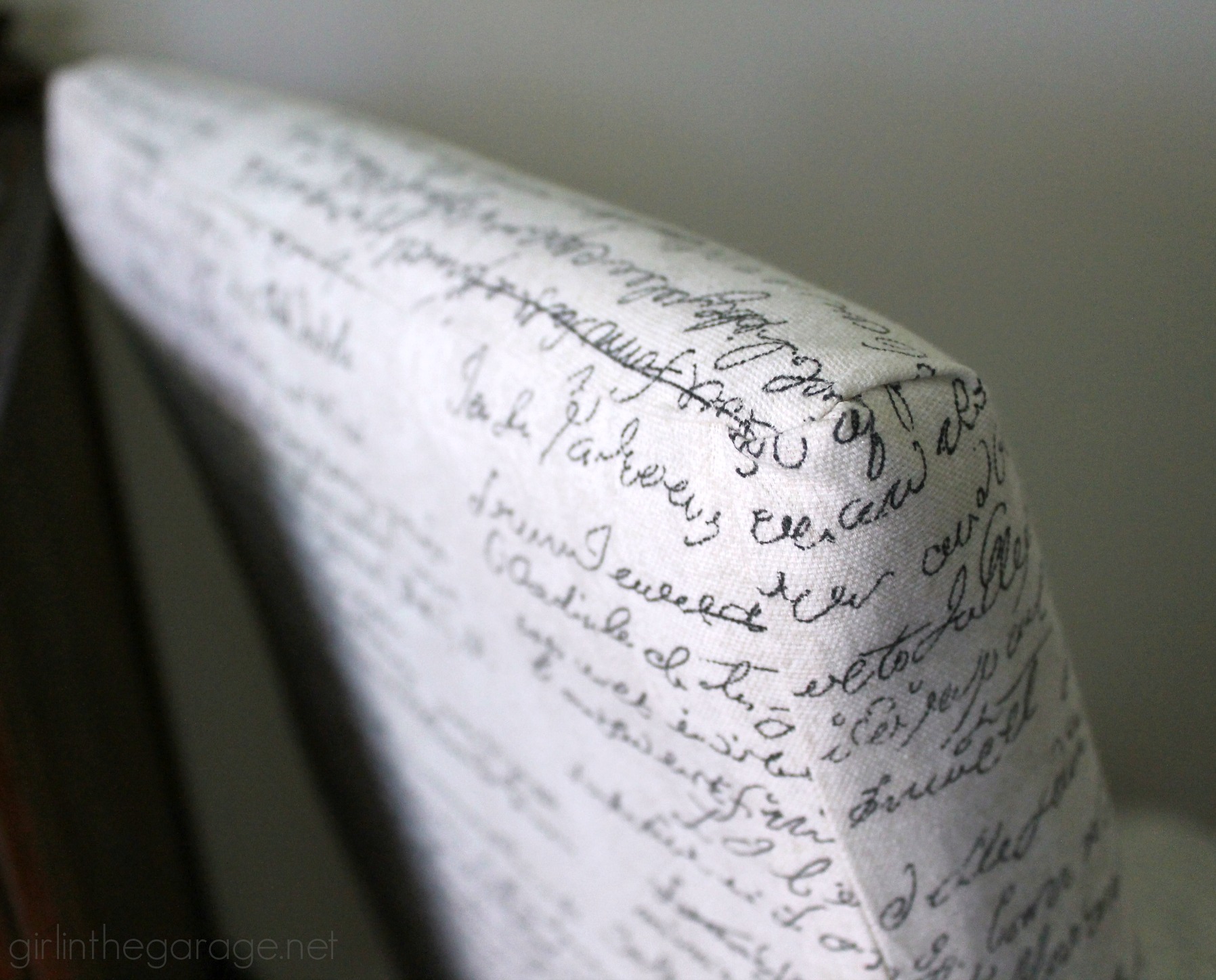 Back view: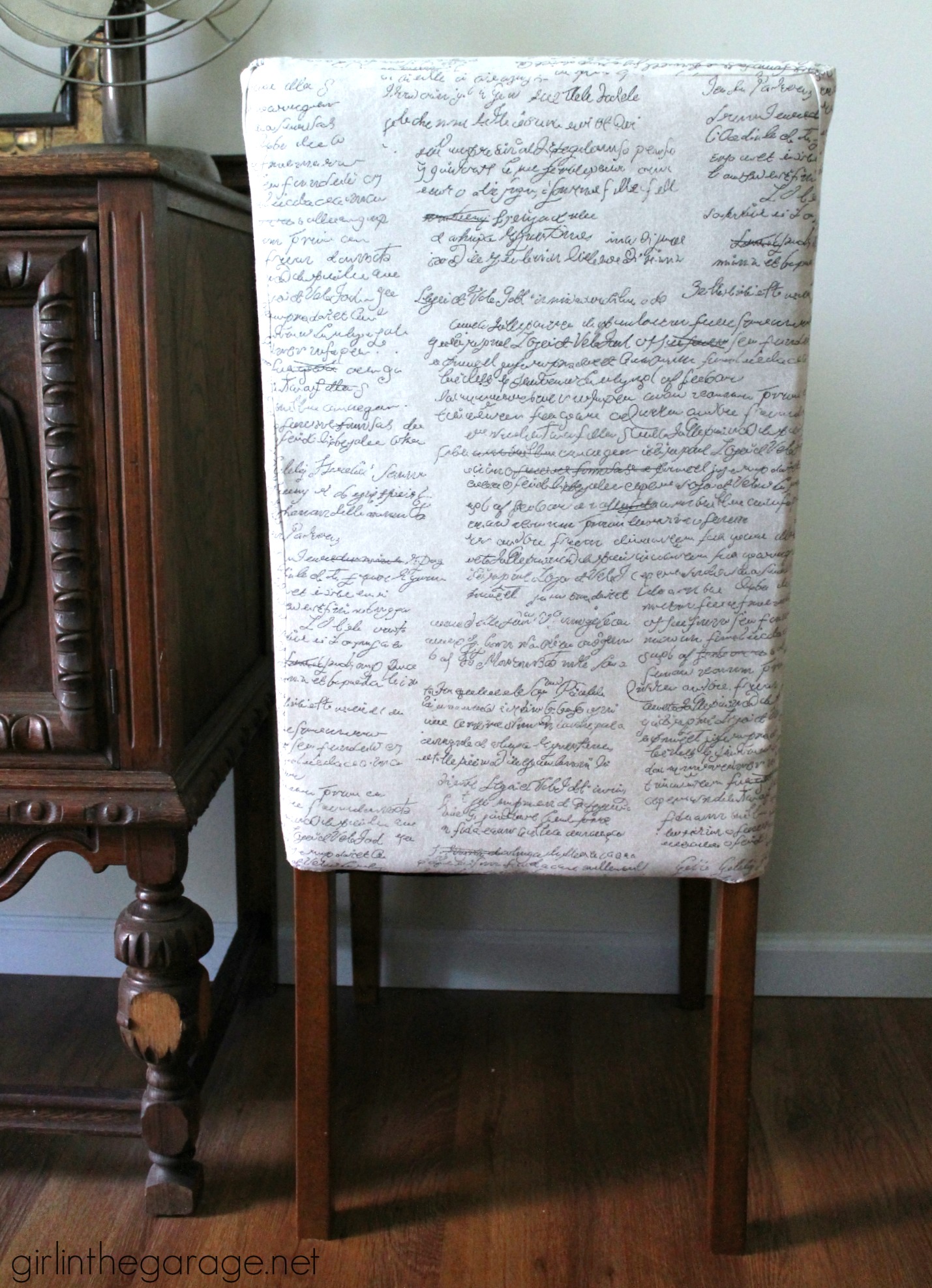 Front of the seat: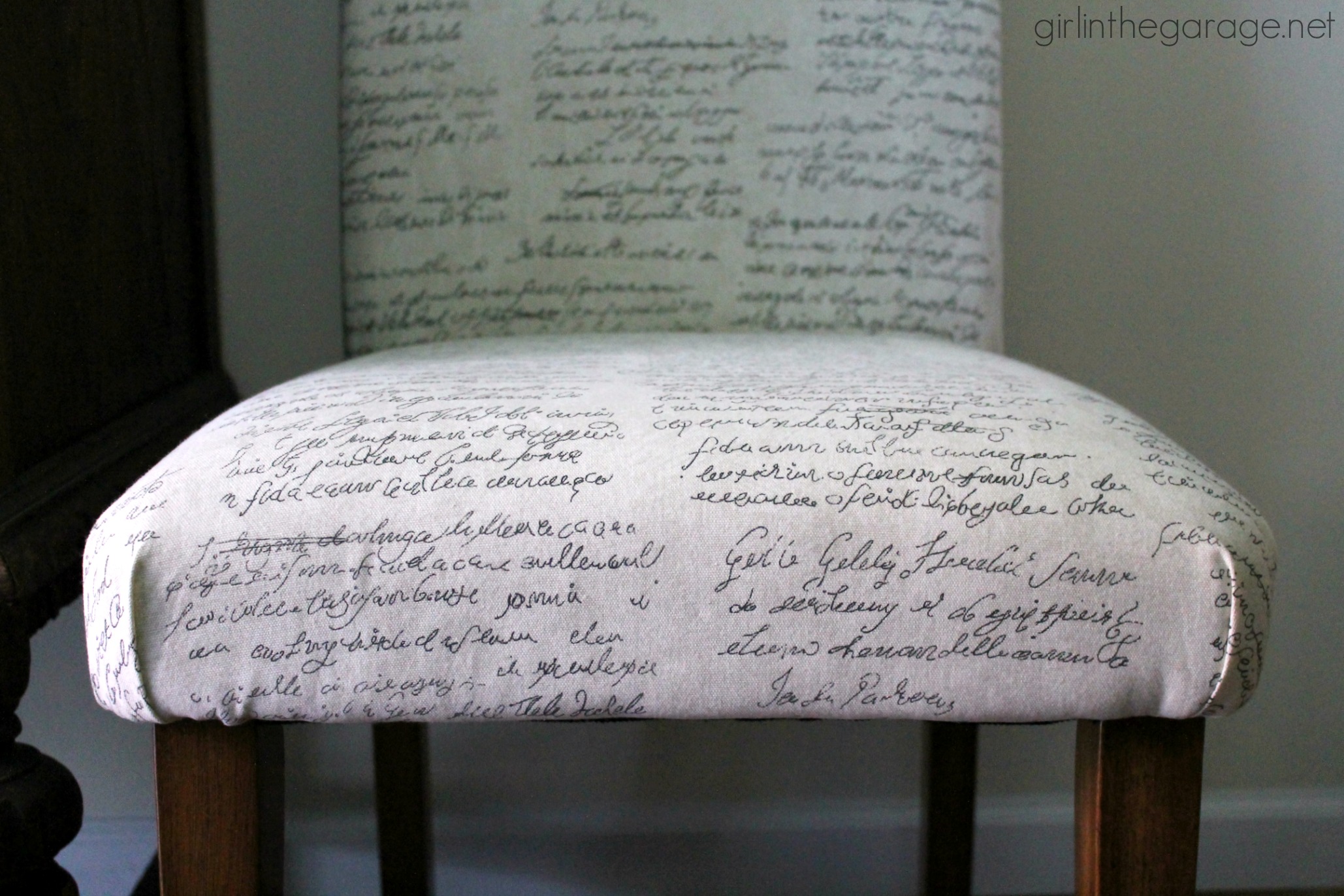 And the script fabric. I fell in love with it and planned on redoing two Parsons chairs for today (and possibly all 4 of them), plus I had a coupon, so I bought FOUR yards of it. Holy cow that's a ton of fabric.
(By the way, this is duck cloth – the type of fabric I usually buy for reupholstering.)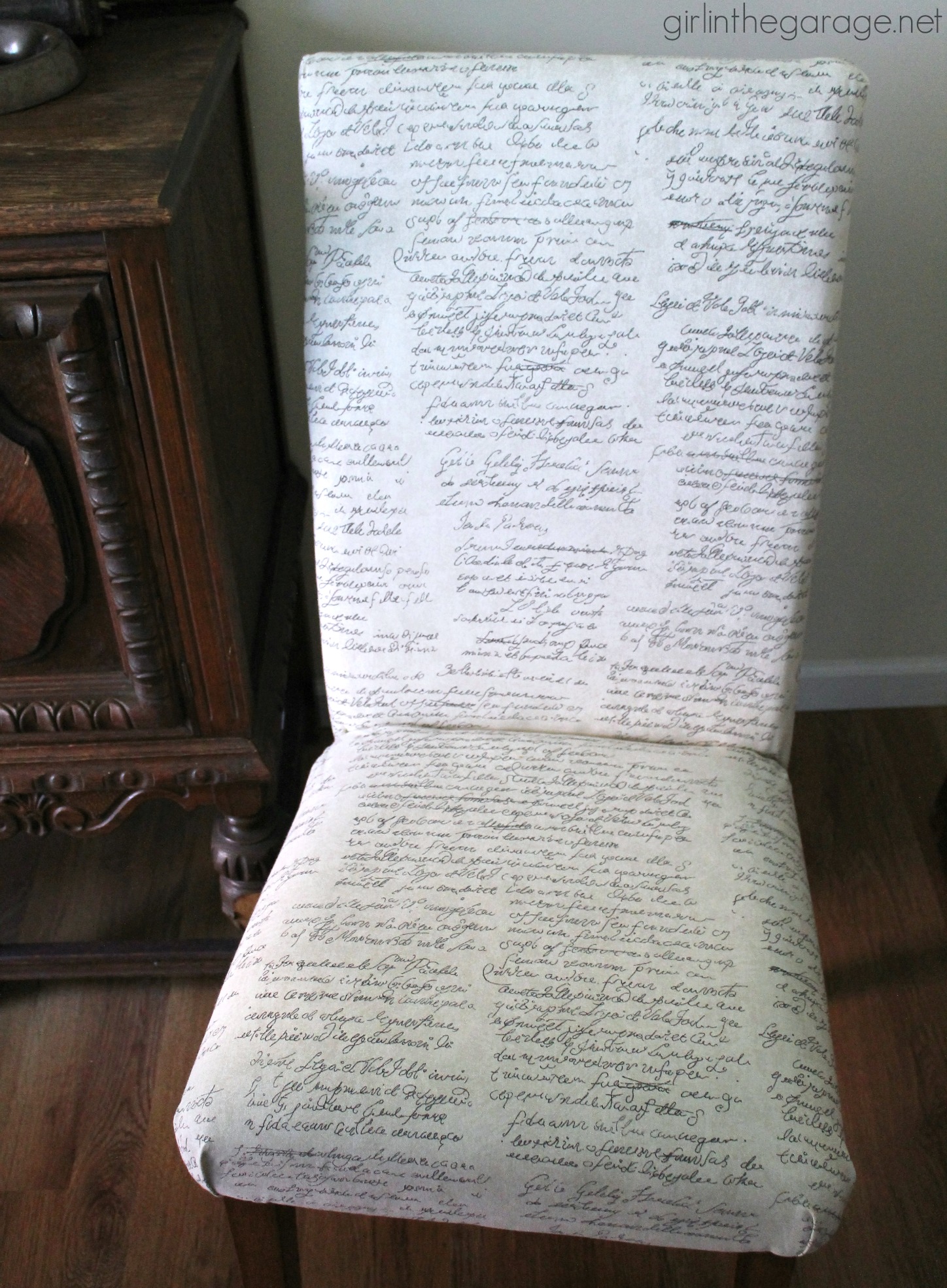 I only finished one chair so far, because we took our two older boys out of town for a mini vacation. And then I had those darn stapler problems. But hey, here's a peek at our new dining set. 🙂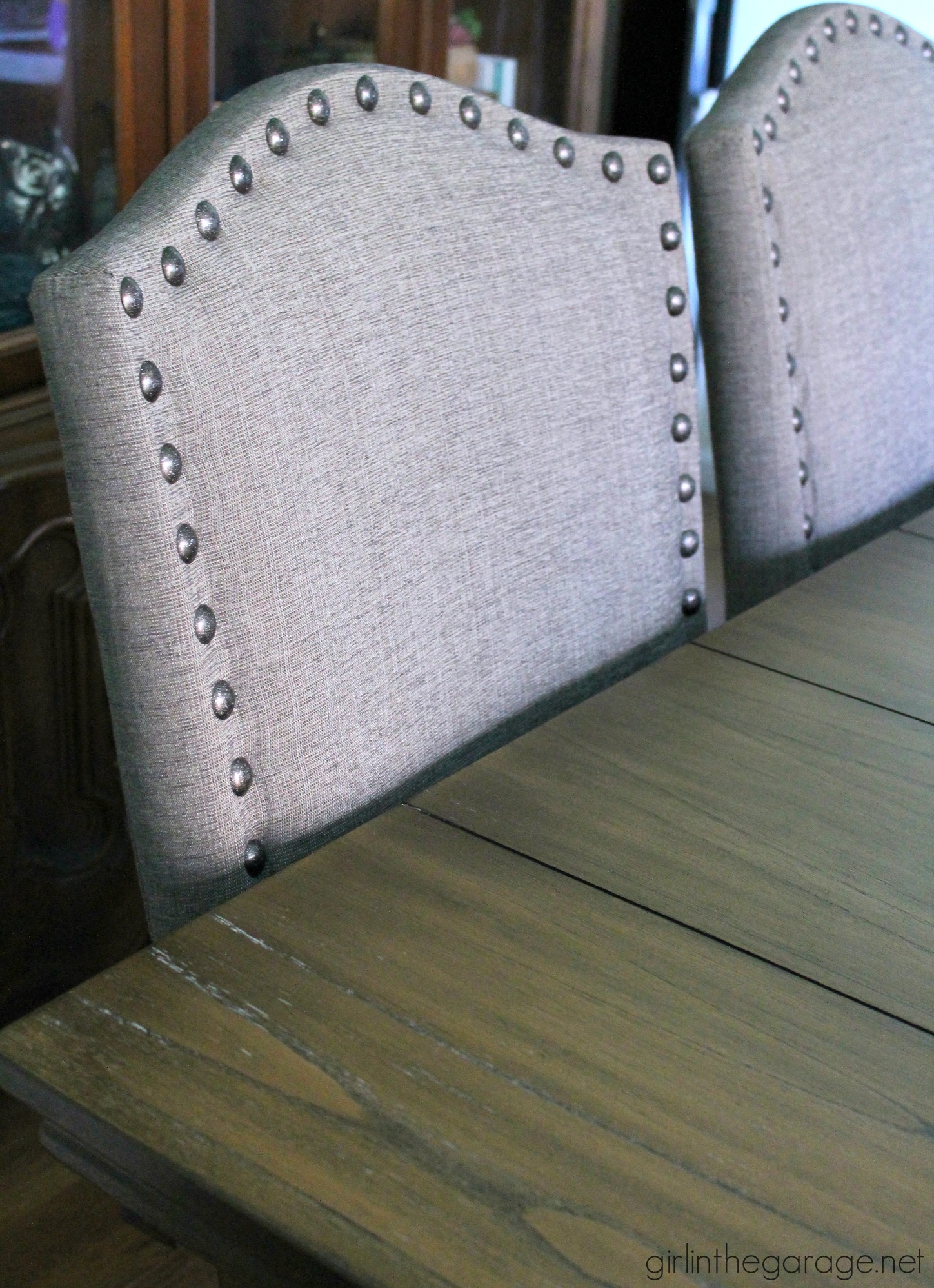 Whew, that was a lot of photos! I hope you guys find them useful and feel confident now to tackle this kind of project yourself. The most important advice is to use the original fabric as a pattern and take photos while you're taking the chair apart so you'll know exactly what to do and how to put it back together.
And who knows, maybe you'll be inspired to redo a piece of furniture that's not your "usual" style and you'd almost rather just donate it to Goodwill. Take a chance and see what comes of it!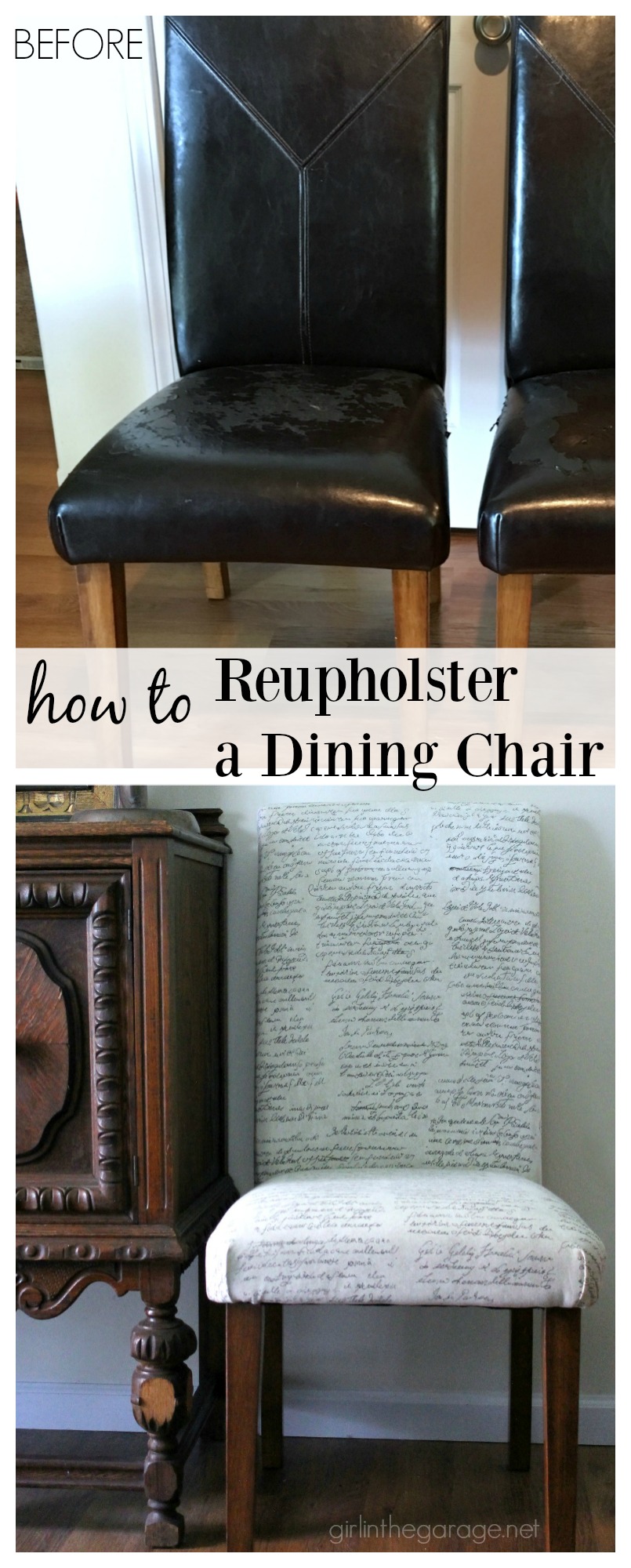 So tell me – what's your "usual" type of makeover? Do you have a favorite style or type of furniture? I'd love to know! – Jen
P.S. Did you guys notice that I did an entire furniture makeover with no paint?! 😉
Now it's time for some Trash to Treasure makeovers from my friends.
These are the Before photos – click any of the links below to see the After and read the tutorial.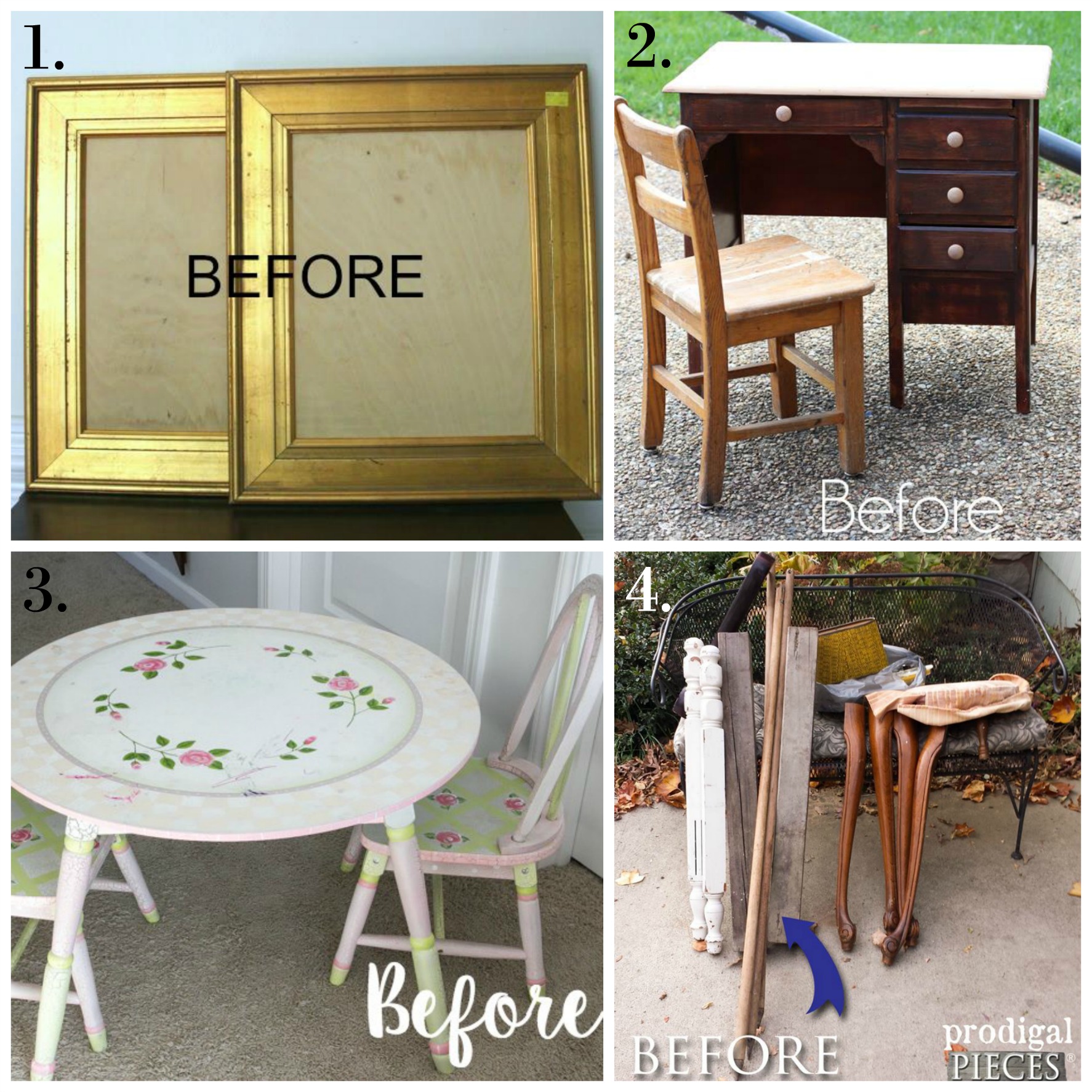 1. Artsy Chicks Rule
2. Confessions of a Serial DIYer
3. Bless'er House
4. Prodigal Pieces
If this reupholstered Parsons dining chair project has inspired you, please share it with others!