Whew, that's quite a title, isn't it? I've been working the past couple weeks on this reupholstered chair makeover that actually kind of scared me at first.
It came into my life a year and a half ago when I saw it for sale on Facebook (it reminds me of a throne and it was pretty much love at first sight) and I agreed to meet the seller at her workplace. Here's the ad, with her name and location blocked out: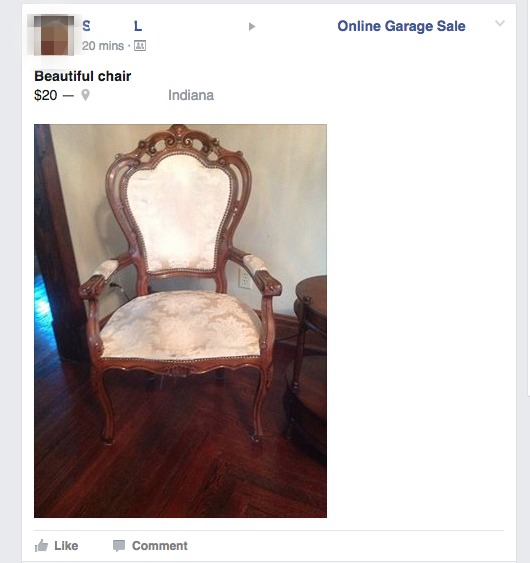 $20 is a steal for that, right? And the description only read "Beautiful chair." When I met the seller, she informed me that she had bought the chair to redo and never got around to it. It didn't take me too long to figure out why!
Before we get any further, I have exciting news! A few of my creative blogging friends and I have teamed up to bring you the "Furniture Fixer Uppers" – once a month we're getting together to share our latest furniture makeovers and tutorials to inspire you. Be sure to stick around till the very end of this post to see their projects!
I knew the seat was messed up, and it wasn't safe to sit on – but I didn't know how bad it really was until I finally started taking it all apart…
The padding in the seat had almost completely fallen apart, and there were only crumbles left in the seat back as well. I had my work cut out for me.
Last June I completed my first "major" reupholstered chair makeover (this chair) – but the innards were all in perfect shape. Now, after finishing this chair, I have a much better understanding of what really happens in a major reupholstery project!
*This post contains some affiliate links, at no extra cost to you, so you can easily find the same or similar products that I've used. Discover my favorite brands and tools for doing DIY makeovers here.
Are you ready? Let's start this reupholstered chair makeover tutorial:
First up, a trip to Hobby Lobby:
New poly foam padding (2 inches thick, I had to buy a giant roll because the seat is so wide)

New batting (cotton, because it lasts longer than polyester)

New fabric (after changing my mind several times, and buying 2 yards of a different fabric, I stumbled on a clearance curtain for $6 that was perfect!)
Now that I had some of my necessities, I chose Annie Sloan Chalk Paint in Country Grey and painted the frame of the chair, then applied a General Finishes topcoat.
I loosely followed some of the steps in this tutorial for reconstructing the seat.
First, burlap…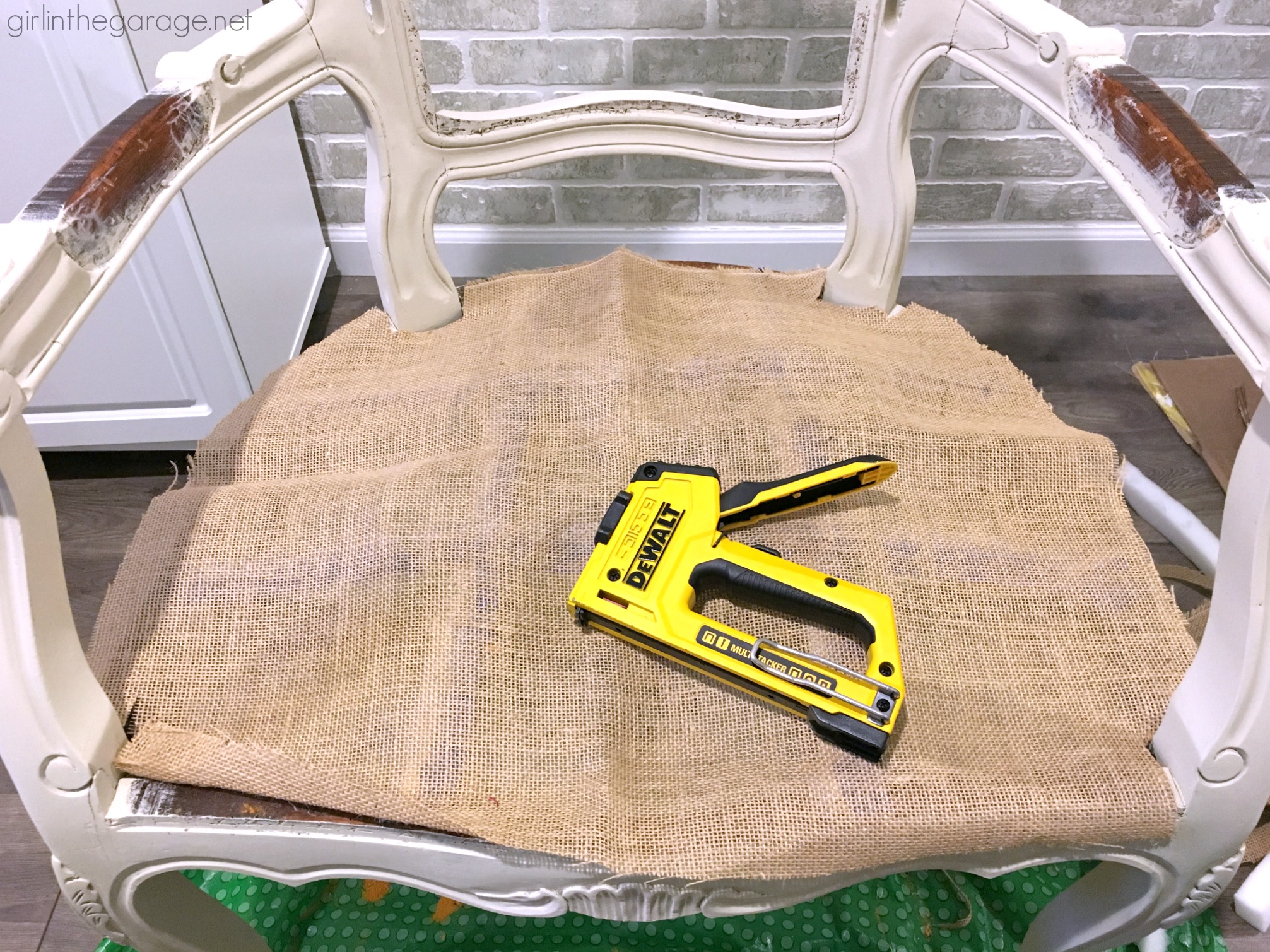 Then I cut the foam and the batting…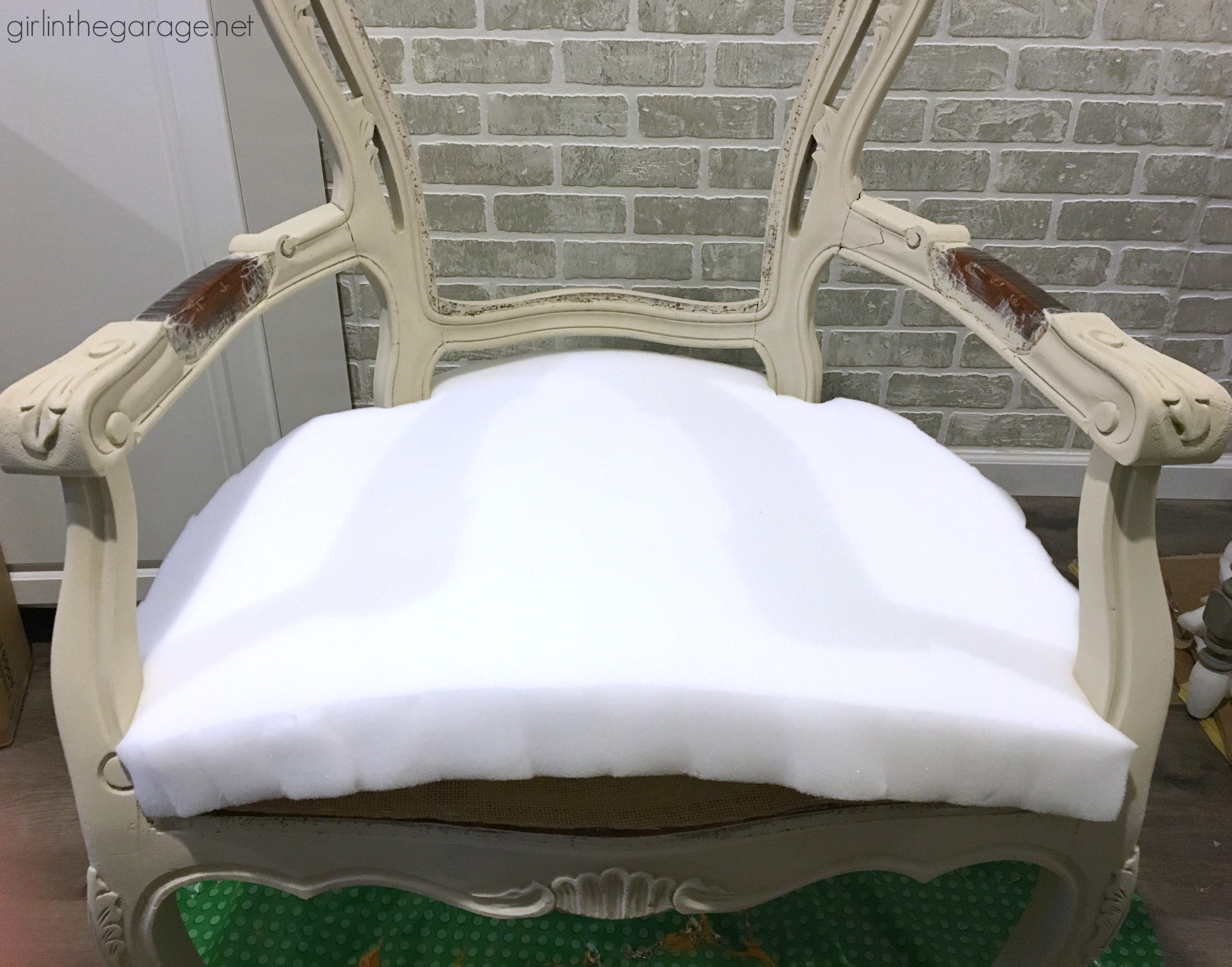 And finally I cut the fabric, being careful to keep the pattern straight. (After that last reupholstered chair makeover I did, I swore I wouldn't choose a pattern that had to be perfectly aligned the next time… Ha.Ha.)
After everything was cut, I stapled the batting over the foam.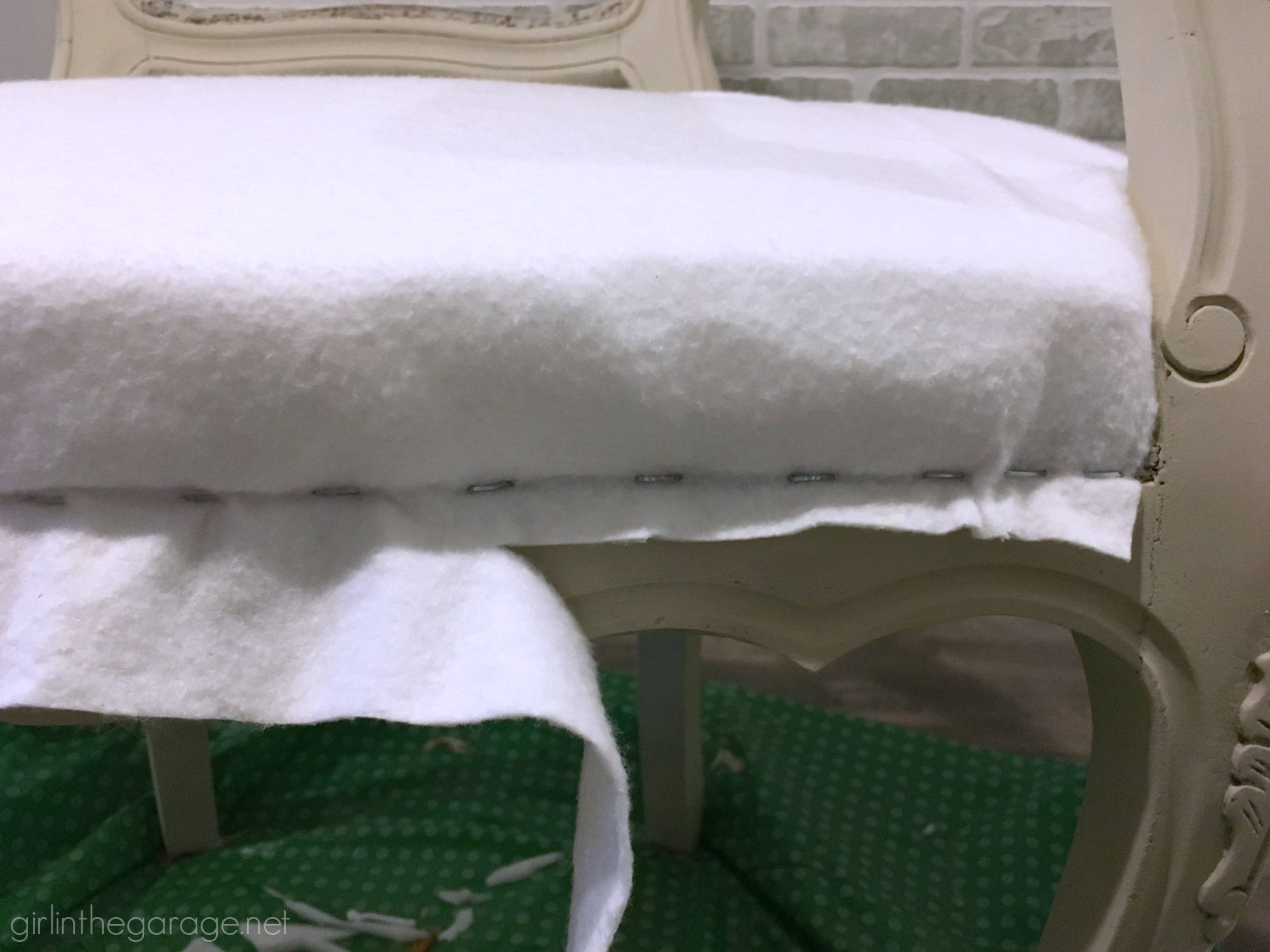 My hands were red and hurting super bad after all the stapling I'd done so far, and the stapler was starting to give me fits anyway, so it was time to change things up! I got brave.
Now, not all of you guys will see the bravery here, and that's ok. But some of you are probably like I was and might freak out at the thought of using a fancy stapler attached to an air compressor. We've had this thing since last year when Mr. GITG bought a power tool package deal, and he's been harping on me to try it out for too long. So I finally gave in.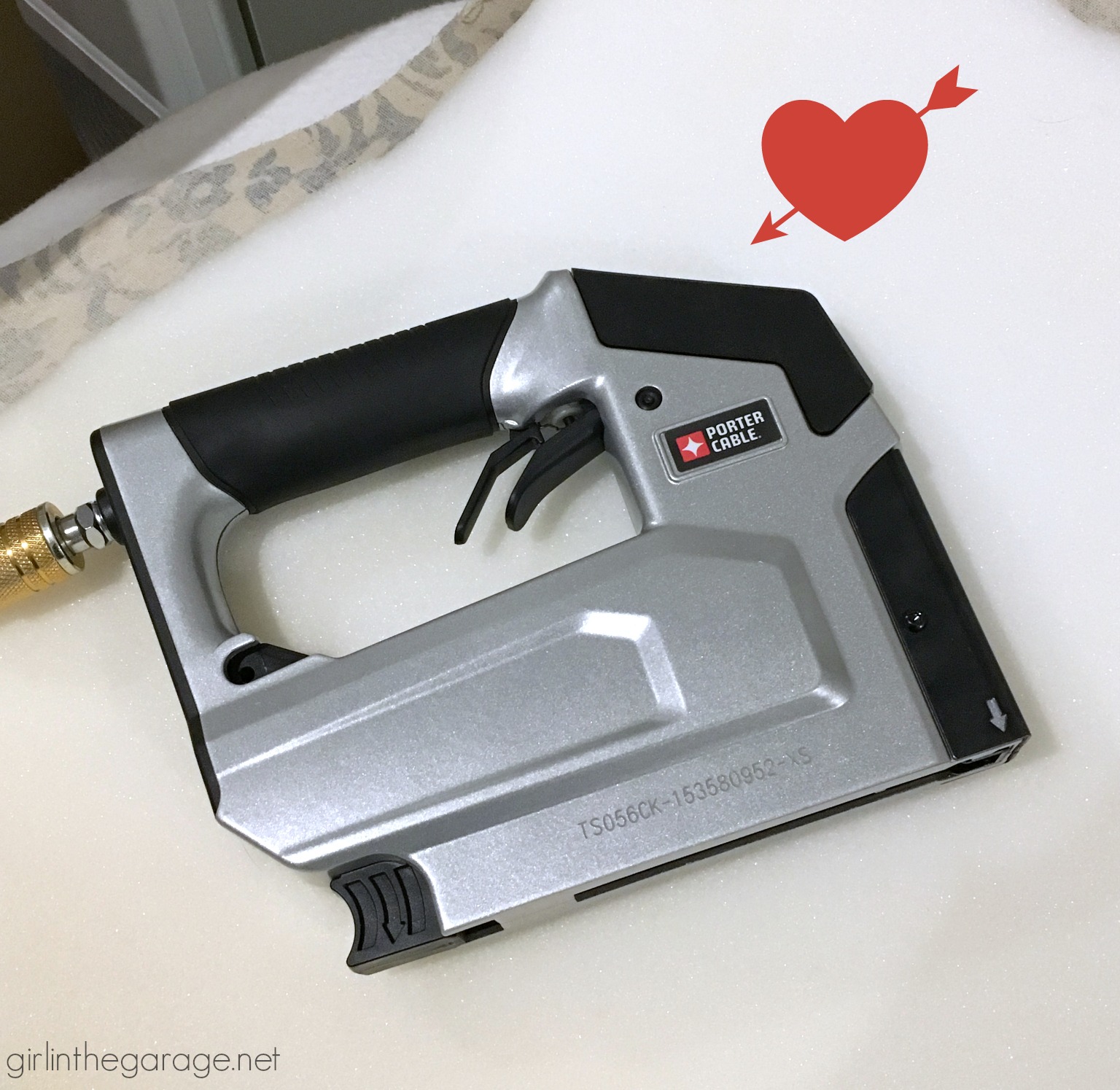 Just like magic, my hands were saved. It. Is. Amazing. (insert heart-eyed emoji here) And it's actually super easy to use! Click Here to learn more about this kind of stapler. Just don't tell Mr. GITG he was right, ok? 😉
Next I stapled the very back panel of fabric onto the chair. I always try to cut the piece large and then trim it down later. When you're doing a reupholstered chair makeover and have a pattern to line up straight, it helps to staple the top and bottom first, and then use that as a guide for the rest. I do a few on one side, and then switch to the other side, back and forth to keep things as even as possible.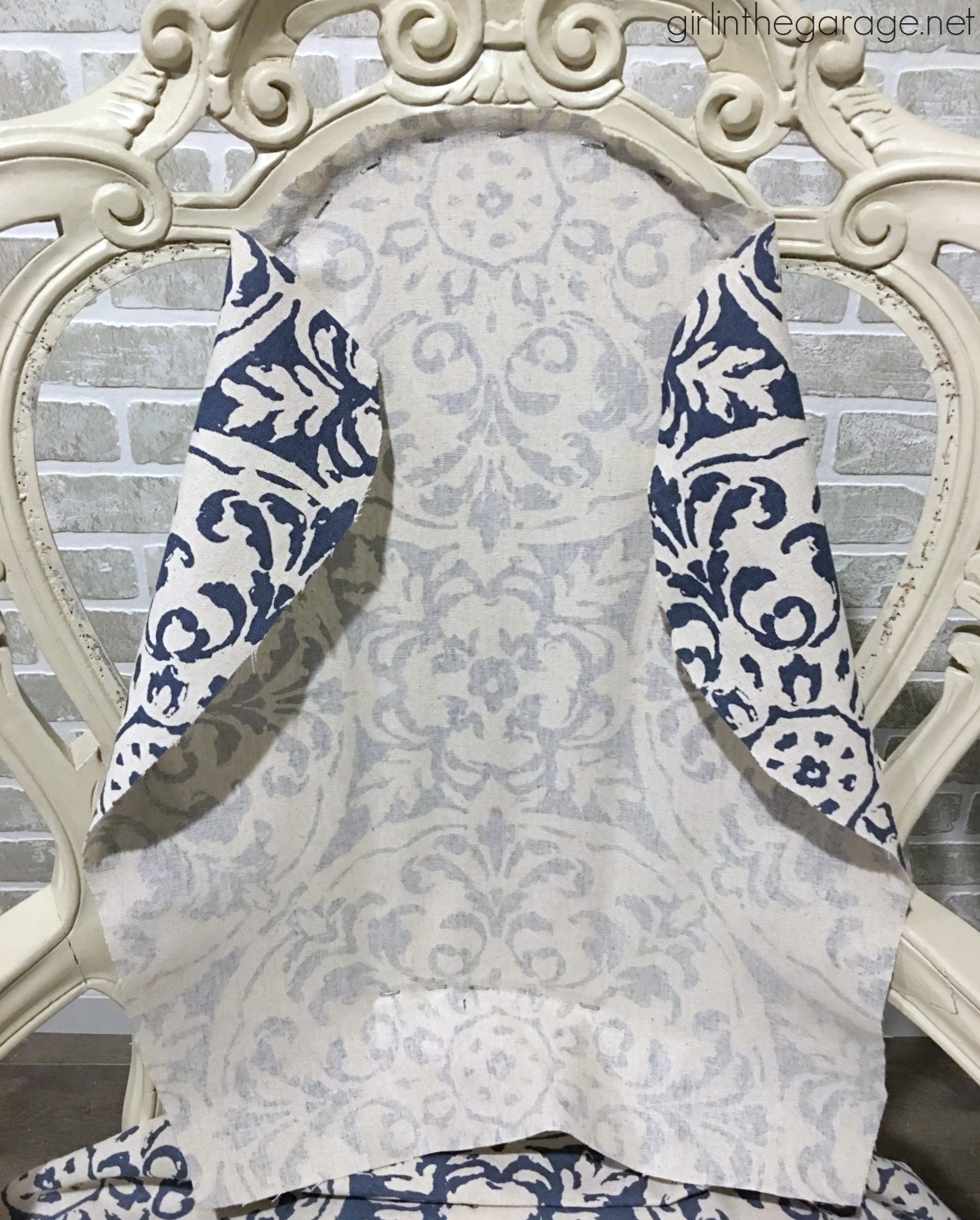 I put the back foam in place (just foam, no batting this time) and then stapled the front panel on.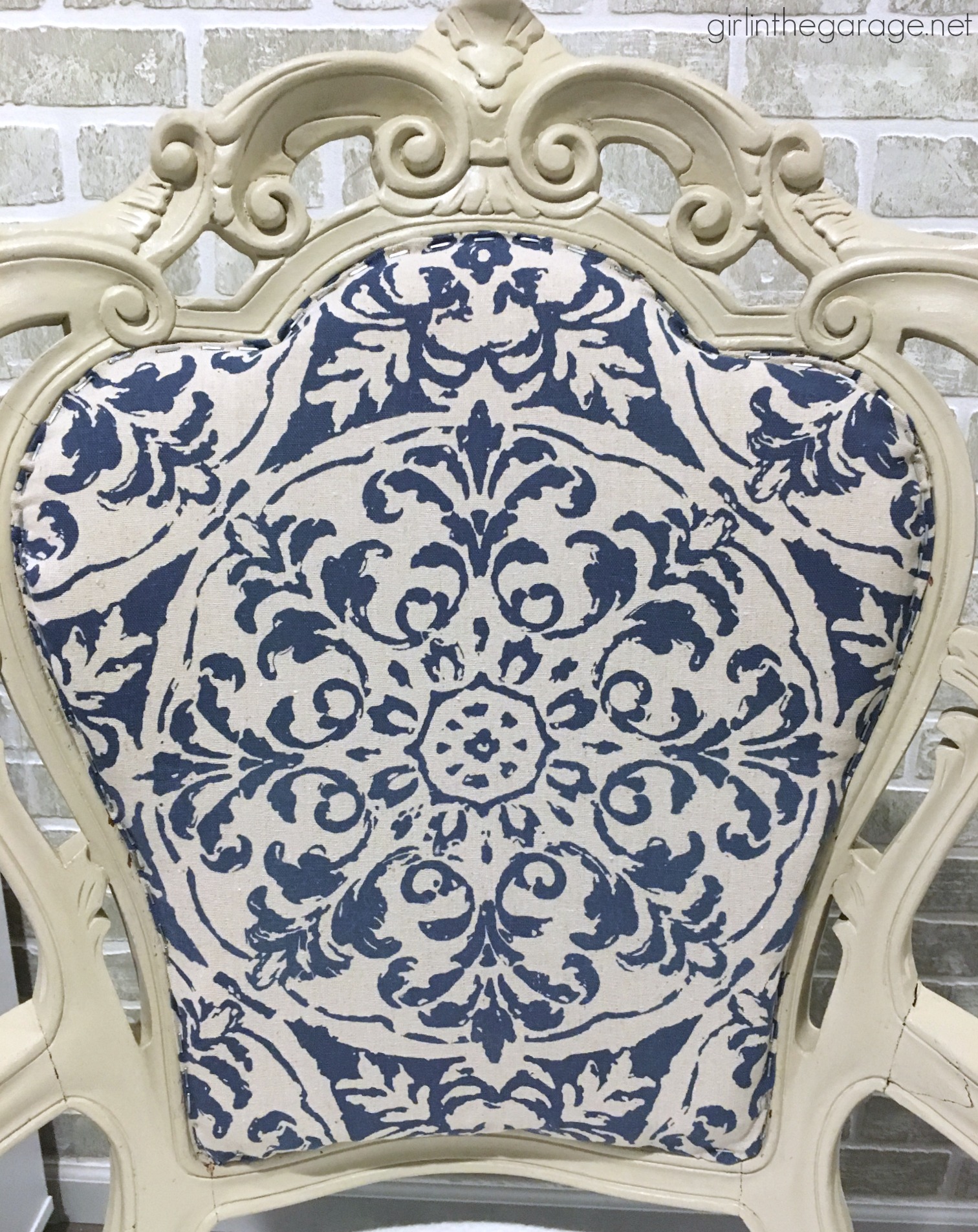 Remember to fold the unfinished edge underneath before you staple.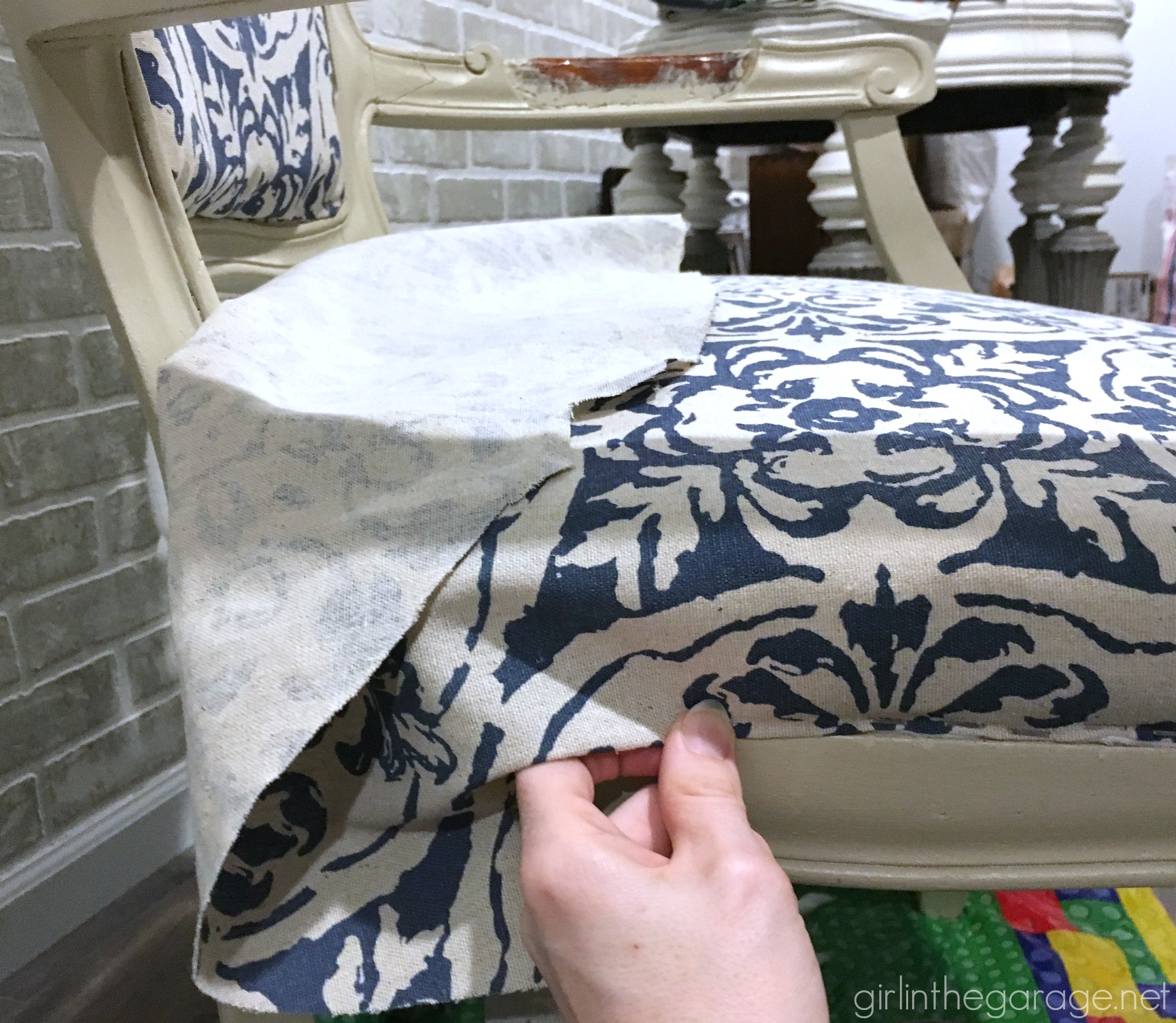 I put several staples at the end of each section.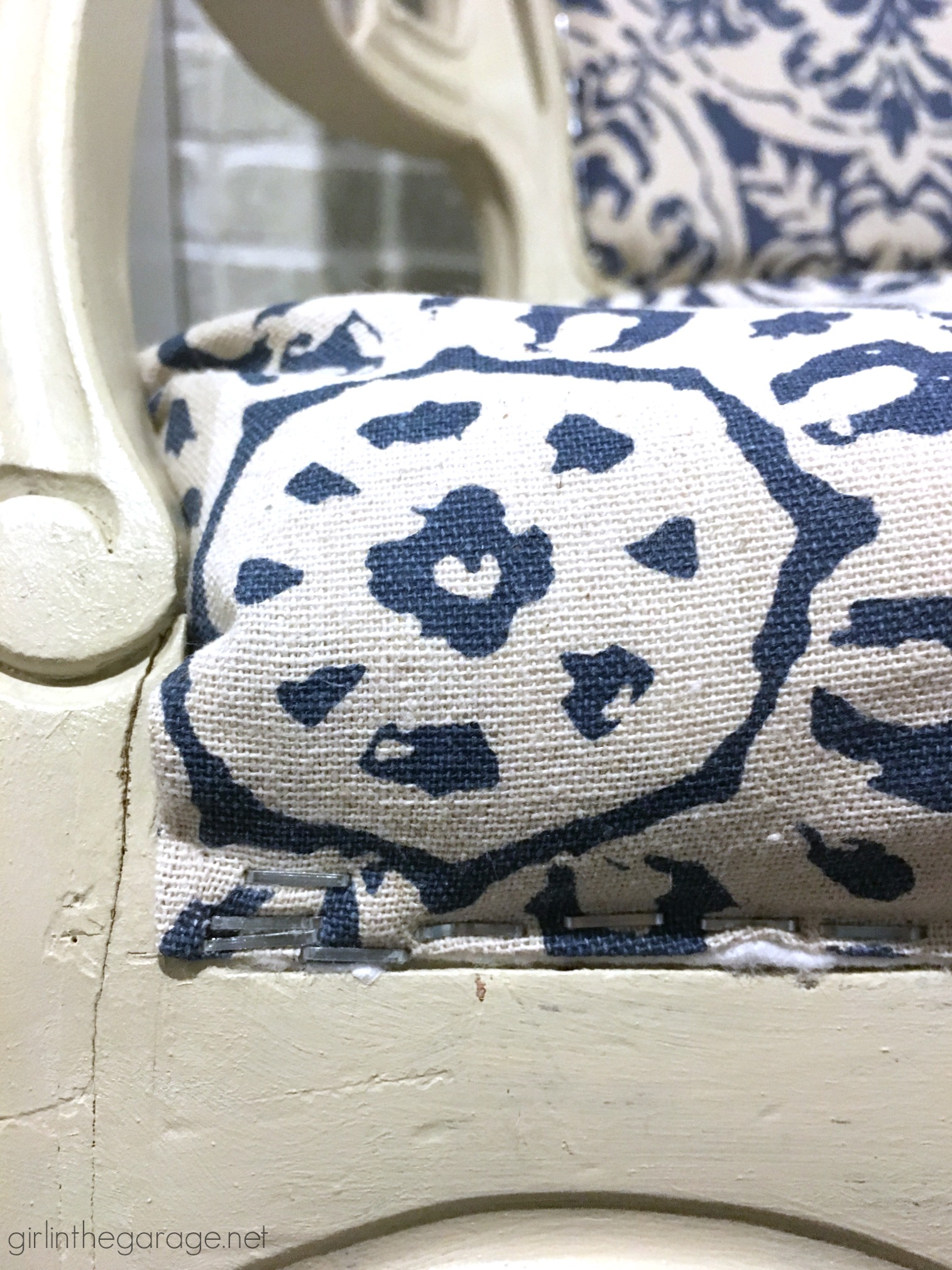 For the arms, I put a few staples right into the foam to keep it in place…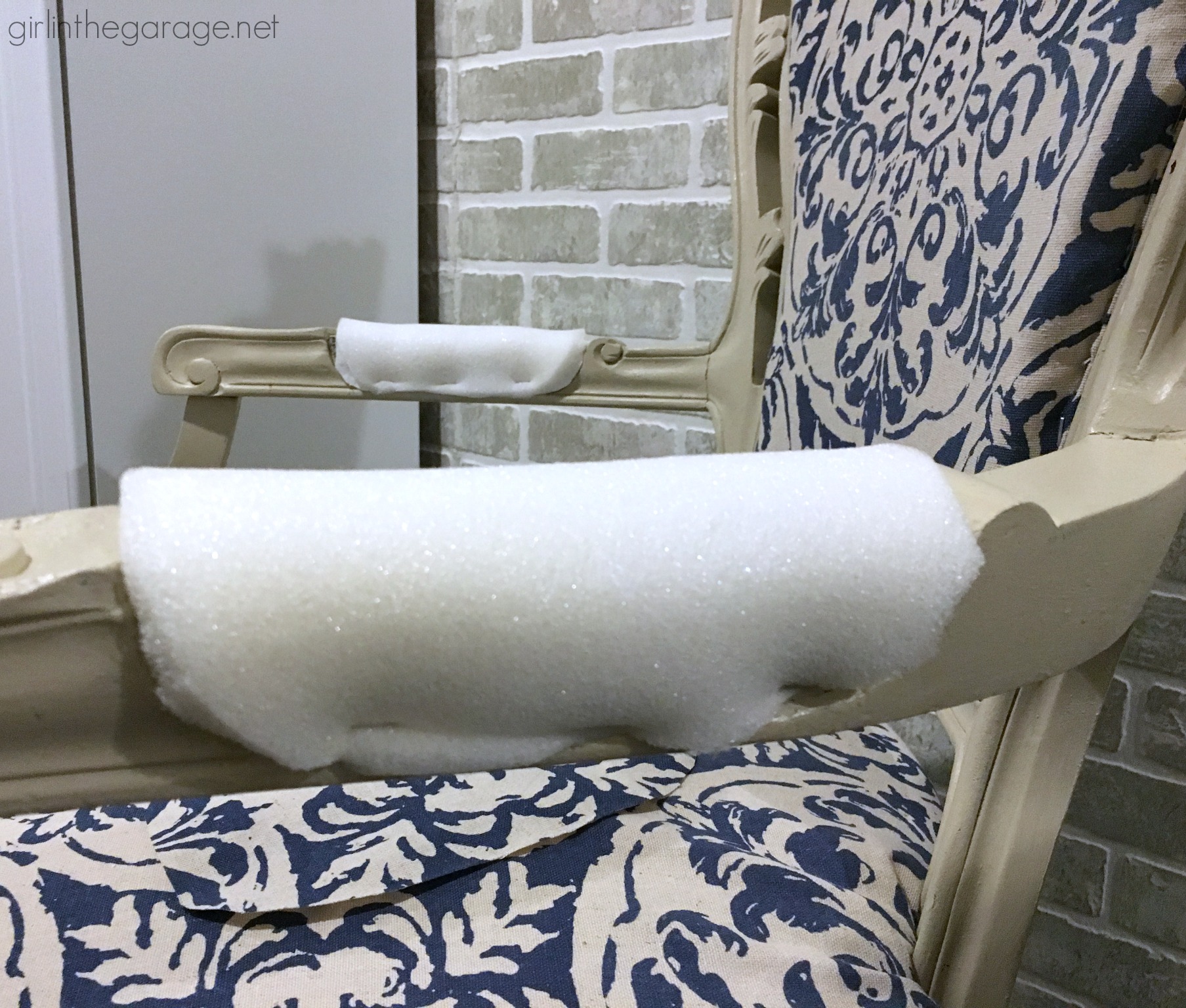 Then I stapled the top and bottom first (to line up the pattern), while continuing to tuck the unfinished edges underneath and going back and forth from one side to the other.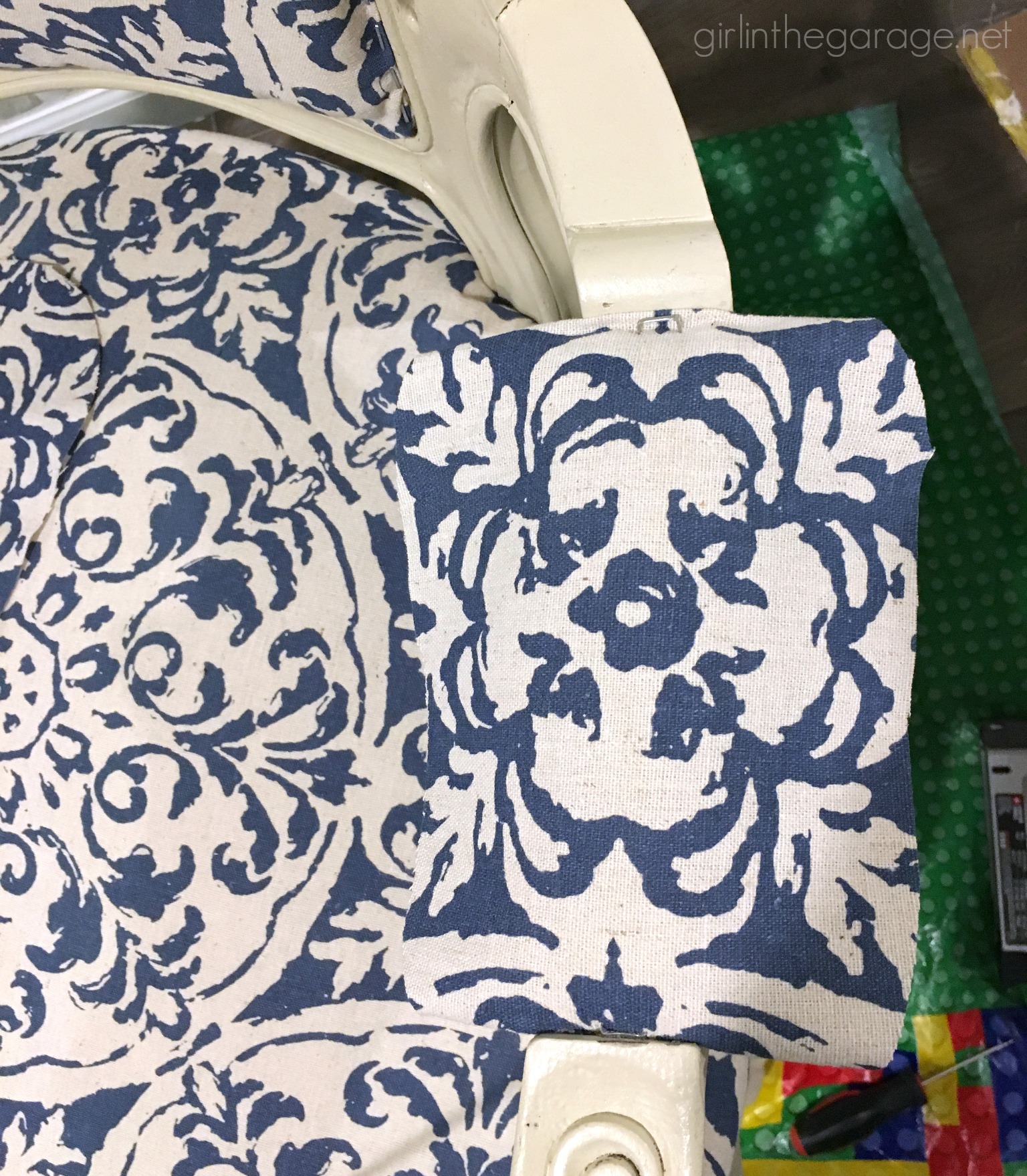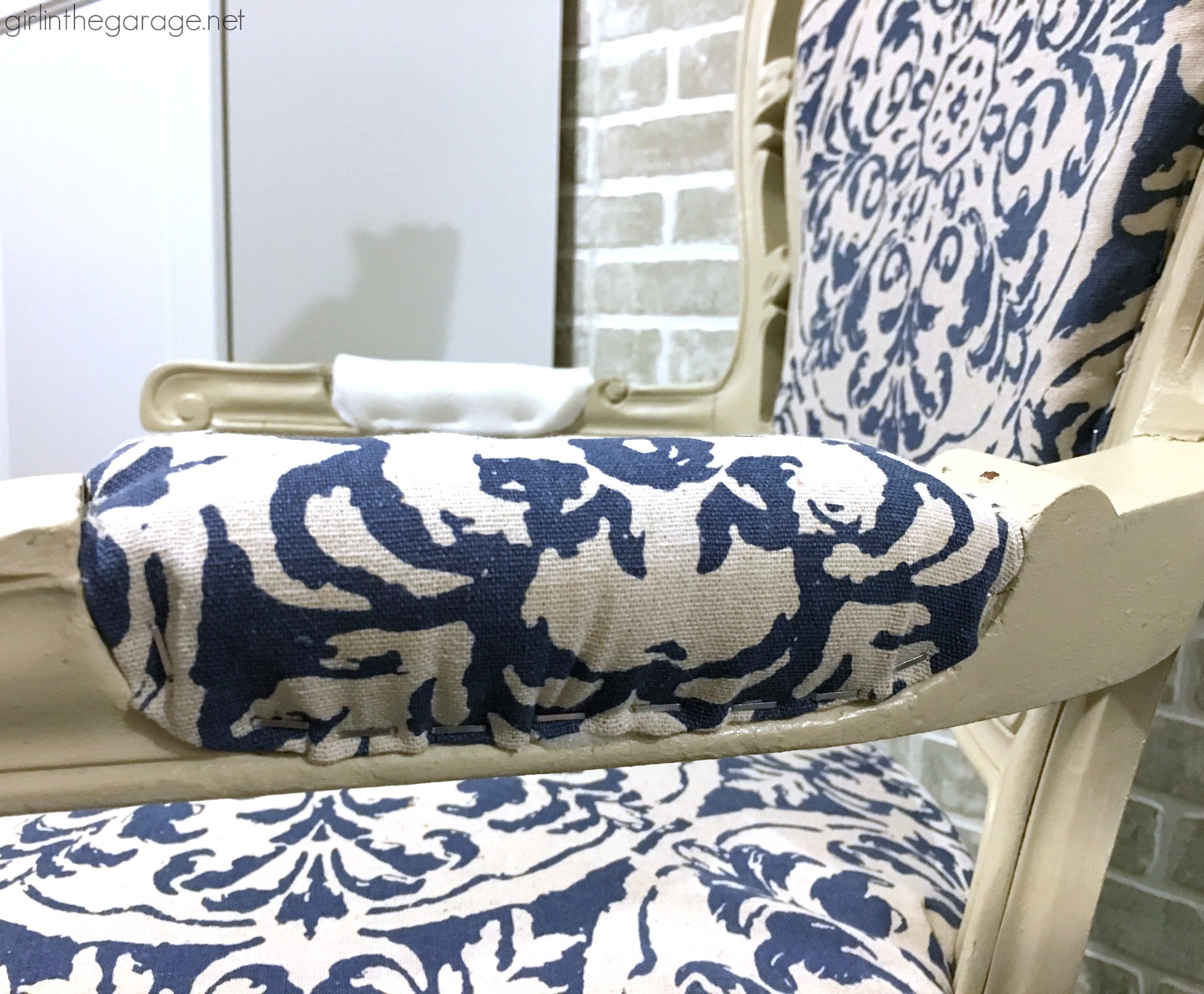 Finally, at the end of this project that seemed like it might never end…
It was time to hide all those ugly staples with gimp trim and a hot glue gun. This is toffee gimp trim that I found Here on Amazon.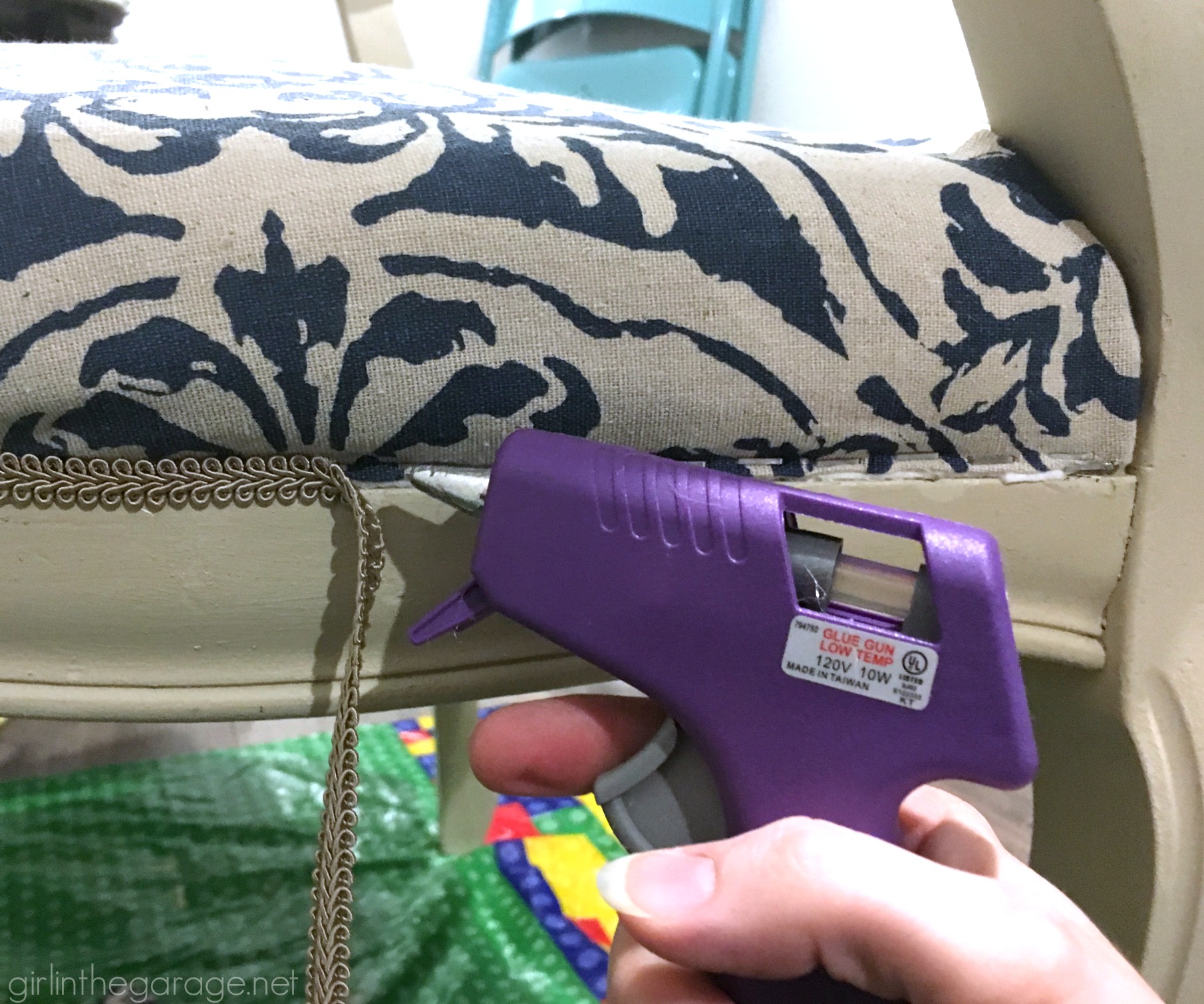 Wow, you guys. That was an epically long tutorial but I sincerely hope it inspires you to try a big reupholstery project or to get brave and try out a tool that you've been dreading!
Here's how the reupholstered chair looks now: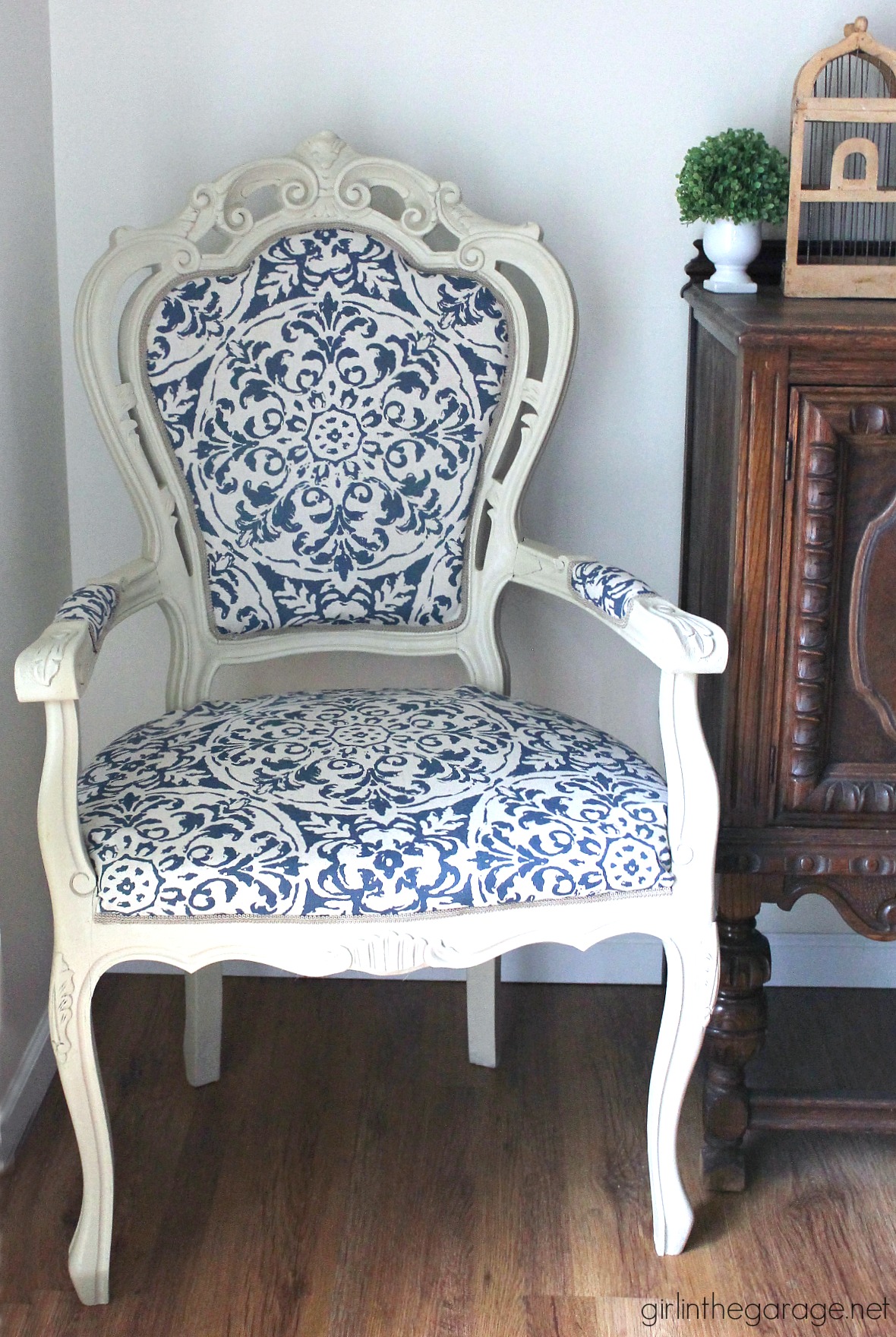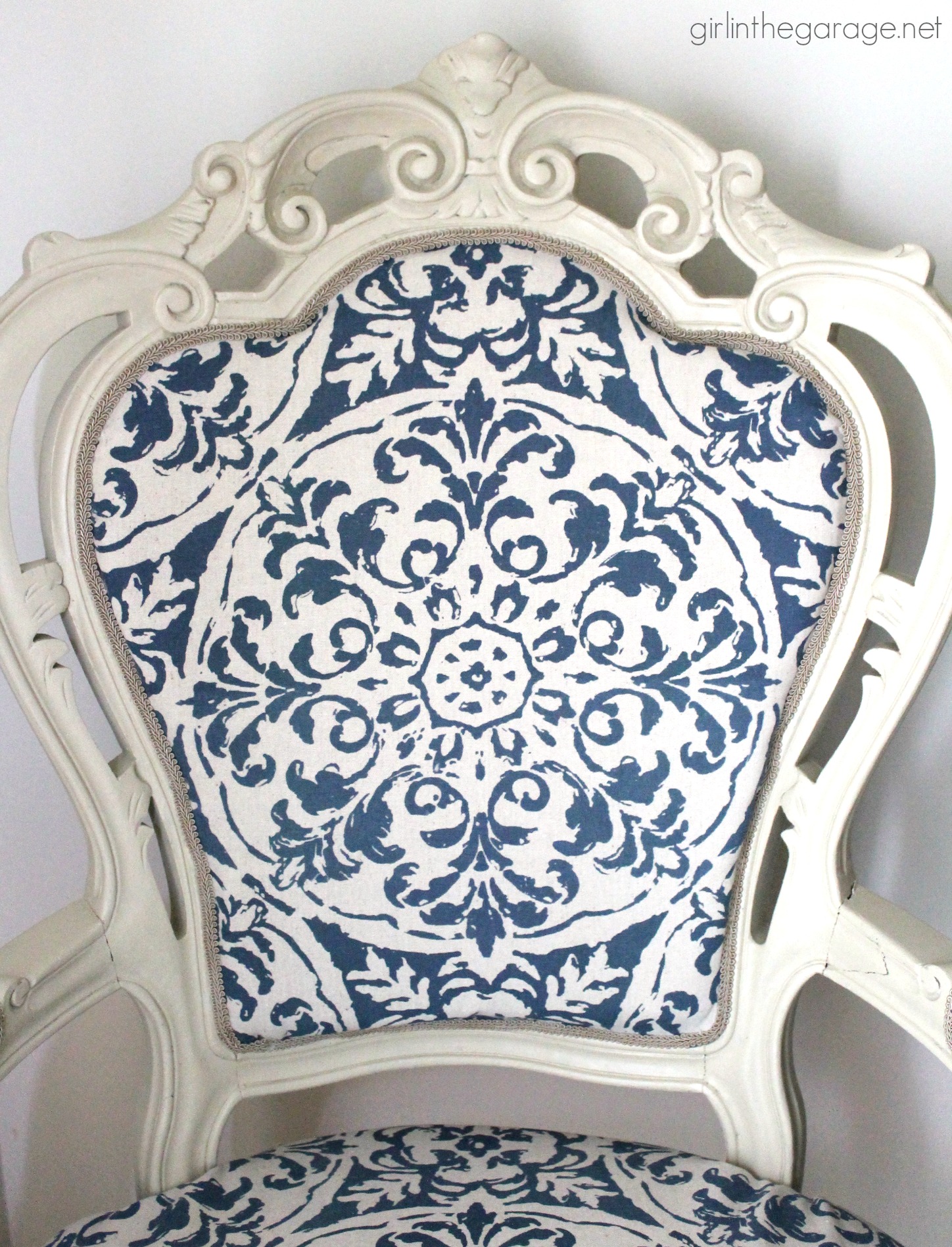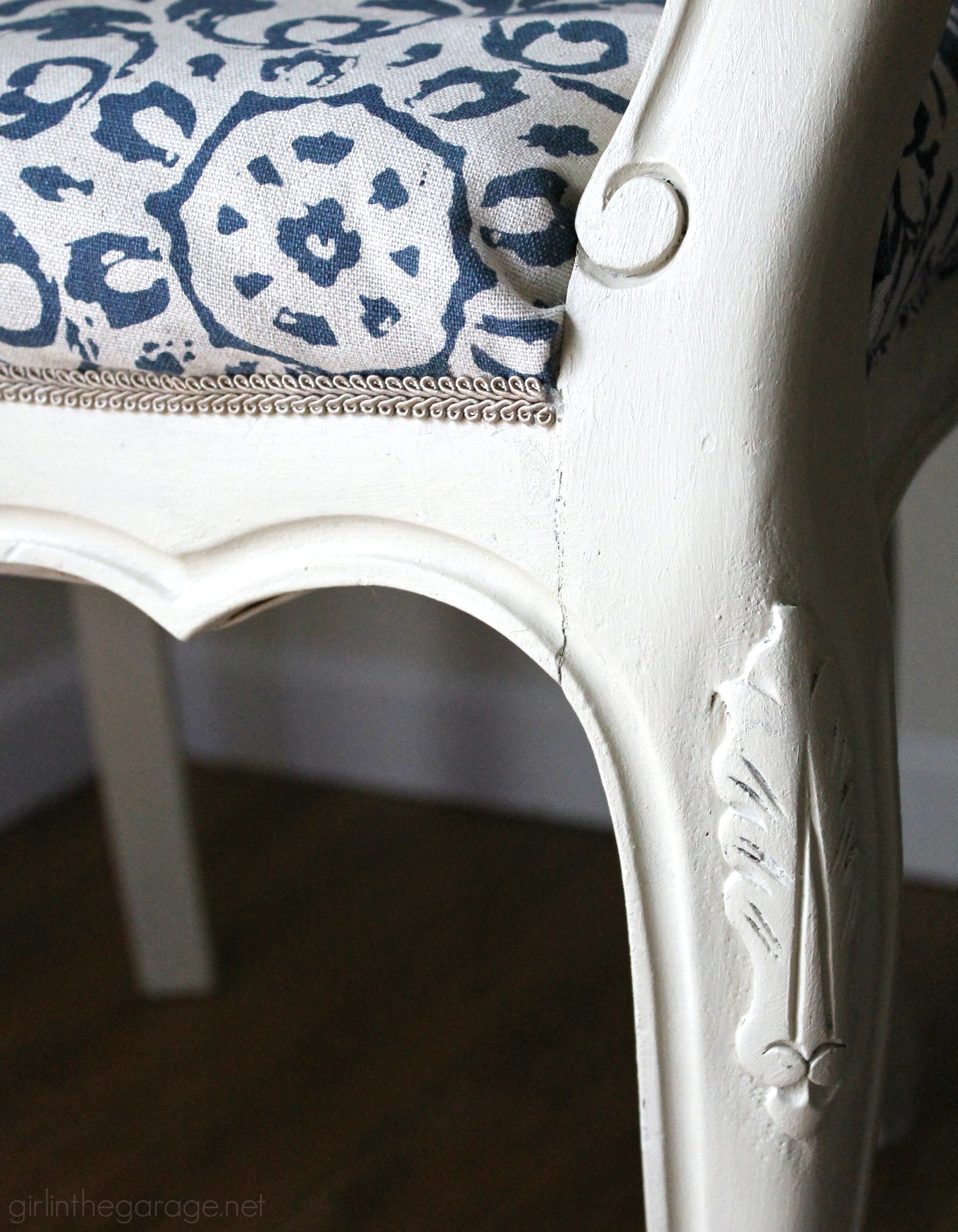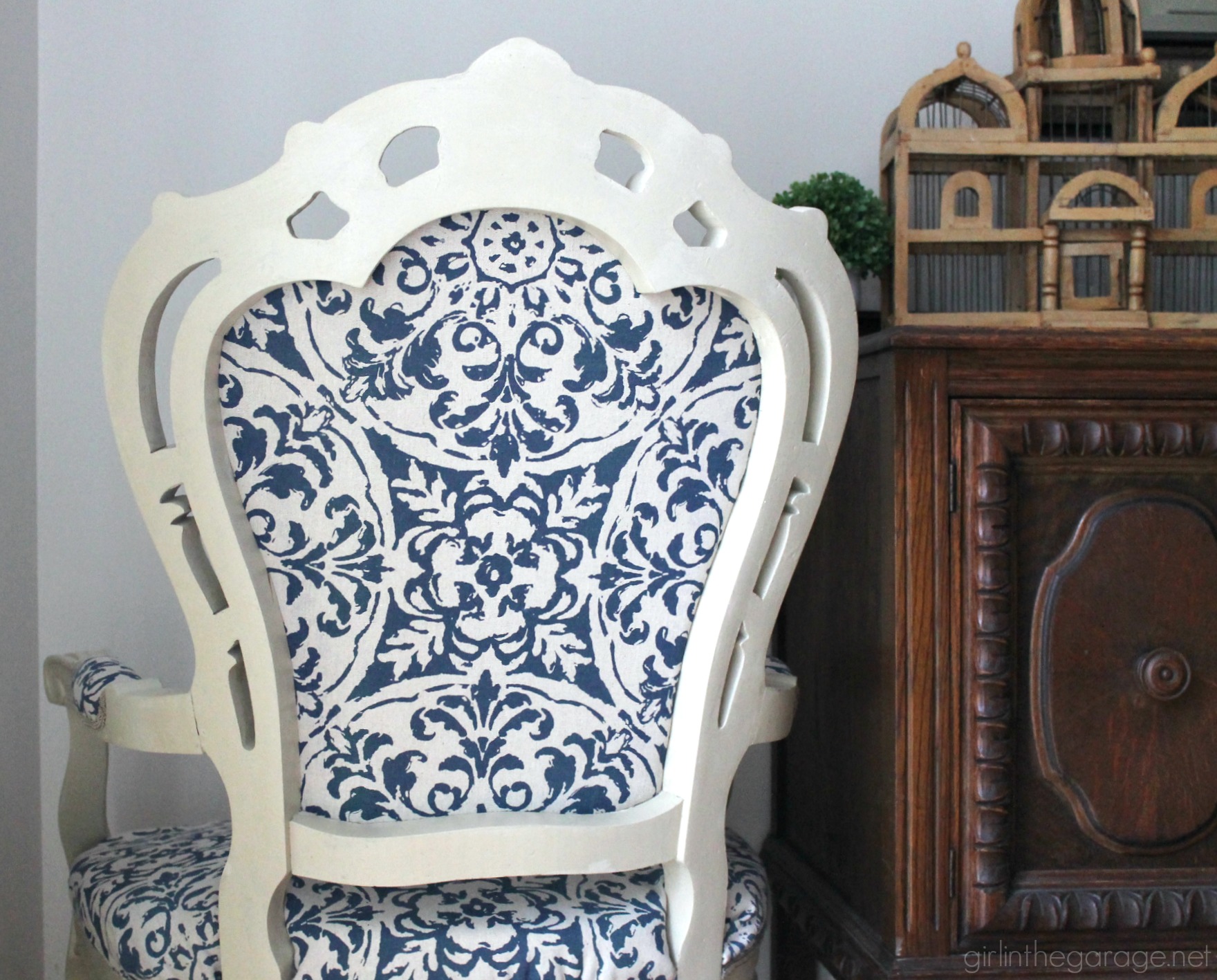 Oh my. It is light years from where it started! I still get amazed sometimes at the power of paint and new fabric (and some blood, sweat, and tears, Ha!).
I'm so glad to finally have this reupholstered chair makeover checked off my list and out of my stash. Only 342 more pieces to go…

Now it's time for Furniture Fixer Uppers, which means you get 4 more fantastic furniture makeovers from my friends to inspire you.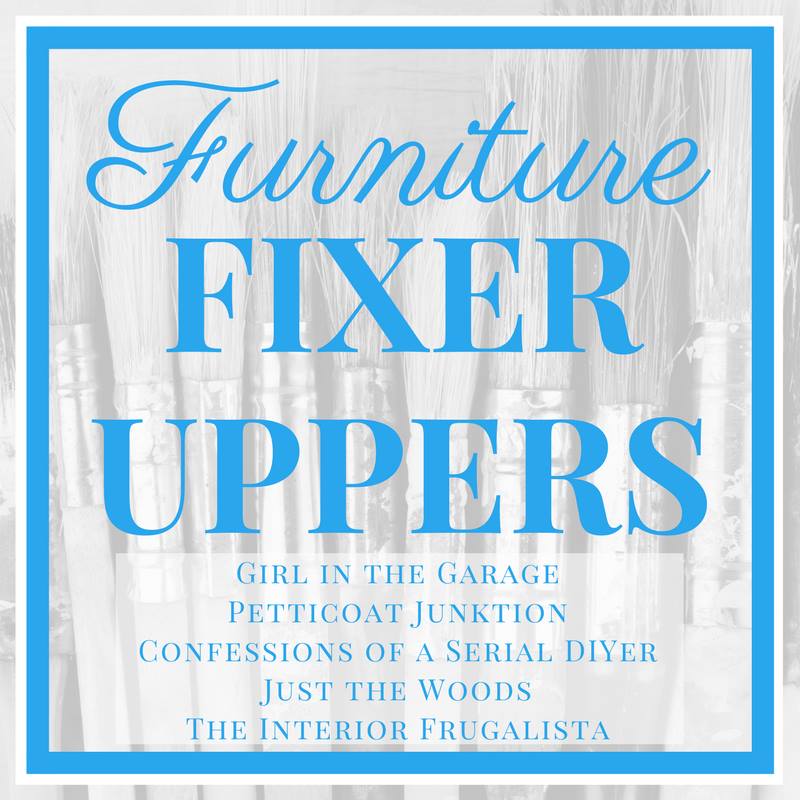 These are the Before photos – click the links underneath to see the Afters and to read the full tutorial.
I'd love to know what kind of tool or technique that you were scared to try but afterward you felt proud and empowered. Kudos to you for being brave!
– Jen