You've spent hours cleaning, repairing, and prepping that thrifted dresser. Then even more of your precious time refinishing it and perfecting the final look. When it's finally finished, you hope to sell the furniture makeover to an eager buyer and make a nice profit.
You post a listing, but the dresser sits and waits… weeks pass and you get nibbles but no serious inquiries. What gives?? How can you sell refinished furniture more quickly, for the price you deserve?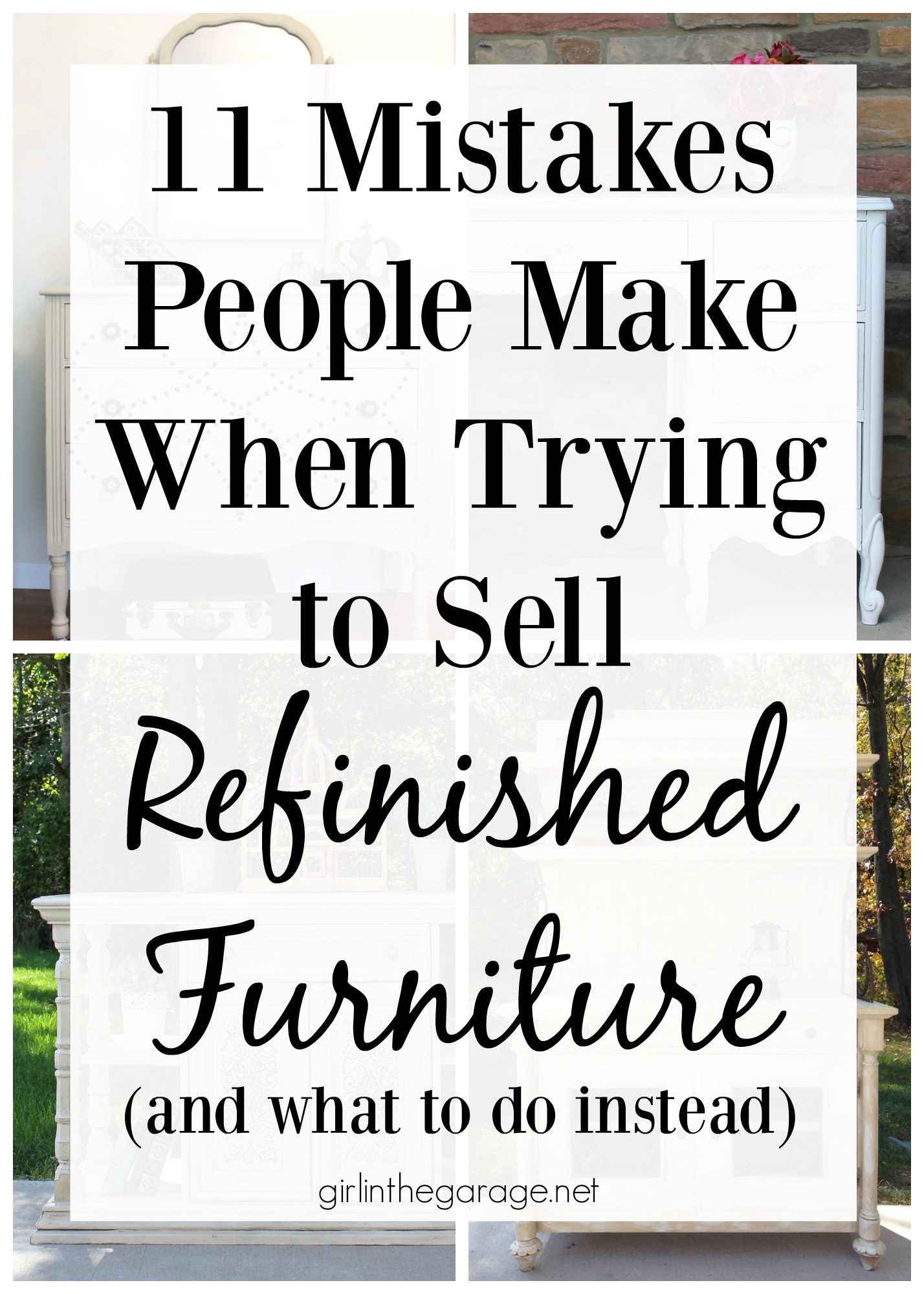 I may not be an expert, but in five+ years of upcycling and selling furniture makeovers, I've learned quite a lot. There could be many reasons why your piece isn't selling; here are 11 tips for what not to do when trying to sell refinished furniture (and what to do instead!).
1.
Not starting with a quality piece. You can be the best repairer and painter in the world, but if you're planning to refinish a cheap plastic bookcase from Wal-Mart, you can't expect to sell it for a small fortune. Look for pieces that are made from real wood and have the most potential to turn a profit. If you aren't good at repairs and don't have many tools available for use, then buy pieces that don't have structural damage.
2.
Bad staging. If you're posting photos of your pieces online, you need to stage it well. Invest in some simple inexpensive props like hardcover books, empty frames, vases and flowers, classic artwork. You may also need a backdrop if you don't have a light-colored wall to photograph against, and maybe a rug or a section of wood-look flooring if your space has concrete or otherwise ugly floors. Also, be careful of colors used in staging – use compliments and not distractions. If your piece is neutral, add a pop of color with flowers in a vase. Stage the piece to give potential buyers an idea of how they could use it in their own homes.
3.
Bad photography. Beautiful, scroll-stopping photos will help you sell refinished furniture. The number 1 problem most people have with photography is usually lighting. Make sure the room is well lit with natural light if possible (you may want to invest in a light kit if you're lacking in natural light). You want to avoid shadows or harsh brightness. Also, hold the camera very still to avoid blurriness (a tripod is helpful for shaky hands). Take photos straight-on or at a slight angle to the left or right, but try to stay eye-level with the center of the piece. Don't have the camera pointed up or down toward it. Also, include more than one photo if you have special details that deserve their own beauty shot (1-4 photos is good). **Below are 4 photos from my local Facebook for sale group that I found in about 10 minutes… (I'm not critiquing the items themselves, just commenting on the photography – and no, I haven't done any editing on these.)
4.
The piece is too custom. Painting is art, and many painters stand out from the crowd for their custom work and have much success. But if your piece isn't selling, and every other element in this list is right on target, then it might be too custom. You can either wait for that one perfect buyer who will fall madly in love with your neon orange stenciled buffet, or it might be time to rethink your design. The choice is yours. In general, neutral pieces work in most homes and often sell faster. You have to decide (and maybe experiment with the buyers in your market) to determine where is the intersection of artistic creativity and salability.
5.
Only listing your item in one place. There are SO many places to sell refinished furniture – don't limit yourself to one or two listings. You need to go find your perfect buyer, chances are they won't just find you. Join as many local (or semi-local) Facebook selling groups as you can and list on sales apps (beware of scams though!) – I've known some people who will list something dozens of different places. (Have you considered selling your pieces in a store or at a vintage market? Learn more here.)
6.
Not writing a well thought out, descriptive ad. Use keywords people might be searching for (farmhouse, rustic, industrial, storage, etc.) and use proper spelling (it's a "dining" table, not "dinning"). If your piece is a well known name brand, say so. If you know some history of your piece (it was built in the 1920s), say so. Include the dimensions and any other pertinent details that people wouldn't know just from looking at the photos. Suggest other uses – that your buffet can also be used as a TV console – show people the potential uses in their own home.
7.
Pricing too high. You deserve to be paid what you're worth, and for all the time, effort, and supply expenses you put into redoing the piece. Pay attention to what others are charging for similar pieces, and price yours even a little higher. But if you start way too high, people may be put off immediately. Test out the market with a piece or two and don't be afraid to let it sit a few weeks before restaging/rephotographing or lowering the price by 10-15%.
8.
Pricing too low (undervaluing yourself, not enough room for profit, or lowering too quickly). You can always lower a high price, but you can't raise a low price. If your pieces are selling very quickly, if people are commenting on your ad that you should be charging more, or if you're barely making any profit, stop what you're doing and reevaluate. Raise your prices. You are worth it! If brand new plain boring dressers are selling for hundreds of dollars at furniture stores, why on earth are you only charging $80 for your hand-painted, one-of-a-kind, real wood dresser? Your potential profit is flying out the window, and you're doing yourself and all the other furniture painters near you a disservice by encouraging low price expectations from buyers. Just don't do it.
9.
Only accepting cash as payment. Cash is king, but there are other ways to accept payment that are convenient and easy to use. Think electronic payments, not checks. (From my experience working in banking for 10 years, do not accept a check. It's too risky. Even cashier's checks can be faked.) Square and PayPal are good options, and there are probably others. And definitely receive your payment in advance if you've agreed to deliver the furniture to the buyer!
10.
Not offering delivery. What stops most buyers from purchasing furniture, besides price? Lifting and transportation. Remove that barrier and it will be much easier to make the sale. Borrow a truck or SUV. Bring your spouse, friend, or hire a couple college students to help. Wrap the piece so it doesn't get damaged in transit, get your payment before making the trip, and yes charge extra for delivery.
11.
Not keeping in touch or asking for a referral. Once you make a sale, keep in touch with your buyer. Ask them to Like your Facebook page so they can see what else you're working on, or follow you on Instagram. Leave some business cards with them and ask for referrals. Happy customers love to brag about their custom furniture (and excellent customer service) and you can gain a lot of new clients that way. Message or email them in a couple months to see if there's anything else they're looking for or needs refinished.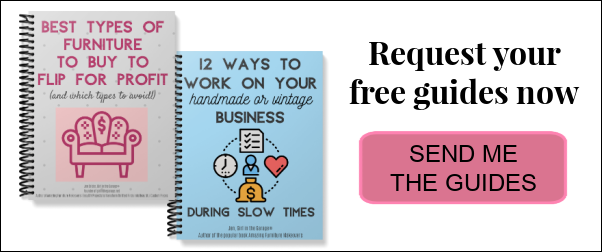 I'd love it if you shared this post with your creative friends who sell refinished furniture – it's quick and easy to click the Facebook or Pinterest buttons on the side of the page. Thanks so much!
– Jen –
You might also like this article…
7 Pricing Tips for Selling Refinished Furniture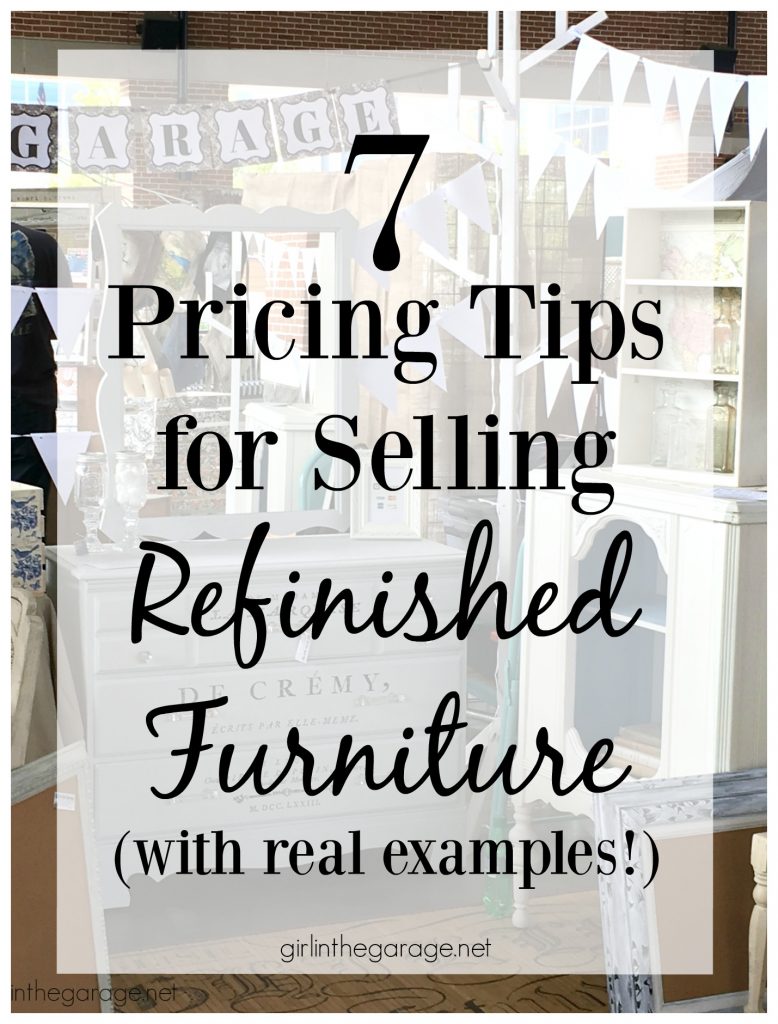 Friend, did you hear my first book Amazing Furniture Makeovers: Easy DIY Projects to Transform Thrifted Finds into Beautiful Custom Pieces is available now? Learn all about it Here.