You guys. Remember how I told you last week about my recent little Goodwill shopping spree when I shared the $6 vintage vanity bench that I redid?
Well this big beautiful beast was the big score that day – only $36 on sale!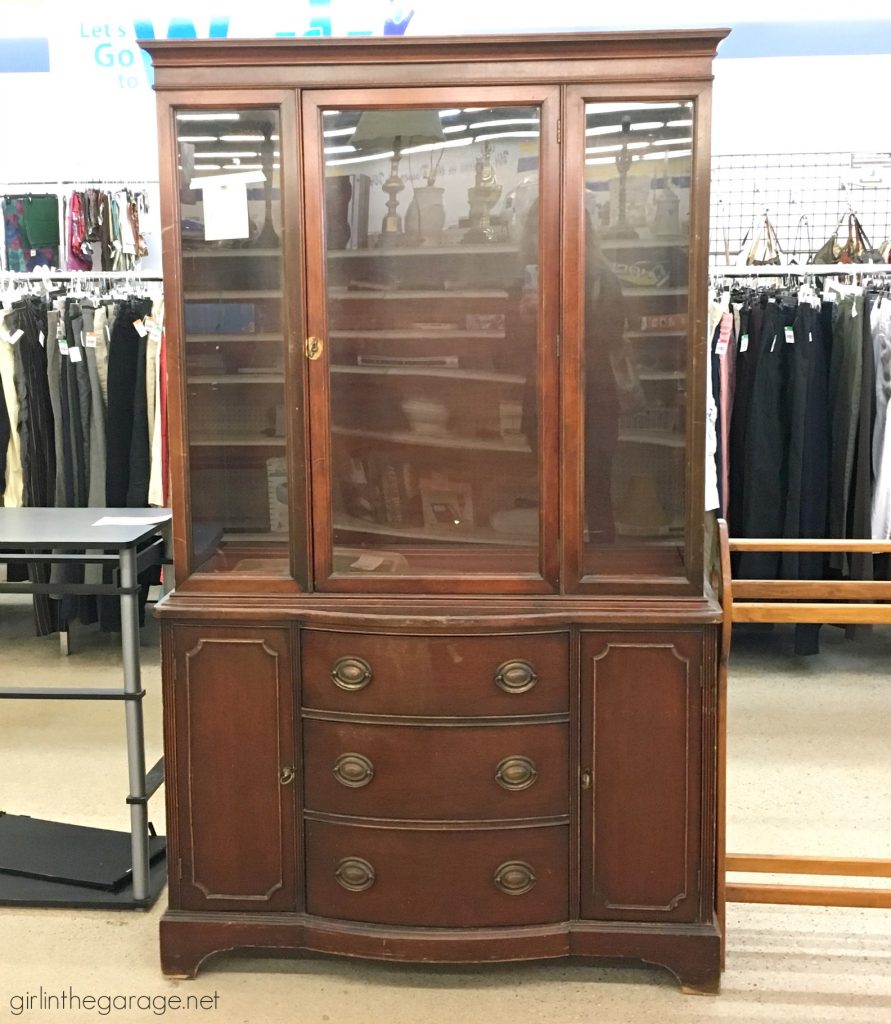 Sure it had chips and scratches, a few of the feet had big chunks missing, four of the curved trim pieces on the doors were missing (one was hiding in a drawer though), and it had a whole lotta sadness going on. But it's super heavy and solid for being only about 6 feet tall. Oh and the back was stamped 6/21/48.
*Guys, today is Furniture Fixer Uppers day with my furniture makeover friends – so be sure to stick around and visit their projects at the bottom of this post. Also, this post contains some affiliate links so you can easily find the products I use and recommend. Discover my favorite brands and tools for doing DIY makeovers here.
First up, I removed the back panel – I wasn't sure how I was going to update it yet, but it's much easier to paint inside without that in the way. Then I taped the glass on both the front and back sides.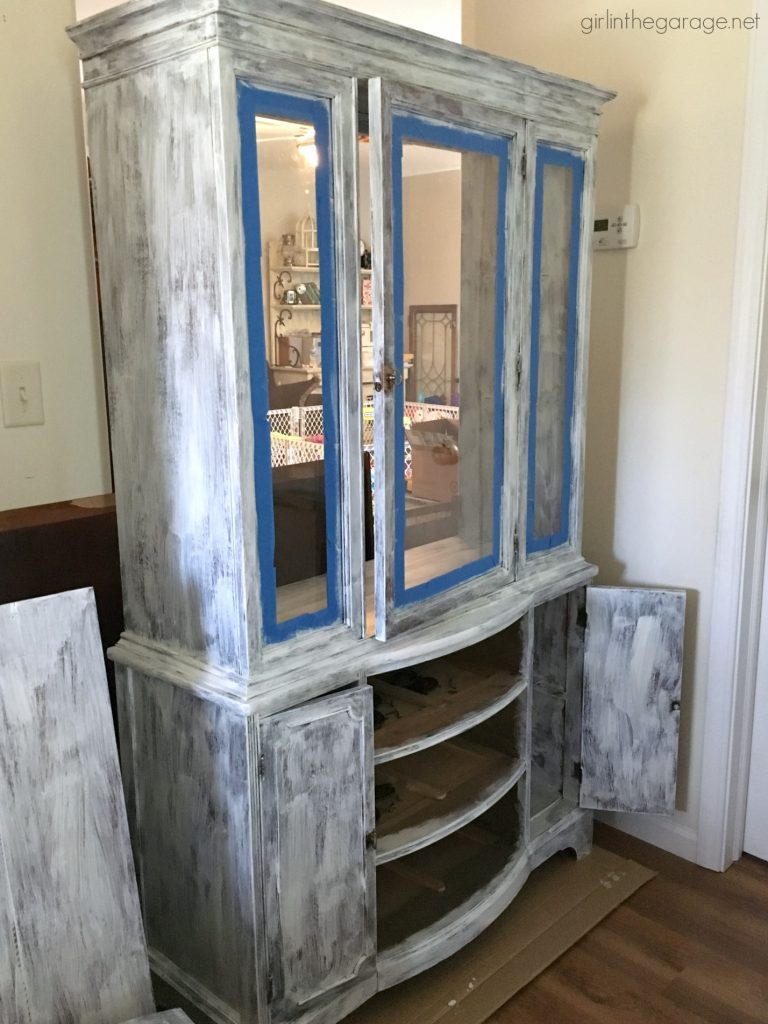 Next, since that reddish mahogany finish always bleeds, I primed it with my favorite shellac primer.
Soon I was walking through Home Depot trying to get ideas for the back of this china cabinet makeover. Then I saw something….. Shiplap! Did you know you can buy primed boards of it there? I know it's been really popular on walls for a farmhouse look thanks to Fixer Upper but I can't say that I've ever seen it used on furniture before.
My two older boys were with me since I had just picked them up from school. They weren't amused at how long I was taking in the store, but they liked sitting on the cart!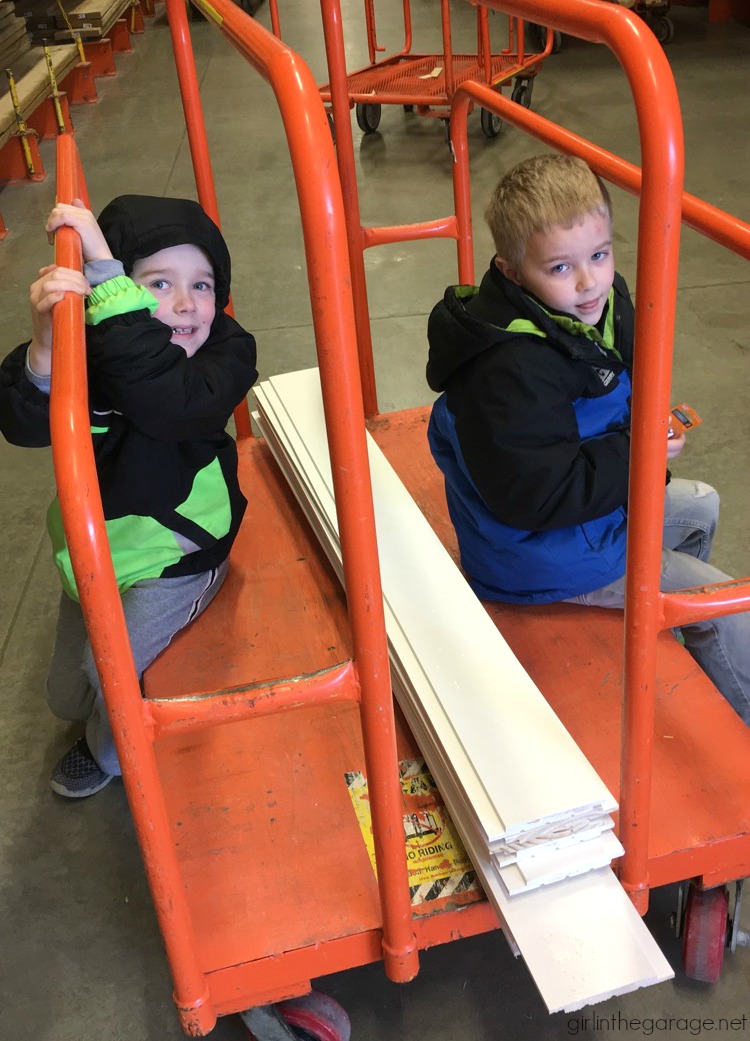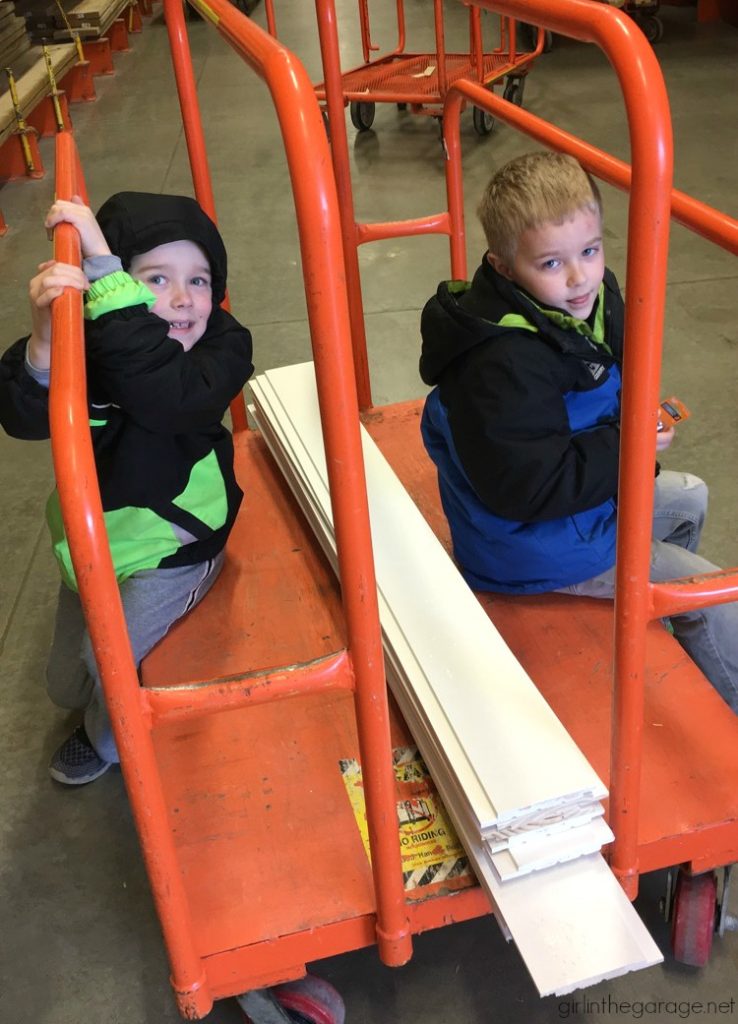 How to add shiplap to furniture
One primed 8ft. shiplap board is about $5, and I ended up using four of them. I had the store cut them in half for me, and then my husband (Guy in the Garage) cut them a little shorter to the exact length needed.
By this point I had also painted the china cabinet in its first layer of paint – Annie Sloan Chalk Paint in Country Grey.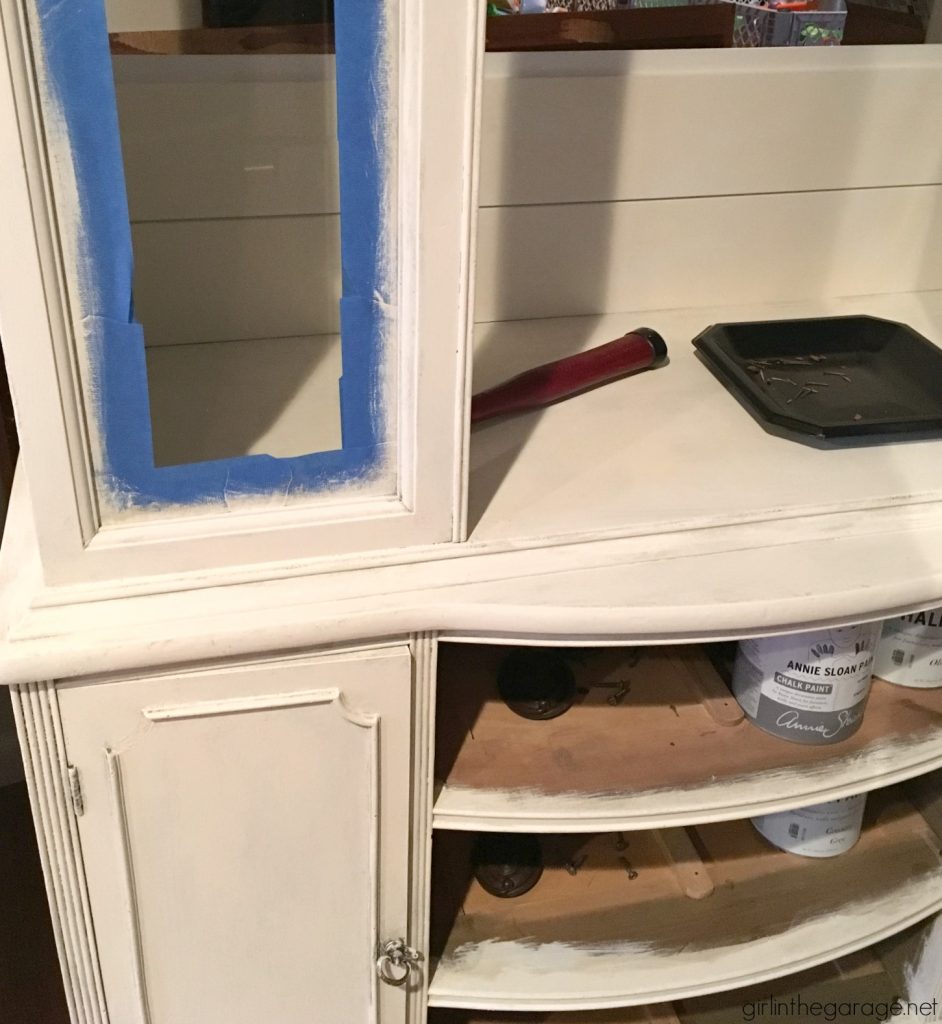 Shiplap has little grooves at the top and bottom that make the boards really easy to interlock with each other. I hammered a couple one-inch nails at each end and then they were secure. So simple.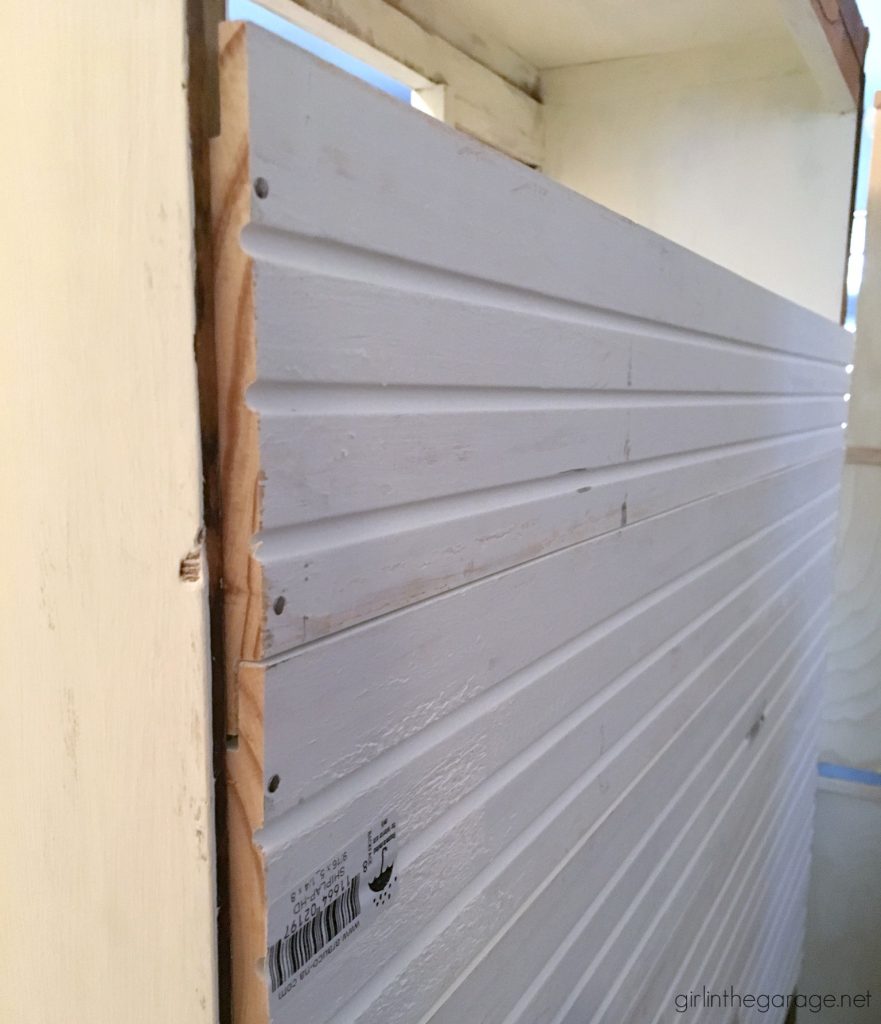 Here's another behind the scenes photo (no judging, you know I'm not perfect by any means!) – the boards are all in place and the next layer of paint is on – Annie Sloan Chalk Paint in Old White.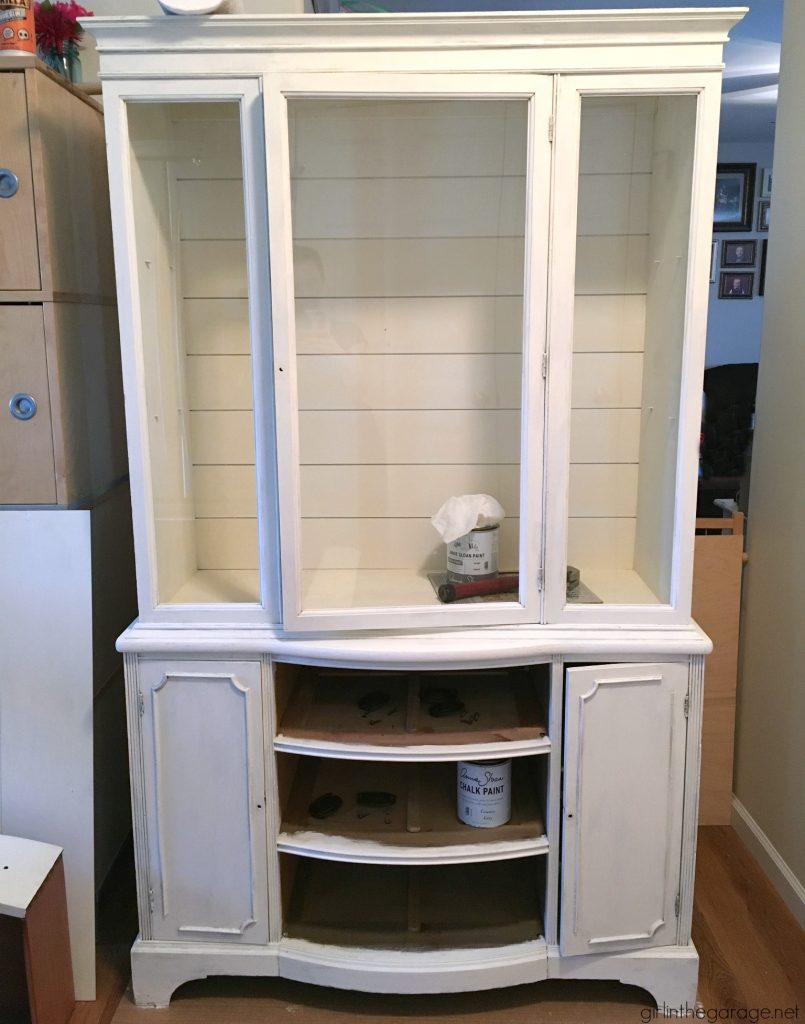 It was pretty as-is but this was going to be a rustic, farmhouse china cabinet makeover. (Imperfections for the win.) Funny story – I sent the above photo to my mom and sister to show them my progress and my mom replied "What's shiplap?" LOL. She doesn't watch much TV. 🙂
Next came lots of sanding and mess everywhere. This cabinet got my favorite type of treatment – layered neutral paint colors with some distressing to bring out the lovely details.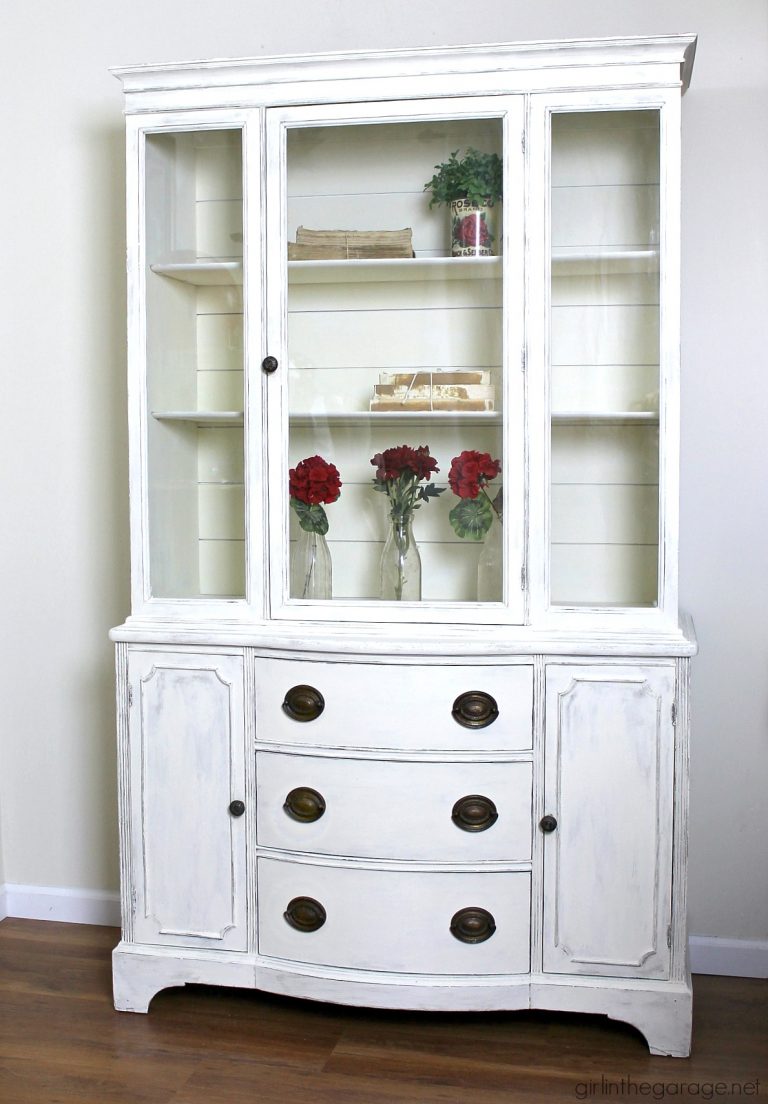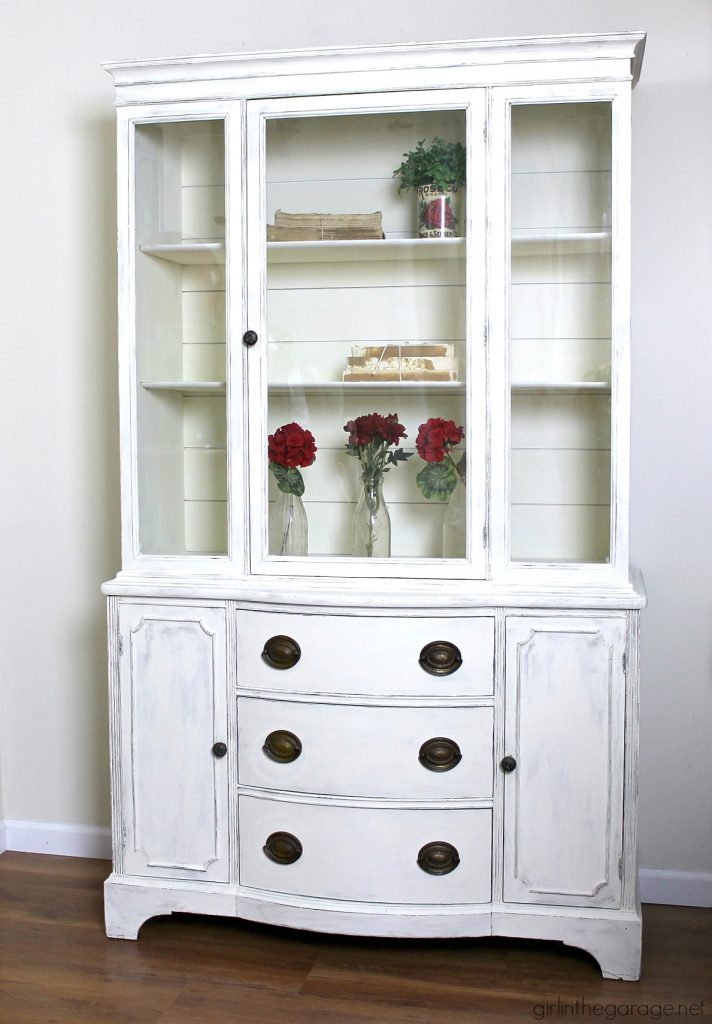 That shiplap – oh my word, it's so pretty! I'm not the type to commit to something like that on my walls because I'd probably change my mind after a few months, but I absolutely love it on this cabinet.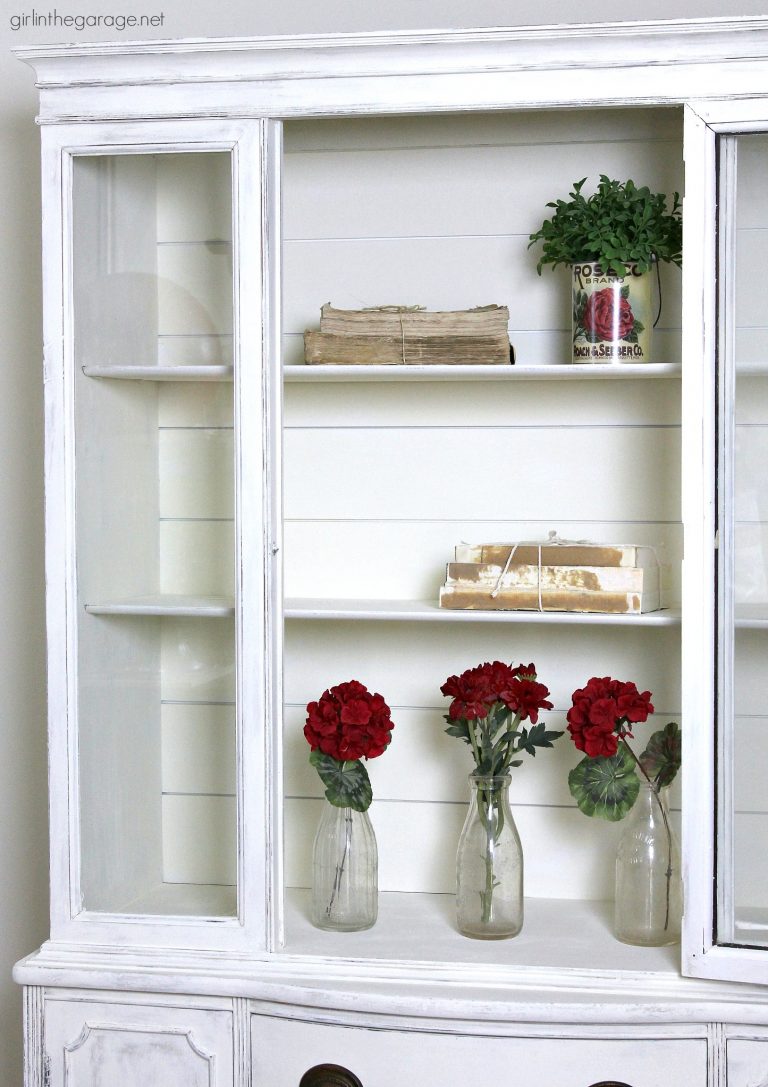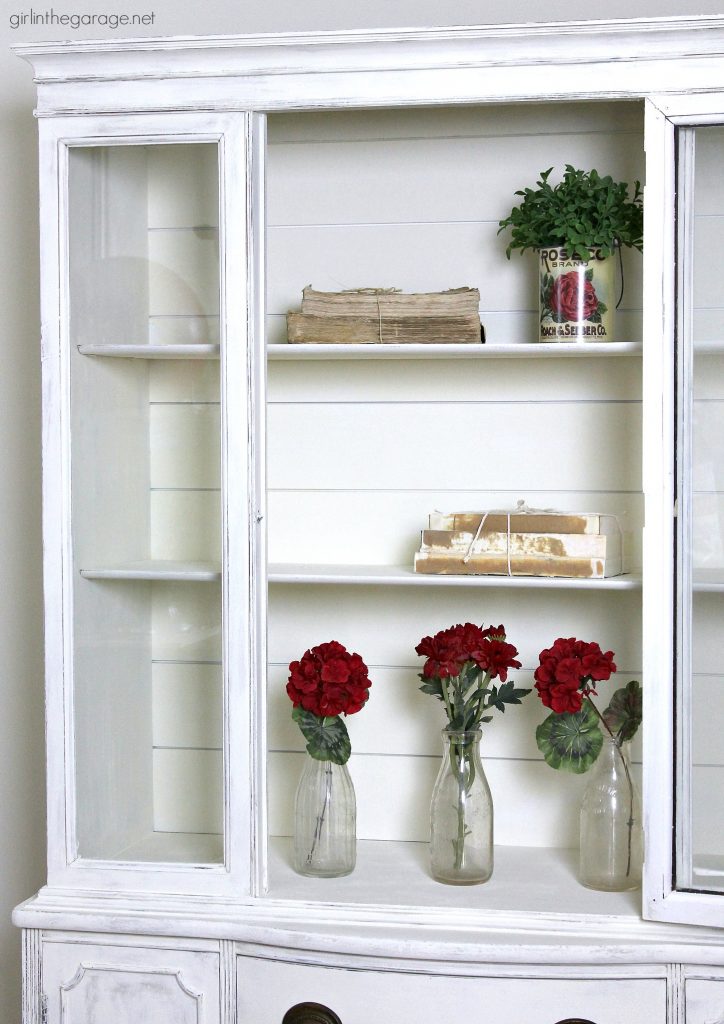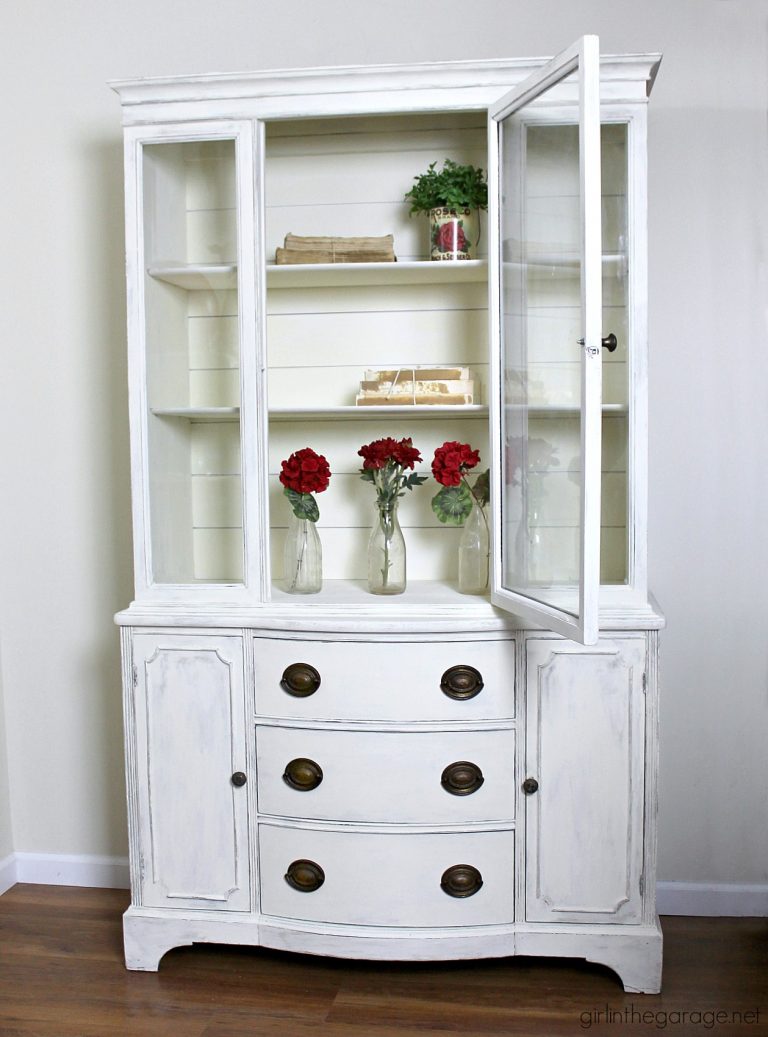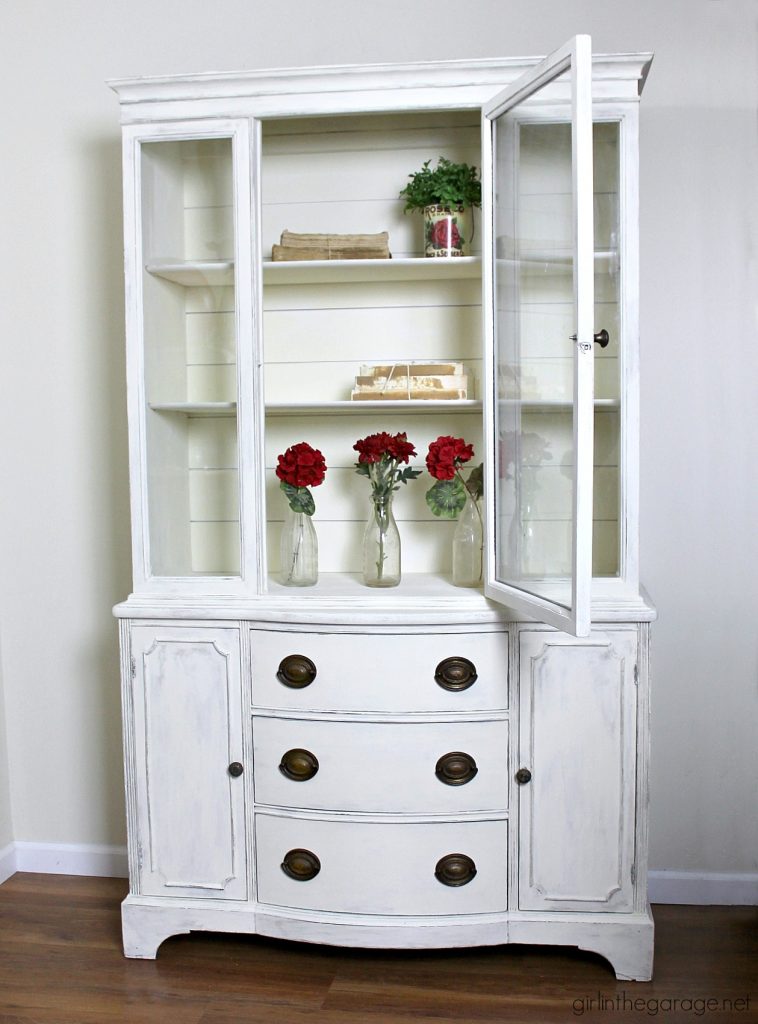 The layers of Country Grey and Old White are such a nice contrast against the wood finish peeking through, don't you think? Swoon.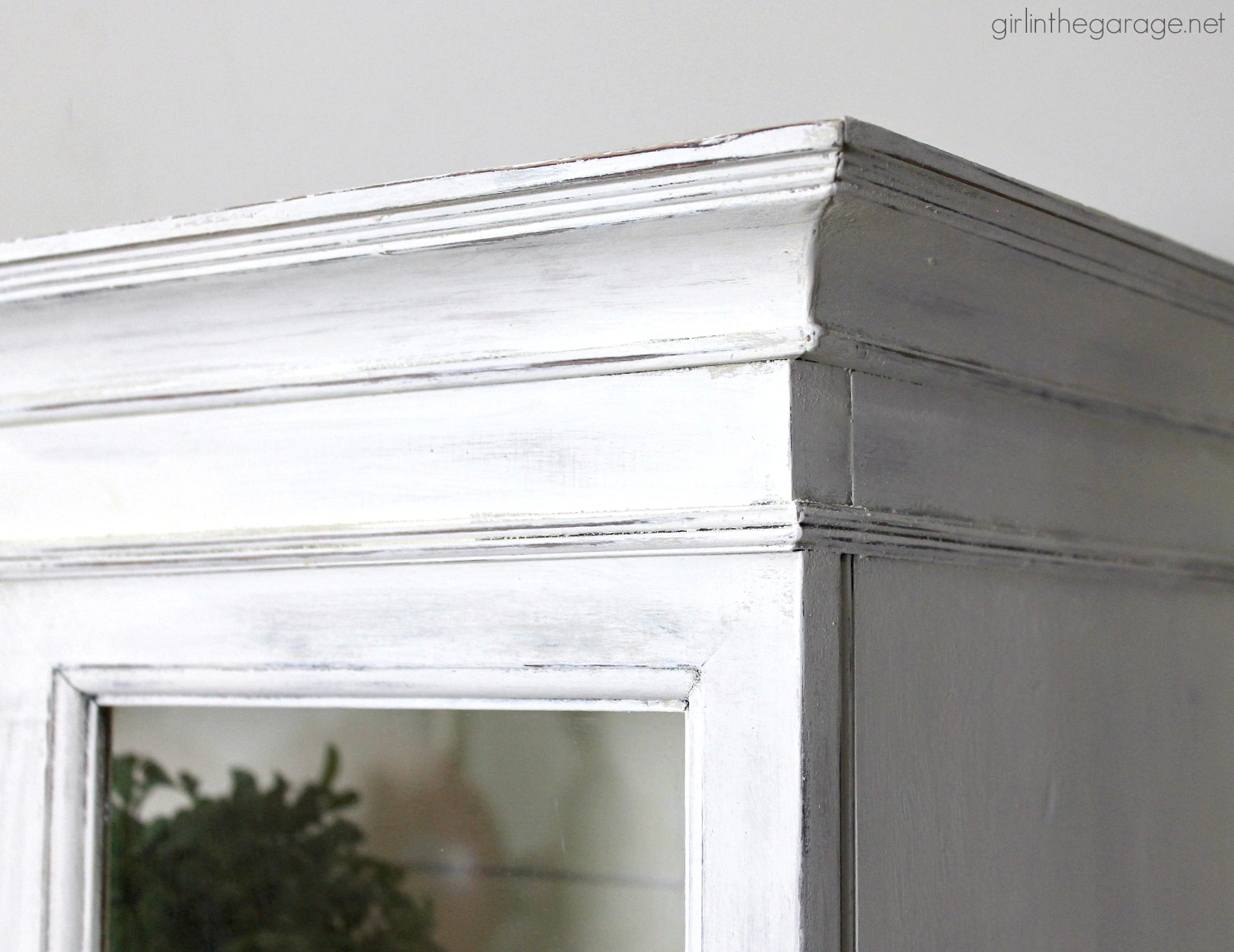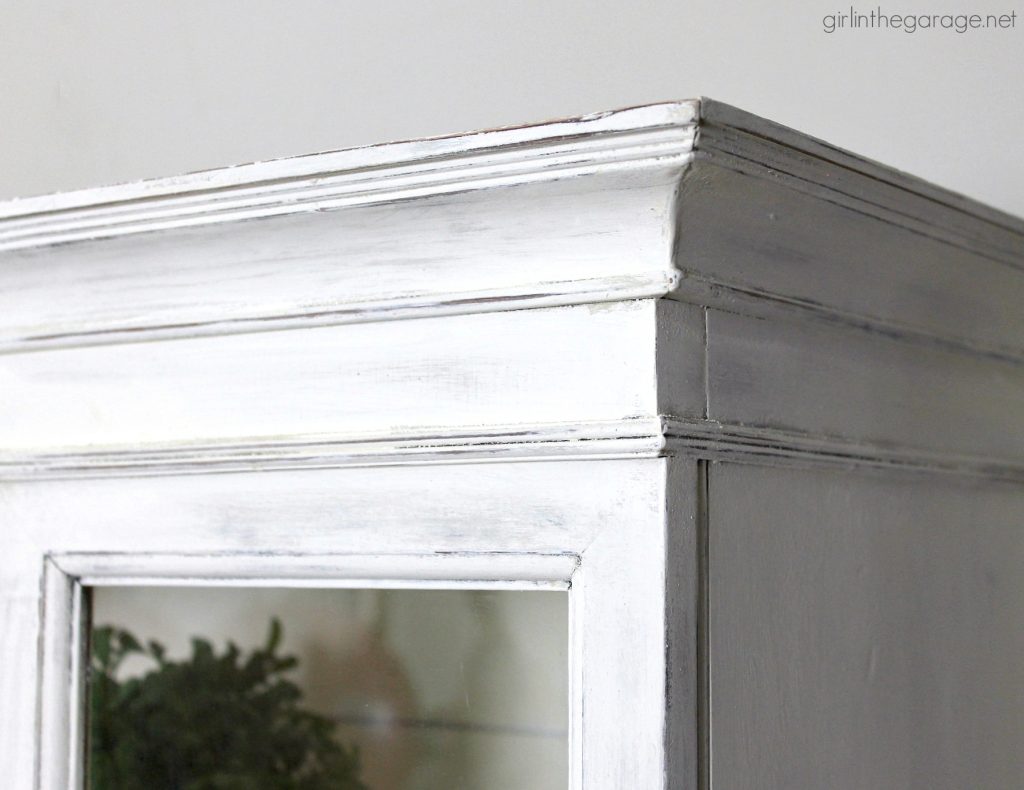 The drawer pulls are all original but the door pulls were in rough shape – so it got some new bling from Hobby Lobby.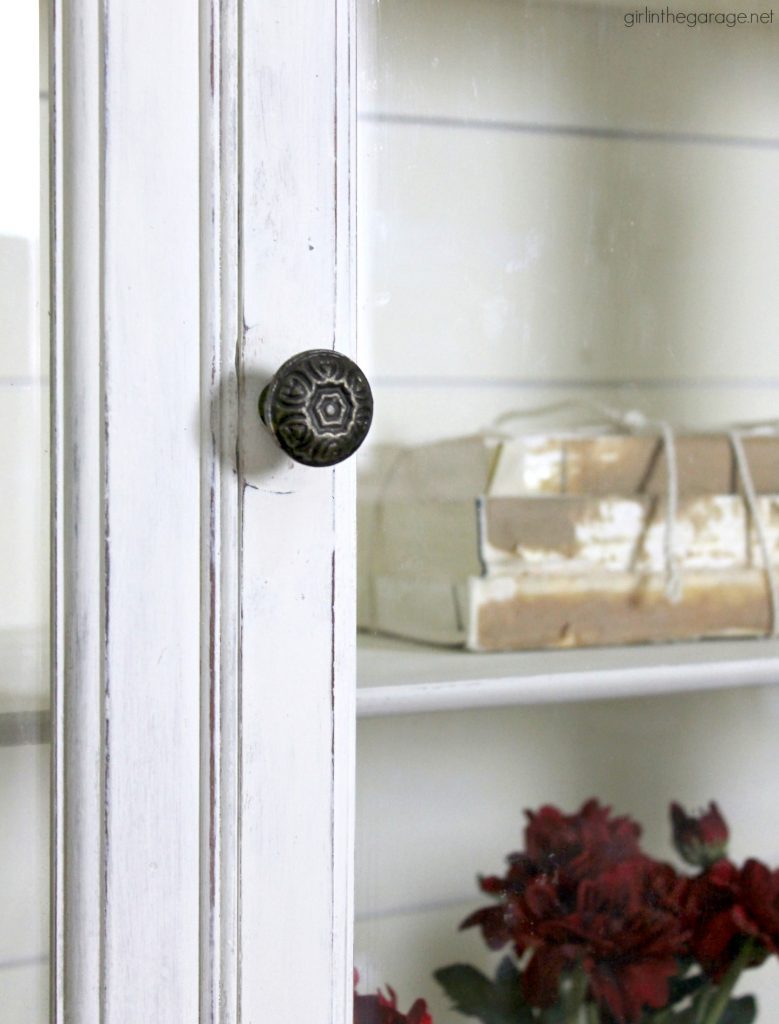 There are two big areas for storage behind the bottom doors.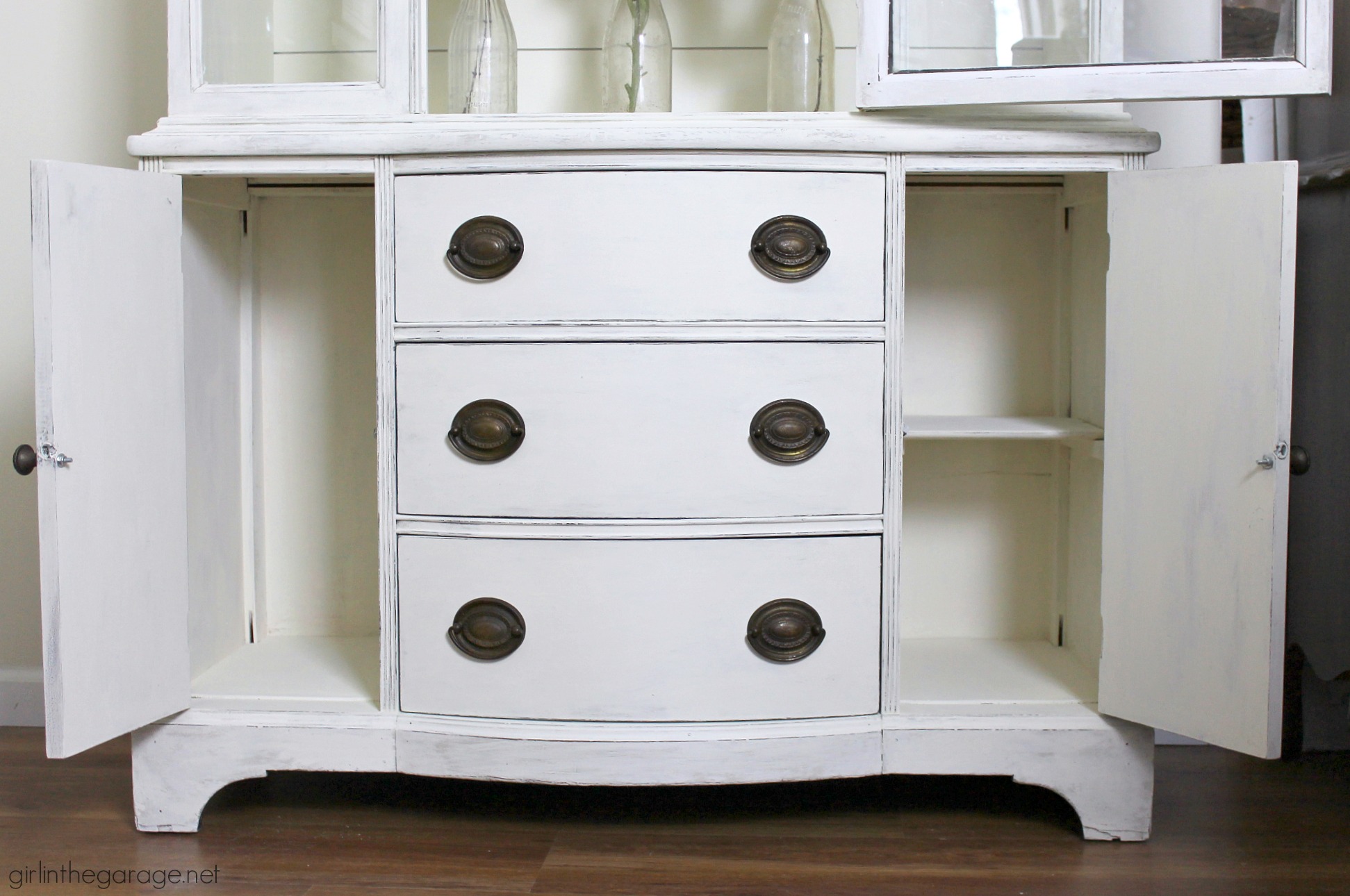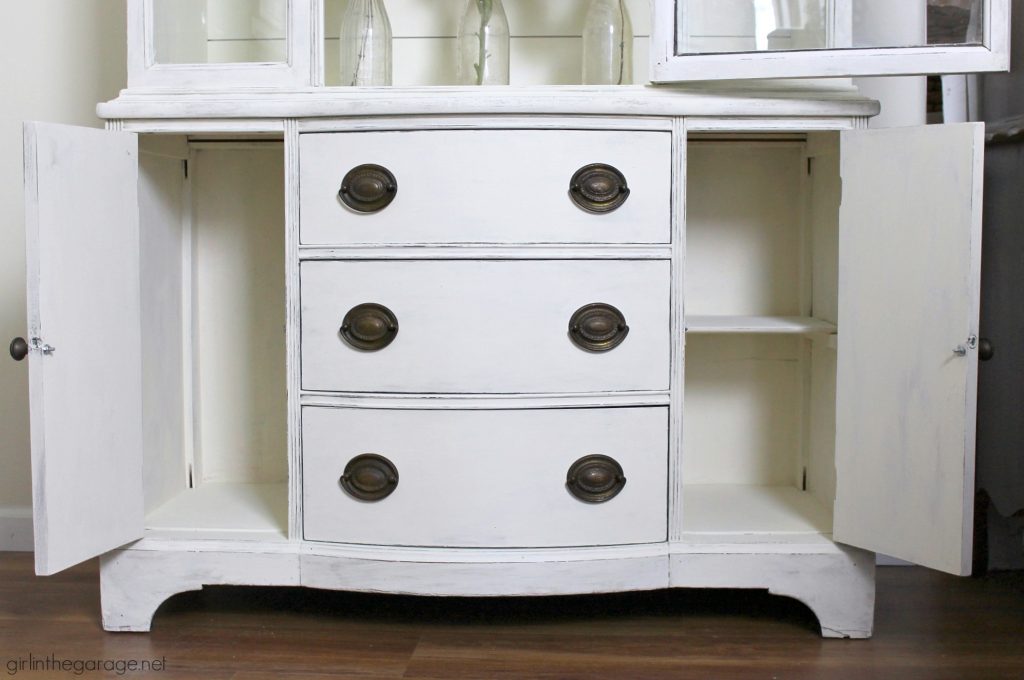 The drawers were actually in good condition so I left the wood alone. Again, the contrast looks good here.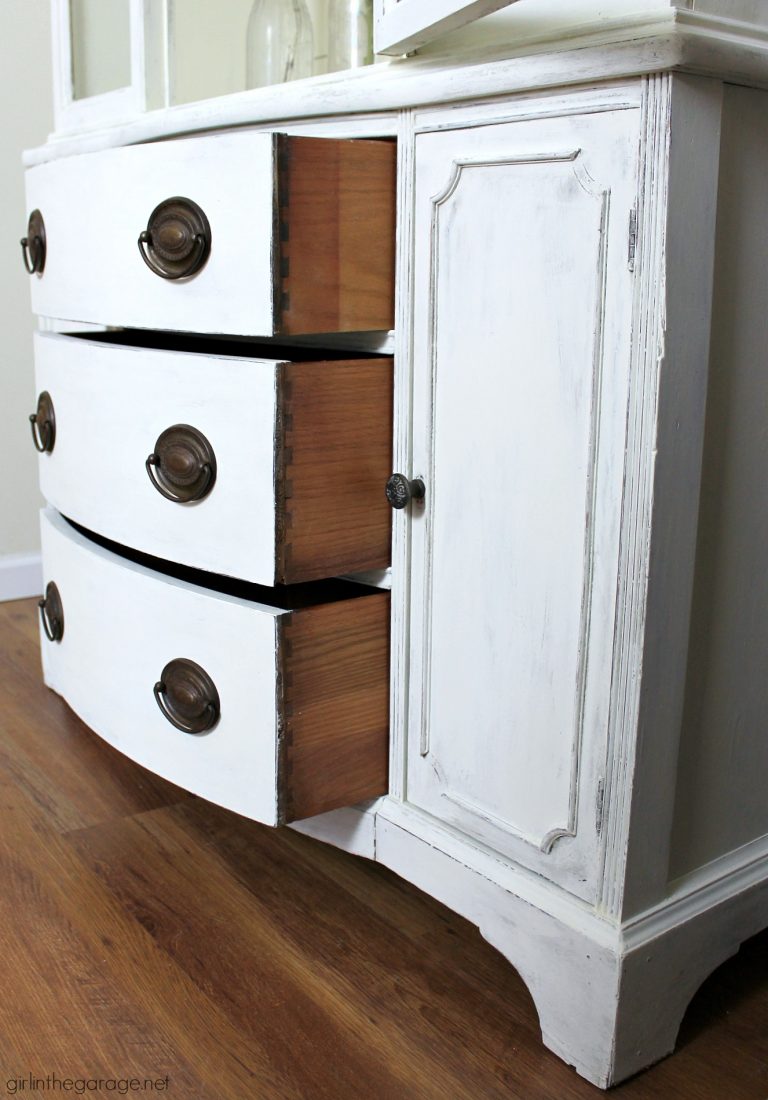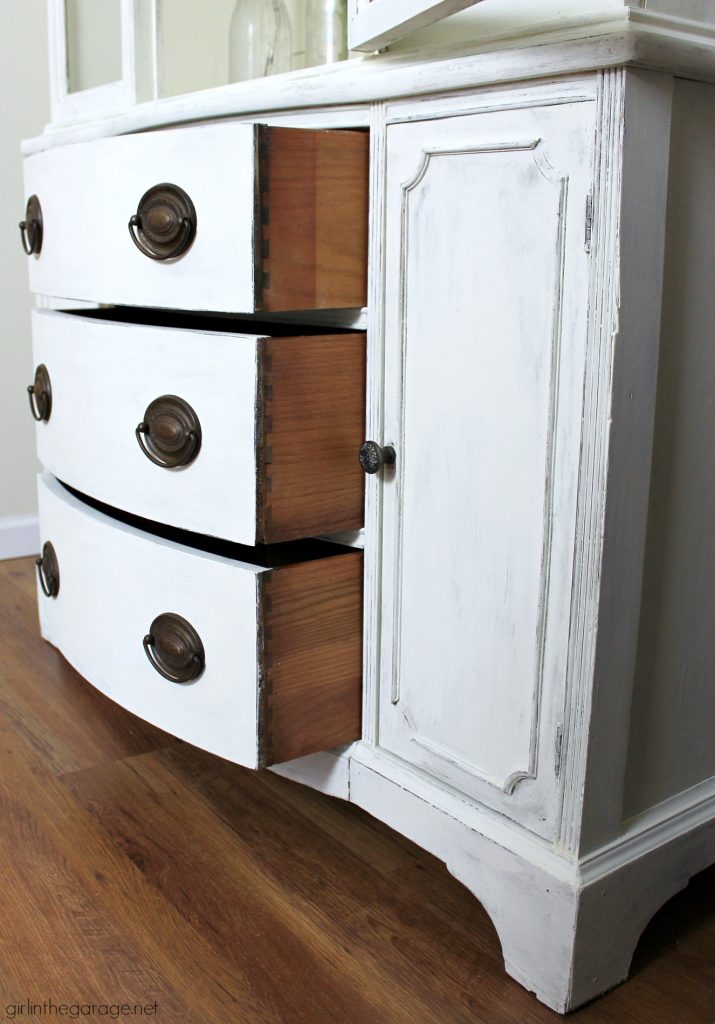 I forgot to mentioned that it was sealed with Annie Sloan's clear wax for protection.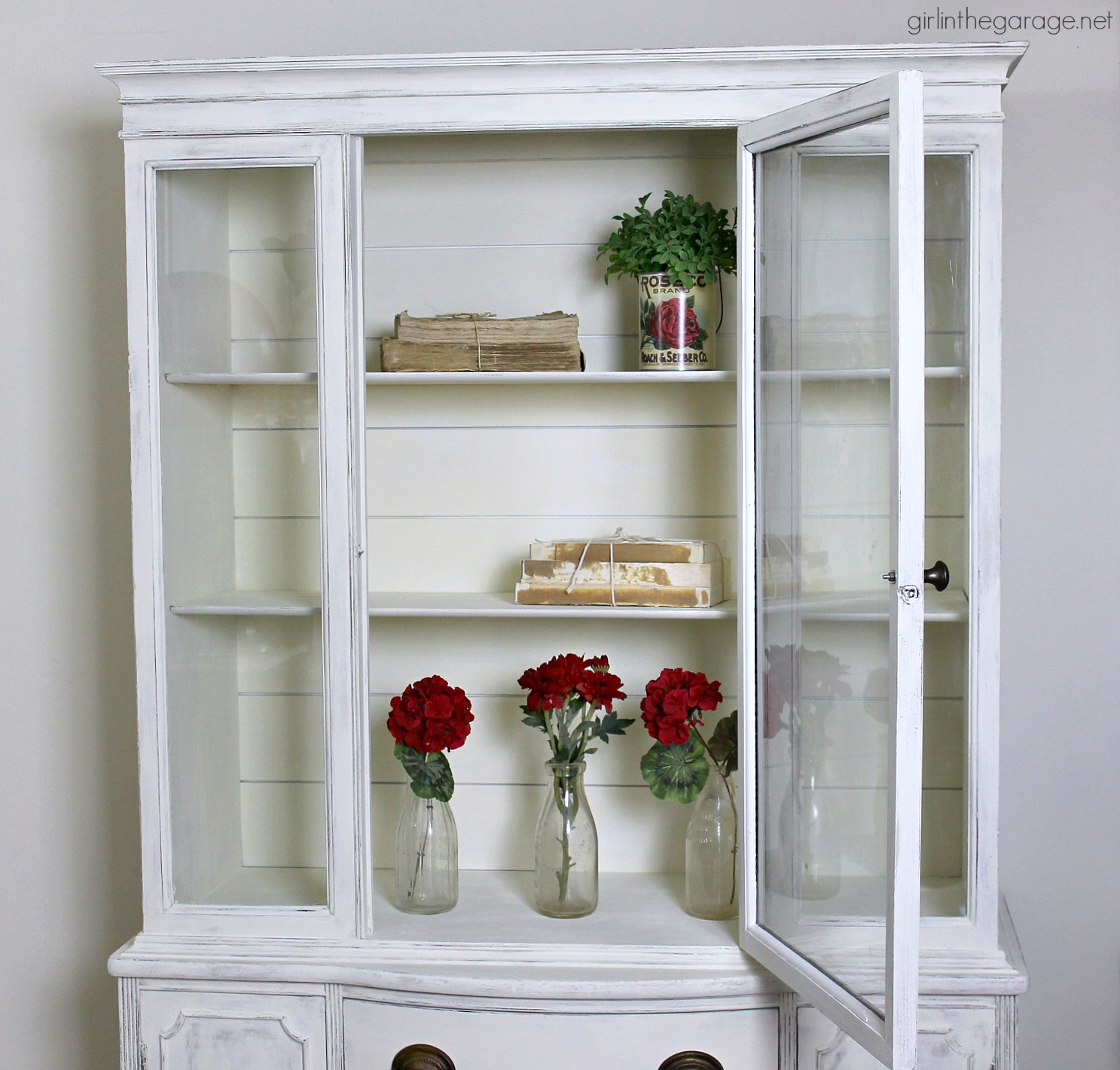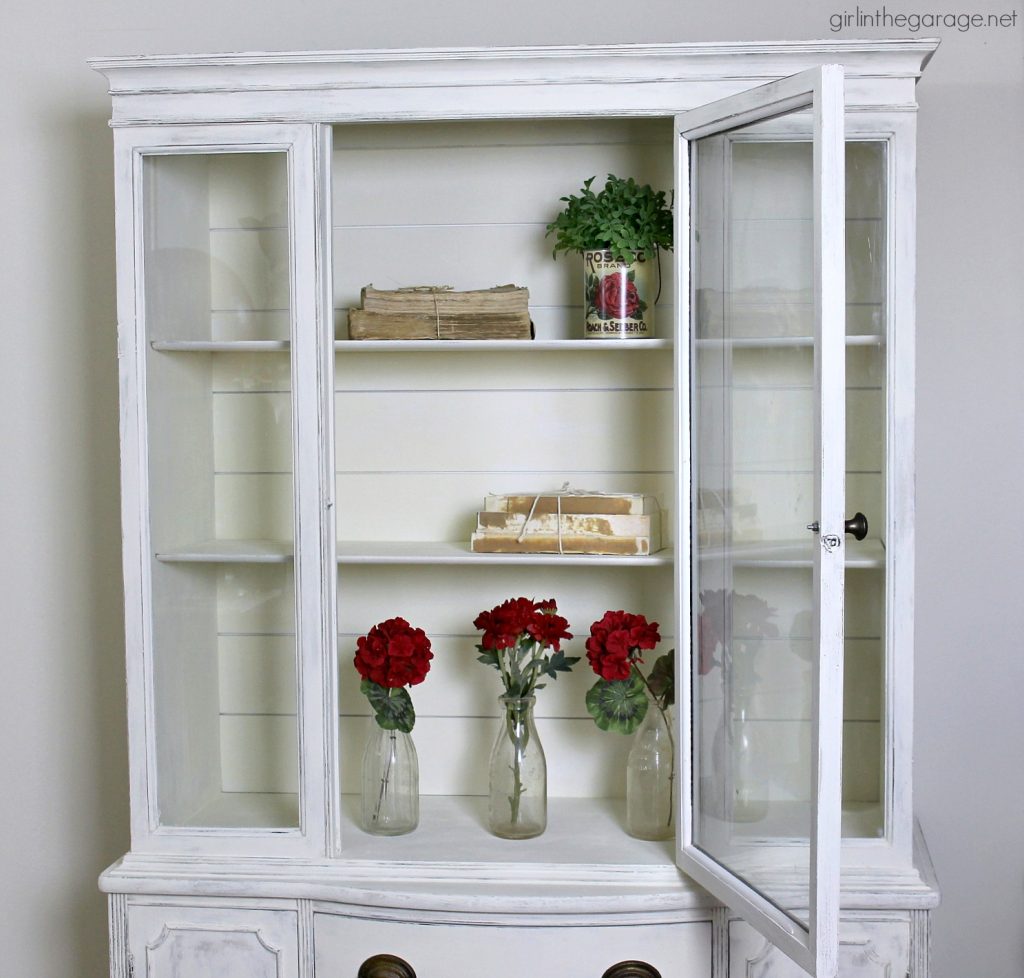 Below is another look at the before and after of this china cabinet makeover (which you can Pin to easily find again later):


I'd really truly love to know what you think! Also – if you'd take a moment to Pin this post or share it with a friend, I'd be so thankful!
Next it's time for Furniture Fixer Uppers day with some of my favorite blogging friends: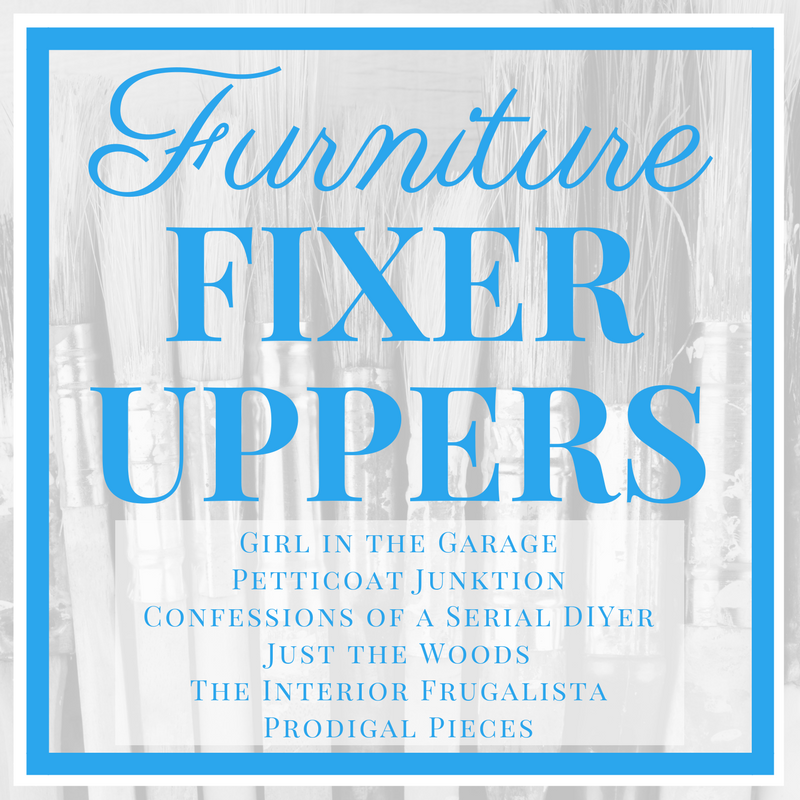 You can see all my past Furniture Fixer Upper posts right Here.
Below are the Before photos – visit the links underneath to see the After and to learn how they did it.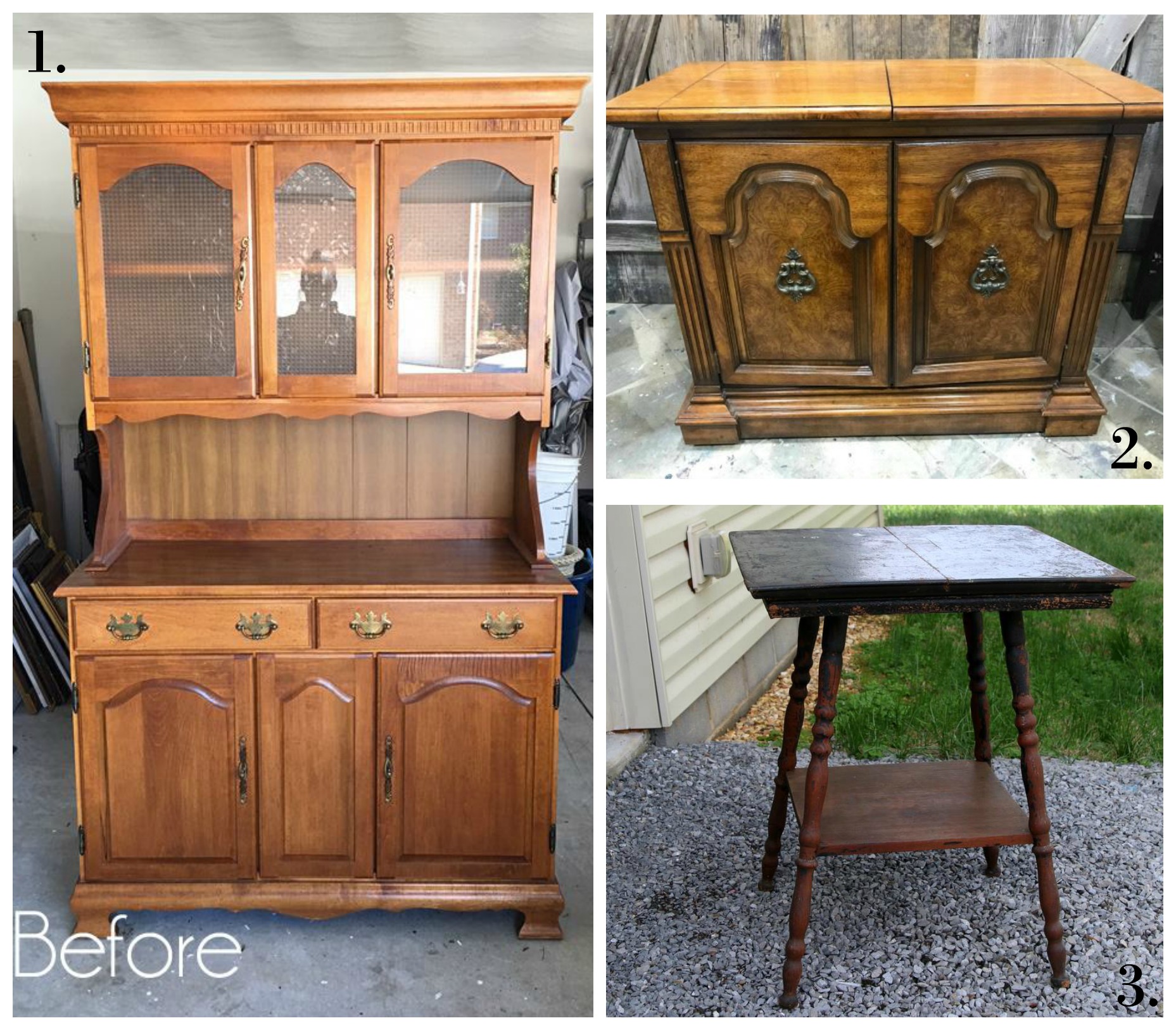 1. Confessions of a Serial DIYer
2. Just the Woods
3. Petticoat Junktion
Next week I'll be sharing how I updated this thrifted piece (Update: See this bookcase makeover HERE)…