Feeling stuck lately, like you have too many creative ideas?  Not every makeover has to have a stencil or image transfer or fancy details or decoupage.  (Although I do love doing those kinds of makeovers!)  Some turn out best when you don't overthink it… when they're left simple.
I found this old wood chest at Goodwill and may have paid too much for it ($20) but it's really well made and was oozing with potential.  Plus, I've been wanting to do a wood chest makeover but I just hadn't found one in good shape!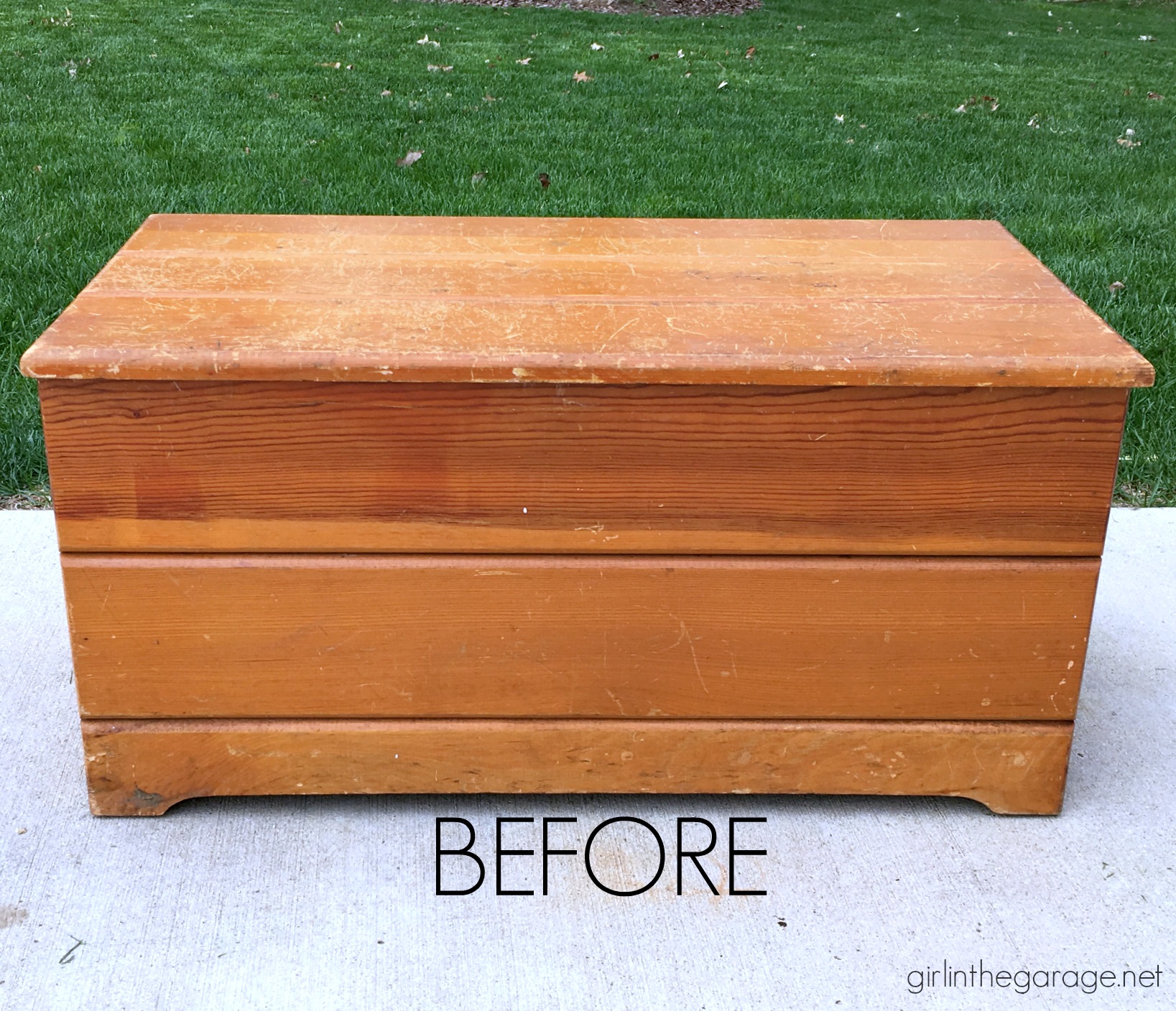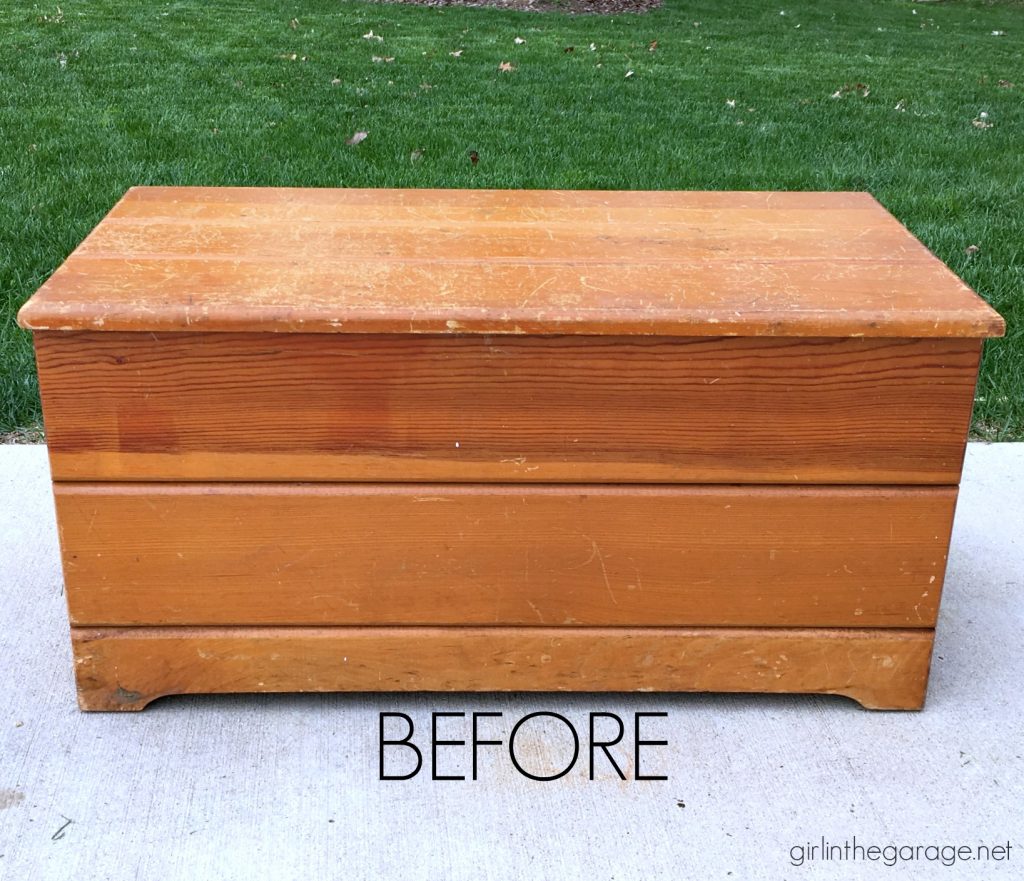 This post contains some affiliate links, at no extra cost to you, so you can easily find the products that I use and like.
As you can see, scratches galore and the bottom panel was almost falling out.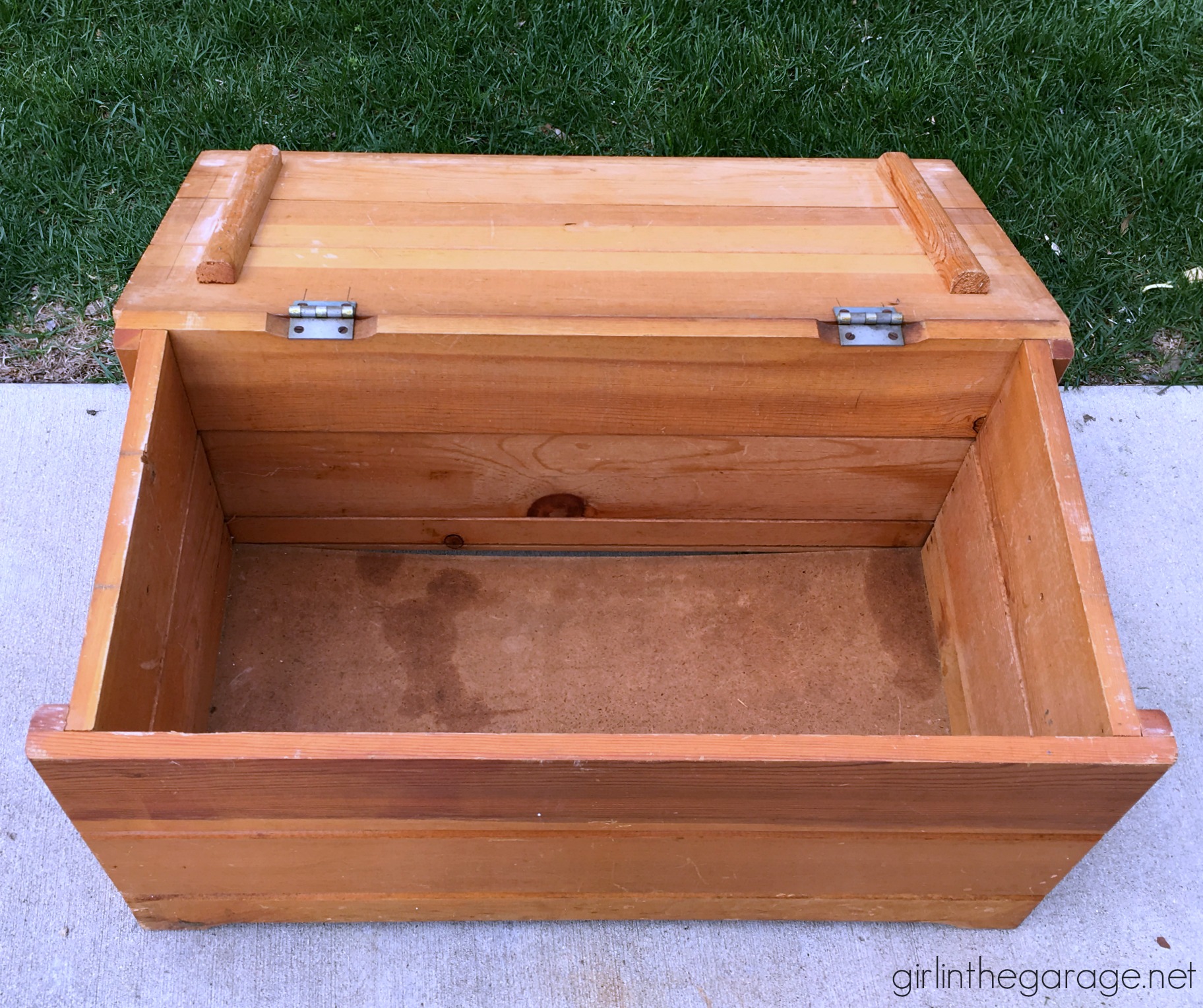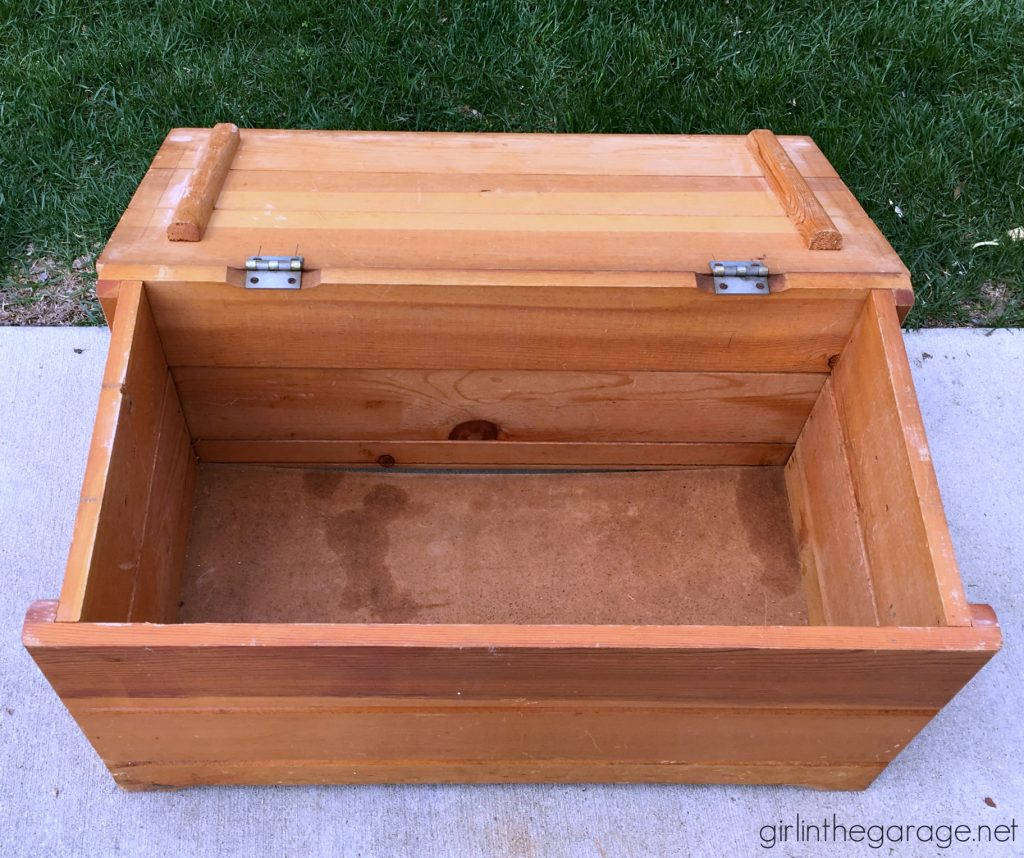 **Friends, today is Trash to Treasure Tuesday with some of my best blogging girls!  See their awesome projects at the bottom of this post.
First up, Mr. GITG (aka Guy in the Garage) sanded the top down so it was silky smooth.  He's been helping me out with several projects lately as we're getting ready for the Three Little Birds Market this Saturday.  And yes we're bringing this chest with us.  🙂
My random orbit sander makes this kind of task super quick.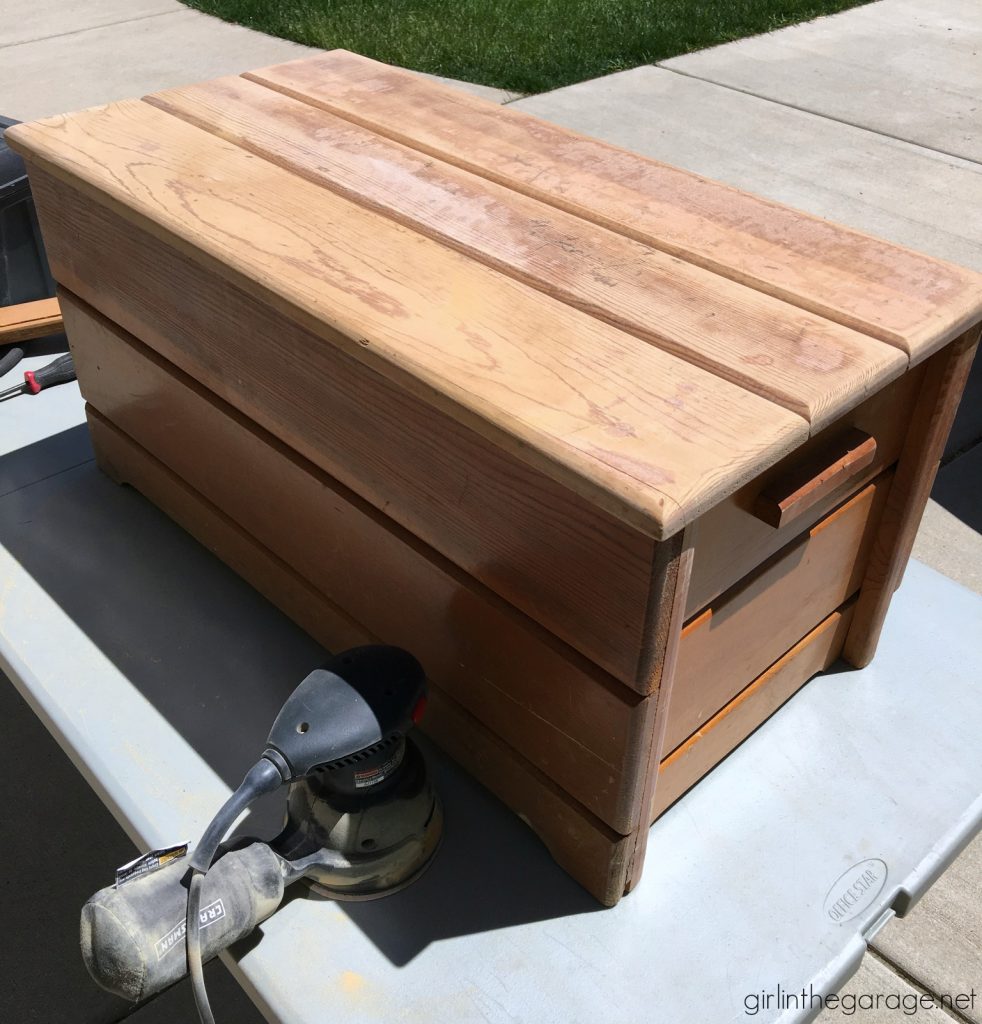 He also fixed the saggy bottom by raising it up and adding extra support underneath (secured with glue and our nail gun on the sides).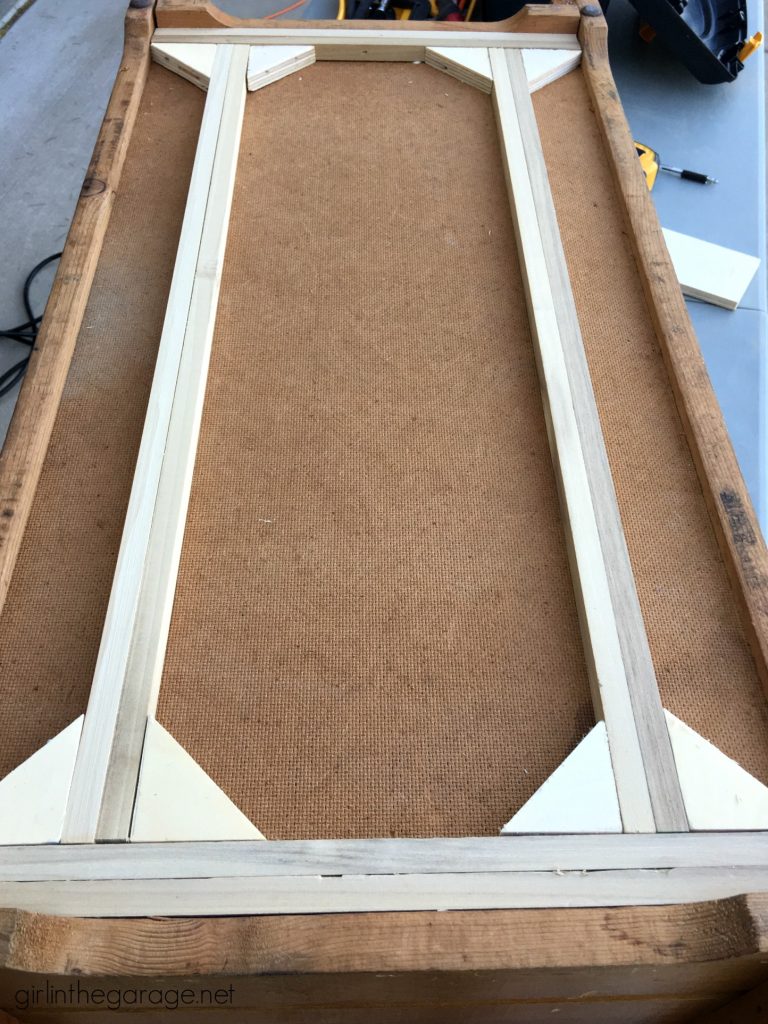 Then it was all mine to work on….
I started with a clean, crisp look: Champlain by Fusion Mineral Paint.  It's a soft cream color.  That was the easy part!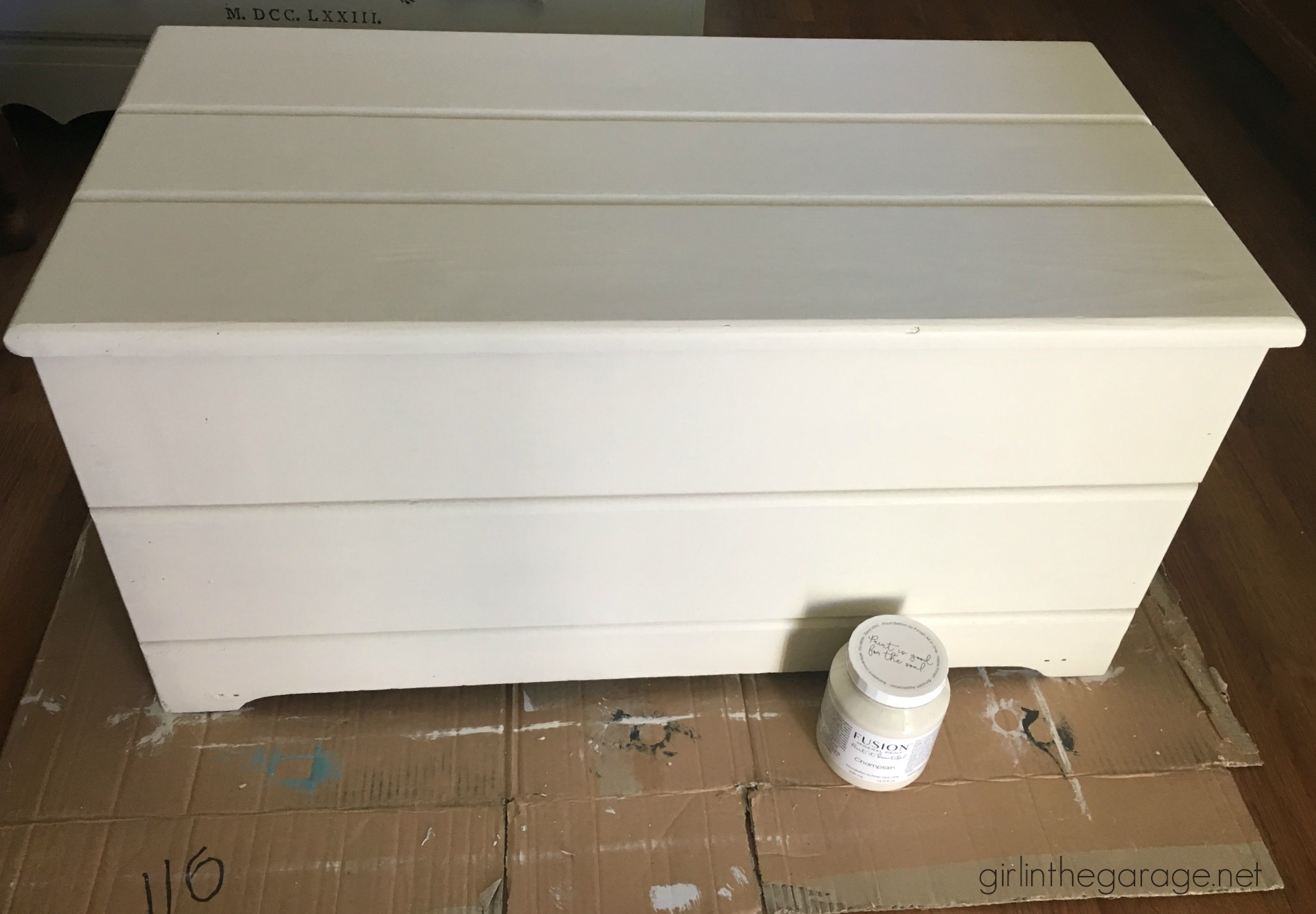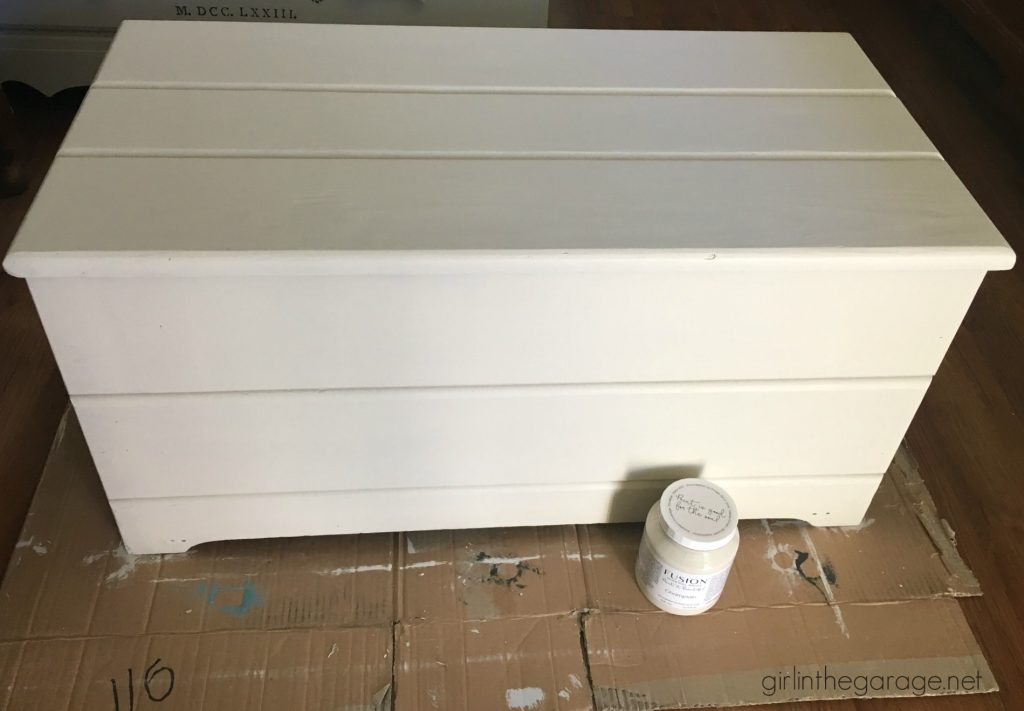 I went back and forth several times deciding what else to do with it…  went through all my stencils, even picked out two and was deciding between them.   I thought about stripes or an image transfer.  Finally, I decided to do this: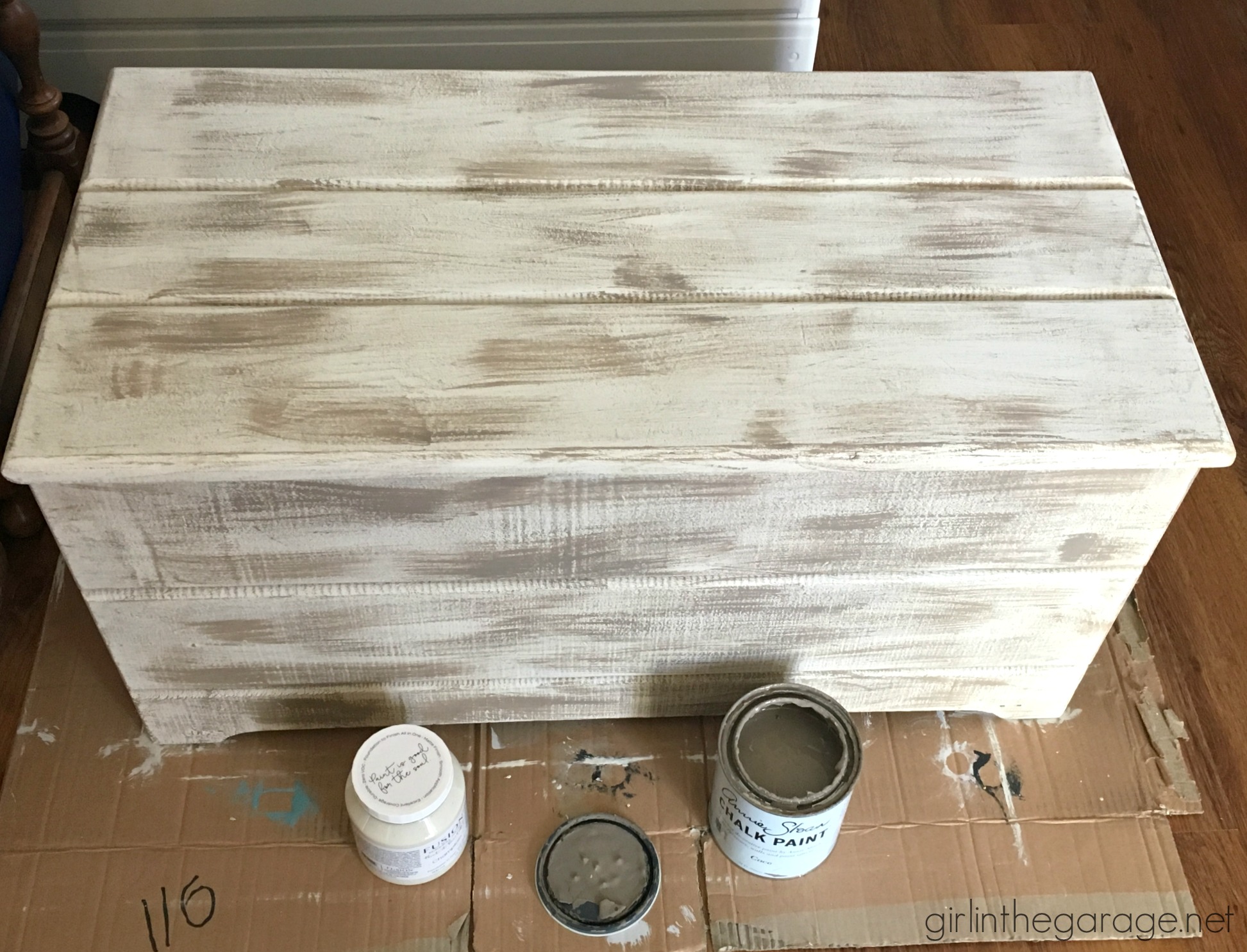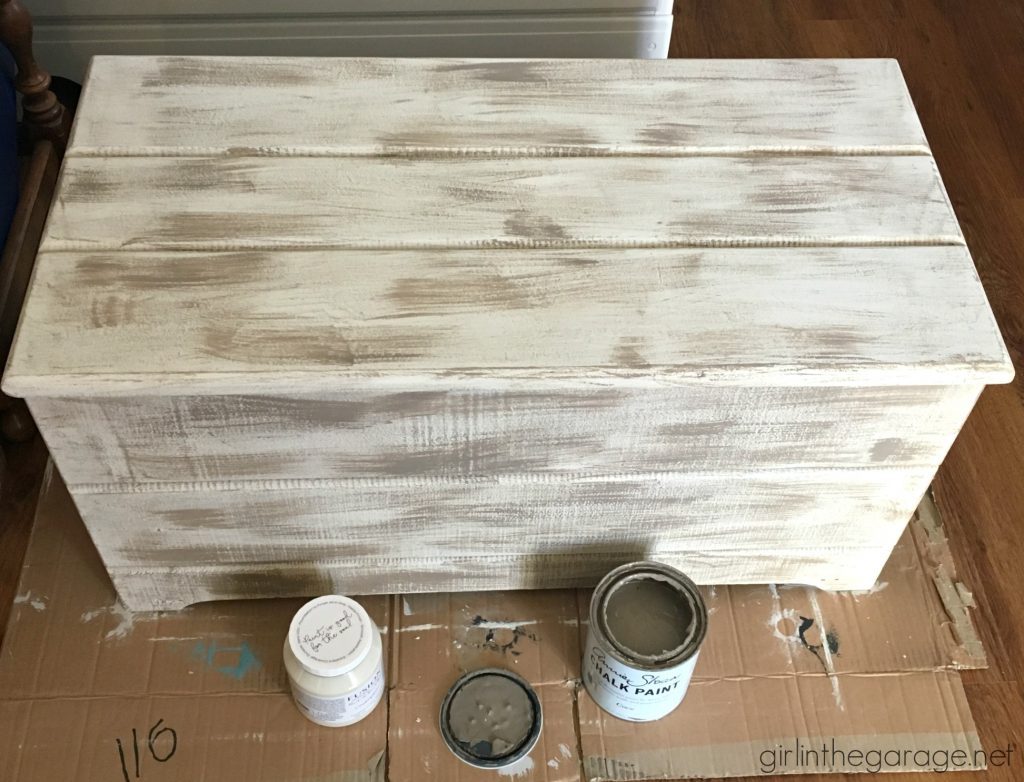 Ha.  Pretty ugly, right??
I randomly brushed on Annie Sloan Chalk Paint in Coco all over the outside.  I still didn't really have a clue what to do next, but I didn't like the current status.  I dismissed all the other ideas I had and went back to brushing on more of the Champlain, but not enough to cover all of the Coco – just enough to give the chest a slightly weathered, farmhouse look.  Then I lightly sanded it.  Perfectly simple.
Doesn't the wood look kinda like shiplap?   (Fixer Upper fans say amen!)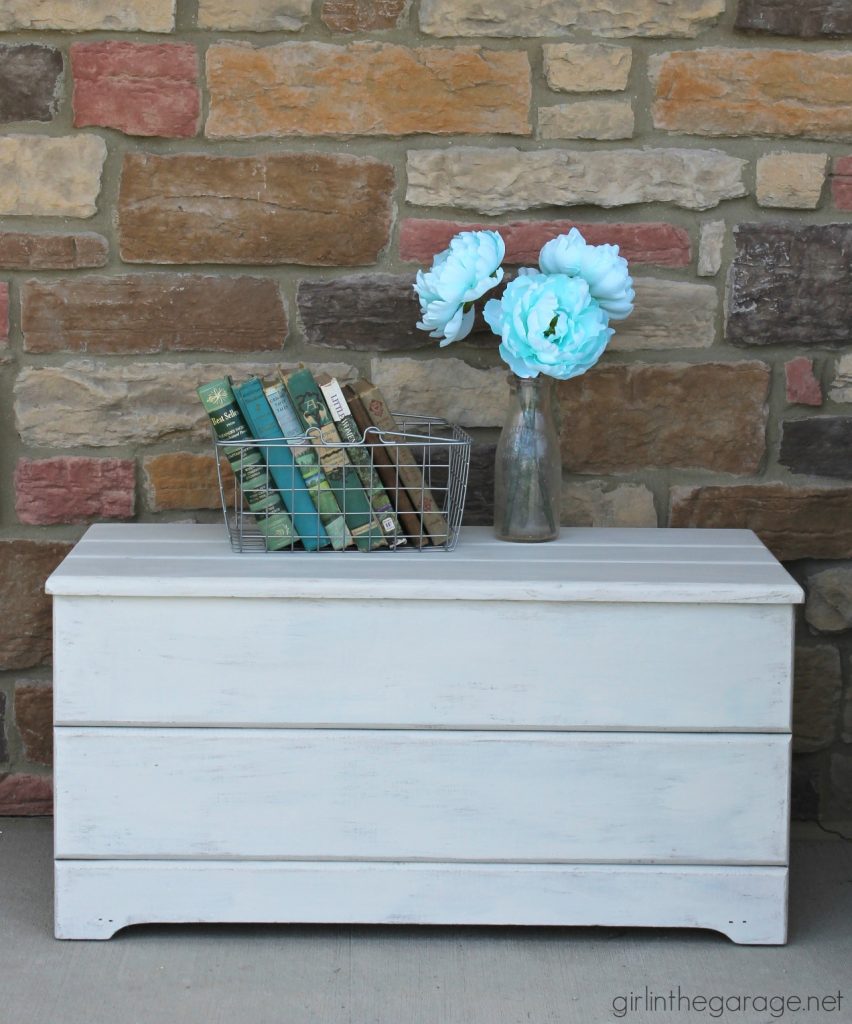 It looks so good this way and I'm so glad I didn't use a stencil.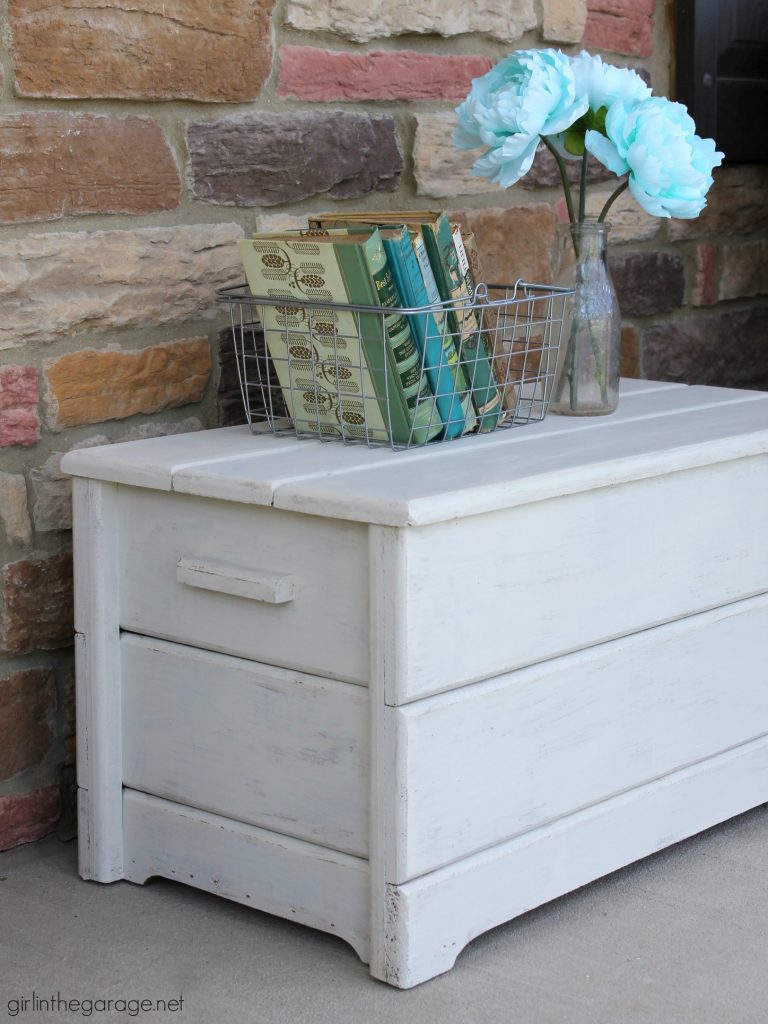 What do you think of the weathered farmhouse look on this wood chest makeover?  Would you have done it differently?
Here's a look at the inside: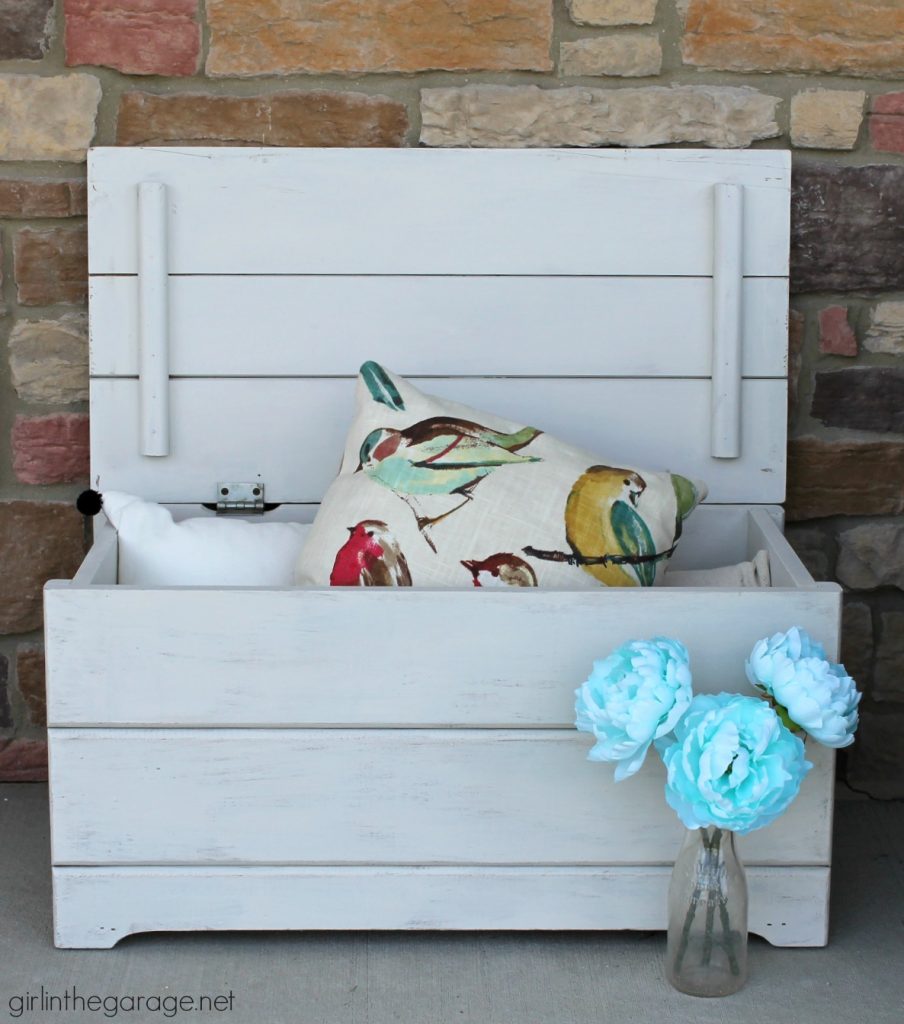 When you're painting furniture, especially if you're new to it, it can be so easy to get distracted by all the different techniques and ideas floating around blogs and Pinterest.  Sometimes too many options actually keeps people from even starting their projects (I know this because many of you have expressed this frustration to me)!  Often the simple route is the best solution.  And if you're feeling Project Paralyzed, go back and read this post:  Why Done is Better Than Perfect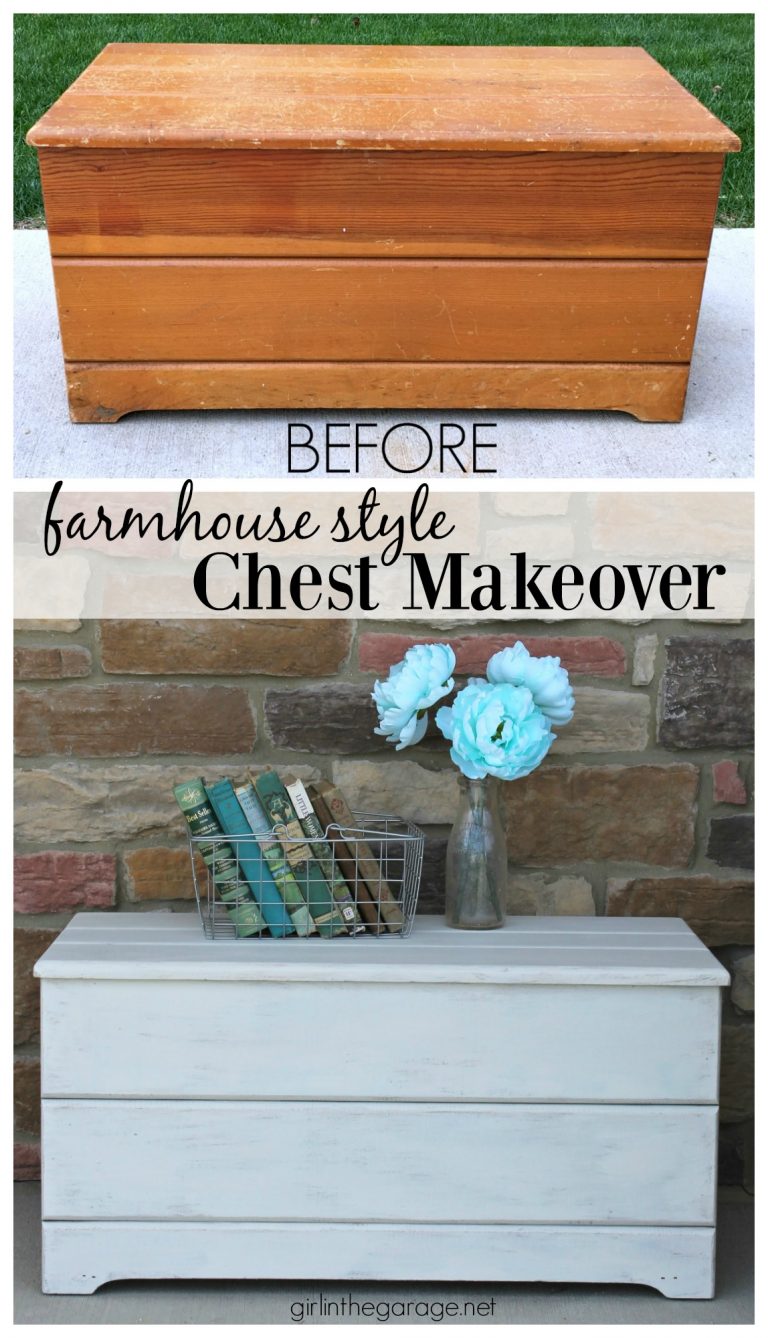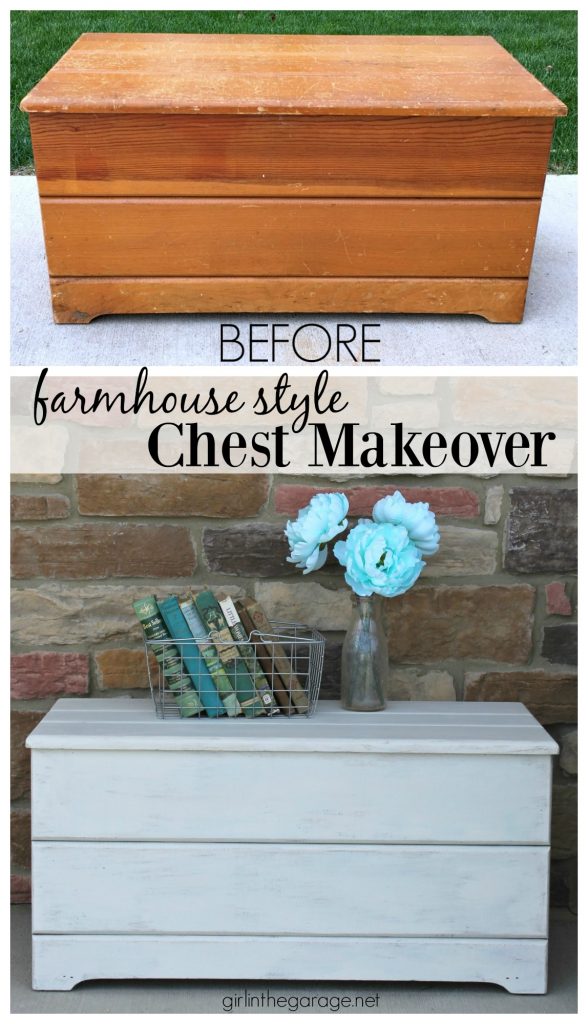 Much love to you, friend – and get working on those projects that you haven't been able to figure out what to do with!  😉
Jen
Now it's time for more fun with my Trash to Treasure Girls…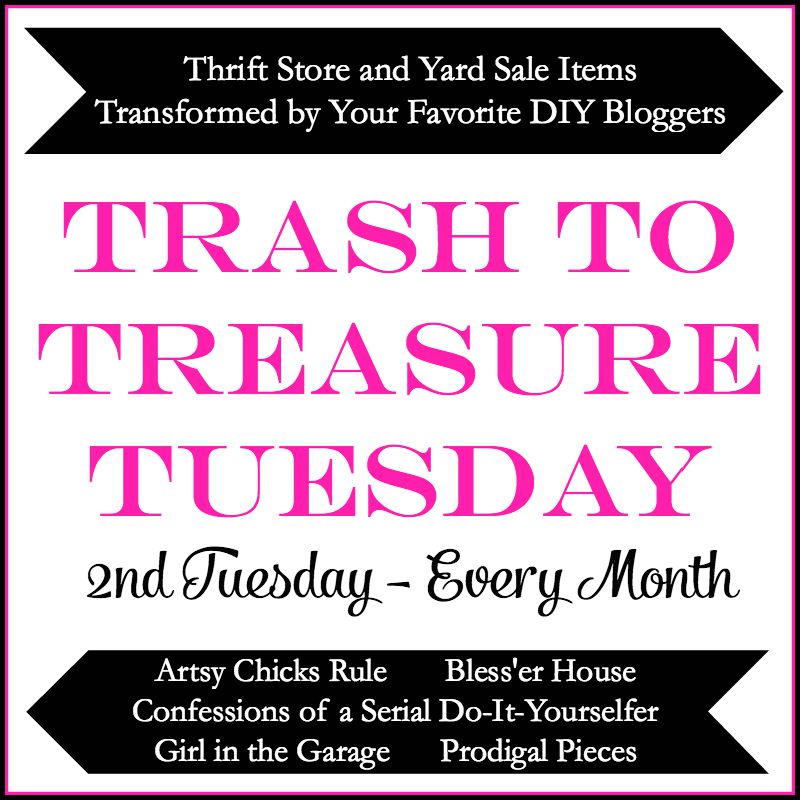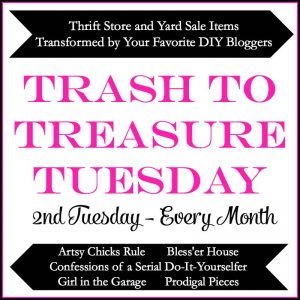 These are the Before photos – click the blog links underneath the photos to see the After and learn how they did it.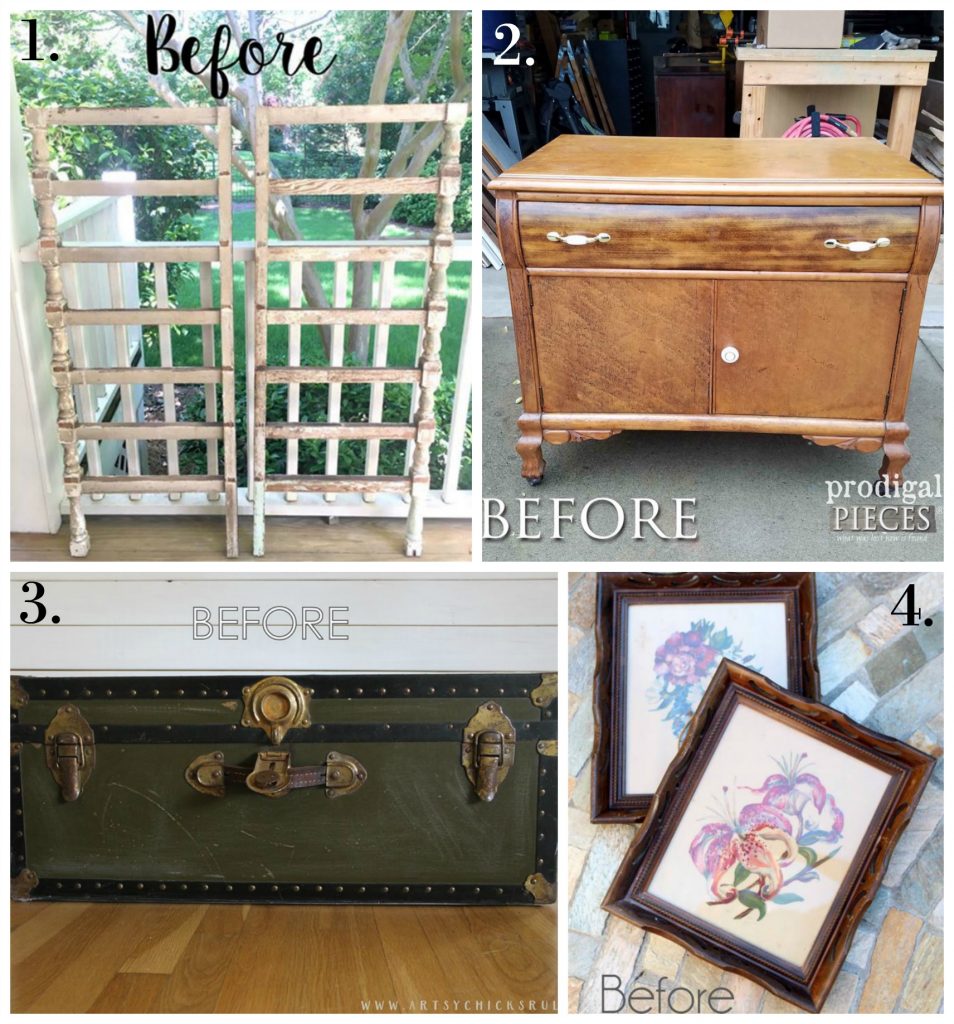 1. Bless'er House
2. Prodigal Pieces
3. Artsy Chicks Rule
4. Confessions of a Serial DIYer
Click the images below for more advice and inspiration…