"I constantly have to fight that inner resistance that tells me if I can't do it perfectly, then I shouldn't even start."
"I'm afraid it won't be perfect enough, which I know in my head is ridiculous yet I can't get past it."
"I'm afraid I won't like the end result or I'll see a cuter idea after I'm done."
If you are feeling this way, you are not alone.  These are actual quotes I have received from you guys, my beloved readers, worried about trying a new project or painting a piece of furniture.  Honestly it makes me really sad reading them.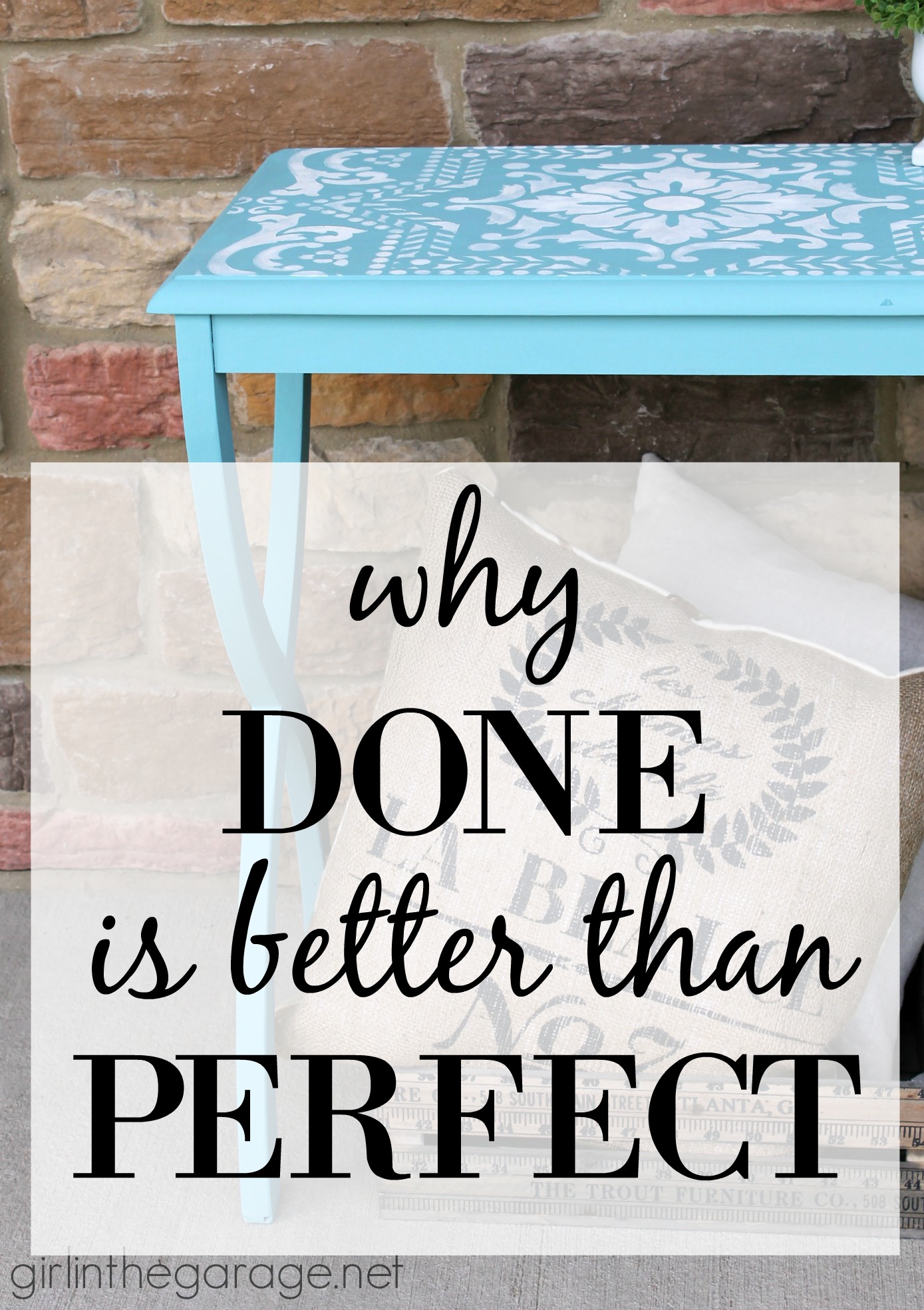 As a recovering perfectionist and control freak myself, I totally get where you're coming from.  It's scary to try new things – the fear of the unknown, the fear of messing up, the fear of wasted time or supplies.
"Done is better than perfect."  One of my favorite online mentors Amy Porterfield says this quote often, and it's become my new mantra.  (I have to remember it when my kids fold their own laundry or my husband puts the dishes in the dishwasher, ahem)  I might need to tattoo it on my arm.
It is so easy to get caught up in the fear of failure – or of not being absolutely perfect – that we fail to make any real progress at all toward our goals.  How long have you been putting off that project?  It's just a dresser.  Or a chair.  Or a whatever.  If you make a mistake, there are ways to fix it.  If you do change your mind afterward, you can repaint it.  If someone criticizes your work, then maybe they don't have a clue what looks good anyway.
No one started off as an expert.  Tackle a simple project first that you don't care about messing up (for example, not your great-grandma's antique buffet).  Scour blogs and Pinterest for ideas.  Read articles and watch YouTube videos to study techniques.  Get the proper supplies, set aside a little bit of time to prep, and then more time later to actually do the work.  If it's your own piece, don't try to impress anyone else but yourself.  It may not end up perfect, and that is perfectly okay.  It's not permanent.  You can change it anytime.  If there are tiny imperfections, chances are no one else will even notice them.  You're always going to be your own worst critic.  Remember:  Done is better than perfect.
With every project, you will get better.  You will get more confident.  You still may get nervous sometimes to try a new technique (I still shy away from certain techniques, but I'm working on it).  I promise the fears will start to subside once you dive in.
For more motivation, you may also find my free guide "Just Paint It: 7 Tips for Transforming Furniture with Confidence" helpful.  Click Here or the box below this article to have it delivered to your email address.
So, has fear been holding you back?  I encourage you to go for it.  You'll never know what might happen unless you try.  And you might even be pleasantly surprised!
Jen