Welcome back, my lovely friend! Don't you just love the beautiful details in antique furniture – but hate that so many older pieces need lots of repairs? (Although they're definitely worth fixing!)
Today's project is perfect for Furniture Fixer Uppers day with my blogging friends because this little table was a hot mess on top. In this tutorial I'm going to walk you through how to remove and repair cracked veneer on an antique table (and there's even a short helpful video included).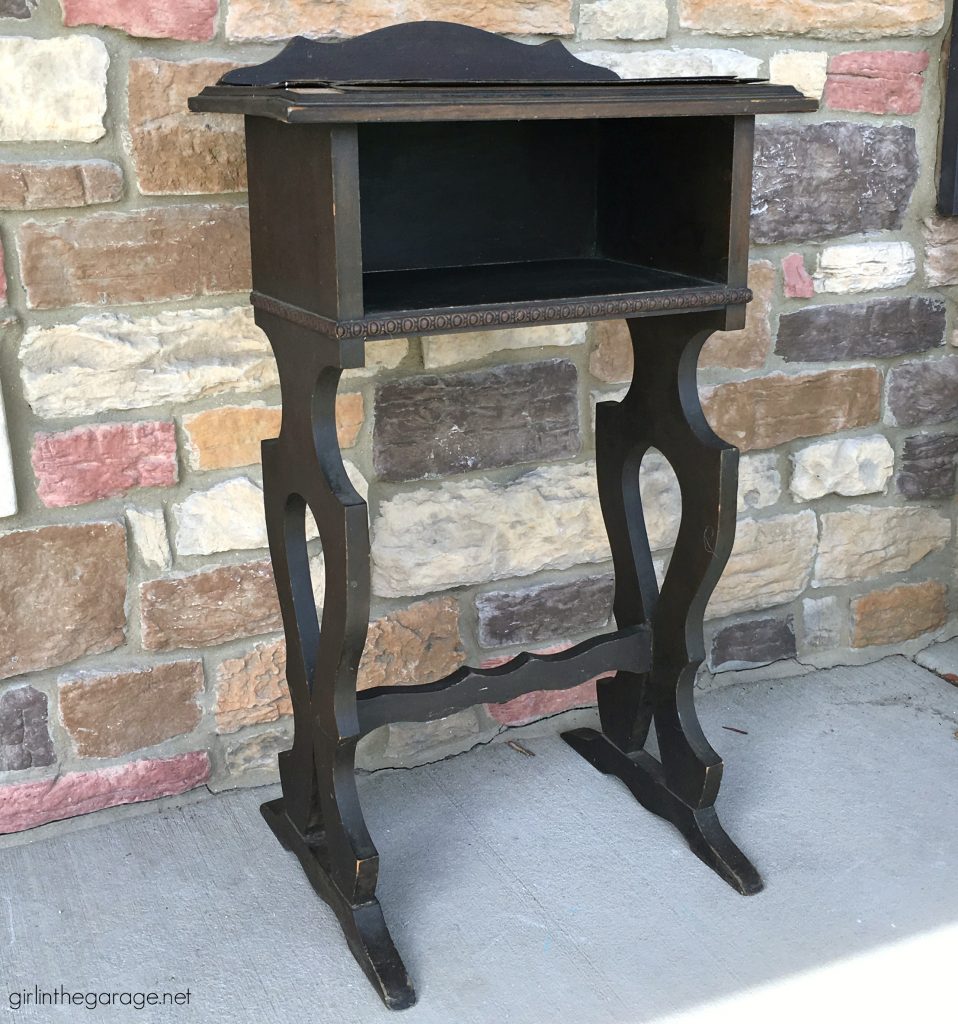 *This post contains some affiliate links so you can easily find the products I use and recommend. You can also discover all my favorite brands and tools for doing DIY furniture makeovers Here.
Below you can see where the glue had failed and the wood veneer was peeling away in some sections.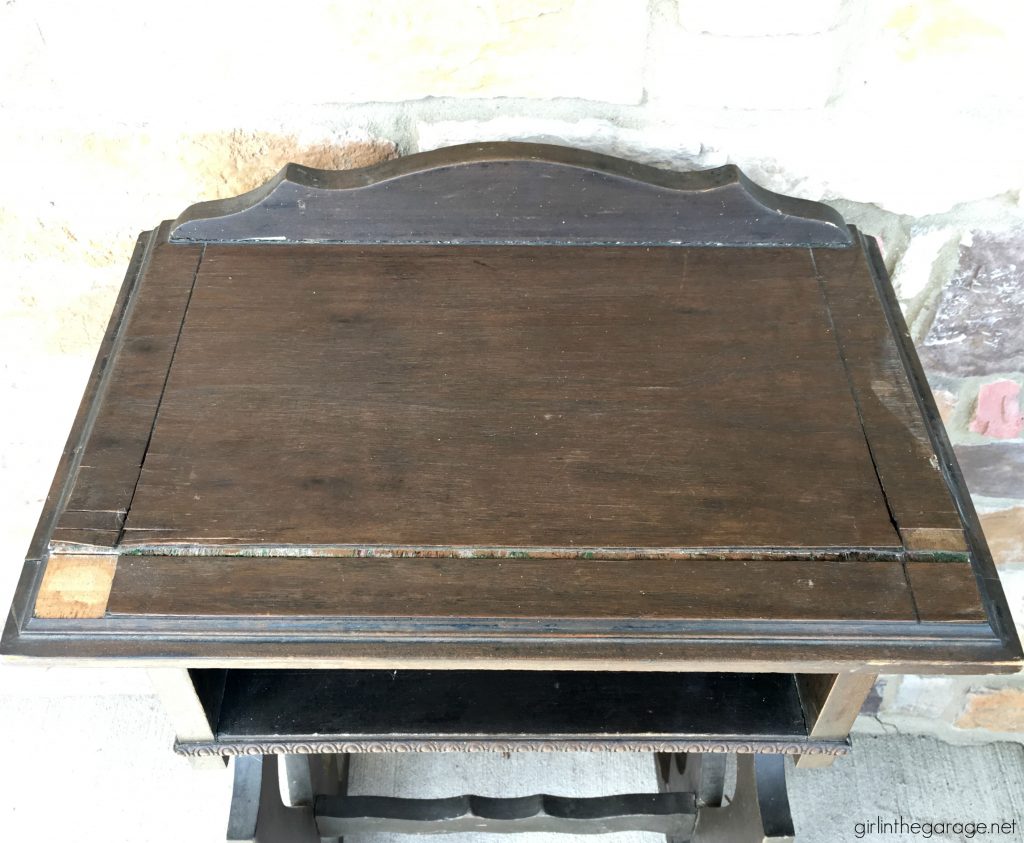 Let's pause for a minute and talk about veneer…
What is veneer?
Some people wrongly assume that all veneer furniture is bad. Veneer is an extremely thin piece of wood (or other material) that's glued onto furniture (top, sides, doors) to help seal and stabilize the material beneath it – whatever the furniture is made from. It's more cost effective and environmentally friendly to cut exotic logs into veneer sheets rather than sawing them into thicker lumber (less goes to waste).
Veneer has been used by furniture makers for thousands of years. There are good veneers (made from real wood) and not-so-good veneers like laminate (aka fake wood). Veneer makes furniture more affordable because it only requires thin sheets of real wood instead of large solid chunks. Can you imagine having a table carved out of one giant piece of mahogany? Solid pieces would be more prone to splitting or warping over time.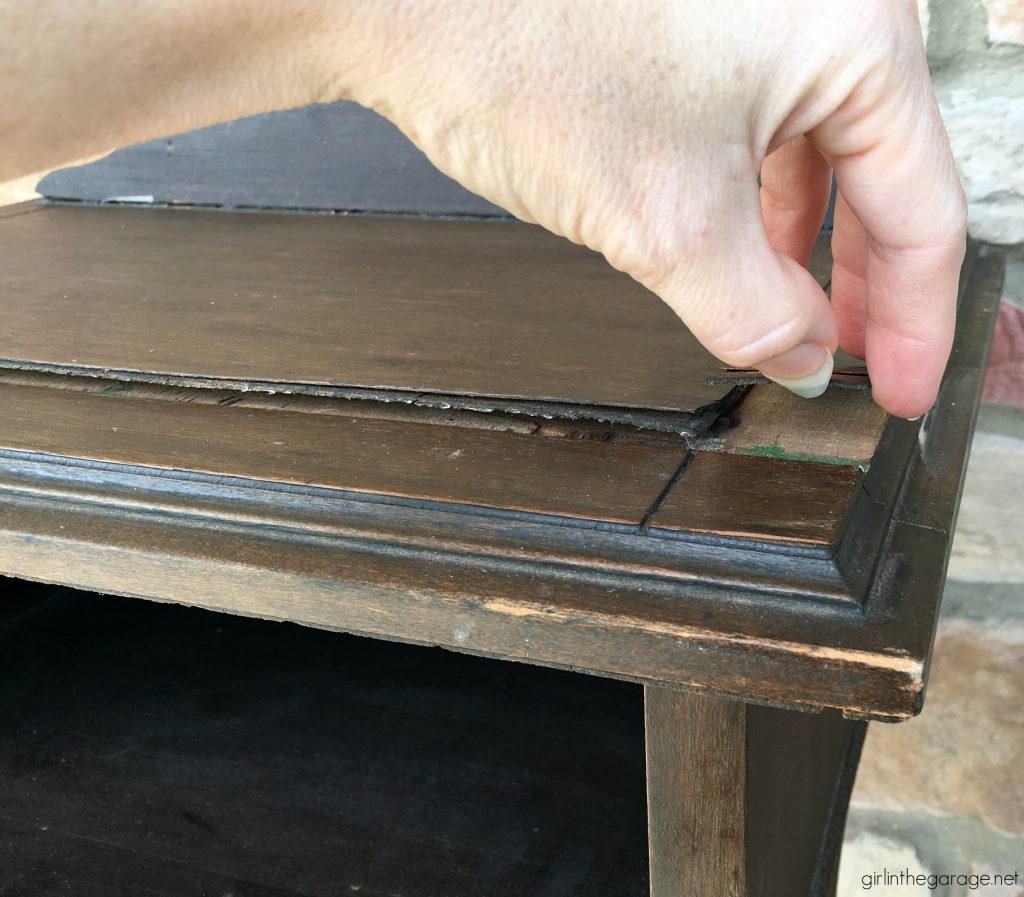 Can wood veneer be repaired?
If veneer is just loose, you can reglue it and clamp until it dries. However wood veneer that is damaged can be difficult or impossible to repair. If a small piece has chipped off you can fill the area with wood filler and then paint over it. But if the veneer has many cracks and is peeling, your best bet is probably to remove it. Based on how the surface looks under the veneer, you can paint right over it or add a new layer of wood over the top (like we did for this gorgeous antique sideboard).
Because I had a few projects going on, Guy in the Garage kindly helped with removing the veneer on this table.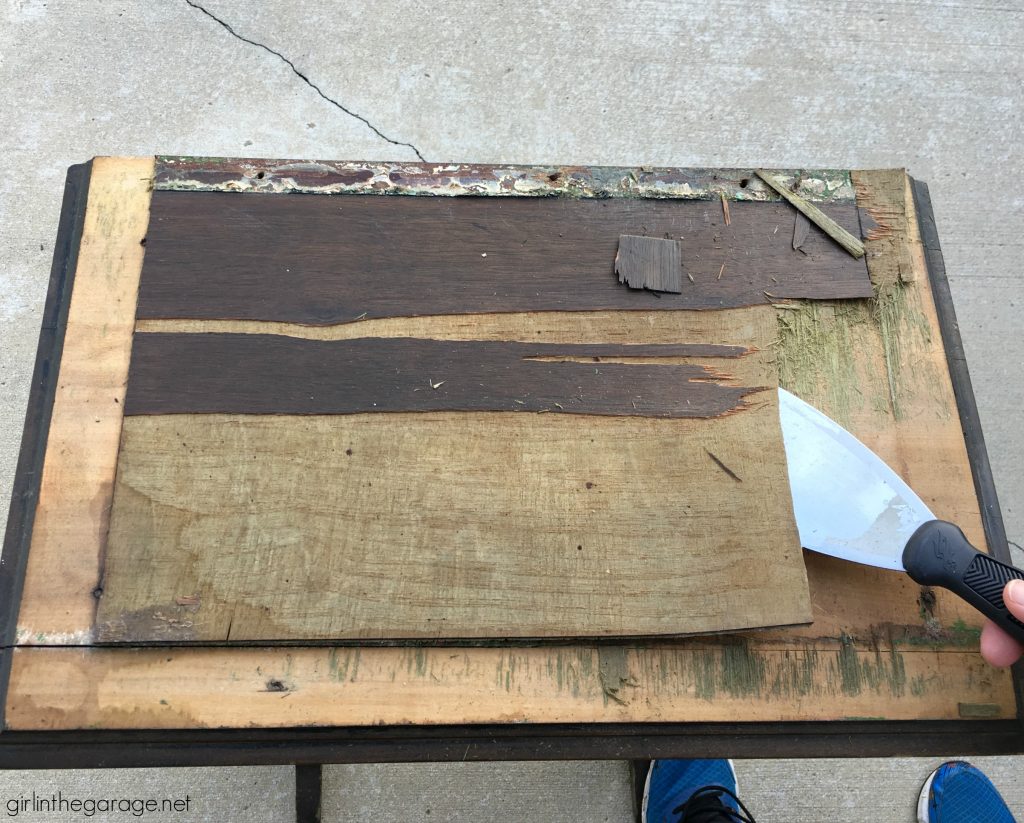 How to Remove Wood Veneer
Based on how stubborn the glue is underneath, there are a few ways to loosen glue and remove wood veneer. Since this is a small table and the veneer was already peeling off, it was fairly easy to remove with a scraper and an electric sander.
For tougher jobs (like the sideboard makeover I mentioned above), you can lay wet towels on top for several hours to loosen the veneer glue. Finally, you can try using a heat gun to warm up the glue and loosen things.
The top was smoothed with an inexpensive orbital hand sander (always follow safety instructions and wear your safety gear) and then any little cracks or nicks were filled with my favorite wood filler.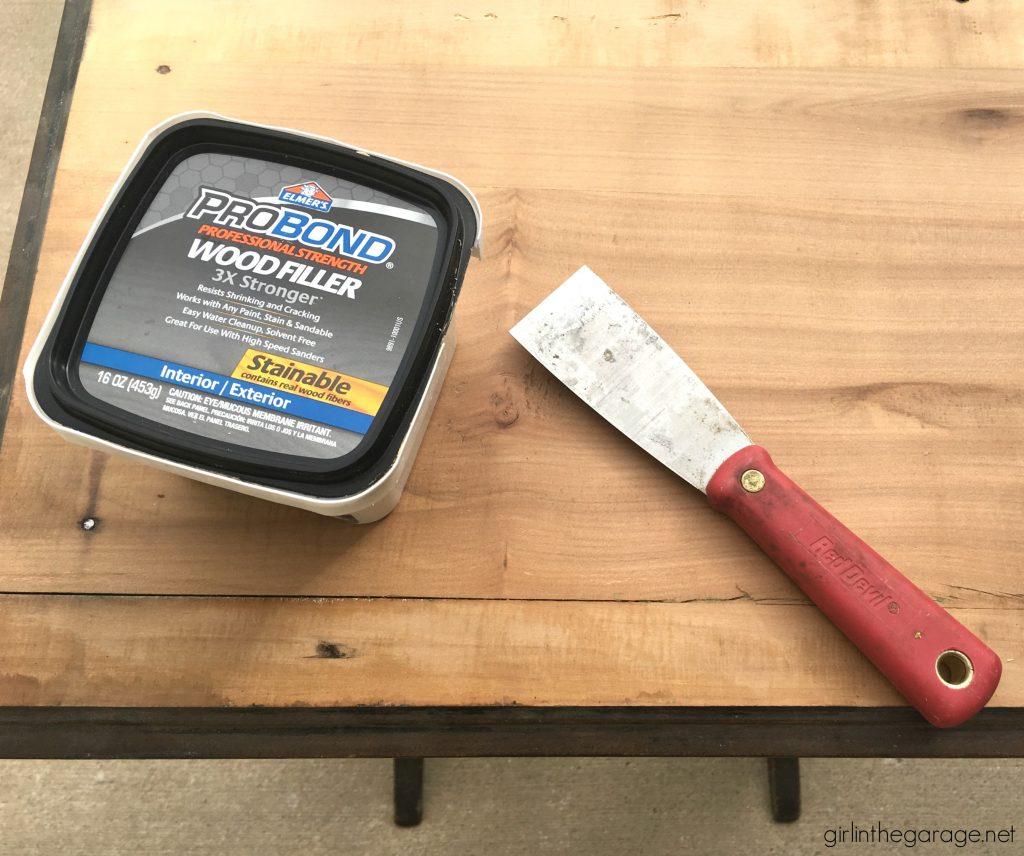 After the wood filler was dry a few hours later, I went back over those areas again with the hand sander.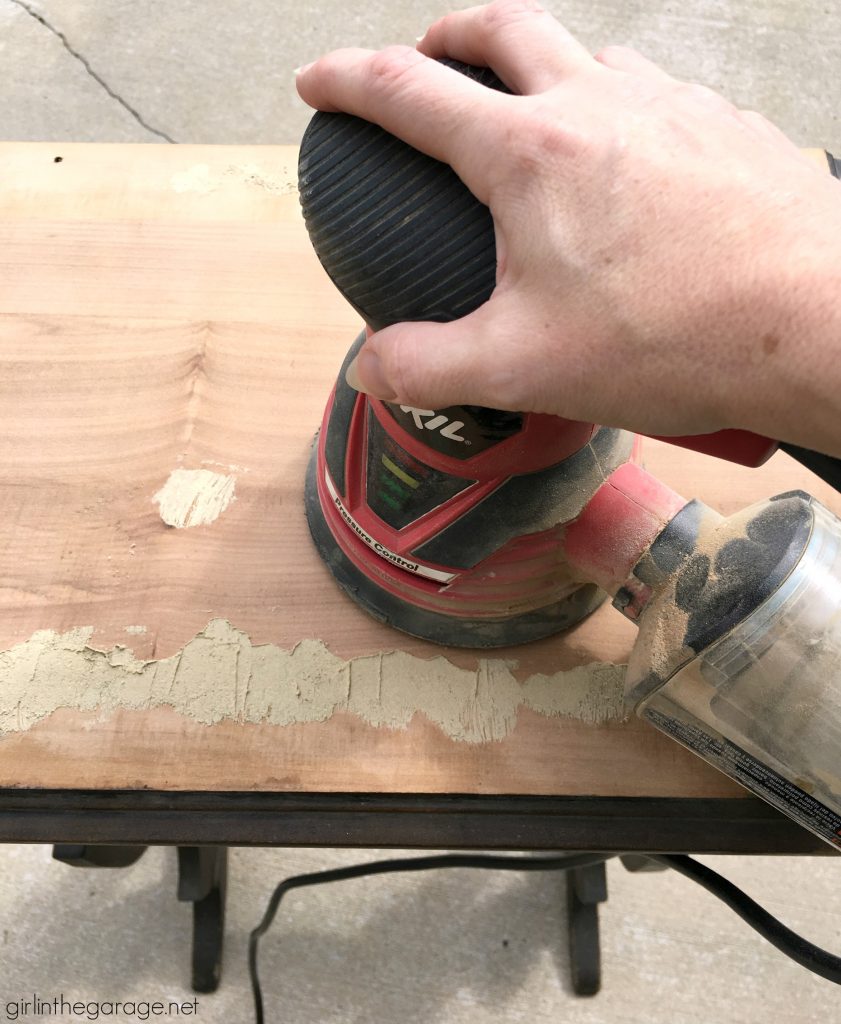 I used a damp cloth to clean everything again before the next step in the process. Read all my best tips for How to Prep Furniture Like a Pro in this post.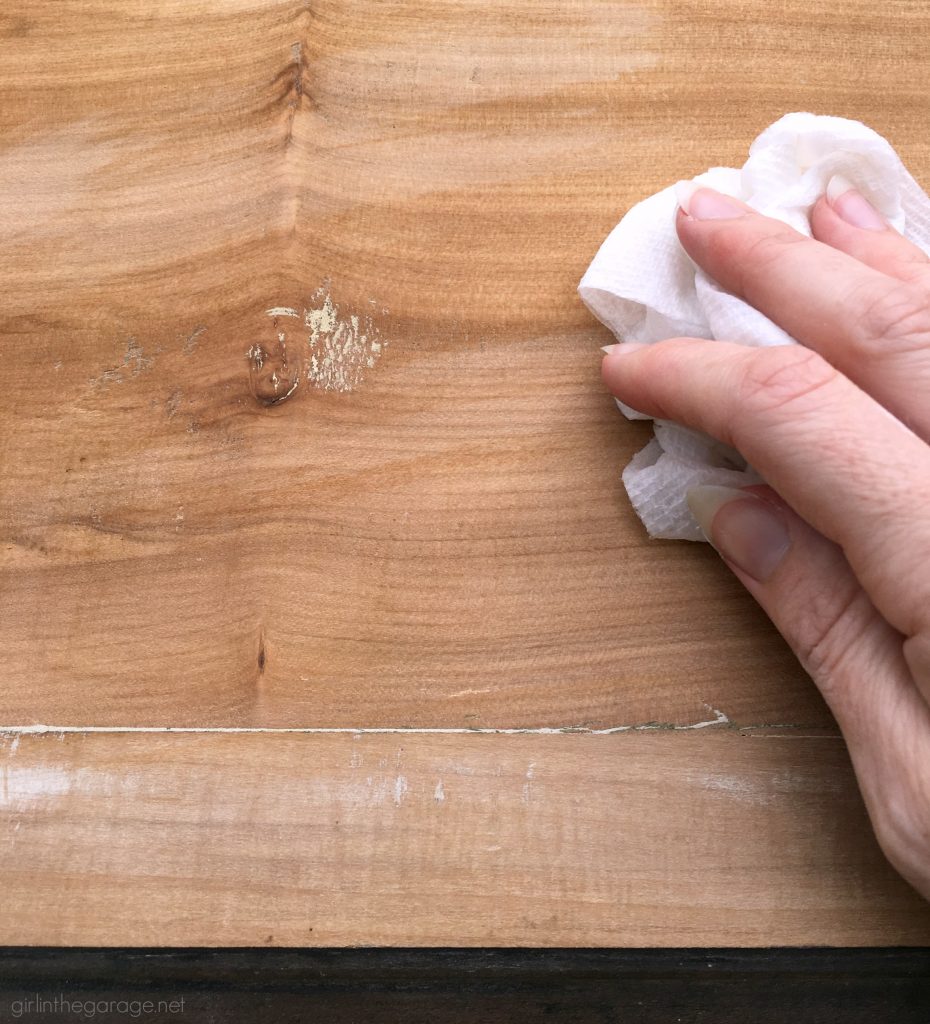 And that's how you can remove and repair cracked veneer on an antique table top.
How to Paint an Antique Table
I wanted a base coat of white on this antique table makeover, but after one coat there was some bleed through. That's what I get for trying to skip some prep work! (Actually I was out of primer and was trying to avoid a trip to the store.)
So out to Menards I went for more of my favorite shellac primer. This stuff works awesome to stop bleed through and contain odors. And since it's tinted white, it also doubled as the base coat I wanted anyway.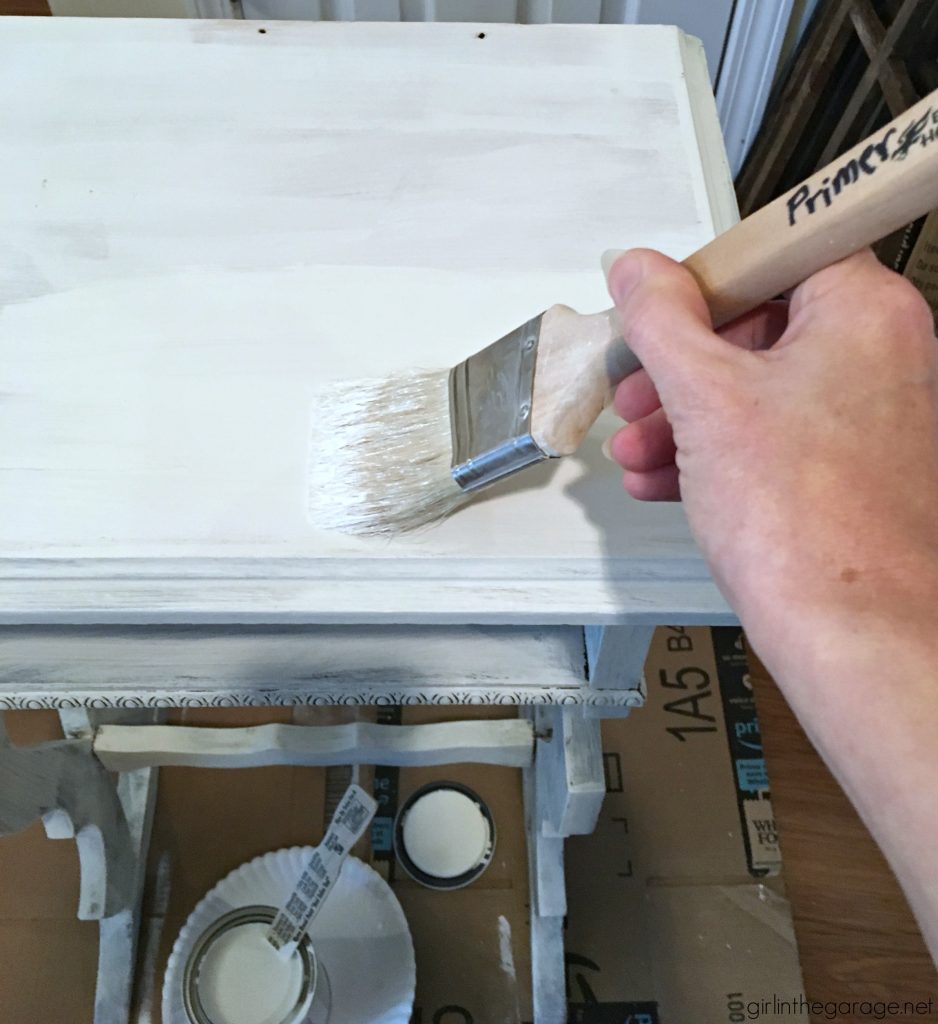 My chosen paint color for this table was Belle of the Ball by Country Chic Paint – which they were so kind to send me to try along with a new paint brush. (Even though I was sent products for free, all opinions on this site are 100% my own.)
Belle of the Ball is part of the Lustrom Collection and is a very pretty pale blue-gray.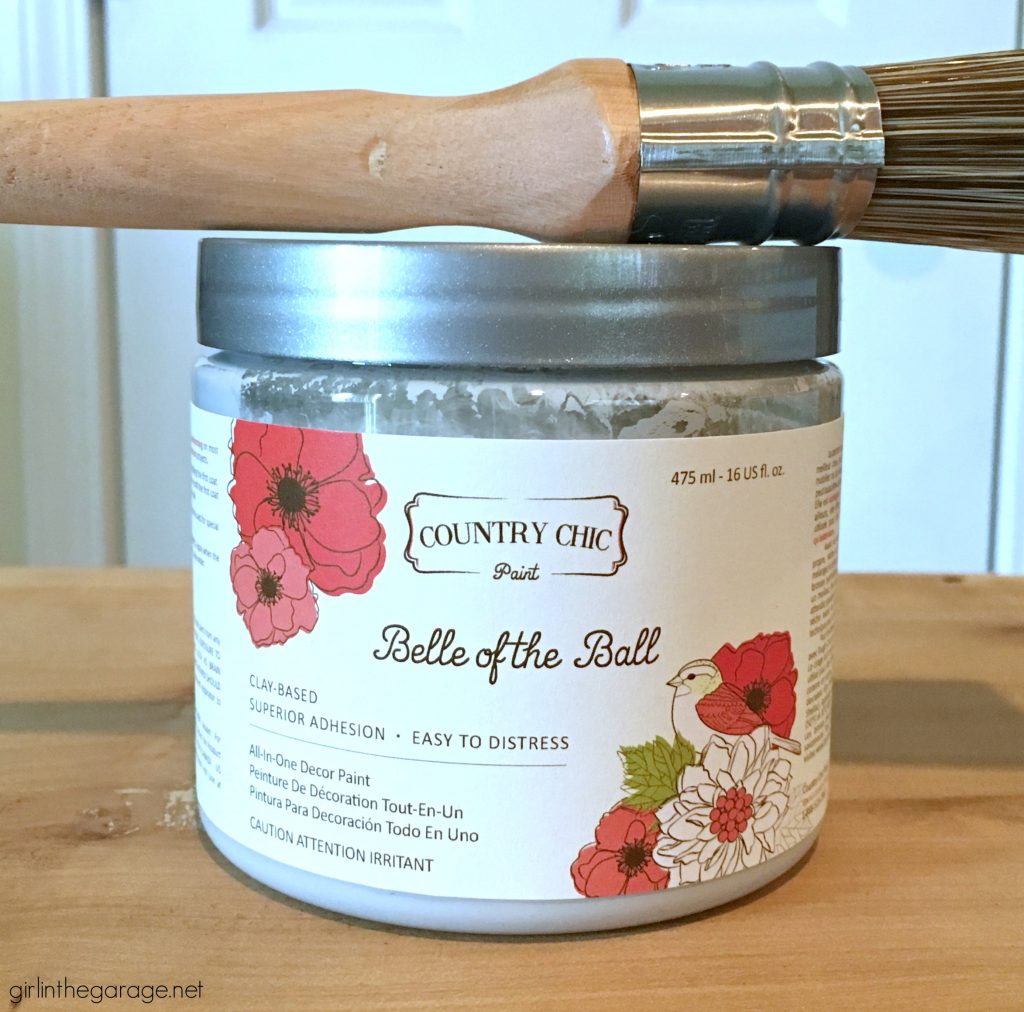 I normally exclusively use Purdy paint brushes but I was pleasantly surprised with the oval paint brush Country Chic Paint sent me. It felt comfortable in my hand and there were no loose bristles. Maybe most importantly, it holds a good amount of paint and brushes onto the furniture really well.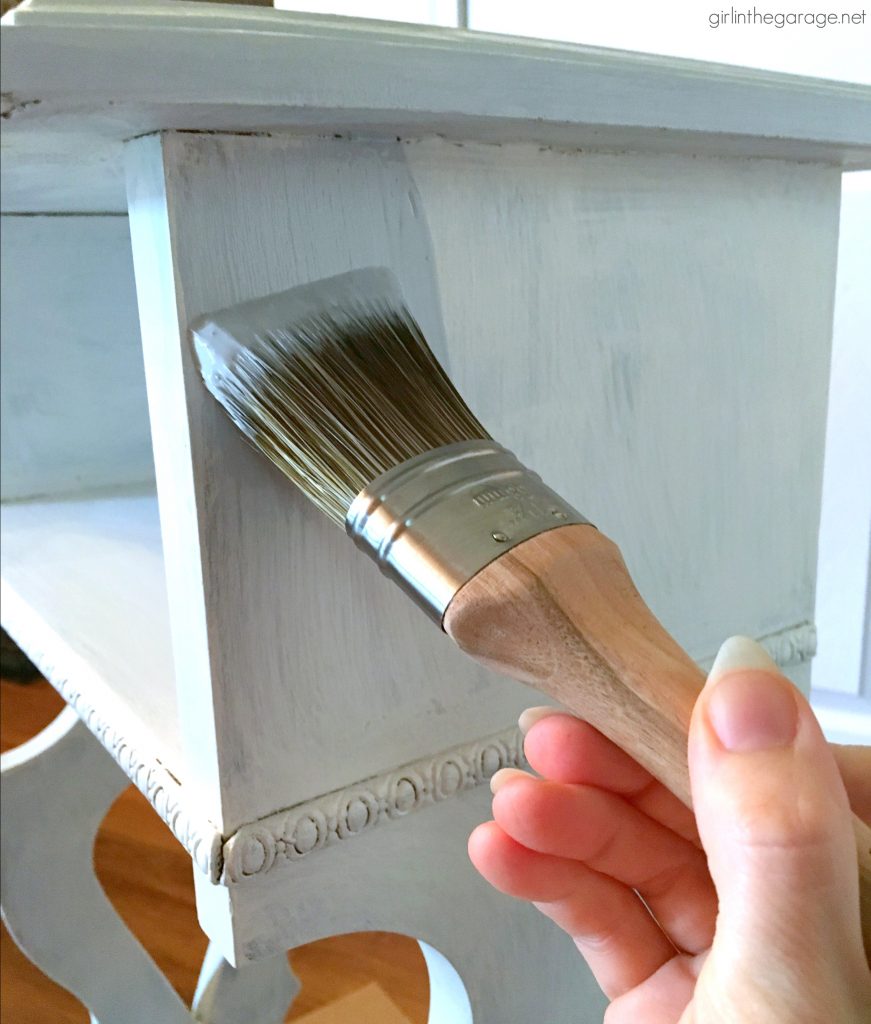 Belle of the Ball is a beautiful color, but I thought it was a little transparent even though I kept stirring the paint. I think that's fairly common for really soft pastel colors. I ended up painting 3-4 coats to get even coverage over the shellac primer.
How to Beautifully Distress an Antique Table
I've used Country Chic Paint on a few other projects – like this striped floral dresser and this desk and chair set – but I had never tried distressing it yet, which is actually one of my favorite DIY furniture makeover techniques.
I grabbed a piece of 220-grit sandpaper and got busy and messy!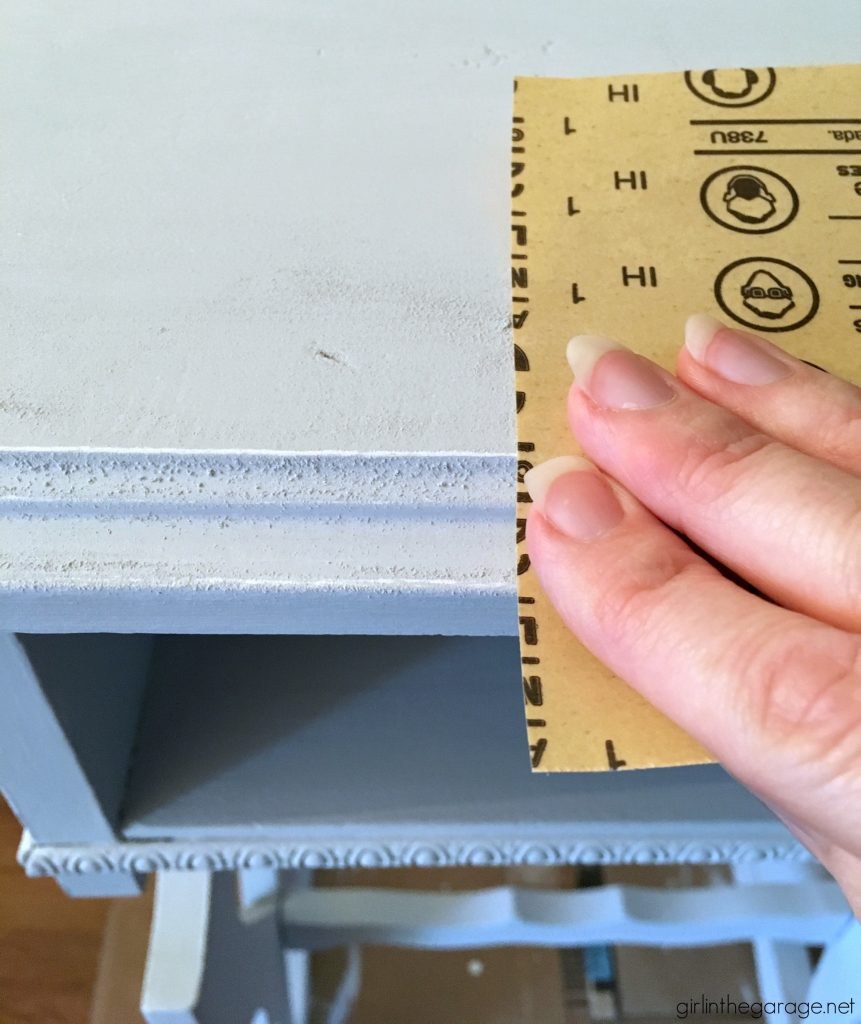 This is why I wanted a base coat of white: When you lightly sand just a little, the blue paint comes off and reveals the layer of white paint underneath. This adds visual interest and helps to highlight the pretty trim, curves, and lines on the table.
When you sand a little bit harder, then the white paint also comes off and the original brown wood underneath is revealed. That adds even more interest and highlights those unique areas. Be sure not to press too hard everywhere though – you want it to look somewhat natural, not like it was left outside during a hailstorm.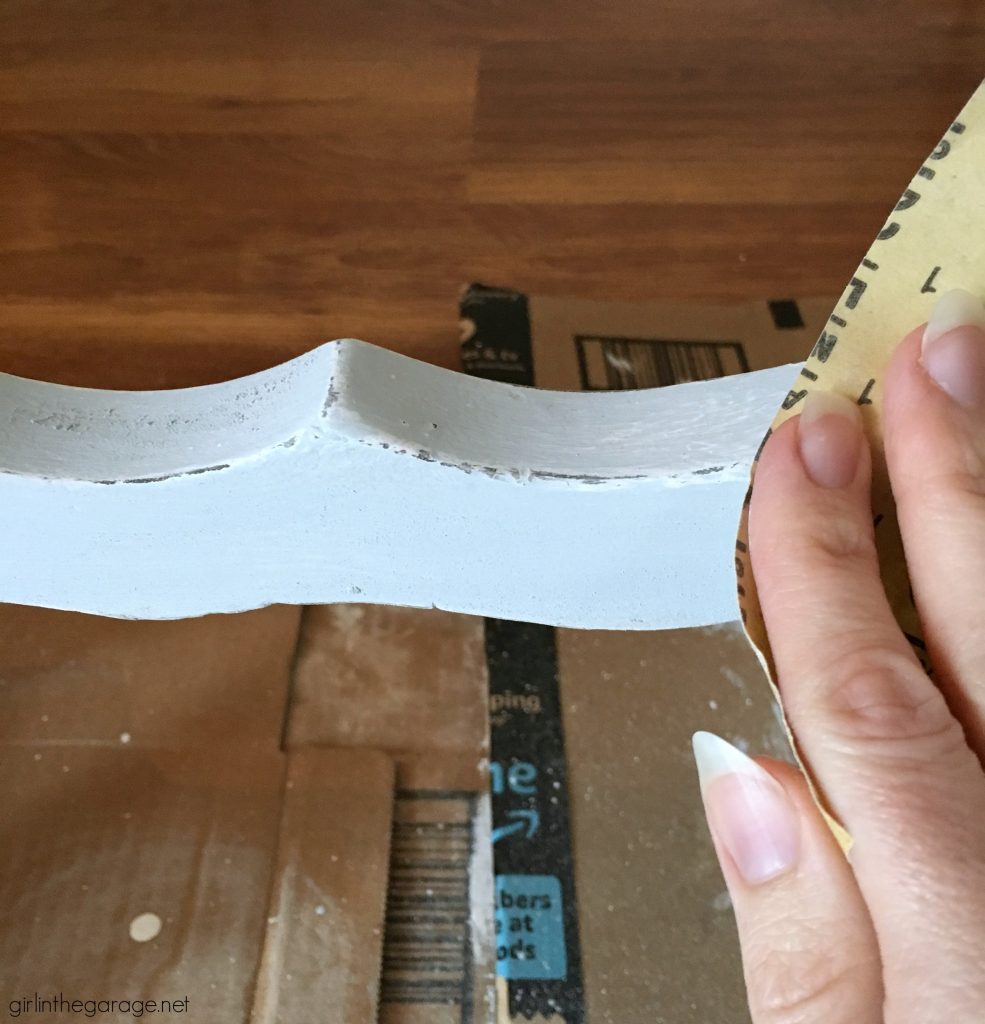 When you're finished sanding you might have a giant mess to clean up! That's why I joke that I should buy stock in paper towels. 😉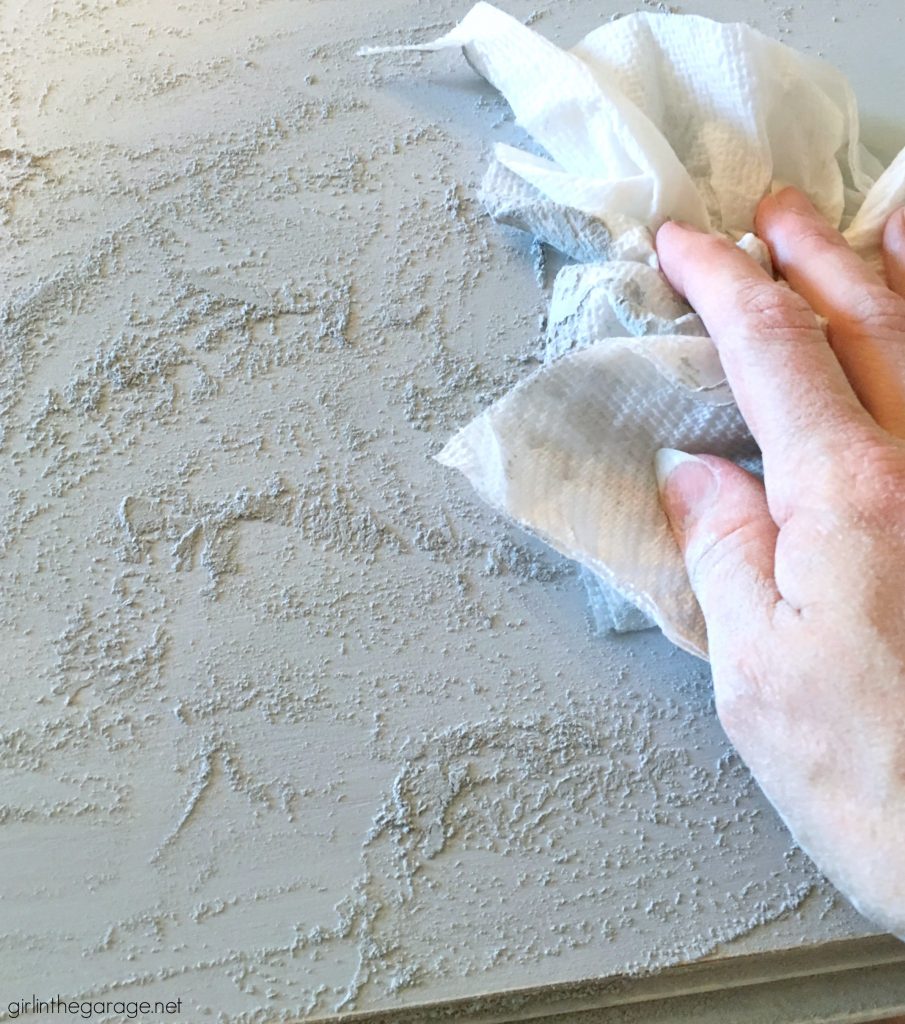 And once you've finished repairing, painting, and distressing your piece, you may end up with a sweet little antique table like this: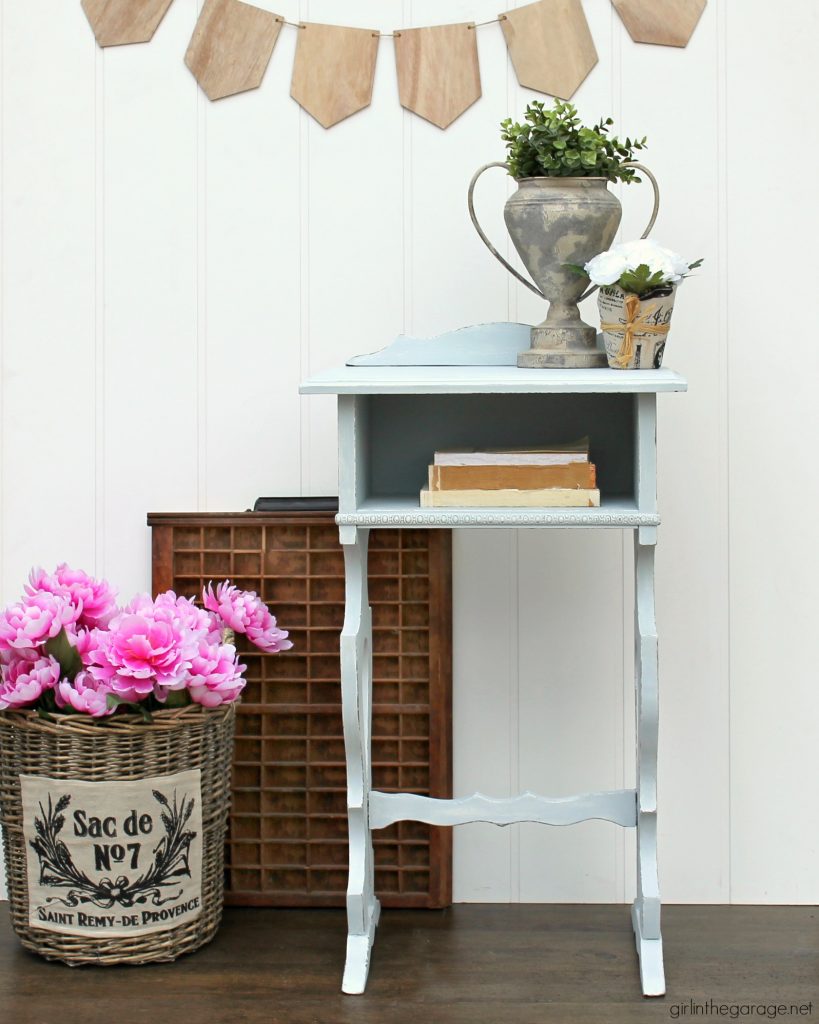 Here's a view of the repaired top with the cracked veneer just a bad memory: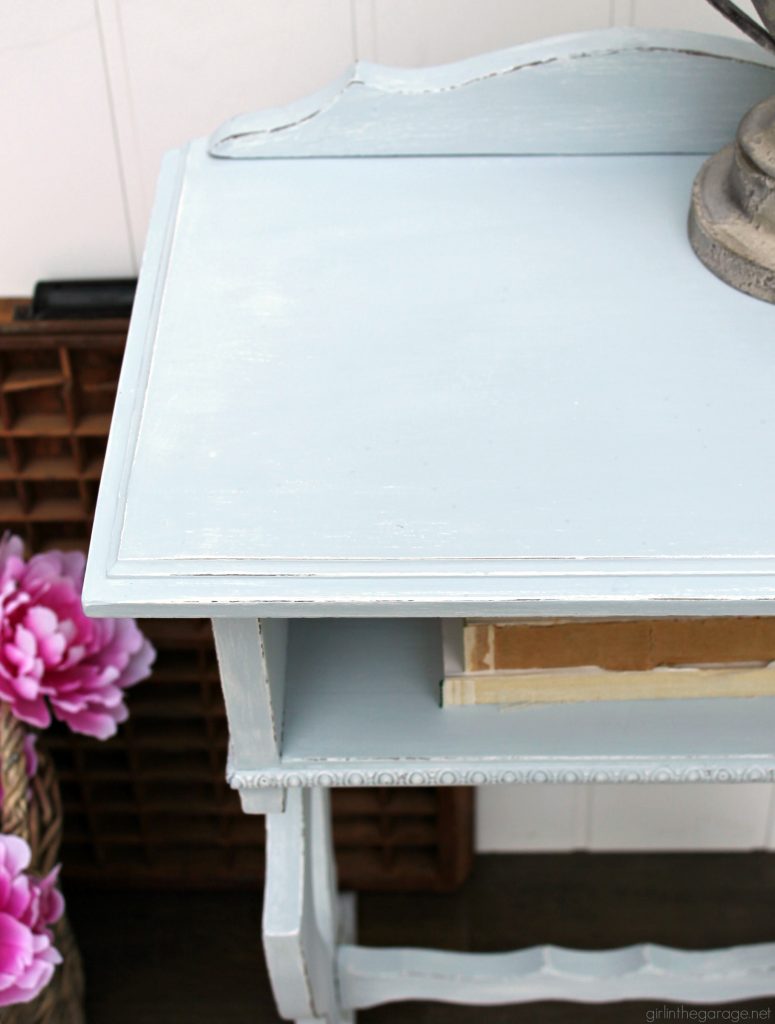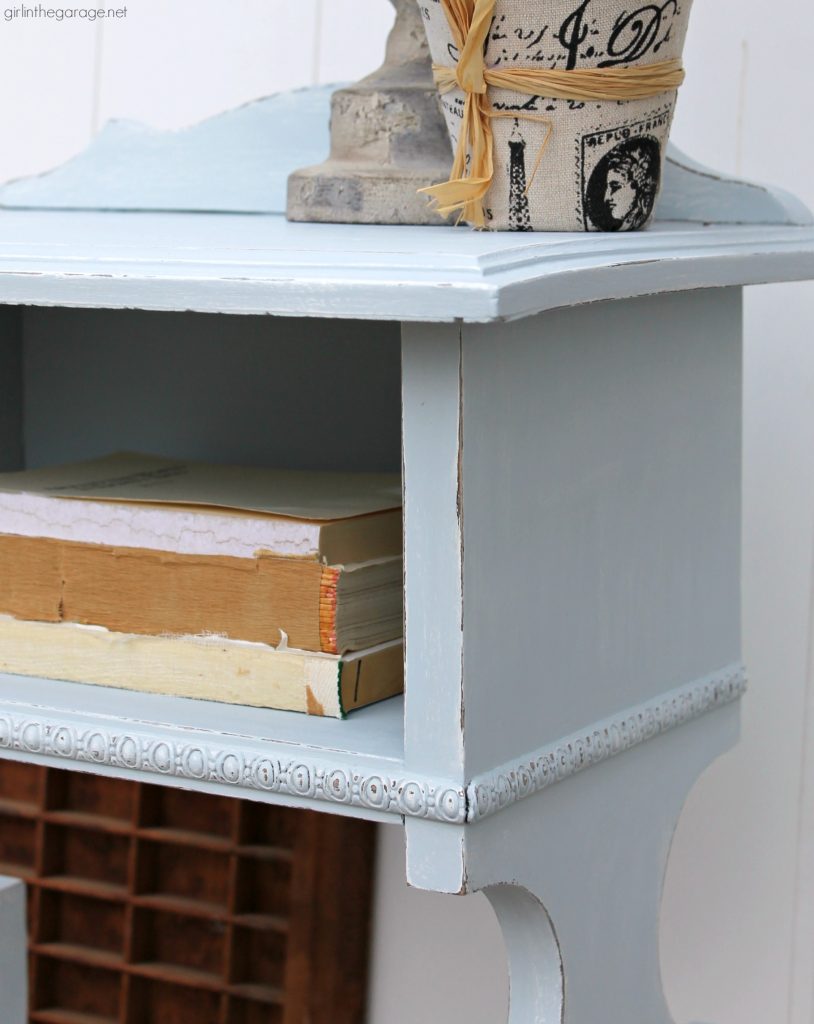 I just looooove those distressed edges and the trim with the white and brown showing. I was very happy with how well Country Chic Paint can be distressed.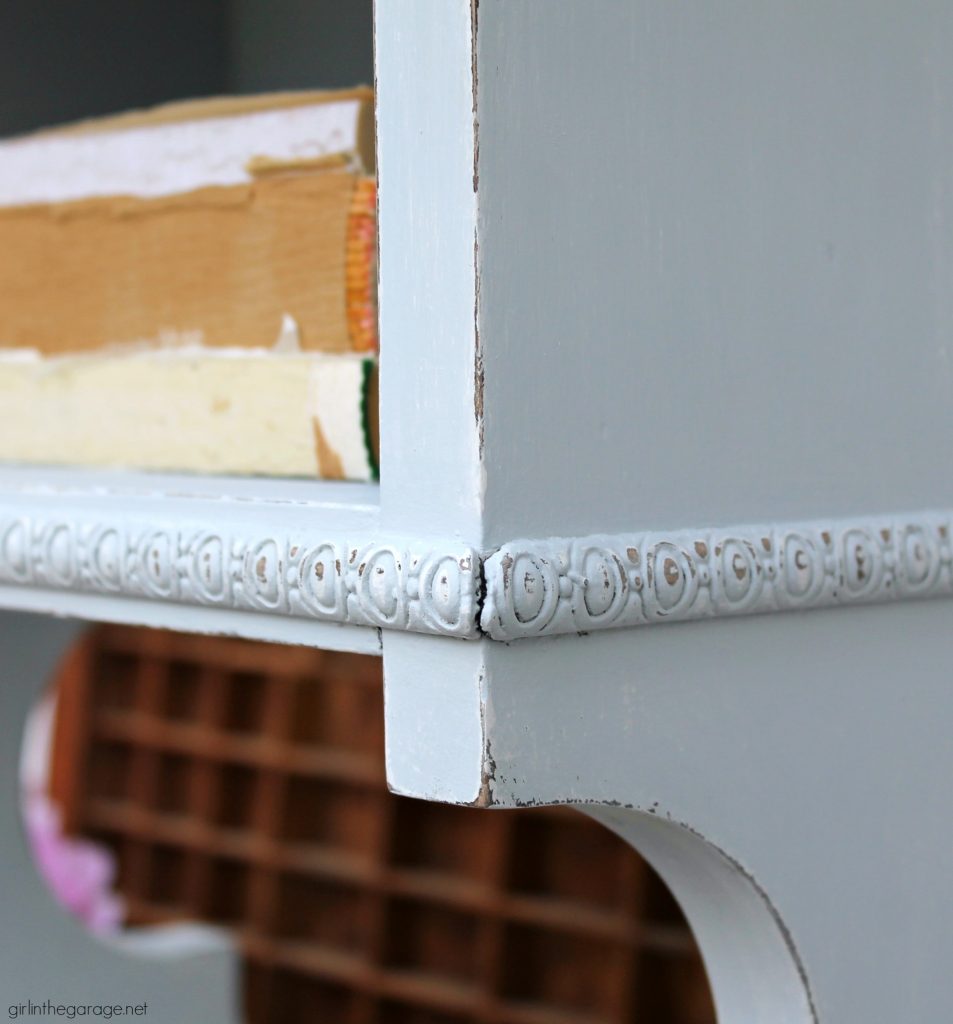 And did I forget to mention those sexy legs? So unique.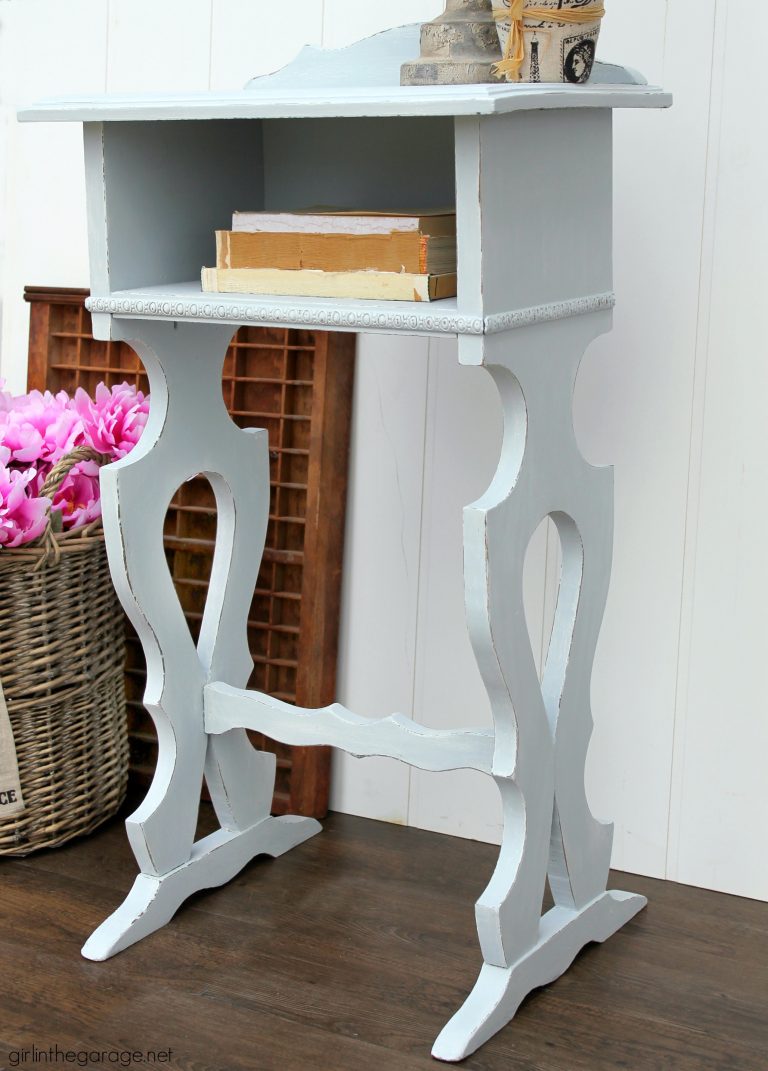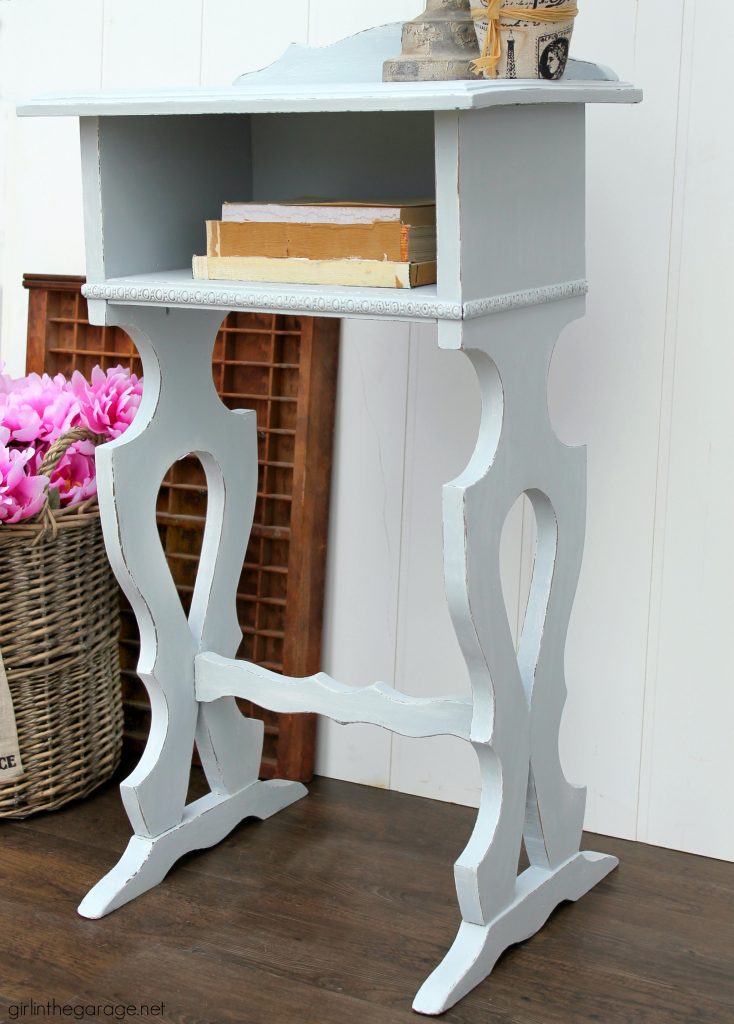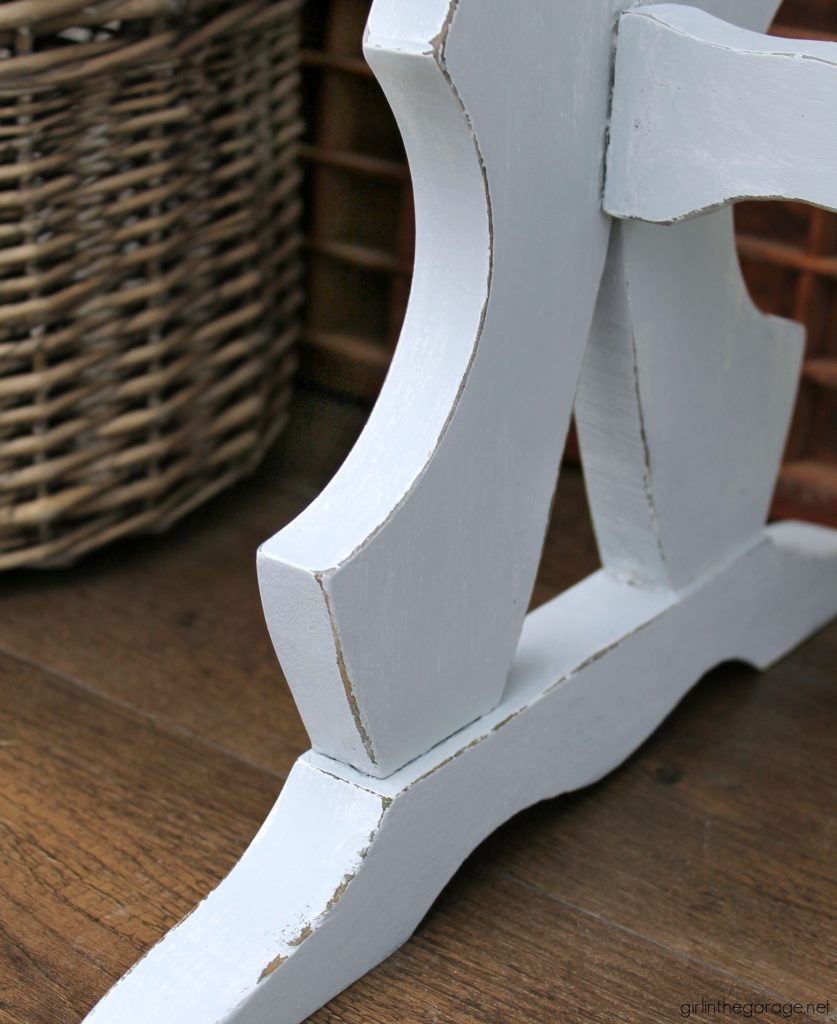 One more look at that trim…. sigh.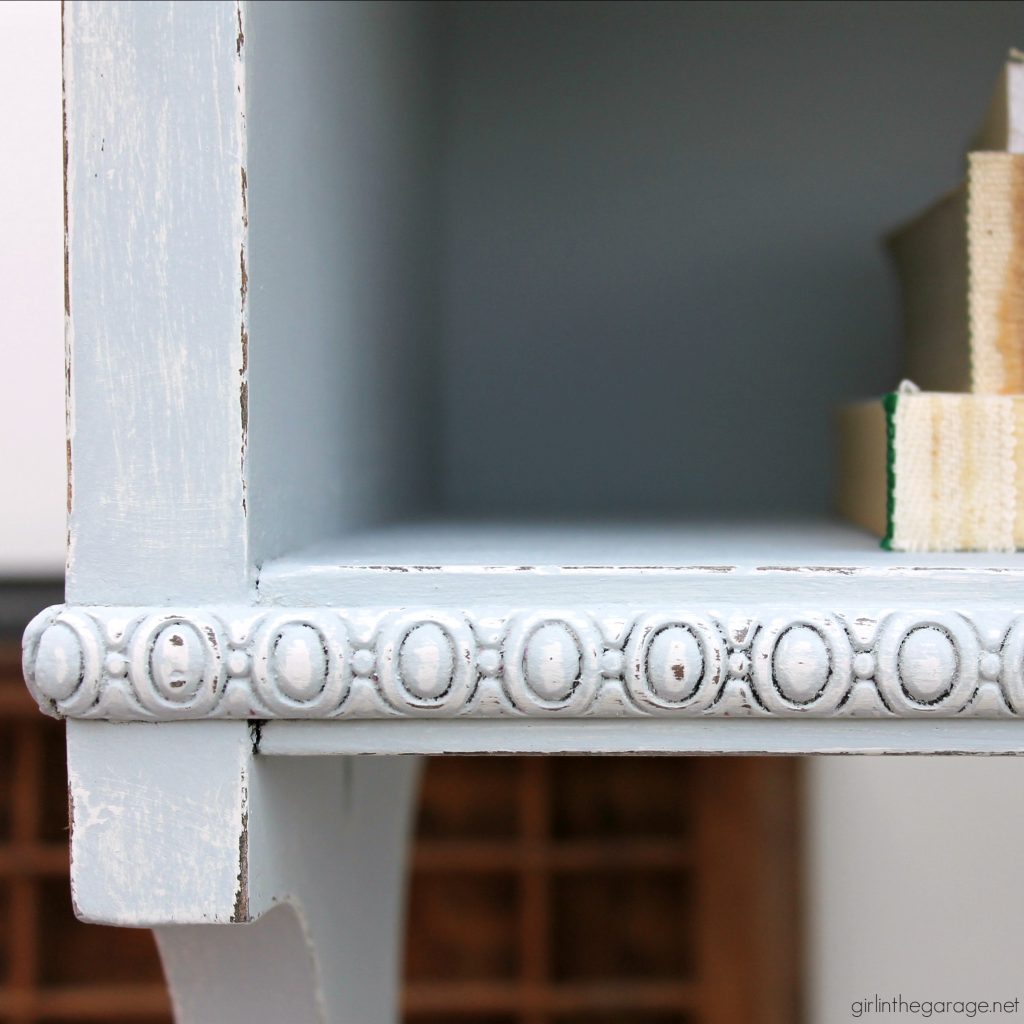 If you'd like to pin this furniture makeover for easy access later, here are a few options for you:
How to Repair a Table with Cracked Veneer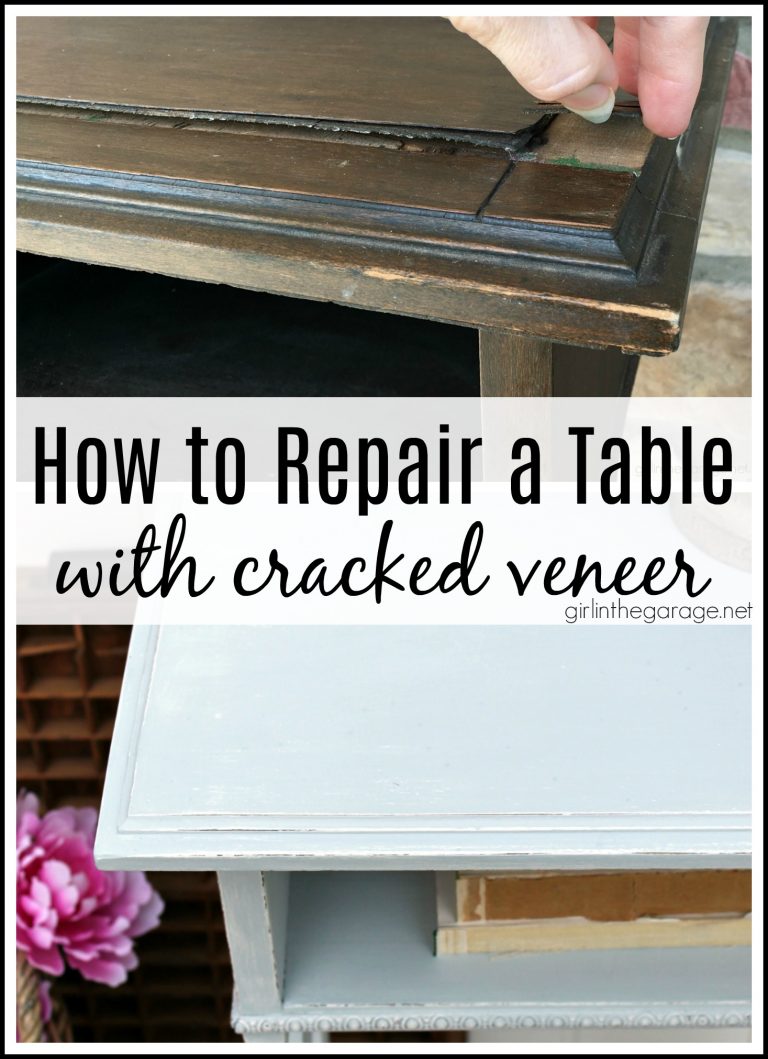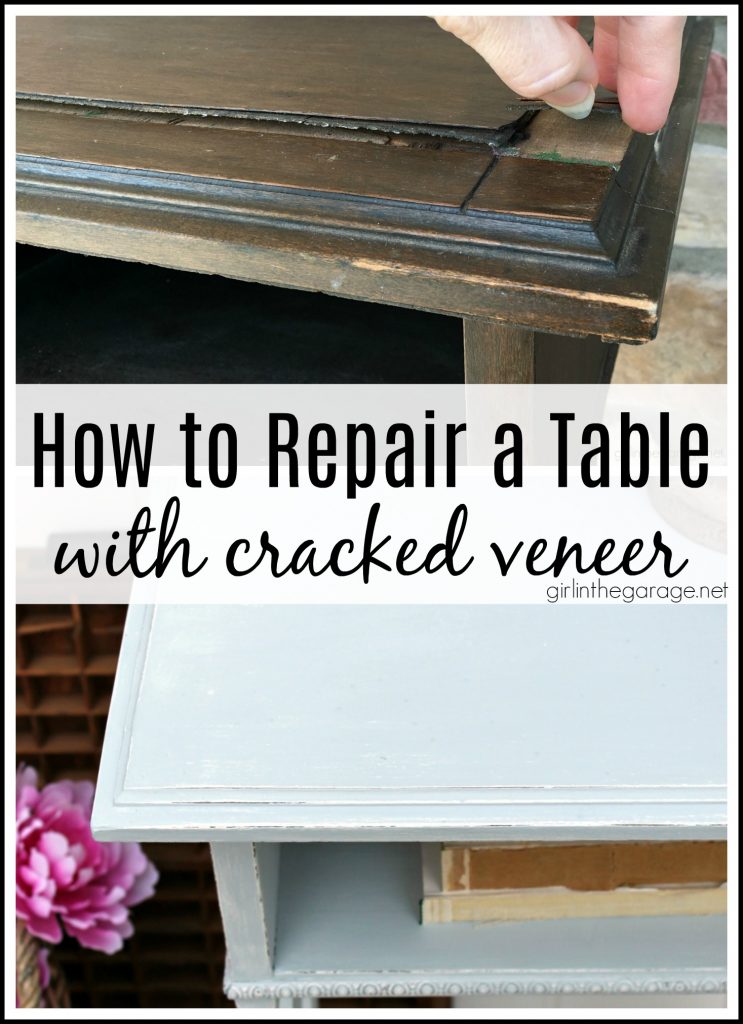 How to Repair, Paint, and Distress an Antique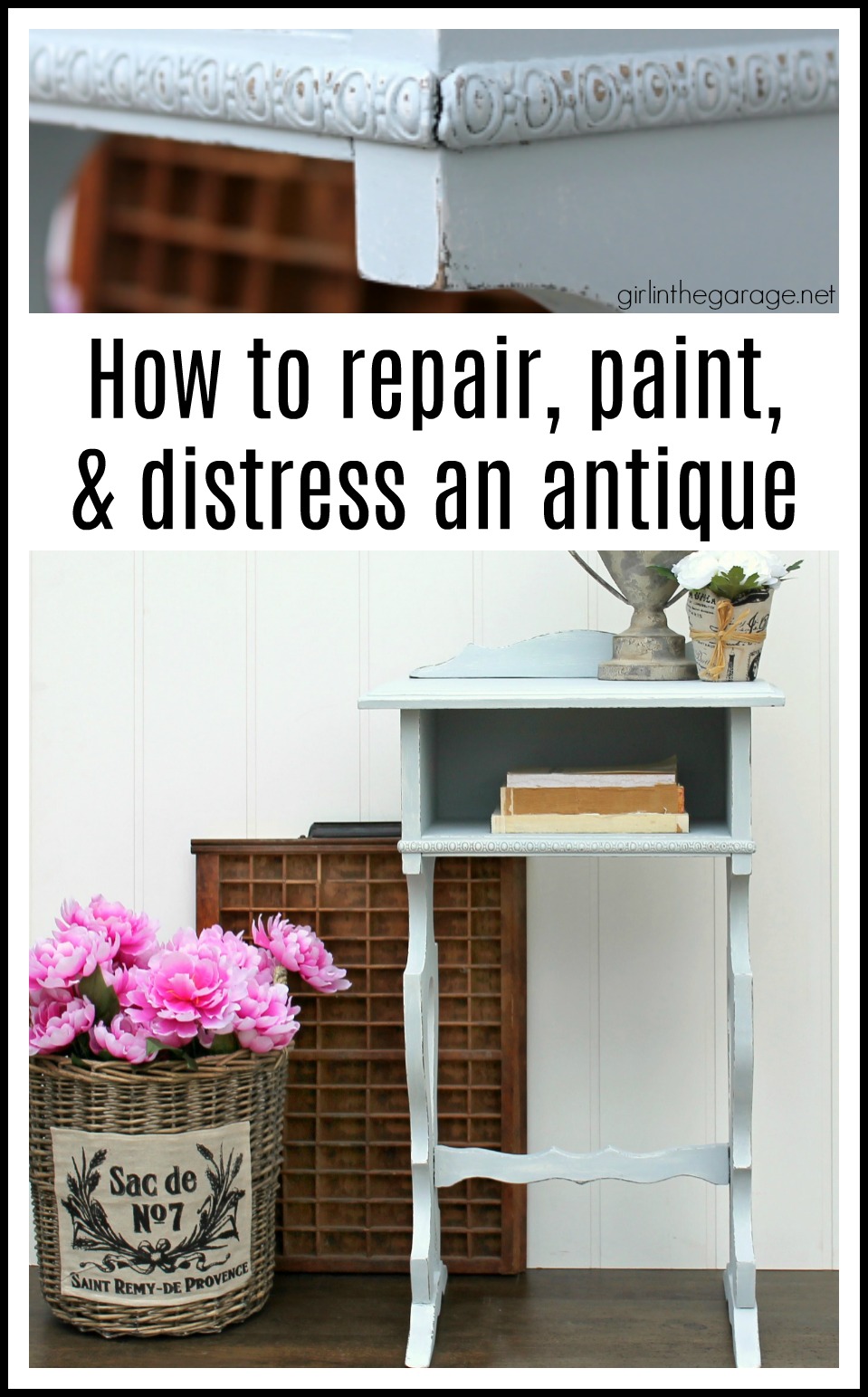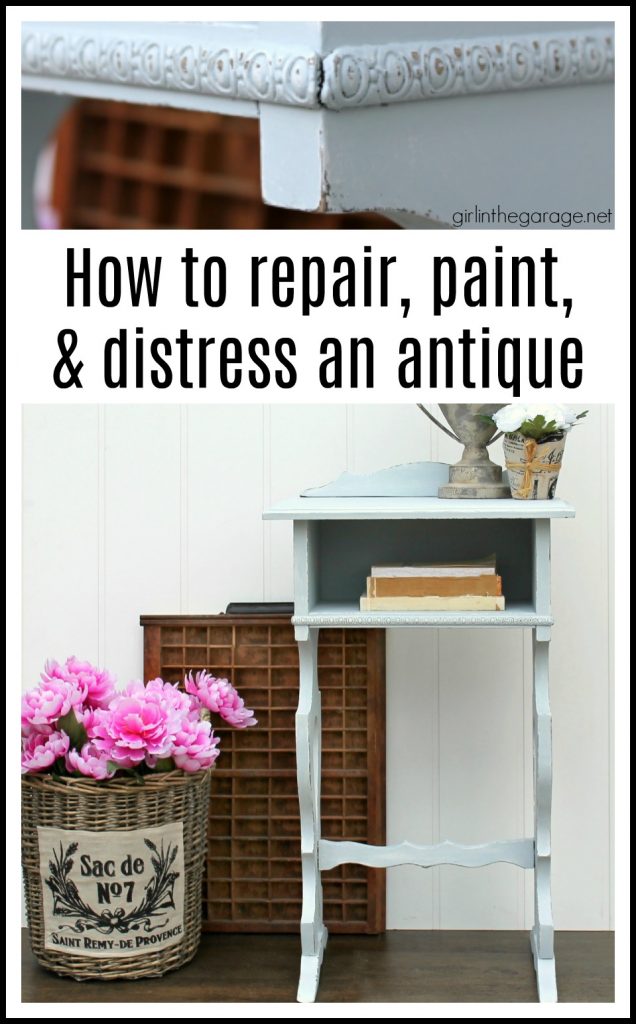 I hope you have a fabulous day, my friend! I'd be so grateful if you'd pin this project or share it with a friend. I appreciate you! – Jen
P.S. It's Furniture Fixer Uppers day, which means five more fabulous furniture makeovers from my talented blogging friends await you…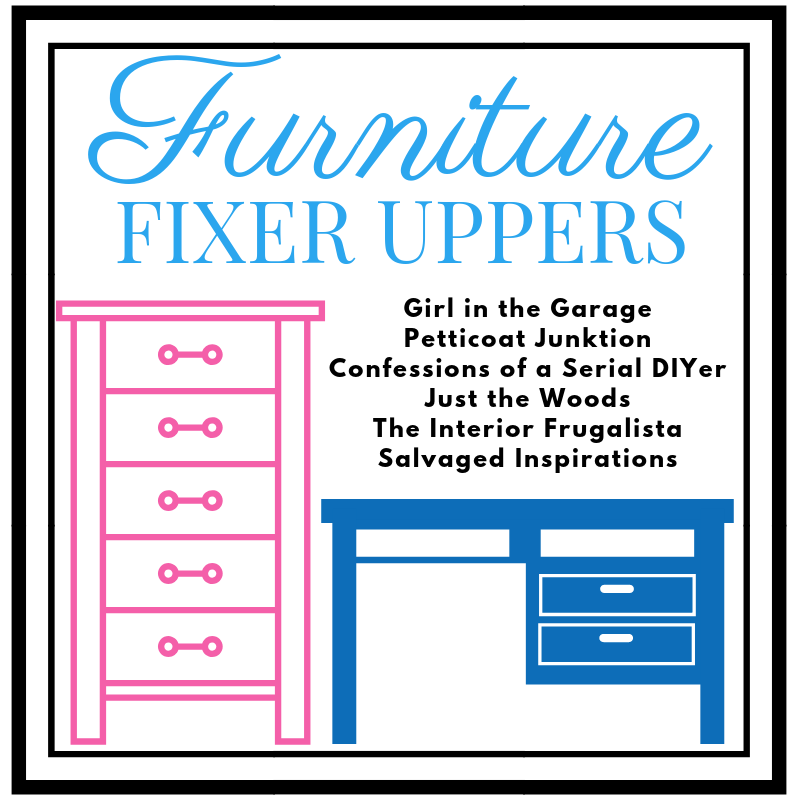 Below are the Before photos – visit the links underneath to see the amazing Afters and to learn how they did it: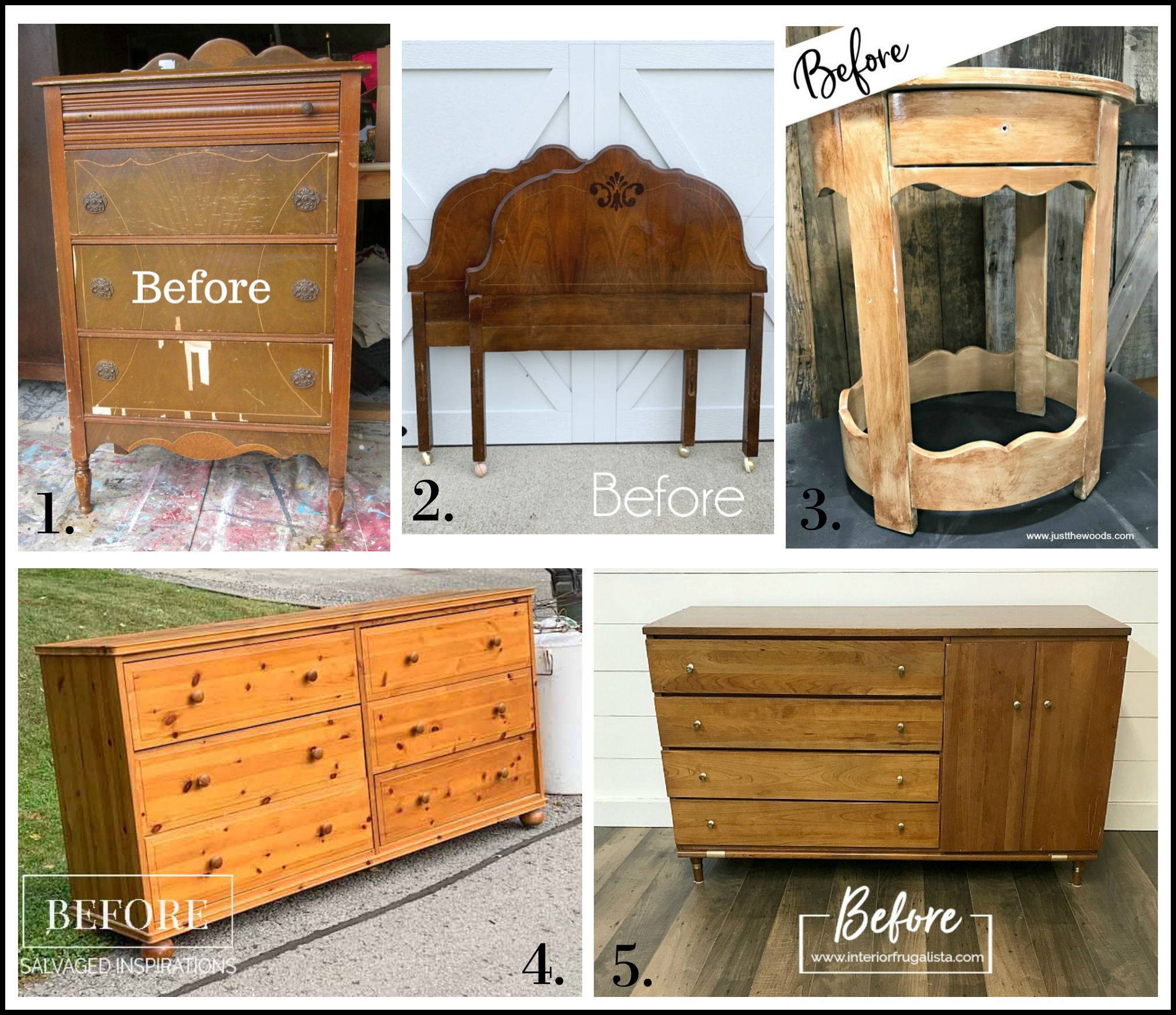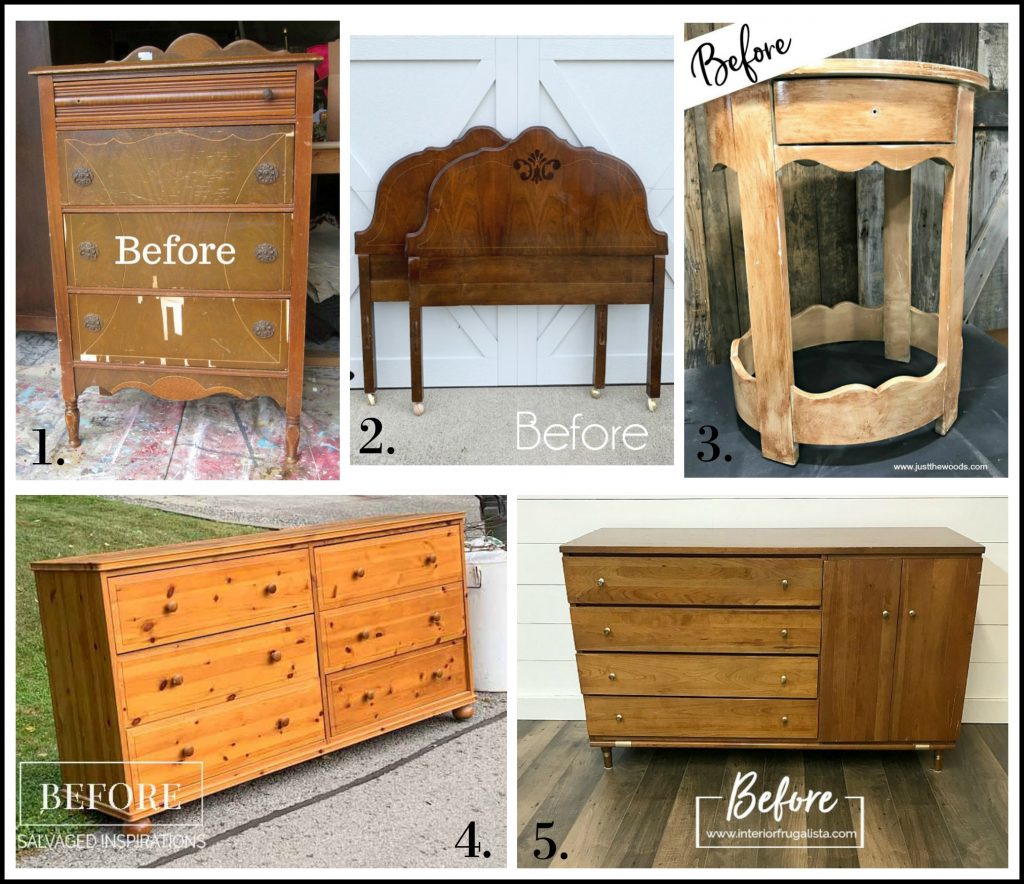 1. Petticoat Junktion
2. Confessions of a Serial DIYer
3. Just the Woods
4. Salvaged Inspirations
5. The Interior Frugalista
Pssssst! Did you know… my book Amazing Furniture Makeovers: Easy DIY Projects to Transform Thrifted Finds into Beautiful Custom Pieces is now available everywhere? Learn more Here or read through almost 200 reviews on Amazon Here.