How to Properly Prep Furniture for Painting
I totally get it. You just scored a fabulous furniture flip project for next to nothing, and all you can think about is what paint colors you're going to layer on it – or what floral image transfer you're going to add – or what stencil will make it look the most chic. Nobody daydreams about how exciting the prep work and repairs are going to be – it just isn't sexy.
You can spend days refinishing a dresser or table, pouring all your efforts into the creative aspects (the most fun part!), but if you fail to take your time and prep furniture properly in the beginning (the most boring part!), ultimately you won't get the long-lasting results you wanted. And that is especially bad if people are paying you for your work.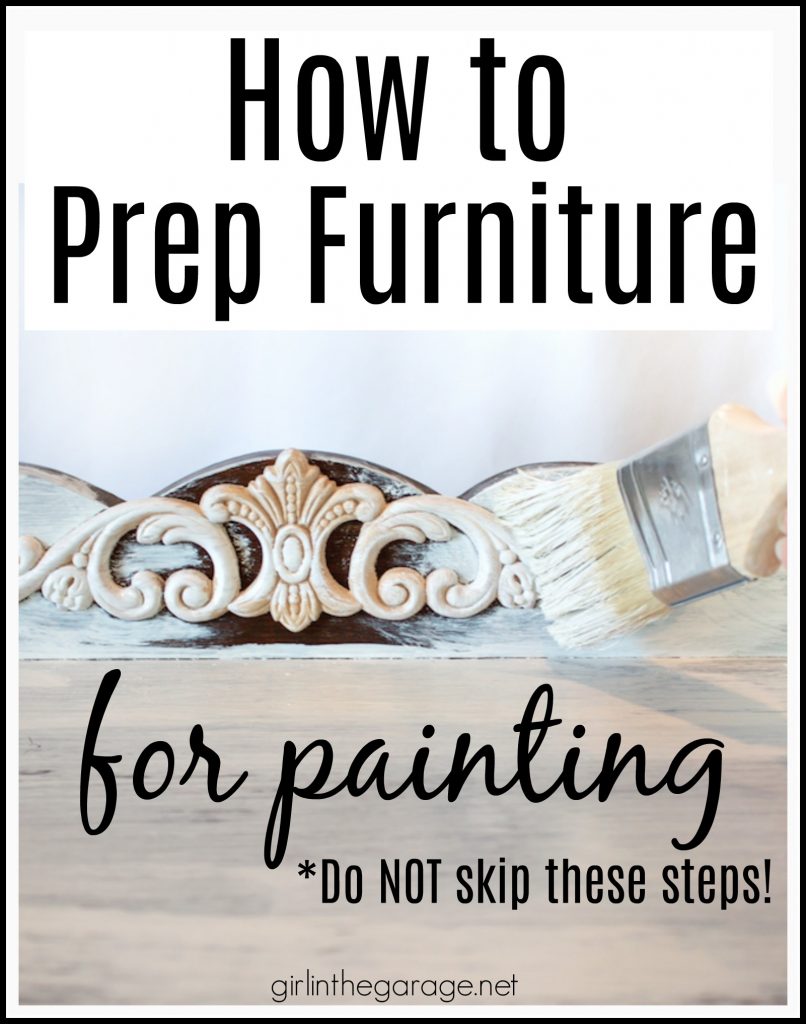 If you've been wondering how to prep furniture for painting, I've included all my personal favorite tips from my experience of over 7 years of refinishing furniture. Prepping furniture is super important so make sure to read everything below and I also recommend pinning this post so you can easily find it again later. Did I always follow these steps when I first started? Nope, and that's why I want you to learn from my mistakes.
*This post contains some affiliate links so you can easily find the products I use and recommend. Learn more about all my favorite DIY brands and tools here.
The prep work you do depends on what your piece is made from – which type of wood, laminate, melamine, etc. I also walk you through 25 step-by-step furniture makeover projects in my book Amazing Furniture Makeovers: Easy DIY Projects to Transform Thrifted Finds into Beautiful Custom Pieces, where I explain all the prep work for each project and exactly how to follow through on every technique down to the amazing final finishes.
It's a great book to study and read especially when you don't have a computer nearby while you're working in the garage. ? Learn more and read reviews here on Amazon or find it wherever books are sold.

Common products and tools for prepping furniture for paint (more details below):
Some helpful tips for how to properly prep furniture for painting:
1. Protect your work area with flattened cardboard boxes or drop cloths underneath.
2. Always clean thoroughly with vacuum, water, household cleaners, or a stronger cleaner like Krud Kutter or TSP. You can use old clean t-shirts which can just be thrown away after.
3. When removing drawers, number the back side so you'll know exactly where they go later. Even if they look the same size, often they don't fit as well in the other spaces.
4. Remove all drawer pulls and knobs and put in a sandwich bag for safekeeping if you're going to reuse them. I usually buy new hardware, but if I'm keeping them then I often paint them. (If my thrifted furniture ever comes with really cool unique hardware then I'll just clean it and happily reuse it!)
5. Lightly sand glossy surfaces (with sandpaper by hand, if the surface is already smooth).
6. For rough or already-painted pieces (if it has passed the lead paint test), sand thoroughly with an orbital sander like this one (see this dresser makeover). Only use an orbital sander on real wood, not laminate or manufactured wood. You should always wear proper eye protection and a respirator mask when using any power tools.
7. Use stainable wood filler to repair unsightly cracks and chips, or even repair a broken foot like on this table.
8. Make all necessary repairs (drawers slide well, legs are firm, doors open and close easily, fix veneer problems):
Add clear E6000 or wood glue under chairs or tables to stabilize slightly wobbly legs.

Sand the edges of drawers or doors if they're sticking – rub candle wax on the bottom of drawers to help them slide more smoothly.

Glue and clamp loose veneer, or fill little missing chunks of veneer with wood filler. I don't completely remove veneer unless absolutely necessary – you can see how we did it with the wet towel method on this antique sideboard makeover.
9. Use painter's tape to tape off any areas that you don't want painted – drawer sides, tape over hardware holes from the inside so paint won't drip through, or any areas that you're planning to leave stained.
10. When to use primer on furniture painting projects and how to avoid bleed through
(*I prefer this shellac primer – Use it in a well-ventilated area because it smells very strong before it dries.):
To avoid bleed through on very dark, red, or orange surfaces (mahogany, cherry, maple, dark stain) – probably not necessary if using a dark paint color

On very shiny pieces, after lightly sanding

To cover wood knots or damaged areas such as water rings

Over ink stains or markers

If you're painting raw wood that hasn't been painted before

To contain odors

If you're planning to use metallic paint (unless black or dark brown)

Almost any time you're going to paint wood white
I usually apply 2-3 coats of white-tinted primer depending on the piece, lightly sanding between coats. I prefer white-tinted primer because I paint a lot of pieces either white or light gray. There are also clear primer options you can use.
**Some paint manufacturers claim that no prep or primer is needed. In my experience of painting wood furniture for 7+ years, there are many types of furniture where you just absolutely cannot skip prep work/primer. Occasionally yes- if you're going for a very chippy, distressed, imperfect finish. But I'd much rather be safe than regret it later after I've spent so much time on refinishing furniture.
11. How to get rid of smells in furniture:
Shellac primer can cover almost any type of odor. But if you're not planning to paint the inside of drawers or cabinets, set a small bowl of white vinegar inside for a few days to get rid of musty/smokey smells.
I have tried many different methods for getting bad smells out of furniture interiors and the white vinegar trick is the only one that has worked every time. (Learn more in this French Provincial dresser makeover.)
Under 200: Use for smoothing very rough surfaces
200s: Mid-range grit that I use most often for general sanding (usually 220)
300+: Use for finishing work, making very soft smooth surfaces
In many projects I use a combination of different sandpaper grits depending on what's needed in that part of the makeover. It's just my personal preference, but I prefer sandpaper sheets (cut into fourths) rather than sanding blocks.
Final thoughts on prepping and painting wood furniture:
Of course you may have extra steps depending on any specific repairs that are needed, but these tips should cover almost any type of prep needed for refinishing furniture.
I'll be writing even more detailed posts on how to paint furniture, and I have dozens of DIY furniture makeovers on this website with lots of other tips and tricks. Plus my book Amazing Furniture Makeovers is another excellent resource, and also a great gift idea. 🙂
You can discover all my favorite products and brands for doing DIY furniture makeovers Here.
*Want a free printable cheat sheet for Tips to Prep Furniture for Painting? No problemo! Click Right Here.*
Finally: Let me know – do you usually follow these steps? Is there anything you do differently, or would like to know more about? Leave a comment below.