Have you been so excited about a yard sale find that you totally didn't notice some major flaws until after you got it home, took a before photo, and then started working on it?  This little end table doesn't look so bad at first glance (I got it at the same time as this antique end table that I posted about recently).
Do you see the flaw?  The table wasn't wobbly at all, so the broken foot was mostly just cosmetic and not structural.  But it was still a big pain to deal with.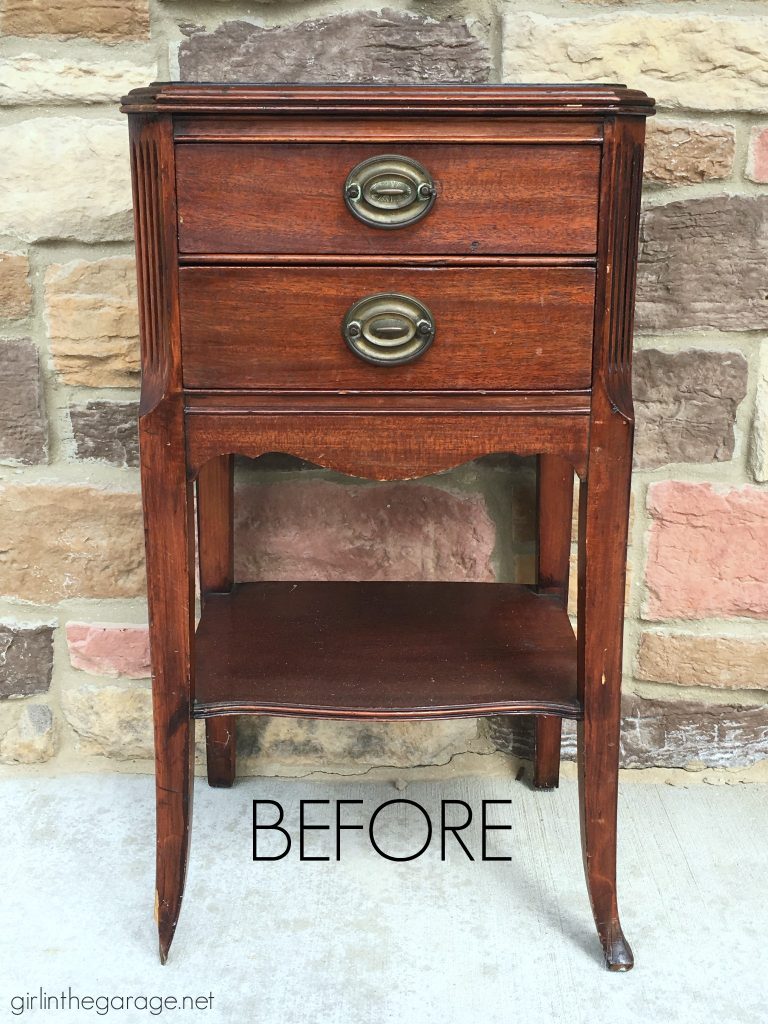 **Friends, today is Trash to Treasure Tuesday with four of my creative blogging friends.  Follow along below to see their makeovers at the end of this post!  Also, this post contains some affiliate links, at no extra cost to you, so that you can easily find the products I use and recommend.
The top had some chipping veneer which I wasn't too worried about.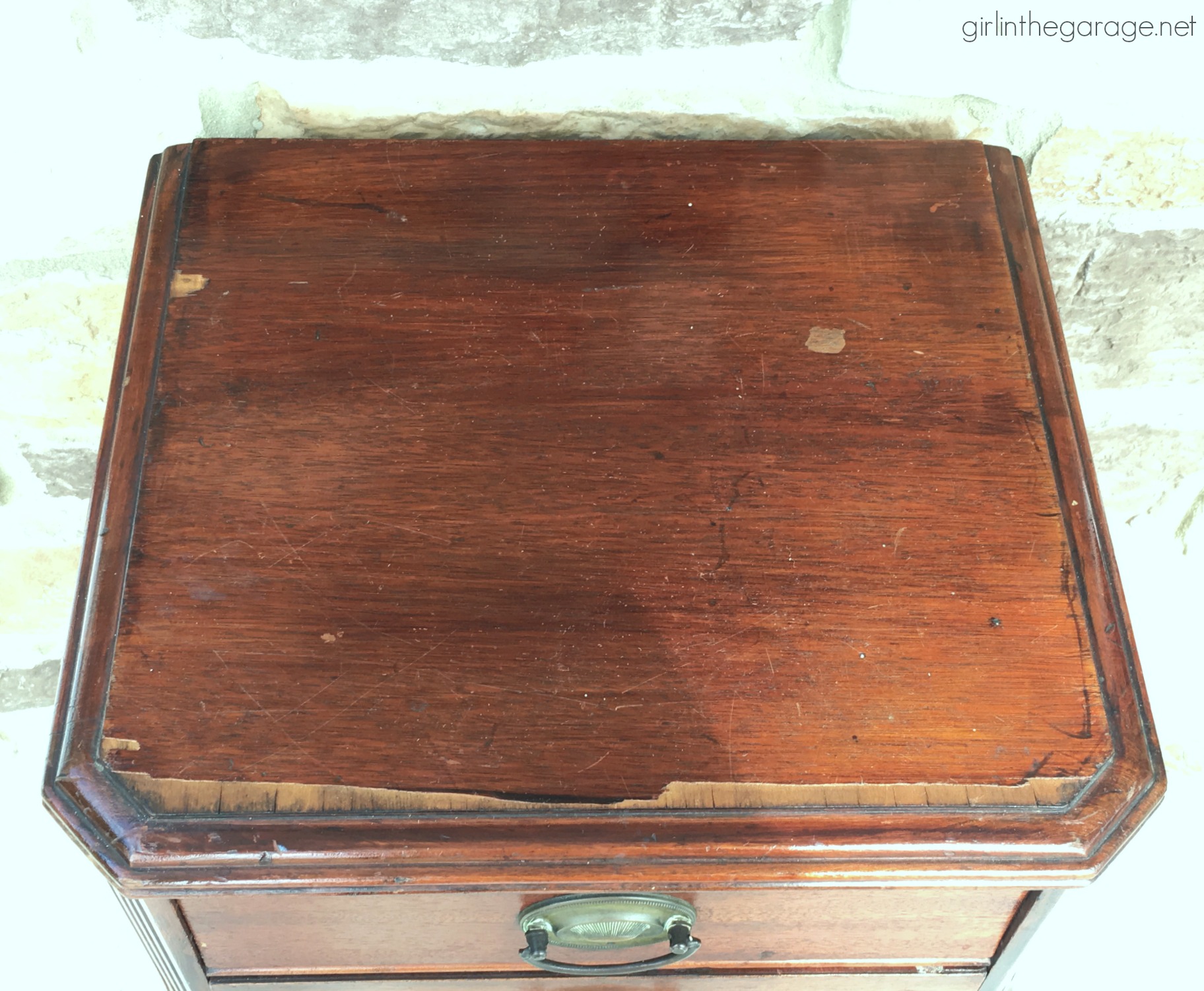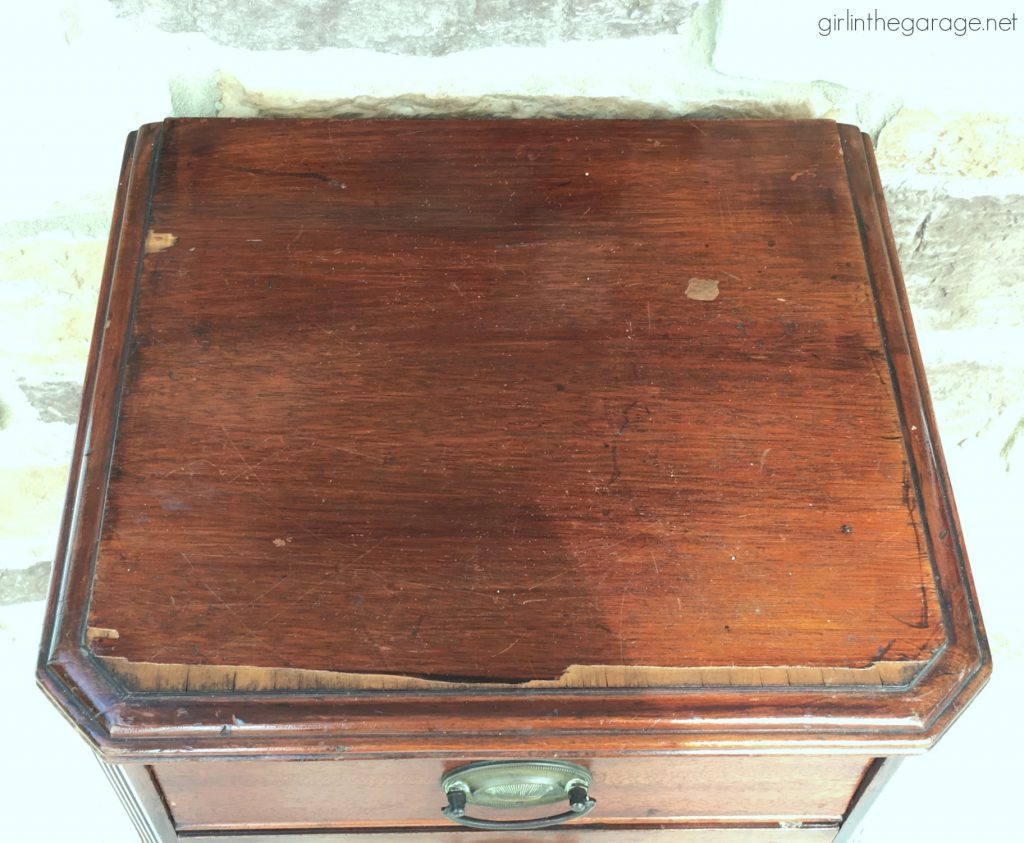 But that foot.  Ouch, what a pain.   I'm going to be completely honest here and tell you that I thought about scrapping this project completely.  There's a curved foot missing; how on earth is that fixable?!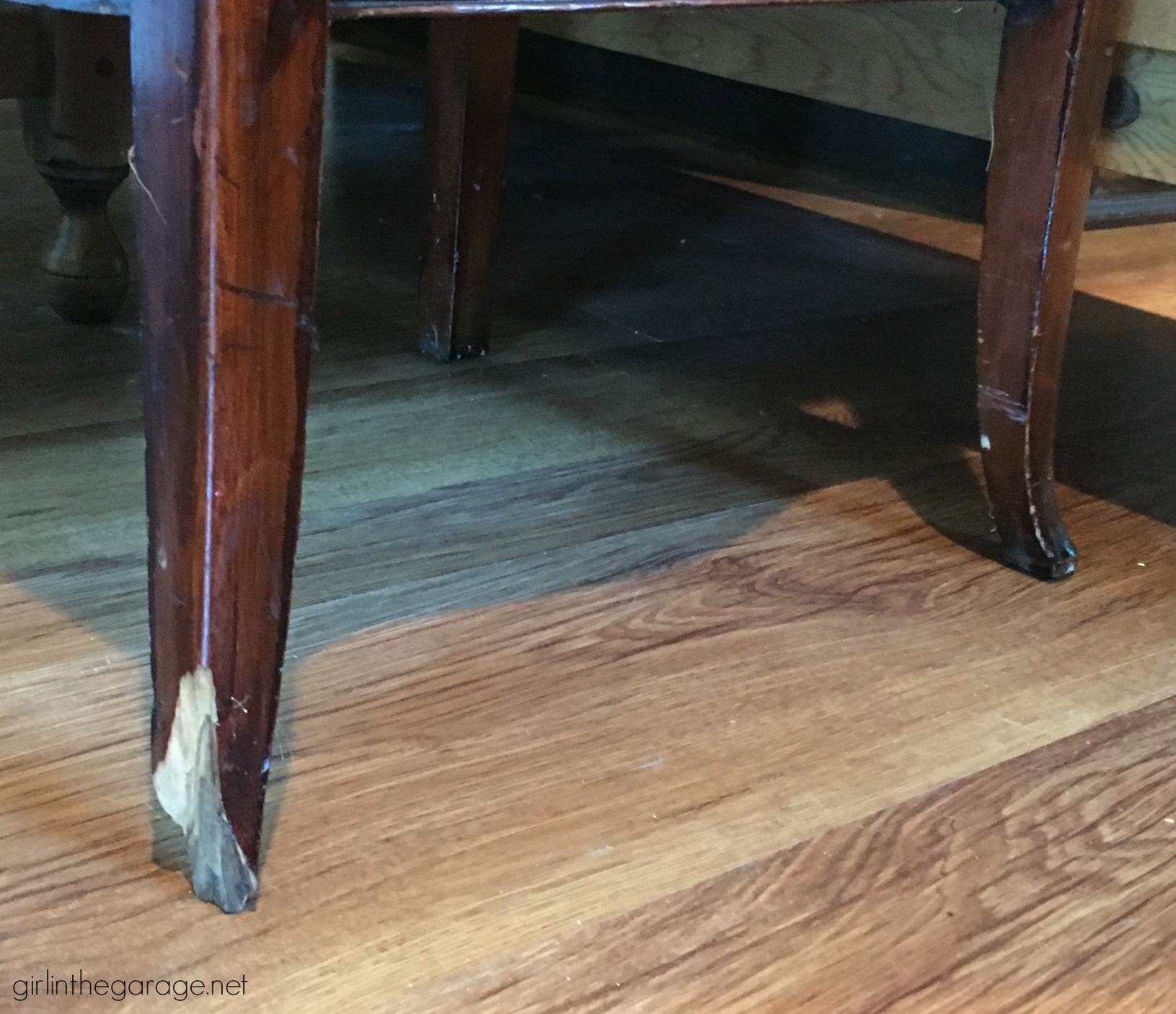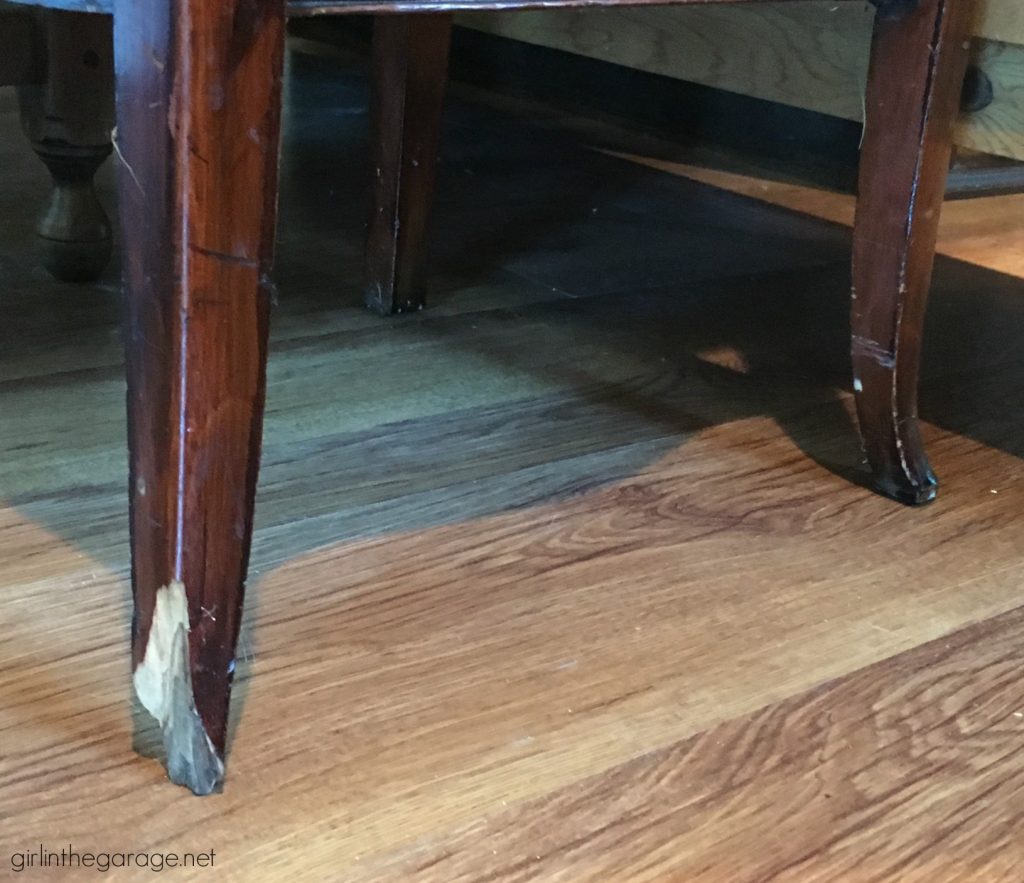 I figured "what the heck."  I'd make an attempt at this end table makeover and if it didn't turn out, then at least I tried.  (I don't like to back down from a furniture challenge.)
But when I laid the table on its back side, I discovered a huge crack on the bottom of the shelf.  This table keeps getting better!  It wasn't noticeable from the top at all, but any pressure on the shelf made it curve low.  I thought about trying to brace it, but with all the issues adding up, I needed an easy fix.  So I killed the shelf.   I hammered and smashed and yanked until it was just a bad memory.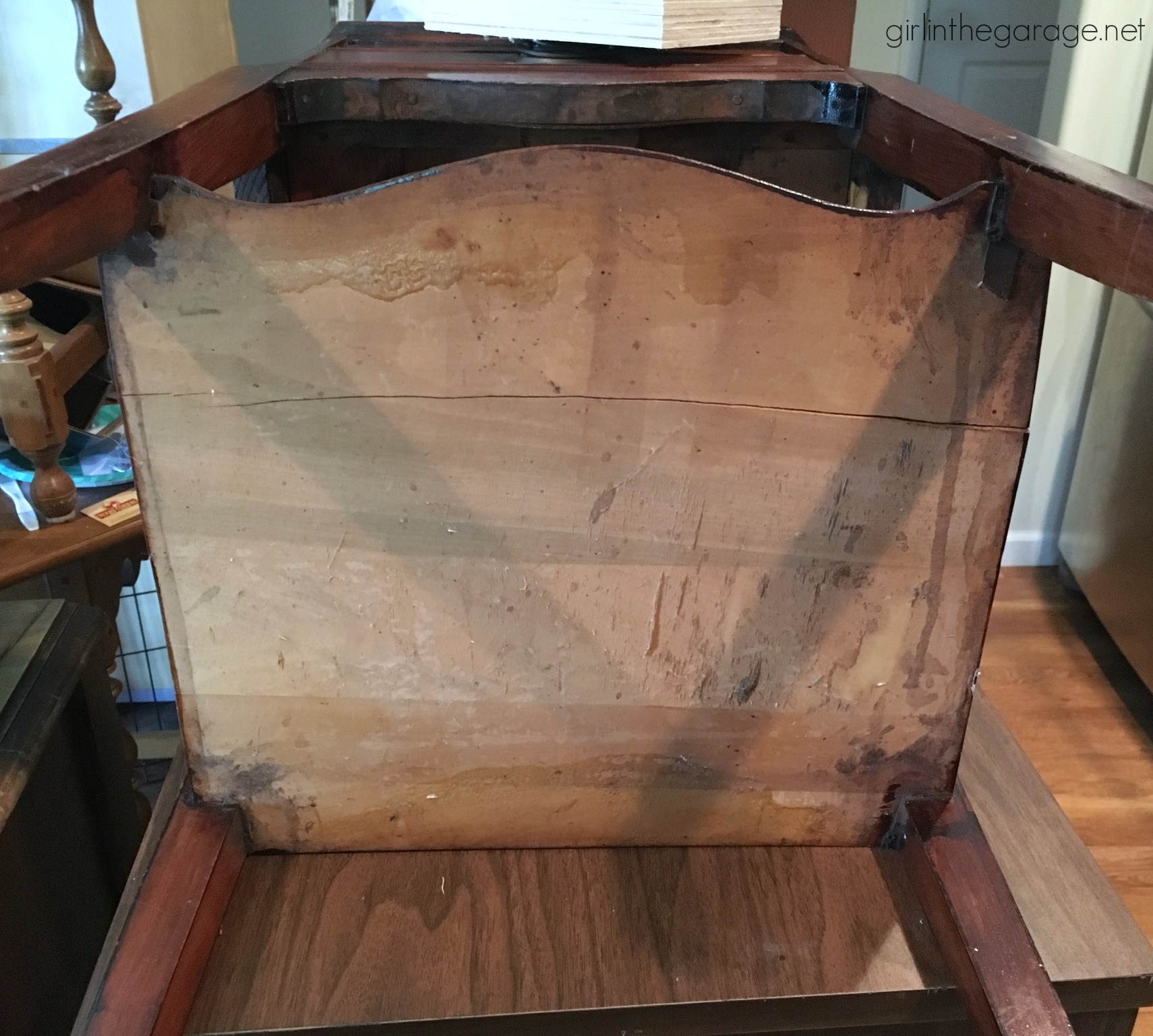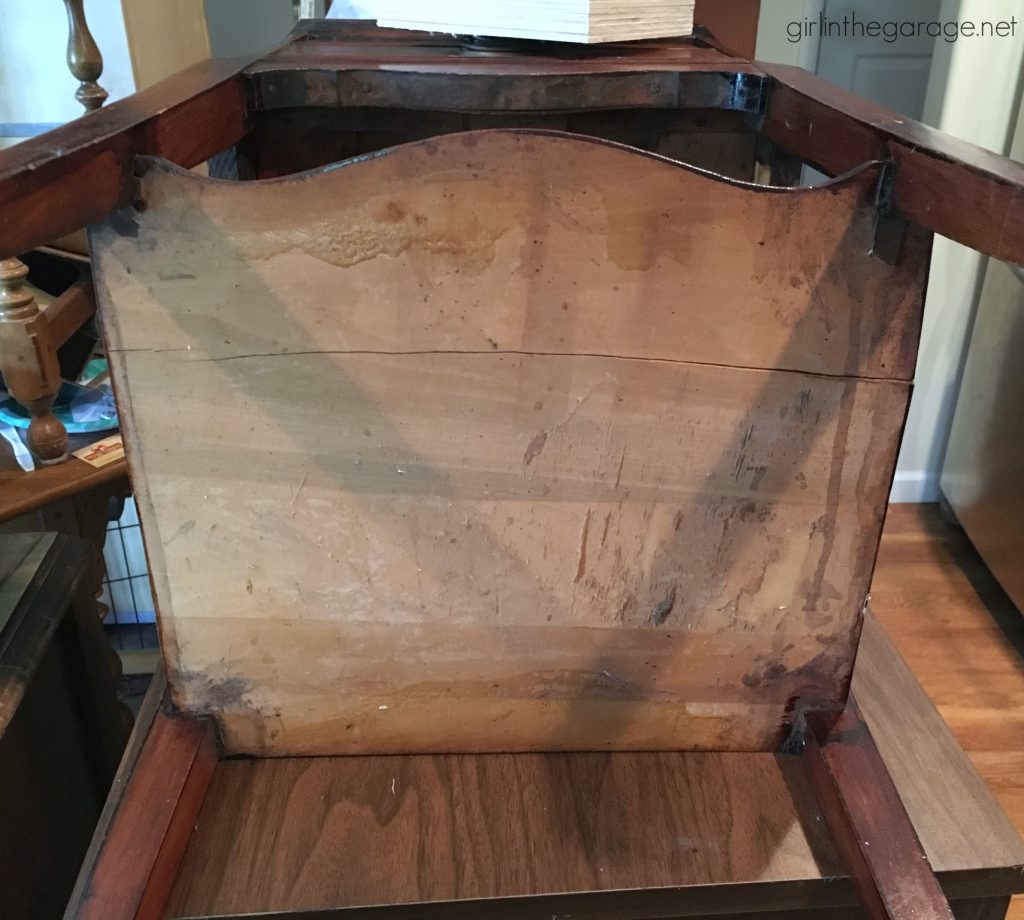 To fix the missing veneer on top, the big holes in the legs where the shelf used to sit, and to try and recreate the missing curved foot – I used Minwax Wood Filler (find it Here).
I worked in small layers, letting each layer dry and lightly sanding it smooth, over and over again, eventually making every wonky part look like it was mostly normal.  Was it perfect? No.  Was good enough to look like a gently time-worn antique end table?  Yes.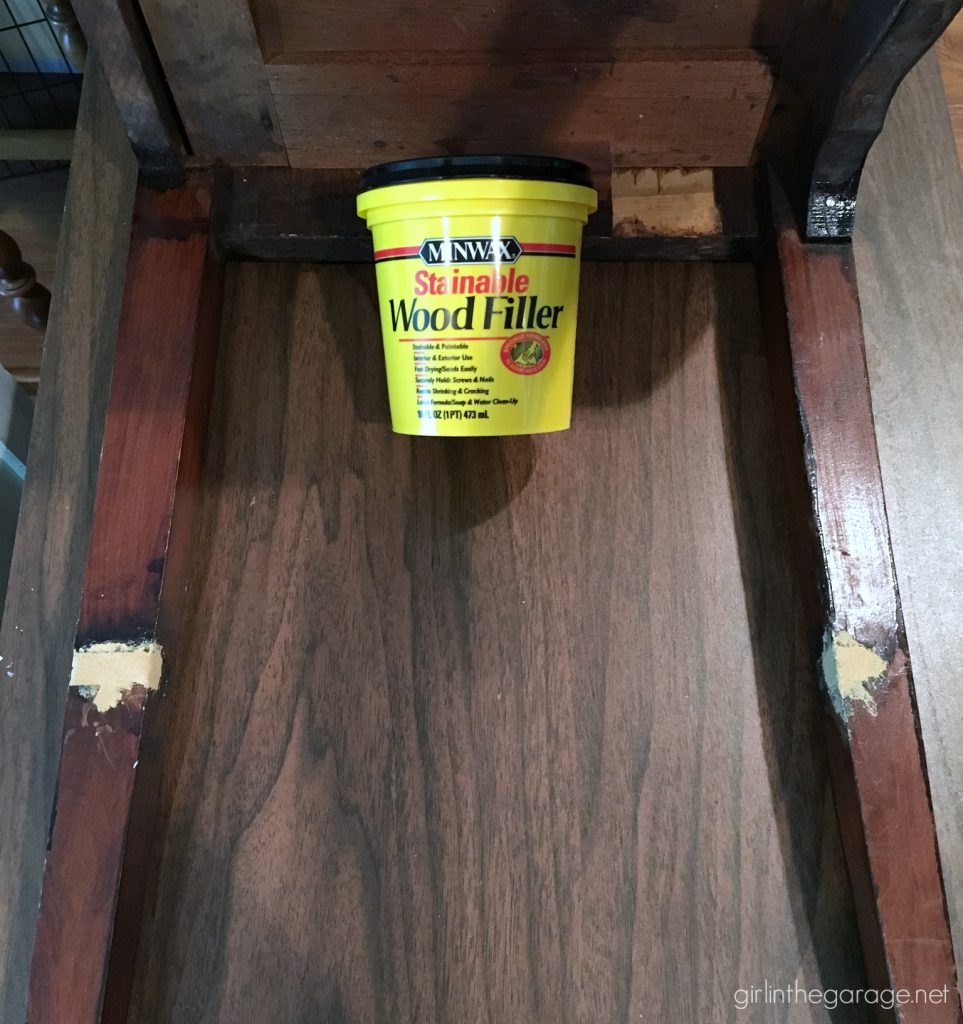 The table was primed with my favorite shellac (find it Here) to prevent bleed through, painted in lovely Paris Grey by Annie Sloan Chalk Paint (Here), lightly distressed, and protected with Fusion Tough Coat (Here).
This table needed some femininity, so I applied floral scrapbook paper with Mod Podge for surprise decoupage drawers.  Finally, I left the original hardware as-is.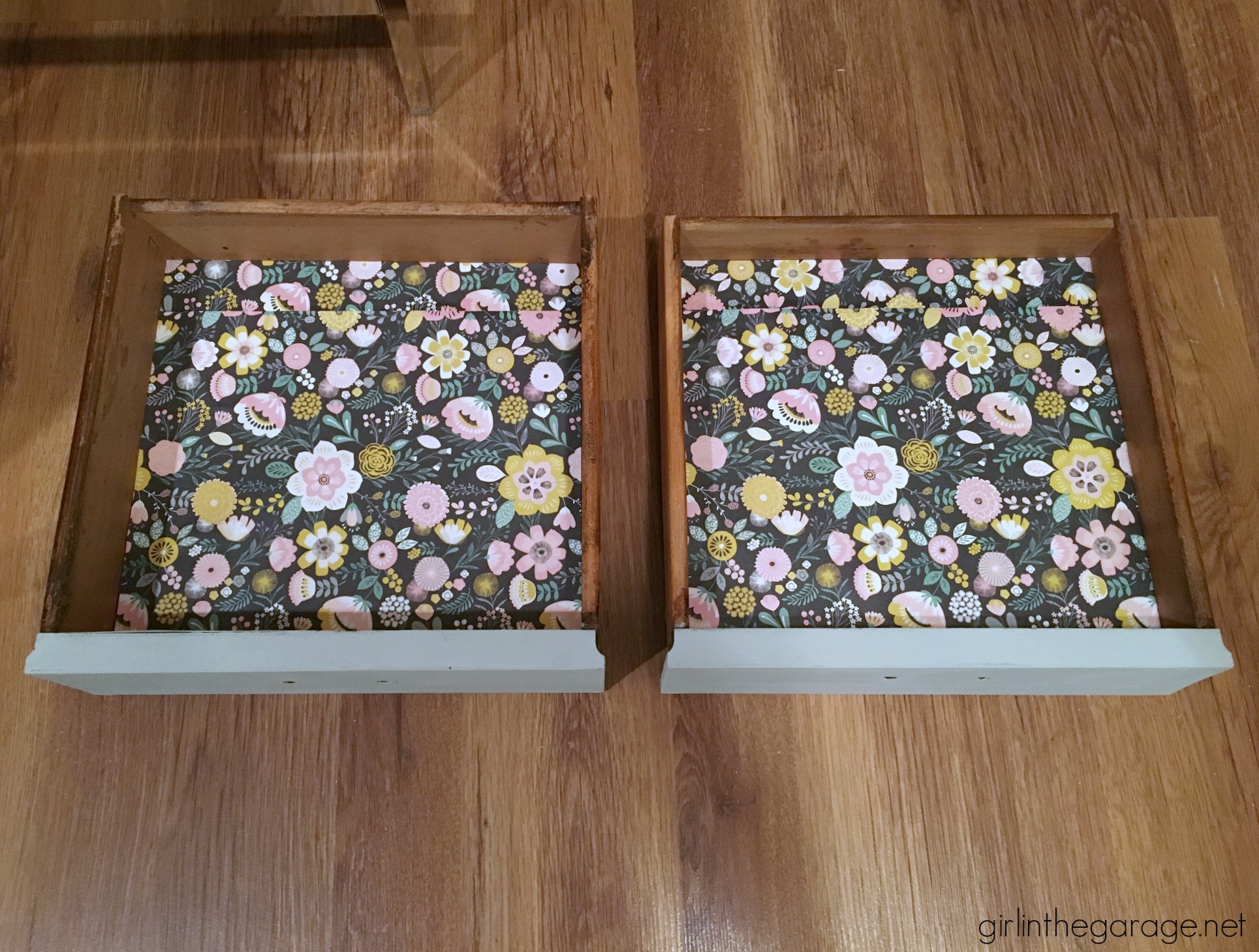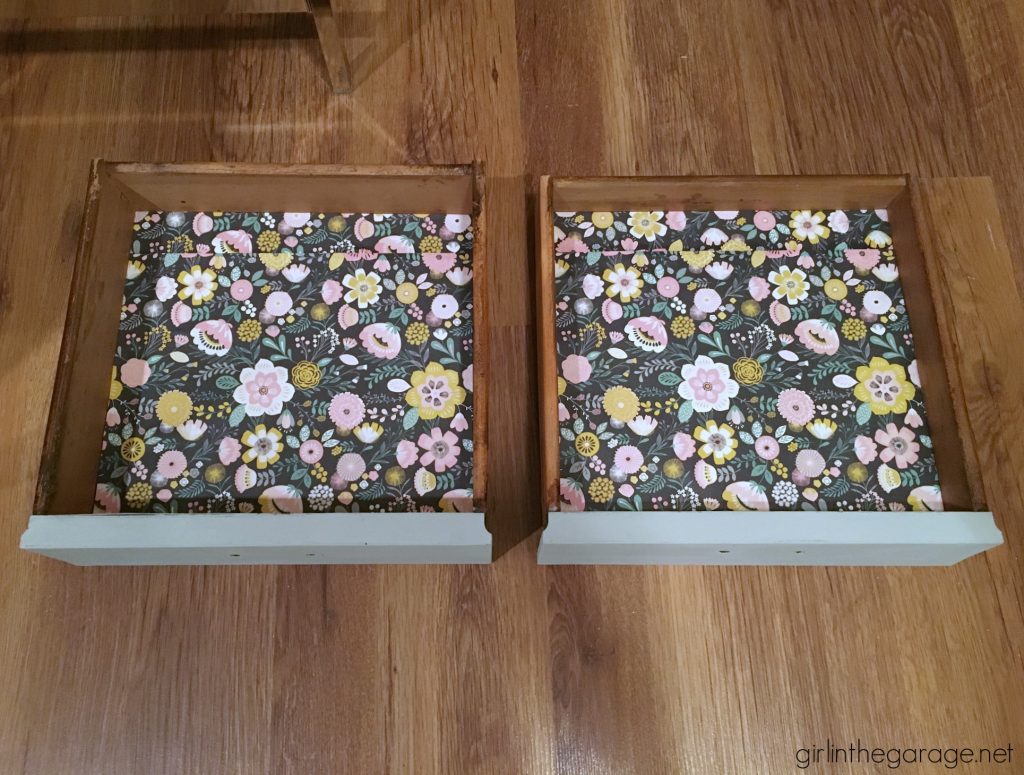 Notice the foot?  Would you really have noticed if I hadn't told you all about it?  😉  And you can't hardly tell there was ever a shelf there either.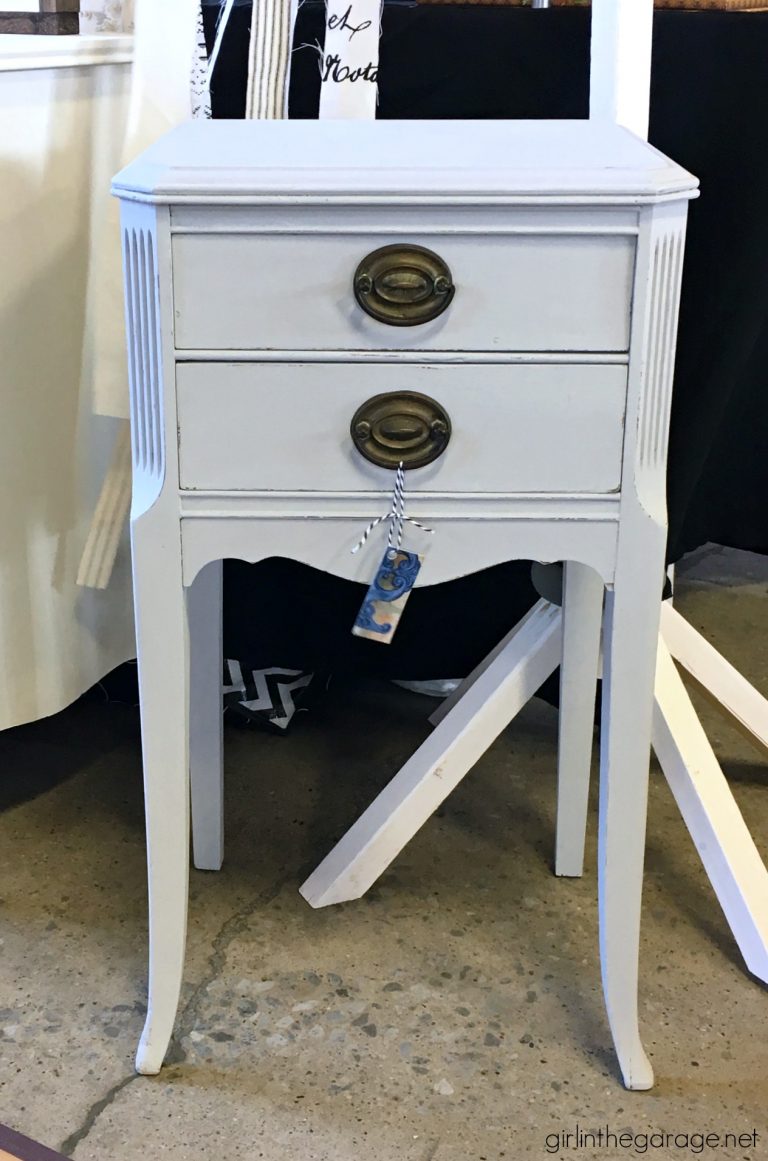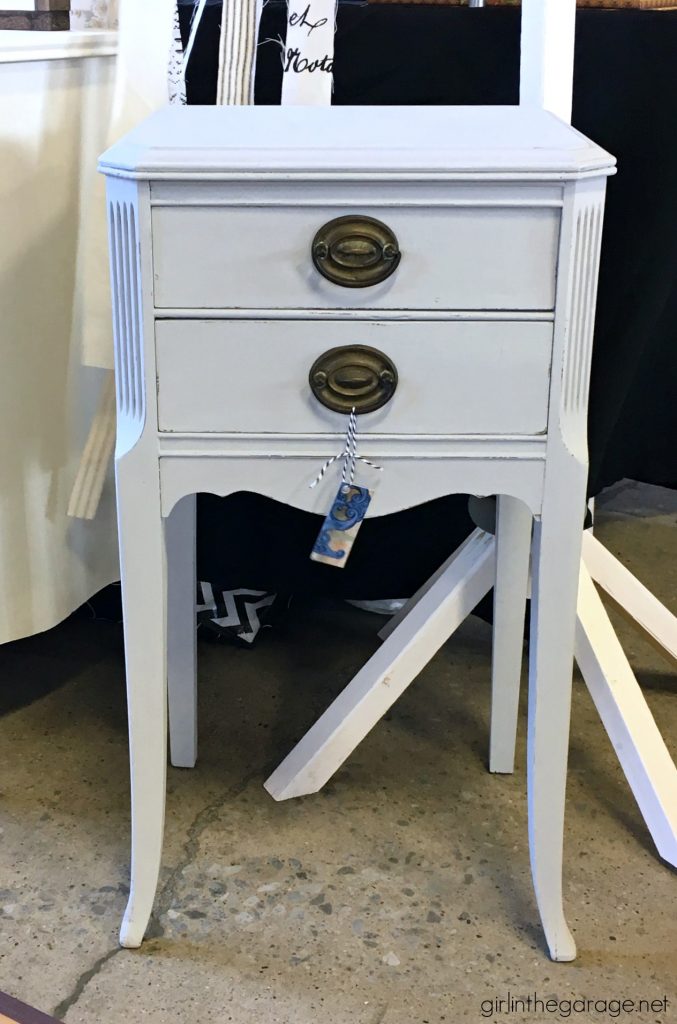 This piece was finished just in time for my last market; I hardly had time to take any photos!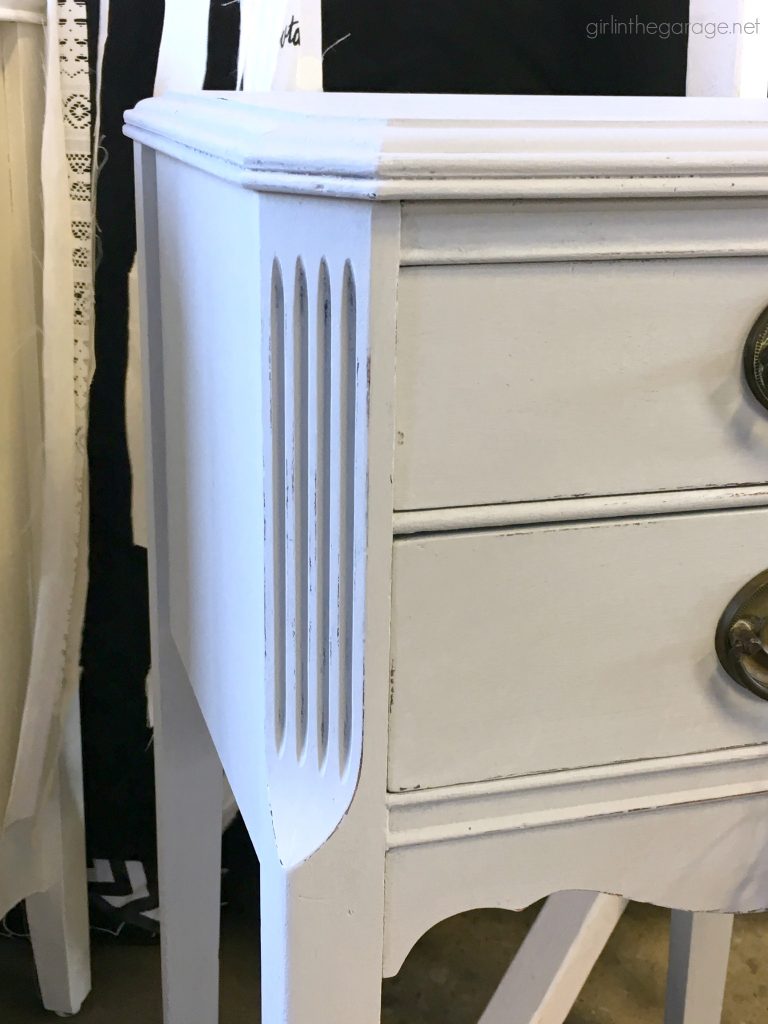 Hello, lovely flowers…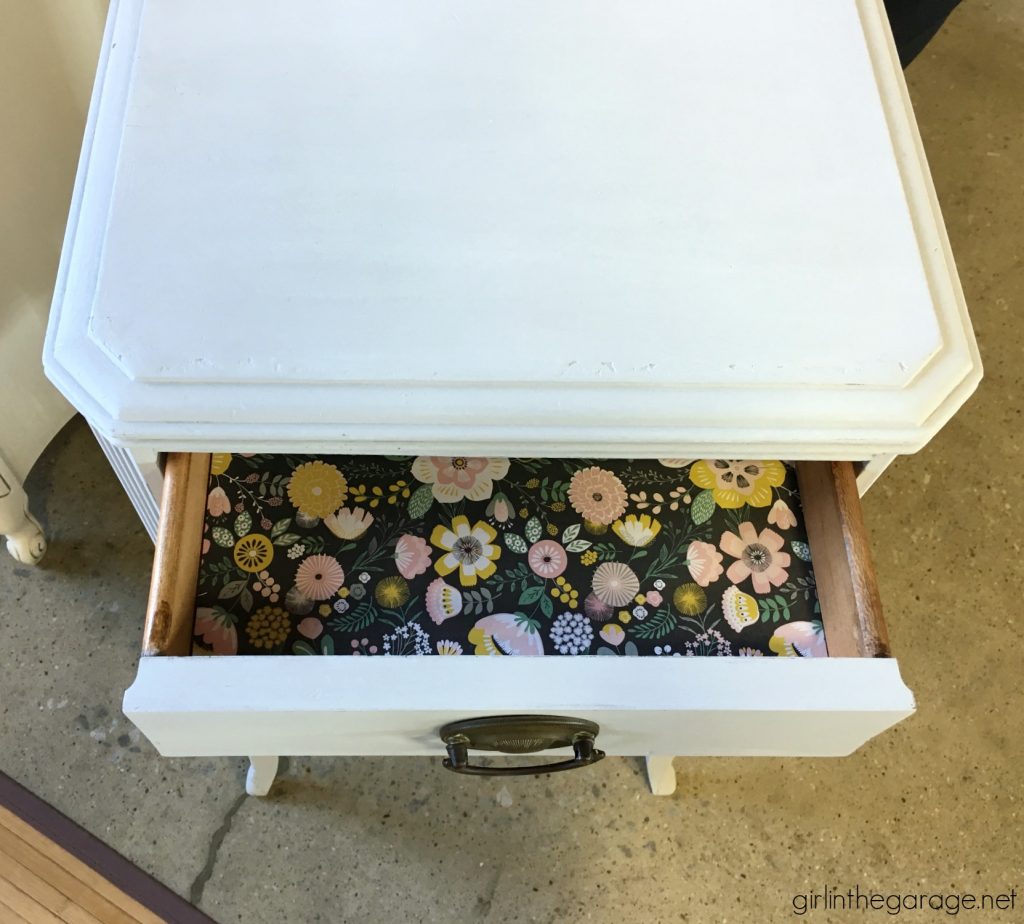 Here's a before/after comparison again: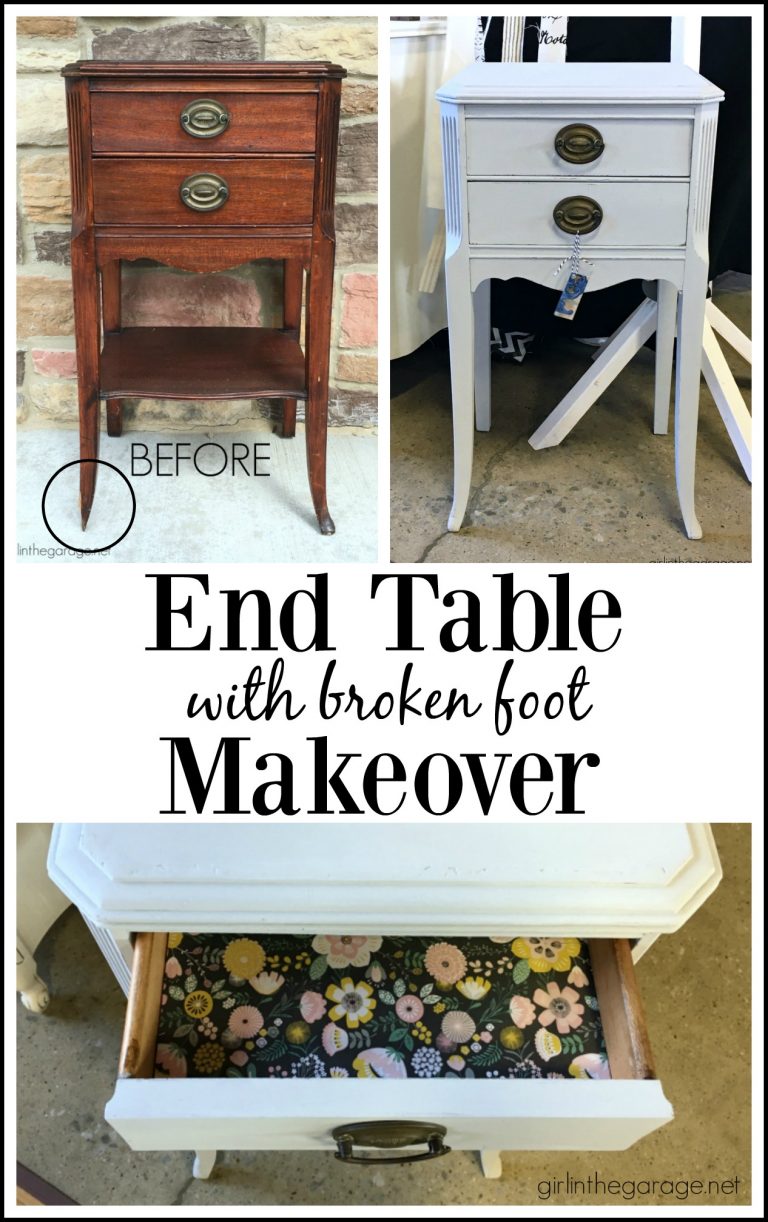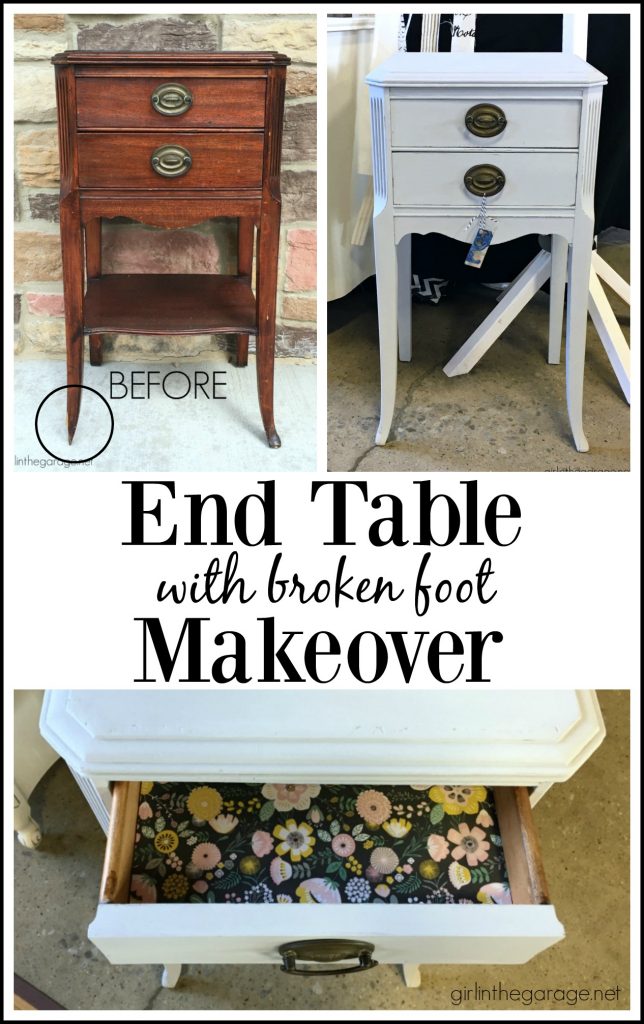 I would love to hear your thoughts – so please tell me!  Would you have gone through with this end table makeover, knowing all the issues it had?  Or would you have gone about transforming it differently?  I'm happy to report that it has a new home, and thankfully it didn't end up in the trash pile!
If you love a good trash to treasure makeover, you have to see what projects my friends have this month: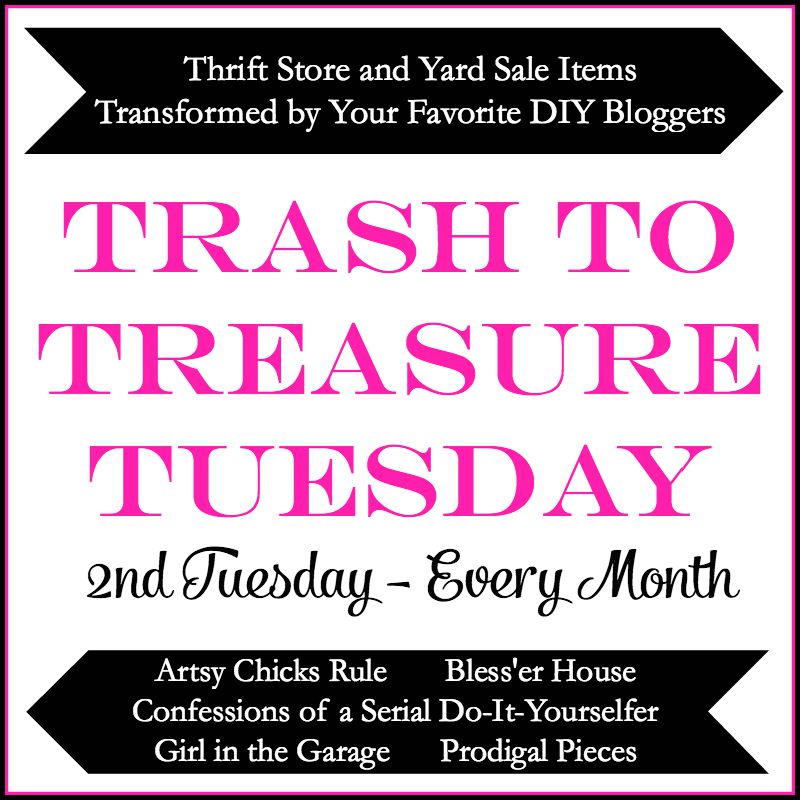 Below are the Before photos – click the links underneath to see the Afters and to learn how they did it.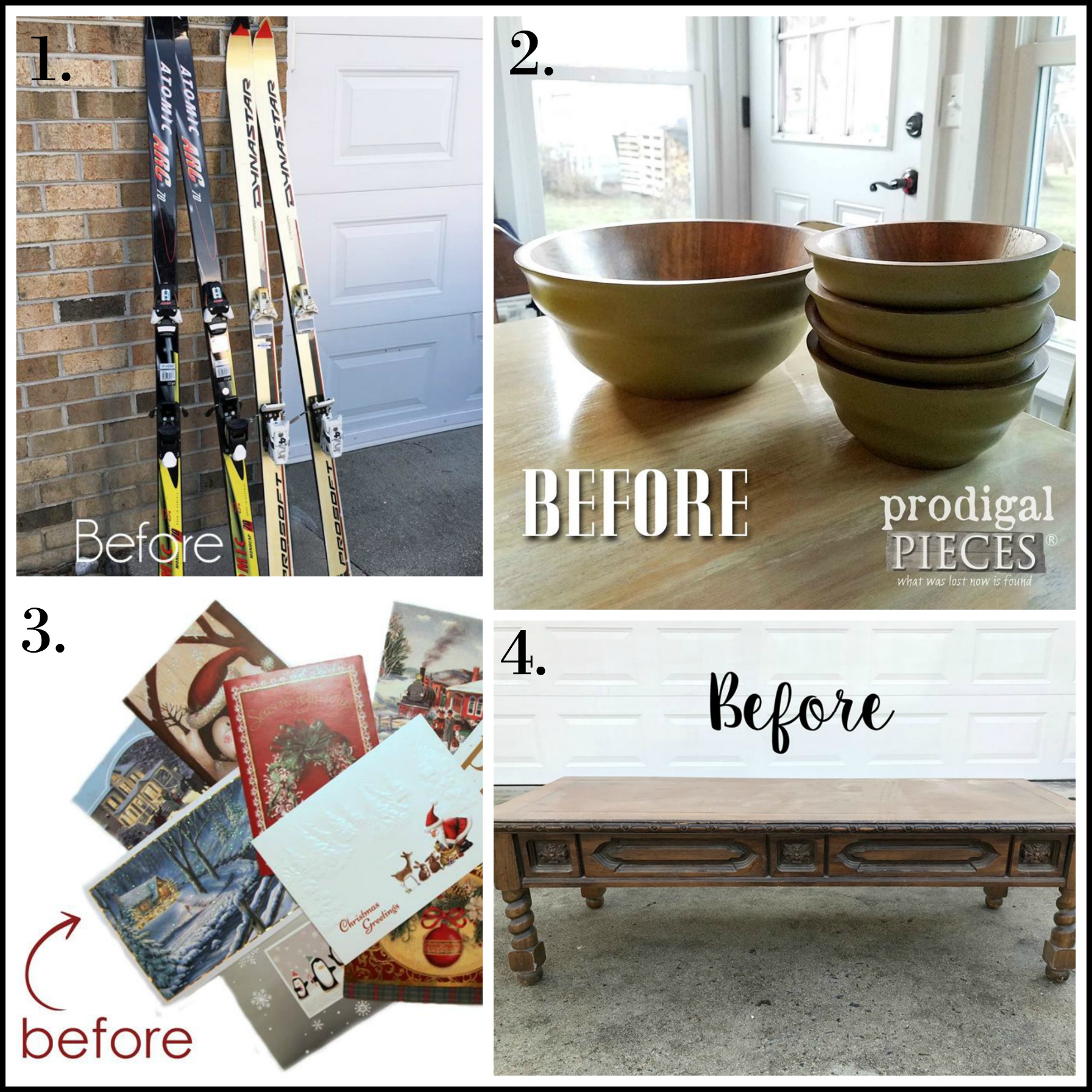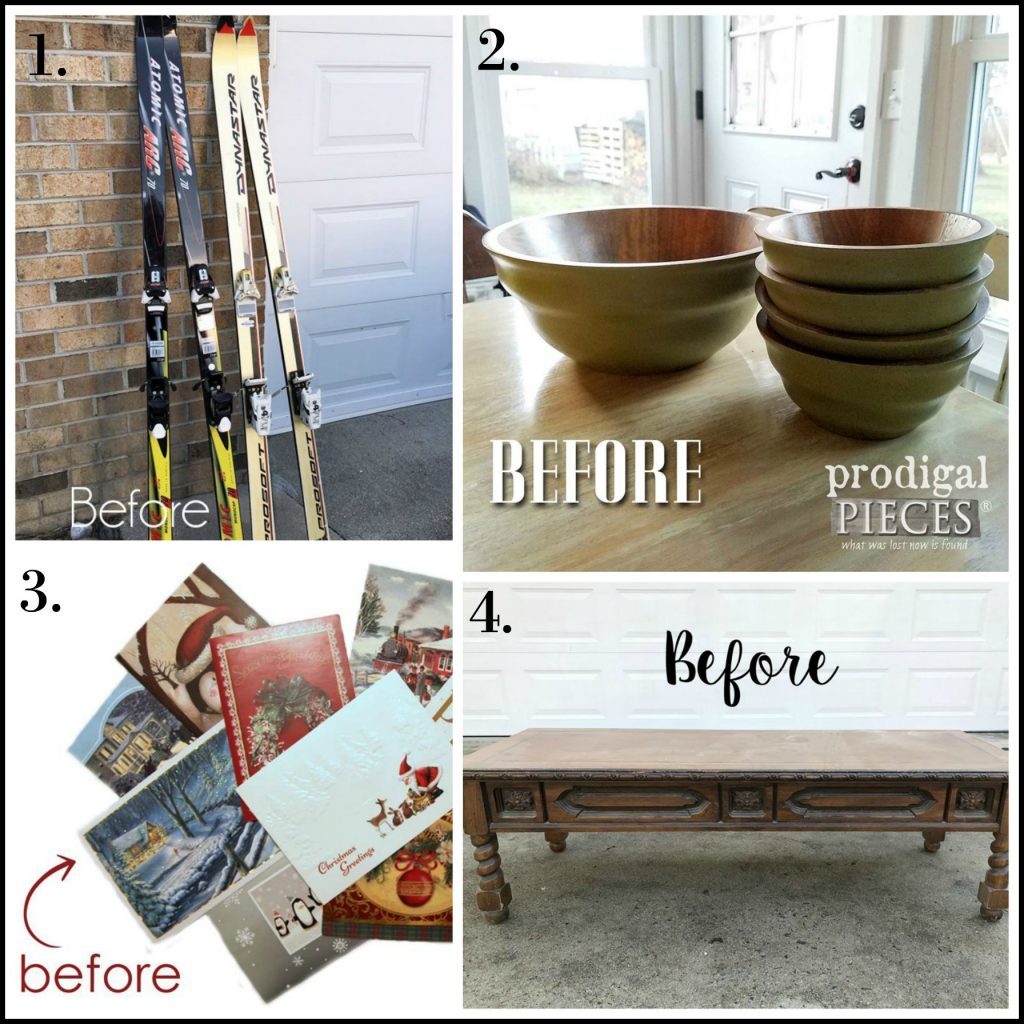 1. Confessions of a Serial DIYer
2. Prodigal Pieces
3. Artsy Chicks Rule
4. Bless'er House
.
Now Available:  Huge master list of all my favorite DIY products! Click Here.