How to Make a Stunning DIY Fabric Garland Backdrop (Don't worry, it's easy!)
You guys know I love doing vintage markets, and I've written several posts about them which you can read here. My problem (okay not really a problem) is – I'm always thinking of new ways to personalize my booth and make it both more eye-pleasing and functional.
The challenge: What can I use as "walls" for my space that can be used indoors or outside, can be configured to different size spaces, is easily transportable, gives a little privacy from neighbor vendors, and is totally cohesive with my brand and style?
AND I wanted to be able to hang it from the "trees" that Guy in the Garage built for me because I totally love them. (The pennant banners that I used before were just okay.)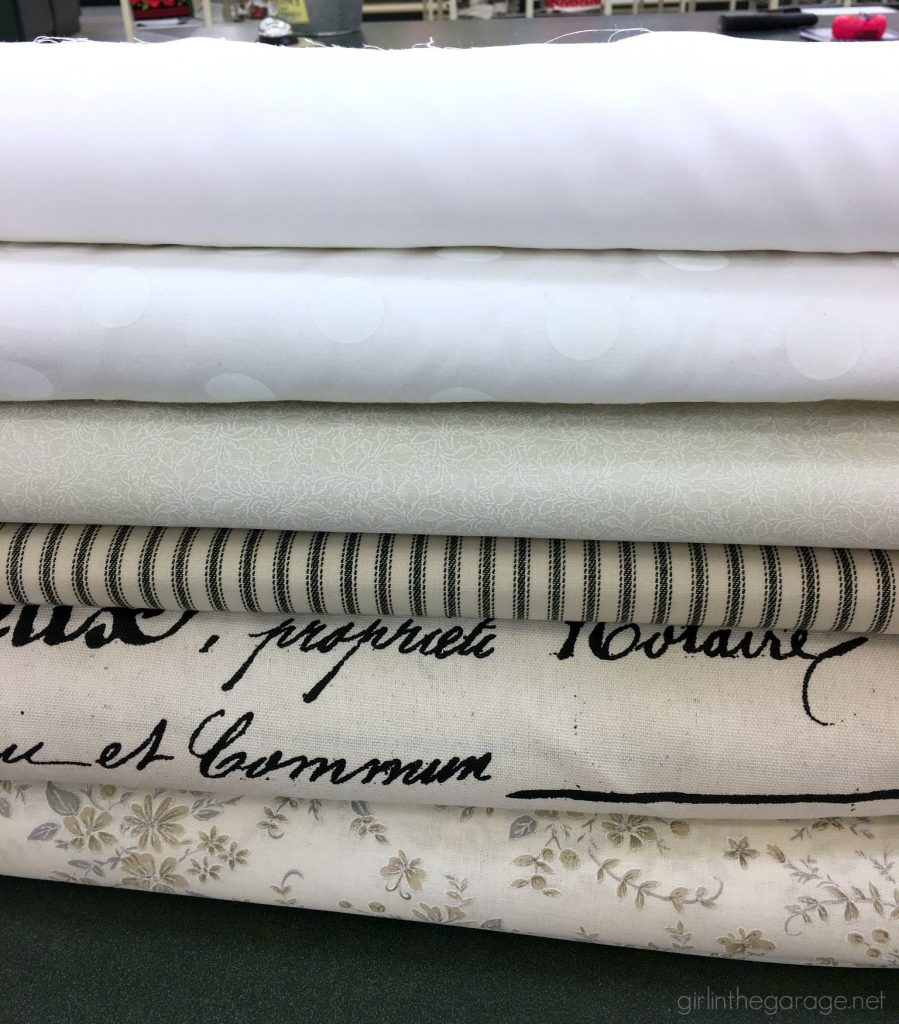 I wanted a really huge one about 5-6 ft. long and about 10 ft. wide to use as an entire wall (x2)…. By the way, I could've ordered these on Etsy but it would've cost me hundreds of dollars for this size.
**This post contains some affiliate links, at no extra cost to you, so you can easily find the products I use and recommend.
Supplies to Make a Fabric Garland Backdrop:
It really depends how big you want your backdrop to be, but I spent about $85 on six neutral coordinating fabrics (about 2-4 yards each) to make a DIY fabric garland backdrop. I've seen these online, used at weddings and birthday parties behind a cake table or anywhere you'd want a pretty fabric backdrop (I've made smaller ones that I hang on my mantel sometimes).
Besides the fabric, I used a Fiskars self-healing cutting mat, a Fiskars rotary cutter, a ruler, and jute rope.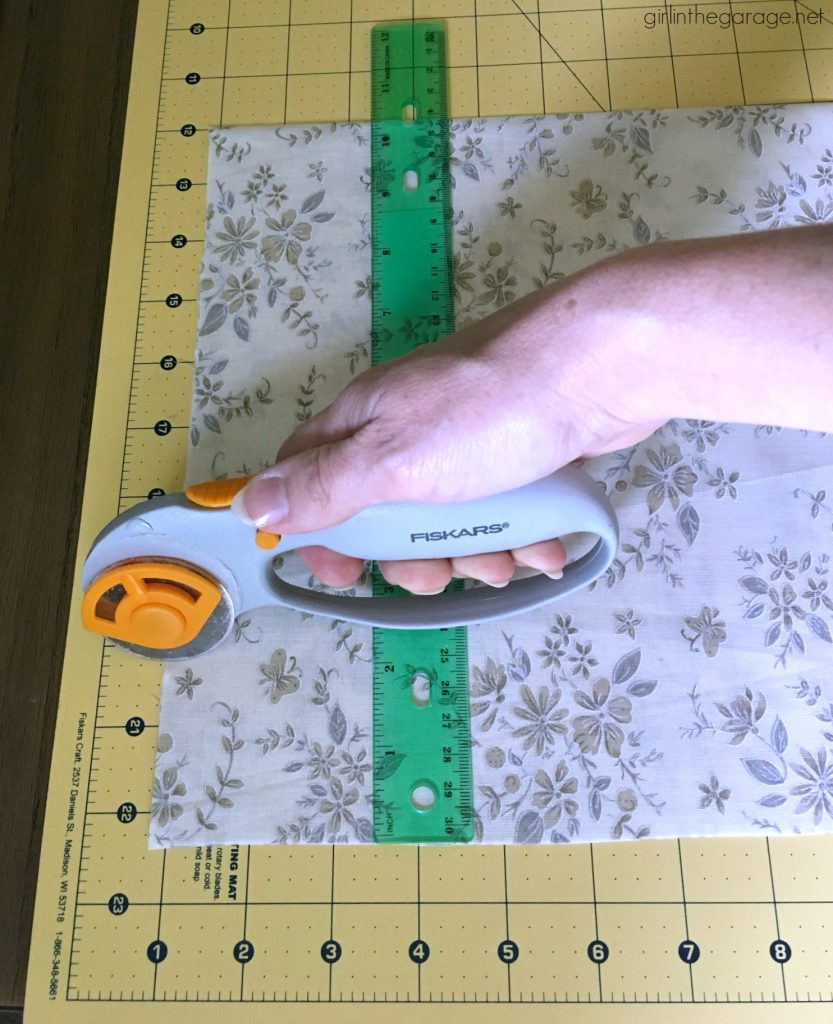 Directions for How to Make a Fabric Garland Backdrop:
First, lay your fabric flat on the cutting mat. You can have it folded in half to make cutting quicker. Lay a ruler on the edge of the fabric and cut at 2-inch intervals. The rotary cutter is an absolute must-have tool because using scissors would take forever and would make your hands cramp horribly.
Slide the ruler down about a foot at a time and keep an eye on it as you're rolling the cutter. The line should be as straight as possible, but it doesn't need to be perfect.
The strips were all between 5-6 ft. long.
I got lucky and found a little bit of leftover lace from another project. Lay the folded strips out for easy access and get the jute rope ready.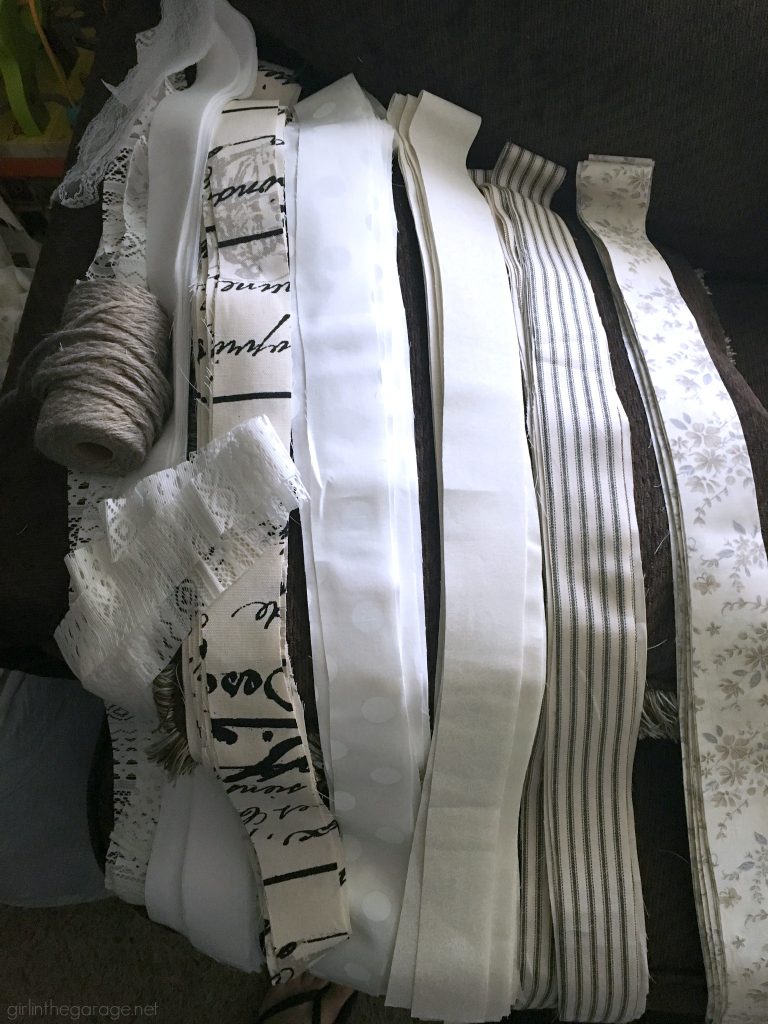 Leave about 18 inches of empty cord on each end. Then tie the strips on in no exact order, random is best. Stagger the length a little too, tying some up higher and then letting the excess just hang down.
I like to tie them on in a loop knot so it's a little prettier across the top of the garland.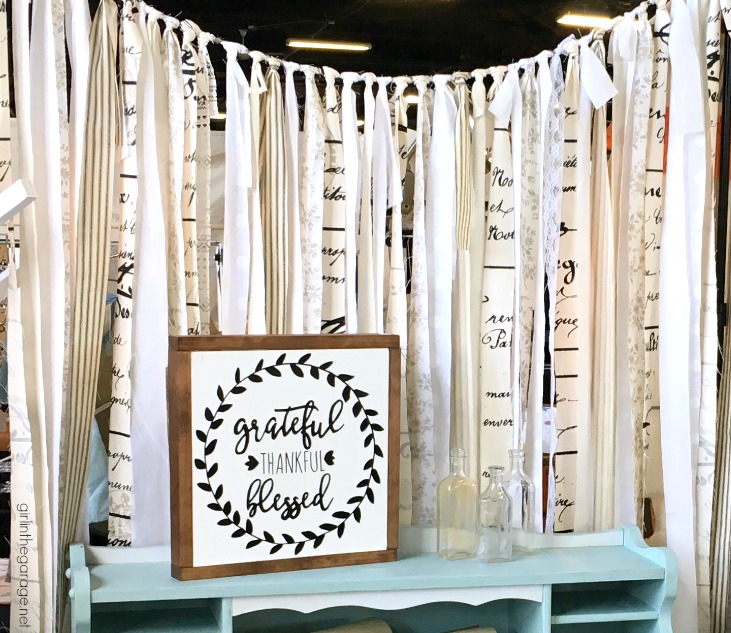 It was unseasonably hot at my last market, so the windows were open and fans were blowing.
I tied another jute string across about halfway down behind the DIY fabric garland to keep it from blowing wildly into my neighbors' booths. (But it is so pretty to watch it gently swaying in the breeze!)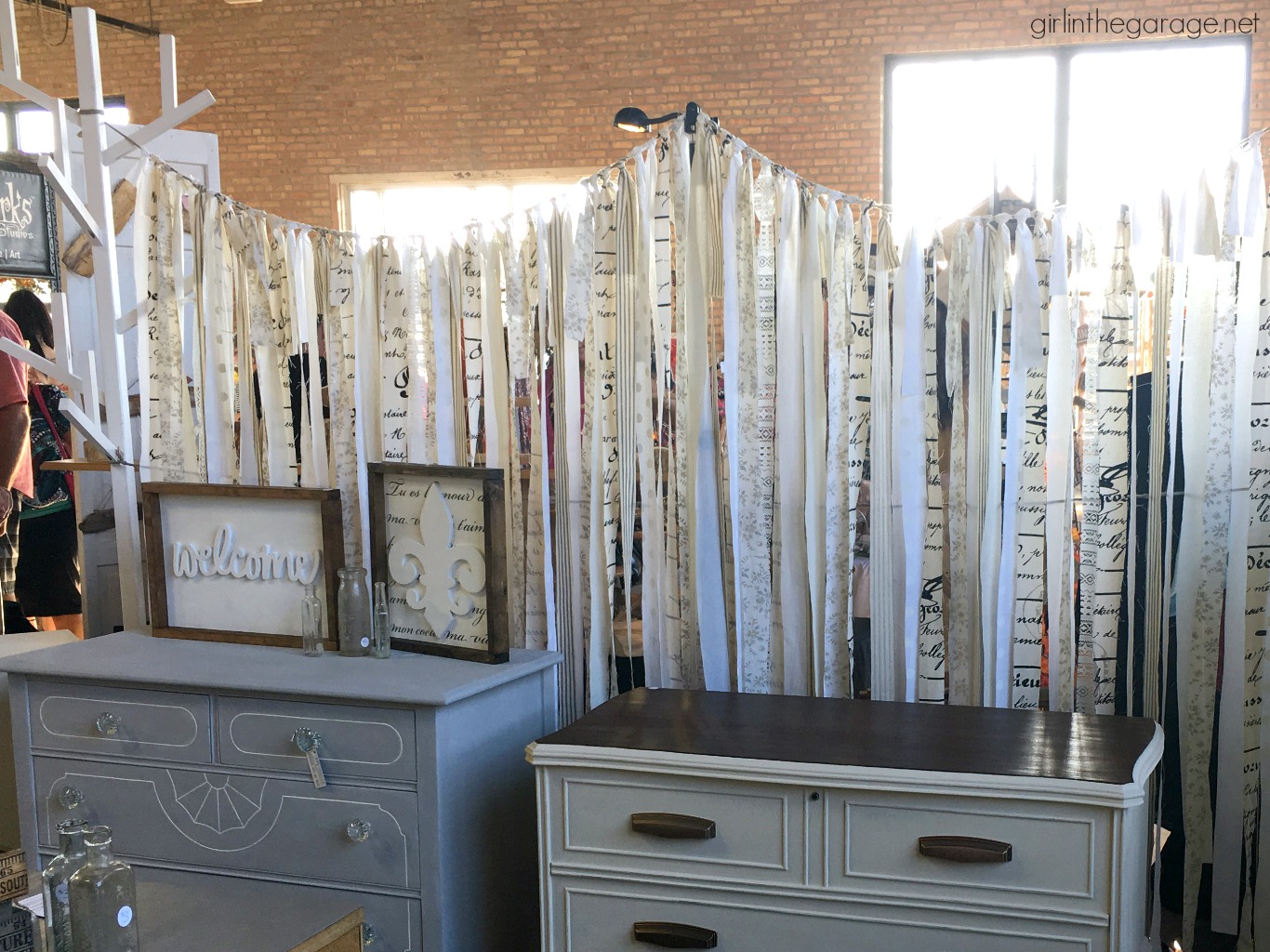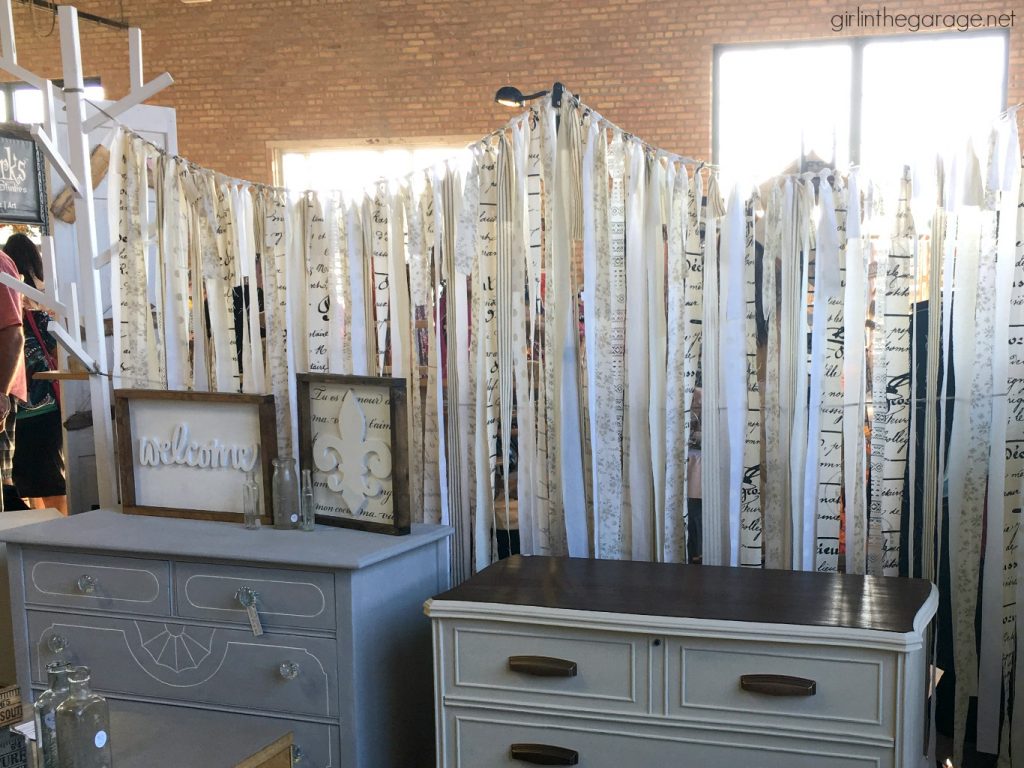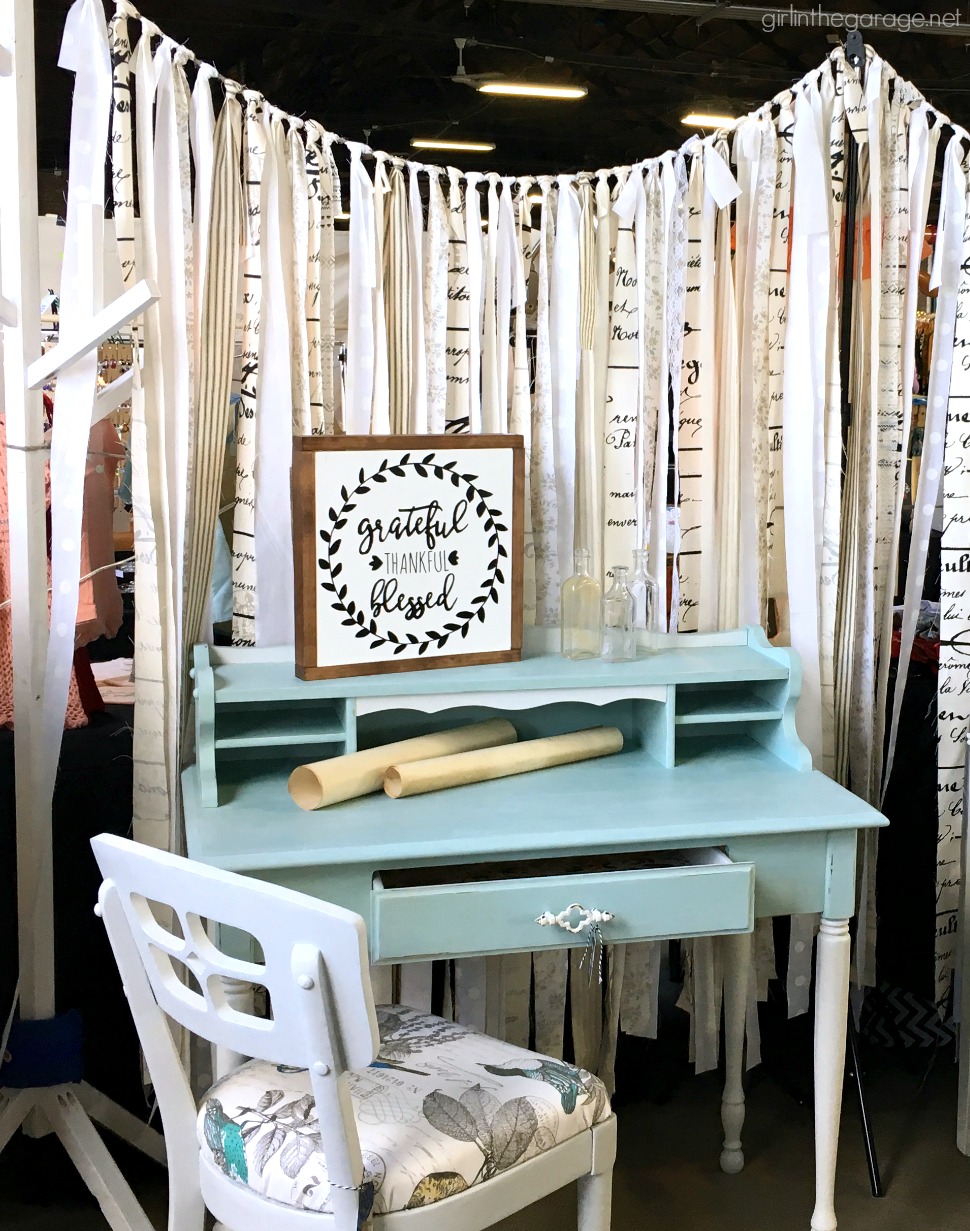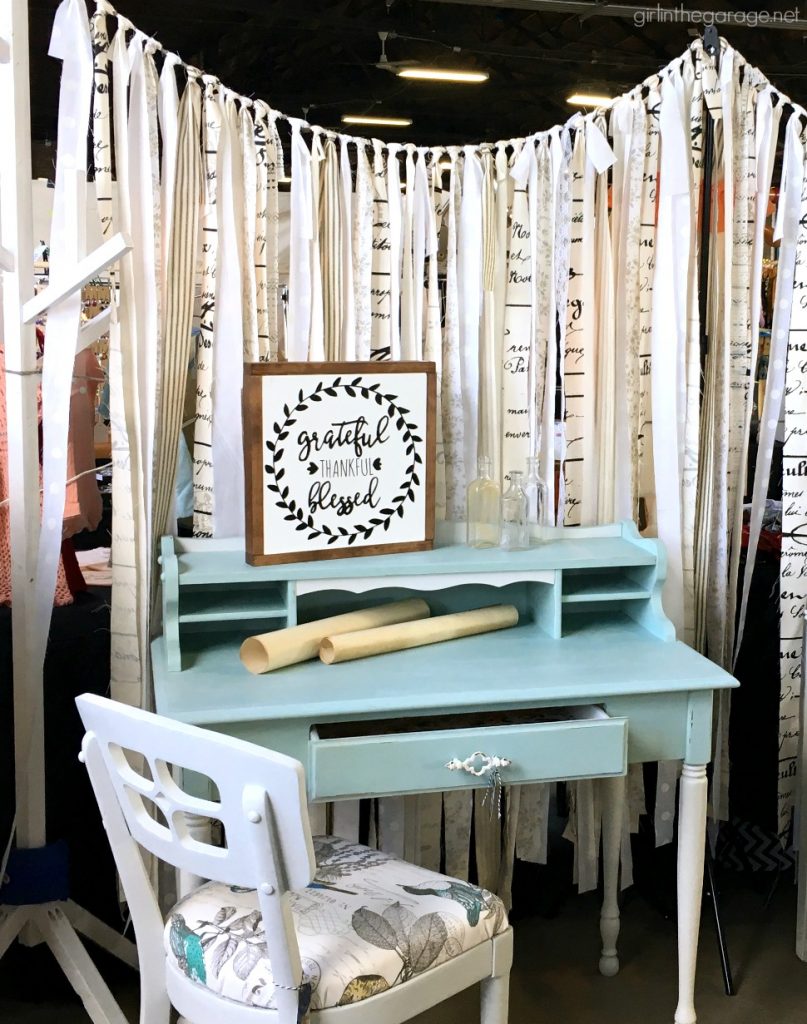 This was my booth space. It was really wide so it was hard to get a photo of the entire area, but you can see how the garland looks.
Because it was so wide and a little heavy, I used two stands from my lighting equipment to hold up the middle on each side. Also I weighted down the trees with ankle weights for extra support.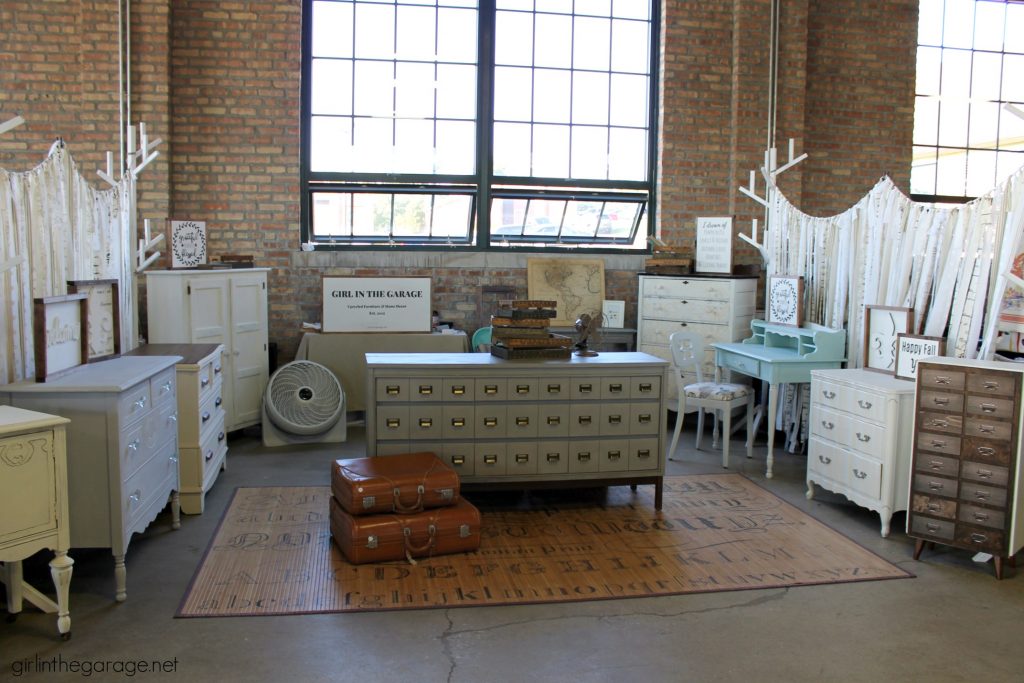 I'll always have a special place in my heart for this plain midcentury dresser turned faux card catalog. You can read about that makeover Here.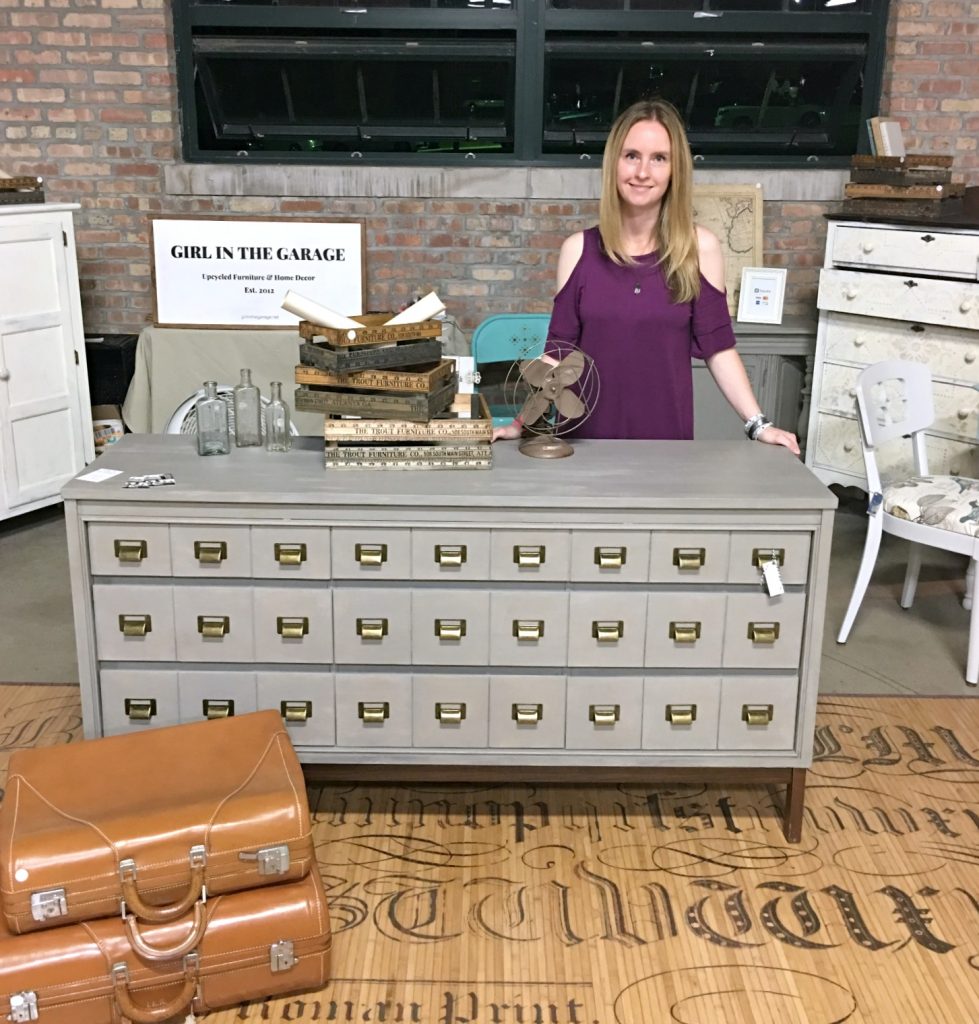 We also made a new wooden sign for my market space, since the hanging banner that I use in my antique booth is too small for this wide space. (I'm really happy with how it turned out, especially since we're still pretty new to making signs!)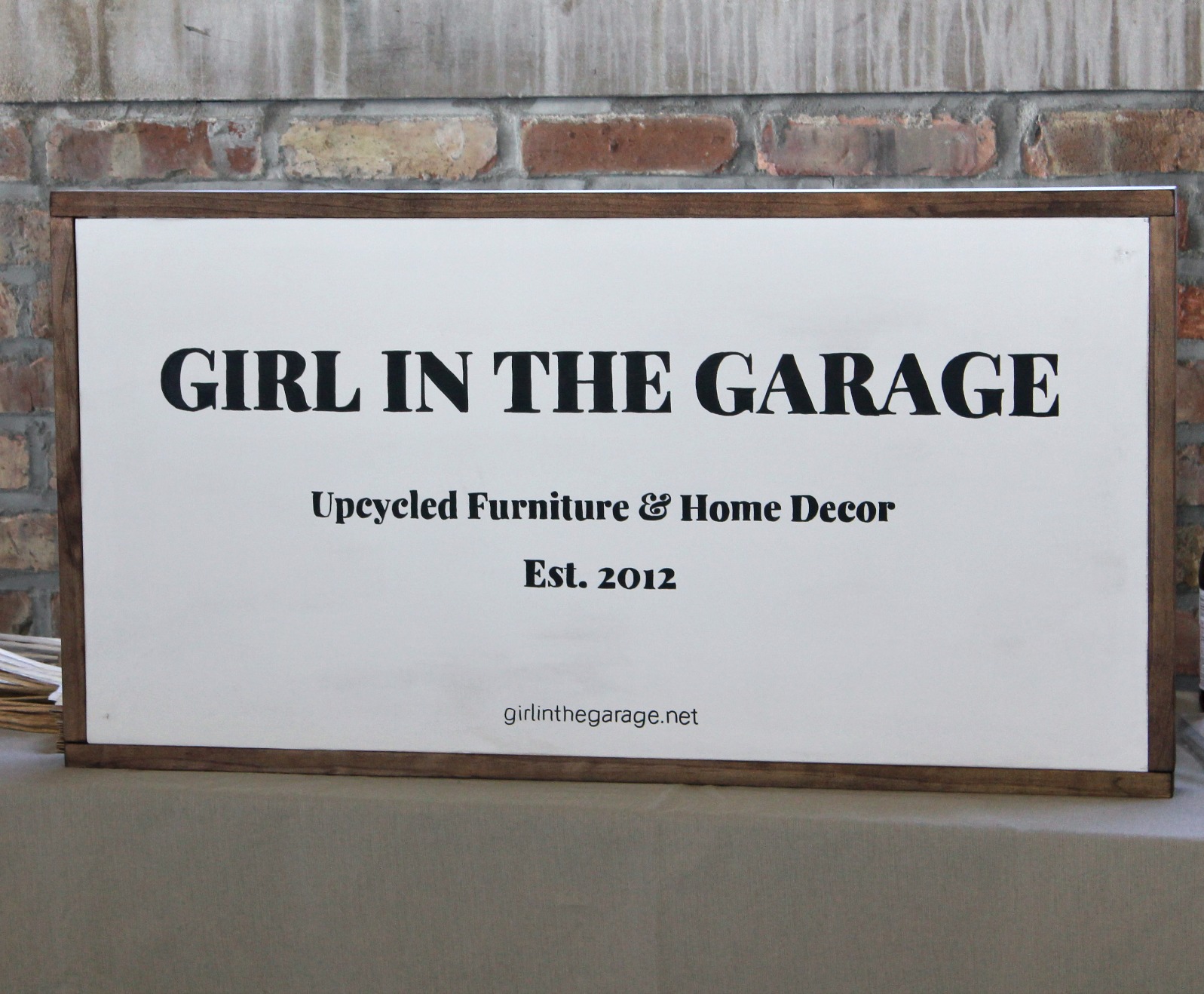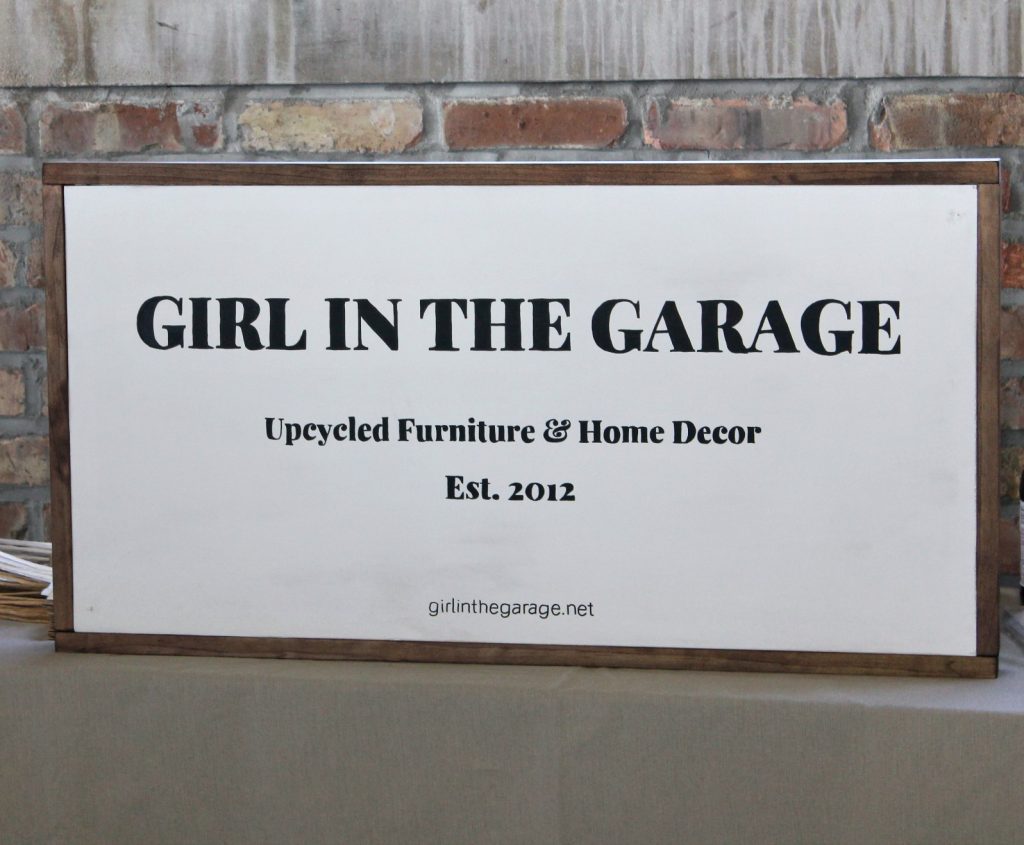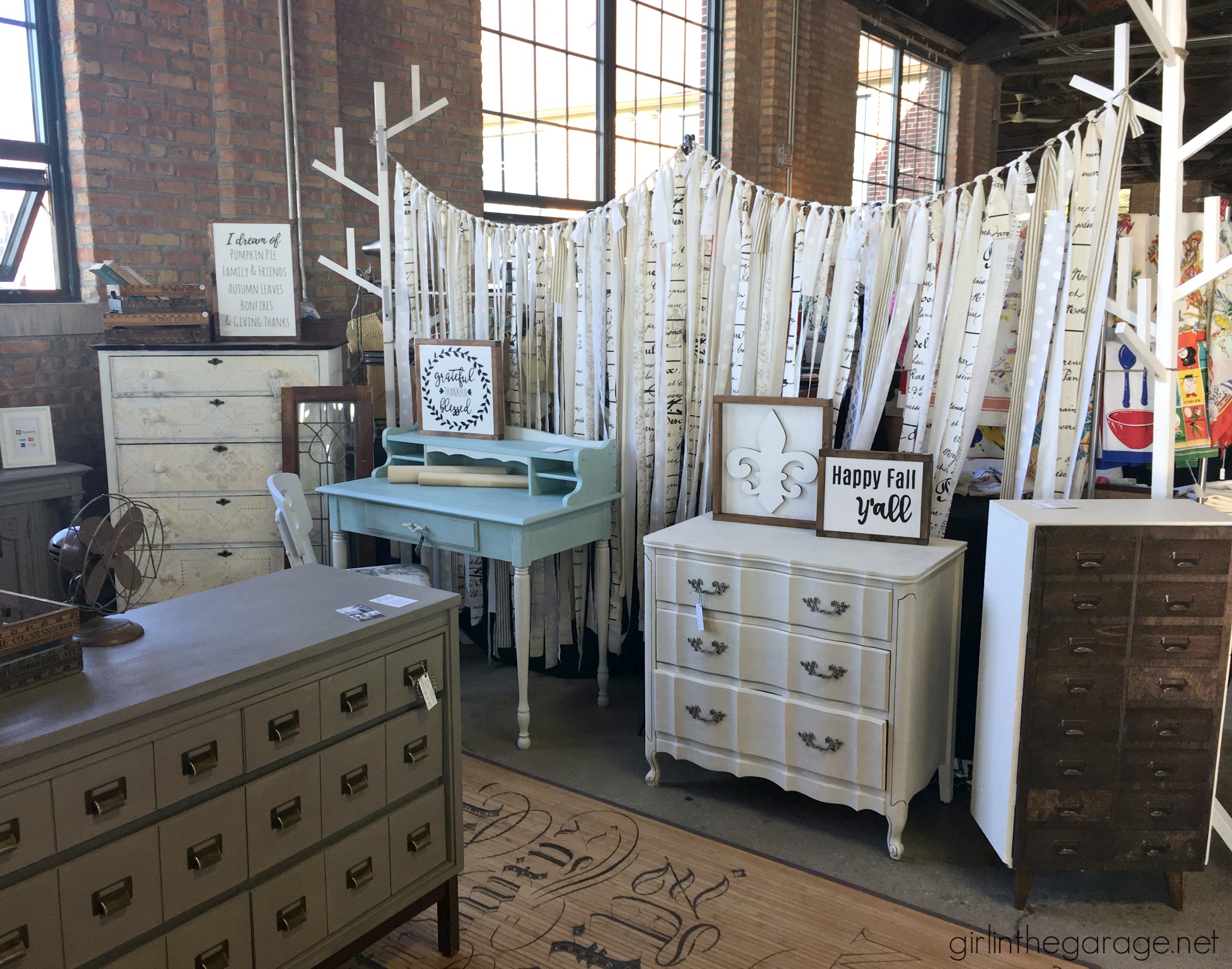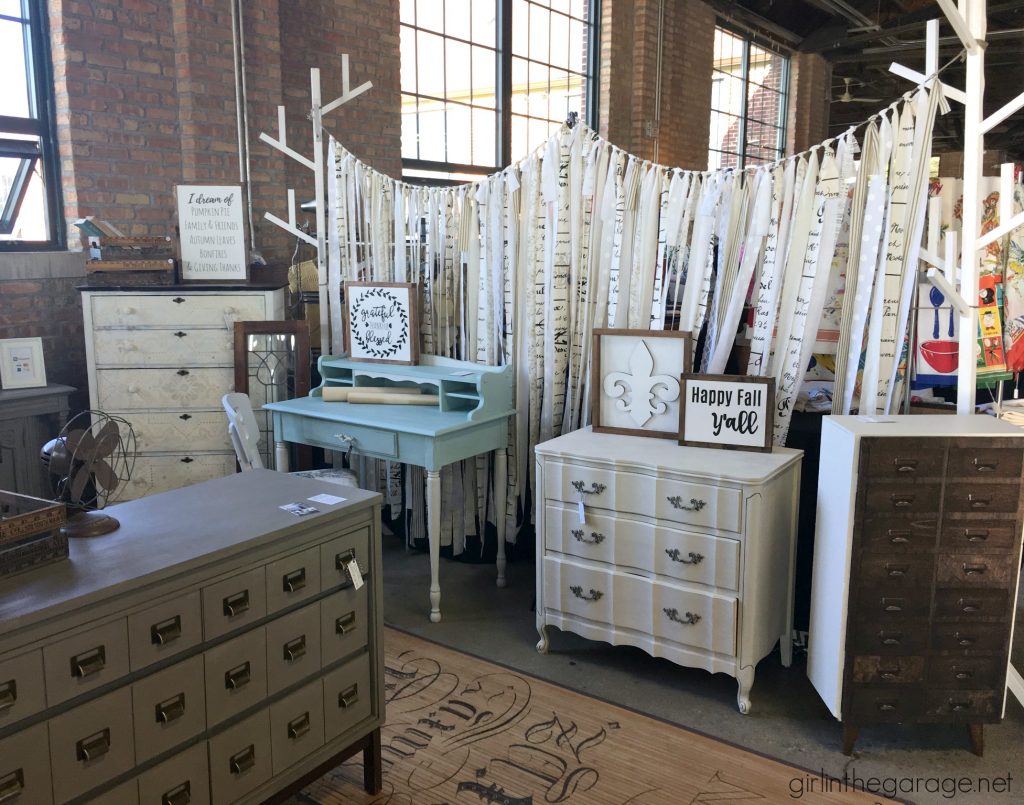 Here's a pinnable image if you want to save or share this fabric backdrop project: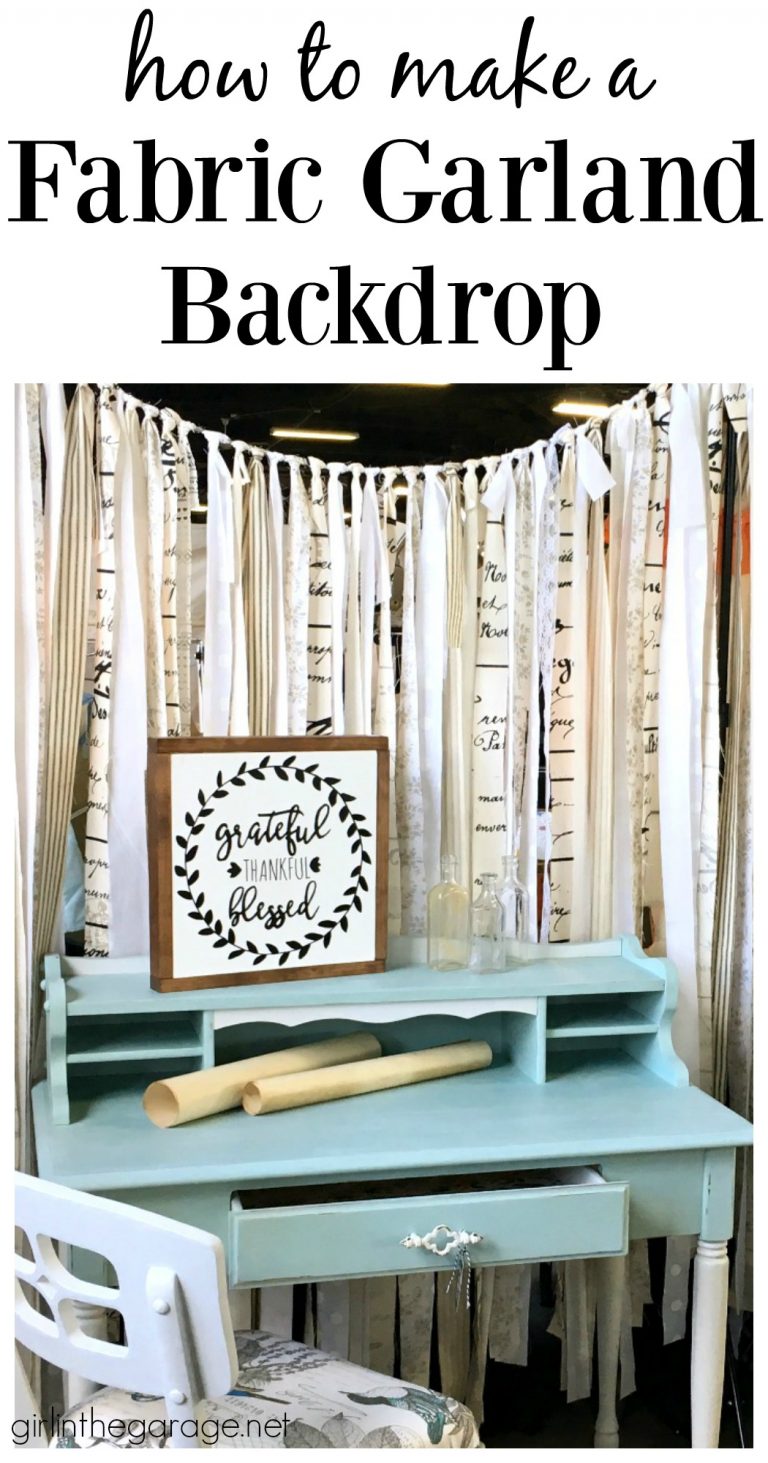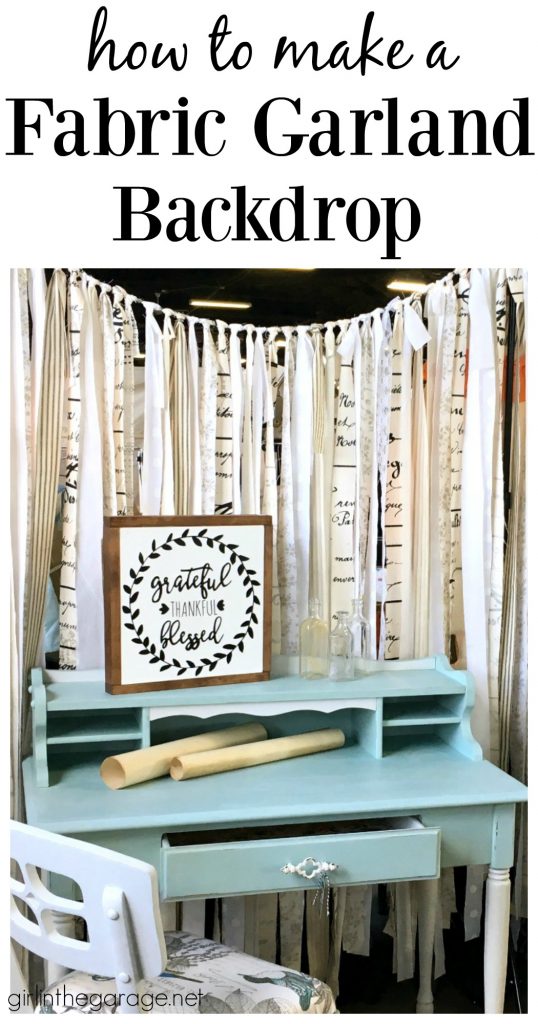 I had so many comments and compliments on my DIY fabric garland backdrop walls that I'm seriously considering making more (smaller ones) to sell at markets and in my booth.
Where would you use a garland like this – at a party or maybe for seasonal decor? I'd love to hear your ideas!
Jen