You guys, I do not advise going into a dark basement in an empty house for a piece of furniture. That's what I did for this dresser, and it was worth it, but I won't say that I wasn't a little creeped out while I was there! Thankfully the woman who sold it to me was super nice and not at all creepy.
From the moment I first saw it, I knew exactly what I was going to do with this midcentury plain-front dresser makeover.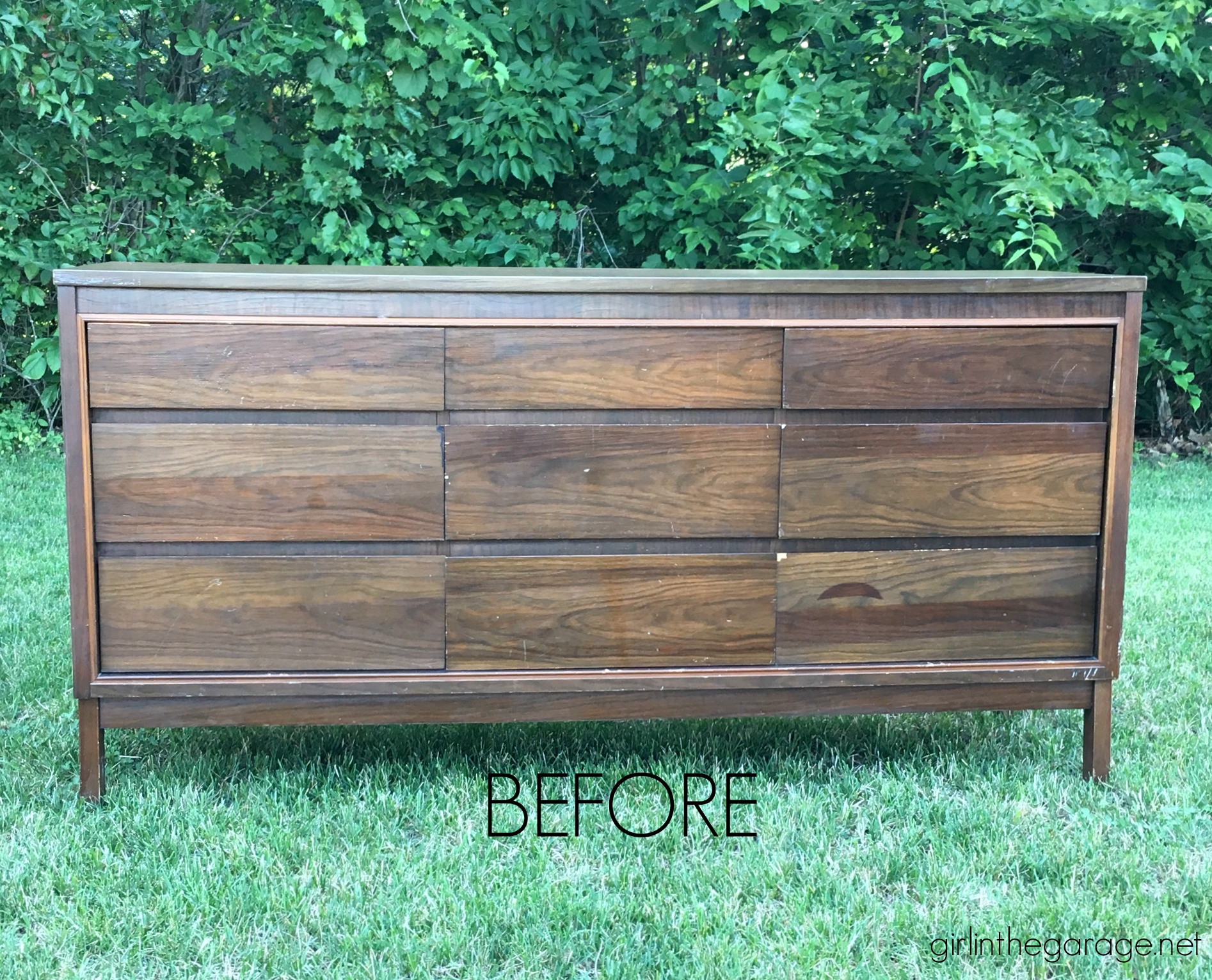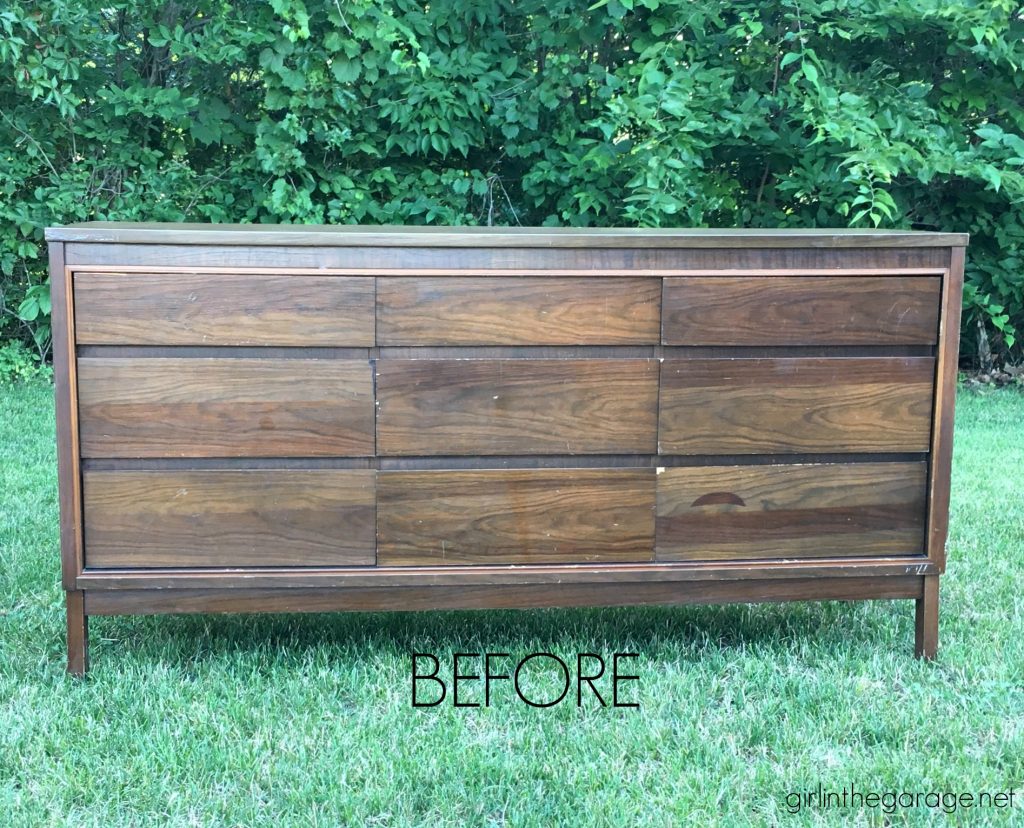 Pieces like this are absolutely perfect to turn into a DIY card catalog – and it ended up being the star of the show at my market in September. Here's how to make your own faux card catalog dresser.
**This post contains affiliate links so that you can easily find some of the products I use and recommend. Discover all my favorite brands and tools for doing DIY projects here.
After making any necessary repairs to the dresser (mine didn't need any), measure the drawers. The top row was not as deep as the other two rows, so my panels needed to be one size for the top row and a different size for the other two.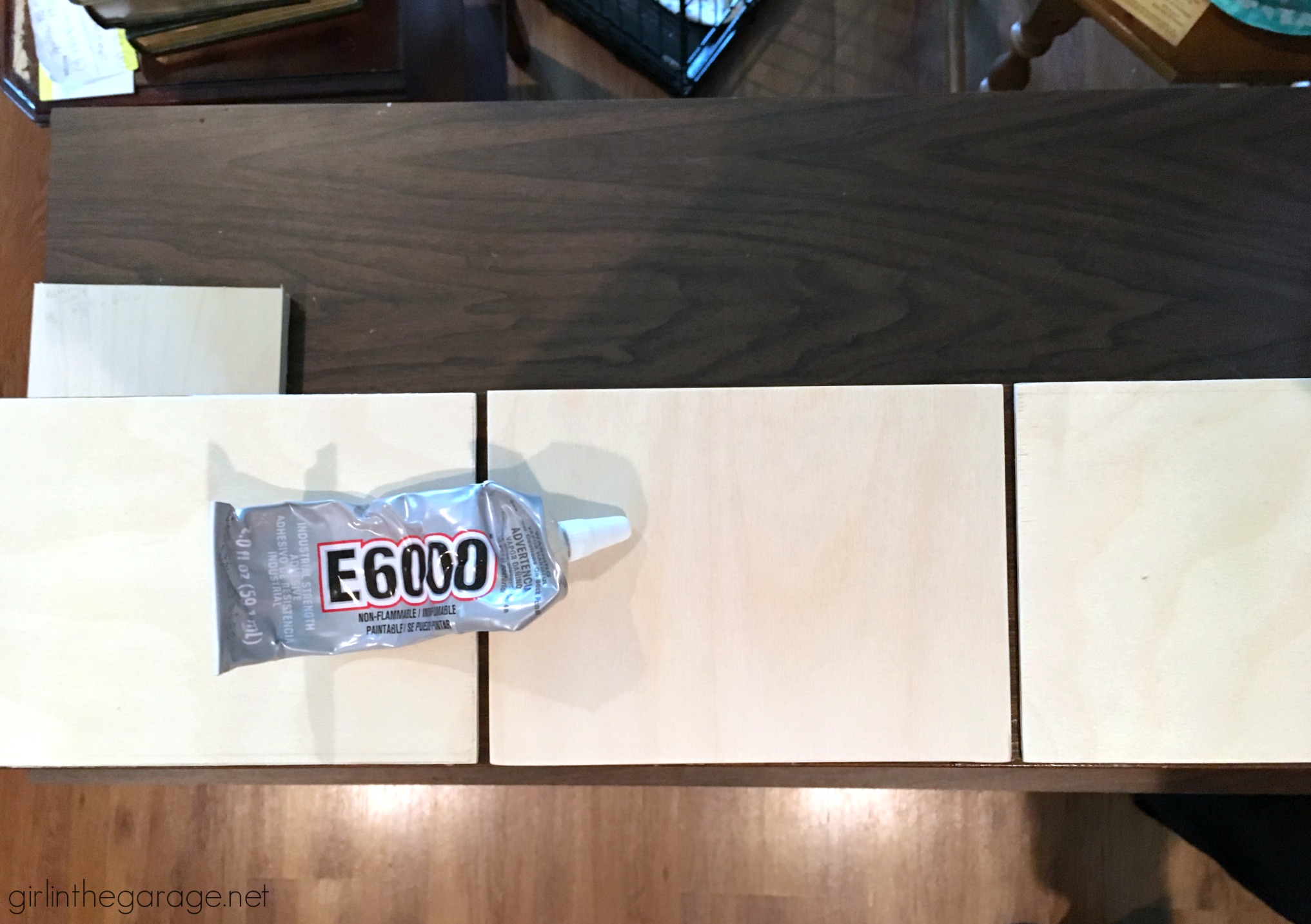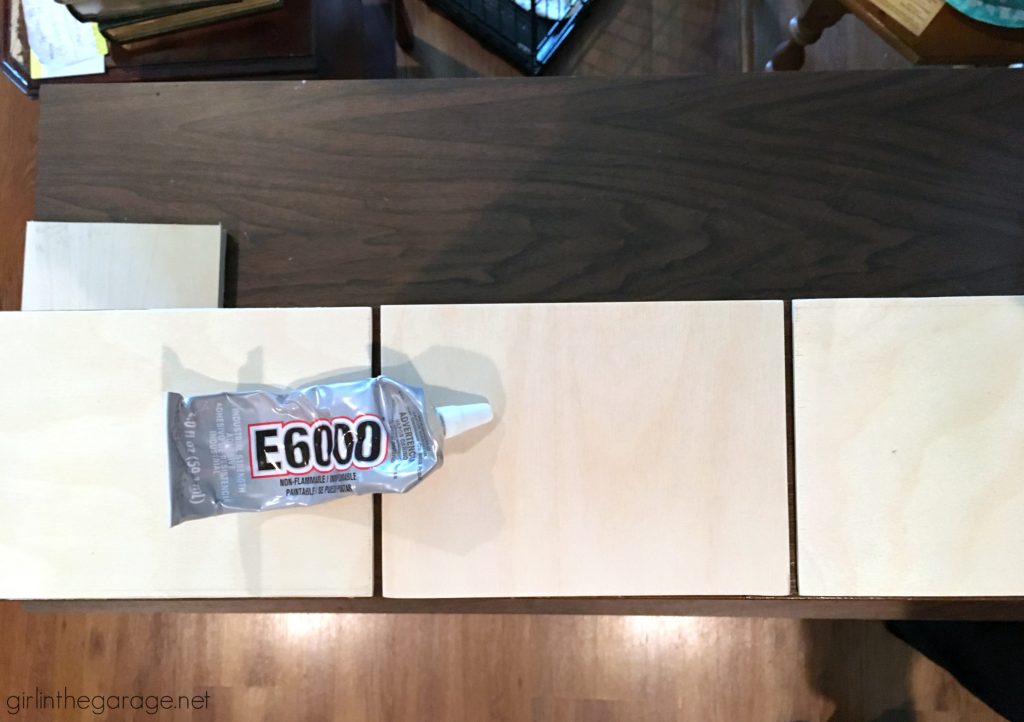 Creating Panels for Faux Card Catalog Drawer Fronts
At first I bought some craft wood at Hobby Lobby, then we discovered that our local hardware store had the same kind of thin wood and it was less expensive (not near the big lumber, but near the dowel rods). Guy in the Garage cut three panels for each drawer (27 total for this project), and made them the same height as the drawer.
I glued one on each side so they were just a hair away from the drawer edges, and then one evenly spaced in the middle. Altogether it took almost two tubes of E6000 super glue (the strongest and my favorite kind – find it Here) and several clamps and weights.
I let each drawer sit for about 24 hours while the glue dried, so this step took a few days. (Here's a highly rated and inexpensive set of clamps for woodworking.)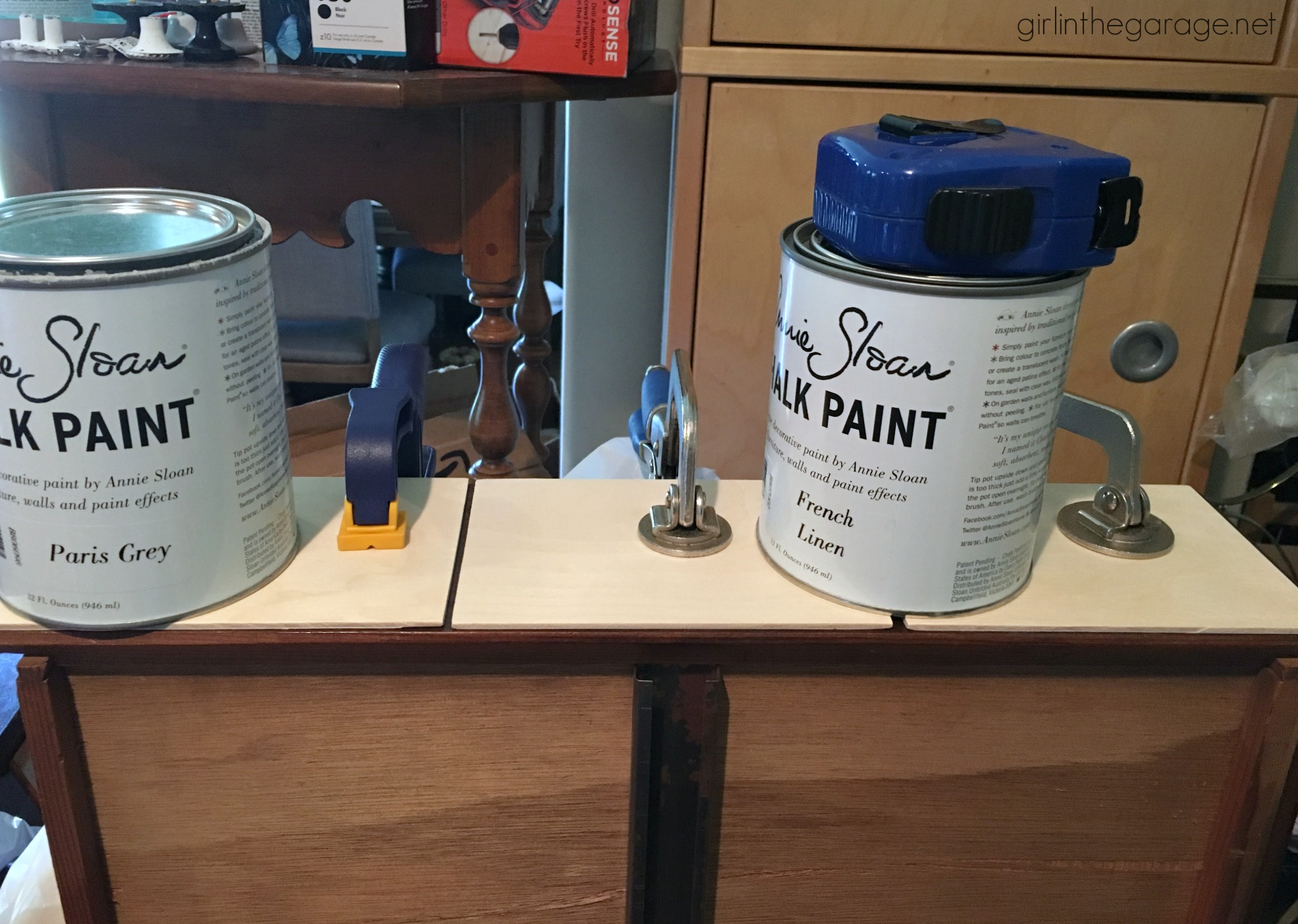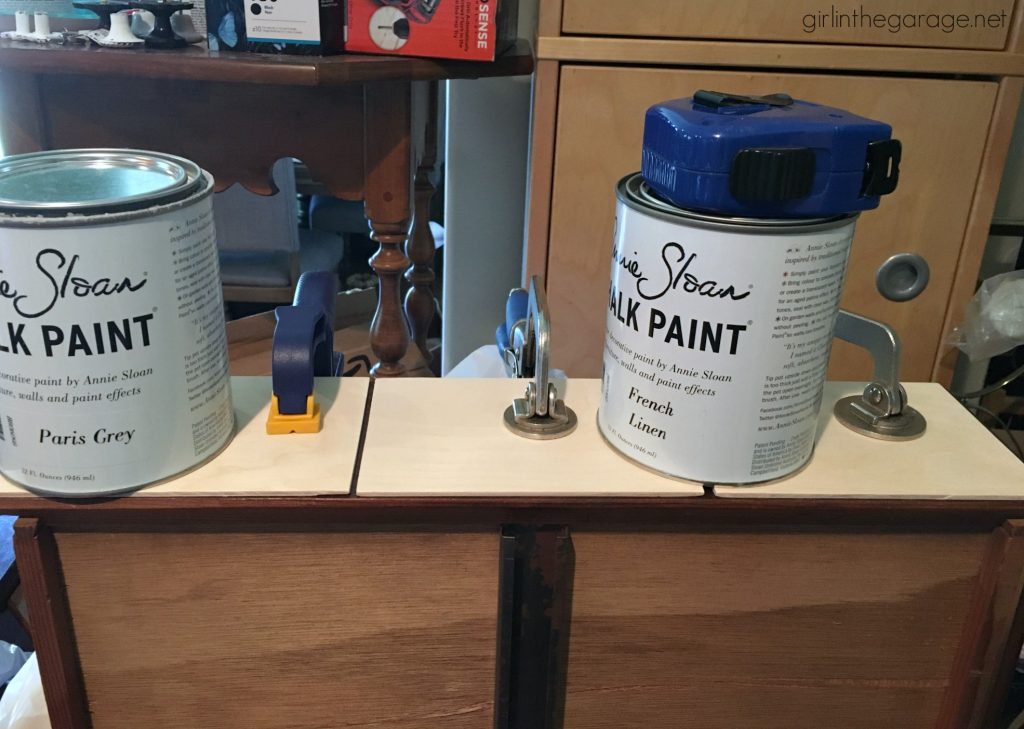 Finally on the last drawer….. yeay!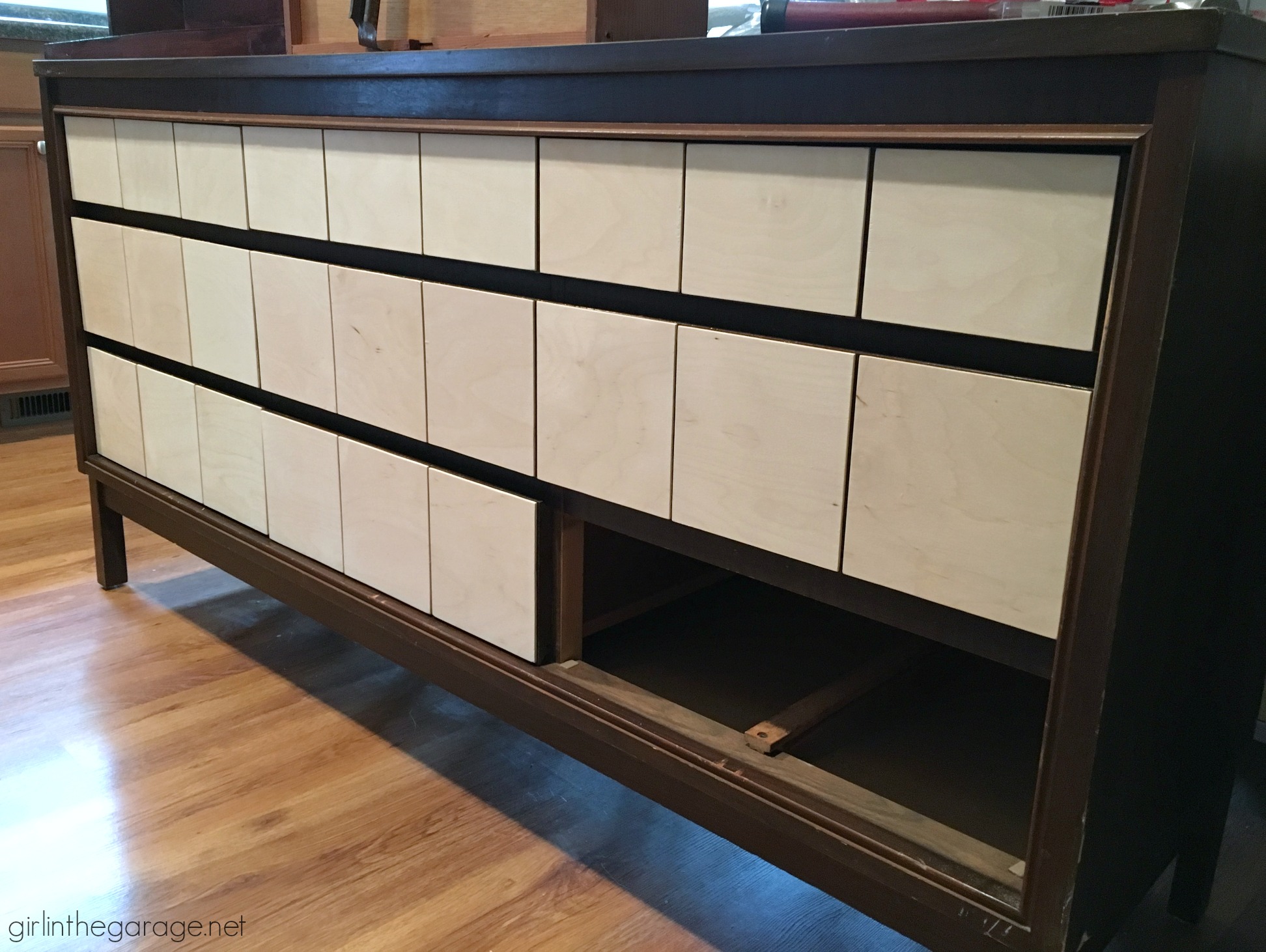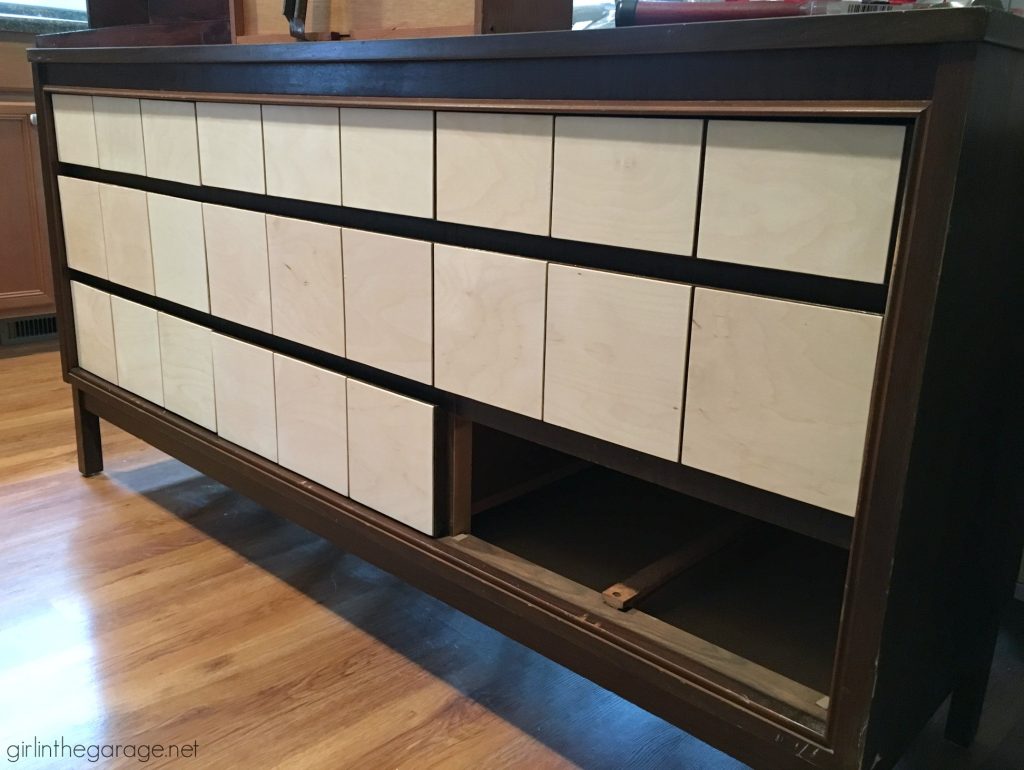 Painting a Faux Metal Finish on the DIY Card Catalog Dresser
The next step was painting. The inside of the drawers were cleaned and then left alone, but I painted the body of the dresser and the drawer fronts. (Due to the finish on this dresser, I did not prime it before painting.)
First I used Annie Sloan Chalk Paint in French Linen, then I dry brushed a tiny bit of Paris Grey and some Coco over the top. It ended up with a very cool almost metal industrial look which was perfect for this piece. I used Fusion Mineral Tough Coat as a topcoat (update: Now I always use Annie Sloan's wax as a topcoat over Chalk Paint).
Learn all about how to use Chalk Paint in my Beginner's Guide to Chalk Painting here.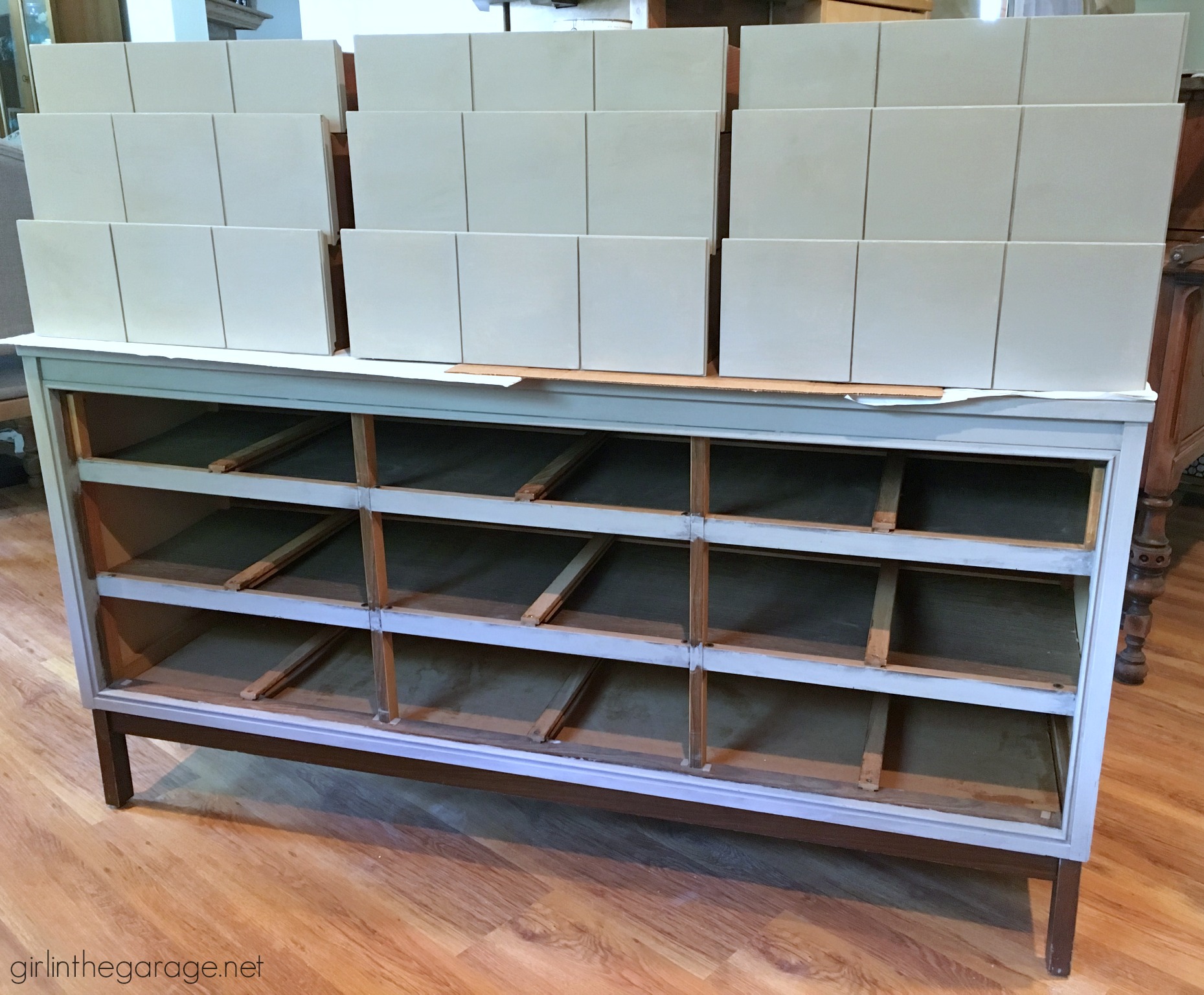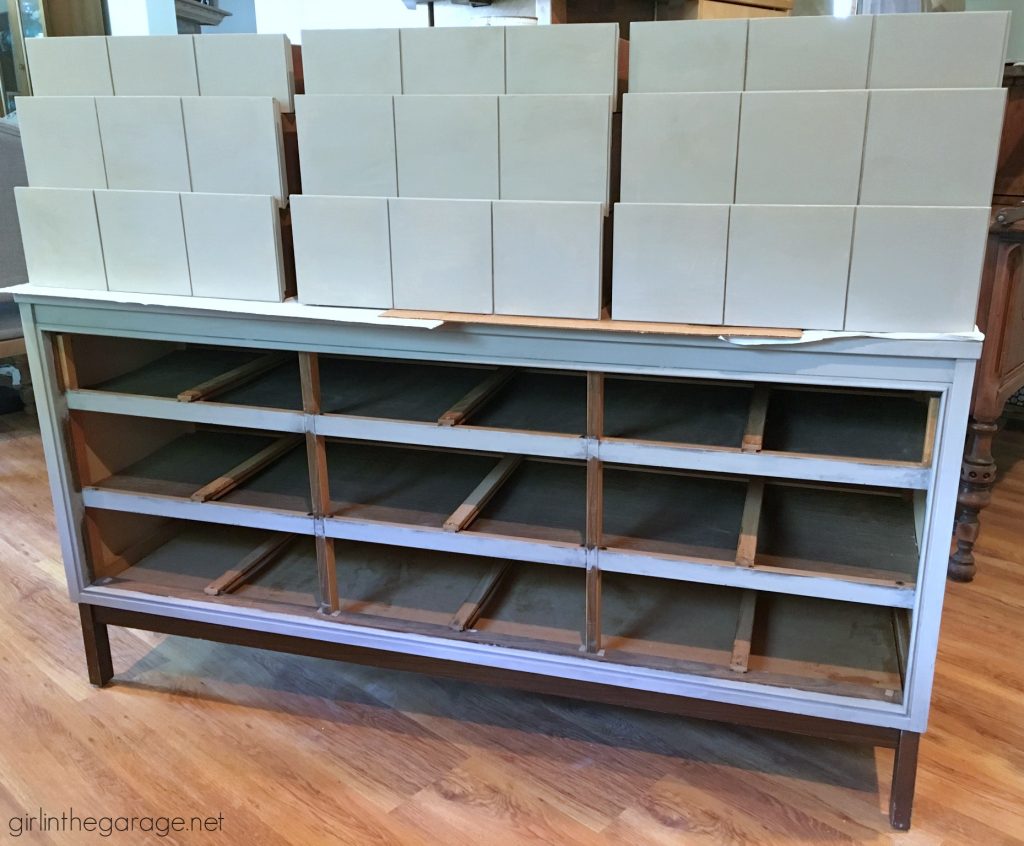 The Coco paint brought out the bronze color in the drawer pulls even more. I searched all over the internet for unique pulls that looked authentically vintage. Amazingly, I found these on Amazon for a great price! (Find the pulls Here.)
Adding Card Catalog Pulls to the Dresser Drawers
Each pull came with four screws, and 27 pulls x 4 screws each = 108 tiny screws and several hours of work. (But again, totally worth it in the end!) I centered the pulls in the middle of each panel, using a ruler and even FrogTape as a guide.
I marked the holes with a pencil and then screwed them in place with my Black + Decker drill/driver with Autosense technology – it even has a little light that comes on and shines onto where you're using it. (Find this drill/driver Here.)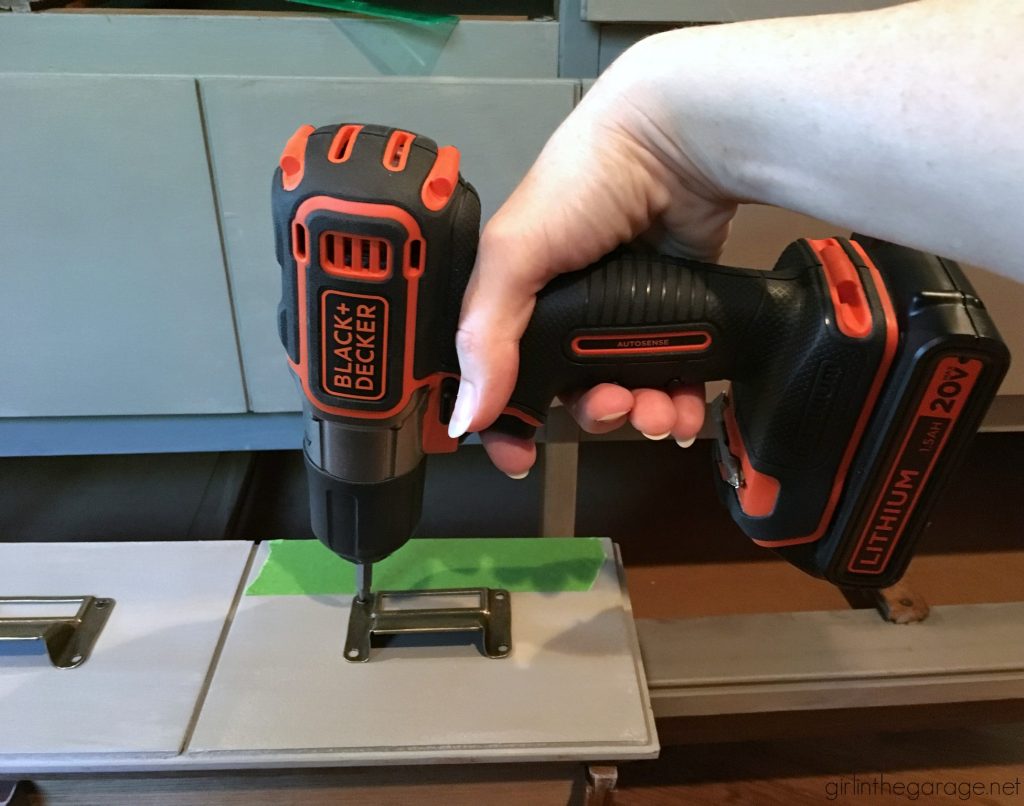 After 108 screws were in place, this card catalog dresser makeover was finally finished!
Sometimes, I prefer a quick project like this primitive cabinet I posted. But other times I love a big makeover that takes a lot of work and patience. It's all about balance. 😉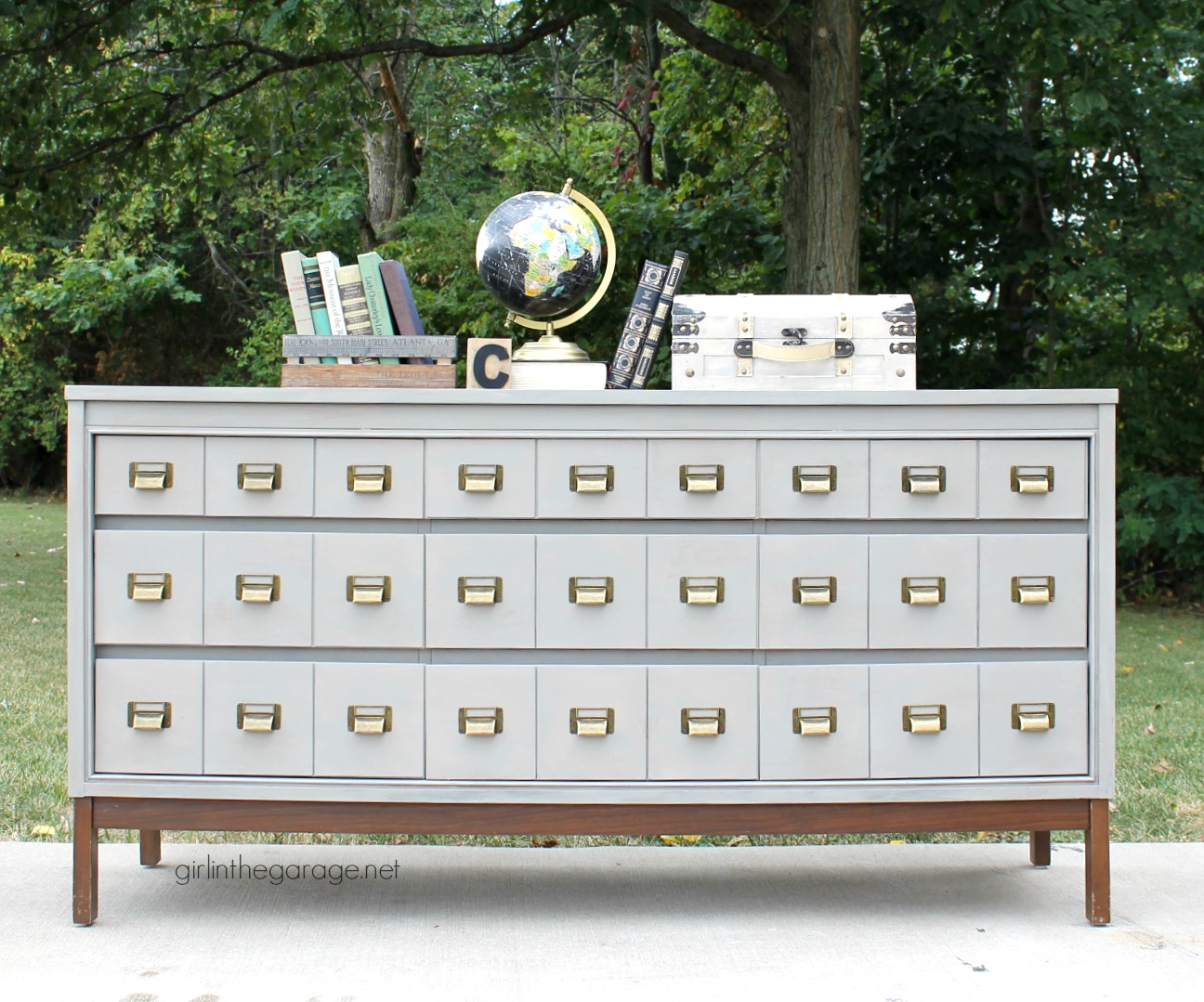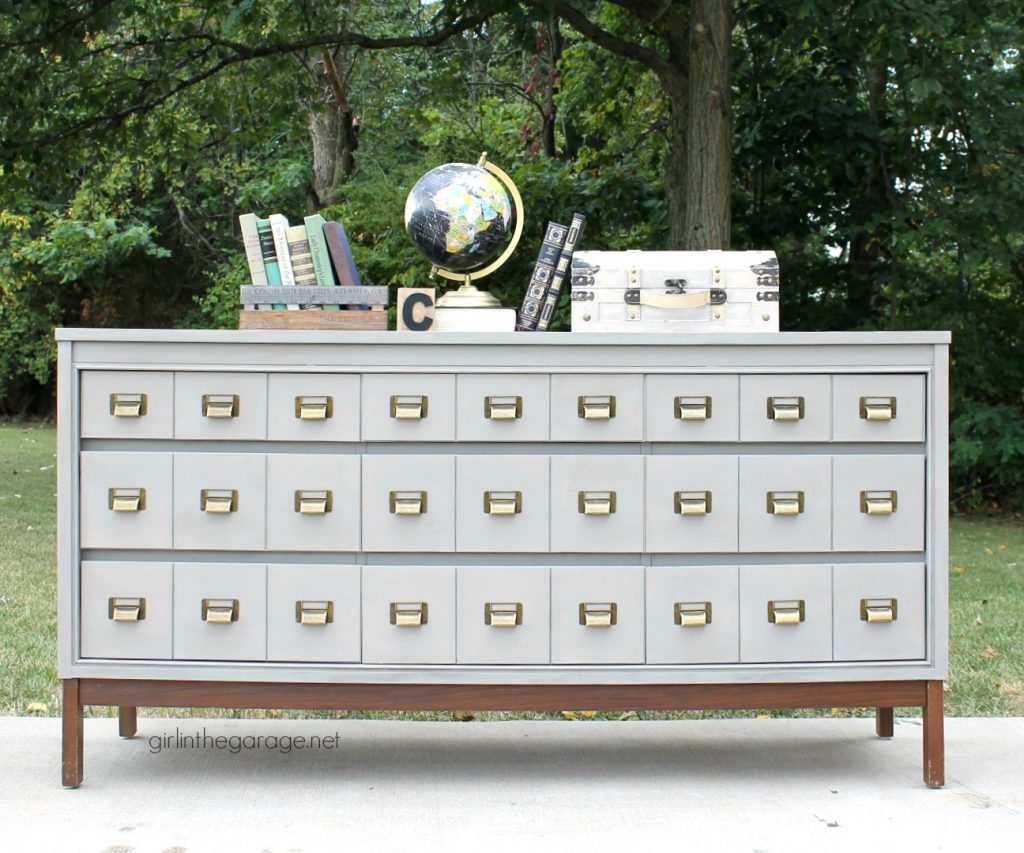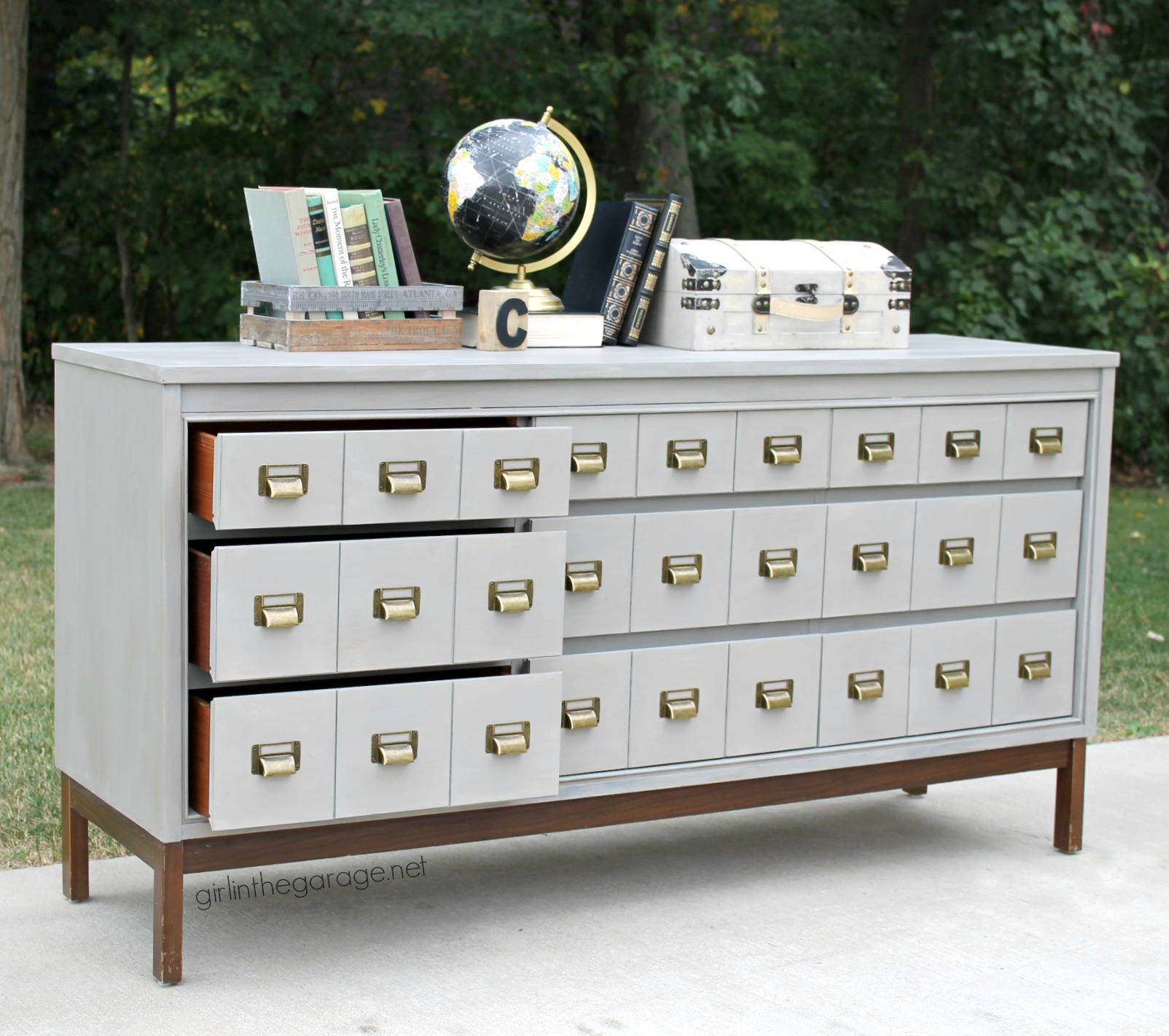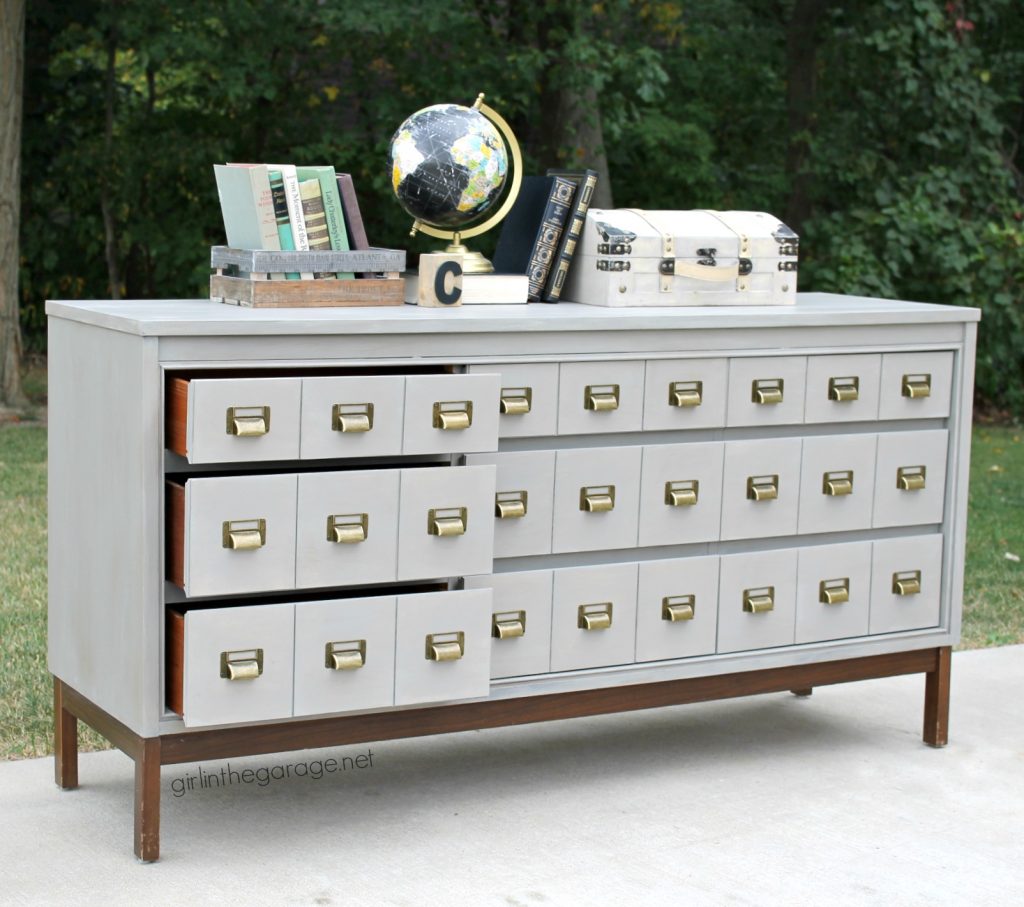 I kept debating whether or not to paint the bottom of the dresser where the legs are. It was a little scratched, but the existing brown "wood" color looked good as-is. In the end, I left it alone.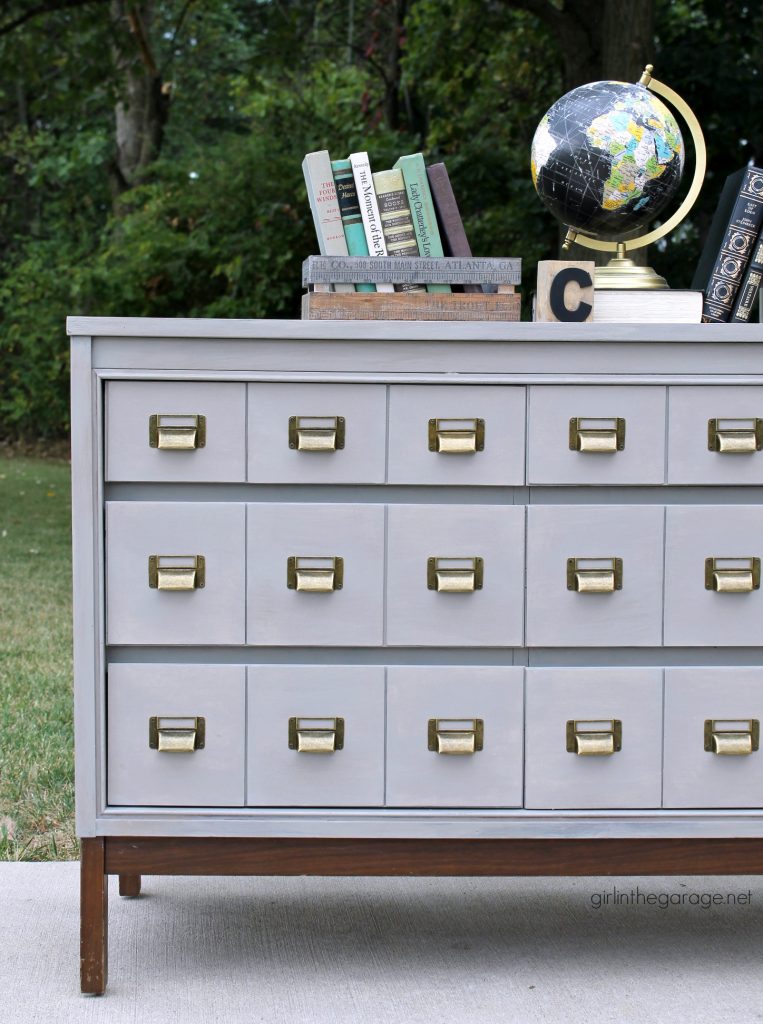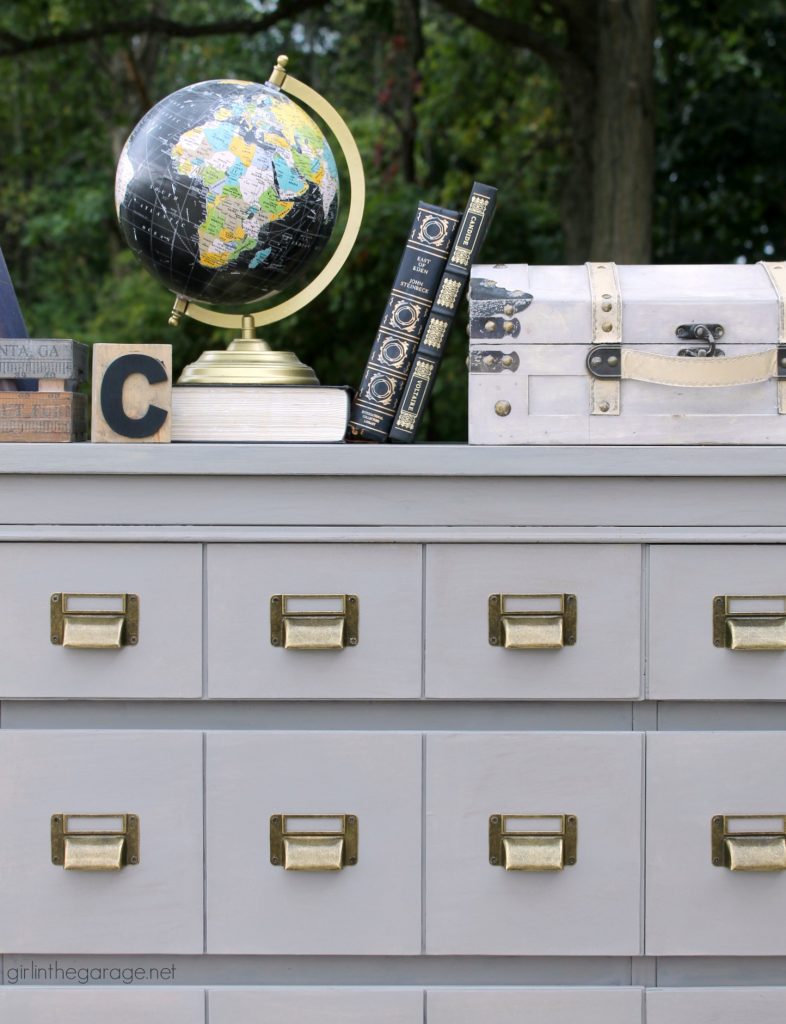 This DIY card catalog dresser makeover has become one of my favorite projects! It got a lot of attention at the Hunt and Gather market and sold the first night. I was sad to see it go and had to take one last photo with it.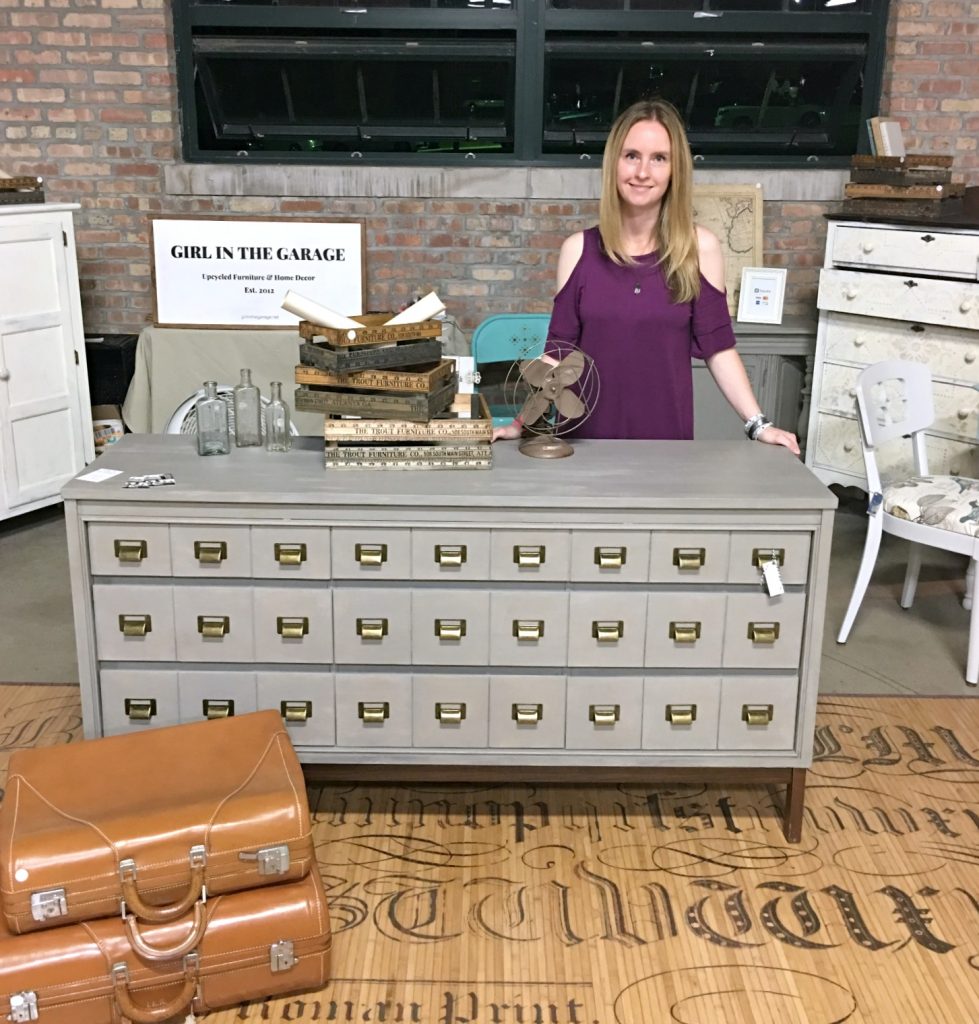 You can learn all about doing vintage markets and my tips for running an antique booth here.
Here's a reminder of how this piece started and ended up: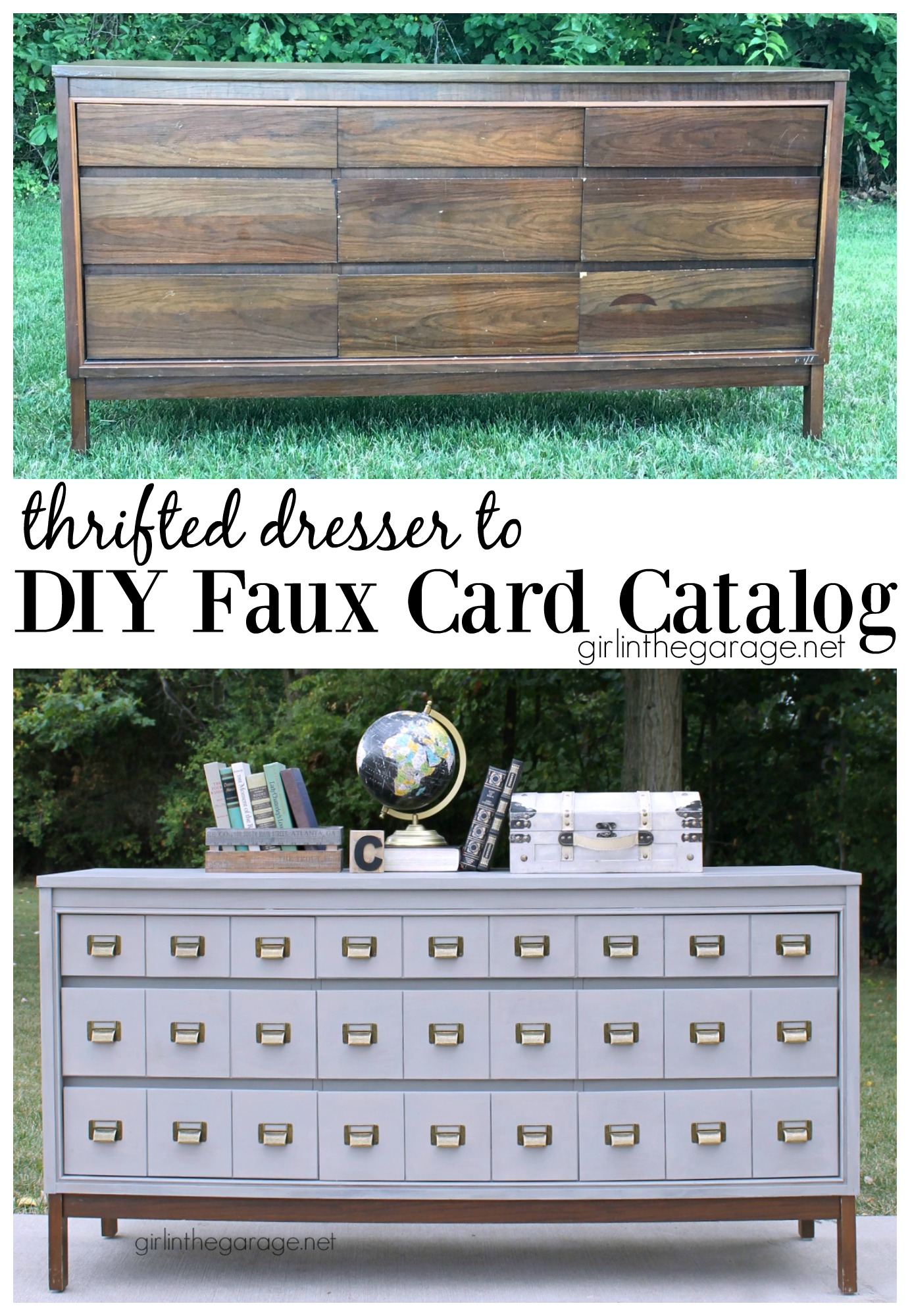 I hope this piece inspires you to think outside the box with a plain piece of furniture. If you like this makeover, please Pin it or share it with a friend!
Next – I have some blogging friends also sharing makeovers for Furniture Fixer Uppers day.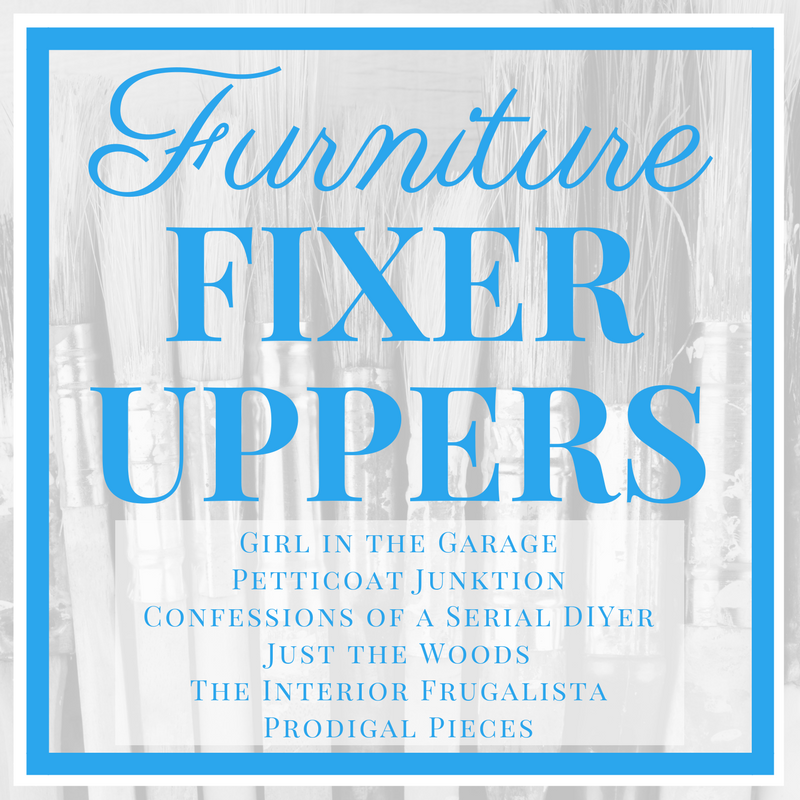 Below are the Before photos – click the links underneath to see the After and learn how they transformed it.
1. Prodigal Pieces
2. Just the Woods
3. Petticoat Junktion
Have a beautiful day!
Jen