Guys, this Before pic may not look too bad but trust me, this antique highboy was T-R-A-S-H-Y. It had all kinds of bad issues, but I didn't even realize it at first because my mom found it at a yard sale and then my husband went and picked it up. When he got home and unloaded it I thought – Crap, what have I gotten myself into?? This wouldn't be an easy antique dresser makeover by any means.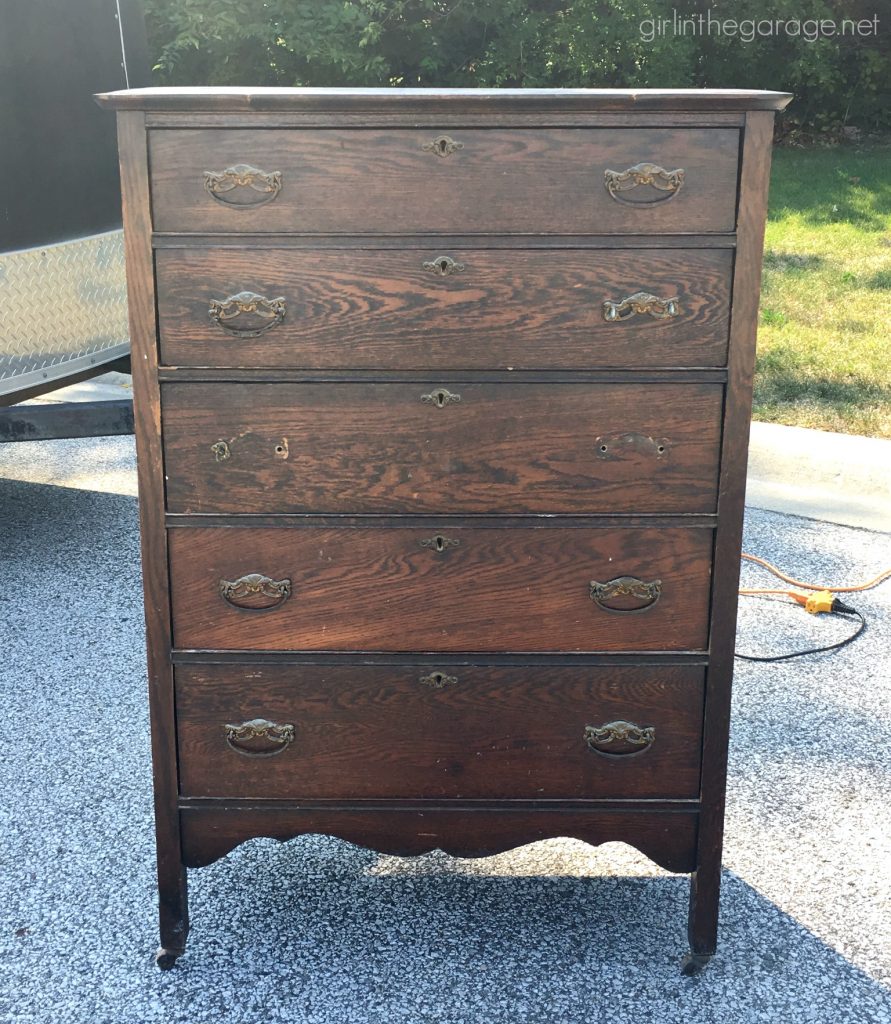 The top needed to be sanded and completely refinished (there's a backsplash too but we removed it before I took photos).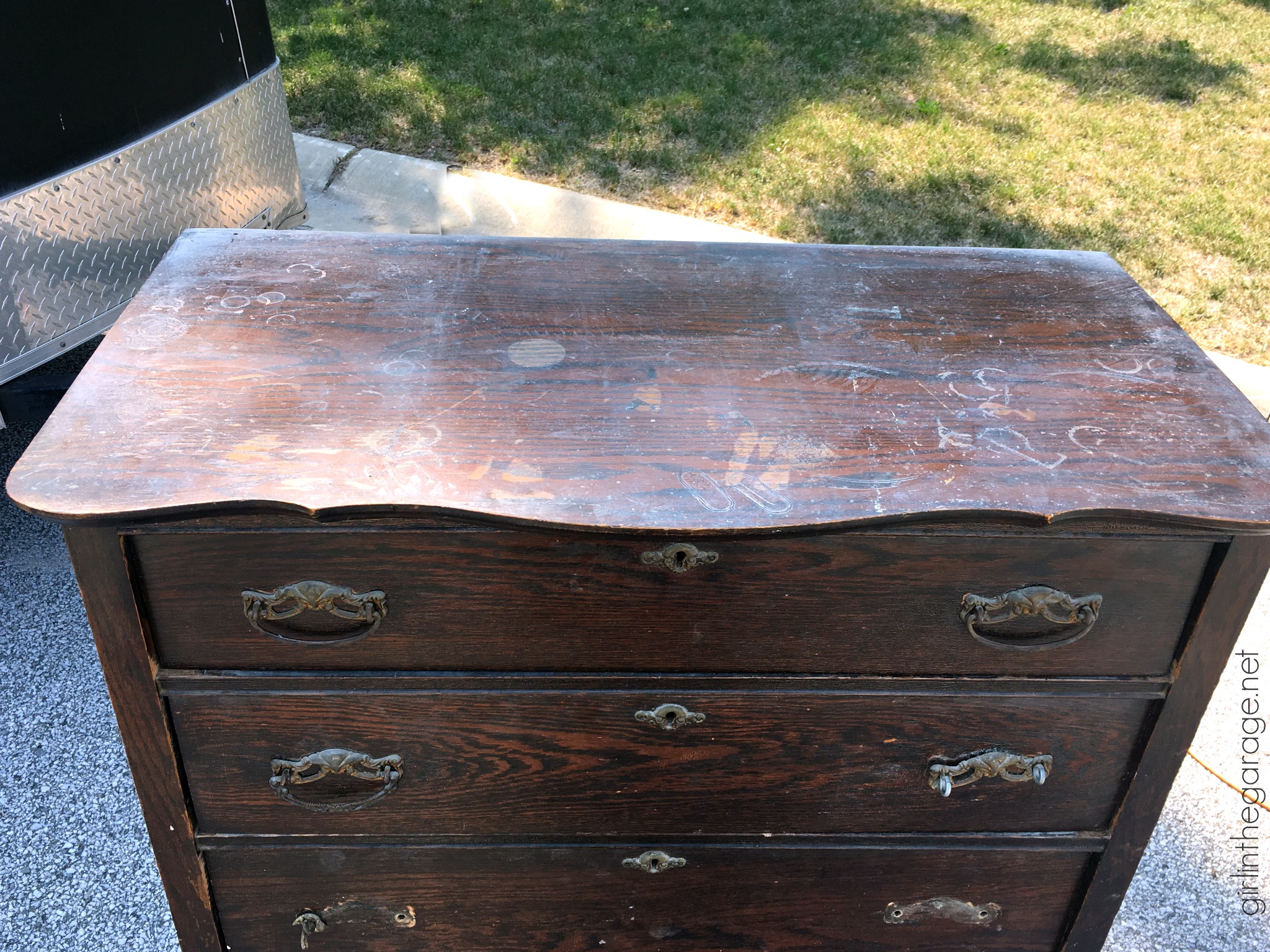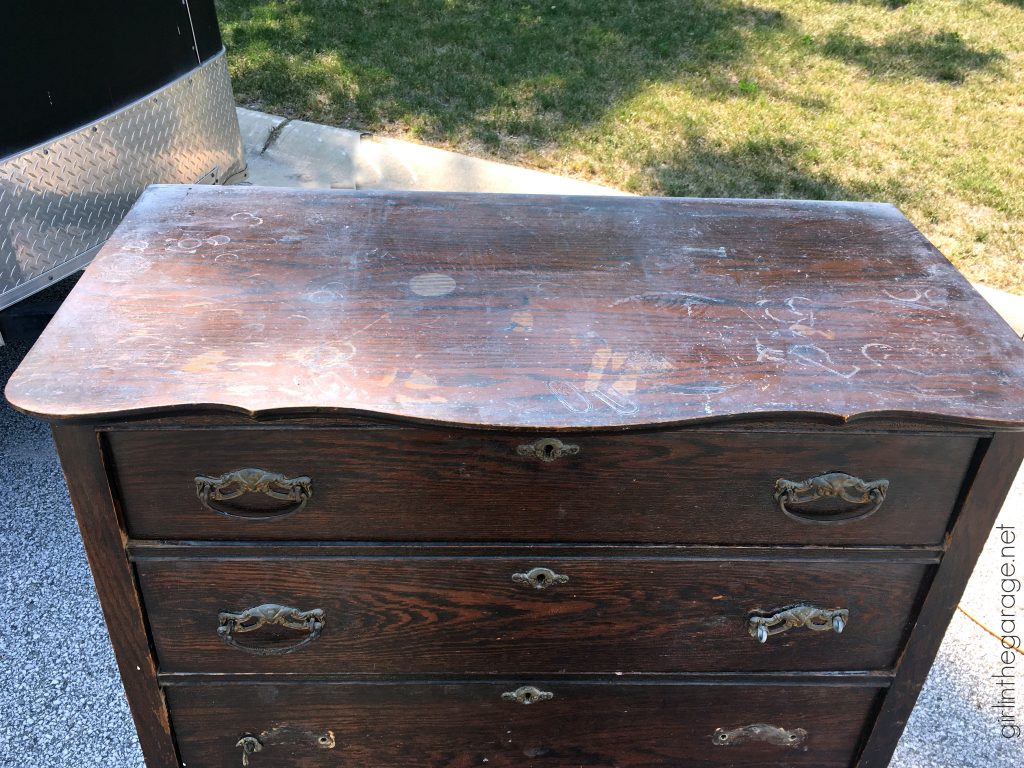 **This post contains some affiliate links, at no extra cost to you, so that you can easily find the products and tools that I like and recommend. Discover all my favorite products for DIY makeovers here.
Handles were broken/missing, some drawers didn't want to open, and several of the bottom drawer panels needed to be replaced, like this one with the huge hole.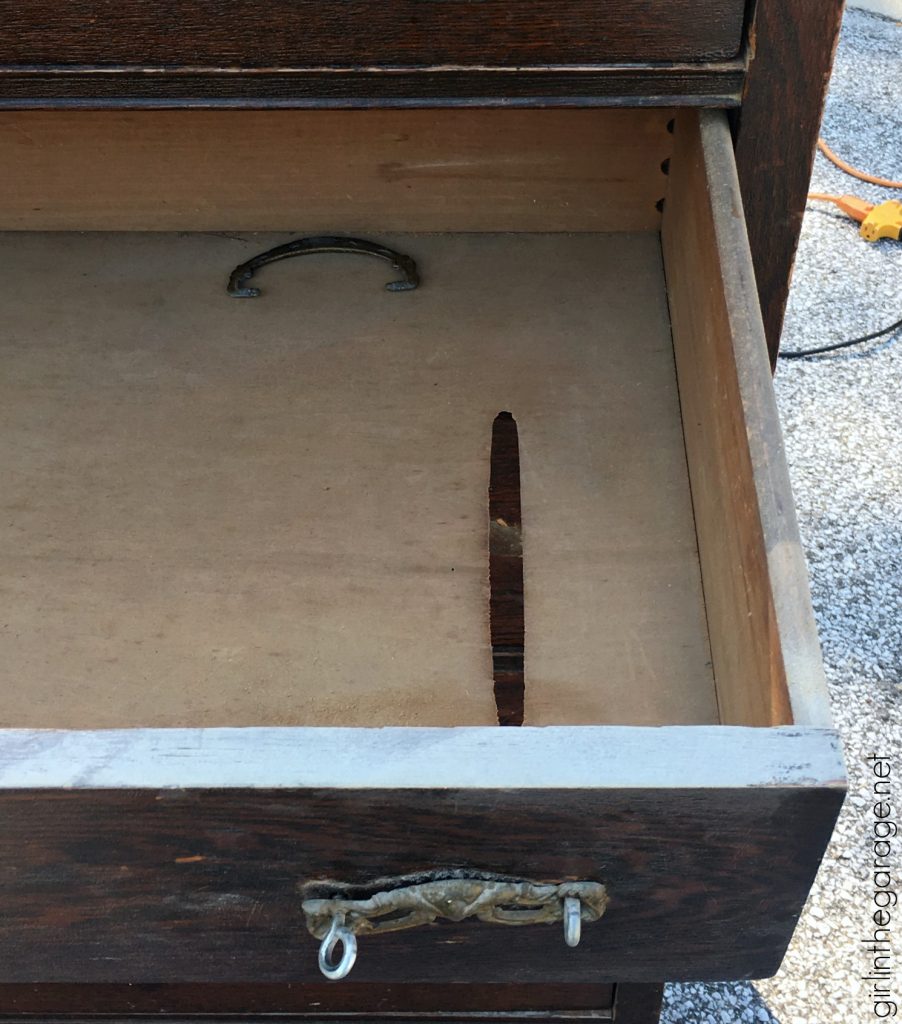 Of the four original wooden casters, two wheels were broken and the others weren't working properly so we opted to remove them altogether.
My hubs (aka Guy in the Garage) sanded the top and the drawer fronts with our orbital sander (find it Here). Then he stained the top with Minwax in Espresso (Here). He also cut new bottom panels for the drawers.
Next I primed it with my favorite shellac primer (Here) and then painted it with a couple coats of Annie Sloan Chalk Paint in Old White. (I also ended up filling in half of the drawer pull holes with Minwax wood filler – find it Here.)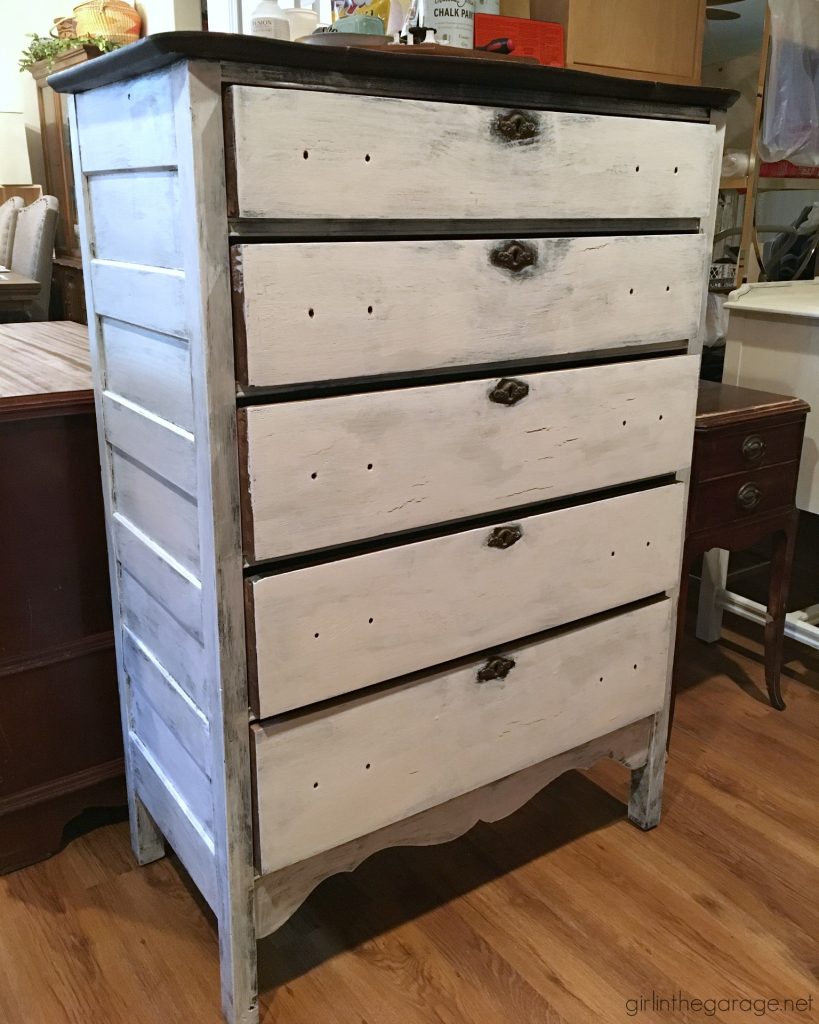 If you remember, I painted an antique highboy almost similar to this in the summer. It ended up very soft and feminine, and was the star of my summer market! See that one Here. This dresser was different though – it started off in worse condition and had some natural crackling going on that wouldn't be covered up no matter how much primer or paint went over it. So I thought this piece deserved a more rustic look.
The Lisboa stencil from Royal Design Studio (find it Here) is one of my absolute favorite stencils. I have used it on this gold glam table and this distressed gray table, but never on a big dresser before. I centered it in the middle and taped it on with FrogTape.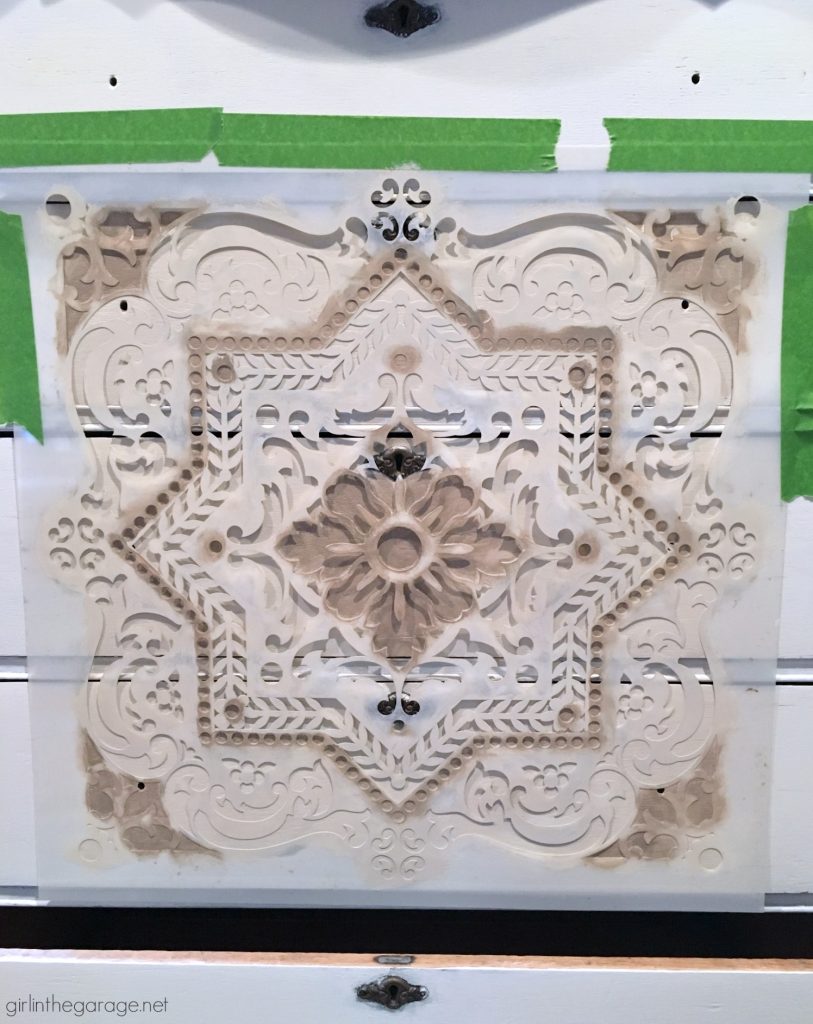 My goal was a two-tone stenciled look, so I used Annie Sloan's Chalk Paint in Coco and also Old Ochre. The trick with stenciling is to use a little stencil brush or a foam pouncer (like these) and get a little paint on it, then dab it on a towel to get the excess off. Then lightly apply the paint onto the stencil. Less is definitely more!
When the first section was done, I let it dry for a little while and then matched up the pattern to stencil the section below it. Then I did the left side, then the right side, and finally the top.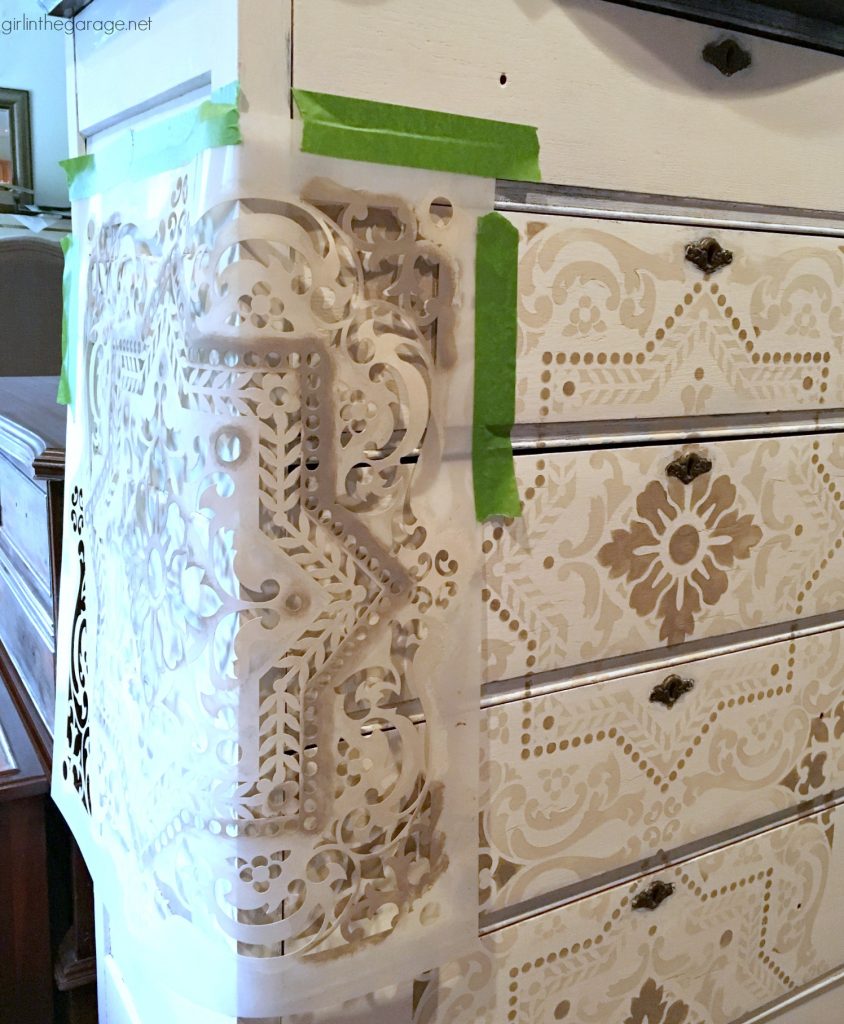 It can get pretty tricky when you're working with a stencil that isn't completely flat, but just work slowly and be patient with it. I did have some smudges but I knew it was going to be rustic and distressed in the end, so perfection didn't matter to me.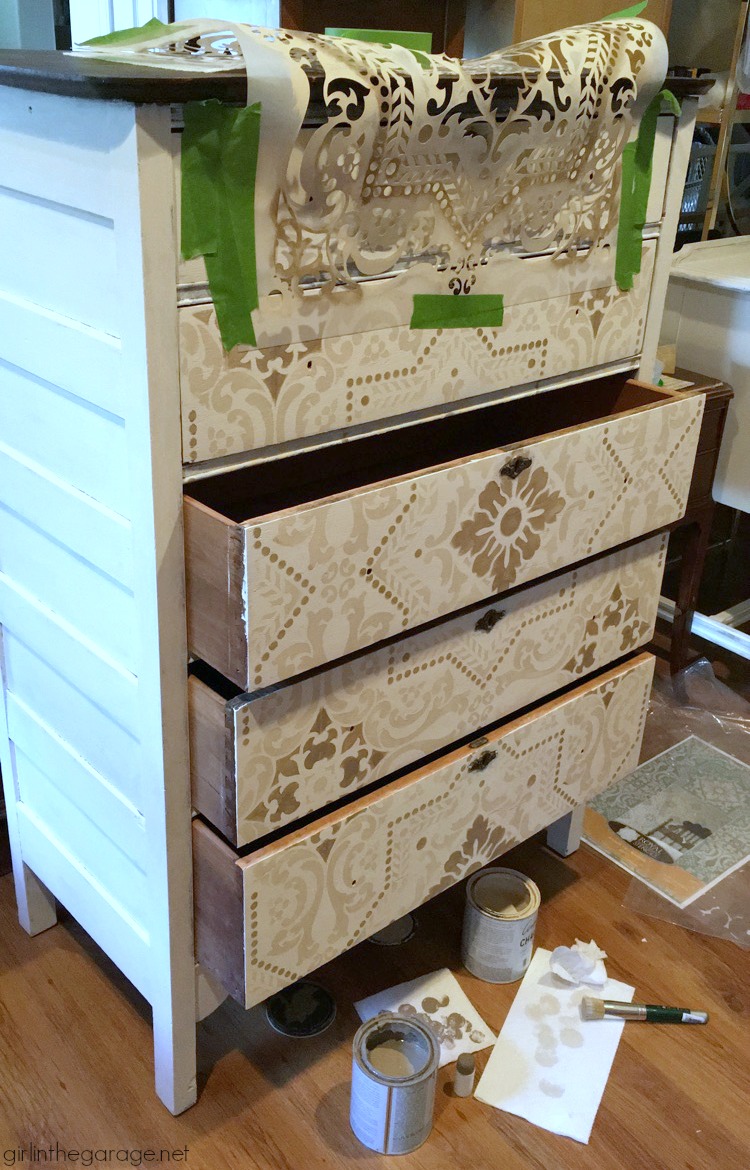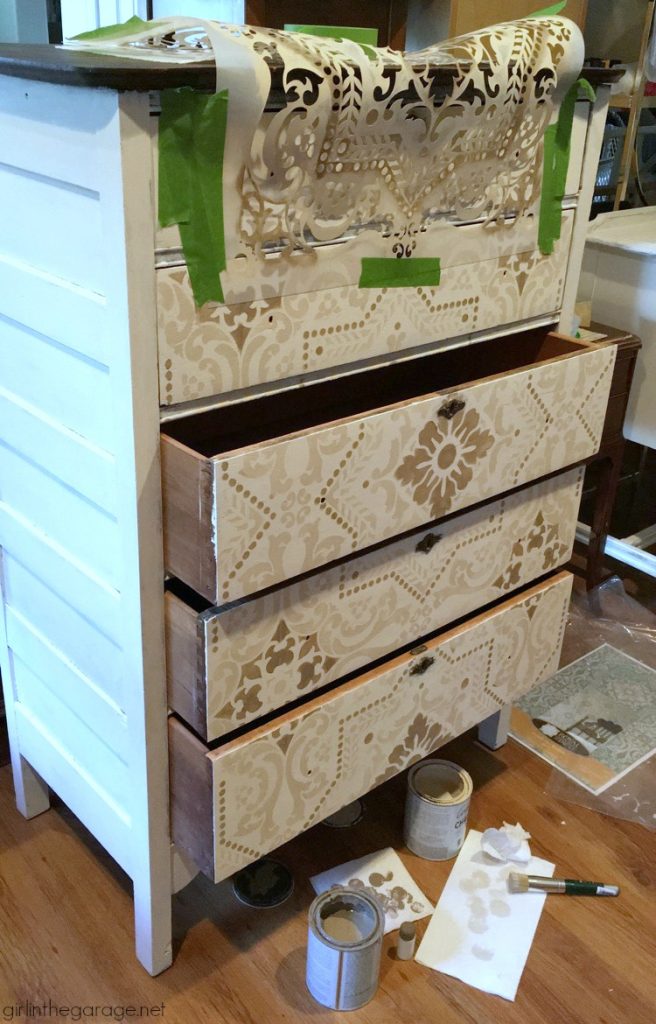 When all the stenciling was complete, I hand-sanded the HECK out of the drawer fronts. I didn't want a bold brown and beige pattern; I wanted a very subtle, soft, faded pattern.
Then I searched high and low for new pulls that wouldn't compete with the stencil pattern, but didn't like any of the options I found. So I DIY'd exactly what I wanted them to be. These unfinished wooden pulls by Hickory Hardware (find similar ones Here, or check your local hardware store) were a great price and there are 2 per package. I casually layered both Old White and Old Ochre paint on them and then sanded smooth.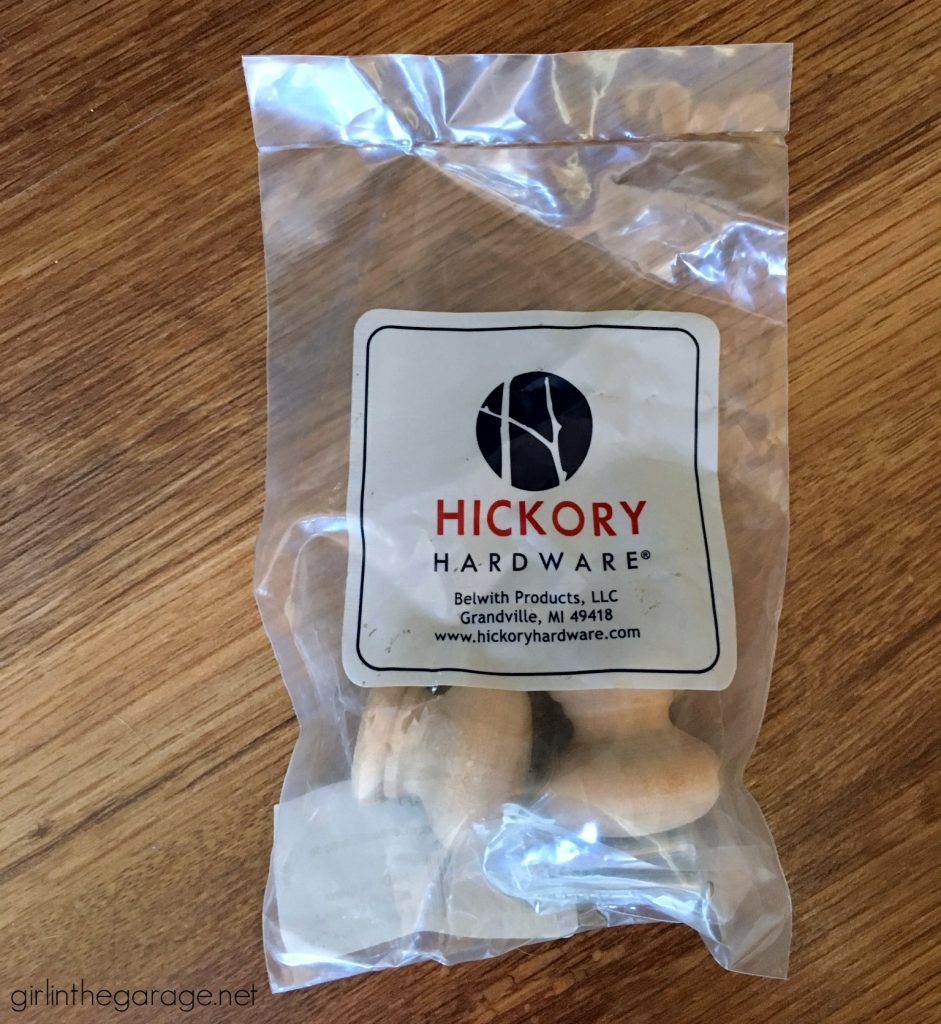 Lastly, the drawers got some wow with Mod Podge and sheet music scrapbook paper (find similar Here). I love to decoupage drawers if I'm not planning to paint them – it's especially a great idea if the drawer bottoms are stained or if they don't match (some old, some new wood).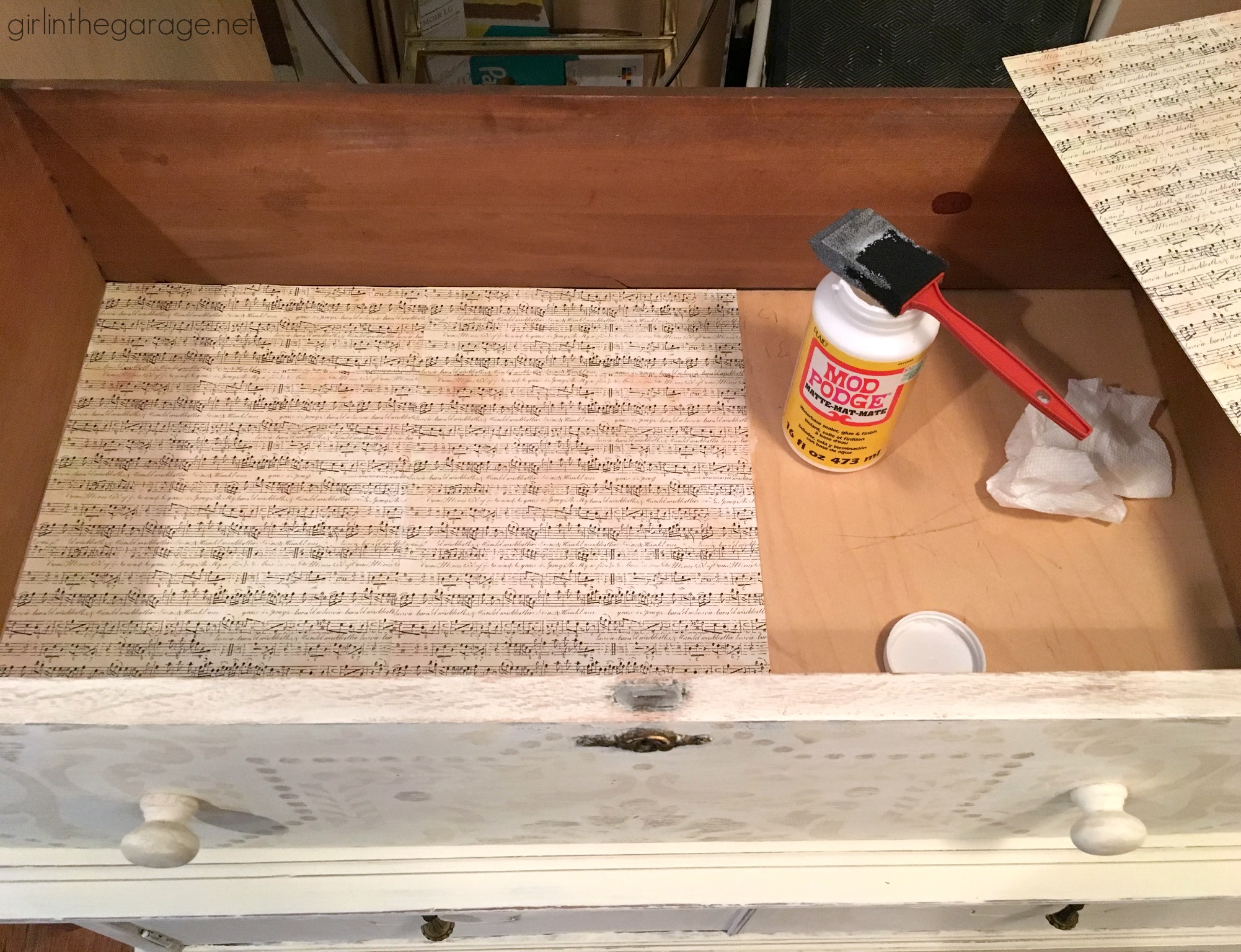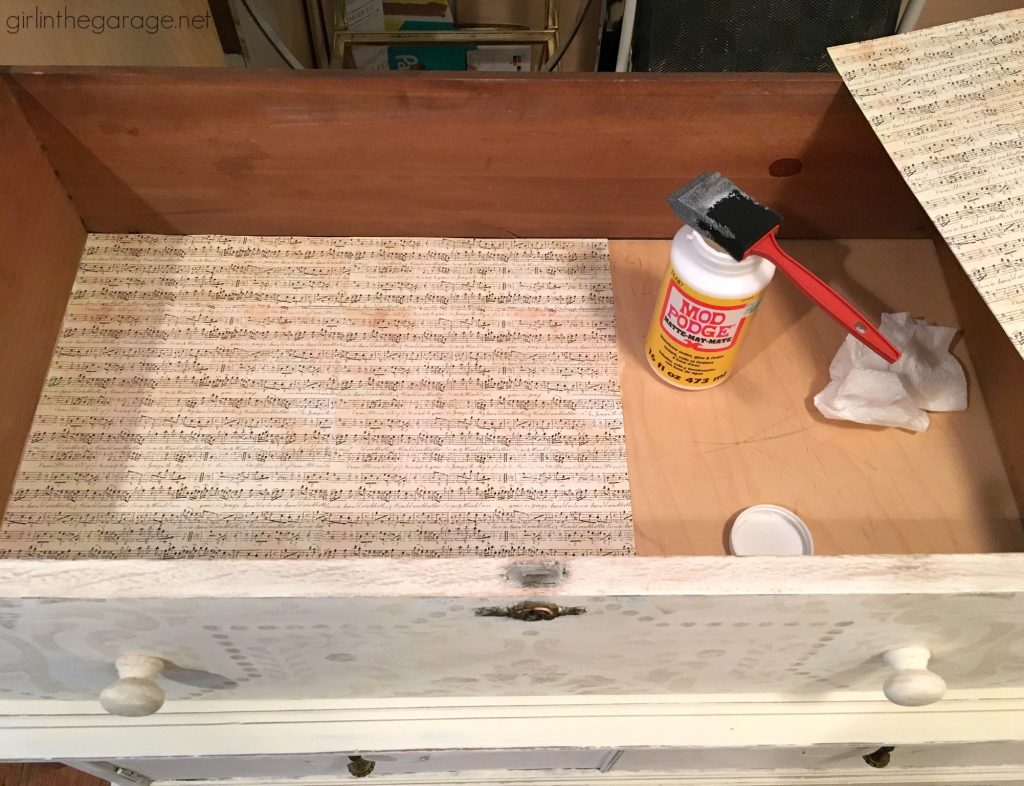 Here is the antique dresser makeover, all finished and fancy: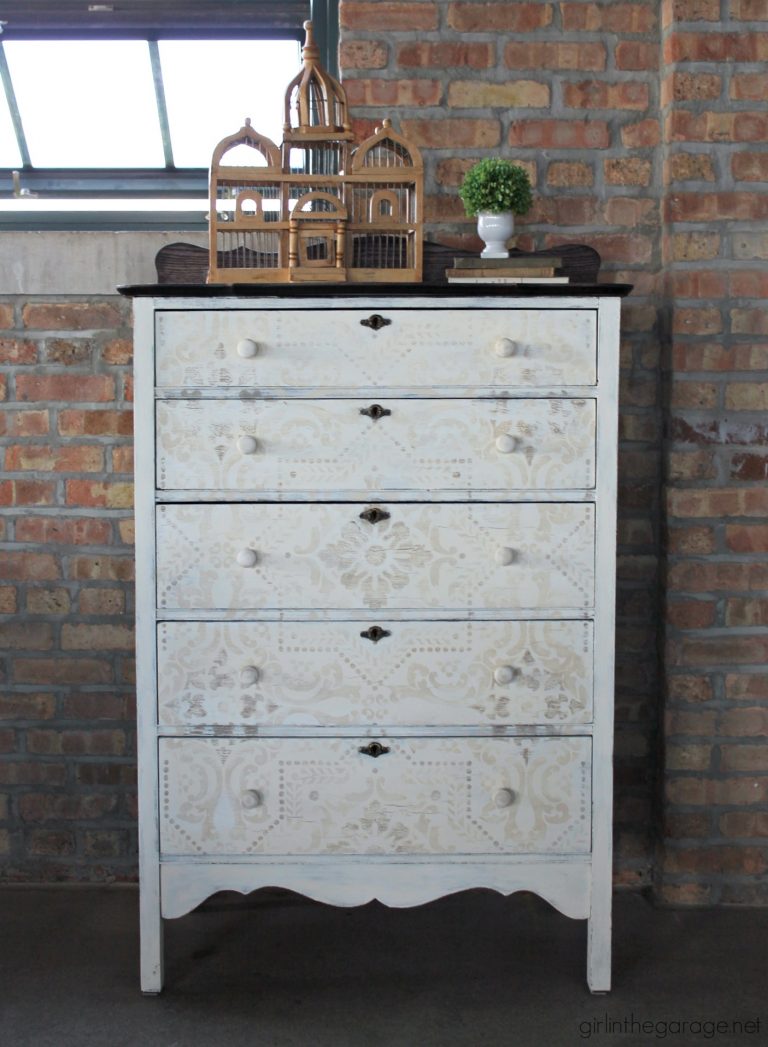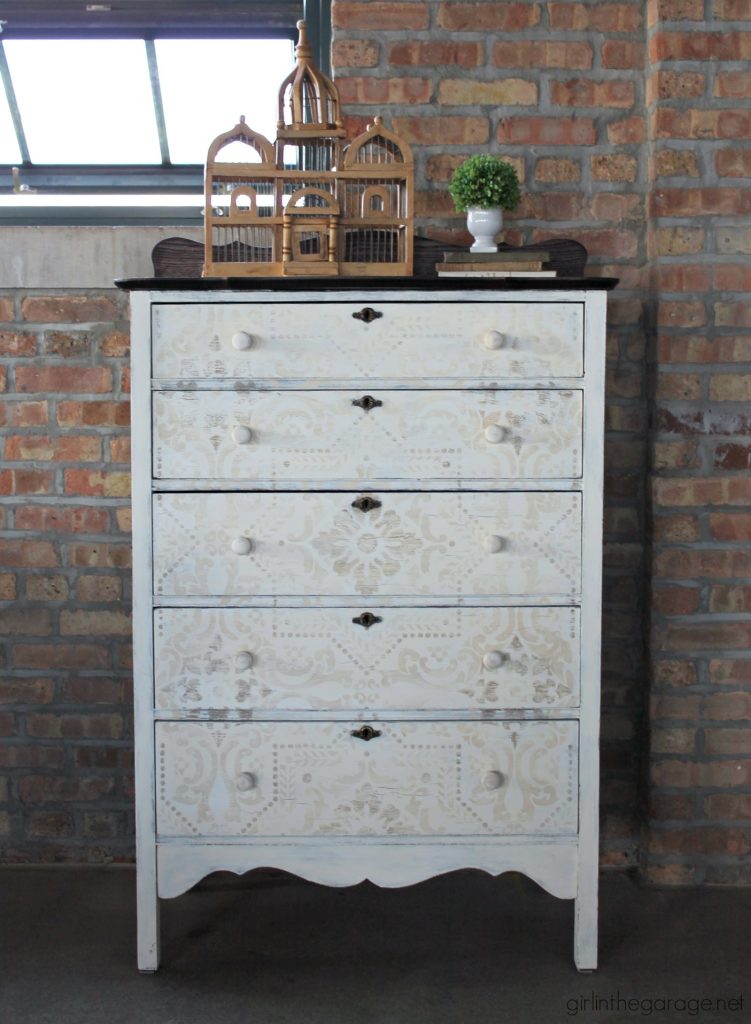 It has a rustic, bohemian vibe which is a little outside my usual style – but I think it turned out really unique and special.
You can see how gorgeous the wood grain is on top after hubs stained it and sealed it.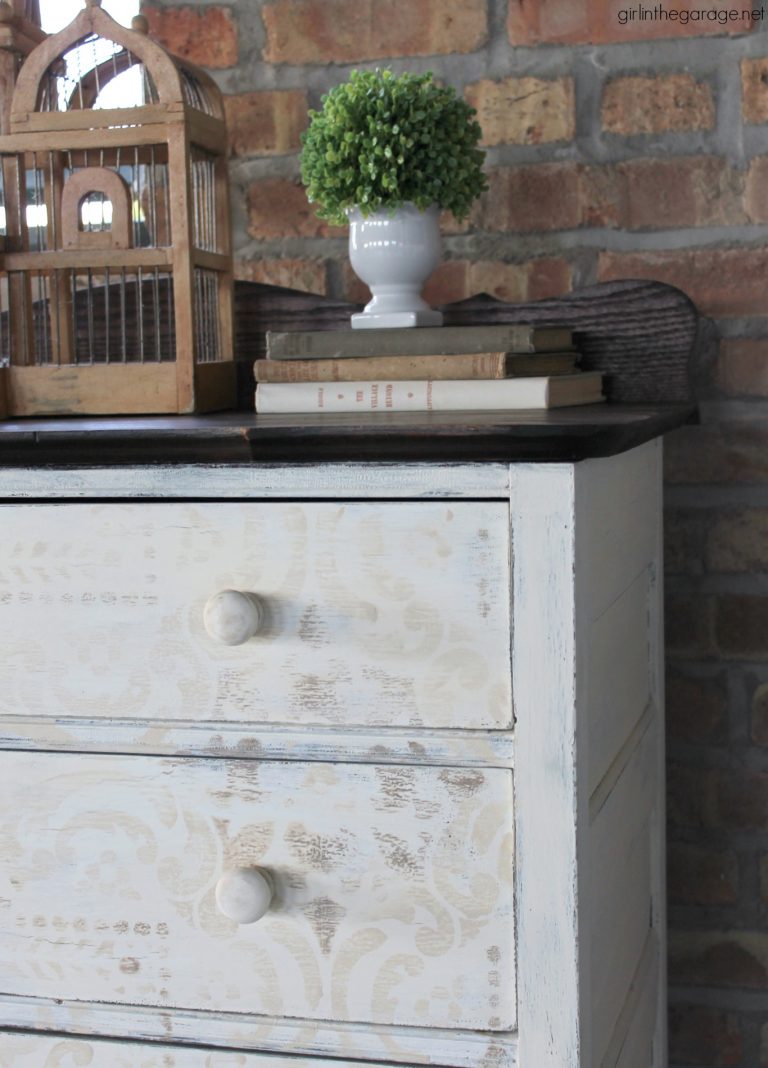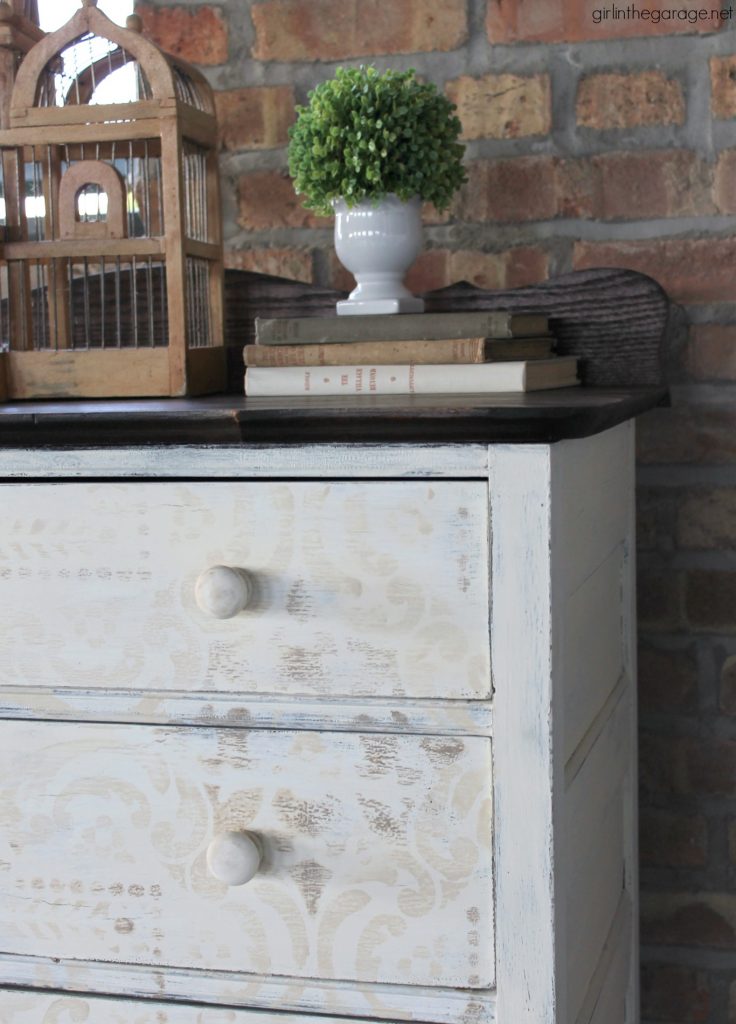 Whew, after all that reading I put you through already I'll stay quiet and let you enjoy some photos. 🙂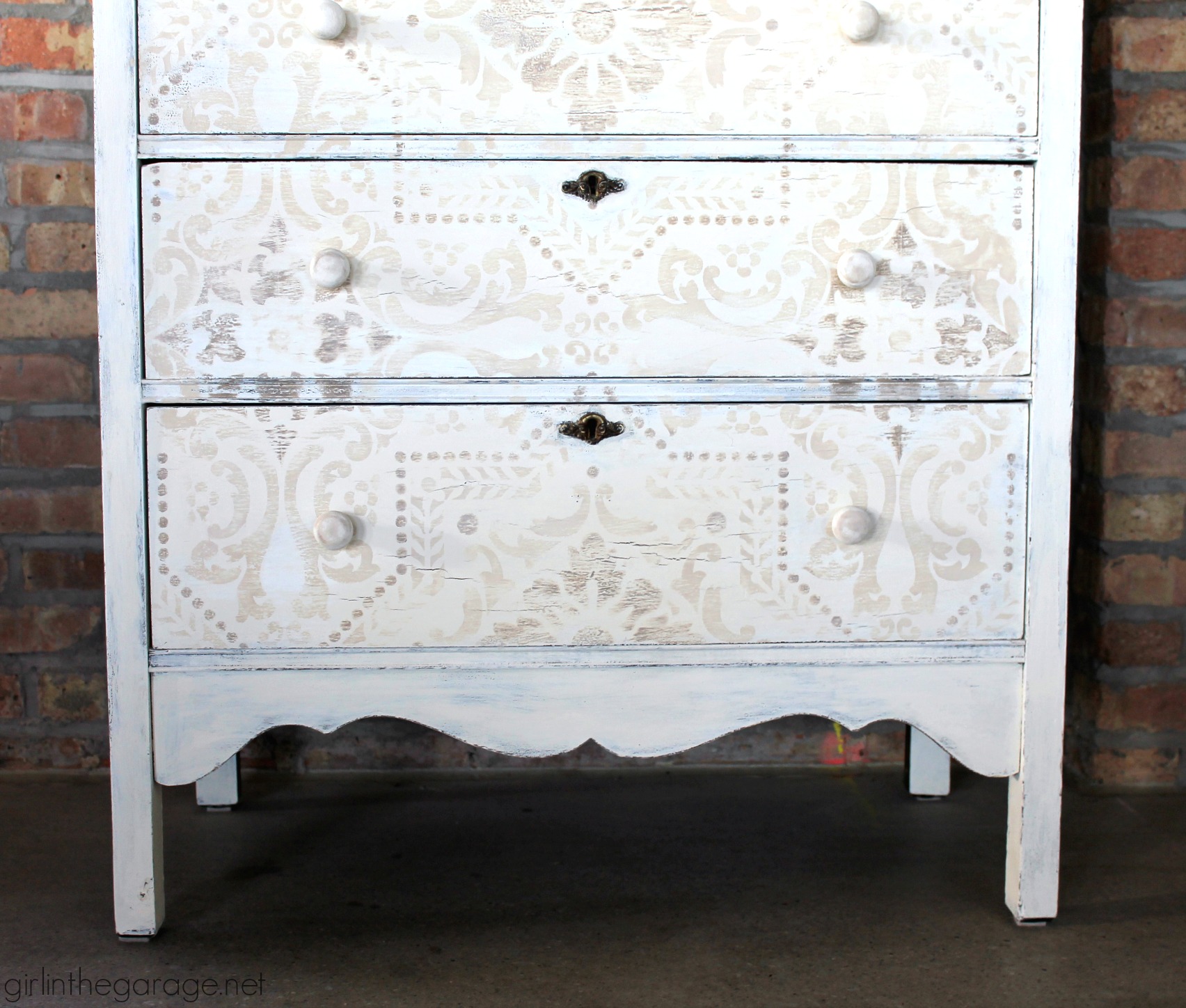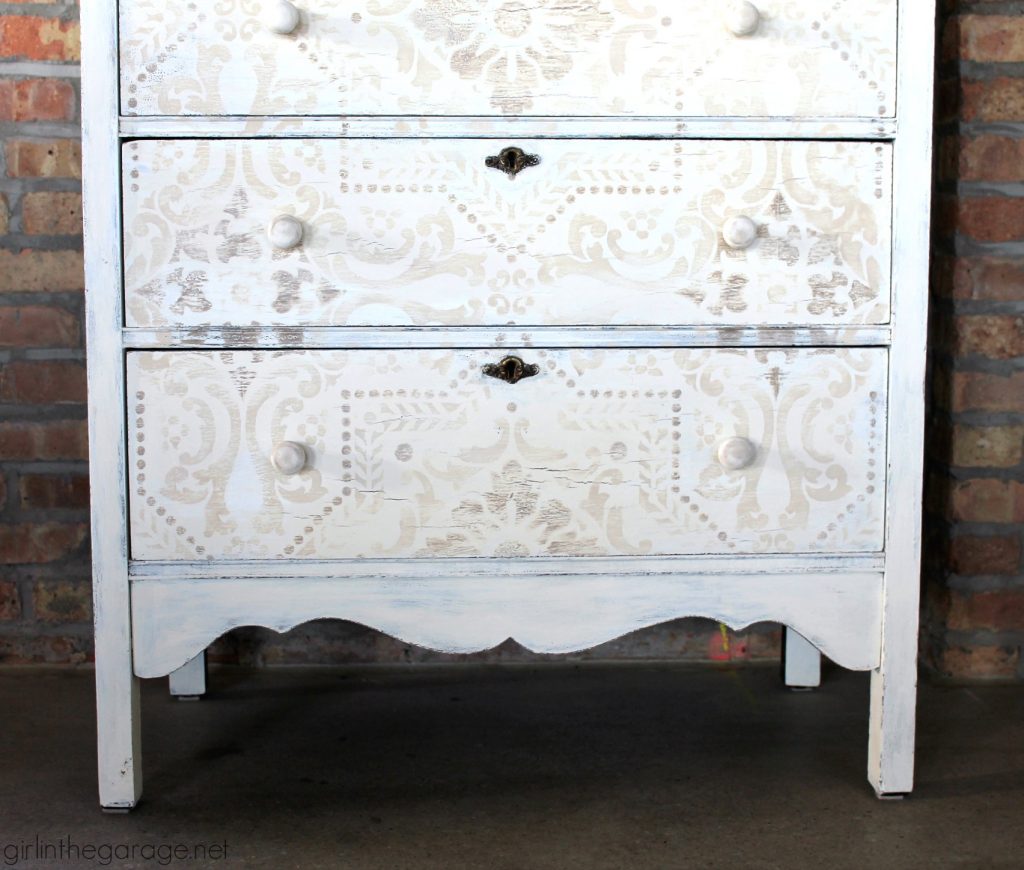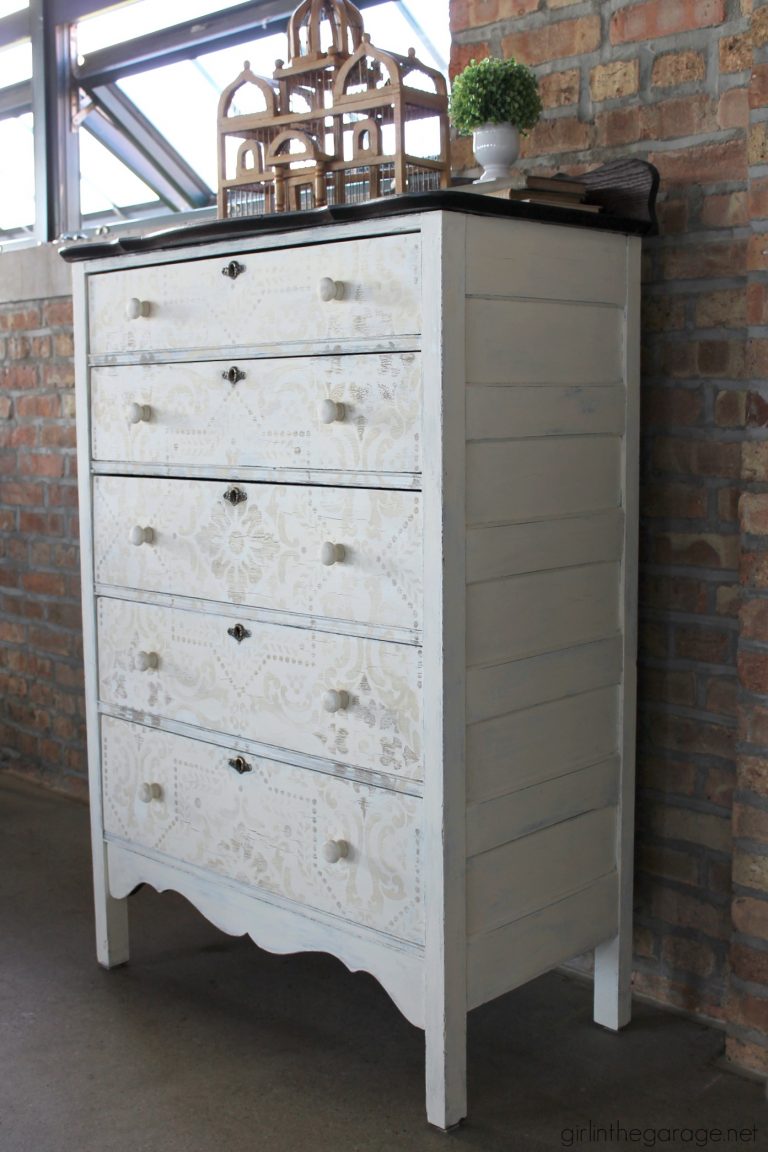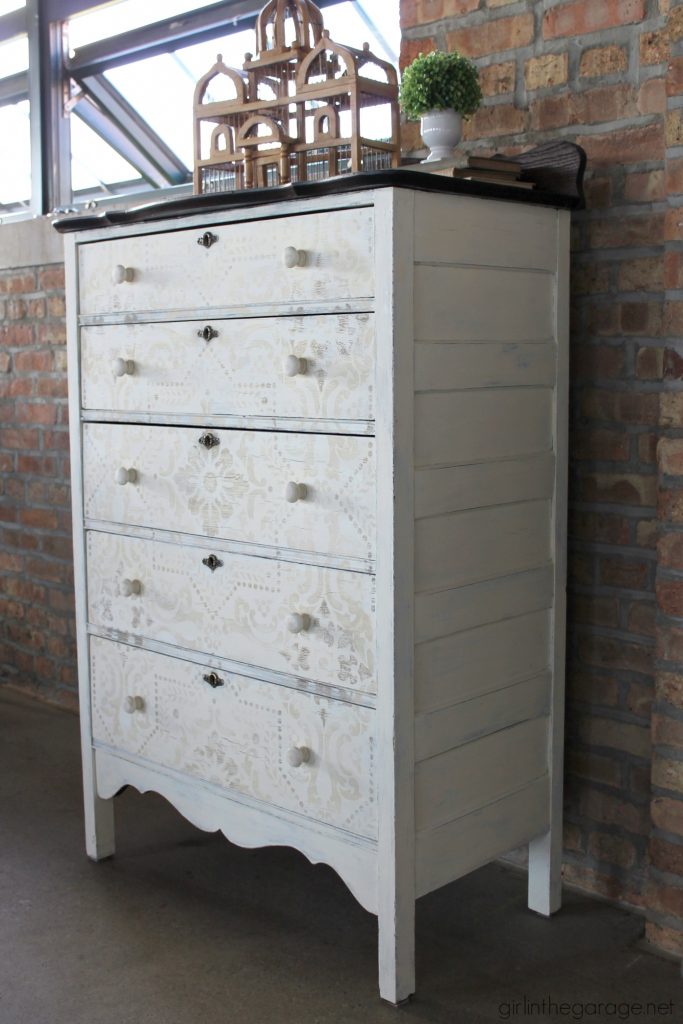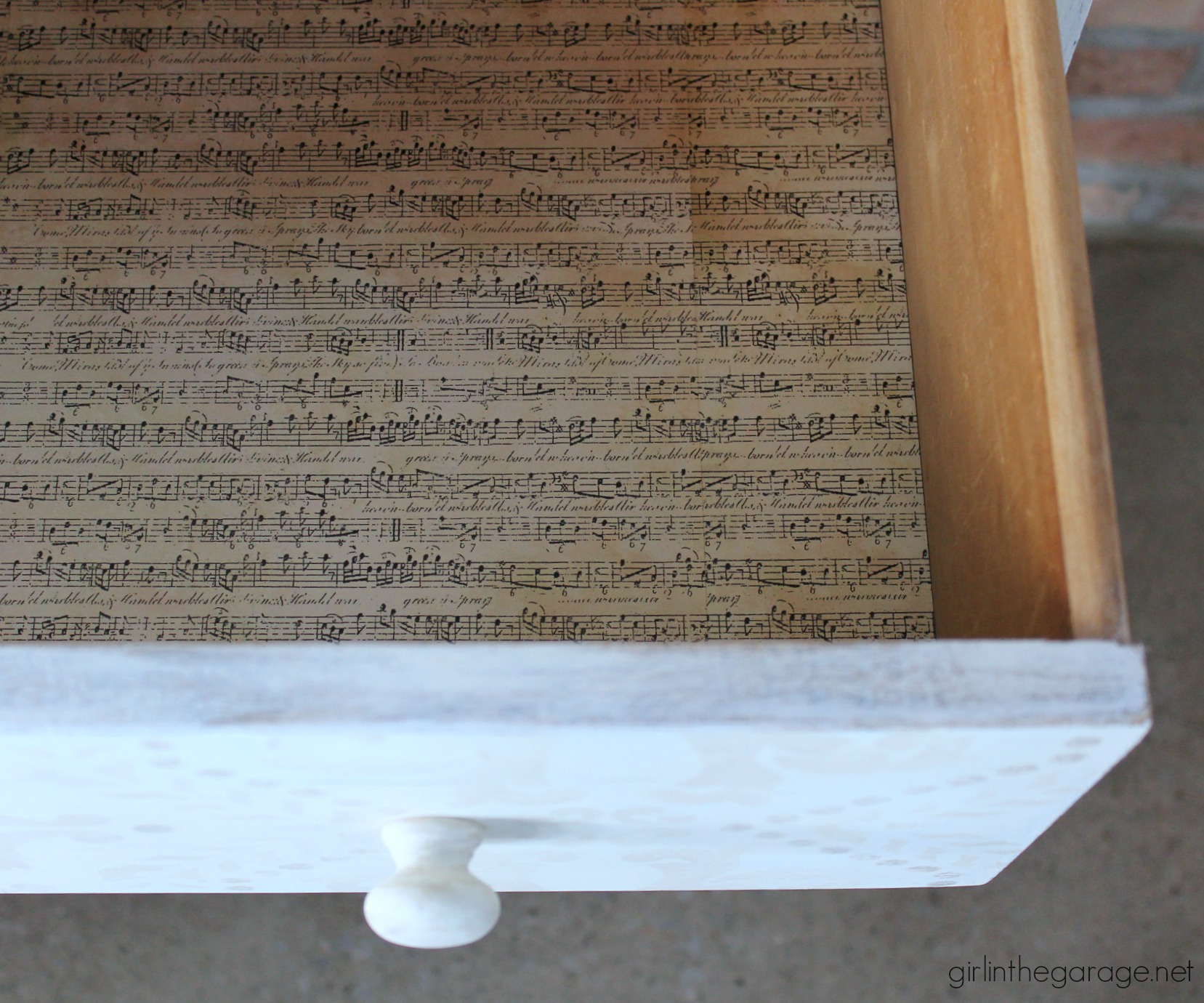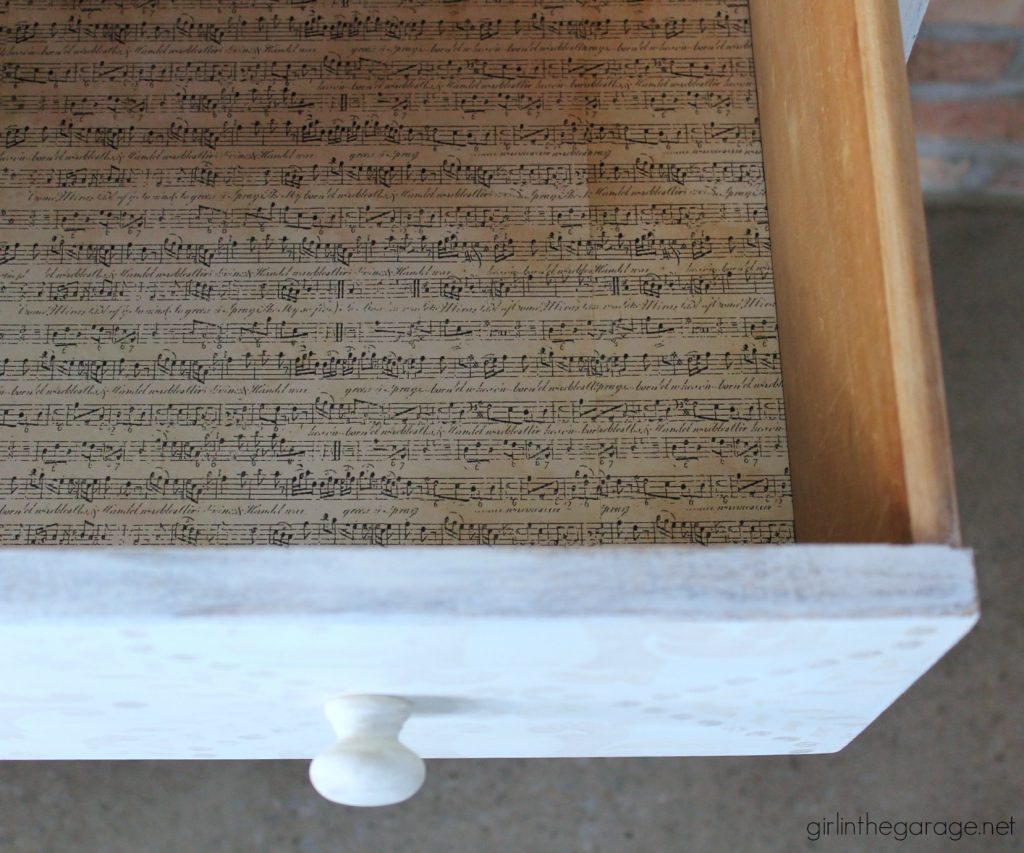 Here's a before-after comparison of the painted antique dresser again: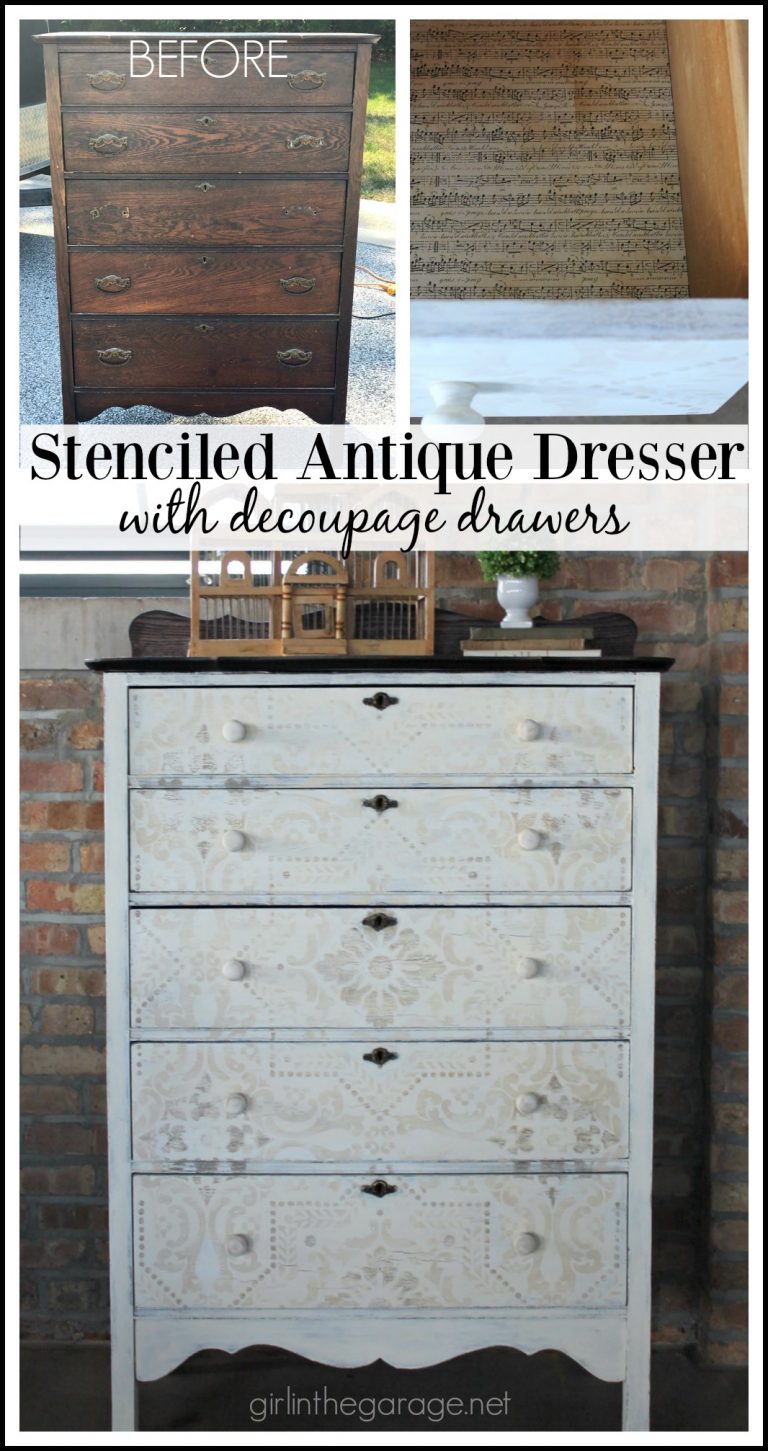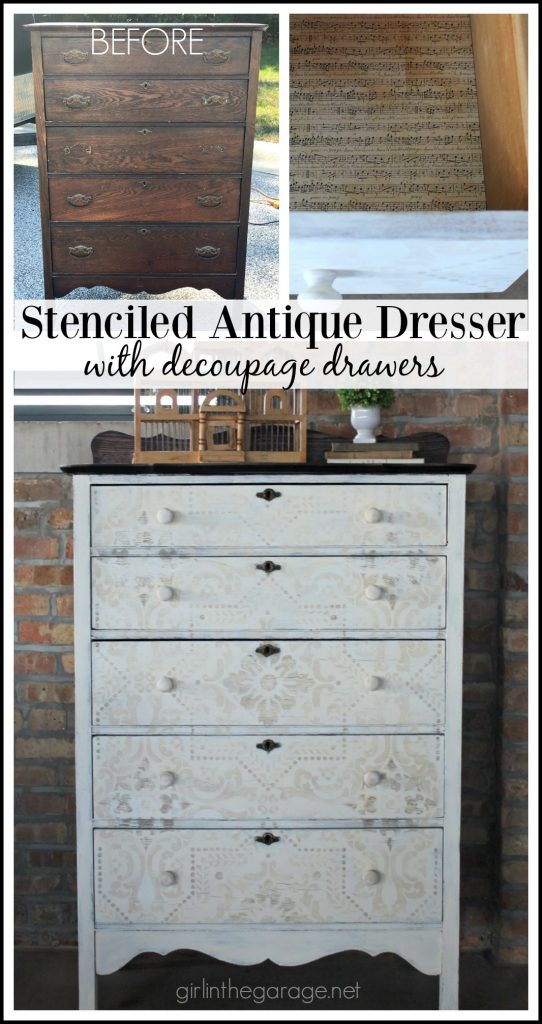 Now it's time for Trash to Treasure makeovers with four of my creative blogging friends! Below are their Before photos – click the links underneath to see the Afters and to learn how they did it.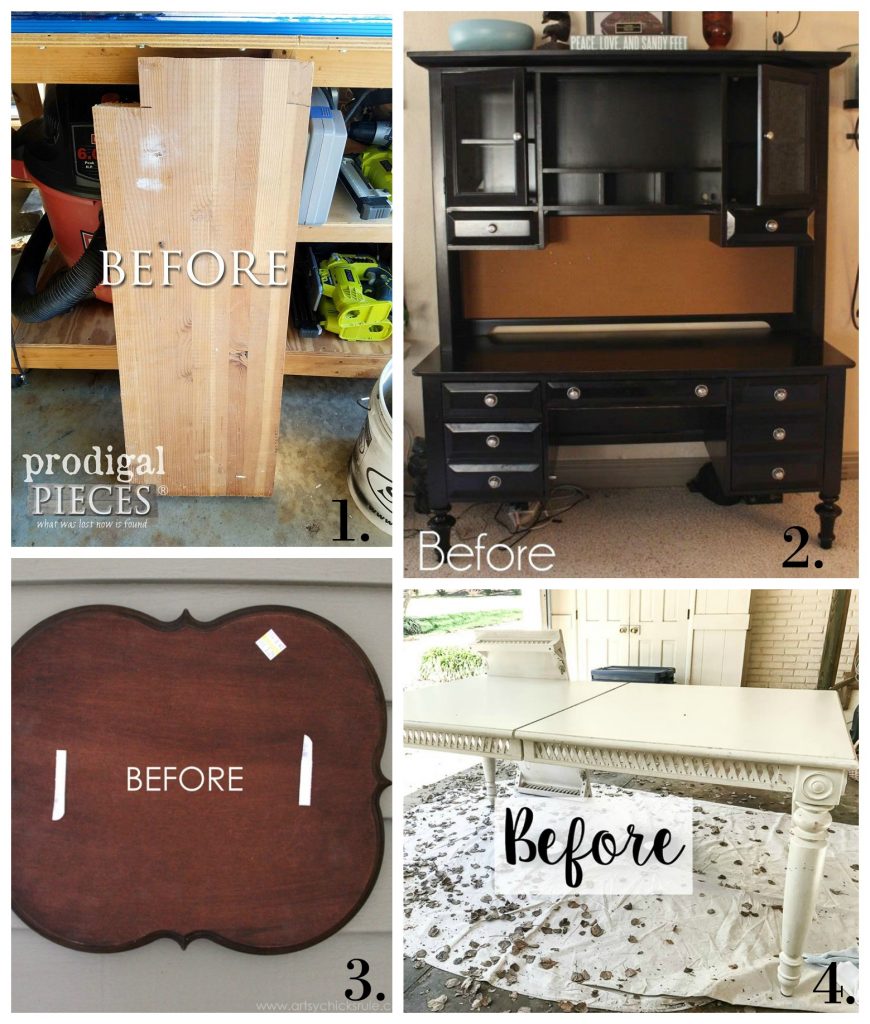 1. Prodigal Pieces
2. Confessions of a Serial DIYer
3. Artsy Chicks Rule
4. Bless'er House