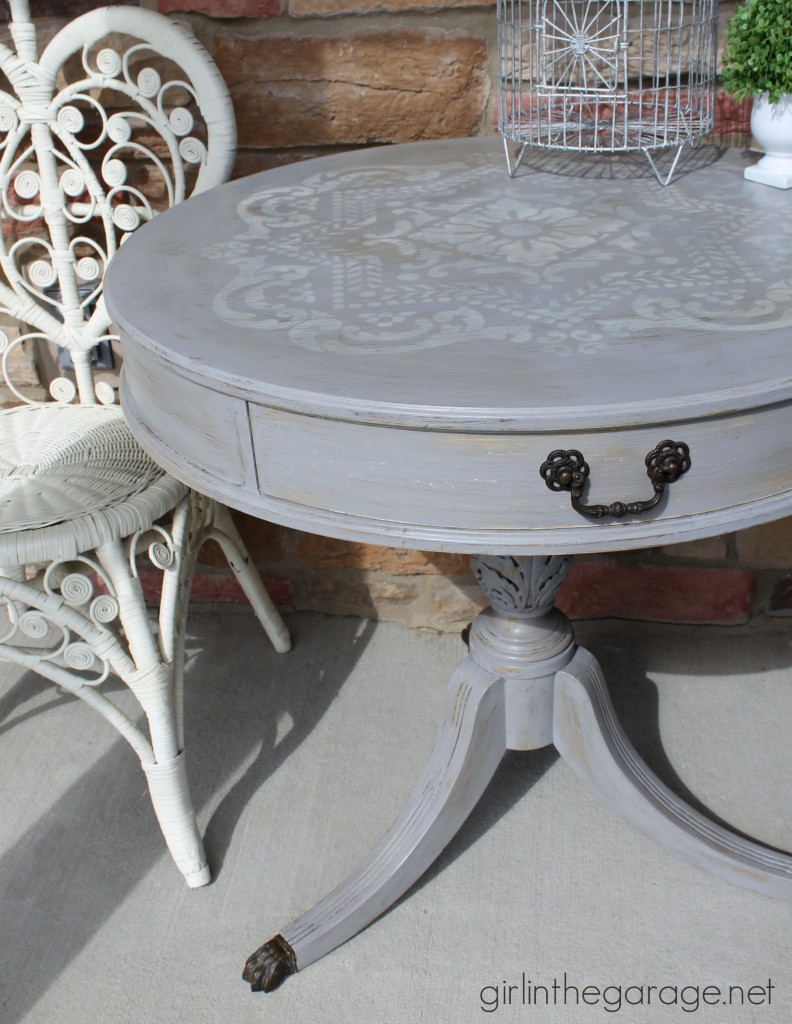 Do you remember the glamorous gold and white stenciled table I painted a couple weeks ago?  Well my hubby (who usually complains about all my furniture around here… LOL) insisted that we have to keep it.  That is a huge compliment to me.  😉   (I've actually only kept a handful of pieces that I've painted!)
So of course I'm not going to say No….  but I did want to do another round table makeover with this awesome stencil so I'd have a piece to take to my booth.  Here's my yard sale table before…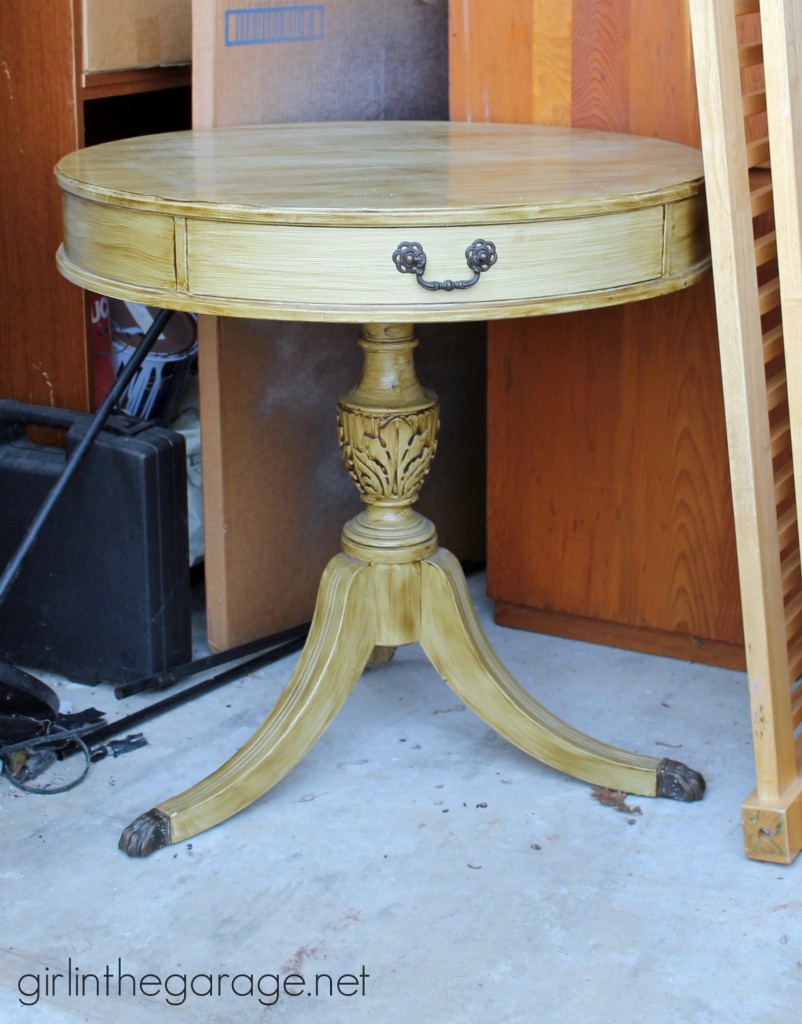 It was manufactured in Grand Rapids, Michigan by Imperial Furniture Co., which existed from 1903-1954.
Don't you feel smarter now?  You're welcome.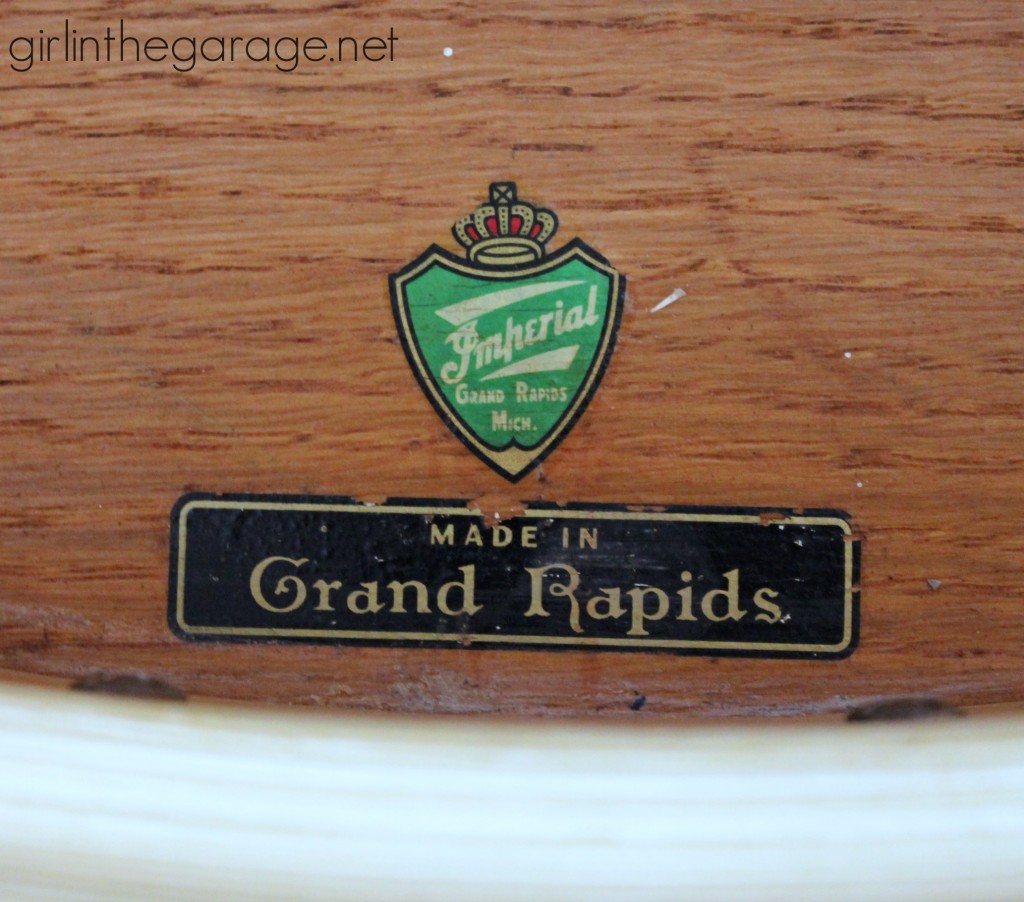 It had also already had a makeover.  I have never glazed furniture, but I imagine there is a right way and a wrong way to do it.  I'm pretty sure this is the wrong way.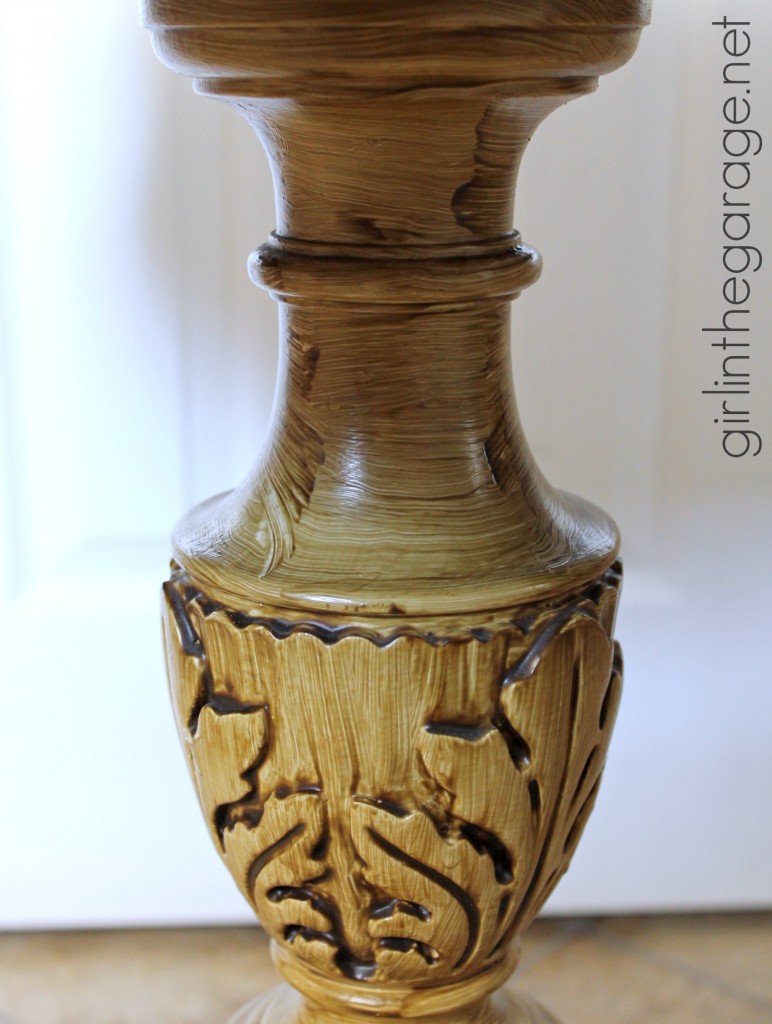 Hello, streaks!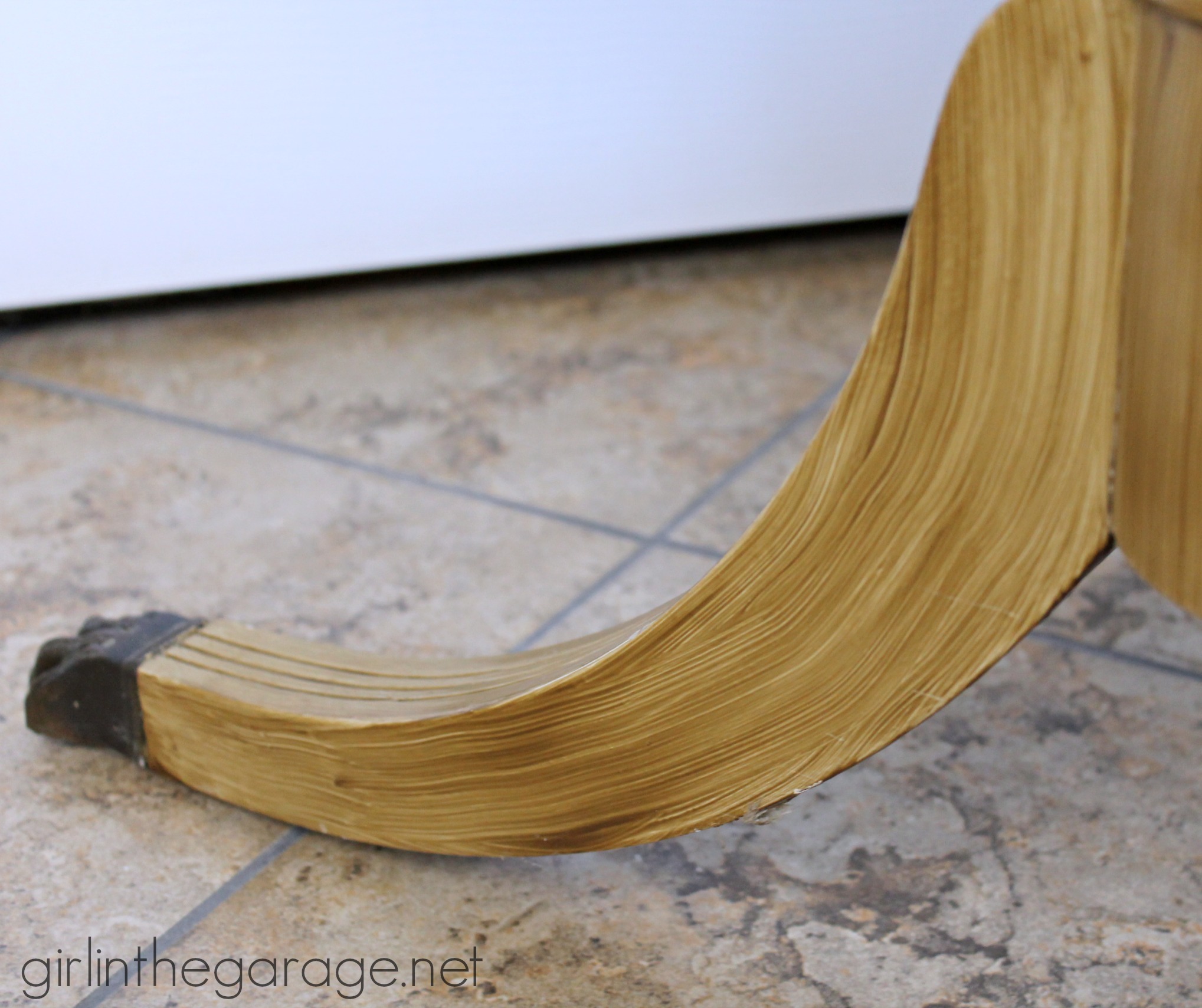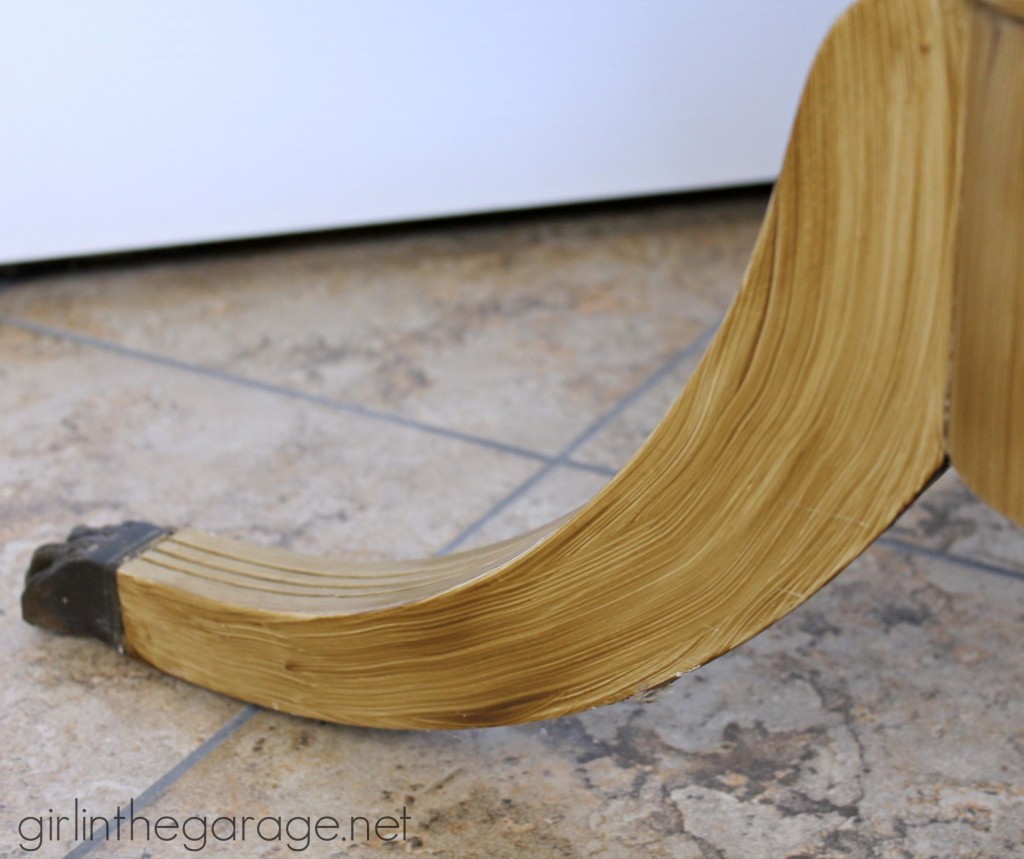 I gave the table two light coats of a Valspar paint sample from Lowe's – Cathedral Stone.  (Mostly gray with a hint of taupe.)  I knew I wanted to use the Lisboa stencil from Royal Design Studio again, but I didn't want it too bright against the gray – so I mixed some Old Ochre Chalk Paint® and Modern Masters Silver metallic paint and got busy stenciling.
When it was all dry, I lightly sanded all over to distress and then I used both clear and dark wax to make it look more worn and aged.  (Here's a tutorial about how to use clear and dark wax together.)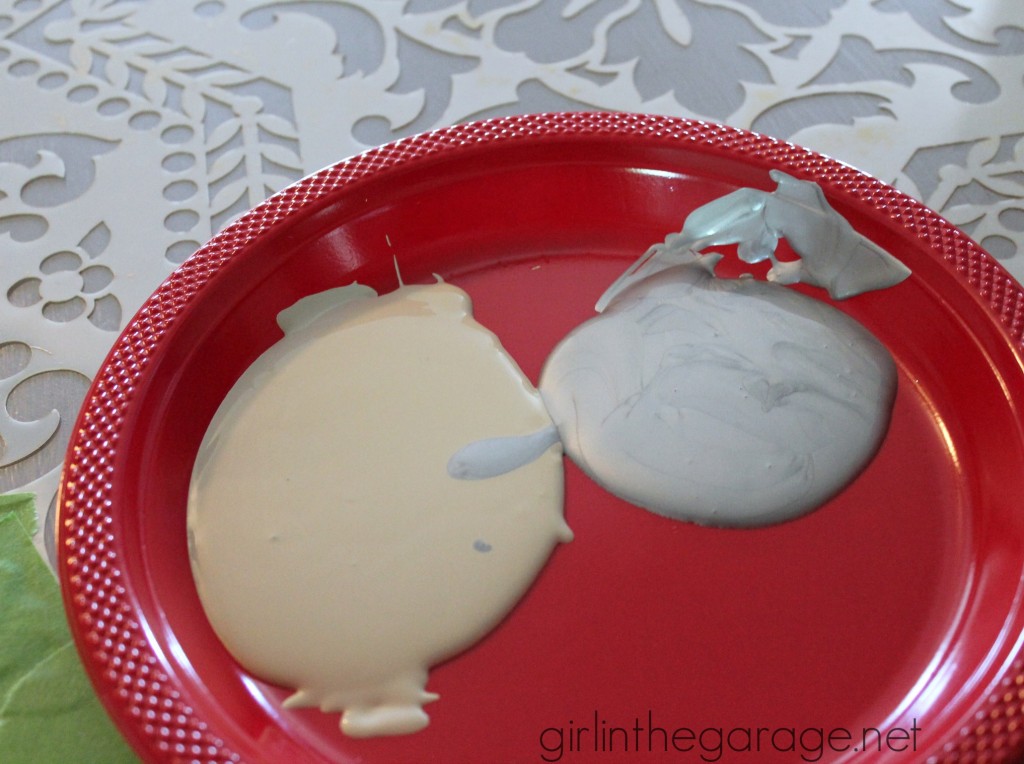 I'm really happy with it!  It's quite different from my glam gold table but I think they're both fabulous in their own way.
Here's a closeup of the top:
No more streaky glaze on the base!  (I love that the old color compliments this piece so well after I distressed it.)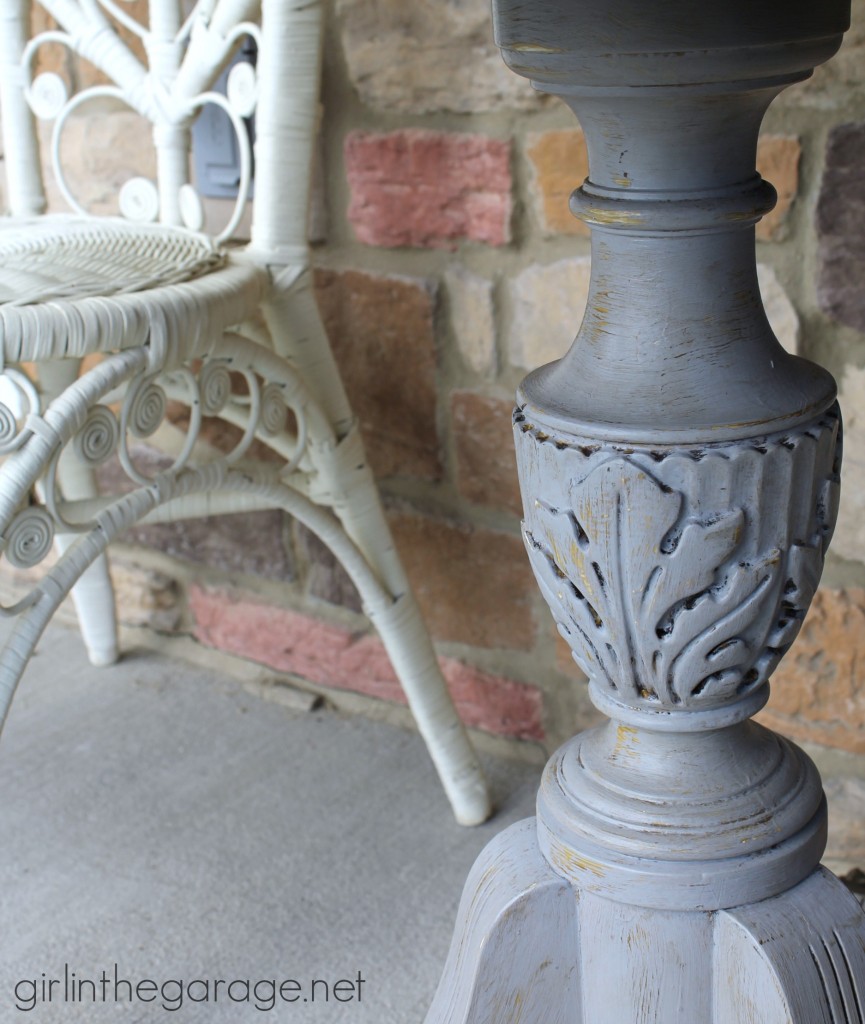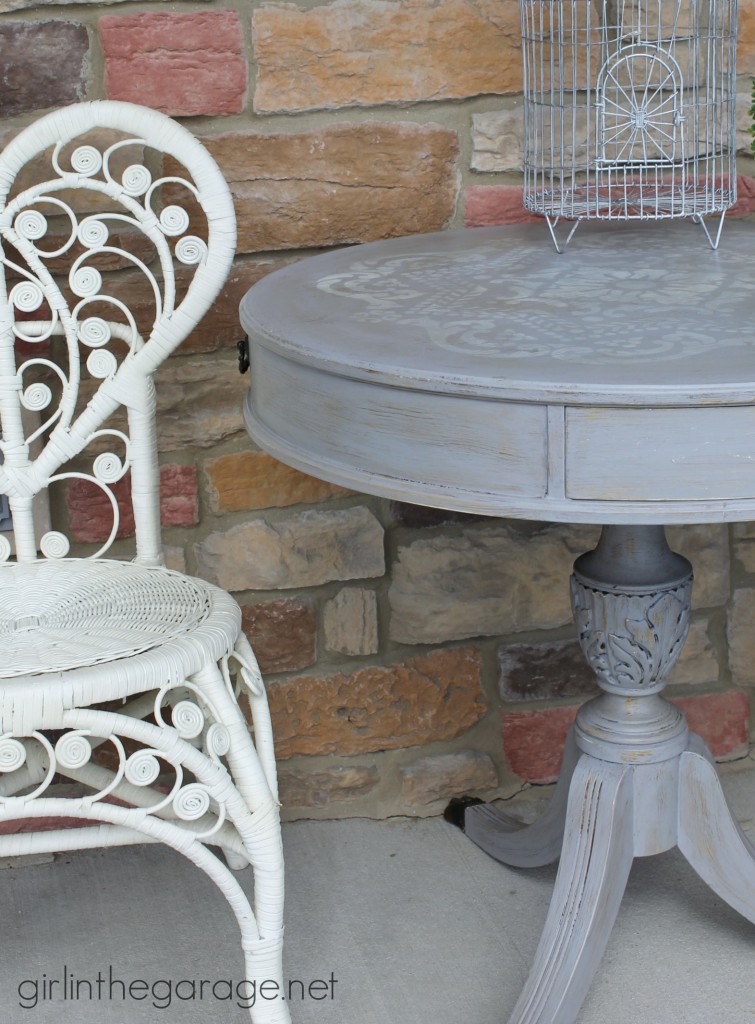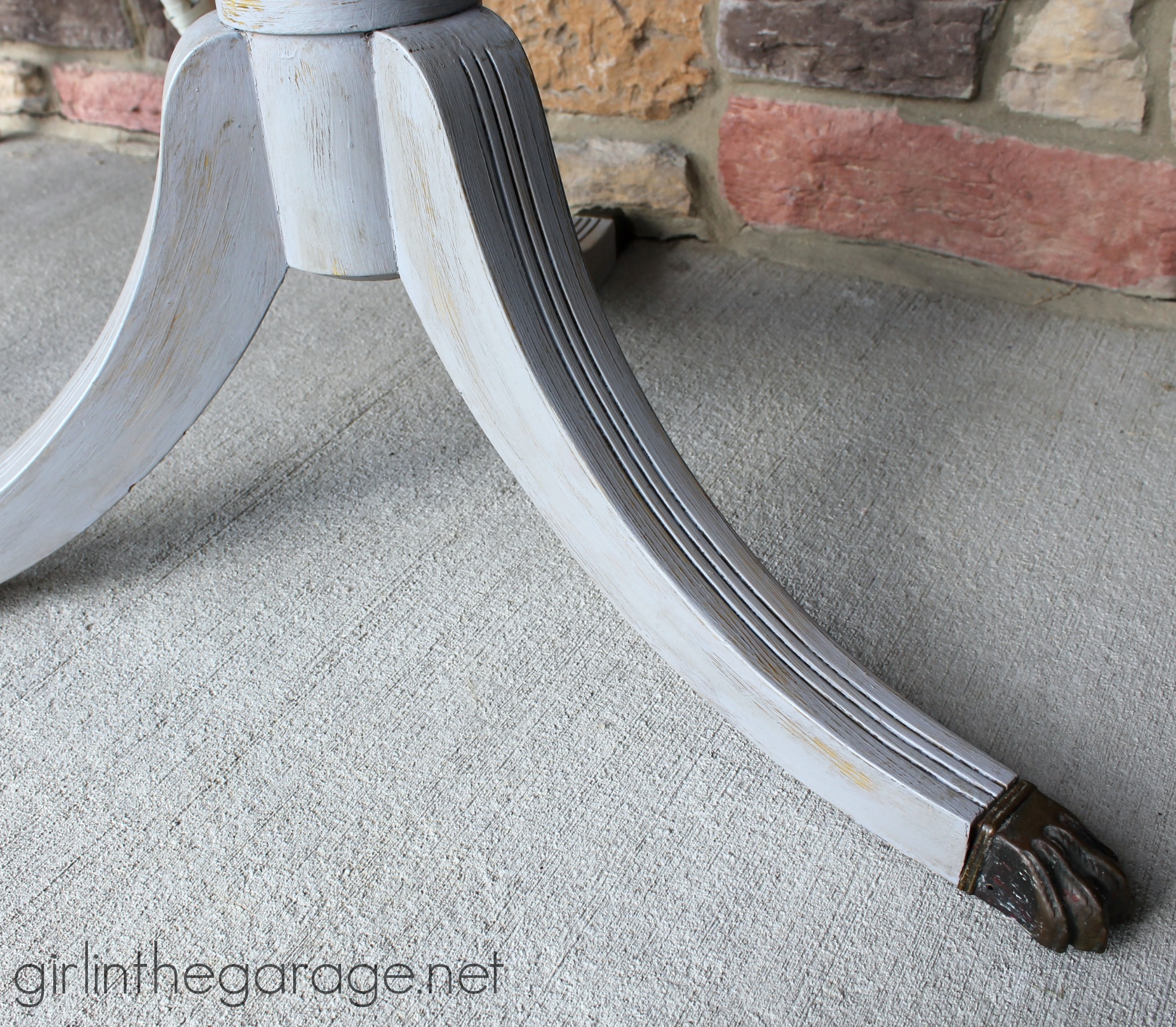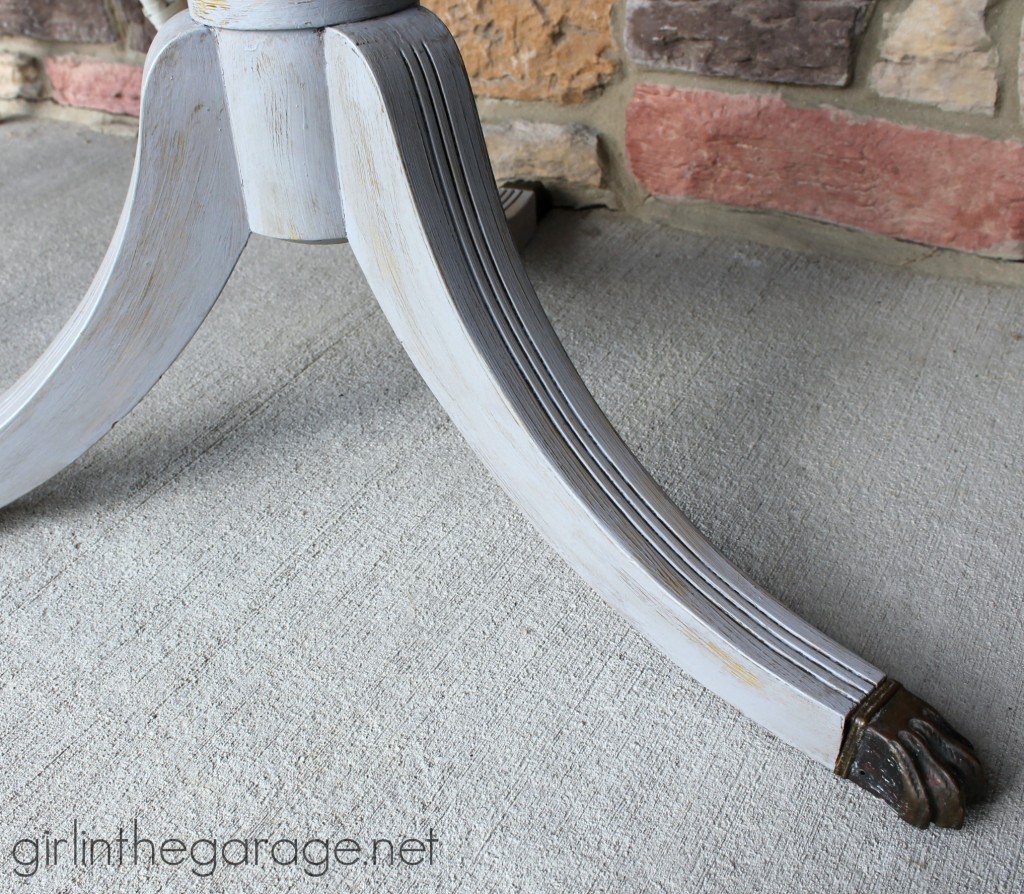 Which table do you think wears it better – gold glam or distressed gray?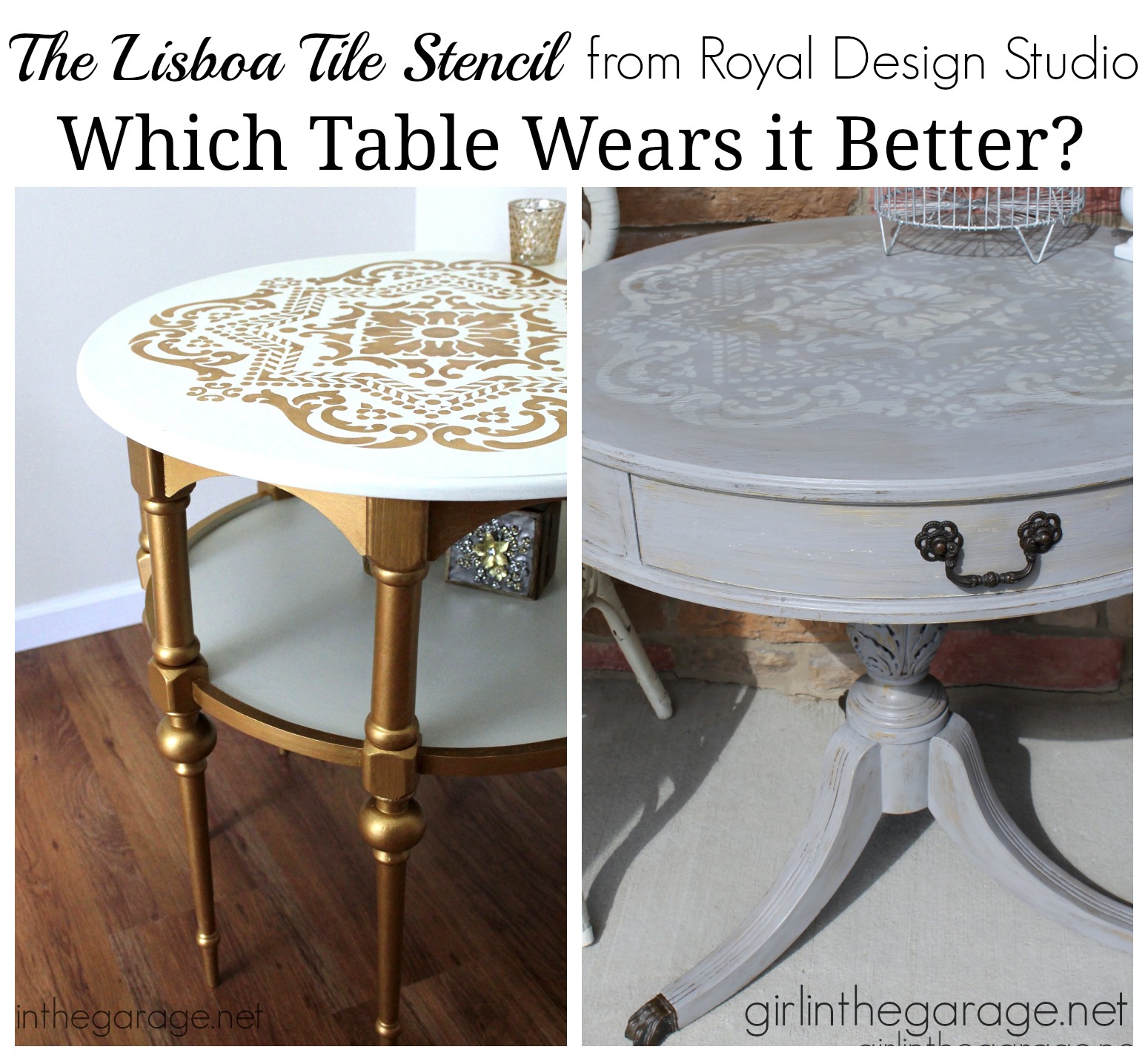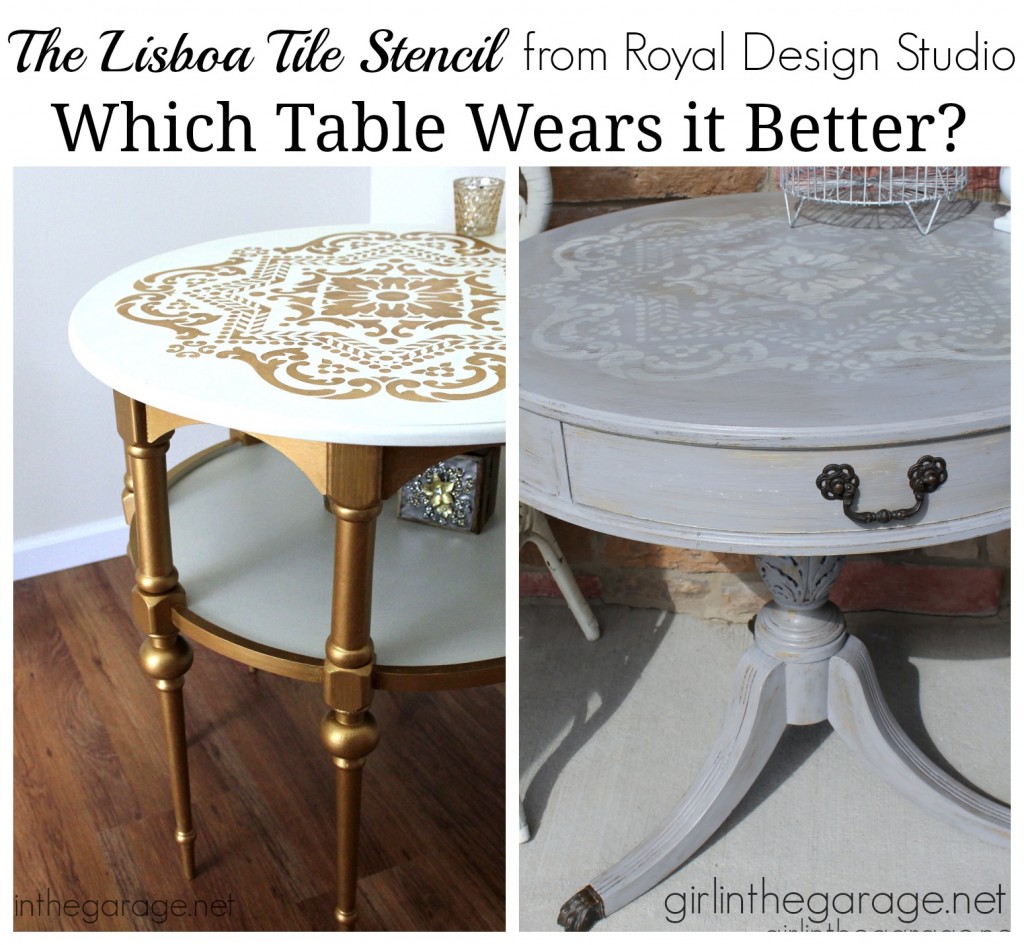 Don't be shy – I read all comments!   🙂
Jen
Recent Awesome Posts:
* Burlap Message Board Inspired by Ballard Designs {Rock Your Knockoff Tour}
* Shabby Chic Decoupage Organizer