Tips for how to be successful selling in a booth at an antique store / Advice for how to rent an antique booth:
Several years ago, my garage was full of finished furniture makeovers. By "full" I mean there were about 5, but they left me very little room to work on other projects!
I wanted to sell my pieces but I wasn't too keen on the whole Craigslist process of writing a listing, answering emails, battling spam, and inviting strangers to my home who would haggle me on my prices and critique my work in front of my face.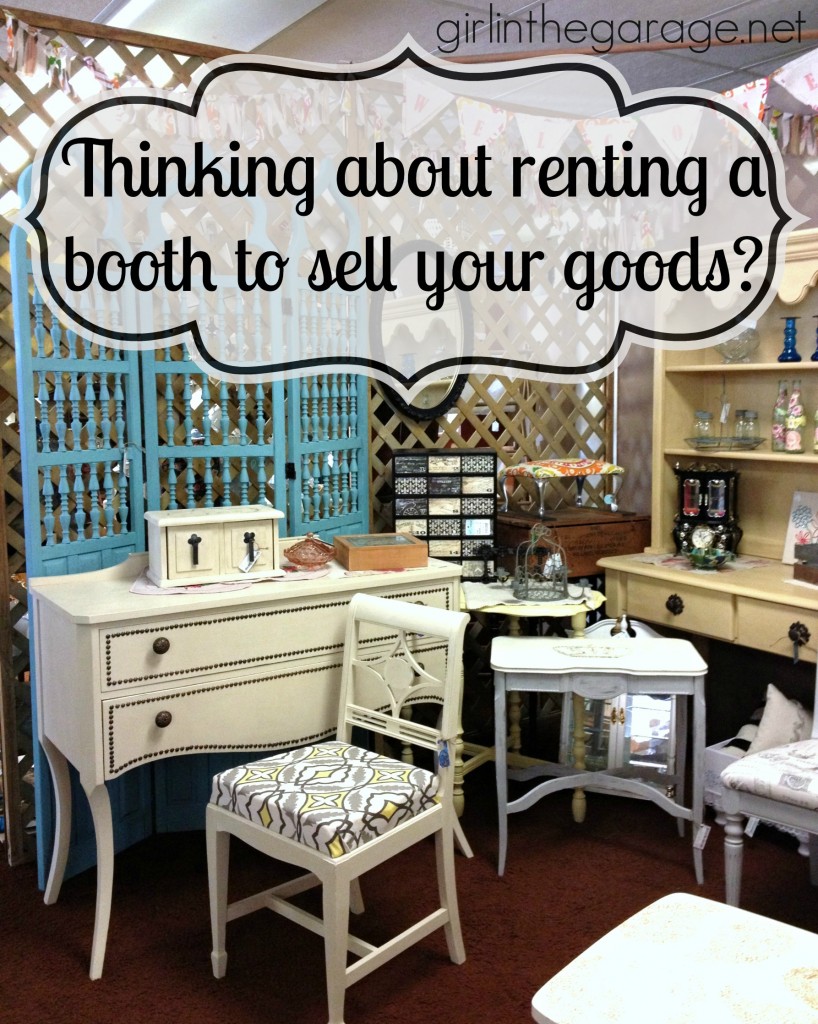 I decided to search for a place to consign my pieces or to rent an antique booth space, and the thought of that absolutely terrified me!
It's one thing to have positive comments on my blog or on Facebook, but it's something else entirely to put your work up for sale and wonder if anyone will actually want to buy it! (Not to mention paying money to rent an antique booth space and not knowing if you'll sell enough to break even.)
After phone calls, meetings, and visits to several stores, I finally decided on a nearby antique mall/artisan gallery to rent booth space. (Here's my "new booth" announcement I shared if you'd like to read it.)
It's kind of funny to look back and think of how nervous I was! A lot has changed since I first started.
Renting a space for a short time does not make me an expert, but there's a lot that I know now that I wish I had known when I was starting out. So if you're considering taking the leap, here's some advice that might help you:
1. Do Your Research
There are many factors to consider when looking for a place to rent booth space. Location of the store is important- is it convenient for you to visit often? Do they receive a lot of traffic? Is the store clean and well-kept? Are they open three days per week, or seven?
When you find a store you like, discuss fees and then take a tour and see which booths are available. Often spaces near the front of the store or on the main floor will have higher rent than other areas of the store. What is the monthly rent, are there commission fees, are there credit card fees, are taxes withheld?
Read over the contract and also be sure you know how much notice you have to give to vacate. If you change your mind after a few months, you'll need to know if you have to give 30-days notice or longer. You'll probably have to pay a deposit upfront and you may also have to pay extra to rent a cabinet or locked display case.
2. Displays and Staging
Assuming not all the items you're selling are furniture, where are you going to keep smaller goods? If you're planning to set them on furniture that is for sale, you might want to bring squares of fabric to avoid scratching. (I do this because I protect my furniture with Annie Sloan wax which takes 30 days to cure, and sometimes I take the pieces to my booth after 2-3 weeks of curing.) I also have a bookshelf in my booth for smaller items- if you do this and don't want to sell the bookshelf (or anything else you're using for staging), be sure to label it "not for sale."
Also remember you're not just renting the space directly on the floor- you are paying for vertical space as well as horizontal – so stacking will create more room and visual interest for customers. (I also use scrap fabric when I stack, to avoid scratching.) If you need ideas for staging, walk around and take cues from booths you are visually drawn to. You can also get lots of ideas from blogs and from Pinterest.
3. Pricing
Pricing can vary greatly based on your geographic area. Your pieces may fetch higher prices in a neighboring town, but rent will probably be higher there also. Pay attention to what similar vendors are selling items for. You don't want to give your goods away but you don't want to scare people off either. If you list a price and the item doesn't sell for a while, consider lowering the price on just that item or offering a temporary discount for everything in your booth. Especially if you're new, it helps to build a customer base right away so people will buy from you again and also tell their friends!
4. Littles/Smalls
As you can see in the photo from when I first started, I just had some furniture for sale and that was pretty much it. In my mind I was determined to only sell my furniture makeovers and nothing else. After a couple months the store owner suggested I add some "littles" which would help with staging and also increase sales.
So I brought in a few things from home and then started looking at yard sales and thrift stores for unique vintage items (bottles, vases, anything old and collectible) that I could resell and make a profit on. It really makes my booth look better and it helps with sales too. (And it's always fun going "picking" for my booth- although I often end up keeping some for myself!)
5. Visit Often
It's good to visit your antique booth often. Whether you're bringing new merchandise, rearranging your items (since a simple change can make someone notice something they didn't see before), or just making sure things are in order. Unfortunately things happen and a drawer from one of my small tables broke, so I had to take it home and repair it. It wouldn't look good for me to sell a table with a broken drawer!
Also, customers will change their mind and may leave something in your booth that they picked up somewhere else in the store- another reason why it's a good idea to check on things often.
6. Discounts
As I mentioned above, it may help to offer discounts from time to time to motivate people to buy. Especially if you have too much inventory, an extra 15-20% off for a day or weekend should help make some room for you! We had a horrible winter here and my sales for the first few months of the year were pitiful. Then the weather warmed up, and my booth was jam packed. I offered a couple discount days and it was my highest month for sales ever!
Also- when you're not running a discount, customers may have a store employee call to try to get you to lower a price. That has happened to me several times and I sometimes agree or negotiate to a price we're both happy with. So make sure you answer the phone when the store calls! 😉
7. Marketing
Most stores do some sort of advertising in local directories and on Facebook- but they're probably not specifically advertising what's in your booth. Some ideas- you can list photos and prices on Craigslist and then direct people to the store and your booth number/location. You can also advertise on your Facebook page or on your blog page or website if you have one (again, direct buyers to the store if you don't want to deal with them directly).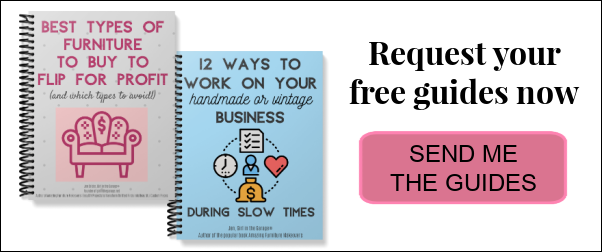 8. Review and Reassess
Everyone's experience will be different- but my experience is that there have been months where I have not made a profit, months where I broke even, and months where I've made a nice profit. I like not having to worry about selling my pieces myself and bringing strangers to my home.
I would suggest to rent an antique booth for at least 6 months. If it's not working out, then reassess. Do you have the time and effort to put into it? Is there another store that would work better for you, or a different location in this store? Talk to the owner and see if they have any suggestions- they should have some helpful advice!
Some people are perfectly happy listing and selling their items on Craigslist. You can also sell certain items online through eBay or Etsy – or locally on eBay Classifieds or even specific Facebook groups and FB Marketplace.
If you're considering renting a booth space, I really hope this post has helped you!
Jen
You might also like this post…
* 7 Mistakes I Made When Starting my Antique Booth *