Back when I decided to start an antique booth in 2013, I didn't hardly have a clue what I was doing. All I knew was that I had painted some furniture and I didn't want to sell it on Craigslist or Facebook (for so many reasons).
I called a few stores, found one near me with an available booth for a reasonable price, and started taking pieces there as soon as they were finished. I wish someone had given me advice in the very beginning so I could've avoided much of the learning curve that goes into running a successful antique booth.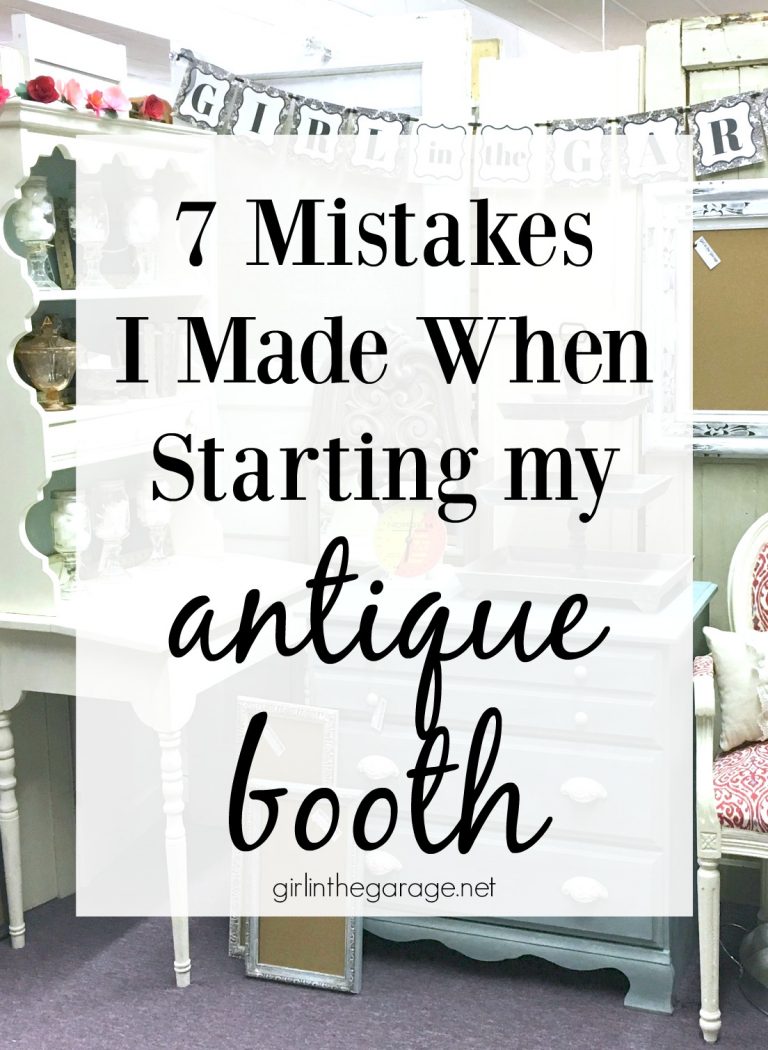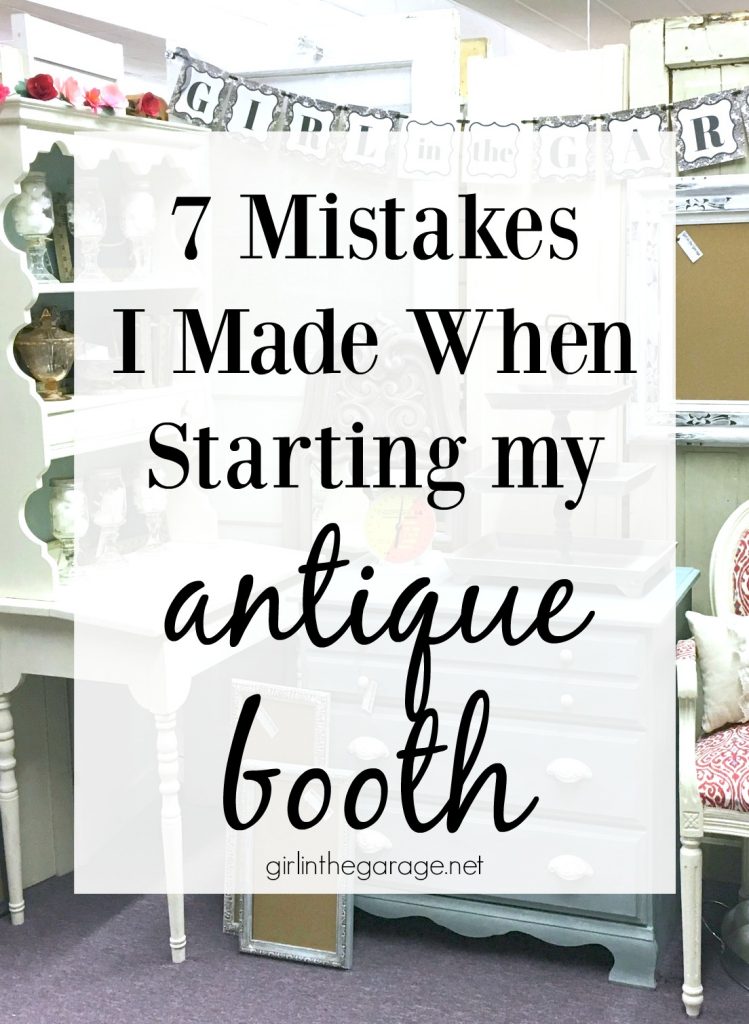 That's why I'm hoping you can learn from these 7 mistakes I made when you start an antique booth. I don't consider myself an expert, but I do know a heck of a lot more than I used to!
1. Not doing hardly any research first.
I thought I could call a store near me, rent an available space, and people would come buy my stuff. Turns out, there's way more to it than that. Finding the right store is crucial to your success. It may not be the closest store geographically, it might not have the cheapest rent, and there may not even be any spaces available if it's a really popular store. I was on a waitlist for a year before getting into the store I'm in now.
Do research on all the stores within a reasonable driving time – that may be 20 minutes or an hour away. How far are you willing to travel to have a successful booth in an amazing store? Make sure you can commit to driving there weekly, or as often as needed.
Visit the stores and really look closely. Choose a store that's aligned with your style – make observations about the booths, the products, prices, even the employees.
2. Thinking I had to sell only my upcycled furniture and nothing else.
Maybe you have one thing you focus on – refinished furniture (or whatever your specialty is). Your booth will still look pretty empty if all you have are some chairs, tables, and dressers. Think of other products to sell that are still within your main category (mine is home decor) – upcycled frames, painted crates, handmade pillows, candlesticks, jewelry boxes, etc.
Try to offer items of all sizes and price points – your booth will look fuller and you are guaranteed more sales. Not everyone walking by your booth needs a new piece of furniture right now.
3. Pricing too low.
When you first start an antique booth, it's tempting to price low so you're guaranteed some sales right away. You might be thinking "No one knows me or my work, so they won't be willing to pay much." If that's in your head, please stop it. Don't undervalue yourself, the time and effort you put into your work, just for a quick sale.
You don't want to start with a reputation for cheap prices. If your pieces sit for a while without any interest, then you can offer a temporary discount.
4. Letting the store do the marketing for me.
The store should absolutely be doing some consistent marketing. But with 50-100 vendors, they can't give everyone frequent shoutouts on Facebook. You are in charge of the success of your own business – that means having your own Facebook page and probably even Instagram too.
Grow your own following so you can let fans know when you bring new pieces in, when there's a special sale, or even when you're working on new projects that will be available soon.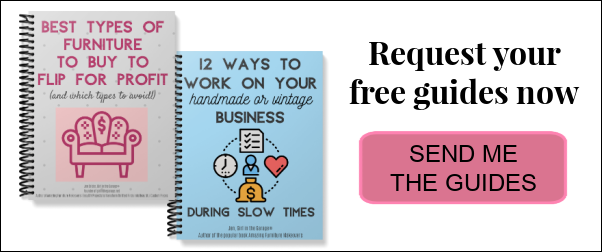 (I'm adding a 4B right here… as far as marketing, I didn't even have a business sign in my first booth! At least I did have business cards…)
5. Being afraid of "putting myself out there."
This is something I struggled with for a long time, and I get emails from others who are having the same fear. There will always be critics. There will always be somebody more experienced than you. And there will always be a reason to procrastinate and be nervous to start your business.
If this is really your passion, don't let fear or doubt or unsupportive friends get in your way. Take a deep breath and do it. You'll learn quickly and you'll become more confident. You owe it to yourself to try!
6. Not creating a brand from the very beginning.
When you start an antique booth, it helps to have a cohesive style from the beginning. My pieces were kind of all over the place design-wise and my booth wasn't decorated well.
Now, I treat my space like a little boutique. I want customers to feel a certain way when they walk in and I want to leave a lasting impression. My space, my merchandise, and my branding are all cohesive because I take it way more seriously as a business now than when I started and it was more of a hobby.
7. Not visiting/rearranging my space often enough.
Life sometimes gets in the way, I know. But the more often you bring in new items and rearrange your booth, the more sales you'll have. Don't treat your booth like a storage unit, dropping things off once a month when the rent is due and not checking in again until the next month.
The more time and effort you can commit when you start an antique booth (and for as long as you keep it), I guarantee you'll have more success.
Finally….. click here to read more of my articles packed with advice and tips for running a successful creative business: