Hello friend, it's Trash to Treasure Tuesday again! Such a fun day around here. This month I tackled a repurposed chest project.
You can see how this cedar chest was broken in a few places and overall pretty beat up. It was offered to me for free, but fixing the whole thing would've been a huge task – so I opted to just remove the lid and save it for a future project.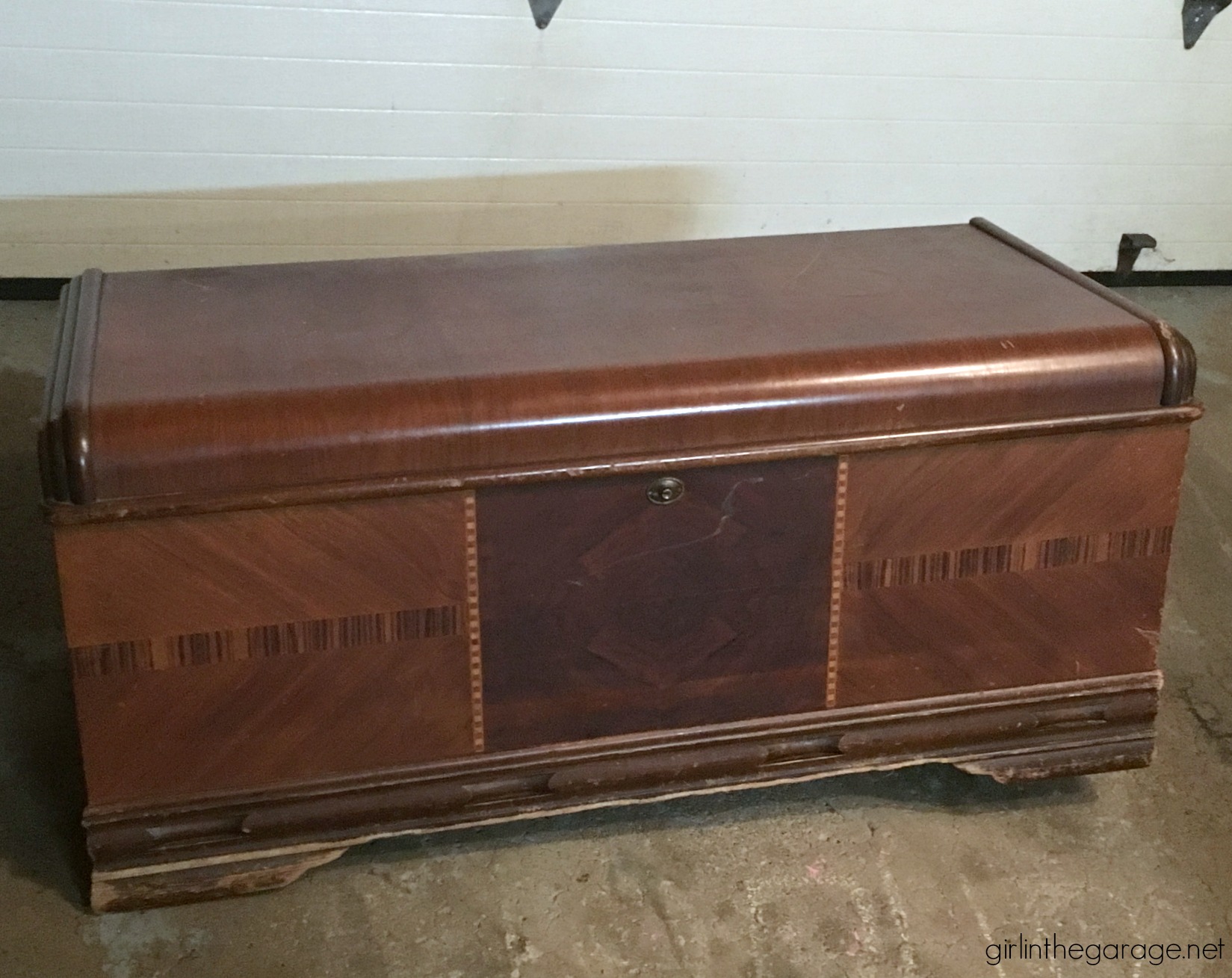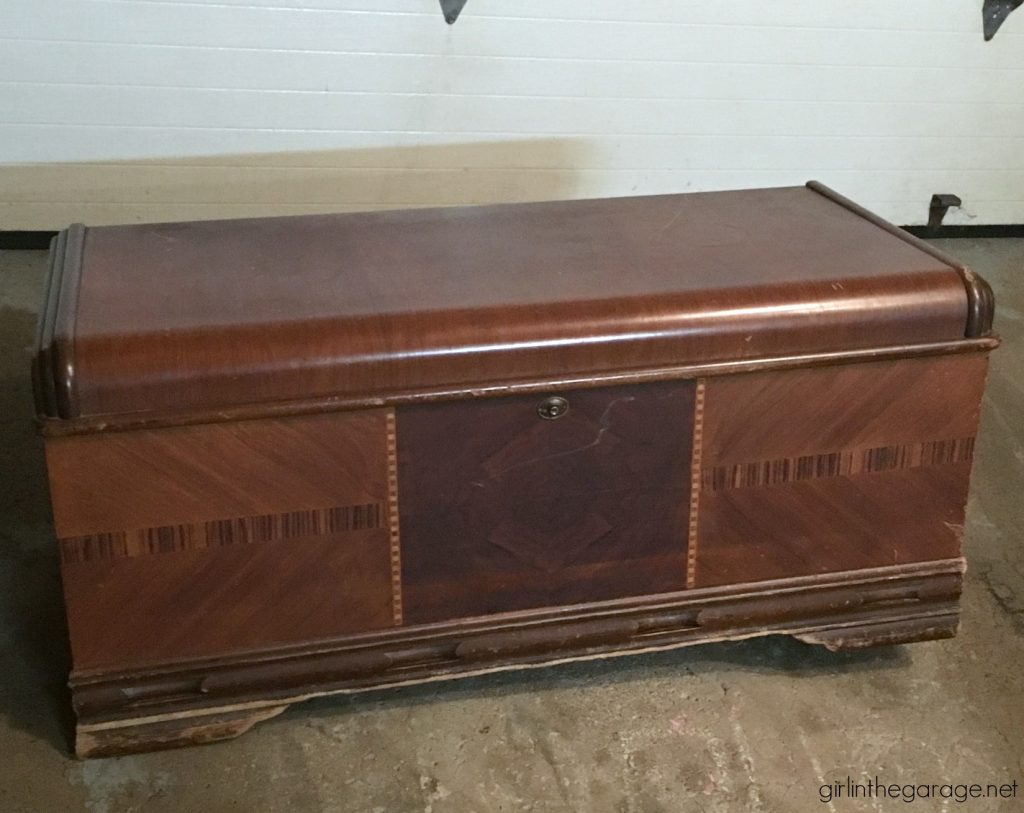 Here's the lid – a little scratched on the ends but overall solid.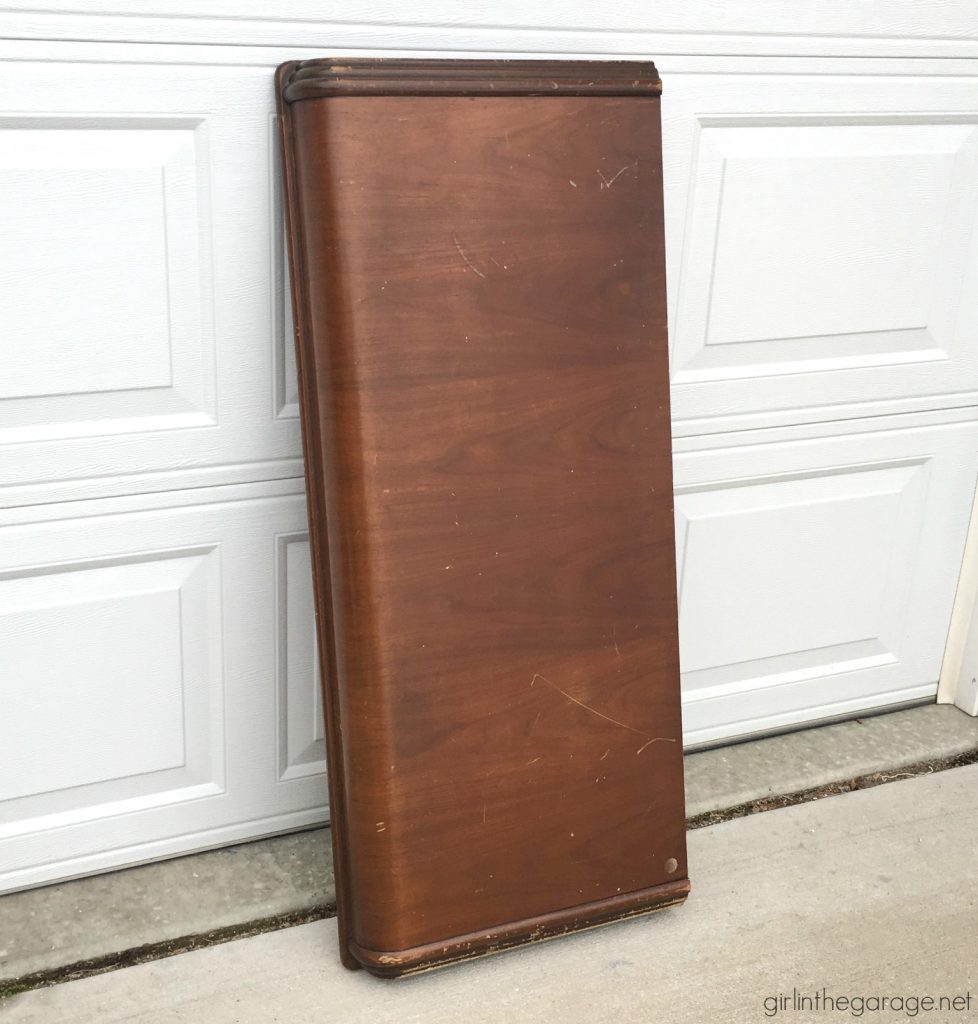 *This post contains come affiliate links so you can easily find the products I use and recommend. Discover all of my favorite tools and products to use for DIY projects HERE.
We had to wait for the weather to warm up to tackle this project, so I was super excited to have a few gorgeous spring days this past week!
My plan was to turn it into a repurposed chest lid to modern farmhouse bench. Here's the underside: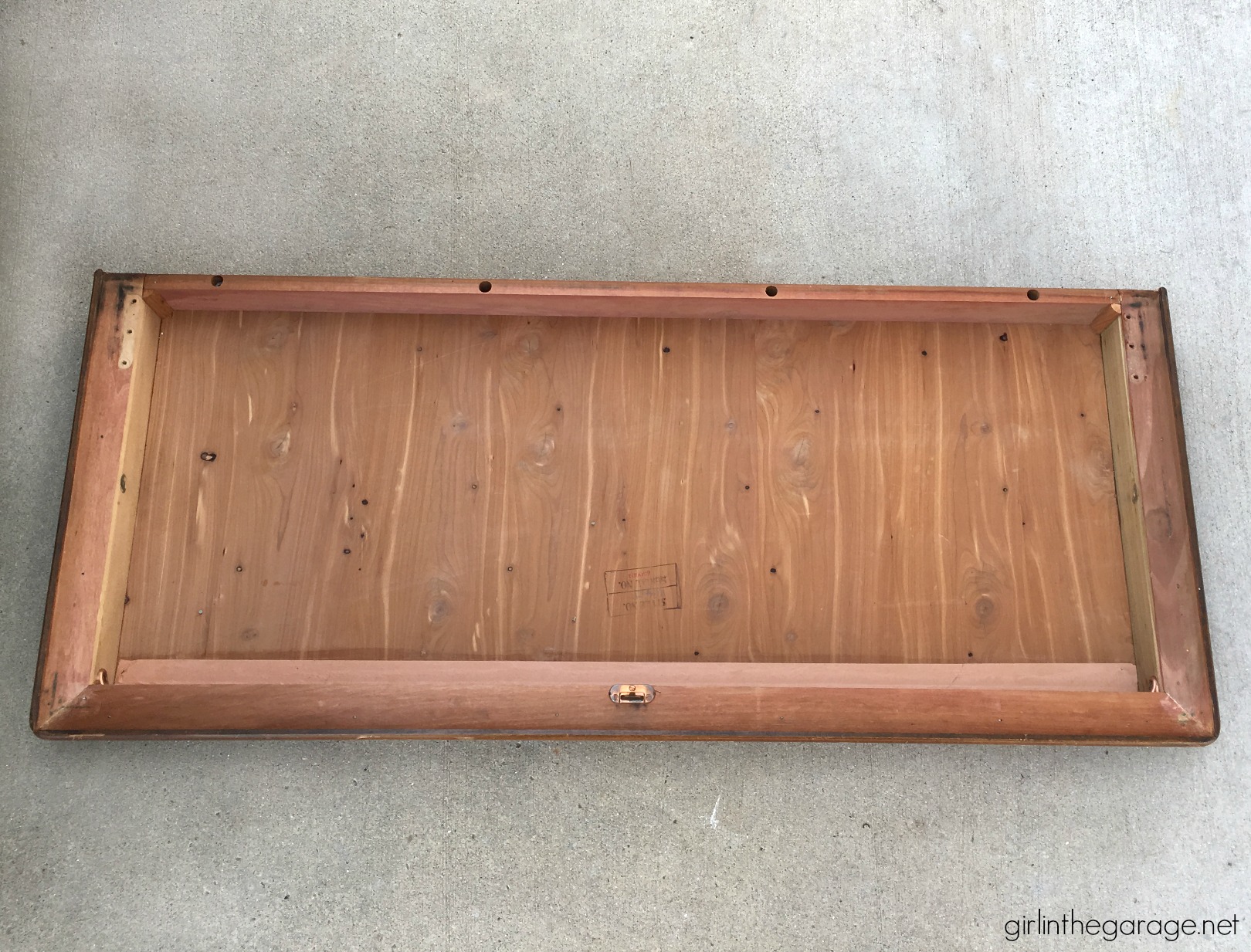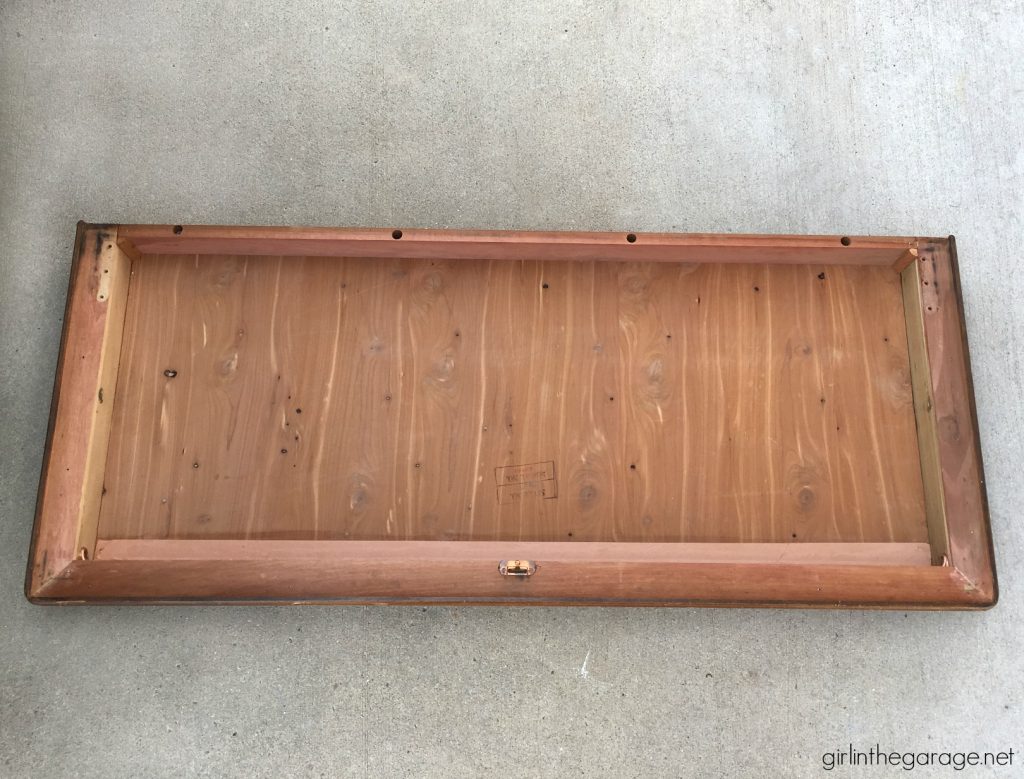 Guy in the Garage helped out a lot with this project. (Thanks babe!)
The lid is 44 inches wide and 18 inches deep, so it's plenty long enough for at least two people to sit on as a bench. You can never be too safe, so hubby cut some extra support to go inside. Here it is laid out.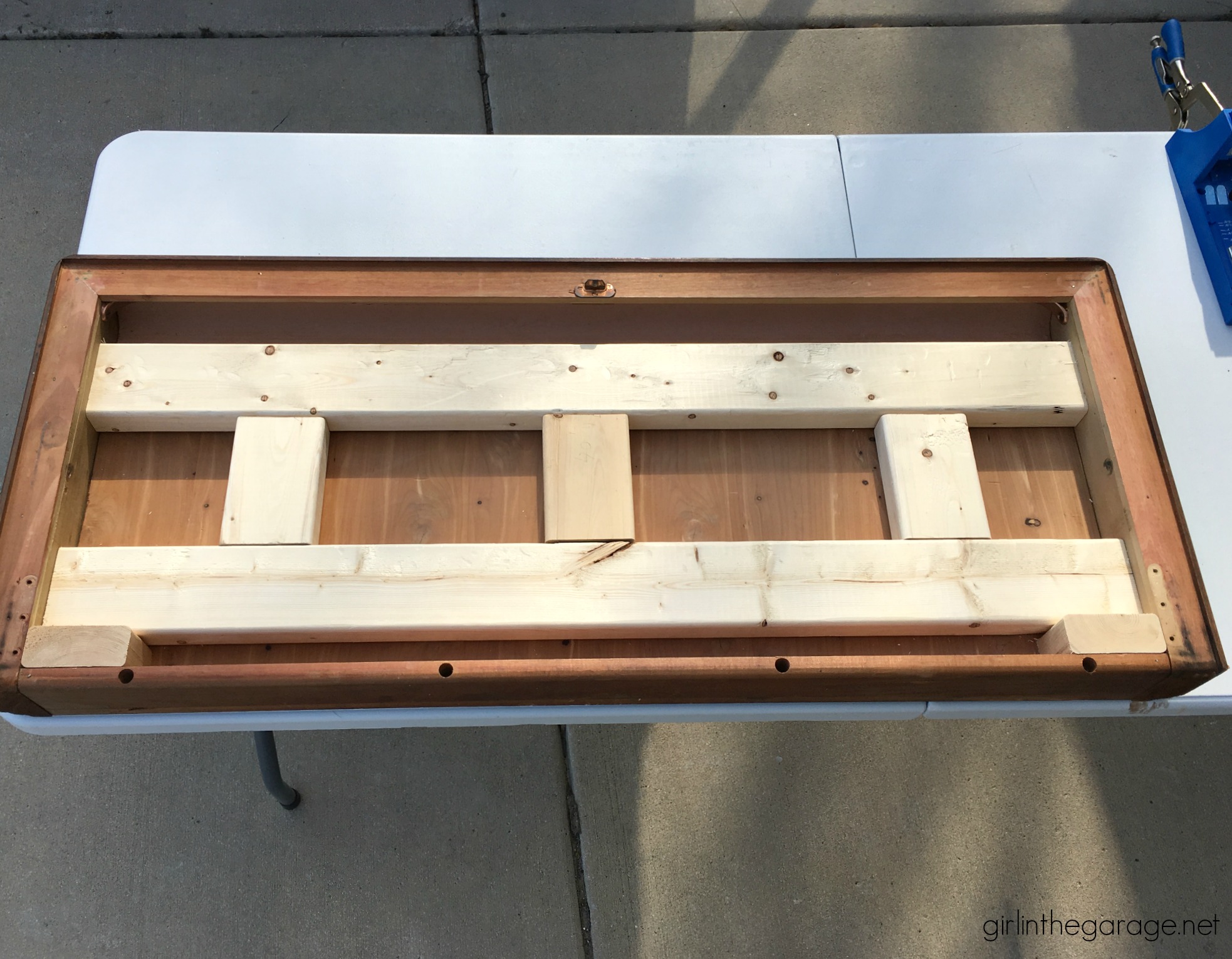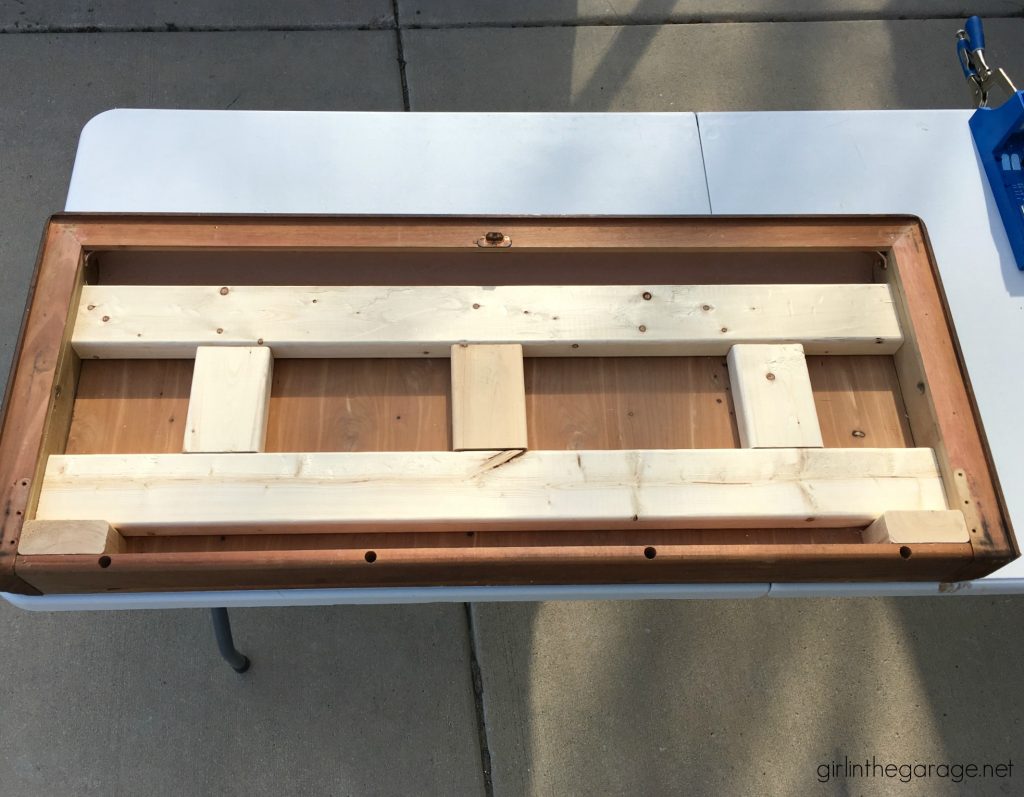 He used a Kreg Jig to make pocket holes to secure the pieces together easily at an angle. (It's also an awesome tool for projects where you don't want the screws to be really obvious.)
There are two extra pieces of wood at the bottom corners because the new legs needed somewhere to attach to back there.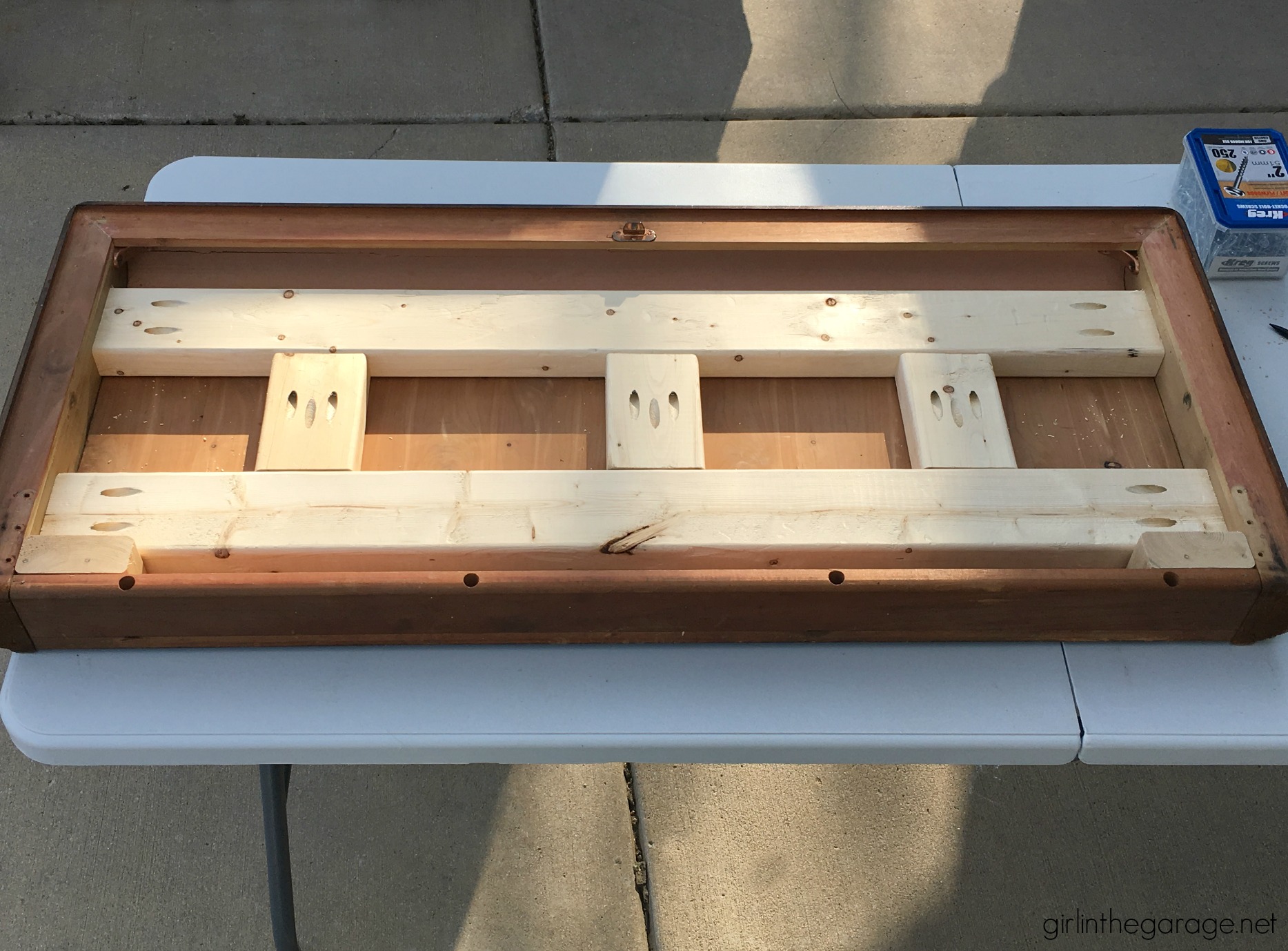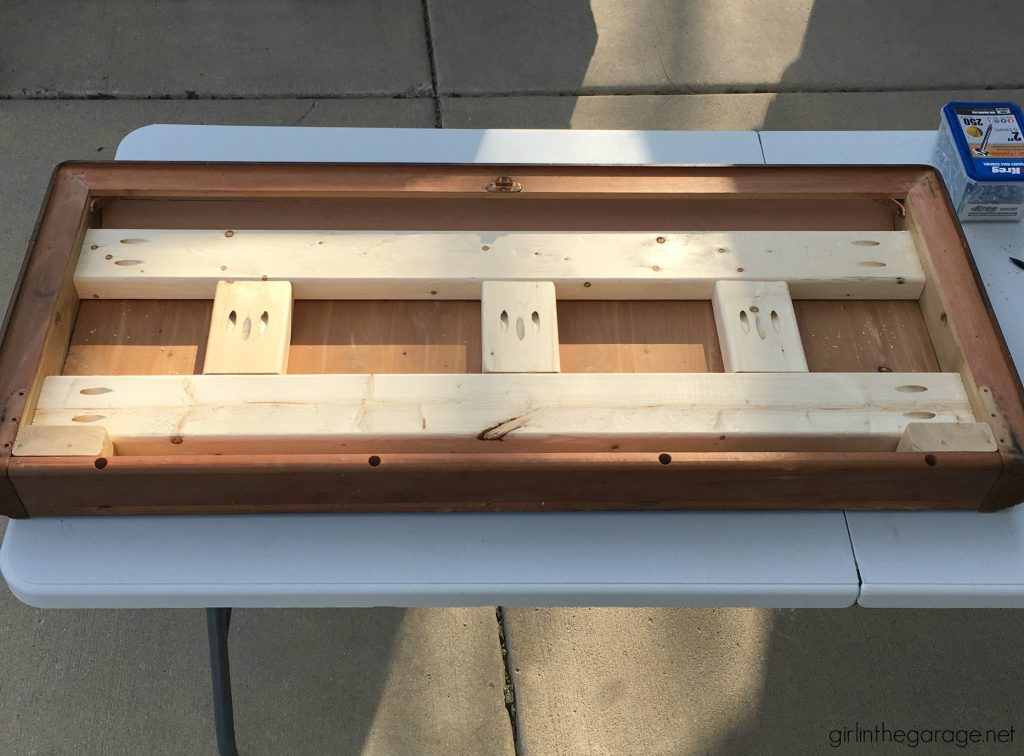 And here I am supervising… LOL. (I shared this pic on my Instagram stories – I'm trying to be better about sharing more behind the scenes stuff over there!)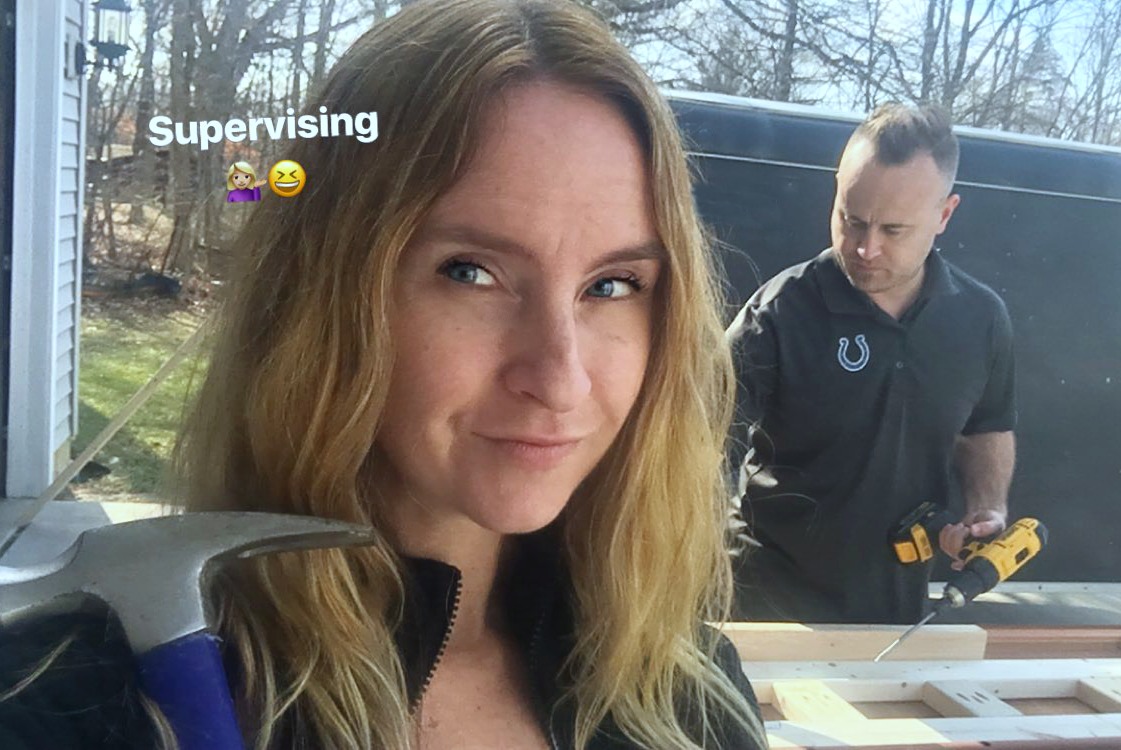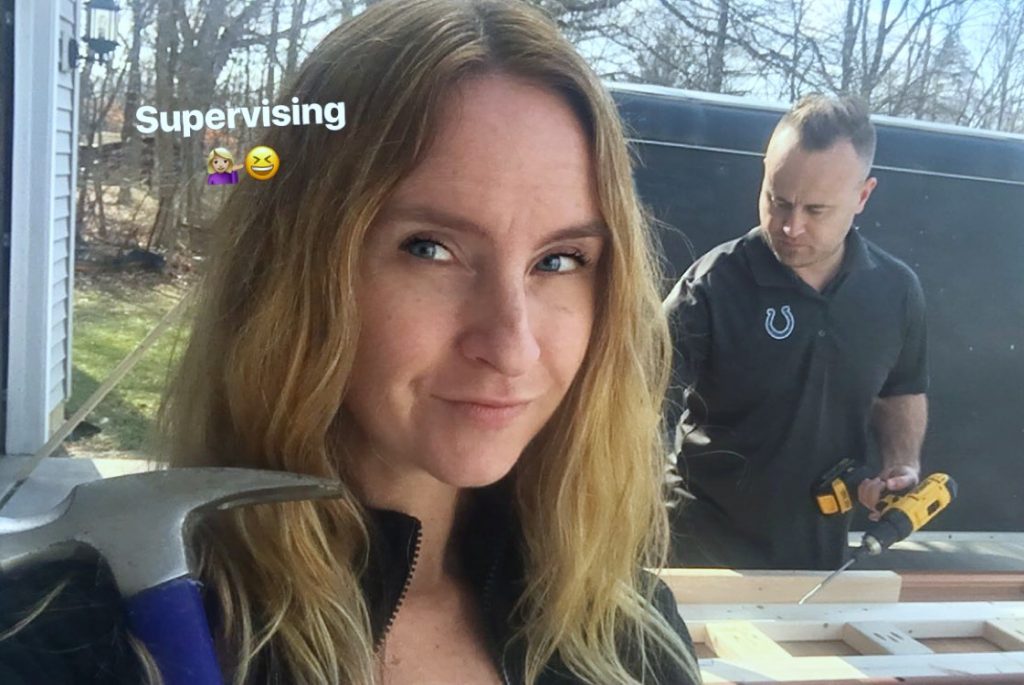 All the scratches were sanded with 220 grit sandpaper.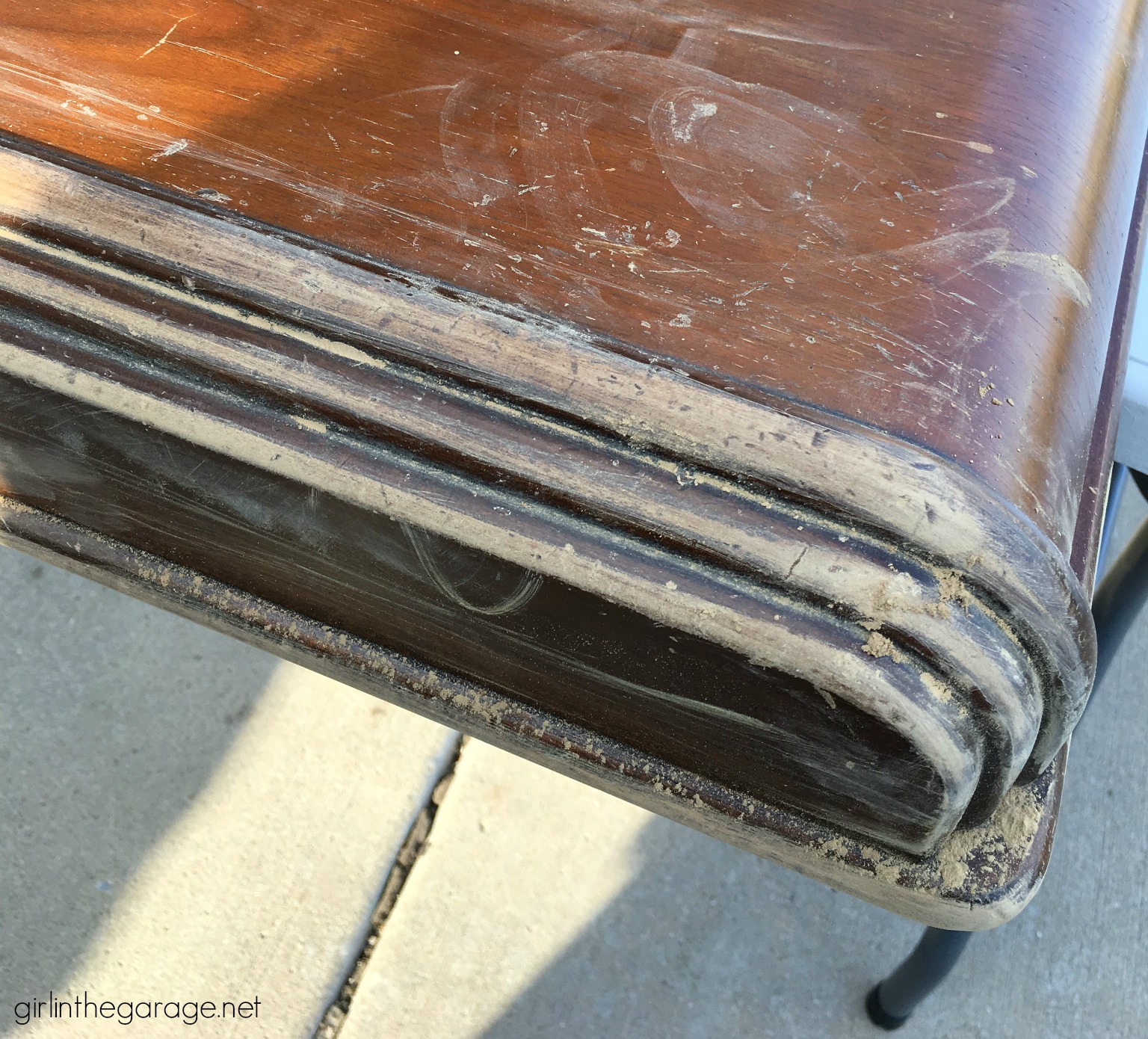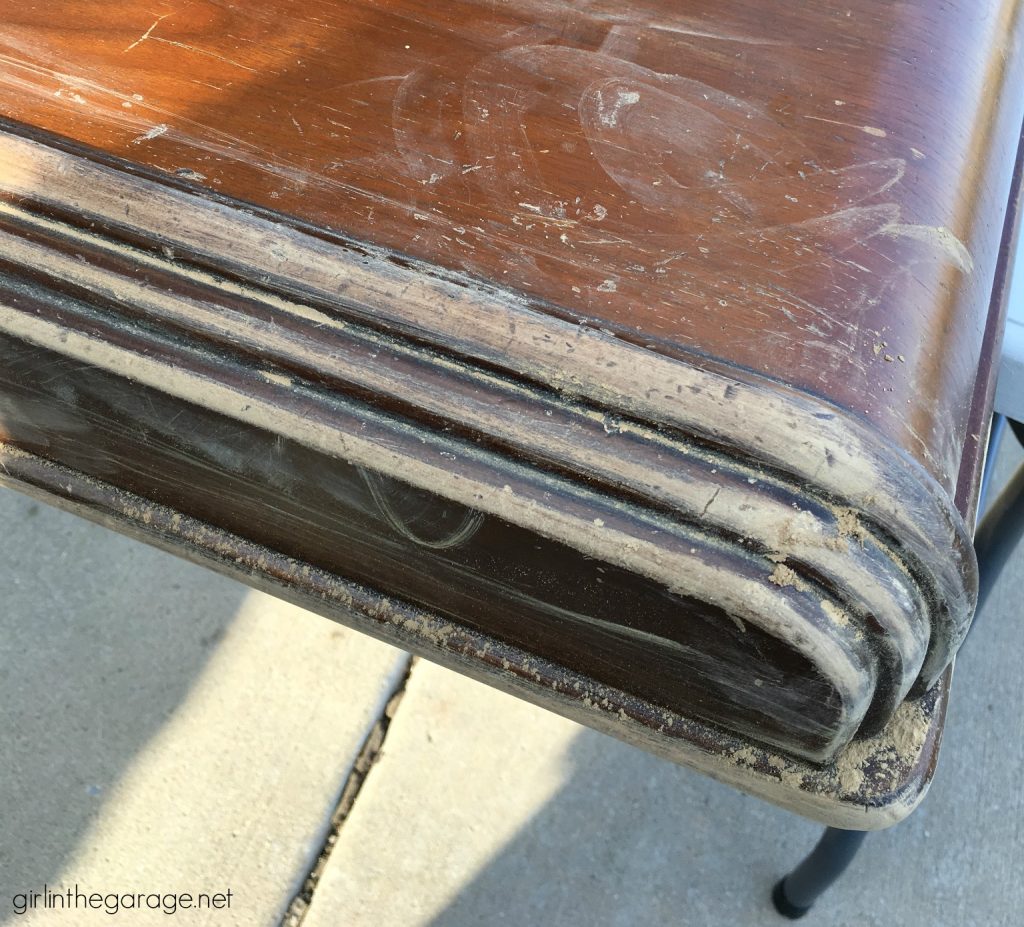 Next it's time for primer. I suspected this chest lid might bleed through, and again wanted to be safe. So I applied two coats of my favorite shellac-based primer.
I love that this stuff dries fast, so as soon as I was done with the first coat I added the second coat. But it's also a little stinky, so make sure your area is well ventilated.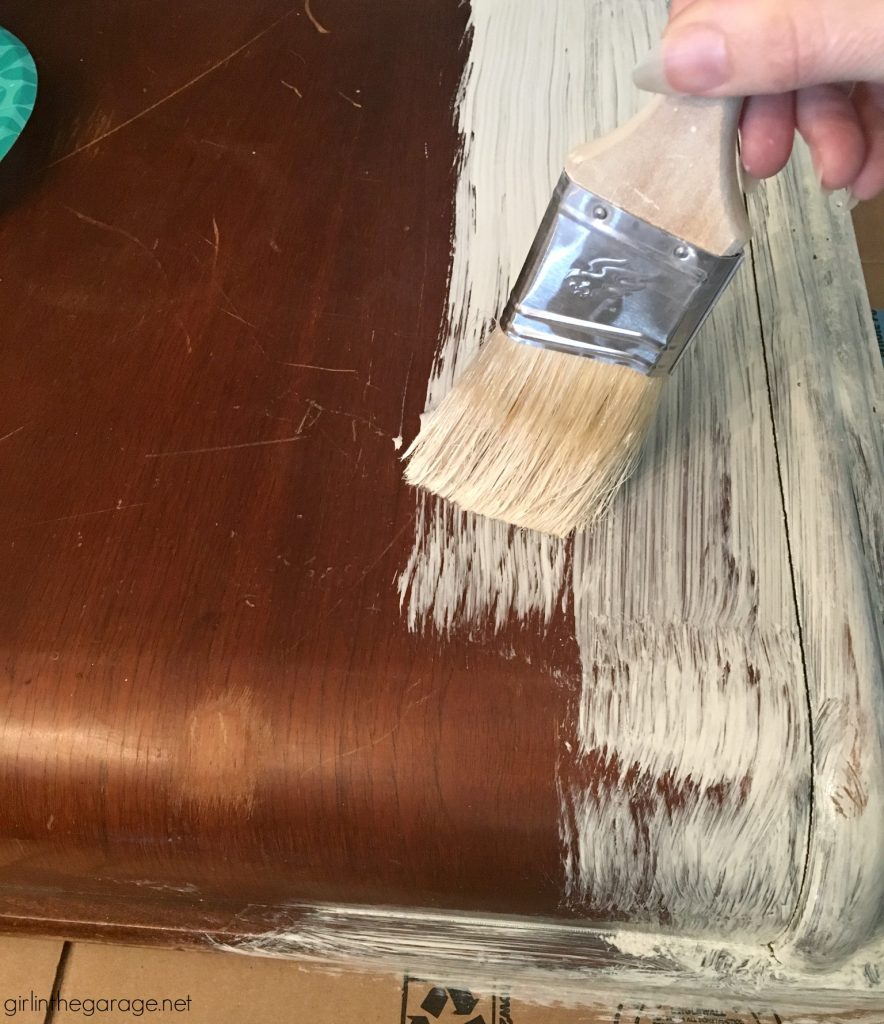 Then I applied about 3-4 coats of Annie Sloan's Pure White Chalk Paint, sealing my brush in a sandwich bag between coats so I didn't have to wash it out every time.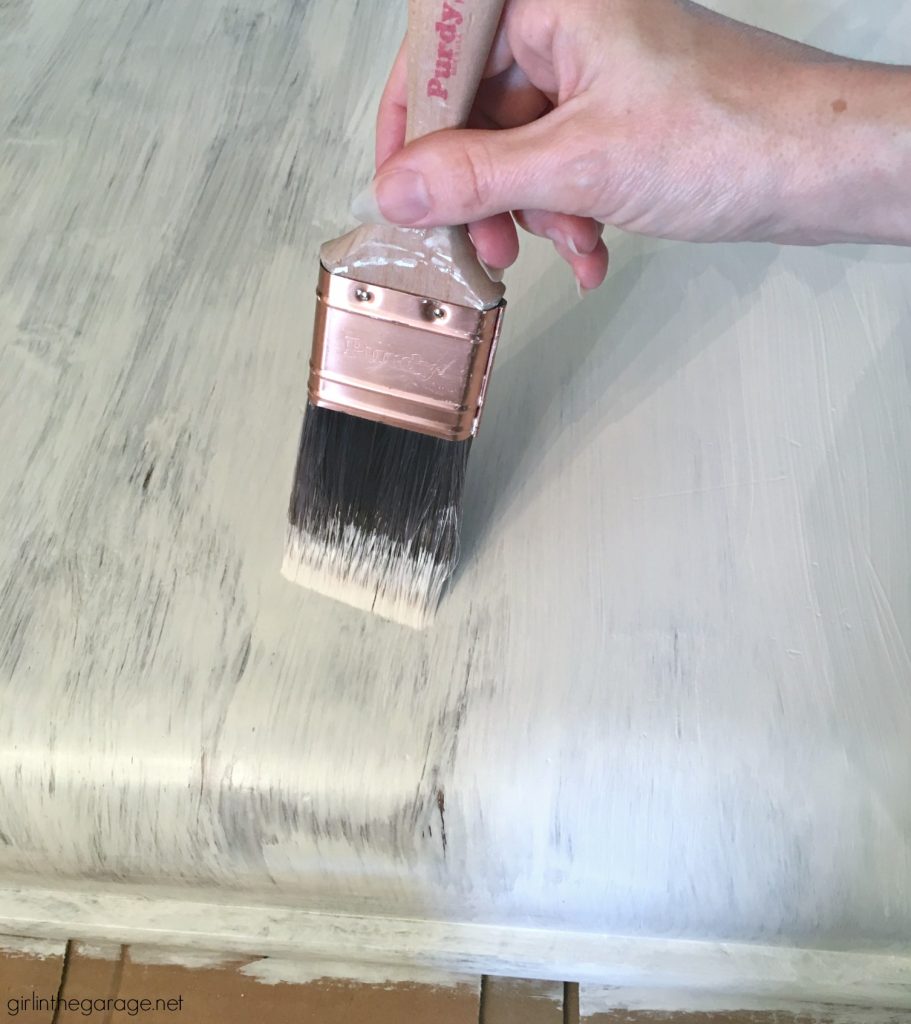 Then it was time to smooth out all those coats of paint. Chalk Paint usually has a nice texture to it, so don't worry about getting it perfectly smooth. I use 320 grit sandpaper while in the final stages.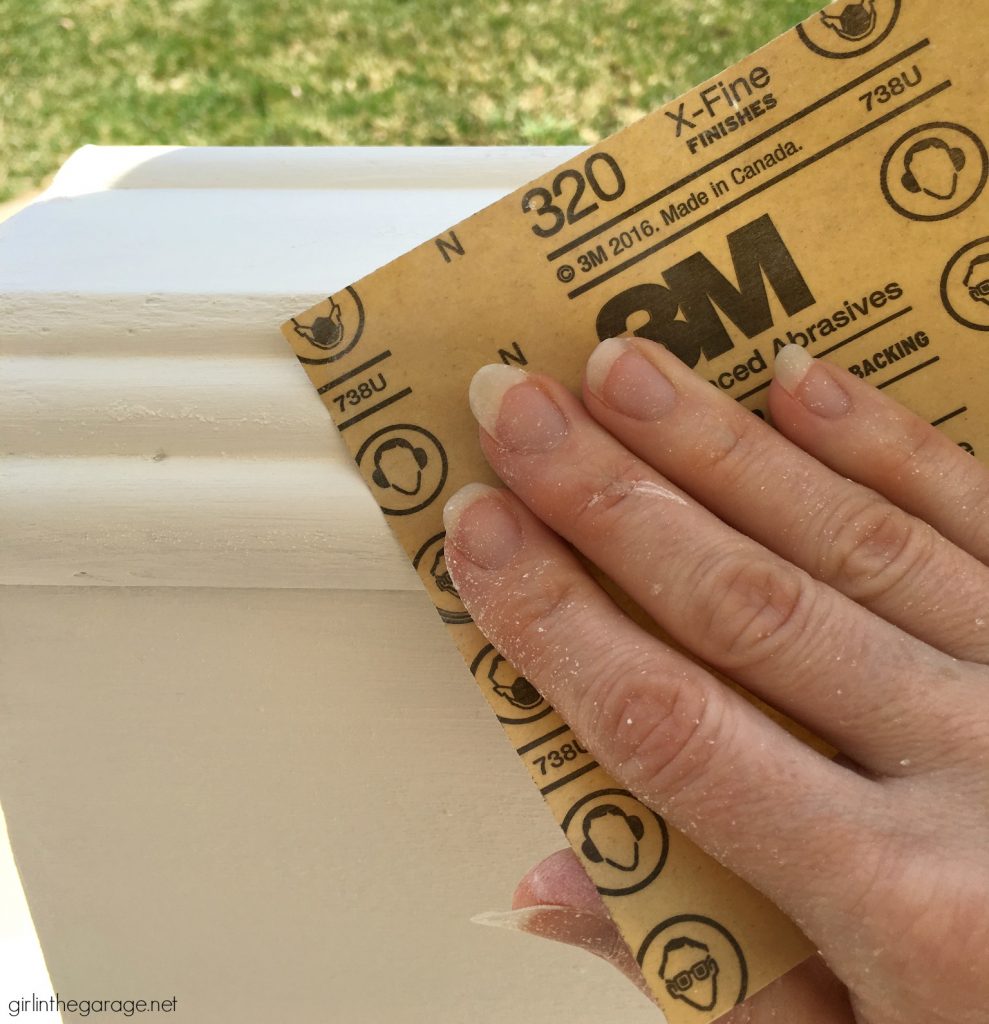 Finally, add a non-yellowing topcoat over the paint. I prefer Annie Sloan's clear wax. Brush on with a wax brush and then wipe away the excess wax immediately with a lint-free cloth.
Last summer I scored some clearance hairpin legs at Hobby Lobby – how could I pass them up?? I knew they'd be fun to use on this project. These are 16 3/4 inches tall. (Here's a similar set of 4 on Amazon for a great price and 5-star rating.)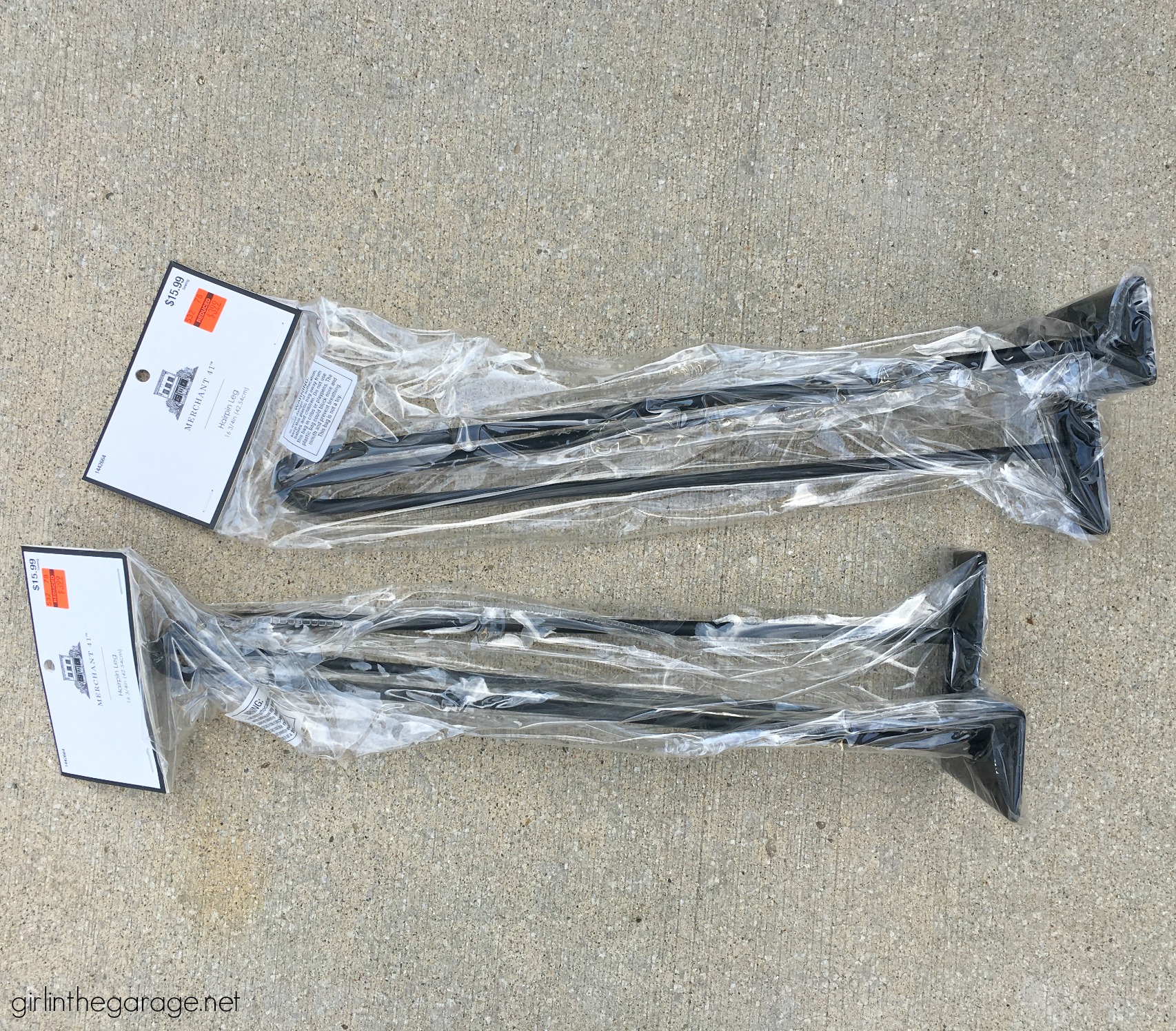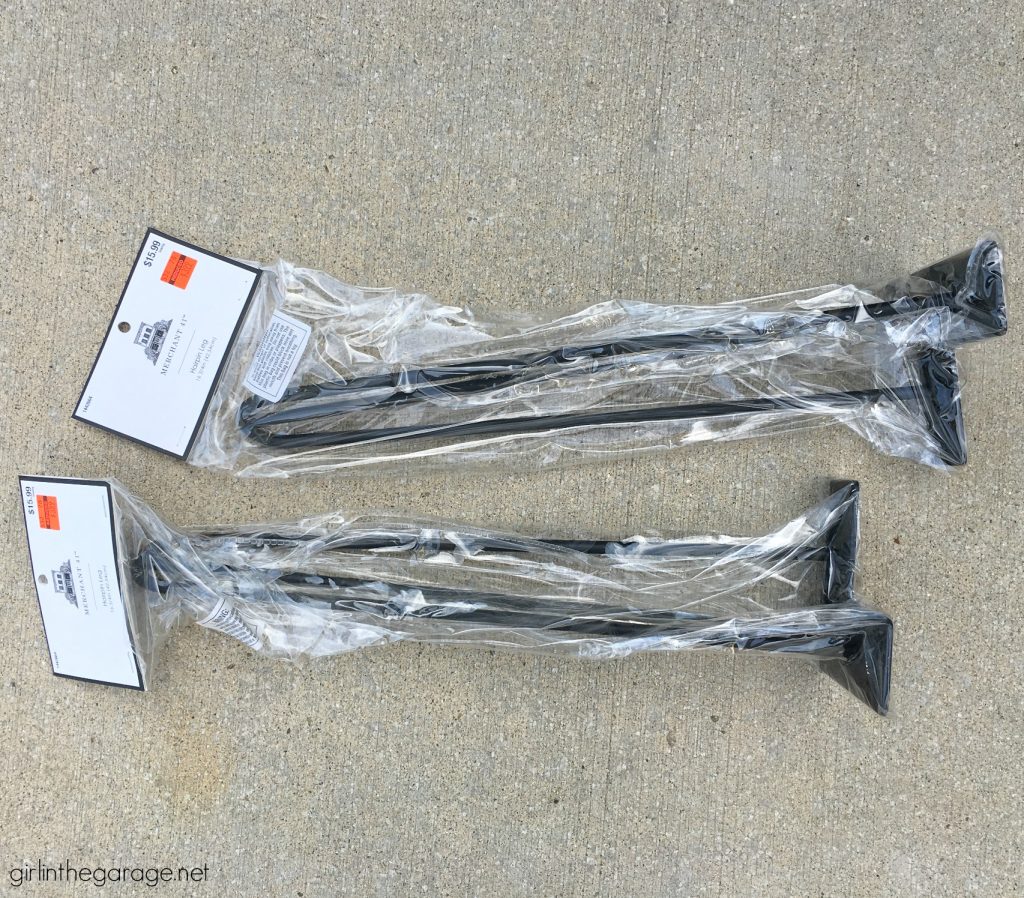 Finally, screw the legs on. Below you can see the back area where we needed that extra block of wood: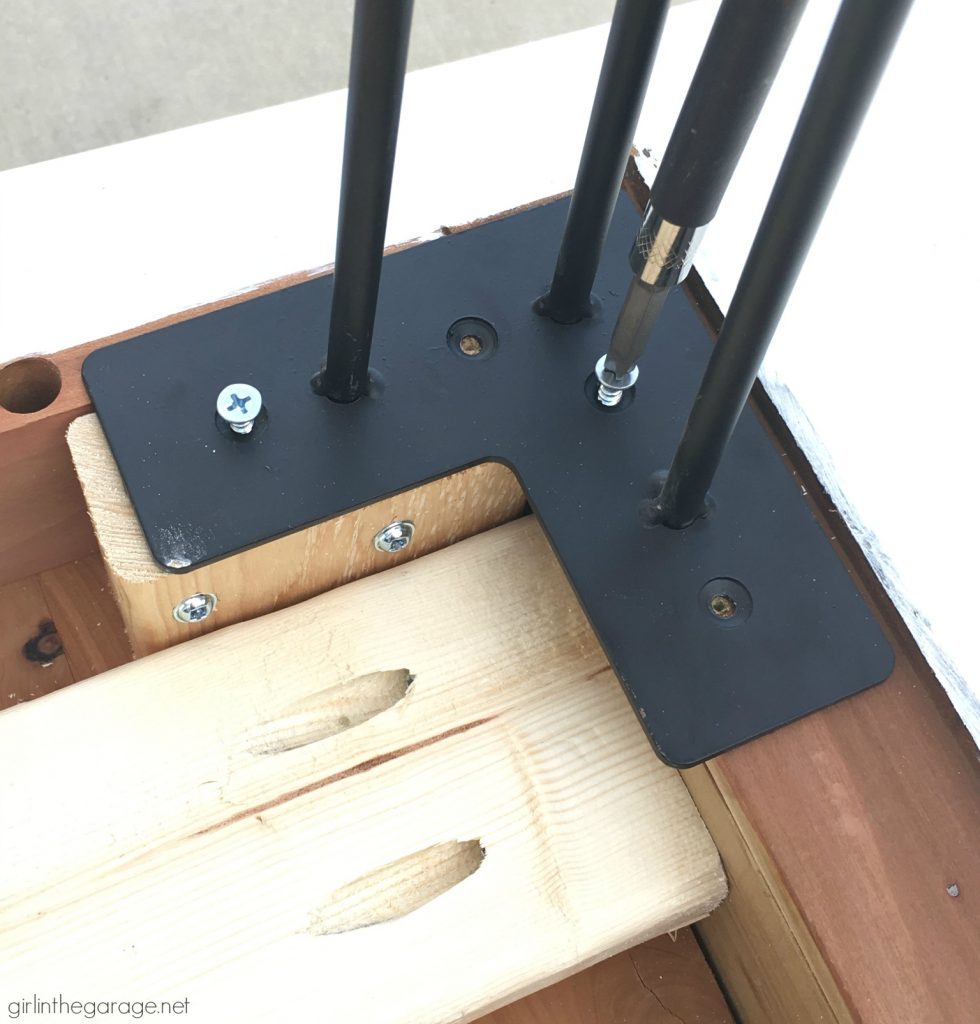 Now with new paint and legs this repurposed chest lid to farmhouse bench is finally complete!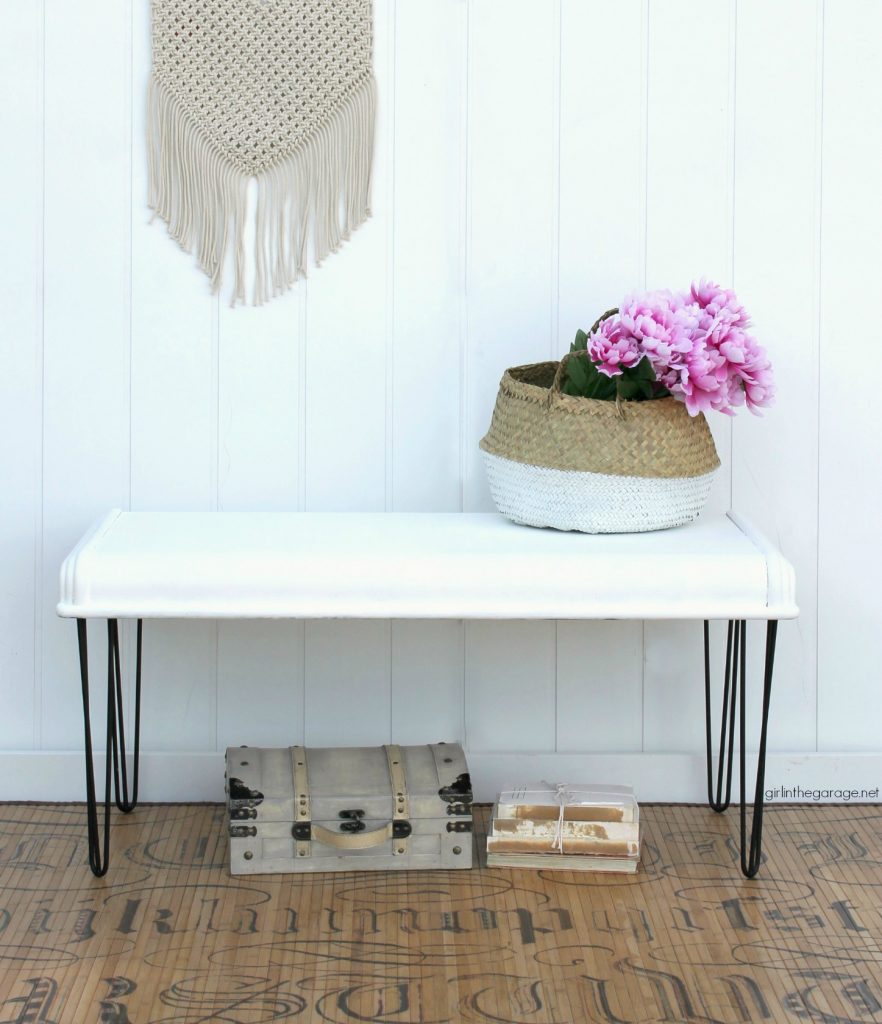 It's super sturdy as a bench but could also be used as a coffee table.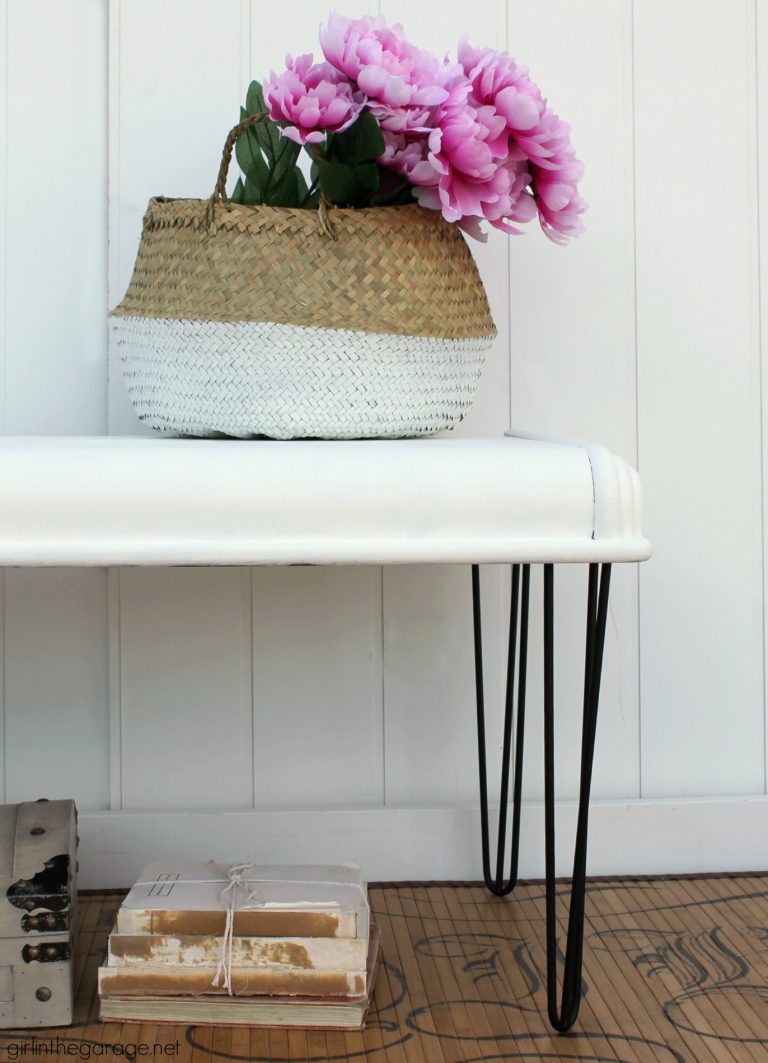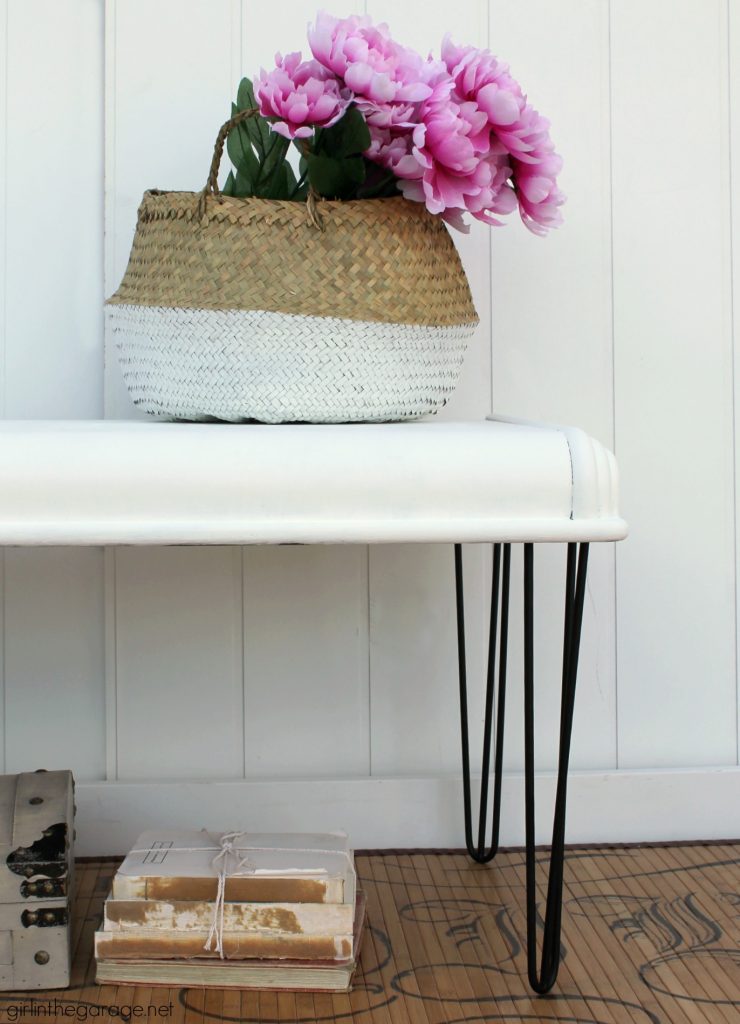 I love the curved front which makes it more comfortable for your legs.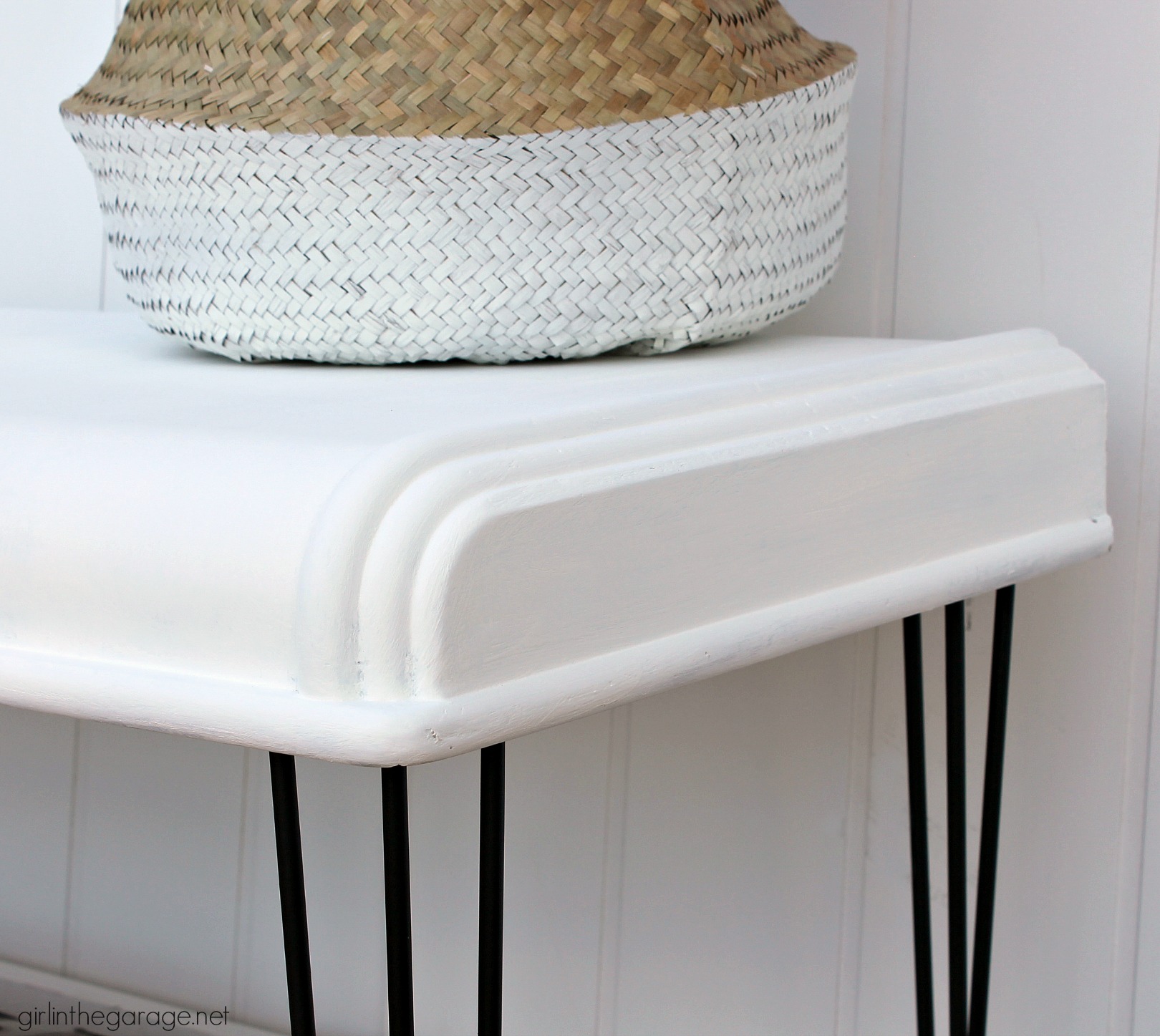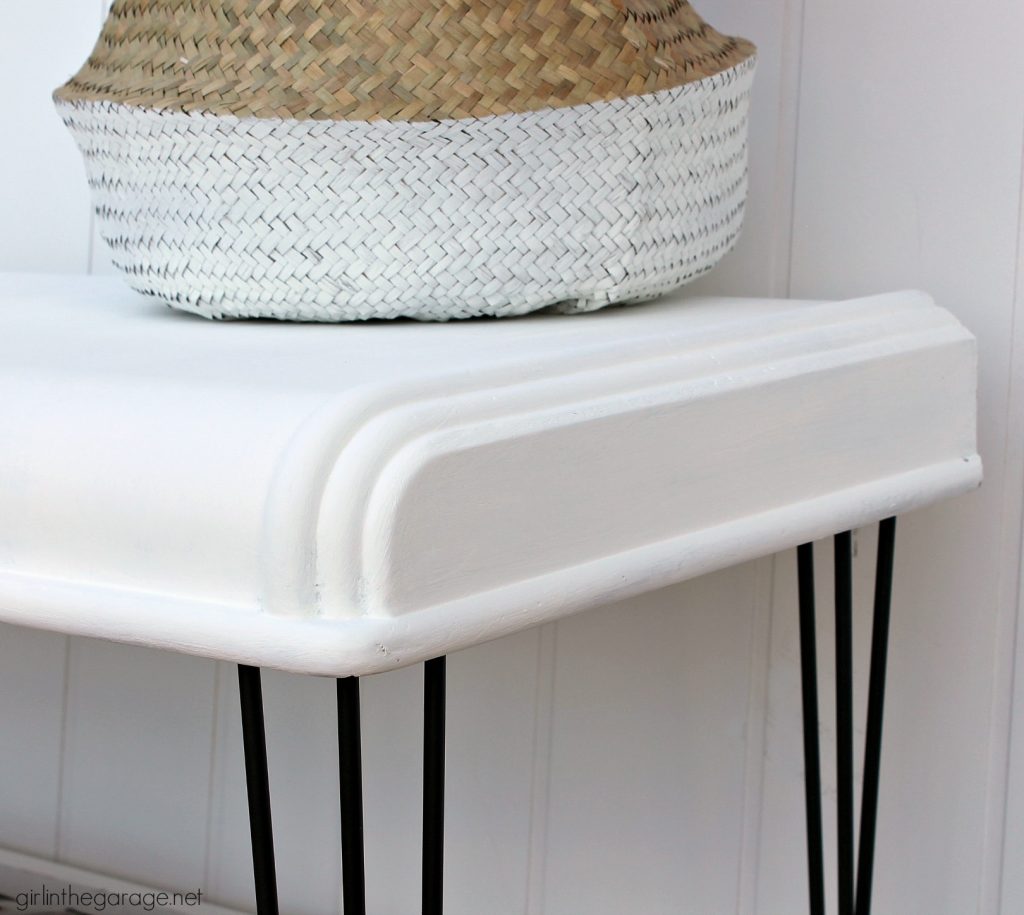 It's so modern farmhouse, don't you think?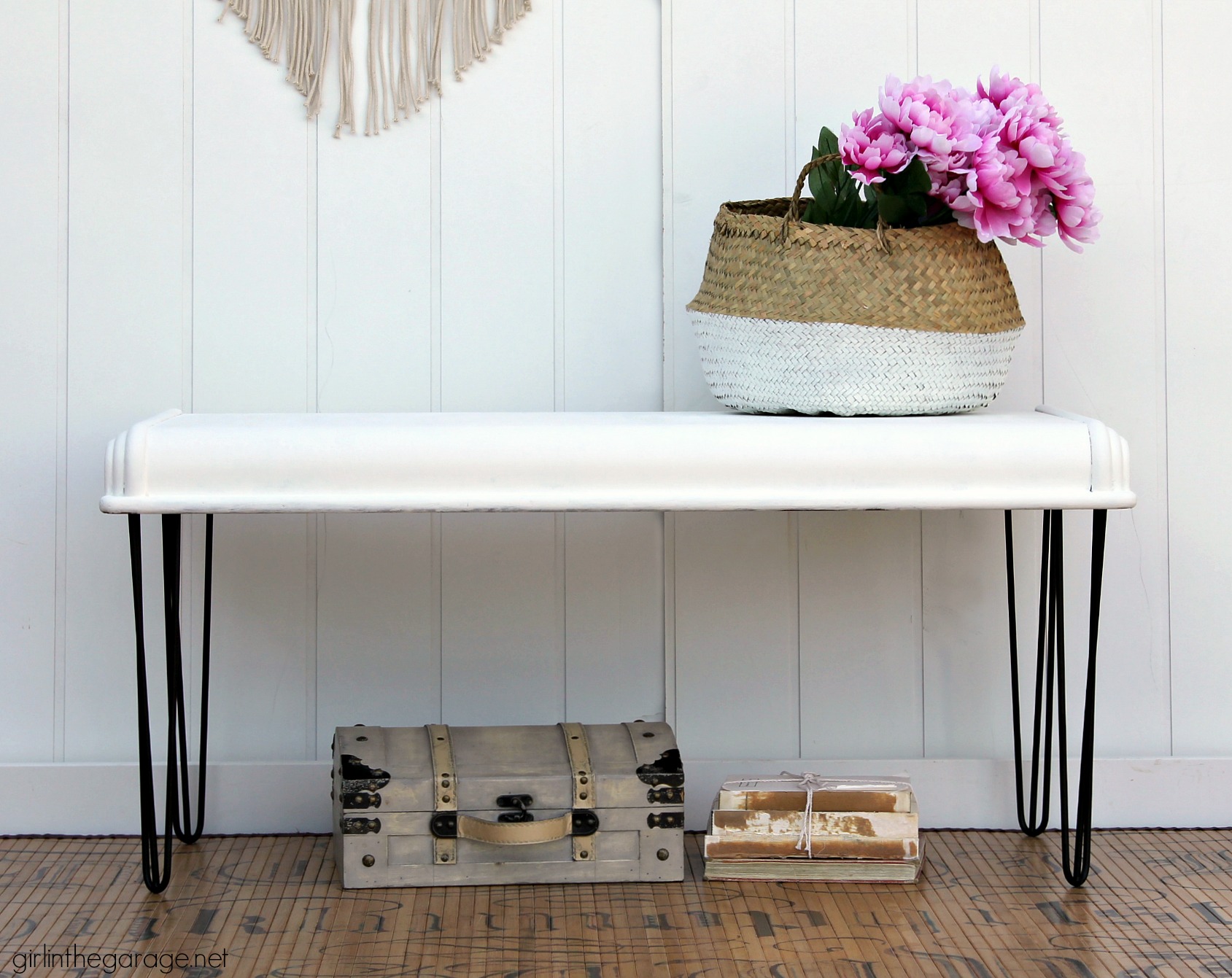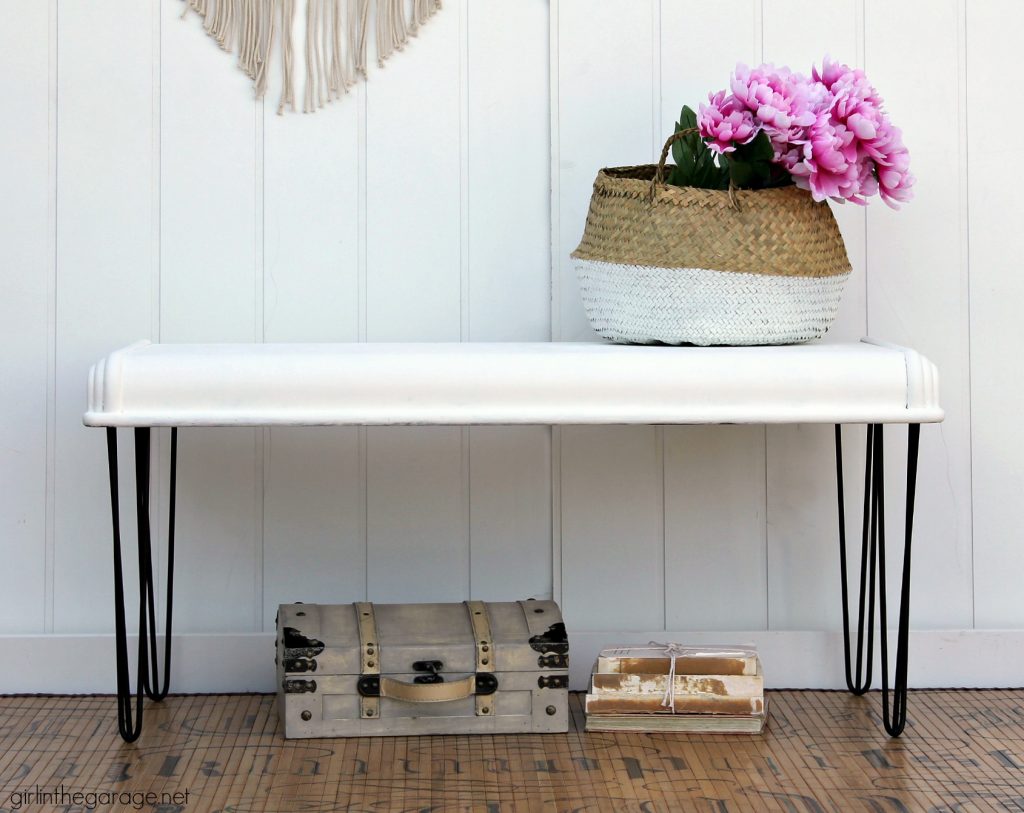 Here's a reminder of how far this cedar chest came… (feel free to Pin to easily find this project later)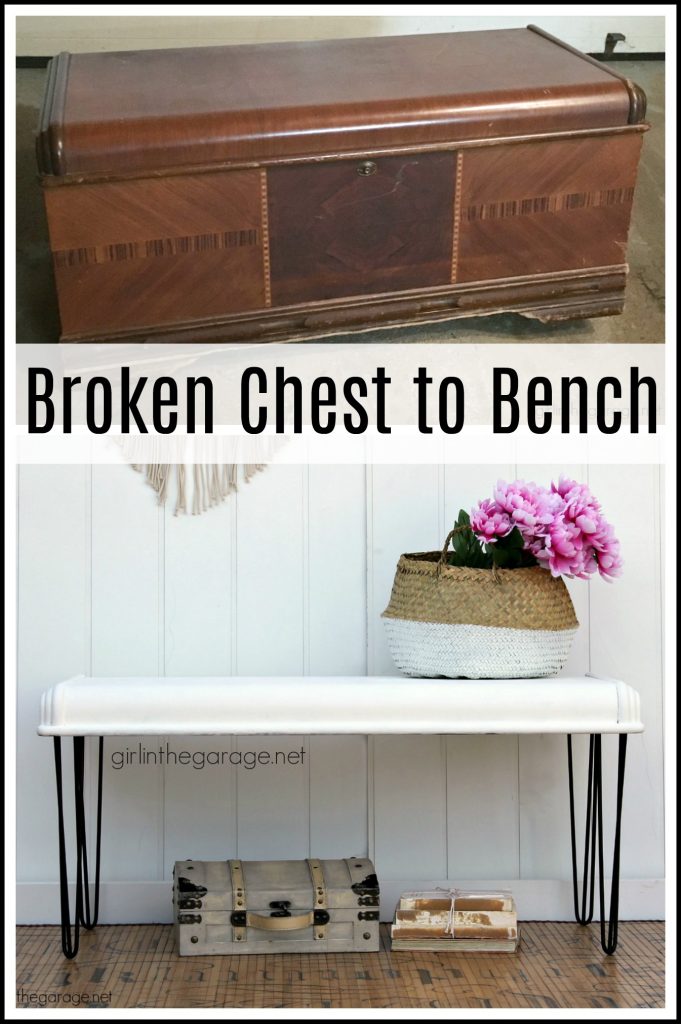 Let me know what you think! I've been waiting to see this project become reality and I think it looks pretty darn cool. 😉
Now it's time for my blogging friends' Trash to Treasure makeovers: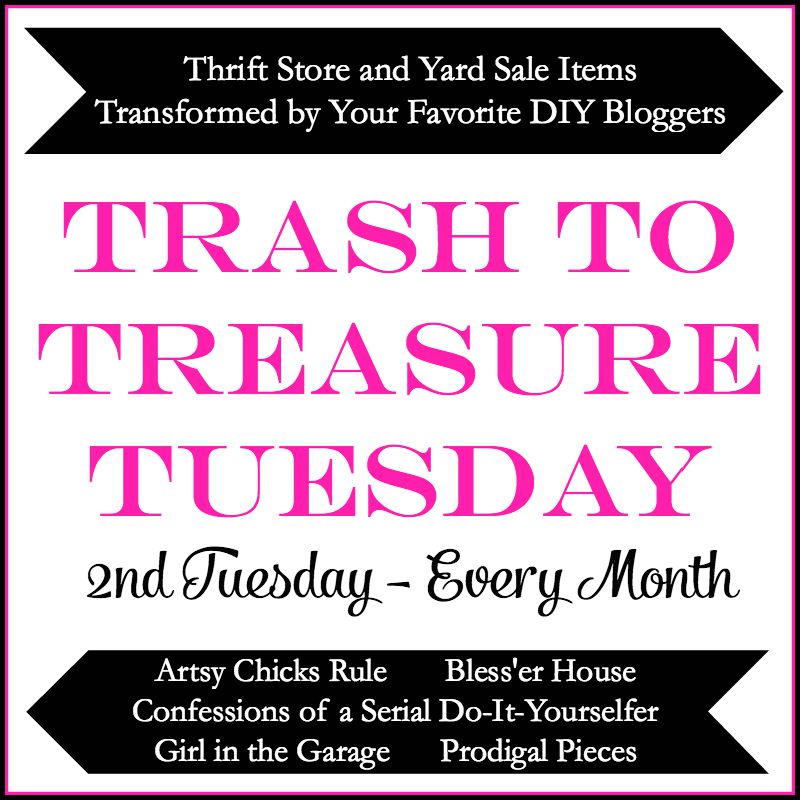 Below are the Before photos – visit the links underneath to see the creative Afters and to learn how they did it: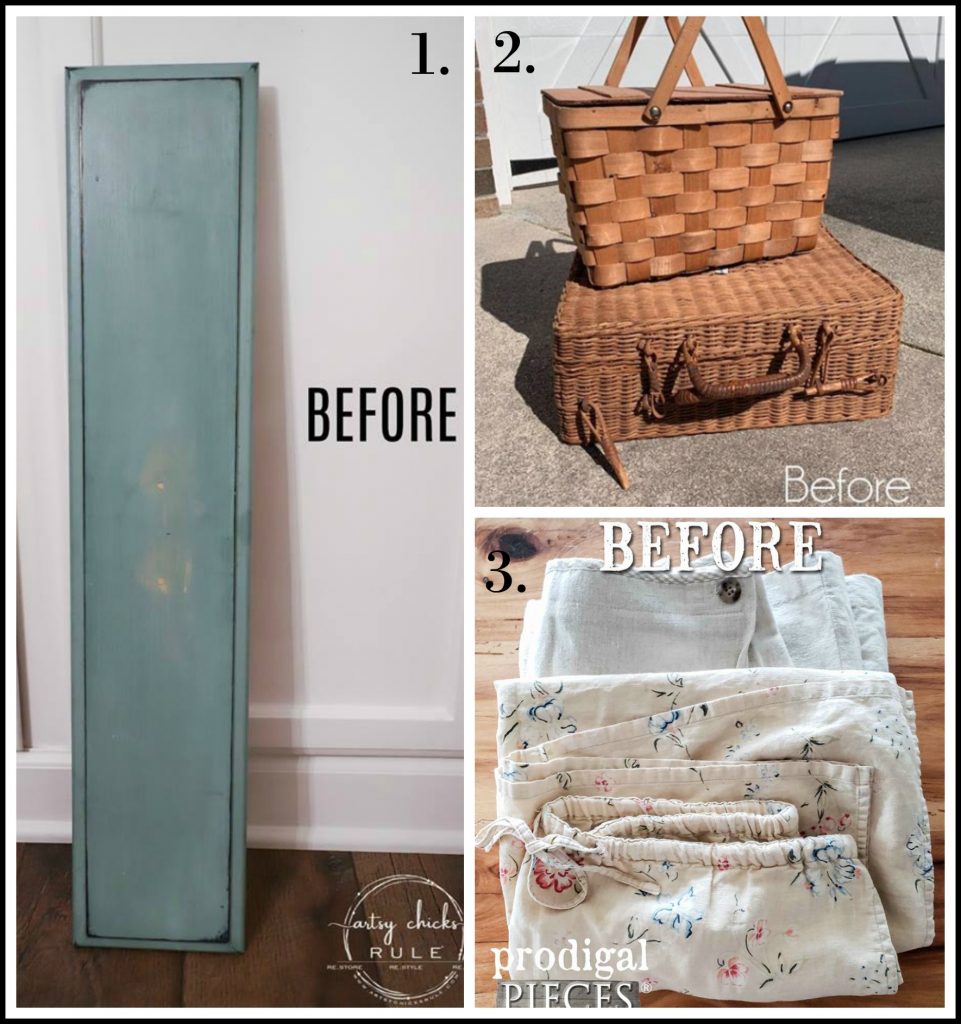 1. Artsy Chicks Rule
2. Confessions of a Serial DIYer
3. Prodigal Pieces
P.S. Did you know I have a book coming out soon? Learn more about Amazing Furniture Makeovers: Easy DIY Projects to Transform Thrifted Finds into Beautiful Custom Pieces here.