Whew, you guys. I had a totally different project planned to share with you today (actually a dresser that I've been working on) but it's been one of those weeks!
My project wasn't cooperating, my sweet mom has been terribly sick all week with the flu (which means less work time for me since she hasn't been able to watch my youngest son), and the awful forearm pain I've had for a while now has finally been diagnosed as tennis elbow. Ouch.
You have to know when to pause and admit when you've got too much going on.
I hated the thought of skipping Furniture Fixer Uppers day today, so my friends convinced me to share an older project that many of you haven't seen or might not remember: this tufted upholstered bench makeover (purchased for only $10 at a thrift store).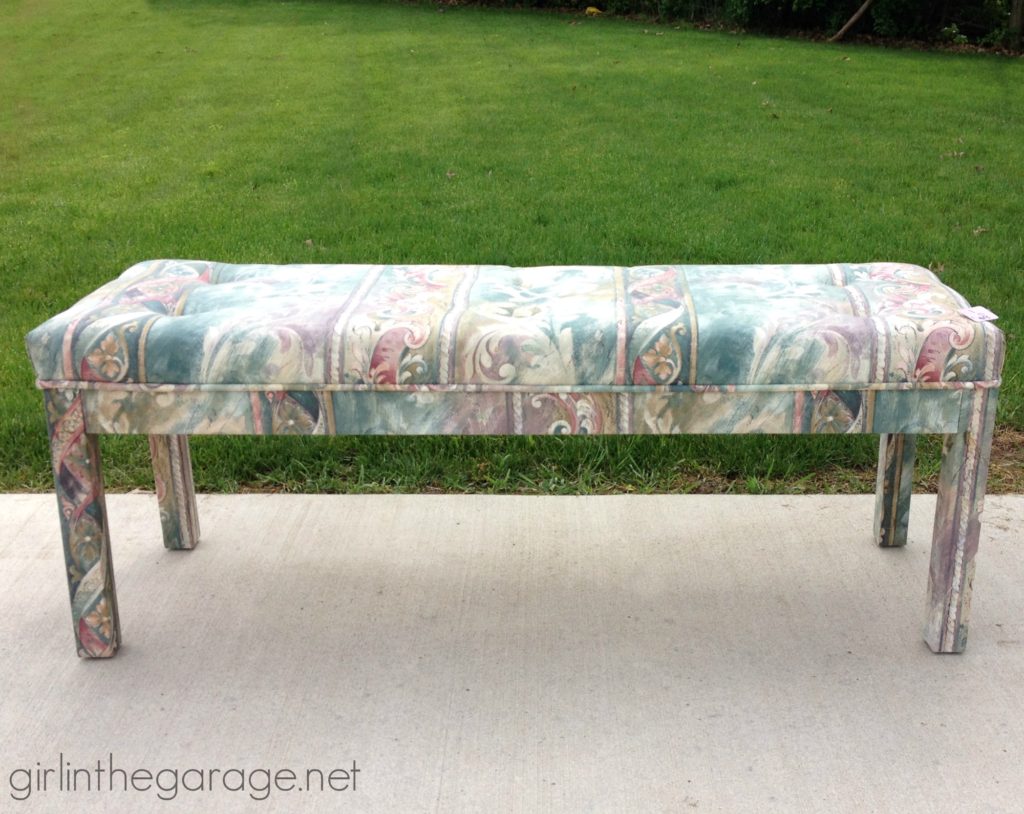 This post contains some affiliate links so you can easily find the products I use and recommend. You can discover all of my favorite DIY products and tools Here.
*The original tutorial for this makeover was split into two posts (Here and Here) because it was incredibly long. Below is a quick overview of all the steps.*
First, the legs were unscrewed and all of the hideous fabric was removed.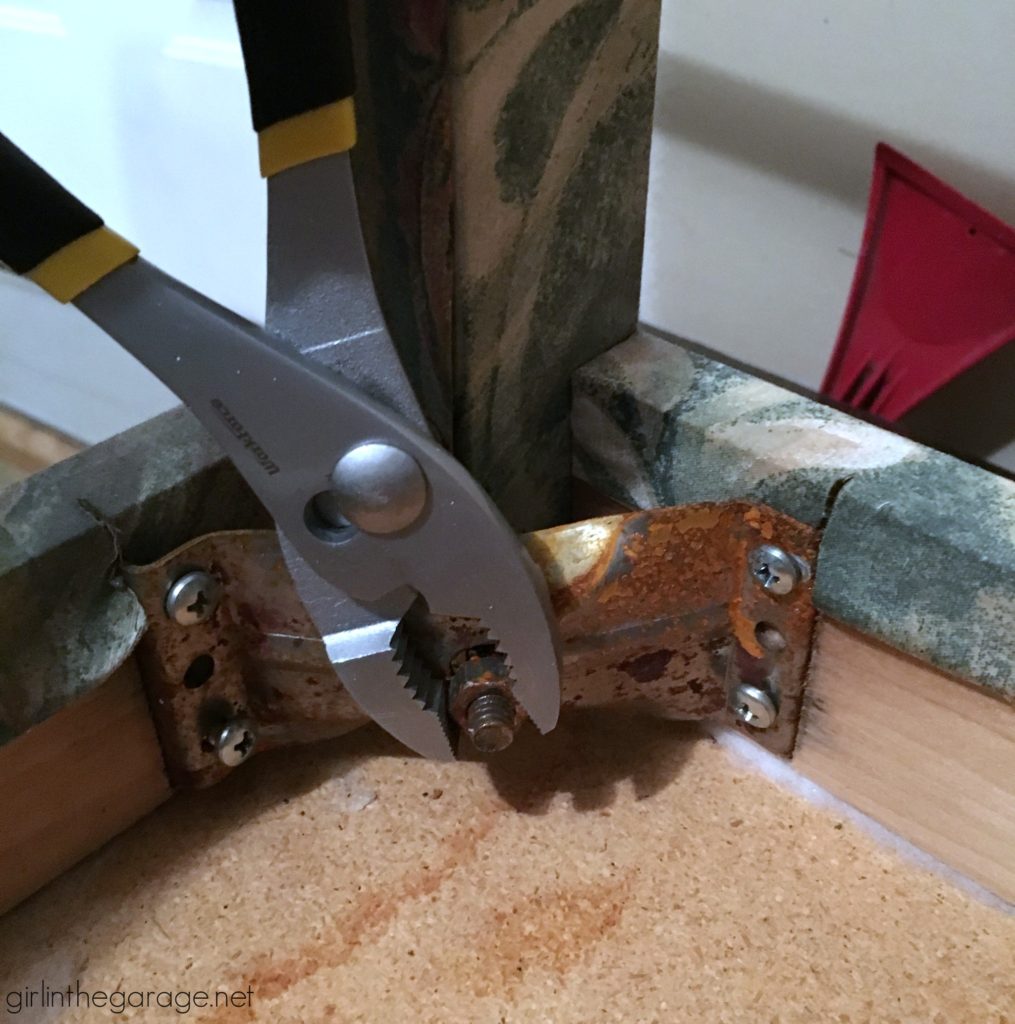 Thankfully the padding and everything underneath was in really good condition.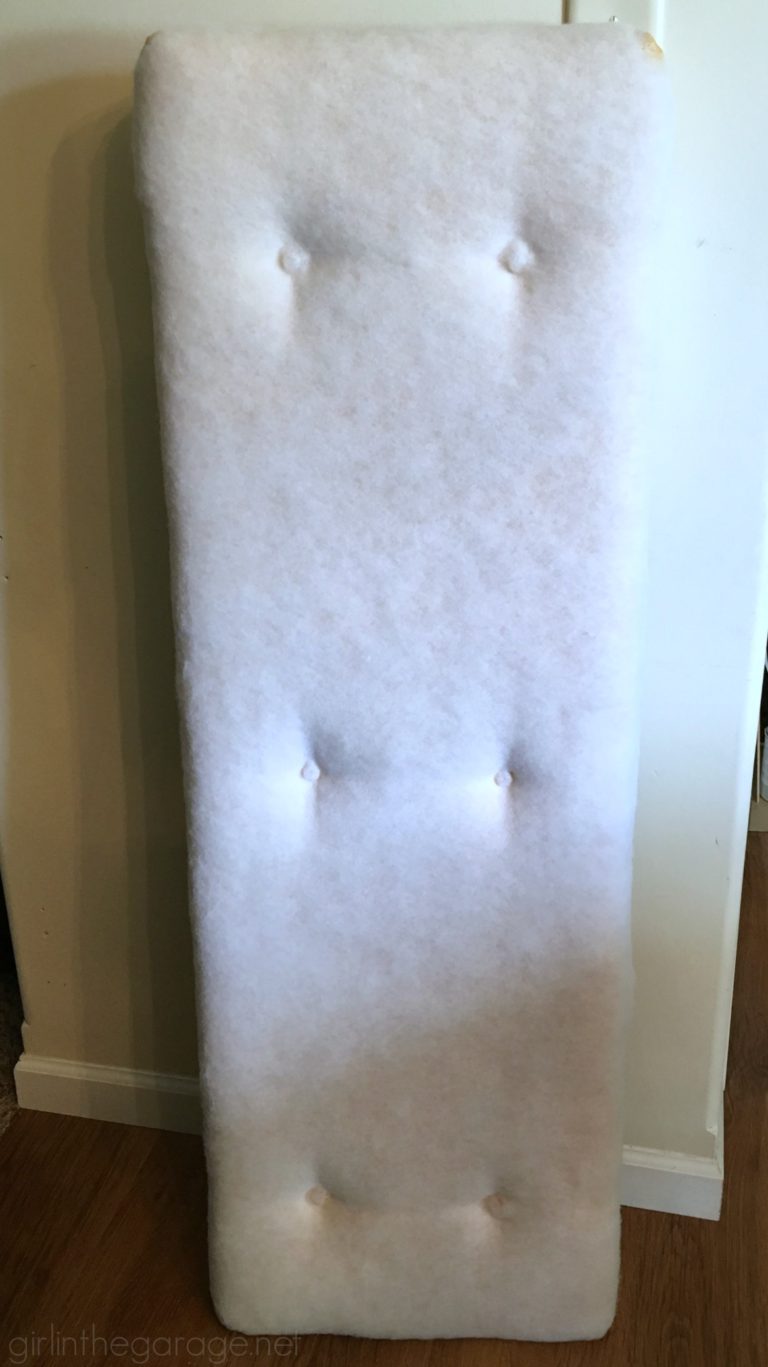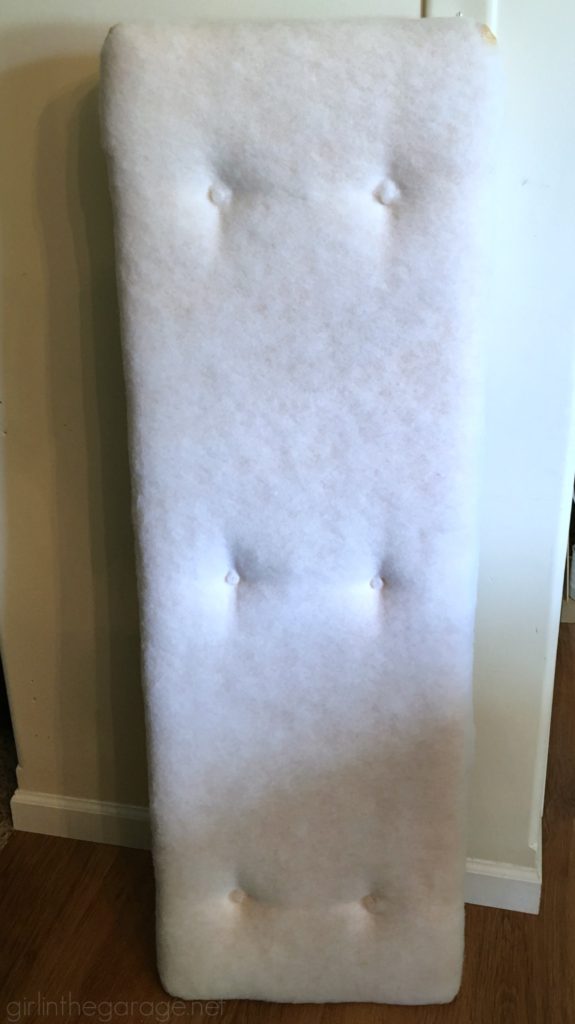 New French fabric was cut using the original piece as a guide.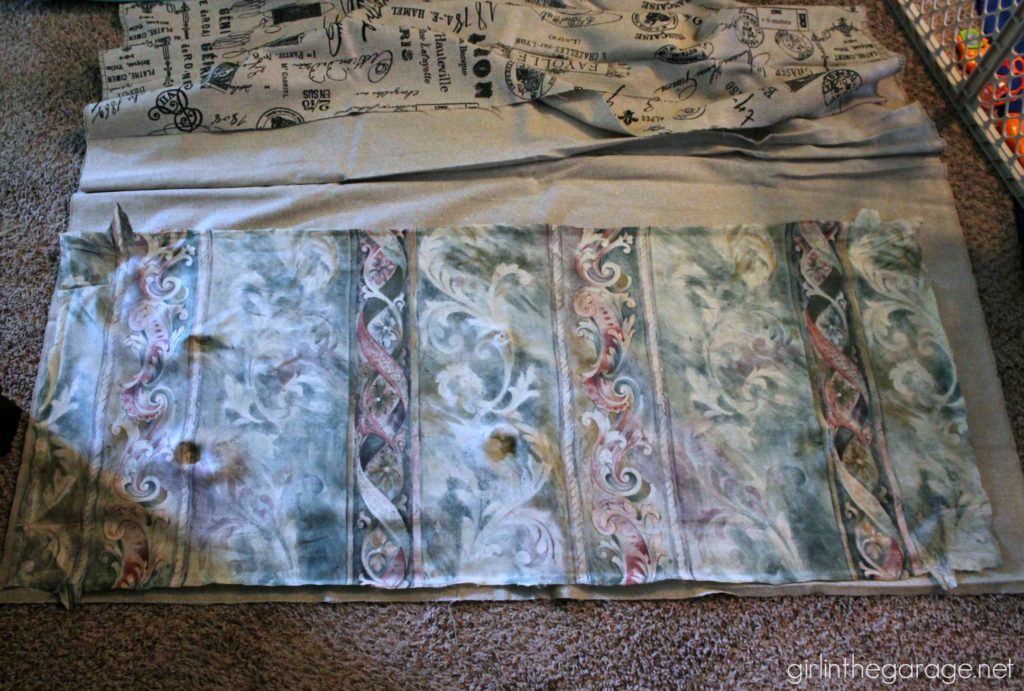 The fabric was attached with a basic staple gun (now I use a more heavy duty staple gun and a compressor for big upholstery projects like this – it saves time and energy). Staple the two longer sides first, then the ends, and finally fold and staple the corners.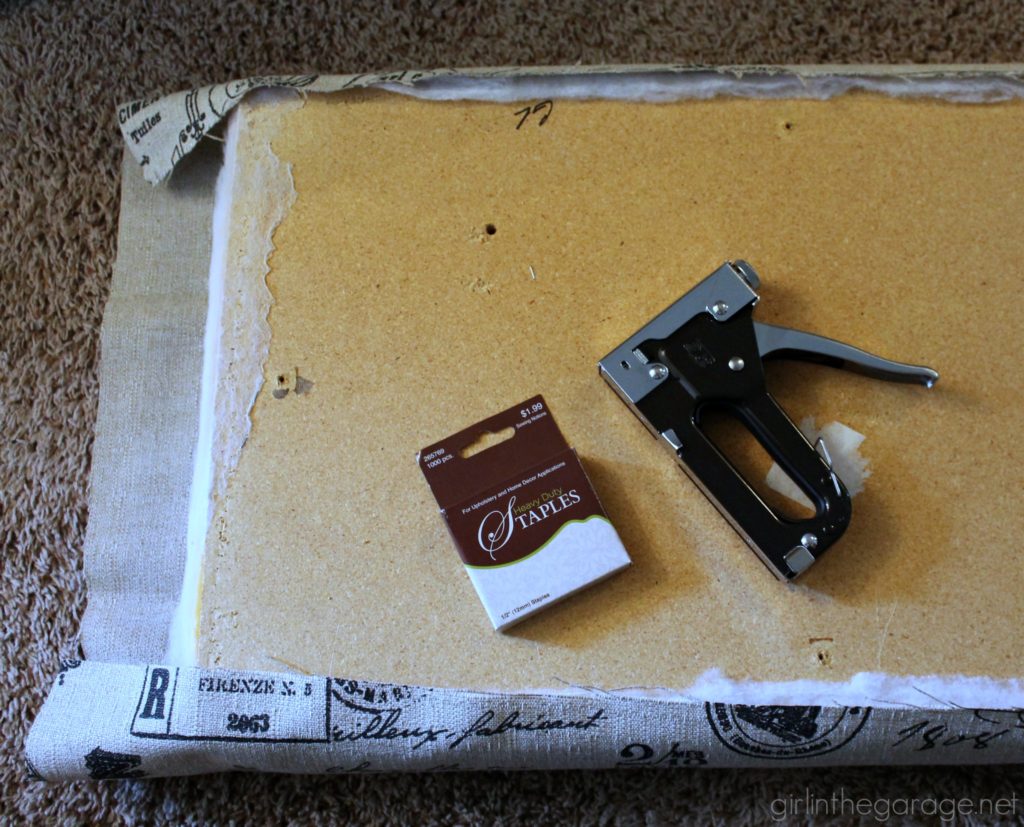 Next Guy in the Garage had to make a new frame since the new legs I bought didn't fit where the old legs went. (oops)
He used a Kreg Jig system to make pocket holes to join the pieces together at an angle without any screws showing. It's a really neat and useful tool for woodworking projects.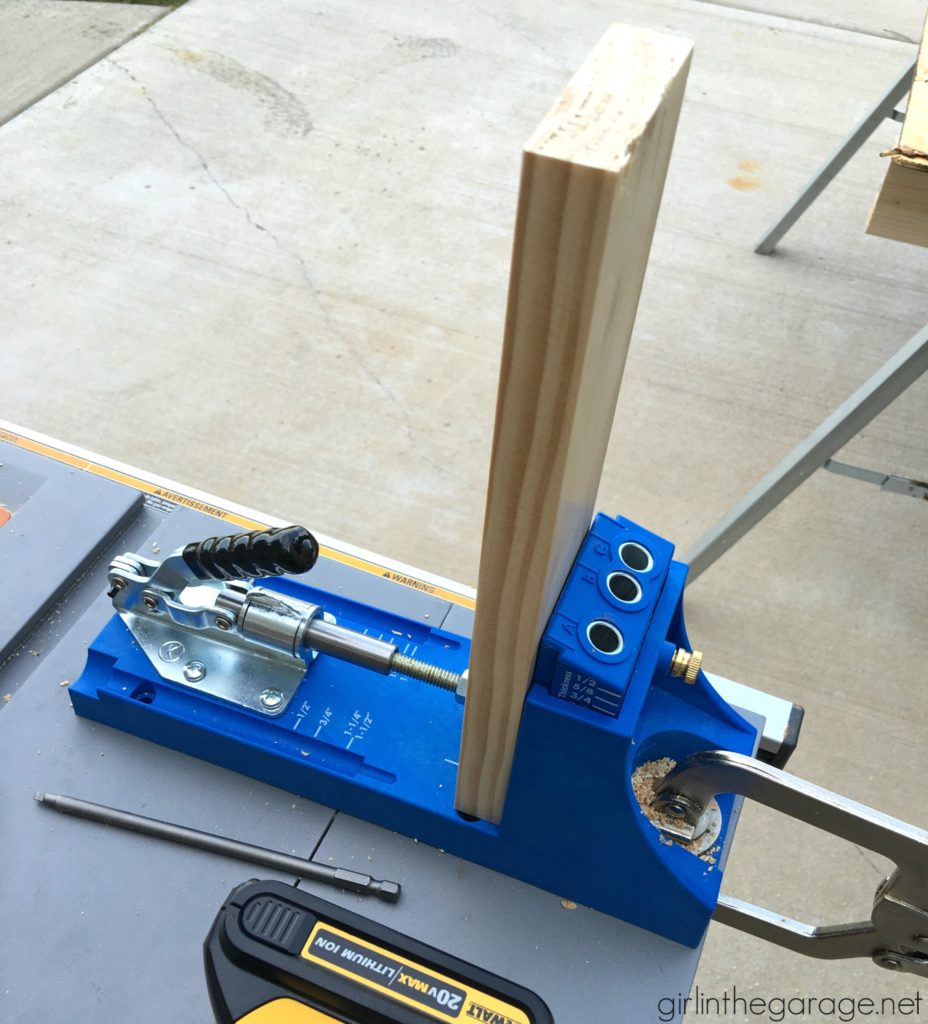 Remember to always wear safety glasses and follow all the safety precautions when using power tools. Here's a look at how the frame went together: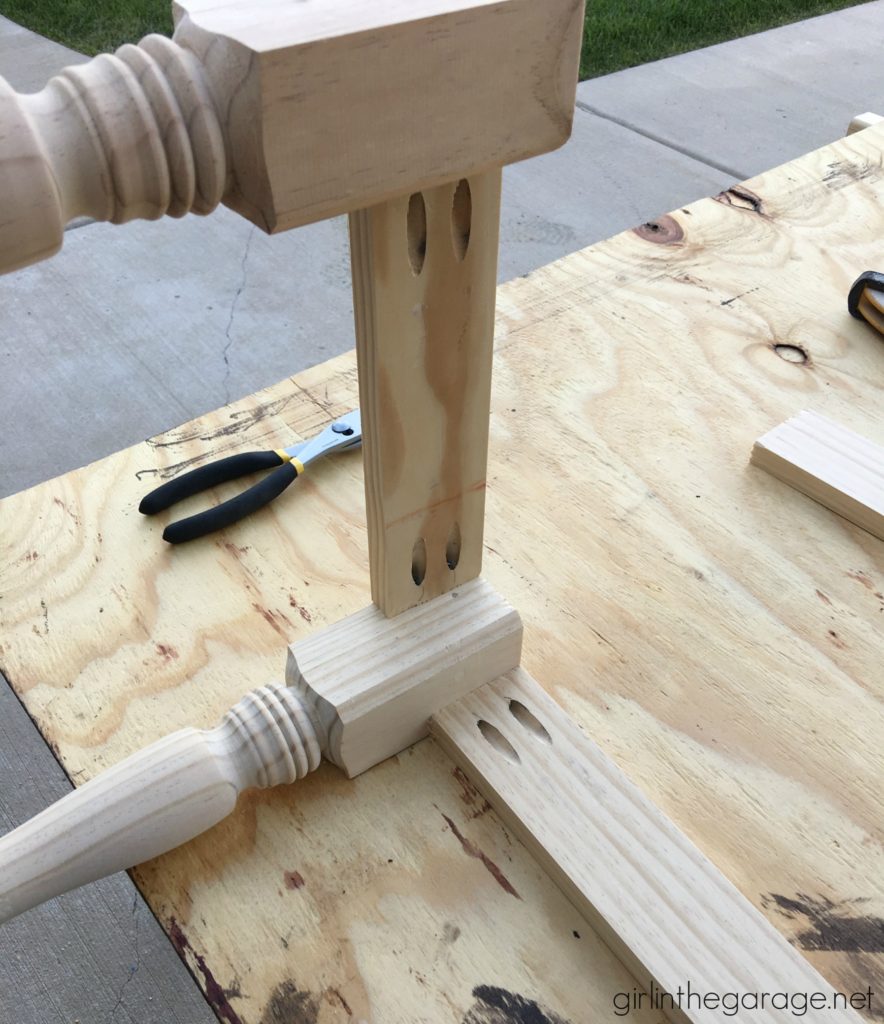 I also painted the frame in Old Ochre Chalk Paint by Annie Sloan and dry brushed with Coco for a layered look.
One of the last steps was recovering the existing buttons with the new fabric. You can buy a button cover kit but I just cut a circle and gathered the edges with a needle and thread back and forth until it was tight.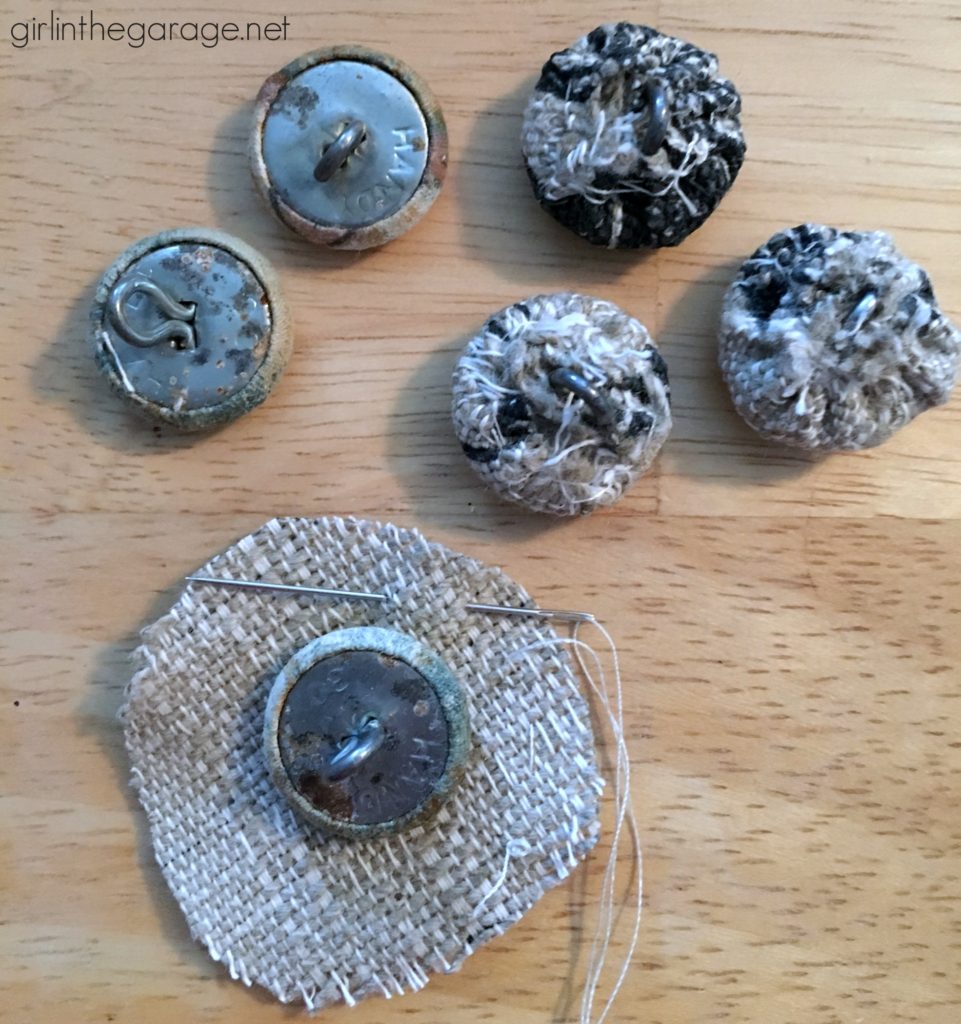 Make a loop with wax thread and an upholstery needle and insert into the bench where the existing holes are.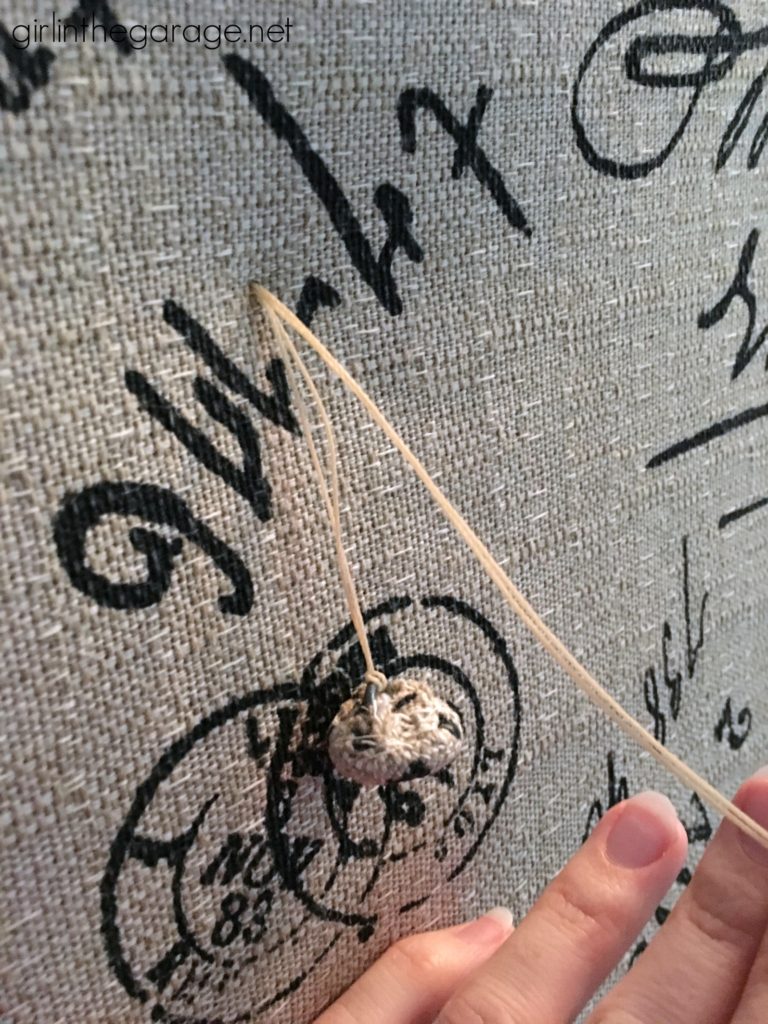 Pull the thread very tight and firmly staple on the bottom of the seat, alternating directions for extra durability.
That's the quick rundown of this tufted upholstered bench makeover (see the original Part 1 and Part 2 here) – and here's how it turned out: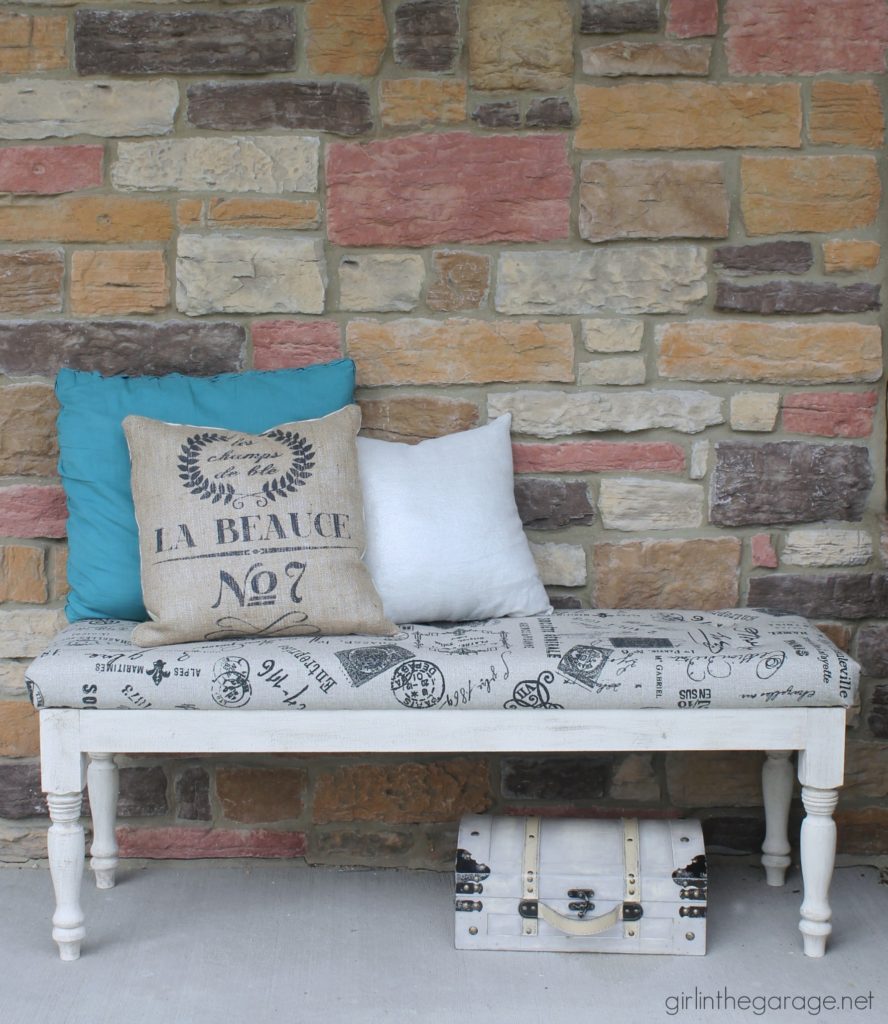 I couldn't be any happier with the results, and the entire makeover only cost about $60 in materials.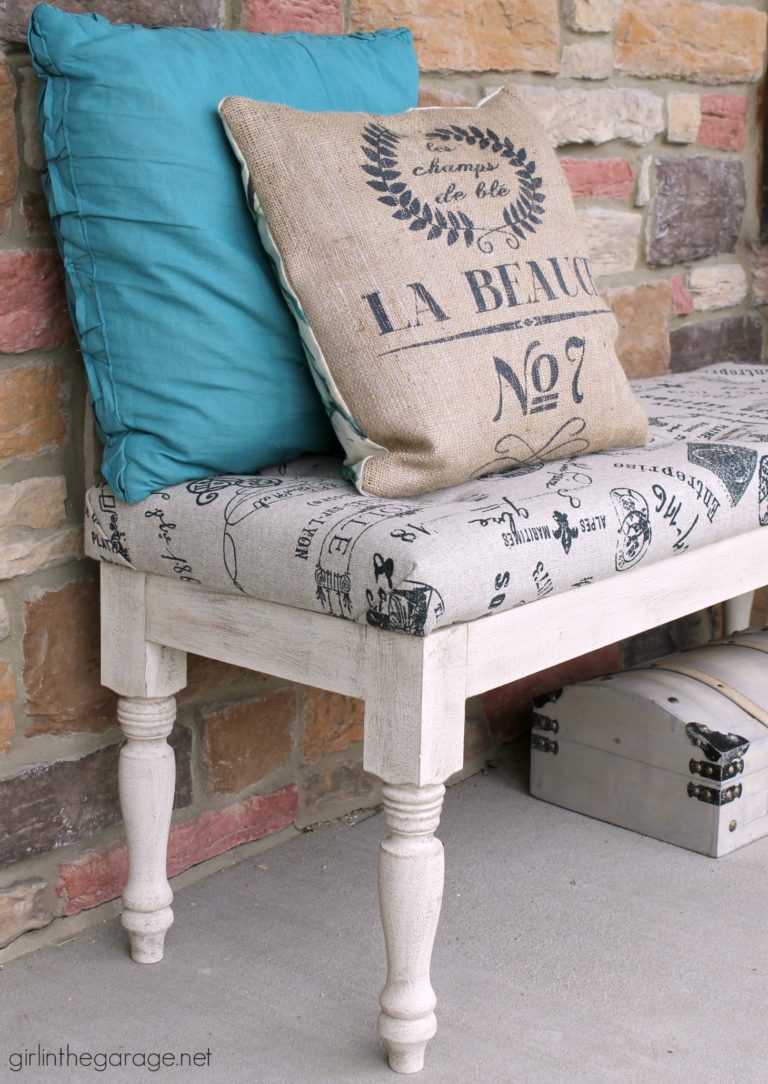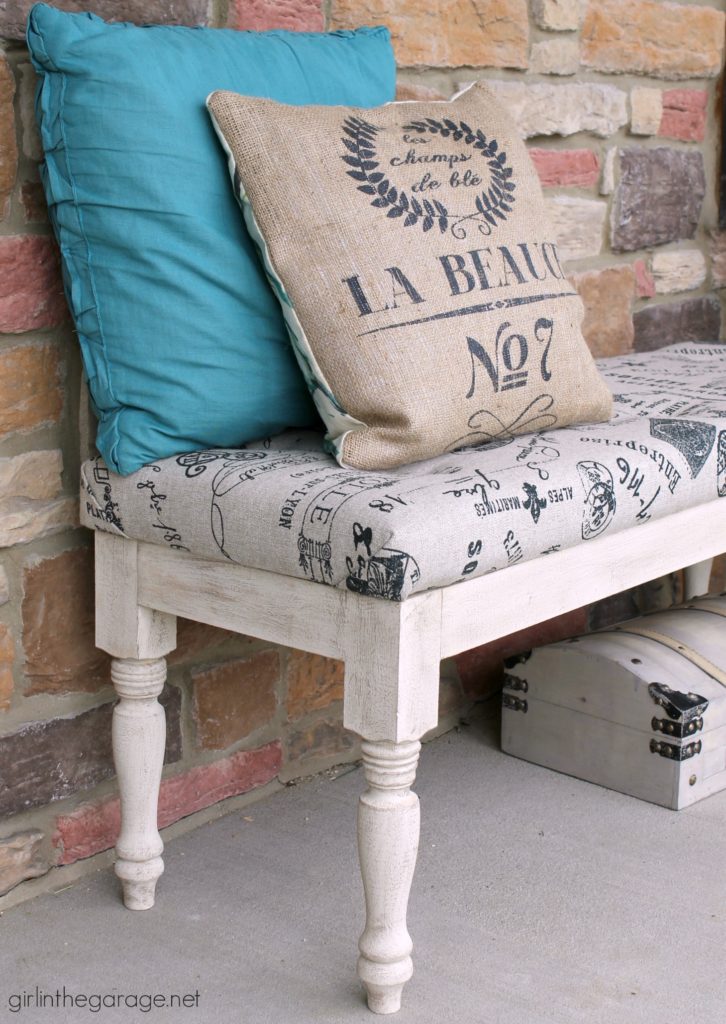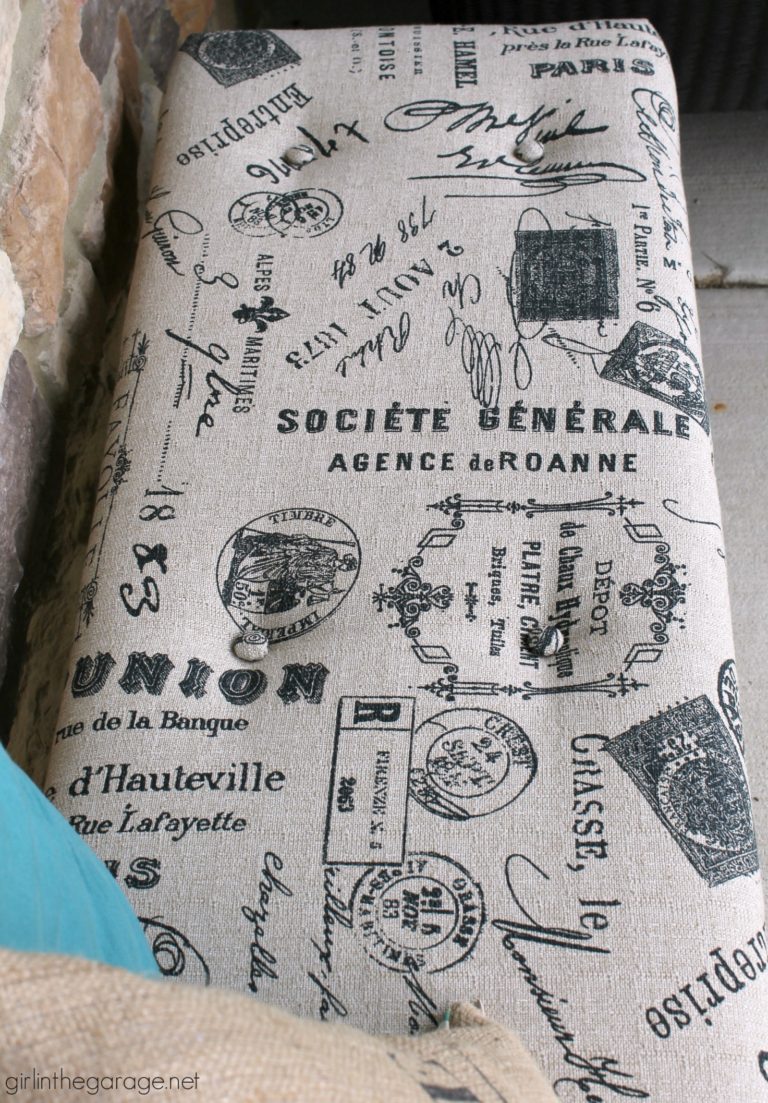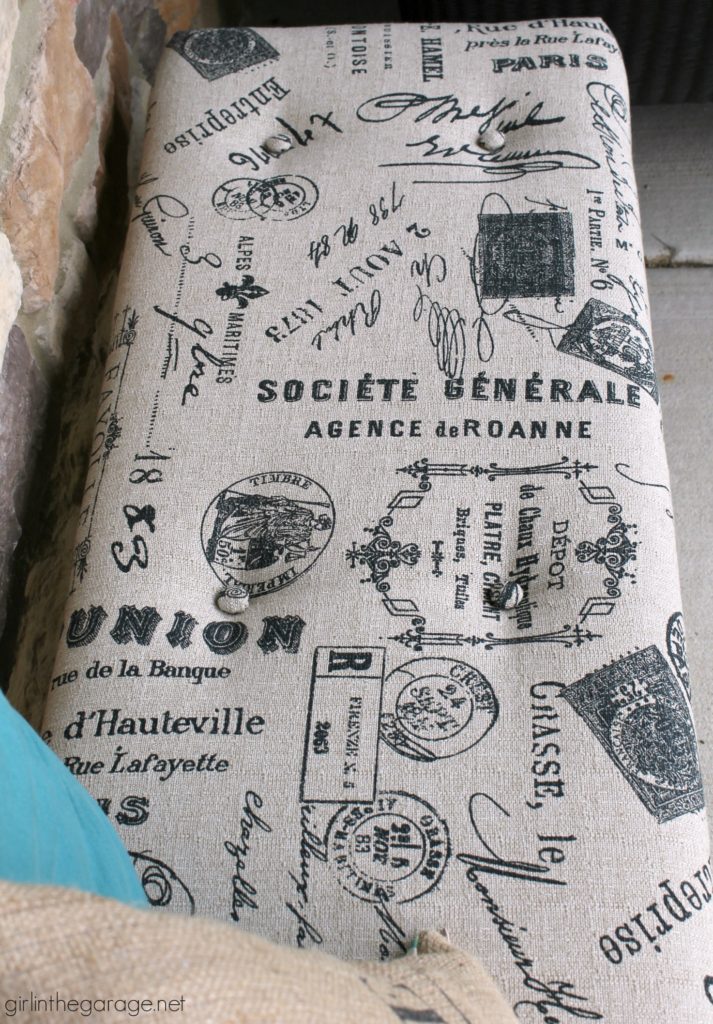 This tufted upholstered bench makeover sold right away. And no one ever has to know how ugly it was to start with (except me and you of course)!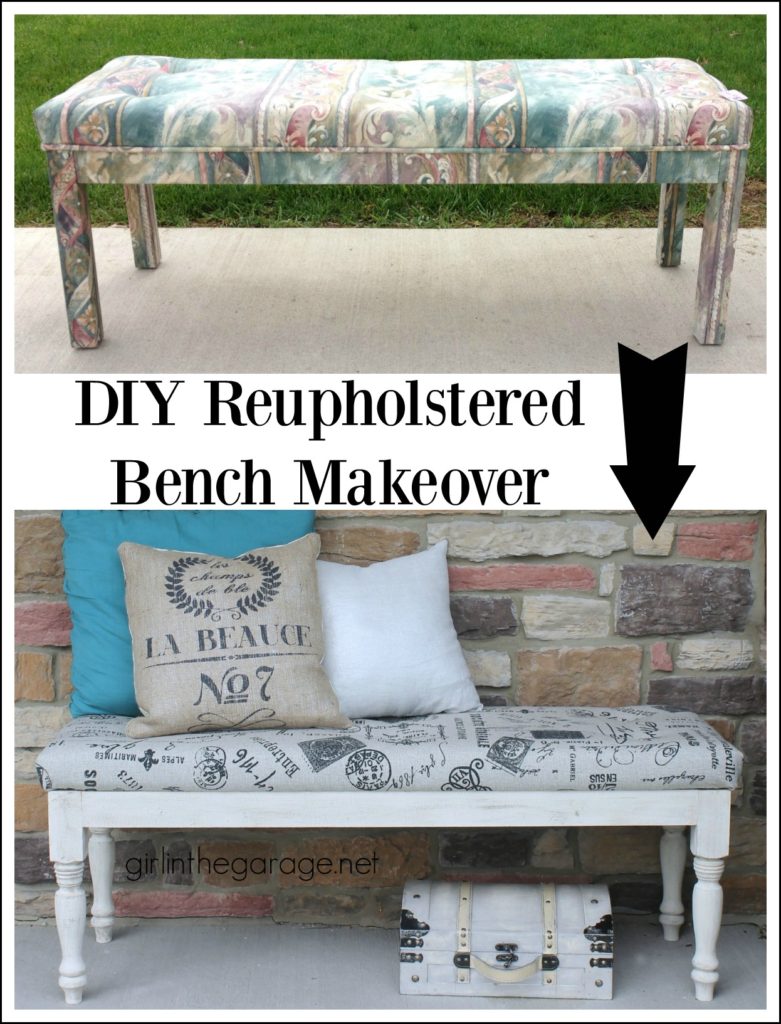 Now if you'll excuse me, I need to go do some exercises for this throbbing arm pain (and eventually I'll finish that dresser!)… But while I'm gone:
Today is Furniture Fixer Uppers day which means my creative friends also have makeovers to inspire you.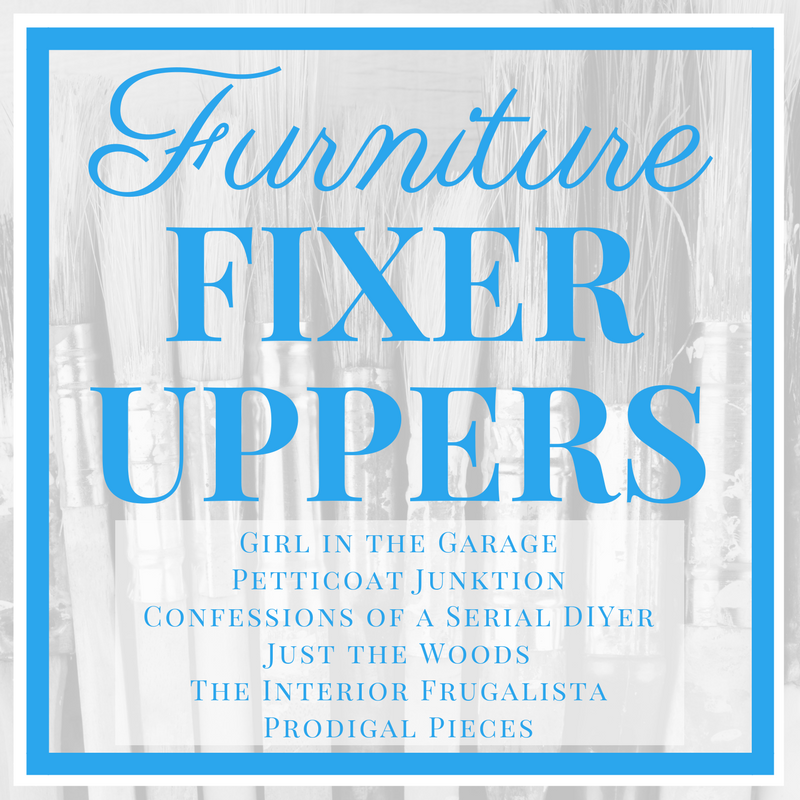 Below are their Before photos – visit the links underneath to see the amazing Afters and to learn how they did it: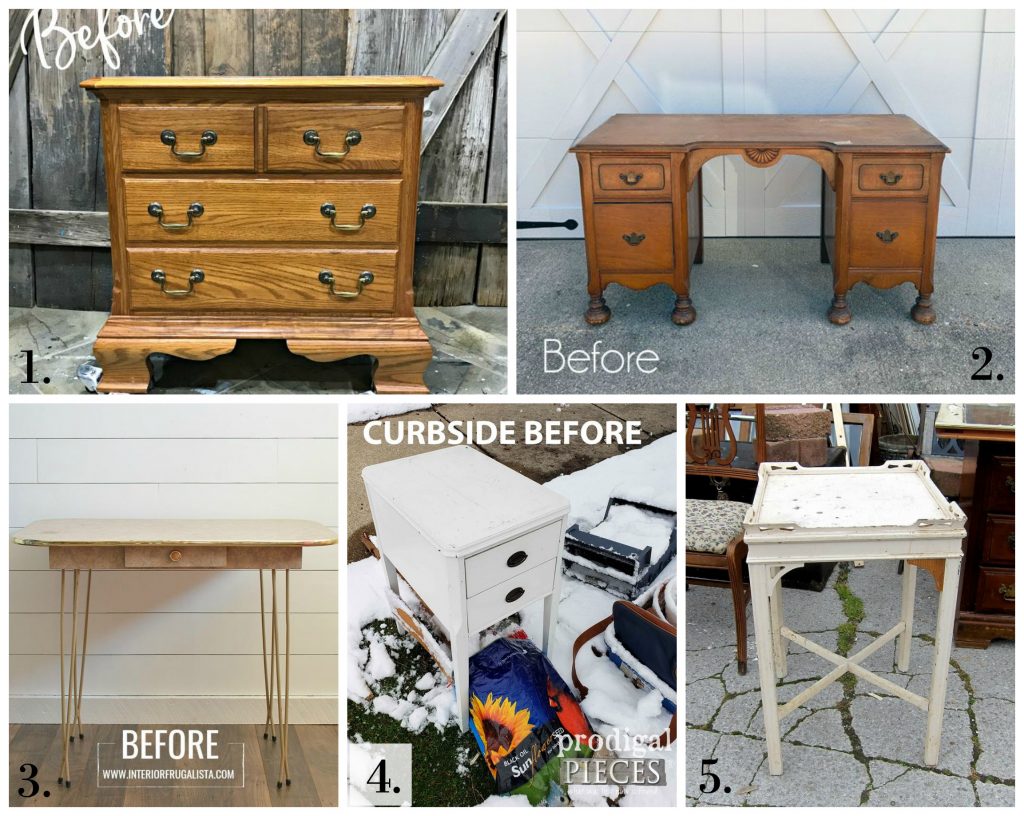 1. Just the Woods
2. Confessions of a Serial DIYer
3. The Interior Frugalista
4. Prodigal Pieces
5. Petticoat Junktion
P.S. Have you heard? My first book, Amazing Furniture Makeovers: Easy DIY Projects to Transform Thrifted Finds into Beautiful Custom Pieces, is available for preorder at all major online retailers now! Learn more Here.