This is one of those pieces you can't help but bring home because you know in your heart that it needs someone to give it a whole lotta love and a major overhaul… and you hope that someone is you, but it's way past your skill level so you let it sit in your garage for like 3 years until you're brave enough to attempt it (with some help, of course).
Tada….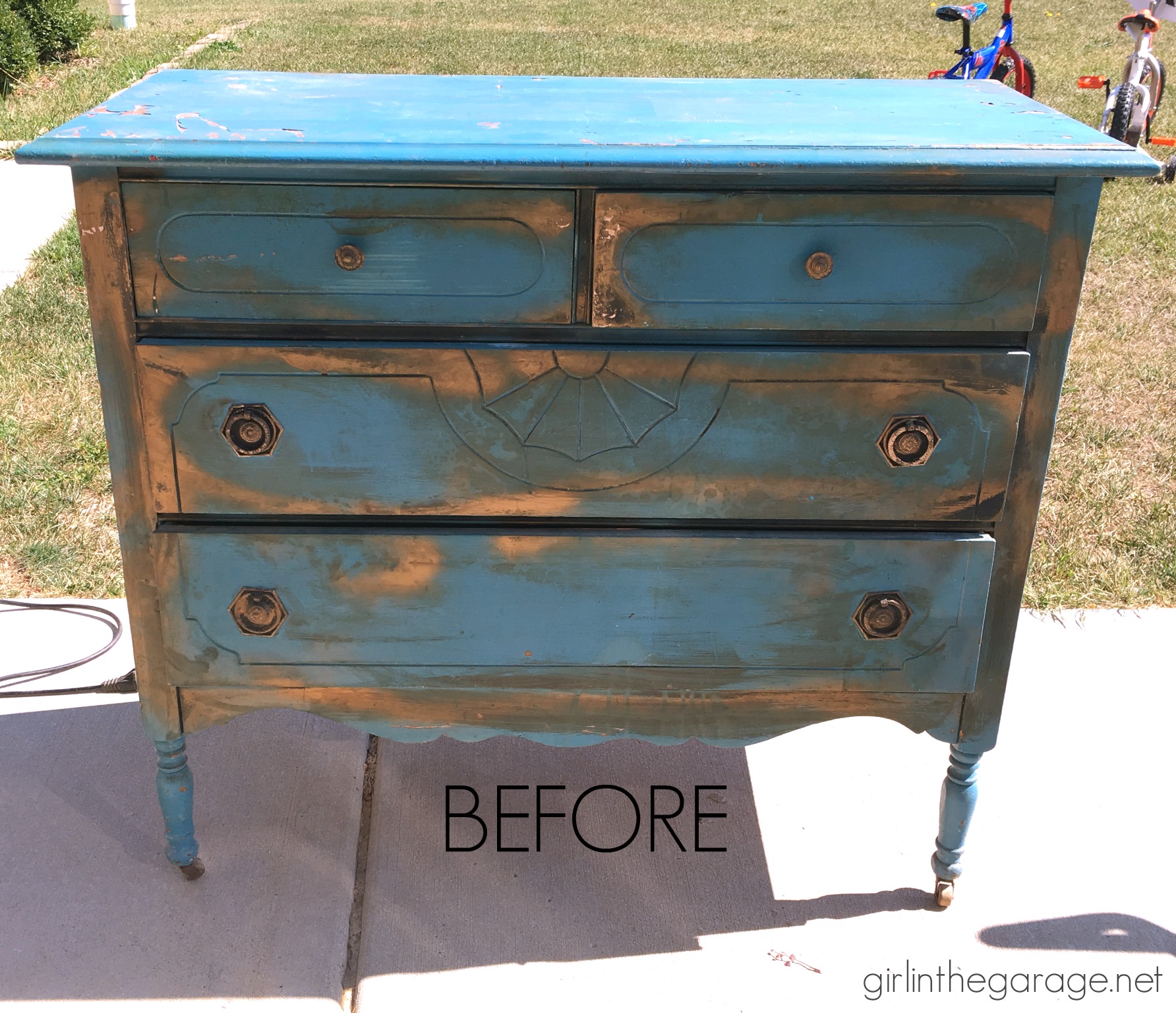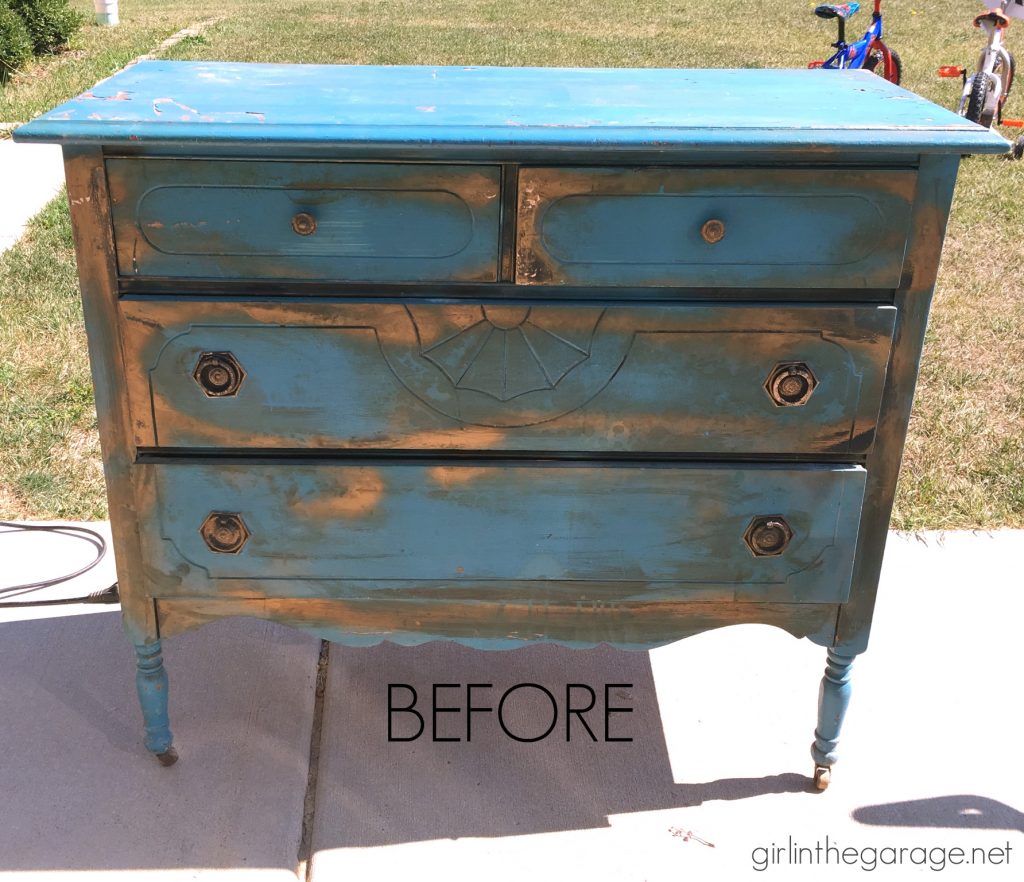 I got this already-painted turquoise and gold antique dresser (formerly a vanity, but without the mirror) for maybe $10. Nowadays I almost never buy anything to redo that's already been painted. Repainting painted furniture is such a pain to deal with! And this one was all scratched and chipping too. I'm sure it had been in someone else's garage for at least a year or two.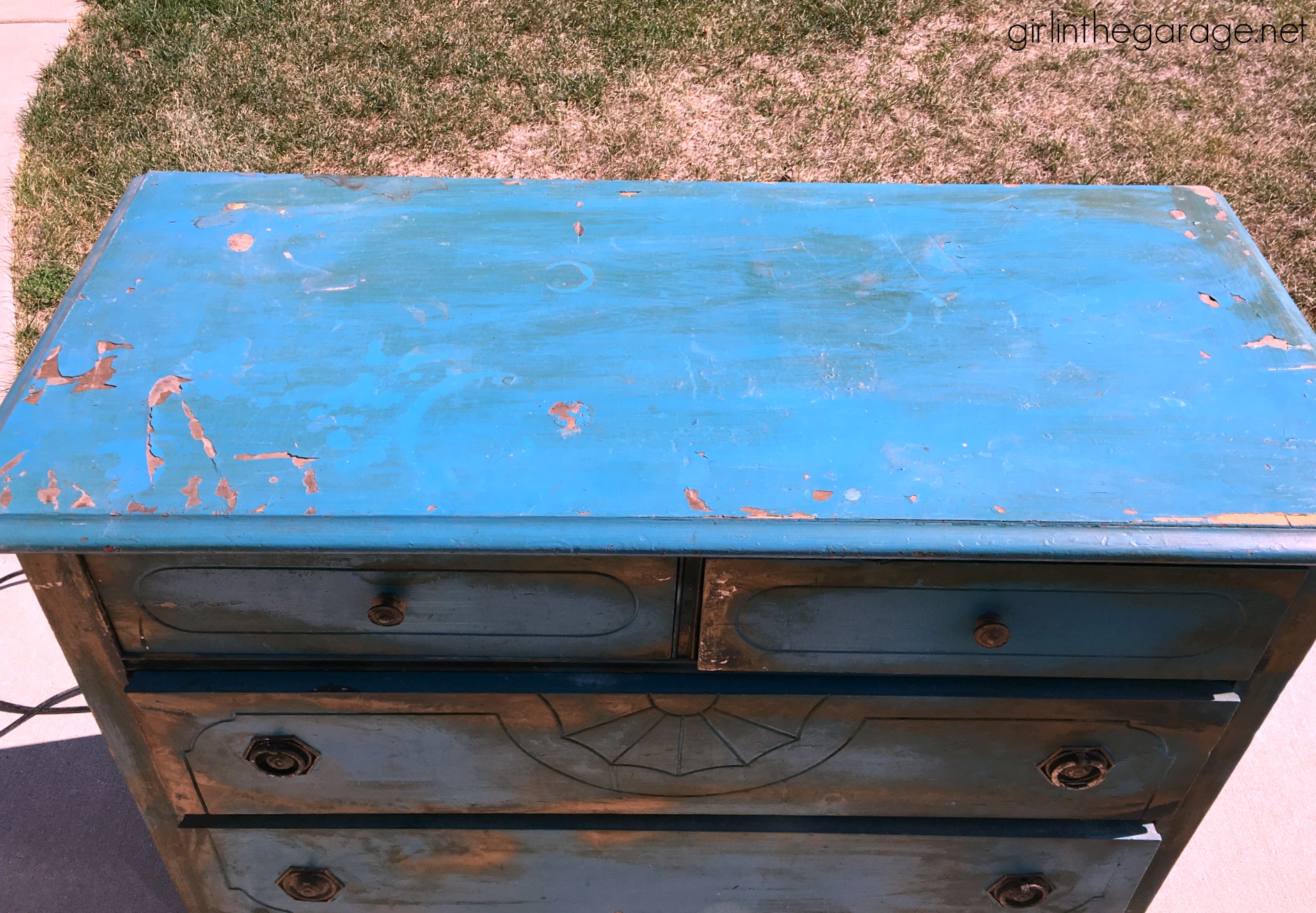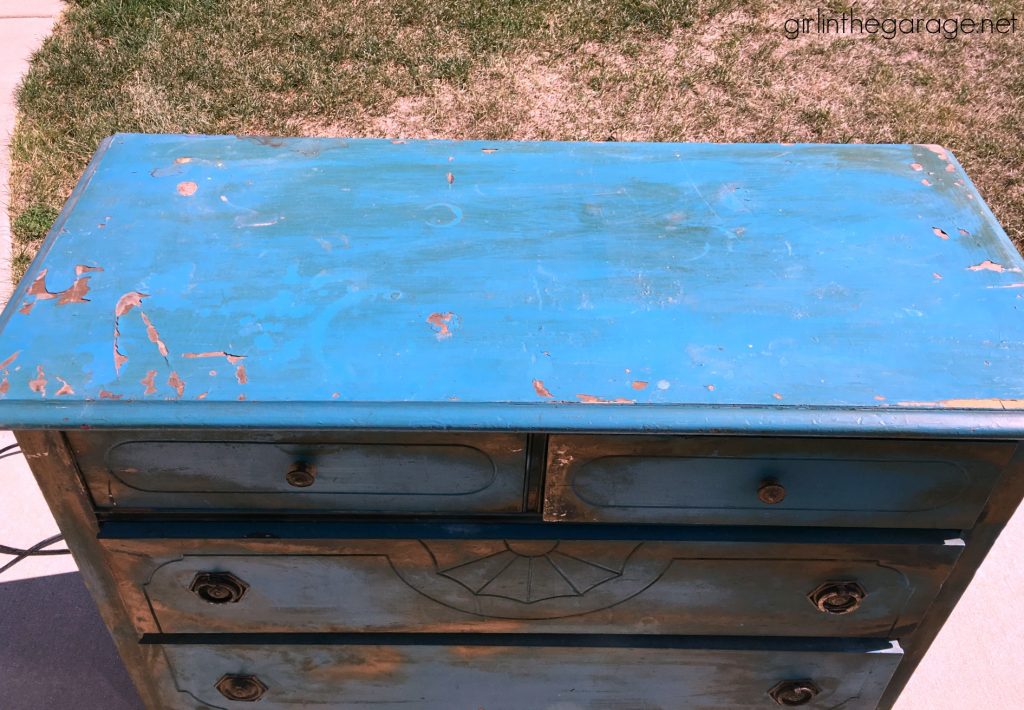 *Friends, it's Trash to Treasure Tuesday with some of my blogging BFFs, so be sure to check out their creative makeovers at the end of this post! Also, this blog post contains some affiliate links so that you can easily find some of the products that I use and recommend.
My sweet hubs, aka Guy in the Garage, worked on this dresser makeover too. He sanded with our new palm sander down to the lovely bare wood and repaired the drawers to help them slide smoothly. Unfortunately, the little grooves were still filled with turquoise paint and the top still had a lot of scratches.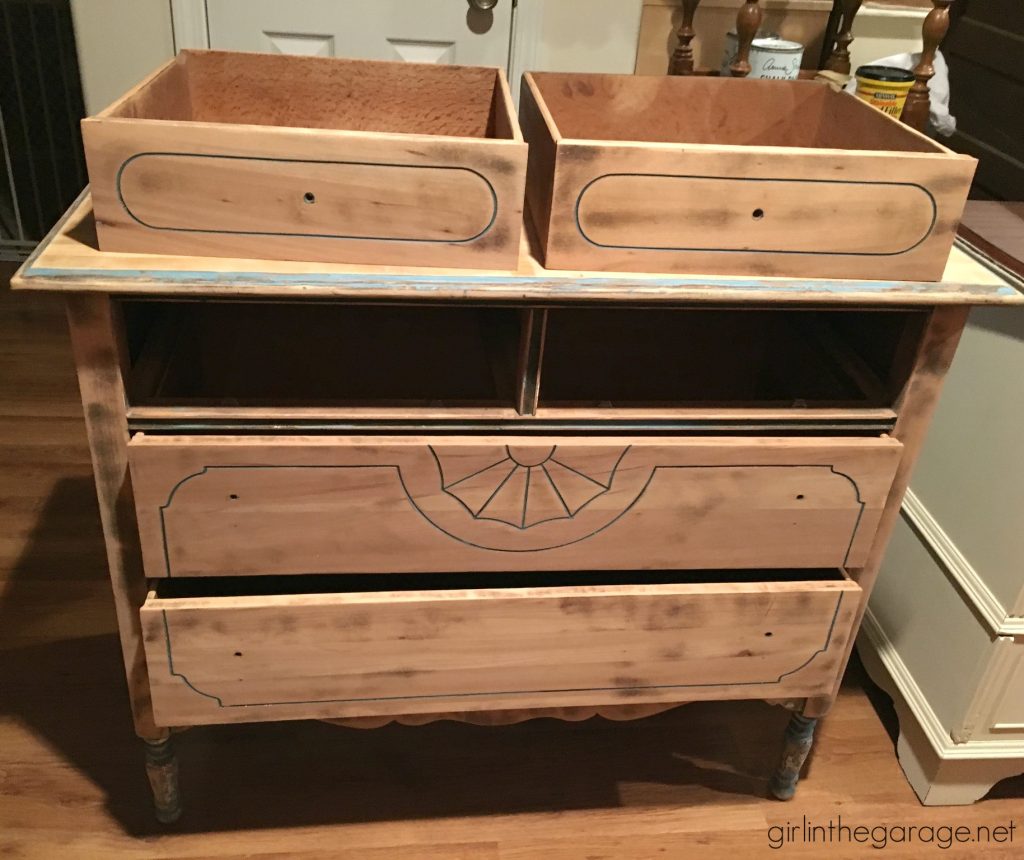 I filled the dents with wood filler, sanded, and primed the whole piece with my favorite shellac primer. Some of the spots needed more wood filler, so I did it all a second time.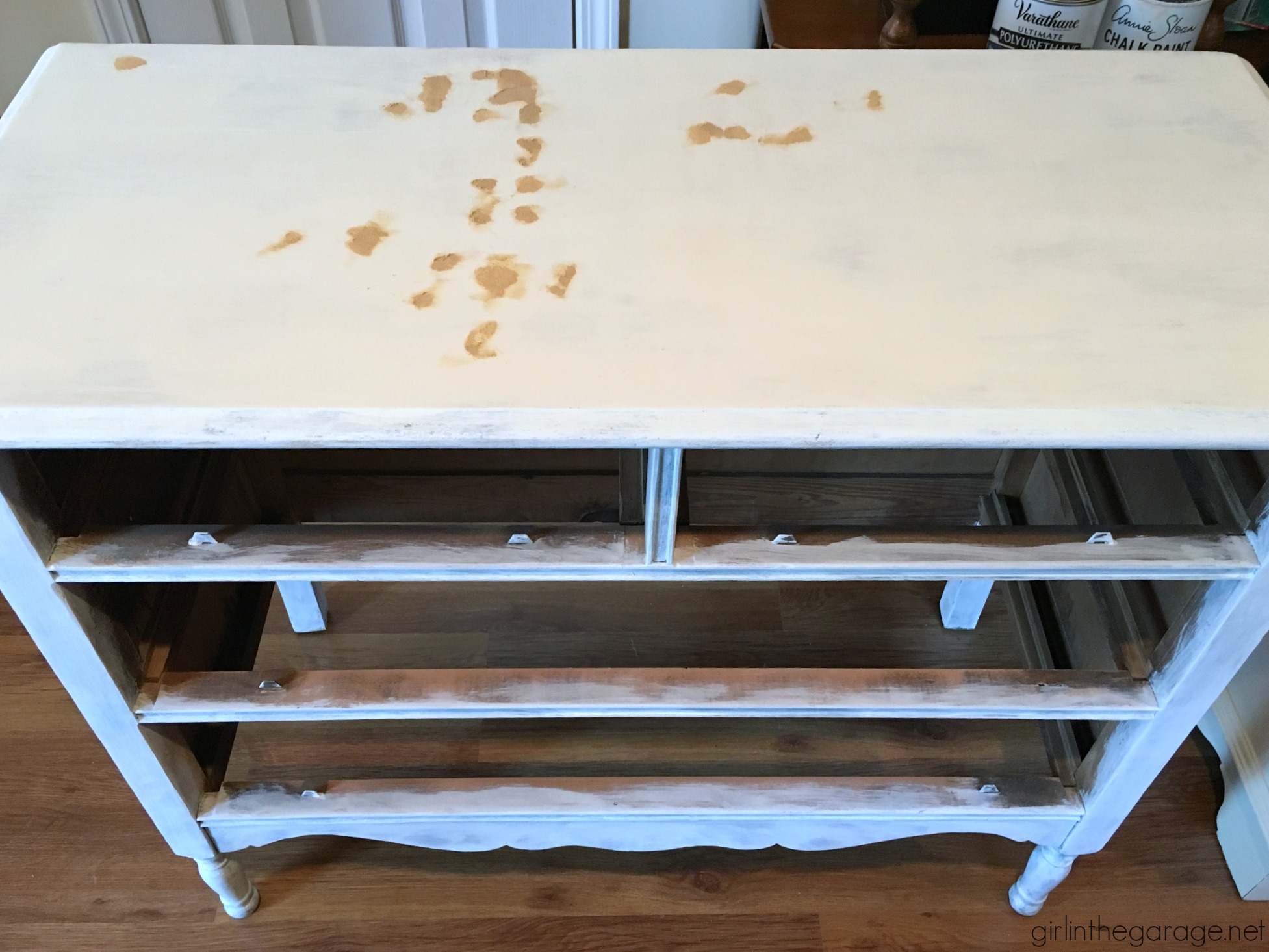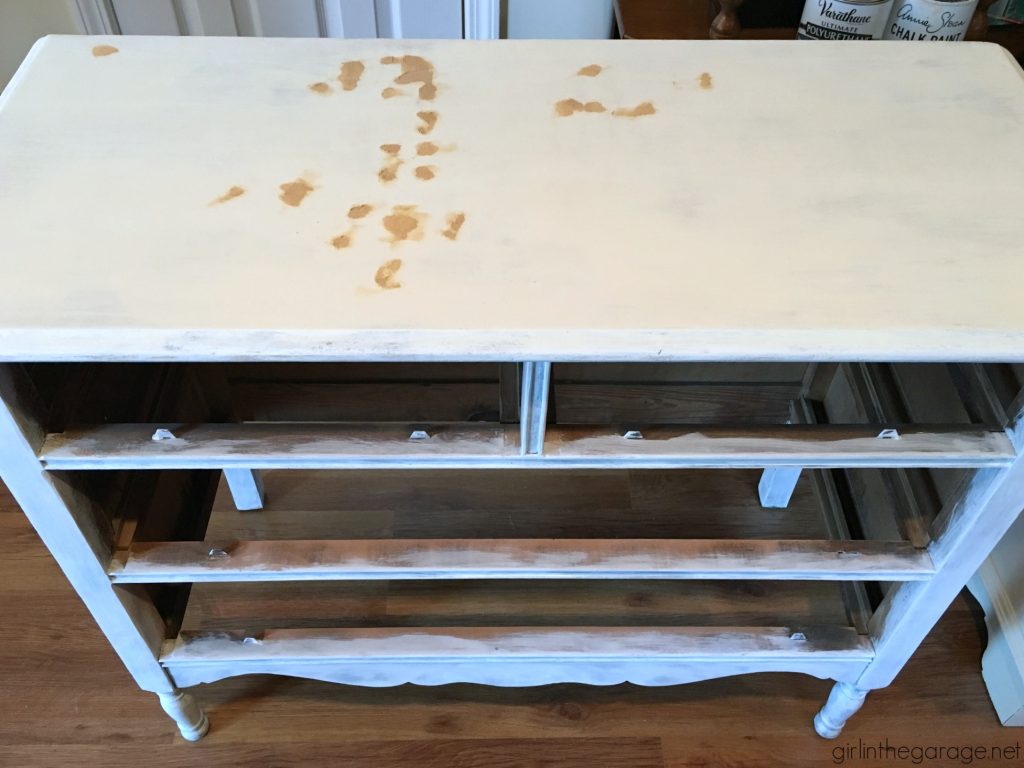 Next I painted all the little grooves on the drawers with Pure White Chalk Paint by Annie Sloan. Then I painted the rest with Paris Grey Chalk Paint and used a small brush to get thisclose to the white areas (this part took a while). It's a lot easier than painting the groove white with a tiny brush afterward. #FurniturePaintingHack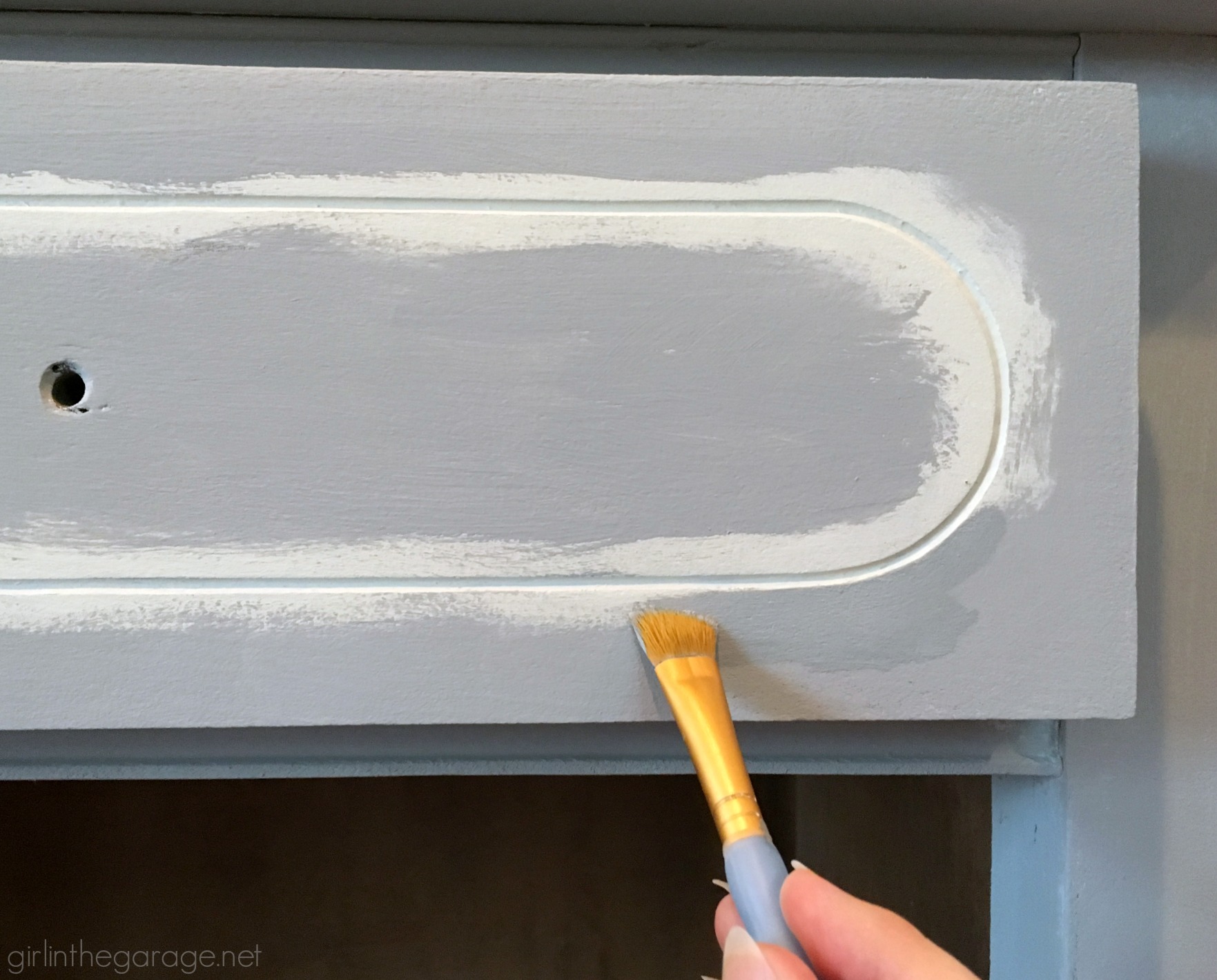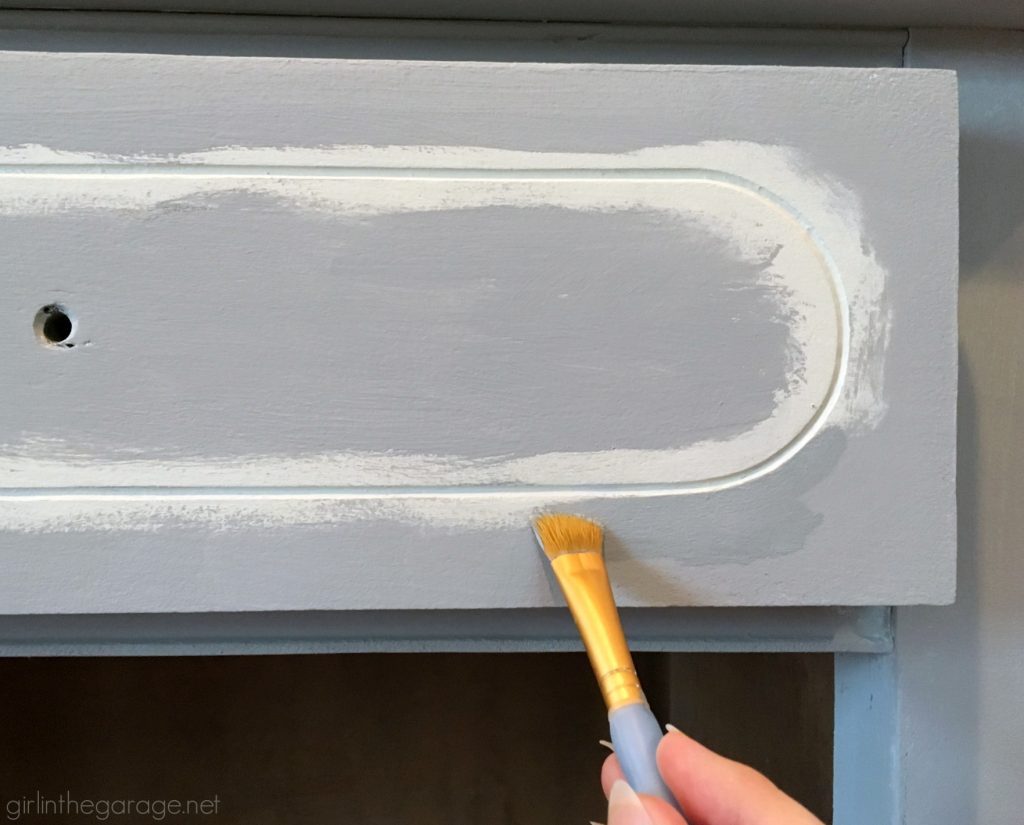 Mr. GITG replaced a bottom panel in one of the drawers because it had a hole in it, and I opted to line all the drawers with paper instead of painting them. I used this pretty paper from Hobby Lobby (find similar paper online Here) and Mod Podge to add a little extra surprise inside. Adding paper inside drawers gives it an extra special touch that many people don't expect.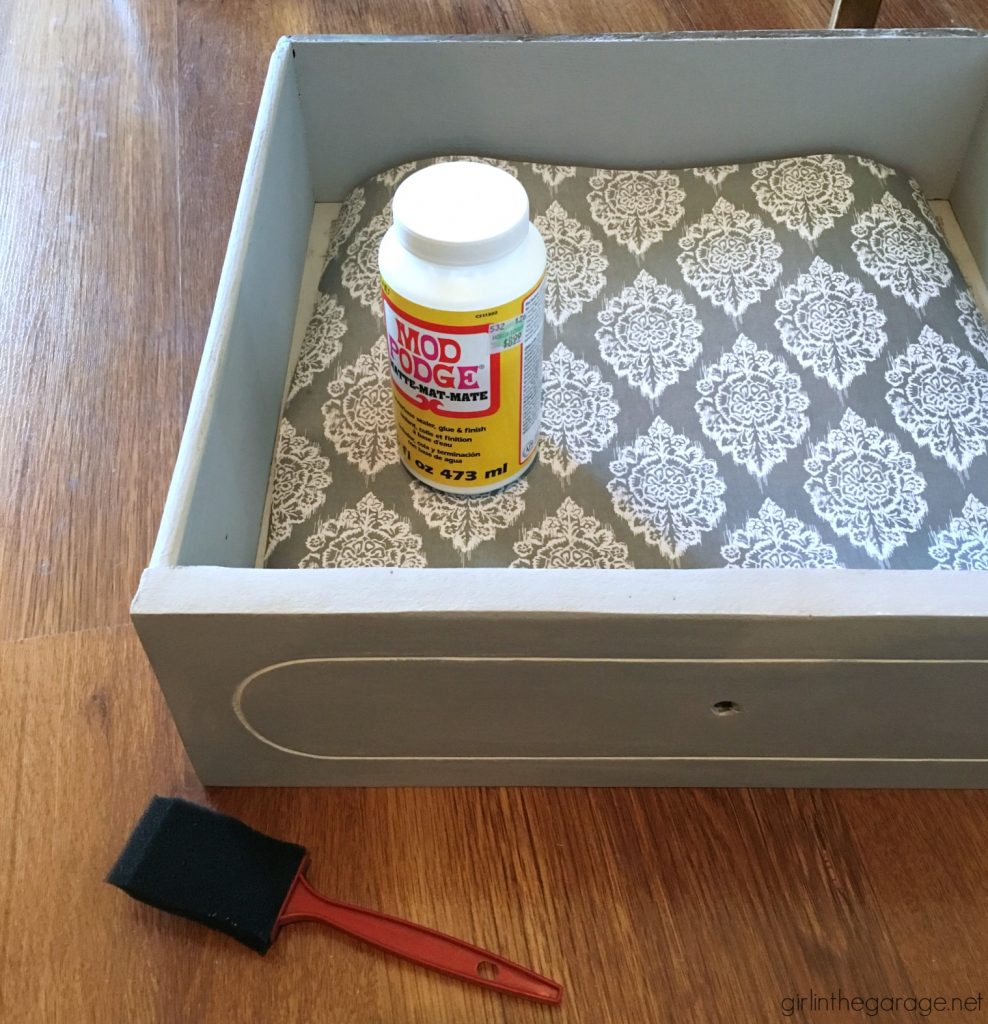 After 3 years of taking up space in the garage and then all the work that went into repairing and beautifying it, here she is…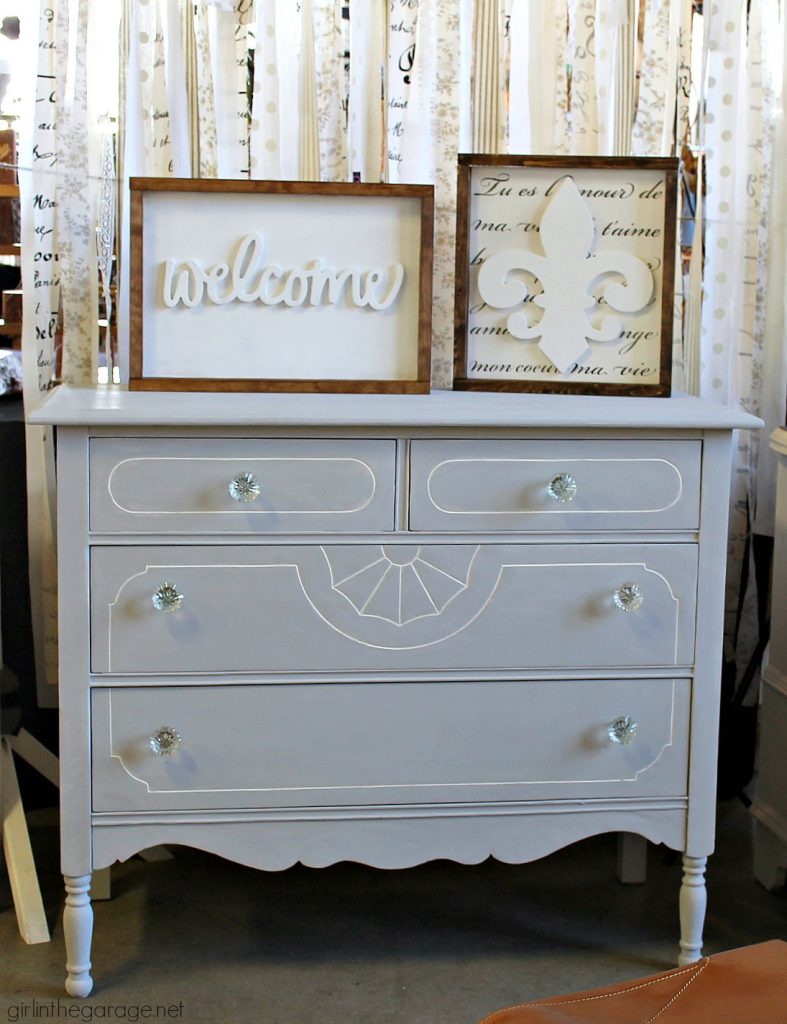 She was looking mighty lovely for the market.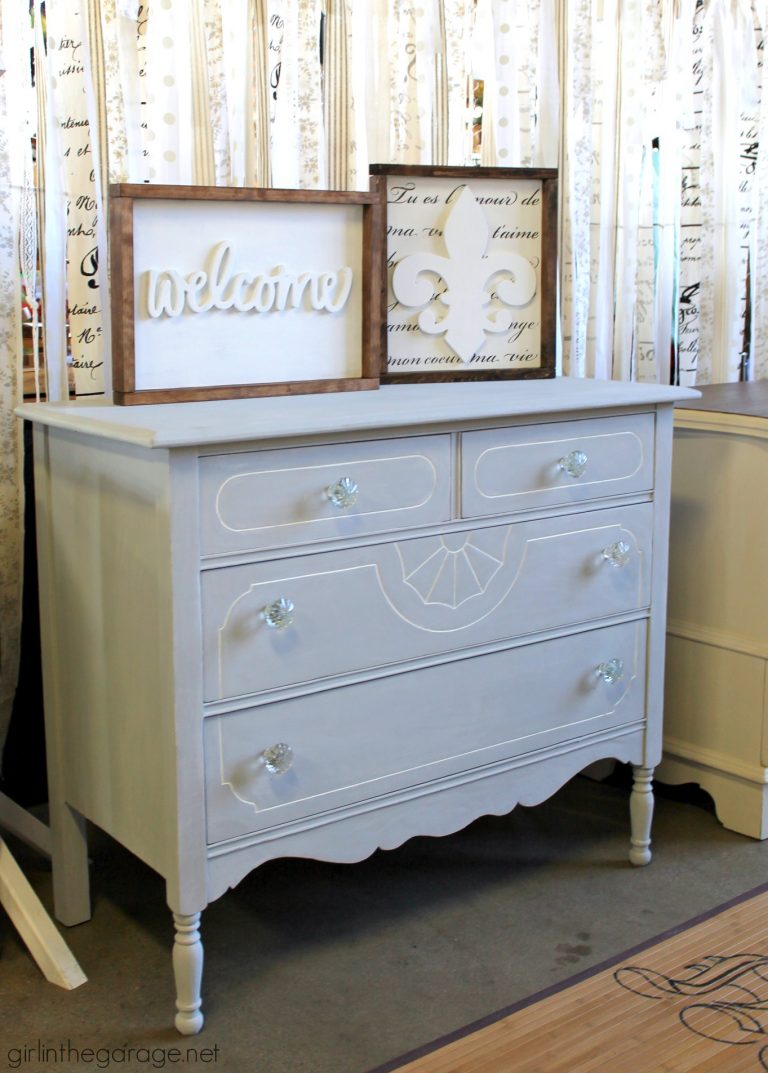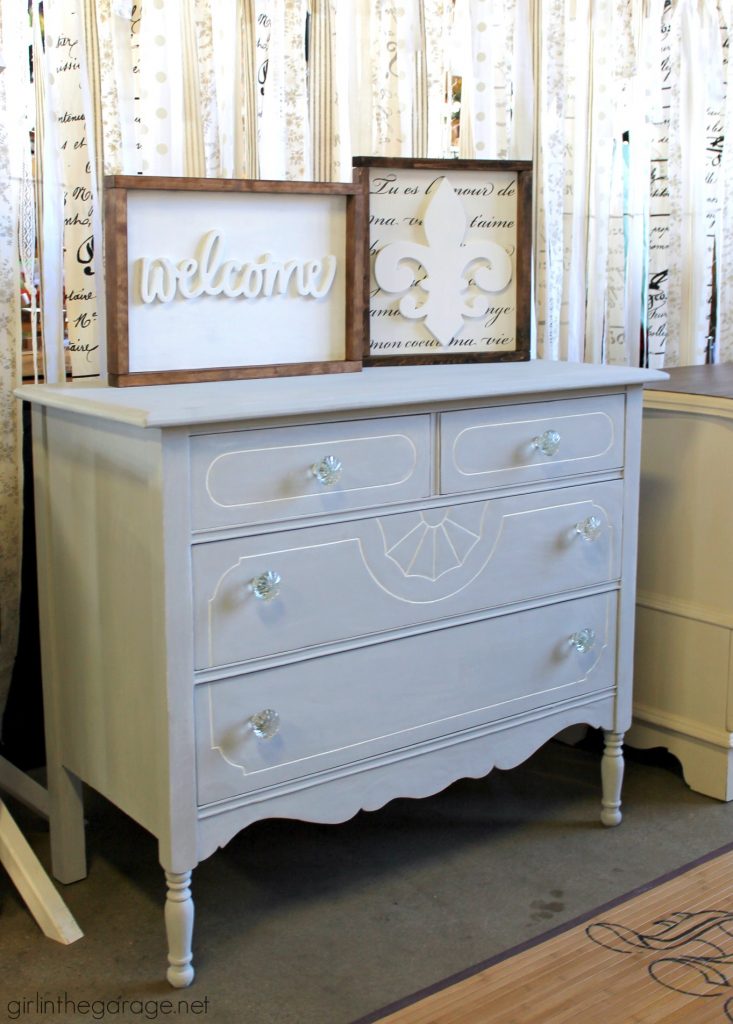 New glass knobs add the final finishing touch to this antique dresser makeover.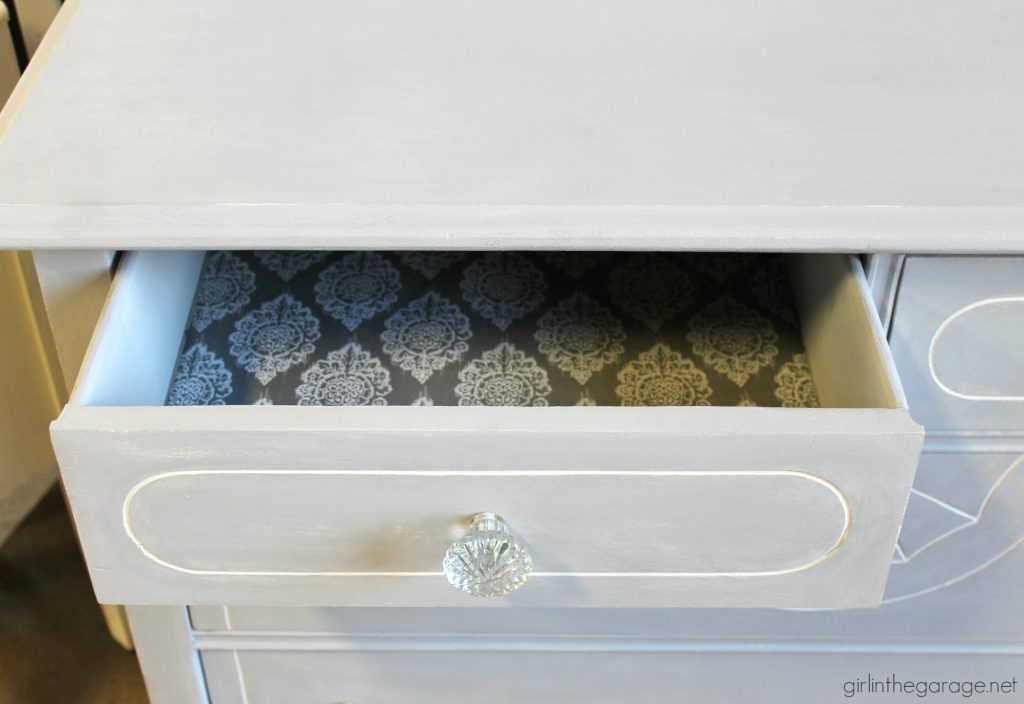 Repainting painted furniture can be a headache, but by following these steps, you can save a piece like this too. Here's a reminder of this trash to treasure transformation: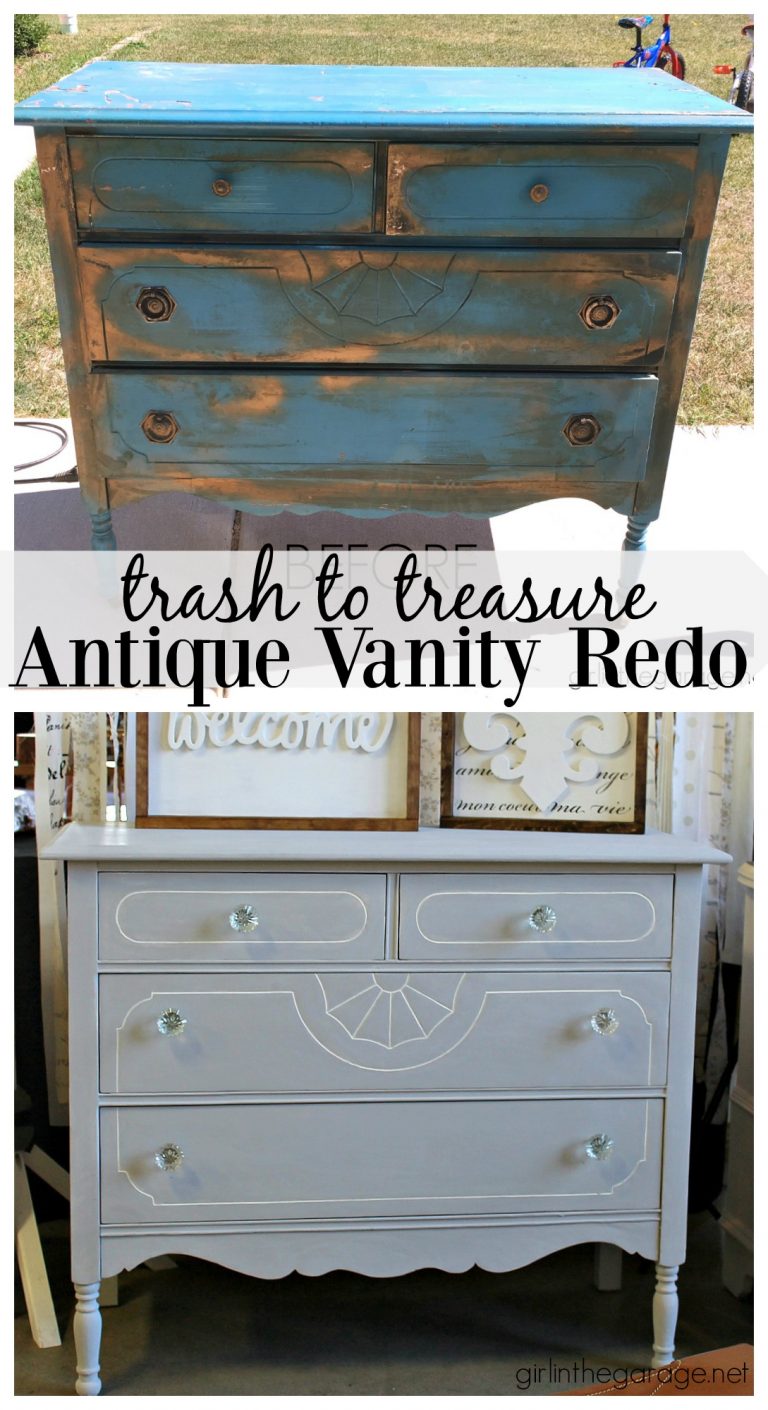 Don't go yet! Four of my creative blogging friends are also sharing Trash to Treasure Makeovers today. Below are the Before photos – click the links underneath to see the After photos and learn how they did it!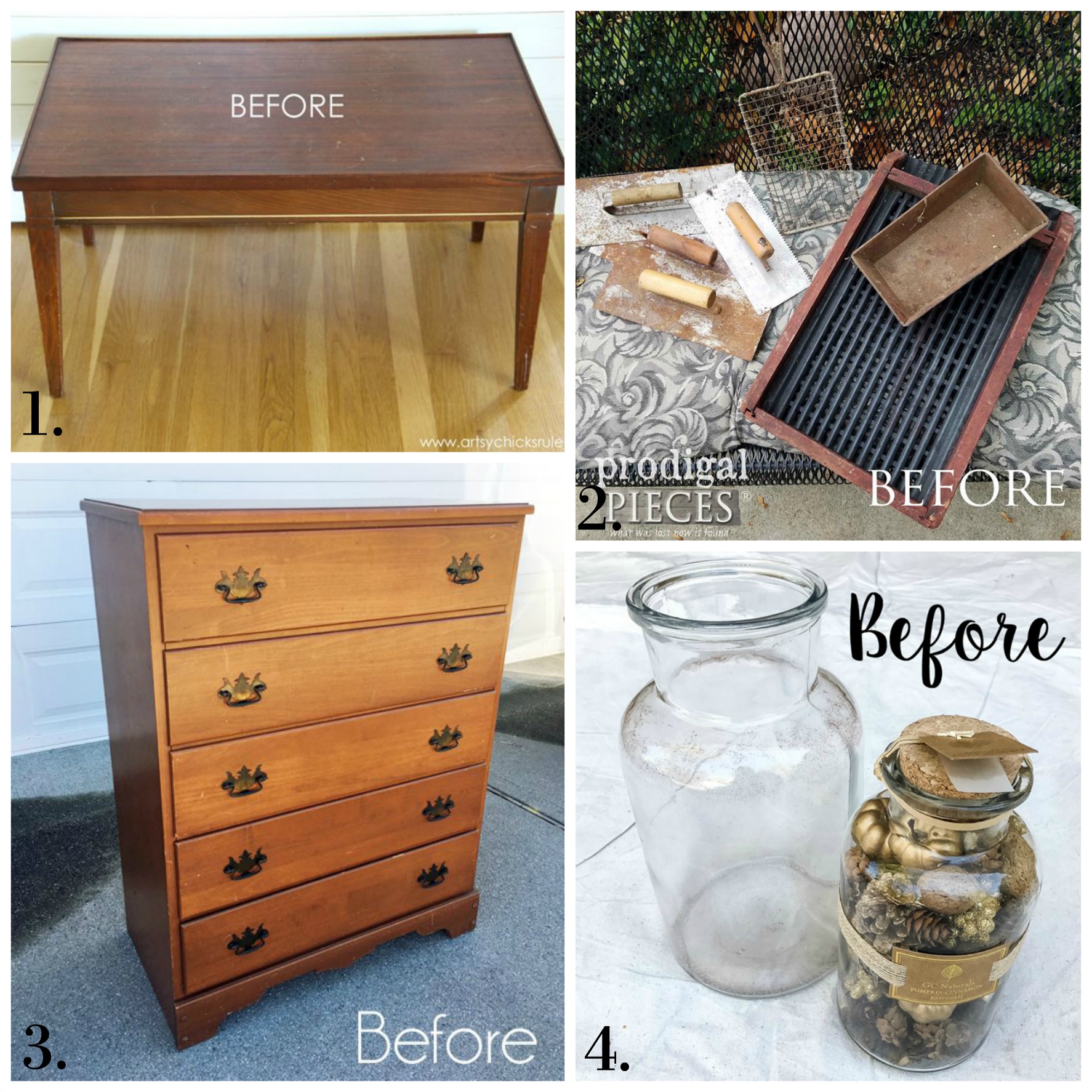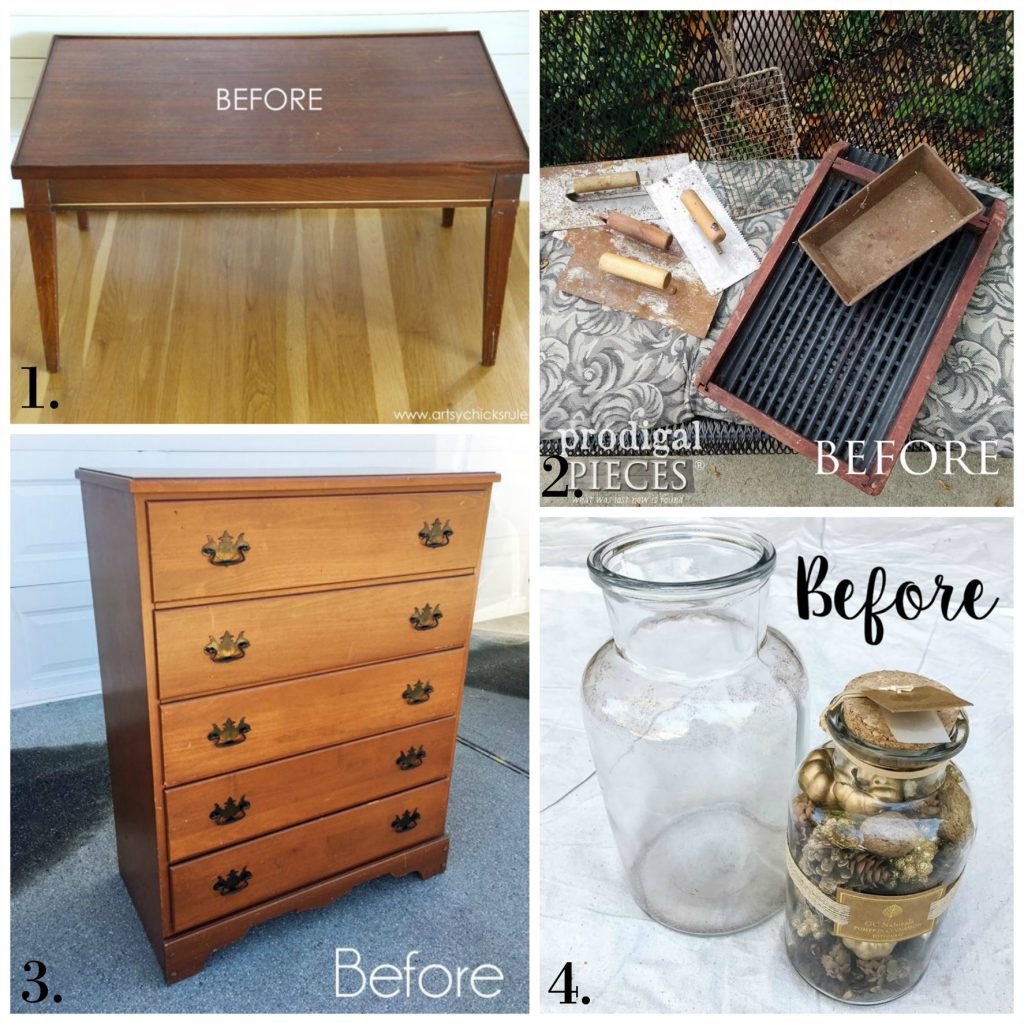 1. Artsy Chicks Rule
2. Prodigal Pieces
3. Confessions of a Serial DIYer
4. Bless'er House