I really wasn't planning on buying this desk, I promise.
There was a Facebook ad for an antique sideboard, and when I went to see it they kindly also showed me this desk and then bundled the price together so I pretty much couldn't refuse buying both. I jokingly said, "I'm going to blame you guys if my husband gets mad at me!" Has that happened to you too? haha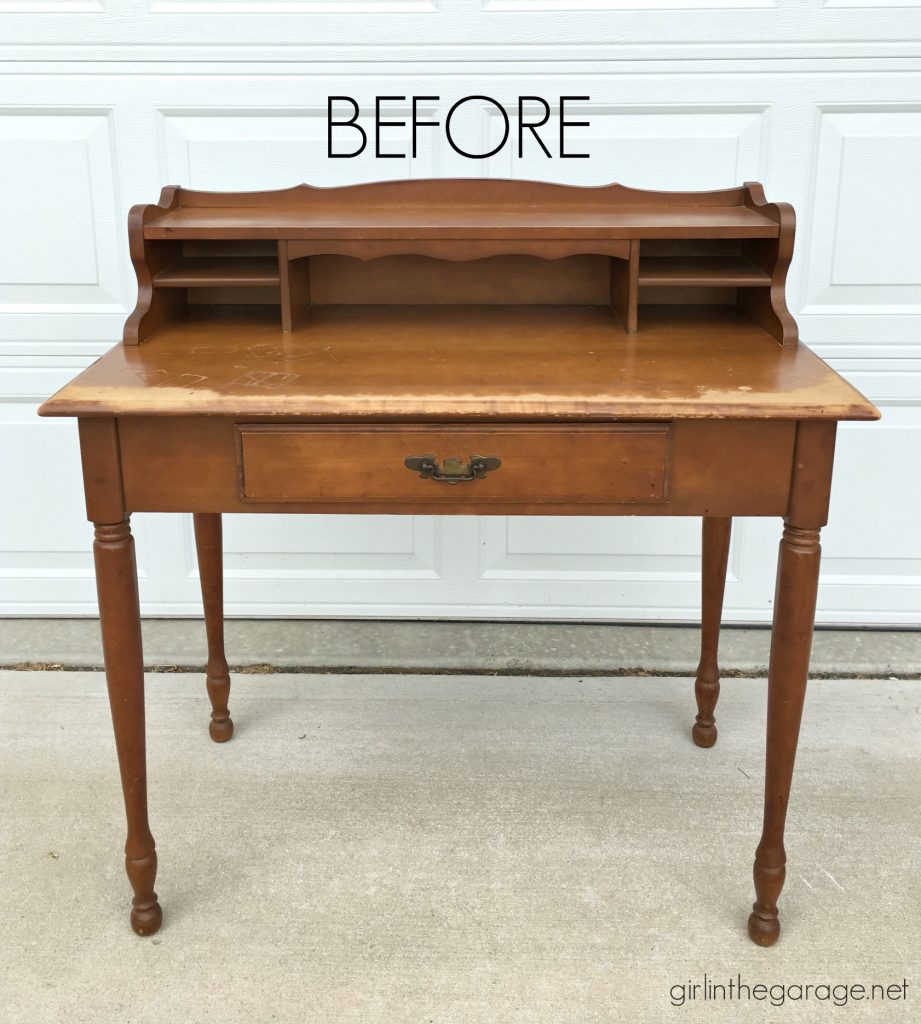 *This post contains some affiliate links so you can find the products I use and recommend easily. Discover all my favorite brands and tools for doing DIY makeovers here.
The style of the desk was pretty, but some areas were worn down and there were burn marks on top. Guy in the Garage sanded those areas down quickly with our hand sander so I could get to work on the desk makeover.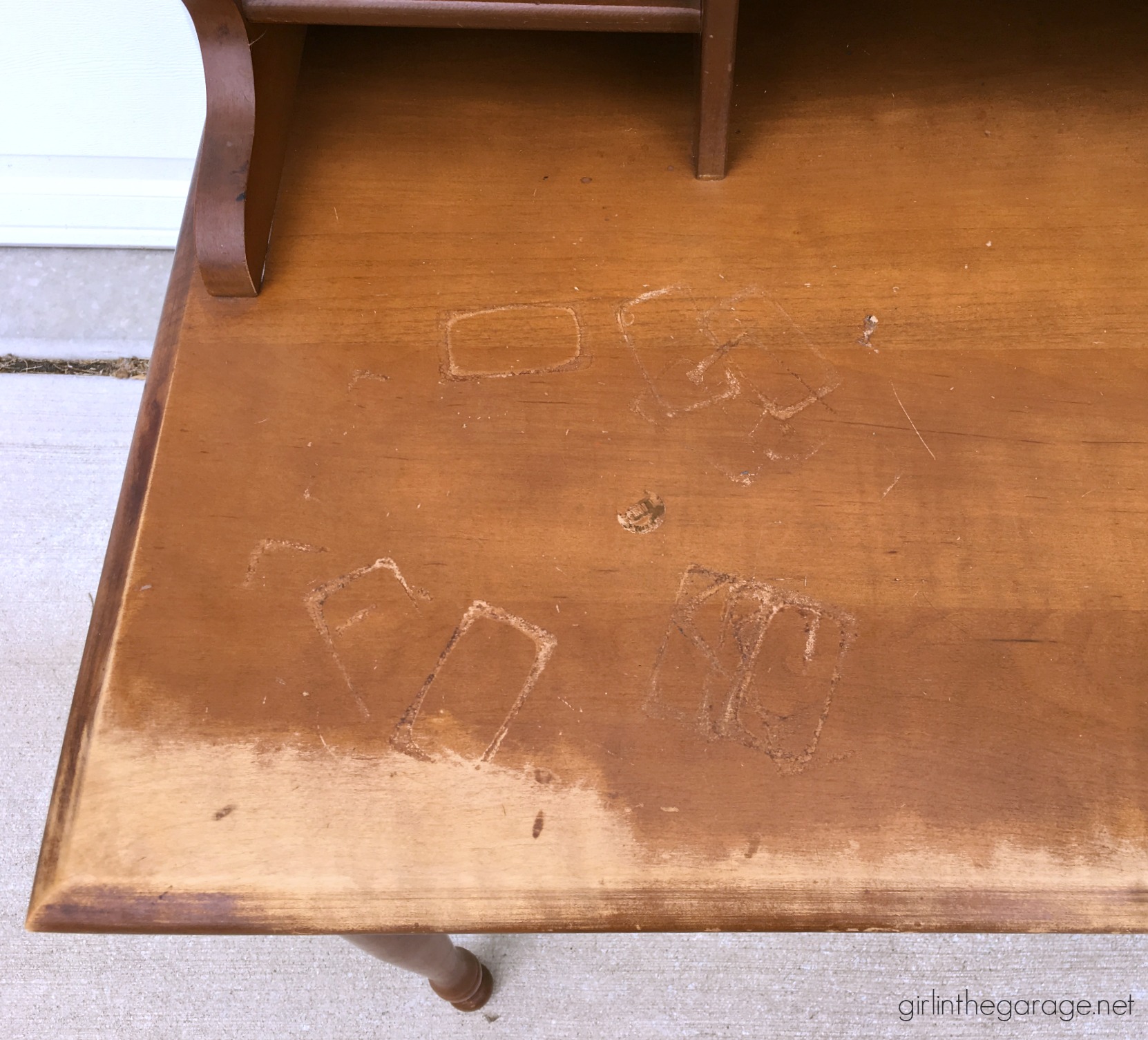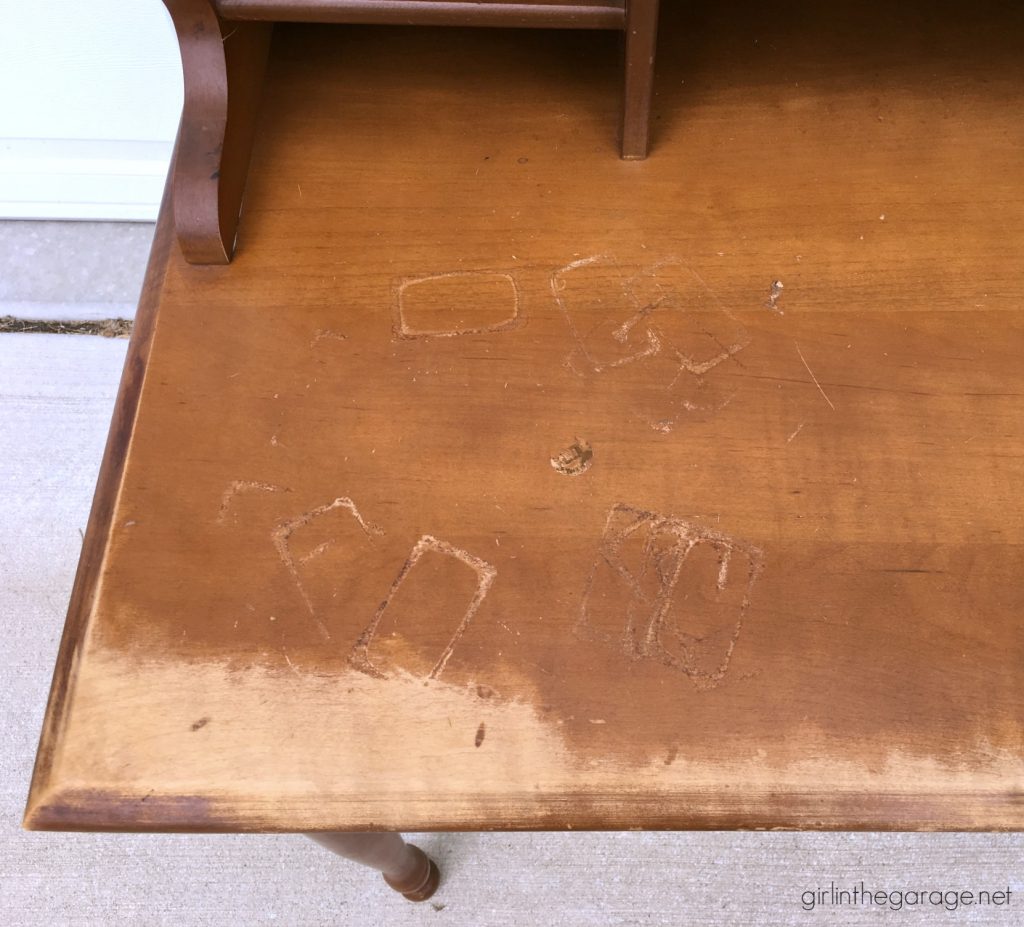 I tried to paint it without taking the top off, but it just wasn't working. There wasn't enough room to move the brush around and reach all those hidden areas. I only had to remove about 8 buttons and 12 screws…. (yuck)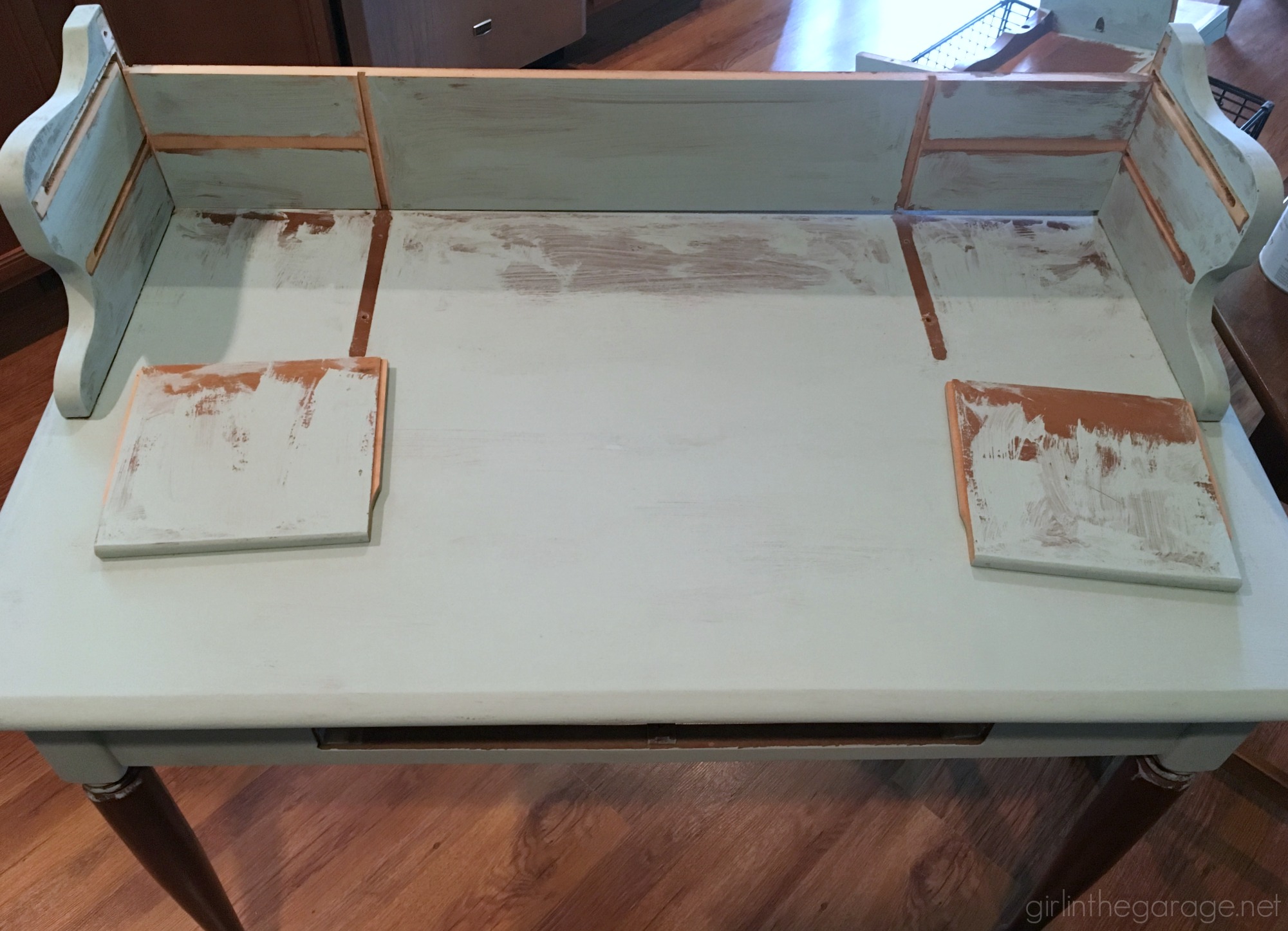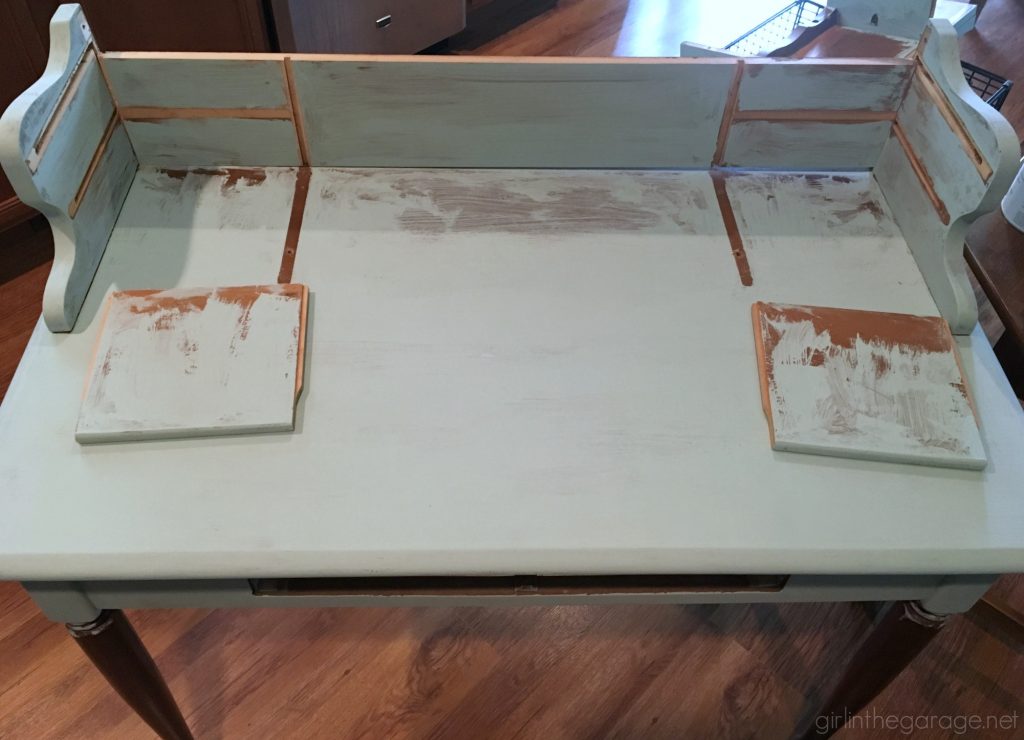 Some of the original buttons were damaged but they're inexpensive from the hardware store, and easy to tap into place with a hammer.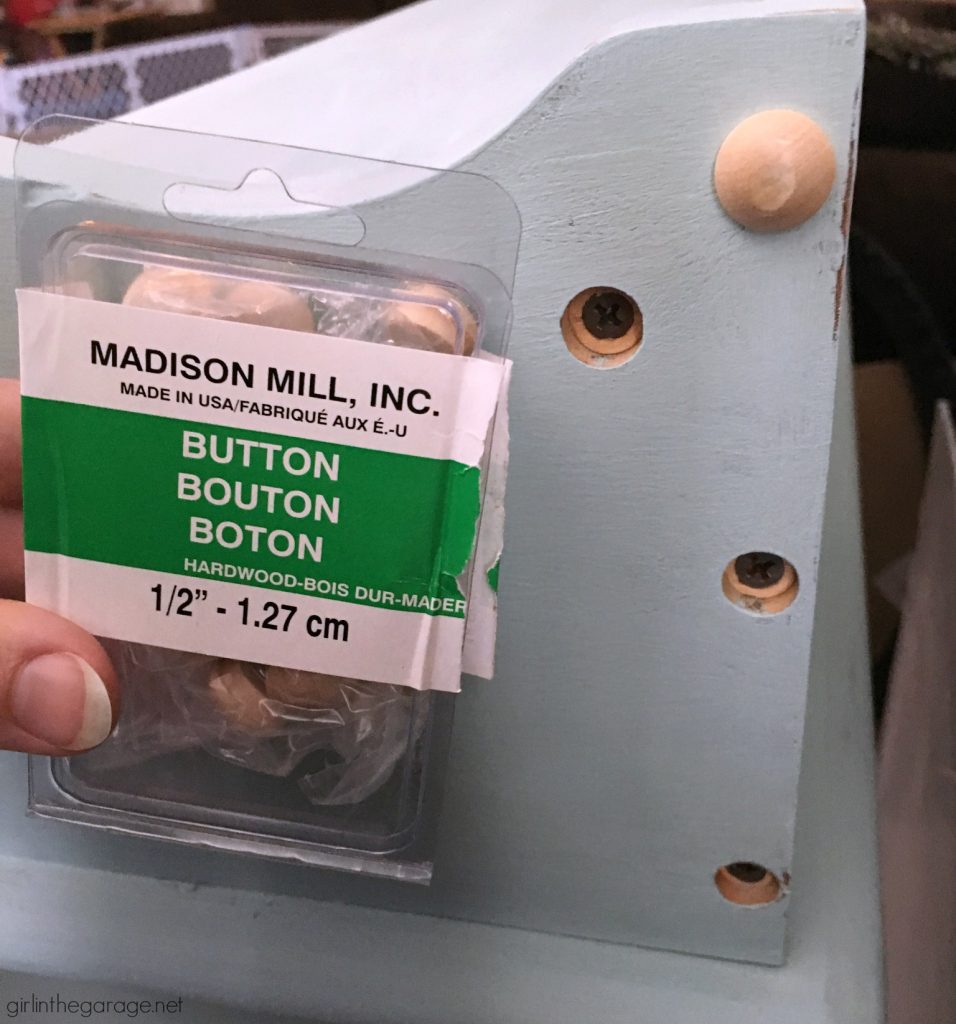 The desk was lonely without a chair, so I found this one which was very brown and blah…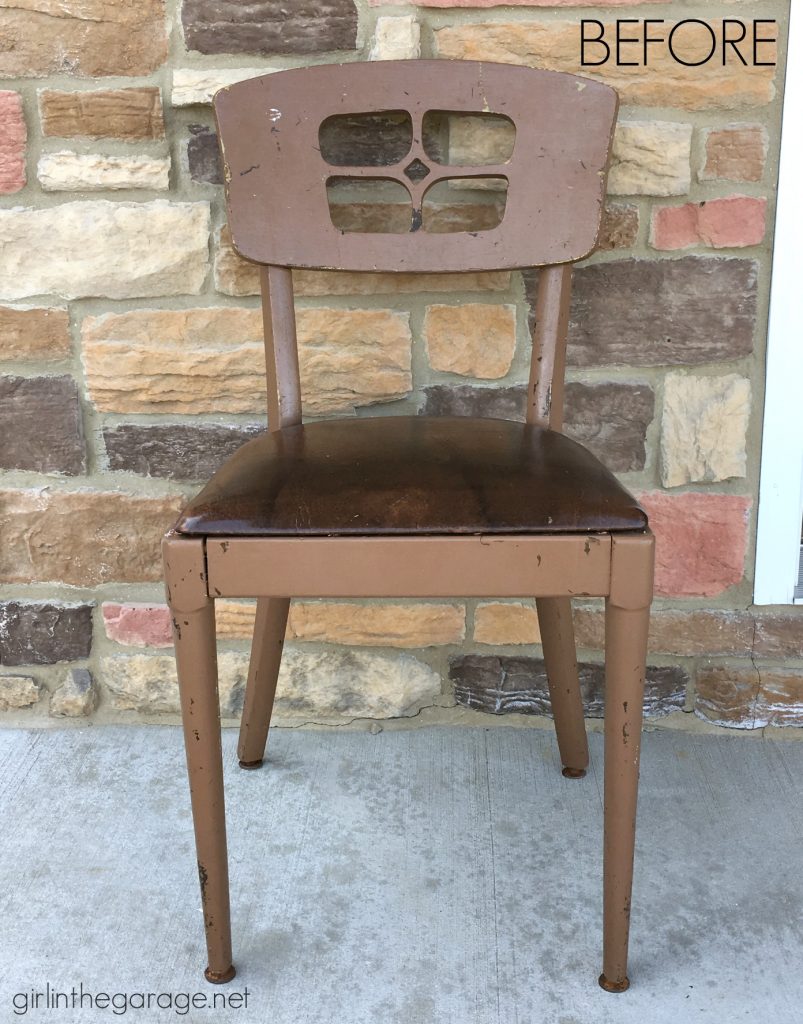 Guy in the Garage sanded it down for me since we were short on time, and discovered there were two other layers of paint underneath the brown – mossy green and bright yellow. This chair has had an interesting life!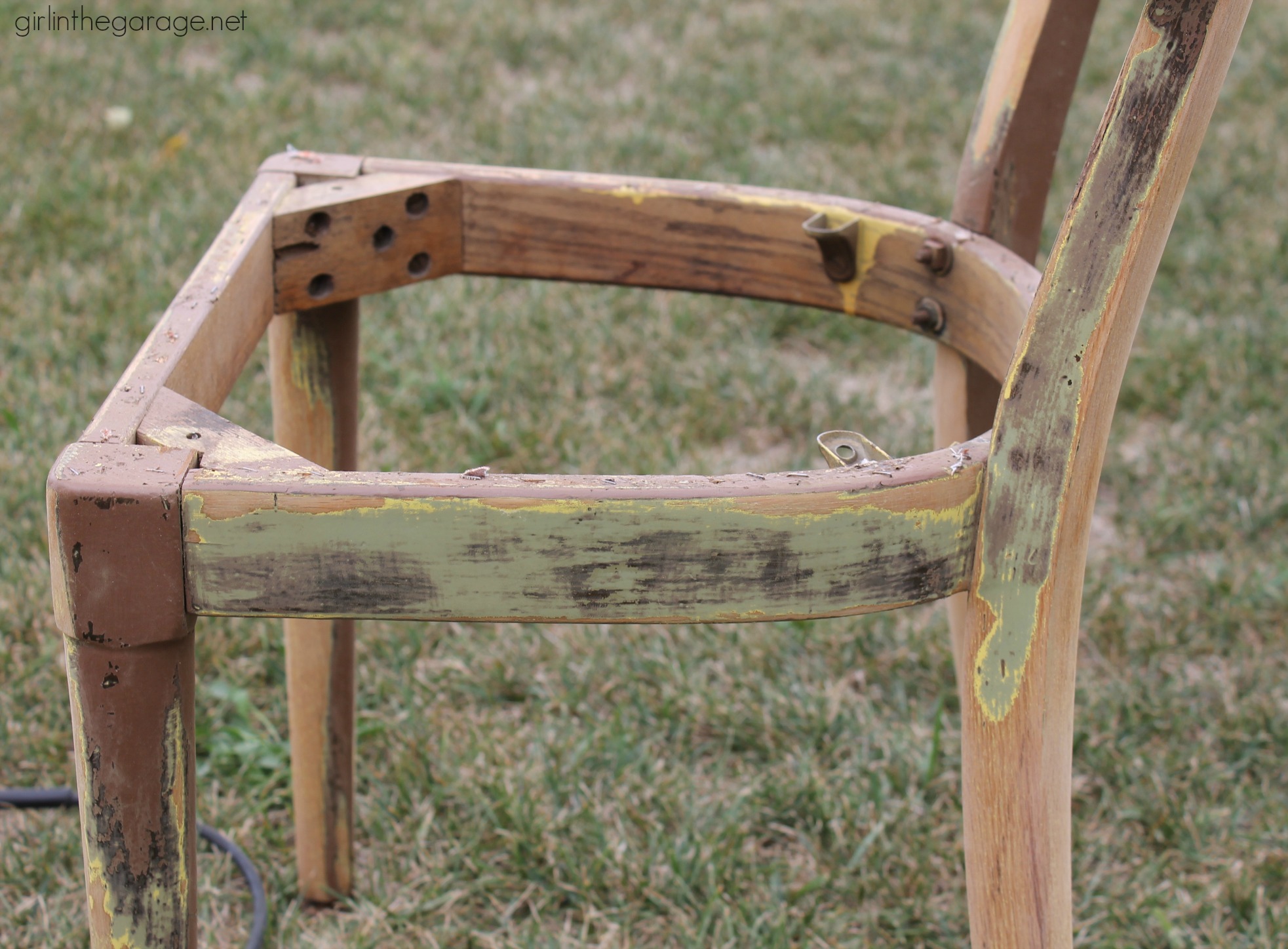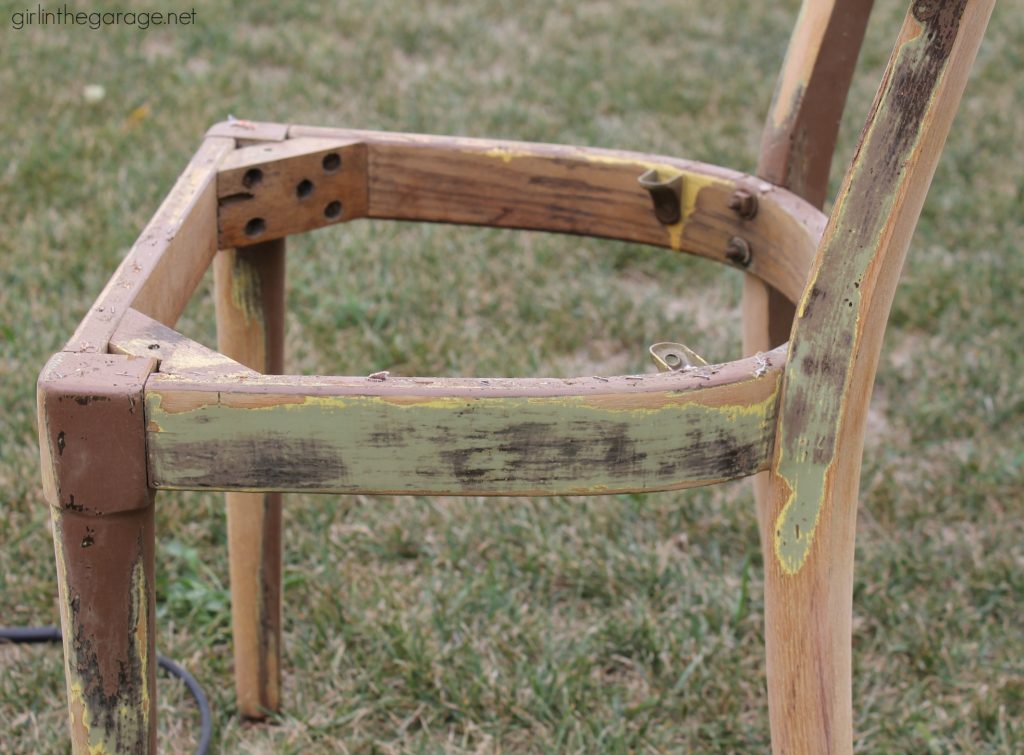 I reupholstered the seat with new foam, cotton batting, and some leftover fabric (no photo this time because I was rushing to have it finished for the market).
The desk was painted with a sample jar of Rustoleum Chalked in Serenity Blue. The chair and part of the desk were painted in Fusion Mineral Paint in Lamp White.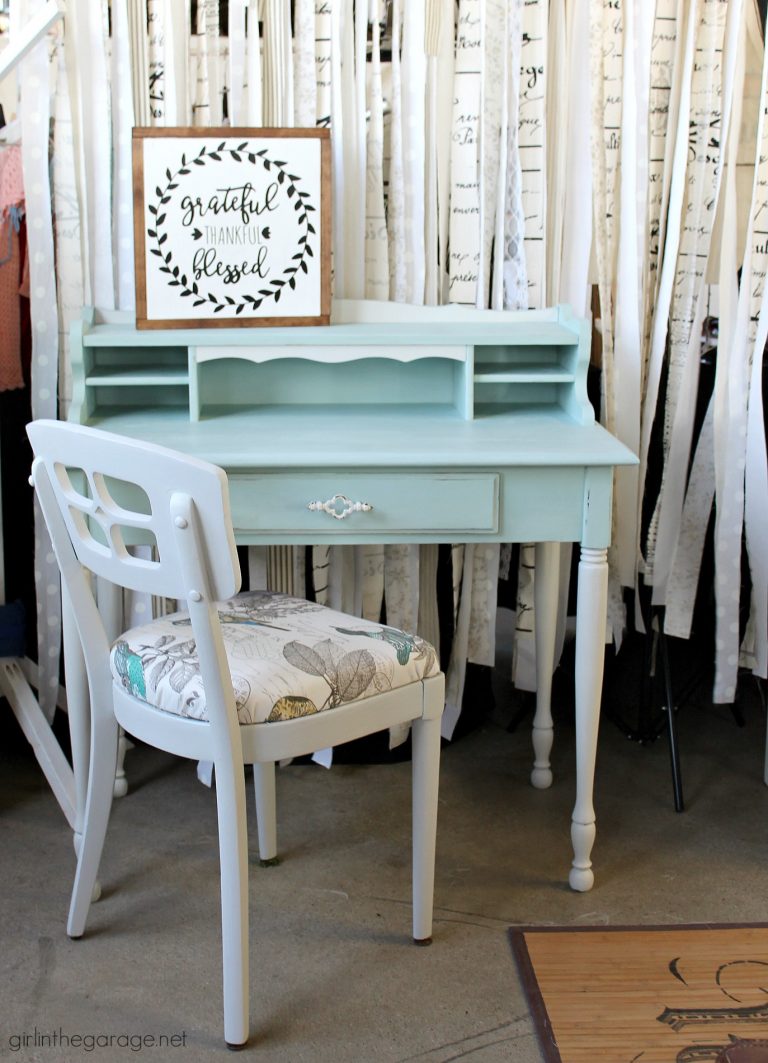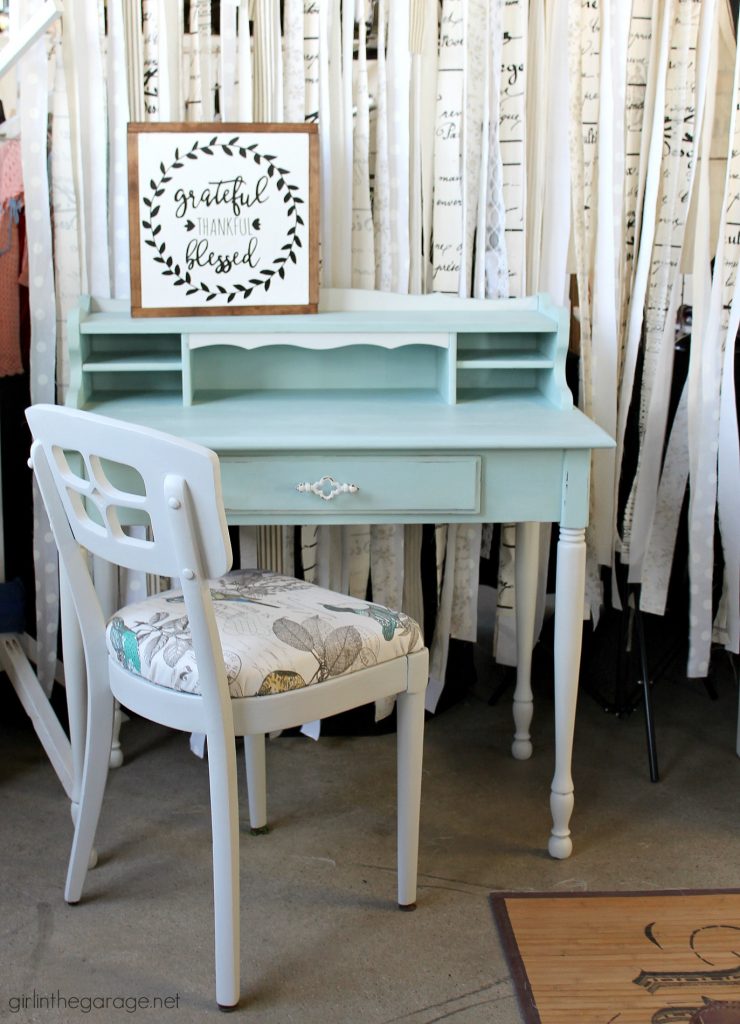 I took photos at the market, so I only got a few in between shoppers walking through.
The desk also got a little extra bling with this new pull and decoupaged floral wrapping paper inside the drawer.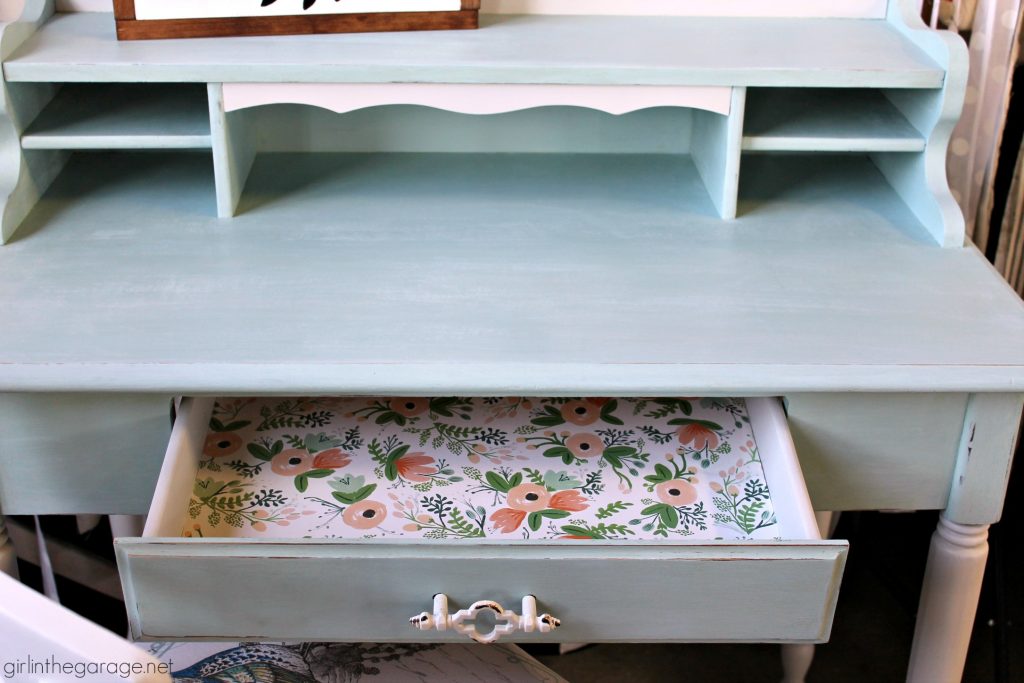 Here's a reminder of the before and after again: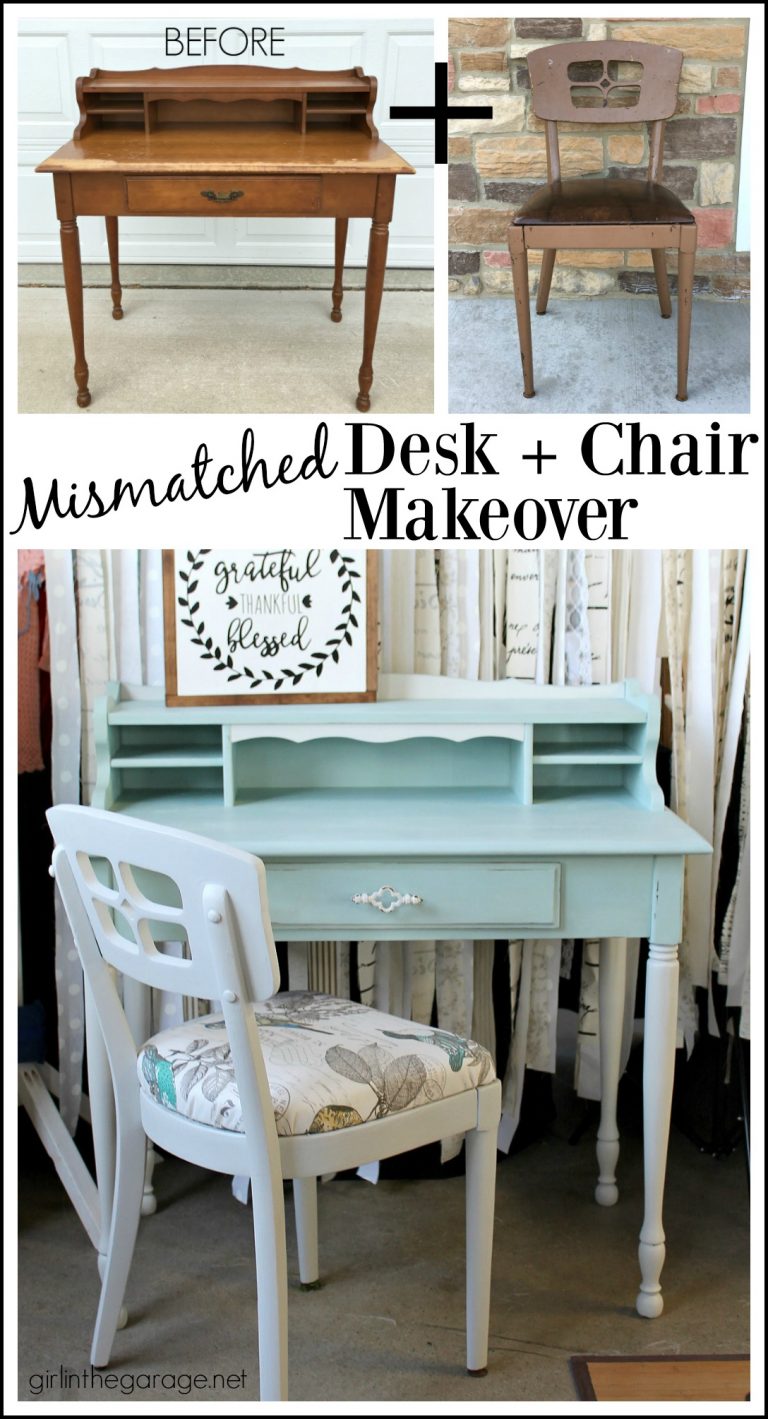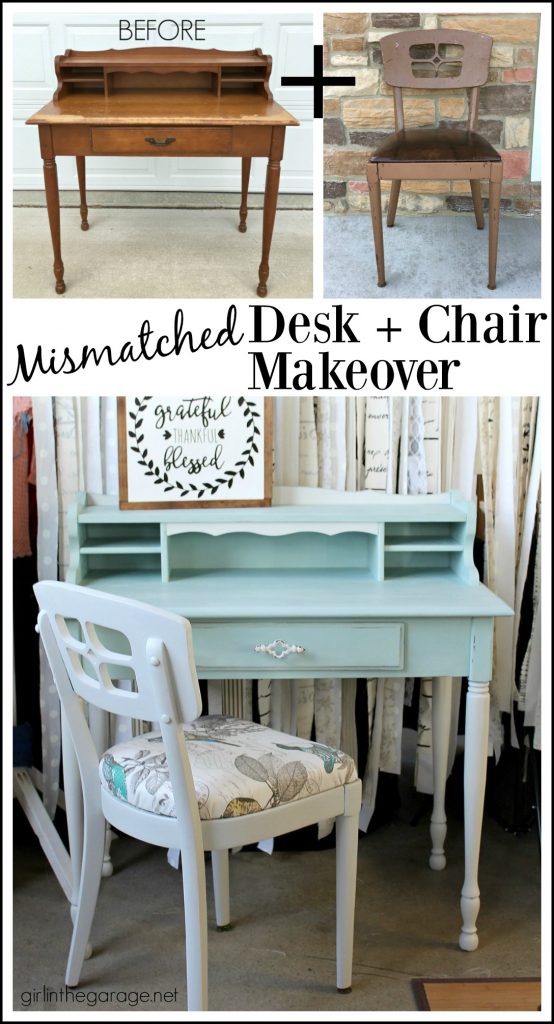 I hope you love this vintage chair and desk makeover as much I do, and I hope it inspires you to take mismatched pieces and try to turn them into a cohesive pair. <3
Jen
Don't go yet! Next, visit my creative friends' makeovers for Furniture Fixer Uppers day: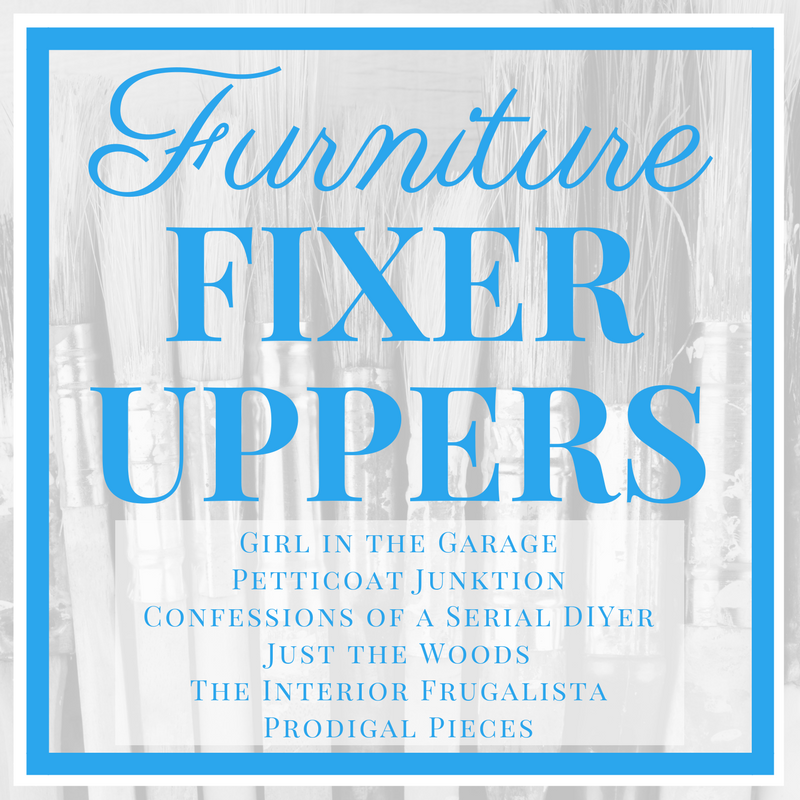 These are the Before photos – click the links underneath to see the After photos and learn how they did it: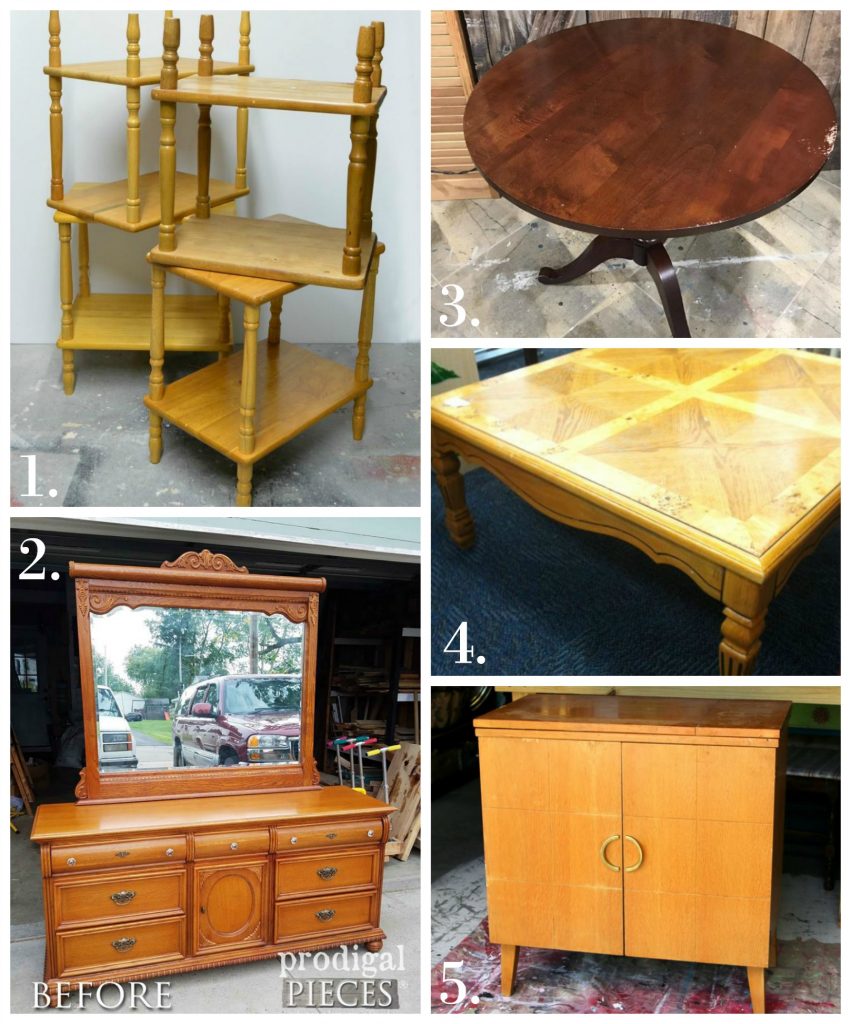 1. The Interior Frugalista
2. Prodigal Pieces
3. Just the Woods
4. Confessions of a Serial DIYer
5. Petticoat Junktion