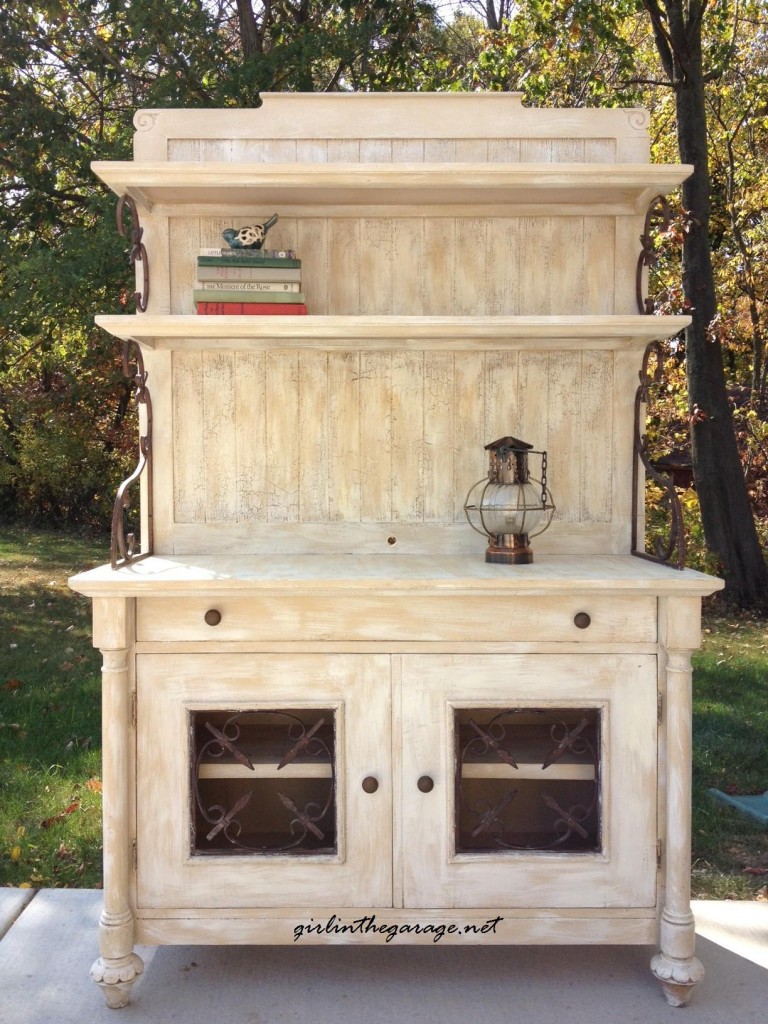 As luck would have it, I was driving to my parents' house recently and one of their neighbors had a piece of furniture out by the curb with a sign that had one of my favorite four-letter words written on it: FREE.  (Another of my favorite four-letter words is SALE, but FREE is better than SALE pretty much any day.)  So I pulled over as quickly as I could and practically jumped out of my car.  The neighbor happened to be standing outside and he said he had just set this hutch by the curb literally 1 minute earlier and I was the first person to even drive by.  And it was screaming for a makeover.  (At this point I was doing a happy dance inside my head because I knew it must be fate!)  So that is how I became the proud new owner of this beautiful but neglected hutch sold by Walter E. Smithe (Chicago-area furniture store) which had sat unused in someone's garage for several years.  I knew I had my work cut out for me, but I like a challenge.  🙂


After I got it home and into the garage, a good look revealed that the hinges on one of the doors were broken, a small chunk of one corner was missing, and that it would take a LOT of sanding to get beneath the sad, chipping layers.
The first task I started was the sanding… during every nap time and night time for about 2 weeks.  I used sand paper and sanding blocks until my arms were sooo sore!  Then I decided to try a paint stripper for the first time… I went to Ace and the employee told me which stripper to buy.. paint brush, gloves, mask… then he told me I could just pour the stripper in a cup and then dip the brush into it.  Well that ended in a disaster as the plastic cup I ended up using started to disintegrate while I was holding it!  Lesson learned – and the stripper didn't do a very good job (maybe I wasn't using it 100% correctly but it had freaked me out after I saw what it did to that cup), so I decided to go back to old fashioned sanding.  Then I stumbled upon an online article that mentioned an electric hand sander.. WHAT?!!  Immediately I was overjoyed at this discovery and also a bit upset that neither my husband or my father had suggested such a thing to me.  So I ran out and bought a Craftsman 5-inch random orbit sander and some protective eye glasses for only about $35.  It took a little while to get used to but boy was it so much faster and better than sanding by hand!  (A tip from personal experience:  When using an orbit sander, always have proper ventilation in the room.  Mine wasn't quite good enough and I ended up with sawdust all over pretty much everything in the garage!  Not so much fun to clean up…)
After another couple weeks of sanding (hey I wanted it smooth and I had some other things going on!), I finally began the next step.  I used wood glue and wood putty to repair the missing/broken corner, which also took a few days since I had to wait for the glue and putty to dry between applications. I also filled in some little crevices with the putty.  Then I decided to use some leftover paint from my bathroom for the first layer on the hutch- Boston Tea Party by Dutch Boy Dura Clean from Menards.  It took a few coats because it kept absorbing into the wood.
I wanted the hutch to have an elegant, antiqued look to it.  So for the top coat I chose a creamy Sunset Nude matte by Valspar Signature from Lowe's.  Using about a 1.5″ brush, I barely touched the lid of the paint can to get just a touch of paint on the brush and then blotted most of it away with a light tap on an old towel.  Then I made very light brushstrokes all over the hutch to give it an aged, antique look.  This was pretty time consuming also because I had to be careful not to get too much paint on the brush- I didn't want it to look amateurish even though this was my first experience using the technique!  And then for an even more aged look, I got out my sandpaper again and distressed several random areas.  After this, when all the sanding was complete, I used tack cloths to wipe away any sawdust that was lingering.  This is very important before applying the final finish in the next step.
Finally I finished the hutch with three coats of Rustoleum's matte polyurethane in Soft Touch, waiting several hours between coats.  (Even though when I bought the matte paint at Lowe's, a "Valspar expert" there insisted that I didn't need to use polyurethane since the paint itself should work well enough on its own.  But I remembered the previous hardware store employee at Ace who wasn't completely knowledgeable and decided to stick with my gut and protect all my hard work – and I'm glad I did.)  This took a few more days to complete- and then according to directions I waited another 7 days for it to completely cure.  I also fixed the hinges on the broken door and then reattached the doors and inserted the drawer and shelf back into place.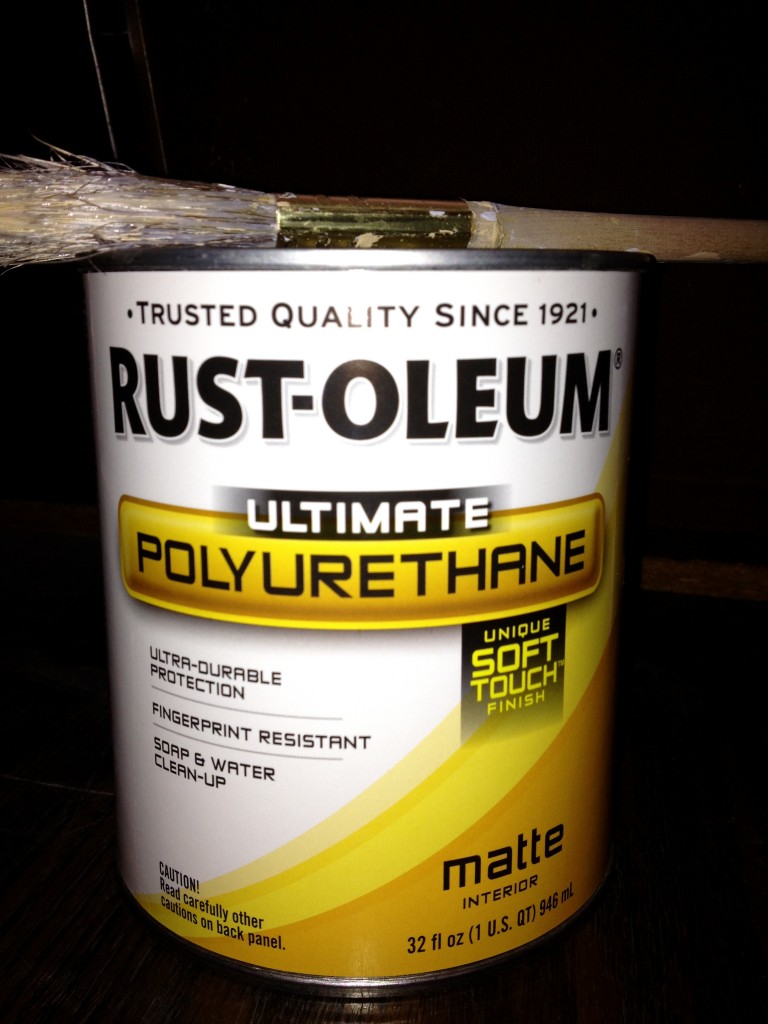 In total it took me about 6 weeks to complete this project- much longer than it probably should have but it took a LOT of work and I did take some time off here and there to do family stuff.  I actually love how it came out and even though the original plan was to try to sell it due to lack of space, I may end up having to find room for it in my house.  I can't help looking at it and feeling a little bit proud!
Jen
This post can be seen at:  Miss Mustard Seed, Fox Hollow Cottage, It's Overflowing, Thirty Days
This post was featured at: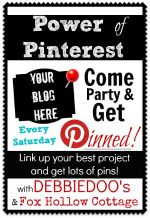 Join the GITG Community
When you join this thriving online community of 90,000 creative souls, you'll be inspired to discover hidden artistic talents and learn skills to boldly face DIY projects with confidence.
You'll also receive my free guide "Just Paint It: 7 Tips for Transforming Furniture with Confidence."