Sometimes, finding a good piece of furniture to make over for a decent price is pure luck these days.  Luck was definitely on my side when I saw a local thrift store post this French Provincial dresser on its Facebook page (on sale!) – except I didn't see it till the next day.  Thanks a lot, Facebook.
Of course I called right away to make sure it was still there (it was!) and then I rushed over to claim it as mine.  It was meant to be.  🙂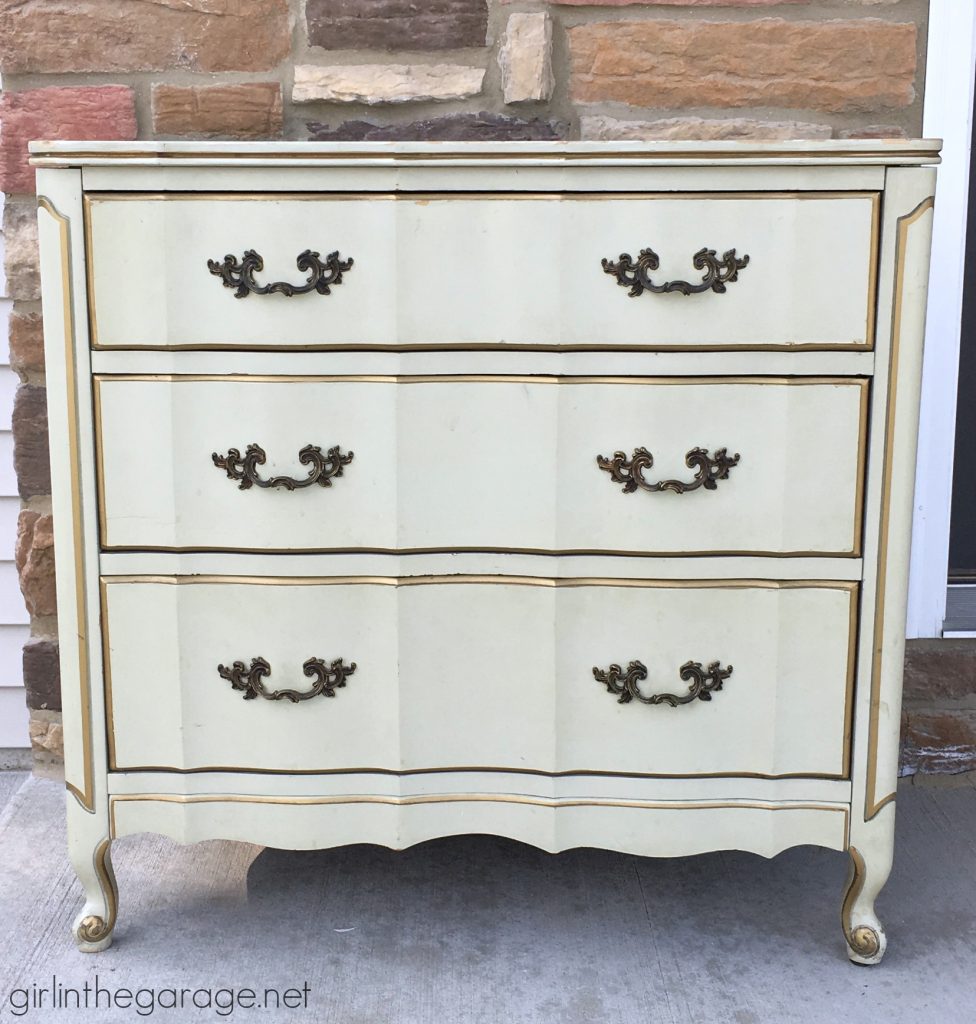 Overall it wasn't in bad shape except for being outdated, but the finish on top was chipped and peeling.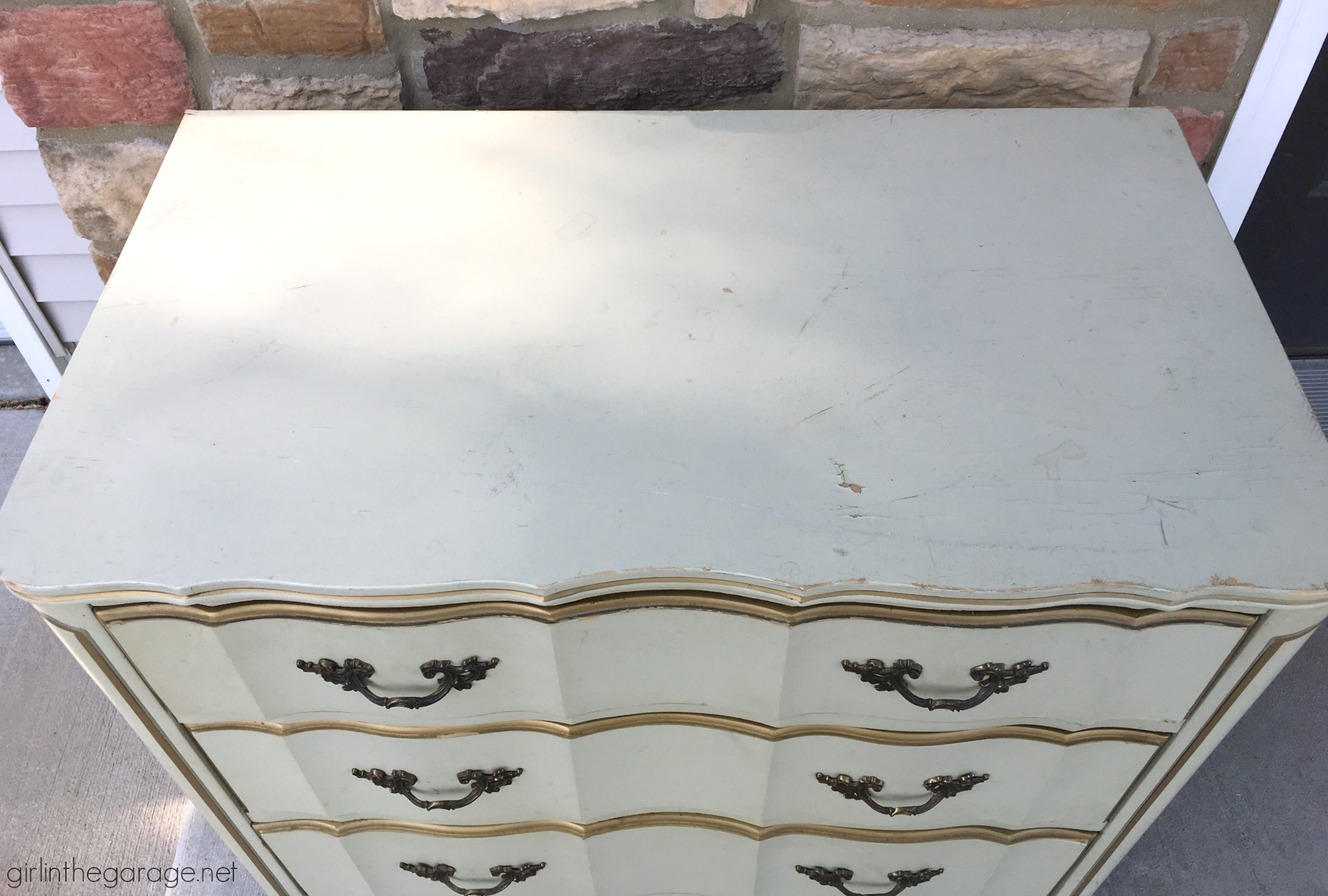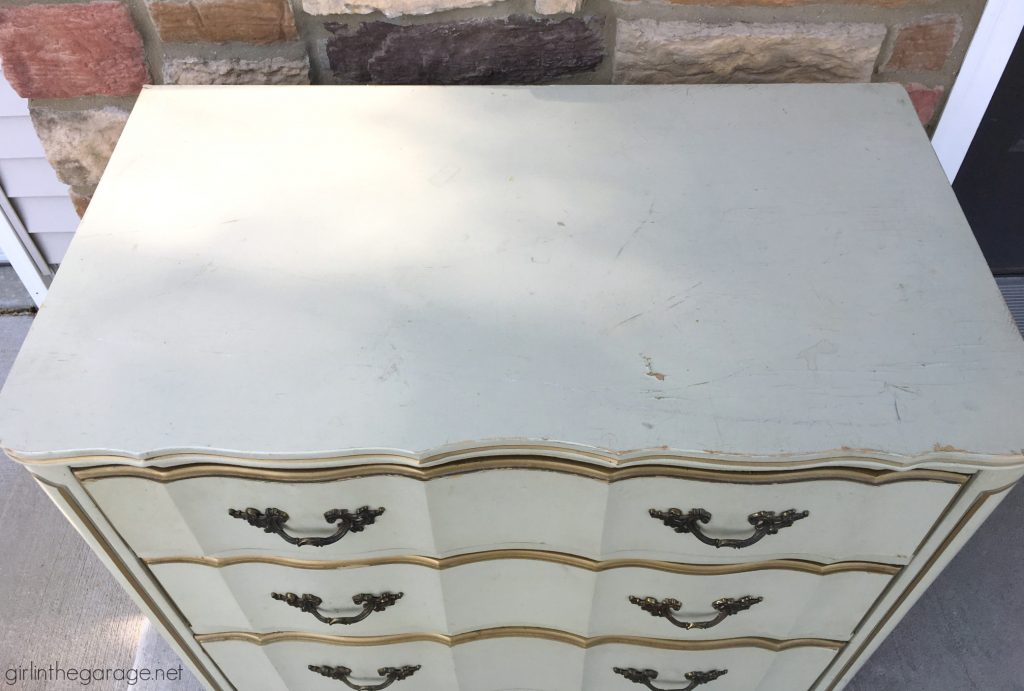 **Friends, today is Furniture Fixer Uppers day with some of my best blogging buddies!  See their makeovers at the end of this post.  Also – this post contains some affiliate links, at no extra cost to you, so you can easily find the products I use and recommend.  Thank you.
My husband, aka Guy in the Garage, sanded down the top with our orbital sander (find it Here) and it was so smooth and gorgeous after!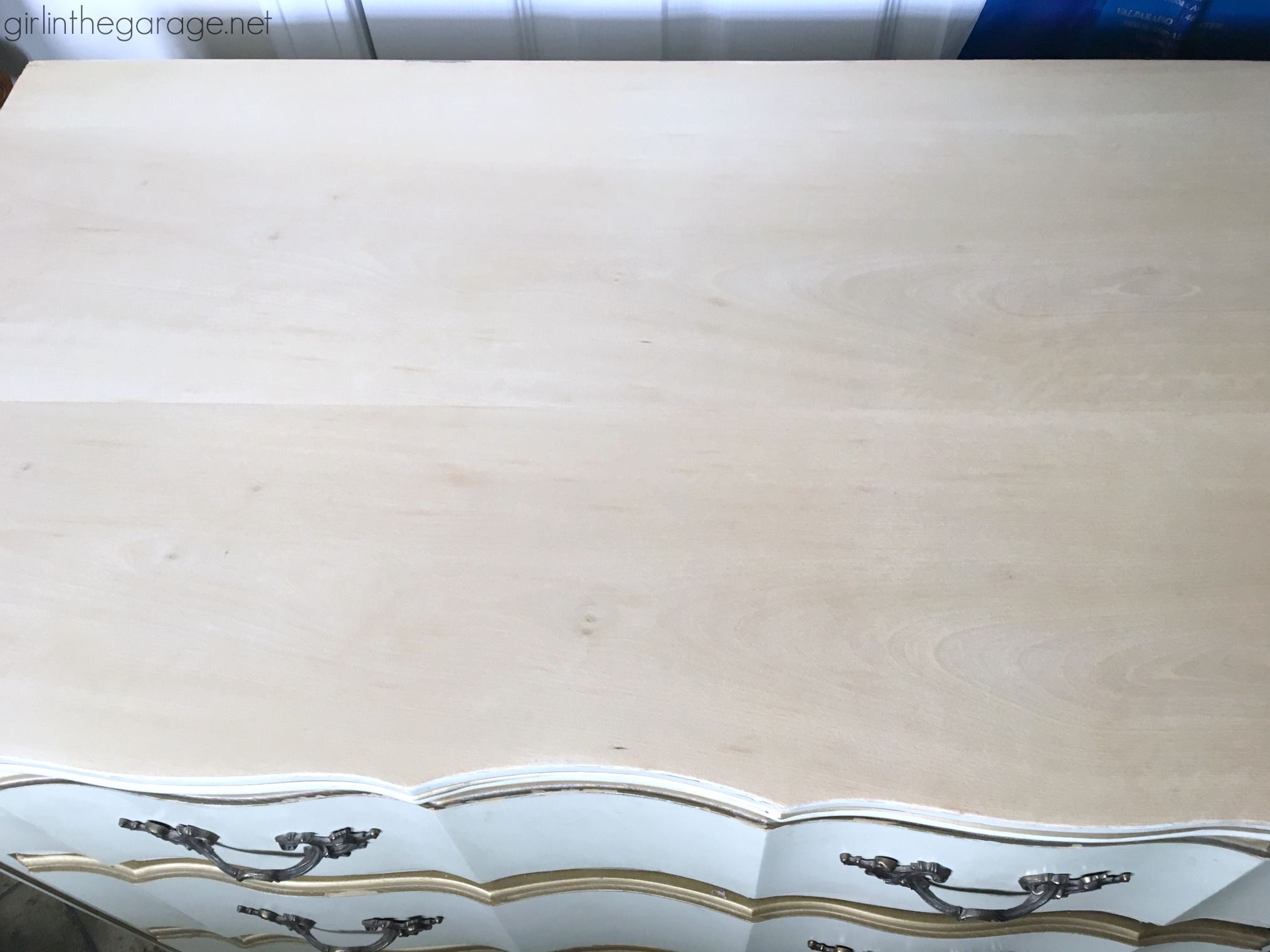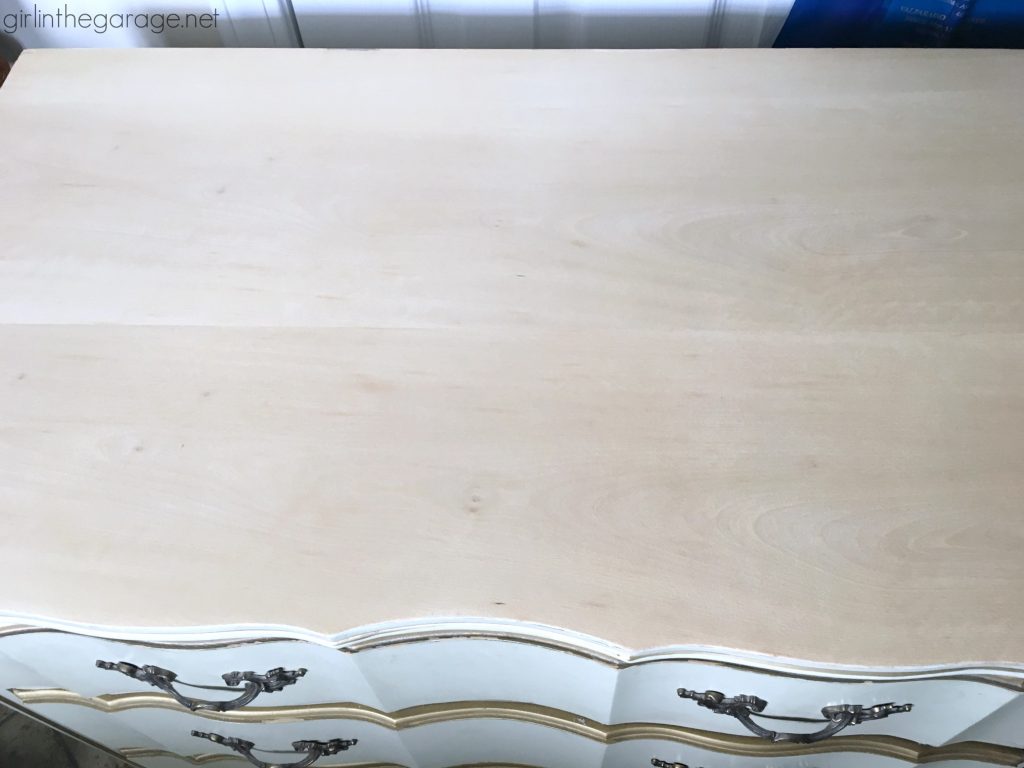 The dresser was going to stay a neutral color, yet transformed to fit the style of a bedroom in this century.
It was painted in Champlain by Fusion Mineral Paint (find it Here) – one reason I like Fusion is because it gives a smooth finish and doesn't require a topcoat (although you can certainly use Fusion's Tough Coat topcoat if it's a piece that might get a lot of hard use).
But Champlain by itself was a little plain on this elegant vintage French Provincial dresser – so I grabbed my Annie Sloan Chalk Paint in Old Ochre (find it Here) and dry brushed all over it for texture and subtle color variation.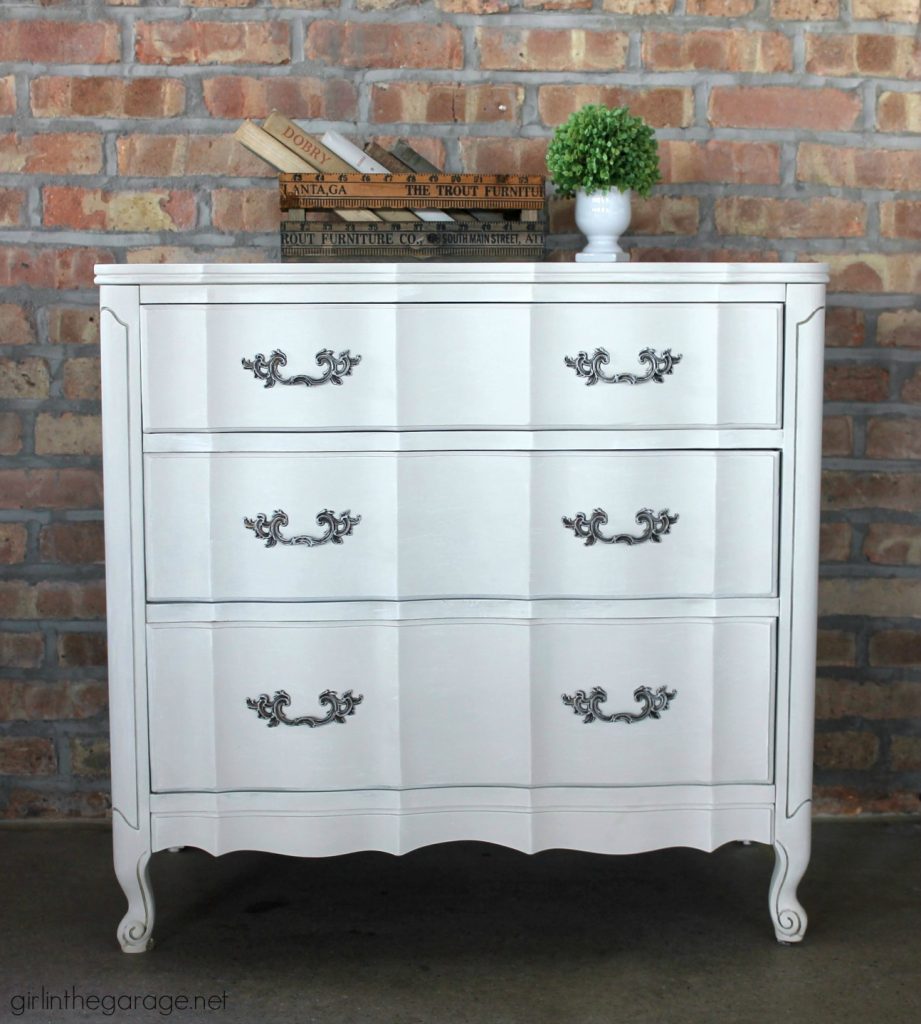 Here's an in-depth post I wrote about dry brushing a chair (and another Here about a buffet), but basically you just dab your paintbrush (I prefer Purdy brushes) into a tiny bit of paint, then blot it onto a towel to wipe almost all of it off.  Your brush will be pretty much "dry" and then you lightly run it along your furniture to make thin uneven strokes.  This allows the original color to be seen, but softens it and may make it look more farmhouse or rustic depending on the colors you use.
Then I dry brushed the hardware with Old Ochre, because I didn't want it completely covered with paint.  Here's the before and after: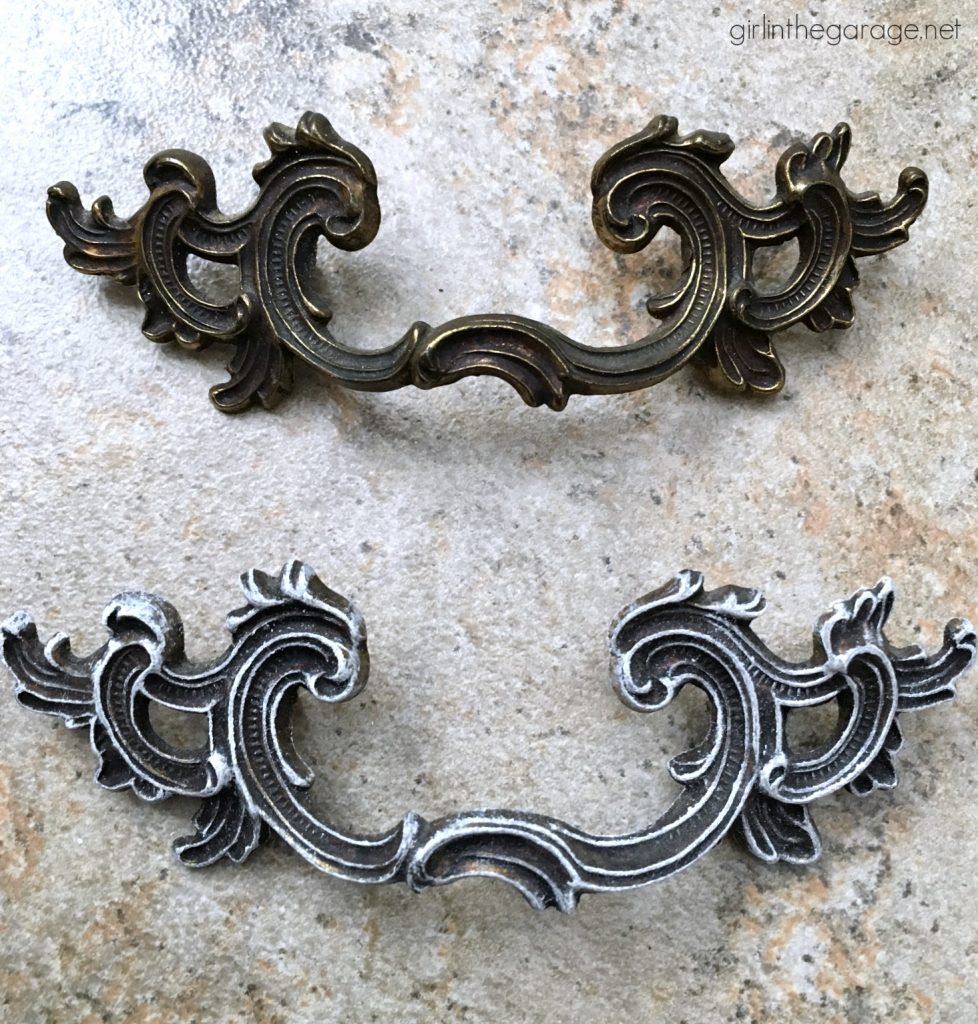 Isn't she pretty?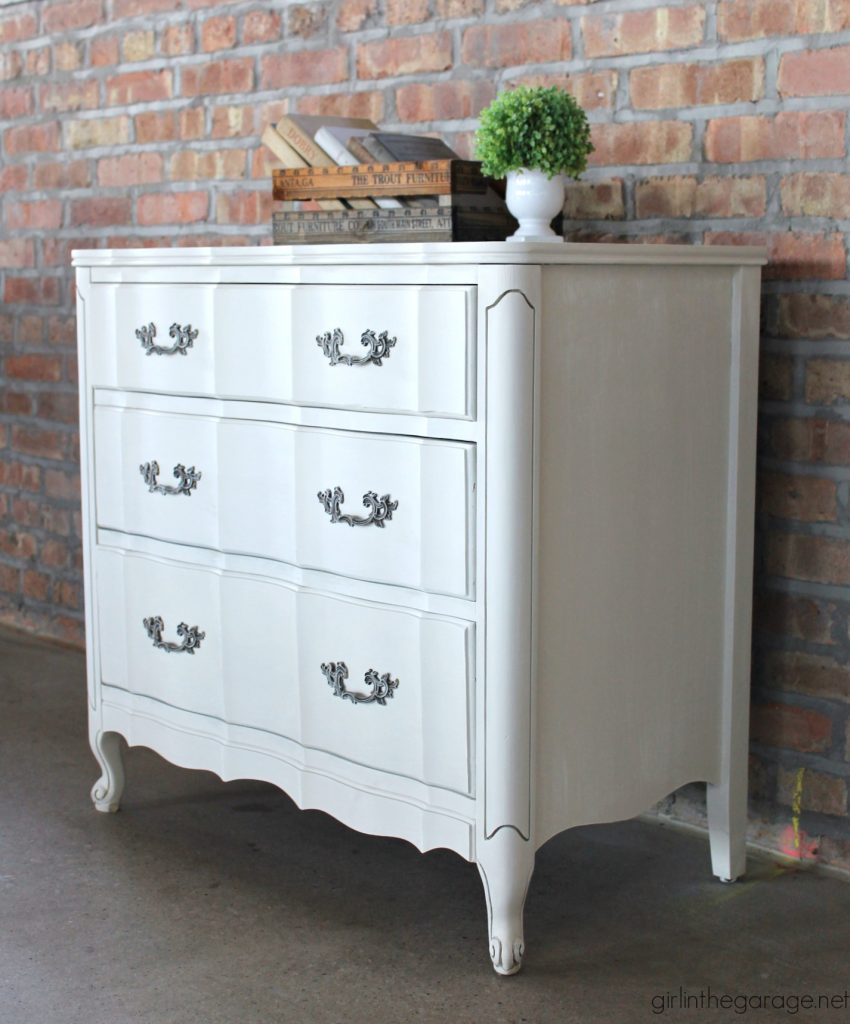 New view from the top: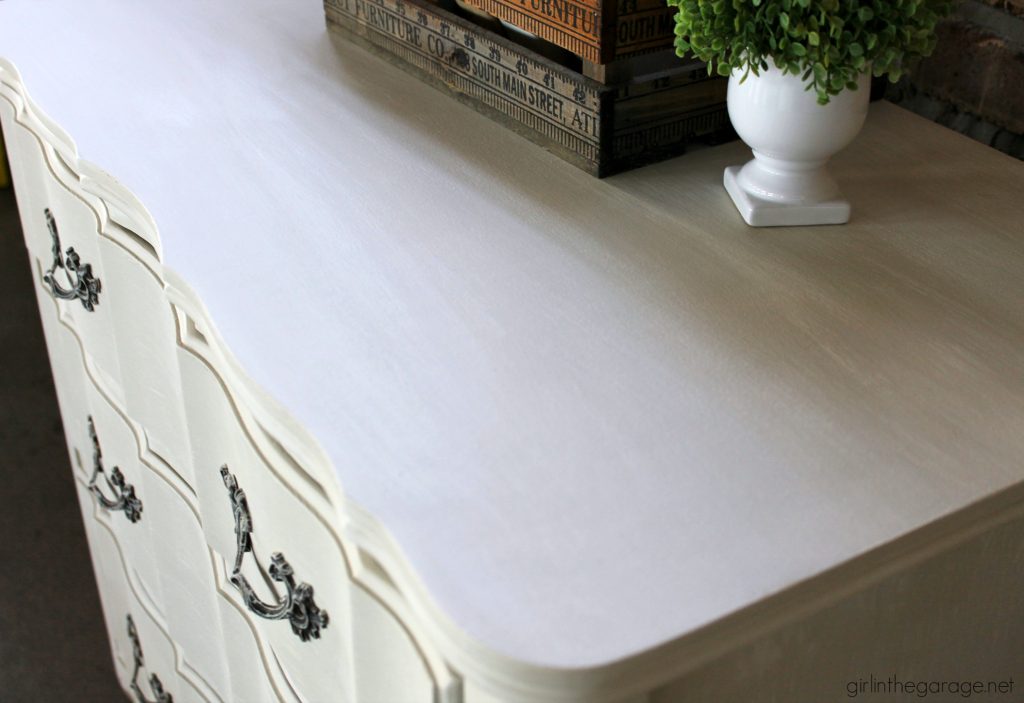 The dry brushing is so soft and almost gives a metallic look to this dresser.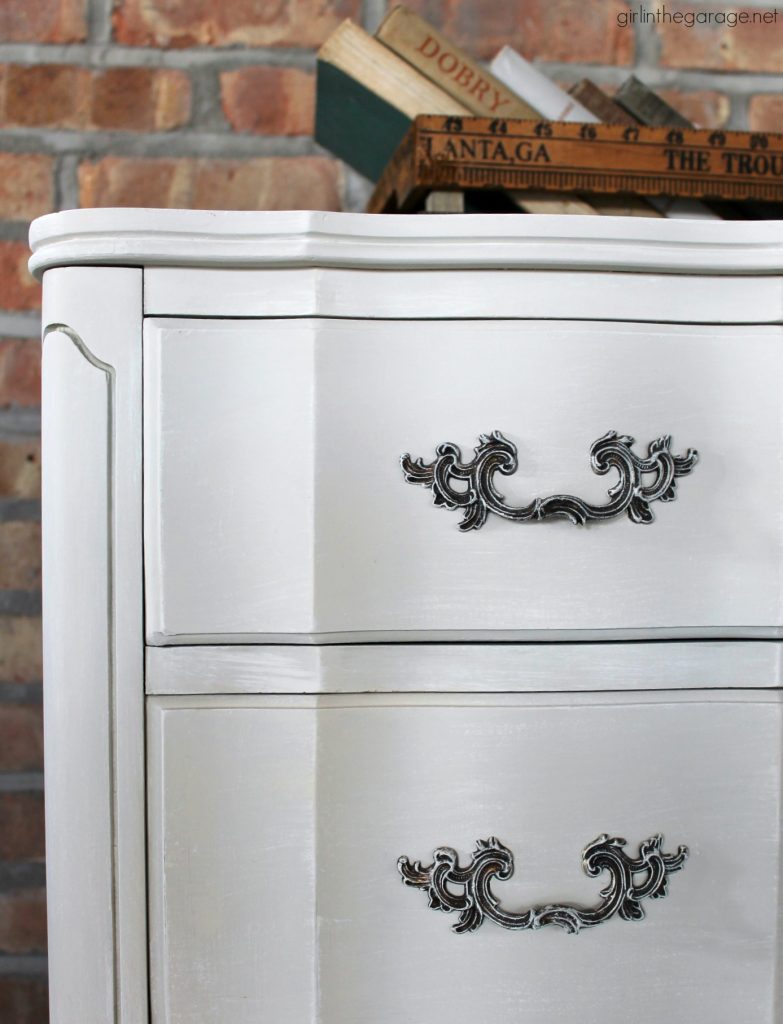 Tip: If you ever dry brush too much paint on, just go back over that area with the original color paint.  Then you can dry brush again until you're happy with the results.
Here's a closeup: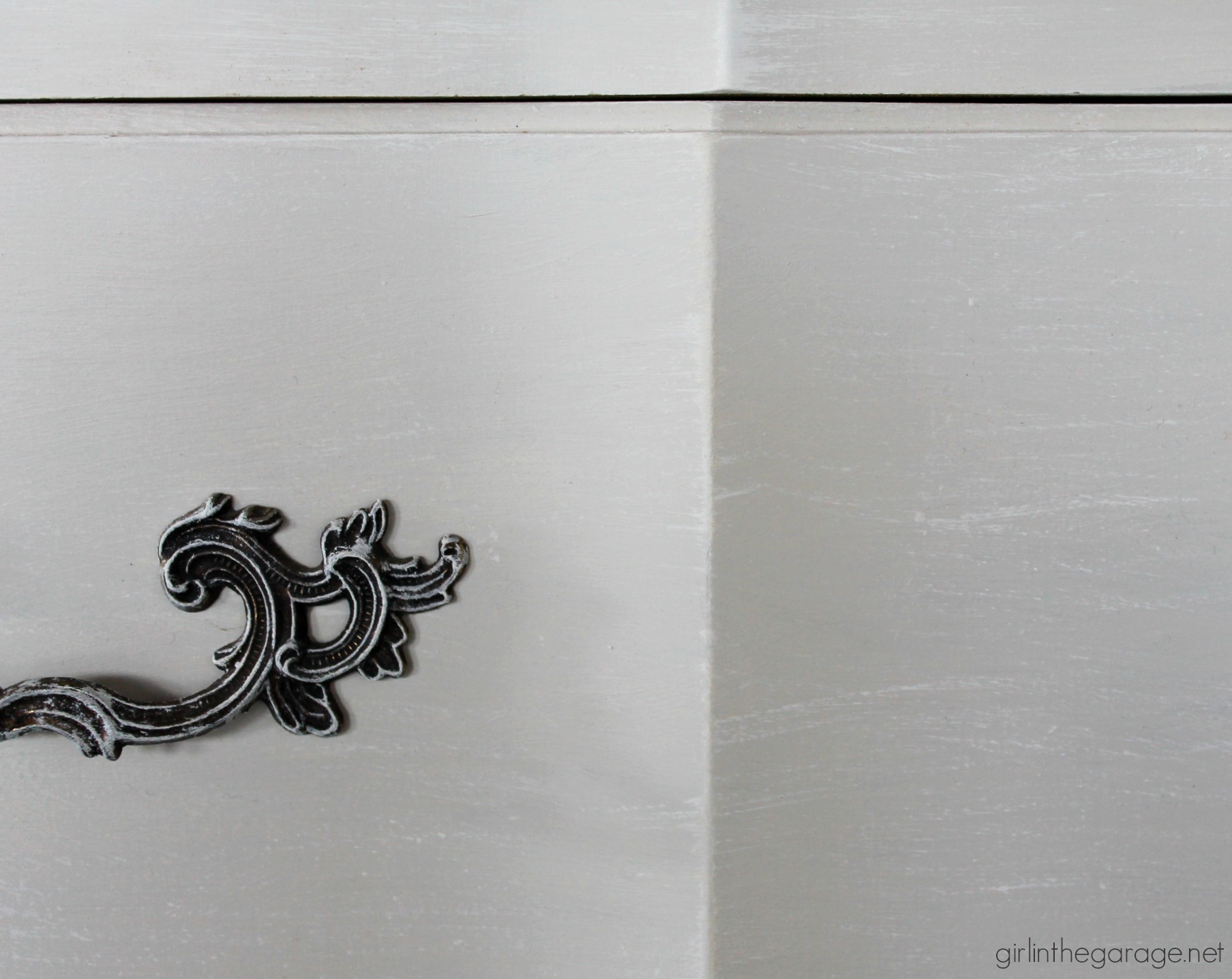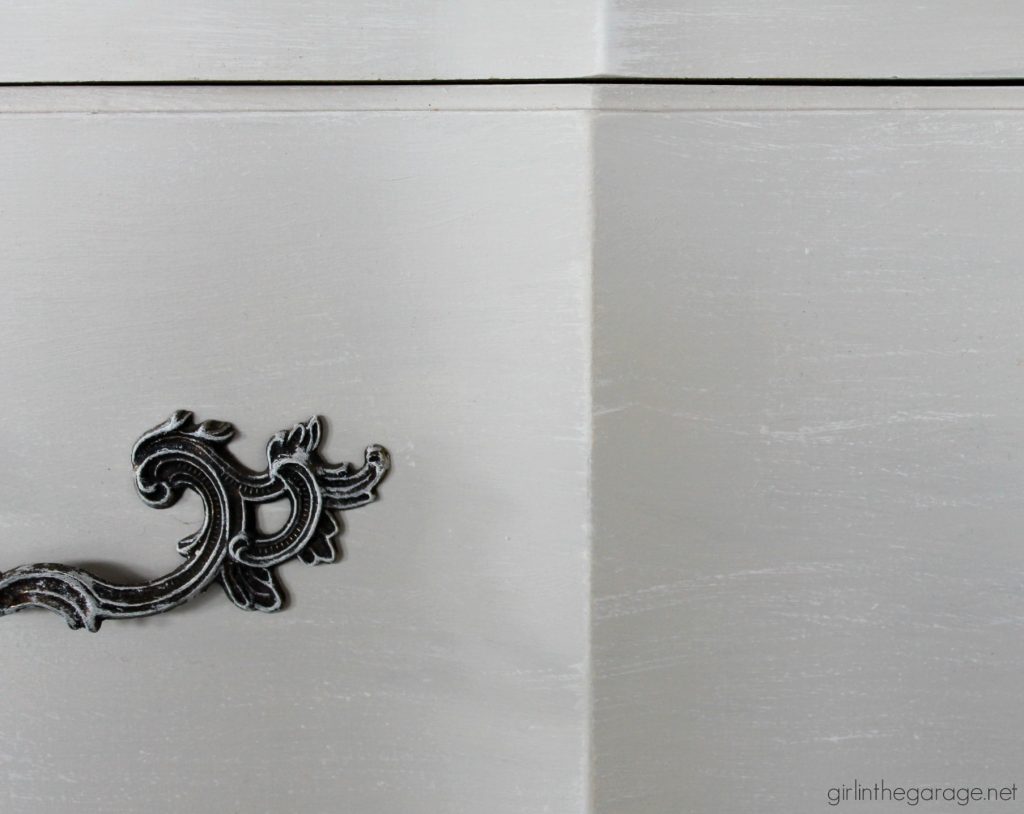 And here's the before and after of this dry brushed dresser again: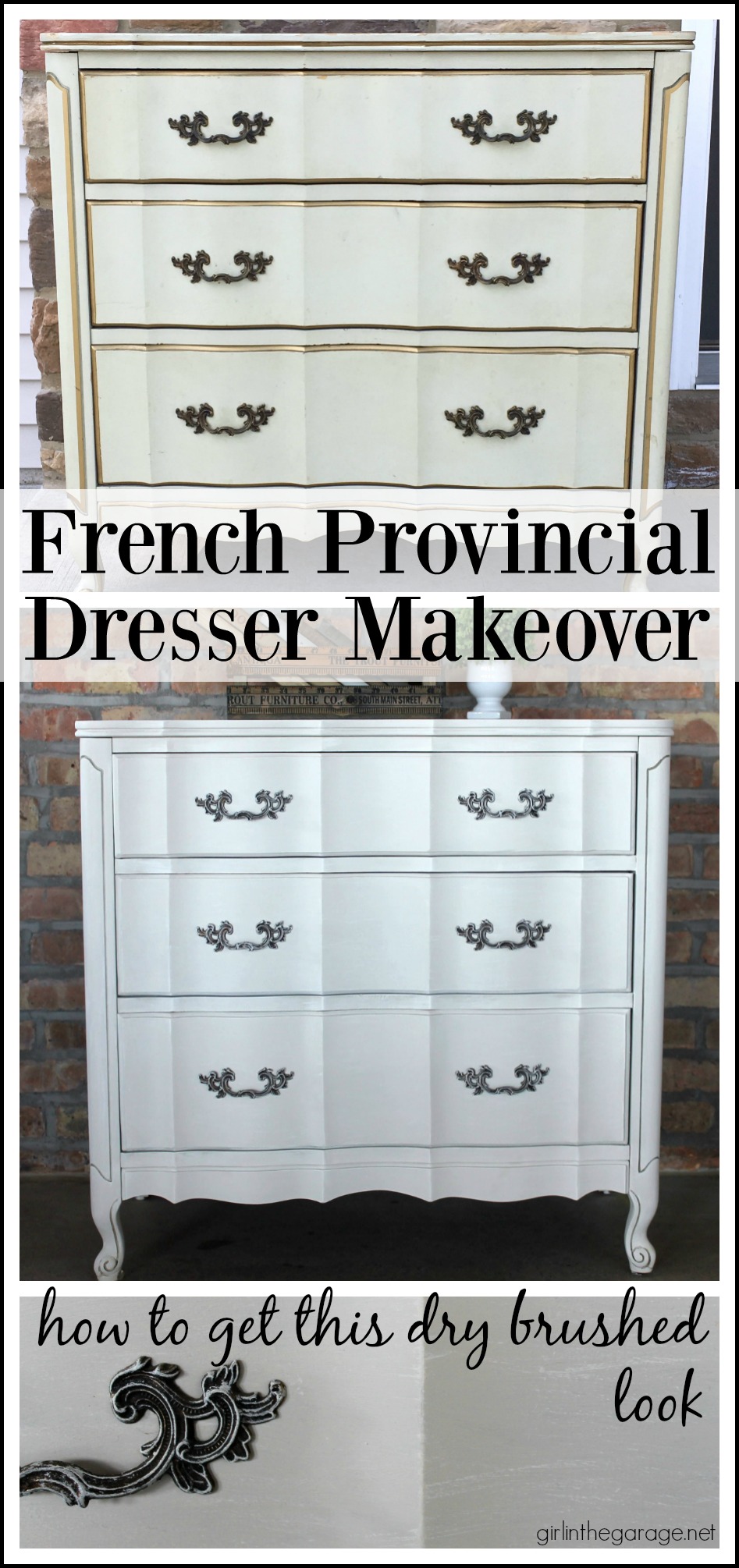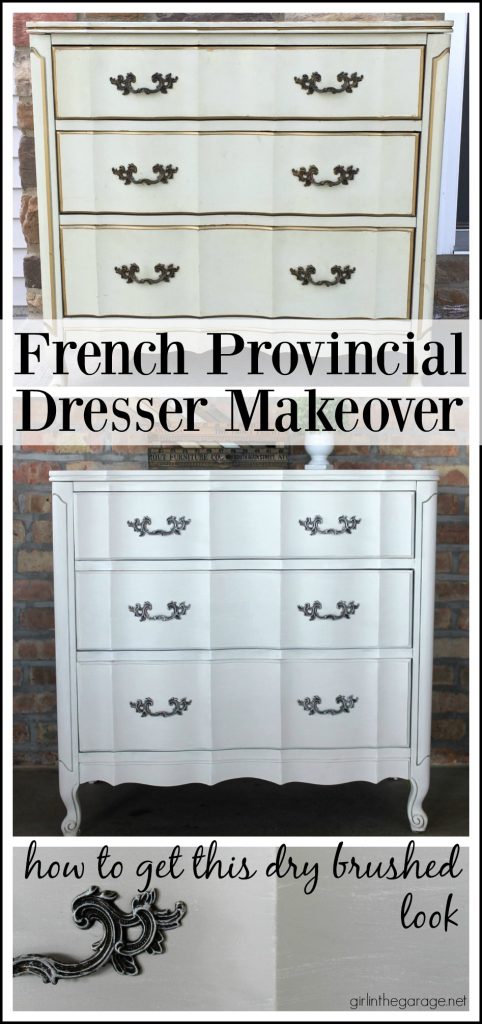 I love the effect that dry brushing can give.  What do you think – have you tried it before?  Leave me a comment below – I'd love to hear from you!
Next, it's that time again – time for Furniture Fixer Uppers…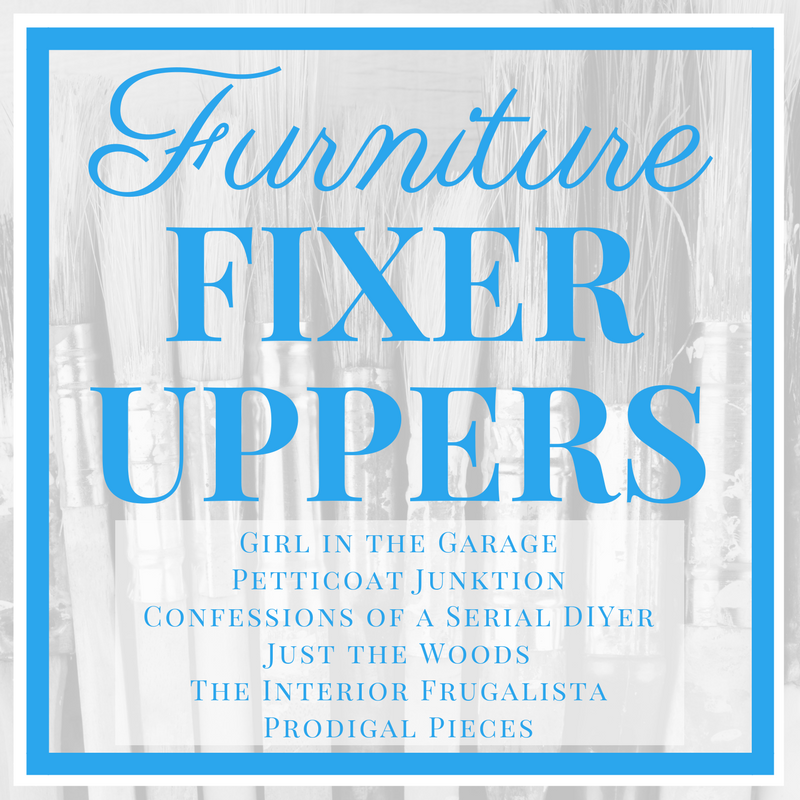 Below are the Before photos – click the links underneath to see the Afters and learn how they did it.  I know you'll be inspired!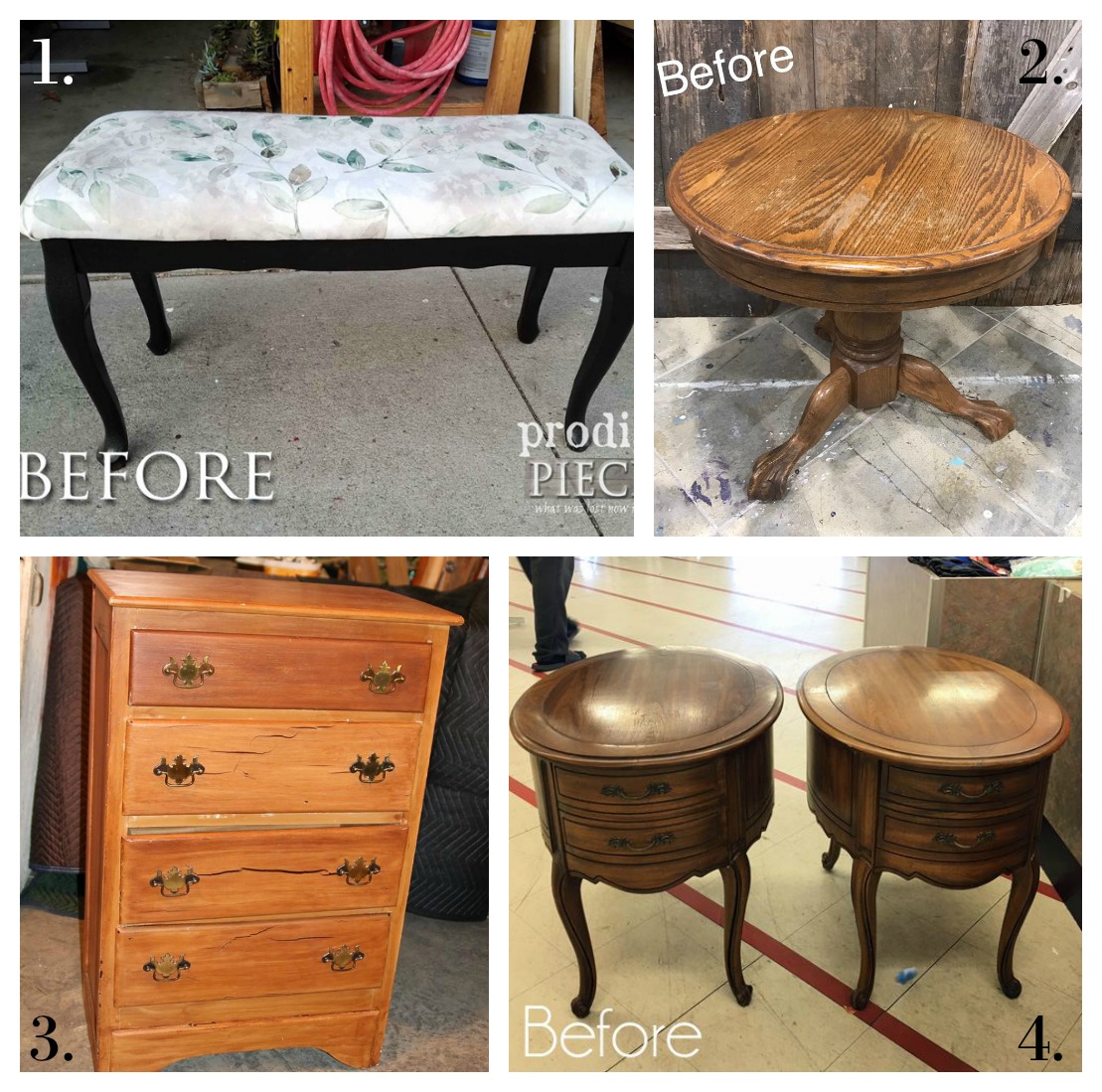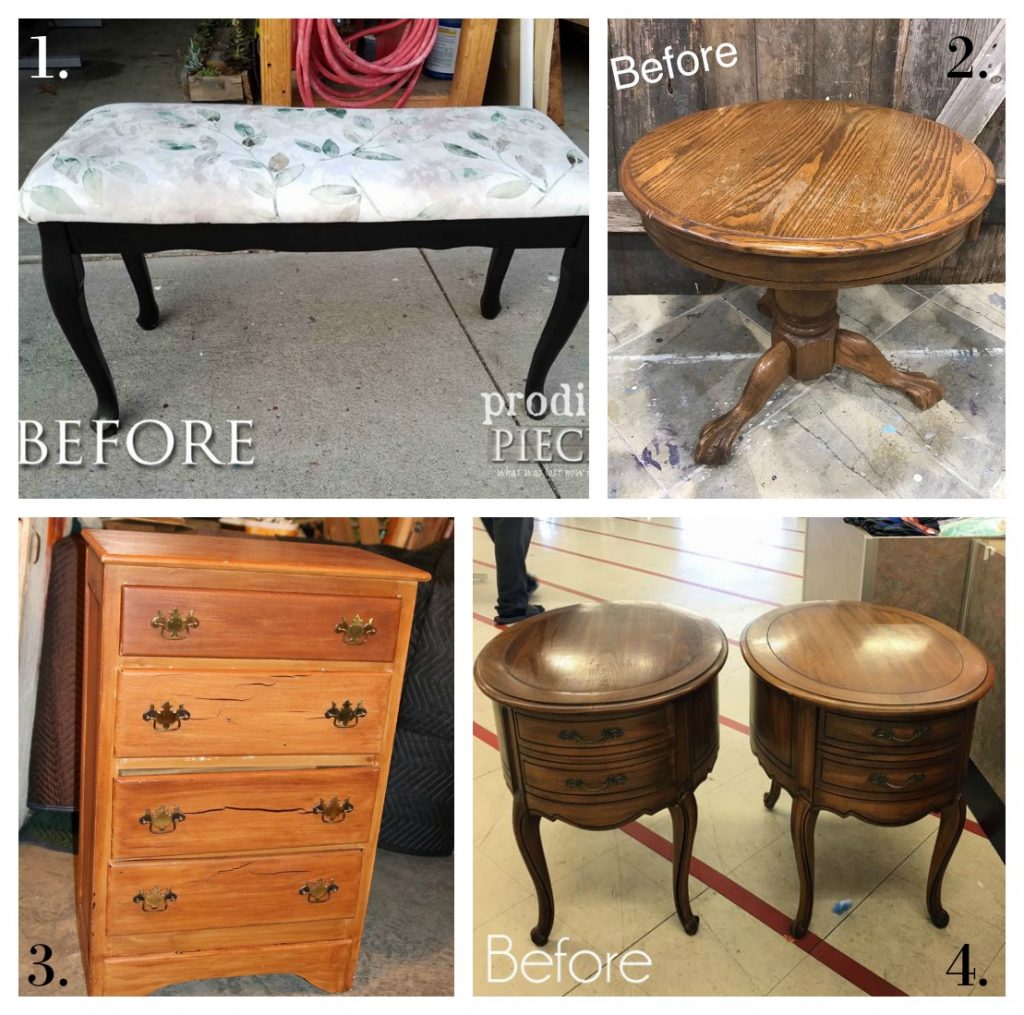 1. Prodigal Pieces
2. Just the Woods
3. Petticoat Junktion
4. Confessions of a Serial DIYer